51 Voices: The story continues…
In December, we shared the last in a year-long series of regular updates linked to our seventieth-anniversary project, 51 Voices. It had been a tumultuous twelve months, with all the ups and downs of living and working during a global pandemic, and with many unexpected twists and turns along the way. At the time of what we thought would be our final update, we weren't quite ready to share the last final handful of our fifty-one chosen items, and a few of the kind folks who have been helping us weren't quite ready to share their responses either. Fast forward to now, and we find ourselves a little closer to rounding things off but still a little way from the finish.
In some ways, unanticipated delays seem apt. After all, museum anniversaries may come and go but the artefacts and archives we hold are durable. They often outlast the motivations behind their collection and certainly outlive the curators, conservators, and other colleagues who play a fleeting part in caring for them.
Indeed, as we enter The MERL's seventy-first year it seems important to be looking forward to new ways of working. And in this vein, as we release the final 51 Voices responses over coming weeks (and possibly months – we just don't know yet!), they will occupy digital space alongside our new and already amazingly popular series of Changing Perspectives blog posts. They will also become part of the start of a fresh theme for our wider programming, which we'll talk more about in due course.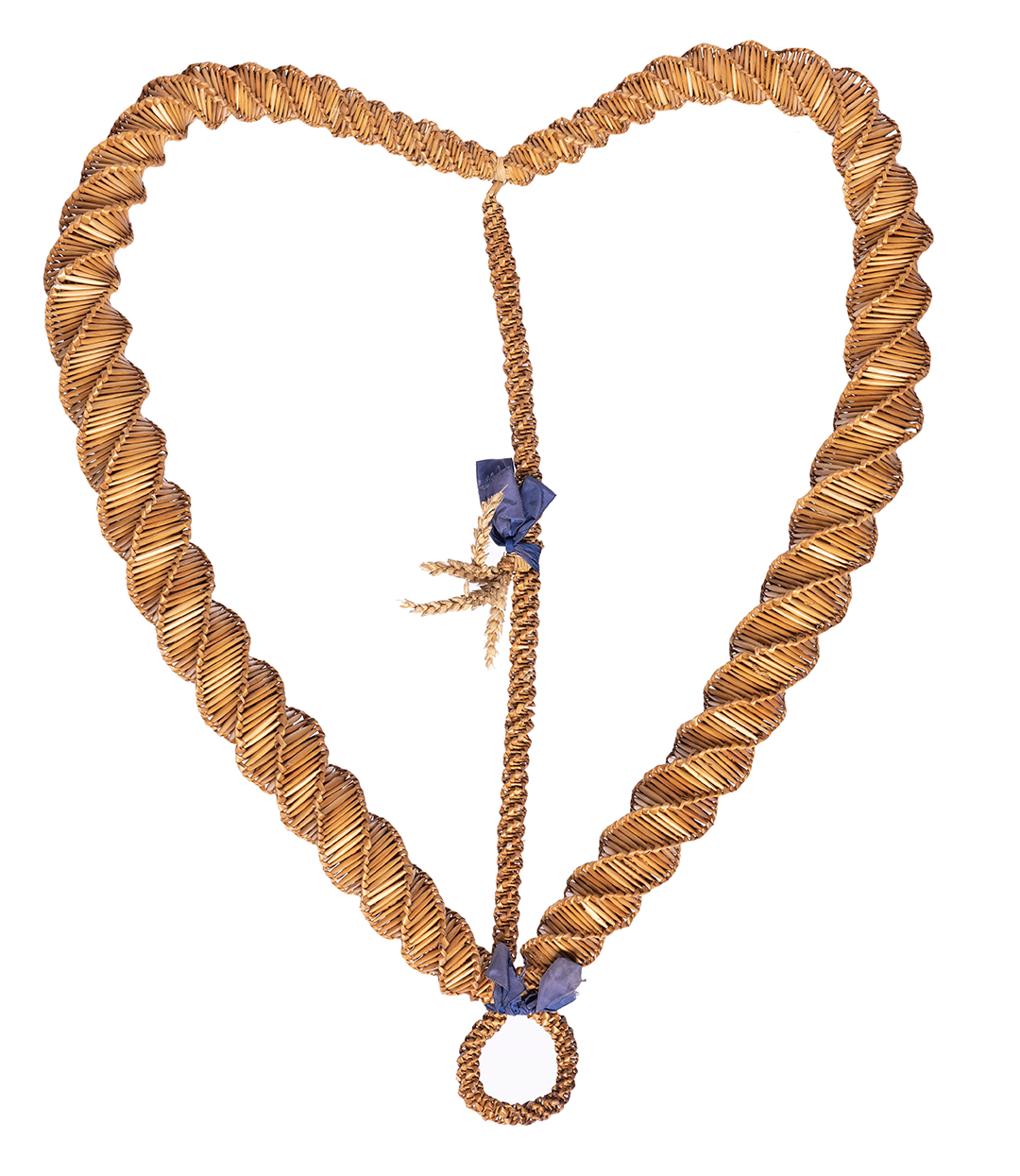 Meanwhile, since our birthday celebrations are running into overtime and there's still time to respond, we'd love to invite you to be part of the culmination of the 51 Voices project too. Tweet us in response to item #51: a series of strawcraft sculptures made for the Festival of Britain that we plan to upload as the final of our 51 items!
These early straw emojis were created by talented artist Fred Mizen, who we've already discussed in connection with #5, Lion and Unicorn (and you can read more about him there. We want your voices to play a powerful part in the story of The MERL now. So, why not take a moment to tweet us your response to one or more of these symbols—heart, crown, anchor, scythe, rake, hayfork, and shepherd's crook. You can get creative or tell us about what these corn dollies mean to you. We'll collate the full set into a response to share for posterity.
While we await your thoughts we'll continue to fill in the intervening slots in the online display. And, with that in mind, we've added a few more treats that are ready to share today. These include poems by Reading students in response to #41, huge wall-hangings from the Festival of Britain. We've added another reaction to the very first item we posted in January 2021 (#1, the model thresher), in the form of a poem by nature writer Nicola Chester. Nicola has also recited the poem, which links strongly to her recent memoir On Gallows Down (published during our seventieth anniversary year!).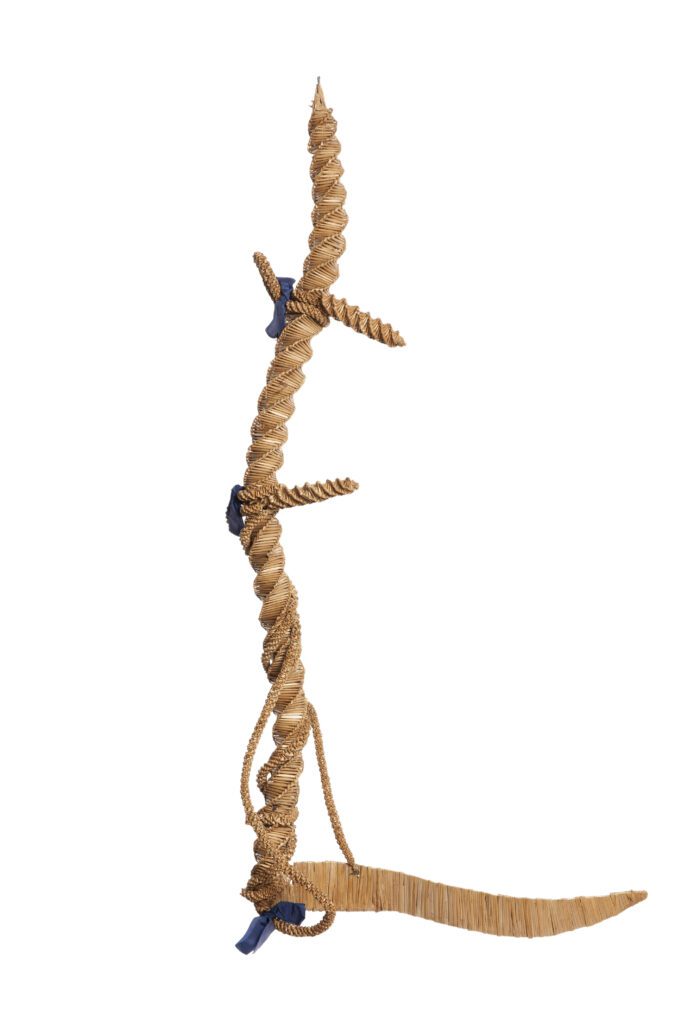 And Nicola's tireless contributions don't stop there. She has also provided a lyrical and emotive response to item #42, the book Birds and Men by conservationist Max Nicholson. Both Nicholson and Nicola alike argue powerfully for action about protecting our nation's birdlife. The timing of this is a reminder of the importance of this week's RSPB Big Garden Birdwatch. And finally, another kind of birdlife altogether was referenced by the amusingly titled #36, Chicken in a Basket, which craft curator Greta Bertram uses to weave a fascinating story of basketry, the Festival of Britain, hens, handbags, and Bridget Bardot.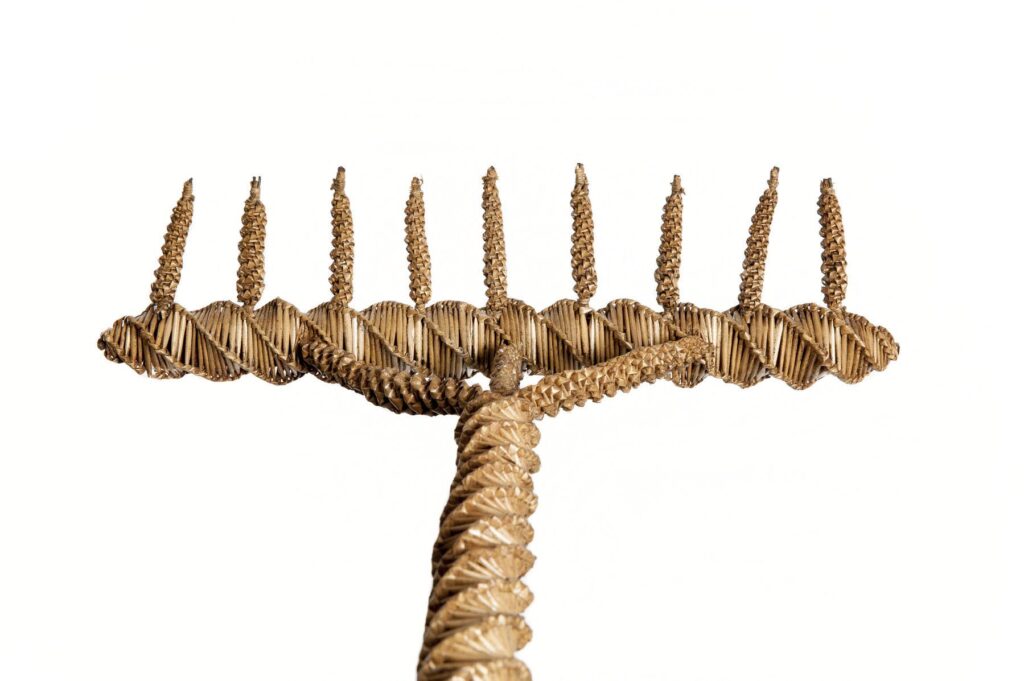 So, it's not quite over yet and we'll have a few more bits of 51 Voices content to share in weeks to come. Indeed, for those who've been waiting for seven decades for The MERL to release a film showing a master thatcher getting enormously excited about our Festival of Britain thatching objects, you only have a short while to wait for this 'topping out' treat. And for those who were excited to learn in December of our plan to host Reading All Steel Percussion Orchestra in our galleries, you only need to bear with us for a few more beats and bars and all will be revealed. As always, the 1951-related things we've been sharing over the last twelve and a bit months continue to show their relevance moving forward.
And finally, please tweet your thoughts and responses to one or more of the strawcraft icons dotted throughout this blog post. Add your voice to the many others whose fascinating ideas continue to shape our never-ending story!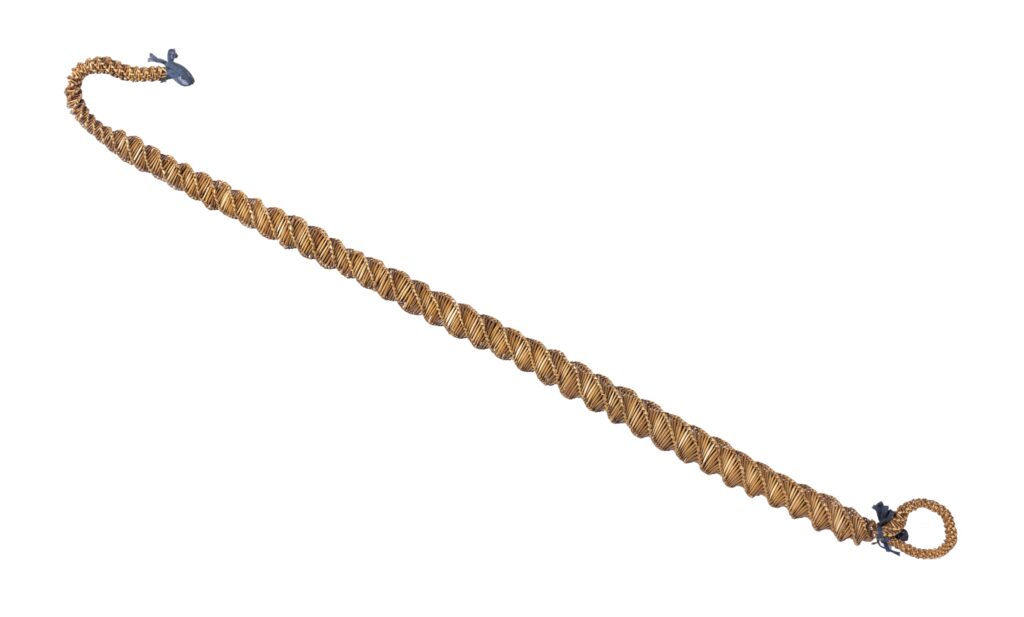 With thanks to Arts Council England and the Government's Culture Recovery Fund – and our volunteers and colleagues across University of Reading's Museums and Special Collections Services – for making all this possible.
Share This Post :