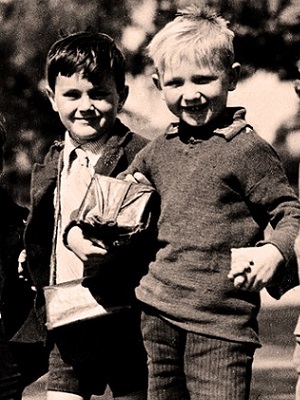 Events and workshops
February 16 - February 24
Usual opening times
Free
No need to book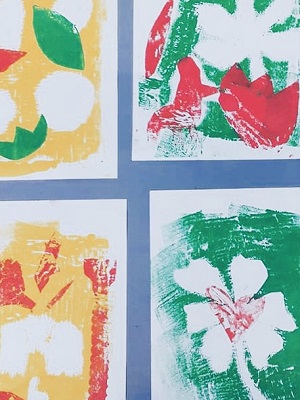 Events and workshops
February 19 - February 21
9:30am to 3:30pm
£85
FULLY BOOKED
Did you know
...city families used to pick hops on holiday?
Hop picking holidays allowed city families to earn money. Pickers were paid with tokens, which were used in local shops or exchanged for wages.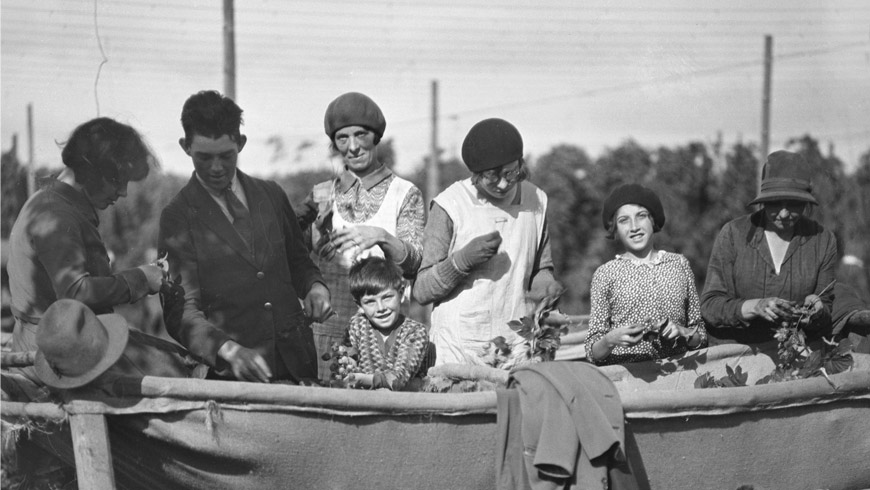 Did you know
...Elizabethan mattresses were used for both childbirth and corpses?
Mattresses, plaited from sedges, were made to support a mother during childbirth or a corpse after death. After use it would have been burned.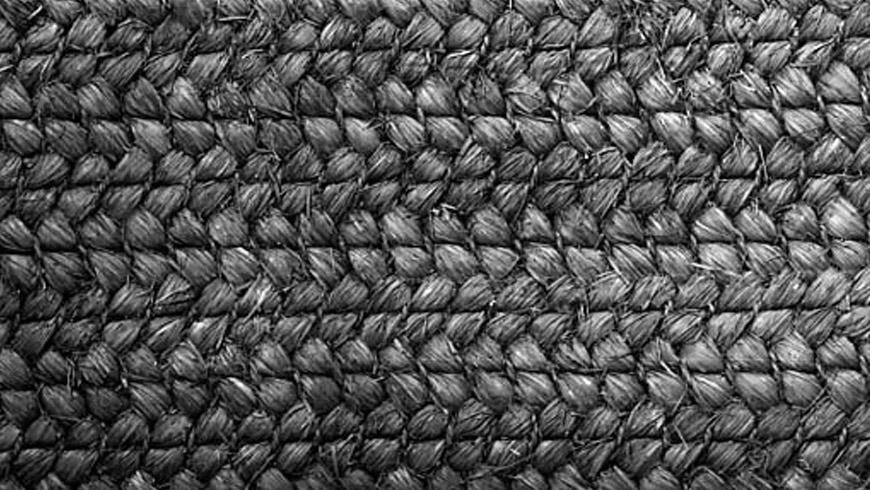 Did you know
...farmers used to sow seeds by fiddle?
Sowing by hand can be slow and inaccurate. Seed drills were developed in the 1800s to sow seeds quickly in a straight line at regular intervals.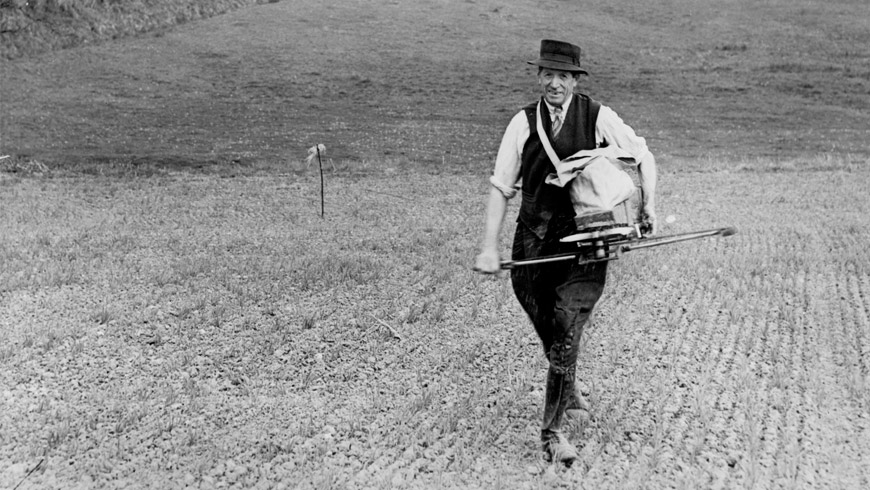 Did you know
...Lady Eve Balfour (1898-1990) was one of the earliest organic farmers and co-founded the Soil Association?
Women continue to play a key role in this movement, with organic farms employing significantly more women than chemical farming.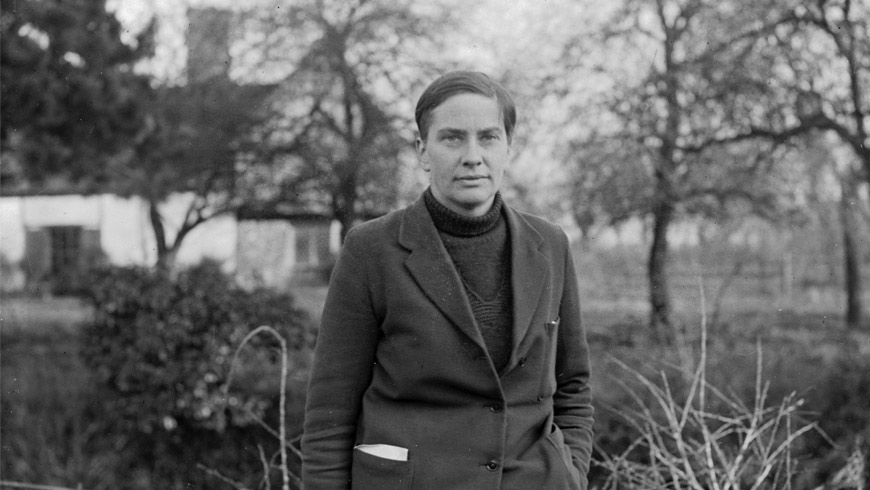 Did you know
...Suttons Seeds invented the seed packet?
The local Reading firm, founded in 1806, popularised paper packets of seeds for gardeners.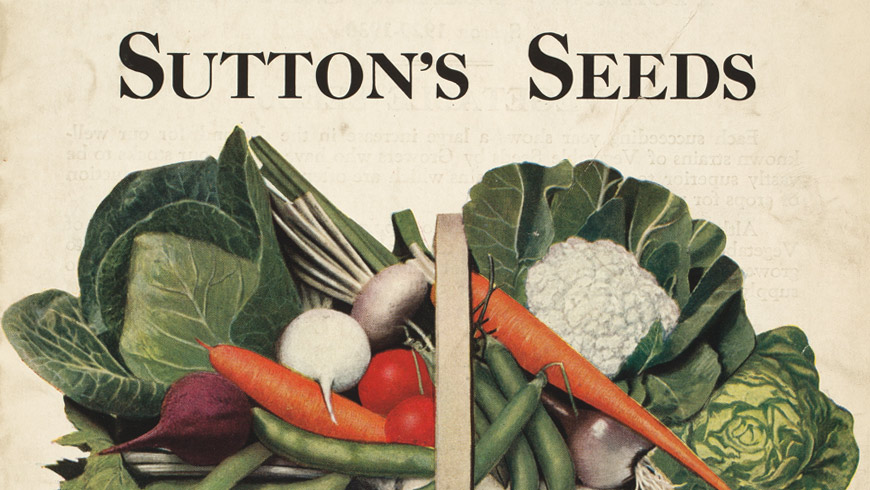 Did you know
...villages often used to run their own fire services?
The National Fire Service was only created in 1941.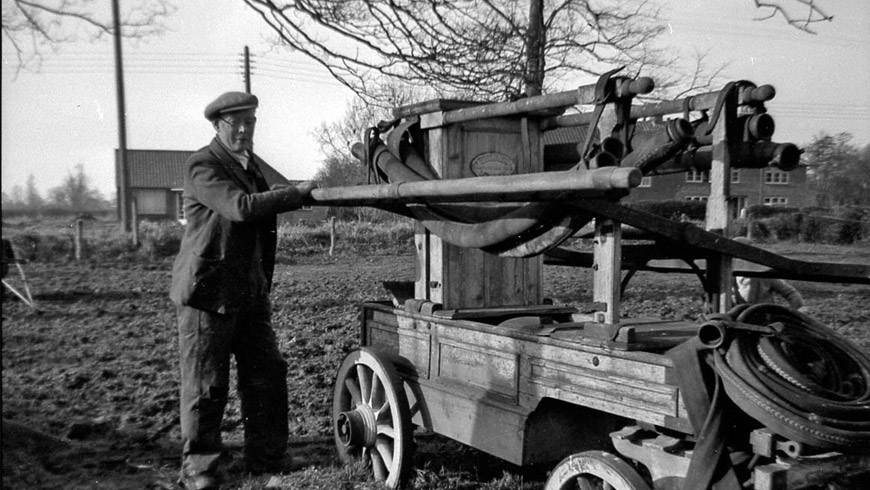 Our Country Lives - Latest Blog Posts
Our blog explores the people, places and issues of the historic and contemporary English countryside and rural life, uncovering and exploring our collections, the exciting activity around the MERL and the people we with.
One hand forms a light fist – the other relaxed, as though sleeping. The passing of years has given the plaster almost the colour of skin, the fingers looking almost nicotine-stained.
The plaster-cast hands of Joseph Arch (10/11/1826-12/02/1919) are very personal objects. One theory for their existence is that they were cast in place of a death mask, to reflect Arch's agricultural background.
To a labourer, life is lived through their hands.
The fact is, we do not know why they were cast. While the hands remain a mystery, however, the man does not.
Joseph Arch started life as an agricultural labourer in the village of Barford, Warwickshire, getting his first job at the age of nine as a bird-scarer, working 12-hour days for a wage of 4d. a week.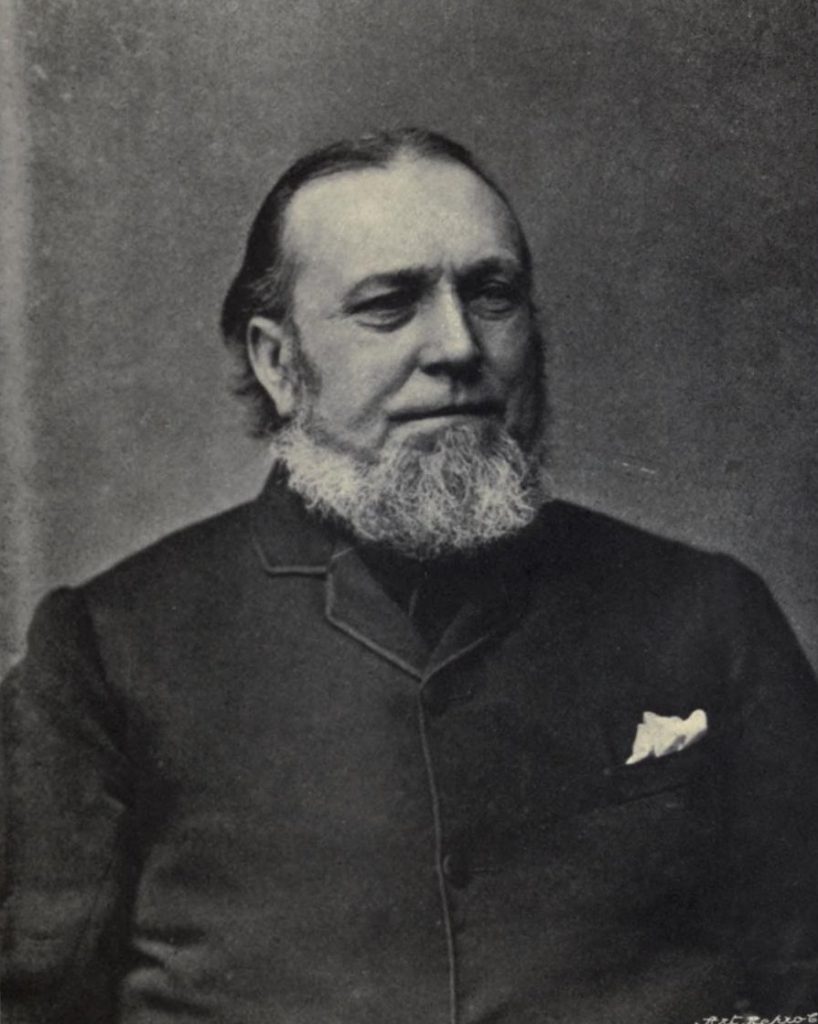 When his father died Arch inherited his home, qualifying him for the vote through the 40 Shilling Freeholder Franchise, and in February 1872 a group of local labourers invited him to speak at an event in the village of Wellesbourne. The union formed on that day there went on to become the National Agricultural Labourers Union (NALU).
Prior to the forming of the NALU, the agricultural labourer faced many difficulties such as underpayment, malnutrition and little to no education. While the condition of workmen in other industries improved, the condition of agricultural labourers remained the same.
This discontent led to the establishment of the NALU, which helped to improve the conditions of the agricultural labourer such as gaining the right to vote and so become a free man. The union, which started with small numbers, eventually reached a peak in membership totalling 86,214 in 1874, mostly due to Arch's leadership and inspiring speeches which encouraged people to join the union. This was no small feat considering many labourers did not own their own homes (increasing risk of eviction for their politics), moved around the country and had little money for union funding.
The union, although it collapsed in 1896, was resurrected as the National Union of Agricultural and Allied Workers in 1906, which represented farmworkers until 1982. After merging with other unions, over time, it eventually formed the Unite the Union in 2007.
We hold Joseph Arch's personal diary in our archives, and the plaster-cast hands also inspired our poet-in-residence Jack Thacker's volume Handling.
While Arch began as a labourer, his hands do not have the heavy, calloused and weather-beaten appearance of a working person's hands, indicating that these casts were made when Joseph Arch was no longer a practising labourer. In fact, Arch was the first agricultural labourer to become a Member of Parliament, and was elected twice by voters in North West Norfolk. As an MP Arch agitated for extending the voting franchise, but in time people began to view him as out of touch, leading to songs such as:
Joseph Arch he stole a march,

Upon a spotted cow.

He scampered off to Parliament,

But where is Joseph now?
Chris Bryant, Parliament, the Biography, London 2014, vol.2, pp.198-9
The plaster hands do somewhat resemble hands when they are used to write something, however. Therefore, it could be possible that a statue of Joseph Arch where he wrote one of his inspiring speeches was planned, with a pen inserted into the hand once the sculpture was being made.
For now, though, they remain a mystery…
---
In this guest post, Colin Moore, CMLI, provides some insight into the Michael Brown landscape at the London W2 Brunel Estate. Colin is a Chartered Landscape Architect and Urban Designer who worked as a Clerk of Works for Michael Brown Partnership for a year in 1973-4 and subsequently part-time for 2 years while studying for the MA in Landscape Design at Sheffield University. The Michael Brown archive is part of the Landscape Institute archive which is housed at The MERL, and Colin is currently secretary of FOLAR, the Friends of the Landscape Archive.
The 2019 FOLAR Annual Symposium is Landscape and Children: Design for Children's Play and includes a presentation on Michael Brown's work with children by Dr Luca Csepely-Knorr and Dr Amber Roberts of Manchester Metropolitan University. There will be an exhibition of drawings including some from Michael Brown's collection accompanying the symposium. It will be held on 16 March 2019 at The MERL. For the detailed programme and how to book see the FOLAR website.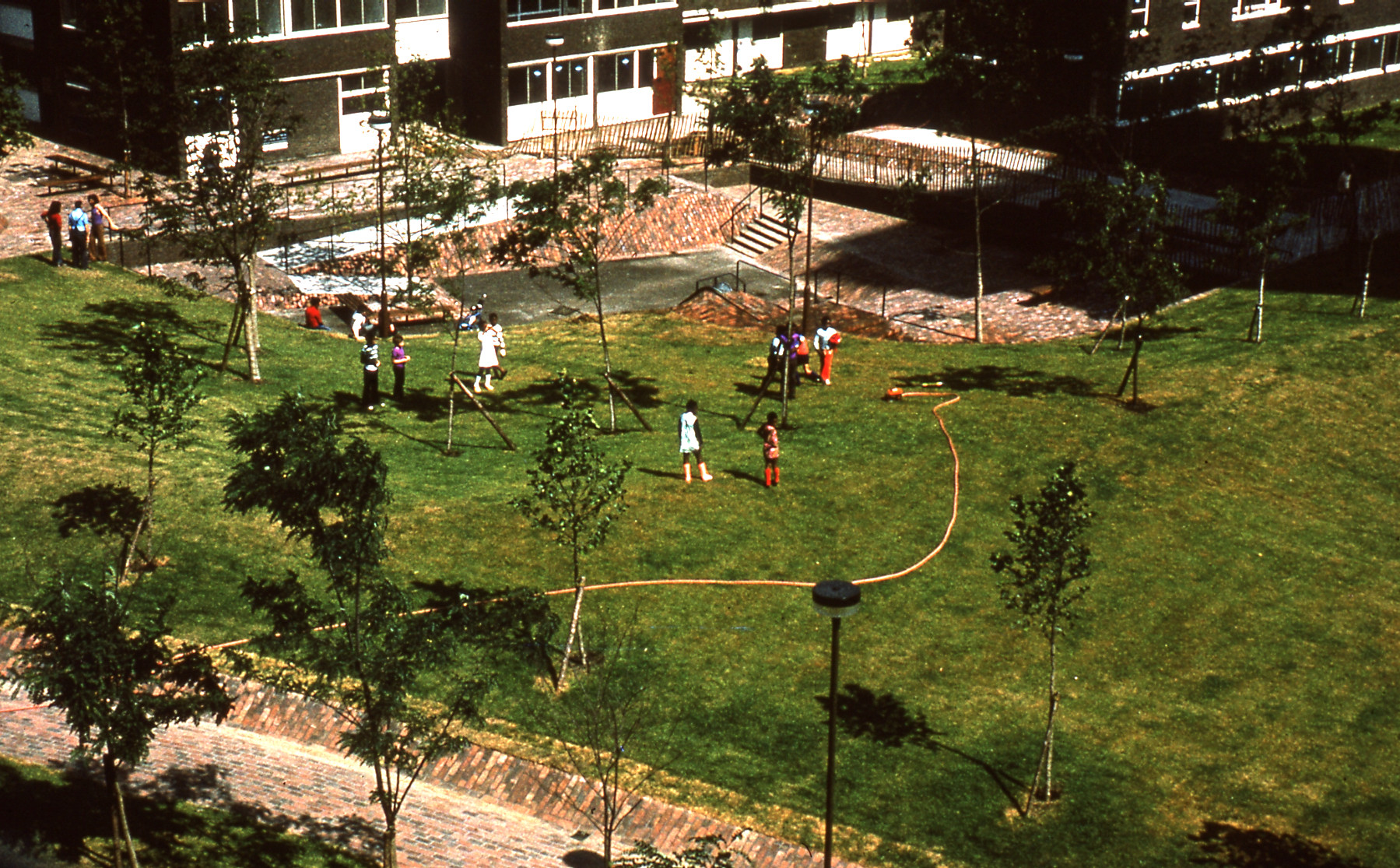 The Brunel Estate landscape perfectly illustrates Michael Brown Partnership's mastery of the design and detail of landscape brickwork. It also illustrates his expertise at manipulating landform and levels to create interlinked enclosed spaces within the landscape.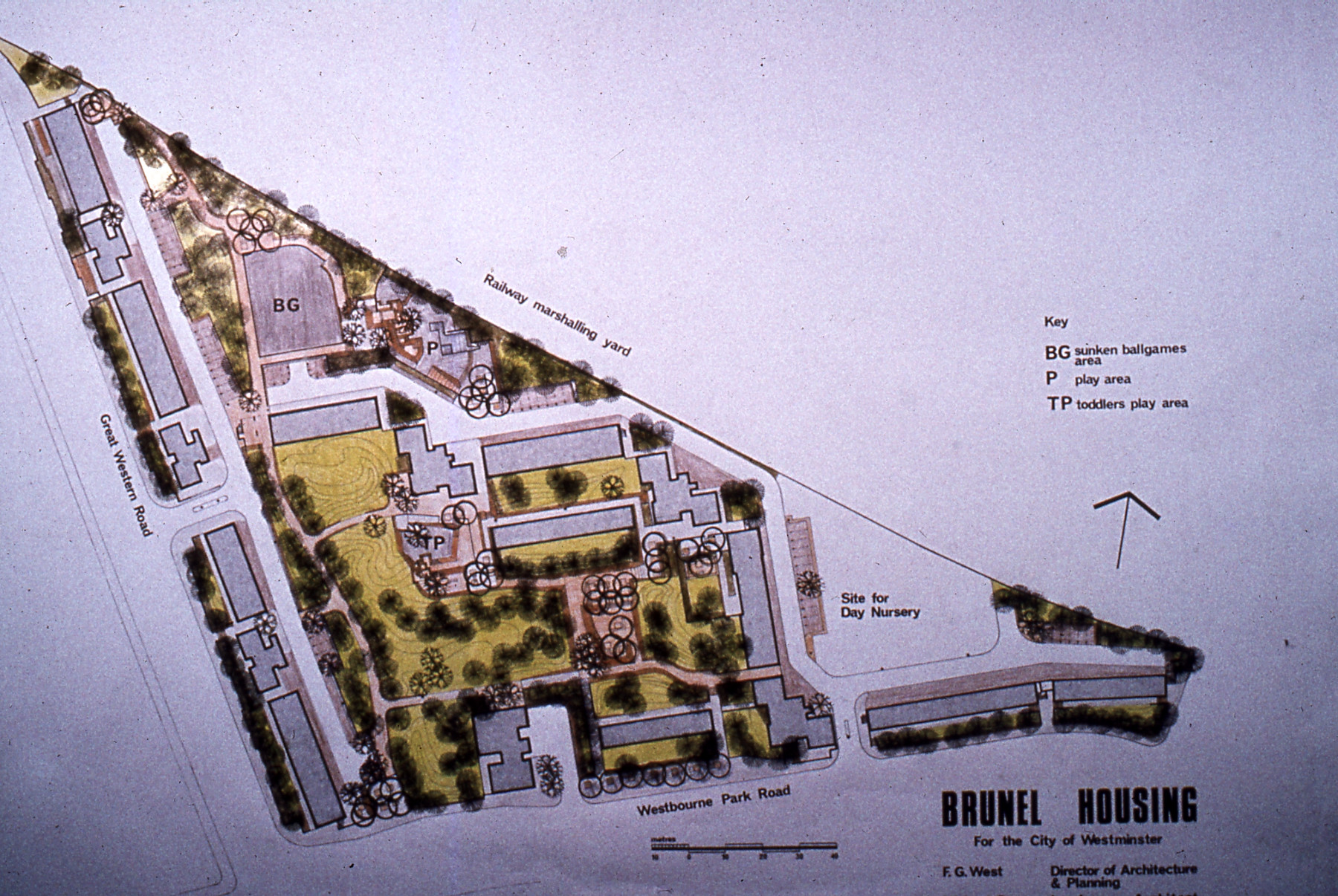 The Brunel council housing estate was completed by 1974 and is typical of its time. It includes a tower block, 4 and 5 storey slab blocks with 2 and 3 storey terraces, totalling 418 homes with extensive landscaped areas between the buildings. It is a triangular site located west of Paddington station, with Westbourne Park Underground Station at the north-west corner. The north-east boundary is a transport corridor barrier comprising overground Underground lines, main railway lines to/from Paddington, the Westway and Grand Union Canal
The landscape has generally survived very well with a high standard of maintenance. One play area has been replaced, the trees have been thinned, seats and benches replaced and some of the details modified (e.g. around the trees). The larger play area for older children is still there.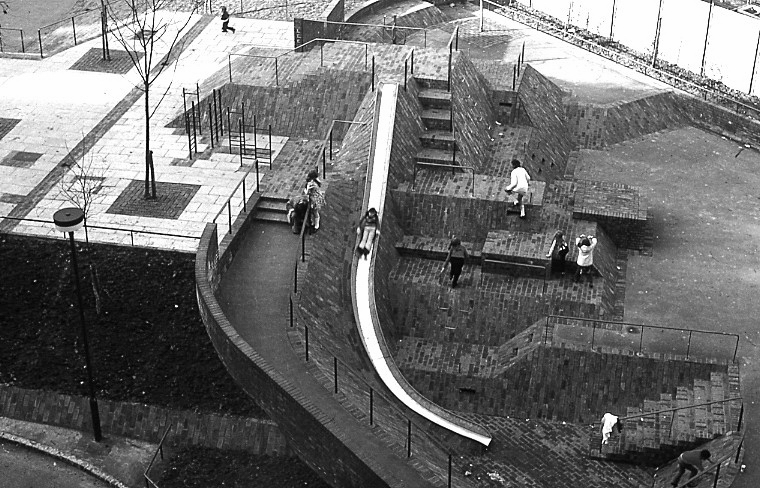 It would not be possible to create such a playground now because of increased concerns about safety. In the early 1970s impact absorbing surfaces were just becoming available, in the form of tiles (like carpet tiles and of a similar thickness!). It wasn't until the late 1970s that jointless impact absorbing surfaces became available. The original design has been modified in an attempt to improve safety by removing the foot holds, step irons and hand-hold posts that enabled children to climb the brickwork from the bottom to the top of the slide, and by replacing the open handrails with closed ones (and adding some more). Arguably, such modifications may have made it more dangerous because playing on the railings (rather than swinging through them) reduces safety by increasing the fall height.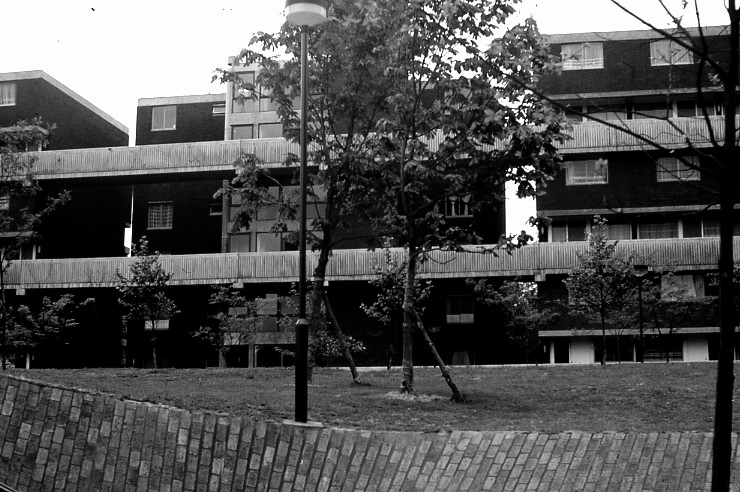 In the early 1970s semi-mature trees were becoming available for planting but few designers were specifying them. On projects where vandalism was likely to be high Michael Brown used predominantly semi-mature trees. The quality of trees was poor compared to now, but most of them survived well and grew well (the dead one on the extreme right of the photo above was replaced under guarantee).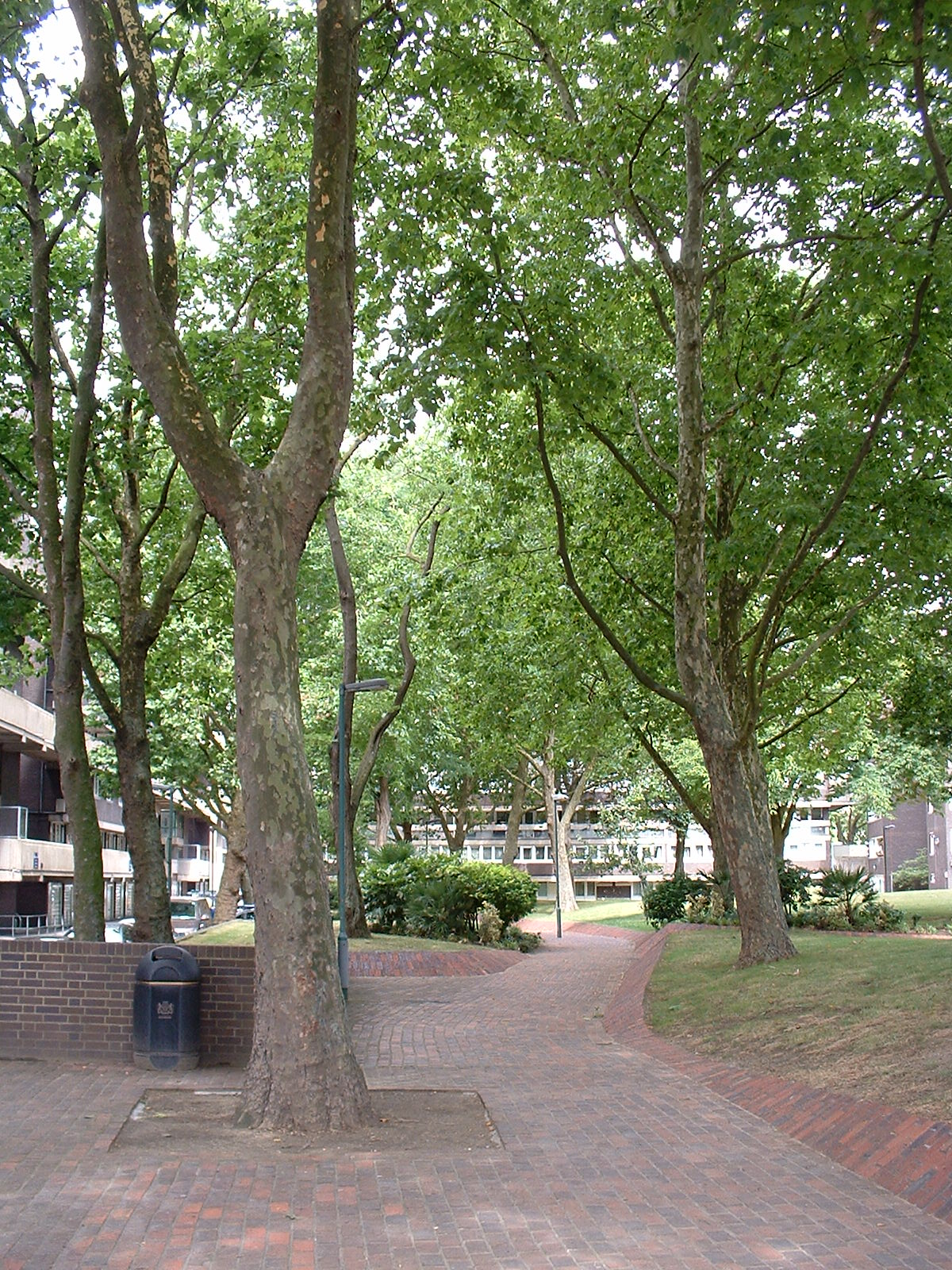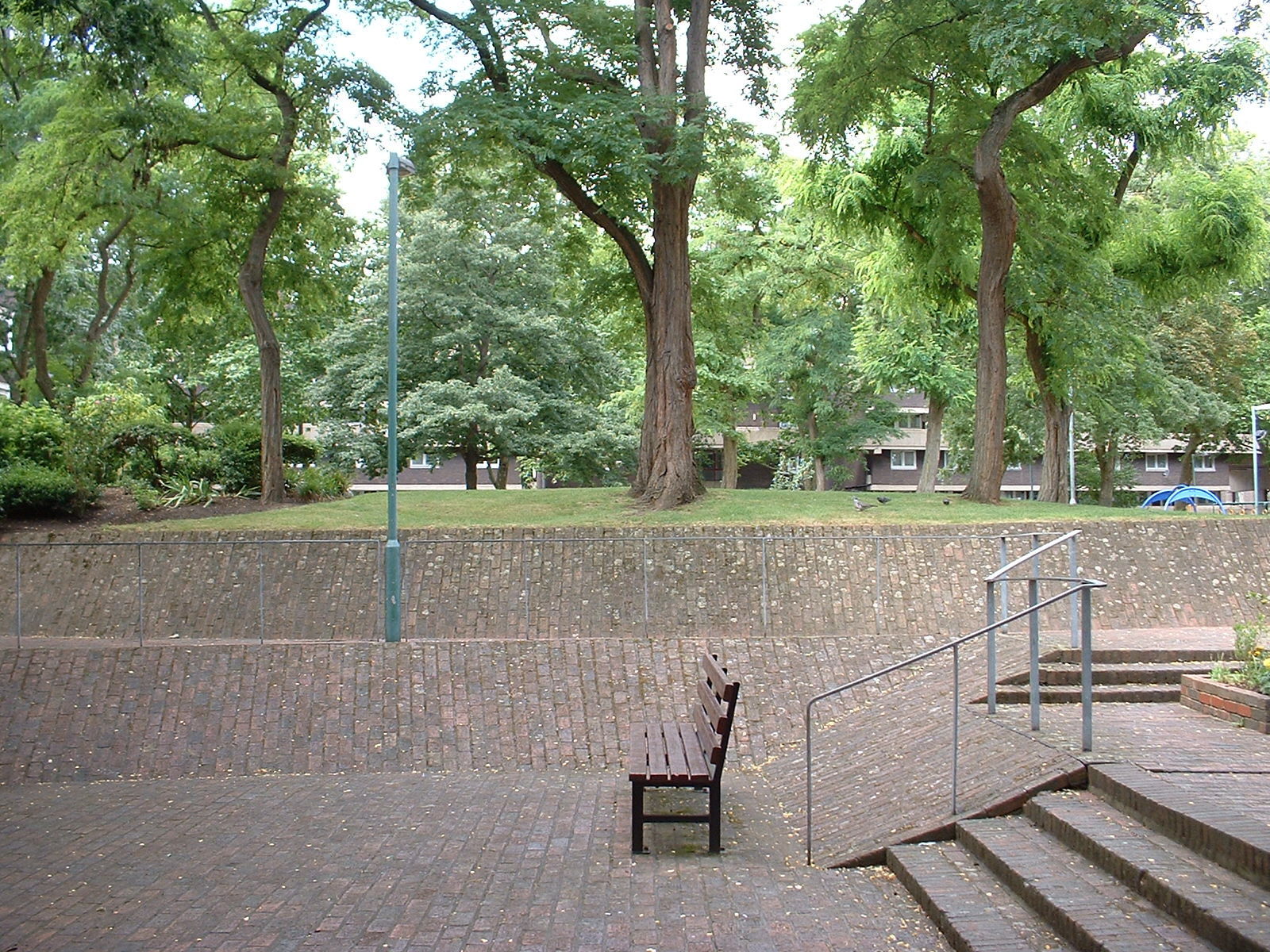 The above photograph was taken from the square area (surrounded by brick slopes) in the middle of the bottom of the plan below, looking towards the left to the treed grass area. The plan is not the as-built or construction drawing as demonstrated by the steps to the right of the photograph where the plan shows a ramp. However, the drawing is detailed in showing detail references (in circles), levels, ramps, steps, brick slopes, paving materials, contours on the grass areas, tree positions (squares variously shaded to denote the size of tree). Interestingly it is all drawn freehand without a straight edge (just using millimetre gridded paper beneath the tracing paper to ensure accuracy of the drawing).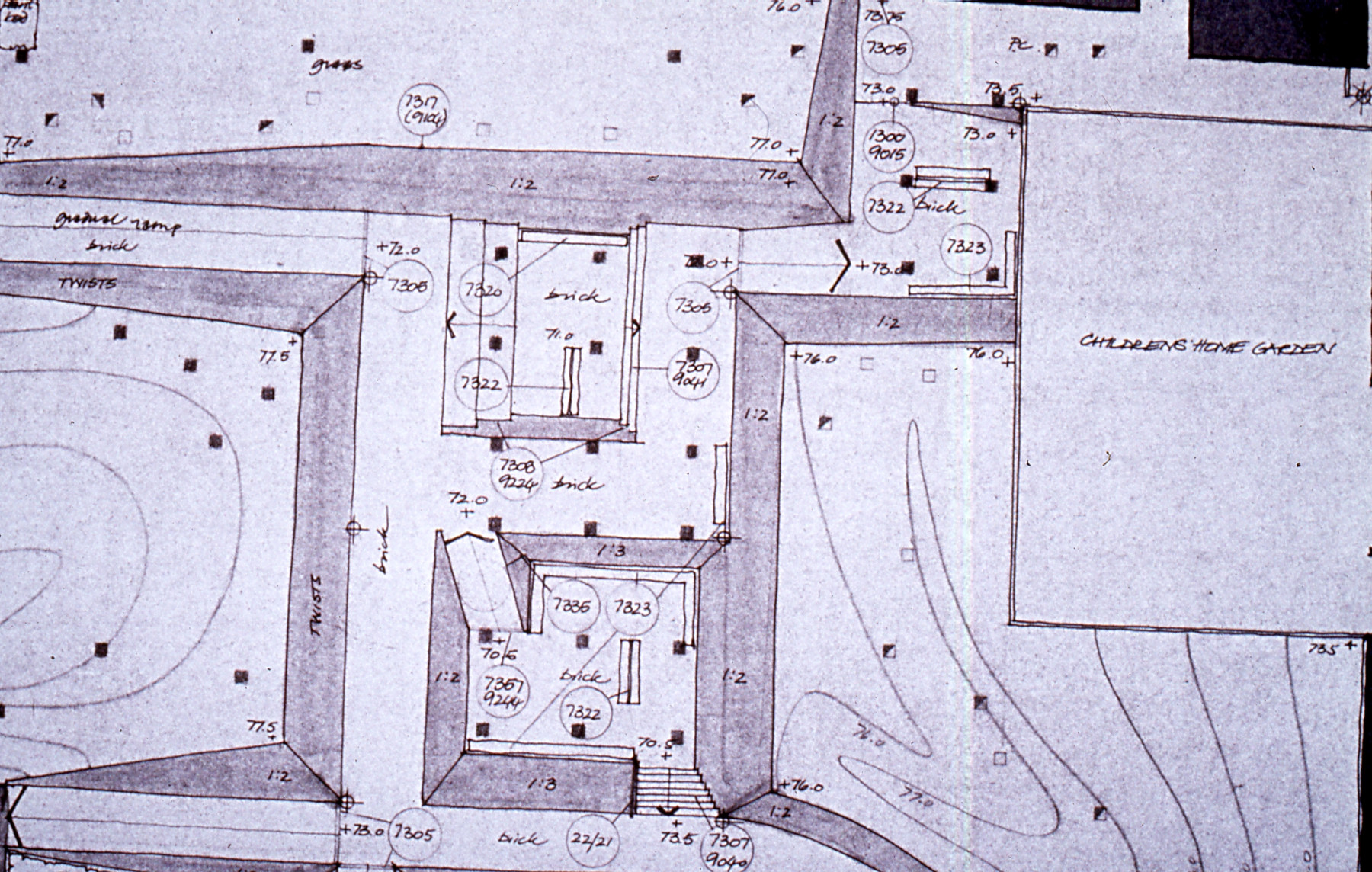 Michael Brown Partnership developed a comprehensive range of standard details which were used for many of the elements of many projects. The brick detailing (particularly the brick slopes) became the practice's trademark, enabling Michael's schemes to be easily recognised. This identity was reinforced by the limited pallet of favoured plants (predominantly Platanus x hispanica, Robinia pseudoacacia, Rhus glabra/typhina, Amelanchier canadensis, Vinca minor, Hypericum calycinum).
The repeated use of standard details also enabled continuous improvement from experience as well as modification for particular circumstances and increasing complexity in the detail.
The standard detail drawing below shows axonometric and plan drawings of different edge details for two different steps designs; ie edge details of brick slope (ref 9224) or wall (ref 9301) or edge slopping with nosings (ref 9300); for brick steps and steps with brick risers and slab treads.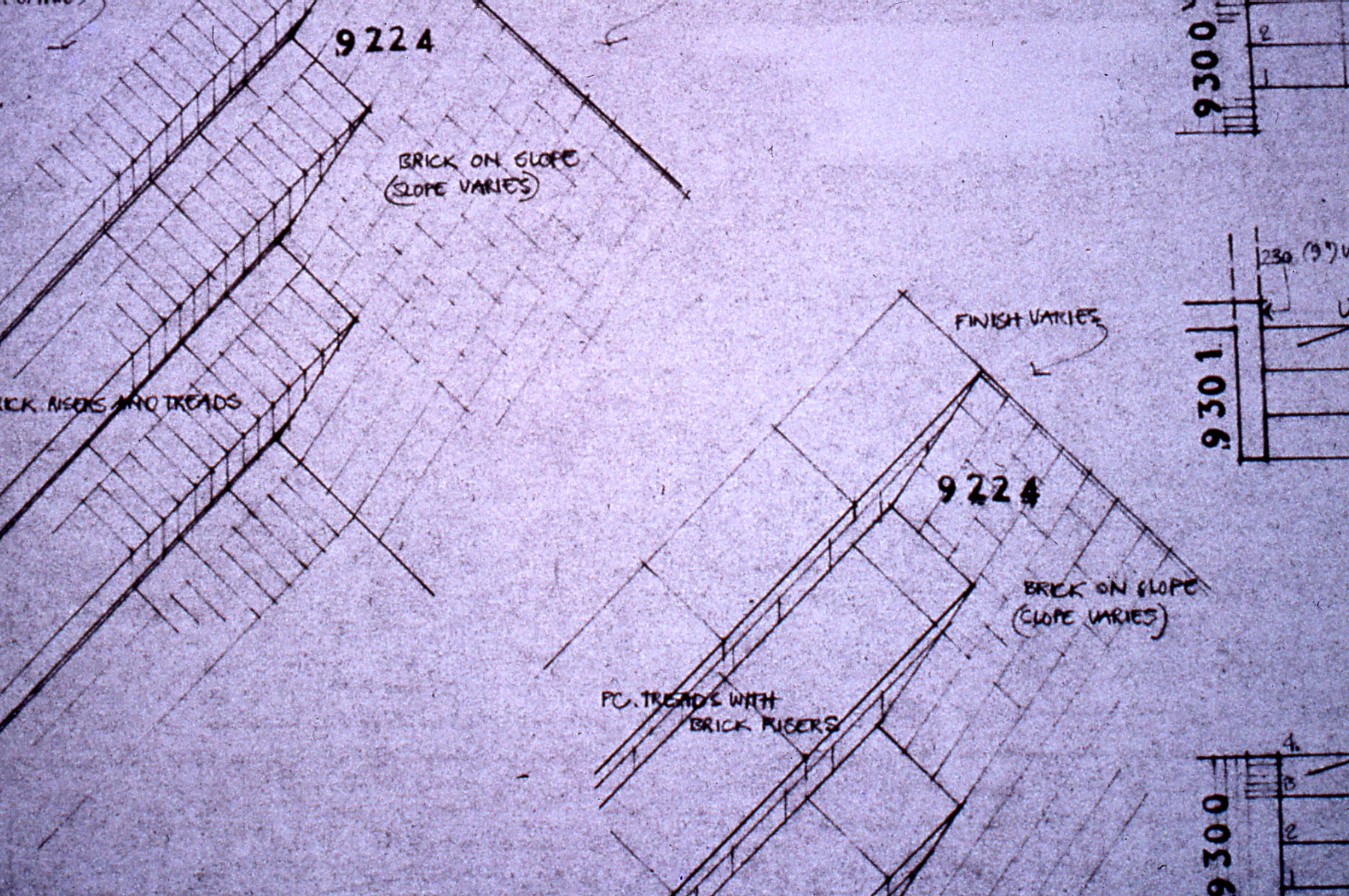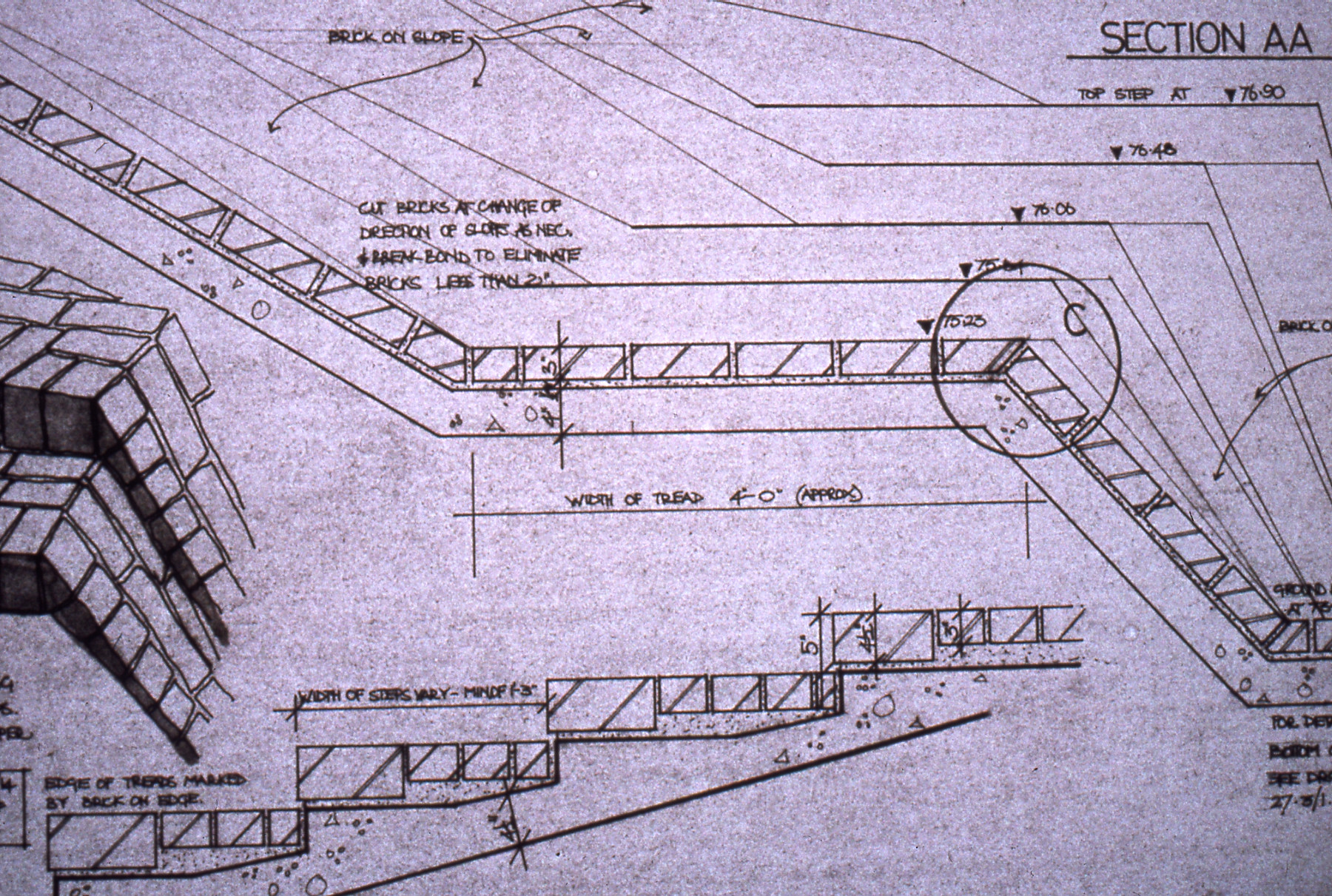 Increasing complexity is evident in the above project specific detail for Brunel Estate which shows cross sections across and up a flight of steps of varying tread lengths (normally unacceptable) and an axonometric to show a junction…  But the next photo shows it as-built.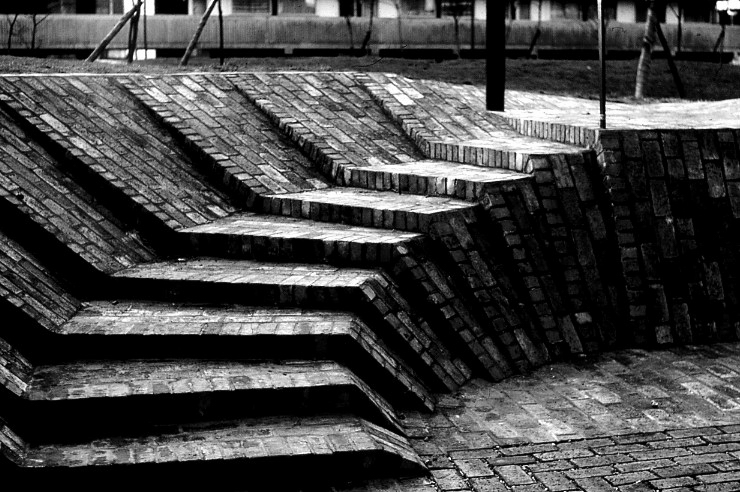 In his article in Landscape Design (August 1974, vol. 107, pp. 34-36) Michael described this play area as "… sunken below the general grass level to reinforce enclosure to the space, minimise wear on grass areas where these are adjacent and reduce noise nuisance. The battered slopes and changes of level nevertheless enable the children to reach the grass areas whilst still being reasonably under control without the need for any fence or barrier".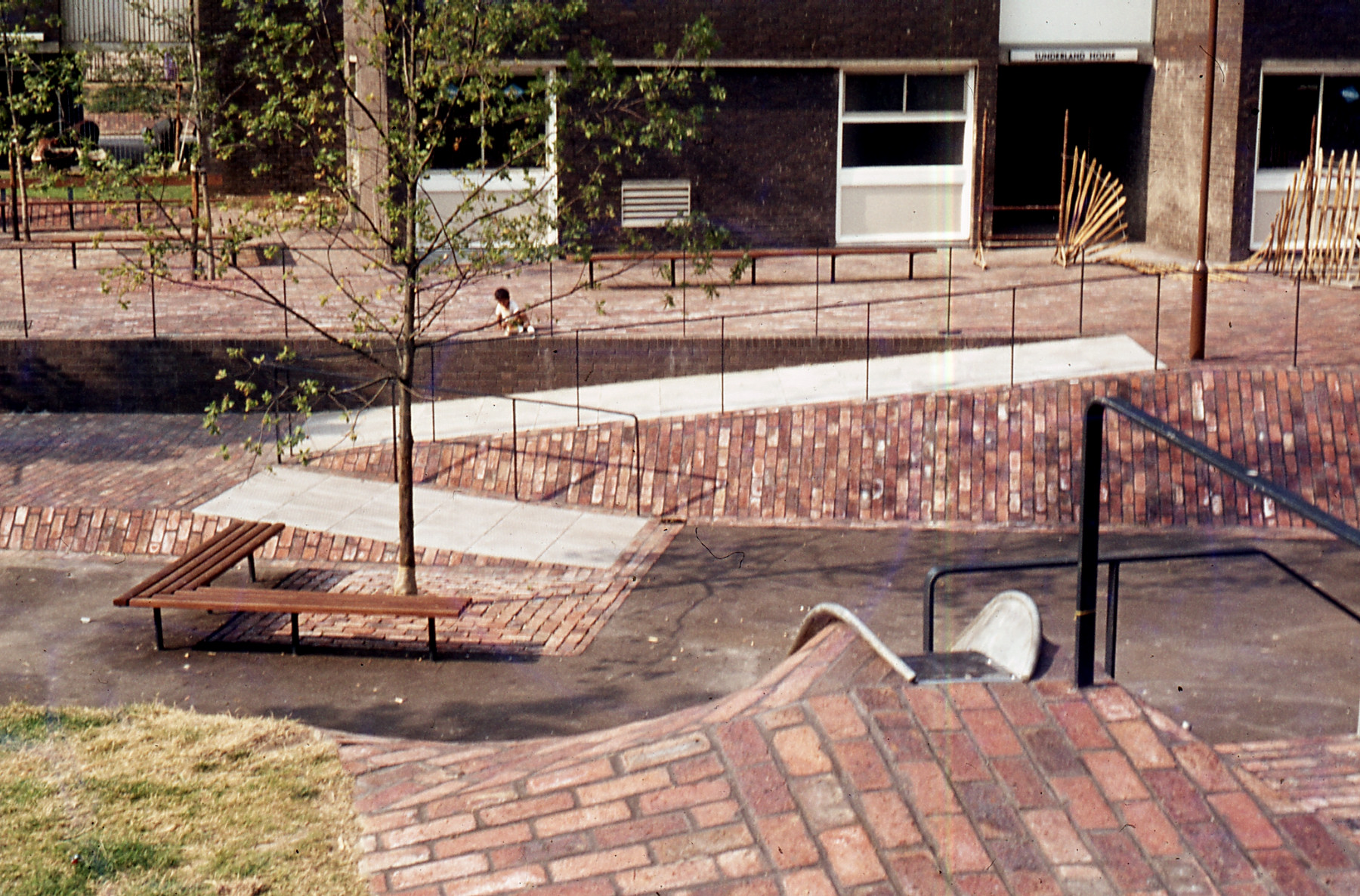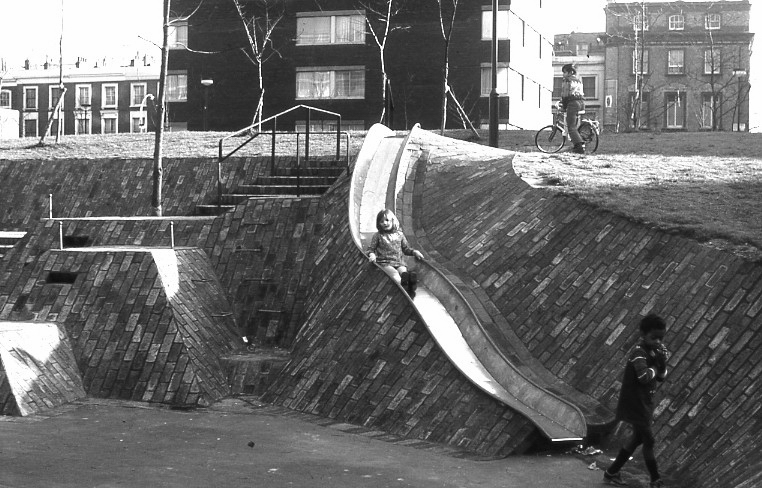 This play area for younger children was originally beside a One O'clock Club. It has been replaced with a new play area, including substantially filling it to the level of the top of the  head of the child on the slide. But, as shown in the photograph below, the brick slopes above that level to the rear and right of the photograph were retained and, where the steps and slide were removed, remodelled with matching brickwork to marry in to the original slopes. A bowtop railing has been added around the area.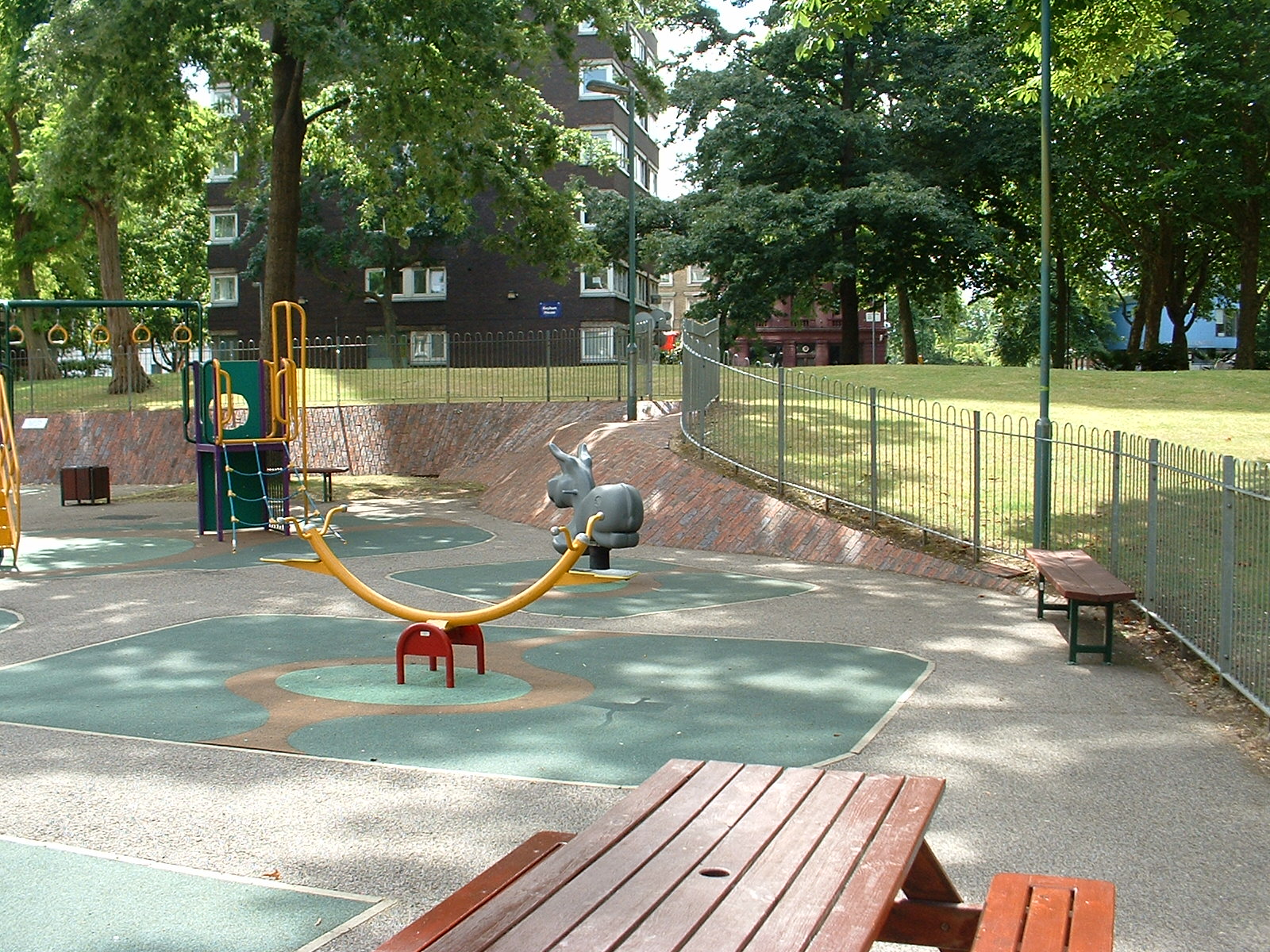 Find out more about Michael Brown
We would like to hear from you, particularly if you had/have any connection with the Brunel Estate or Michael Brown. Please contact us!
Yes, we want you to visit Reading.
We don't have the dreaming spires of Oxford. We don't have Windsor's castle. And we don't have Swindon's outlet centre.
What we do have is lush coffee, a booming pub and craft beer scene, easily accessible countryside, unique shopping and…a contemporary art installation in a museum about the English countryside which we really want you to see. Seriously, it's very good, but we thought you might want to see what else we have while you're in the area.
So, if you're sick of central, bored of Shoreditch and need a day-trip, get yourself an off-peak Return to Reading and do this stuff:
Let's have eight cups of coffee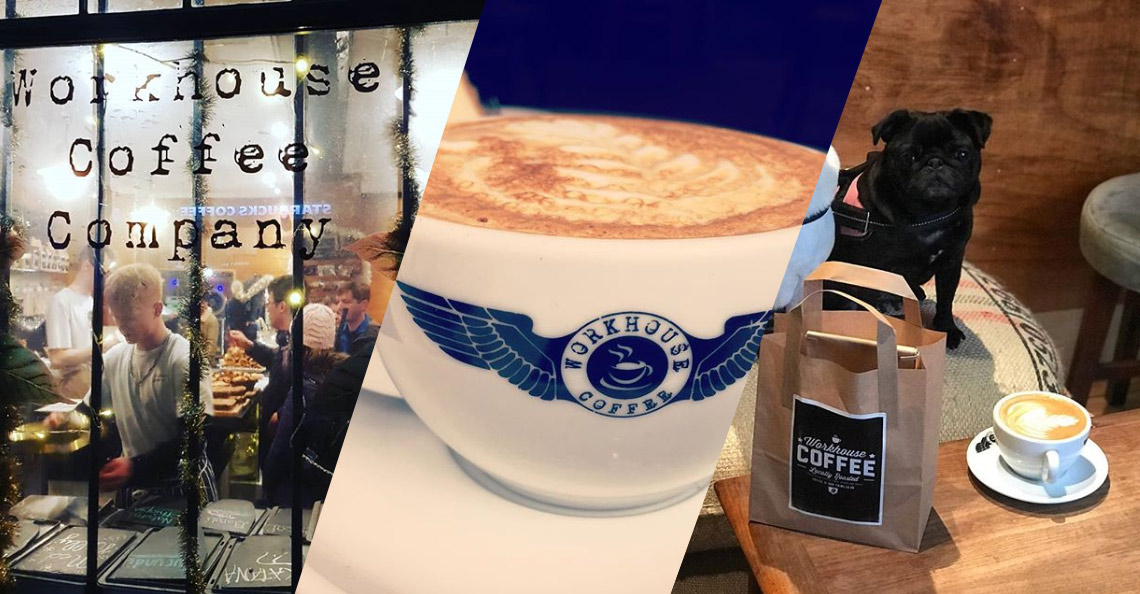 You're already getting the shakes on the 25-minute Great Western journey from Paddington, and outside Reading station you're confronted by a windswept square paved with grey redeveloped-in-the-21st-century stone, a tower block and a Pret-a-Manger.
Let's get away from that, shall we?
Head past the oldest purpose-built railway hotel in the world, up the beautifully bricked Queen Victoria Street, past the Oracle and down to the George Hotel, a 16th-century coaching inn. Behind Dickensian windows on the ground floor is the welcoming glow of Workhouse Coffee, which has the honour of both being one of Britain's 30 best and buzziest cafes and for being our only café without its own Wi-Fi. Take the time to disconnect, sample their signature blends, chat to the friendly staff and nibble on some absolutely lush pastries.
If you want to tank up, though, try these other places:
Shop until you hate capitalism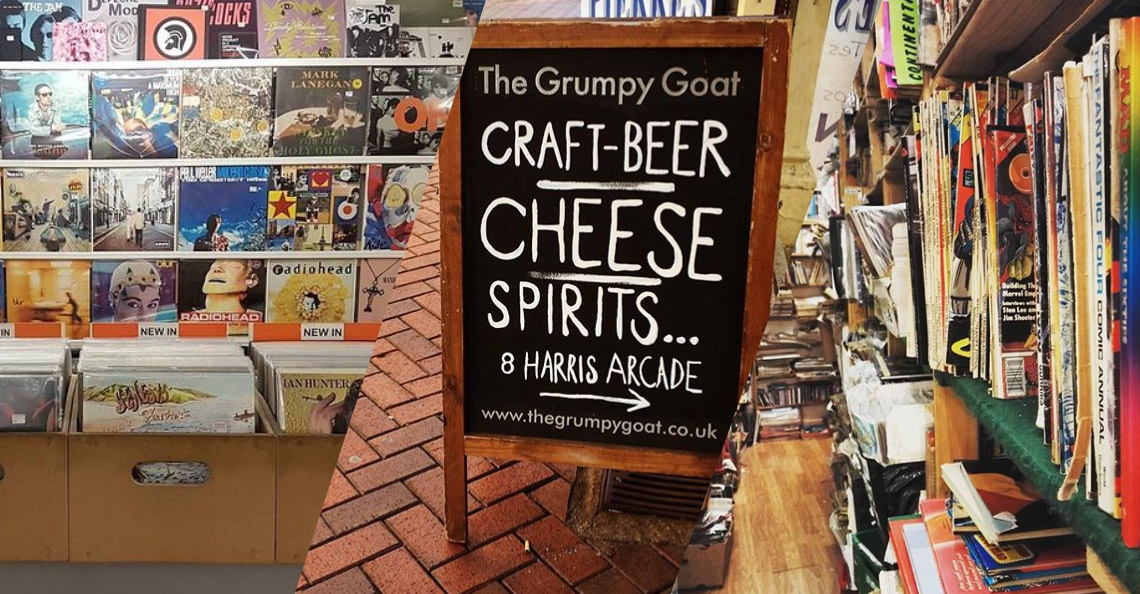 Reading has shops. We have the only Clas Ohlson left in the country, and a pretty good Gap outlet. But, to be frank, you don't have to come to Reading to buy a toaster from John Lewis, so let's move onto what makes us unique.
After your coffee it's only a short walk through the medieval Market Square and back toward the station, where you'll find the 1930s Harris Arcade.
This is Reading's mecca of independent shops. Enter from Station Road and satisfy your fandom cravings at Just Imagine Memorabilia, stuffed floor to ceiling with vintage toys, comics, records and odd bits and ends. Venture a little further and you'll find Grumpy Goat, Reading's Cheese and Beer institution, which stocks IPAs, DIPAs, Bitter, red ale, stout, porter, lager, wheat beer, cider, gin and much more in rows and columns and crates of beer which take up every conceivable space. They also run an annual craft beer and music festival at South Street Arts Festival.
Once you've stuffed your bag full of local cheeses and jazzy beers, pop into The Sound Machine and spend 30 minutes rooting through vinyl and cheap CDs. They won't judge you if you walk away with a Destinys Child album. If you're not a fan of browsing obsolete music formats, you can always pick up a cigar, browse African fashion, have a hat made or get a tattoo in the Arcade too.
If you love shopping and want more, try these:
Lunch your face off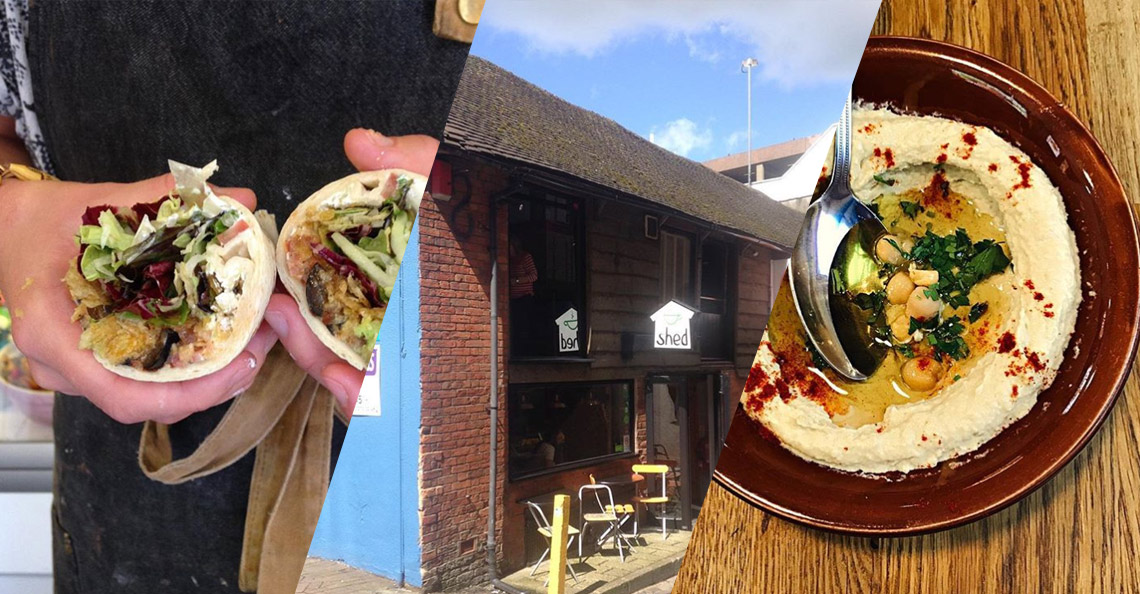 We've got two Nando's. We've even got a chicken shop called Fernandos which was sued by Nando's and is now called Fernandez. But if you want something a little different, Reading has you covered.
Once you've had your fill of shopping, wander up Friar Street (named after a medieval friary at the end of the road) and, tucked behind Nando's, you'll find a place called Shed. It's in a former forge, and its first floor becomes Reading's best cocktail bar Milk after-hours. During the day, though, they sell the most lovingly put-together and tastiest things between two slices than you can imagine. Its popularity shows on weekday lunchtimes as workers near and far queue outside for a Top Toastie, a BBC, the daily soup and Lentil Power.
Shed isn't the only one flying the flag for interesting, independent food in Reading. If sandwiches and soup aren't your thing, try these instead:
Reading has culture?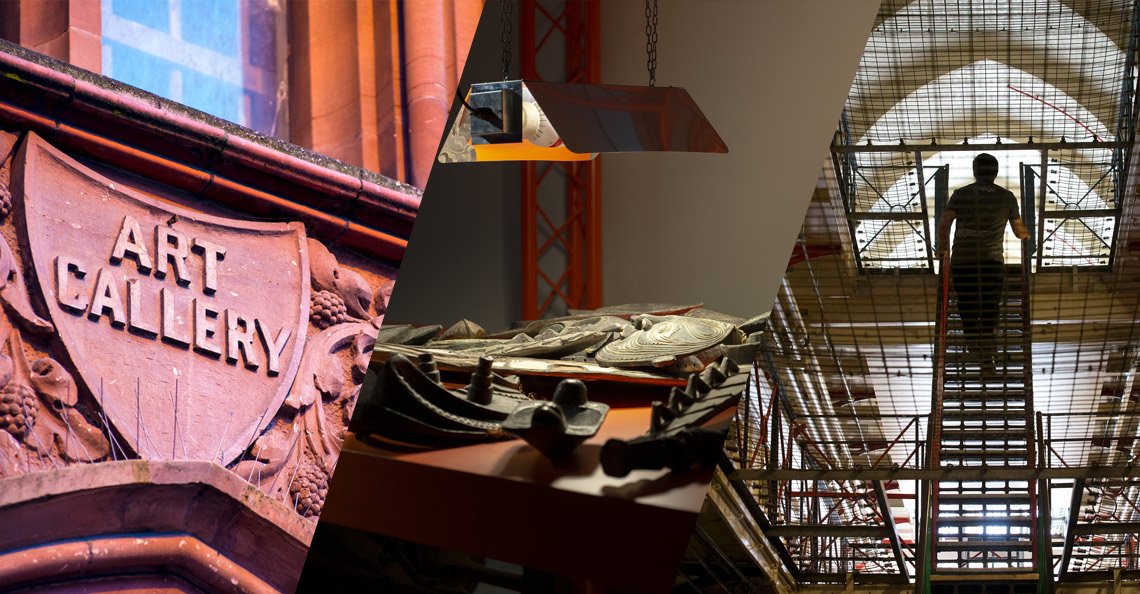 Yes, Reading has culture. From a thriving local art scene to big names at the Town Hall; from England's best 6-sided venue to an arts centre saved by the community; and from a Victorian replica of the Bayeux tapestry to England's national museum on English rural life – repeat after us: Reading has culture.
Reading International has been bringing world-class contemporary art to Reading over the past few years, most notably when they got the likes of Ralph Fiennes down to read De Profundis in Reading Gaol, where Oscar Wilde was imprisoned for homosexuality. They've also invited internationally-renowned artist Steven Claydon to place three large sculptural pieces in the Museum of English Rural Life. They're very hard to miss, made out of cages and bright orange scaffolding enclosing a mixture of our own objects and New Guinean and Melanesian folk objects. As Steven says in our blog:
Objects have a curious way of adapting and enduring through the changes inferred and imposed on them.

I wanted the pieces from my collection to be able to shed new light on the indigenous objects at The MERL through their similarities and their alterity or 'otherness'; to catalyse a re-reading via an altered context.
After lunch, wander south and down Georgian London Street, past the Shenhai Olympia Ballroom where the Rolling Stones once played, and take a detour through the tranquil University of Reading London Road campus and give us a visit.
If you're hanging around though, take the chance to laugh, learn and be inspired at these other places:
Walk it off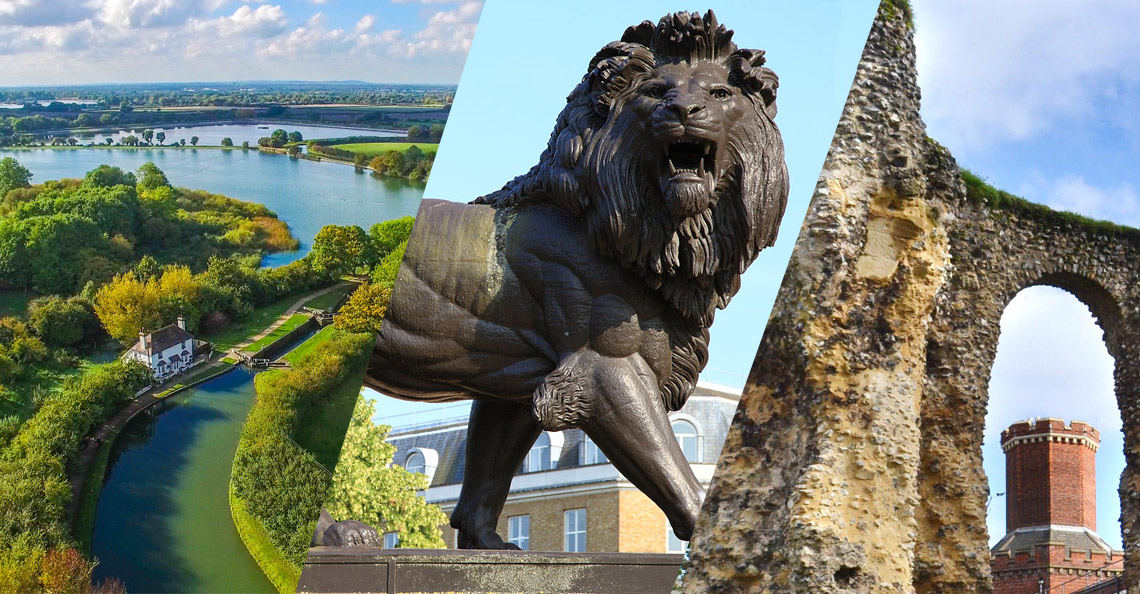 We have trees for you to look at. We have rivers for you to stare at swans. We have slightly grim but sometimes nice canal-side footpaths to amble along and avoid bikes on.
But since you're only here for the day, take a brisk walk back into town and through Forbury Gardens, Reading's centuries-old gathering space. Relax under the imposing glare of the Maiwand Lion, splash about in sculptural fountains and climb a civil war-mound-which-used-to-be-a-fort. Continue through to Reading Abbey Ruins, the imposing and romantic remains of one of Britain's most important religious sites and the burial place of Henry I.
If you're here for a longer day or if you want to come back, try these too:
Eat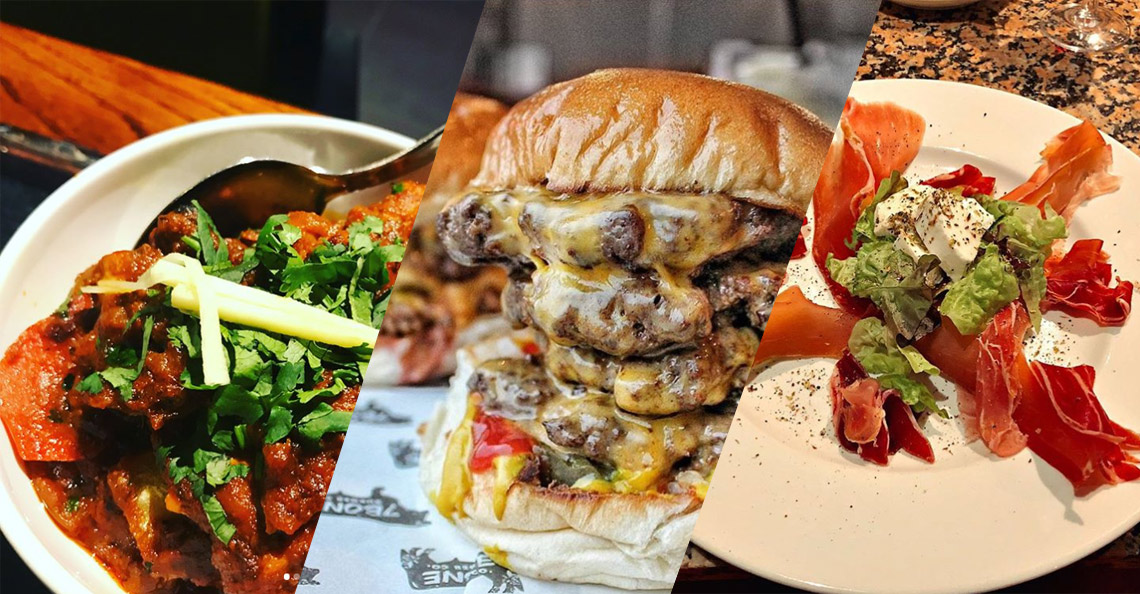 Reading is a surprisingly good place to stuff your face.
We defer to our local food blogger Edible Reading for insightful recommendations, but for what it's worth we've collected some things together:
Get sozzled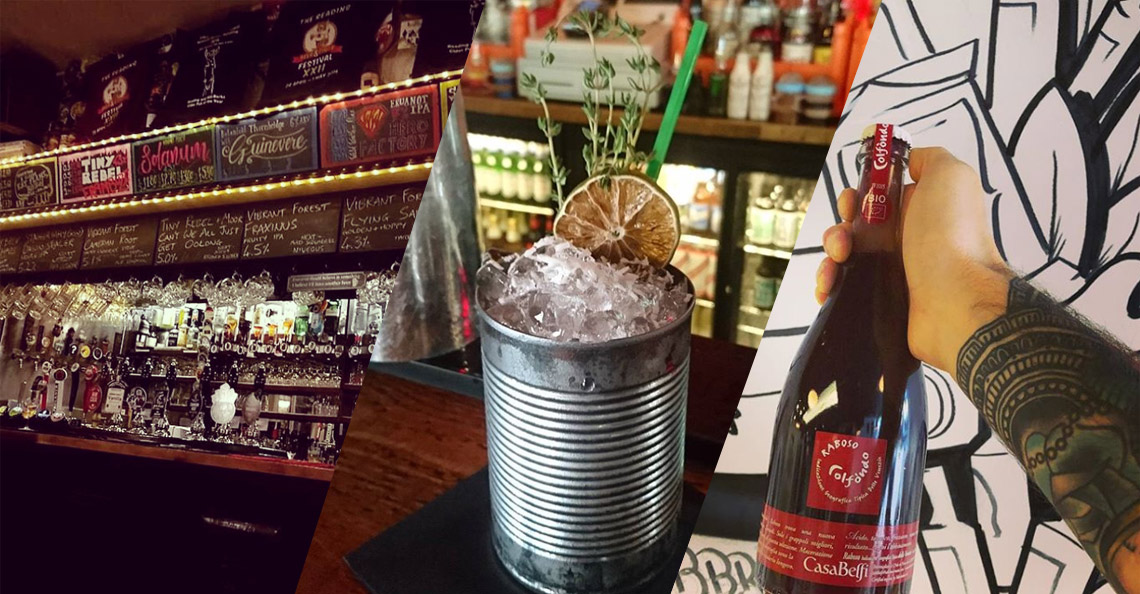 Reading has a thriving bar and pub scene. We're surrounded by established and up and coming breweries, have brassy new pubs and classic old man pubs, and even some wine bars.
Rather than assume your taste for you, we're going to give you the best of each:
You can also turn yourself into a public disturbance for less than a tenner in no less than three Wetherspoons, an O'Neills, a Walkabout, a Varsity and a variety of other copy and paste boozers.
Go home, but come back
Reading is quietly becoming a good place to eat, drink, experience culture and have a good time. We're very proud of it and would love for you to come again, but please don't tell too many people or they might ruin it.
Thank you.