The Museum of English Rural Life explores the history of the English countryside and its people. The museum is free to visit and is one of the best things to do in Reading. Whether on your own or with friends and family, discover our  galleries, research our collections, refresh in our café, browse our shop, or relax in our garden.
We are a part of the University of Reading and work with Reading Museum as the Arts Council England-funded Museums Partnership Reading.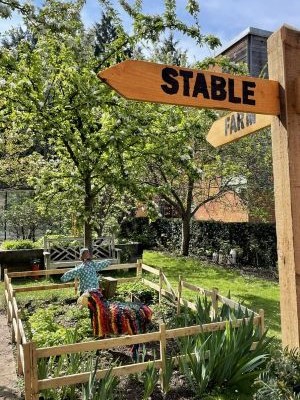 Events and workshops
April 8 - September 4
Museum opening hours
Free
Did you know
...city families used to pick hops on holiday?
Hop picking holidays allowed city families to earn money. Pickers were paid with tokens, which were used in local shops or exchanged for wages.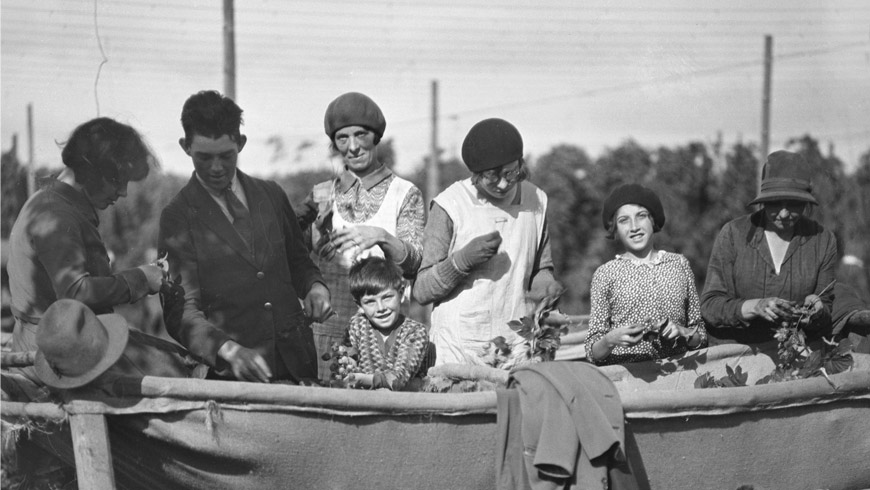 Did you know
...Elizabethan mattresses were used for both childbirth and corpses?
Mattresses, plaited from sedges, were made to support a mother during childbirth or a corpse after death. After use it would have been burned.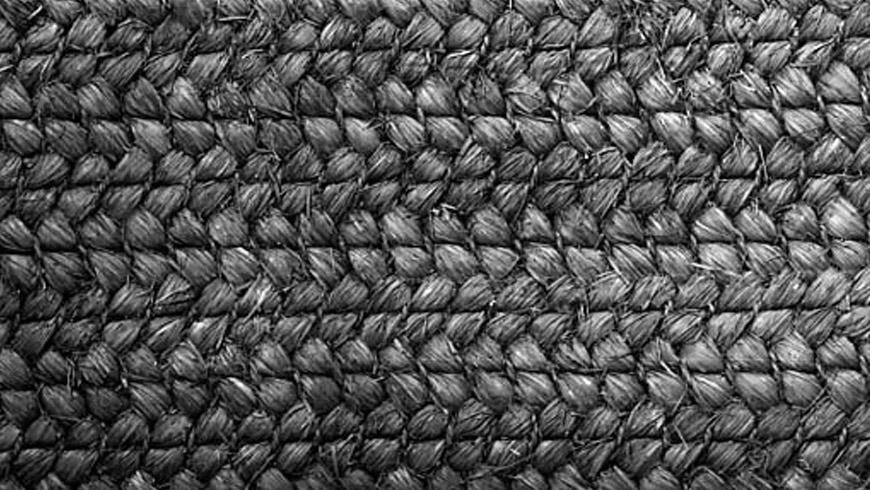 Did you know
...farmers used to sow seeds by fiddle?
Sowing by hand can be slow and inaccurate. Seed drills were developed in the 1800s to sow seeds quickly in a straight line at regular intervals.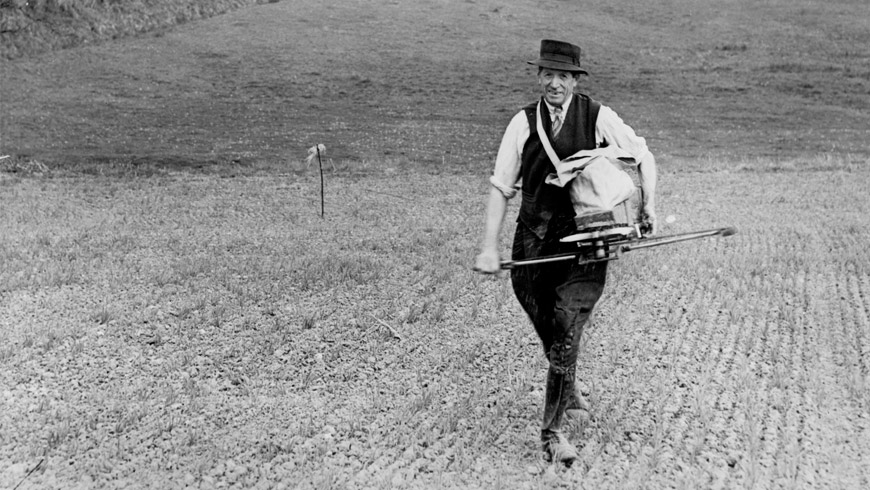 Did you know
...Lady Eve Balfour (1898-1990) was one of the earliest organic farmers and co-founded the Soil Association?
Women continue to play a key role in this movement, with organic farms employing significantly more women than chemical farming.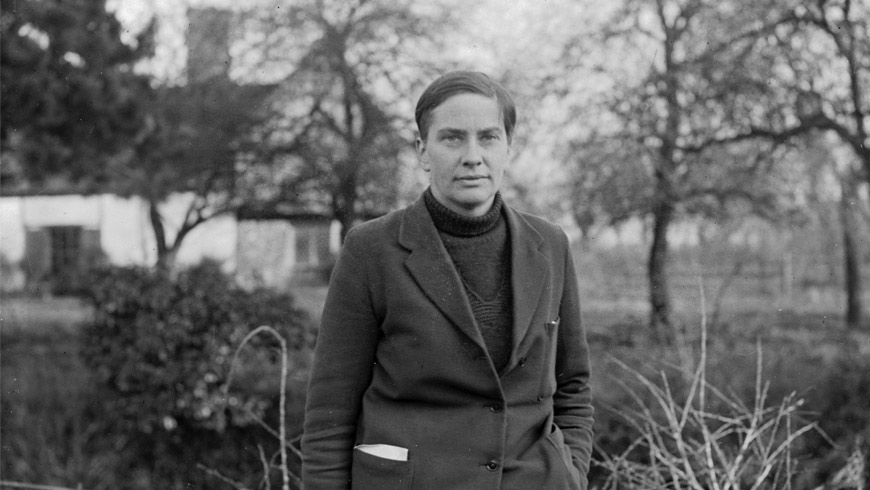 Did you know
...Suttons Seeds invented the seed packet?
The local Reading firm, founded in 1806, popularised paper packets of seeds for gardeners.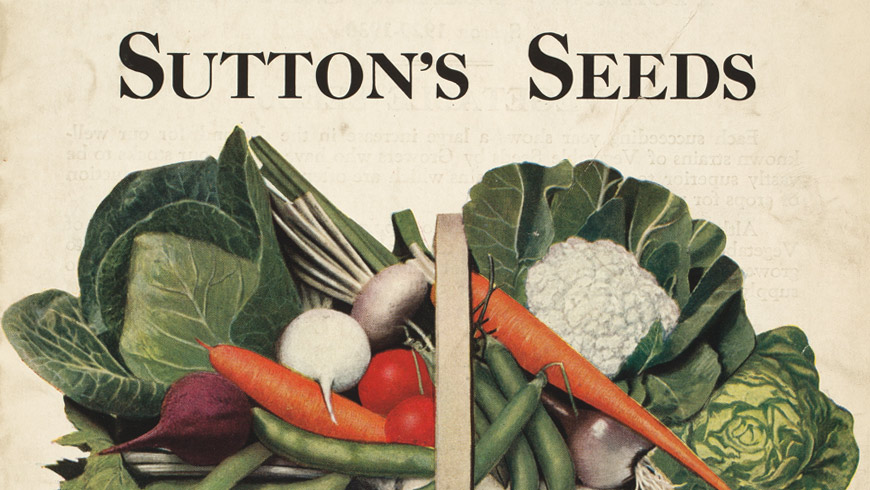 Did you know
...villages often used to run their own fire services?
The National Fire Service was only created in 1941.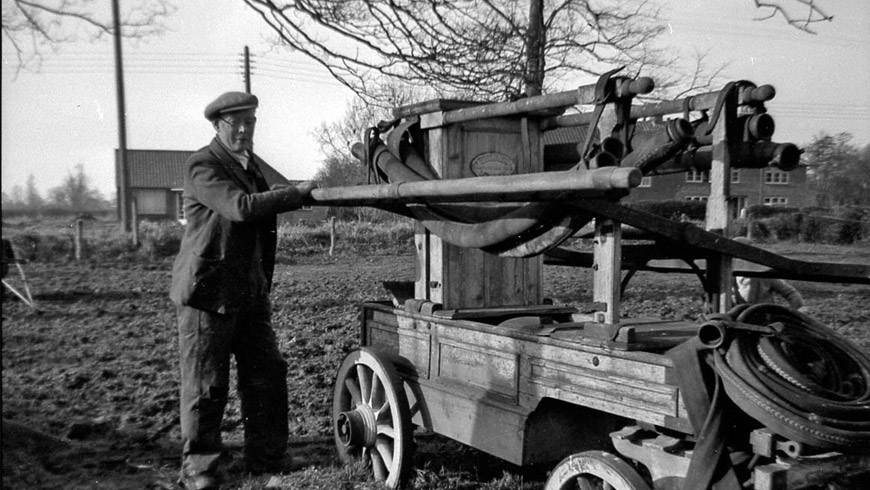 Our Country Lives - Latest Blog Posts
Our blog explores the people, places and issues of the historic and contemporary English countryside and rural life, uncovering and exploring our collections, the exciting activity around the MERL and the people we with.
Few items are more symbolic of life on the home-front during the Second World War than the ration book. Despite its small size, ration books and rationing made an enormous difference to the routines of daily life, allotting the amounts of food by which each person could be sustained from 1940 until well after the end of the war.
In this blog, find answers to your most commonly asked questions about ration books, as well as related collections kept here at The Museum of English Rural Life. Why did we have ration books? How were they used? And how was farming and agriculture changed by the devastation of the war?
Why did we have ration books?
After World War Two began in September 1939, fear swept across the UK that there would no longer be enough food to support the nation's people. At that time, we imported 55 million tonnes of our food from around the globe each year. However, as German submarines took to the seas and bombed British supply ships, the UK could no longer depend upon these imports arriving safely. To prevent rises in food prices and stop people from hoarding, the UK Government introduced a system of rationing.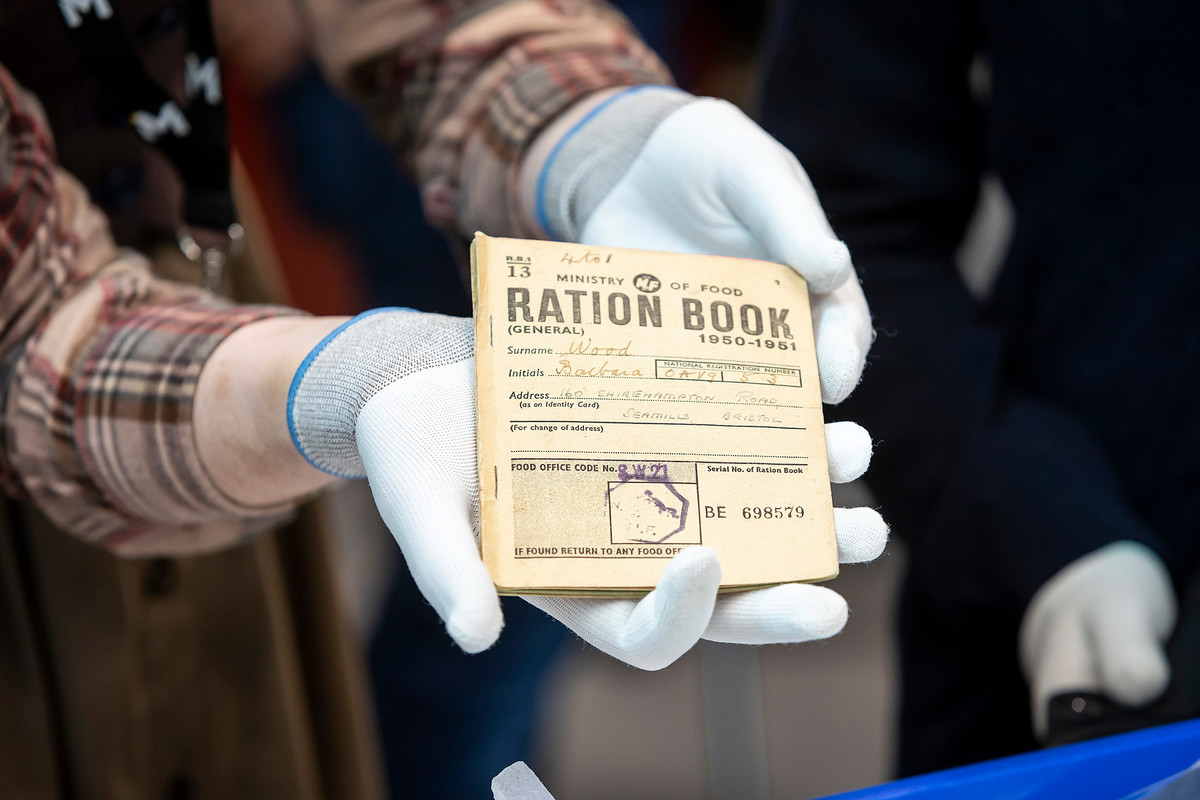 There was a real concern whether the British people could survive on British-grown produce alone. So, to test this, an experiment was conducted by researchers at the University of Cambridge. The scientists were Elsie Widdowson, Robert McCance, and Frank Engledow (Drapers Professor of Agriculture). In the experiment, six volunteers were tasked with completing physically demanding activities, including hiking, cycling, and mountain climbing, sustained only by the rationed diet. After all, food rations would need to meet the high energy requirements of war work.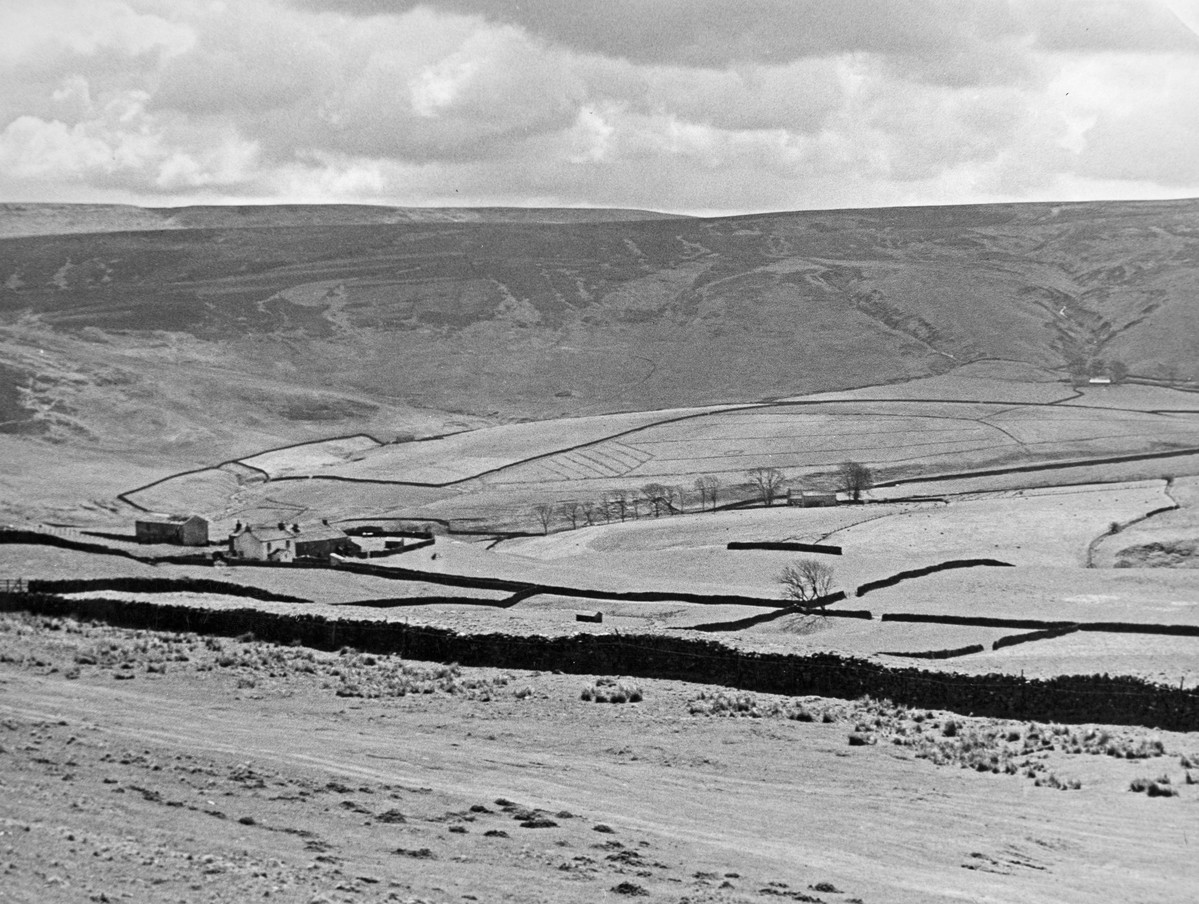 The experiment was a success. The volunteers were full of energy and able to complete the strenuous activities, with no detrimental affect on their health. The only side effect was a reported increase in flatulence!
The results were circulated to the Government but were kept secret until long after the war had finished. Though the Government's rationing was more relaxed than the amounts used in the experiment, it was a relief that the population would still be 'fighting fit' either way.
When was rationing introduced? How did it work?
In January 1940, every person in Britain, including children, was issued with a ration book. These ration books contained coupons which could be exchanged for a certain amount of produce from different shops. Each person had a registered butcher and greengrocer which allowed shopkeepers to anticipate the amount of food they would need to supply each week.
As part of rationing, shoppers were given 16 coupons per month to spend on food items they wished. These could be traded as follows:
Rice: 8 coupons
Sardines: 2 coupons
Sultanas: 8 coupons
Skimmed milk: 5 coupons
Currants: 16 coupons
Baked beans: 2 coupons
Biscuits (dry): 2 coupons
Biscuits (sweet): 4 coupons
Herrings: 2 coupons
Sultanas: 8 coupons
Stewed steak: 20 coupons
Rolled oats: 2 coupons
Sausage-meat: 12 coupons
Best Red Salmon: 32 coupons per small tin
Meat was the first thing to be rationed in March 1940, and more items were added as the war progressed. People were strongly encouraged to grow their own food, such as fruit and vegetables, and keep animals like chickens. Foods like potatoes, fruit, and fish were not rationed, and dried eggs were permitted as an addition to fresh.
What does a ration book look like?
Resources and materials across daily British life were all subjected to rationing. And with different kinds of rationing came different types of ration books.
Brown ration books were the most common and were used by most adults. Pregnant women, nursing mothers and children under 5 received green ration books, whilst blue ration books were issued to children between 5 to 16 years old.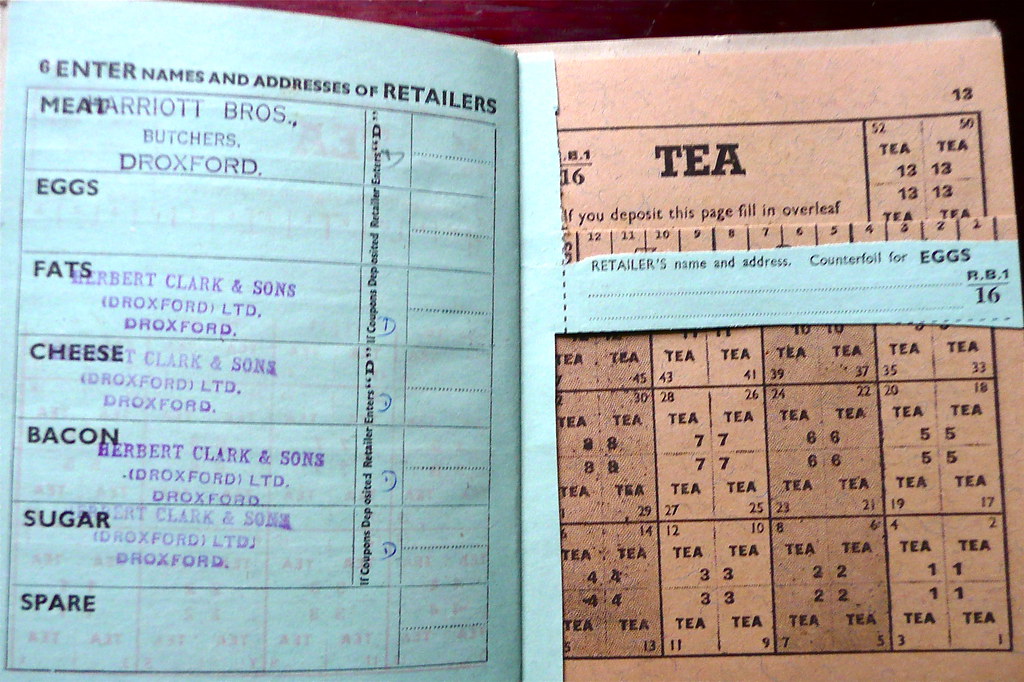 Smaller green books were used for petrol rations. To qualify for these, applicants would need to produce their car or motorcycle registration. The coupons were only valid for the period in which they were issued, so they could not be saved or hoarded. One coupon equated to one gallon of petrol.
Bright red ration books were for clothing rations, which came into effect from the 1st July 1941. Clothing was rationed so that raw materials were safeguarded for military use. It meant that factory space and workers could be put towards the war effort instead of making clothing. Only 24 coupons were issued every six months, with up to 100% purchase tax, meaning that you might end up paying double the price for a coat or dress.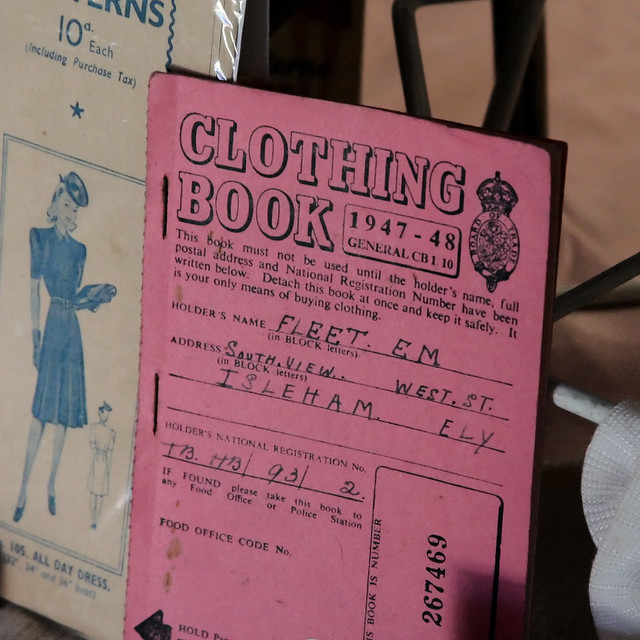 Children were permitted an extra ten coupons to accommodate for growing, but mothers were encouraged to plan ahead and buy clothes that kids could 'grow into'!
War and the farm
Agriculture saw a radical change during the Second World War. For many farmers, production became the focus. Even animal food was rationed to ensure that animals produced the best quality meat, milk, or eggs without being overfed. Farmers were required to seek permission to slaughter animals to feed their families, as everything was on the ration. One rule, however, was that should an animal be injured, it could be slaughtered to reduce its suffering. According to one testimony, 'many sheep and pigs during the war "fell down holes" and injured themselves. Especially round people's birthdays!'1
As men enlisted in the Armed Forces en masse, the Women's Land Army saw women heading into the countryside to sustain the country's food production. For many women, it was their first venture into rural England and offered both adventure and the chance to learn new skills. You can learn more about the Women's Land Army across The MERL website, including Land Girls: the History of the Women's Land Army and Breaking the Colour Bar: Amelia King and the Women's Land Army.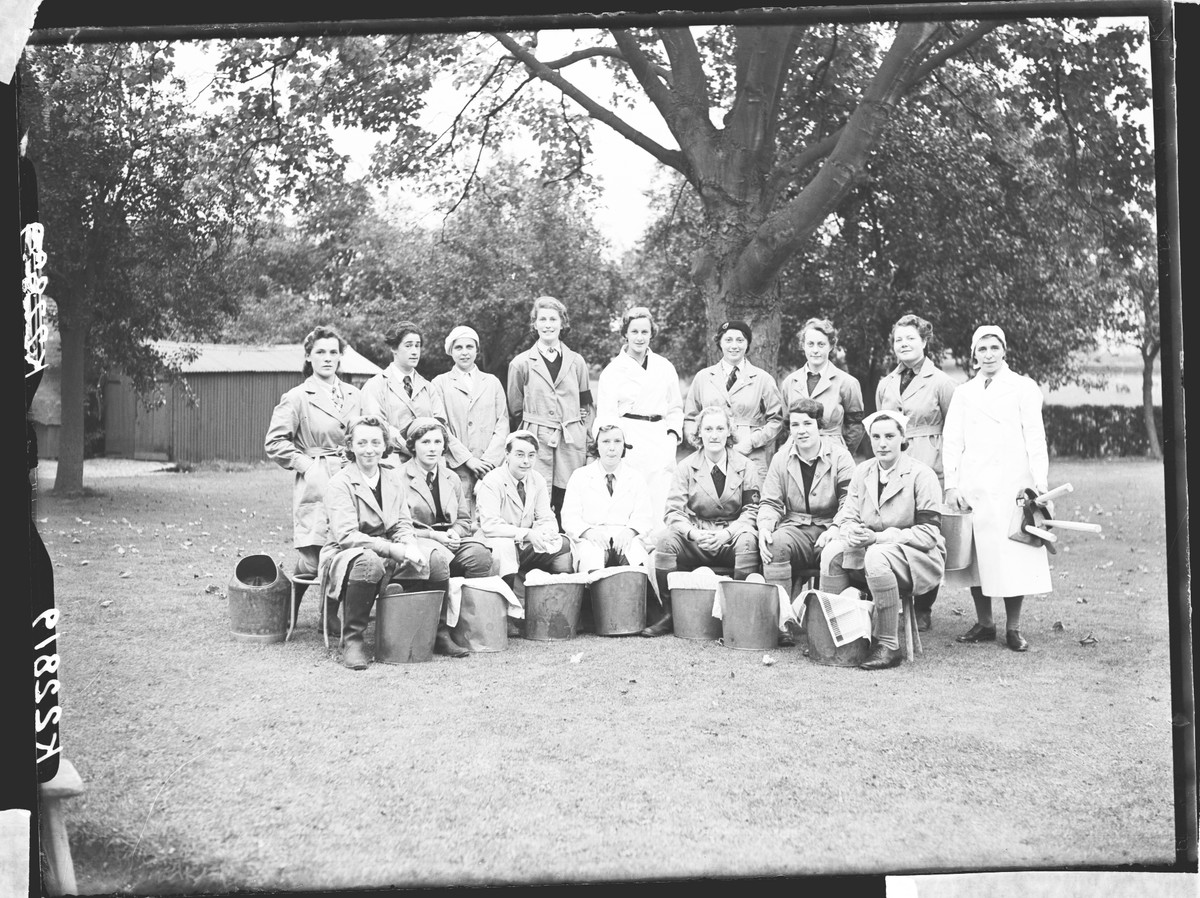 Meanwhile, people across England were encouraged to 'Dig for Victory', using every available plot of land to grow vegetables and fruit that could be added to daily food allowances. Parks, front gardens, and even the land outside the Tower of London was converted into veggie patches.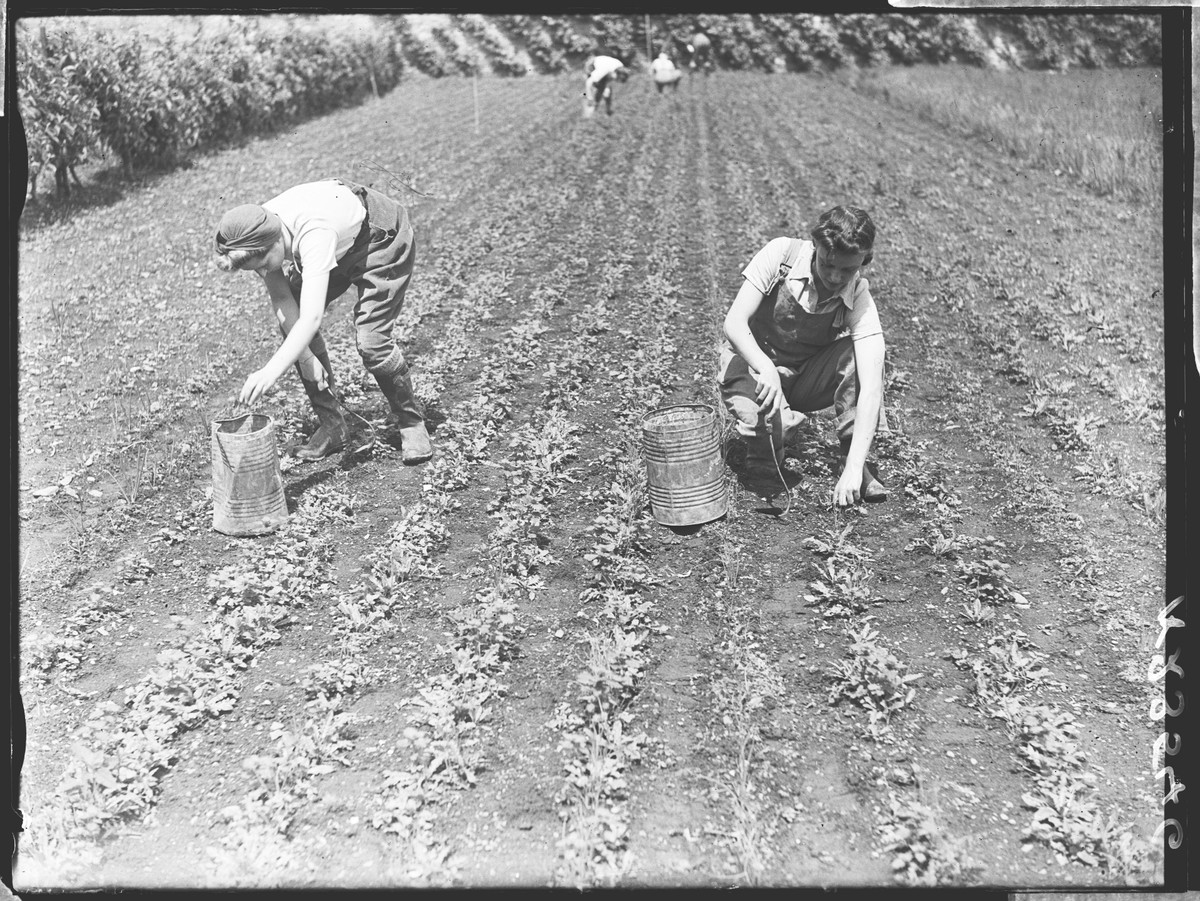 Rationing highlighted a divide between countryside and urban people. Those with more land available to them could keep chickens and other small animals that would provide them with extra food on top of their allotted rations. Elsewhere, in towns and cities, those living in built-up environments had much less opportunity afforded to them.
On a personal note, my grandmother was born in Bethnal Green in 1932 and was only seven when the war broke out. She recalled that her family had little money and often could not afford their allotted rations, debunking the myth that rations ensured food for all. She was later evacuated to Stoke-on-Trent, with her siblings and mother, and she was often put to work on a farm. It was the first time she had ever seen a cow and she loved green open spaces, of a kind she had never experienced before. The farmer allowed her family extra eggs and milk where possible, which dramatically improved their diets, although still not to the level they would have wished for.
When did rationing end?
Rationing remained in effect until the early 1950s. Meat was the last item to be derationed and rationing ended completely in 1954, nine years after the war ended. The UK was the last country involved in the war to stop rationing food.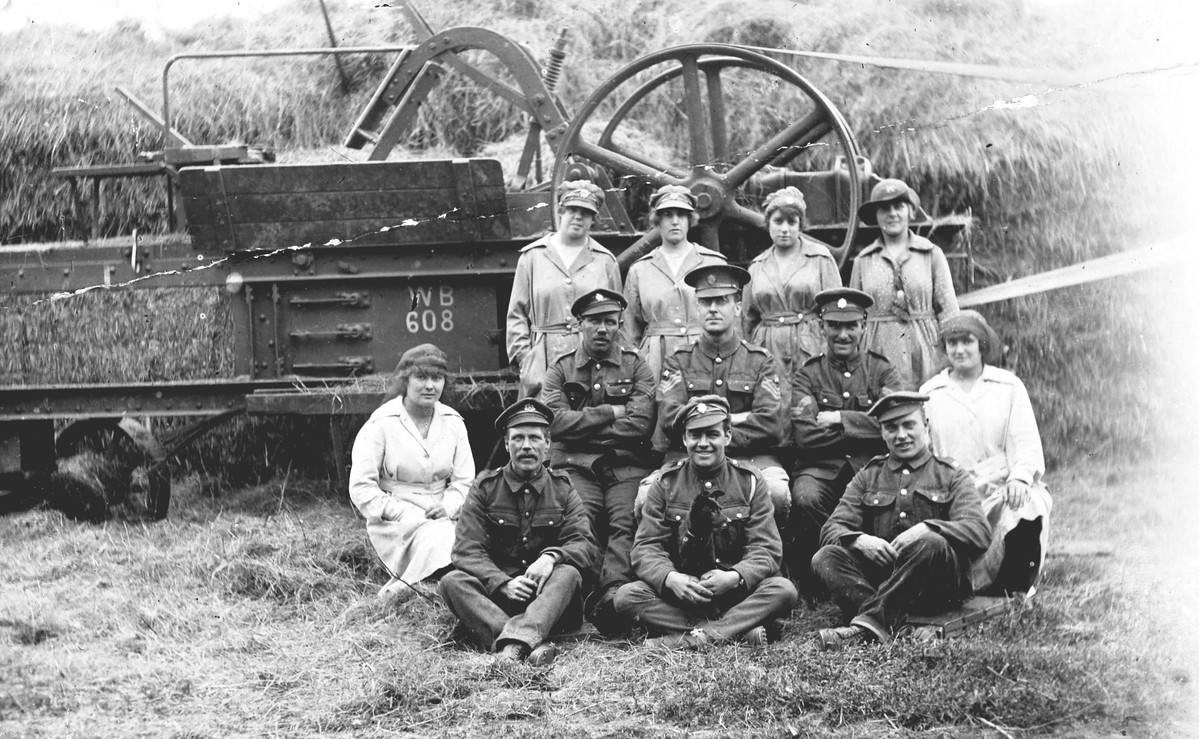 One suggested reason for the continuation of rationing was a withdrawal of financial support from America, which meant Britain still could not afford to import the same amounts of food that it had done pre-war.
Another reason is that many felt spare food would be better directed to people across Europe who were in dire need of help. Holland, Belgium, Germany, and Denmark had all been reduced to starvation during the war and millions of people had been displaced or lost their homes entirely. Whilst imports of meat, butter and cheese from New Zealand and Australia, and fresh dairy produce from Ireland, eased some of the burden on UK diets, it was felt that the people of Europe needed it more.
To mark De-Rationing Day, members of the London Housewives' Association held a special ceremony in London's Trafalgar Square. Minister of Fuel and Power, Geoffrey Lloyd, burned a large replica of a ration book at an open meeting in his constituency.
Interested in learning more about the evacuee and related archives held at The MERL? Find out more about our Evacuee Archive or our Women's Land Army Collection. Alternatively, learn about how we create educational experiences around our collections for school and college groups to enjoy.
Endnotes
1. https://www.bbc.co.uk/history/ww2peopleswar/stories/83/a4754883.shtml
Written by Phillippa Heath, The MERL's Learning and Engagement Manager.
Over the last year and a half, The MERL has been working with University of Reading colleagues in the Biomedical Engineering department on a new multisensory intervention for people living with dementia.
The AMuSED toolkit (or, the Active MUlti-Sensory Environment for people living with Dementia) is in the form of a collapsible box which combines multisensory experiences, in a form which is portable, affordable, and gives opportunities for personalised approaches.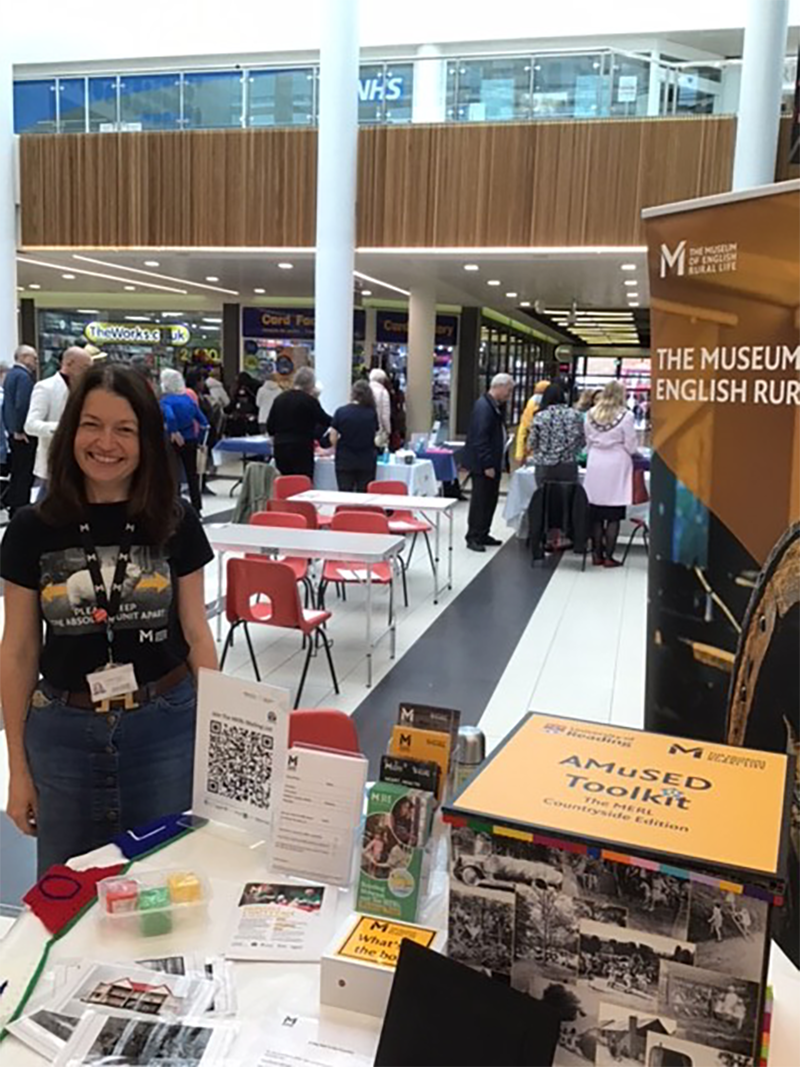 How the idea began
The AMuSED toolkit is the culmination of the research of biomedical engineers Professor Rachel McCrindle PhD student Esther Olorunda. In their work, Rachel and Esther explore the role that technology can have in improving the quality of life of people living with dementia.
Esther and Rachel reviewed existing interventions, which range from sensory rooms with bubble tubes, projectors and aroma therapy, to the Tovertafel ('the Magic Table' in Dutch) designed particularly for people living with moderate to severe dementia, which comprises a projector projecting light and games on a table.
The final toolkit that Esther and Rachel produced addressed some of the deficiencies of these existing offers. Most notably, this was the high cost per unit and the inflexibility to cater for individuals as dementia progresses. The newly created toolkit combines multisensory opportunities, in a box form which can be used in any location, is affordable, and can be personalised depending on individual preferences.
Our involvement
As part of our membership of the Dementia Friendly Reading working group, The MERL had the opportunity to co-design a MERL AMuSED box that drew on and was inspired by our collections. The overarching theme of the box that we produced was 'A Day out in the Country'.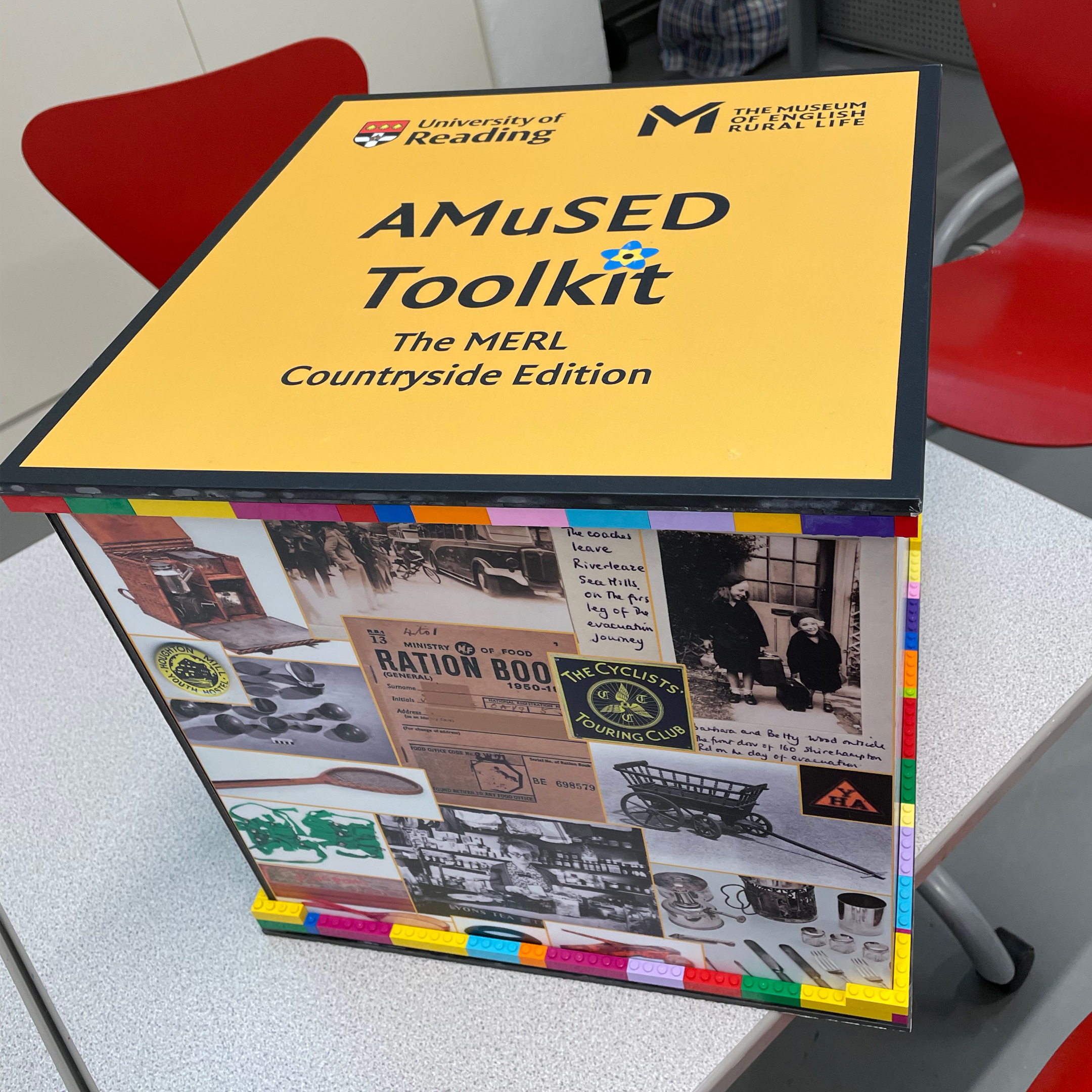 Our box combines a range of multisensory experiences to help bring the countryside to life, such as smells, a photograph album with audio descriptions, textures, games, resources for crafts, and even tweeting birds. Alongside these elements we have also included facsimile photographs and postcards from the Museum collections.
One addition which has been received particularly positively has been the 'What's in the Box?' activities. These boxes include a tactile element, a collection image, and sound which plays automatically when the box is opened. In our MERL box, we have one which contains sheep's fleece with an audio extract from an oral history interview with Amanda Owen, known more commonly as the the Yorkshire Shepherdess.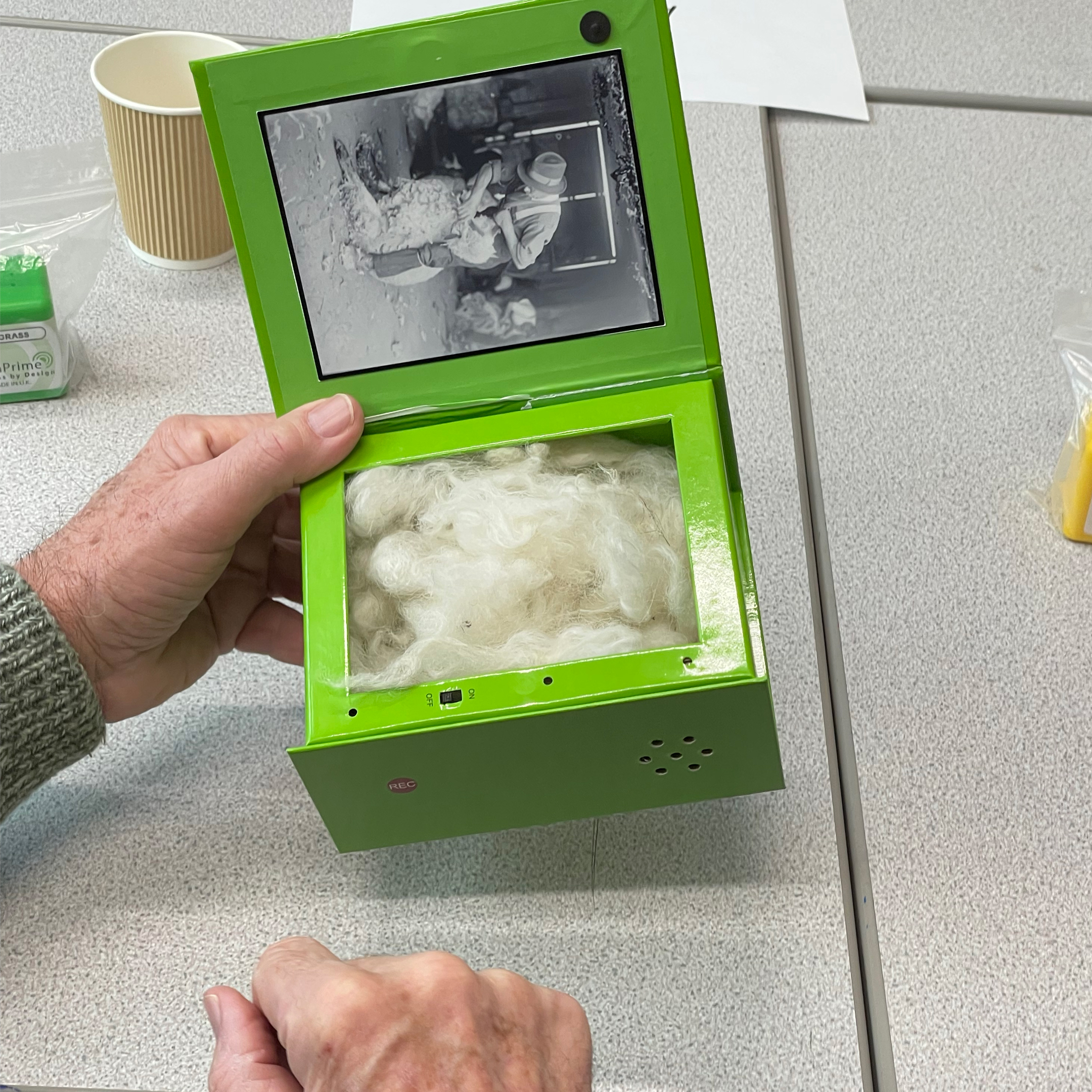 In another, we have Morris bells accompanied by, of course, the sound of Morris dancing!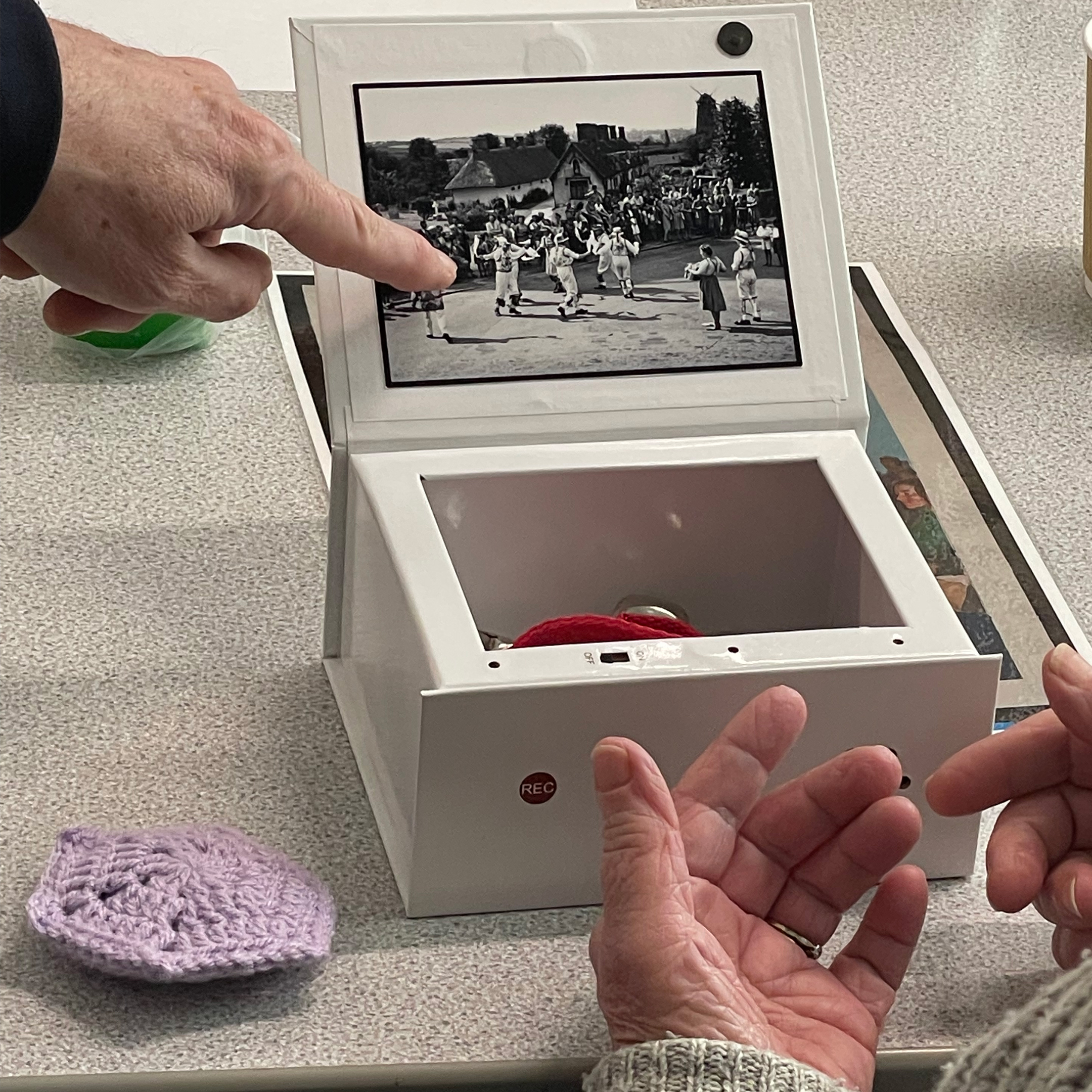 What impact has AMuSED had?
The AMuSED Toolkit encompasses many of the elements of reminiscence therapy that have been practiced in museums over a number of years, but brings them together in one incredibly useful resource.
At the heart of reminiscence in museums has been an understanding that collections can inspire a connection or provoke a memory or story, and these uses have shown to be particularly beneficial for those living with dementia.
Depending on the nature of collections, we typically use objects, films, music, and archives as these prompts, but we also also frequently supplement this experience with sensory activity as part of structured sessions. The toolkit has greatly enhanced this work by offering something which brings multisensory elements in one place, allows for a tailored, personalised approach, and includes affordable digital elements.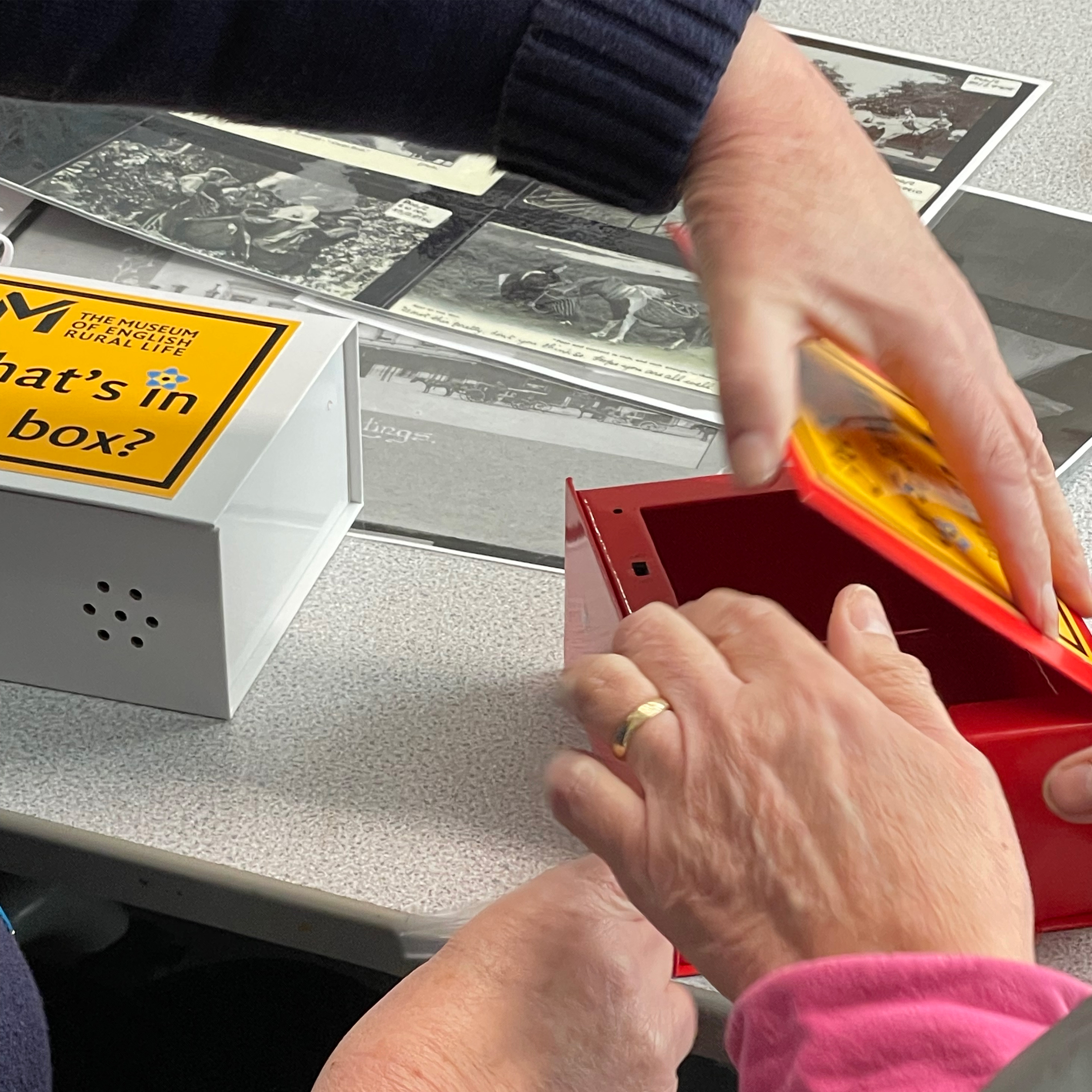 At The MERL we have been using the AMuSED toolkit as part of our new Chatty Café initiative, an informal drop-in opportunity taking place on the third Tuesday of each month, as well as part of more structured memory sharing reminiscence sessions with partners such as Alzheimer's Dementia Support.
How has working with The MERL collections benefitted the AMuSED research?
Discussing the collaboration with The MERL, Esther says:
'The AMuSED Countryside edition co-designed with The MERL has created an avenue for people to experience the countryside through a multisensory tabletop box. The toolkit combines both digital and traditional elements to provide stimulation to the different senses such as sight, sound, touch and smell in order to create an immersive, engaging and interactive reminiscence experience.
Working with The MERL's collections helped us understand more about rural life and the countryside than we initially thought possible. It provided us with access to the Museum's resources such as photos from the archives, information about the appropriate elements for the theme and the question prompts used in the activity sessions. This collaboration also provided access to the amazing staff and volunteers that helped to organise and run the activity sessions.
The most amazing part of the collaboration with The MERL outside of the amazing cakes at the chatty cafés was the opportunity to observe the AMuSED toolkit being used in real time! This has helped to identify the benefits of the toolkit especially to people living with dementia, as well as ways in which it can be improved to better suit their needs'.
Professor McCrindle adds:
'Working with Phillippa and the wider MERL team to co-design the Countryside Edition of the AMuSED boxes has been a fantastic and fascinating experience, showing how valuable, informative, and fun multi-disciplinary working can be. By working with The MERL, we were able to take advantage of The MERL's expertise of providing engaging and stimulating reminiscence sessions for people living with dementia as well as their knowledge of 'all things countryside'. The result of this collaboration has been the creation of a special countryside-themed AMuSED box that draws upon objects from The MERL's archives as well as their understanding of peoples' lived experiences'.
'We also used the expertise of the University's Creative and Print Services to ensure that the AMuSED boxes were printed and produced to the highest quality and able to withstand repeated handling and cleaning. One highlight of this collaborative experience has been the successful translation of our research ideas into something that is already benefitting people with dementia and their family members through The MERL's community programmes'.
If you require any more information about the AMuSED box, The MERL Chatty Café, or using the AMuSED box as part of a memory sharing session, please contact The MERL's Learning and Engagement Manager, Phillippa, at merlevents@reading.ac.uk.
The next Chatty Café takes place on the afternoon of Tuesday 19th April. Everyone is welcome and we'd love to see you there!
Written by Nicola Minney.
As part of The MERL's Building Connections project (funded by Arts Council England), we have sought to explore different stories and themes that live within our collection from the history of the English countryside.
As we researched a range of themes and topics—from LGBTQ+ rural experience to the history of migration—it became clear to us that there were many people whose stories, experiences and perspectives had historically gone untold within our collections.
So rather than looking back, we decided to look forward. We reached out to nine people who have generously shared with us their experiences—the good together with the bad—of what it is like to be a person of colour in the countryside: Dr Mya-Rose Craig, Ped Asgarian, Navaratnam 'Theeb' Partheeban, Dawood Qureshi, JC Niala, Zakiya McKenzie, Dr Anjana Khatwa, Anooshka Rawden, and Dr Geeta Ludhra. We invited each person to explore our object and archive collections, choose an item to represent them and change the narrative of those objects for the future.
In this ninth Changing Perspectives blog, we heard from Dr Geeta Ludhra. Learn Geeta's work, research, and the powerful role that rural spaces continue to play in her life.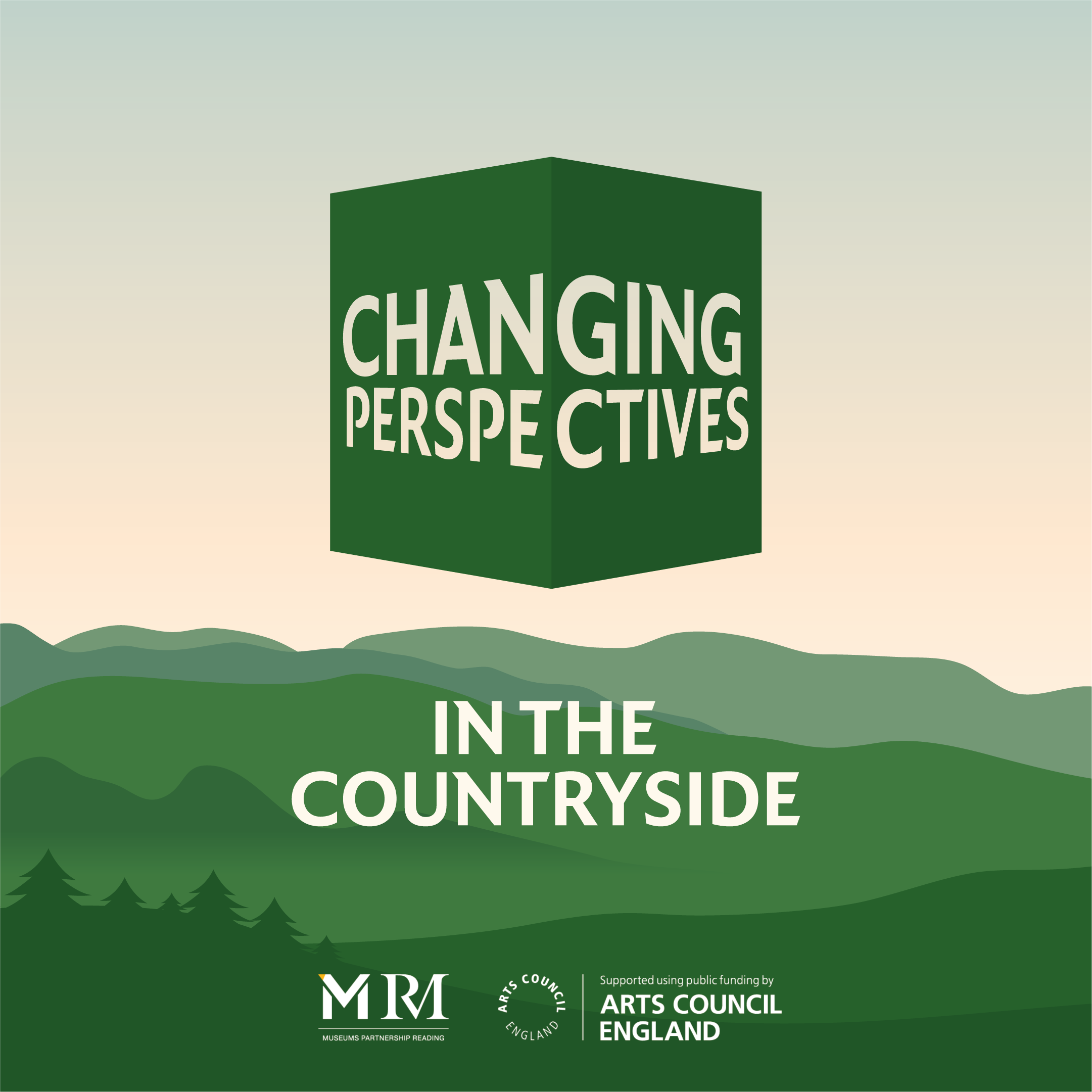 Dr Geeta Ludhra
(A British-born South Asian woman, of Hindu religious background. She/her)
Dr Geeta Ludhra lives in the Chilterns, after living in Slough, Hounslow and Nottinghamshire. She was raised within humble circumstances, as the daughter of first-generation South Asian parents who settled from India in the early 60s. Geeta's heritage, education journey and research interests bring a unique lens as a Board Member of the Chilterns Area of Natural Beauty. Geeta is passionately committed to diversity and representation in relation to natural landscapes as inclusive green spaces for all.
Geeta works as a Lecturer in Education at Brunel University, where she teaches across Postgraduate programmes and engages in academic research. She is currently researching her book on 'successful' South Asian women. Her background is rooted in primary school teaching and leadership, where she has worked across diverse London schools, specialising in English. Her working interests touch on women's studies, social inclusion in education, anti-racism, and respectful ways of working with more 'hard-to-reach' communities.
As part of her community interests, Geeta runs a registered community enterprise, where she promotes intergenerational heritage cooking and storytelling, monthly nature walks and leads a women's writing group.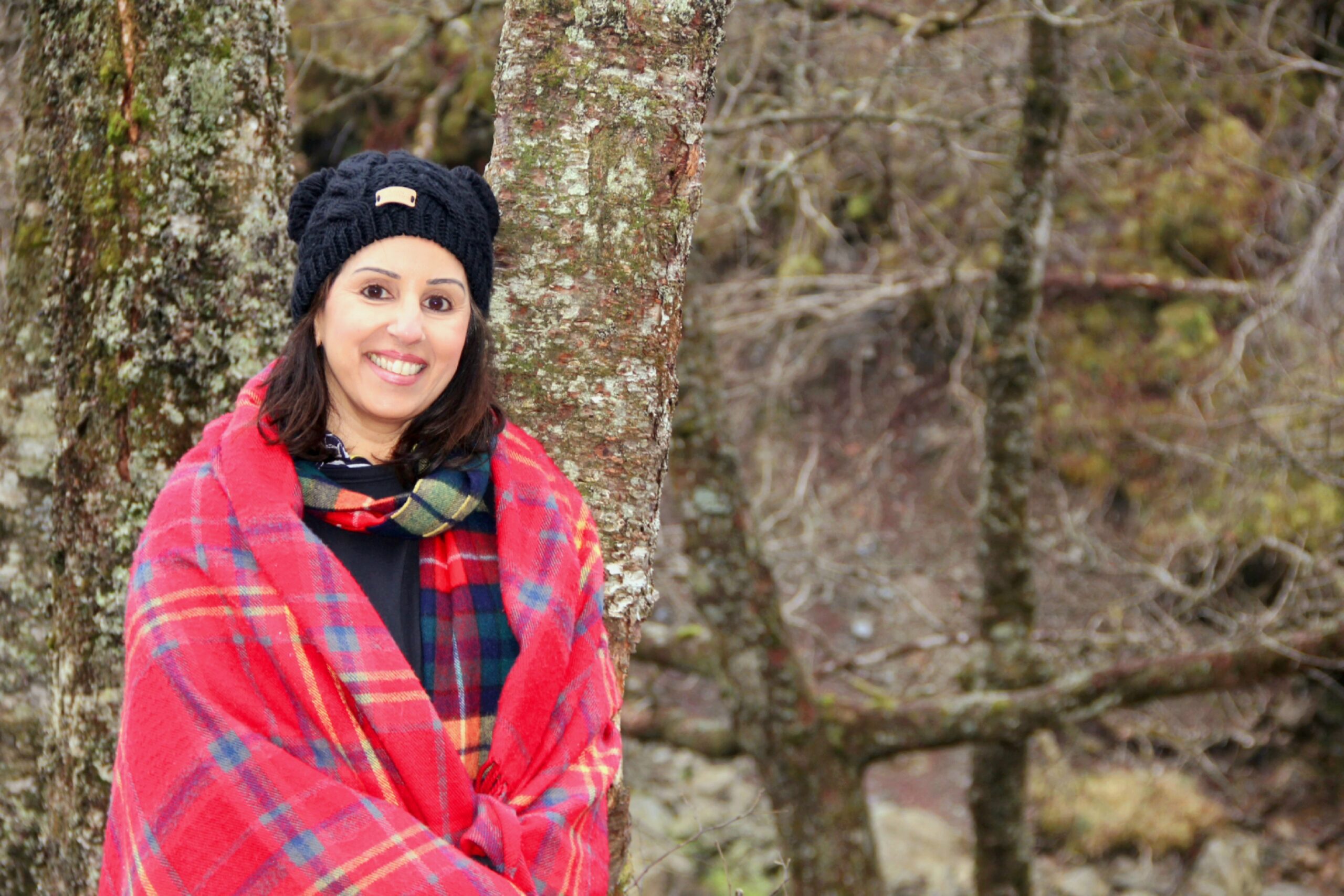 What is your connection to the countryside?
GL: My childhood memories were not laced with the romantic Shakespearean countryside that I saw from afar. Those images always felt quite fairytale-like and abstract, like an oil nature painting in an art gallery. My parents had little knowledge of the British countryside as they were too busy learning how to survive as first-generation migrants from India during the early 60s. Countryside leisure walks and outdoor activities were not part of my working-class upbringing, neither were family holidays. My 'leisure' time, or rather lack of, was constructed very differently from my White peers'.
Thankfully, I remember a couple of green memories from my childhood of growing up in Nottingham. I remember my late father taking us to Arboretum Park; I loved the flowers and how my dad appreciated every inch of beauty in that park. Dad also loved Wollaton Park, and I have fond memories with the extended family and my late Dadima's love for Indian picnics. Sherwood Forest is of course associated with Nottinghamshire, and I loved the legend of Robin Hood: how he supposedly fought for social justice in the wild forest. I always wondered what the female Indian version would act like, but again, this seemed so abstract as an Indian girl.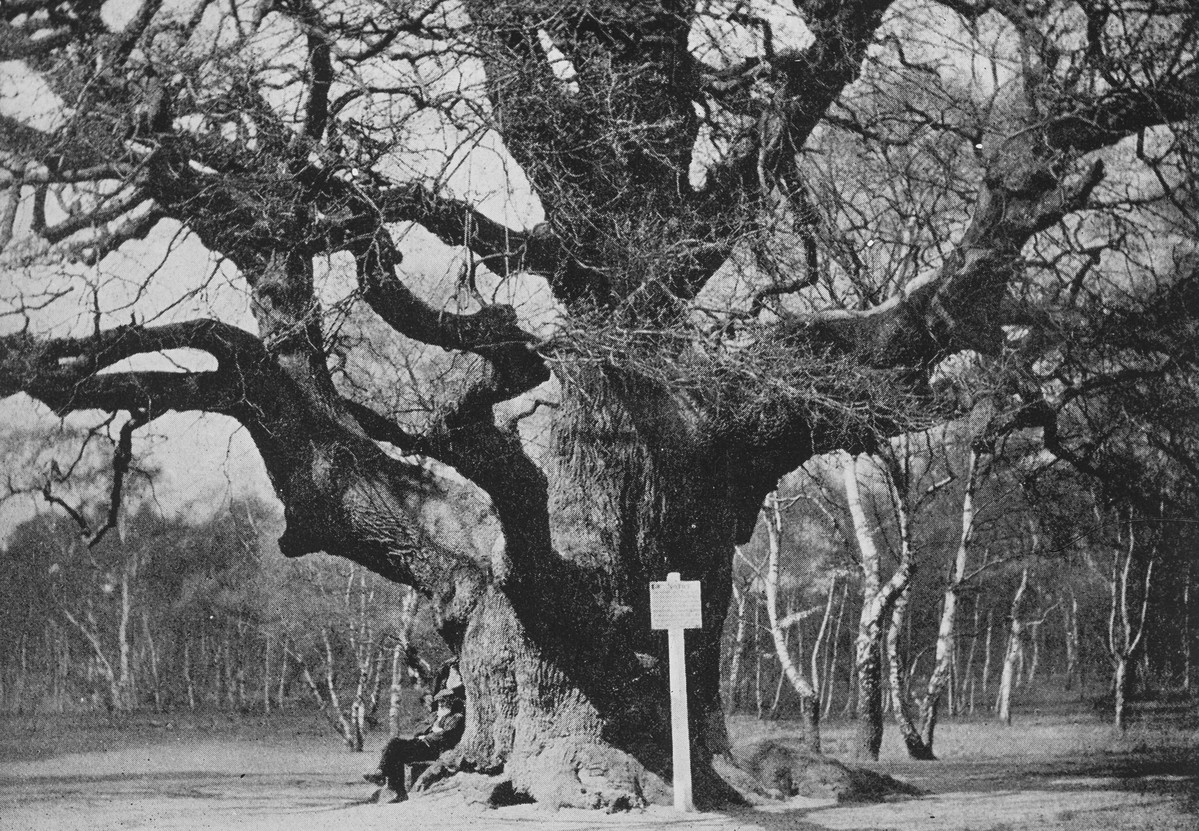 Today, as an older woman, I connect powerful nature warriors to Hindu Goddesses like Maa Parvati, Maa Kaali, Maa Durga, and Mother Earth Goddess Papatuanuku from Maori. As a woman who has been raised in a patriarchal culture, nature offers a creative and kind space of hope to explore my feminism and faith.
My deeper connections to the countryside and green spaces grew later in life, particularly after I had children, and then during difficult menopause years. As a young mother, I experienced first-hand the soothing energy of nature on my two children, and how Mother Nature was a creative learning space compared to the regime and formality of schools. The local park, picnics in green spaces and simple UK walking holidays became associated with some of my happiest family memories. I remember walking 10km with our daughters at a young age, seeing the magical expressions of adventure on their faces, as if they were strong characters in a children's storybook. I remember singing 'We're Going on a Bear Hunt' to keep the girls walking and talking across their first Lake District hike. I remember my first Derbyshire Dales hike when almost seven months pregnant; I felt like a courageous warrior when I'd finished.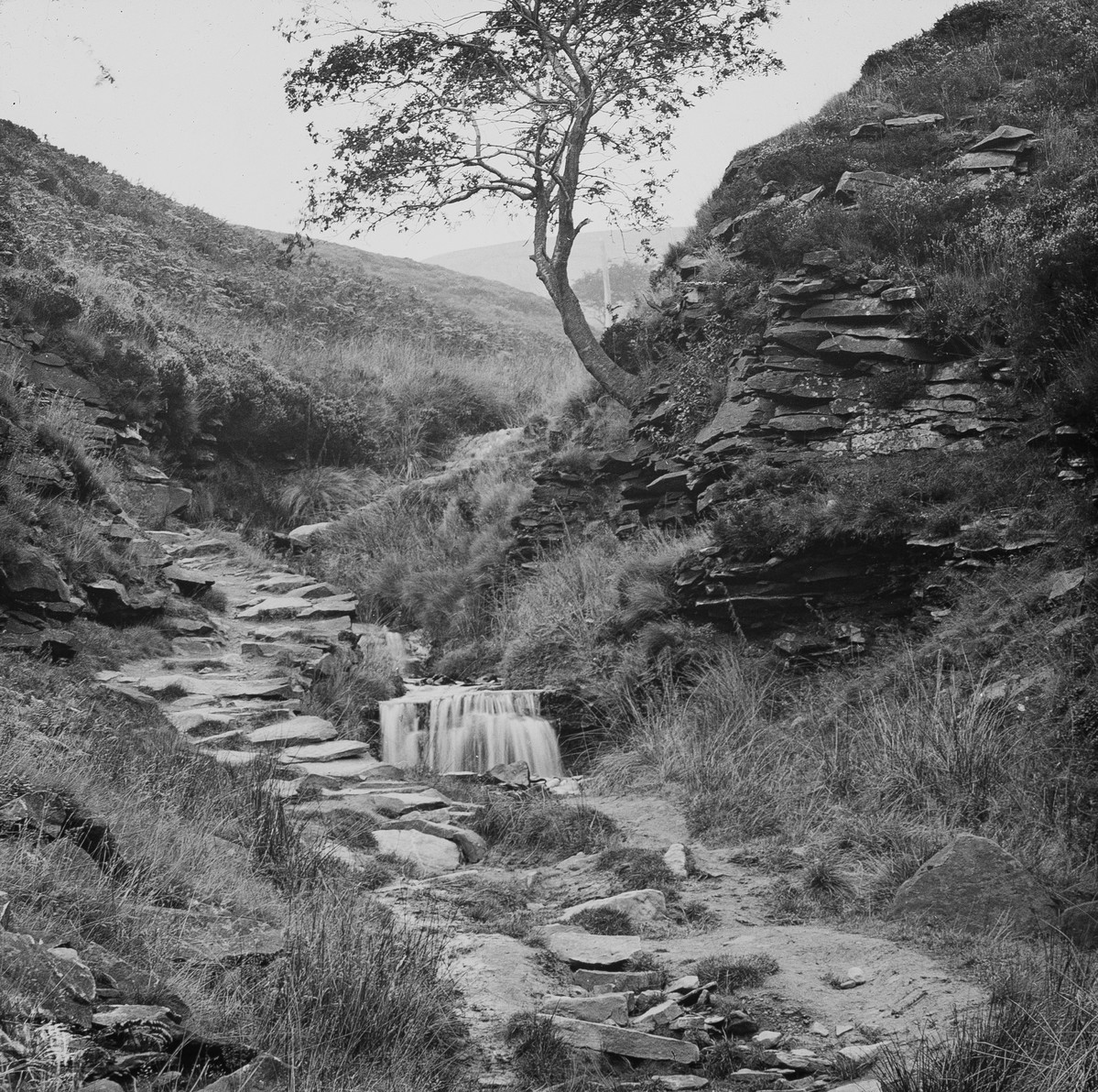 Today, I see my pregnant daughter walk and hike. I smile, reminisce proudly as I see that same warrior strength in her determined footsteps. Completing a hike always makes me feel stronger, happier and reconnected to myself; my soul comes to life.
What inspires you about the countryside?
I feel inspired by the fresh smells of the soil, romantic air and open space.
I feel inspired to think more creatively (and wildly) as it unblocks and vibrates my chakras. I feel inspired to be quiet, listen and notice; I feel at harmony, at peace, when the world feels too busy, too packed, too full of technology that drowns.
The countryside inspires me as it opens doors to magic spaces: new possibilities, new adventures. As I grow deeper roots in the countryside, I feel inspired to research Indian philosophers, environmentalists, activists and poets; those missing from my education. As I read and learn, I situate my brown body and mind within ancestral knowledge that makes me feel proud. Drawing inspiration from the philosophy of Satish Kumar (Kumar, 2013), I better understand the sacred trinity of 'Soil, Soul, Society; what my late dad would call 'Maa Dharti' (Mother Earth).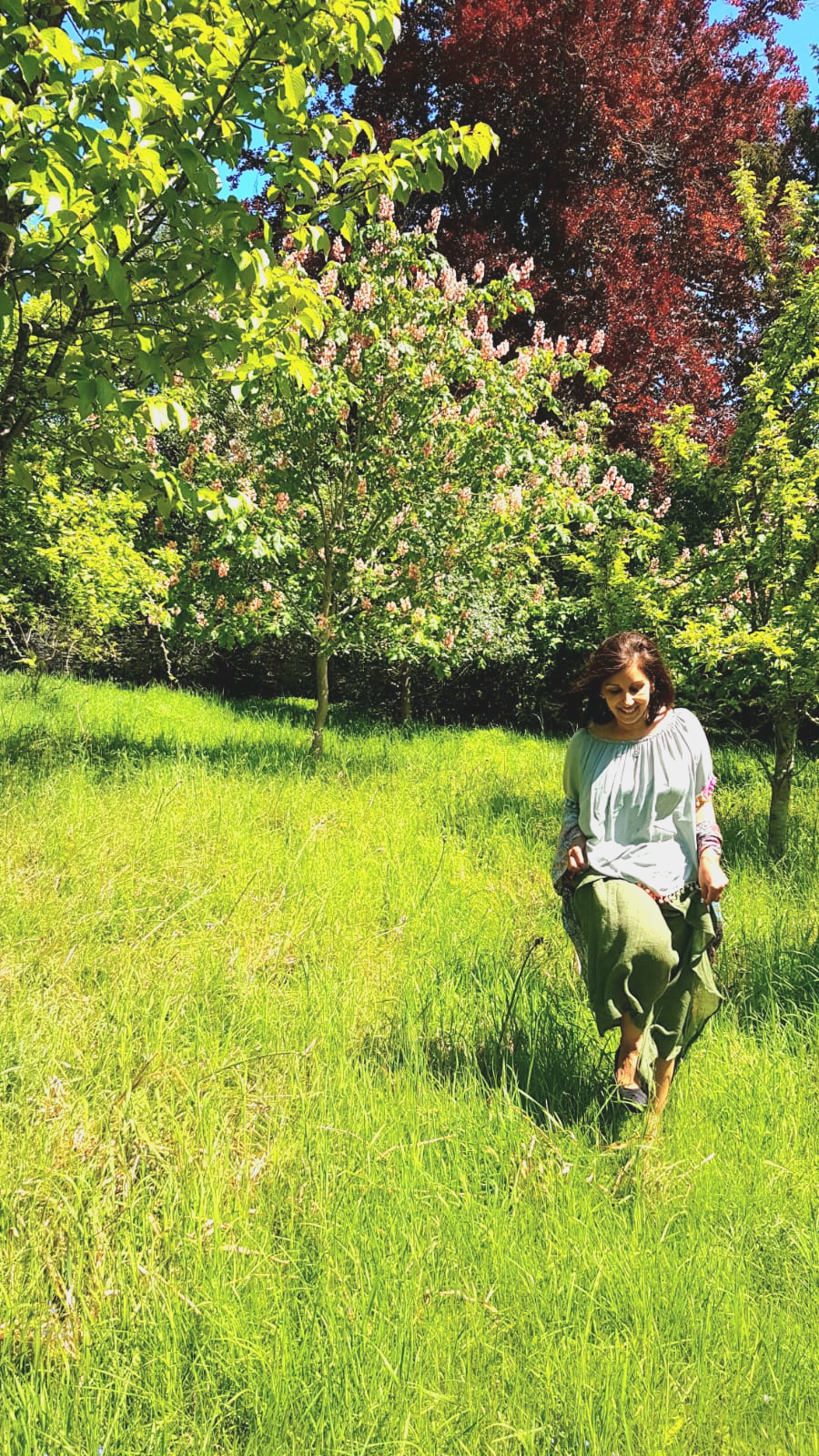 I feel inspired when I find female environmental activists like Vandana Shiva, who connect to the soil in powerful ways and examine the position of women in relation to nature and colonialism. I re-follow Gandhi's footsteps and Rabindranath Tagore's poetry and holistic educational life lessons. I imagine Tagore holding his poetry classes under the trees (trees were discussed as important 'nature teachers').
As an educator myself, I see the countryside as a special space for creative thought, learning and growth. Being in the countryside has inspired me to reconfigure my perspective with life more broadly, and reconnect with aspects of my nature ancestry, to find stories that make me feel 'in place', as a brown body which is usually 'out-of-place' in Western discourses and organisations.
What do you wish people knew about the English Countryside?
That there is beauty in the more barren, dark, and brown parts of the English countryside, when we make time to notice, appreciate and love without judgement. I hope that people develop a spiritual understanding and connection of how communication happens beyond the visible beauty of the countryside: how trees and wildlife live, communicate and feel, and the cycle of birth, life and death.
My wish, or rather my hope, is that the education sector one day sees the countryside as a powerful learning space for young children to thrive and develop their wild imaginations. Like Tagore, I wish for trees to be seen as important educators, alongside human teachers. My wish is for teachers and nature to work together to nurture young minds. The countryside is a magic classroom when we support children to enter, connect and just 'be'.
Where is your favourite place to be?
In a forest of majestic trees with birds singing, or on top of the Chiltern Hills sipping Indian chai, eating a spicy paratha with mango pickle, with the Winter sun shining on my face. I love being in any part of the countryside where I feel a sense of freedom, calm and joy. I love just 'being' today; the countryside gives me space (and permission) 'to be me' in a world that regulates my mind, body and soul.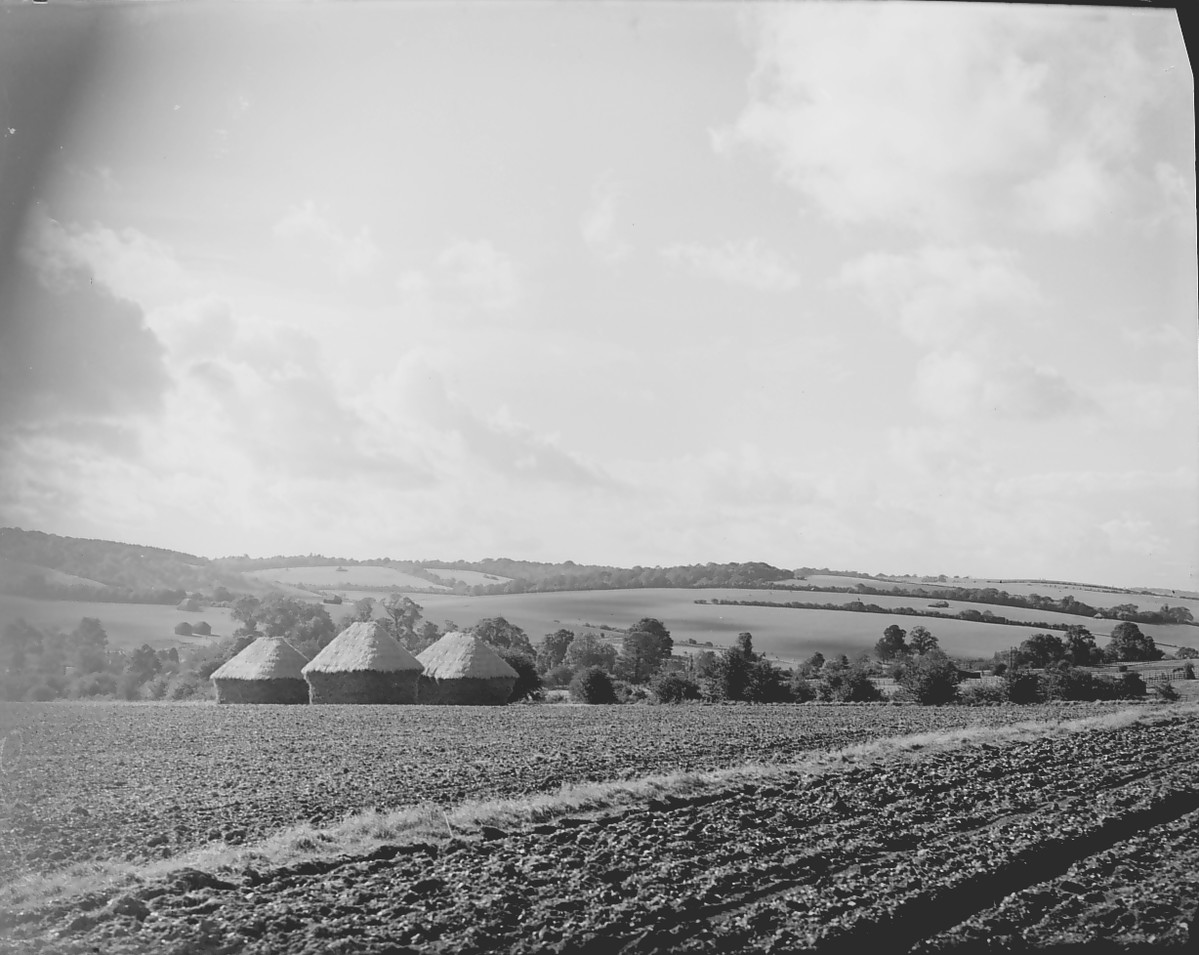 What is your experience of living, working in, and visiting rural areas?
I remember moving into the Chilterns and worrying about racism and feeling 'othered'. I knew communities were close-knit and supposedly kind, but would they be the same with me and my family? Would we always be 'the other' family? I've always felt 'that othered gaze' and apprehension when entering countryside pubs with my family, and that made me feel unwelcomed. Repeated visits changed this in some spaces, as connections were built through conversations over time.
I remember walking the Chilterns Hills on a cold foggy morning in 2020, meeting an older woman who said: 'We don't see many of you around here'. I paused, responded politely, but carried that 'you-ness' for many days. I have made the effort to connect because I want to change the narrative of countryside spaces for me and future generations. I have met some beautiful souls who kind of get where I'm coming from now, but the labour of connection generally comes from me. I belong as much as 'they' do, and I'm not walking away, but will continue walking this space as a gentle activist 'changing perspectives'.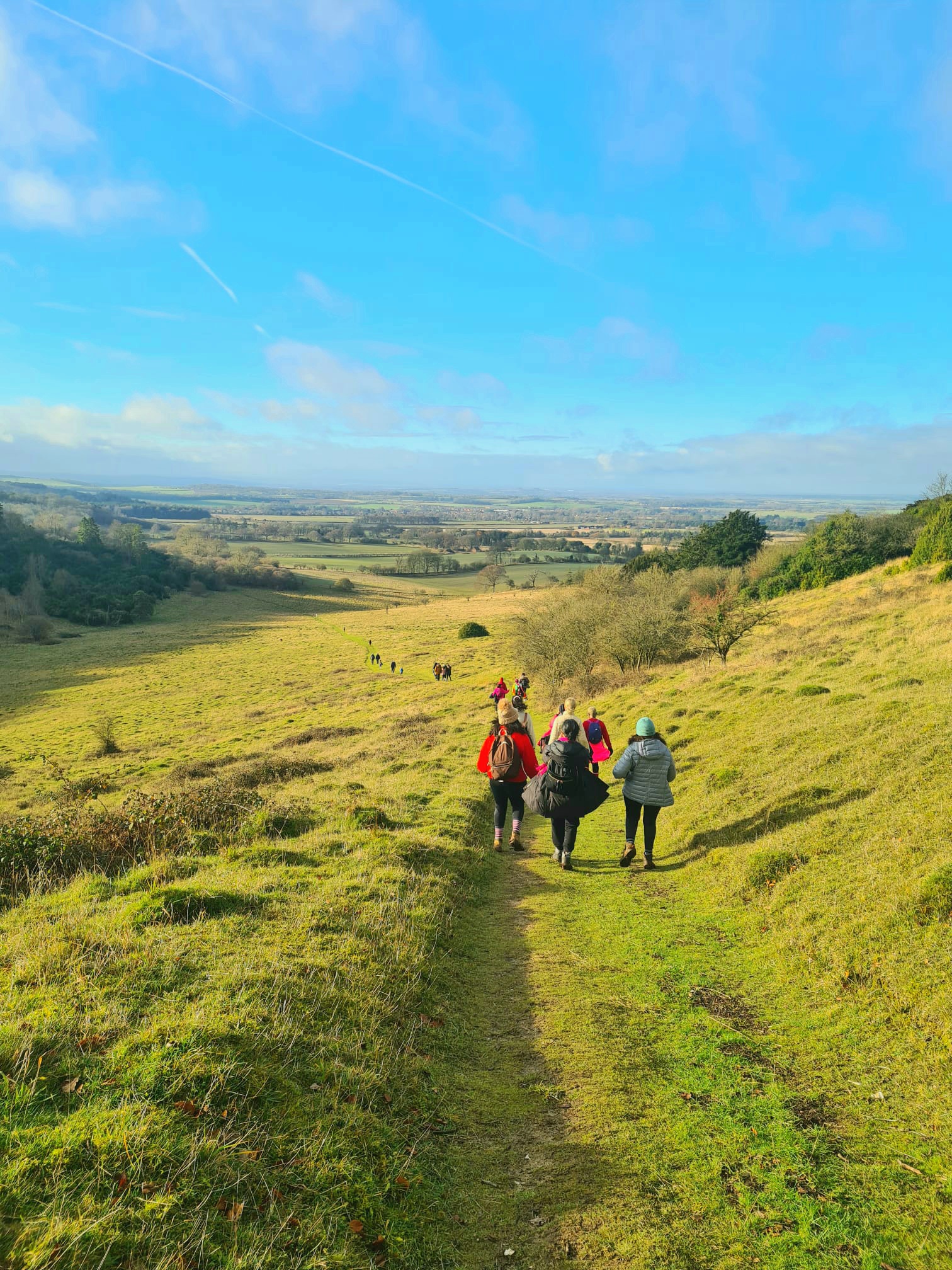 I absolutely love living more rurally, and as I lay my brown roots in the brown soil, I will continue to communicate and connect with kindness through my countryside walks.
How important is rural community to you?
I appreciate the community bonds that are generally strong in rural spaces, and how people look out for each other, make time for each other, and connect over local events and shared histories. Rural communities tend to have a strong sense of giving back to those who live there which adds a level of safety; these are values that are important to me and my family.
Having said this, I do not see rural as superior to urban, just very different. Research shows the inequalities in terms of lifestyle, wellbeing and other privileges associated with rural lifestyles. Living more rural is a huge privilege that I hold today, and I fully recognise this.
Please tell us about Dadima's walking story?
My family and I set up Dadima's walking group in 2018, as a simple way of encouraging local communities and interested people to connect with nature for physical, mental and spiritual wellbeing. The group started off in Slough and Windsor with mainly South Asian communities on a Sunday morning. It quickly became a safe space to talk and share stories, learn from each other, and offer encouragement (and accountability) for regular outdoor movement.
In 2020, we moved to the Chilterns and decided to restart the walking group, this time with greater apprehension. I didn't see myself represented or reflected in the Chilterns countryside, so I created the space that I wanted to see when I first moved here.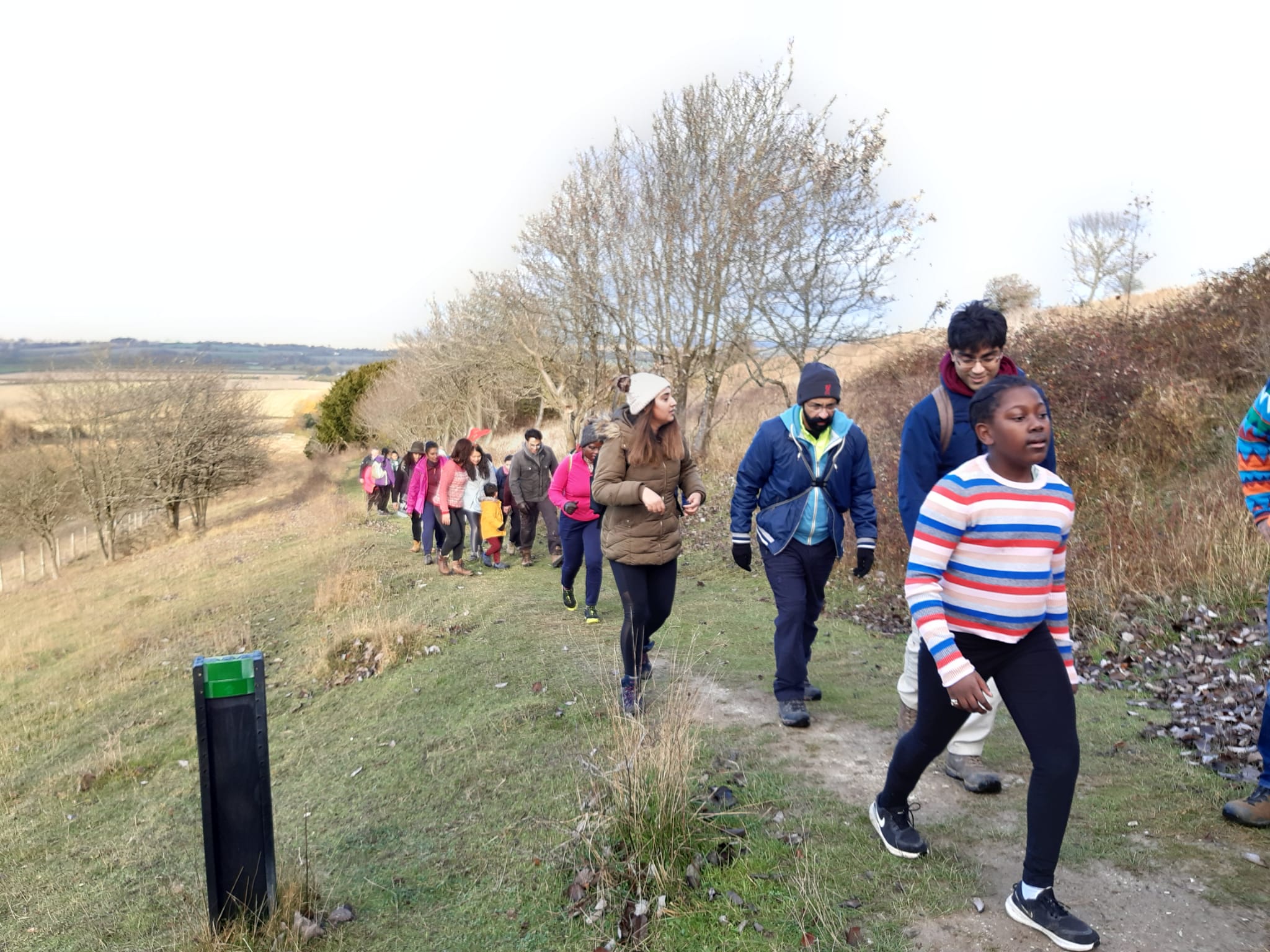 My Chilterns walks started with two walkers, both South Asian women who I'd met over social media. They made a big impact on my ancestral thinking about nature and connecting with the land through a healing lens. Maya had a deep understanding of grief, decolonial poetry and ancestral links to land and power. I remember her saying: 'As you walk over this land, you do not walk alone – you walk with your grandmothers and ancestors besides you'. I always do feel like that. Priya talked about the power of trees and nature's medicinal properties. This led me to read more around 'The Hidden Life of Trees'; how they feel and communicate (see Wohlleben, 2017). As women with a shared heritage, we would talk for hours about healing through nature.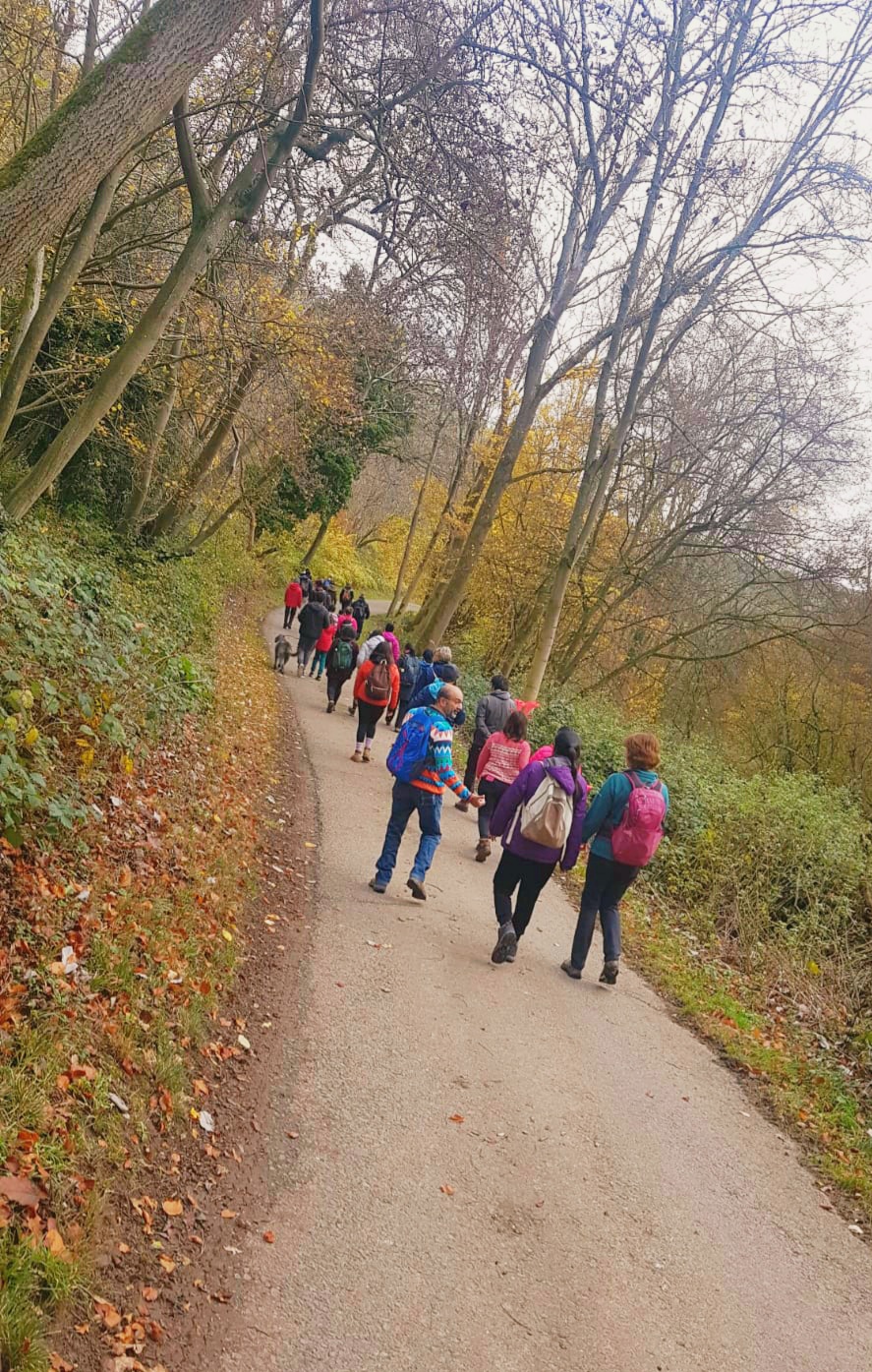 The walking group started to grow, and a community of strangers and friends connected organically, developing powerful webs of kind communities. New friendships flourished, and people looked forward to attending. I then connected online with people from the Chilterns AONB, leading to me to apply for a DEFRA Secretary of State Conservation Board Member role (see The Chilterns AONB – News and The Chilterns AONB – Dr Geeta Ludhra). I really enjoy this role and wish more POC would consider applying.
Today, Dadima's story is very much rooted in Mother Nature, Maa Dharti. As I look forward to becoming a grandmother this Spring, Mother Nature feels like the best space to be in with all that is happening around the world.
Which object did you choose from our collection?
I chose two objects: a mill stone, and a mortar. My two chosen objects link to Dadima's social enterprise name, rooted in the ancestral wisdom of our great grandmothers.
The mill stone reminds me of my mother-in-law's nostalgic foodstories of India, when she would grind chapati flour from scratch using her muscle power. I once ran a whole-school chapati making workshop in a primary school, and I shared her story and the importance of chapati flour (atta) in relation to the significance of wheat to farmers in India, and how the humble chapati is eaten by the rich and poor.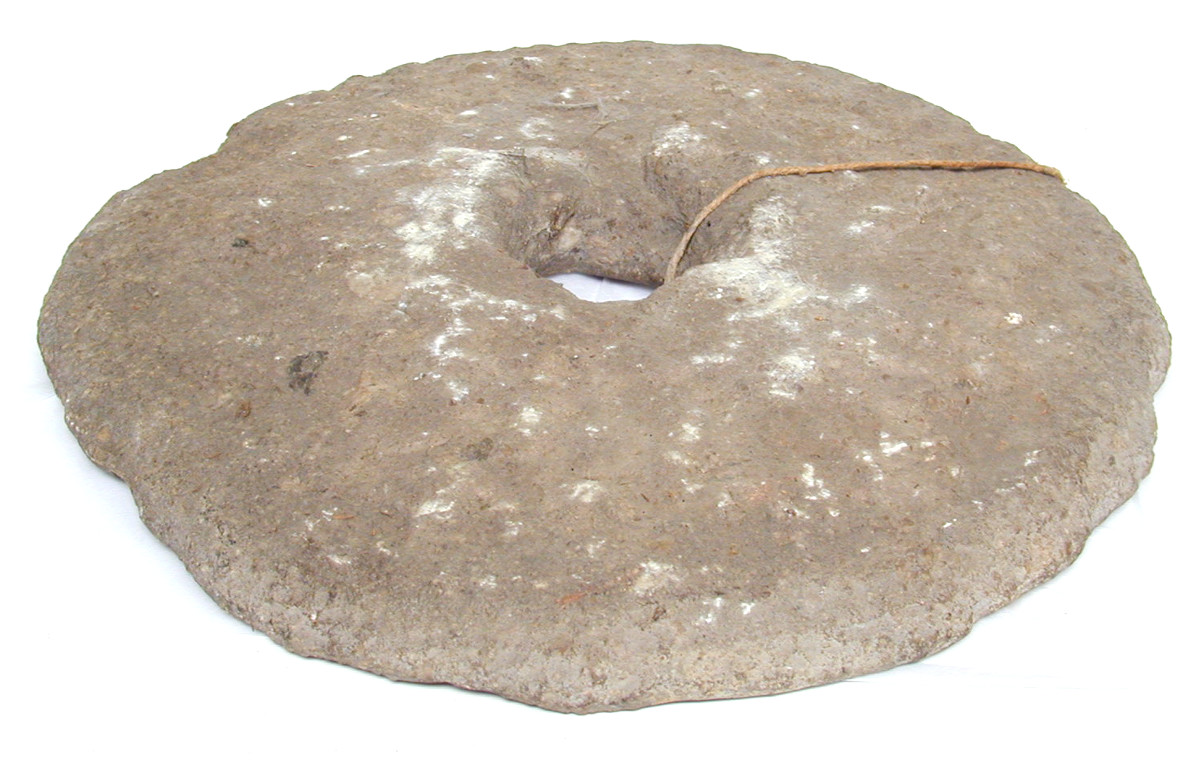 The mortar reminds me of one that I have in my kitchen today (my kitchen is called Dadima's Kitchen, by the way). My mother-in-law passed on her mother-in-law's mortar to me, which I still use today to crush whole spices for my Indian tea, just like she does. There's a culinary magic in the ritual of crushing tea spices, as it encourages us to slow down life. I feel like an Ayurvedic tea expert when I use nature's herbs to soothe my mind, body and soul. This usually happens on the weekends.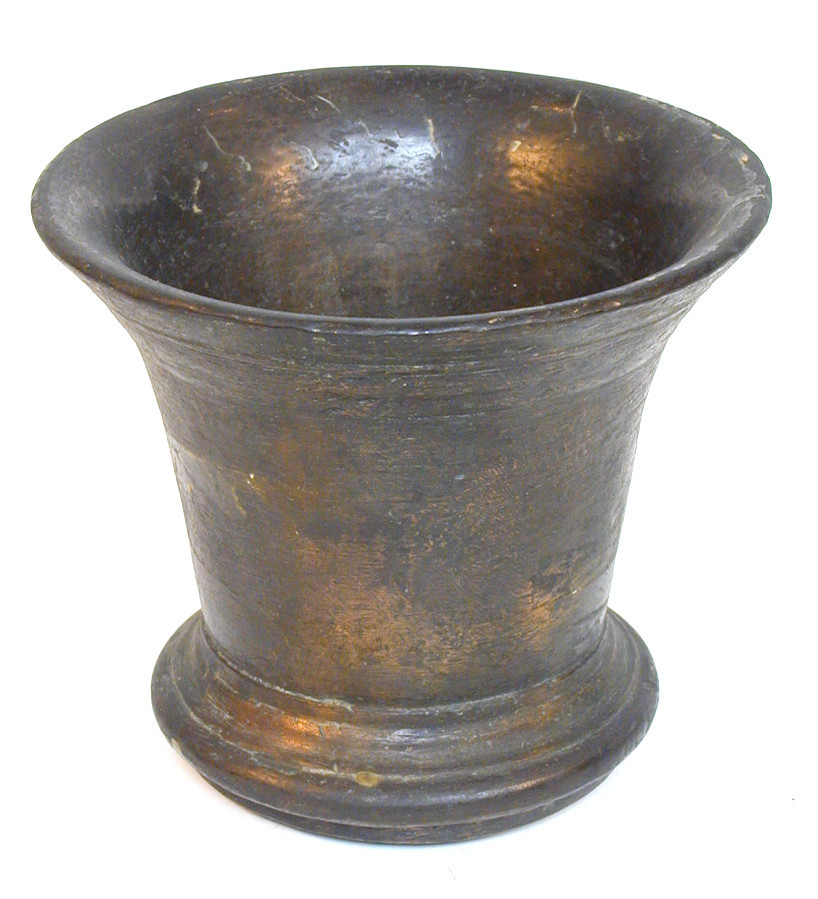 Thank you for reading this ninth entry of Changing Perspectives in the Countryside, and to Geeta for sharing with us her work, research, and love of the countryside.
We have one further Changing Perspectives post coming in the next few weeks. Until then, be sure to return to our blog or visit the online exhibition.