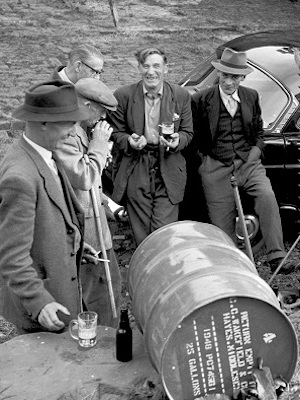 Talks and seminars
September 25 - November 13
12:00pm - 1:00pm
Free
Free, booking recommended
Did you know
...city families used to pick hops on holiday?
Hop picking holidays allowed city families to earn money. Pickers were paid with tokens, which were used in local shops or exchanged for wages.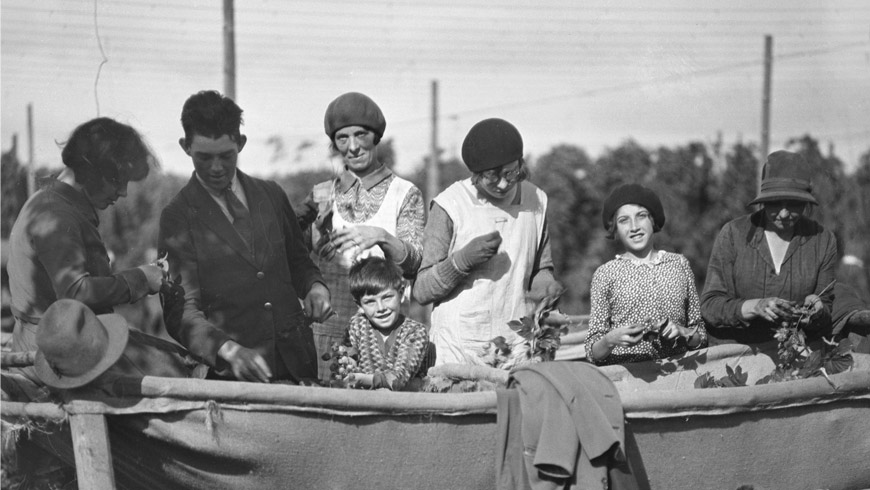 Did you know
...Elizabethan mattresses were used for both childbirth and corpses?
Mattresses, plaited from sedges, were made to support a mother during childbirth or a corpse after death. After use it would have been burned.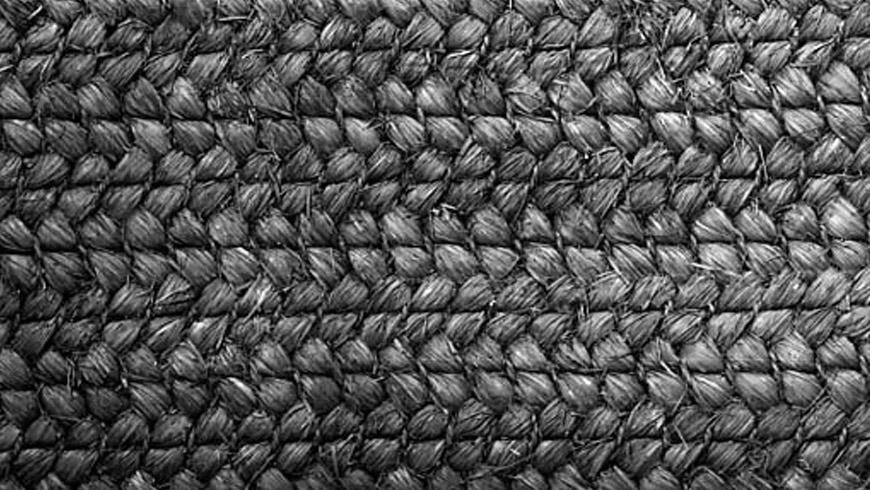 Did you know
...farmers used to sow seeds by fiddle?
Sowing by hand can be slow and inaccurate. Seed drills were developed in the 1800s to sow seeds quickly in a straight line at regular intervals.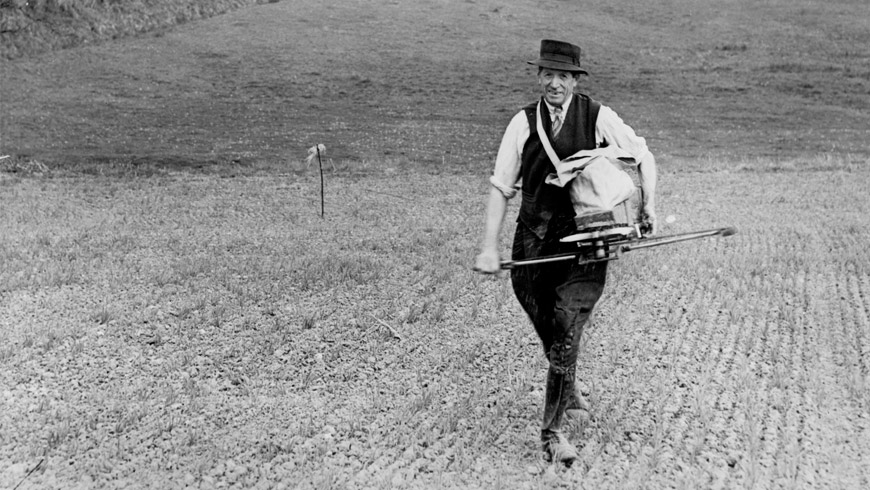 Did you know
...Lady Eve Balfour (1898-1990) was one of the earliest organic farmers and co-founded the Soil Association?
Women continue to play a key role in this movement, with organic farms employing significantly more women than chemical farming.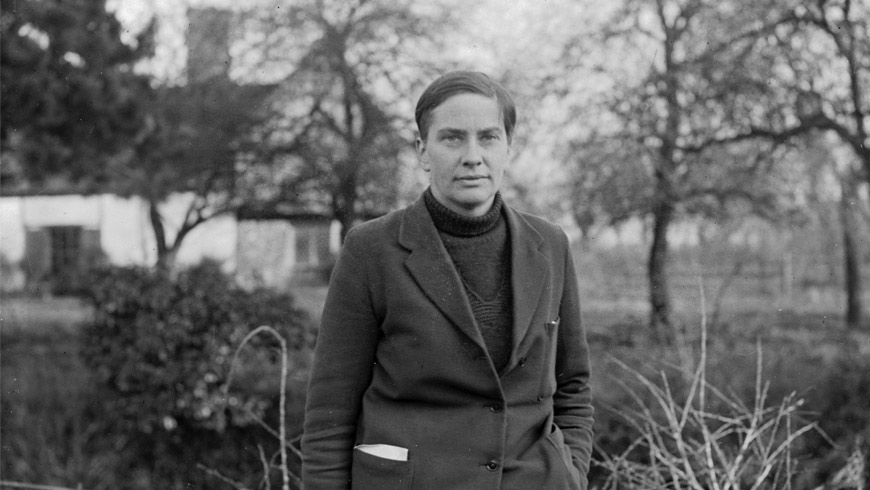 Did you know
...Suttons Seeds invented the seed packet?
The local Reading firm, founded in 1806, popularised paper packets of seeds for gardeners.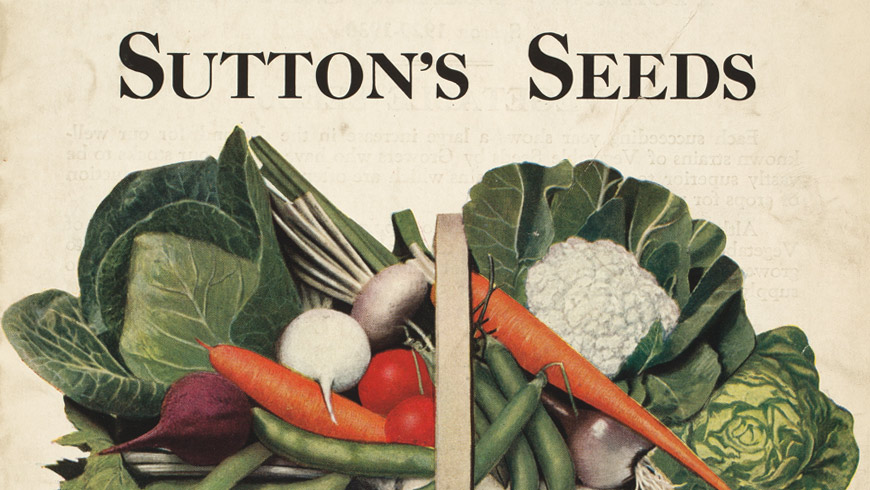 Did you know
...villages often used to run their own fire services?
The National Fire Service was only created in 1941.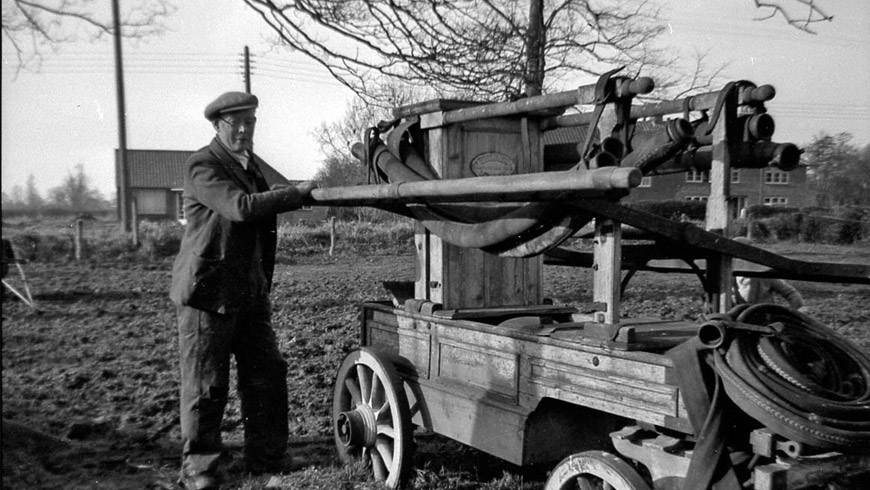 Our Country Lives - Latest Blog Posts
Our blog explores the people, places and issues of the historic and contemporary English countryside and rural life, uncovering and exploring our collections, the exciting activity around the MERL and the people we with.
What was your favourite Ladybird Book growing up? What did you learn the most from it?
Ladybird Books
are iconic for generations who grew up in the 50's, 60's and 70's, but they weren't just educational tools.
The subliminal messages throughout the pages of Ladybird books helped establish the gender roles and expectations within society at that time. Post-World War Two was a time of major change for women, with many entering the workforce in the absence of men, but upon their return at the end of the war it was expected that women would go back to their household duties. The utopian yet relatable books like Shopping with Mother below demonstrated what a woman, and mother, was expected to do, including teaching her children their roles in society.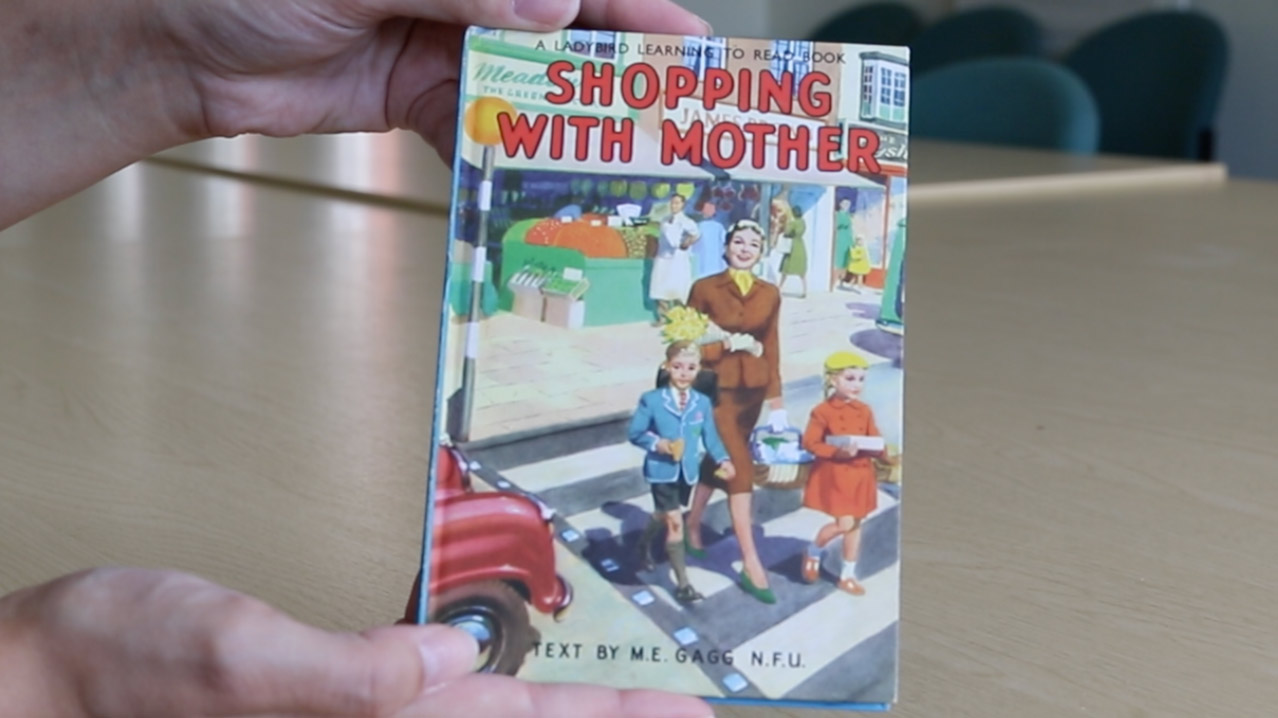 Women who did enter the workforce were often put in what we would now consider cliché roles like maids or secretaries. Seeing the jobs and positions women were usually depicted in during this era truly highlights how far women have come in the workforce, but also how much further we have yet to go.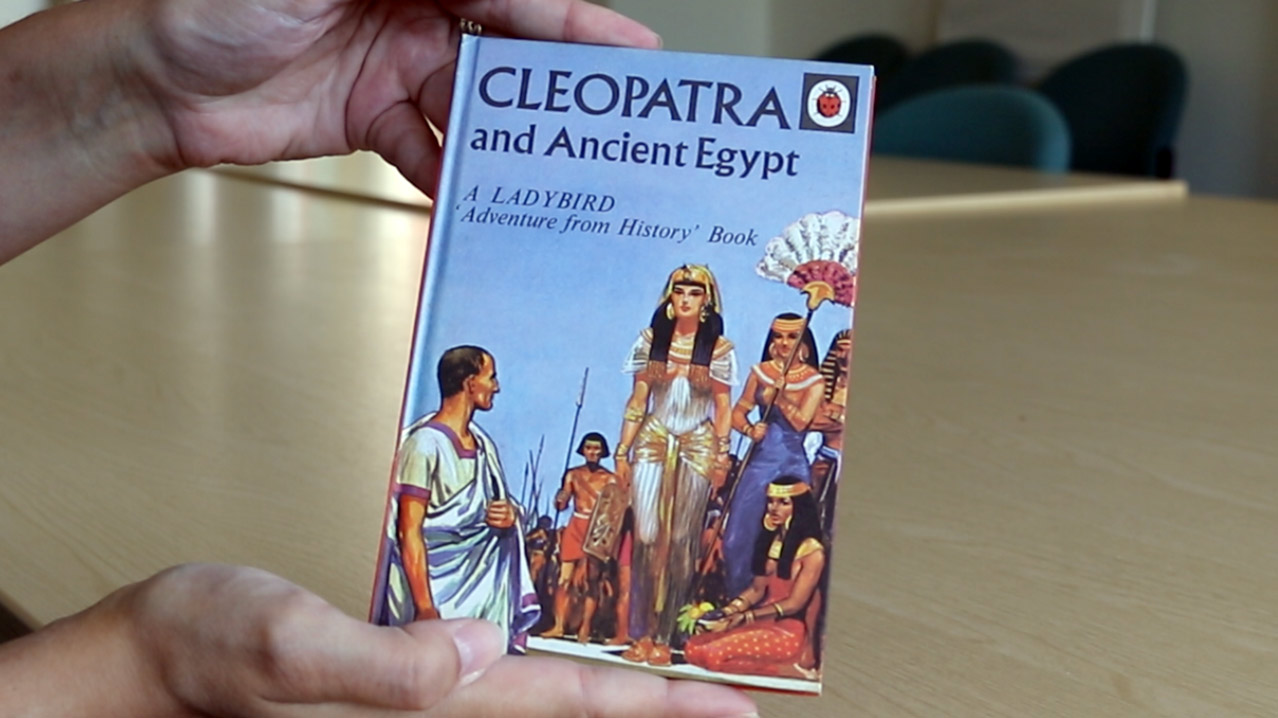 Historical figures who made it onto the pages of a Ladybird Book make for an interesting case towards the role of women. While historical figures are presented as independently significant, many nevertheless feature the heavy presence of a male character in their own tale, such as when Cleopatra meets Julius Ceasar for the first time – an encounter featured on the cover illustration.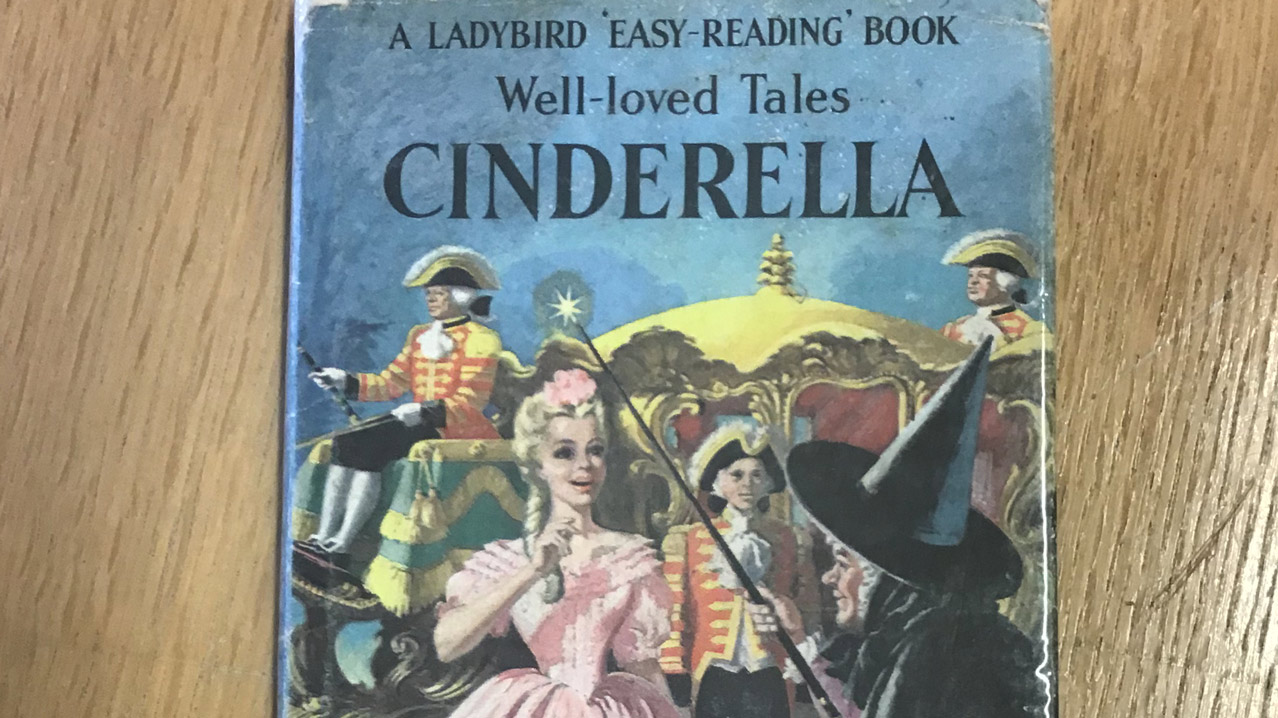 The most prominent place that women show up in children's books is in fairy tales. The teachings of right versus wrong, good versus evil, are told through the innocent princesses and evil step mothers or fairies. The display in the Ladybird Gallery goes into detail of how the fashion within the fairy tales helps readers to associate what is 'good' and what is 'evil'.
This whole exhibition calls into question what exactly gender roles are. Both when these books were originally published, but also as a way to reflect on what they are today. While men and women are important to society, the definition between gender roles is less so.
Ladybird in Focus: Women is on free display until 17th February 2019 at the Museum of English Rural Life. Come and visit us!
Written by Dr Ollie Douglas, Curator of MERL Collections
Here at The MERL we like short, snappy titles. We are especially fond of rurally-themed four-letter words.
Nothing too crude, of course. We prefer wholesome, nostalgic words linked to our collections.
MAKE
.
MILK
.
WOOL
.
Even UNIT sort of fits the mould.
Based on these criteria alone, FOLK seems well-qualified to describe our Autumn programme. However, much like many of those less virtuous four-letter words, folk is a far more conflicted term than it may seem at first. Many would refer to The MERL as a 'folk museum', to its collections as 'folk collections', to things it holds as 'folk art', and to its most obvious constituents as 'country folk.'
But who are these mysterious Folk? Like so much of the English language this is a word with its roots firmly in Anglo-Saxon contexts, where folc  harboured the same sense of national community retained in the German volk. A people. The people. Our people.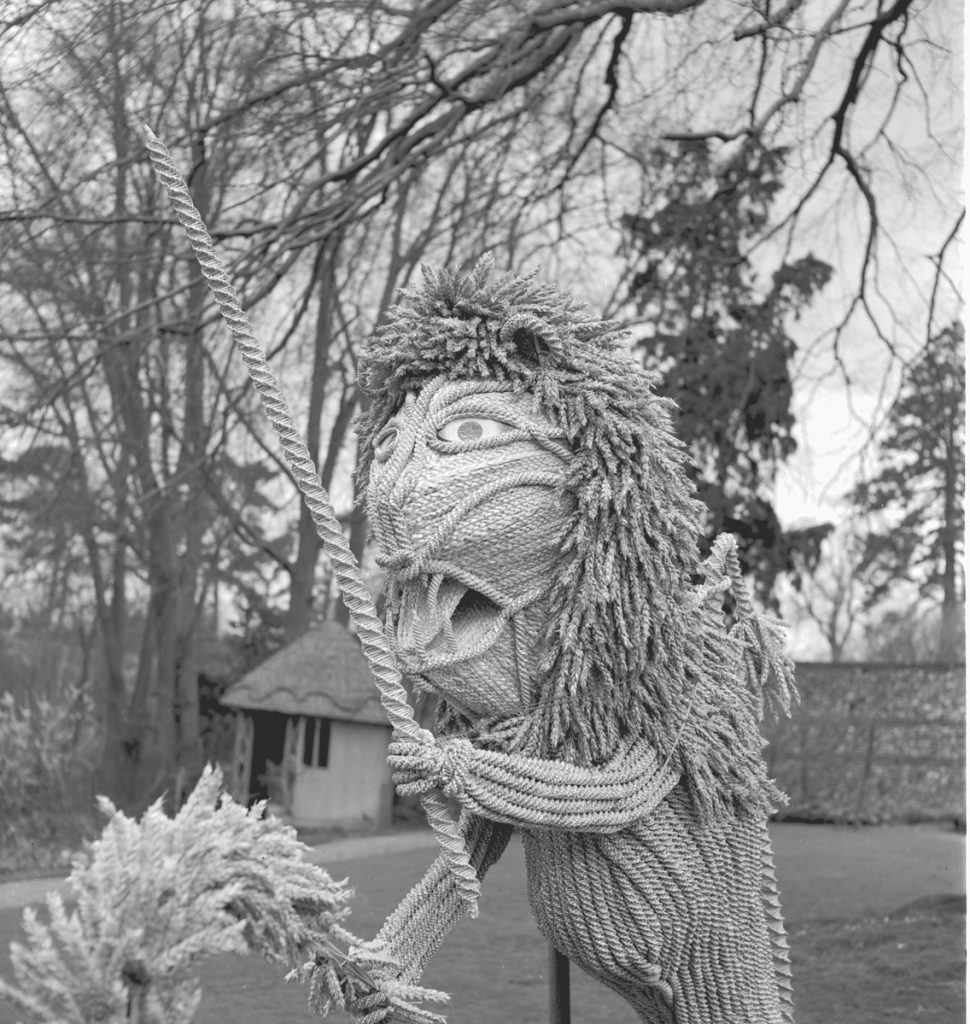 However, for a long time the English equivalent lacked this simple sense of unity. Folk was a derogatory label for marginalised aspects of everyday life. For outmoded things that some people believed were uncultured.
This negative use of folk stems from its use in the nineteenth century to refer to lower class or seemingly unprogressive people, often those in rural areas. One of the most famous examples of this came in 1846 when antiquary William John Thoms coined the word folklore. Under the pseudonym Ambrose Merton, he wrote it for the very first time in a letter to the Athenaeum:
"Your pages have so often given evidence of the interest which you take in what we in England designate as Popular Antiquities, or Popular Literature (though by-the- bye it is more a Lore than a Literature, and would be most aptly described by a good Saxon compound, Folk-Lore,—the Lore of the People)—that I am not without hopes of enlisting your aid in garnering the few ears which are remaining, scattered over that field from which our forefathers might have gathered a goodly crop."
Folklore was therefore, at its heart, concerned with grass roots origins and popular culture. Echoing this, most early folk museums began as localised amateur projects. Folk collecting was defined by class, with upper and middle class collectors carrying out fieldwork amongst lower class communities. Folk art—elsewhere referred to as popular or vernacular art—was a somewhat barbed term to characterise the work of untrained makers and artist, serving to separate high culture from low culture.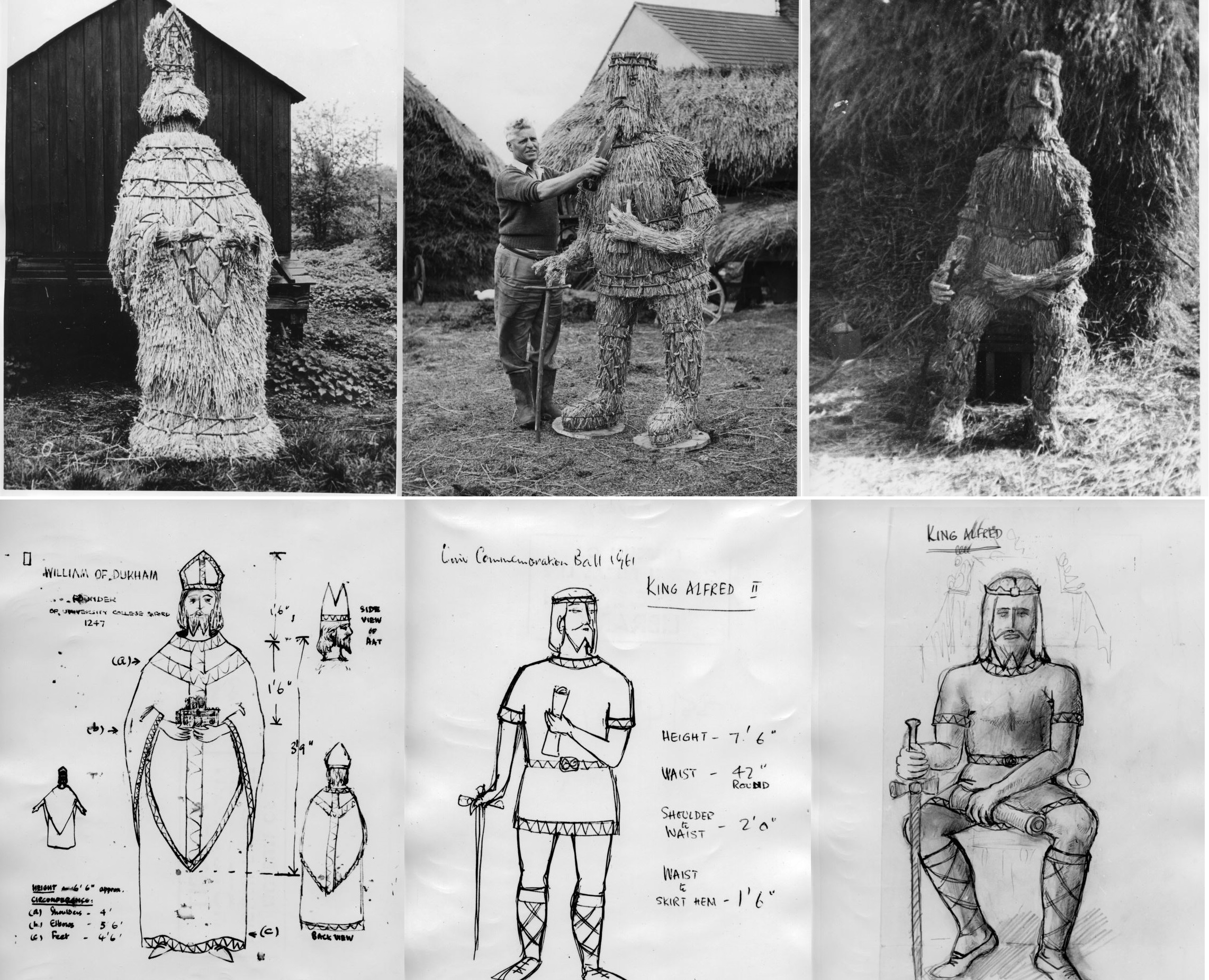 The so-called folk in these contexts were largely defined by their lack of literacy, their hardship, and their non-urban ways of living. They were poor, apparently illiterate, and largely rural in origin. Indeed, Thoms' definition of folklore draws on agricultural language to give character to his rustic term: the remaining 'ears' of a 'goodly crop, scattered over the 'fields'. In essence, folk culture was rural culture and rural people were the folk.
But what do we mean by folk now? And, other than this superficial link to the countryside, why are we keen to engage with it here at The MERL? A whole series of revival movements and shifts in popular culture throughout the twentieth and early twenty-first centuries lead us neatly up to where we find ourselves today.
The word folk no longer sounds so negative. Folk music and folk performance have gone from strength to strength in recent years and, through partnership with the English Folk Dance and Song Society, we've been lucky enough to work with some of the best in the business. We've lent objects from The MERL collection to a major Folk Art retrospective at Tate Britain. We've hosted the Folklore Society conference, echoing the rising popularity of #FolkloreThursday on Twitter, to which we have also contributed.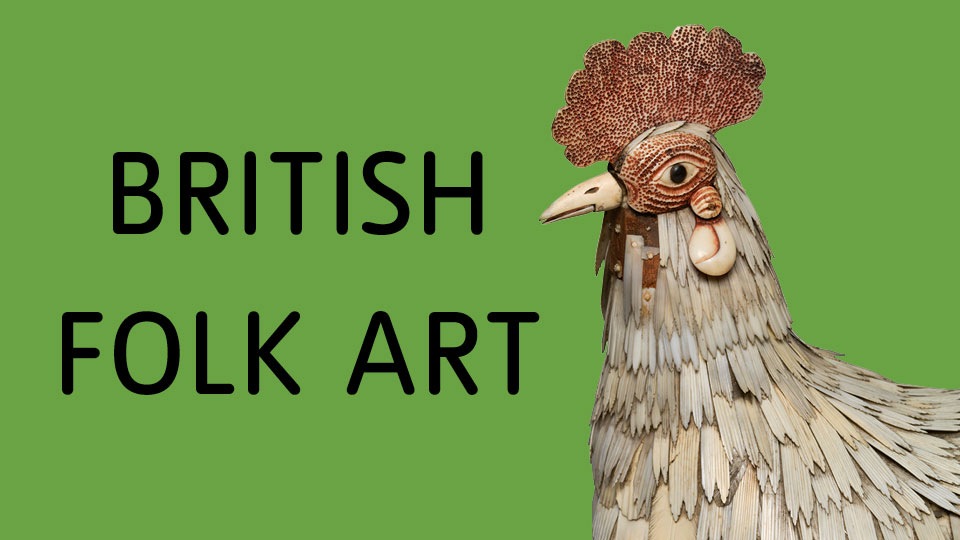 As for the Folk themselves, well that's really us. Just as the folk of the past weren't easily defined by their relative poverty, literacy levels, or even by where they lived, our events and programming are designed to cater for everyone, for all the folk. Whether you see yourself as the kind of 'everyday country folk' whose lives are chronicled in The Archers, or you live a much less countrified existence, we hope that you'll find something exciting in our wide range of Autumn programming.
We'll be playing host to a pioneering new contemporary art intervention, delivering a series of exciting and varied lunchtime seminars, our Annual Lecture featuring a new work by Hannah James, and running a folk themed MERL Late. At the latter there'll be folk poetry, folk performance, folk-themed gallery talks and tours, and opportunities to undertake a pilgrim trail round the galleries.
All we need are some folk to turn up. Why the folk? Why the folk not?
Find out more about the Autumn Programme.
Written by Rhiannon Watkinson – Audience Development Project Officer
We all know those conversations you have at work – especially when you work in a museum – where you can't quite believe what you are being asked to be involved with.
It went like this:
"There's a great new project that we'd like you to be involved with"

"Great!"

"It's about engaging new audiences with an archive collection and spreading the word about what it contains"

"Great!"

"It's all about Chickens!"
I think I should give a bit of background.
The Poultry Club of Great Britain
had generously funded the MERL archive team to catalogue the
David Scrivener Collection
, collect archives and publications relating to the Poultry Club of Great Britain and promote academic research into poultry.
The amazing thing about this project was that the Poultry Club made a decision that alongside all the archival work, they also really wanted people to engage with the collection and see it for themselves.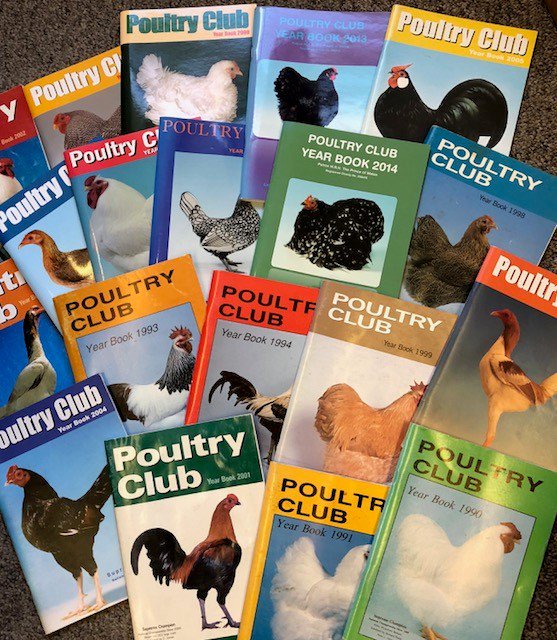 Where do you start, though? Are chickens really that engaging? Would people even care to learn the difference between a Booted Bantam and a Jersey Giant? *Spoiler Alert – they did!*
A plan was hatched! We would enthuse and inform young people and people who had no prior knowledge of the Poultry Club (I know, who doesn't know about the Poultry Club?). Experimentation was key and meant the poultry club archive not only bursting out of its boxes (not literally, no need for archivists to panic!) but it becoming a focal point of co-creation and engagement at The MERL.
The centrepiece of the Poultry Club engagement work was a large event Spring Chickens, held in The MERL garden. Volunteer groups also got involved, including our fabulous Mewes Knitters. They managed to knit (after a little gentle persuasion) a unique chicken badge for every member of staff and volunteer to wear at the event – no mean feat considering all those who contributed to the day!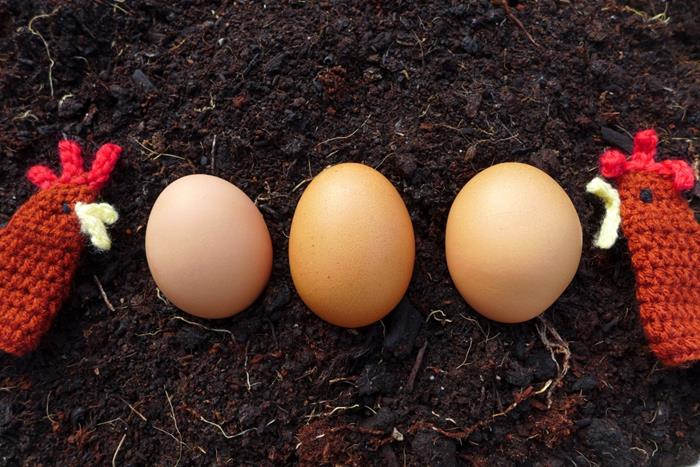 This monumental team effort paid off and we had over 500 visitors taking part in everything from egg and spoon races, willow weaving, a poultry themed trail around the galleries and a pop-up display from the Scrivener archive. We also partnered with The Federation of Children's Book Groups to engage our very youngest audiences with chicken stories – Chicken Licken being my personal favourite! The undisputed highlight of the event was a colourful and beautiful display of birds brought by keepers and breeders from the Reading and Newbury Bantam Society. This really brought the archive to life and showed the importance of hen-keeping. Young and old alike were all fascinated by the poultry, the like of which you certainly don't see on your usual farm!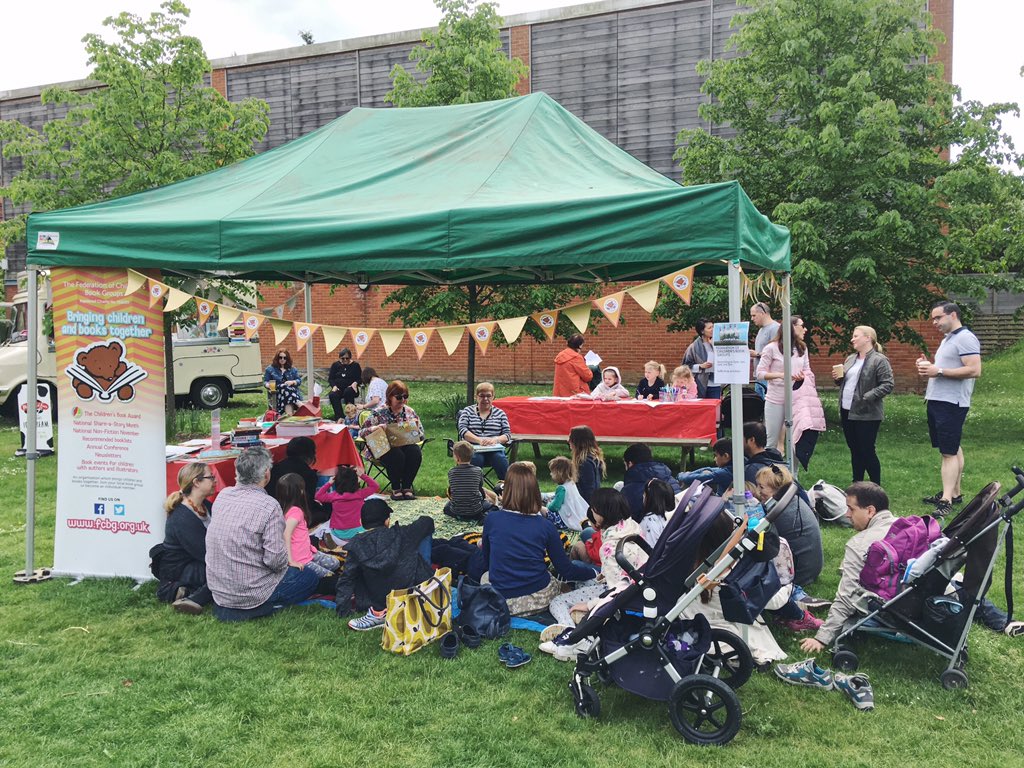 The Spring Chickens event was a great way to have our audience see the many facets of poultry and the poultry archive and also a chance for them to get more involved. Nothing personifies this more than our first oral history interviewees Rose and Eddie who came along to the event and ended up being interviewed about their lives as young poultry keepers. This oral history interview will be added to the archive and help future generations understand more about poultry keeping today. As far as Rose and Eddie are concerned poultry keeping is all about fun but also responsibility – ensuring you are doing the best for your hens. They also show that once you've got the poultry keeping bug it doesn't leave you – Rose plans on working with animals and then retiring to a poultry farm!
Rose and Eddie aren't the only young people that have gotten involved with poultry due to the project. We've been engaging with schools and asking students to design their perfect chicken for the future. They need to take into account everything we use chickens for, such as meat, eggs, feathers, aesthetic beauty etc., and show how they would use cross breeding to create their own super chicken of the future. This has proven to be a chance to play at being ½ farmer, ½ mad scientist.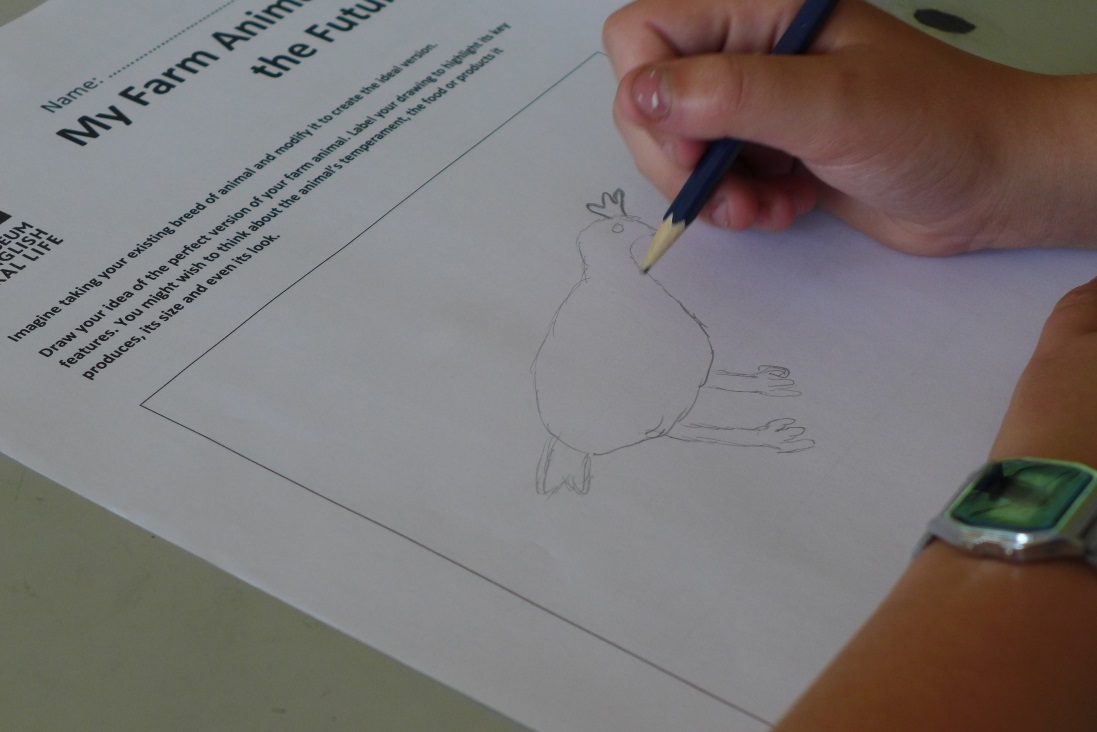 I should probably mention that due to a happy coincidence and some Wellcome Trust funding we've already had two hens calling The MERL garden home throughout the project. This has proved to be an invaluable resource when getting visitors and young people enthused about poultry. As part of the project we were keen to train up 'Community Poultry Keepers' who could help tend to our hens whilst upskilling themselves and improving their own wellbeing through working with animals.
Our first trained poultry keeper was Edward, who came to The MERL for a work experience placement from Reading College's Activate Learning Programme. Edward, like many of us, was sceptical at first about whether hen keeping was for him! It's not something you might expect to do on work experience at a museum! However, by the end of his 6 week placement Edward new the hens like the back of his hand and used his new found knowledge to create a guide to looking after our hens for others to follow in his footsteps.
The Poultry Club project is coming to a close but there is much to be excited about in the future. A schools resource centred on the poultry archive is in production and two exhibitions, one inspired by community engagement, will be on display at the museum at the end of the year.
Our chickens are even going on tour! They, and the poultry club archive, will take a leading role on the University of Reading's stand at the Berkshire Show on 15th & 16th September.
It just goes to show – some of the strangest most unexpected conversations can lead to some of the most wonderful, and still unexpected, outcomes!
Interested in volunteering opportunities like these? Get in touch with us!
Join Our Community
Keep in touch
Our 'MERL news' and 'MERL families' e-newsletters feature information about projects, activities and events.