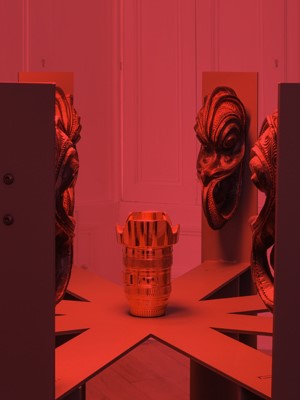 Exhibitions
October 20 - January 13, 2019
Normal opening times
Free
Did you know
...city families used to pick hops on holiday?
Hop picking holidays allowed city families to earn money. Pickers were paid with tokens, which were used in local shops or exchanged for wages.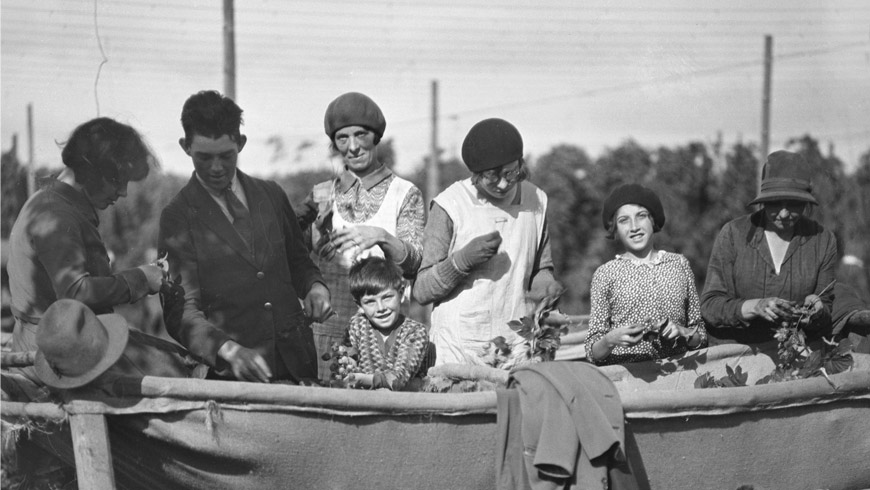 Did you know
...Elizabethan mattresses were used for both childbirth and corpses?
Mattresses, plaited from sedges, were made to support a mother during childbirth or a corpse after death. After use it would have been burned.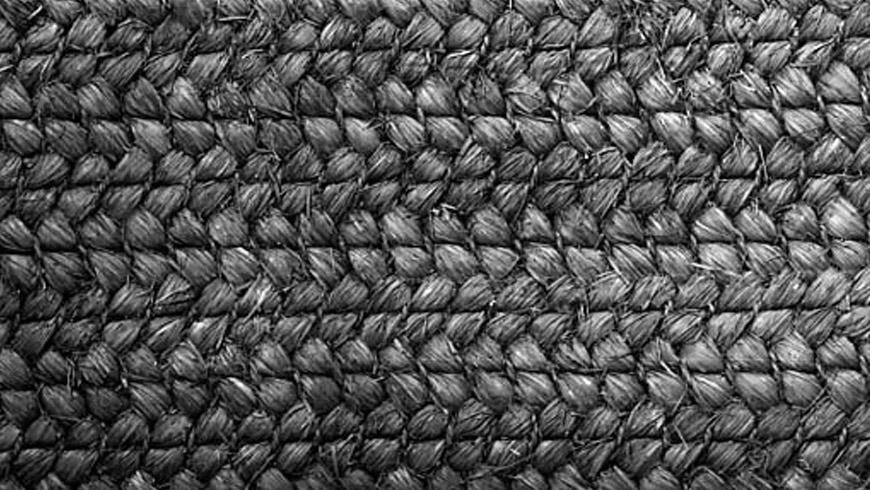 Did you know
...farmers used to sow seeds by fiddle?
Sowing by hand can be slow and inaccurate. Seed drills were developed in the 1800s to sow seeds quickly in a straight line at regular intervals.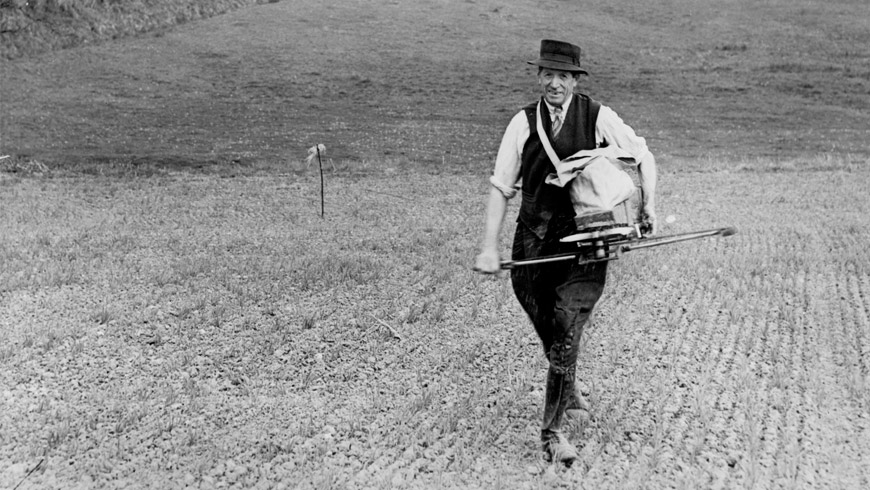 Did you know
...Lady Eve Balfour (1898-1990) was one of the earliest organic farmers and co-founded the Soil Association?
Women continue to play a key role in this movement, with organic farms employing significantly more women than chemical farming.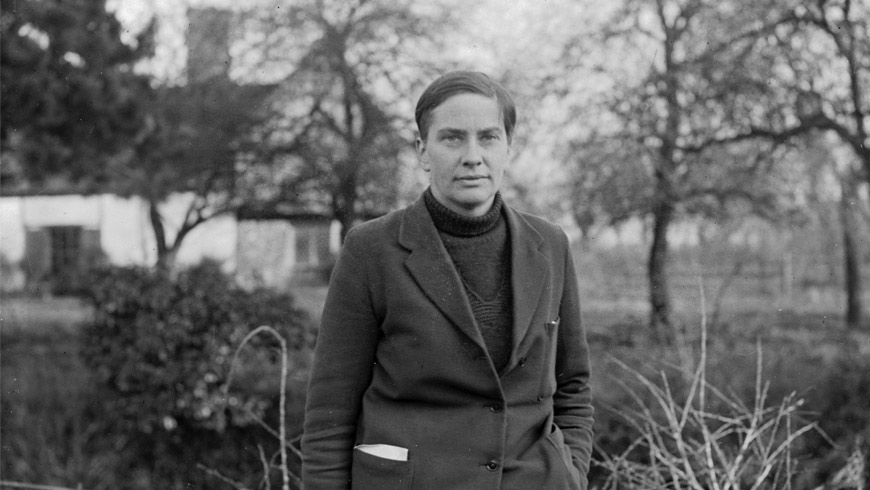 Did you know
...Suttons Seeds invented the seed packet?
The local Reading firm, founded in 1806, popularised paper packets of seeds for gardeners.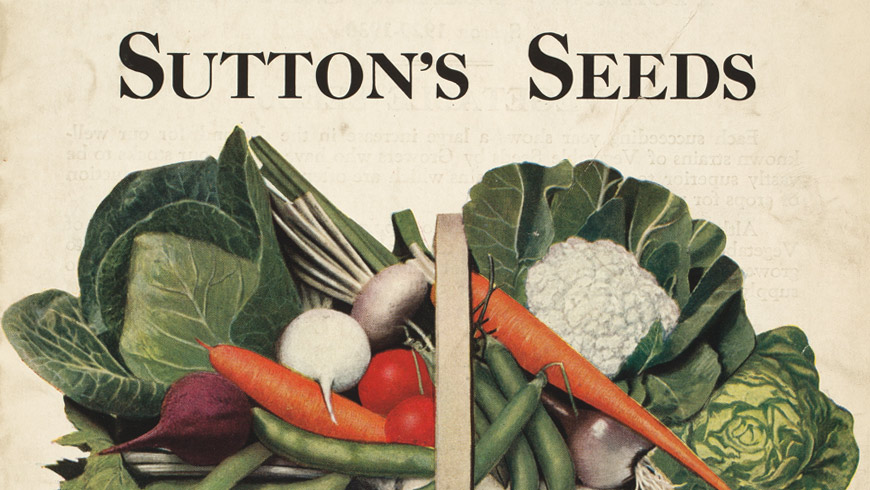 Did you know
...villages often used to run their own fire services?
The National Fire Service was only created in 1941.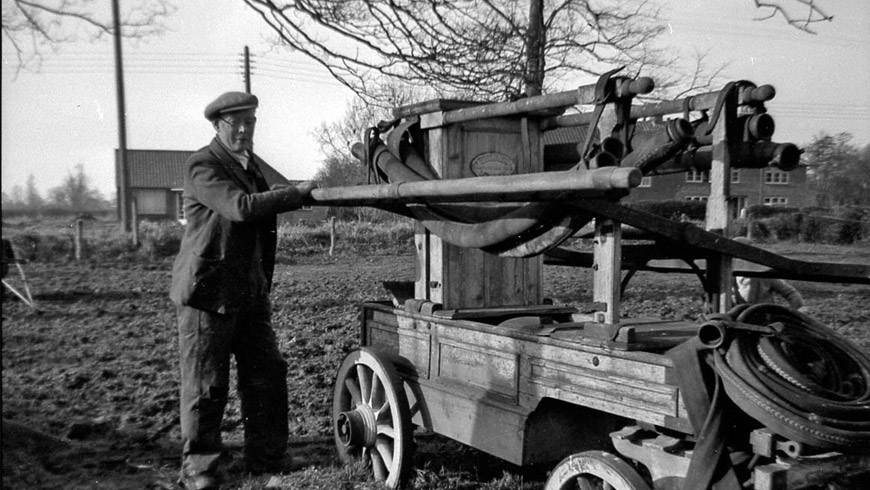 Our Country Lives - Latest Blog Posts
Our blog explores the people, places and issues of the historic and contemporary English countryside and rural life, uncovering and exploring our collections, the exciting activity around the MERL and the people we with.
Yes, we want you to visit Reading.
We don't have the dreaming spires of Oxford. We don't have Windsor's castle. And we don't have Swindon's outlet centre.
What we do have is lush coffee, a booming pub and craft beer scene, easily accessible countryside, unique shopping and…a contemporary art installation in a museum about the English countryside which we really want you to see. Seriously, it's very good, but we thought you might want to see what else we have while you're in the area.
So, if you're sick of central, bored of Shoreditch and need a day-trip, get yourself an off-peak Return to Reading and do this stuff:
Let's have eight cups of coffee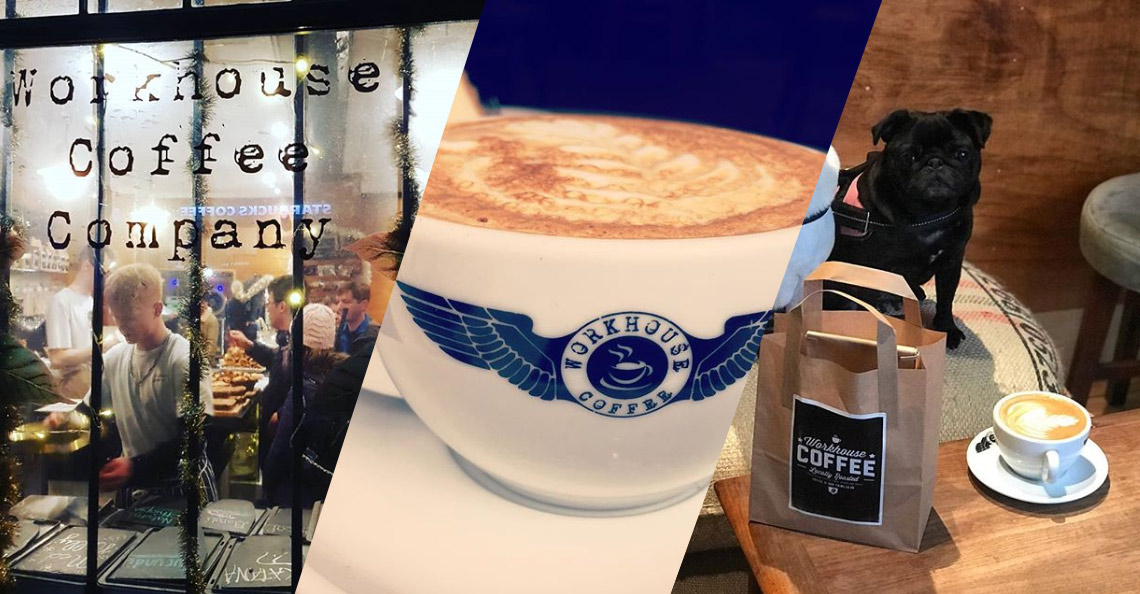 You're already getting the shakes on the 25-minute Great Western journey from Paddington, and outside Reading station you're confronted by a windswept square paved with grey redeveloped-in-the-21st-century stone, a tower block and a Pret-a-Manger.
Let's get away from that, shall we?
Head past the oldest purpose-built railway hotel in the world, up the beautifully bricked Queen Victoria Street, past the Oracle and down to the George Hotel, a 16th-century coaching inn. Behind Dickensian windows on the ground floor is the welcoming glow of Workhouse Coffee, which has the honour of both being one of Britain's 30 best and buzziest cafes and for being our only café without its own Wi-Fi. Take the time to disconnect, sample their signature blends, chat to the friendly staff and nibble on some absolutely lush pastries.
If you want to tank up, though, try these other places:
Shop until you hate capitalism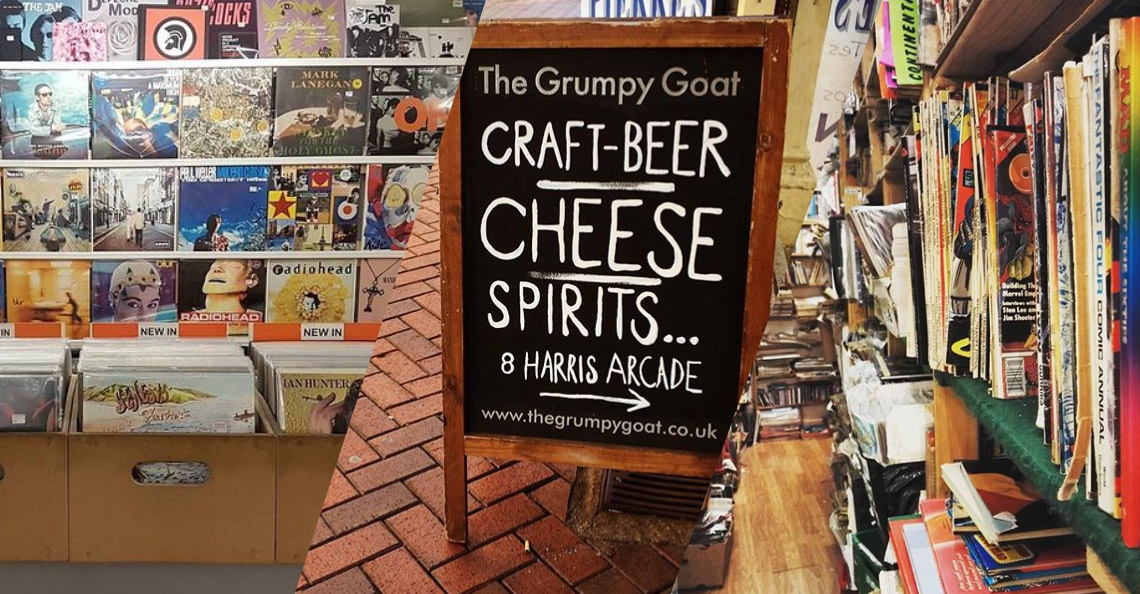 Reading has shops. We have the only Clas Ohlson left in the country, and a pretty good Gap outlet. But, to be frank, you don't have to come to Reading to buy a toaster from John Lewis, so let's move onto what makes us unique.
After your coffee it's only a short walk through the medieval Market Square and back toward the station, where you'll find the 1930s Harris Arcade.
This is Reading's mecca of independent shops. Enter from Station Road and satisfy your fandom cravings at Just Imagine Memorabilia, stuffed floor to ceiling with vintage toys, comics, records and odd bits and ends. Venture a little further and you'll find Grumpy Goat, Reading's Cheese and Beer institution, which stocks IPAs, DIPAs, Bitter, red ale, stout, porter, lager, wheat beer, cider, gin and much more in rows and columns and crates of beer which take up every conceivable space. They also run an annual craft beer and music festival at South Street Arts Festival.
Once you've stuffed your bag full of local cheeses and jazzy beers, pop into The Sound Machine and spend 30 minutes rooting through vinyl and cheap CDs. They won't judge you if you walk away with a Destinys Child album. If you're not a fan of browsing obsolete music formats, you can always pick up a cigar, browse African fashion, have a hat made or get a tattoo in the Arcade too.
If you love shopping and want more, try these:
Lunch your face off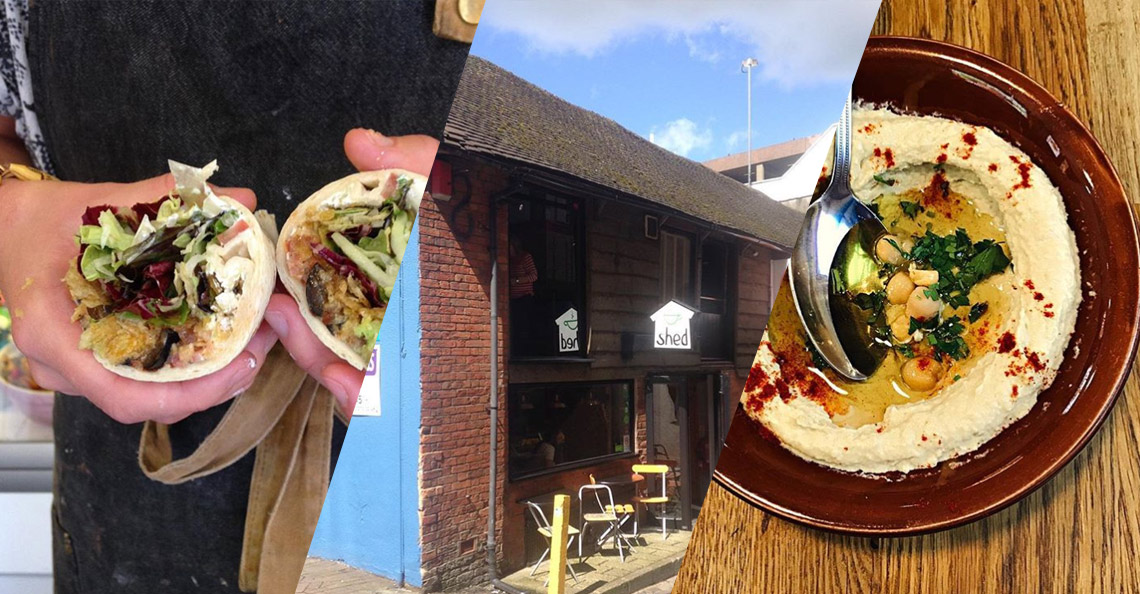 We've got two Nando's. We've even got a chicken shop called Fernandos which was sued by Nando's and is now called Fernandez. But if you want something a little different, Reading has you covered.
Once you've had your fill of shopping, wander up Friar Street (named after a medieval friary at the end of the road) and, tucked behind Nando's, you'll find a place called Shed. It's in a former forge, and its first floor becomes Reading's best cocktail bar Milk after-hours. During the day, though, they sell the most lovingly put-together and tastiest things between two slices than you can imagine. Its popularity shows on weekday lunchtimes as workers near and far queue outside for a Top Toastie, a BBC, the daily soup and Lentil Power.
Shed isn't the only one flying the flag for interesting, independent food in Reading. If sandwiches and soup aren't your thing, try these instead:
Reading has culture?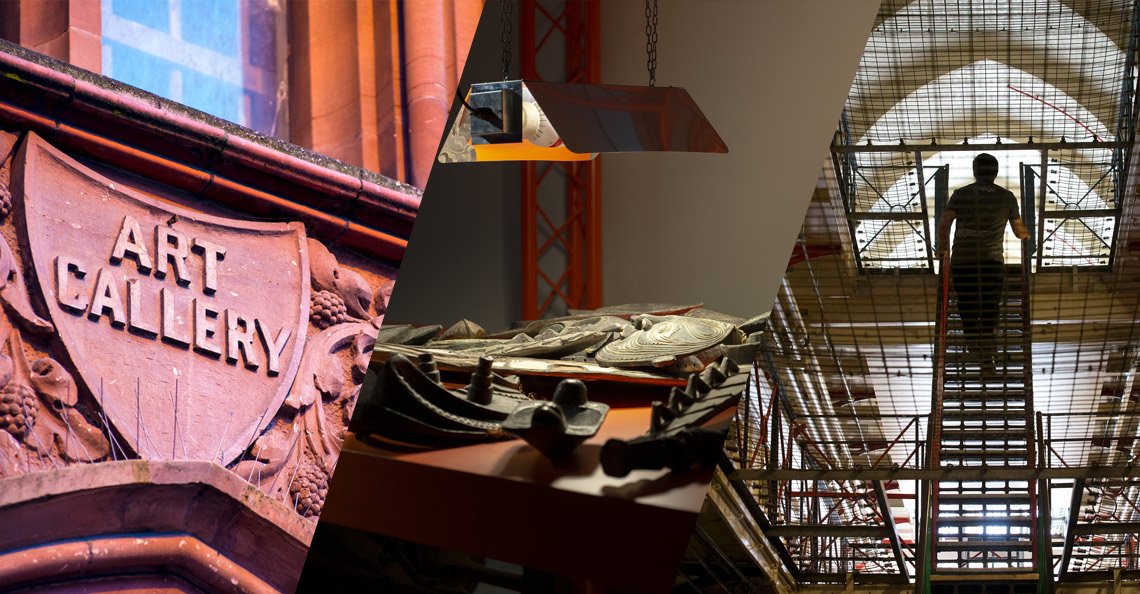 Yes, Reading has culture. From a thriving local art scene to big names at the Town Hall; from England's best 6-sided venue to an arts centre saved by the community; and from a Victorian replica of the Bayeux tapestry to England's national museum on English rural life – repeat after us: Reading has culture.
Reading International has been bringing world-class contemporary art to Reading over the past few years, most notably when they got the likes of Ralph Fiennes down to read De Profundis in Reading Gaol, where Oscar Wilde was imprisoned for homosexuality. They've also invited internationally-renowned artist Steven Claydon to place three large sculptural pieces in the Museum of English Rural Life. They're very hard to miss, made out of cages and bright orange scaffolding enclosing a mixture of our own objects and New Guinean and Melanesian folk objects. As Steven says in our blog:
Objects have a curious way of adapting and enduring through the changes inferred and imposed on them.

I wanted the pieces from my collection to be able to shed new light on the indigenous objects at The MERL through their similarities and their alterity or 'otherness'; to catalyse a re-reading via an altered context.
After lunch, wander south and down Georgian London Street, past the Shenhai Olympia Ballroom where the Rolling Stones once played, and take a detour through the tranquil University of Reading London Road campus and give us a visit.
If you're hanging around though, take the chance to laugh, learn and be inspired at these other places:
Walk it off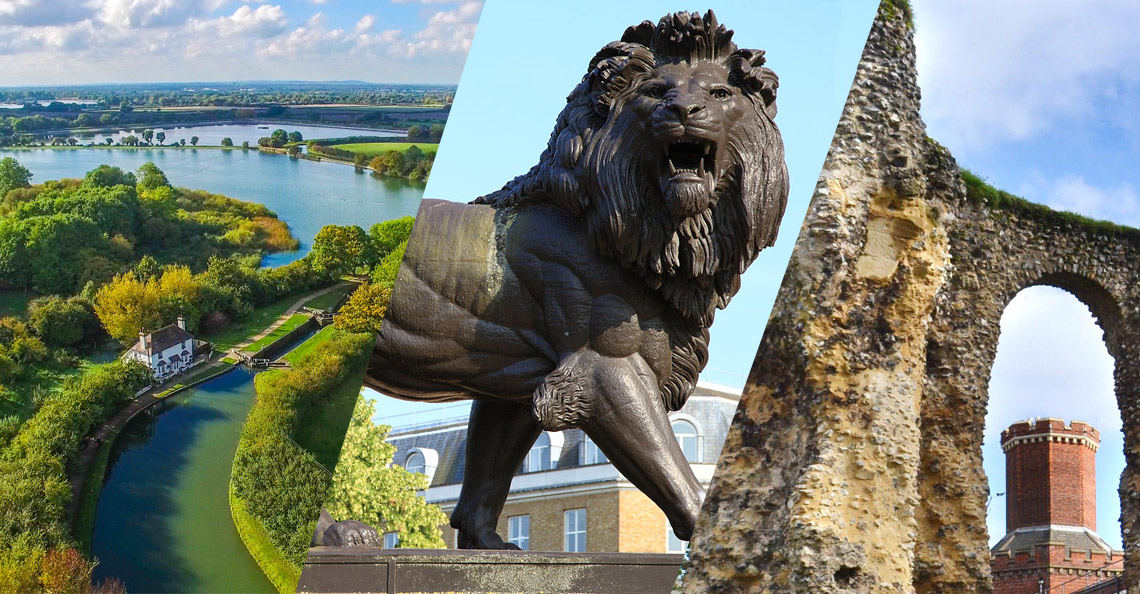 We have trees for you to look at. We have rivers for you to stare at swans. We have slightly grim but sometimes nice canal-side footpaths to amble along and avoid bikes on.
But since you're only here for the day, take a brisk walk back into town and through Forbury Gardens, Reading's centuries-old gathering space. Relax under the imposing glare of the Maiwand Lion, splash about in sculptural fountains and climb a civil war-mound-which-used-to-be-a-fort. Continue through to Reading Abbey Ruins, the imposing and romantic remains of one of Britain's most important religious sites and the burial place of Henry I.
If you're here for a longer day or if you want to come back, try these too:
Eat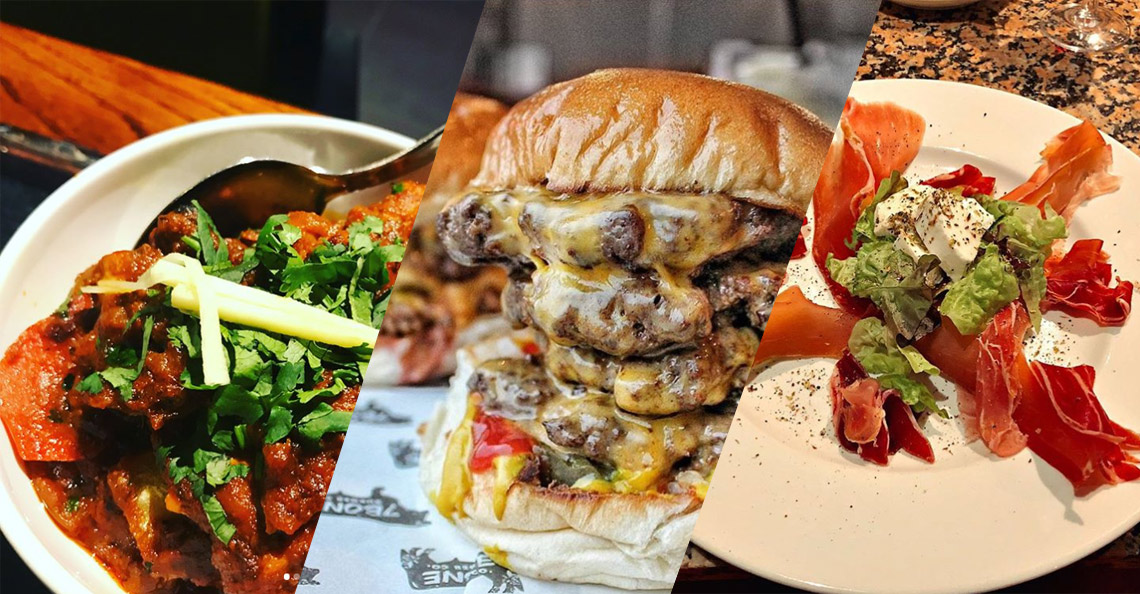 Reading is a surprisingly good place to stuff your face.
We defer to our local food blogger Edible Reading for insightful recommendations, but for what it's worth we've collected some things together:
Get sozzled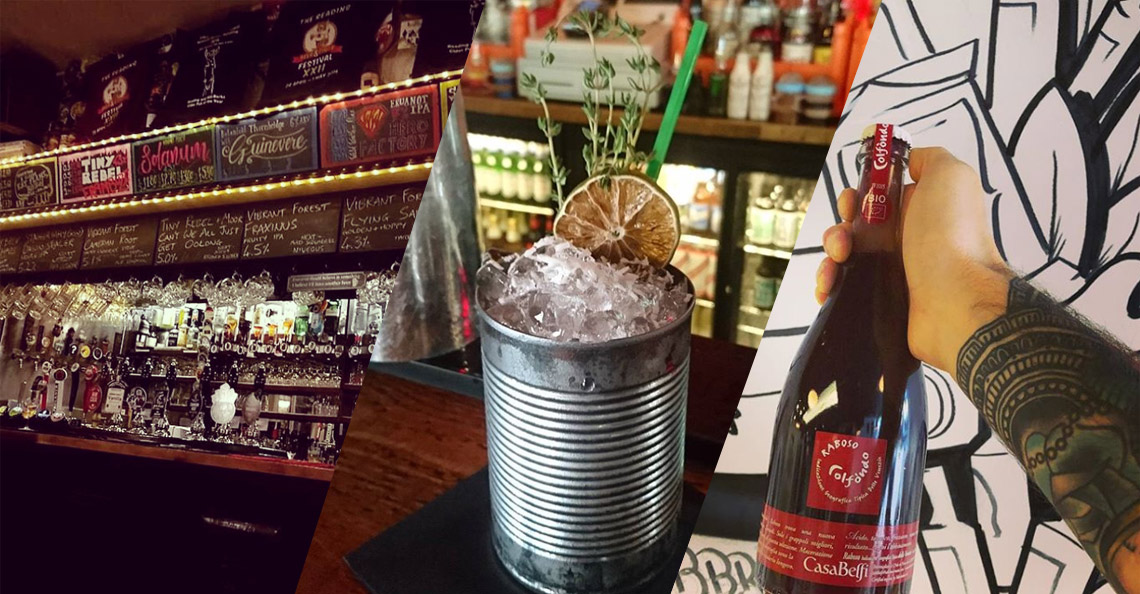 Reading has a thriving bar and pub scene. We're surrounded by established and up and coming breweries, have brassy new pubs and classic old man pubs, and even some wine bars.
Rather than assume your taste for you, we're going to give you the best of each:
You can also turn yourself into a public disturbance for less than a tenner in no less than three Wetherspoons, an O'Neills, a Walkabout, a Varsity and a variety of other copy and paste boozers.
Go home, but come back
Reading is quietly becoming a good place to eat, drink, experience culture and have a good time. We're very proud of it and would love for you to come again, but please don't tell too many people or they might ruin it.
Thank you.
This year at the MERL Annual Lecture we presented 'Muscle Memory', a world-premiere performance from award-winning accordionist, singer and clog dancer Hannah James, developed in response to the collections at The MERL and the traditions that have helped shaped them.
One of the key figures in the revival of English percussive dance, Hannah's musicianship takes her far beyond the tradition and has taken her around the world. Hannah will be performing in a pair of specially commissioned clogs made for her by Geraint Parfitt, one of only a handful of traditional clog makers in the UK.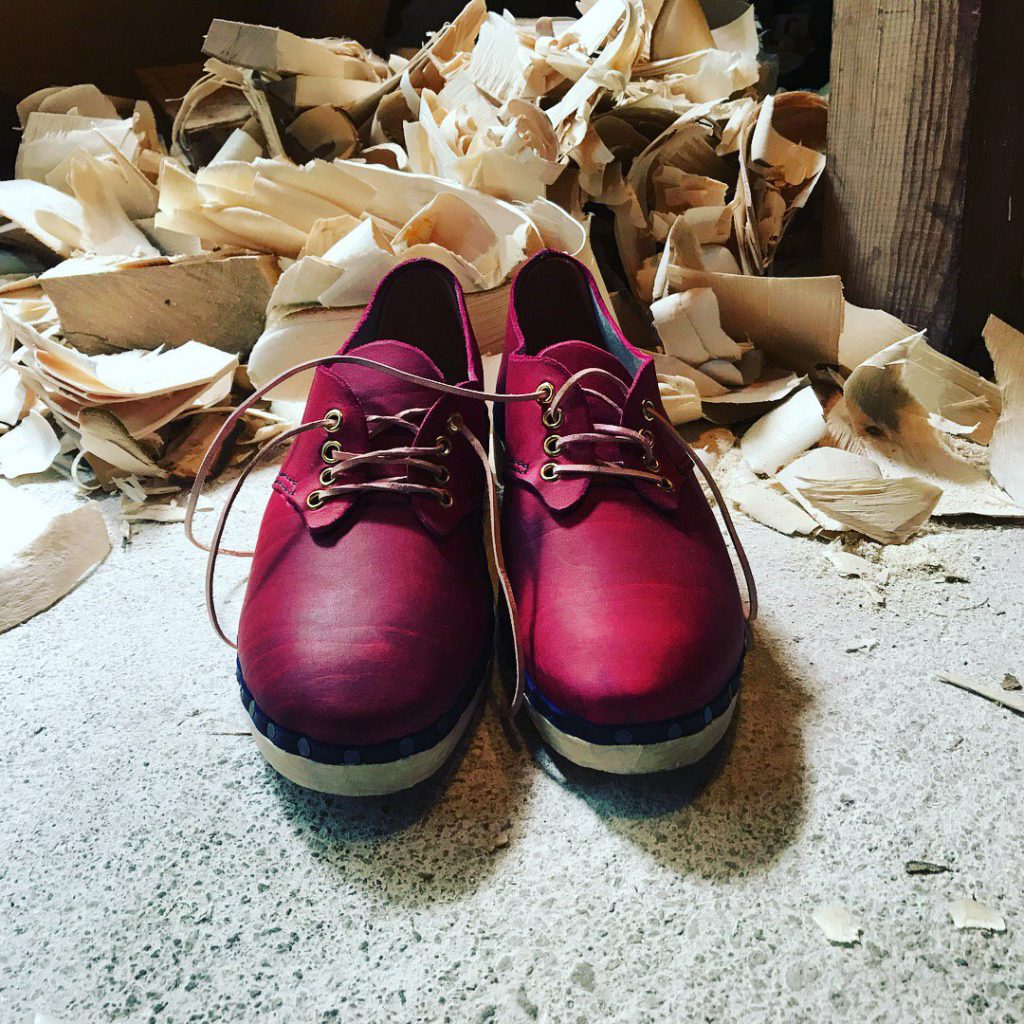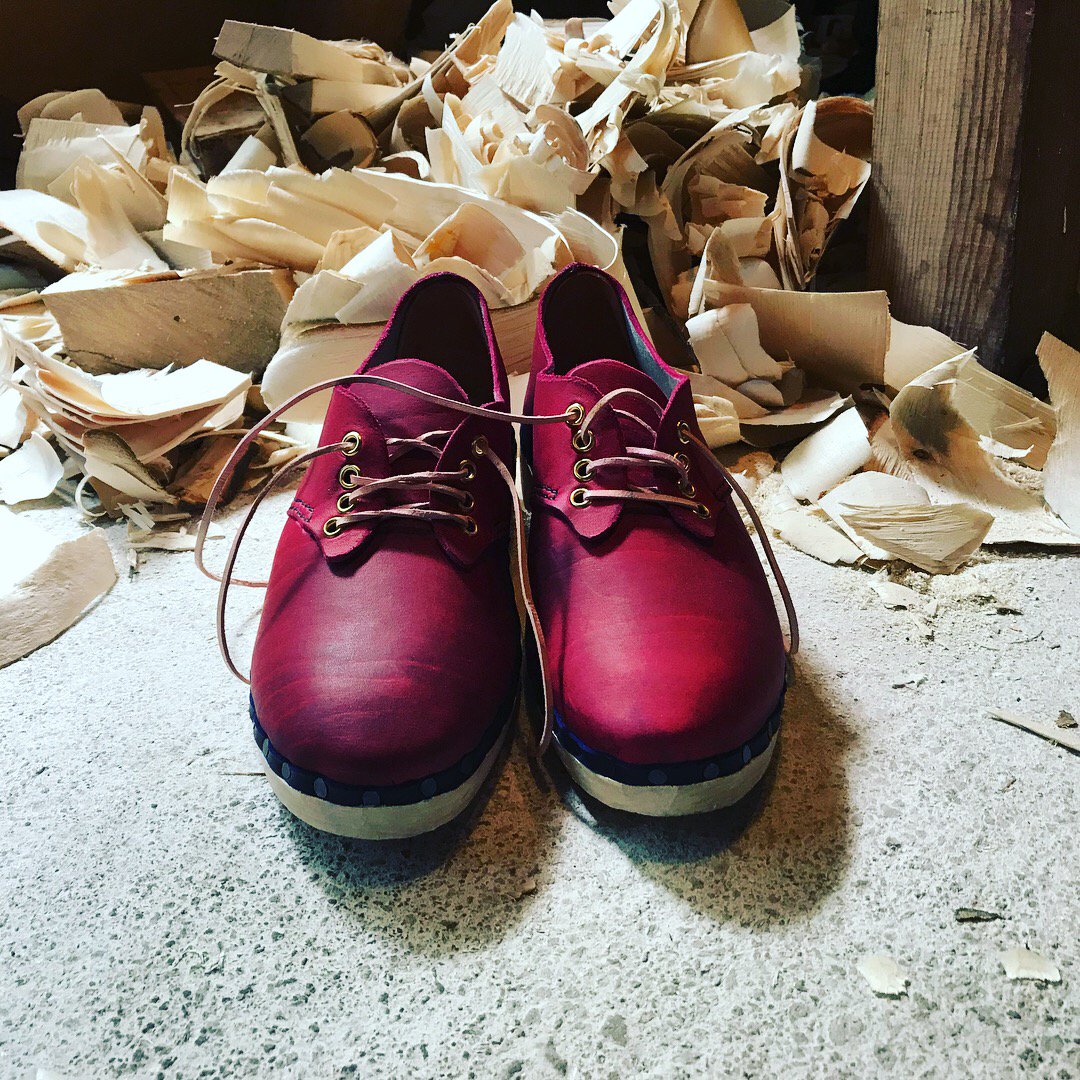 We commissioned the clogs as part of the Museum of the Intangible project. For this project, we have invited makers, writers and practitioners to produce a range of creative responses to the MERL's collections as a way of exploring some of the intangible cultural heritage connected with them. This particular commission combines two aspects of intangible heritage – traditional craft skills and performing arts – in the form of clog making and clog dancing. You can read more about the commission in a recent blog. Following the performance, Hannah will use the clogs in performances and after some time in the real world, they will be accessioned into the MERL collections, with an amazing story to tell.
Hannah wrote about the commission on her own blog:
"I was delighted to be asked to create this piece for The MERL but I didn't realise how deeply personal this project would become to me until I started working on it. Meeting Geraint and seeing how much he lives his craft, as I do, has made the whole process very special. I hope that the piece can communicate the strong connection that we both have to our work, and the importance of keeping crafts and skills alive."
Watch Hannah talking about his skills:
"I wanted to create a piece which highlights how crafts and skills exist in living bodies; our bodies literally grow into them. We develop particular muscles, calluses and strange dents in our hands and feet through practising them. These are things that can't be passed on through a book or a video, or an exhibition, they have to be acquired slowly, under the watchful eye of a master, be passed from one living body to another and I fear that, in this modern world, the importance of both human contact and this slow acquisition of skills is being forgotten."
"Muscle Memory is the story of a pair of clogs, and the lives that brought them into being, lived in them, and left their imprints inside them."
Watch 'Muscle Memory' below:
This performance certainly highlighted how museum objects interact with skills and traditions, but it also did something that only an artistic response can manage: it introduced emotion. A profound tragedy ran through Hannah's performance: the clogs were not just dead objects but ones that had been murdered. But rather than this being an angry rant against the loss of traditional skills, there was also a joy in the performance. The clogs, the maker, the dancer, the musician are entwined to create something raw and wonderful and enjoyable. Every performance is ephemeral but the best ones leave an imprint on our memories. Hannah's clog dance will live long in mine.

Guy Baxter, Associate Director, The Museum of English Rural Life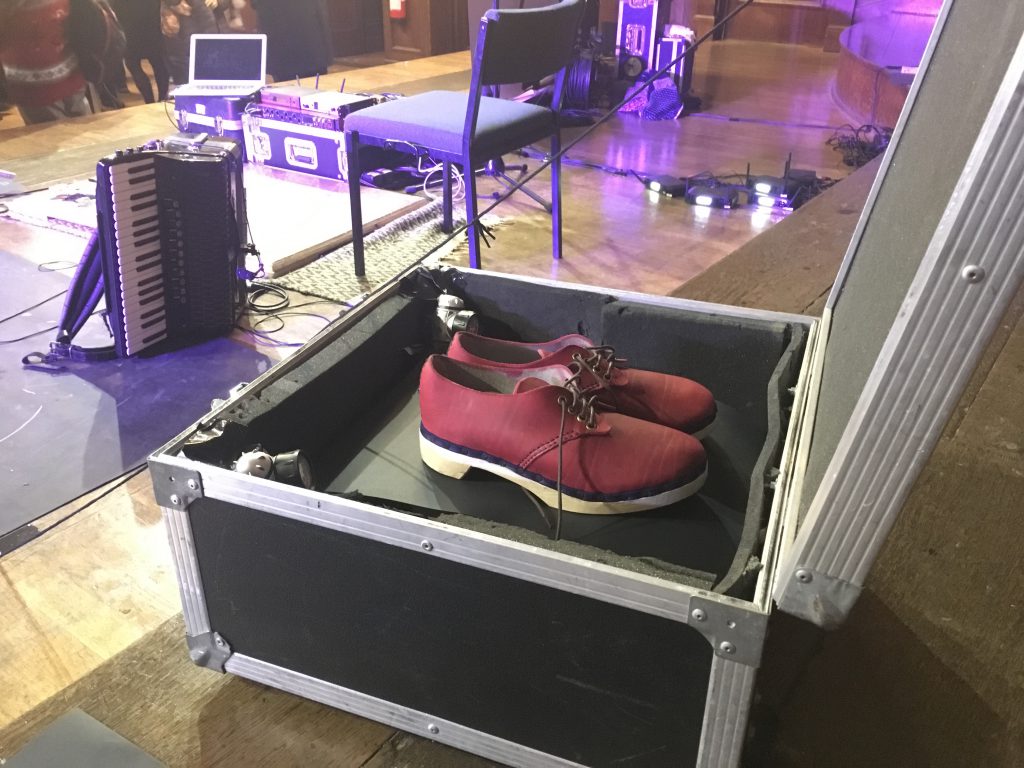 PANEL DISCUSSION
After the performance, Hannah joined MERL musician-in-residence Jackie Oates, Chief Executive and Artistic Director of EFDSS Katy Spicer, and Greta Bertram, Curator of the Crafts Study Centre at the University for the Creative Arts in Farnham, for a panel discussion on how creative responses can help us to understand the different layers of our heritage. The discussion was be chaired by Dr Paddy Bullard, Associate Professor of English and convenor of the Collections Research Network at the University of Reading.
Each panellist spoke briefly on how they feel their work helps people to understand the past, focussing on the museum as a setting for this kind of project, the way performance traditions clarify or obscure our understanding and the role of organisations and how to bring all of these different strands together.
Both the debate and the performance raised important questions about the preservation of traditional skills and of the part they play in the creative economy of the UK. In addition to this, Hannah's powerful narrative threw the internal conflict of museum practice into sharp relief. In endeavouring to preserve and safeguard heritage through the collecting of material things, museums like The MERL often play a part in the consignment of such material forms to the cultural past. We need to work towards a future where museums and the wider creative industries and arts and heritage sector work together to support and safeguard our pasts for our future. No one can do this in isolation but we hope that many in these communities will retain both the muscle memory of feet tapping to Hannah's powerful performance and the intellectual vigour and call to arms that lay at the core of a vibrant panel debate.

Ollie Douglas, Curator of the MERL Collections
You can watch the full discussion below:
The aim of this project is to raise awareness of the crafts and skills that are threatened and encourage debate about how to make sure they live on for future generations to learn and enjoy. With that in mind, we also commissioned Hannah to make a clog dancing tutorial to help you get started. You'll have to find your own clogs, though! (Tap shoes, or any hard soled shoes are great to start with!) You can watch it here and it will also be available for visitors to the Museum.
During the late medieval and early Tudor era, when superstition about witchcraft and the supernatural was at its height, people in England sought new forms of protection, and, for some, new ways of inflicting harm. It was at this time that many turned to concealing objects. Often found close to entrances, including doorways and fireplaces, these items were concealed to protect, or harm, the inhabitants of the buildings where they were placed.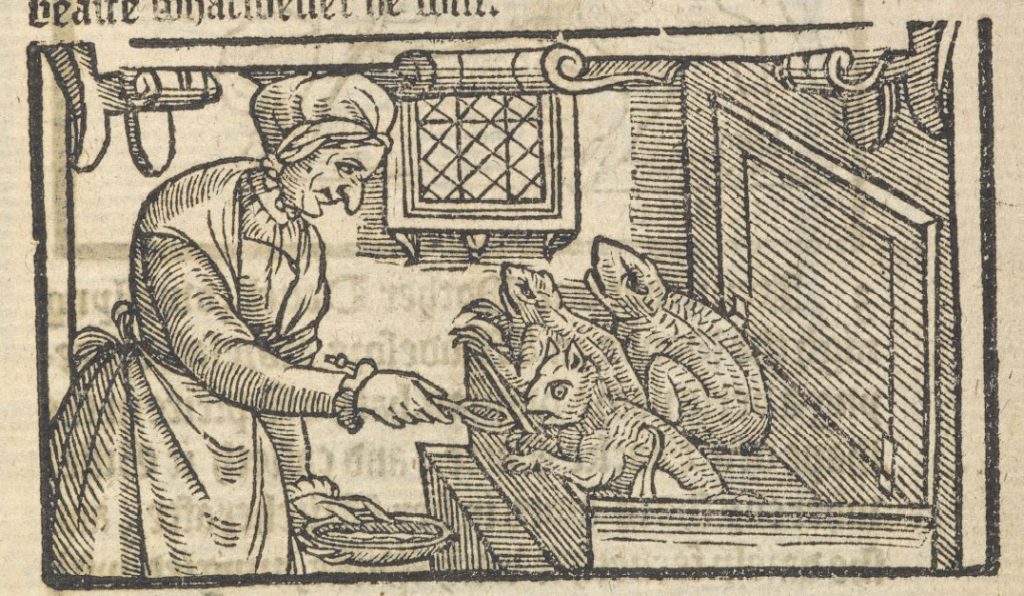 Items found range from clothing to mummified animals – often cats – and are commonly discovered during renovations or demolitions. Over the years many have made their way into museums, including the collections at The MERL, becoming a point of interest for visitors and researchers alike.
So what does this have to do with English Rural Life?
The 20th November saw The MERL unveil yet another successful Late event, this time examining the diverse theme of Folk. Alongside a myriad of activities, trails, and talks, some of the Museum's lesser seen objects made their debut, raising many an eyebrow and many a question throughout the evening.
From corn dollies, to horse brasses, pole heads to a Fool's Bladder, visitors were given the chance to engage with folk culture from England and beyond in a pop-up exhibition on the Museum's mezzanine and through volunteer-led object handling in the galleries.
Three objects in particular stood out however, each with its own ominous past, but all with one intriguing thing in common. These three items were a Bellarmine jar, a small leather pouch, and a pair of leather children's shoes. All are related to concealed, apotropaic, objects.
So what are these objects, and why are they significant?
Shoes
These children's shoes were found in a fifteenth-century farmhouse at Leigh-on-Sea, Essex, during its demolition. They were found in an attic, thought to have originally been a child's bedroom, which had been sealed off in around 1800. At the time of donation museum staff suspected that the shoes were deliberately deposited in the attic as an apotropaic device to protect the home. Shoes are one of the most commonly found concealed items. Over 2,000 examples are on record so far – a number that will undoubtedly continue to grow – with the earliest known examples dating from the 14th century[1].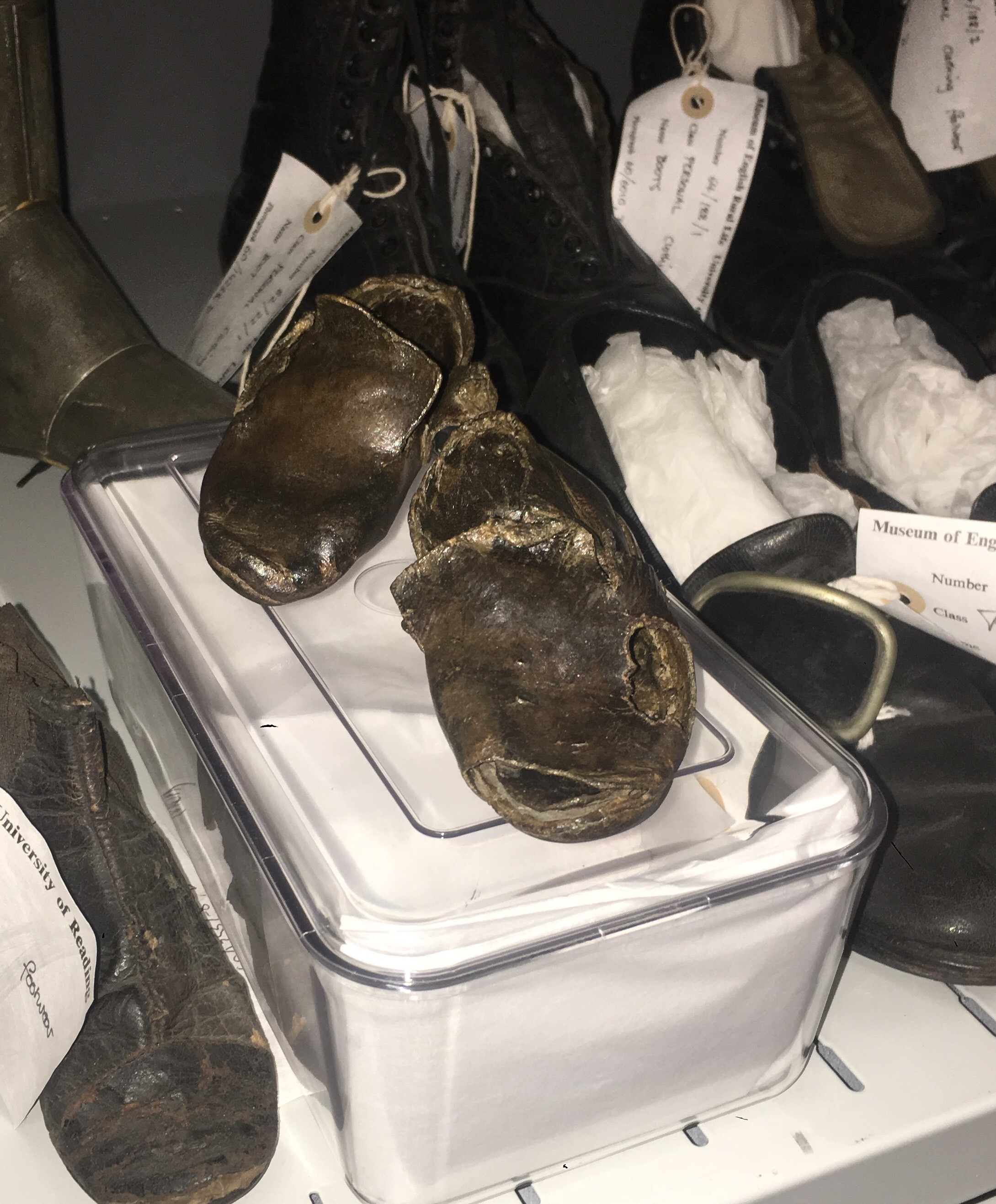 Leather pouch
This hand-stitched, circular leather pouch was found on the chancel arch of West Ogwell Church in Devon, and contains the remains of pages of writing. It was thought, by museum staff at the time of acquisition to have been a charm or a curse, and may date from the seventeenth century. Due to its age and condition, it is impossible to know what the writing once said or their intended purpose. Few paper items from this period survive, deteriorating over the centuries, or falling victim to pests.
Often written charms were used as a means of protection, however a couple of examples of written curses do exist[2]. Having been found in a church, this item could have been intended for either protection or harm – Maybe a prayer, placed high, closer to God, or harmful words, intended for the congregation.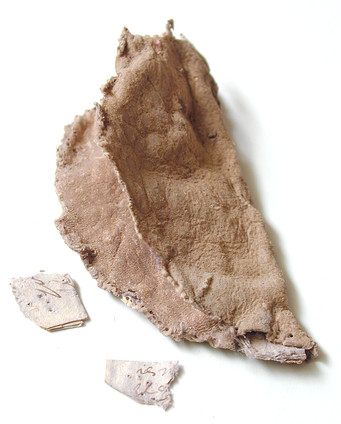 Bellarmine Jar
Although this jar was not found concealed, having been dug up at Sandy, Bedfordshire, Bellarmine jars were a firm favourite for concealment, and were most notably used as Witch Bottles.
Witch Bottles were used as a counter-spell against witchcraft. A vessel would have been filled with 'powerful' substances, some of the most common being human hair, heart-shaped fabric, urine, and iron pins or nails – Iron metal was believed to repel witches.
This was then concealed by an entry point, preventing any unwanted entities from entering the building and causing harm. Witch Bottles have been found under fireplaces, beneath the floors, and under door frames.
Of approximately 250 recorded English witch-bottles, 130 are thought to be Bellarmine. Made in Germany and popularised throughout 17th century Europe, the jars' name was inspired by Italian Cardinal, Robert Bellarmine, who was renowned for publishing anti-protestant literature.[3]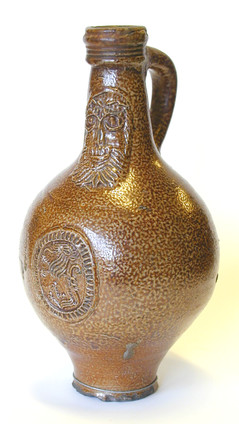 One Thing to Remember …
A lack of records and written accounts means that we cannot be certain that the purpose of these particular items and their concealment was based in the supernatural. These interpretations are 'of their time', reflecting the beliefs of those who found the items, and the museum staff who received them. Understanding the period in which they were hidden and the popularity of concealed, apotropaic items during a period of superstition, certainly helps in identifying and understanding these types of objects, but it must be taken with a pinch of salt. Nevertheless, these objects and their presumed history, is a fascinating insight into English Folk culture, superstitions, and beliefs.
For more information about concealed objects and supernatural folk culture, visit Apotropaios, and Inner Lives: Emotion, Identity and the Supernatural, 1300-1900.
[1] Apotropaios, Concealed Shoes. Available from: http://www.apotropaios.co.uk/shoes.html
[2] Apotropaios, Written Charms. Available from: http://www.apotropaios.co.uk/written-charms.html
[3] Apotropaios, Witch Bottles. Available from: http://www.apotropaios.co.uk/witch-bottles.html
Join Our Community