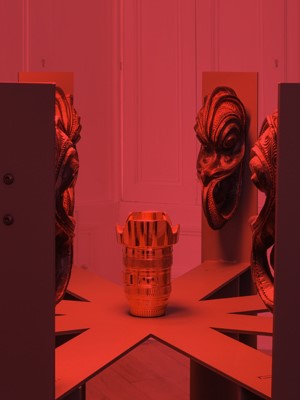 Exhibitions
October 20 - January 13, 2019
Normal opening times
Free
Did you know
...city families used to pick hops on holiday?
Hop picking holidays allowed city families to earn money. Pickers were paid with tokens, which were used in local shops or exchanged for wages.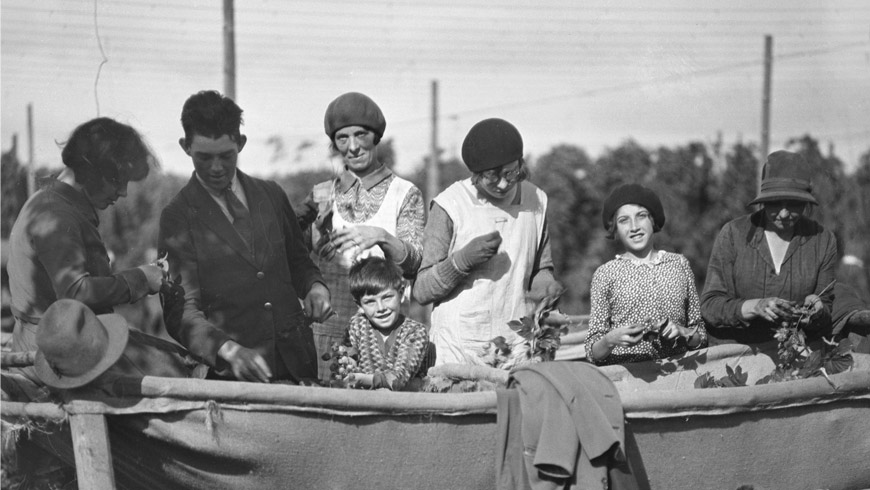 Did you know
...Elizabethan mattresses were used for both childbirth and corpses?
Mattresses, plaited from sedges, were made to support a mother during childbirth or a corpse after death. After use it would have been burned.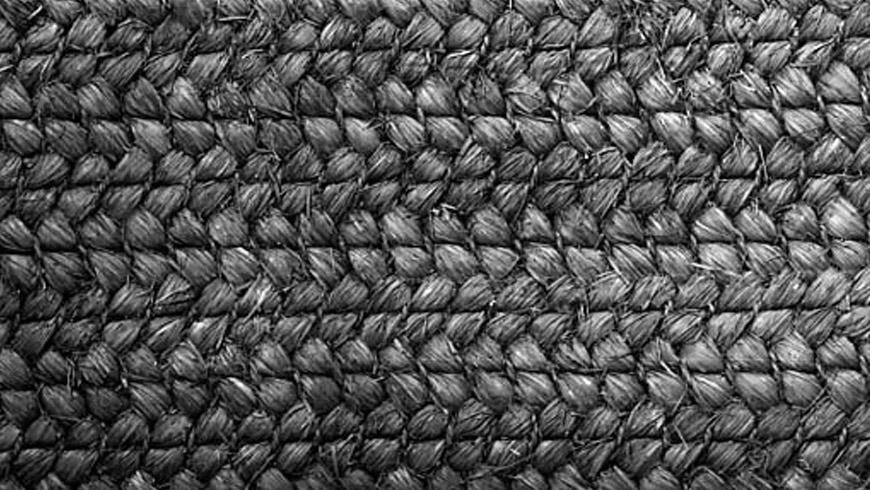 Did you know
...farmers used to sow seeds by fiddle?
Sowing by hand can be slow and inaccurate. Seed drills were developed in the 1800s to sow seeds quickly in a straight line at regular intervals.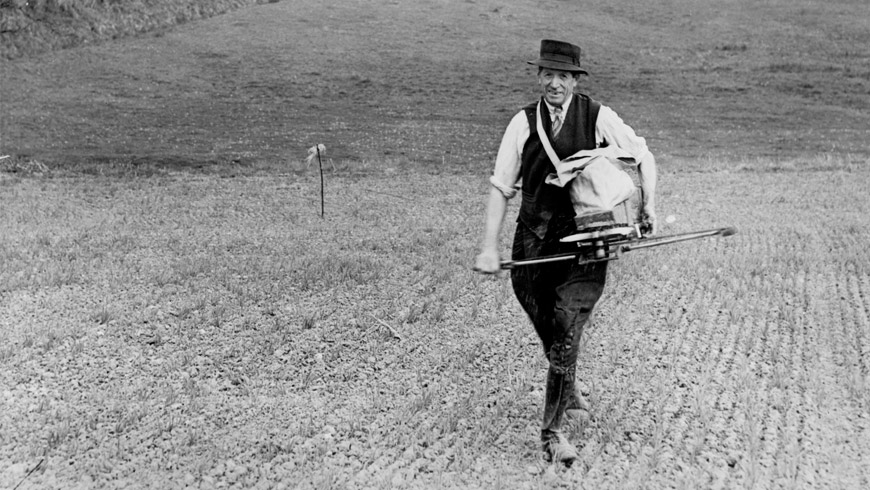 Did you know
...Lady Eve Balfour (1898-1990) was one of the earliest organic farmers and co-founded the Soil Association?
Women continue to play a key role in this movement, with organic farms employing significantly more women than chemical farming.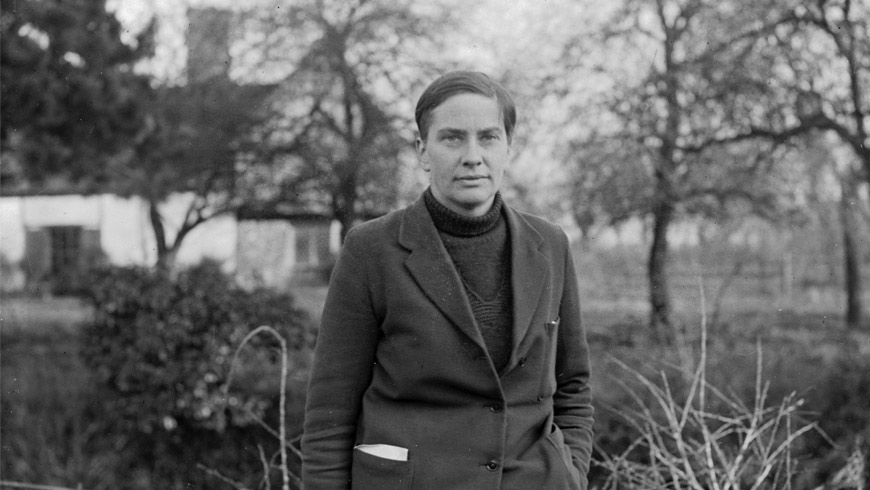 Did you know
...Suttons Seeds invented the seed packet?
The local Reading firm, founded in 1806, popularised paper packets of seeds for gardeners.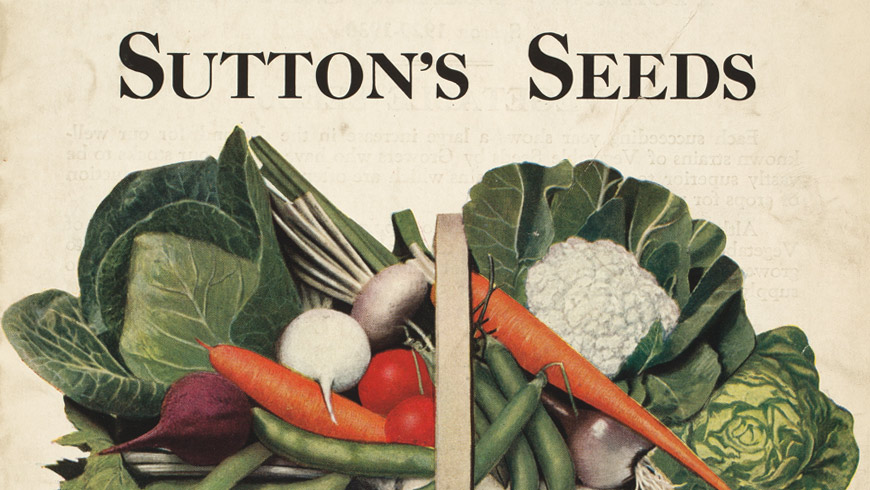 Did you know
...villages often used to run their own fire services?
The National Fire Service was only created in 1941.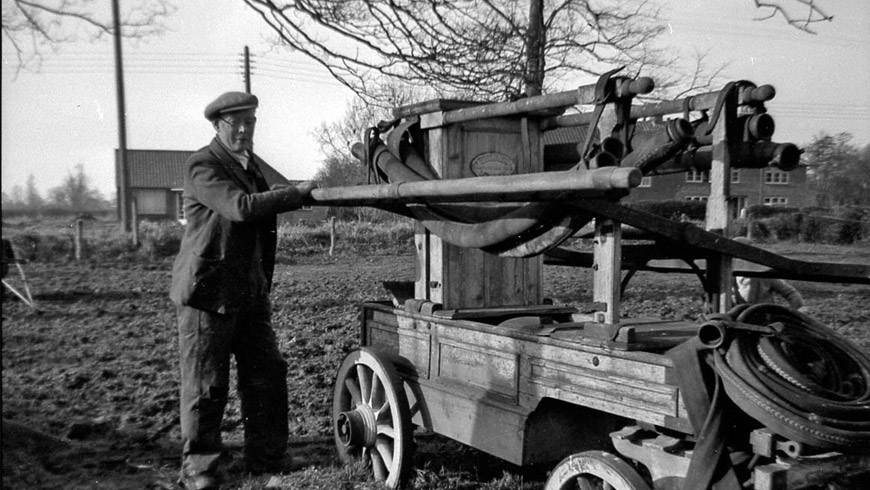 Our Country Lives - Latest Blog Posts
Our blog explores the people, places and issues of the historic and contemporary English countryside and rural life, uncovering and exploring our collections, the exciting activity around the MERL and the people we with.
Staff and volunteers gathered for a special celebratory coffee morning honouring the sterling service of volunteer, Ron Butler, who is retiring after volunteering for an amazing 23 years at The MERL.
The icing on the cake was that Ron was selected to receive the 2018 University of Reading's Alumni Society's Distinguished Volunteer Award. Ron and his wife Jan were recognised for their outstanding contribution to the University of Reading.
Initially, Ron brought his technical expertise from a career at Reading's Sutton Seeds, to shed light on the Sutton's archive. He advised on crop photographs and providing information for exhibitions, and providing expertise at special events.
Ron went on to volunteer week-in, week-out, carefully repackaging archival materials to ensure the long-term preservation of items from a wide range of The MERL archives, including the publications Farmers Weekly, and Farmer & Stockbreeder.
In more recent years (a mere 15!), Ron's wife Jan Butler has worked by Ron's side to help with the repackaging, which also enables easier retrieval when items are requested.
The MERL's Volunteer Coordinator, Sheila Fisher, calculated that Ron has given approximately 1,000 days over the 23 years, donating over 3,000 hours, which equates to two full years of time equivalent staff hours in total.
Director of The MERL, Kate Arnold-Forster, presented the award during the celebratory coffee morning.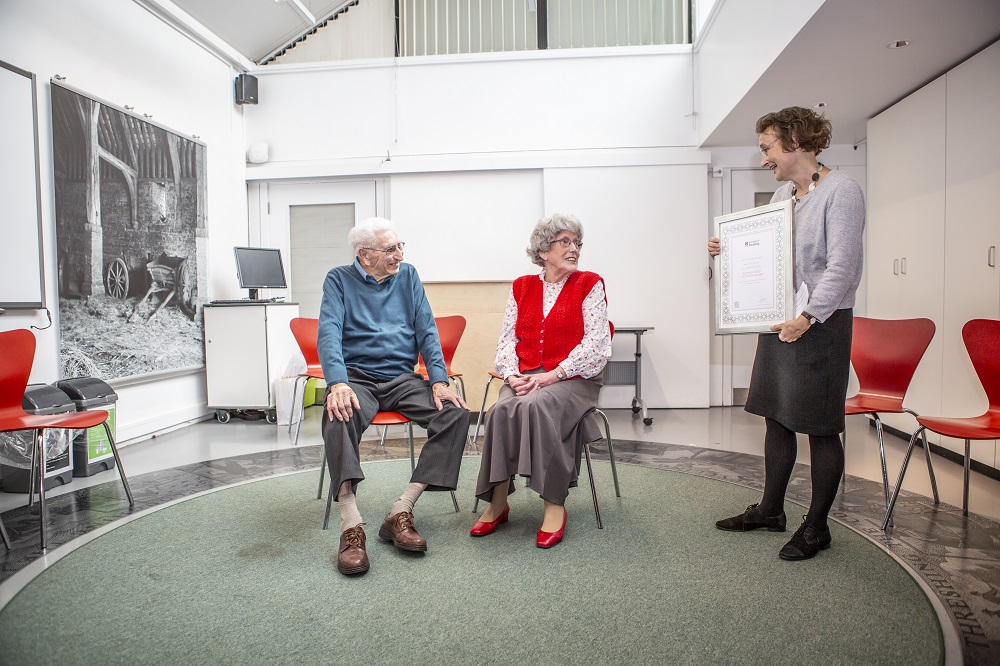 A tribute from colleagues at The MERL
Ron and Jan are described as "wonderful" and "completely dedicated" by archive colleagues based at the Museum of English Rural Life.
In a speech at the reception, Principal Archivist Caroline Gould summed up Ron's contribution:
"Ron has seen lots of changes at The MERL over the years. Ron started when The MERL occupied the temporary – or not so temporary – accommodation on Whiteknights campus. We then moved down to The MERL's current location and now we have emerged from the redevelopment project a fully-fledged museum with an ever-increasing social media presence!
Throughout this time Ron has assisted the archive team especially with their work and turned his hand to a wide range of tasks. Here are some highlights…
Jonathan Brown remembers not only Ron's help with the Sutton Seeds archive, but also the local photography collections including the Philip Osbourne Collier Collection and Dan Lewis collections.
In those days, Ron was part of a partnership with Gerry Westall, who was a Sutton Seeds colleague and also a long serving member of The MERL volunteer team, and a great double act he and Ron both made.
Ron was part of a team for the glass negatives project, where once a week, ten volunteers worked with Brenda Lee repackaging over 200,000 glass negatives ready for their move to this site.  This was when Ron also suggested Jan may be willing to volunteer at the Museum. Since that project, Ron and Jan have worked together volunteering on a long list of projects.
Most recently, Ron and Jan worked on re-packaging our D series collections, an-often neglected collection holding some real gems – to date they have processed around 124 boxes.
Ron and Jan repackaged the Porter Collection of Letterbox Ephemera, where they had to deal with over 24 boxes of ephemera, which had landed on Mr Porter's doorstep over the course of nearly 40 years, encountering in this material samples of shampoo and cleaning products and the odd cereal box!
Ron was first interested in volunteering with us because of his long association with Sutton Seeds, but as we have demonstrated, Ron has turned his hand to help with whichever collection has needed the attention, always with a smile and never fazed by the task in front of him.
So we would like to say "Thank you, Ron!"
Which came first?
Discover all things poultry, chickens and eggs in our new Staircase Hall exhibition celebrating the completion of the cataloguing of the David Scrivener Collection: The chicken and the egg, from 12th November 2018.
Written by Claudia Ricci, Project Cataloguer.
Thanks to the generous support of The Poultry Club of Great Britain we have acquired and catalogued the unique collection of books and archival materials gathered by the author and poultry show judge David Scrivener (1952-2015).
The Poultry Club of Great Britain (PCGB) was founded in 1877 at the Crystal Palace Show. It is, in Scrivener's own words:
"the body governing the fancy"
PCGB's main function is to safeguard and preserve poultry standards in the UK. It also administers the judges' exams, issues leg rings, organises the National Show and generally represents the hobby to the outside world.
Thanks to Scrivener's donation we now hold some of the most comprehensive collections of the PCGB's Newsletter (1973-2014), its Yearbook (1923-2014, with gaps), the Poultry World Annual (1913-1932) and the catalogues/schedules of the National Poultry Show (1945-1961, 1973-2014).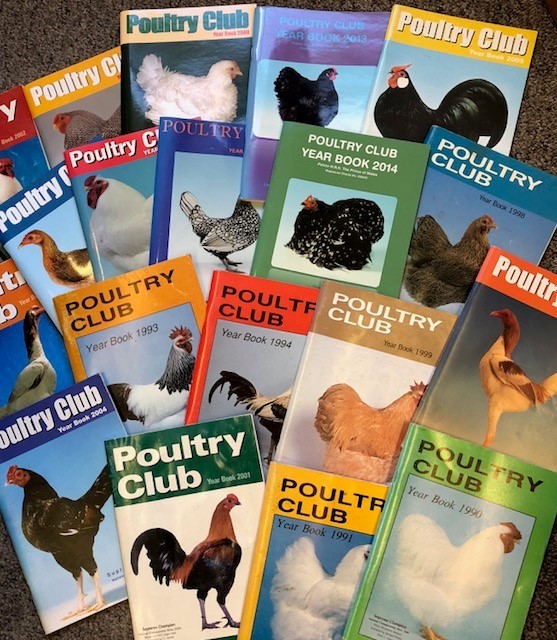 About David Scrivener
Scrivener was a keen poultry breeder, or "fancier". He concentrated on large and bantam Spanish, became a "Panel A" Show Judge (the highest level awarded by the PCGB) and the Chairman of the Rare Poultry Society. Author of several books on poultry breeds and poultry illustrations, Scrivener also wrote a regular column on poultry breeding for 'Country Smallholding'. All of these titles can be found on the shelves of the MERL library.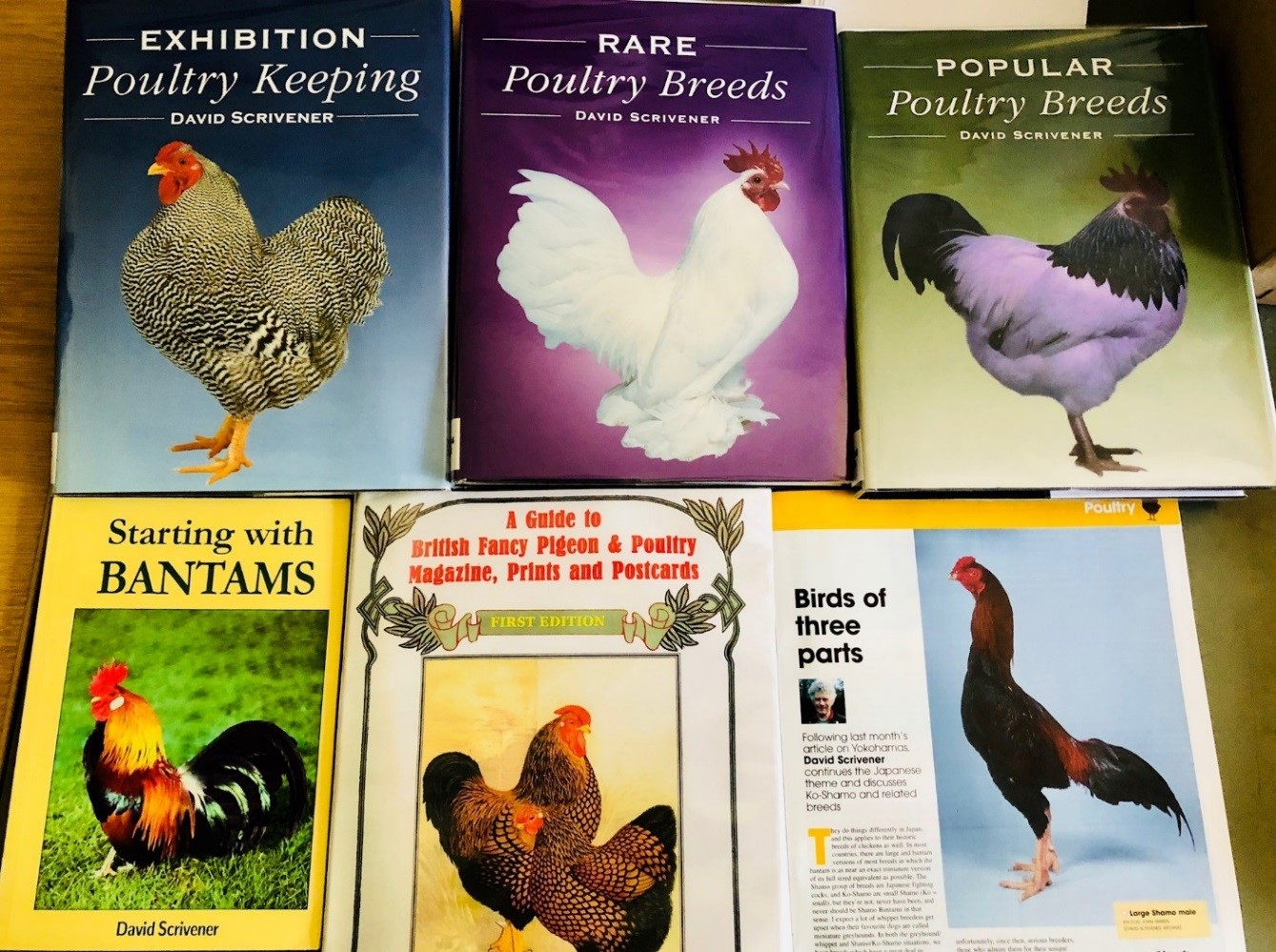 The printed collection includes a huge range of material: from an album of Dutch cigarette cards to glossy contemporary magazines, to rare nineteenth century first editions, to MAFF pamphlets, to old Victorian postcards and the latest self-help guides on how to start off with chickens.
Library
Of the 200+ titles that we incorporated into the existing poultry collections held at the MERL library, 33 were journal titles, some of which are extremely rare, as their publication was often short-lived and their circulation presumably limited, e.g. Poultry news (Leicester, 1921-1925), Poultry and poultry husbandry (London, 1929-1931). The better established journals have more substantial runs, such as The feathered world (1892-1936), The poultry world (1918-2004, complementing our existing holdings) and Fancy fowl (1981-2010).
Archive
In addition to his extensive library, Scrivener also developed a diverse archive, including slides, postcards and illustrations. These have been catalogued separately as the David Scrivener Collection, under the broad reference D DS. Many of the slides are studio shots featuring best of breeds, for inclusion in his various publications, plus some photographs of chickens in their outdoor homes. The postcards are brilliantly varied, and include collector's sets published across Europe, many featuring breed examples. In addition, the collection encompasses postcards used to advertise related products, various humorous cartoons and more general rural scenes.
The illustrations (like the postcards) are varied in their publication dates, and feature many images from the early twentieth century. Examples from the archive were displayed at the 2016 National Championship Poultry Show at Telford, and generated much interest as the collection documents what was considered the ideal for each breed throughout the last century.
Objects
The David Scrivener collection also contains artefacts that have been accessioned into the MERL object collection. These include some of Scrivener's prize-winning rosettes awarded by local and national poultry clubs in a variety of categories, a box of three Victory jigsaw puzzles depicting poultry; a turkey, chickens and ducks showing Scrivener's interest in depictions of fowls in popular culture, and a metal sign advertising 'Golden Lay' eggs.
David Scrivener's love for poultry-themed art and artistic illustrations of fowls is evident in his own writings as well as in his private collections. In Popular poultry breeds (2009) Scrivener explains the reason behind his passion for poultry art:
"the artists Cornelis van Gink, J.W. Ludlow and others, depicted idealized versions of the breeds in their paintings and prints, and these became templates that breeders tried to make a living reality."
Initially art was attempting to imitate reality, but, ironically, it ended up influencing the standards that were adopted by breeders of later generations in their effort to preserve and resurrect the standards of the past.
Scrivener was actively involved in this rediscovery of the past, particularly the 'golden age' of fancy livestock breeding and showing (as the last quarter of the nineteenth century is often referred to), and the preservation of rare breeds of fowls. As a show judge he must have worried about breeding standards becoming diluted and corrupted and his collection of books, which are full of pencil annotations and paper notes, clearly demonstrate his constant desire to keep those standards alive, particularly for the rarest and least well-known breeds of poultry.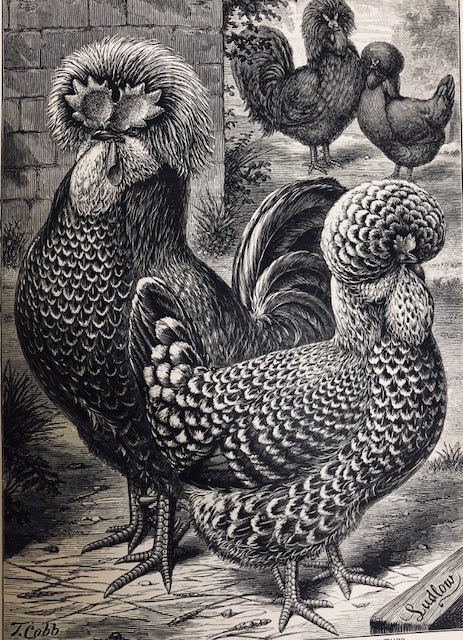 Building up a collection
We can speculate as to how David Scrivener acquired the items in his collection: some serials and yearbooks were probably obtained through the connections with clubs and associations he knew, both in Britain and abroad, some books were bought from specialist booksellers such as Veronica Mayhew, and others may have been purchased on the antiquarian book market.
His collection included a copy of the marvellous Beeton's book of birds (ca. 1862), a rare copy of The illustrated book of domestic poultry edited by Martin Doyle (1857), various editions of Lewis Wright's Book of poultry, the 'Bible' of poultry keeping, including the 1888 popular edition and the 1902 illustrated edition.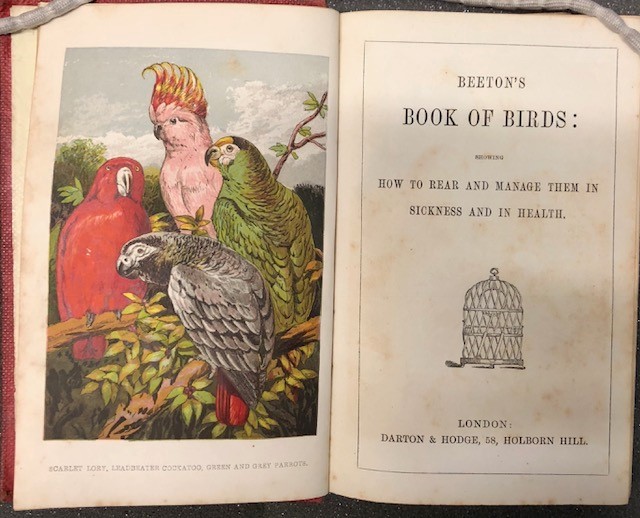 David Scrivener was not just an unparalleled expert in his subject, an avid collector of books, prints, and slides, an author and historian, he was also a promoter of poultry keeping among the younger generations and across various countries (his collection shows he had links with like-minded aficionados in Germany, the Netherlands, New Zealand and the USA) and left a significant contribution towards the preservation of knowledge that is at risk of disappearing.
The MERL would like to continue on his footsteps by making his collections accessible to researchers and other interest groups.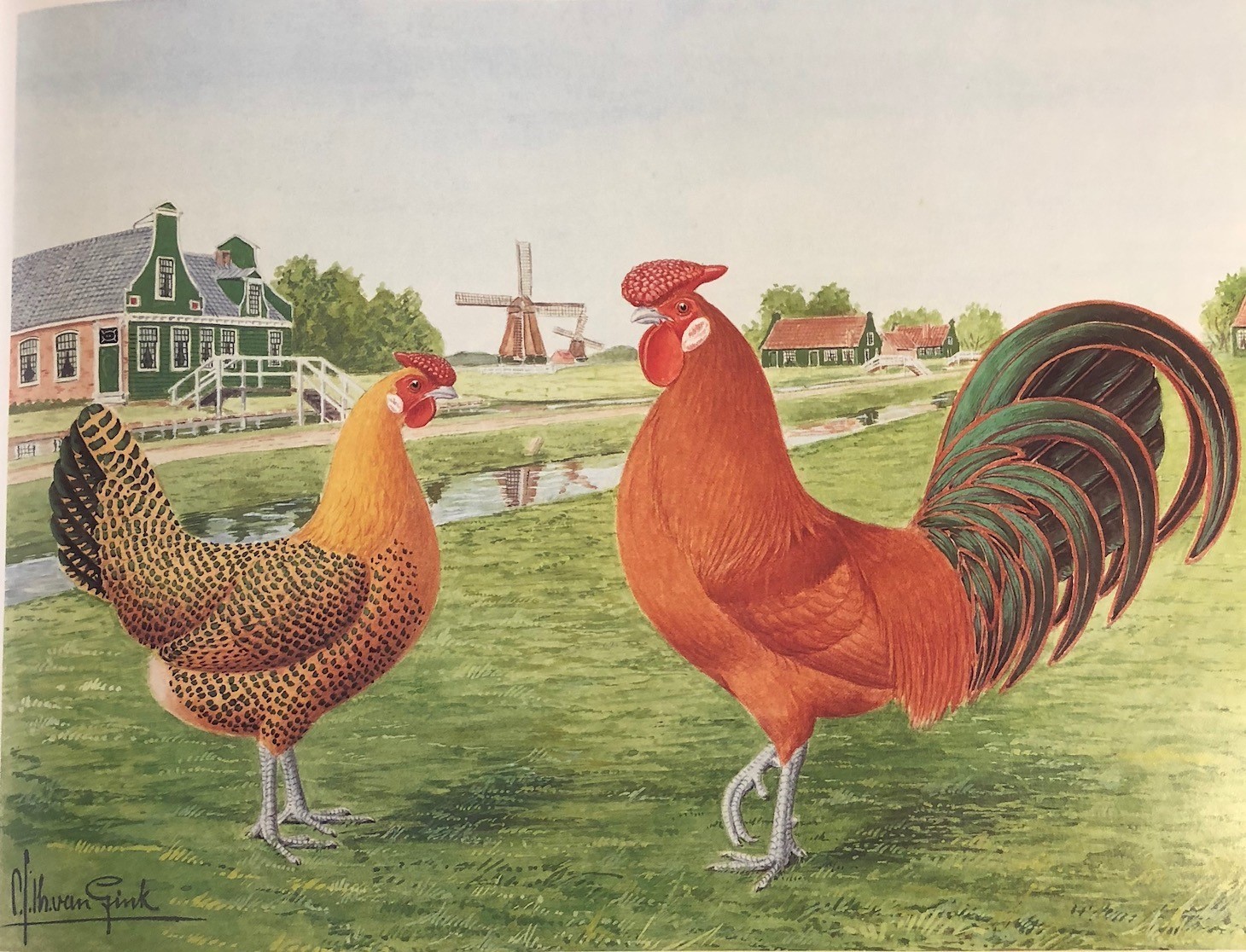 UPDATE: We never imagined what an amazing response we'd get to our appeal, so thank you to everyone who has already donated! We reached our initial target within just a couple of weeks! This means we can rehouse the damaged negatives as we urgently need to. We're keeping the campaign open though, as every further £ means we can start preventive preservation – an archivist's dream – replacing packaging before more negatives are damaged.
Less than a month ago we launched a crowdfunding appeal to raise £1000 to help buy archive boxes.
Yes, you read that right: boxes.
We are aware that boxes don't sound very exciting or interesting. What they contain, however, is. We really need some new boxes for our Farmers Weekly photographic collection.
So, here are ten reasons to convince you why that's important and explain why we're asking for your help. Our crowdfunding appeal is running for 6 weeks. We really hope you might consider supporting our project and are very grateful for anything you may be able to give.
As a way of saying thank you, we've got a limited number of little rewards that can be claimed, including invitations to a behind-the-scenes tour of the collection and indeed, some genuine MERL archive boxes to adopt!
You can donate online here.
---
1. Our post-1973 Farmers Weekly photographic collections are currently in a pretty bad state
If they're not stored in the right conditions, photographic negatives can, in the very worst cases, disintegrate to a fine power.
Ours aren't at risk like that yet, thankfully! But they're stored in the ring binders they came to us in which are stood upright on open shelves. Many of the binders have collapsed, twisting the contents inside. Some of the tissue sleeves are badly torn and aren't protecting the negatives at all. Quite a few of the negative sleeves and prints are actually starting to stick together.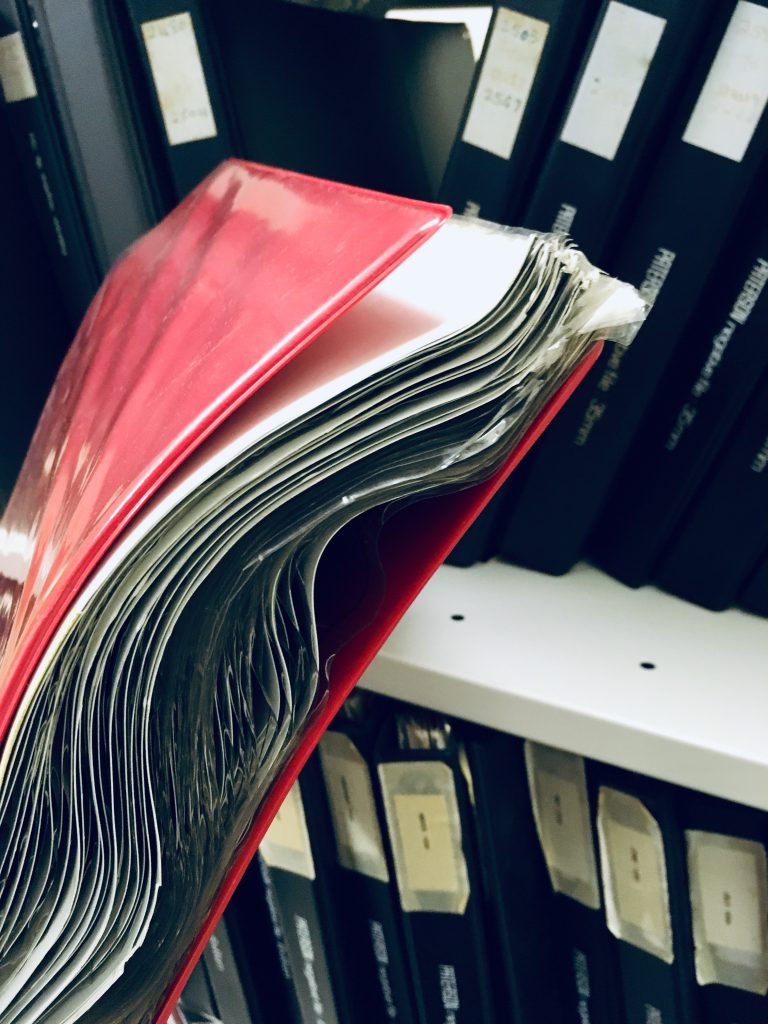 ---
2. Relatively simple preventive conservation will drastically improve the long-term prospects of this collection
We want to separate the negative sheets and prints so that they don't do any damage to each other and then store them flat, rather than standing up on end, in archival-quality boxes and fold wallets. These are made of acid-free, inert materials, which significantly slows the deterioration of collections and makes it much easier and safer for researchers to access and handle them.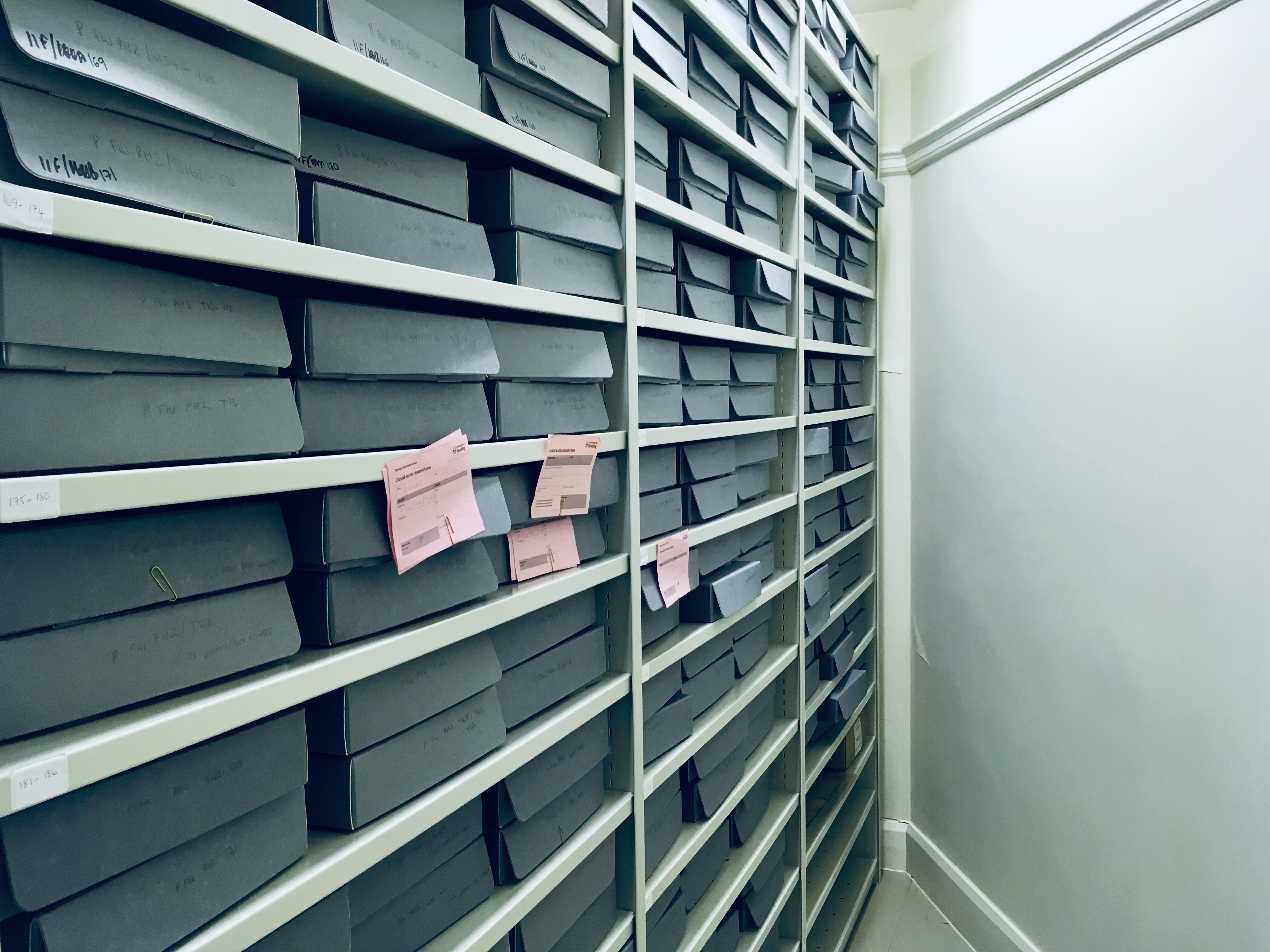 ---
3. Archive boxes are REALLY expensive
The collection is currently stored in 250 ring binders. To buy enough archival-quality boxes, sleeves and wallets to rehouse them all would cost £20,000!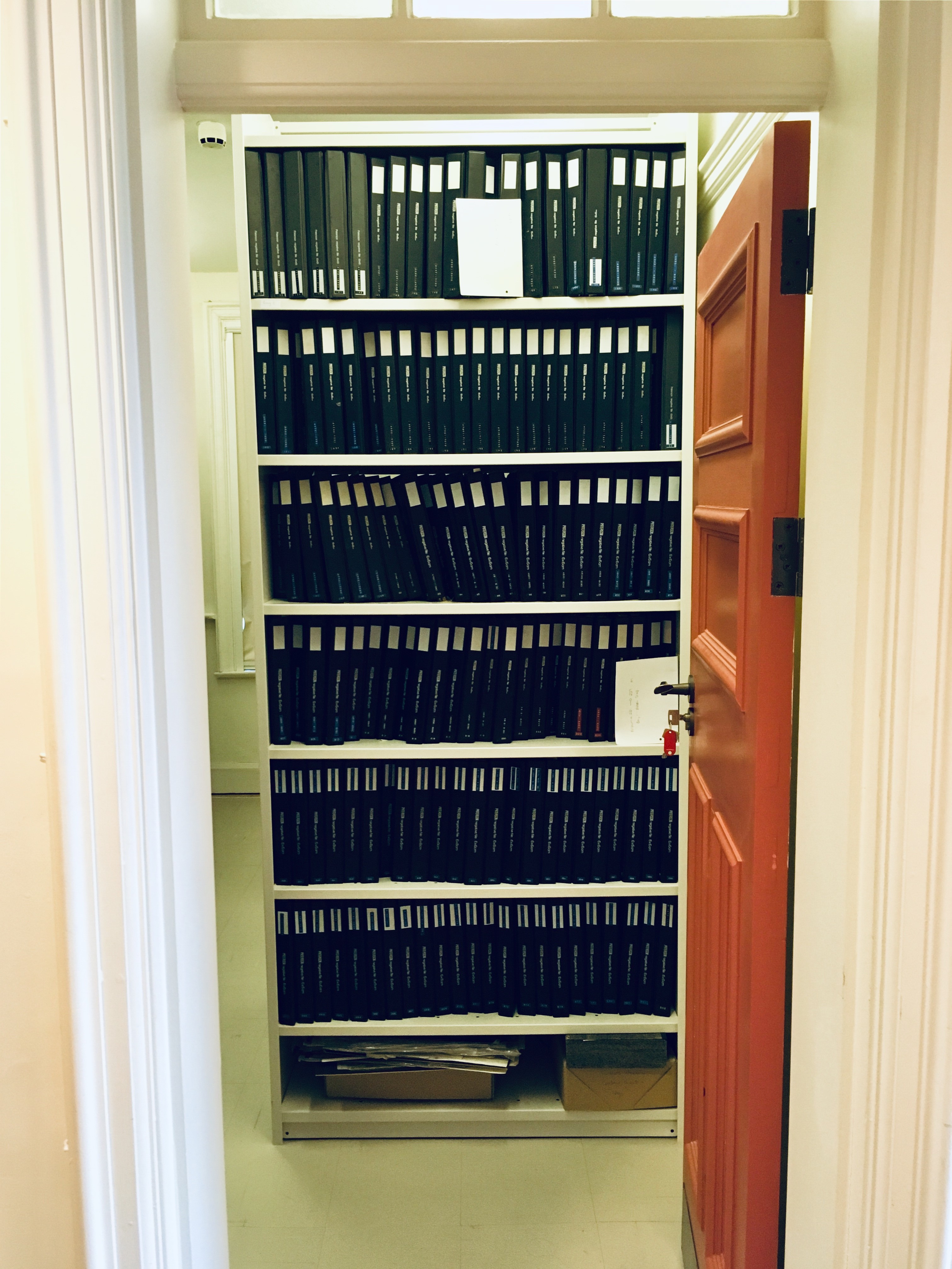 ---
4. We're prioritising but we still need help
Because we can't afford to rehouse the entire collection in archival-quality materials, we're prioritising the most at-risk parts of it. All the prints will be put in paper folders and all the negatives will be put in proper flat binder boxes. However we're going to reuse the old tissue sleeves and only put the most damaged negatives in new plastic sleeves.
Arts Council England have given us £4,000 towards the materials to do this, but we need at least £5,000. We're hoping to raise the extra £1,000 through this crowdfunding project.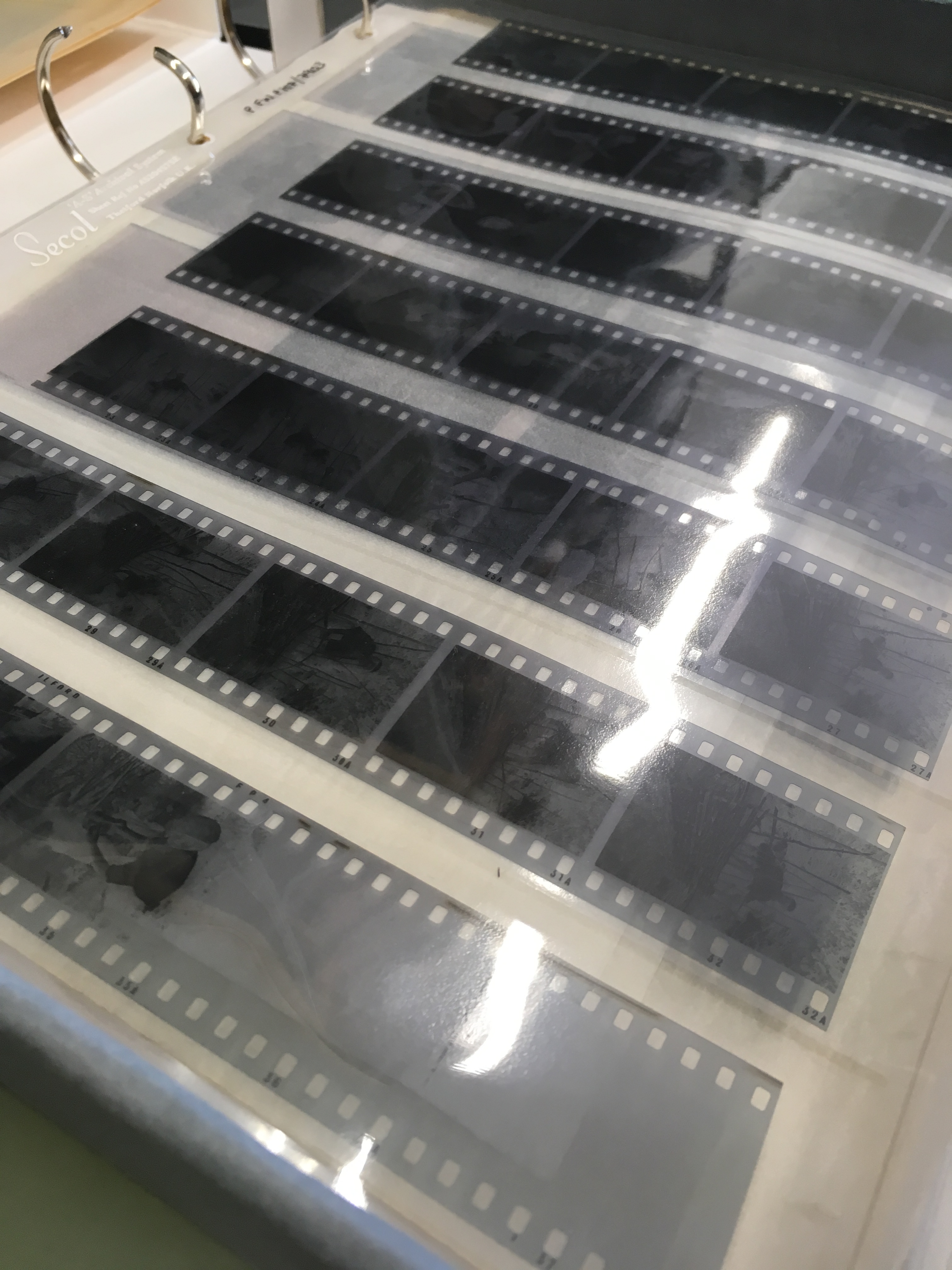 ---
5. These images are really worth preserving
The images in this collection were taken by a range of photographers for Farmers Weekly from 1973 onwards to be featured alongside articles in the magazine. They are on any agricultural or rural topic imaginable, from all over the country.
They are also an important part of a new Wellcome Trust-funded project which is helping us digitise 1,000 of these images for use by academics at King's College London and Leeds Trinity University. The historians are looking at the way farmers have understood and responded to two livestock diseases (bovine viral diarrhoea and lameness) in order to better investigate ways of improving livestock and human health today.
If you want to know more about their research, you can follow the project team on Twitter: @field_wt.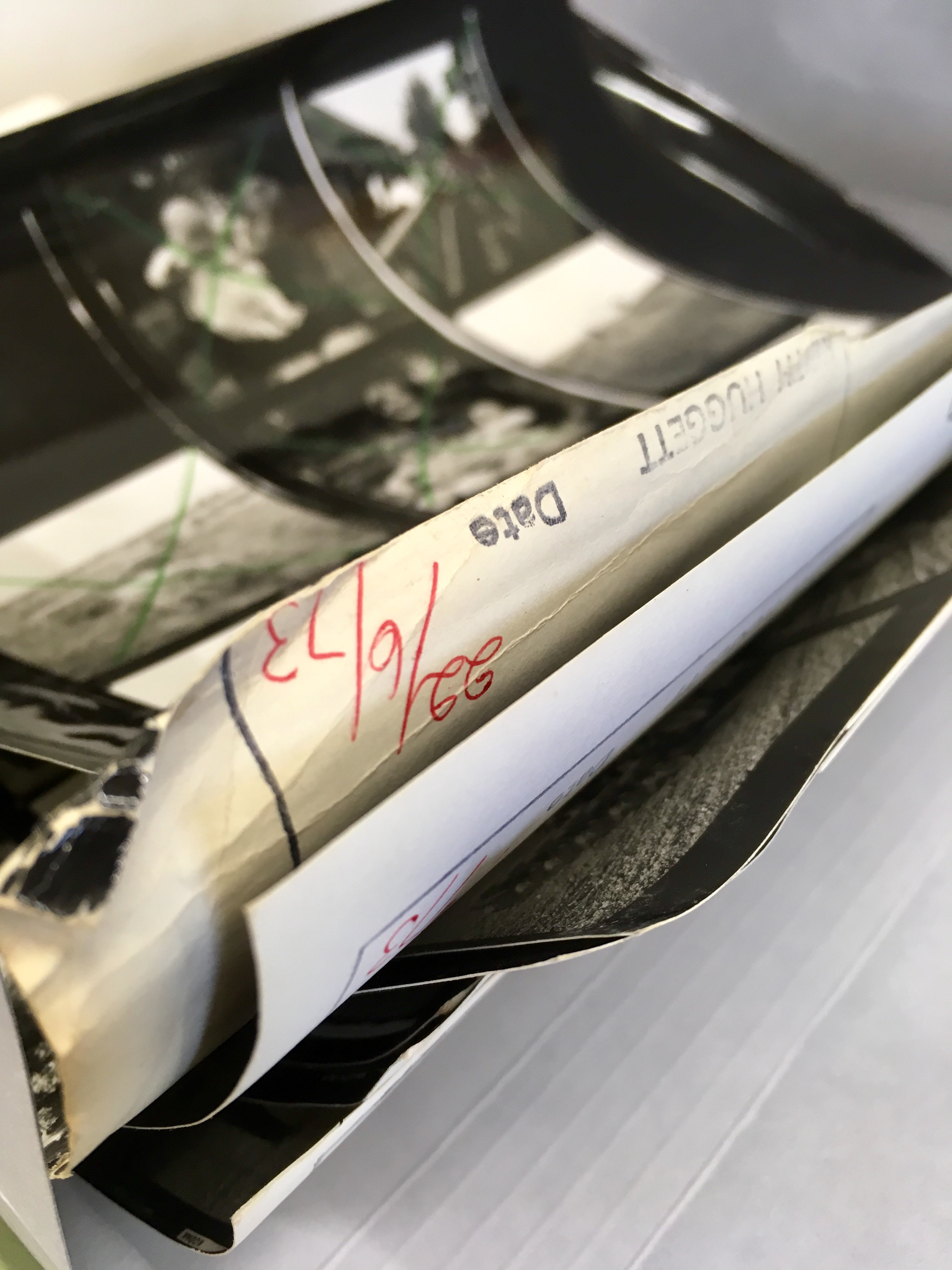 ---
6. People really liked the Absolute Unit photograph
We were able to easily find and tweet the picture of the Absolute Unit because at some point in the past somebody had: rehoused the negative/print to ensure it didn't deteriorate, catalogued it so that we knew we had it, and digitised the image so that we could easily put it on Twitter.
It was taken from the Farmer & Stockbreeder collection but there are many similar images in the Farmers Weekly collection. We love to share our collections with as many people as possible and social media is a great way to do that, but we have to do a lot of behind-the-scenes work like this in order to be able to.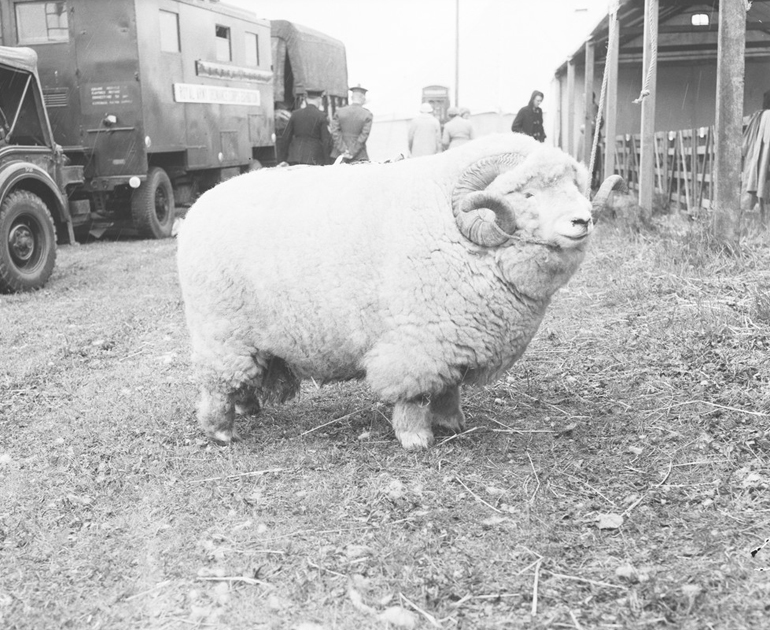 ---
7. People will finally be able to use these collections
This part of the collection currently isn't catalogued. So, other than physically looking through the folders one by one, there's no way of knowing what photographs are in there.
When we rehouse the collection we can also create simple catalogue records for each set of negatives/prints. Just by filling in a few details – the date, photographer, subject and location – researchers will be able to find these images when they search our catalogue. For the first time, they will be easily accessible for use in research projects and in exhibitions at the museum.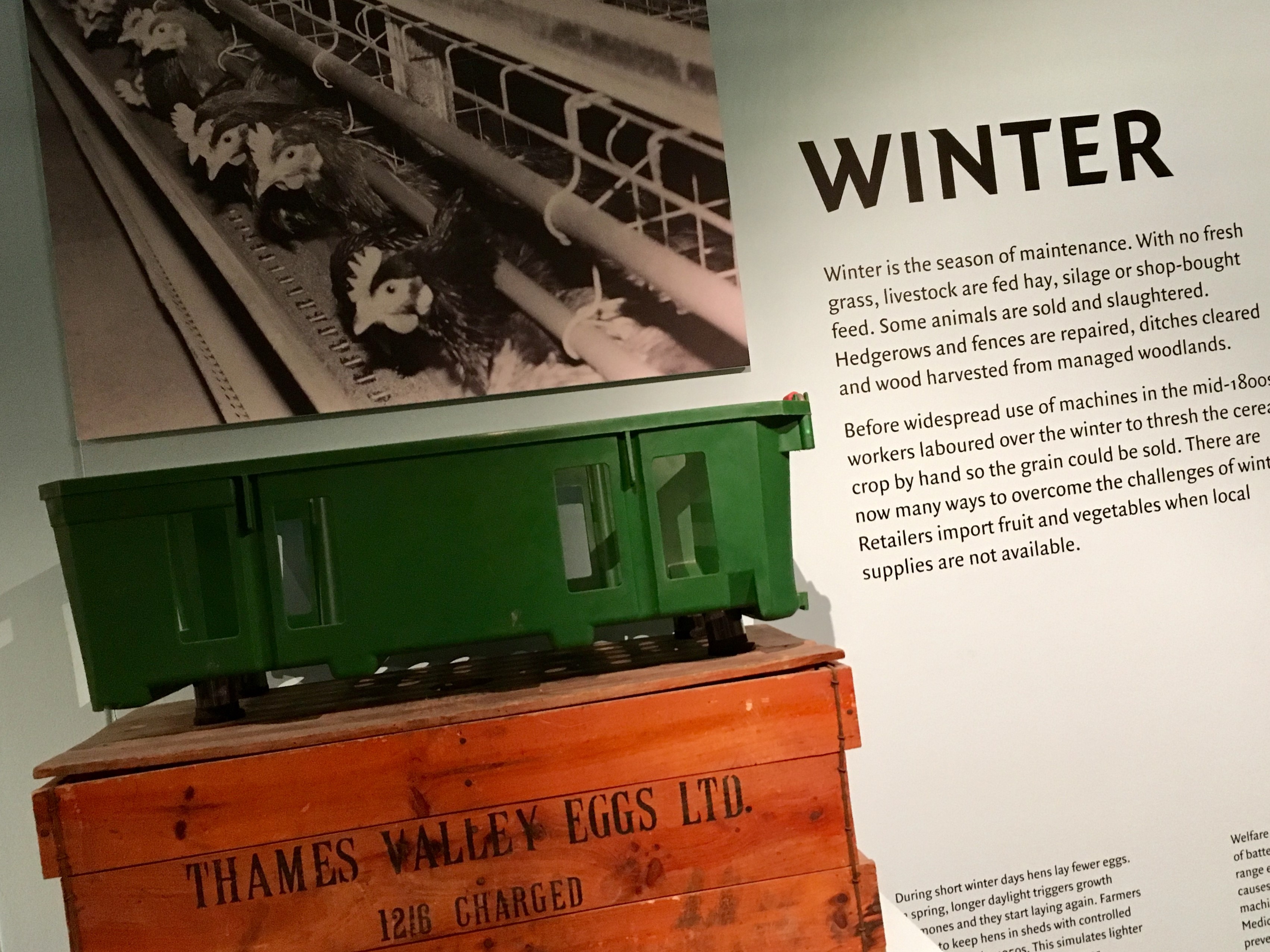 ---
8. We'll send you cute updates about your adopted archive box
It can cost up to £50 to buy one archive box and a big wad of plastic negative sleeves. So, we're offering a limited number of archive boxes for adoption. If you're able to pledge a very generous £50 towards our campaign, you could adopt one of our new archive boxes!
It will sit there happily on its archive shelf holding hundreds of negatives and proudly bearing your name, which we'll write on in fancy handwriting. We'll send you a photograph of it in its new home, if you like. And as soon as it's full of photographic negatives, we'll send you an update letting you know a little about the images that you've helped to preserve.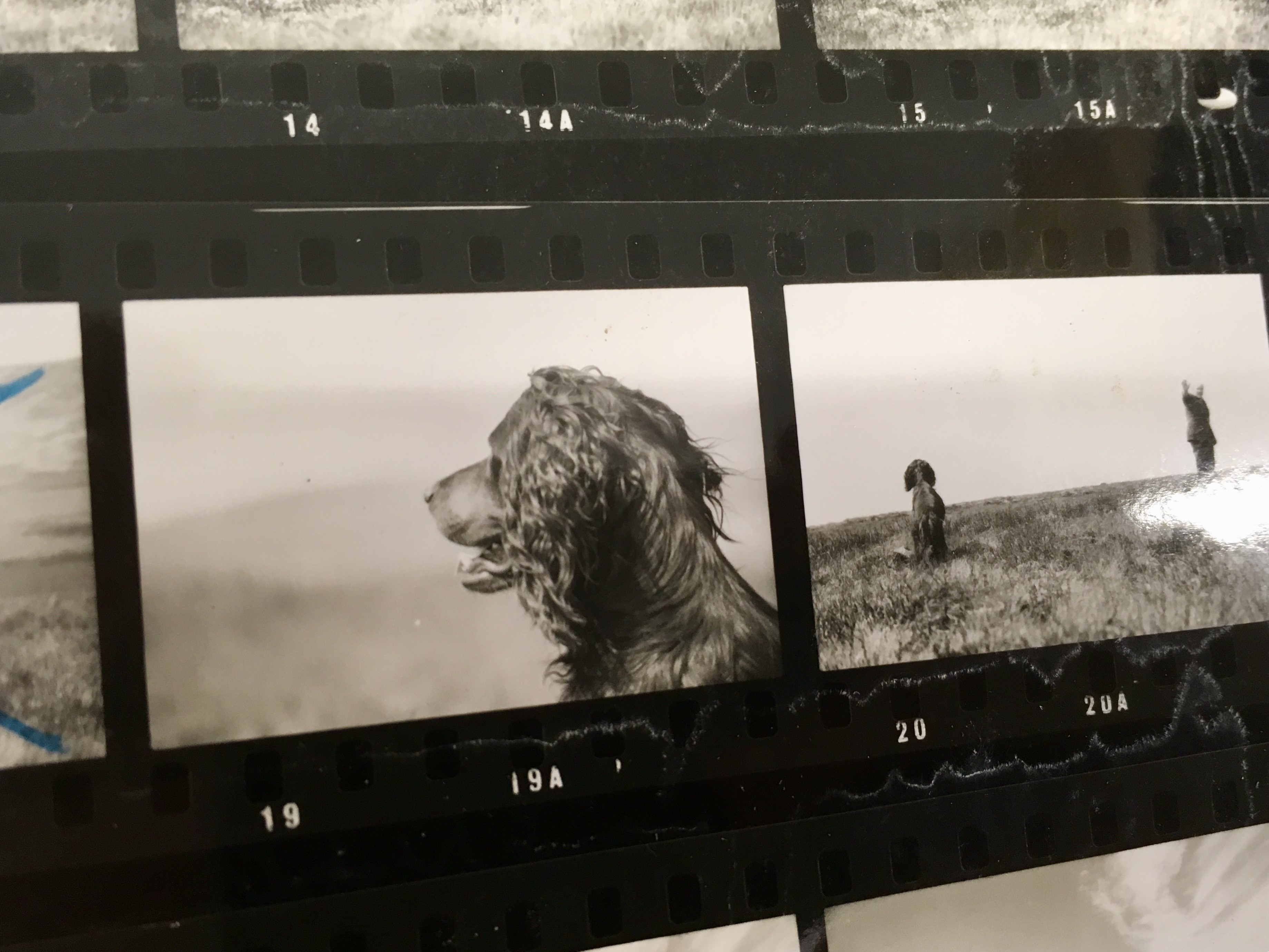 ---
9. If you'd like to help you can give as little or as much as you like
We thought offering the chance to adopt one of our new archive boxes was a fun way to get everyone's attention, but our crowdfunding page will accept any donation you might like to offer. Even if you can only pledge £1 we are incredibly grateful. It all goes towards preserving this collection and making it accessible.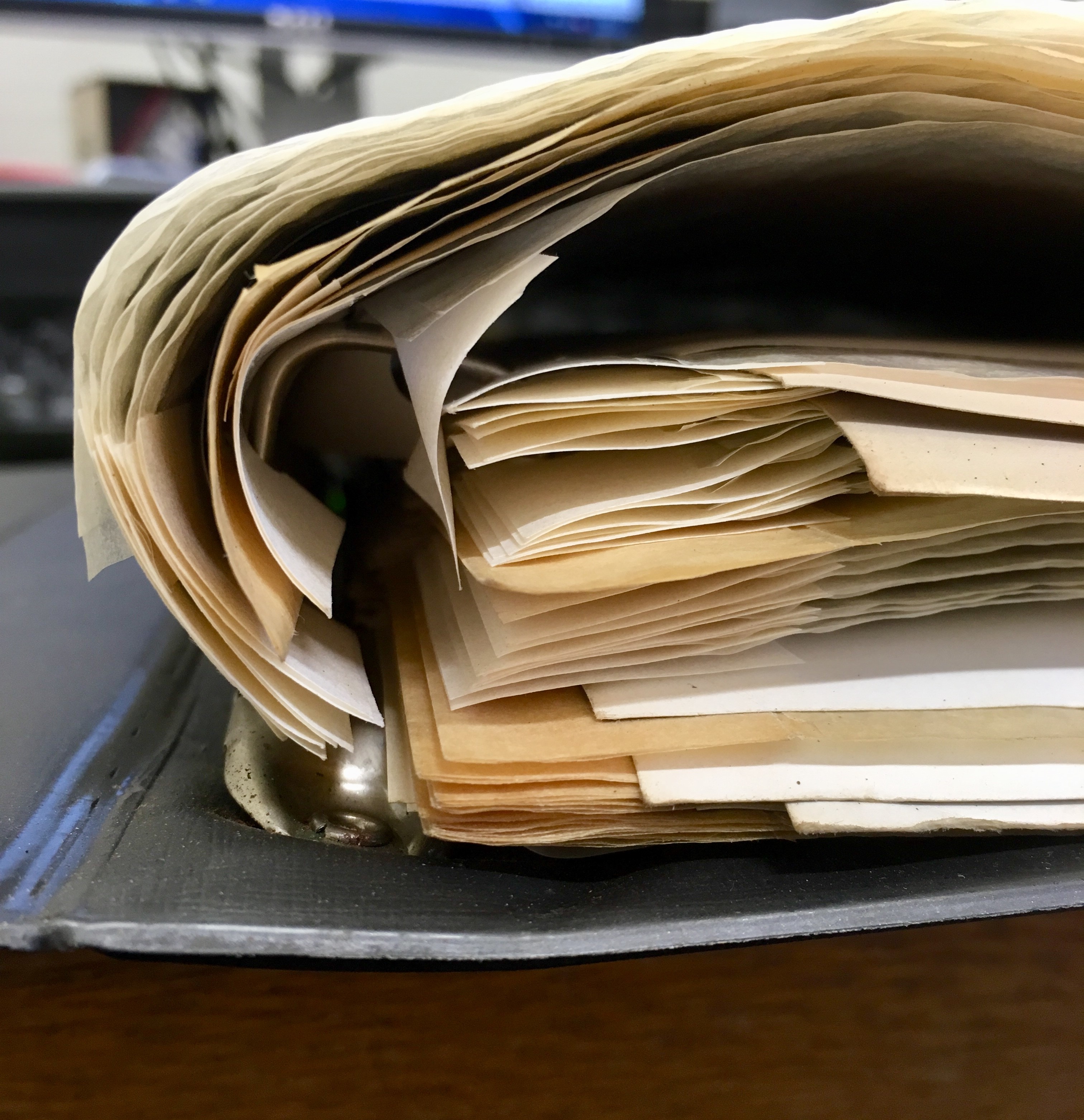 ---
10. We've got a few other ways to say thank you
To offer our thanks, we've got a number of great rewards.
£5 – we will record your name amongst a list of supporters on our project website.
£50 – we will record your name on your adopted archive box. You will get an update when we know what photographs end up being preserved in it.
£100 – we will welcome you to a VIP event for a behind-the-scenes tour of the archive. This will be at 11am on Friday 7th December 2018.
You can make a donation and select any available rewards here.
Thank you!
Join Our Community
Keep in touch
Our 'MERL news' and 'MERL families' e-newsletters feature information about projects, activities and events.