Did you know
...city families used to pick hops on holiday?
Hop picking holidays allowed city families to earn money. Pickers were paid with tokens, which were used in local shops or exchanged for wages.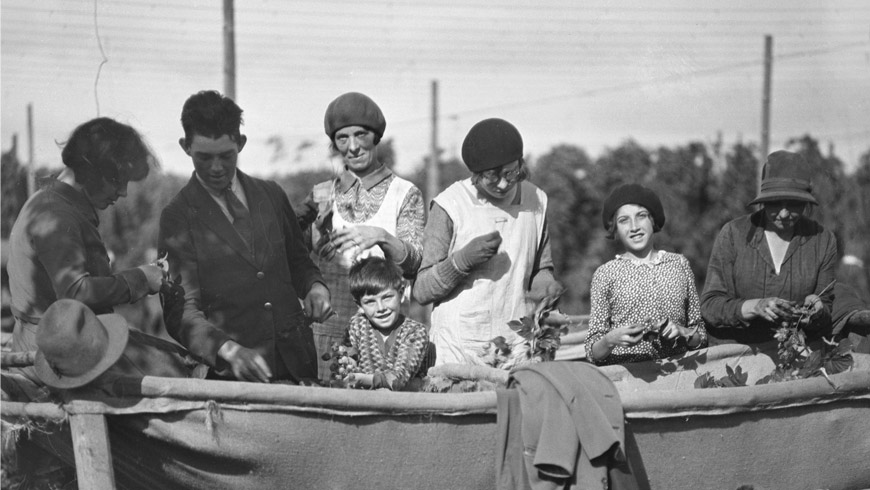 Did you know
...Elizabethan mattresses were used for both childbirth and corpses?
Mattresses, plaited from sedges, were made to support a mother during childbirth or a corpse after death. After use it would have been burned.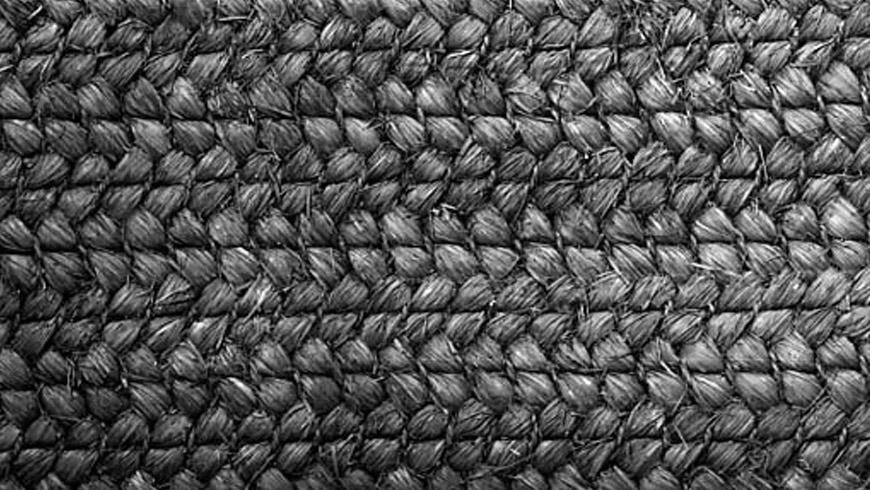 Did you know
...farmers used to sow seeds by fiddle?
Sowing by hand can be slow and inaccurate. Seed drills were developed in the 1800s to sow seeds quickly in a straight line at regular intervals.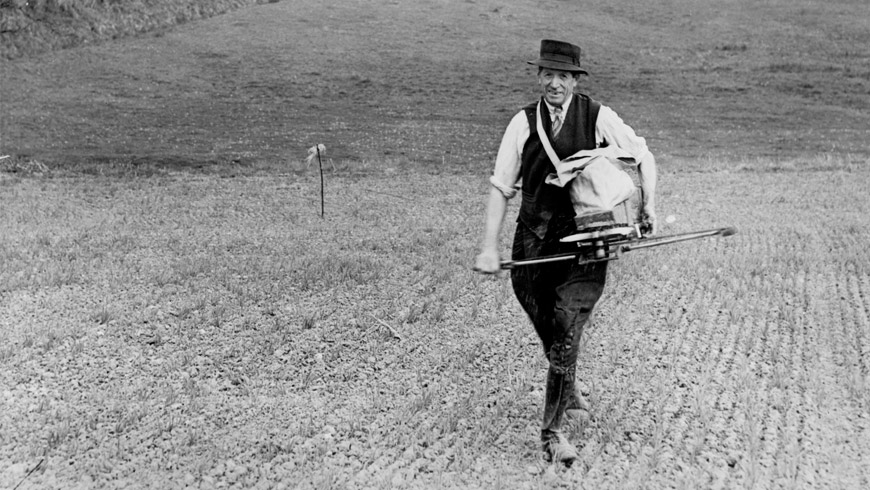 Did you know
...Lady Eve Balfour (1898-1990) was one of the earliest organic farmers and co-founded the Soil Association?
Women continue to play a key role in this movement, with organic farms employing significantly more women than chemical farming.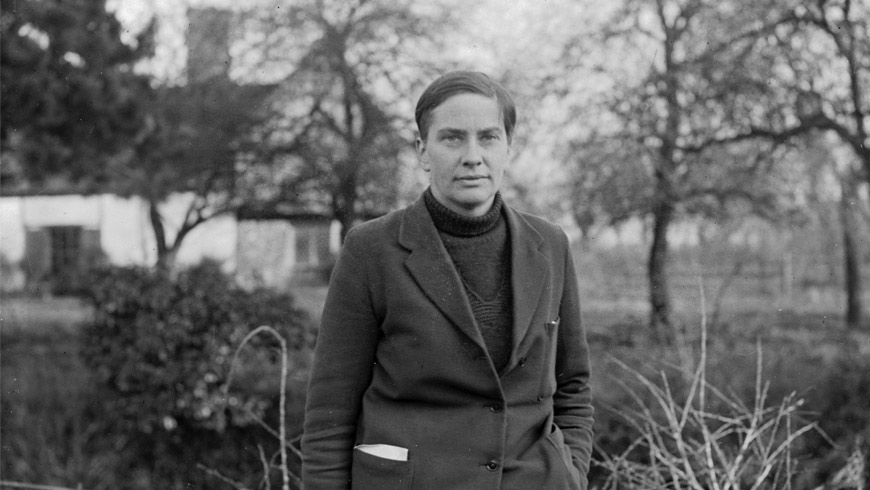 Did you know
...Suttons Seeds invented the seed packet?
The local Reading firm, founded in 1806, popularised paper packets of seeds for gardeners.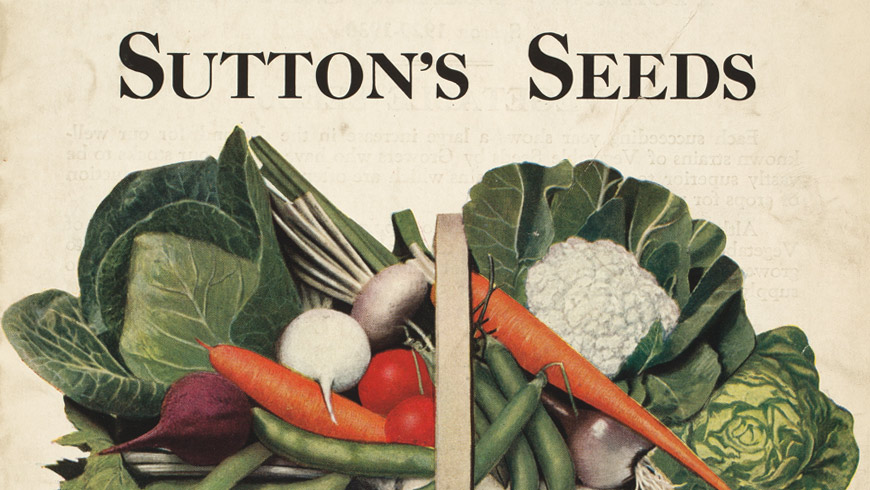 Did you know
...villages often used to run their own fire services?
The National Fire Service was only created in 1941.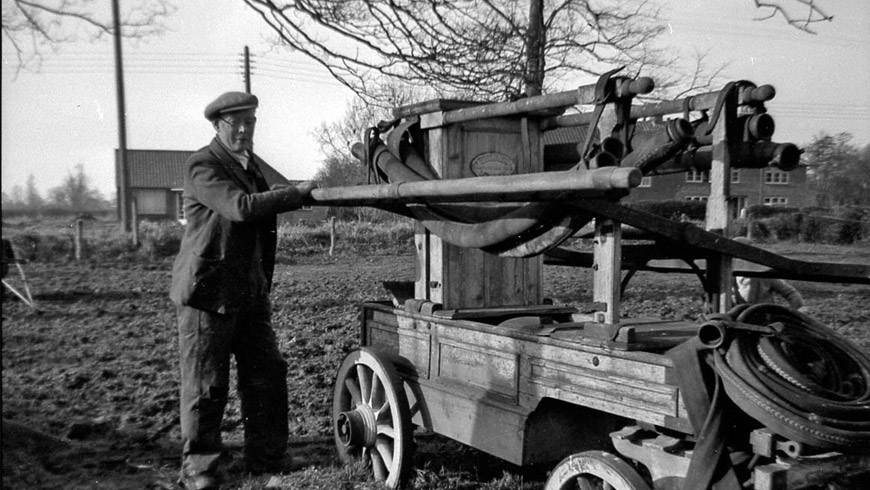 Our Country Lives - Latest Blog Posts
Our blog explores the people, places and issues of the historic and contemporary English countryside and rural life, uncovering and exploring our collections, the exciting activity around the MERL and the people we with.
Written by Rosemary Shirley.
there-and-then
is what museums do. They tell us about places (
there
) and the past (
then
). It is also a claim that might be made for photography as a process of fixing a specific place and time in an image. But as well as being aligned to the past, the phrase
there-and-then
can mean immediately, right now, and
then
can speak to the future and what happens next.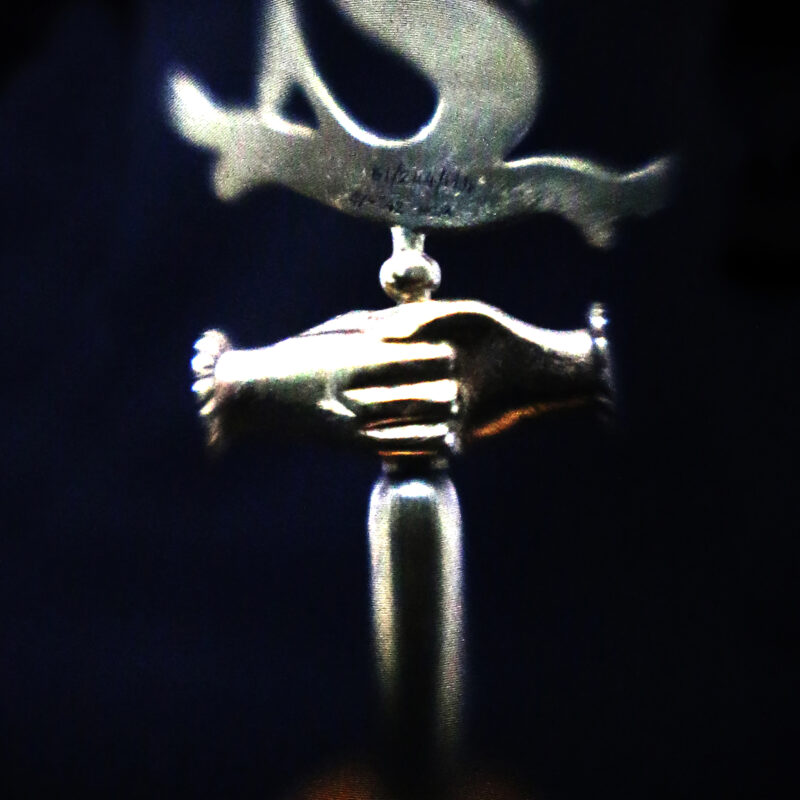 These multiple meanings alert us to the idea that the museum and photography, both mechanisms which are enmeshed in creating and preserving the archive moment, are also immersed in the now and the future. Ideas about objects, people and places are always in process, shifting, becoming. They are never truly fixed and understanding this can be the key to unlocking new possibilities.
Ingrid Pollard's intervention into The Museum of English Rural Life reminds us that whilst the past conceals painful histories, creative re-imaginings can generate the seeds of repair for the future.
Pollard works primarily with photography, but also sculpture, film and sound. Throughout her career, she has explored the intersections of national identity, race and sexuality, often placing these subjects into dialogue with landscape and place. This year she has been nominated for the Turner Prize for her solo exhibition Carbon Slowly Turning at MK Gallery and Turner Contemporary.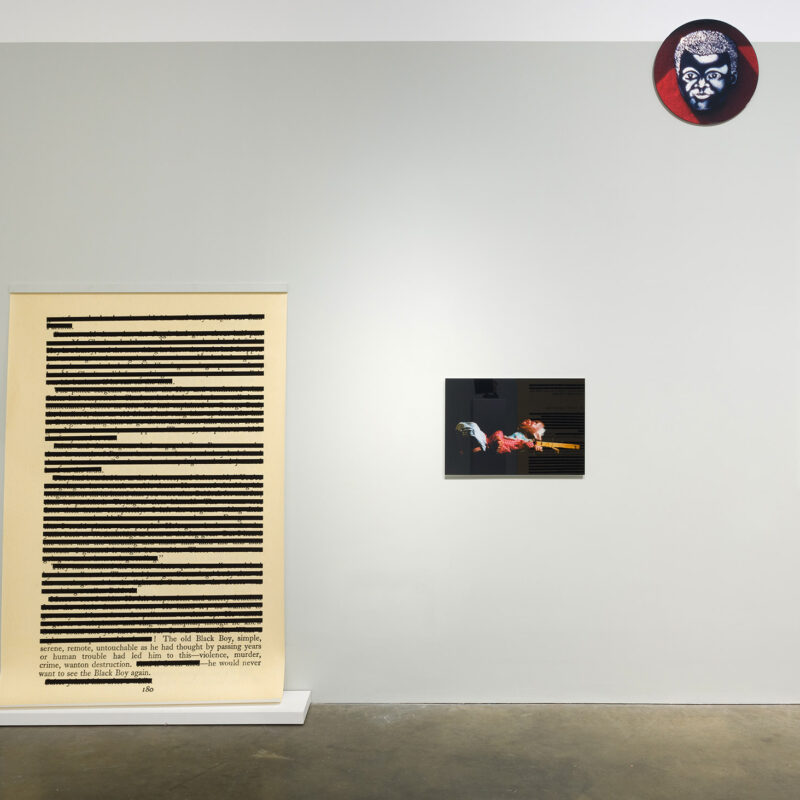 Place is precisely that throwntogetherness, the unavoidable challenge of negotiating a here-and-now.
This text comes from Doreen Massey's For Space. Pollard combines it with an image of a pole head showing an axe and an ads, tools used by rural workers, thrown together or crossed in solidarity. The text reminds us that it is from an often temporary coming together of different elements, people, geographies, interests and negotiations that places emerge. A complex interweaving of here-and-now, there-and-then.
The throwntogetherness of things can be a powerful tool for imagining new possibilities. Pollard's work often combines text and image, two different languages brought together sometimes pulling in altered directions. The art critic and writer and Lucy Lippard noted the potential of this action in her writing on collage. She asserted that the process of putting this up against that, the juxtaposition of two different realities, creates the conditions for new ways of thinking to emerge.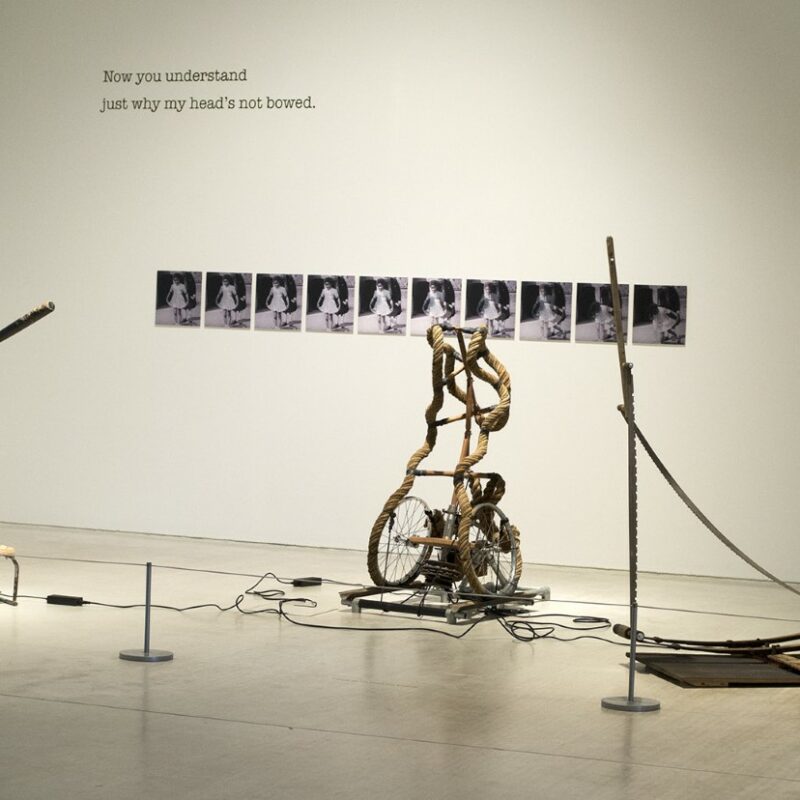 Pollard's images allow us see these museum objects in a different way. Freed from the museum display or the catalogue record, the pole heads float on the transparent material of the banners, removed from context, falling into and out of focus without scale or mooring. They are mysterious symbols, both strange and familiar: hands and hearts, a disembodied horse's hoof, a strange sea creature. This too is another language that is not always legible, its meaning is not fixed.
The images do not function as illustrations of the texts, and the texts are not explanations of the image. Rather, they create a play between languages, a cumulative effect, a web of complex yet simple messages around the role of and the need for community, connection and cooperation.
Wandering the museum's rooms, the visitor never forgets its painful history, yet this memory is not closed, self contained. Cooperation is not like an hermetic object; once damaged beyond recovery.
This text fragment comes from Richard Sennett's Together and seem appropriate for an artwork made for a museum. But contrary to the quote, wandering through the sealed glass cabinets and the carefully designed displays of the museum, it can indeed be easy to forget its painful history. Like beautiful pieces of jewellery, the pole heads—miniature, intricate, wrought in polished metal—are symbols of resistance to the violence and pain caused by the inequality of land ownership and rural labour relations.
Pollard's work is often engaged in bringing these hidden histories to the surface. One of her most well known works, Pastoral Interlude, connects the histories of the English countryside with the wealth accumulated through the transportation, labour and sale of enslaved people from Africa. Her work Seventeen of Sixty Eight creates an archive of street signs, pub names and fragments of literature which feature the image of the black boy, signalling both the long historical presence of black people in the UK but also the ingrained racism expressed through these representations.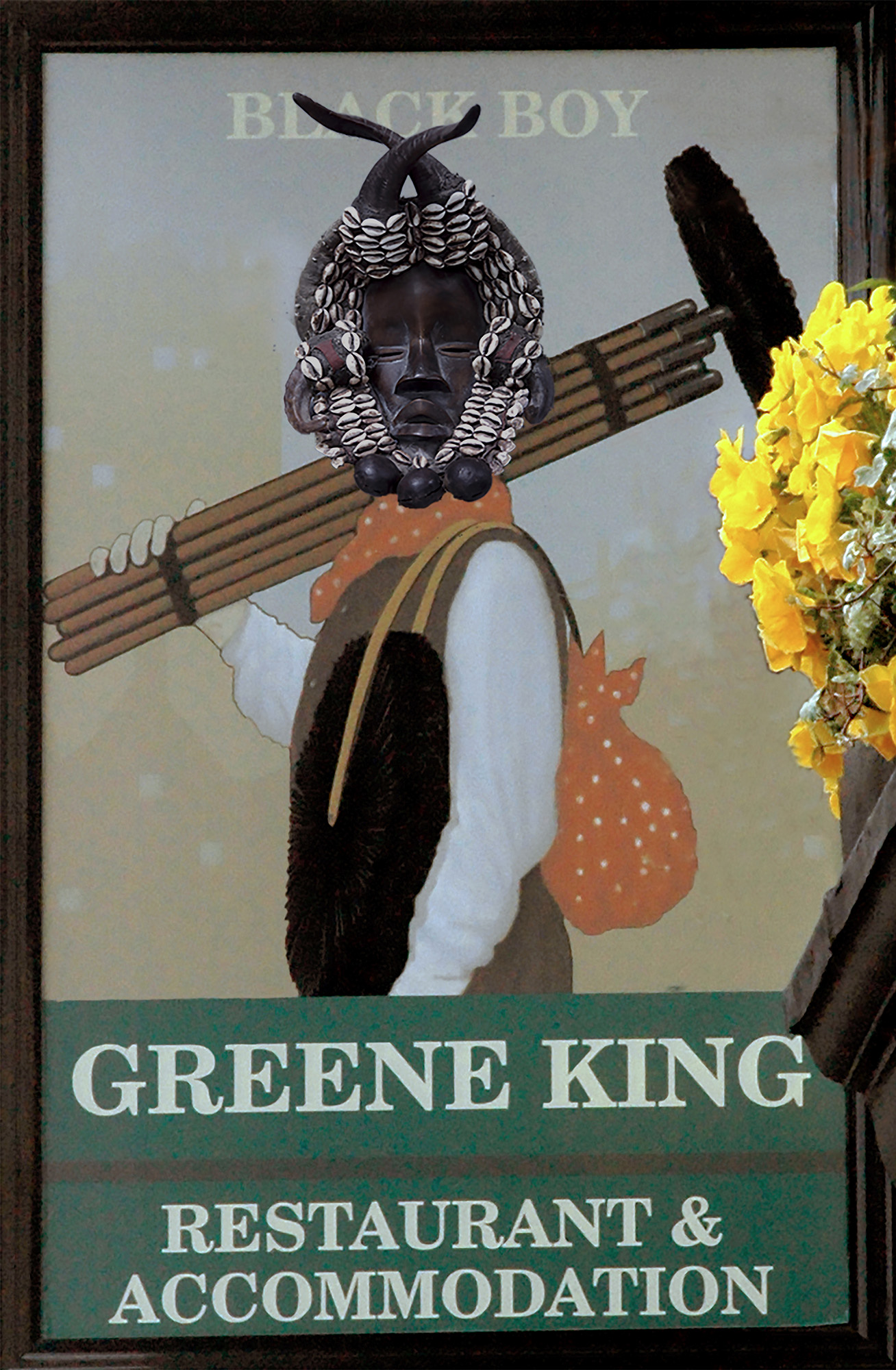 This text is combined with an image of hands clasped in support, agreement or welcome. Together they speak of the possibility of repair through connection and cooperation.
she built it out of scraps she found on the road. the rubber of blown- out tyres. the dented metal mementos of how fast everything seems to move, almost as if it had all wanted to rush to the end.
Alexis Pauline Gumbs's vision of a post-apocalyptic future tells of a researcher piecing together evidence of life in a late capitalist world wracked by inequality, anti-blackness and environmental collapse. This text is paired with an image of a pole head in the shape of a horse's hoof, a strange fragment, a worked metal memento.  However, in the midst of this devastation we learn that the re-construction is possible: 'she built it out of scraps'.
In there-and-then, Pollard herself becomes the researcher, piecing together scraps of evidence from a former world to aid us in the repair of this one. The friendly societies re-imagined in this work evidence the power of local action to create positive change showing that it is cooperation, community and love that will help us survive.
there-and-then is currently on show in the Wagon Walk at The MERL. Find out more about the installation. We are delighted to be extending its run in the museum beyond the initial end date to 22nd December 2022.
Rosemary Shirley is Associate Professor of Museum Studies at the University of Leicester.
I always feel happy when I wake up in the morning and I remember that I'll be going to work at The MERL that day.
Friday 18 November marks Kids in Museums' Takeover Day, when museums invite young people to take over jobs normally done by adults. The theme of Takeover Day 2022 is wellbeing.
This year at The MERL, we have been thrilled to welcome a Ways into Work supported intern to our museum team. Ways into Work's supported internships are study programmes for young people aged 16 to 24 who have an EHCP (education, health and care plan), combining studies alongside time in the workplace.
In this blog, our intern talks about her work at the museum and highlights how it is supporting her through the five ways to wellbeing. Through her words and pictures, here is her story!
I study at Addington School and they have a programme called Ways into Work, which allows Addington students and all the other school students to find their way into employment by giving them work placements, introductions and interviews to prepare for adulthood.
What are you hoping to gain from being involved in Ways into Work, and why did you choose to do it at The MERL?
The reason I chose to do Ways into Work at the museum is because I've always been interested in history, art, and nature and The MERL combines all three of those. I'm hoping to get more people skills, like being able to help them if they are in trouble, and improving my communication and listening skills in general as well. And I also like to learn more about how a museum works, and how many different people are needed to keep a museum ticking over.
What are you hoping to gain from being involved in Ways into Work, and why did you choose to do it at The MERL?
I've done several pictures depicting everything I've been doing at the museum as part of my Ways into Work.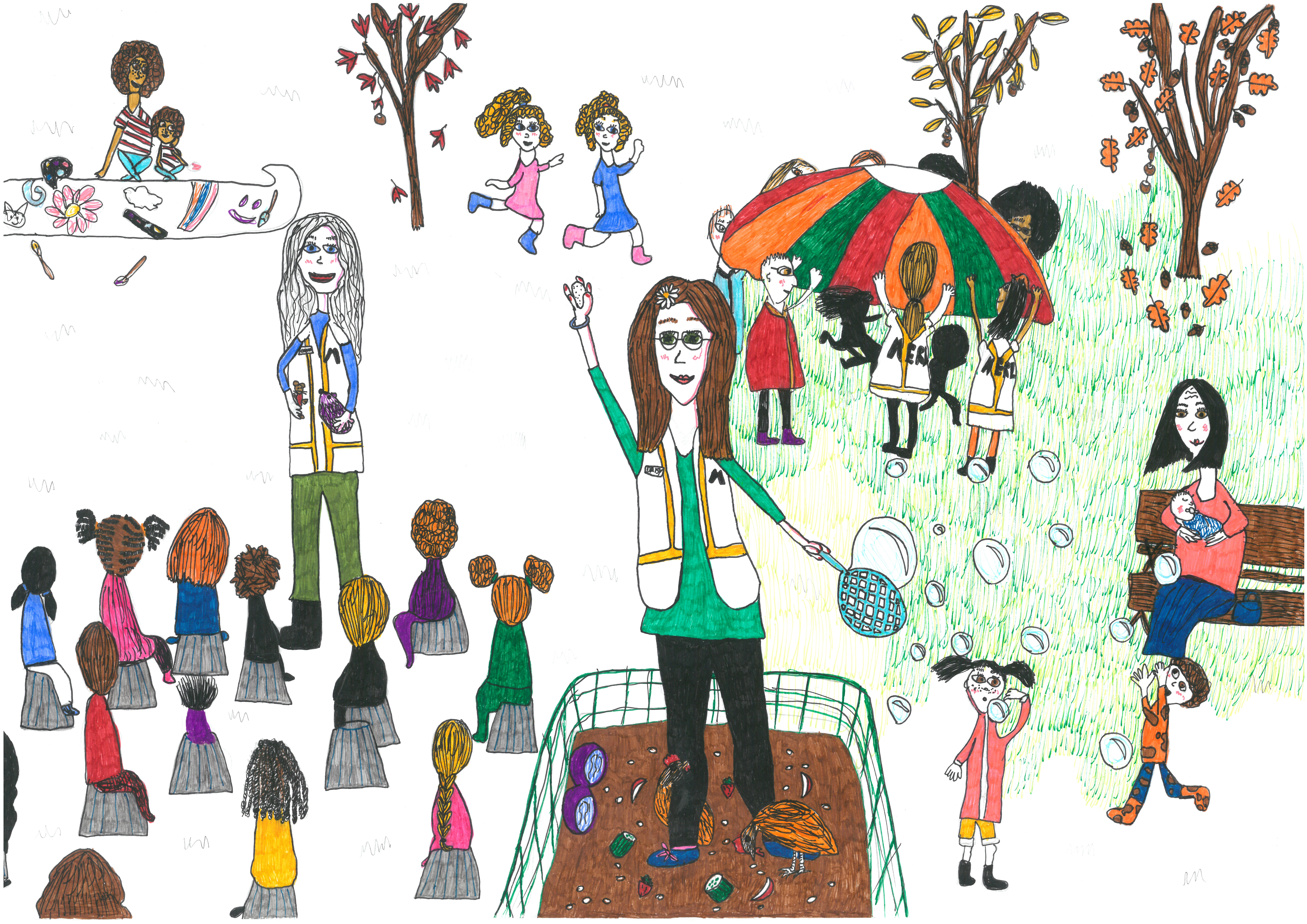 The first one is Friday Fledglings and chicken care. In this picture I have included plenty of younger kids because Friday Fledglings is a group for toddlers and babies and we have them playing with bubbles, chasing each other, painting, playing with the parachute, and I've also got Charlotte (session leader) on the left-hand side telling them a story. And then there is me in the middle looking after the chickens and holding up an egg I have found.
Every child that comes seems to genuinely enjoy it. Of course they are a little bit shy at first, especially if it is their first time coming along, but I think the fact that they have all sorts of activities for them to enjoy, the fact that their parents are allowed to stay with them, and there's just the general atmosphere that kids pick up on and they like it. I've been in charge of the arts and crafts activities. Every week Charlotte sets special activities for me to be in charge of. So there have been things like weaving, painting, stamping, things like threading, and also recently making special autumnal creations such as conker twirlers, and leaf pictures.
The next picture is showing my work in the conservation studio with Victoria.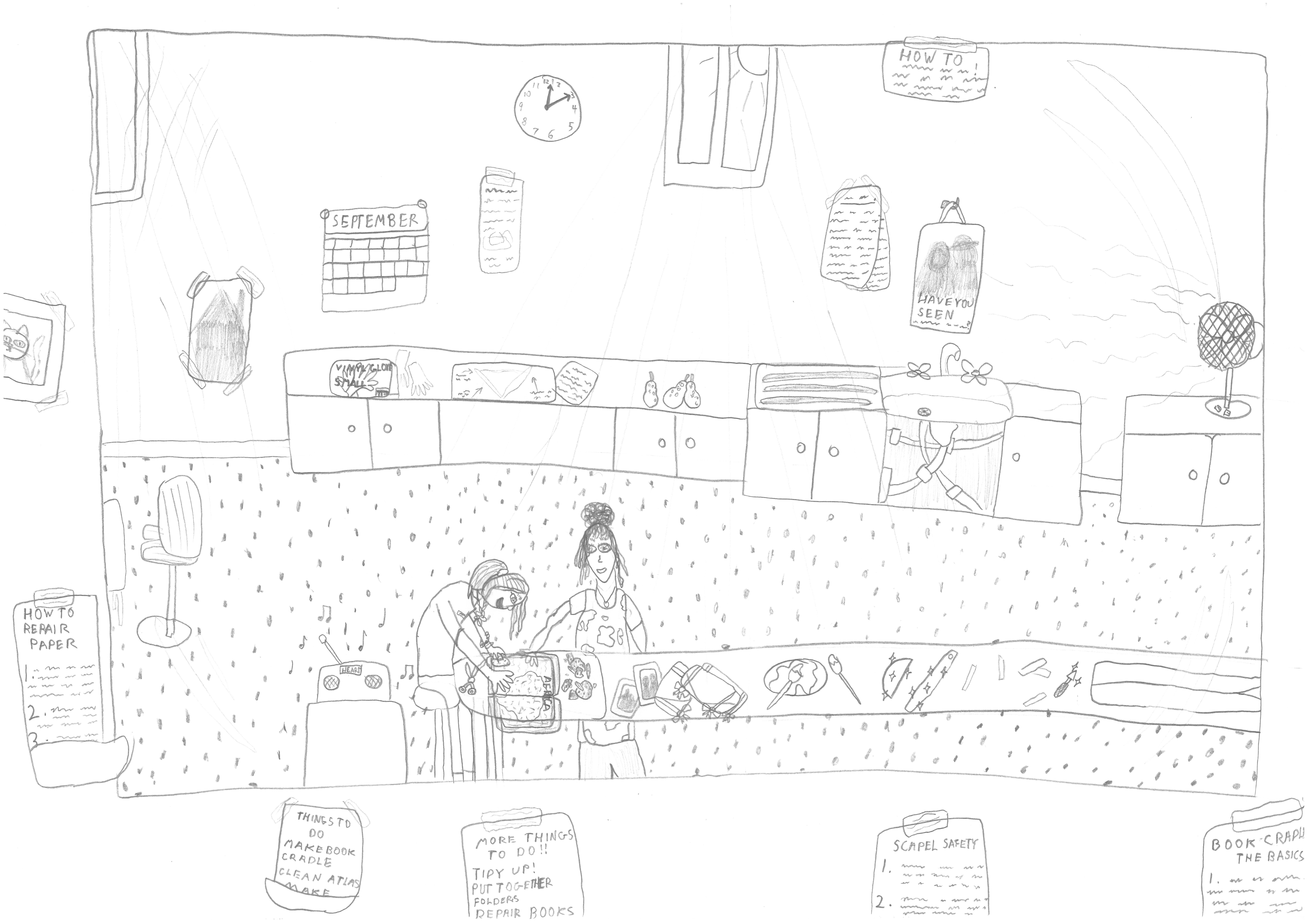 It shows a window leading into the main studio and a table with Victoria and I am shown cleaning a book from the 1700s. The book is open at my favourite map which is of Africa. And it's also got loads of things set out as well. All along the wall we've got post it notes showing everything that I've been learning like how to repair paper, make book cradles, and how to use a scalpel safely. My favourite task has been book cleaning. It was fascinating learning about the microscopic bits of dirt that can get onto the pages and where they tend to gather most, and also learning about the different pests that might infest a book as well. So it's been good fun learning how to prevent all that and get the book looking its best for any visitors.
The next picture is my customer service and front of house one.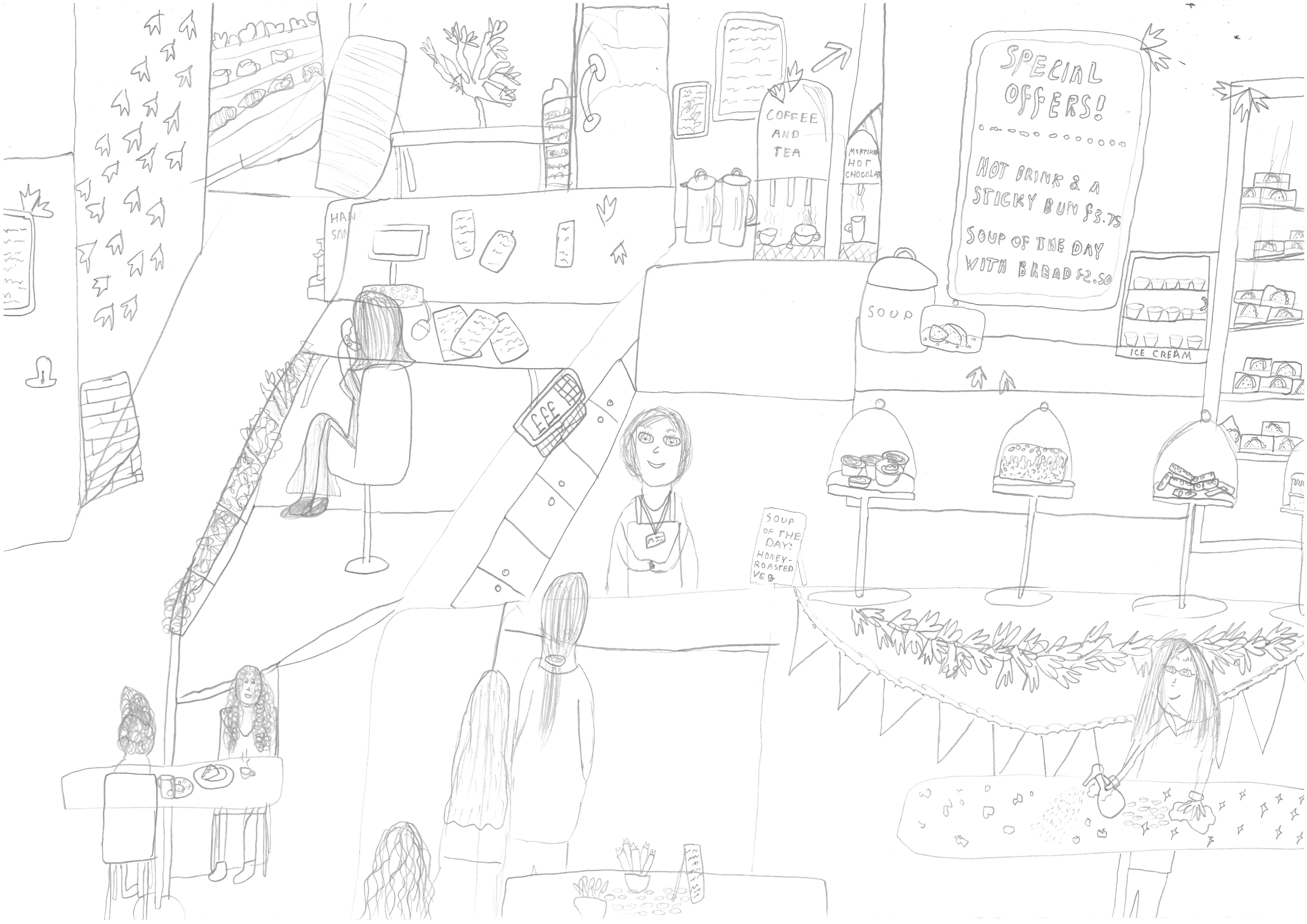 Whenever I do front of house I sit at the desk near to the entrance of the galleries and I help out any visitors that come through. I've met all sorts of people. My favourite task is showing the children how to do the trails that the museum has and giving them a sticker afterwards. They love it! I also help out with the café. Mostly cleaning tables and helping anyone out who needs it.
This last picture is my gardening one.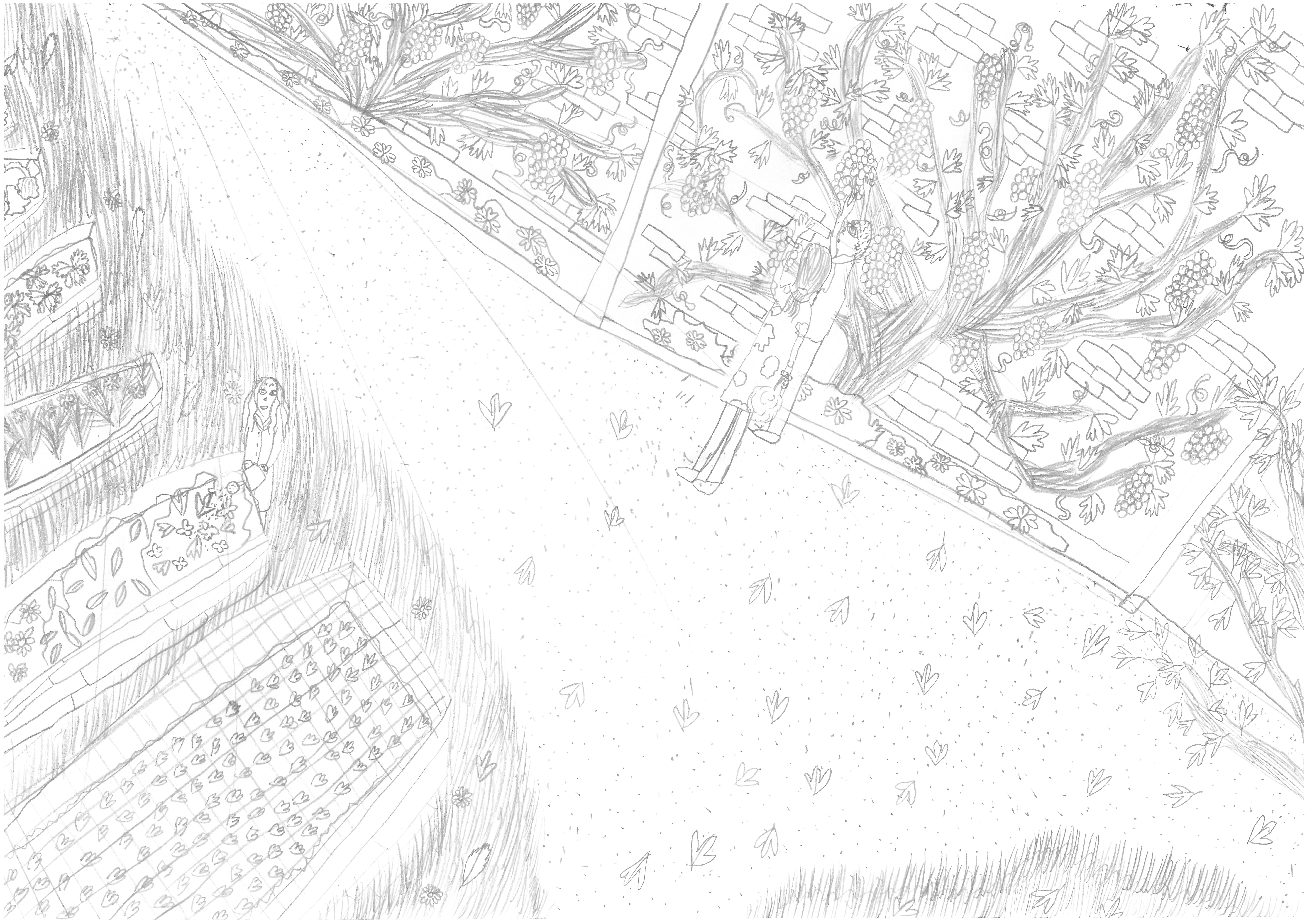 On Wednesdays I do special outdoor work with Cathy (Gardening Volunteer Coordinator) and the other gardeners. I am depicted picking grapes with Don and I also show various troughs I have been working on like this one. It's full of green manure which is going to keep the soil fresh and healthy until next spring. As well as harvesting pumpkins, strawberry and tomatoes, I've enjoyed the harvesting the best. It's very satisfying when you see the things fresh and ready to be picked.
This year's Takeover Day is focusing on the important role that museums can play in supporting health and wellbeing. What impact has Ways into Work at the museum had on your wellbeing?
I always feel happy when I wake up in the morning and I remember that I'll be going to work at The MERL that day. I almost think that I prefer it to being at school on the other days. I've met amazing people along the way and I've learned so much about museums. It's been amazing!
When I first came to the museum, I was excited but mostly nervous because I wasn't sure what the staff were going to be like. I wasn't sure if I would enjoy the work there and I didn't want to get anything wrong. I've found my footing now. I've made a few friends in the workforce and I've learned a great deal. I only occasionally feel nervous now, but that just goes with the territory.
How does your work connect with the Five Ways to Wellbeing (Connect, Be Active, Take Notice, Learn and Give)?
Friday Fledglings
Fistly, Connect. As well as connecting with my fellow colleagues in Friday Fledglings you can connect with the children as well, and the children can also connect with us and with their parents and carers as well. Secondly, Be Active because Friday Fledglings is always outdoors, whatever the weather. You do have to run about a bit to keep up with the little ones.
Conservation studio work
Learn. I've learned a lot of new things about conservation and how we can keep objects and books in the best possible condition that they can be in. And also Take Notice, because there are little things that you might not notice before and you might not be a hundred per cent sure of how to deal with them, but there are ways around it.
Front of House
Connect. Because you can connect with any visitors and they can connect with me, my fellow colleagues and also with each other as well. And also Give because you're giving help if they need it, you're giving them the best possible time they can have there.
Gardening
Be Active, because gardening is outdoors and it can be quite hard work sometimes and you need a bit of muscle. Next one is Take Notice because if you look closely at anything you might notice that they look different from when you see them from a distance like for instance if you see a bit of funghi on a leaf that you might not have noticed before from about two metres away. And also Learning because you can learn so much new about gardening every time that you do it like how to deal with any insect pests without using pesticides, how to deal with mildew, moss and also being able to identify any plants and how to tell the difference between them and weeds as well.
Would you recommend Ways into Work to others? And if so, why?
I would. Especially if you like either history, art or nature or all three in my case. The museum combines all of them like I said earlier and its always a lovely atmosphere in museums. You can always learn something new in a museum and make great friends along the way.
Why do you think kids should get involved in museums?
Well, up front they might think that museums aren't terribly exciting like they might be boring, dusty, damp, and dark. Well it's not that at all. Kids should go to museums because they can learn something new about the past. The past is a place of magic and intrigue, always full of stories.
What are you looking forward to?
I'm looking forward to continuing my internship here and eventually going away with a really good skill set to enable me to be very well employed in the future.