The Museum of English Rural Life reopened in October 2016 after a £3million redevelopment project, which radically transformed our public displays.
The new Museum challenges perceptions about rural England by revealing the historical and contemporary relevance of country life. Come and discover our new interactive, immersive galleries which explore questions of identity, environment, technology, culture and health.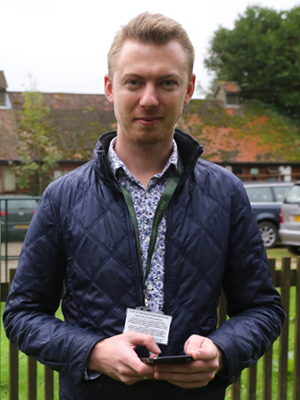 Exhibitions
January 5 - February 11
Normal opening times
Free
No need to book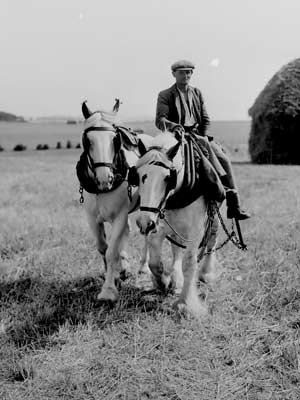 Talks and seminars
January 18 - March 22
12pm to 1pm
Free
Booking recommended
Did you know
...city families used to pick hops on holiday?
Hop picking holidays allowed city families to earn money. Pickers were paid with tokens, which were used in local shops or exchanged for wages.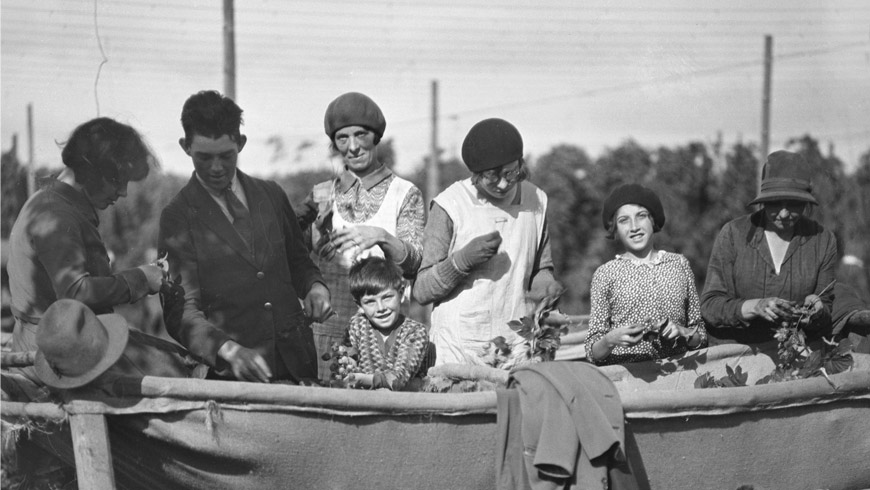 Did you know
...Elizabethan mattresses were used for both childbirth and corpses?
Mattresses, plaited from sedges, were made to support a mother during childbirth or a corpse after death. After use it would have been burned.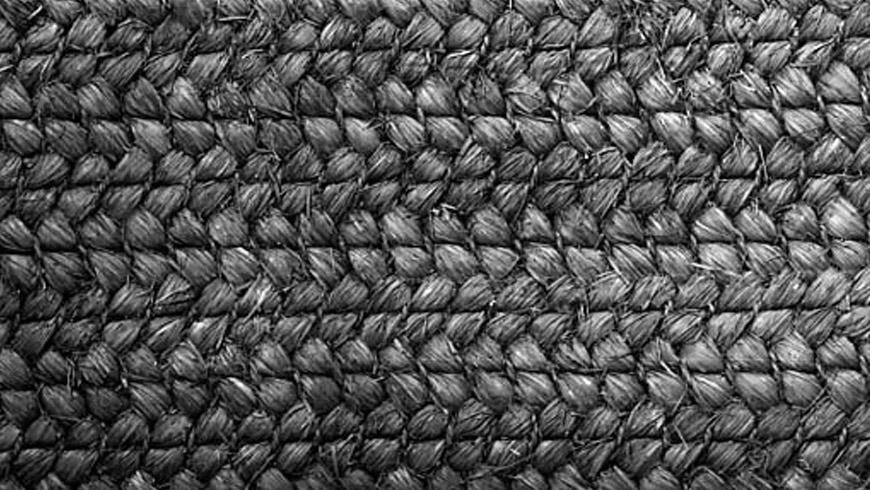 Did you know
...farmers used to sow seeds by fiddle?
Sowing by hand can be slow and inaccurate. Seed drills were developed in the 1800s to sow seeds quickly in a straight line at regular intervals.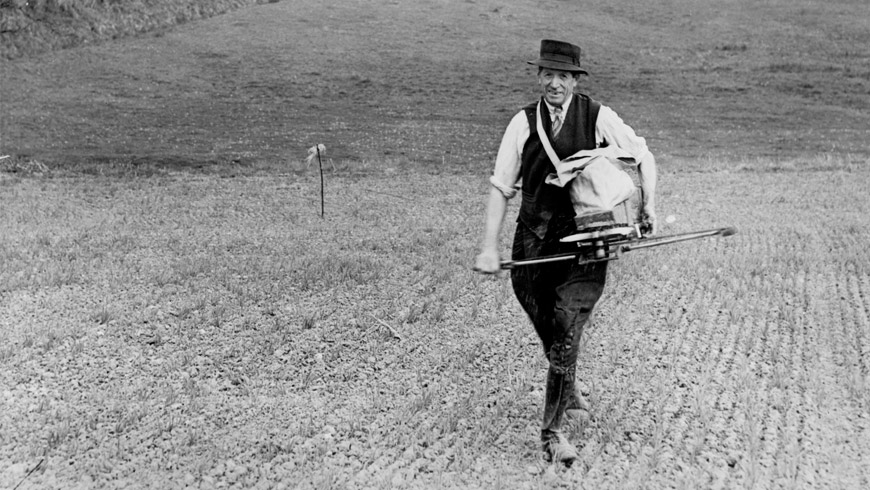 Did you know
...Lady Eve Balfour (1898-1990) was one of the earliest organic farmers and co-founded the Soil Association?
Women continue to play a key role in this movement, with organic farms employing significantly more women than chemical farming.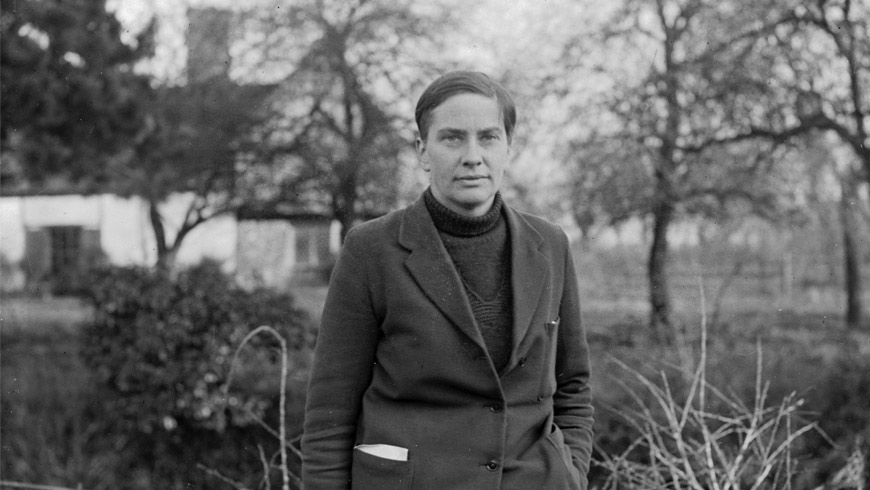 Did you know
...Suttons Seeds invented the seed packet?
The local Reading firm, founded in 1806, popularised paper packets of seeds for gardeners.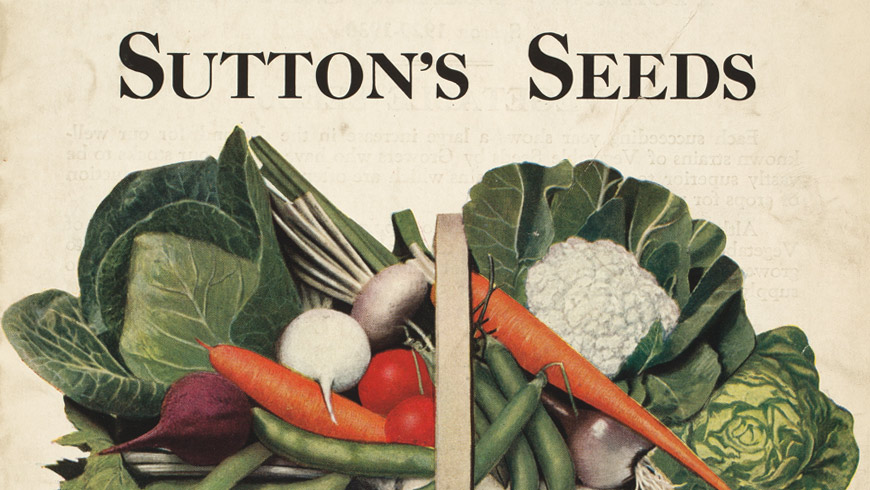 Did you know
...villages often used to run their own fire services?
The National Fire Service was only created in 1941.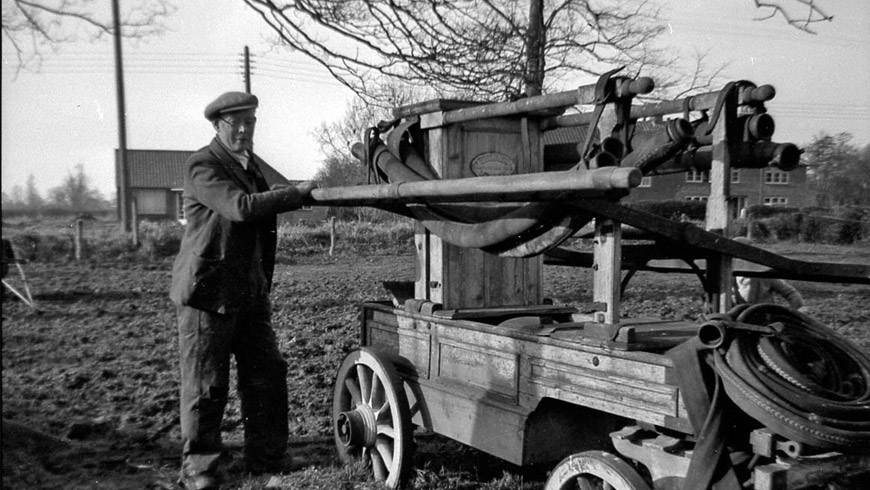 Our Country Lives - Latest Blog Posts
Our blog explores the people, places and issues of the historic and contemporary English countryside and rural life, uncovering and exploring our collections, the exciting activity around the MERL and the people we with.
Written by Jack Thacker, Poet in residence.
Two months into my time as residency at the MERL, and I've discovered a wide range of objects and archival documents to inspire my poetry. The process, so far, has been one of gathering: which hand tool might prompt a poem, which diary or artwork can I mine for material? The following represents just one example of something specific that has already got me writing.
In 1955, the British Government commissioned a film on the subject of foot and mouth disease with the aim to 'stress the need for early reporting of foot and mouth disease symptoms' and 'avoid giving the impression that the farmer could conduct his own diagnosis.' The filmmaker behind the project was Lindsay Anderson, who is now known as the renowned British New Wave director of feature films such as This Sporting Life (1963), If (1968) and O Lucky Man! (1973) as well as for his work as a critic and in the theatre. The resulting documentary, Foot and Mouth (1955) (20 mins), forms part of The Ministry of Agriculture, Fisheries and Food Film Collection, which is comprised of 295 educational films on a variety of agricultural subjects available to view on request at The Museum of English Rural Life. Anderson's contribution to the collection is not on the surface remarkable but upon closer inspection provides a valuable insight into the practice of the filmmaker at a formative stage in his career.
Two years previous to the making of Foot and Mouth, Anderson won an Academy Award for his film Thursday's Children (1954) about the education of children at The Royal School of the Deaf in Margate. At about the same time, he directed another short film O Dreamland (1953), a stylised documentary about the Dreamland funfair in Margate, and which in 1956 was screened as part of the first 'Free Cinema' programme at the National Film Theatre. As an event and a movement, Free Cinema (co-founded by Anderson, its most important advocate and spokesperson) was a reaction against the trend of making documentaries in Britain at the time. The films, along with Anderson's provocative accompanying manifestos, emphasised imperfection, the personal and the significance of the everyday.
According to Rebecca Vick, a curator at the BFI, 'Foot and Mouth's linear structure and instructional manner make it distinctly different from Anderson's better-known work within the Free Cinema movement, and from those of his sponsored documentaries that hint at that movement's more lyrical stylistic elements.' Yet, there are aspects of the film that demonstrate Anderson's talent and uncompromising artistic principles. The film's narration may have been written by Anderson himself, but in the spirit of his Free Cinema experiments Foot and Mouth would be just as effective without its voiceover, as the combination of imagery and sound is its driving force. As in O Dreamland, Anderson's use of recorded sound achieves a simple yet powerful effect. In one particularly upsetting sequence, the film shows the mass slaughter of livestock, but rather than concentrating on the killing itself, it focuses on the faces of farmers and a farmer's wife as they flinch at the sound of gunshots. This is then followed by images of empty fields, barbed wire and trees while in the background there is the sound of howling winds.
In 1994, Anderson would write:
'All the documentary films I made were, I hope, personal and subjective. It has always been my ambition to make films which can be described as poetic.'
Coming across Anderson's film in the MAFF Collection, I was struck by the presence of a kind of poetry in amongst examples that are, on the whole, more prosaic in their style. This sparked an interest in the intersection between film language and poetic language, especially concerning ugly subject matter, a topic that I have attempted to explore in the poem below. Foot and Mouth may not form such an important part of Anderson's back catalogue, but as he wrote of the work of his hero the documentary filmmaker Humphrey Jennings in 1982, to echo W. H. Auden, 'the poetry survives.'
.
Foot and Mouth
dir. Lindsay Anderson (1955)
A farm somewhere in England, sometime
in Autumn. This is Bury Farm,
its crops, livestock (soon to be buried).
It's November now. How to read
the signs but not commit yourself –
leave that to officials. For this calf,
too late. The whole thing's deadly efficient:
a touch / a tyre / a train / a footprint.
.
The poetry survives. It's not in the voice
explaining protocol, it lies in the face
of a woman watching (shots off-screen),
shot of a herd, of a vet, of a gun,
shot of an empty field on a hill,
shot of a farmer shot of it all.
.
A short clip of Foot and Mouth is available to view via the BFI.
If you would be interested in visiting The MERL to watch any of the available films from the MAFF Collection, or to explore the rest of our extensive archive please contact us using the email address merl@reading.ac.uk.
This is the story of trying to find a lost land girl.
It began when a poem recently arrived at the MERL (reference D DX2222, to be exact). It is written by a Land Girl who talks of both the perceptions and the reality of what a land girl does. The person who gave us the poem, though, had purchased the item with no information about who had written it.
We do, however, know the name of the land girl, because she signed it. She was Jean Walker.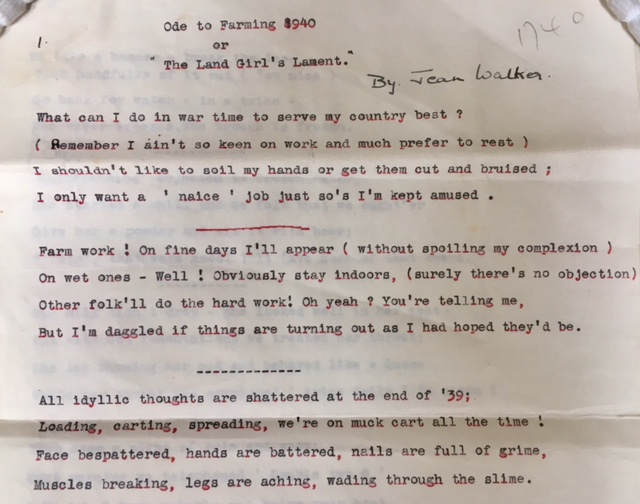 The poem is typed over eight pages, with handwritten annotations. We first wanted to find some clues about Jean Walker's location first, and there are two references that could help.
The first is when the poem describes trying to get the animals to safety during a flood on Page 4 paragraph 2, as well as after the storm on page 7, paragraph 5:


We wondered if this was referring to Grange [Farm], somewhere near Tattenham Corner.
Luckily the poem does mention other colleagues on page 3, paragraph 4:

The annotations on the typescript indicate that Pitts and Walker (not a relative) are farm workers and Ash is the manager.
We wondered: had the poem been published? We checked The MERL library for any poems published during this period to see if we could find a Jean Walker. While we do hold a copy of Poems of the Land Army: an anthology of verse by members of the Women's Land Army– and in fact have it on public display – but Jean Walker's poem is not included.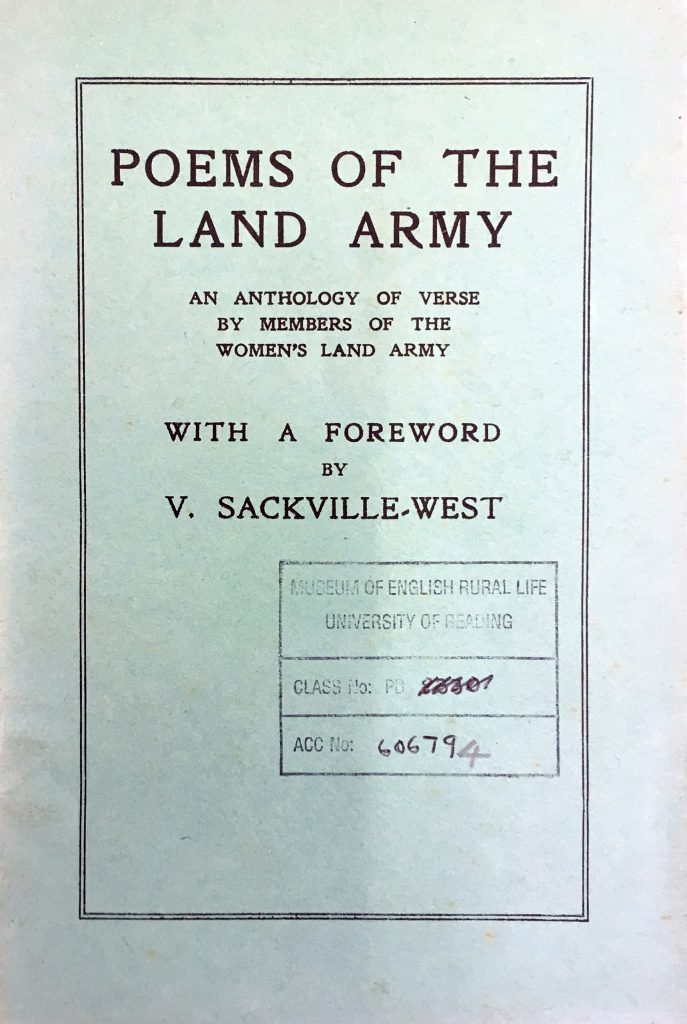 Our next step will be to look through microfiche copies of index cards in
MAF 421
, an Index to Service Records of the Second World War, and which is held at the National Archives. The index cards can show name, address, date of birth, Women's Land Army number and occasionally present occupation, where transferred to and when demobilised.
We've currently not found out any more, but if anyone has any information that may help our quest to find Jean Walker please contact merl@reading.ac.uk.
Poetry is currently an exciting focus for The MERL as we have our first poet in residence, Jack Thacker – keep an eye on our blog for updates from him soon!
We are delighted to announce the launch of a new project to develop and explore some of our poultry-related archive collections! Whether your interest is professional, amateur or just beginning, we will have delights from our archives and library aplenty for you over the coming months.
Thanks to the generous support of the Poultry Club of Great Britain, we have already acquired the David Scrivener Poultry Collection. We are also working in partnership with the Poultry Club to locate records relating to the Club's administration and activities. By working together we have the opportunity not only to preserve the heritage of pure and rare breed poultry but to bring it to a wider audience.
The David Scrivener Collection consists of his extensive library plus an archive of journals, yearbooks, postcards and cigarette cards, some of which are over 100 years old. An experienced poultry keeper, David Scrivener was the author of several books on the subject including Starting with Bantams (2002), Exhibition Poultry Keeping (2005), Rare Poultry Breeds (2006) and Popular Poultry Breeds (2009). In addition, Scrivener acted as a judge at shows for the Poultry Club of Great Britain and served at various times as Chairman, Honorary Historian and Patron of the Rare Poultry Society. The collection will be catalogued and rehoused, plus digitised images will be created and made available online.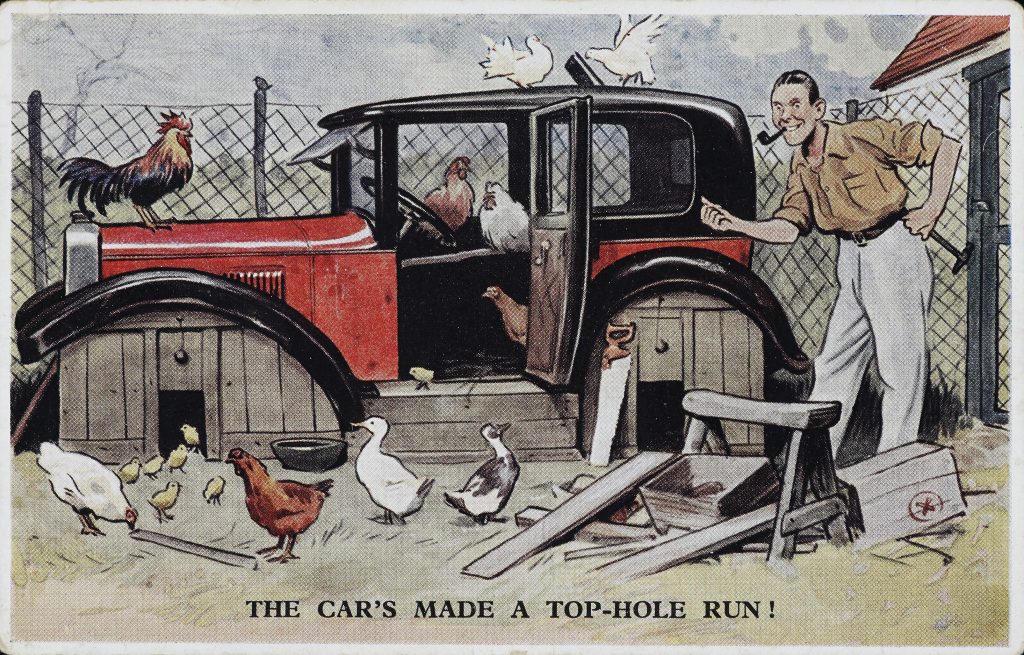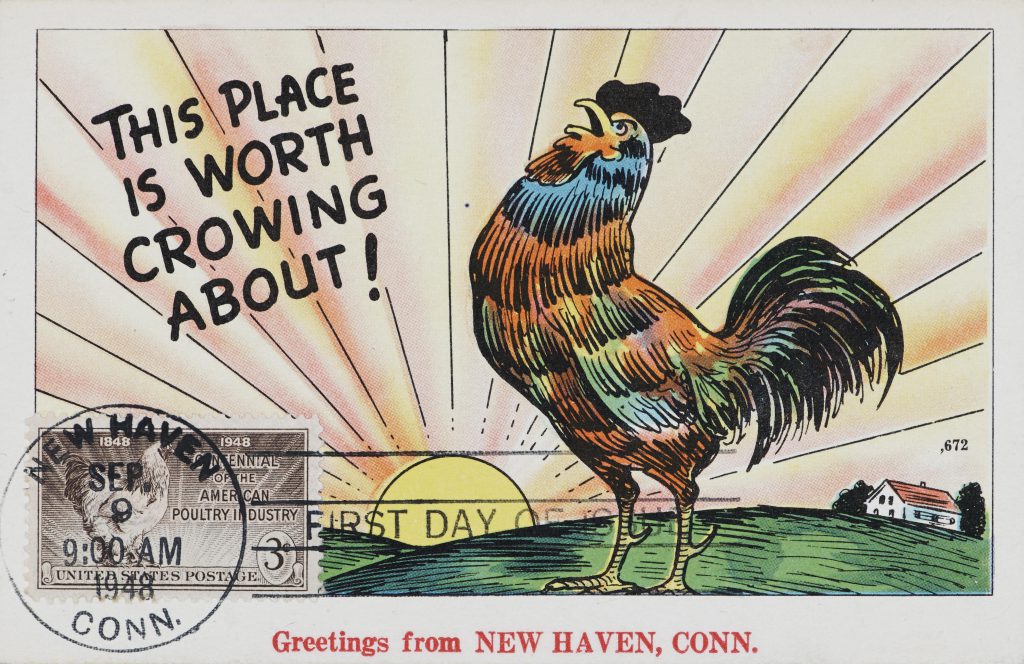 On the back of the exploratory work carried out so far we have received gifts of further poultry-related material.
Will Burdett's association with the Poultry Club covered 46 years from joining as a member in 1946 to his many positions on the governing body of the Club until 1992.  The material includes:
good runs of Poultry Club Show Catalogues, 1973-2007
Poultry Club Yearbooks, 1923-1989
International Poultry Show catalogues, 1946-68
Royal Dairy Show Catalogues, 1950-1968
Poultry Fancier journal, 1953-1970
regional Show Catalogues
and rare breed societies yearbooks.
In most cases these runs are incomplete and we would be pleased to fill these gaps. The collection also includes some of Will Burdett's personal papers relating to the Poultry Keeping Course he undertook at the School of Husbandry in London and to his role as Keeper of the Queen Mother's Buff Orpingtons from 1978-1992.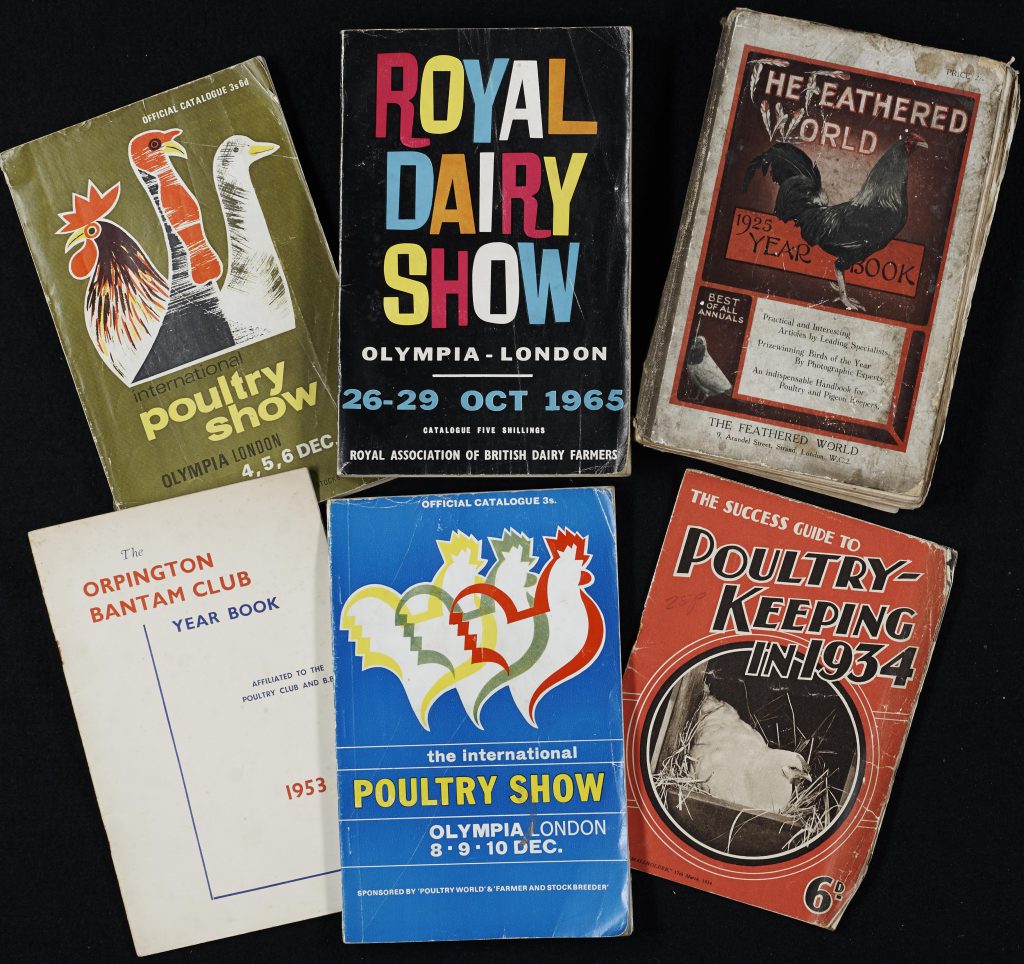 From Malcolm Thompson we have the kind gift of a full run of Poultry Club newsletters from 1973 to 2014.
A deposit from James Wilson Harvey supplied us with his boyhood memories of poultry farming between the wars alongside documents relating to the business of Frank Harvey, a poultry breeder of utility stock at Bretherton Poultry Farm.
The oldest item so far in the collection has come from Mr Jim Owen.  It is a Crystal Palace Poultry, Rabbit & Pigeon Show Catalogue of 1896. We are very grateful to have this and would be delighted to hear about catalogues of a similar nature.
Updates on the project and its discoveries will appear on social media, plus we will explore the collection through various community engagement initiatives to bring enjoyment and knowledge to many people. Having already immersed ourselves in all things poultry by attending last year's Poultry Club National Show, we are excited to be furthering our commitment to our domestic fowl.
We would be pleased to hear from you if you are willing to donate material which complements these collections. You can contact us via merl@reading.ac.uk or leave a comment on this blog.

In 2016, The MERL's Library Team entered our Heritage Lottery Fund-ed MERL in Film project, a competition open to all to create films inspired by the themes of our collections. Animals are a significant aspect of the countryside of course, and our Library Team made their film about chickens and poultry in the MERL library. Watch the film here, enjoy and crack up laughing!
Join Our Community
Join our community

Join our community
Keep in touch
Our 'MERL news' and 'MERL families' e-newsletters feature information about projects, activities and events.