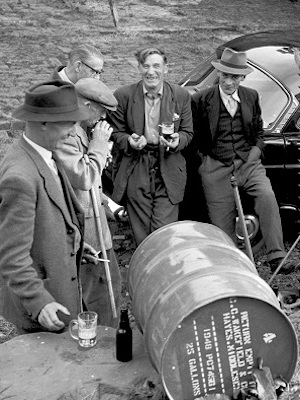 Talks and seminars
September 25 - November 13
12:00pm - 1:00pm
Free
Free, booking recommended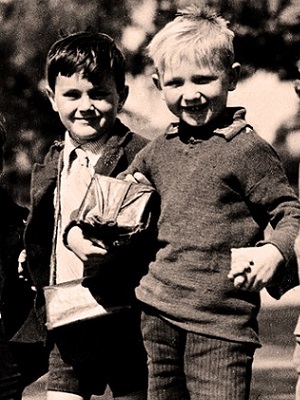 Events and workshops
October 20 - October 28
Usual opening times
Free
No need to book
Did you know
...city families used to pick hops on holiday?
Hop picking holidays allowed city families to earn money. Pickers were paid with tokens, which were used in local shops or exchanged for wages.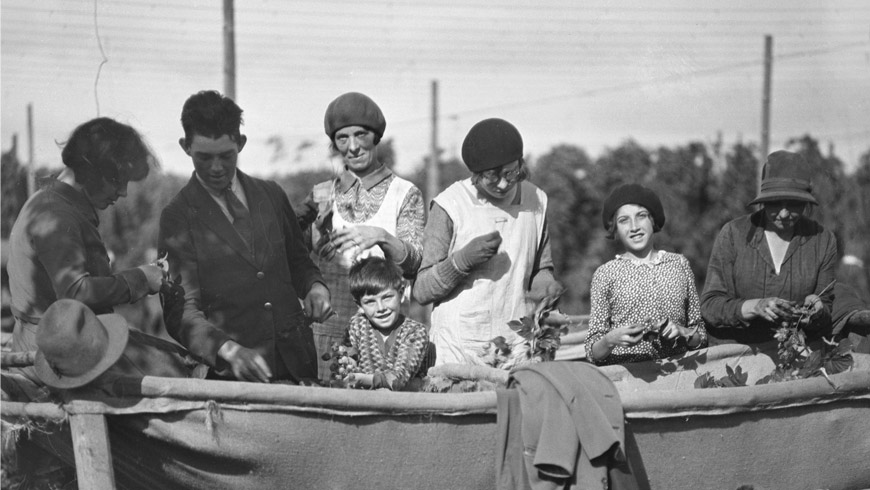 Did you know
...Elizabethan mattresses were used for both childbirth and corpses?
Mattresses, plaited from sedges, were made to support a mother during childbirth or a corpse after death. After use it would have been burned.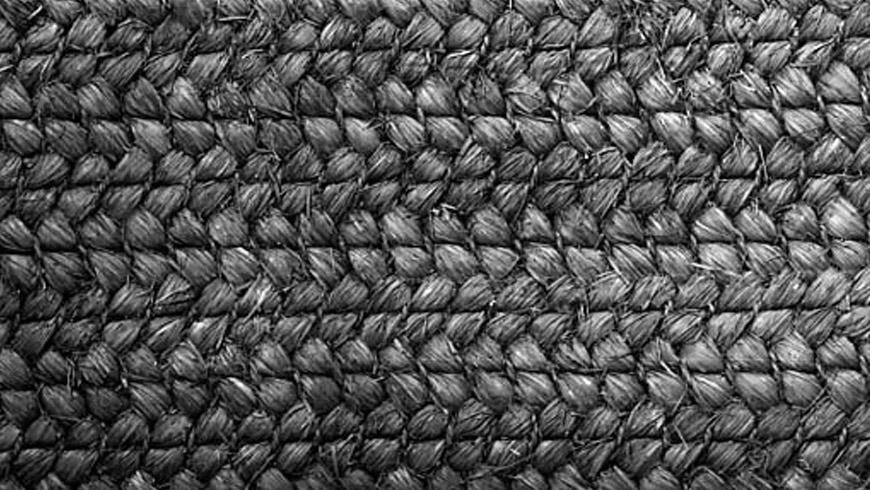 Did you know
...farmers used to sow seeds by fiddle?
Sowing by hand can be slow and inaccurate. Seed drills were developed in the 1800s to sow seeds quickly in a straight line at regular intervals.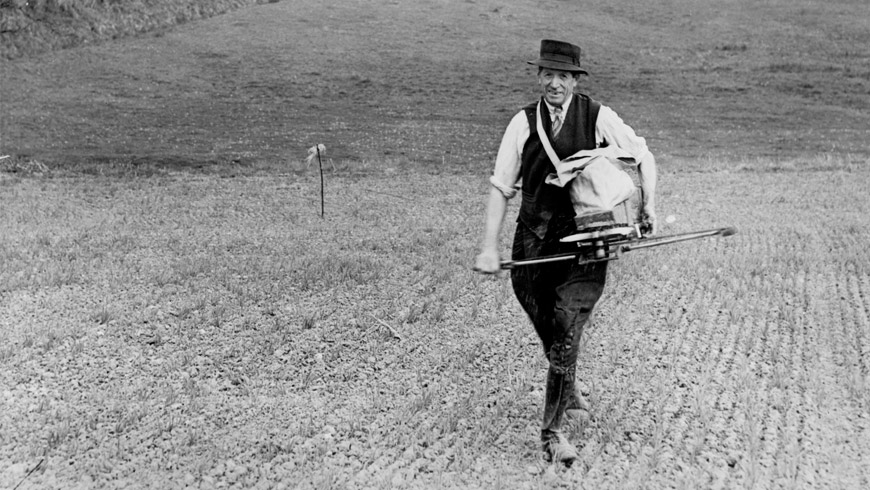 Did you know
...Lady Eve Balfour (1898-1990) was one of the earliest organic farmers and co-founded the Soil Association?
Women continue to play a key role in this movement, with organic farms employing significantly more women than chemical farming.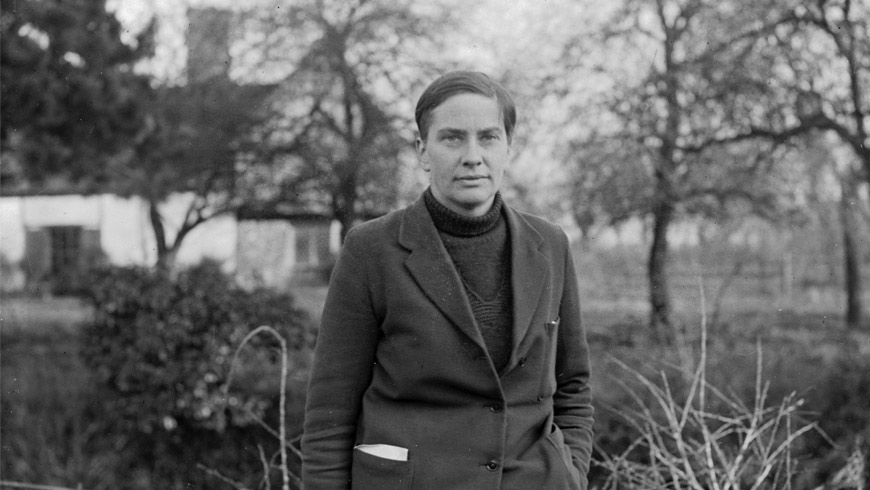 Did you know
...Suttons Seeds invented the seed packet?
The local Reading firm, founded in 1806, popularised paper packets of seeds for gardeners.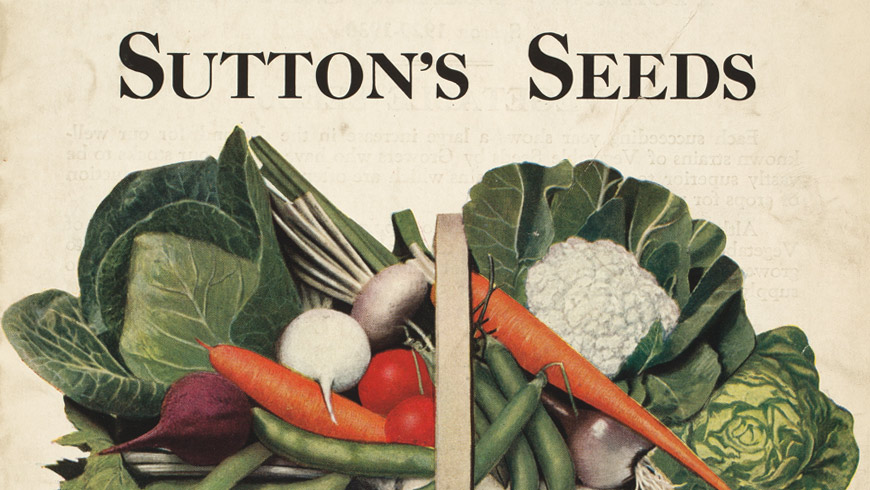 Did you know
...villages often used to run their own fire services?
The National Fire Service was only created in 1941.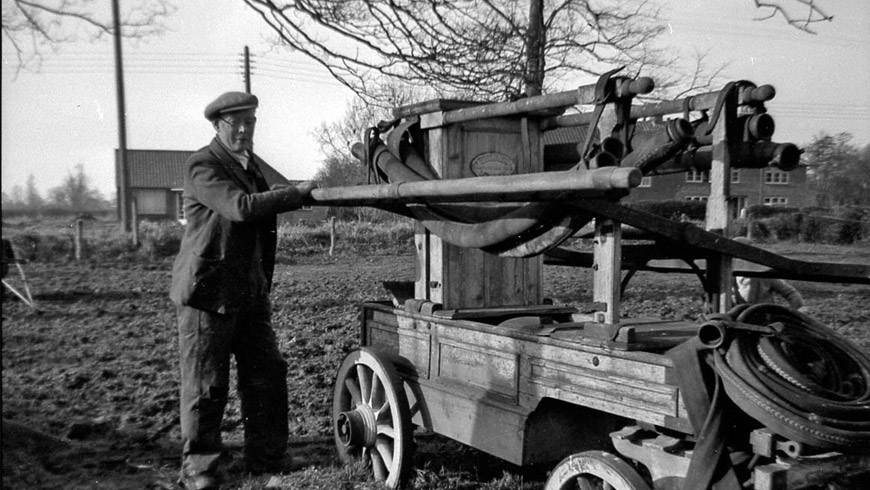 Our Country Lives - Latest Blog Posts
Our blog explores the people, places and issues of the historic and contemporary English countryside and rural life, uncovering and exploring our collections, the exciting activity around the MERL and the people we with.
Stepping out of Time, this year's MERL Annual Lecture, is no ordinary lecture… This year, we are in for a treat as award-winning accordionist, singer and clog dancer Hannah James performs her new work, 'Muscle Memory', which we have commissioned as part our project Making, Using and Enjoying: The Museum of the Intangible, funded by Arts Council England.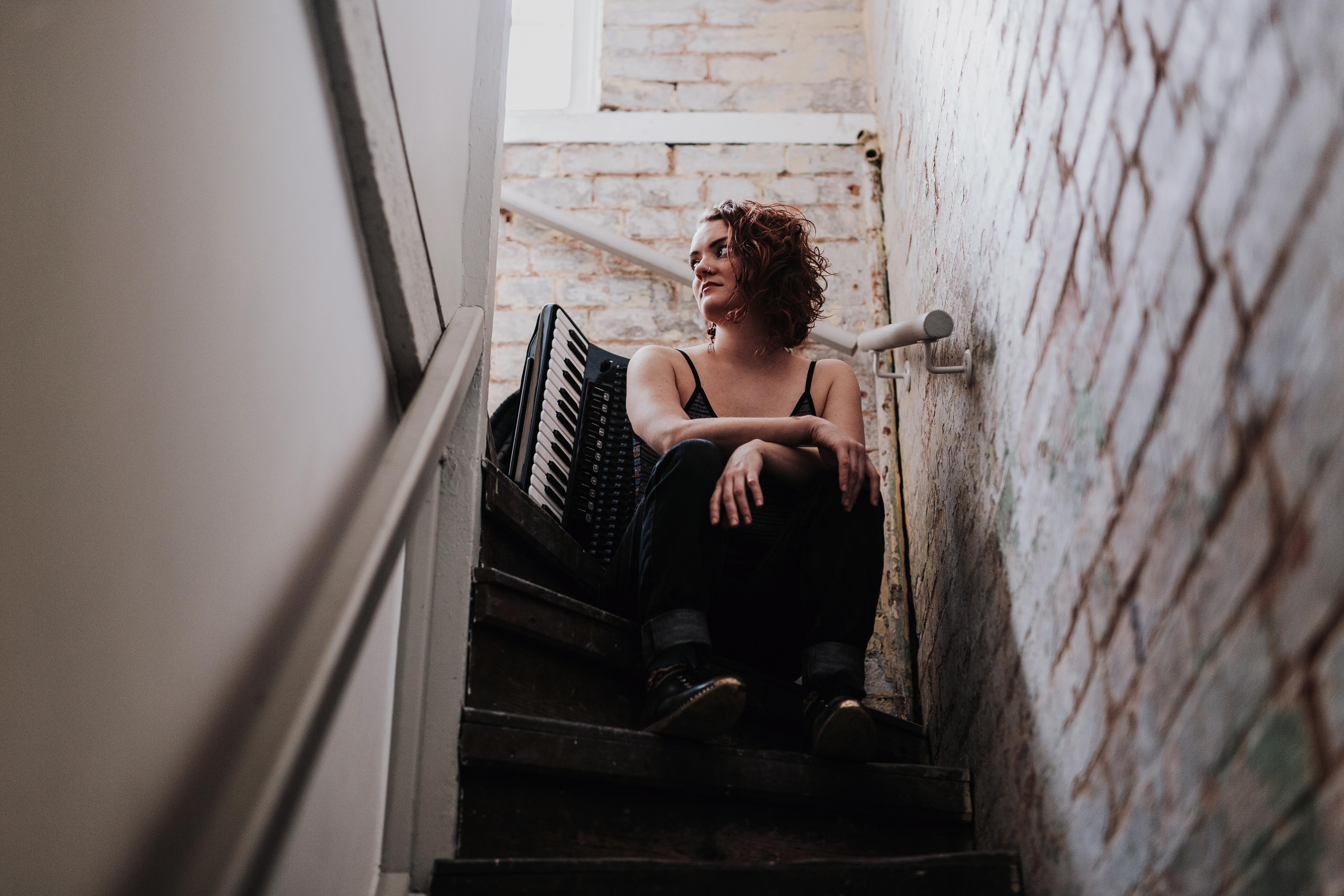 For the Museum of the Intangible project, we have invited makers, writers and practitioners to produce a range of creative responses to the MERL's collections as a way of exploring some of the intangible cultural heritage connected with them. This particular commission combines two aspects of intangible heritage – traditional craft skills and performing arts – in the form of clog making and clog dancing.
Hannah has worked in partnership with Geraint Parfitt, one of only a handful of traditional clog-makers in the UK, to develop 'Muscle Memory'. Geraint, who is based at St Fagans Museum of National History in Wales, has made a beautiful pair of clogs especially for Hannah which have provided the inspiration for the piece and which she will be wearing when she performs it. After a few years on the road with Hannah, the clogs will ultimately be accessioned into the collections at the MERL, and will have their own story to tell.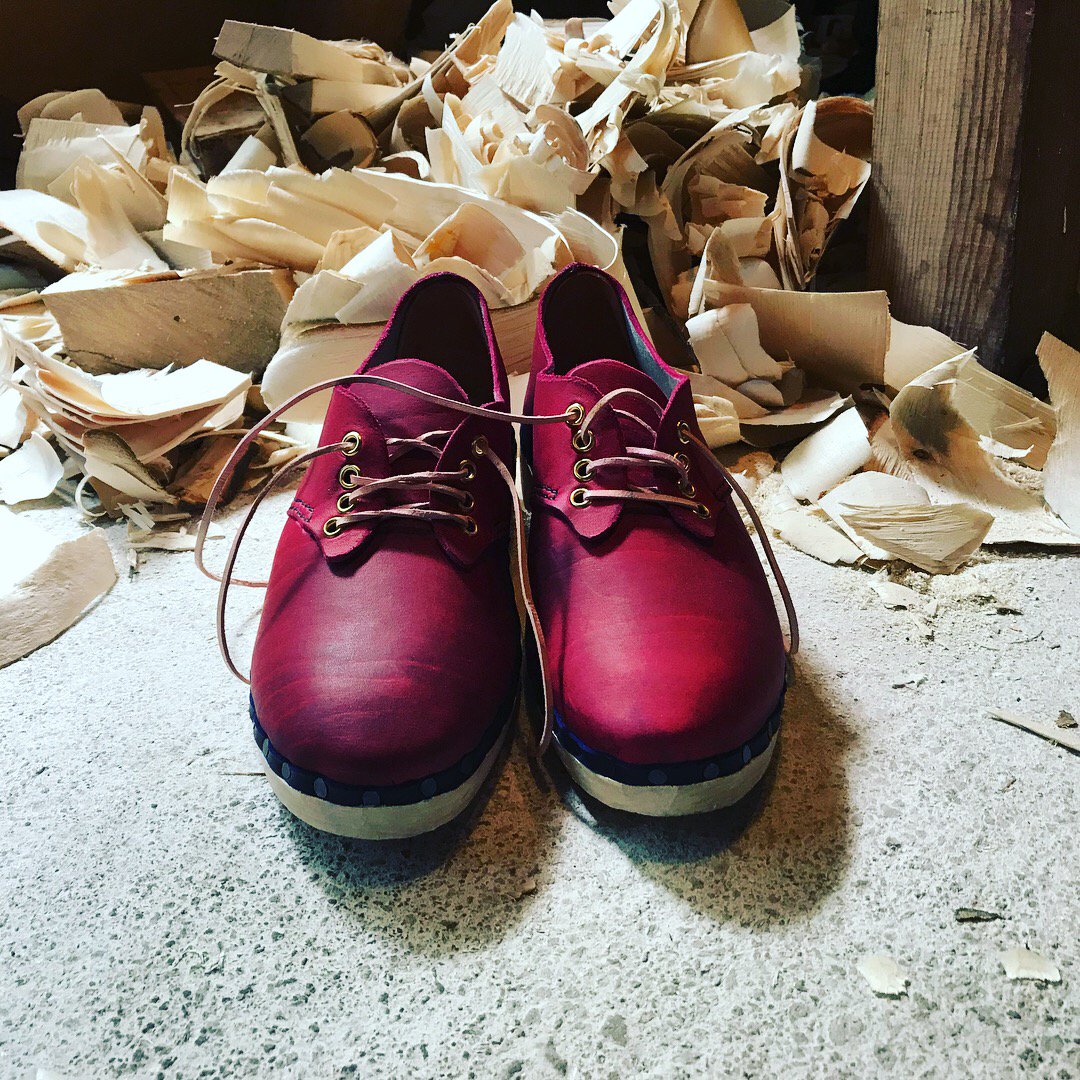 Hannah described her meeting with Geraint at his workshop: "It was a fascinating day and I actually felt really emotional, talking to him about his love for the craft and his sadness that so many of these skills are not being passed on in all their wisdom and detail. There are so many nifty little tricks, movements, ways of holding blades, ways of holding the wood, things that you would never think of that go into a craft like this that have to be learnt over time by working with someone who is already a master of it."
"There's also something so soothing and beneficial to witnessing a craft like this, the creation of a clog moves at its own pace and no faster, and requires patience and a deep understanding of natural materials that so few people possess in the world we live in – it's a real antidote to a touring lifestyle! After my visit I felt more grounded than I have for a long time!"
Drawing on Hannah's time spent with Geraint and her years of dancing experience, 'Muscle Memory' is a deeply personal and political story which seeks to explore and convey the life of clogs as both a product of master craftsmanship and as a tool for joyful partnership. It brings together craftsman and performer in a combination of images, spoken word, song, and of course, dance. We can't wait!
After the performance, Hannah will be joined by MERL musicians in residence Jackie Oates and Pete Flood, and Katy Spicer, Chief Executive of the English Folk Dance and Song Society (EFDSS) for a panel discussion on how creative responses can help us to understand the different layers of our heritage. There will also be a chance to see a short 'how-to' clog dancing tutorial film which will be used as an interactive in the museum and will be on show at the lecture so that you can have a go at clog dancing yourselves!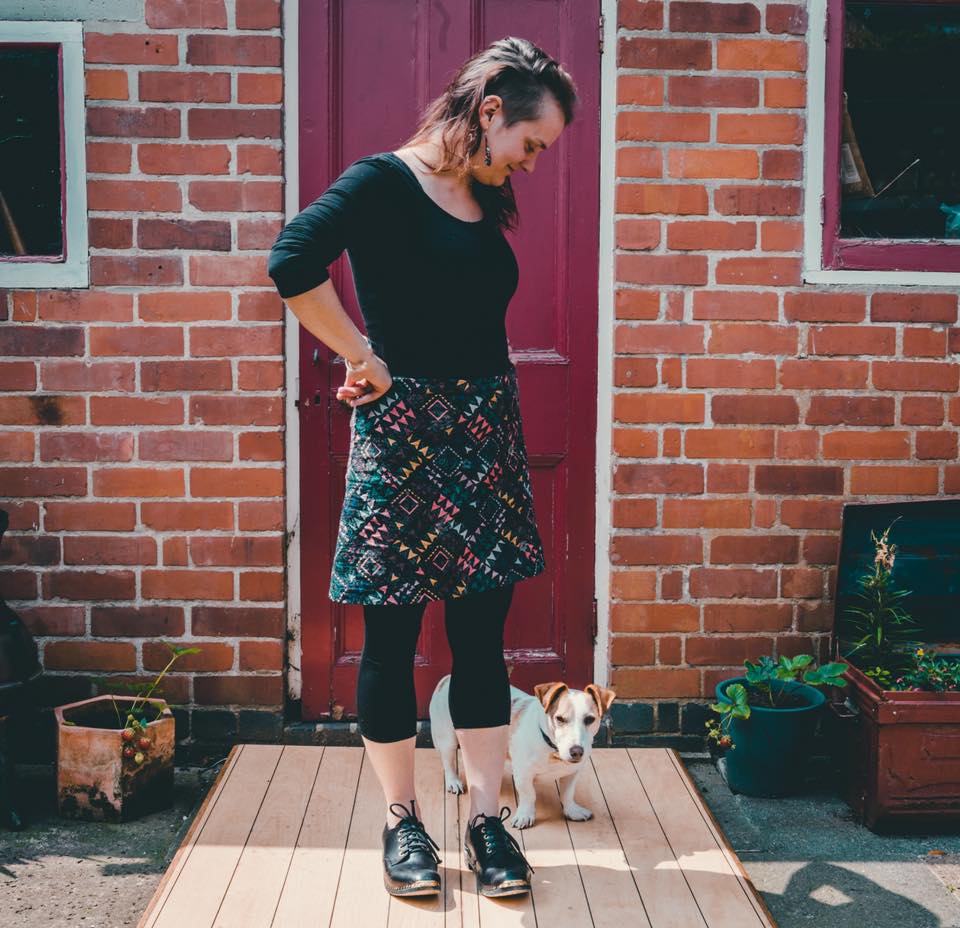 Find out more about Hannah and her career, and watch videos of her performances on her website.
The MERL Annual Lecture will take place on Tuesday 6 November at 7.15pm in the Great Hall on the University's London Road campus. Even if you're not into folk music and clog dancing, we're sure you'll be blown away by Hannah's performance. Doors open at 6.45pm. The event is free but booking is essential. Get your tickets here!
The inclusion of an image of a chicken wearing trousers is one of the more surprising aspects of Richard Beale's mathematical notebook.
As usual with stories that go viral on the internet, conspiracy theories have already sprung up. Is it really a chicken? Is it really wearing trousers? Why do the trousers appear to be solid like Wallaces's trousers in The Wrong Trousers (which features a penguin masquerading as a chicken)? Was Richard Beale acquainted with the town of Hensbroek in the Netherlands? Or was he into heraldry?
Let's take these one by one.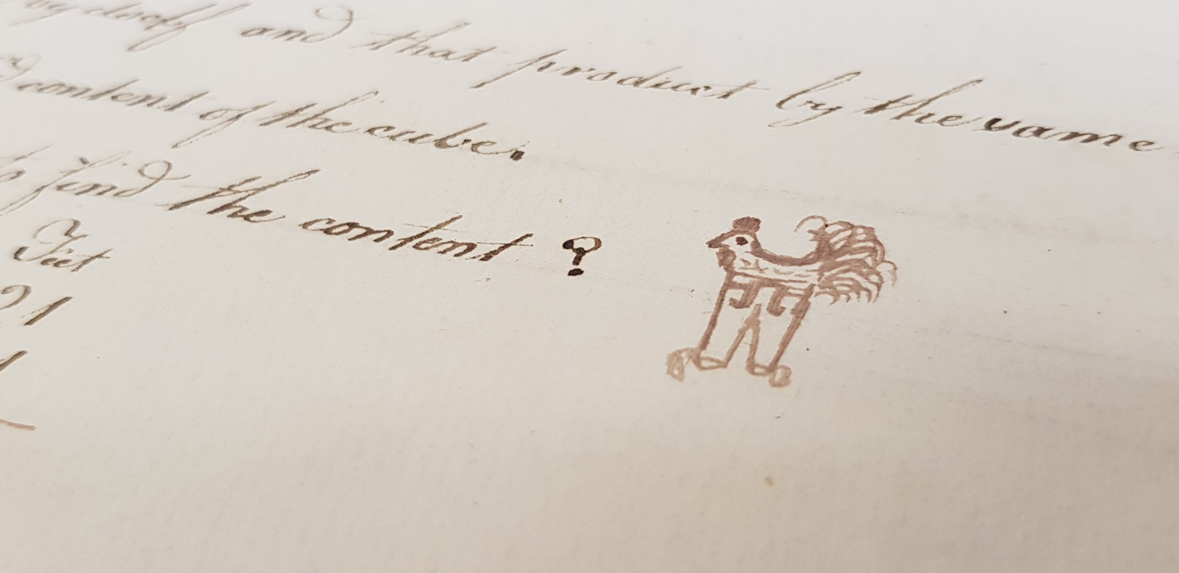 It certainly looks like a chicken. It looks like it's wearing trousers, but they also appear to be transparent (which is an unusual look). The link with Wallace and Gromit is unproven, although the recurring dog bears very little resemblance to the title character.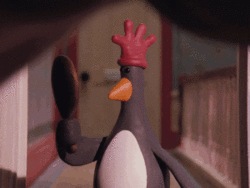 So what about Hensbroek?
This all has to do with coats of arms – hence the heraldry question. The arms of Hensbroek are a famous example of 'canting', which uses a pun on a name to inspire the design. The arms of Hensbroek are a famous example, as this blog post points out. The origin of the town's name seems to have little to do with chickens or trousers, but its literal meaning is 'hen's pants'. An enterprising mayor used this to create the canting arms and put the town on the map. You can read even more here on Reddit.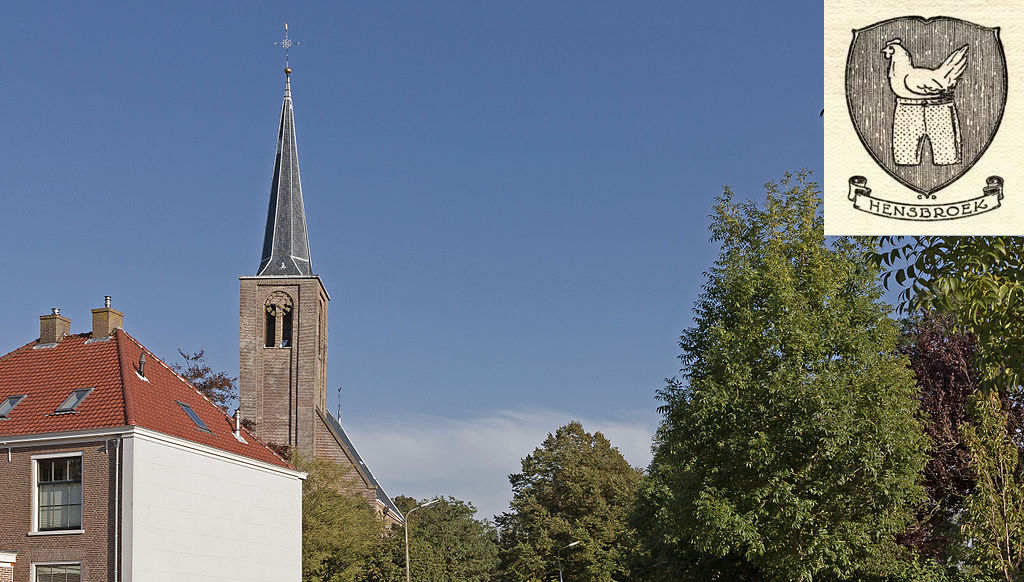 Canting is still used in heraldry. The arms of Princess Beatrice of York are a good example, featuring as they do the motif of three bees (be-a-trice). The arms of Maryland and of Theodore Roosevelt also employ canting. Perhaps most famous of all is the use of a bear as the symbol of Berlin.
It seems unlikely that 13 year old Richard had been to the Netherlands, especially with the Fourth Anglo-Dutch War being on at the time. But it is possible that he knew about canting arms.
Or maybe he just had a vivid imagination.
Written by Guy Baxter, Associate Director – Archive Services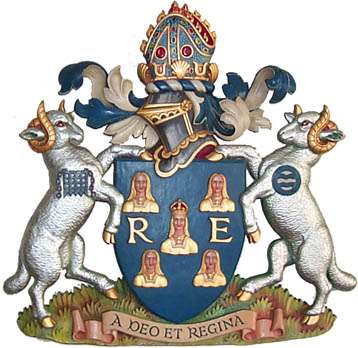 Tens of thousands of you have enjoyed a chicken in trousers from The MERL over the weekend.
A series of amazing doodles in the margins of an old maths book went viral in a Twitter thread, which offered a peek into the world of an eighteenth-century teenager from Biddenden, Kent, as well as an amusing glimpse into the life of a dog (see here for an old blog that also mentions Biddenden). The punchline of this playful thread was a cryptic but comical sketch of a chicken wearing trousers.
So far, so fun, but it seems worth pointing out that this thread also hints at some of the ways in which historians make use of the extraordinary collections that we hold here at The MERL.
Taking a bird's eye view
Many of our visitors and researchers want to gain greater insight into the lives of animals both past and present.
As the chicken doodle reminds us, one way to understand the point of view of others, whether human or non-human, is to think about the physical worlds they inhabit and give thought to the things they use and wear. Though we aren't encouraging you to dress up as a hen (unless you want to), what we are saying is that, whilst poultry may not wear eighteenth-century gentleman's britches, their wardrobe hasn't always been a simple case of feathery undress.
Domesticated birds are often required to wear identification rings, usually in the form of mini anklets. We have a few examples of these colourful accessories in the collection and the live hens we keep in the Museum's garden are no exception.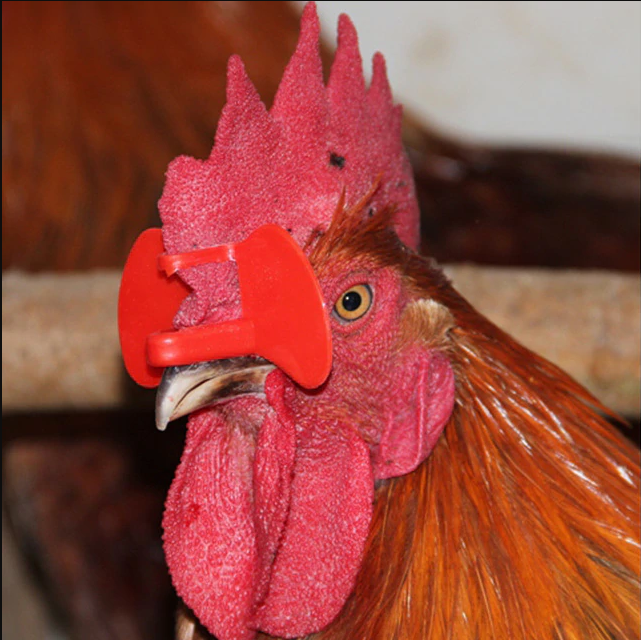 A quick search online will also reveal examples of hens wearing eye-glasses. These red-tinted or solid plastic blinkers were introduced to discourage birds from pecking at their fellow fowl.
A turkey saddle in our collection represents another odd departure in the history of poultry technology. These were placed on hens during breeding season to prevent damage from over-zealous males.
Furthermore, if you wanted to step into the shoes of a goose you could but you'd need to smother your feet in a mixture of hot tar and sand. This was done to maintain foot health amongst flocks of birds being driven to market.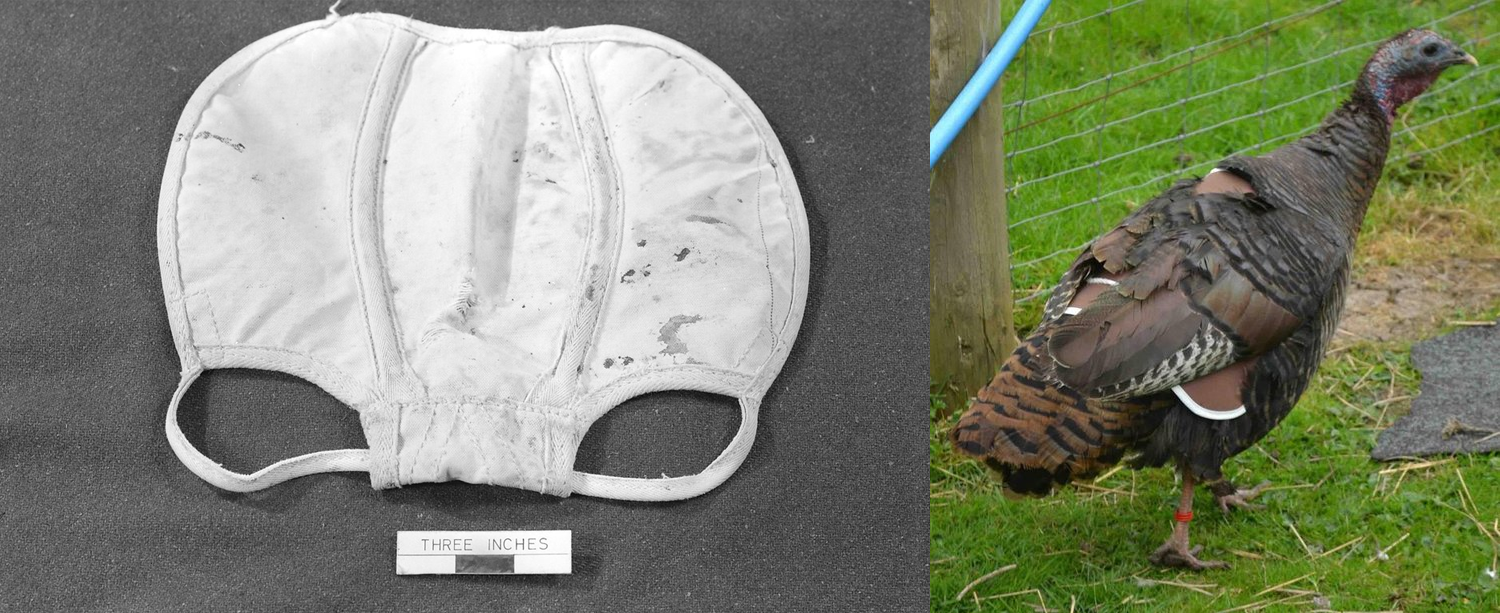 Finally, as the Museum's artefacts show, odd clothes weren't limited to poultry and we even have prototype cow wellies, designed by the iconic manufacturers Hunter as a means of protecting an injured cow hoof. While these never went into production they nevertheless show that someone, somewhere probably had the strange job of trying to put gumboots onto a cow.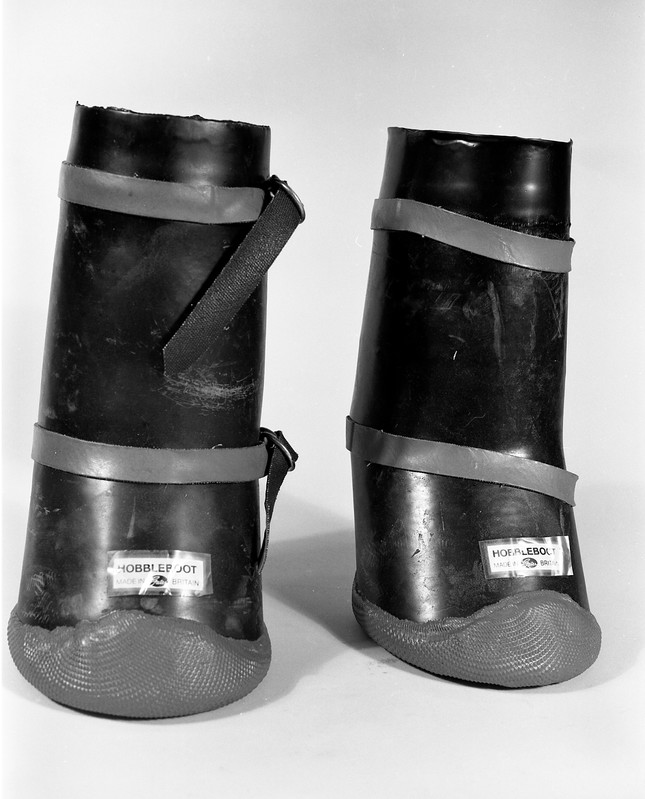 It's a dog's life
Thinking about things from an animal perspective is something that many historians are now keen to do.
Indeed, there is far greater acknowledgement that animals—whether farm livestock, pets, or wild creatures—have important stories and that revealing these can provide valuable insight. Like the doodled dog (and the things it may have seen), we can think about their daily routines, the biographies of their lives, and how their worlds were intertwined with those of people.
We often pigeonhole our animals into groups, imagining them in terms of their collective nouns—flocks and herds—and not as individuals. By contrast, for the kinds of animals we commonly keep as pets we may jump to seeing them as singular and characterful.
Our spotty dog is a great case in point. The eagle-eyed amongst you may have noticed that the markings on our dog differ in some sketches, implying a slightly different story involving at least two hounds (perhaps the two allowed greater freedom in the hare-coursing or rabbit-chasing image). So just as young Richard imagined a chicken wearing human clothes, we can slip easily into imposing our own ideas and projections onto animals in the historical record.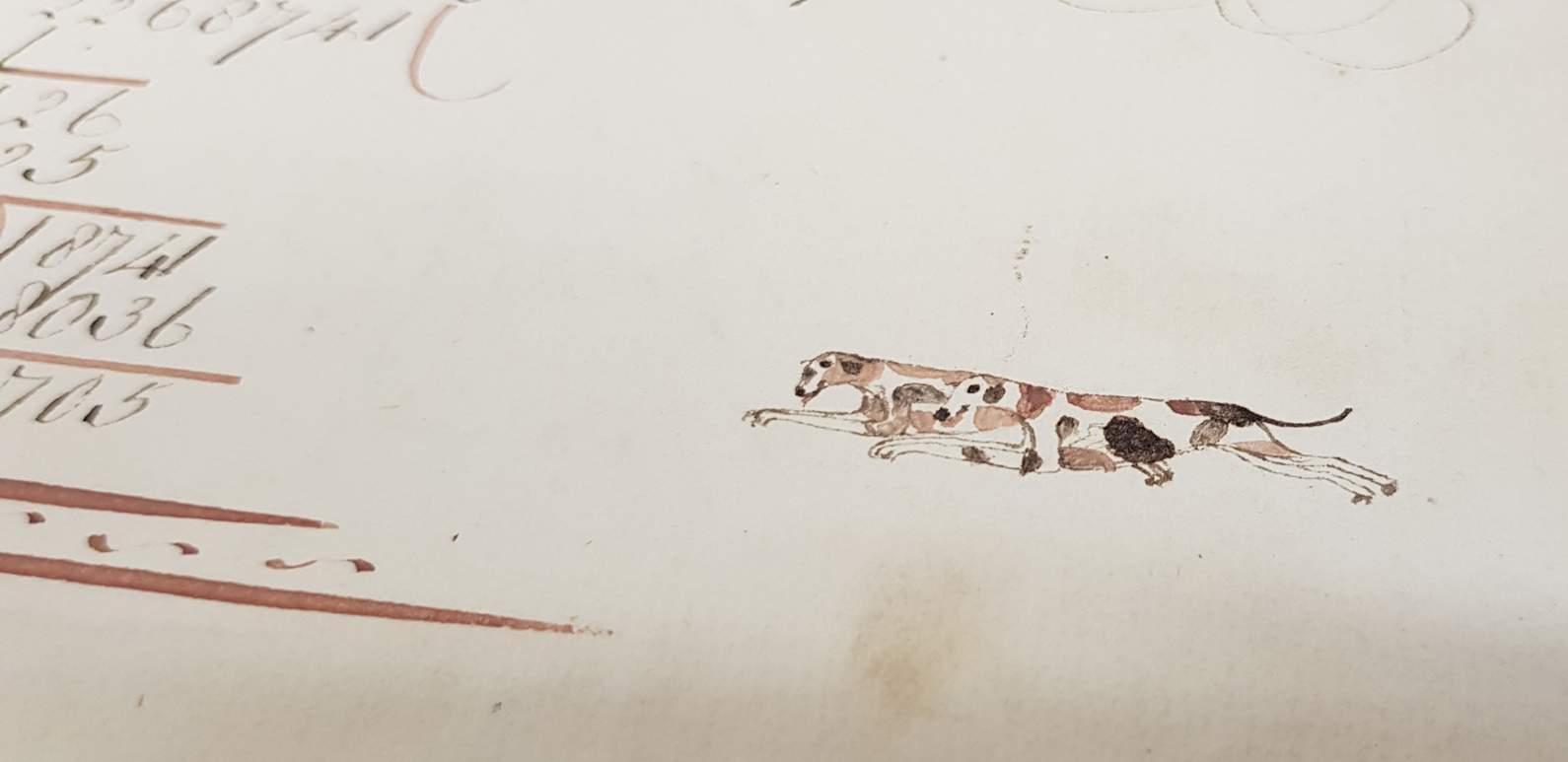 As hen spectacles and tar shoes show, things worn by animals are almost always imposed upon them. The collar round the neck of one of our canine companions—the one with the sad expression on its face—is no different. This invites us to question the extent to which animals shape their own lives and to what extent their lives are shaped by us. Trying to reconstruct the life story of a dog, of two dogs, of a pack of dogs from such evidence is challenging but it allows us to think about whose histories we tell and how we seek to reveal them.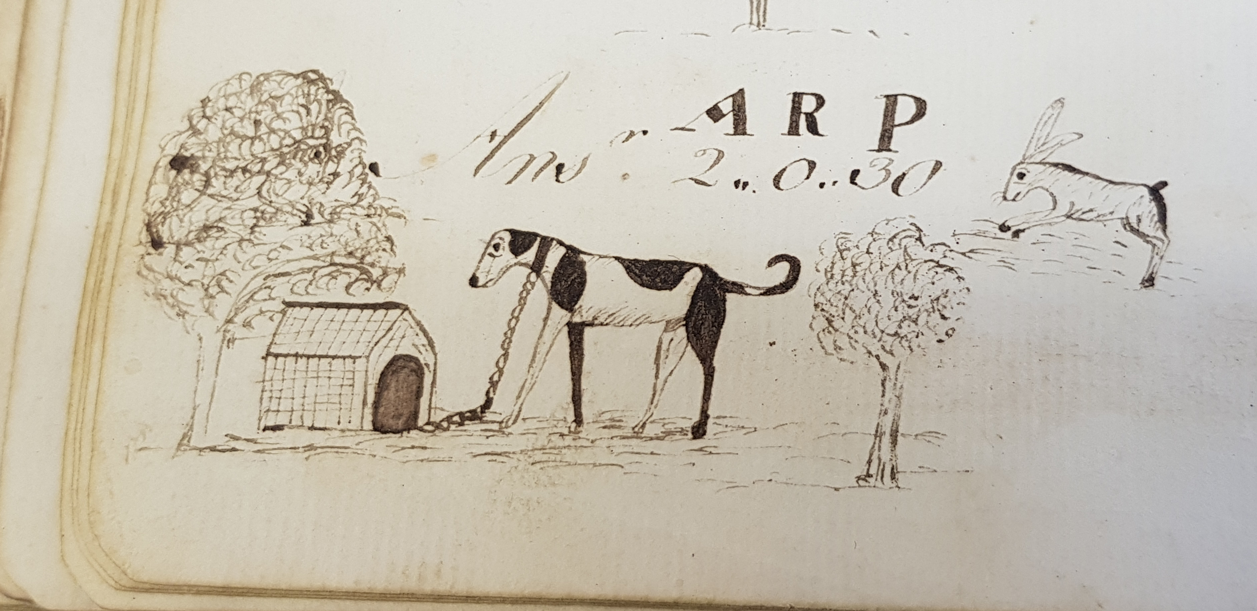 In a Museum all about rural history, War Horse is a useful literary example of an animal-centred story. Michael Morpurgo's novel famously tells the tale of a horse requisitioned from a farm and sent to serve the British Army of the First World War. Our rich archives hold countless examples of animals who served in similar ways, both on the home front and in military contexts, but few of these have yet been revealed in such a powerful animal-centred biography. Hopefully this will change.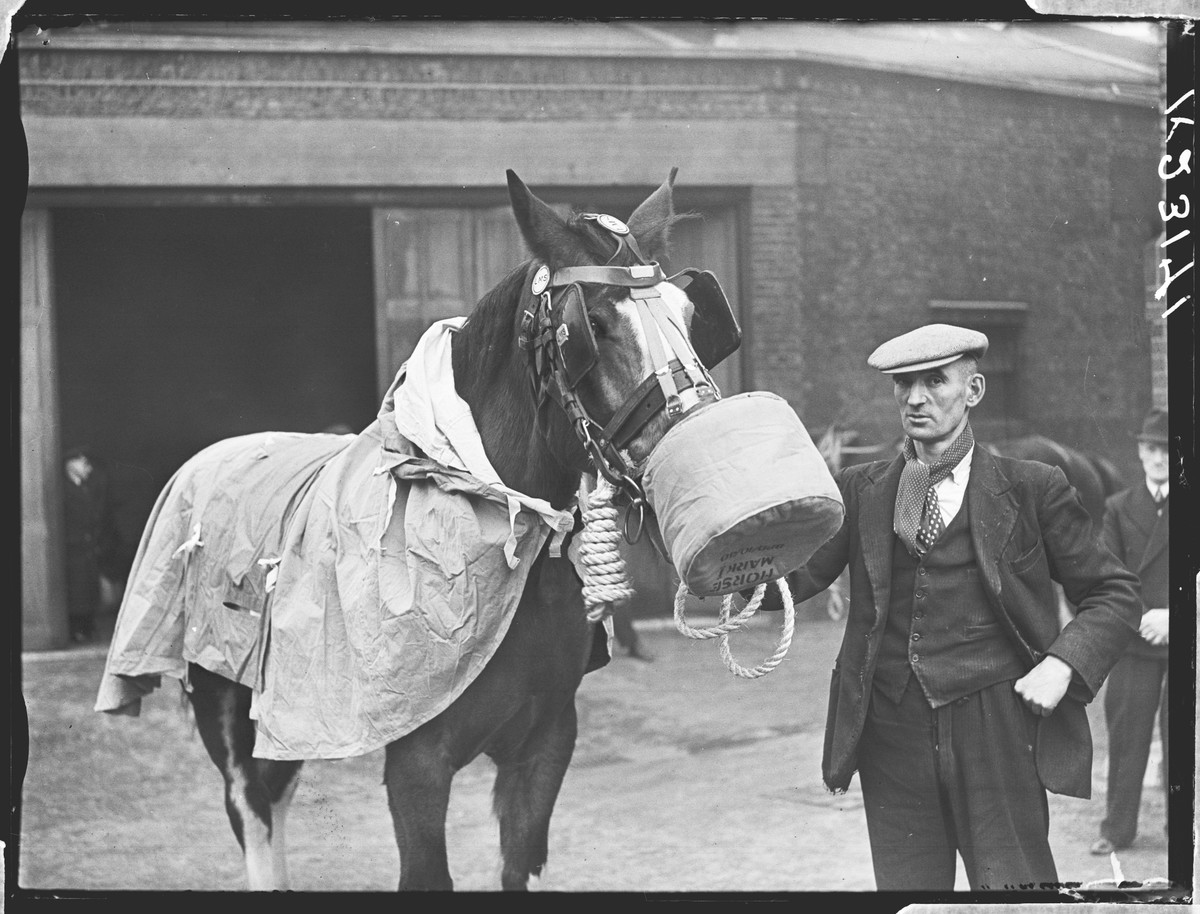 In one small example, we are supporting the work of PhD student Felicity McWilliams (based jointly at Kings College London and The MERL). She is examining the role that heavy horses occupied on farms during the mid-twentieth century, when machines were becoming increasingly common. Alongside other perspectives, Felicity is exploring this history 'from below', immersing herself in personal accounts connected to farm horses and tractors. She would be the first to admit that her interests are niche, if not downright nerdy, but the wonderful thing about her approach is that, like the family-focused, animal-centred, and marginal stories that our maths book can reveal, hers is an attempt to give weight to the lives of the horses, the people who cared for and worked with them, and the machines that came to replace them. She and some fellow students have formed the Animal History Group to help further these approaches.
Life on the margins
One final strength that runs through our maths book thread is its focus on the doodled distractions of the author rather than the mathematical purpose of the original jotter. All too often our histories set out to emphasise a central narrative but, thankfully, many now focus on the hidden histories to be found on edges, in marginalia, and through the less straightforward aspects of the evidence that survives in museums. This is a big challenge for us as we tend to record and describe things for what they are. In other words, the quirkier something sounds – say a 'turkey saddle' or a 'cow boot' – the more likely it is to stand out as something worth taking a look at. But, when it comes to an old maths book that just happens to have a few drawings in it, we rely on the seasoned eyes and abilities of our archivists, researchers, and audiences to bring such gems to light, revealing their richness, value, and individuality. In other words, we need people to look carefully and to understand that individual things can tell lots of different stories.

Examining the life story of one person through a series highly quirky and individual sketches that he drew resonates powerfully with us now because it is through these same personalised interactions that we create and shape the stories of our own lives in the present.
And for those of you fearful that the digital age has put an end to the kinds of marginalia and informal records of our lives so brilliantly revealed in this eighteenth-century maths book, fear not. Social media is awash with highly personalised engagements and commentaries on the world. You only need look through the responses to this single twitter thread (and the fact that a ready-made chicken-in-trousers gif was available for us to shamelessly retweet) to see that the messy complexity of our world is still being shared and that we are all still doodlers at heart.
Watch this space for more on marginalia in future blogs.
Written by Dr Ollie Douglas, Curator of The MERL Object Collections.
Join Our Community
Keep in touch
Our 'MERL news' and 'MERL families' e-newsletters feature information about projects, activities and events.