The reading room provides access to The MERL's library, archives and photographic collections as well as the University of Reading's Special Collections.
COVID-19 update
In light of government advice, and in line with the University's position, the museum and reading room will be closed until further notice. Please read our blog for the latest updates.
Plan your visit
Watch the film below for a brief introduction to using the reading room. The following information will help you to plan your visit.
New digital study booths coming soon!
If you are planning to visit the reading room this summer, please read the notice of reading room closure 29 June to 10 July, 2020
Opening times
Please refer to our page on Opening Times.
Accessing the collections
The collections are accessible to all researchers on completion of a registration form. Please bring some form of identification on your first visit. We accept:
driving licenses
student/staff ID cards
bank cards
passports
GDPR comes into effect on 25 May 2018. The Museum of English Rural Life is collecting archives in the public interest. We also process data from researchers and visitors for administrative and evidential purposes. In order to gain appropriate consent, we will be asking existing reading room users to re-register with us. More information can be found here.
In order to avoid disappointment, we suggest that you contact us in advance of your visit indicating the items you wish to consult. This is because some items are stored offsite and cannot be retrieved immediately. The reading room service can be busy at times so pre-ordering items can ensure that they are ready for you, enabling you to make the most of your visit. If you are ordering material for the following day, requests need to be submitted by 2pm the previous working day at the latest.
Let us know the date and time you would like to visit and we can reserve you a space in the reading room. We have half day slots – 9am-1pm, 1-5pm – so let us know which of these you will require for your visit(s).
You can use our online catalogues to gather descriptions and references of items and collections.
Staff can retrieve items stored onsite on demand during opening hours, except between 1-2pm and after 4.15pm when we stop retrievals. We collect all items in at 4.45pm.
Anything marked 'open access' on our catalogue can be retrieved by researchers in our open access library and do not need pre-ordering. Keep a note of the call numbers for these items as this will help you to locate them on the shelves.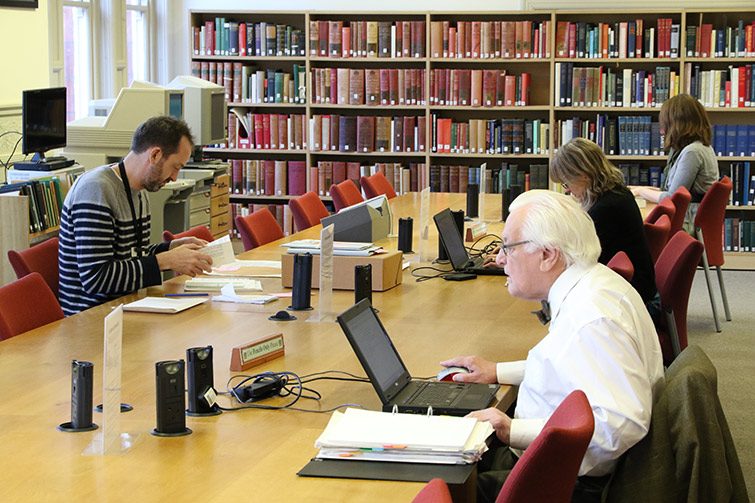 Facilities
The reading room is in the same building as The Museum of English Rural Life. There is a dedicated bike store next to the entrance to the Museum, and a limited amount of free parking is available in front of the building (please collect a free parking permit from the reception desk). We have 14 power points along the centre of the desk for laptops. We can provide researchers with access to the University's wi-fi system. We have a separate locker room with 16 free lockers for bags and coats, and light refreshments can be purchased in the Museum cafe.
More information about accessibility can be found here.
The reading room entrance is off the Staircase Hall in our Grade II-listed building. Use the arrows on our Google Streetview tour above to navigate around.
Rules
These guidelines are in place to reduce risk to the collections, some of which are very old and fragile, and to preserve them for future generations. By completing a registration form, you agree to follow these rules and abide by the instructions of reading room staff.
The following are permitted in the reading room:
pencils
note pads
laptops/tablets
mobile phones (switched to silence)
The following are not permitted in the reading room:
pens
food (including chewing gum and cough sweets)
drinks (including bottled water)
bags (including British Library bags, handbags and laptop bags)
personal scanners, tripods and stands
Handling the collections
It is important to handle collection items with care and our reading room staff will advise on best handling practices. Handling guides are available in the reading room and as PDF files below:
Copying services
For more information on copying services, including digital photography in the reading room, please visit this page: Copying Services.
Opening hours
Please refer to our page on Opening Times.