In line with University of Reading closure dates, the Museum of English Rural Life, including the Reading Room, will close for Christmas Thursday 21 December and reopen Tuesday 2 January. We wish all our readers a Merry Christmas and a Happy New Year.
Please email merl@reading.ac.uk with any Reading Room enquiries. Please note, this in-box is monitored during our opening hours only.

The Reading Room
The Museum of English Rural Life library, archive and Special Collections can be examined in the Reading Room.
Visiting the MERL Open Access Library does not require pre-booking; however, if you require desk space for extended research, booking is advisable.
To avoid disappointment, please book archive and Special Collections visits a week in advance – collections from the off-site store are made once a week.
All researchers are required to register prior to their first visit – please book space for each researcher in your party.  
Priority is given to visitors accessing the collections – if you only require quiet study space, please ask on the day about availability.

Which collection are you looking for?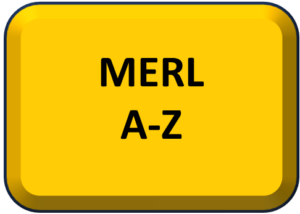 The A-Z provides an extensive list of all the collections held at MERL and may assist you in narrowing down your search.

Opening times
Tuesday to Friday, 9.30am-4.30pm by appointment.
We remain open over lunchtime, however, we cannot retrieve extra material from the stores between 12pm and 2pm.
We close promptly at the end of each session – please allow time to pack up.

Booking
All visitors accessing material from the collections need to register pre-first visit and produce photo ID on arrival (pre-existing researchers may be required to re-register).
Research desk space is limited – please book your visit to the Reading Room a minimum of a week in advance.
To reserve a place, email merl@reading.ac.uk, providing:
The preferred date and time you would like to visit – please wait for confirmation before making plans to travel
Specific material requests, using the reference codes, as detailed on the entry in our on-line catalogue

We will assess your requests and advise you on availability – please only visit the Reading Room if we have confirmed your visit.
Items listed in the catalogue as Open Access (listed under the Status heading) do not need to be pre-ordered; however, pre-booking of desk space is advisable. Reference codes provided on the library catalogue system will identify the location and we can provide an Open Access map if you require guidance.

Why do I have to pre-order material?
​
| | | |
| --- | --- | --- |
| The highest roller racking shelves of our off-site store are accessed via archive platform ladders or by using specialist equipment. | Bookshelves at our off-site store hold approximately 3000 books per row. We hold over 100,000 books across our various stores. | One of the Special Collections stored on site, on two of approximately 100 rows of roller racking. Each box can contain hundreds of documents. |

Please provide specific reference codes of the material you wish to examine:
MERL Library and Special Collections are housed in multiple store rooms, on 3.5km of roller racking, and in 2 buildings, one of which is off-site
Some collections are stored in hundreds of boxes, containing thousands of documents
Please provide your reference codes a minimum of a week before your booking – we collect off-site material only once a week

Copying Services
The photocopier is not available to researchers.
Photocopies or PDF scans of material can be ordered through our copying service. Please provide the reference codes of the specific material of interest. This service can take up to 20 working days but is often completed much faster.
Digital photography using your own equipment is permitted subject to conditions. 
Terms & conditions and prices for scanning and photography permits can be found on our copying services page.  

Frequently Asked Questions:
What can I bring into the Reading Room?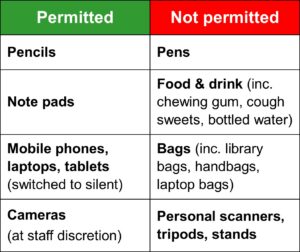 Where can I leave my belongings?
On arrival, we will inform you of your assigned numbered locker and desk.
Do I need to wear gloves when handling collections?
Unless directed otherwise, clean, dry hands are sufficient for handling collections.
If the collection you are examining requires special handling, we will advise you and supply any materials required.
Handling guides are available in the Reading Room and as PDF files below:
Is there Wi-Fi?
Eduroam is available in the Reading Room. Short term access to The Cloud is available to visitors without access to Eduroam.
Where can I eat lunch?
The MERL Cafe is located near the Museum entrance, we have outside seating if the weather allows – feel free to bring your own lunch. There are additional cafés on the University of Reading London Road Campus, just a few steps away.  

COVID-19 procedures
Please delay your visit if you have tested positive for COVID-19
The wearing of a face covering during your visit is optional