Families are welcome at The MERL
We have plenty for families to do at The MERL. Exciting galleries, fun hands-on learning experiences and a packed programme of events and activities inspired by the museum collections and garden. Whether you pop in for a quick visit or spend all day exploring, The MERL can entertain, engage and educate the whole family, from children of all ages to grandparents!
Families love The MERL
We are delighted to announce that we have won the award for **Best Museum** for families in the 2021 Little Ankle Biters Berkshire Awards!
Thank you to all our visitors who voted for us and your ongoing support.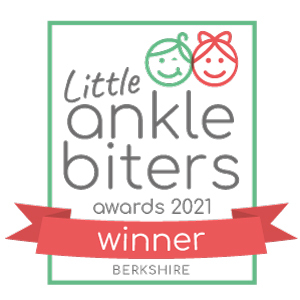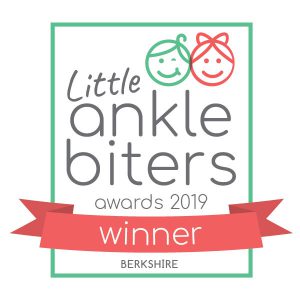 COVID UPDATE
In line with the Government's roadmap, the café, garden and shop will be open from Wednesday 14th April, with the galleries following in May. Please see the Visit Us page for details.
FAMILY VISITS TO THE CAFE & GARDEN
The garden is a safe, enclosed environment for your children to play in and explore. The shepherd's hut will be used as an Info Point where you'll be able to collect copies of our garden trails, including the woodland brass rubbing trail. There's also a wooden play-on tractor and our chickens will soon return from their 'furlough' in a colleague's garden!
Examples of the garden trails:
During our absence over the last year, the local wildlife has made itself at home in the garden, including woodpeckers (can you spot the evidence?!) and foxes. Please look out for the signage regarding areas you should not enter, whilst the foxes get used to us being around again!
The MERL café stocks a range of hot and cold drinks, cakes, snacks and ice-cream. At the moment, all seating has been moved outside. Please use the seating on the patio or the picnic benches on the lawn, which are now equipped with parasols.
You are also welcome to bring a picnic!
ACTIVITIES AND EVENTS FOR FAMILIES AT HOME
If you're missing your visits to the Museum or are looking for a new place to explore from home, perhaps you could try some of the online activities and events at home…
Online Activities
Whilst you're not be able to visit us in person, we still have lots of fun activities that you can do at home!
LOSE YOURSELF IN THE SEASONS
If you have visited The MERL, you will be familiar with the beautiful animation of a forest scene through the seasons, whether you've watched it on loop with an enthralled child, or just be surprised by the sound of thunder while you enjoyed your tea in the cafe! You can now watch an immersive 360 version of the animation via the new MERL app. Find the download links on the 'Shaping the Land' gallery page.
BECOME A VIRTUAL SHEPHERD
We can't travel to the countryside during lockdown, but this is one way of escaping to Dartmoor! Watch the 360 video of a modern-day shepherd riding a quad bike over Dartmoor, and find out how the film was made. The films are both in on our Virtual Reality Youtube playlist
Home Learning Resources
Missing out on school trips? You could try a virtual school trip!
Visit the MERL galleries online and use our new worksheets to explore the collections further.
Homes: Past and Present at The MERL
Wagons at The MERL  |  Answer sheet
Create your own Quiz at The MERL
Online events
As we are not able to deliver our usual programme of events at the museum, we have moved many of them online.  You can find details of our online events on our What's On page.
For some fun family craft ideas and activities follow the links for our past online events Bee Happy and Thinking Rationally.
FRIDAY FLEDGLINGS
Friday Fledglings is an outdoor session for pre-schoolers which usually takes place in our fantastic urban garden. We miss welcoming our Friday Fledglings to the museum, but session leaders are currently delivering online Fledglings At Home sessions via Zoom on Friday mornings. Visit our What's On page to find out more and to book. You can also find activities for Under-5s on our via our Friday Fledglings Facebook group.  Activities from previous sessions are available here.
FAMILY VISITS TO THE MUSEUM
Galleries
When we open again, visit our galleries and explore life in the countryside past and present. Enjoy the fun hands-on activities and interactives throughout the galleries including puzzles, dressing up, games and trails.
Download copies of the rat and rodent trails to bring with you on your visit, or pick up a copy from our info point.
Family Events
Details of family events are available on our What's On page.
FRIDAY FLEDGLINGS
Friday Fledglings is an outdoor session for pre-schoolers which takes advantage of the fantastic urban garden at The MERL promoting the benefits of outdoor learning. Sessions are run by Charlotte, a local teacher and Level 3 Forest Leader and focus on outdoor play and exploration of the natural environment involving story-telling, craft activities and singing.
Drop-in sessions run Fridays (during Reading Borough Council term time), 10.00 to 11.30am
£4 per child (includes a drink and snack)
Suitable for families with children under 5
We hope to welcome you back into the MERL garden soon!