New Model Farming
Reflections on agricultural change, the world of play, and the widespread influence of miniature farm machines.
What do Henry Ford, Barbie, the prolific farm toy collector Peter Wade-Martins, and a little girl called Pippa Hughes have in common? The answer: they all feature in our newest gallery here at The MERL (well, all of them except Barbie, that is!). In this post, Curator of MERL Collections, Dr Ollie Douglas, shares some reflections on agricultural change, the world of play, and the widespread influence of miniature farm machines.
The new Model Farming gallery at The MERL showcases over 150 items, which have been carefully selected by Peter Wade-Martins from a collection of more than 2,500 farm toys that he generously donated to the Museum in 2019, and a few of which have been displayed until recently in a smaller showcase and an associated online exhibition. This vast array of different toys appears alongside other artefacts, photos, and imagery, revealing the fascinating story of agricultural mechanisation, as seen through the lens of scale models of machinery as well as farm toys.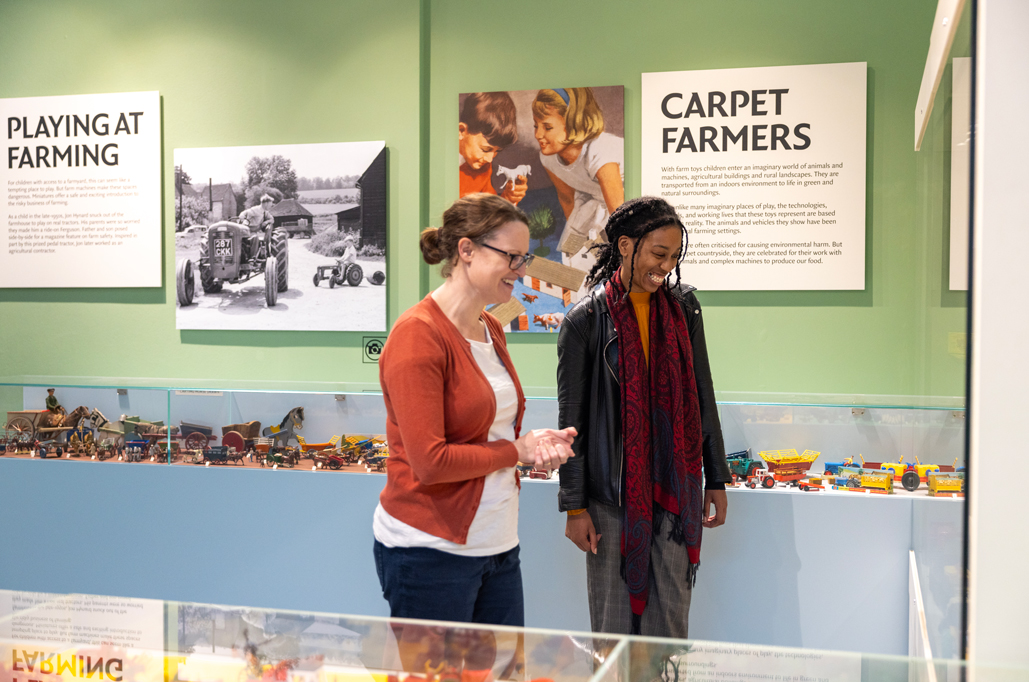 This new gallery has been developed to replace the Collecting Rural England displays, which told the Museum's own story. This was a tale of pioneering collectors in a period characterised by the mid-century transformation of the countryside. The shift of focus from museum history to farm toys may seem stark and blunt, but the same core themes of change and collecting still remain at the heart of this refurbished space.
Although the main purpose of the gallery is not to explore the biography of a toy collector, Peter's story does help explain the changing countryside. He grew up in a rural community in Norfolk in the 1950s and 1960s and went on to have a long, rewarding career as an archaeologist. This experience began with voluntary forays into digging as early as 1959, developed through a long period of professional fieldwork between the 1970s and 1990s, and culminated with him serving as founding Director of the Norfolk Archaeological Trust from 1999 to 2014.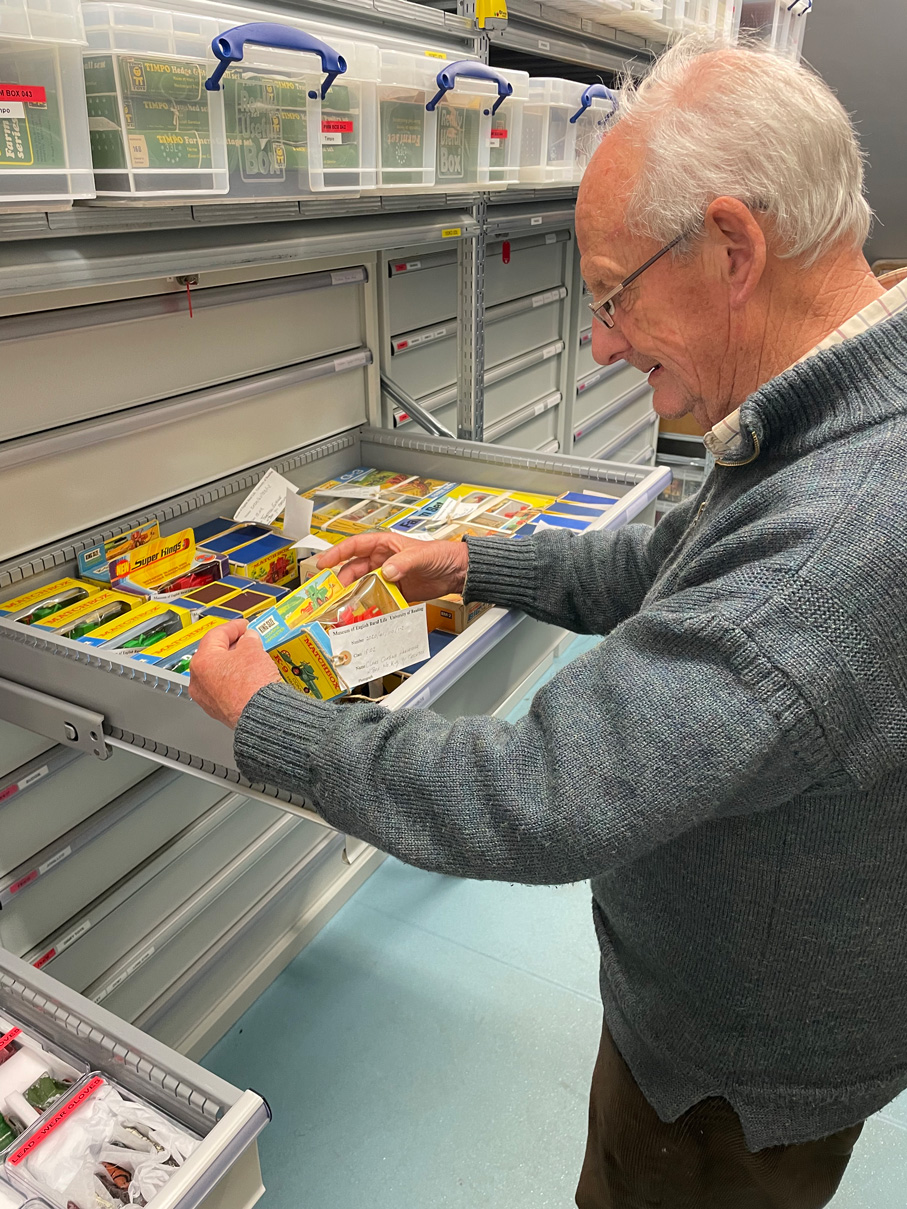 This combination of a countryside childhood and specialist knowledge of the impact of humans on historic environments gives Peter a unique perspective on changes to rural places, past and present. The farm toys he collected not only show the shift from horse-based to mechanised farming but also illustrate clearly the upscaling of farming equipment over subsequent decades. These same farm technologies became a threat to subsoil archaeological heritage during this period of tremendous change. As Peter noted in his biography
'My father, who was born in 1887 and lived until he was just over 80, once said that he had seen a complete transition in the countryside from the horse to the tractor in his lifetime and he could not believe that change could go any further. How wrong he has proven to be.'
Peter's extraordinary collection therefore serves as an amazing record of the kinds of equipment used by farmers over the course of the twentieth century, from horse-drawn carts, wagons, ploughs, and hayrakes, to tractor-operated trailers, balers, bale sleds, sprayers, and much more besides. And in particular, it tells the story of tractors and tractor development, which as another recent blog has emphasised, is a fascinating and complex story.
One major technical adaptation is explored in greater detail in Model Farming, and this is where Henry Ford makes an appearance. The only full-size tractor in the new gallery is our Ferguson TE20 or 'little grey Fergie'. It is displayed alongside a Ferguson demonstration model, which was used by dealers to demonstrate how the influential 3-point-linkage at the back of these tractors worked. Peter along with his co-authors explored the history of these very models in their series of 'Farming in Miniature' books.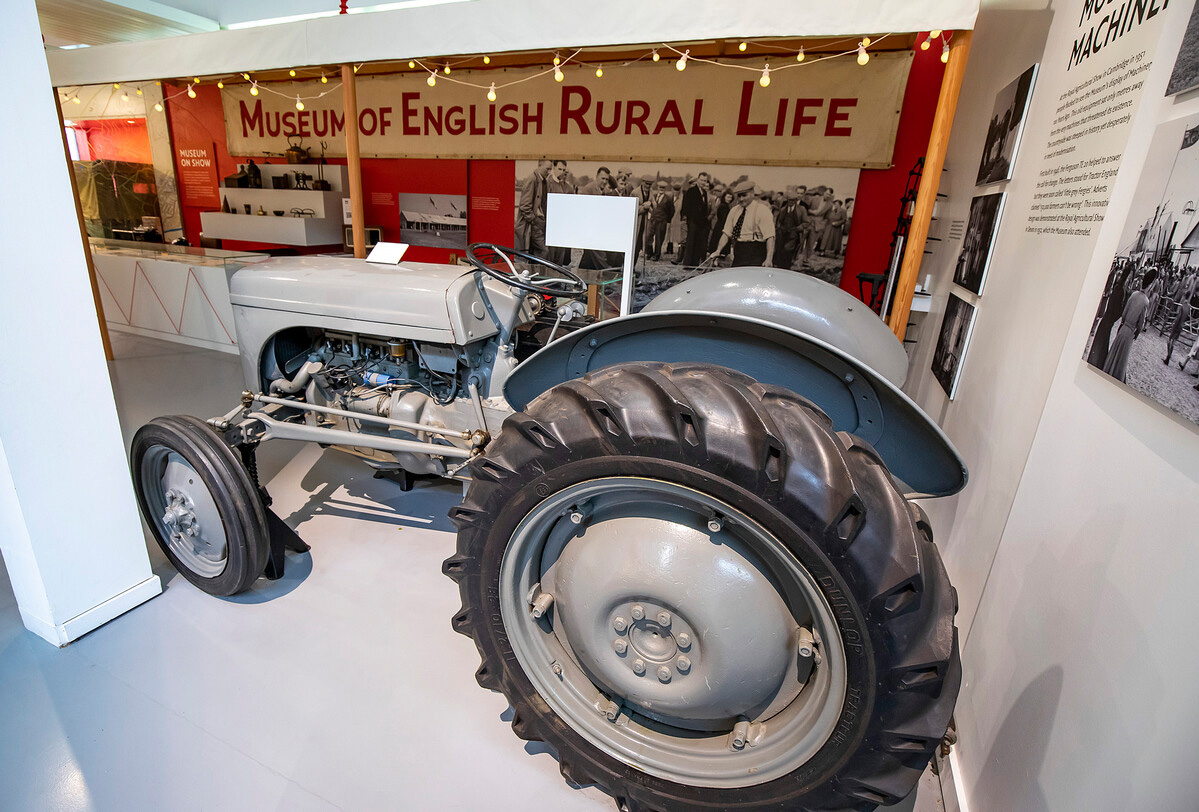 The first Ferguson demonstration model was a homemade device, made by the inventor of the 3-point-linkage, Harry Ferguson, to encourage Henry Ford to go into business with him. And what's more, the original demonstration model shown by Ferguson to Ford featured wheels borrowed from a Meccano toy tractor playset. A perfect example of toys playing their part at the heart of twentieth-century tractor development!
As well as capturing key mechanical shifts in the late-twentieth century, the miniaturised timeline on show in this gallery also demonstrates a range of technologies that accompanied post-war growth in agricultural productivity. These aren't always as nostalgic and cheering as toys imply. The so-called 'green revolution' of this period was marked by increased reliance on petrochemical interventions, from diesel-powered vehicles, through modified and homogenized crops, to artificial pesticides and fertilizers.
Some technical adaptations are also captured in other objects on display here alongside the toys. Glance up to see scale models from the 1951 Festival of Britain, which were used as part of a display charting the evolution of plough designs. And as you enter the gallery, a display case shows a small selection of scale machines made not for play but as teaching or demonstration models. From the nineteenth century through the mid-twentieth, models and miniatures were utilised commonly as a means of easily explaining the workings of large machines that were not portable.
We aren't all fans of farm toys and play tractors. But for those of us for whom building blocks were more important, or Barbie or even Ken, there will be surprisingly few of us who haven't ever played with a farm toy of some kind. From pedal tractors in the nursery playground to models of livestock in the primary school classroom, the story of farming has long been told in miniature and through the medium of play. The Model Farming gallery is also a chance for us to share some of these stories too, including that of the little girl mentioned above—Pippa Hughes—who donated her late-1940s 'carpet farm' to the Museum in 2010. Her collection has since been shared widely in exhibitions and her image now adorns the wall of this gallery, alongside Peter's extensive playthings. Her story echoes that of other children, also told in this space, and together their experiences show the diversity of ways in which people come to interact with these playsets.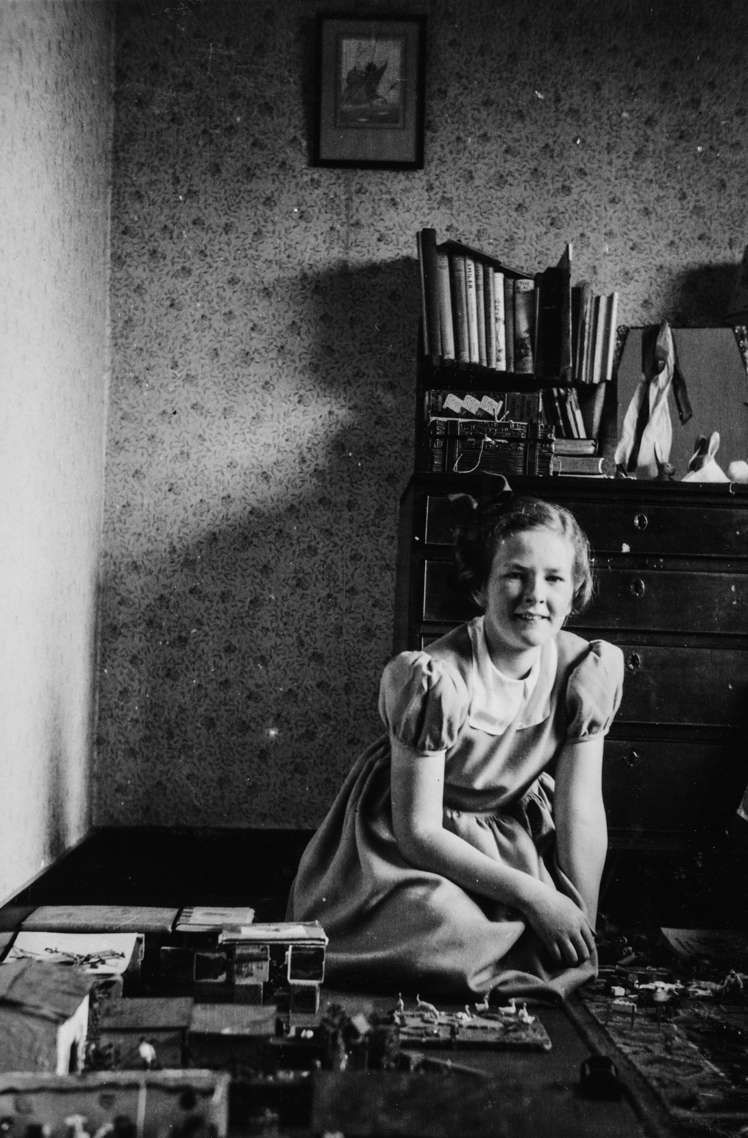 Alongside tantalising displays of Peter's carefully conserved originals, these is of course a chance for smaller visitors to get hands on with some farm toys in a play area. Here we also invite our audiences to share their own stories. Did you or do you collect or play with farm toys? What impact have such mini visions of farming had on your life? What do they mean to you? And, if you can't visit in person, here are some thoughts about handling and playing with farm toys at home.
The wonderful thing about toys is that the stories we can tell with them are malleable and multifaceted. As well as charting green revolution shifts in agriculture, Peter's collection illustrates neatly the changing technologies of toy manufacture over the same period. It sheds light on the fluctuating economics of a sector that thrived in the early-twentieth century but was dwindling by the early-1980s, when the last remaining manufacturing either shut or was moved overseas. The scope of this material is focussed on UK-based companies and makers
The national theme here is critical. It harks back to the previous gallery and the Museum's own history of focussing solely on the vestiges of English rural life. Of course, many of the same toys and technologies depicted would have been equally significant in other contexts overseas. For example,  I'm currently sharing details of our 'little grey Fergie' with colleagues at the National Museums of Kenya, where they hold an almost identical machine in Kitale and are keen to learn more. Similarly, during a recent trip to Nairobi I came across a wooden, handmade Massey Ferguson toy tractor, which proved irresistible to me, albeit outside the remit of the collection I look after. So, it's at home for now, to be played with occasionally by me, and awaiting new departures exploring the story of international farm playthings.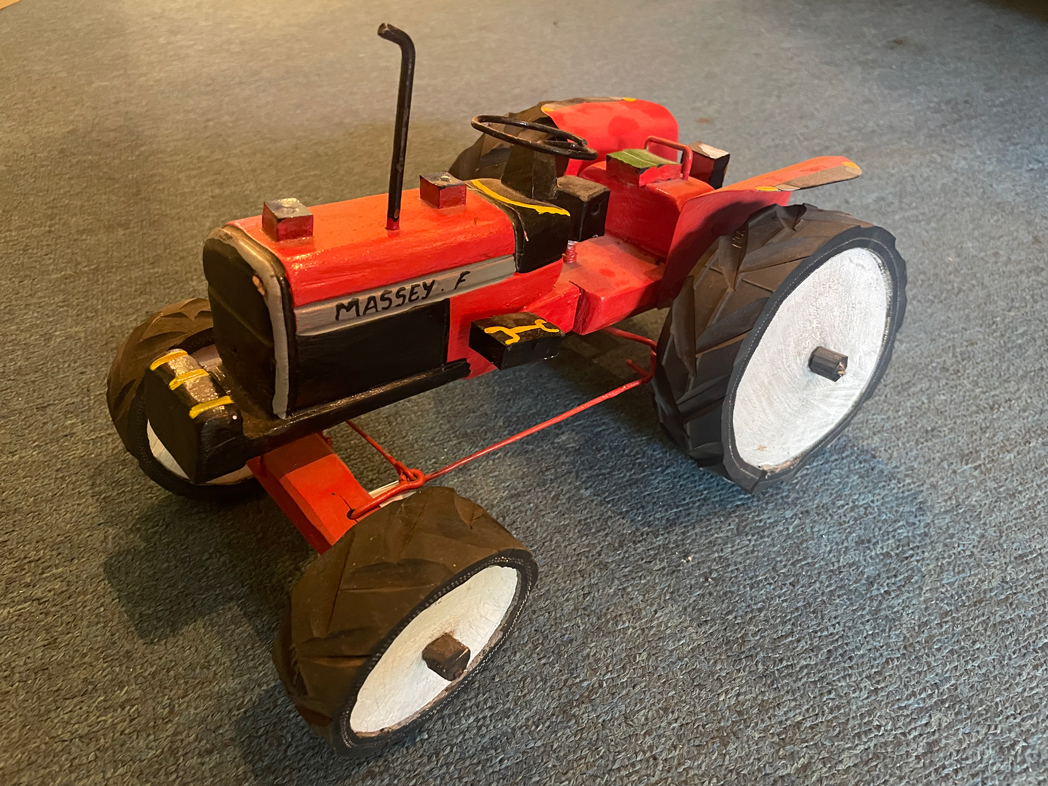 And future departures are also important here. The Model Farming gallery invites us to think about the past, about where farming has been, and about how we remember playing in the past. But it also urges us to look forward. After all, those playing with farm toys today may be the farmers and food producers of the future, and the technologies of farming continue to evolve and shift. Toy drones echo the modern range of commercial drones, including those used in livestock herding. An Australian company with a line of sustainable farming focussed toys has released farmer figurines with their own drone accessories. Another company now sells the world's first toy tractor produced from 100% recycled plastics. And many toy companies have continued the tradition of producing Women's Land Army figures, as revealed in examples on display, by producing other empowering examples of the female farmers of the future
Indeed, they may not be in our new gallery or in our collection, but it turns out that even Barbie and Ken are in on the game, as they are the proud agriculturalists responsible for the Sweet Orchard Farm. Ken ('anywhere else he'd be a 10') comes with his own piglet, and farmer Barbie boasts either a chicken coop (much like the one in The MERL garden), or a shiny red tractor that looks much like it has been based on an International Harvester Farmall. We can, of course, now double-check this identification by cross referencing our suspicions with toy and scale Farmall tractors featured within Peter's extraordinary reference collection.
So, please come and enjoy our new gallery, appreciate the extraordinary breadth of Peter's collection, have a go at carpet farming in our play space, and consider where the farm toys of the future could take us.
Share This Post :