Object Handling at Home – farm toys

In this post our curator, Ollie Douglas, introduces us to a new display of farm toys, helping us think about how farm miniatures are made and what they tell us about the world.
If we were in The MERL we'd be unveiling Playing at Farming, a new farm toy display. Since we aren't able to be there we're launching it here, online. Thanks to the generosity of collector Peter Wade-Martins, The MERL is now home to thousands of toys that help explain how farming became part of playtime. With one of the most extensive collections of British-made toy tractors ever gathered, playtime might take quite a while!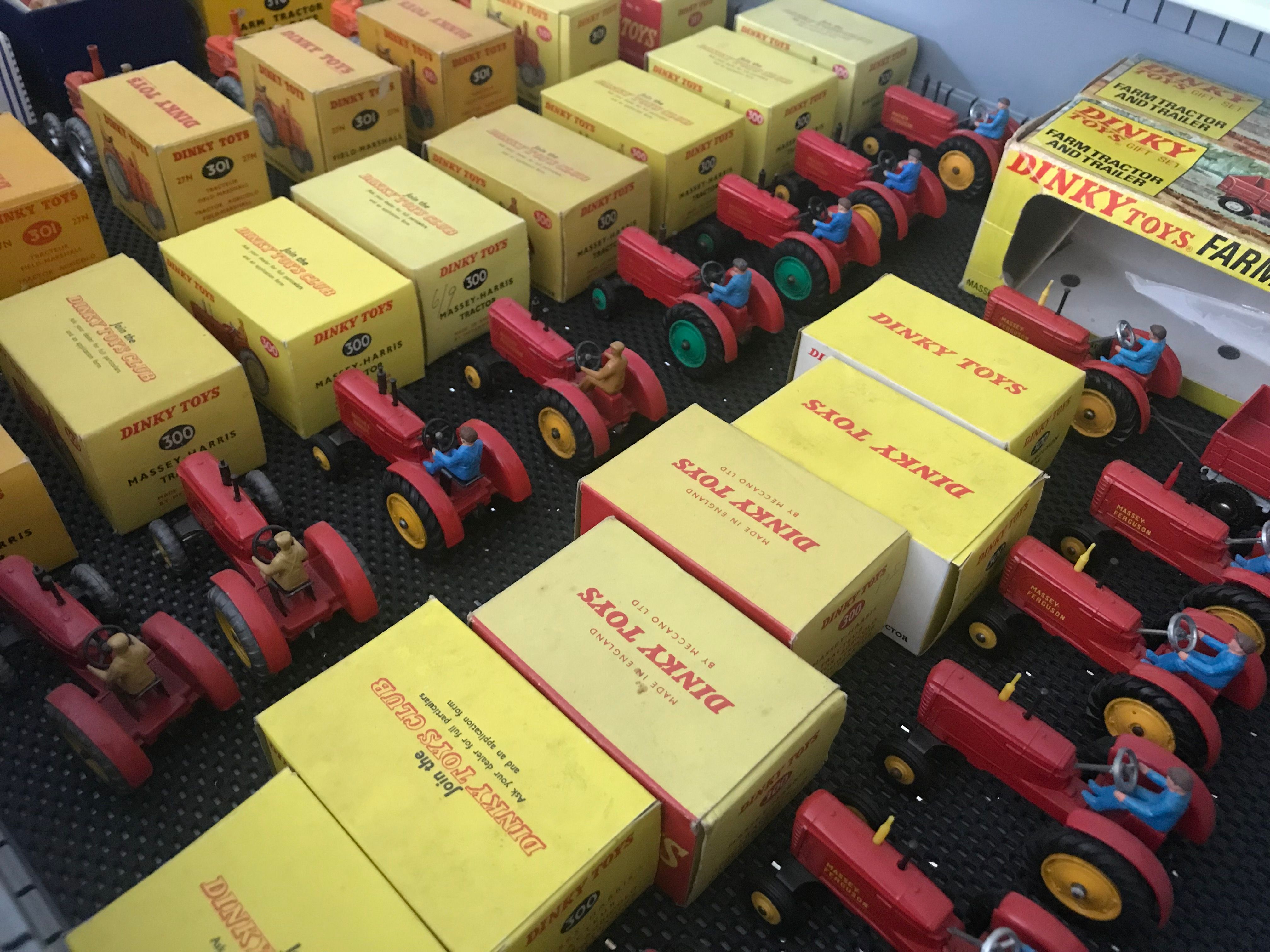 About this time last year, I joined collections colleague Maddie Ding and conservator Fred van de Geer on a trip to bring thousands of tiny farm toys to their new home in Reading. A year on and thanks to Fred's hard graft and Maddie's amazing 'lockdown' efforts, you can enjoy a careful selection in an online exhibition called Playing at Farming: A Journey.
There are some extraordinary highlights, including a simple 1920s example, one of the earliest toy tractors ever made. Not satisfied with highlights? Well, thankfully Maddie has created another, more detailed listing for eager enthusiasts called Playing at Farming: A Display. Both feature links to entries on our database, which features documentation of several hundred items that Fred and Maddie have worked their way through so far.
The items now exhibited in the Museum reflect the range of machines, materials, makers, and modes of play in Peter's collection. As we conserve and document more mini machines we will rotate the contents of the case. So, watch this space (and fear not, we won't swap the selection until you've had a chance to see them in person).
In the meantime, why not browse the displays online and we'll do a little object handling from home to get us thinking about what farm toys can tell us.
1. Let's start by finding a toy. If you have a pedal tractor or a farmyard set that'll do nicely. Maybe you can build a combine harvester using Lego? Perhaps you've got some pretend farm produce. Do you have a dollshouse that doubles as a farmhouse? Perhaps your favourite cuddly is a farm animal. You might even be lucky enough to have a toy drone or robot (don't worry, we'll explain these strange choices at the end!). If you haven't got anything farm-related just choose any toy and use your imagination.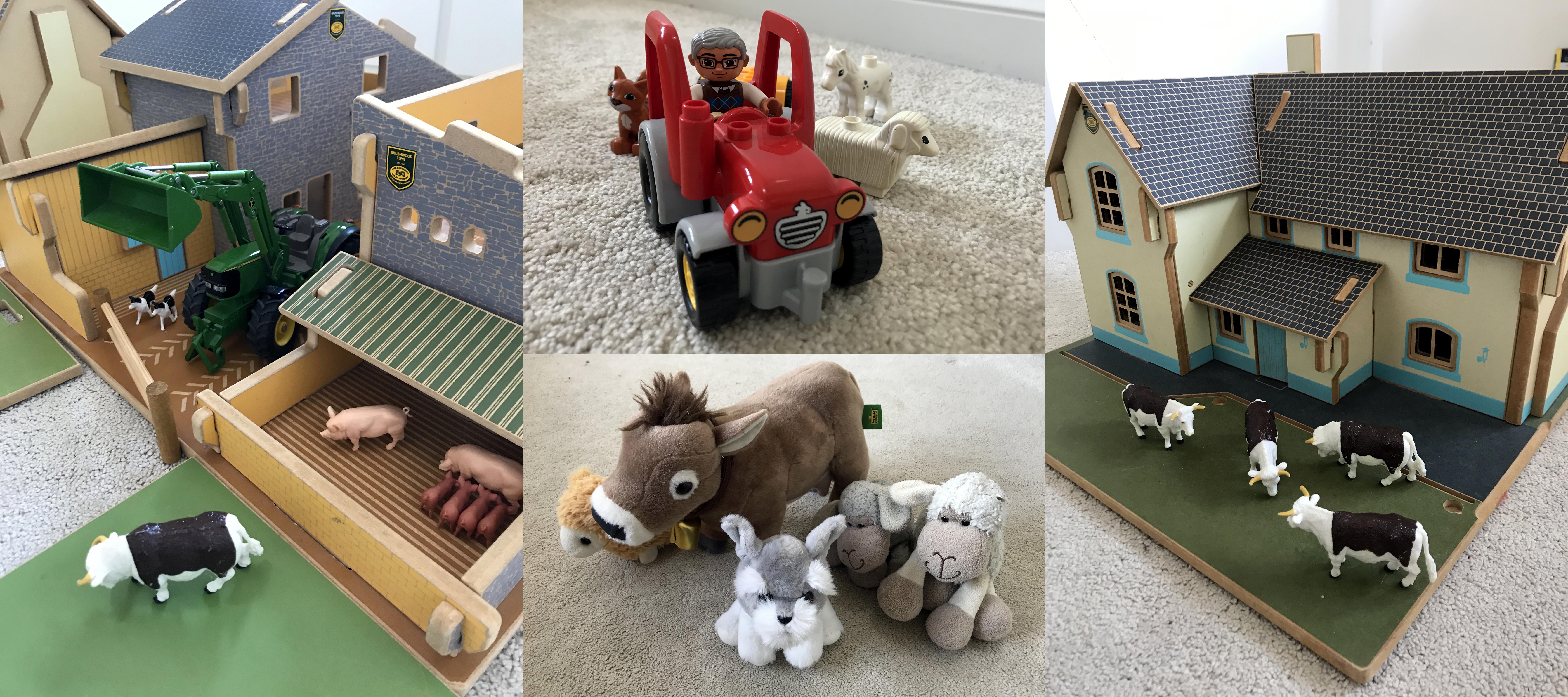 2. Think about how you came to have the toy you've chosen. As well as Peter Wade-Martins' amazing farm toys, The MERL collection includes a play farm that belonged to Pippa (Philippa) Hughes. In the 1940s Pippa spent her pocket money on farm toys and asked her father to make farm buildings. Among the early lead and die-cast toys are a handful of plastic examples that weren't available when Pippa was a child. This is a clue that her children and grandchildren also played with them. Have a think about your toy? Did you save up for it? Was it a gift? Was it new or second-hand? Perhaps it belonged to someone else before you. What exciting stories could your toy tell?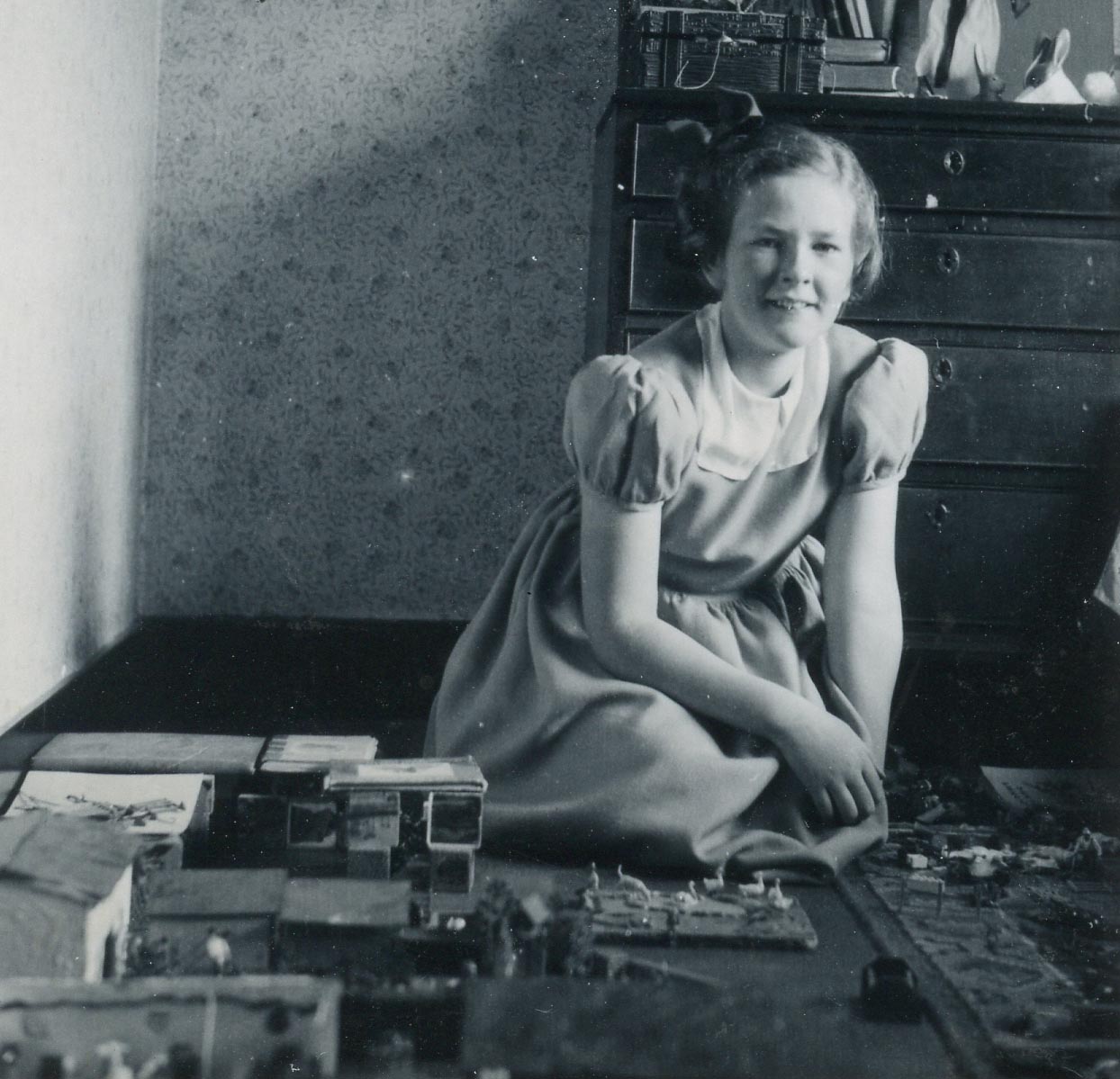 3. Now let's think about where your toy comes from. Who do you think it was made by? Do you think they had seen an English farm? Do you think it was made by hand or in a factory? Was it made in the UK or elsewhere in the world? Look at the base or at any labels. What do they say? Like much of the food we eat, loads of the toys we play with are made in other parts of the world. Peter Wade-Martins collected toys made in Britain but after about 1980 most toy manufacturing moved overseas. Your toy is probably more recent that those in The MERL. In other words, we might have several thousand farm toys but you've almost certainly got something that we haven't got!
4. What material is your toy made from? Some early farm toys were made using natural materials. For example, the new display includes a horse made from animal skin. Playset bales once made from straw now tend to be plastic or wood. Close your eyes and feel the surface of your toy. Do you think it feels like the thing it represents? In a push for durable, safe, hygienic toys, most are now made from different materials to the real-world things they show. Explore the online exhibition and you'll find plastic, lead, tinplate, rubber, wire, wood, and more. How many of these materials are recyclable? Will your toy be recycled or will it find a new chapter to its story?
5. So, what does your toy show. Work tools, clothes, animals, and accessories have long been recreated for play. They are made help us learn about key worker roles, helping us to imagine what it might be like to be one the amazing people who feed us, clean our streets, deliver things to our doorsteps, prepare our food, keep us healthy, and keep us safe. Toys help us learn how the world works and allow us to get a little bit more hands-on with real life. Have you ever helped do a job like the one your toy represents? Do you think it would be hard work?
6. Some old toys have small parts. Others are made from poisonous materials such as lead. Others still have sharp edges or points. In contrast, today's toys conform to strict safety rules. Are there any mentions of safety on your toy? The mark 'CE' would mean your toy meets particular standards. Model farm machines can help us think about risk. We can look at moving parts and imagine how they might be dangerous in real life. As this animation shows, farming is a risky business. Some farm toys are actually designed for health and safety reasons. This image from our archives shows a boy on a pedal tractor. His father built this toy for him so he wouldn't play on real machines.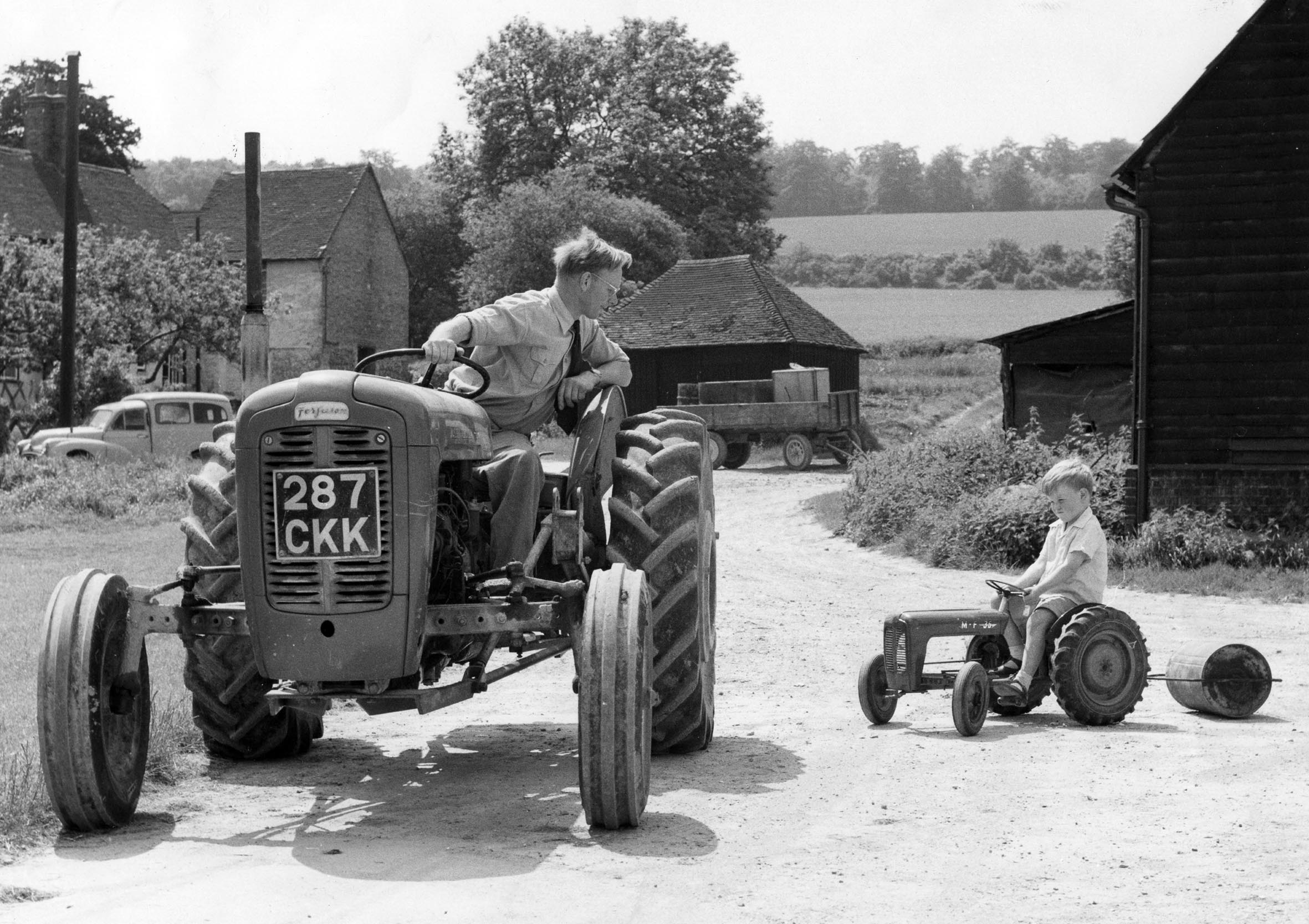 7. What bit of the farming story does your toy tell? Would it play a part in the field, on the fork, or somewhere in between? If it's a farmhouse or farmer, it might help us think about the lives of the people who produce our food. What would it be like to be in lockdown on a farm? Are people who live in rural places more used to feeling isolated? If your toy is a piece of pretend food, it was probably meant to make you think about cooking not crops. Take a moment to think about where your food comes from and who has played a part in growing it and harvesting it.
8. Now, let's have a think about size. Is your toy a tiny version of something from real farm life. During the interwar period model villages and railways – like Bekonscot or Pendon – and collectors began to capture rural life. Toy soldiers reminded people of the horrors of the First World War but farm toys grew in popularity. Few people had space for a model village or railway scene but anyone could find room for mini livestock or miniature wagon. Size was a key tho the popularity and the magic of 'carpet farming'. It also meant that toy farms had a tendency to be quite nostalgic, for an untouched rural England. Is your farm toy realistic? Does it echo real life technology and hard graft, or does it hark back to an earlier time.
9. Finally, as farm machines have grown larger, farm toys have evolved to reflect shifts from horse to tractor, reaper to combine harvester. Farm toys help chart changes and mean The MERL can collect, discuss, and display lots of diverse machinery from many different time periods without the need for vast amounts of space. But what about the toy drones and robots mentioned earlier. Well, these echo more recent changes in farming. As some companies are producing ever larger farm machines, others like the Small Robot Company are moving in the other direction, using automated technologies to cultivate crops. Many farmers worldwide now check their livestock by drone.
So, what do our farm toy futures hold? Will toys still be mini versions of massive machines, or will technologies and toys grow closer in size as robotics find a place in farming? Might your playthings end up in a museum like The MERL, helping to tell the story from 1980 to the present day? Perhaps you and your toys will help tell the carpet farming story from here.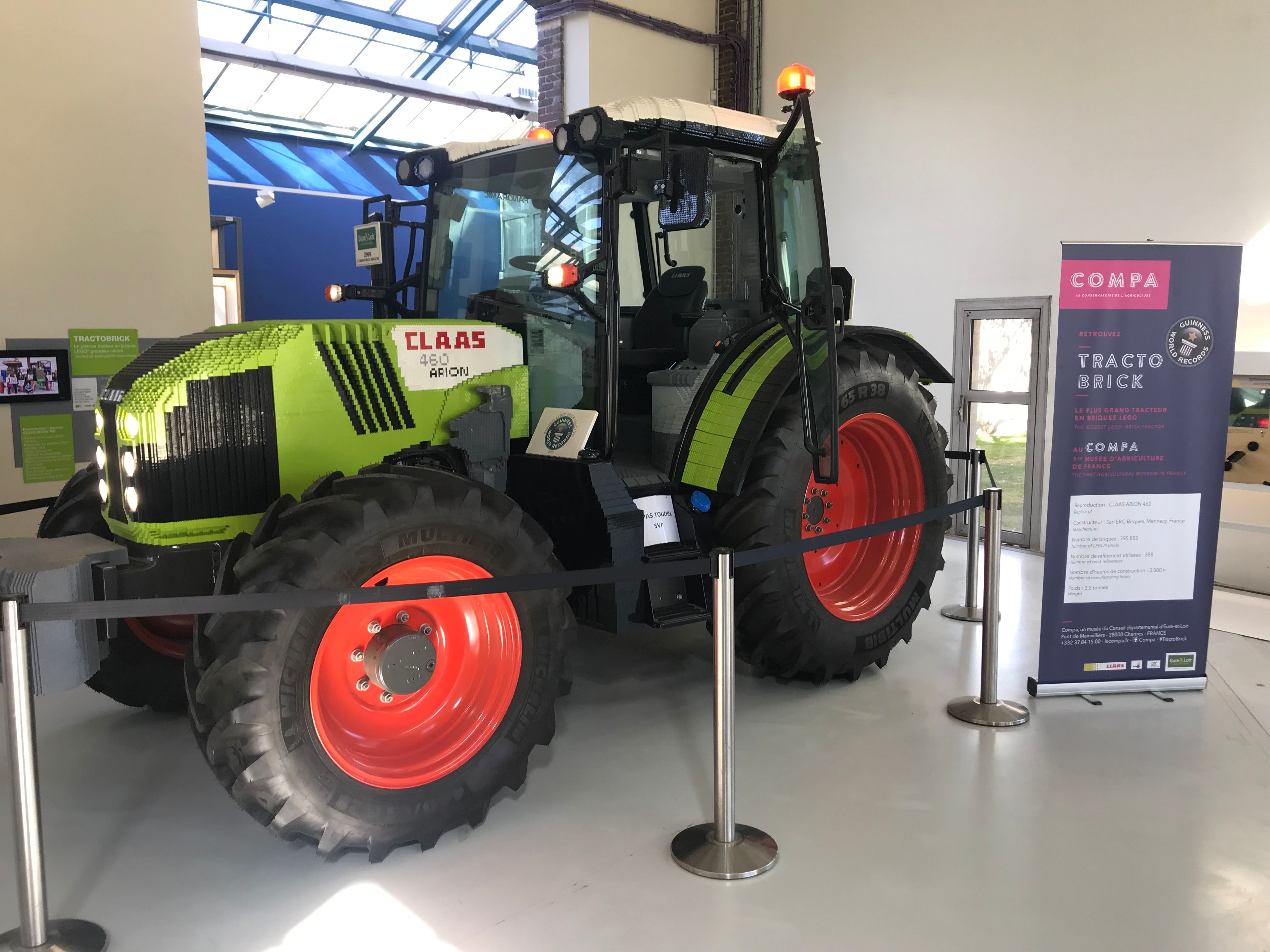 Did anyone build a Lego farm vehicle? At Le Compa museum of French farming they recreated a full-size modern tractor using Lego, alongside the older farm machinery in their collection. If this is a bit too much why not try animating your toy, using your carpet farming world to tell a story of change on the farm?
Share This Post :