51 Voices: A very special collaboration
Learn about the creative collaborations made for 51 Voices, our 70th anniversary exhibition.
This January, The MERL embarked on 51 Voices, a new year-long project celebrating the museum's seventieth anniversary in 2021. Throughout the year, we will be working with a range of writers, artists and different communities to give contemporary voice to fifty-one objects and archives in The MERL collection connected in myriad ways to our founding year.
In this monthly roundup of our 51 Voices work, join us as we reflect with six artists on some of the fifty-one objects which were given Voice through creative collaborations with different communities, exploring how these objects are resonant in our lives and changing world today.
As part of 51 Voices, we invited local communities and Reading-based creative practitioners to work together to respond to some of The MERL's earliest collections. In this way, we are working with twelve artists throughout our anniversary year, one for each month of the year. Here, we share the brilliant co-created work that they have produced so far.
borne
A collaborative storytelling project, borne was produced by artist and researcher Beatty Hallas with eleven women who had home births during the COVID-19 lockdown. For their work, The MERL's collections provided fascinating insights into changes in rural healthcare and birth experiences. Beatty, inspired by 51 Voices object #16, Obstetric Forceps (tongs used to pull a baby from its mother), and drawing on her own family's history of home birth, explored with new mothers their experiences of home birth at an unprecedented time for modern midwifery, and worked with them to present their stories.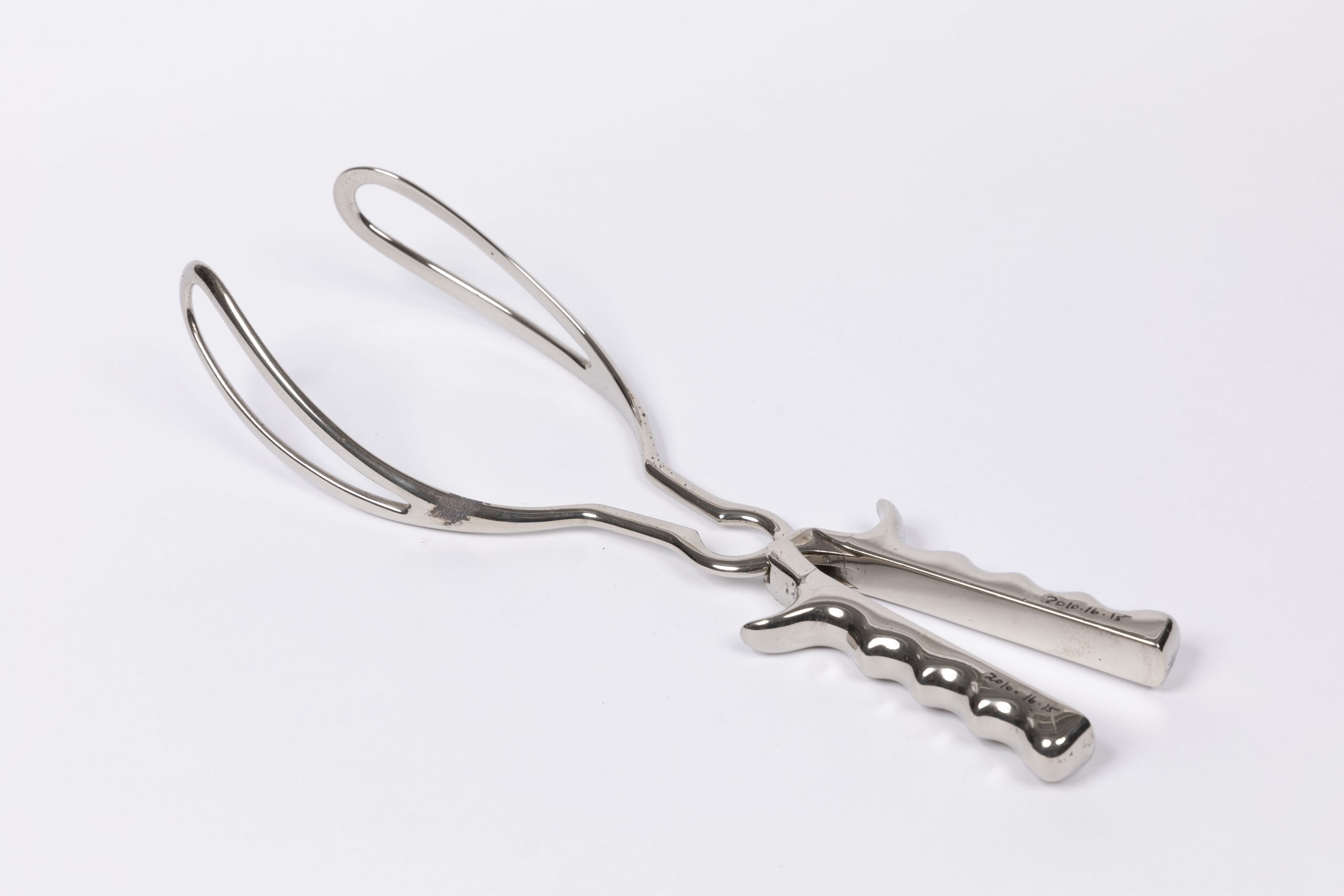 As Beatty reflects:
These conversations were punctuated with laughter. Uplifting episodes of recognition and triumphant realisation, despite being amongst complete strangers. Stepping between absolute clarity of emotion and grasping at vocabulary for sensations unexpressed. I am grateful to them all for sharing their resolve and joy. We send these insights on to fortify and enthuse those who wonder about home birth.
Life to Biodiversity
Our second piece, Life to Biodiversity, is a collaboration between illustrator Maisy Inston and thirty student participants from years 7 and 8 at Reading Girls School. They used 51 Voices object #14, the Death to Pests poster, as the starting point for a co-created artwork entitled Life to Biodiversity.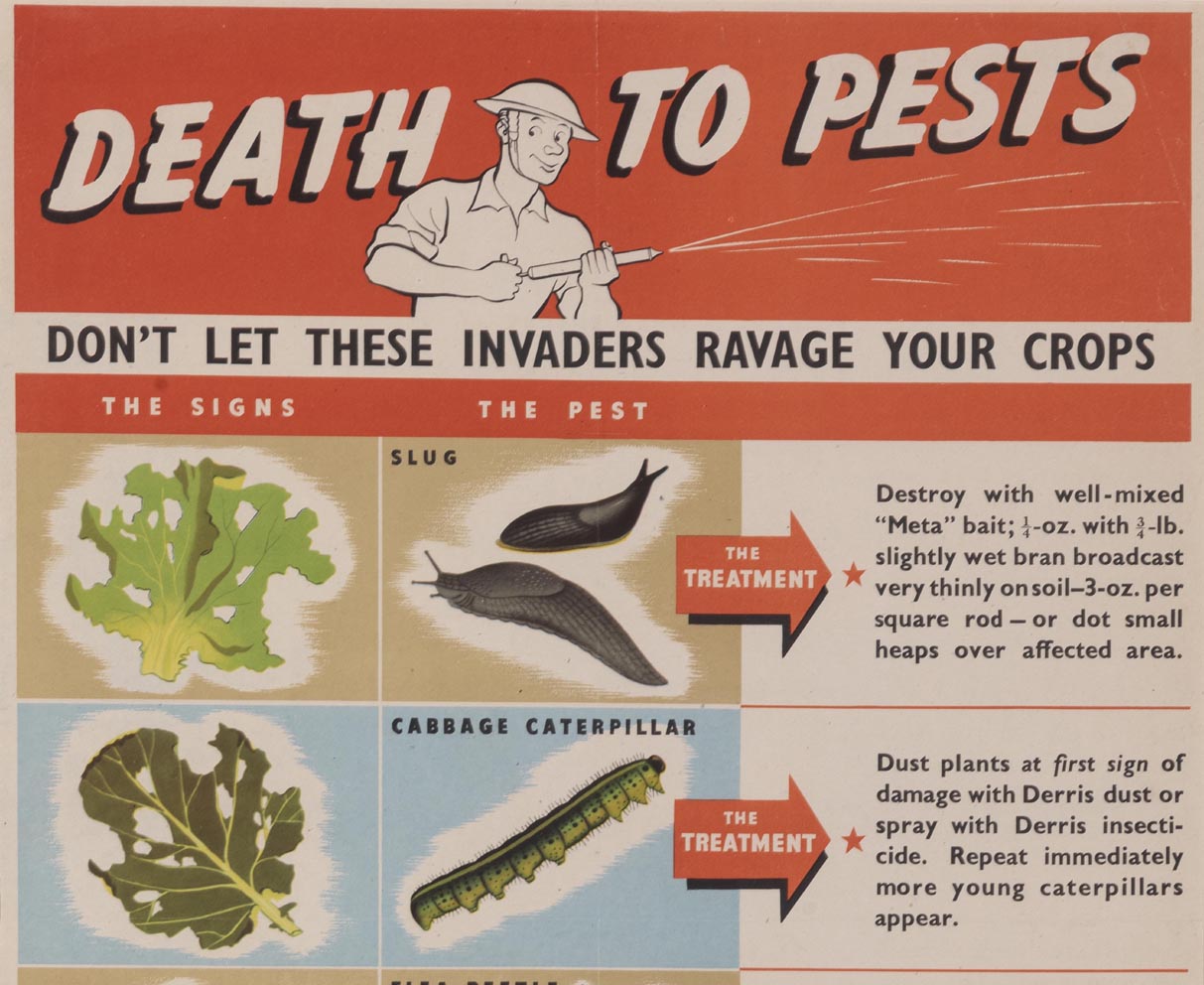 This fantastic response flips the original Death to Pests poster – published and used by the Ministry of Agriculture and Fisheries in 1951 – on its head. In the place of pesticides are pest-controlling species, looking towards natural (not chemical) solutions for protecting produce. The artwork shows how we can use our knowledge to protect food security in the face of adversity. By replacing the 1950s soldier with a masked ICU nurse, COVID-19 bears a stamp on the final piece and provides a historical context.
This has been immensely enjoyable, and I feel the final piece communicates the messages we discussed in the sessions. I hope that I have transferred my enthusiasm for the natural world and inspired the students to have a greater appreciation for the all the bizarre and over-looked species we share our habitats with.
Black Eyes and Lemonade
A collaborative projection-mapping piece, Black Eyes and Lemonade takes its title from an exhibition of the same name that was on show at the Whitechapel Art Gallery in London during the Festival of Britain in 1951. In fact, 51 Voices object #32 is the exhibition's catalogue. The artistic response was created by Jessica Starns with students and volunteers. Jessica is the founder of charity Dyspraxic Me, an organisation for young dyspraxic adults, and is passionate about making the arts and heritage sector accessible and inclusive to all.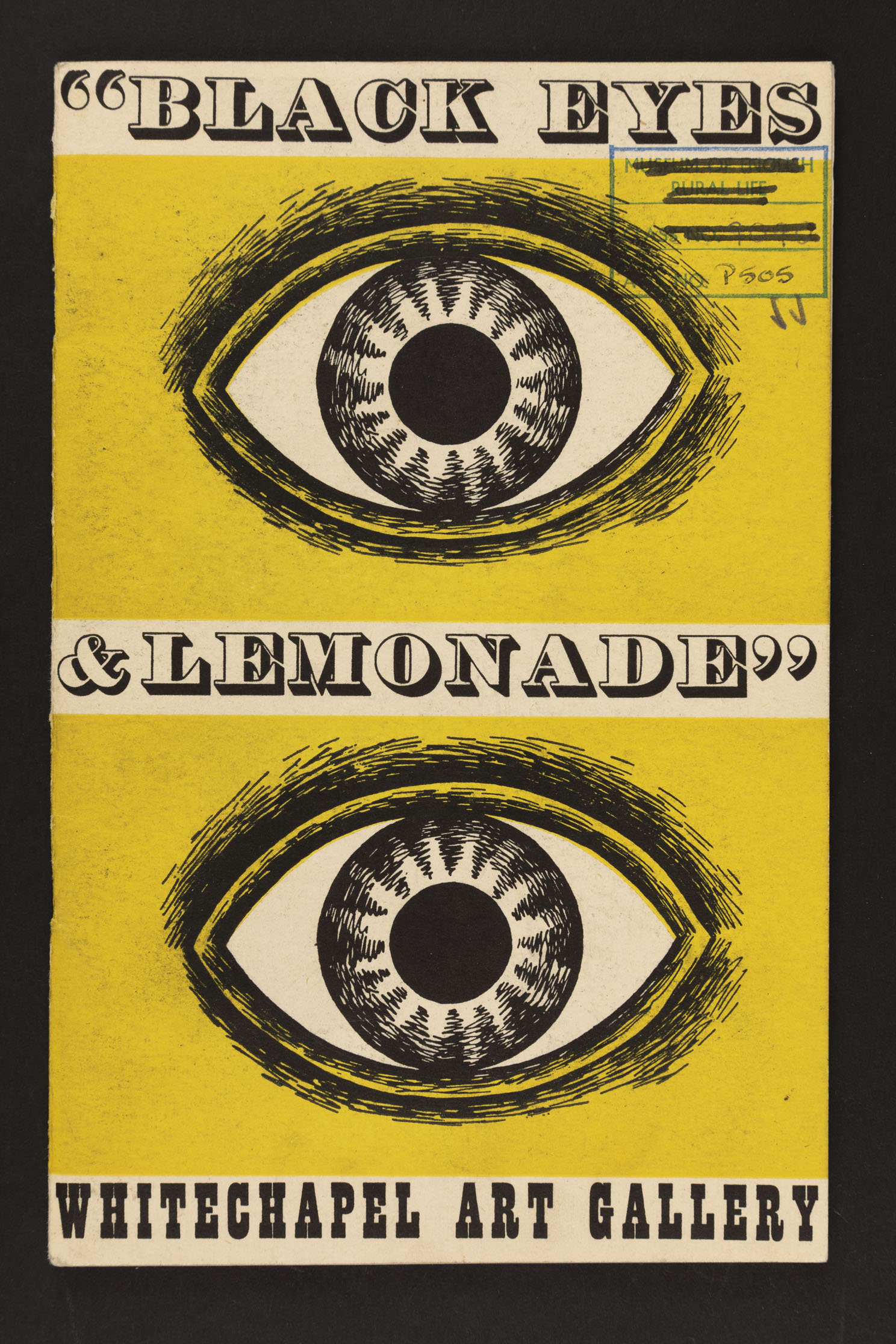 Through photography and projection mapping, participants were encouraged to explore 'unsophisticated art', a concept borrowed from Barbara Jones, the curator of the original 1951 Black Eyes and Lemonade exhibition. Jones presented everyday objects made in Britain, normally excluded from museums and art galleries. This provided a starting point for participants to consider what, and perhaps who, continues to be excluded. Photographs were taken of everyday objects with the final piece focusing on images of both eyes and typography, which featured prominently in everyone's work and perhaps subconsciously referred back to the striking graphic on the front of the catalogue.
View the Black Eyes and Lemonade creative response.
Belongings
A collaborative film, Belongings explores the theme of 'home' and was made by visual artist Heather McAteer and a group of individuals who, like Heather, had left their place of birth and settled in Reading. The work engages with wider issues of representation within social and cultural histories and unspoken or denied narratives. An item from a founding collection of The MERL – object #22, Sister Lavinia, a series of photographs from the private museum of Lavinia Smith – was selected as the film's creative stimulus, for its strong connection to the theme. The group focused further on the personal and handmade nature of an embroidered sampler from the Lavinia Smith collection. The letters and numerals are stitched in black thread on a cream background, with the words 'Mary Rose – Norwich – Aged 8 years'. The participants, from national and international beginnings, all contributed a hand-written letter dedicated to their place of birth, an object which reminded them of home, and a word which defined their connection to this chosen object.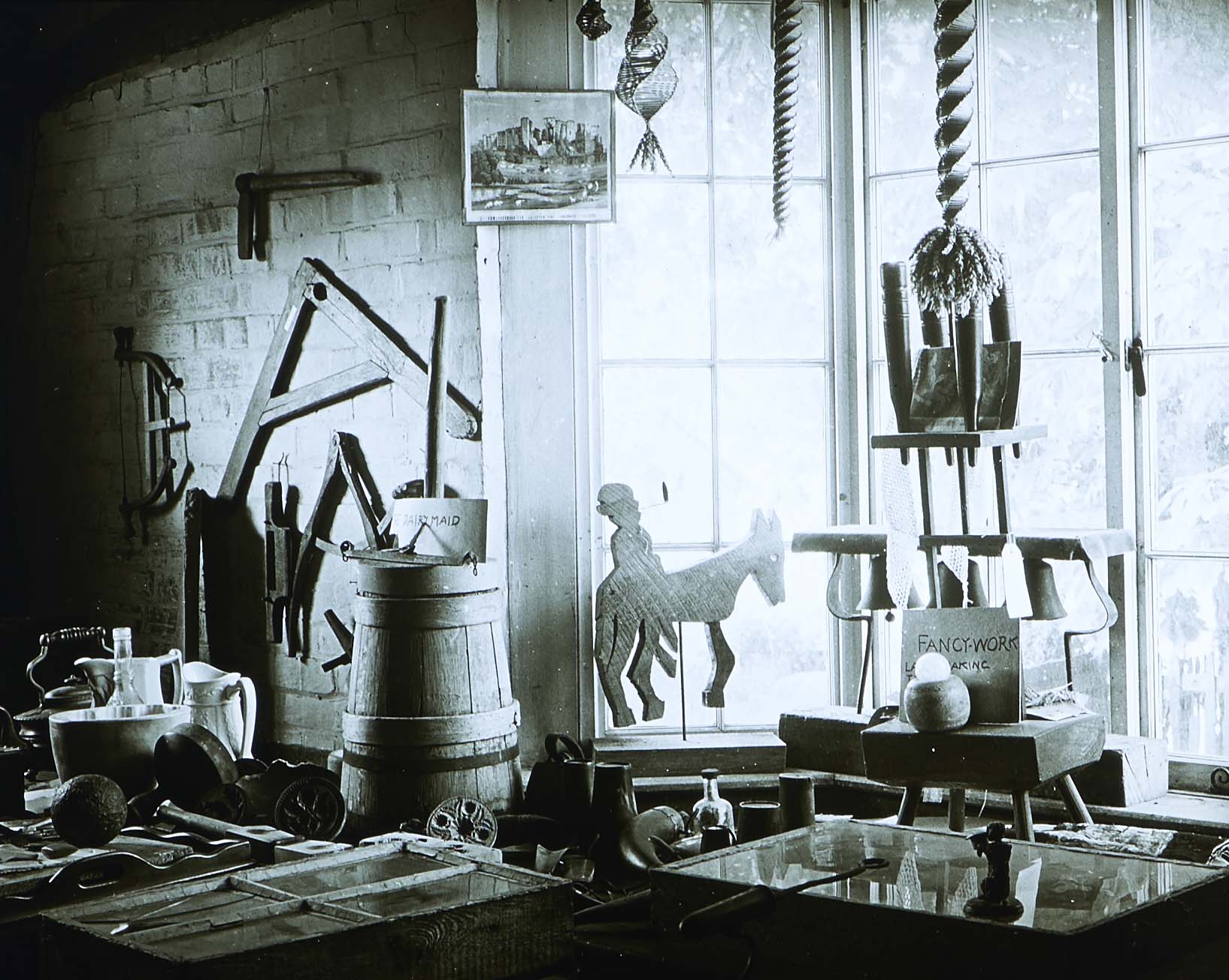 Imagining Histories
Artist and illustrator Linda Newcombe worked with families and volunteers to think about how objects from The MERL collection might connect to, or create, folklore. Linda encouraged participants to look at museum objects in a different way and through drawing and creative activities they pondered on how the items were used and who used them. They were invited to create a backstory for objects to bring them to life again, and the suggestions provided the basis for a narrative which accompanies the illustrations, with added details suggesting an alternative reading. The final result was Imagining Histories, a series of wonderous wonderings of what might pass from now into the future.
Linda chose three utility objects which had a partially known past, including two obsolete objects that were once in daily use to bring a 'sense of mystery'. As Belongings above, these all came from the Lavinia Smith collection, which was brought into The MERL both at the point of the museum's inception yet long after the end of these objects' working lives.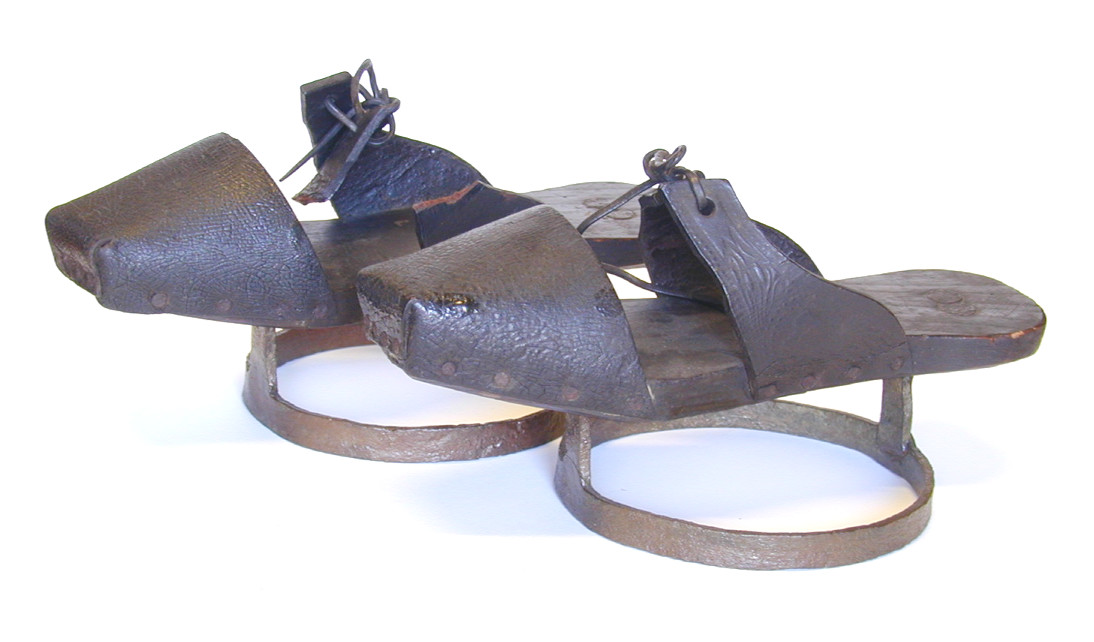 These objects were described in the museum catalogue by material, use and ownership but almost everything about their uses and working lives is lost. I wanted to create a more significant past for them so that they could be given some new attention and take on an interest and a voice they might not have known so they may move out of the past and into the folklore of the future.
The objects were:
Miss Belcher's Pattens. MERL 51/700/1-2.
Andrews' Dog Collar. MERL 51/858.
George Collet's Pocket Candle Holder. MERL 51/888.
Farmer Arthur's Paper Theatre
Farmer Arthur's Paper Theatre
was a collaboration of visual artist
Lisa-Marie Gibbs
with seven residents (and support staff) of Downshire House, a home that support and nurtures adults with learning difficulties, autism, challenging behaviour, and other complex needs. It even sprung into an online exhibition of its own. The artists were inspired by
51 Voices
object #11,
The Country Year
. This consists of five preparatory artworks by Barry Evans and William Kempster, held at The MERL, which were originally part of a wider set that was reproduced at a larger scale (on a 'merry-go-round' display) at The Festival of Britain in 1951 (and named
The Country Year
).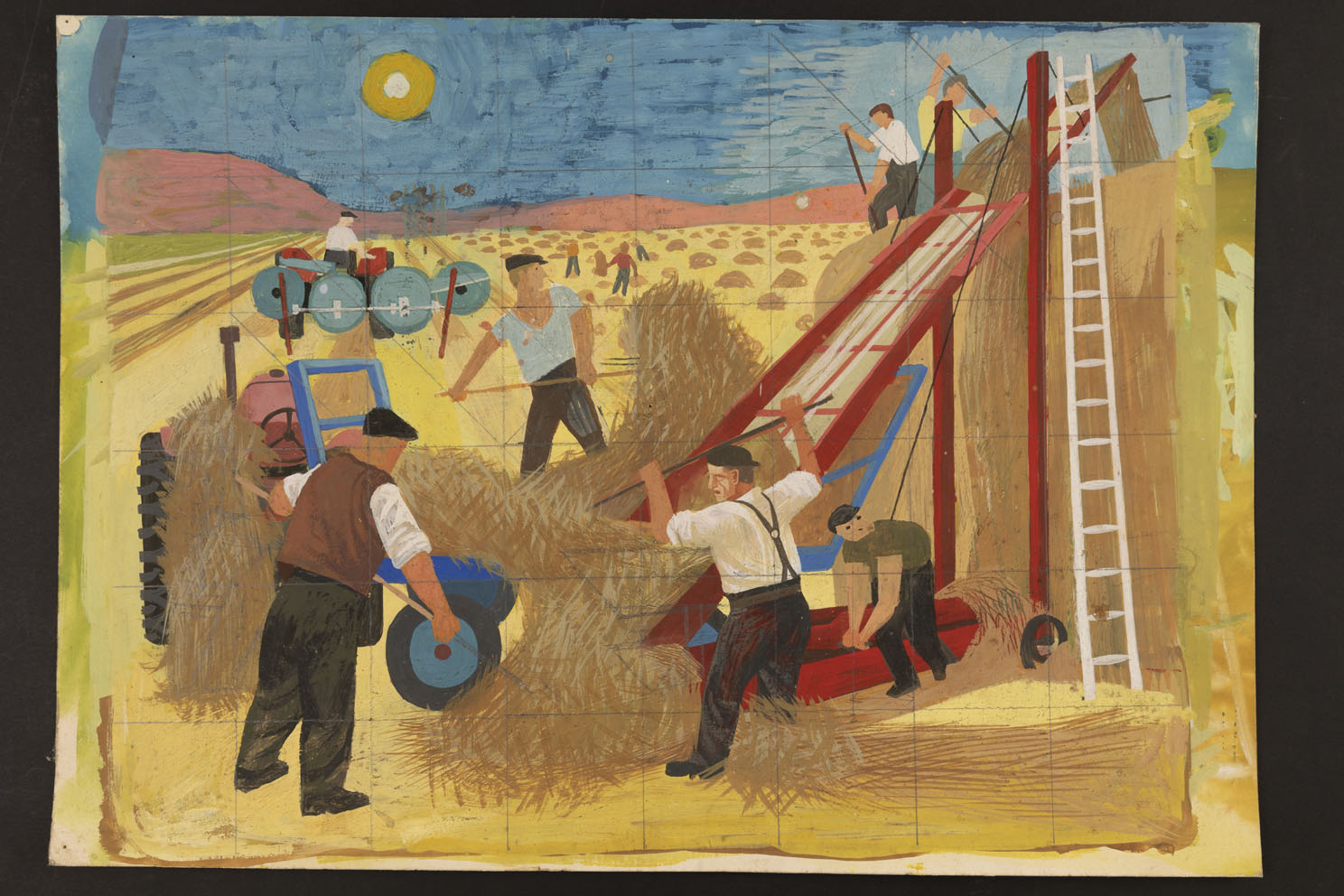 Lisa-Marie and the Downshire artists were drawn to The Country Year's rich depth of colours, the animation within the works, and how they vividly portrayed the changing of the seasons. Elements of play, improvisation, and storytelling were key in bringing the paintings to life and making them accessible in this theatrical carousel of their own. They took artworks that live in a box at the museum, and reanimated them with a touch of Elvis, a lot of joy, and a guest appearance from our very own absolute unit.
Lisa-Marie echoes our thoughts about all these creative community collaborations as she shares her experience:
This has been a very special collaboration… we wanted to look at how we find accessibility in museum collections to create a piece that shares important and special voices… museum collections and art galleries (can be) a constant source of inspiration, whether physical visits or through books, websites or objects. This has been a truly joyful process, the beauty of how we share stories and then how we create a piece of work that becomes a portal for another story or re-telling.
With many thanks to all the artists and communities who worked together during lockdown and challenging times to produce such extraordinary co-created work. And thanks to the University of Reading Diversity and Inclusion team, Arts Council England and the Government's Culture Recovery Fund – and our volunteers and colleagues across University of Reading's Museums and Special Collections Services – for making all this possible.
Share This Post :