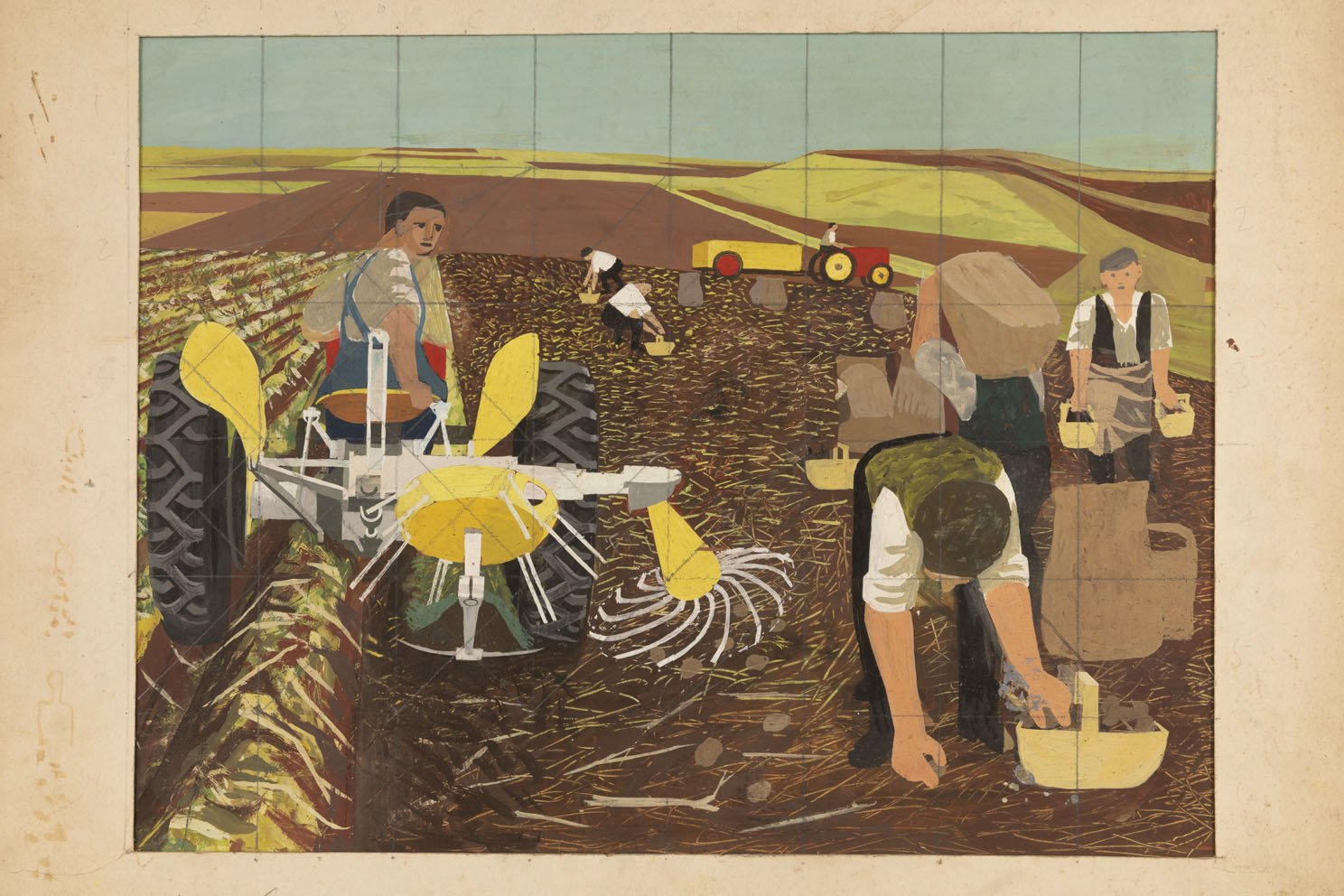 The link to 1951
Lisa-Marie chose to respond to a series of artworks produced by Barry Evans and William Kempster in preparation for an exhibit shown in the 1951 Festival of Britain. This image shows one of five of their original designs now held by the Museum. This one shows potato harvesting. Click on the link below to find out more and to see the others.
MERL 2019/7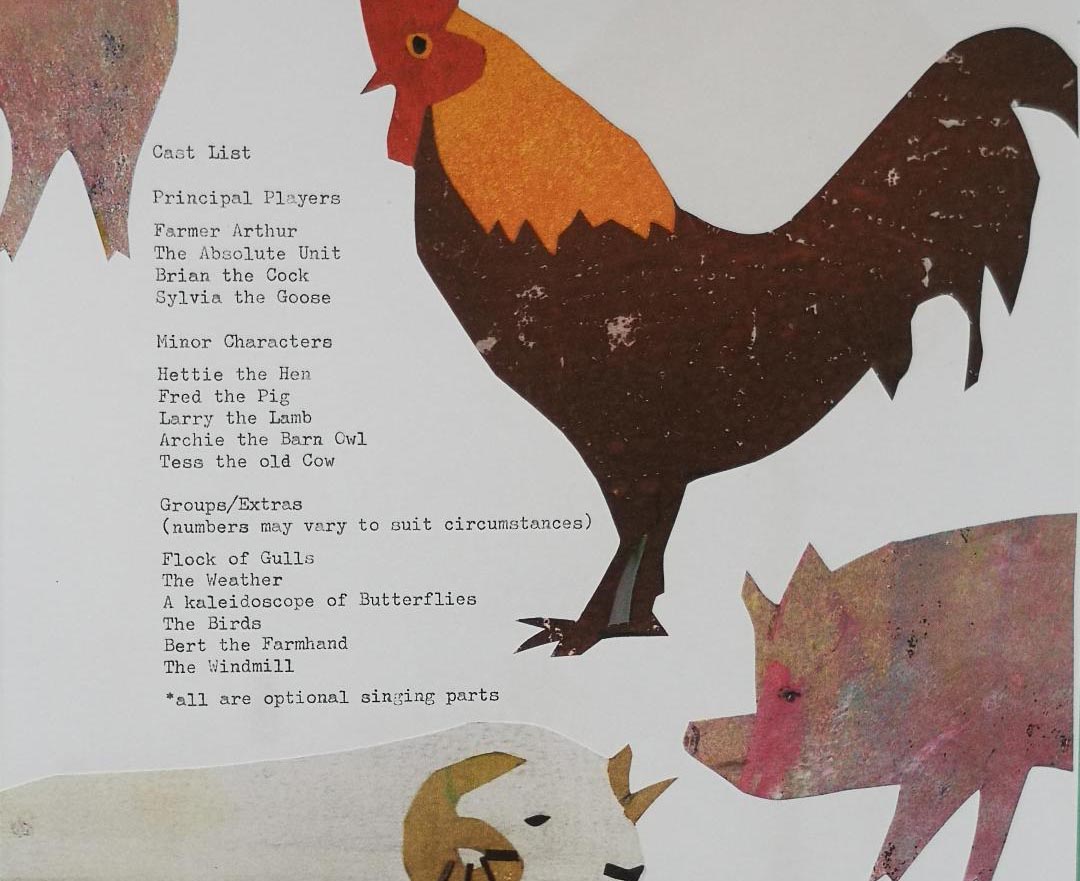 A colourful cast
With the creative support of Lisa-Marie, this vibrant Festival artwork served as inspiration for seven residents (and support staff) from Downshire House, Reading. As Lisa-Marie put it:
'I had the great privilege to work with the wonderful residents of Downshire House, a home that support and nurtures adults with learning difficulties, autism, challenging behaviour, and other complex needs… We were immediately drawn to the colours so rich in depth, the animation within the works, and the changing seasons. The element of play, improvisation, and storytelling were key in bringing the paintings to life and making them accessible.'
Image and Words © Lisa-Marie Gibbs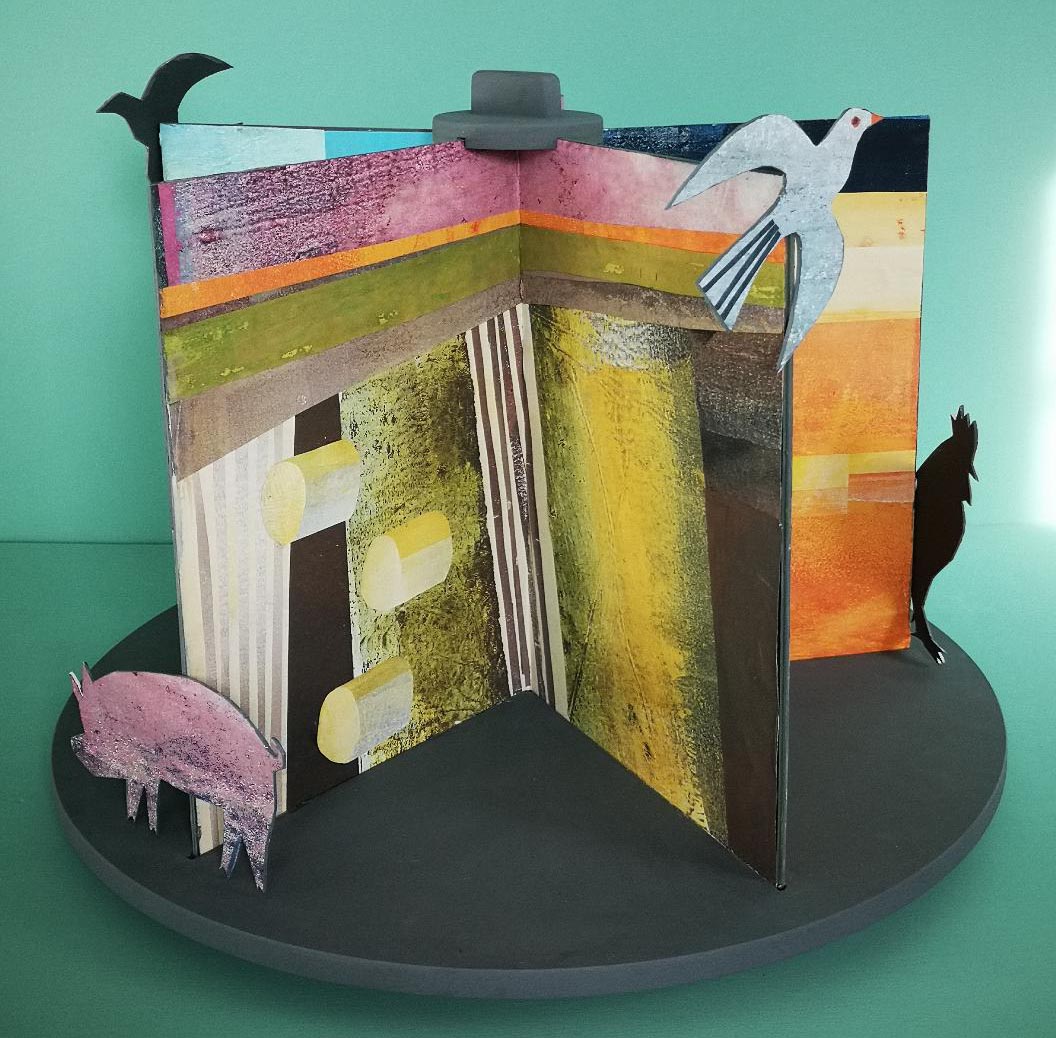 Take a bow, Lisa-Marie
Lisa-Marie describes her motivations and outlines some of her previous project experience:
'My work as an artist facilitator has led me to engage with fragile communities, both locally and internationally over 24 years. I have worked in conflict zones with people displaced by war, in prisons, various mental health settings, with the homeless, soldiers living with PTSD, people facing extreme physical disabilities and multi complex needs, and on regeneration projects. This work has had a far-reaching effect on my own creative practice and continues to influence my every creative intervention.'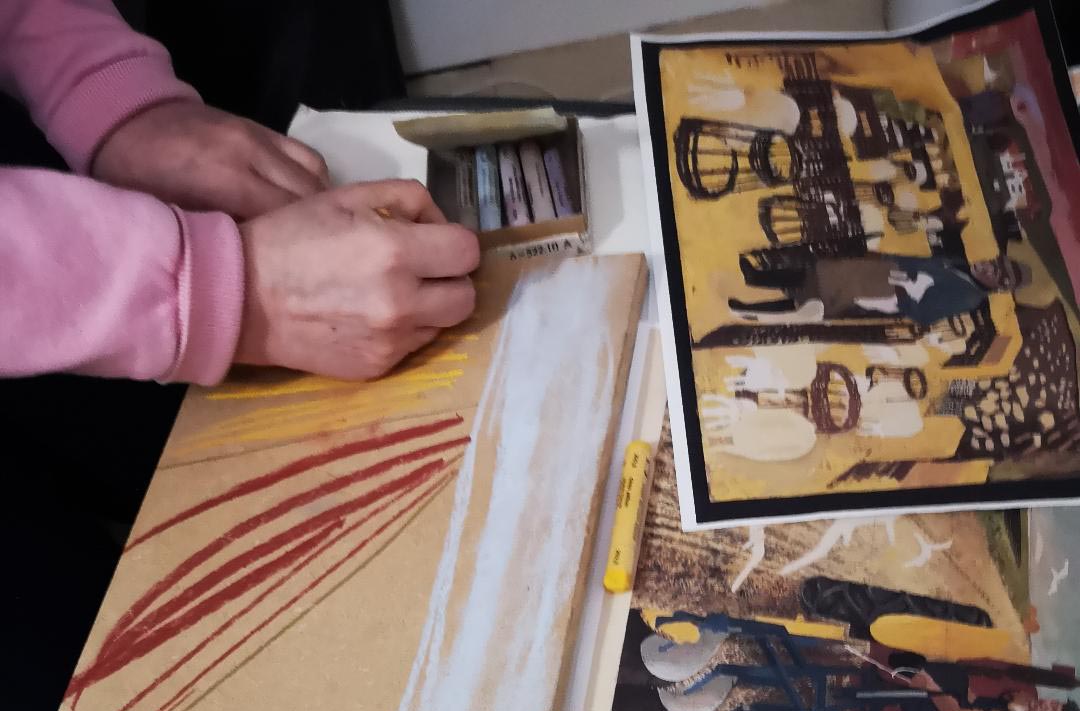 A beautiful challenge
As Lisa-Marie puts it, 'this has been a very special collaboration':
'I wanted to work alongside the artists at Downshire to look at how we find accessibility in museum collections to create a piece that shares these important and special voices. There was a beautiful challenge of how we would create extra sensory pieces inspired by the original paintings and how the residents would be involved in of every part of the process… This has been a truly joyful process, the beauty of how we share stories and then how we create a piece of work that becomes a portal for another story or re-telling.'
Image and Words © Lisa-Marie Gibbs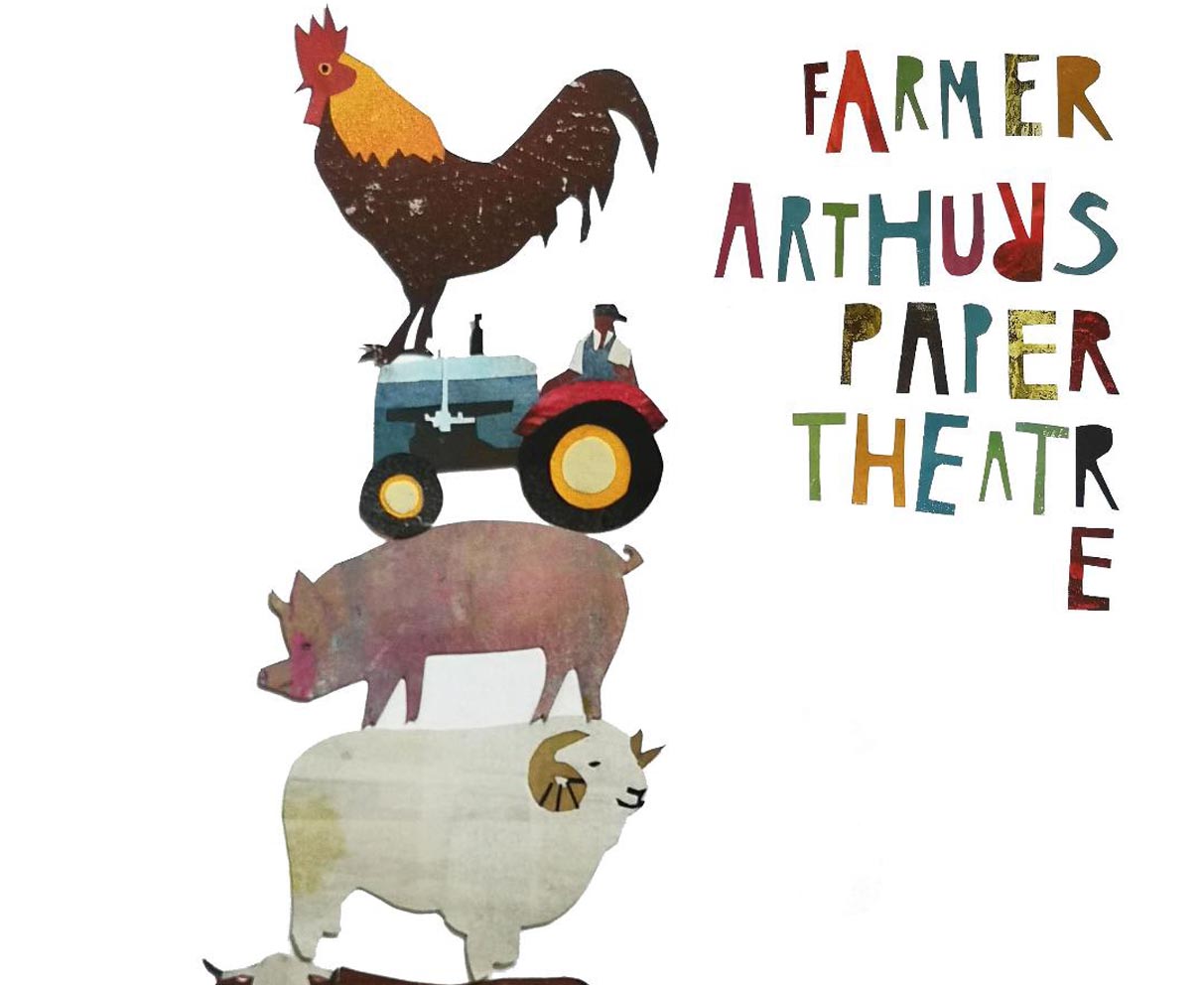 Laughing and Listening
The workshops couldn't take place at The MERL but we still had lovely feedback from JC, one of the participants:
'I was really excited that I was going to make a piece of work that was going to be in the Museum. I really enjoyed printing the paper and choosing the names for all the animals.  I also chose the name Farmer Arthurs Paper Theatre. We laughed a lot and listened to Elvis.'
Image © Lisa-Marie Gibbs / Words © JC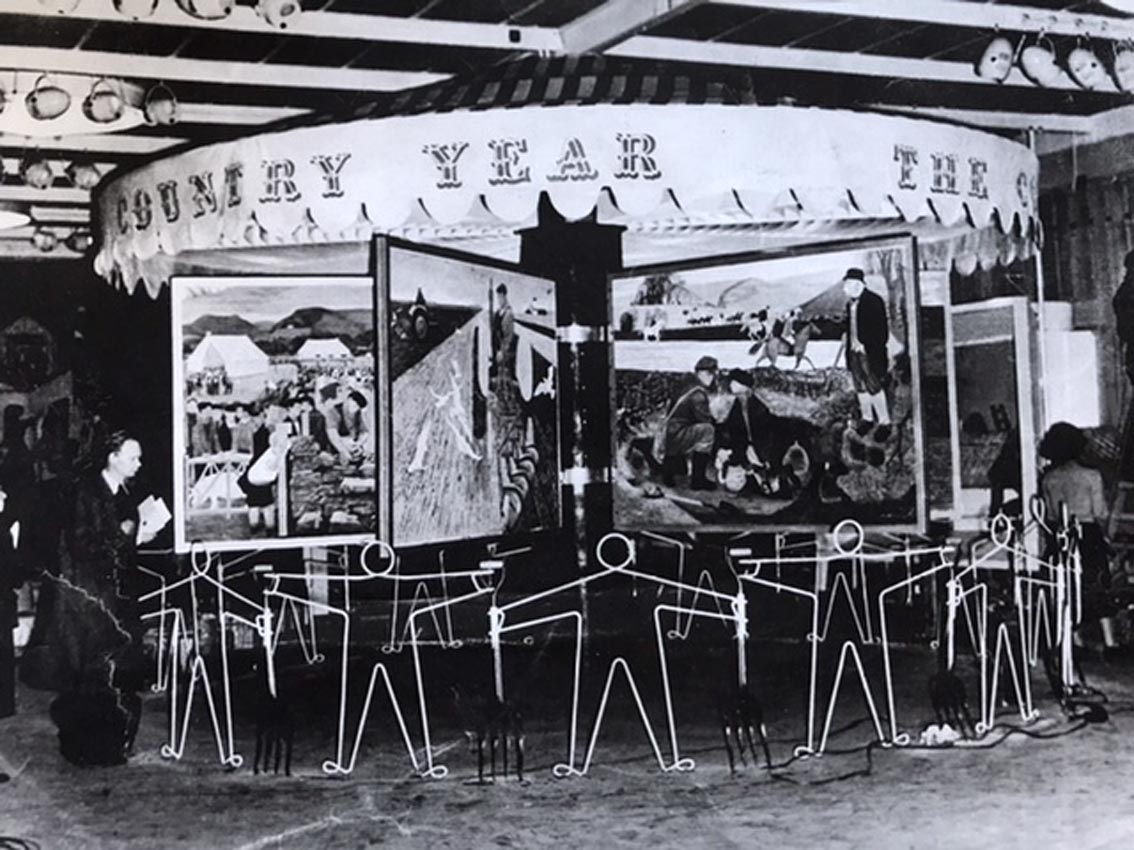 A year in the round
At the Festival of Britain, the designs by Barry Evans and William Kempster were scaled-up as larger murals. These were then suspended in a large, carousel-style exhibit called The Country Year. Although The MERL only holds five small designs, there were originally twelve different artworks, one for each month of the year. The 'merry-go-round' structure spun round with the help of an electric motor.
Barry Evans and William Kempster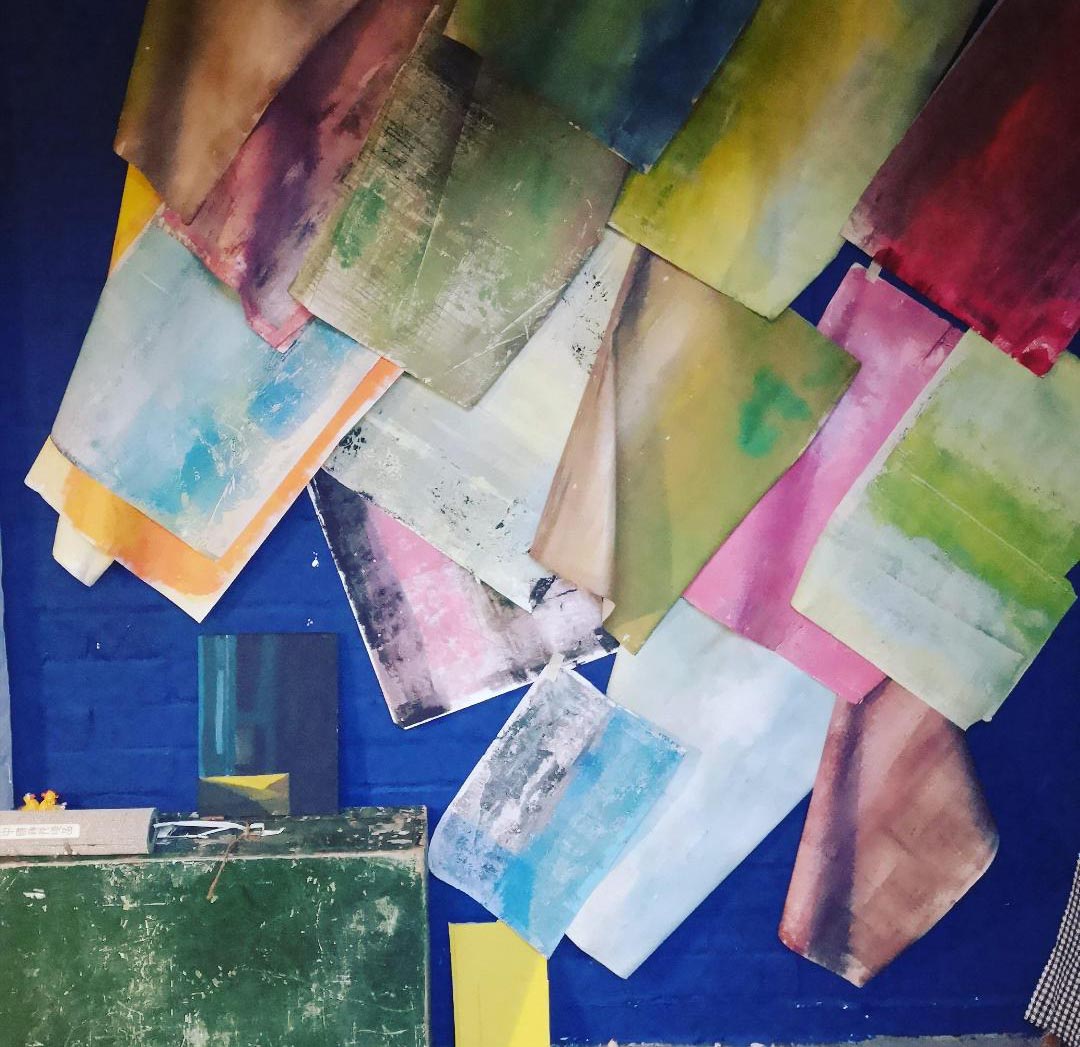 Weaving our stories
As Lisa-Marie has noted, it was important to echo this movement and annual cycle:
'We sought inspiration directly from the works creating our own landscapes and imaginings. We hand printed all our papers to use as collage taking direct inspiration from the colours found within the paintings and began to weave our stories building a 360 degree theatre that would spin through all seasons and building a cast of characters.'
Image and Words © Lisa-Marie Gibbs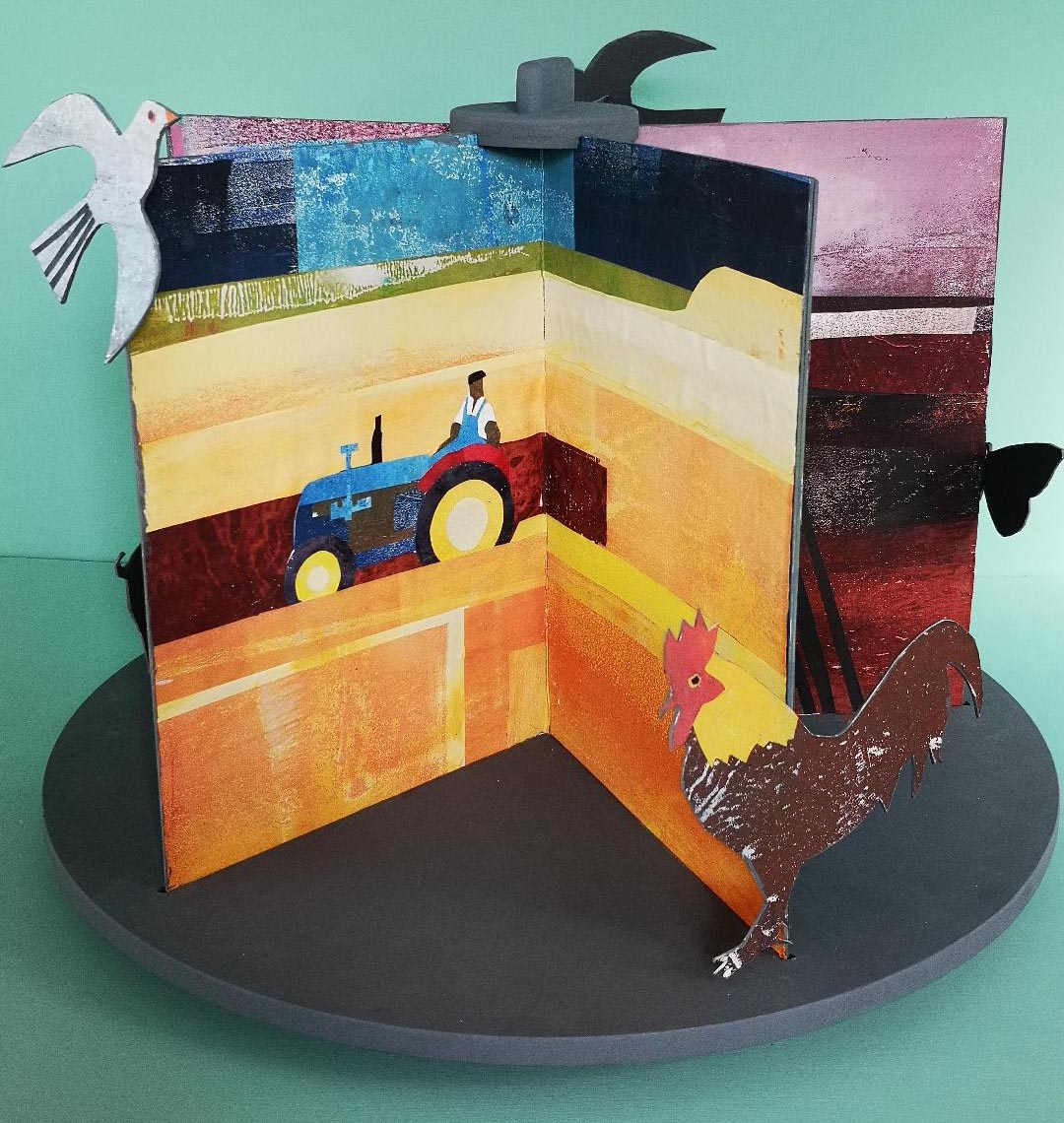 A magic roundabout
Reflecting on links to the original carousel artworks, and in particular their movement and playfulness, Lisa-Marie has described the incredible ways in which the new responses then came to life:
'The element of play, improvisation, and storytelling were key in bringing the paintings to life and making them accessible… We made up stories, we danced, we sang and magic happened.'
Image and Words © Lisa-Marie Gibbs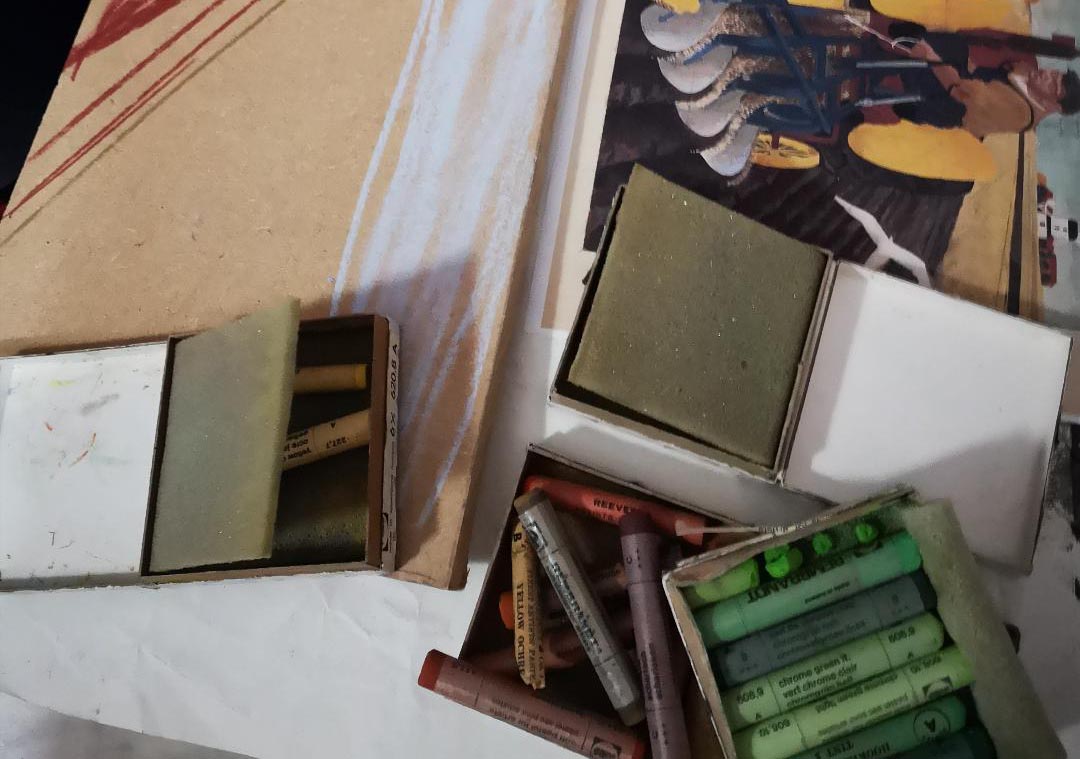 A wonderful resource
Lisa-Marie also reflected more deeply on this process:
'Throughout my work within communities especially those with complex needs museum collections and art galleries have been a constant source of inspiration, whether its physical visits or through books or websites or objects. I am always saddened by how few care providers use the wonderful resources. I think so much is inbuilt in fear. I know The MERL do so much wonderful work with communities and I see how big an affect it has from the other side. So thank you so much for this brilliant project.'
Image and Words © Lisa-Marie Gibbs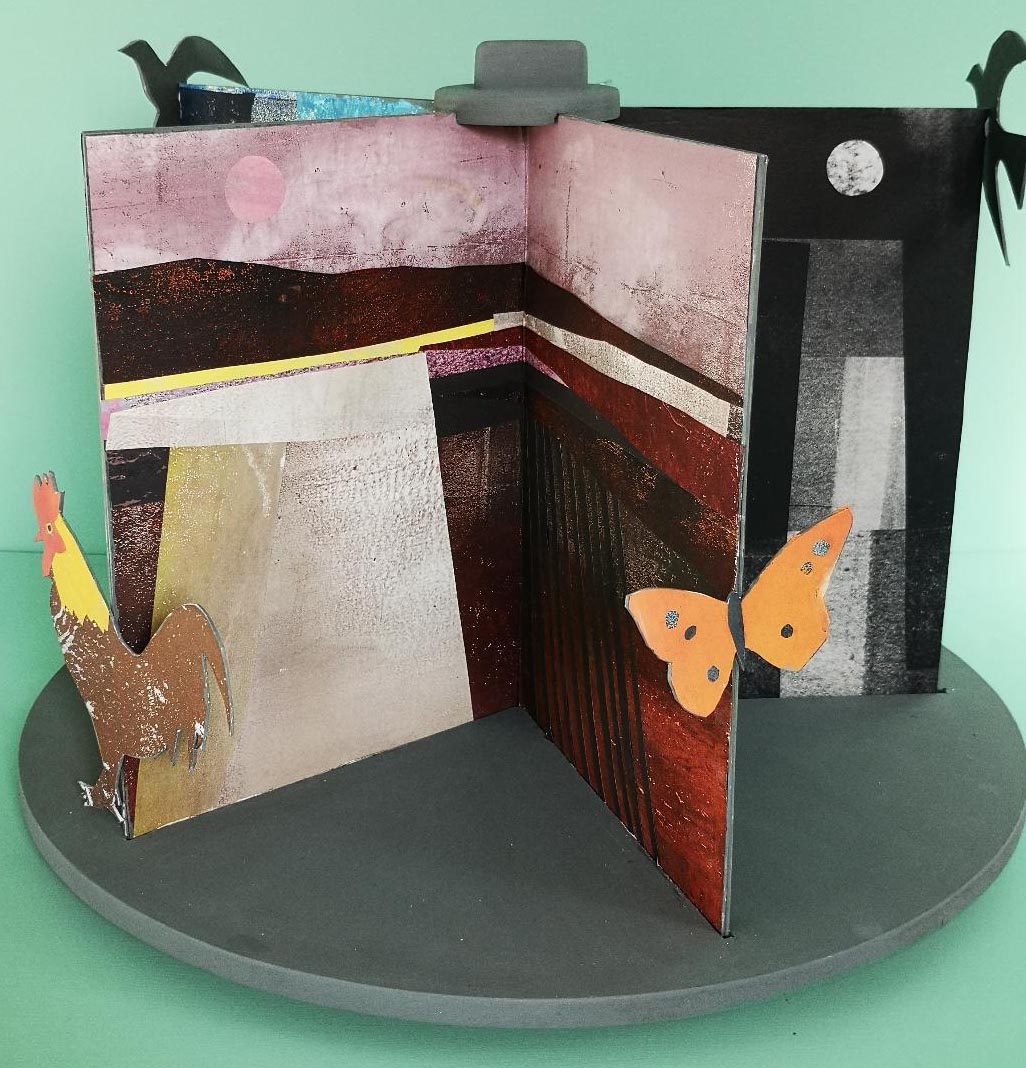 A butterfly effect
This process neatly dovetails with her usual way of working and we at The MERL are thankful to be a part of her practice and process. As Lisa-Marie describes her vision:
'The notion that we are all interconnected by invisible threads and that every action we take has the butterfly effect is a constant source of exploration. I have wide ranging experience creating art that explores a sense of individual and communal fragility and how the artistic practice can make a change in terms of individual and collective recovery within communities.  My focus and research is always wanting to understand and question notions of what it is to be human.'
Image and Words © Lisa-Marie Gibbs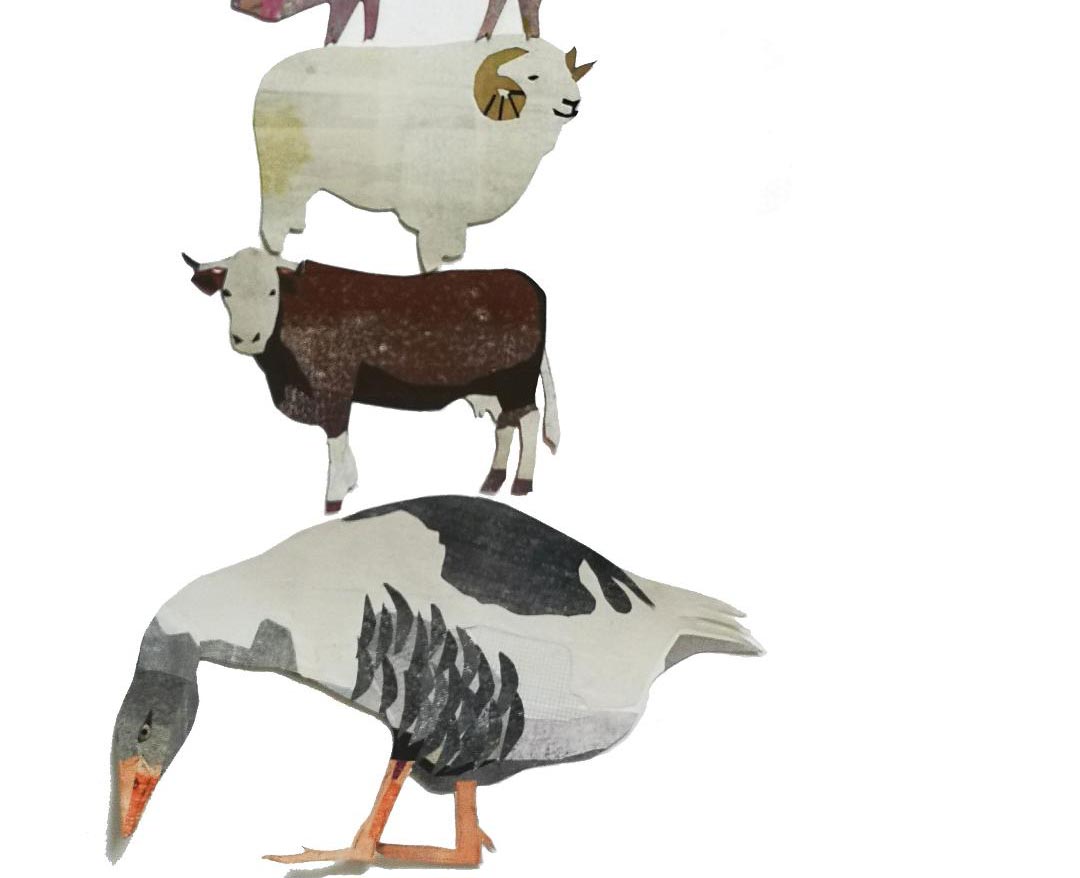 An absolute delight
We are amazingly grateful to Lisa-Marie and to the residents and team at Downshire House for the magic they have brought to these artworks. Their work, playfulness, and enthusiasm bring Barry Evans and William Kempster's merry-go-round to life. They took artworks that live in a box at the Museum, and reanimated them with joy, Elvis, and a guest appearance from our very own Absolute Unit. We thank them all for Farmer Arthur's Paper Theatre!
Image and Film © Lisa-Marie Gibbs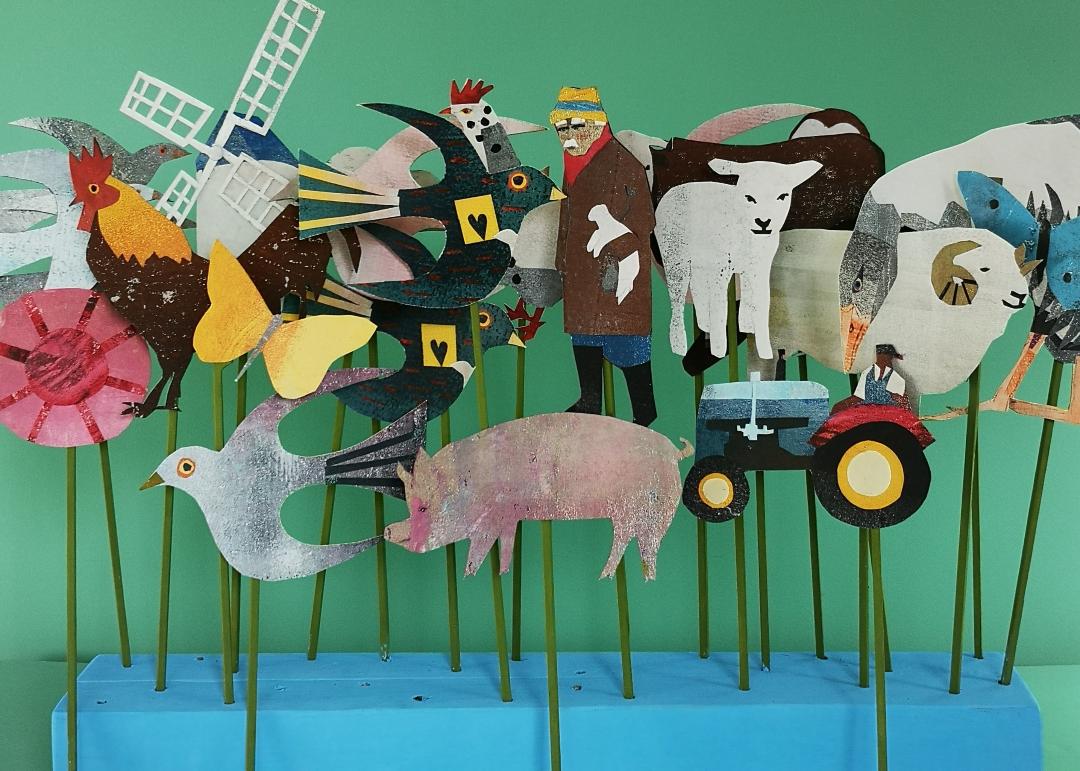 Acknowledgements
This creative response forms part of the Museum's 51 Voices project. Lisa-Marie's and the 'Downshire Gang's' work—Farmer Arthur's Paper Theatre—was made possible through the generous support of Arts Council England and the Culture Recovery Fund. Although we've been unable to welcome our communities in to see The MERL, we're still #HereForCulture.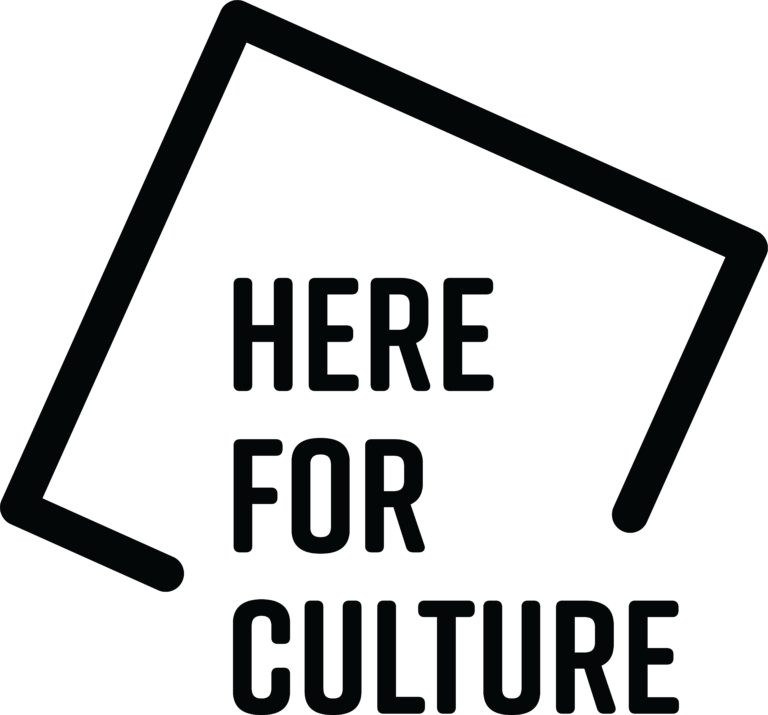 Image © Lisa-Marie Gibbs
Explore the Exhibition