As part of 51 Voices, Reading based artist Heather McAteer made a collaborative artwork on the theme of 'home' with a small, diverse group of people who, like Heather, had left their place of birth and settled in Reading.
Heather McAteer is a multidisciplinary artist who explores themes of identity, memory and history. Her practice is informed by personal experience, particularly her relocation to Reading from her birthplace of Belfast, Northern Ireland and her formative years growing up during the most turbulent years of the 'Troubles'. The work engages with wider issues of representation within social and cultural histories and unspoken or denied narratives.
The Belongings project group consisted of participants from national and international backgrounds. They were asked to contribute to the content of the artwork. These contributions were a hand-written letter addressed to their place of birth, an object which reminded them of home and a word which defined their connection to their chosen object.
Heather also introduced an item from a founding collection from The MERL donated in 1951 from the private museum of Lavinia Smith whose curated and presented in her home. The object chosen, connecting strongly to the themes of the home, and the personal and the handmade nature of this project was an embroidered sampler. The letters and numerals are stitched in black thread on a cream background, with the words 'Mary Rose Norwich Aged 8 years'.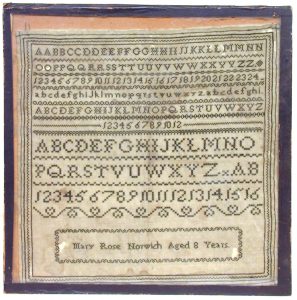 Participants reflections include:
"An enjoyable and thought-provoking experience that made me think about my relationship with my home town of Preston and my adopted home of Reading."

"The 51 Voices creative project reconnected me with my birthplace as a result of which my sister and I plan a return to Durham and I'll grasp the handle of the Sanctuary Knocker once more!"

"I was very honoured to take part in the '51 voices' project. It was a pleasure to be involved with something so interesting, thought provoking, well organised and that was communicated so well. I am so looking forward to the final piece."
Heather reflects:
"I am extremely grateful to the generosity of my project group for their time, thought and emotional investment in making this artwork. The rich content provide by the participants dictated a simple narrative approach and structure to the video, providing the space and time for their stories to speak for themselves."
The project came at a period of time when many were reflecting on our lives, both past and present. As it was difficult to socialise, the project provided an opportunity for everyone involved to connect with others. It created a space to share similar experiences of how a sense of place was embedded in identities and where we feel belong. The finished work captures this moment in time.
Belongings as part of 51 Voices was made possible through the generous support of Arts Council England and the Culture Recovery Fund. Although we've been unable to welcome our communities in to The MERL Galleries, we're still #HereForCulture.
Visit the 51 Voices online exhibition.