51 Voices: from Protest to Performance
A round-up of the objects and voices featured this month

Last month, The MERL embarked on 51 Voices, a new year-long project celebrating the Museum's seventieth anniversary in 2021. Throughout the year, we will be working with a range of writers, artists and different communities to give contemporary voice to fifty-one objects and archives in The MERL collection connected in myriad ways to our founding year.
In the first of what will be monthly roundups of our 51 Voices work, join us as we reflect on the first four objects of the fifty-one (now live on the exhibition page) and explore how they are resonant in our lives and changing world today.
51 Voices: January
To begin 51 Voices, our first four objects were all things that were produced as representations. Be they a mock-up, a replica, or test piece; a miniature, model, or prototype; or even a theatrical prop. Each has been crafted by its maker to demonstrate, celebrate, or imitate elements of rural work, rest, and play, whilst showcasing the remarkable skill, craft, and technique that has been a pivotal element of the history of rural people.
These four very different objects are all closely connected to Britain's enduring desire and ability to sell ourselves to the world. Soft power rendered to physical objects.
Getting things underway with object number 1, our curator, Ollie Douglas, reinterpreted a simple model of a threshing machine. His exploration hints at the many ways in which the stories of the items we will be looking at resonate with contemporary issues, including automation and the gig economy, farm technologies, colonial legacies, and the power of rural protest. On this last theme, the same object features in a new online exhibition developed by Tim Jerrome on the theme of rural protest, which brings further community voices to bear.
Guy Baxter's exploration of object number 2, a simple sheep bell, introduced the way in which this project is set to revitalise our understanding of the individual things held by The MERL. In re-rewriting our understanding of this theatre prop, Guy takes us on a journey through heritage crafts and into different creative worlds. With exciting artistic responses in the works, and set to be shared as 51 Voices unfolds, this object offers us ample excuse to revisit some wonderful recordings of our sheep bell holdings (including this thespian accessory), as made by sound and knitwear artist Felicity Ford (Knitsonik).
Object number 3, a model of The Bull pub from BBC radio serial The Archers
, allowed Kate Arnold-Forster, MERL Director, the chance to reminisce about her family farming heritage, her fond memories of the generous man who gave us the model itself, and her recollections of the Museum's 60
th
birthday (which he helped develop). As Kate recalls, this birthday was celebrated in style with friends at the BBC and in The Archers community. It was also a chance to muse on the challenges facing contemporary rural communities around the world and particularly the trials of rural pubs and businesses during the pandemic.
With Isabel Hughes' examination of an iconic design, object 4 was our first item focussed on the fascinating story of the Festival of Britain. Isabel's response tells the story of two important creative practitioners from that mid-century moment, hinting at the wider vitality of artists and makers in our cultural lives today. Throughout the year, 51 Voices will feature lots of extraordinary collections that link to this Festival story, revealing further resonances between our own lives and that pivotal post-war moment of reconstruction and celebration.
From 1951, to 2021
From As You Like It to The Archers, January's four pieces all depict how writers and artists have portrayed rural people for over four hundred years. And in the months to come, we are really excited to be working with local artists and groups on ten interpretations of objects from 1951, which will all star in the 51 Voices exhibition.
Additionally, we are delighted to share that during the February half term, we will be hosting workshops with one of our 51 Voices artists, Linda Newcombe, where you'll be invited to think about museum objects in a different way, reflecting whilst drawing on how and by who they were used, and imagining histories which could pass into the folklore of the future.
To close, we feel like it is only appropriate to return to the words of Sir George Aylwen from 1951, when he was then Lord Mayor of London, as he described the 1951 Festival of Britain. He guided his audience to 'think of (1951) as something more than an end in itself. Besides the festivities, it can be an opportunity to lay the foundations of many good and better things to come'. And we look forward very much to the good and better things we have to share with you in the year ahead.
With thanks to the support of Arts Council England and the Government's Cultural Recovery Fund for making all this possible.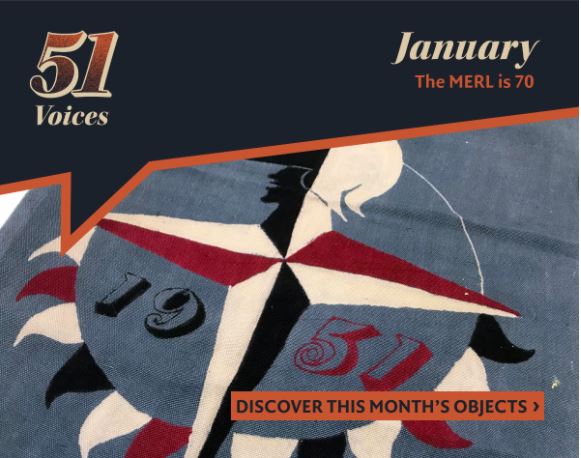 Share This Post :