A Heritage Open Days event

Event Navigation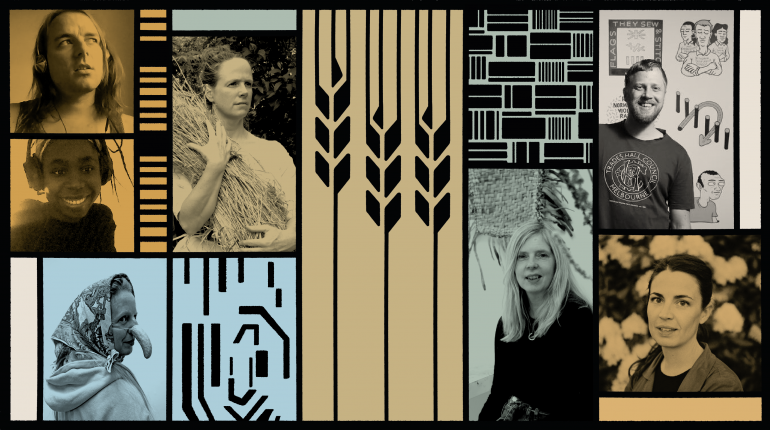 Join us for the first in-person showcasing of 'The Commons: Re-Enchanting the World', a series of installations and interventions across The MERL galleries and gardens responding to the concept of the commons: the natural resources we all share. This includes creative responses by artists and makers including Catherine Morland, Amanda Couch, Sigrid Holmwood, Kelechi Anucha and Carl Gent, and Sam Wallman.
The Commons Feast
At the heart of the day is the Commons Feast, a gathering in The MERL garden focussed on the sharing of ideas around local, seasonal, wild, and foraged fare.
The feast will feature sourdough bread made locally by Reading's Rise Bakehouse from Levande Arkivet: a collection of over 80 sourdough cultures brought together by Josefin Vargö and gifted by bakers across the world. The bread will be presented in a collection of bread baskets made especially for the event by members of The Basketmakers' Association and other craft practitioners. A table display has been created by Catherine Morland and Sarah Trillo, using clay and flowers from The MERL garden, and the table dressing will feature graphics produced by Kristin Fraser, the project's designer. Drinks and beverages will be provided by Company Drinks, a community drinks enterprise focused on bringing people together through the act of picking and reconnecting with green and countryside spaces.
The feast will serve as a chance to consider how we nourish ourselves, our families, our communities, and our environment. We hope to awaken food memories and encourage our guests to share food stories. By doing this, we hope to ask questions of our food systems and consider how we can all bring the idea of the 'commons' to life in our mealtimes.
Workshops, demonstrations and family events
The day will feature a range of activities for visitors of all ages to participate in and enjoy.
Carl Gent will play a mixtape of folk songs which influenced their and Kelechi Anucha's sonic sculptures (which form part of the installations). They will explain the origins of each song and how the narratives relate to the wider theme of the commons.
Sigrid Holmwood will demonstrate how to make turquoise pigment from woad grown in The MERL gardens and a process inspired by the Mayan technology for making the pigment Maya blue.
Catherine Morland, taking the persona of a peasant-painter, will demonstrate how to make cordage using the materials used in her installations, from natural plant fibres to recycled plastic bags. Participants can learn how to make a piece of handmade string. She will also facilitate a seed swap.
Featuring The Mills Archive, Rise Bakehouse, and The MERL's 'Becoming with Wheat Companion' volunteer gardeners, Amanda Couch will present a series of performances demonstrating the processing of wheat grown and cultivated in The MERL garden, including dehulling, threshing, winnowing, milling, and caring for, and baking with, a sourdough starter.
Recipe sharing
We buy most things that we eat and drink but sharing remains a key aspect of our relationship with food. Recipes are a great example. Swapping them helps us to keep our food commons alive. We encourage you to bring recipes that you have permission to share, especially ones that have been passed down through your family or community. Help us to spread the word about wild and foraged foods, land rights, and community knowledge.
You will be able to take home a printed recipe of commons or hedgerow food from The MERL archives. We also encourage you to share your recipes with us, either by bringing them with you on the day, or by sharing them on social media and tagging The MERL.
Seed swap
Throughout the year, the Reading Food Growing Network (RFGN) runs seed swaps at community events. This normally includes Reading Farmers' Market, Bean Pole Day, WaterFest, East Reading Festival, and Reading Town Meal. We're delighted that they're joining us this weekend at our Commons Feast. And there are some really interesting seeds in the swap boxes this year, perfect for any grower to use and enjoy!
To find out more about how seed swaps work, visit the RFGN website.
Food show and tell
We invite you to bring locally-sourced or homemade foods to show and talk about on the day. Although we would love to be able to facilitate the sharing of this food, it's not something we can easily do under government food safety guidance. However, it is still advisable to please try to avoid common food allergens in anything you bring.
This includes celery, cereals containing gluten (such as barley and oats), crustaceans (such as prawns, crabs and lobsters), eggs, fish, lupin, milk, molluscs (such as mussels and oysters), mustard, peanuts, sesame, soybeans, sulphur dioxide and sulphites (if they are at a concentration of more than ten parts per million) and tree nuts (such as almonds, hazelnuts, walnuts, brazil nuts, cashews, pecans, pistachios and macadamia nuts).
---
Generously funded by Arts Council England, the University for the Creative Arts, and the Swedish Arts Grants, The Commons: Re-Enchanting the World takes place at The MERL from April 2021 to January 2022, with installations and interventions in The MERL galleries and gardens, a virtual launch event on 30th July, in-person events in September 2021, workshops in the autumn term, and a symposium in January 2022. Learn more about the installation, the project, and the artworks featured in our The Commons: Re-Enchanting the World online exhibition.
The Commons Feast is scheduled to take place as part of Heritage Open Days 2021. This year the theme is Edible England.
Image designed by Kristen Fraser.