Themed sessions for neurodivergent visitors of all ages

Event Navigation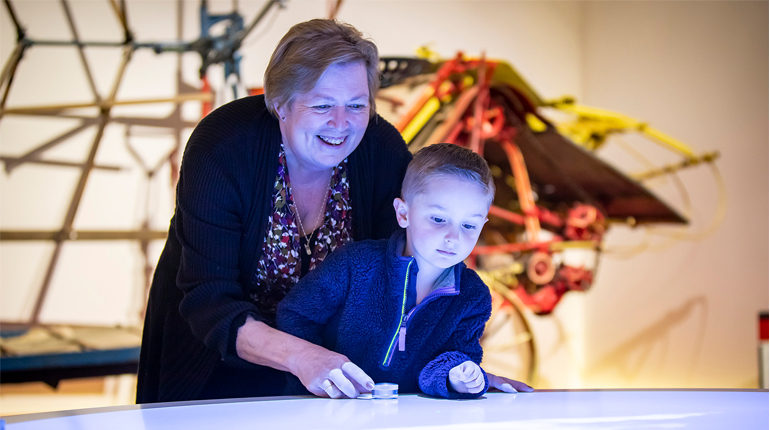 Free sessions developed with Autism Berkshire
"This was our first (museum) event and to be honest I felt quite emotional. I was touched by such a supportive environment and welcoming faces. Thank you!"
Developed with Autism Berkshire, 'Museums, My Way' sessions at Reading Museum and The Museum of English Rural Life allow neurodivergent visitors of all ages to explore both museums in a safe environment. We offer different types of sessions, so that you can choose to enjoy the museums your way.
At Reading Museum, you can drop-in to a break-out space any time during your visit on a Saturday. Find out more here
At The MERL, the free, bookable sessions take place on selected Mondays when the museum is usually closed to the public or are less busy. There are facilitated activities on themes inspired by the museums' collections, and a quiet break-out space. Siblings, families, carers and friends are all welcome.
reduced volume of gallery interactive sounds
sensory backpacks and ear defenders
break out spaces
themed facilitated hands-on activity
themed gallery trail
All activities are optional and you can visit at any point within the event times.
Please visit our Access page for downloadable resources (our sensory map, and social story) to help you prepare for your visit.
Parking
Please note that the museum's car park can fill up quickly at busy times. If The MERL car park is full, you can use a special parking permit, valid throughout half term, to park in the University car parks on Acacia Road adjacent to the museum, or White Gates car park found at the second left off Crown Place, a short walk from the museum. (Please note the permit is not valid in the private car park on Crown Place)
You can collect a permit from reception at the museum or download the permit here and print at home.
If you do not display a permit, you may be issued with a penalty. We apologise for any inconvenience, but this solution means we can continue to offer free parking in the nearby University car parks. If you have any questions, please call 0118 378 8660 or email merlevents@reading.ac.uk
We would always encourage you to use alternative means of transport where possible. See our Getting Here page for details.
Museums, My Way is part of The MERL and Reading Museum's Arts Council funded programme, Museums Partnership Reading.
Sessions also run at Reading Museum. Please visit their website for details of forthcoming dates and times.