An exhibition in the Nook, Staircase Hall and Reading Room at The MERL

Event Navigation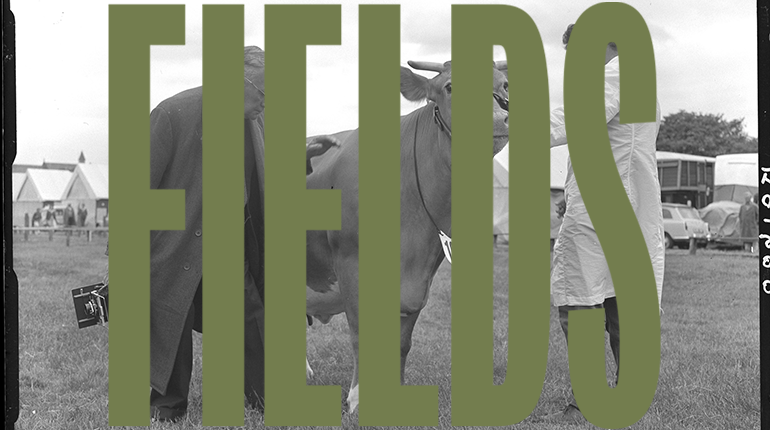 Sheep. Cow. Farmer.
What does a cow feel about tomorrow?
What does a farmer think about their future?
What does a sheep see?
Does living near cows make us happier?
When did you last touch a sheep?
How are farmers changing?
Working with archives, academic and artist research, and interviews, FIELDS invites us to think about cows, sheep and farmers and their lives lived together, across different regions of the UK.
This exciting new exhibition of museum collections and creative interpretations features photography, film and visual art from commissioned artists Michele Allen, Mark Jones and Shane Finan.
More about the exhibition
Using film, photography, technology and creative responses to research and The MERL's collections, the artists have created work that inspires the public to reflect on their relationship with cows, sheep, farmers and farming. It asks us to consider how they got here and where they are headed.
Michele Allen is a photographic artist and researcher based in the North East of England. She has been using the The MERL photographic collections to support her reflections, in both film and photography, on the cattle that live on the Town Moor, a 800 acre area of commonland in Newcastle City Centre, and their relationship to the communities that surround them. Her work – Ruminations also looks at the life of Zowie Bell, a pasture warden and farmer on Beverley Westwood, a 600 acre pasture and home to over 30 breeds of cattle in the market town of Beverley, East Riding Yorkshire.
Mark Jones is a filmmaker based in the South West of England, he has produced a series of short documentary film works about two North Welsh farmers; Olwen and Geraint. These intimate and revealing portraits reflect on the financial struggles faced by many farmers today, the challenges of farming stereotypes and the ongoing issue of environmental and economic sustainability.
Shane Finan is a visual artist from the North West of Ireland. For six months he has been interviewing farmers and observing the behaviours of sheep across the North of England and Ireland. Creating artwork for people to reflect on both online and in-person he has combined traditional observational drawing with digital technologies to create a series of online stories using a mix of documentary, photography and data visualisation.
FIELD
FIELDS is a part of FIELD, a four-year research project (2018 – 2022) funded by the Wellcome Trust. It brings together a team of social scientists, historians, economists and epidemiologists from across the UK to research how livestock disease is influenced by nature and culture, science and society, and by the actions of humans and livestock. It focuses specifically on endemic diseases, defined as those which are continually present in particular regions or populations.
An expanded series of stories from researchers and artists can experienced if you visit FIELDS.
FIELD partners are University of Lincoln, Newcastle University, Leeds Trinity, University of Glasgow, University of Edinburgh, University of Hull and The Museum of English Rural Life.