THE COMMONS: RE-ENCHANTING THE WORLD
Six artists respond to the commons in the MERL galleries

Event Navigation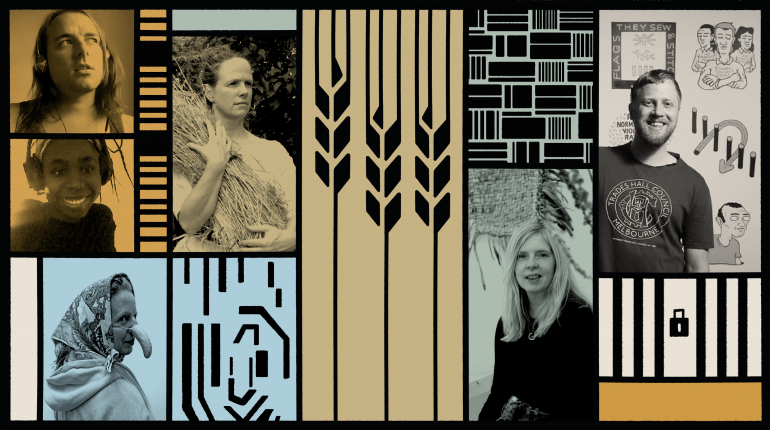 A new installation in The MERL galleries…
The commons defines the natural capital that we all share: land, air, and water. It is a reciprocal social system that cares for and preserves these resources. It relies on relationships of shared knowledge and creativity, which bind us together with more-than-human processes, forces, and resources.
When the commons are enclosed, eroded, or made inaccessible, the effects are devastating. It leads to grave ecological changes and brings about the decline of communal life and subsistence living. In turn, this can impact environment, lifestyle, labour, gender rights, and the wage economy. Rural histories of enclosure provide a link between the commons and The MERL. Private ownership played a critical role in early capitalism and colonial expansion. Damage stemming from these processes has radiated around the world and into our future.
Six artists with responses to the commons have made installations for the Museum's galleries. For them, this concept should not be confused with a simple or binary understanding of the links between humans and nature. Propelled into different areas of research, discussion, and collaboration, their diverse interpretations explore the notion that the commons is active and living, not a passive resource to be managed. They focus on how the many social and ecological challenges we now face link back to complex histories of ownership and enclosure.
The Commons: Re-Enchanting the World online exhibition
provides a guide to the artworks you will see on display as you visit the galleries.
Meet the artists
Sigrid Holmwood expands painting by following the colonial histories of the plants she uses to make her pigments and dyes. She plays with the contrast between images of peasants used to construct national romanticisms, and paintings by peasants using hybrid mixtures of local, imported, and migrated plant life. Thereby, highlighting the entangled histories between the rural European proletariat and colonised indigenous peoples.
Catherine Morland is interested in plant based crafts from a feminist perspective. For this project she has researched traditional skills usually associated with women's work to foreground the detrimental effect enclosures have on reproductive labour. Using weaving, basketry, knots and cordage she has made three installation pieces and a group of vessels for display in the Museum's galleries.
Kelechi Anucha and Carl Gent first met as plot-holders on an allotment in New Cross, SE London. Since 2020, they have been looking at and working with English folk music, its relationship to church song, its slippery place within the English imaginary and its subversive potential as a sonic commons. Utilising a very personal collection of technology and instrumentation, they have recorded new renditions of a range of folk songs hosted inside different sculptures and installations exhibited at the MERL and Wysing Arts Centre during 2021.
Amanda Couch researches, reinterprets and reimagines histories, myth, ritual and embodied knowledge. Becoming with Wheat (and Other More-Than-Human Others) explores this interspecies kinship: a collective or commons that embodies the idea that we are all in relation, interdependent and interconnected. Along with 'Becoming with Wheat Companions', she is cultivating wheat in The MERL gardens and will exhibit films, anthotypes and sculptural masks.
The Commons: Re-Enchanting the World project is generously funded by Arts Council England and the University for the Creative Arts and takes place at The MERL, from April 2021 to January 2022, with installations and interventions in The MERL galleries and gardens, a virtual launch event in July, in-person events in the autumn term, and workshops and a symposium in January 2022. Please note that the installation has been extended as the workshops and symposium were postponed due to COVID. Please visit the What's On page to see find the new dates and to book
Learn more about the installation, the project, and the artworks featured in our The Commons: Re-Enchanting the World online exhibition.
Image designed by Kristen Fraser.
Plan your visit here, and find out about our measures to help keep everyone safe.