An exhibition and family activities by 3rd Year Museum Studies students

Event Navigation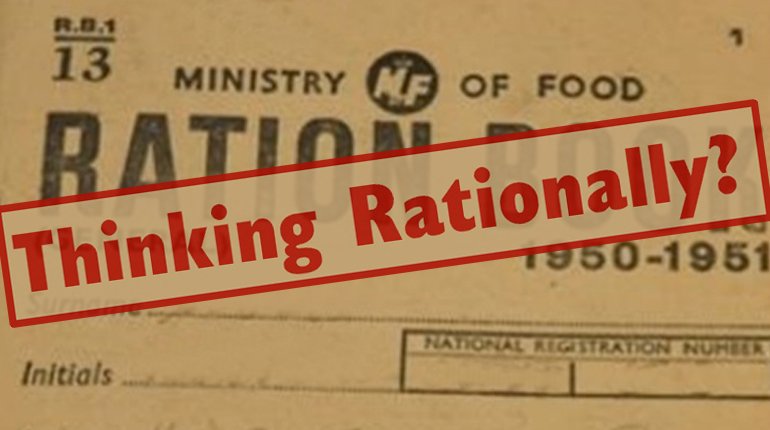 Online Exhibition and Activities
Online exhibition
Thinking Rationally? is an exhibition by third year Museum Studies students at the University of Reading.
They looked at objects from The MERL to learn about food and clothing rationing in Britain during the Second World War and how stories from this period can help us live more sustainably today. The exhibition explores how people made do with limited resources during wartime, and how we can learn from their practices in order to improve our own habits during a time of increasing concern over sustainability and the impact we have on the environment.
The exhibition was a collaboration between the students and staff and volunteers at The MERL, including the knitters and gardeners. It opened at The MERL in February and we have now taken this online due to our  temporary closure due to the COVID-19 outbreak.
Explore the Thinking Rationally? online exhibition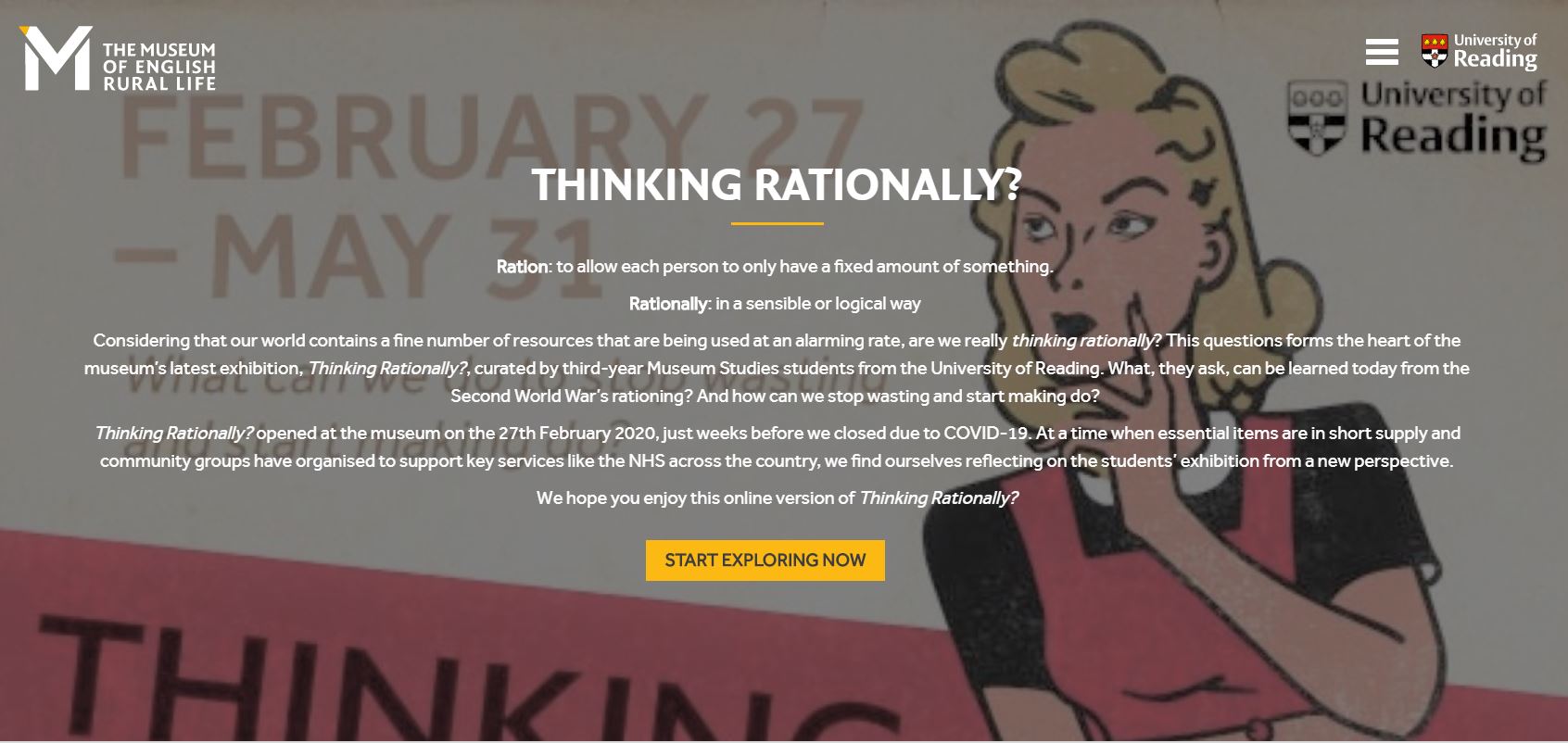 Activities for families
The students had also designed an activities trail for family visitors to the exhibition. To mark VE Day and the launch of their exhibition online, they have also created a series of activities for families at home.
Three Ingredients Challenge
The Thinking Rationally? exhibition explores how food was in such short supply during the Second World War and that many people started growing their own food. If you had only three ingredients you had to use for every meal what would you use and what meals would you make?
Design your own seed packet
During the Second World War, the government introduced the 'Dig for Victory' campaign, which encouraged people to cultivate and plant seeds to grow their own food.
Suttons Seeds was founded in our town of Reading in the 1800s and still trades across the world today. Suttons received royal patronage in 1858, when Queen Victoria requested Suttons supply seeds to the royal household.
Have a go at designing your own seed packet. What royal sounding name would you give your plant or vegetable?
Go on an Egg Hunt
During the Second World War, eggs were sometimes rationed so that people could only have two eggs per month. Instead of this, people started keeping their own chickens – like Pook and Nook at the MERL – or eating dried powdered egg.
Have a guess at how many egg shaped things you have in your house! Perhaps you could challenge someone else at home to take a guess too?!
Go on an egg hunt together and the person guess that was the nearest wins.
Write a love haiku
The Thinking Rationally? exhibition, (and the Forces for Change gallery in the museum) displays the uniform of the Women's Land Army, originally created in 1915 to help farmers cope with the shortage of male labour as a result of the First World War. It was brought back into action for the Second World War.
The MERL gallery includes a Women's Land Army poetry book – open at the page 'Land Girl in Love' written by Margaret Hunt of North Riding, Yorkshire.
Can you create a poem dedicated to something or someone you love?
In keeping with the exhibition's theme of rationing, you might like to try a haiku – a Japanese form of poetry that restricts the writer to only seventeen syllables in a strict three-line pattern.
Haikus do not rhyme. Instead, they use rhythm to connect with their readers. Haikus follow the following pattern:
1st line – 5 Syllables English Rural Life: En-glish Ru-ral Life
2nd line – 7 Syllables Love and miss our museum: Love and miss our mu-se-um
3rd line – 5 Syllables We will meet again: We will meet a-gain
It is a good idea to write or say out loud a draft first and then revise it by adding, subtracting or substituting words to get the syllables exactly right.
The MERL Sock Flock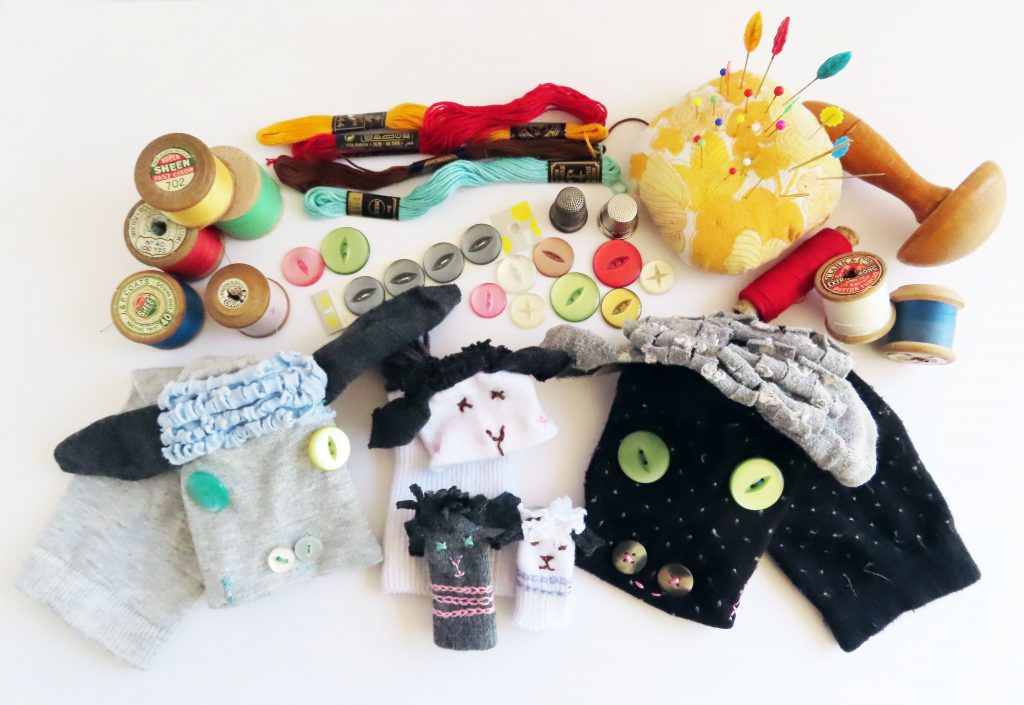 The exhibition explores clothes rationing in the Second World War and the importance of Make Do and Mend – drawing parallels with 'Fast Fashion' today and the quantity of resources this means consumers use and quickly dispose of.
One of the objects on display in the exhibition is a sock owned by Doreen Thorp as part of her Women's Land Army uniform, with interpretation information demonstrating the essential skills of darning or re purposing items of clothing.
Download the Make (Do and Mend) with the MERL sock flock instructions to create your own sock flock from old socks and odd buttons.
Eight Little Pigs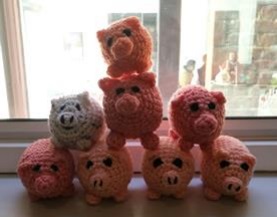 Victoria, a friend of the students, knitted these pigs for the exhibition trail at the MERL – what do you think they should be called?
Share with us
We'd love to see how the exhibition and activities have inspired you. Share your haikus, seed packets and pig names with us on Facebook or twitter!
More for you to do…
You might also be interested in the resources available from our partner Reading Museum to mark and explore the history of VE Day in the town and beyond.