NOW ONLINE: FRIDAY FLEDGLINGS
A WEEKLY OUTDOOR SESSION FOR UNDER-5S - NOW ONLINE

Event Navigation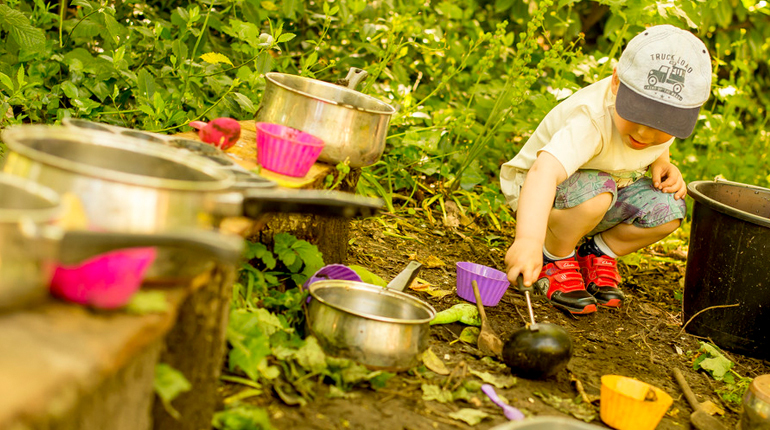 Morning Fledglings!
We are so glad you've joined us for another online Friday Fledglings. Charlotte, Fong and Little Mouse are getting into the spirit of May Day today, enjoying the spring flowers in the garden, and maybe even having a dance around the Maypole. Stay tuned for a story from Charlotte and a colourful craft from Fong!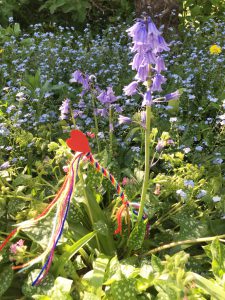 Storytime with Charlotte
Have you been enjoying all the beautiful blossoms in the lovely spring sunshine? Charlotte and Little Mouse wanted to share their knowledge of one particular flower you may have seen already – the Hawthorn that blooms through May. Its leaves and flowers are often used in May Day garlands and wreaths, just watch for the prickles!
Little Mouse and his mum are really quite excited about May Day. Why not listen in to hear about the traditions that they enjoy on the first day of May. While you are watching see if you can spot this picture in the story.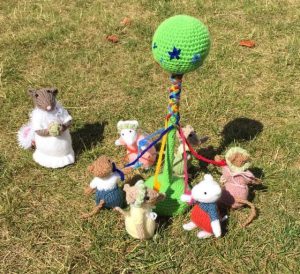 Did you guess that red was the colour that inspired our ladybird theme last week? Today we were inspired by more than just one colour. Why not have a little read of the story again and see if you can spot the seasonal colours that Little Mouse is thinking of….
---
Crafting with Fong
As it's quite unlikely you have a Maypole in your garden, Fong thought you might like to make your very own mini Maypole out of things you could easily find at home. You can decorate it with hearts, flowers or whatever other shapes you like.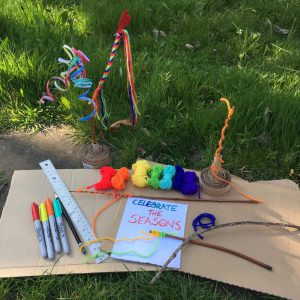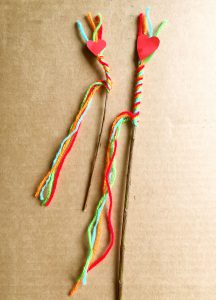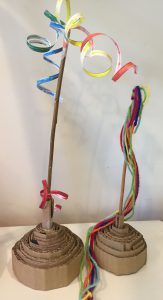 Here's a little tip on how to easily wrap the wool around your sticks!
Here are the instructions on a pdf to download:
We would love to see what you come up with so please share your work with us through social media (on Facebook, Twitter or Instagram, or by email). Perhaps you could have your own cuddly animals dance around the Maypole!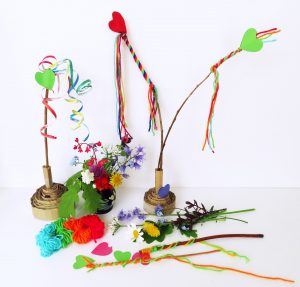 Some extra reading….
The lovely knitted characters around the knitted Maypole in the picture above were made by our knitting group, The Mewes Knitters, who get together every fortnight at the museum. Here's a blog post to learn a little bit more about the projects they've been involved with.
Also, enjoy a post by Isabel Hughes, now Associate Director of Curatorial and Public Engagement at The MERL, about her memories of being crowned the May Queen when she was a small child!
An extra Spring craft to do from home: Spring Mobile Instructions and templates
---
Thank you for joining us today!
We hope you and your children have a lovely May Day. As next Friday is VE Day our online Fledglings session won't be back util the following week.
Sending our best wishes from all of us at The MERL.