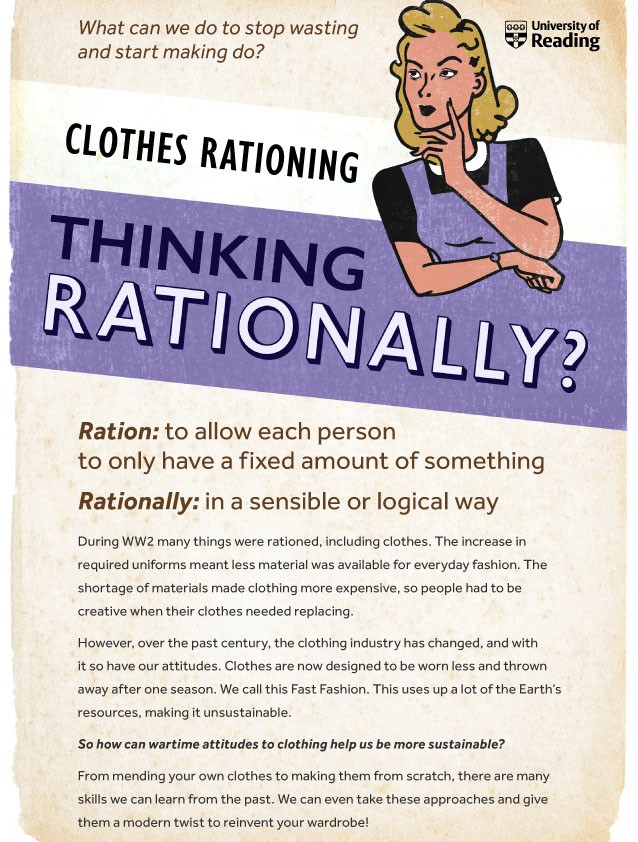 Clothes rationing
Rationing in the Second World War led to immense changes to the country's domestic life. It extended across a huge number of products and resources, from food to soap, through fuel to clothes.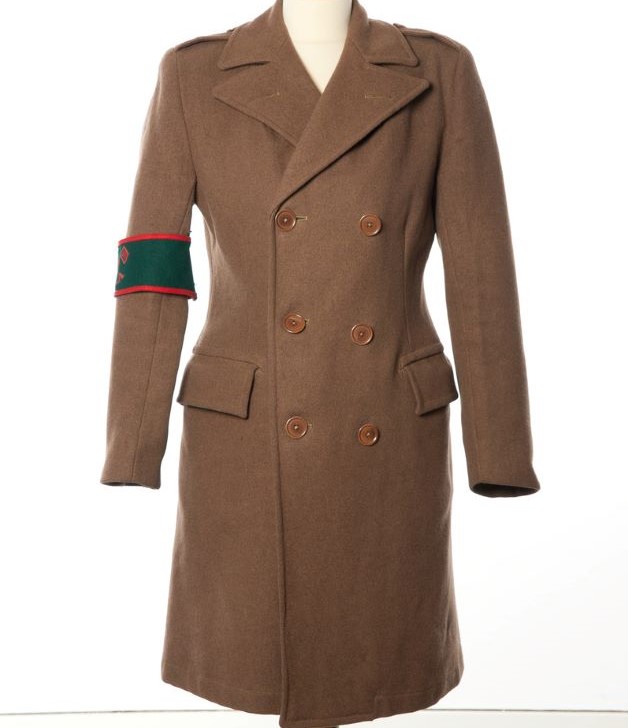 Clothing
During the Second World War, people were encouraged to grow their own food, as well as within their community or an organisation. One example is the Women's Land Army, which trained its members to work on farms.
This coat formed part of the Women's Land Army uniform. It was donated to the museum by a former WLA member, Doreen Thorp. After joining the organisation in 1939, Thorp received two months' agricultural training at the Midland Agriculture College. There, she learned how to handle poultry, milking, and undertake general farmwork, before being deployed to fulfil her duties.
MERL 88/44/1-2

Women's Land Army
Armbands like this one were another part of the Women's Land Army uniform. They represented a way of recognising members' commitment and achievement. A diamond badge signified one year's service, while a triangle indicated six months.
MERL 96/76/1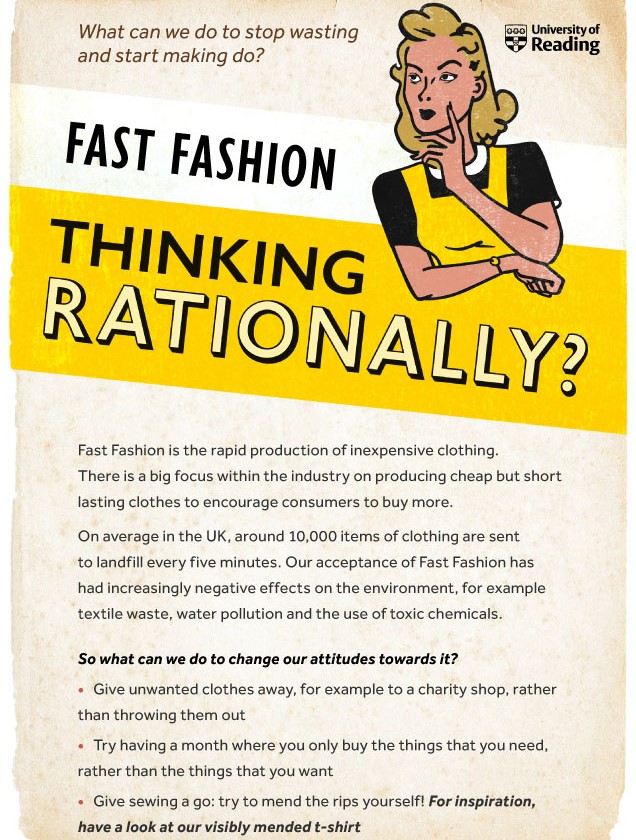 Fast fashion
During the ongoing COVID-19 crisis, many have turned to their sewing machines to create personal protective equipment (PPE), such as gowns, masks and scrubs. This has been part of a national effort, with participants ranging from individuals, to grassroots organisations, to retailers and manufacturers. Several automotive companies, for instance, have changed their production lines to create ventilators and medical equipment.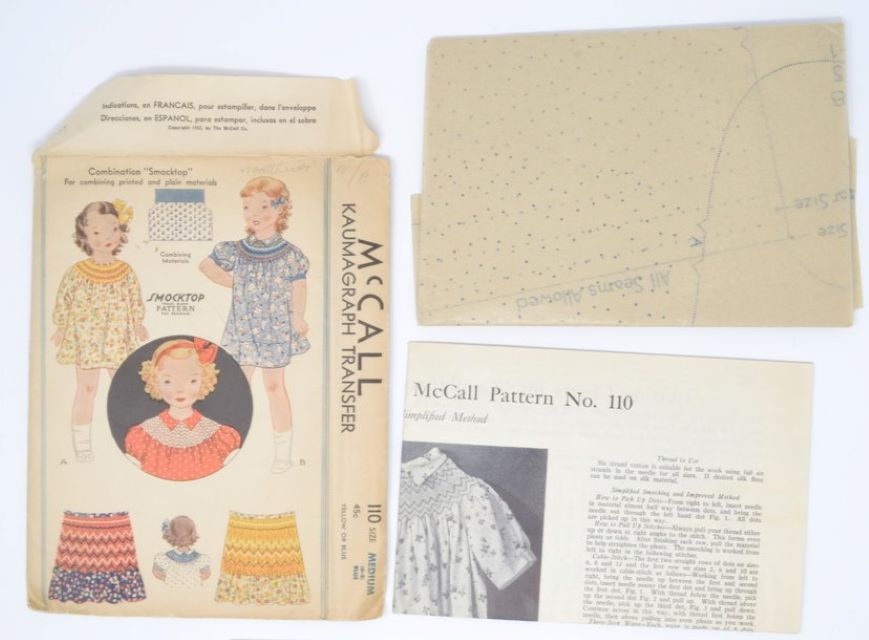 Sewing pattern
This four-piece dress pattern was produced in 1933 by the McCall Pattern Company. You can see the template for the collar which would be adjusted depending on the size of the wearer.
The donor of this object to the museum was an occupational therapist who used this pattern in hospital when working with tuberculosis and polio patients. Sewing and recreational activity can offer respite and comfort in difficult times.
MERL 2019/63/1-3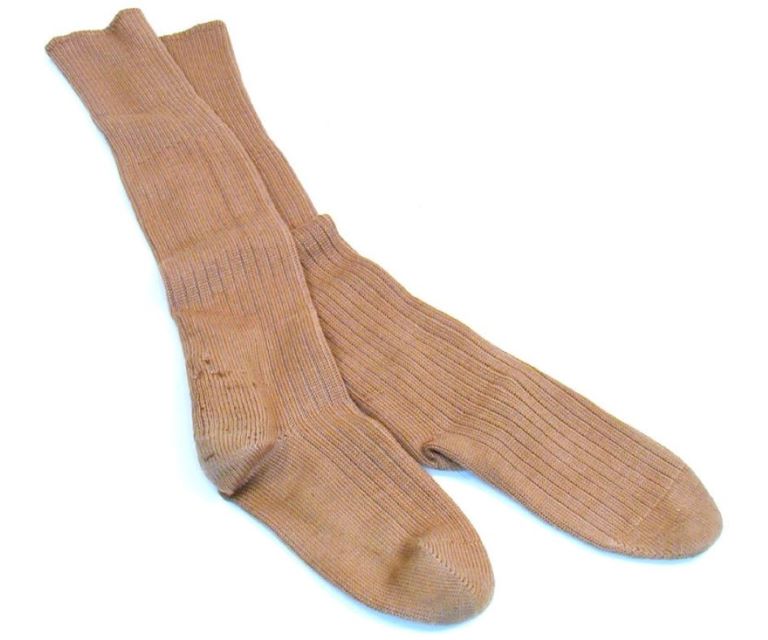 Mending
These socks formed part of the Women's Land Army uniform owned and donated to the museum by Doreen Thorp.
The heels have been darned. This is a method of sewing that is used to mend damaged fabrics, and is often applied to knitted items.
MERL 88/53/1-2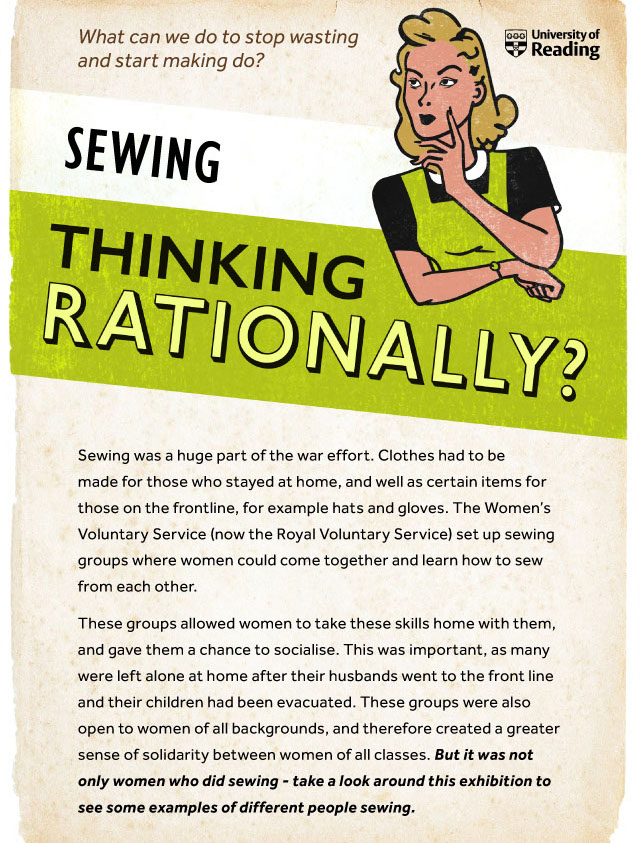 Sewing
The contribution of sewers and makers to countering the ongoing COVID-19 crisis has been internationally significant. The conditions of this pandemic make it impossible for face-to-face groups like those of the Women's Voluntary Service (the Royal Voluntary Service today) to meet. However, the technology of the Internet offers many means of learning new crafts and skills – from YouTube tutorials, to online meeting places like Facebook groups and Zoom calls.
These digital spaces also provide opportunities to socialise and speak with people. Much like the voluntary groups of the Second World War, this can be a great solace during the difficult conditions of lockdown.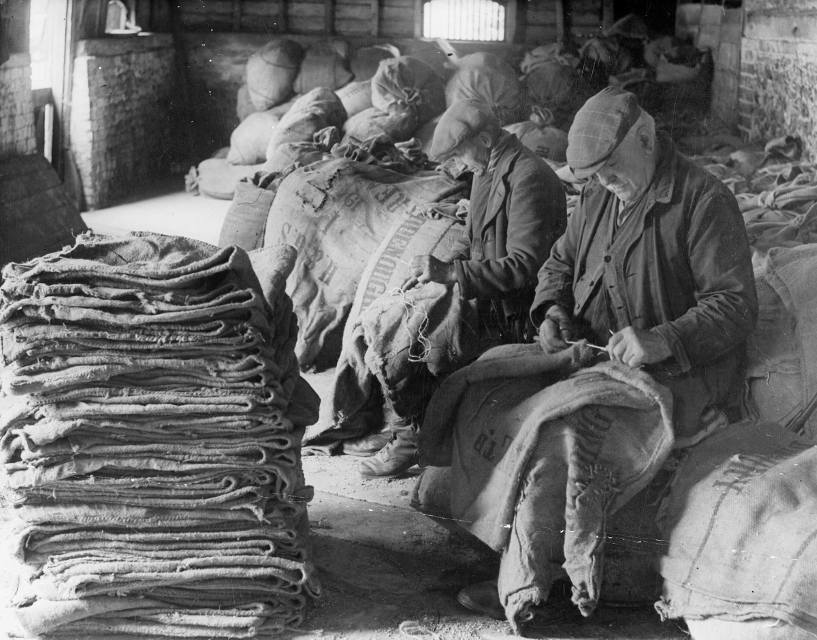 Sewing sacks
Rationing meant clothing was in very short supply, and so in the Second World War, to be skilled at sewing was incredibly valuable.
However, sewing was used for much more than creating clothes! This photographe shows a group of men hard at work sewing wheat sacks.
MERL P FW PH2/567/2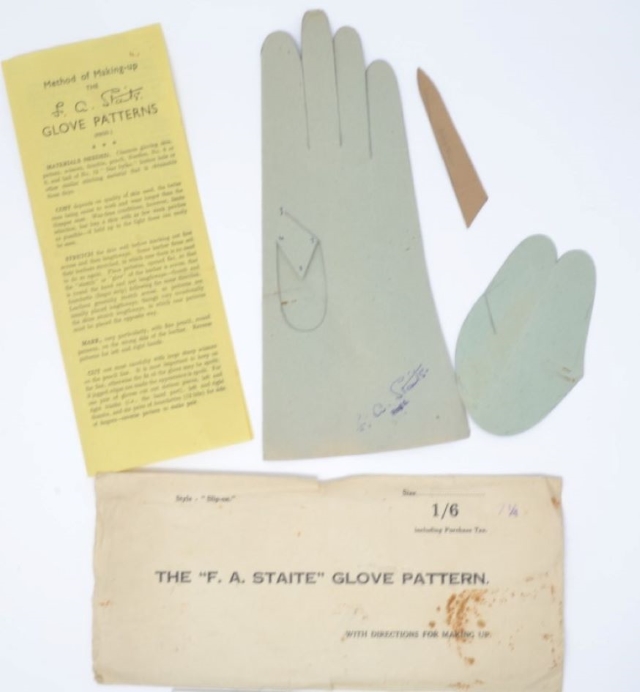 Glove pattern
Gloves are just one of many items that were made during the war both for those at home or in active service. 
This pattern from the mid-twentieth century gives instructions on how to sew gloves, as well as providing suggestions on how to vary the style. On the back of the accompanying leaflet, there is a reference to material shortages during the war. To work around these shortages, the instructions suggested using old materials to make new clothes.
MERL 2019/64/1-5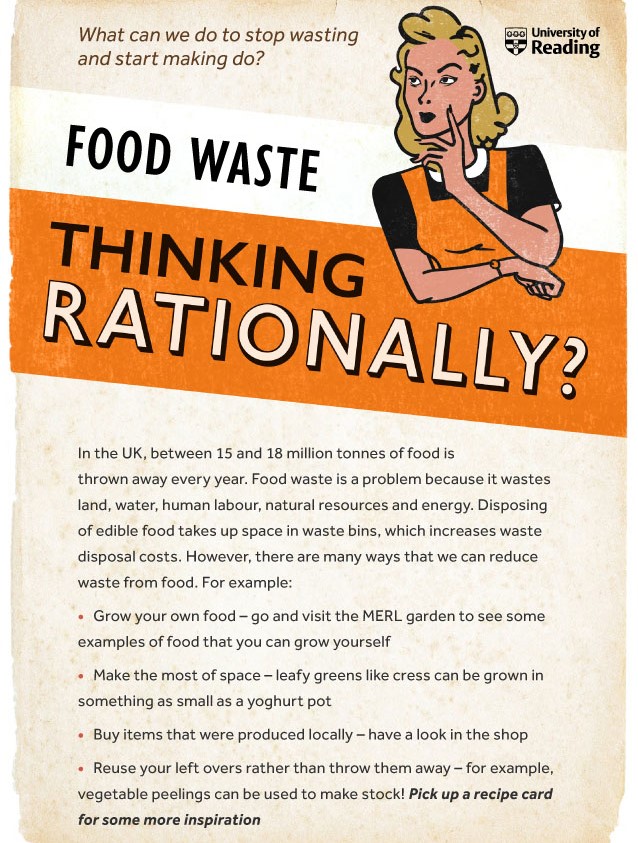 Food waste
Has the present situation reduced the food waste in your household? Have you become more creative with leftovers?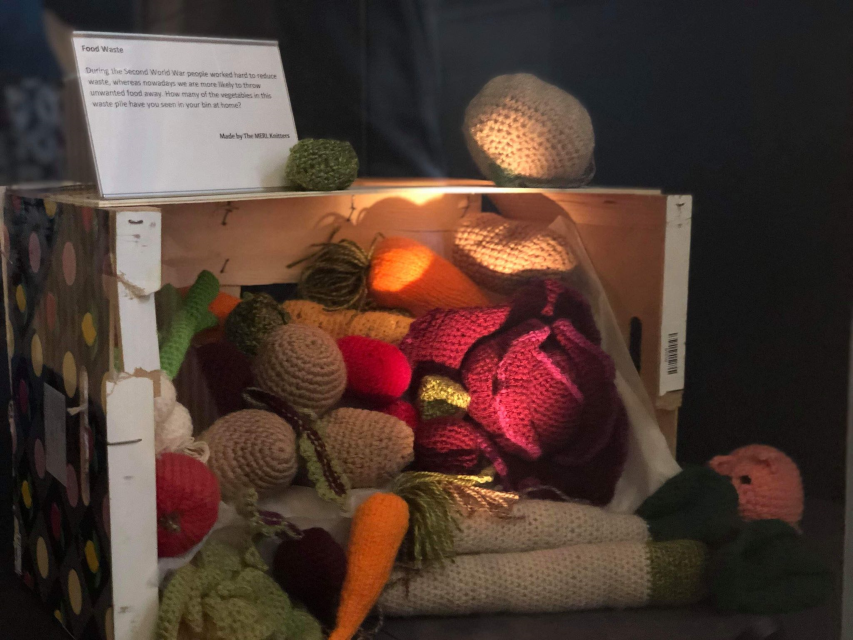 Knitted vegetables
Thanks to the Mewes Knitters who meet in the Nook at The MERL for their support with this exhibition. When was the last time you were asked to knit a carrot?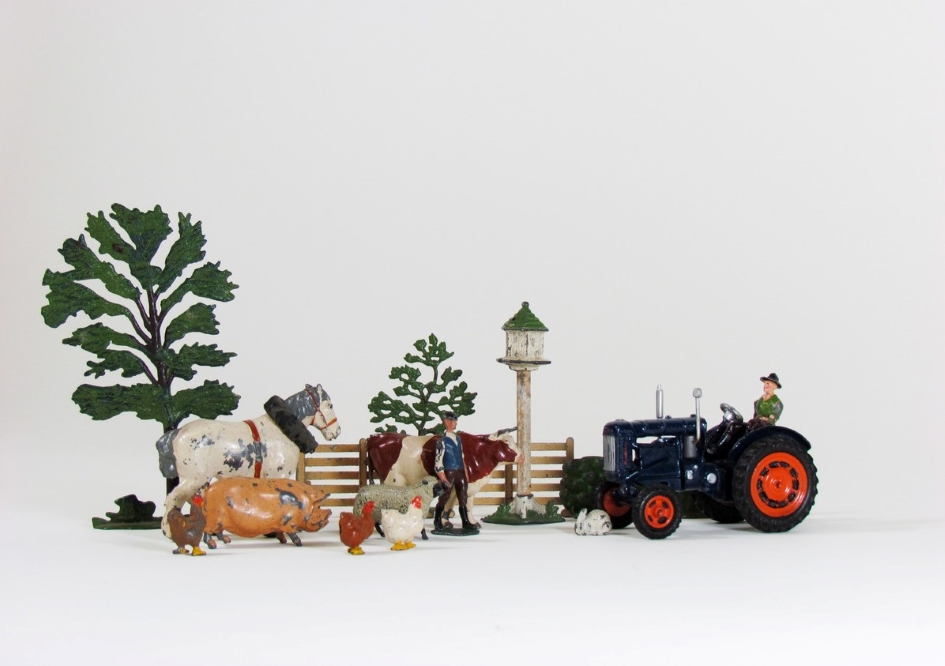 Dig for Victory
During the Second World War, the government launched the 'Dig for Victory' campaign, which encouraged people to grow their own food and minimised pressure to import food from abroad. This helped people to feel like they were part of the national war effort, as well as providing them with more food to go alongside the limited rations.
MERL 2010/167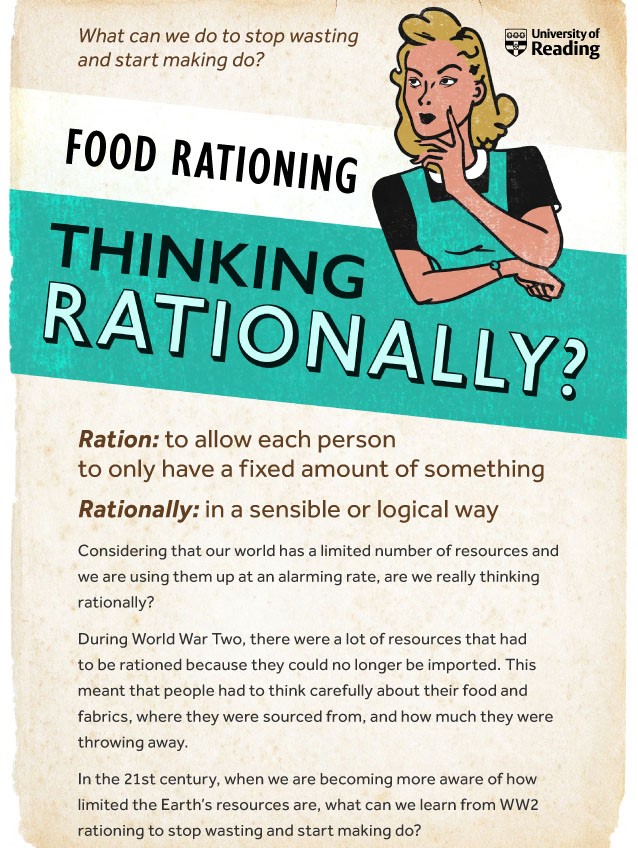 Food supply
Due to the impact of lockdown on supply, the last few months have seen shortages in shops across the country, from toilet rolls through to tinned tomatoes and pasta. Several supermarkets have introduced limits on how many of certain items you can buy.
What things have you struggled to source?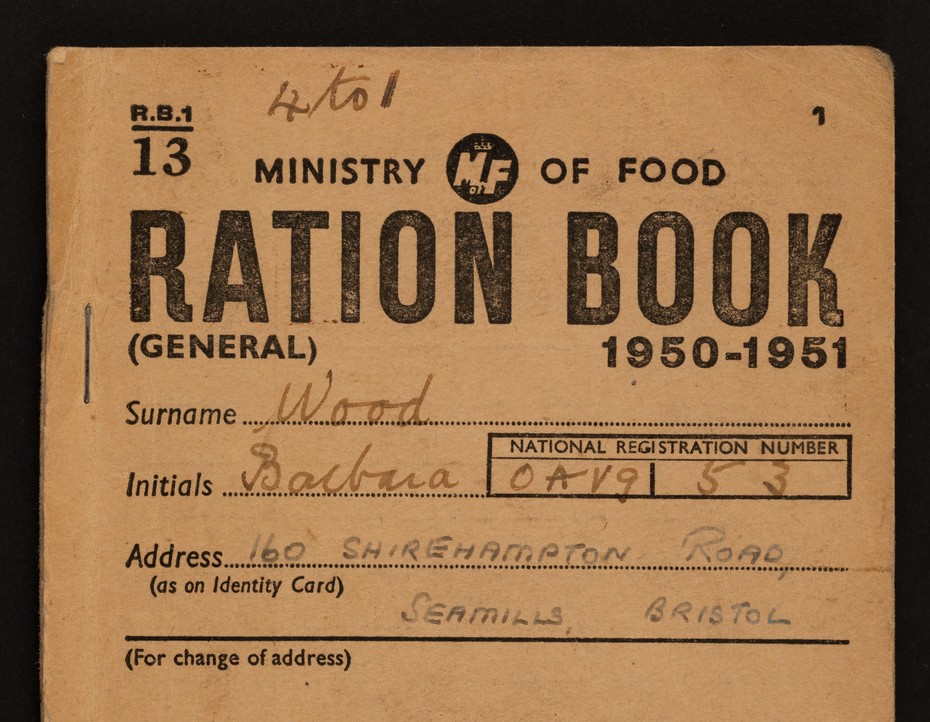 Ration book
Ration books were introduced in 1940, containing coupons that could be exchanged for important items, like food, clothes, tea and soap.
This ration book belonged to vegetarian Barbara Wood, who received extra coupons for cheese instead of meat!
The Second World War meant that almost all key resources were limited, and so people were encouraged to take extra care when cooking and eating and avoid throwing away as much food as possible.
MERL 2019/55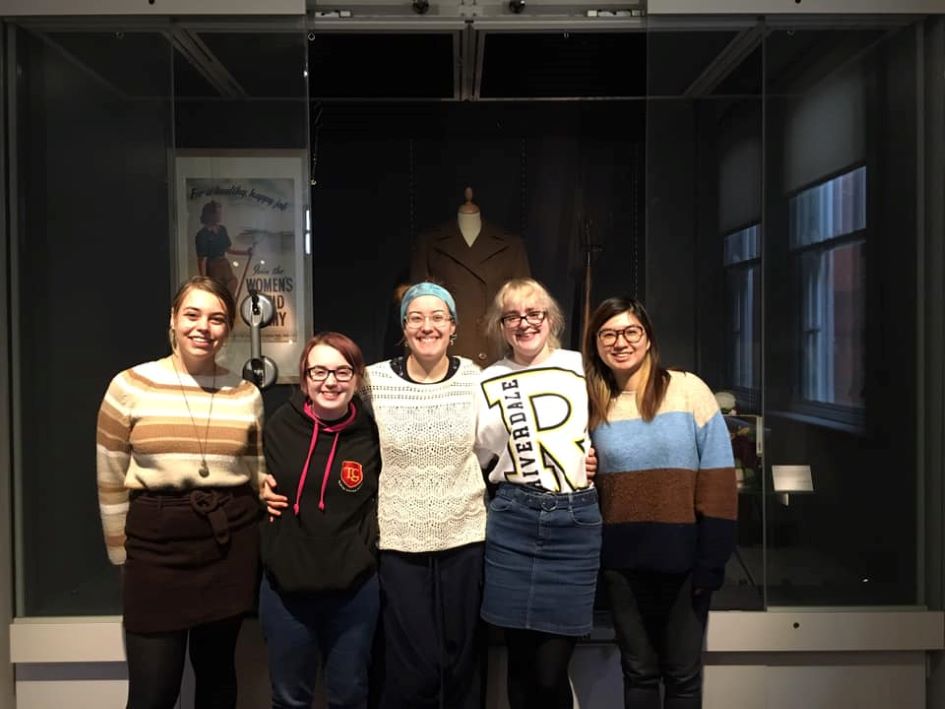 Thank you
A big thank you to third year Museum Studies students who created Thinking Rationally?: Lanah Hewson, Beck Price, Naomi Veira, Molly Spillane and Kelly Lau.
Explore the Exhibition