JACKIE OATES AND PETE FLOOD
A celebration of The MERL folk musicians' residencies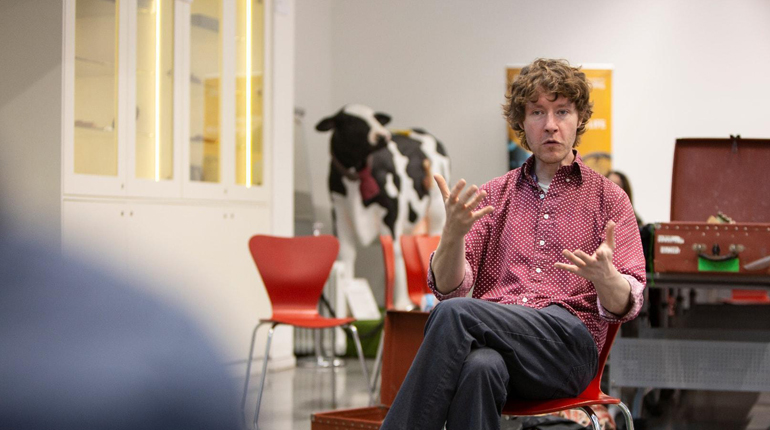 Over the last 18 months The Museum of English Rural Life (The MERL) in collaboration with the English Folk Dance and Song Society (EFDSS) have hosted the residency of two folk musicians: Jackie Oates and Pete Flood. During this performance they will showcase the culmination of that musical journey and the compositions they have developed inspired by The MERL's collections.
Part one: 'Lace Tellings' with Jackie Oates.
Jackie Presents 'Lace Tellings', a play about the lace makers of Bedfordshire, Northamptonshire and Buckinghamshire. The play explores the long lost tradition of lace telling – songs sung by the lace making girls to both learn the intricacies of the task and as an outlet for the tribulations of the time. Jackie will be joined by very special guests John Spiers and Mike Cosgrave.
Read Jackie's blog about how the MERL collections inspired this piece.
Part two: 'The Last Dipper: Tales from the Upper Itchen' with Pete Flood.
Bringing together oral history, field recordings and readings this project has grown out of a lifetime's immersion in the nature and ambience of one of the world's great chalkstreams. Just 28 miles long from rising to outflow, the River Itchen is both one of the world's rarest habitats and living repository of cultural history, shaped by human hands for thousands of years. As time passes the delicate balance between the needs of the river, its flora and fauna, and the bustling towns on its banks, becomes ever harder to uphold. Species are lost, customs forgotten, and the voices of the conservationists become ever harder to hear against the clamour of modernity. Pete sets the voices of those who work and live on the river to music both original and traditional, in an elegy for the world we are losing.
Funded & supported by English Folk Dance & Song Society & Love Music Help Musicians UK.