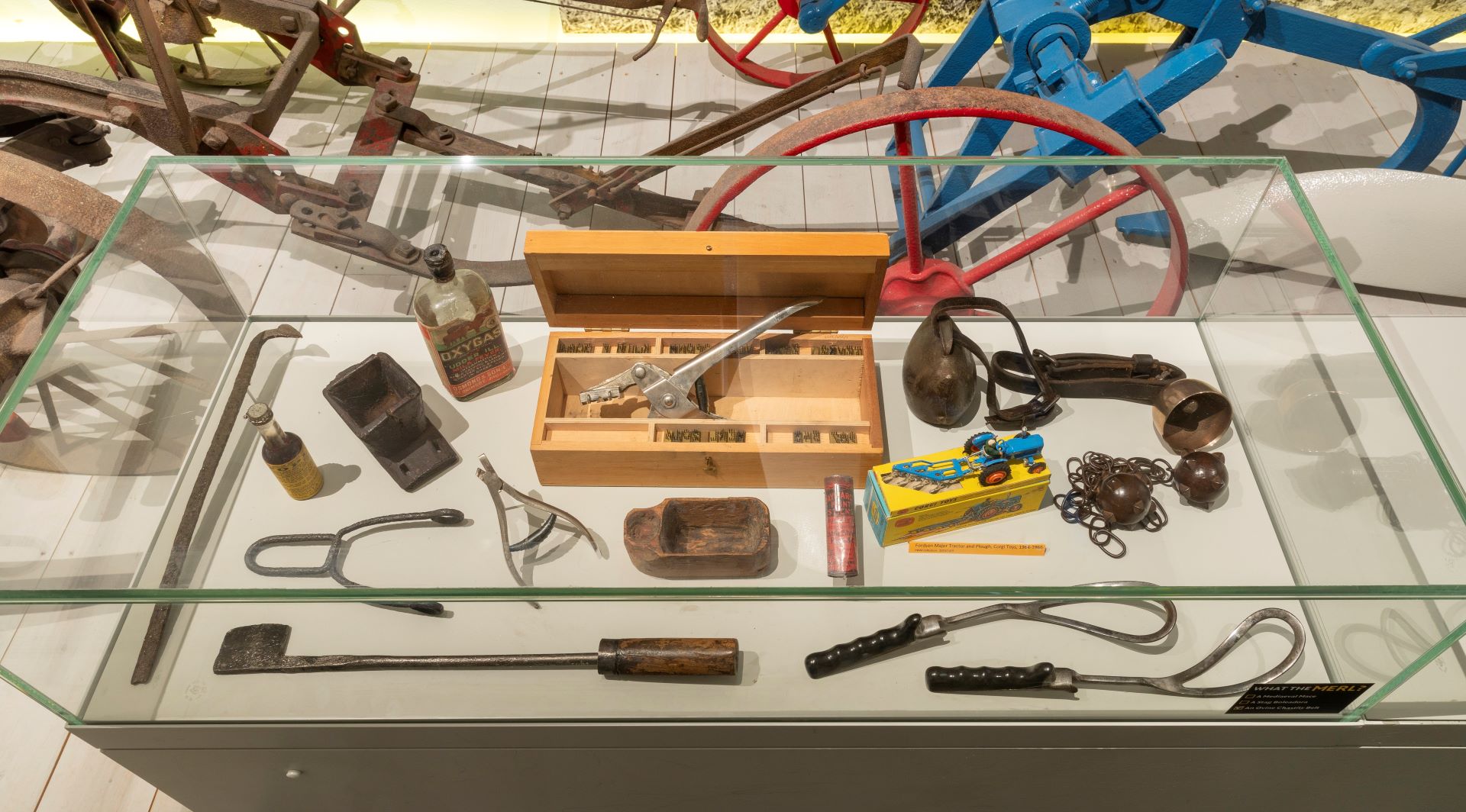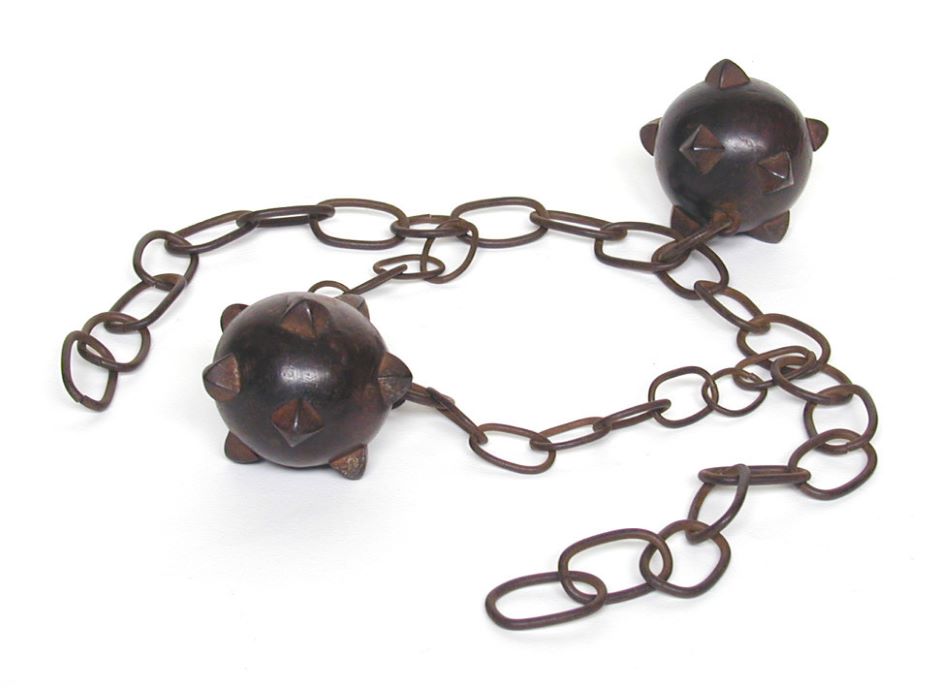 Sheep Contraceptive
Though very little is known about this object, it has been identified as a rare kind of sheep contraceptive, which was draped over the back of a ewe to prevent rams from mating. It is also known as a 'ram scarer'.
There are various reasons why a farmer wouldn't want certain ewes to breed with certain rams; for example, to avoid inbreeding. In the 1960s it was also speculated that this object could be a curtain chain. It was featured in a 2018 Twitter thread.
MERL 55/173
close

Dog bit
This dog bit would have been placed in the mouth of a sheepdog to prevent it from biting – or 'gripping' – sheep while working. It is thought to have been crafted by a blacksmith in Piddletrenthide, Dorset, and used by a local shepherd. It was probably made in the late 19th century.
Dog bits are not used on sheepdogs any more, and instead gripping is discouraged through the use of calm, clear verbal commands. Gripping usually takes place when a dog is overly stressed or excited.
MERL 56/18
close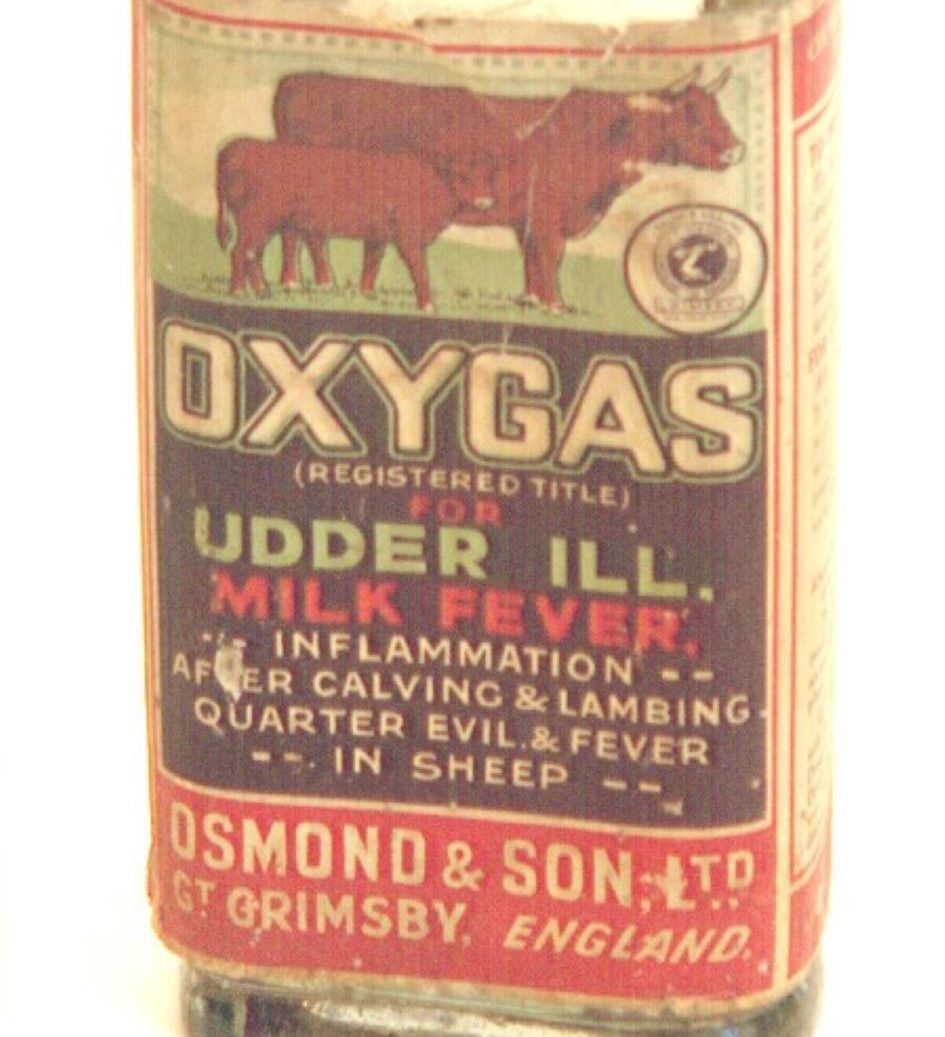 Medicine bottle
This bottle contains 'Oxygas', a veterinary medicine to treat milk fever in sheep and cattle. It was produced by Osman & Son of Grimbsy and was used at Ballard's Farm in Edington.
Milk fever, which if left untreated can lead to an inability to stand and loss of consciousness, is caused by low calcium levels in the blood. The modern treatment is a calcium injection. Various other treatments have been tried throughout history –  in 1845 some textbooks suggested drenching the animal in boiling ale or beer! This medicine also claims to cure other 'ills of the udder'.
MERL 91/27
close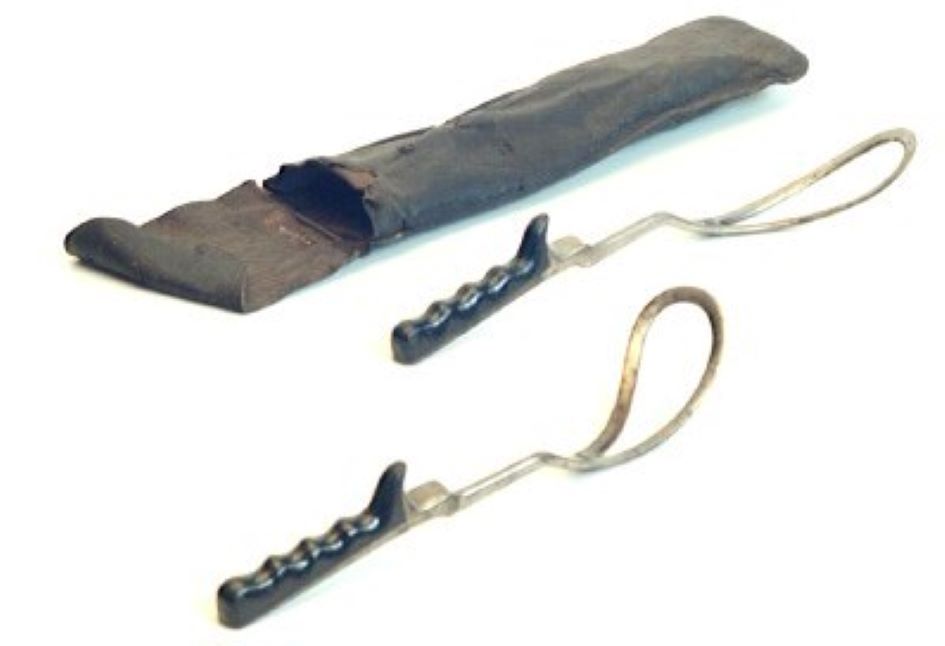 Birthing forceps
These birthing forceps were likely made for human births, sometime before 1895. They were awarded to a "Jno. H. Goodlife" as a first prize award at a University of Aberdeen midwifery class. Following this, they were used as lambing forceps by at least one farmer, before ending up on a refuge dump in 1961.
Whilst the healthy birth of a lamb should not require forceps, ewes may require assistance if the lamb has not been born an hour after water bags are passed.
MERL 61/228
close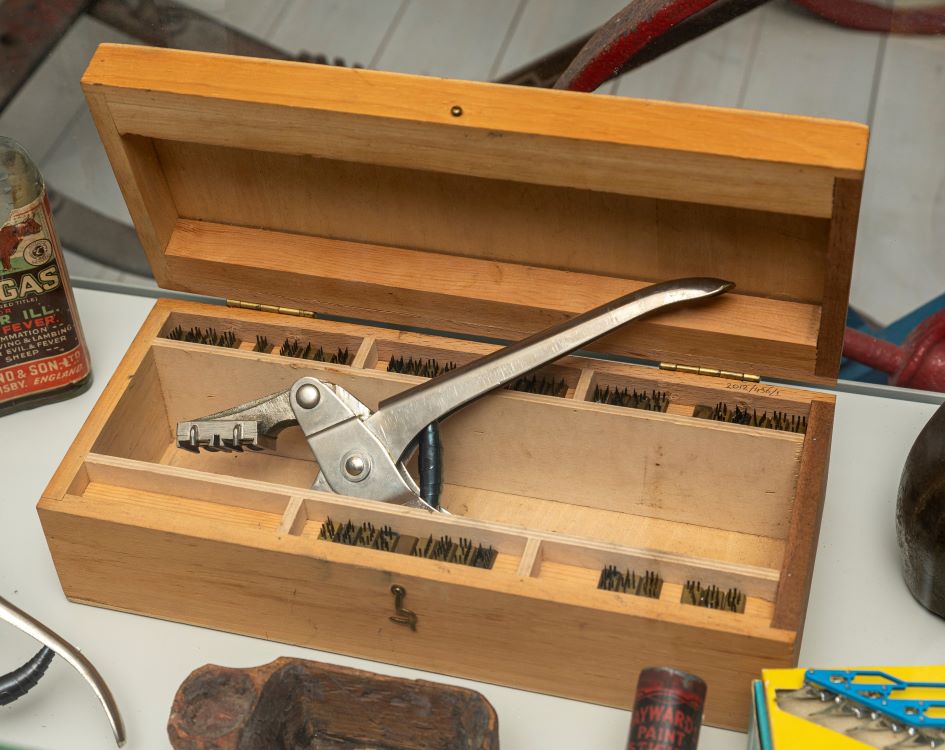 Tattoo box
This tattoo box contains 40 pins with letters ranging from A-Z. It was utilised by Joseph Bevan in around 1950 to mark sheep. From around 1960 onwards, he used an ear notcher and paint.
Tattooing is still a popular method of placing a unique identifier on an animal. The tattoos usually consist of closely spaced dark dots depicting letters or numbers. Using permanent tattoo ink is important, as otherwise it fades into the bloodstream. Other popular methods of marking animals include ear notching and attaching tags.
MERL 2012/436
close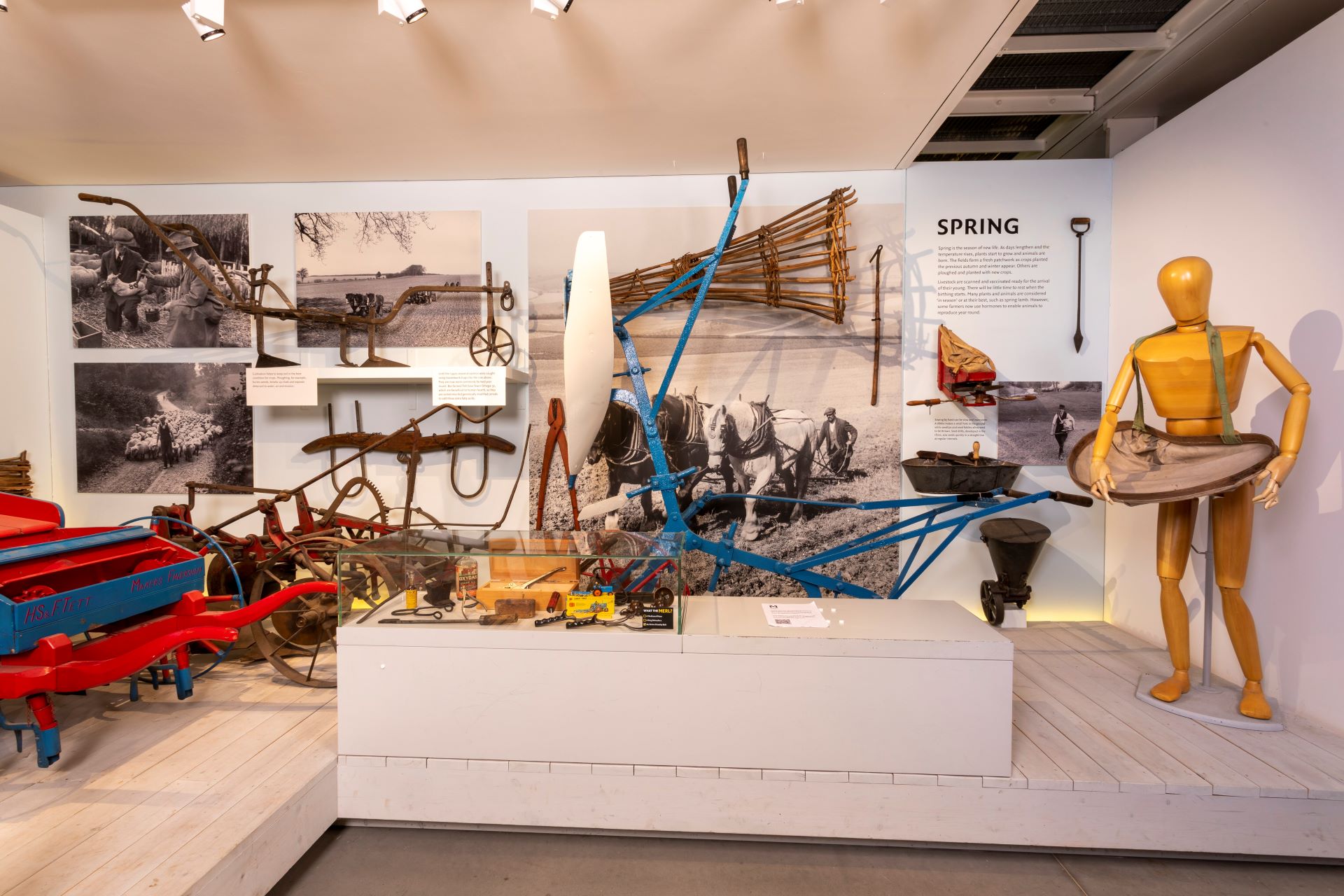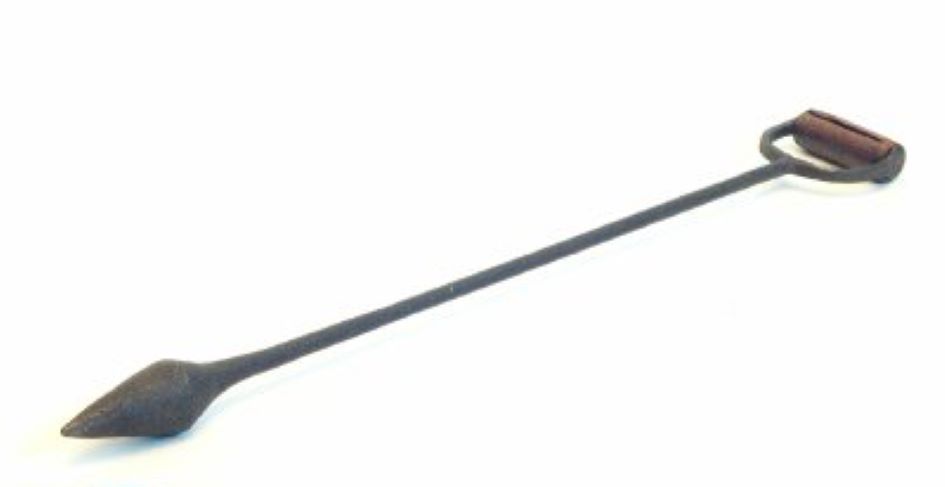 Dibble
This dibble was probably made in the Gravenhurst area and used there for around 150 years, before being deposited at the museum in 1954.
Dibbles were utilised by farmers hand sowing their seeds to ensure the seeds were properly covered by soil. The usual practice was for the farmer to walk through a ploughed field with a dibble in each hand, making holes to the left and right. A child would follow, placing seeds in the holes and covering them with soil. Dibbling was popular in the 19th century as it provided employment for children from large families. These children were otherwise in danger of ending up in workhouses.
MERL 54/361
close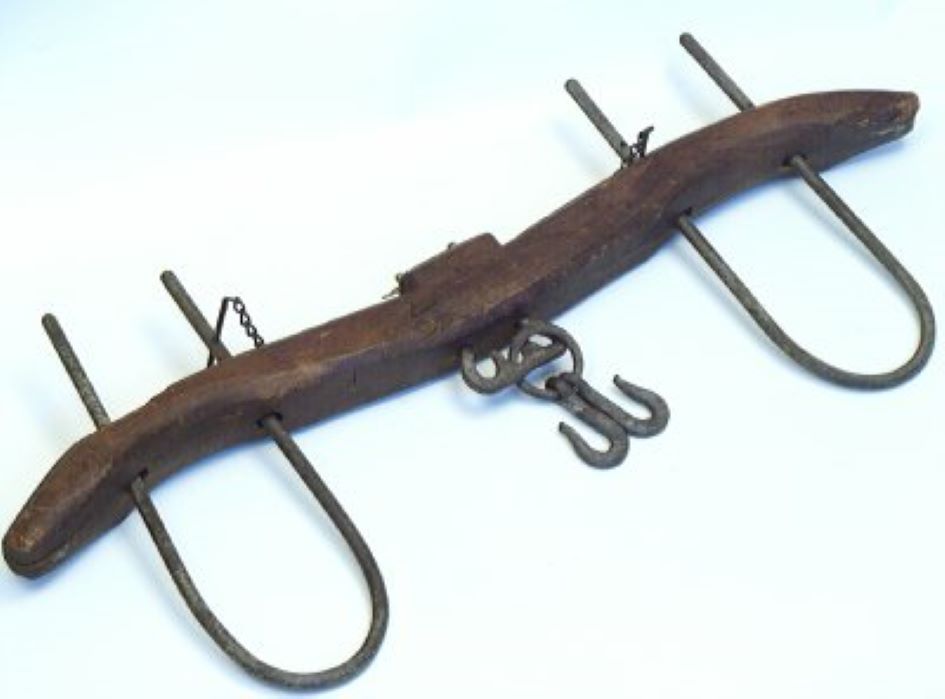 Ox yoke
Ox yokes are wooden beams which are tied round the necks of two oxen and are then fastened to a cart or plough so the oxen can pull it. This yoke was used on a farm in Wilcote, Oxon until 1912. At this time, oxen were used to draw the water cart.
Oxen were traditionally favoured for farm work because they were low maintenance and highly robust, being able to survive on low quality straw. However, they were gradually replaced by horses in the 19th century. Once the traction engine was invented, oxen were phased out – apart from when they had to haul the machines out of a ditch!
MERL 53/94
close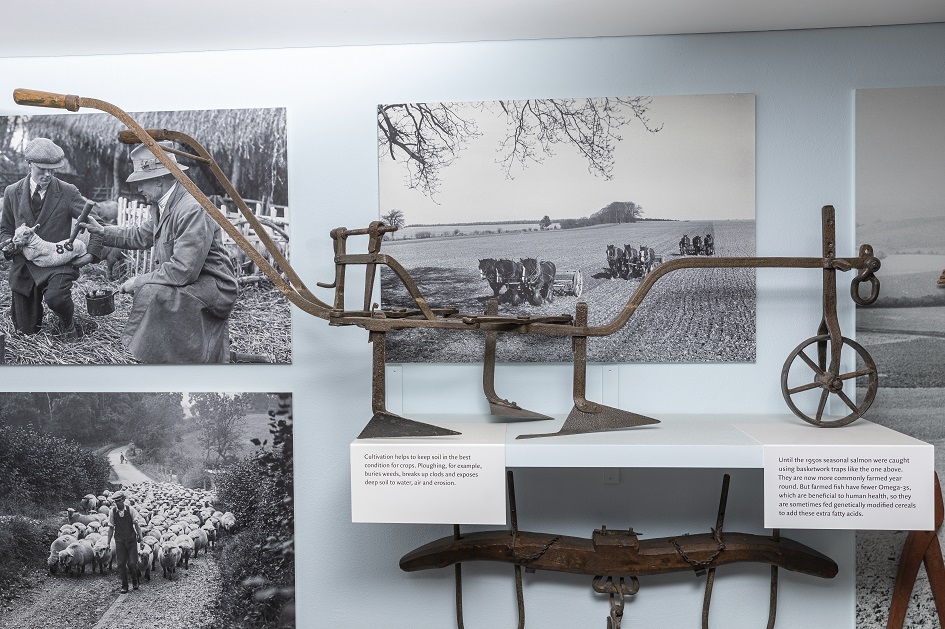 Horse hoe (scuffle)
A 'scuffle' is a horse drawn hoe used for weeding. British agriculturalist Jethro Tull is credited with inventing horse drawn hoes, which often doubled as ploughing equipment. As well as killing weeds, they would break up the soil to enable better crop growth. 'Scuffle' hoes can be identified by their triangular heads with blades on two sides. This example was used at Hopgoods Farm in Stoke.
The hoe is one of the oldest agricultural tools in the world, predating even the plough, with evidence suggesting they were used over 4,000 years ago.
MERL 55/298
close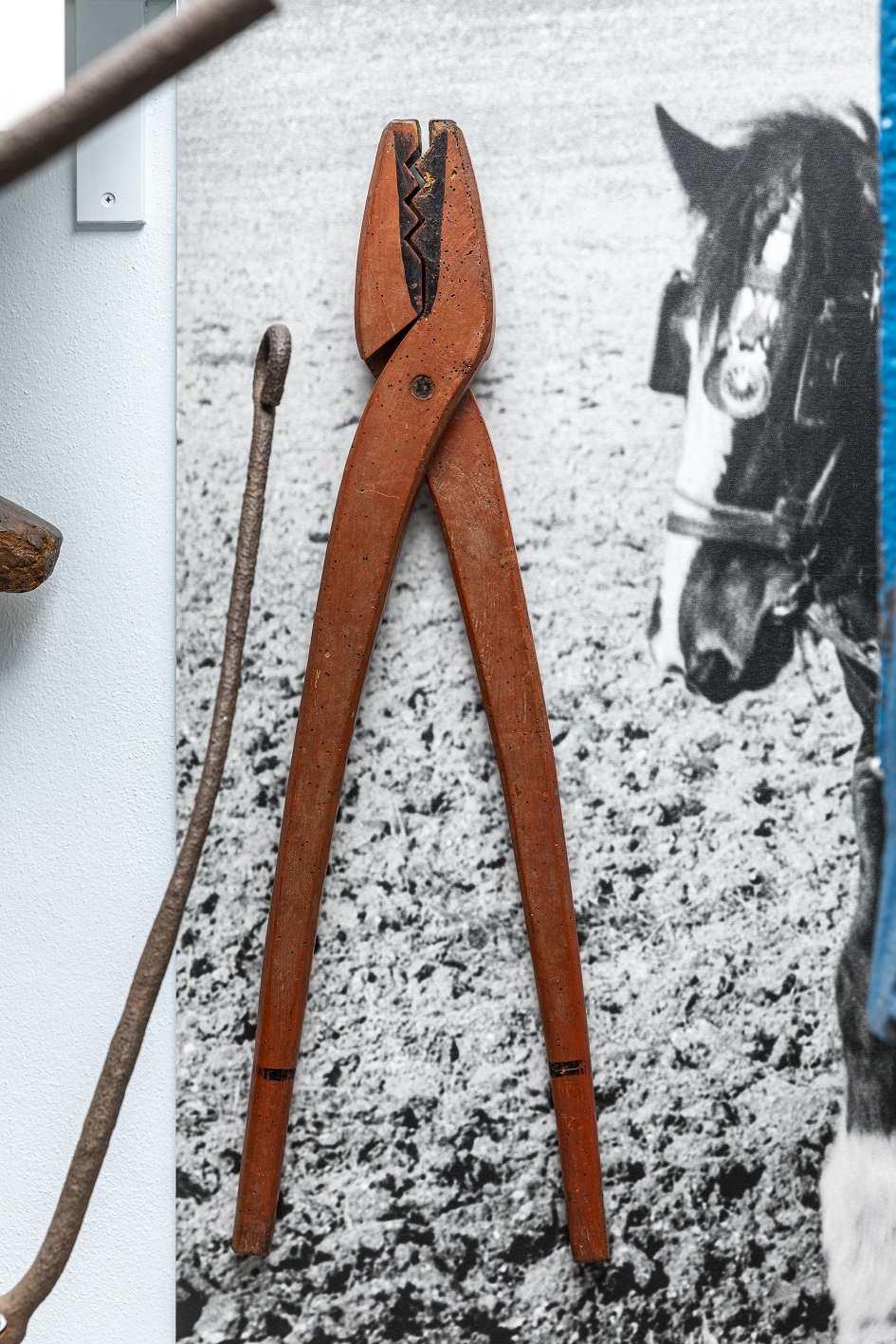 Weeding tongs
Found in a farmhouse attic on Pool Farm, Hinton, these weeding tongs were likely used on the farm to pull up thistles.
For thousands of years, basic cutting tools and pulling by hand were the best way to combat weed growth. New methods have emerged to combat weeds, each with their own challenges. Grazing animals can be introduced which only eat weeds, but these are expensive to maintain. Herbicides must be used with caution to avoid damage to crops. Weeding through tillage is now the most popular method, via precise weeding knives attached to the tillage implement.
MERL 55/350
close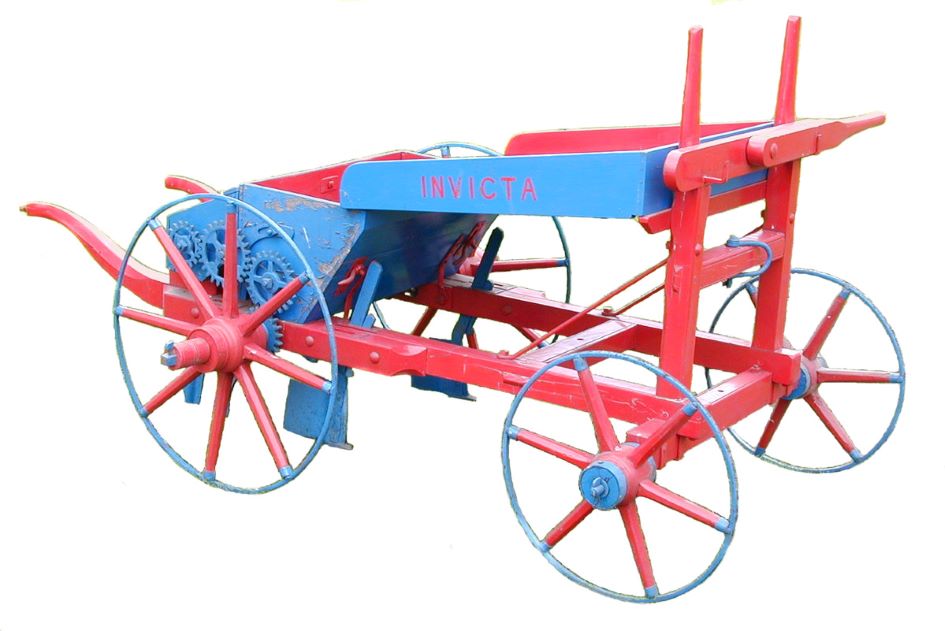 Seed drill
Named 'Invicta', this seed drill was manufactured by Henry S. Tett & Co. Ltd. of Faversham, Kent. Seed drills are mechanical implements that distribute seeds with the correct depth and spacing, then cover them again. This drill would have been pulled by a single horse, though modern versions are much larger and hauled by tractors.
Seed drills were invented in China in the second century BCE. They were a marked improvement over the previous method of hand sowing seeds, as they ensured that crops would grow within furrows. Jethro Tull improved on the design and invented the first mechanised seed drill in 1701.
MERL 77/263
close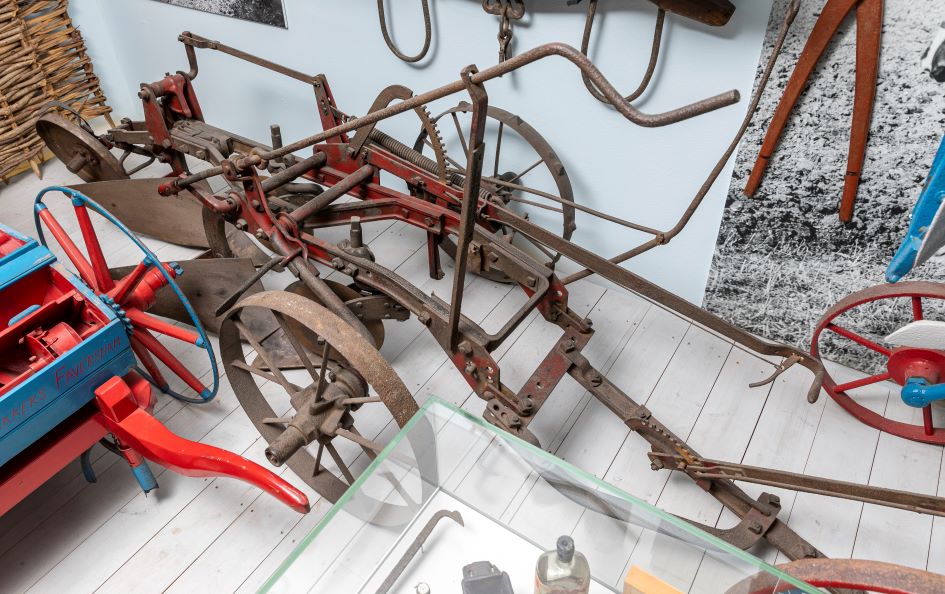 Tractor plough
Manufactured in Ontario and imported to the UK in around 1940, this tractor plough was then used at Low Farm, Hemingfield for the next 40 years.
By this time, internal combustion engines had become the dominant force in British ploughing. The mass-produced Fordson tractor was more compact and efficient than steam ploughing equipment, and faster than horse ploughing. It was also cheaper than either of these options. It worked on the same principle that the Ford Model T had used to dominate the motor car industry; that an everyday person should be able to afford one.
MERL 79/68
close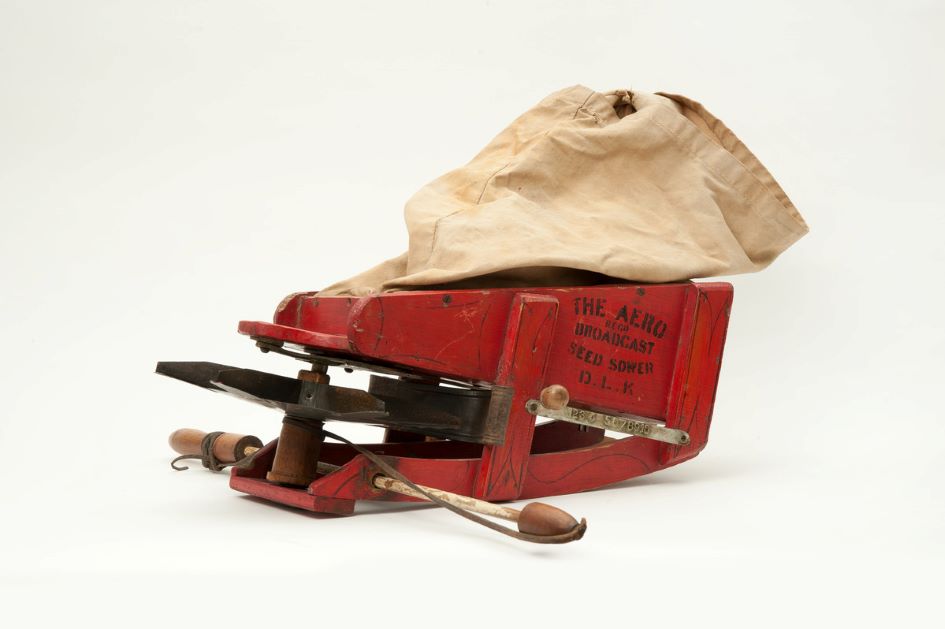 Seed fiddle
This seed fiddle was made by DLK of Kilmarnock, possibly in the 1950s. This particular model is named 'The Aero' and was used by a smallholder in Haddiscoe, Norfolk.
Seed fiddles were invented around 1850 in the USA. Moving the device's bow backwards and forwards would drop seeds onto a spinning disc which were scattered in a wide arc. It was hand powered and therefore a direct improvement on hand sowing. Making its way into the UK in the 20th century, the seed fiddle was popular on small farms where seed drills and tractors were not cost efficient. They were typically used to broadcast grass and clover seed.
MERL 98/12
close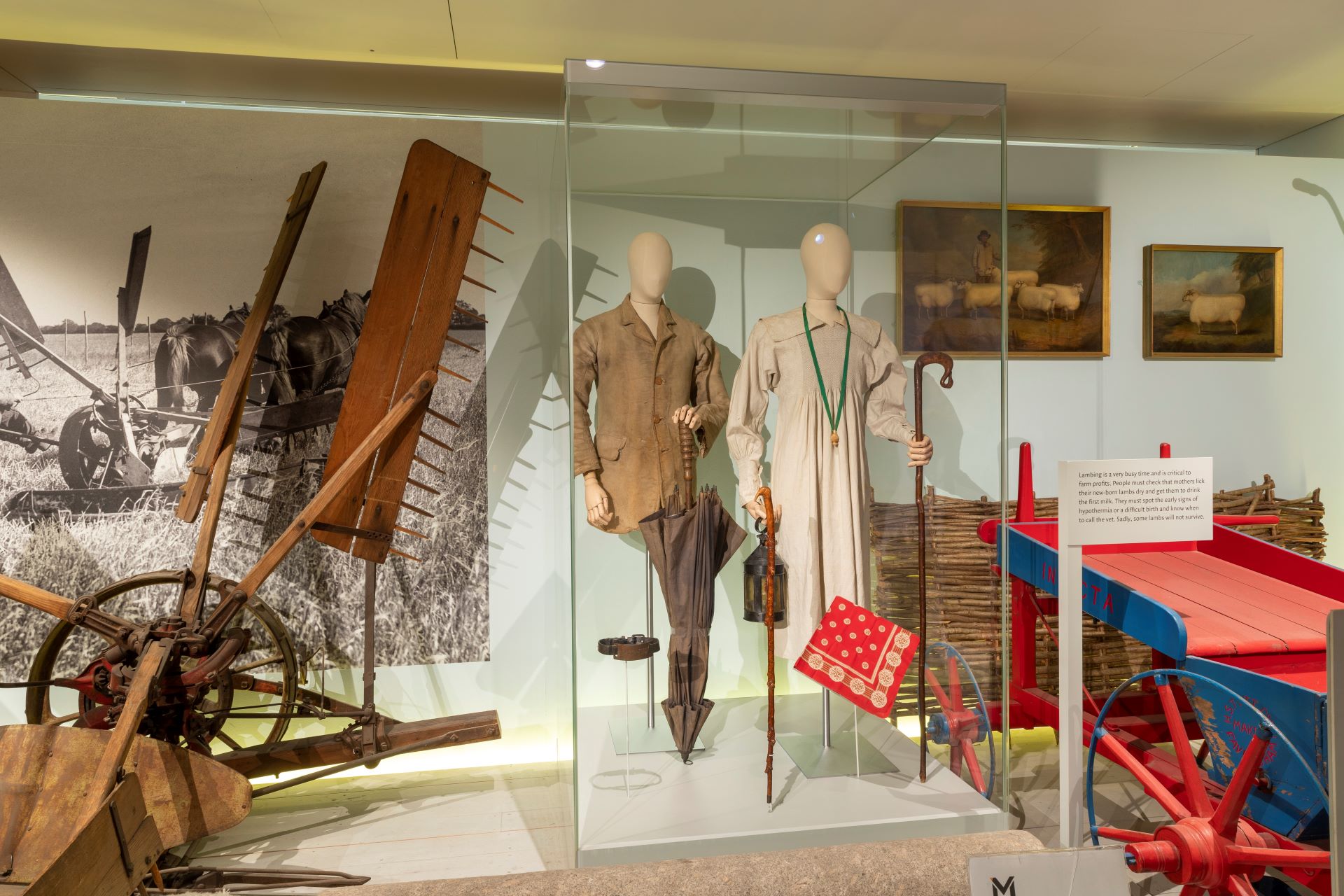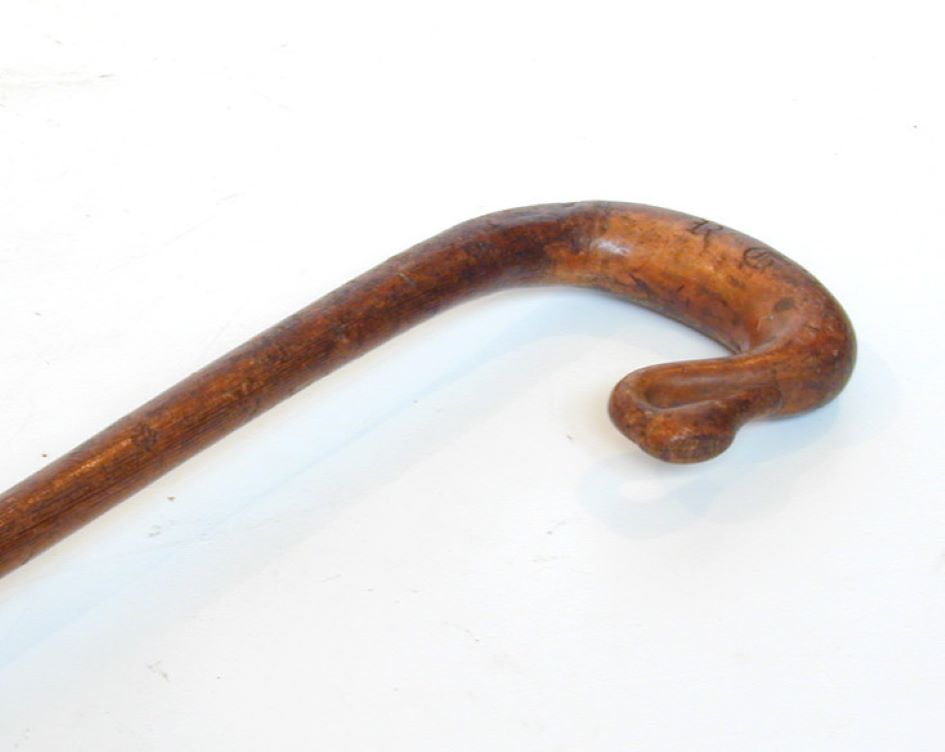 Crook
Little is known about this crook's history, but it was likely made in Kent is probably fashioned from chestnut. Crooks were used by shepherds to catch sheep by the leg, and were employed as makeshift walking sticks to aid with crossing difficult terrain. Most shepherds crafted their own crooks.
Crooks have also been symbolic of religious power for thousands of years. The Hebrew prophet Moses is usually depicted holding one, and the Egyptian god Osiris is rarely seen without his flail and crook. It is even theorised that candy canes are based on crooks; in 1670, a German choirmaster was inspired by the shepherds' role in the Nativity and bent sugar candies to resemble crooks.
MERL 63/106
close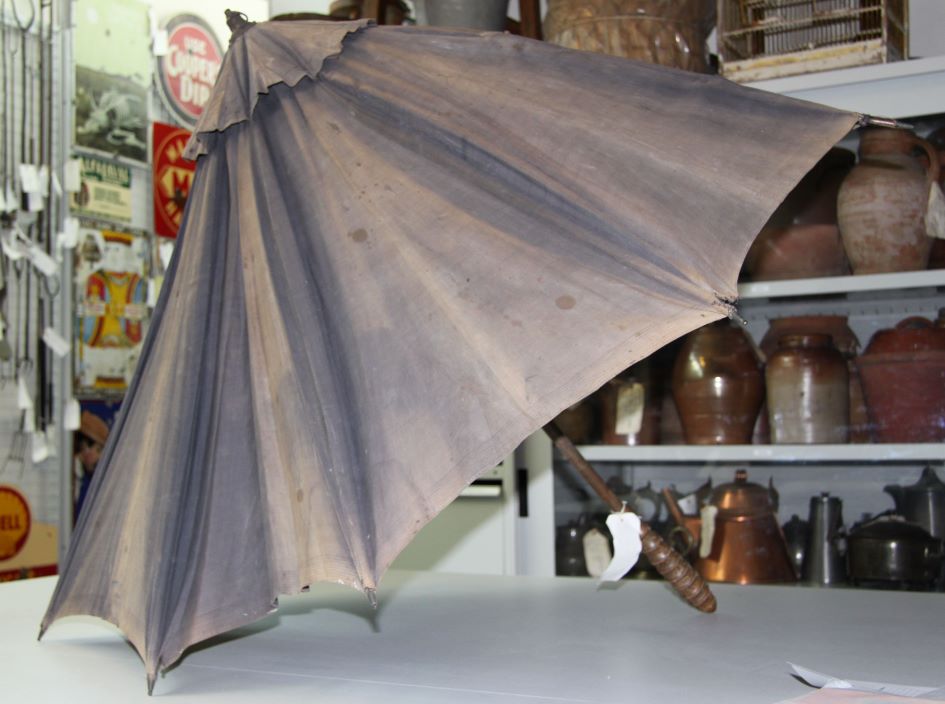 Umbrella
This umbrella was acquired by Lavinia Smith, likely from a shepherd in the East Hendred area in Oxfordshire. It then formed a part of the Lavinia Smith Collection and was displayed to visitors at her home in Downside. The umbrella is made from blue cotton with a wooden frame and handle.
Shepherds were fully exposed to the elements throughout their daily work. It is possible that this umbrella was used during the drastically wet summer of 1879, which saw nearly double the average rainfall. This weather contributed to the ongoing Great Agricultural Depression of 1873-1896.
MERL 57/571
close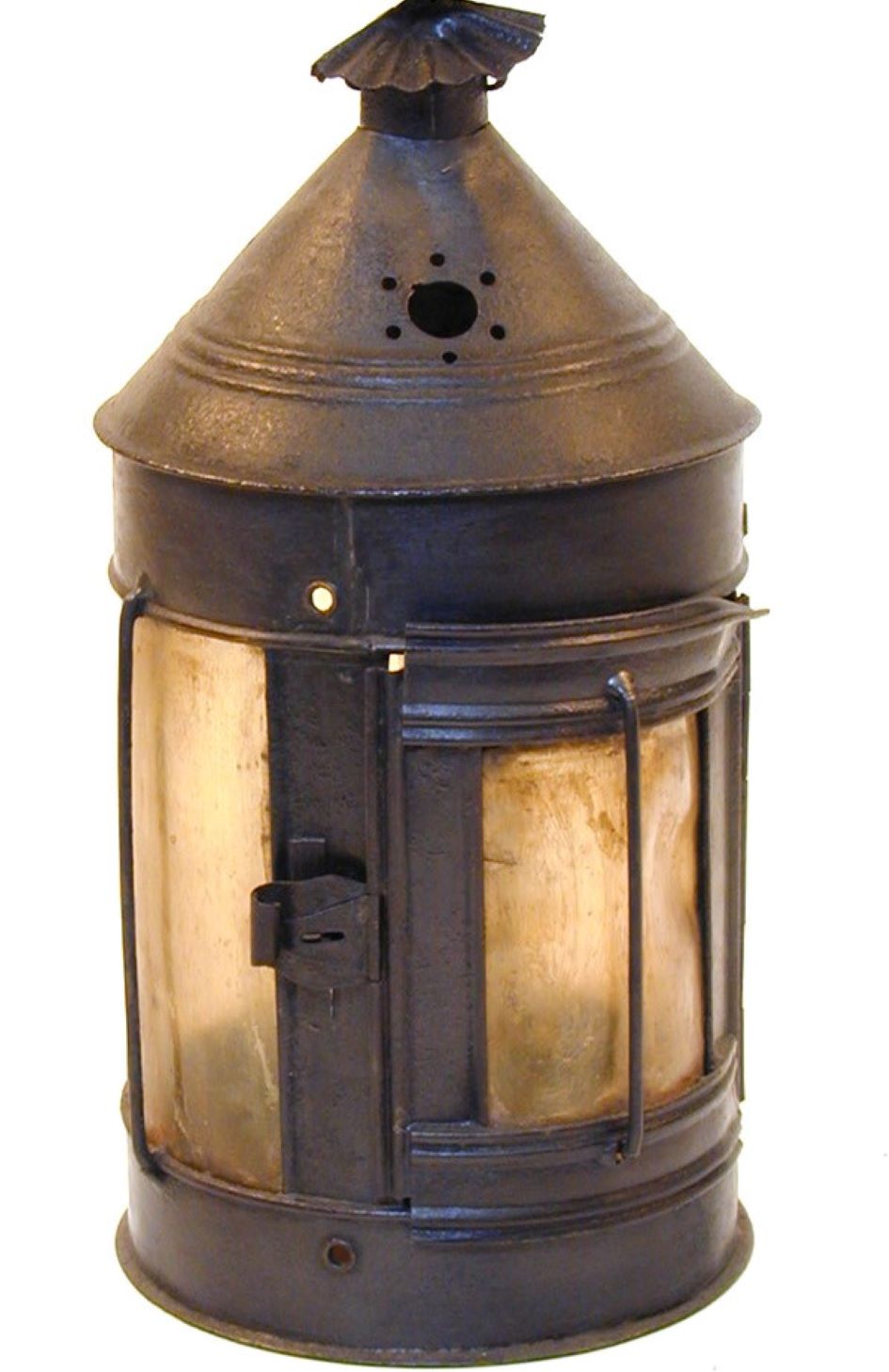 Horn lantern
Originating from near East Hendred in Oxfordshire, this lantern was acquired by Lavinia Smith and formed part of her collection of rural objects. It matches the characteristics of a farmhouse lantern, but Smith described it as a shepherd's lantern. It was made around 1849. The lantern is constructed from sheet iron and horn panels.
Lanterns were essential for helping agricultural workers to navigate poorly lit farm buildings. This particular item would have been ideal for a shepherd as it has no glass components and is therefore much sturdier than a regular lantern.
MERL 51/584
close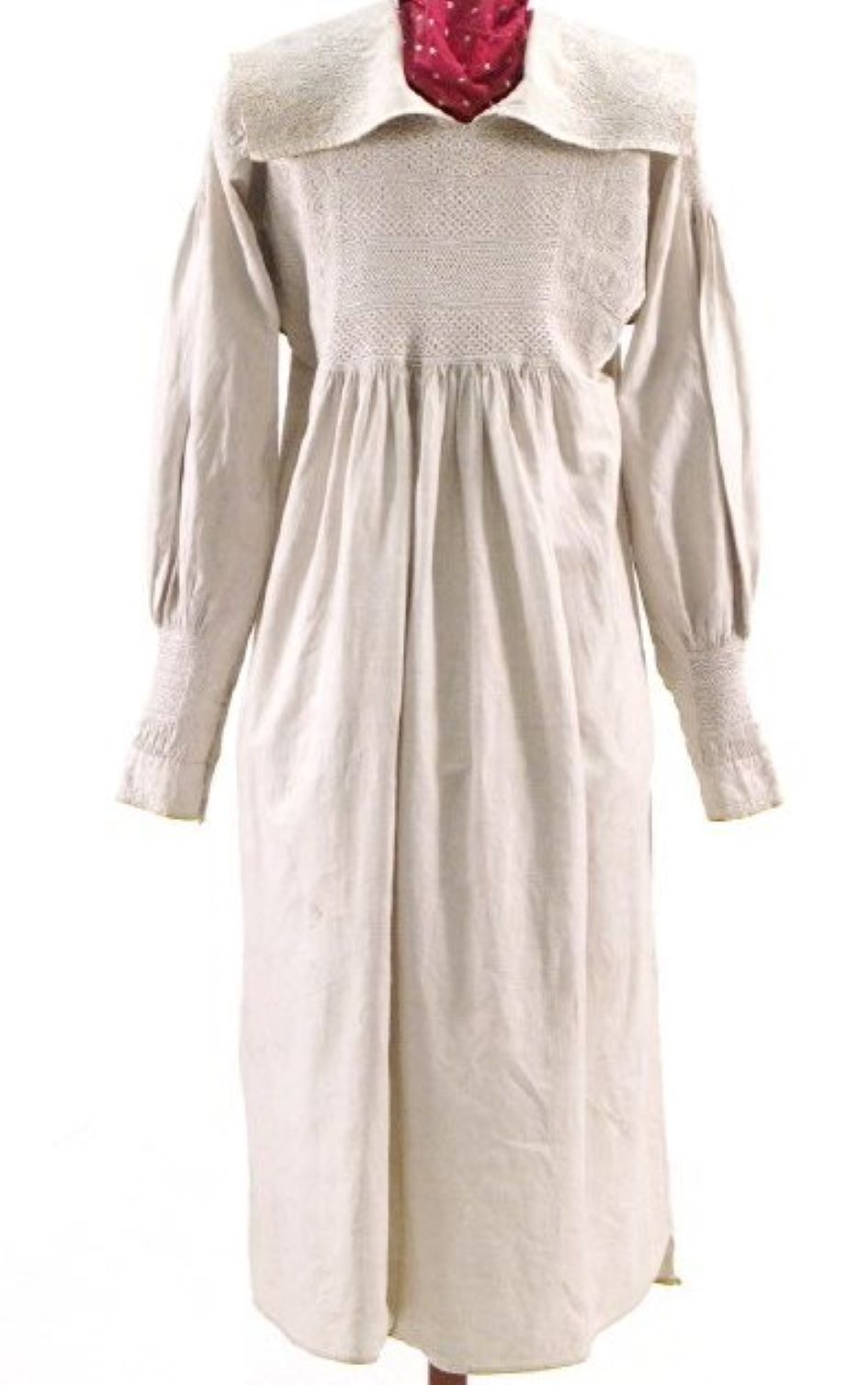 Smock
This item of clothing is a smock, a garment traditionally worn by agricultural workers over the clothes. This particular smock was hand woven from linen in the early 19th century, and contains the elaborate embroidery typical of such pieces. Having been created in Ashendon, Kent, it was then worn by a cowman, and handed down to his son, a shepherd. However, when it was passed down again, it was then used as 'Sunday best' and likely would have been worn to church. This demonstrates the versatility of smocks; they were ideal for both physical labour and formal occasions.
If you would like to know more about smocks, click here to see our online exhibition.
MERL 55/780
close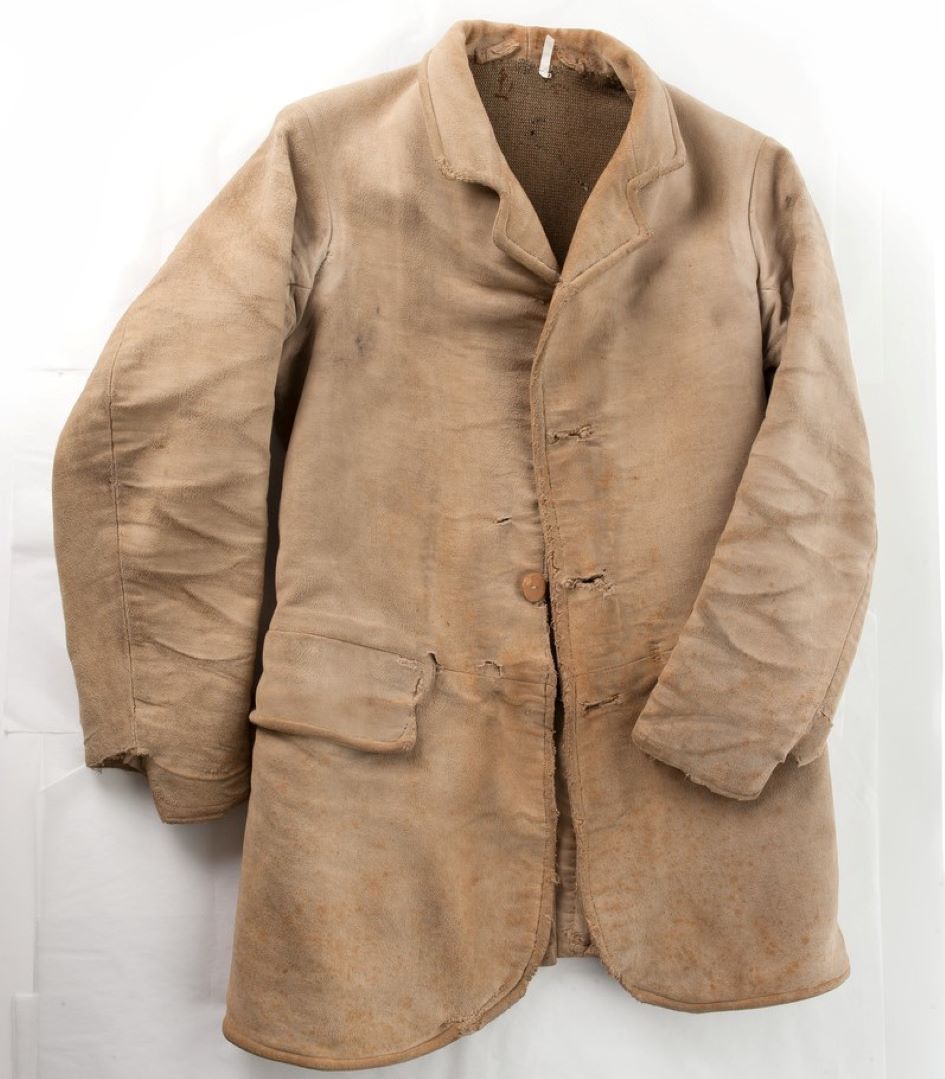 Fustian jacket
Initially worn by a shepherd near Fovant, Wiltshire, this fustian jacket was sold to a local actor named William Simmonds in 1914. Simmonds then wore the jacket during village plays over the next 25 years. It is made from a double layer of fustian, interfaced throughout with coarse woven "hessian" material.
Shepherds needed their jackets to be durable as they could not afford to buy replacements regularly, due to low wages. For example, in 1850, an average shepherd's wage in Dorset was £26 per year, whereas a cook earned £40.
MERL 74/4
close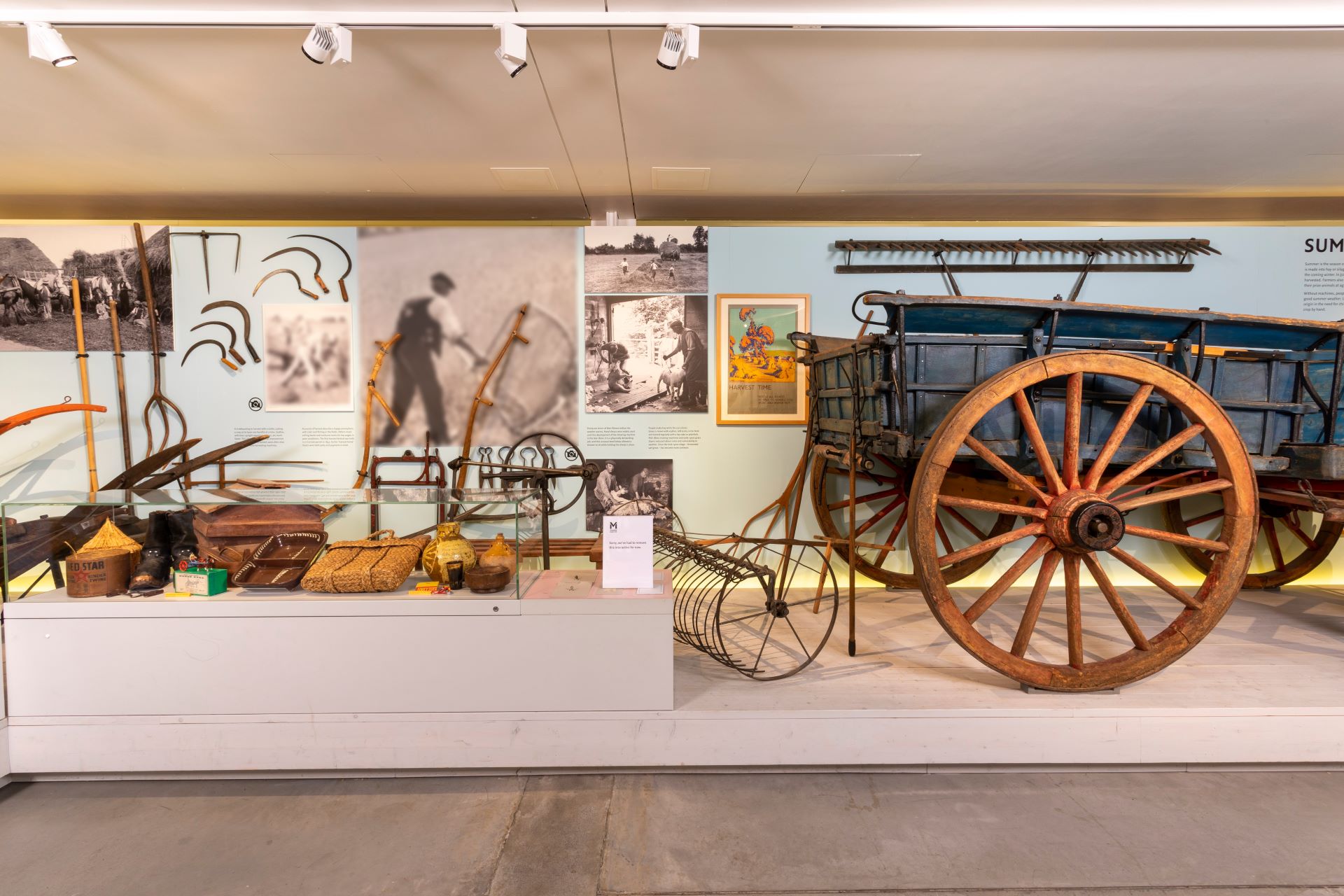 Furze hitcher (behind case)
+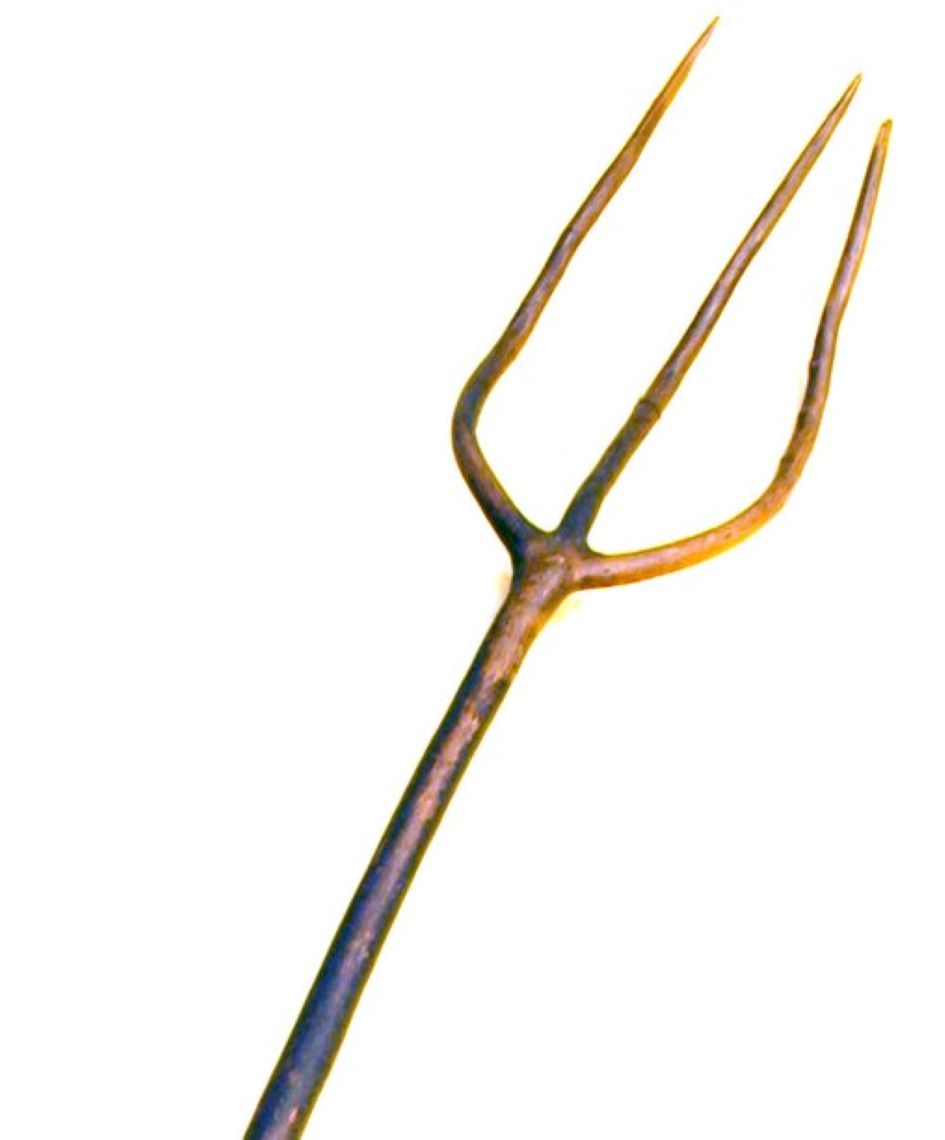 Barley fork
This is a three-pronged ash barley fork. It was used for 'pooking' – turning over mown barley lying in 'windrows' (rows) and stacking it into sheaves. Although some barley forks had two prongs, the use of a third, central prong at an angle to the other two prongs allowed the barley to be collected up in the "pocket" between the prongs. This fork is probably close to 200 years old – made before iron was used widely in farm tools. It was 'cultured' in the hedgerow, with a young ash sapling being trained into the trident shape over around ten years.
MERL 51/391
close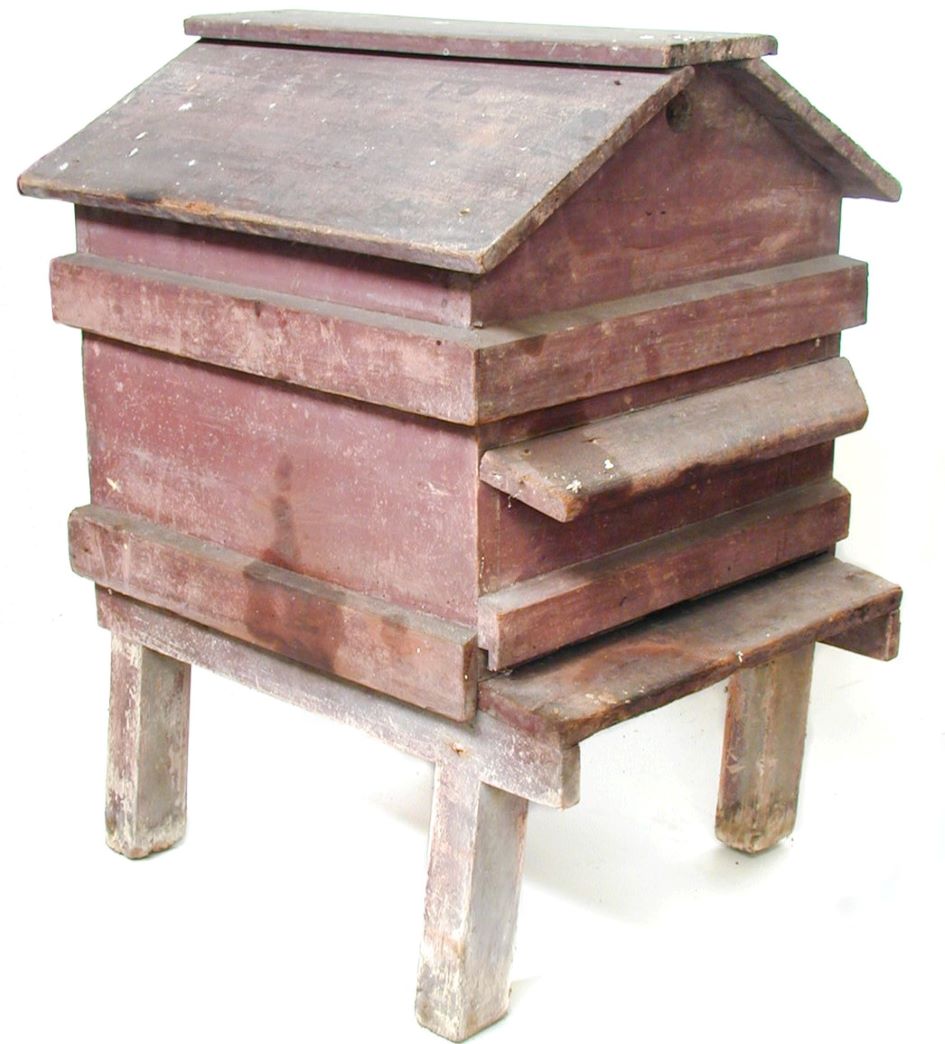 Beehive
This beehive was made by Henry Stewart, a carpenter who lived in Billericay, Essex. Honeybees are important because they are extremely effective and efficient pollinators of many crops and fruit important to humans. The early 20th century – when Mr Stewart was beekeeping – was a critical time for the activity in Britain. In 1914 a parasite, Acarapis woodi, originating on the Isle of Wight, extended over the UK and had devastated many native British bee colonies. Two men separately rescued the situation for British beekeeping – Brother Adam, a monk at Buckfast Abbey, and R.O.B. Manley.
MERL 82/27
close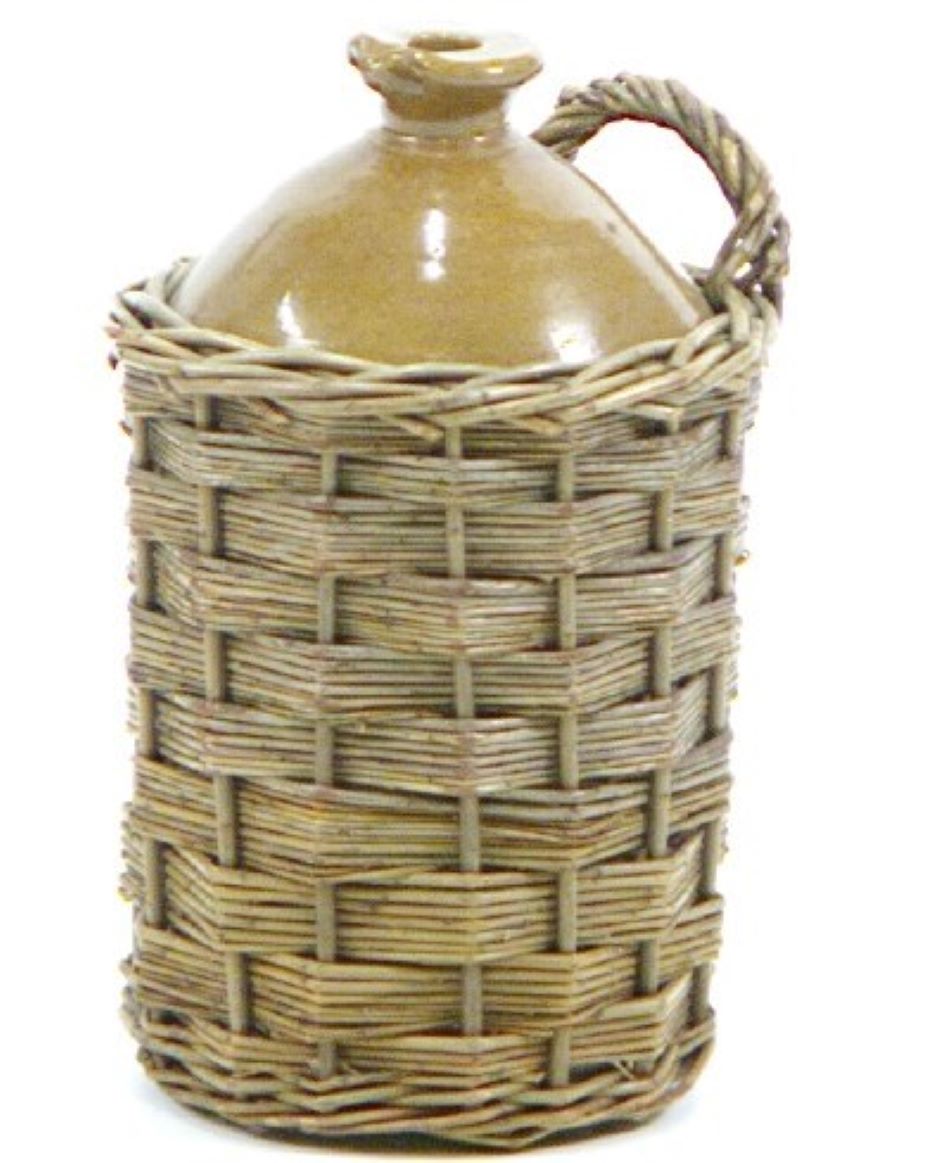 Cider jar
This is a stoneware jar, made in the mid-1940s by the Stockbridge Pottery Co. Ltd. at Burton in Lonsdale, North Yorkshire, with a basketwork cover. It was used for carrying cider to the fields for the harvesters to drink. Harvesting was hard manual work before extensive mechanisation – many farms provided food and drink for all the workers who toiled in the fields for long days. Cider (and beer) was used as a means of supplementing workers' wages at harvest time (and often at other times) from the 13th century through to the time of the First World War.
MERL 60/619
close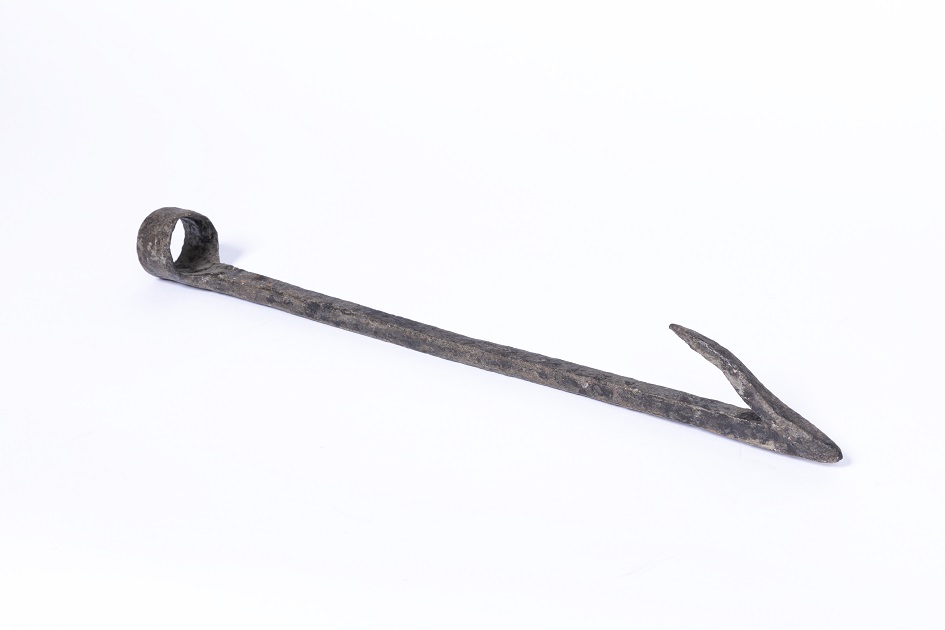 Furze hitcher
This furze hitcher was attached to the end of a long stick and used to extract brushwood from a stack or rick. A large source of fuel available in West Cornwall was brushwood (furze) from stunted trees, and timber washed up by the sea. Brushwood was generally collected in mid-summer and was stored in ricks. The name furze was much more widespread than in the West Country.
Relatively local to the MERL, the village of Furze Platt near Maidenhead is named after a small triangle of land – the Platt – which was covered by oak trees and furze.
MERL 53/595
close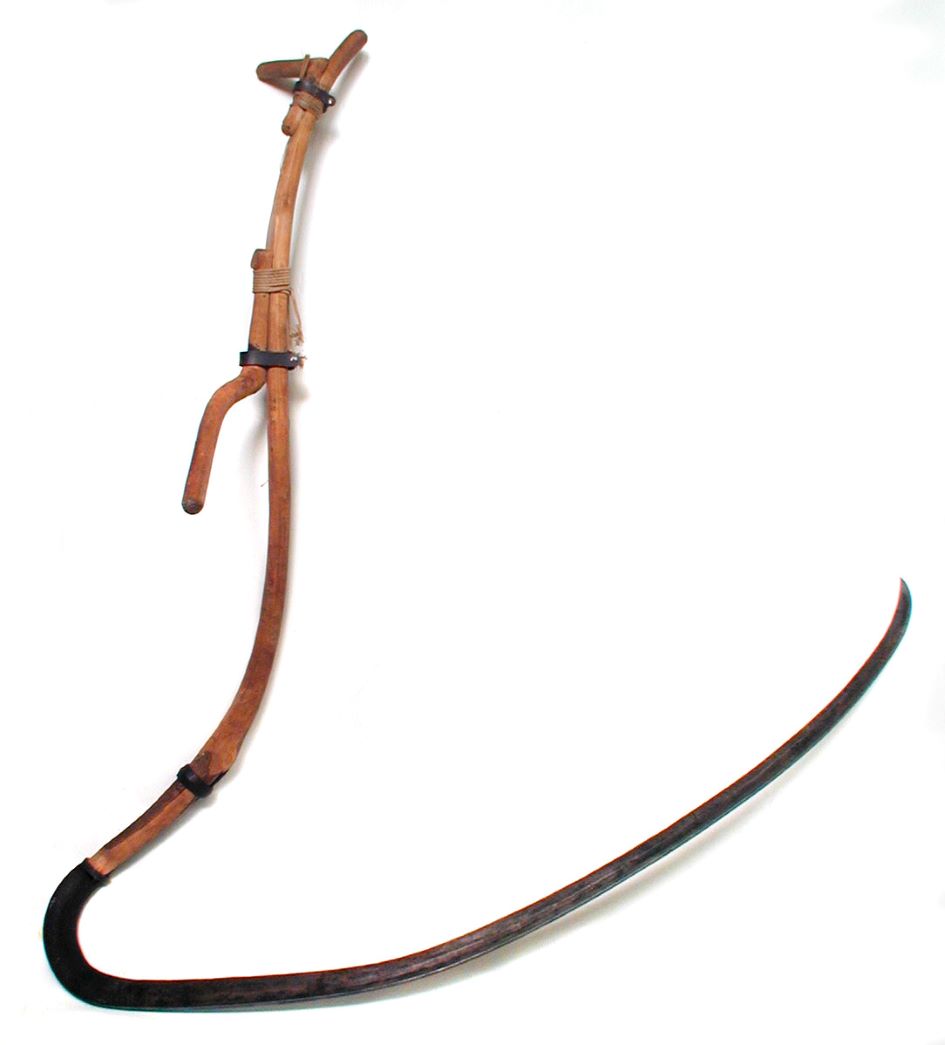 Replica Roman scythe
A scythe is an agricultural hand tool for mowing grass or reaping crops. The origins of the scythe are lost in pre-history, but the scythe was definitely in use in Britain in Roman times. Archaeological remains have been found in Britain of Roman scythes. These had longer blades and handles than more recent scythes.
A hoard of Roman ironwork was found in Great Chesterford, Essex in 1855 which included 12 scythes. In the 1960s John Anstee of the MERL had replicas made of the Roman Great Chesterford type scythe and this scythe is one of these replicas.
MERL 68/441
close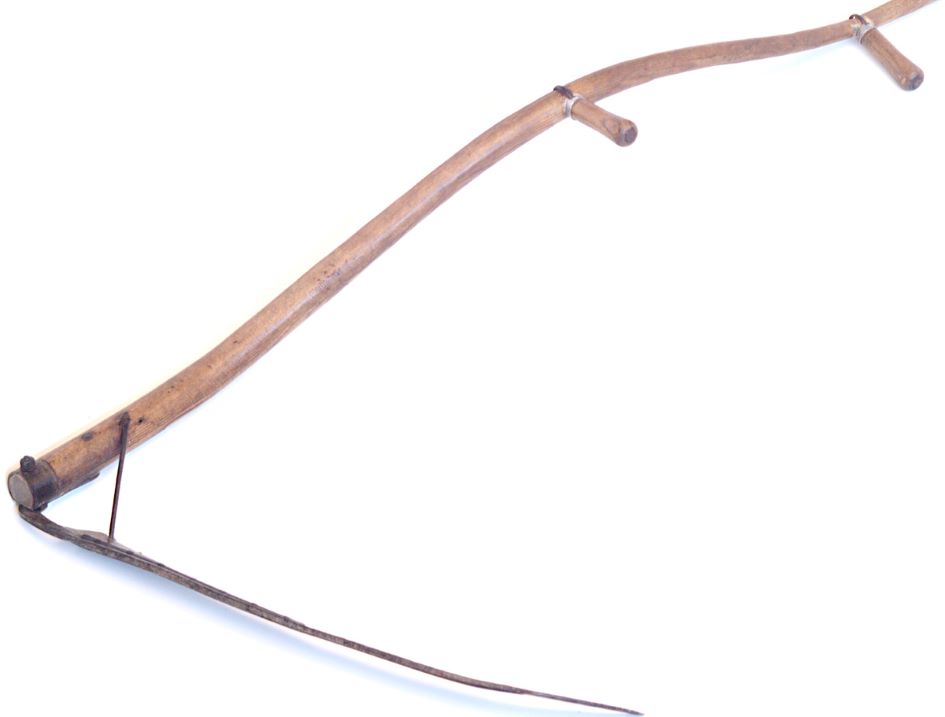 Scythe
The scythe was used to manually cut crops or grass at harvest time. It has largely been replaced – initially by horse-drawn, and more recently tractor machinery, and combine harvesters, but is still used in some areas of Europe and Asia.
Scythes remained in common use for many years after the introduction of machines because early machinery, whether horse or tractor drawn, could not mow in front of itself and scythes were still needed to open up a field by clearing the first swathe to give the mechanical mower room to start.
MERL 96/88
close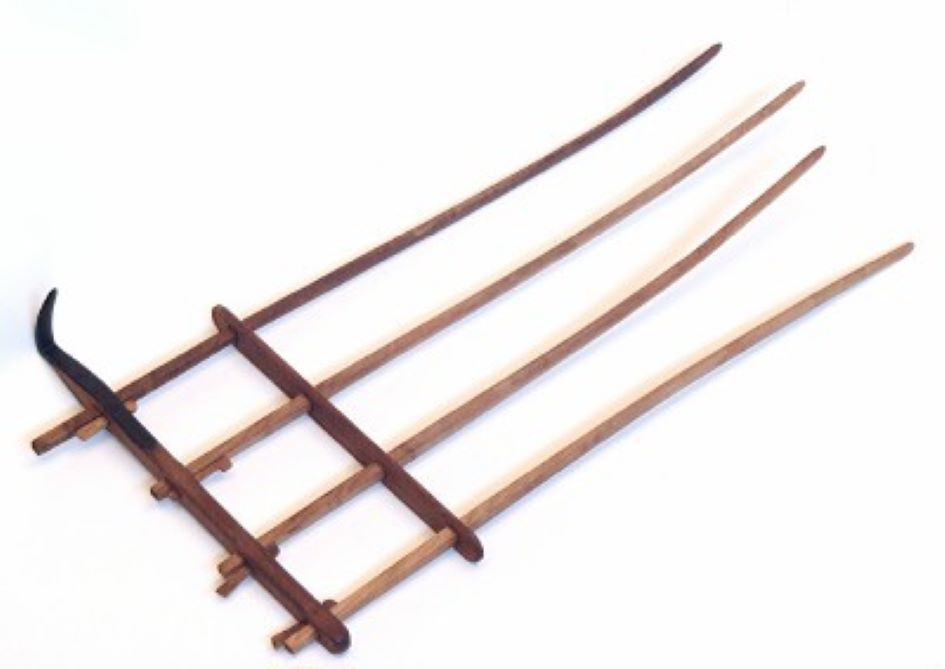 Scythe cradle
The scythe improved on the sickle by giving the mower a more ergonomic stance and permitting a larger blade. However, keeping the grain stems aligned in the windrow required great skill. Where these skills were less available, the addition of a cradle helped to manage the grain heads, reducing workload and improving efficiency at threshing.
A scythe cradle attachment looks like a large claw. As the mower mows, the grain stacks up in the cradle. At the end of the stroke the mower can neatly lay the grain down with all of the seed heads facing the same direction.
MERL 57/356
close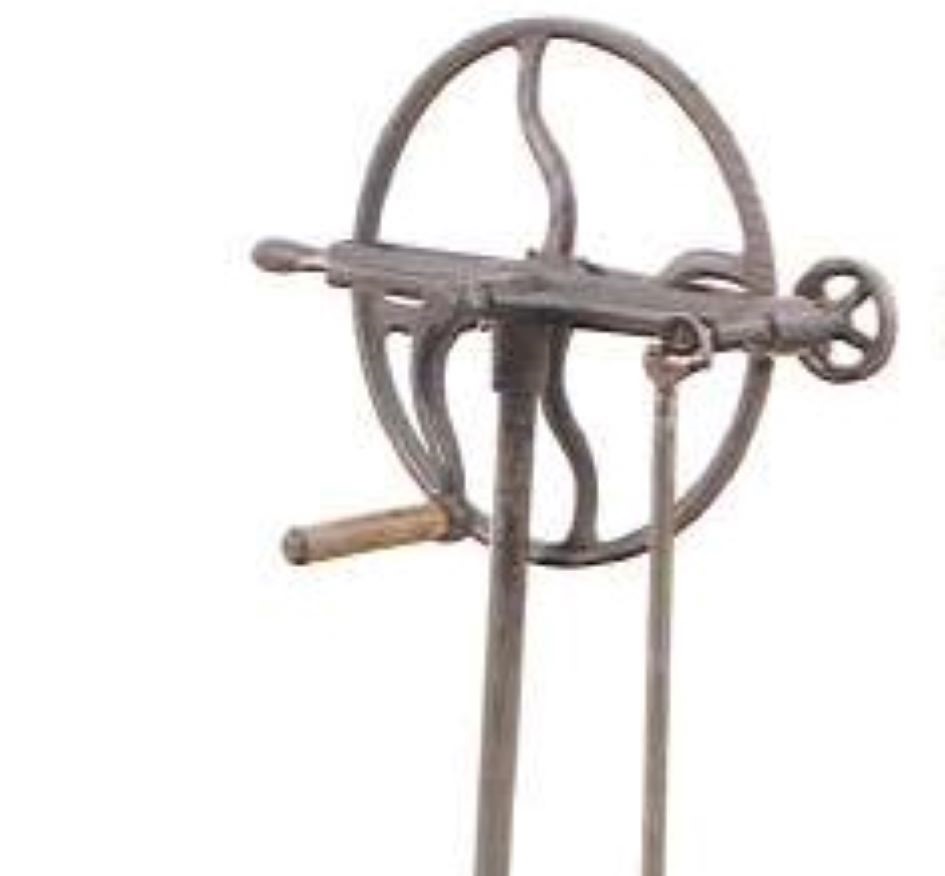 Shearing machine
This is an early twentieth century manual sheep shearing machine consisting of a large wheel turned by handle, a smaller wheel, and a long arm on which the shearing combs and blades are attached.
Shearing is an ancient occupation, as people needed fibre to make garments. Originally sheep and other animals were shorn using sharp glass or metal, before blades made the task far easier. Machine shearing was invented in the late 19th century and slowly became the main form of shearing, and by the mid 20th century electric and battery powered shearing was commonplace.
close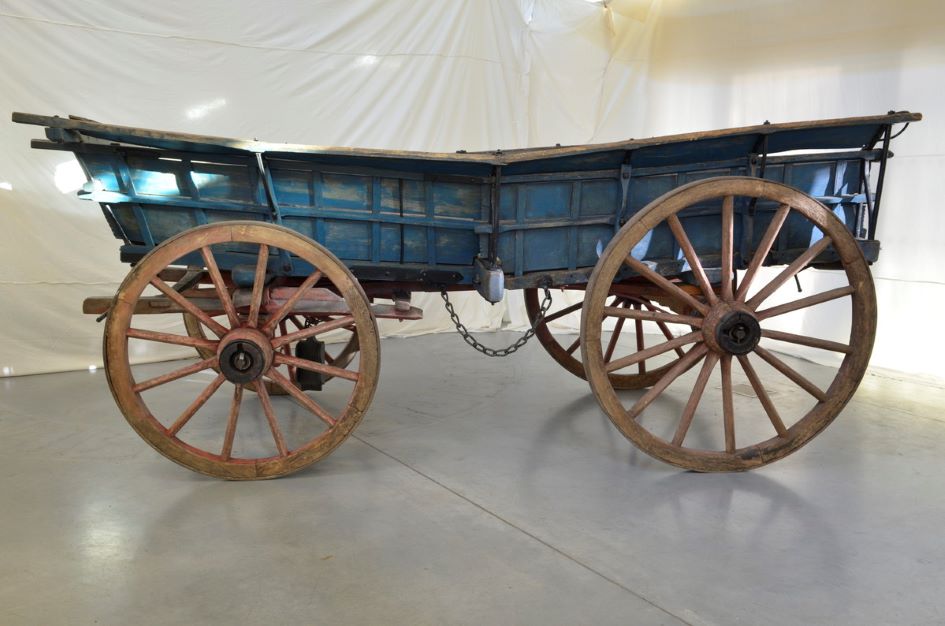 Sussex wagon
This wagon is an example of the narrow-wheeled variety of Sussex wagons. It is thought to have been made in the late nineteenth century. Broad wheel Sussex wagons were mainly used on the heavy clay soil of the Weald whereas narrow wheel wagons were employed on the lighter soils of the Downs. Sussex wagons had box body shapes which were deep and rectangular. The blue body and red wheels of this Sussex wagon is typical of the colours used in Sussex.
MERL 54/677
close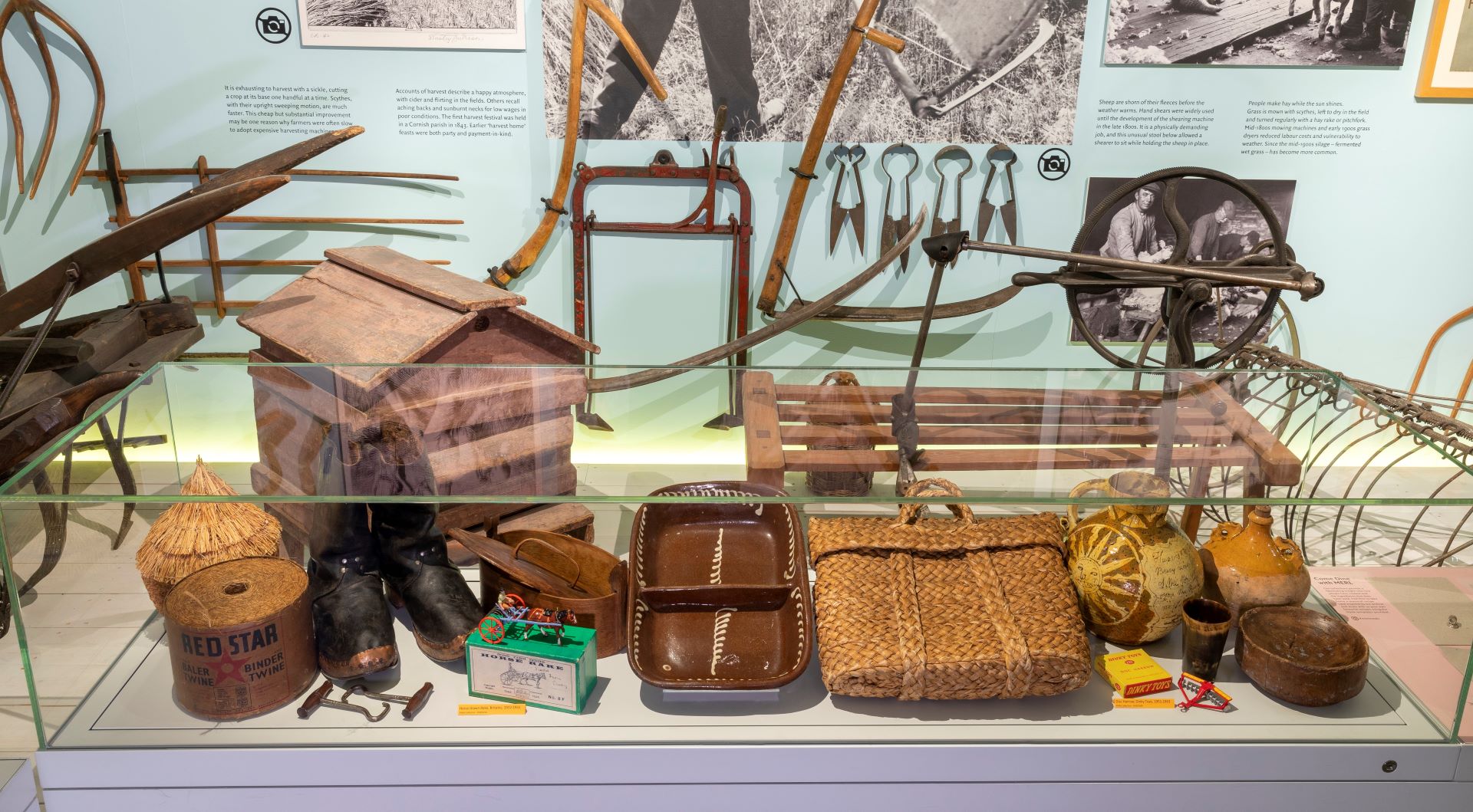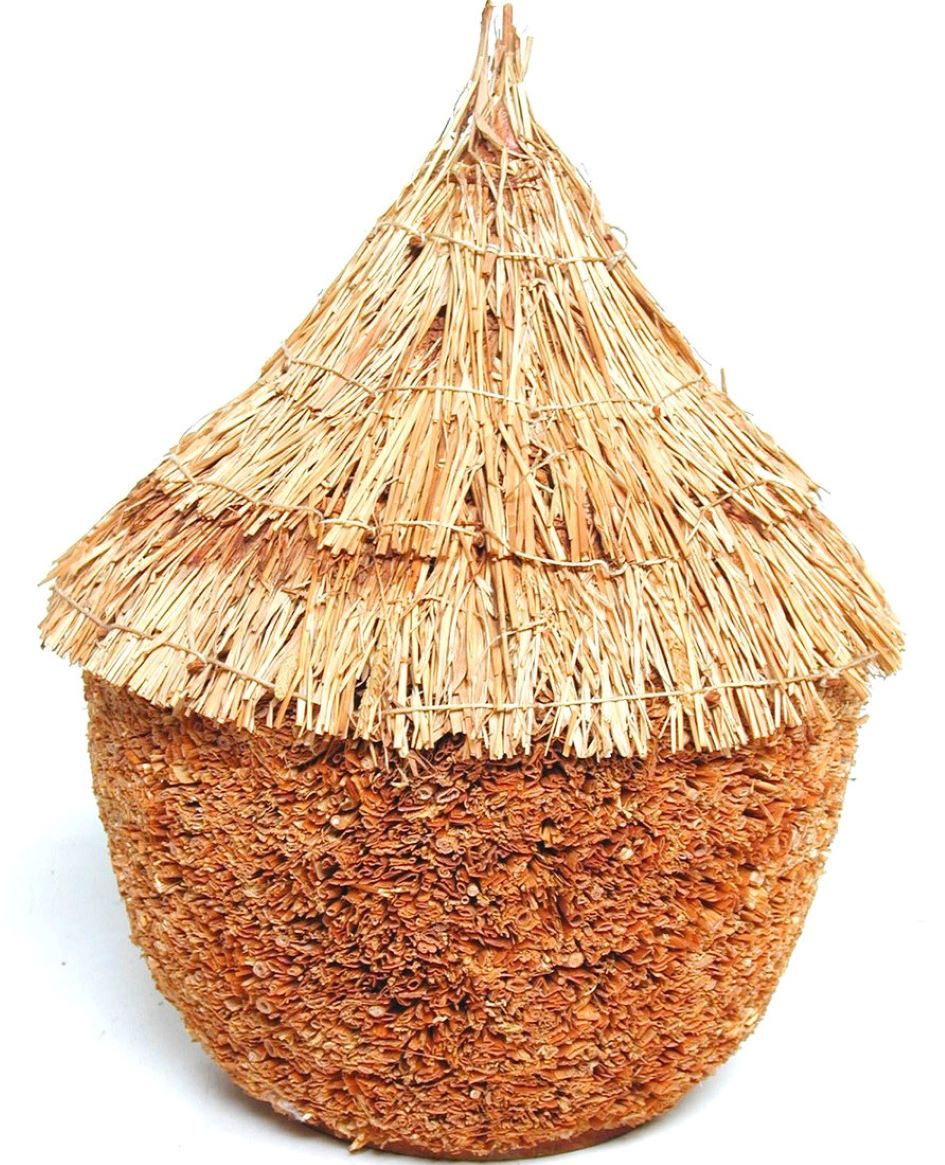 Model hay rick
This corn dolly is in the form of a hayrick. 'Corn dolly' is a term which includes figures and tokens made from 'corn' straw, using tying, plaiting, and weaving. In many parts of the world, it was believed that the 'Corn Goddess' lived in the crop and died when it was harvested. Images of the Goddess were woven from the last sheaf to be reaped and carefully preserved to ensure an abundant crop the following year.
The term hayrick is often interchanged with haystack. They both mean a storage pile of hay –usually carefully shaped and even thatched for protection.
MERL 86/142
close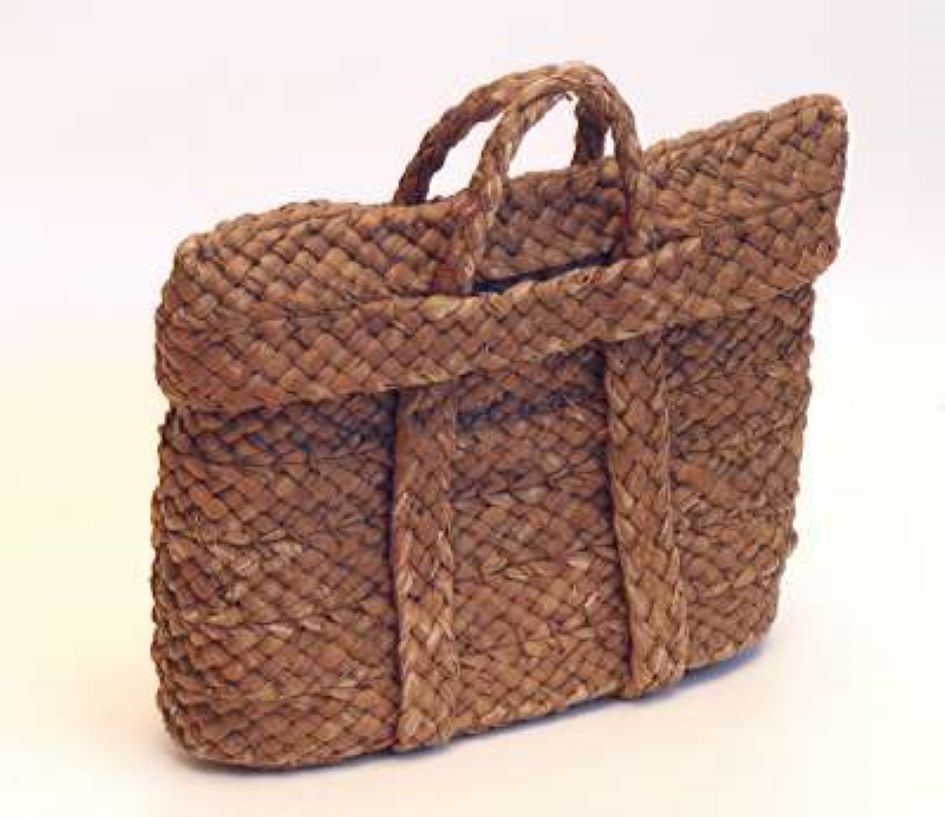 Lunch basket
This is a 1920s flail or 'frail' basket, made of plaited rush sewn round and round to form a flexible flat basket with a cover and two carrying handles. In the 17th and 18th centuries farm labourers had very long hard days but were allowed meal breaks. These baskets were used to carry their meals – breakfast, elevenses, fourses and 'beaver'– and also their tools. There would also be room for a beer bottle and, if they were lucky, a rabbit they managed to catch. They were usually carried over the shoulder with a short, curved stick through the handles.
MERL 66/346
close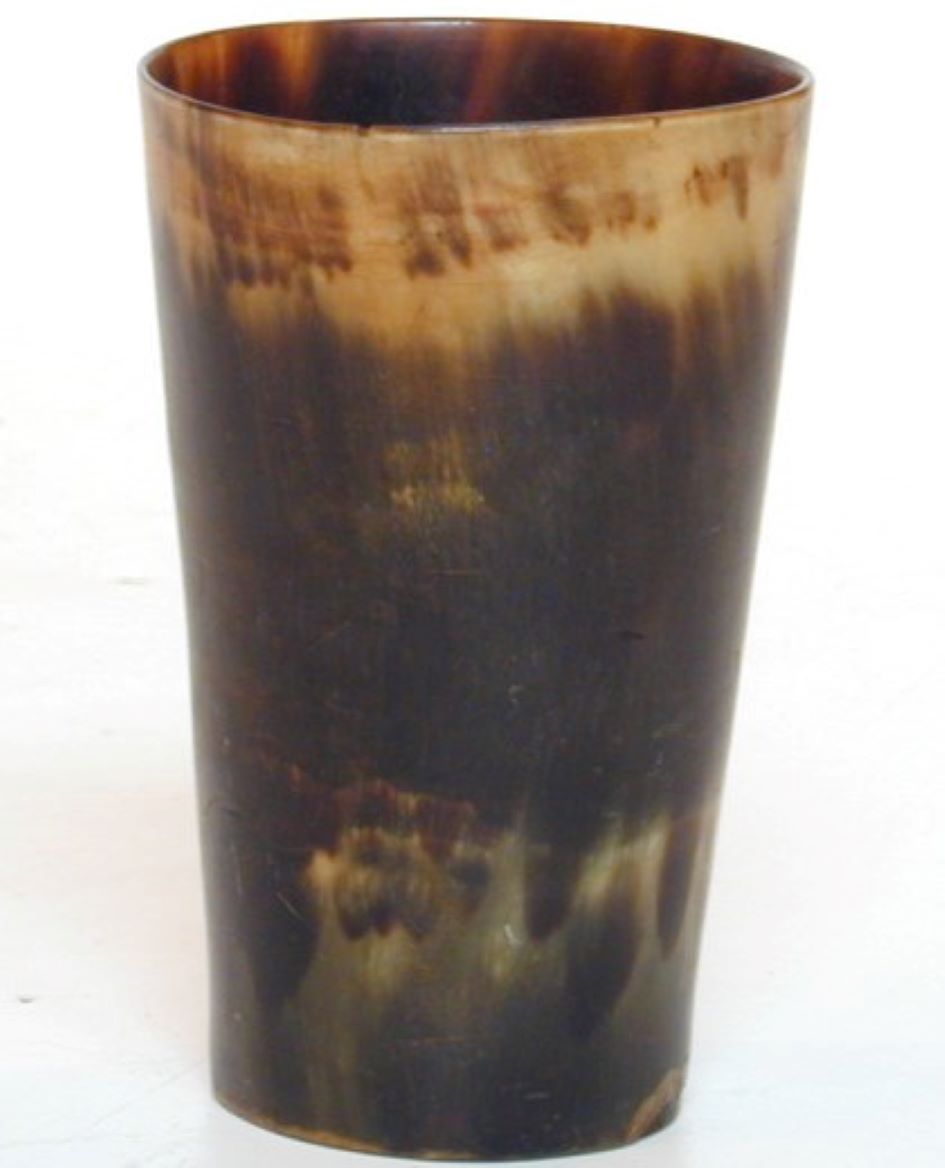 Horn beaker
This is a horn beaker for serving drink. Horn was popular because it was a cheap, robust and easily available material. When horn is subjected to heat and pressure it becomes translucent or transparent – enabling objects to be made that are tactile, attractive and versatile.
In its simplest form, as with this beaker, horn would be used in the poorest households, but it could also be used to make elaborate and expensive luxury items incorporating silver or gold. The use of horn products has been in decline for 100 years, but some items are still made in the UK.
MERL 58/76
close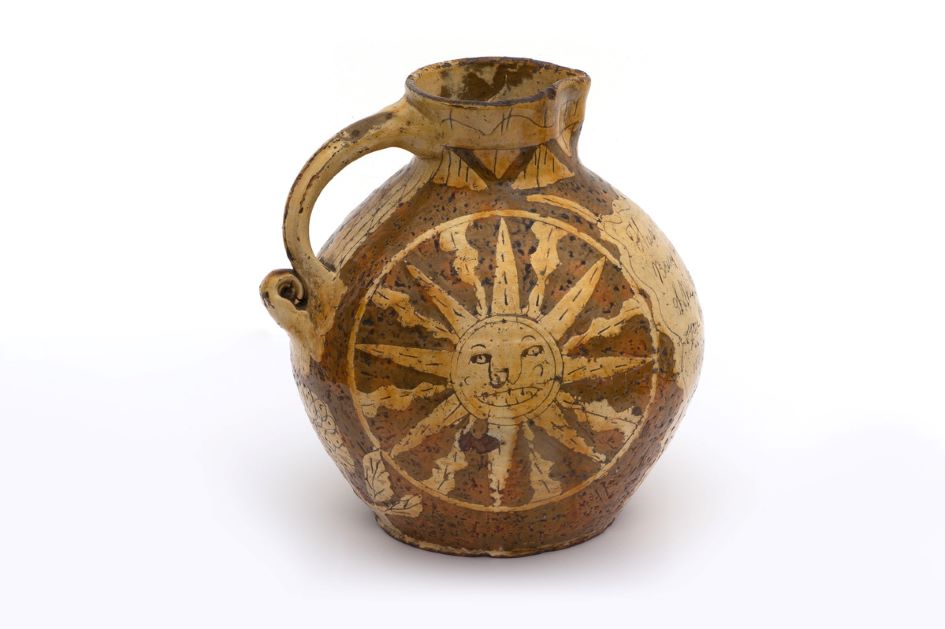 Barley mow harvest jug
This earthenware jug was made for the celebration at the end of a successful harvest and is typical of Barnstaple ware. On one side is the baking sun inside a mariner's compass, a design often used in the seafaring county of Devon, and on the other side a cockerel sits amongst flowers. The designs are scratched into the glaze – a technique known as "sgraffiato". On the rear is the verse:
Harvest is come all / busy now in the making
Of the Barley mow if / you the Barley mow
Neglect of Good ale you / can not then expect
August 1838 / John Prouse / Hartland
MERL 60/146
close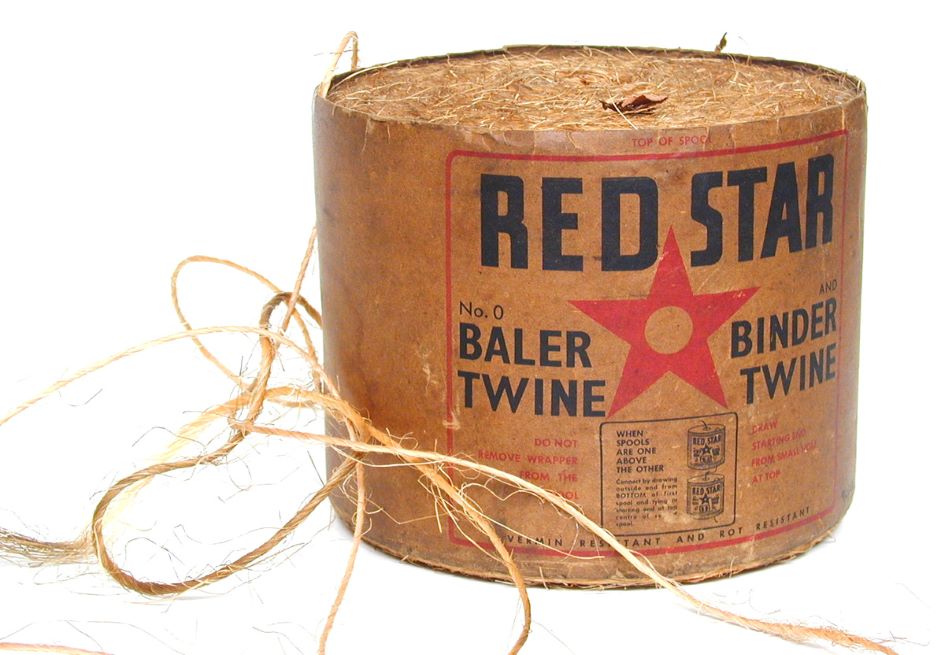 Binder twine
This is a ball of sisal baler twine. Originally hay was stored loose in farmers' barns which took up valuable space. Hay balers were developed in the late 1800s, to compress cut crops into compact bales that were easy to handle, transport, and store. Bales have been bound with twine, strapping, netting, or wire.
An automatic knotting mechanism for twine was developed during the 1860s. When coupled with cheap sisal twine from Mexico in the 1880s, twine tying binders quickly took over from the wire tying variety. Sisal twine itself was largely replaced by polypropylene twine in the 1960s.
MERL 90/22
close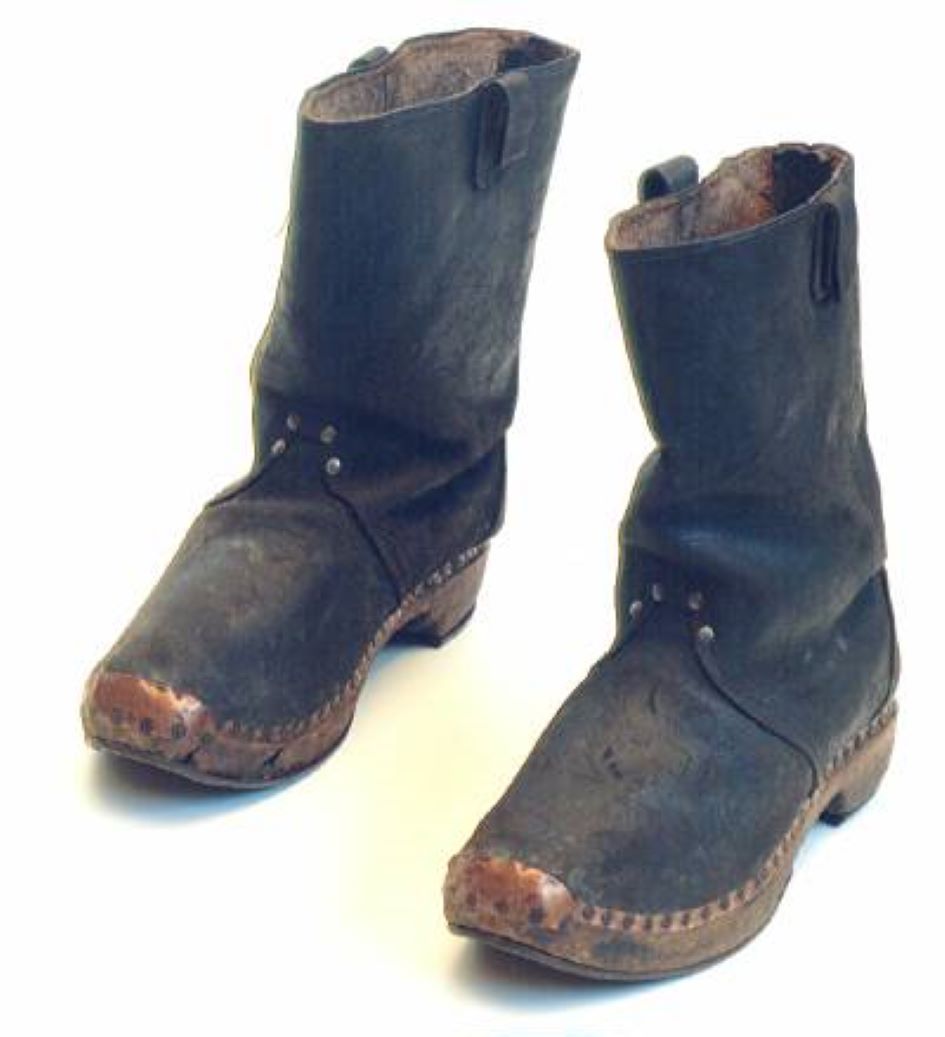 Farm worker's clogs
This is a pair of Wellington type clogs, worn by agricultural workers. They have wooden soles, leather uppers, and copper toe caps. Clogs are a type of footwear made in part or completely from wood and have long been associated with the shoes of the rural working class. This association as the footwear of the poor is a key factor in their much-reduced popularity today.
Clog wearing in Britain became popular during the industrial revolution when there was a need for very strong, safe but cheap footwear, and was at its peak between the mid 18th century until the 1920s.
MERL 79/106
close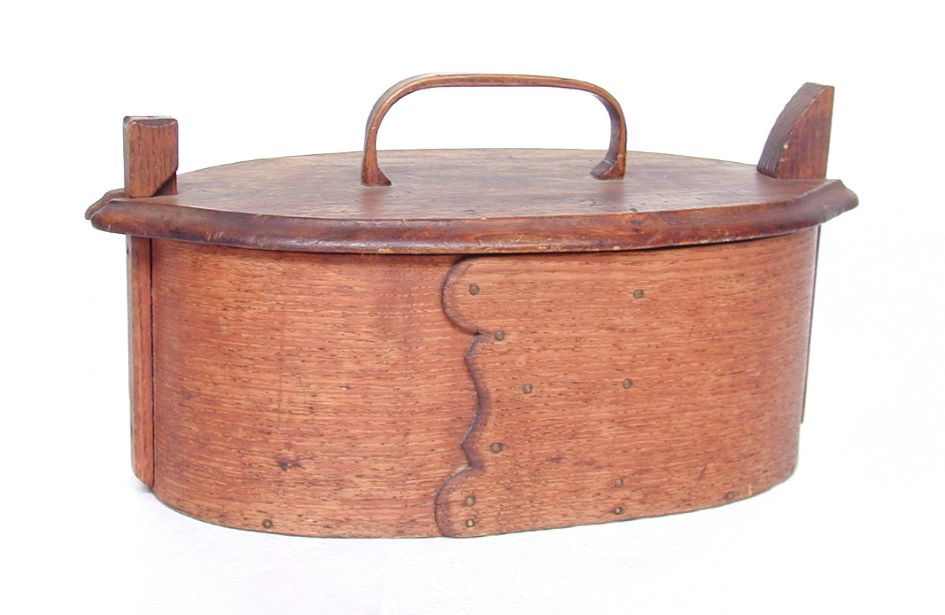 Food box
This box, made of ash with a birch lid, came from Gloucestershire. It was used to carry food into the fields for the workers. In northern Scandinavia similar molded containers have been used as storage or provisions boxes, known as Tine boxes. Scandinavian boxes are distinguished by their great variety of shapes and colourful decoration; they are also known as snap boxes from the way the lid clips to the body of the box.
This object is part of the MERL Bernard Miles Collection. Bernard Miles (1907-1991) was a British actor and director, famous for founding the Mermaid Theatre in London in 1959.
MERL 54/94
close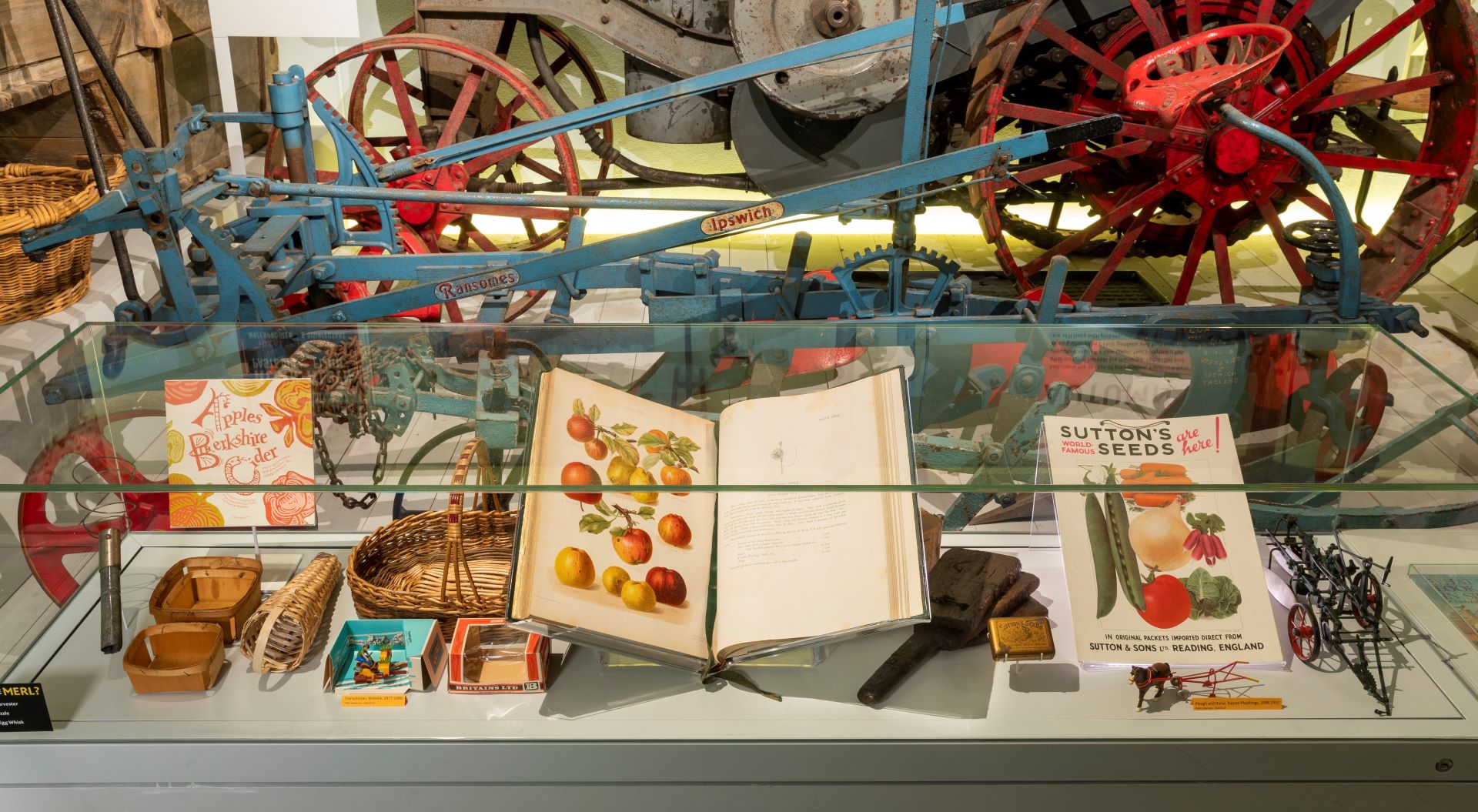 Apples, Berkshire, Cider book
+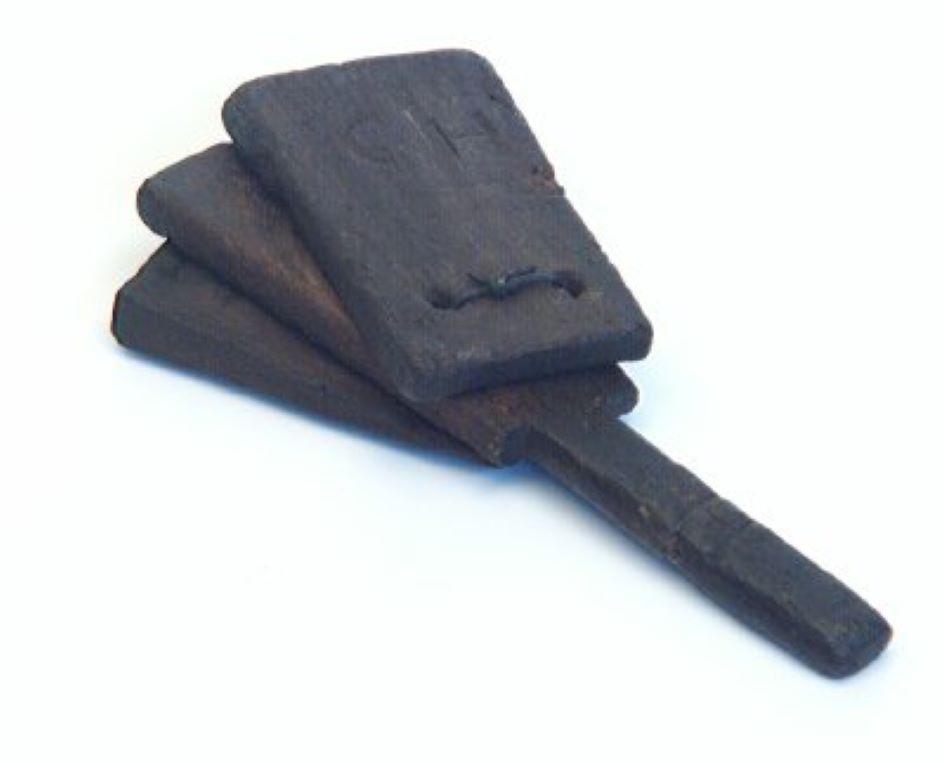 Bird scarer
This device would have been used to scare birds by making a loud noise designed to cause the birds to fly away and leave the growing crops uneaten. A person – usually a child – would be a "human scarecrow" standing in the fields to make this noise. They would be expected to work from sunrise to sunset, and would be fortunate to earn six pence per day. They would work alone, often throughout the winter. In 1847, after a fifteen year struggle, Parliament passed an Act limiting children to ten hours of work per day.
The scarer was created somewhere between 1800-99 and was used until 1918.
MERL 54/226
close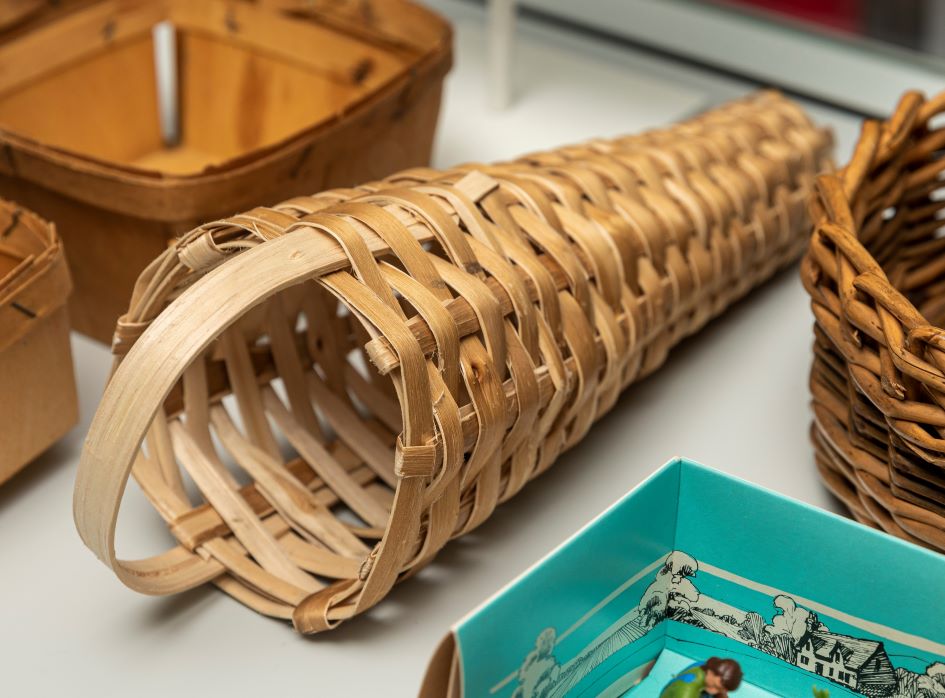 Pottle
Pottles, also known as punnets, are used to collect and carry soft fruits. This is a replica made from unseasoned split hazel; the original would have been made of willow. It is one of three pottles made by Annemarie O'Sullivan as part of the Radcliffe Trust-funded 'Stakeholders' basketry project, 2013-2014. Each pottle is made from unseasoned hazel grown in Shortbridge, East Sussex. They were inspired by the pottles in the MERL collections (51/9 and 51/10).
MERL 2014/2
close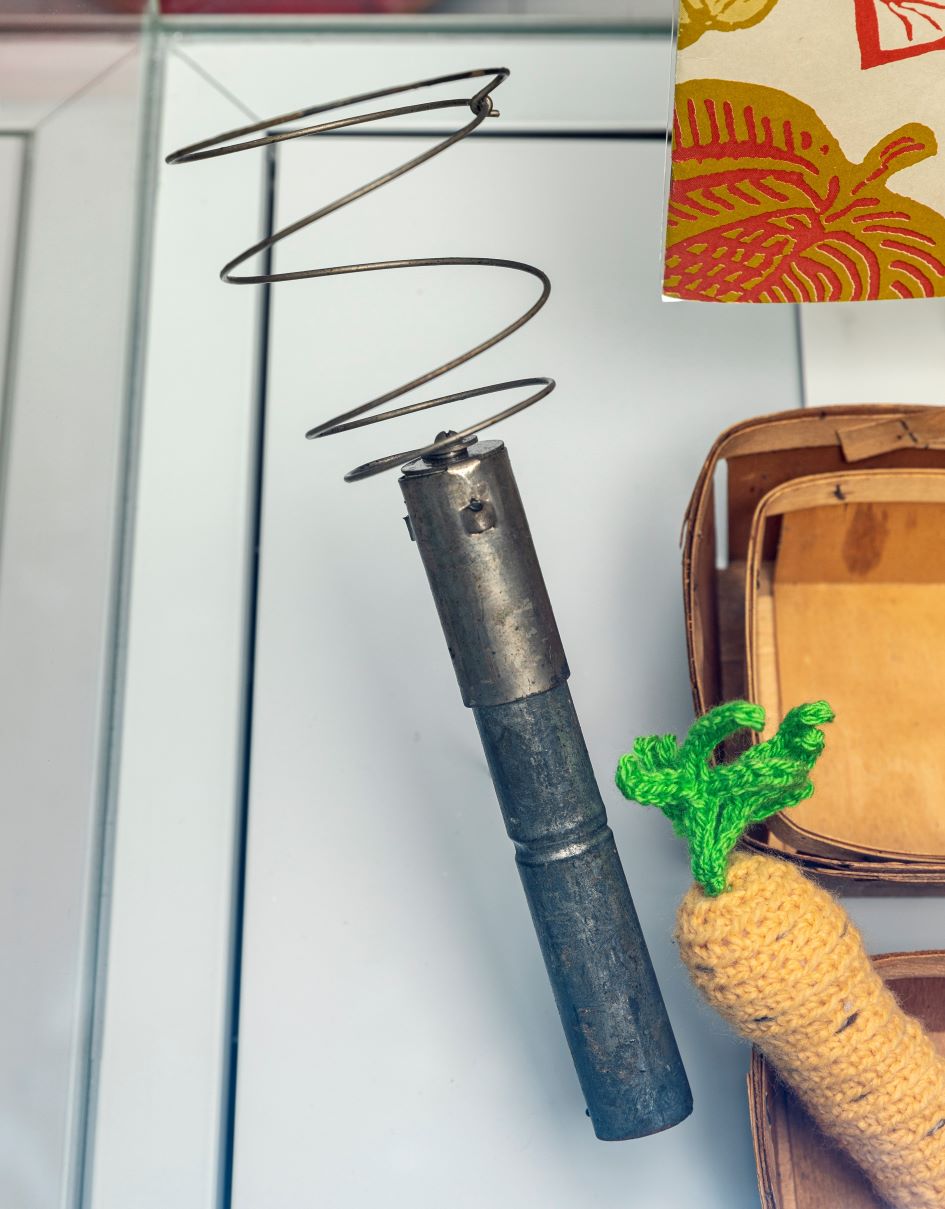 Apple picker
This is a fruit picker, used to pick apples, pears and plums from tall trees without damaging the fruit. It was made by William Penn Ltd. of High Road, Finchley. It was used by the donor in Oxfordshire during World War II for picking apples and pears. It will attach to any 1" pole (ideally a broom handle) and was said to remove the need for ladders, prevent accidents, and allow the picker to collect the best fruit which is usually out of reach.
MERL 60/143
close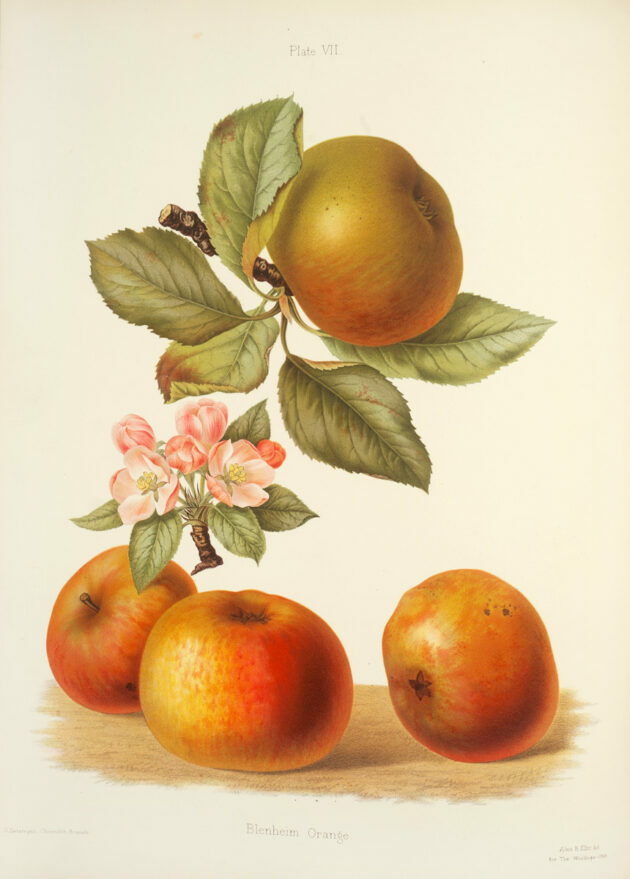 Herefordshire Pomona
When it was first published, this book was separated into seven parts, released over ten years between 1876 and 1885. It was a big project and an early attempt to record all the different varieties of apples and pears growing in Herefordshire at the time, many of which have now disappeared. 
Today, the book fascinates its readers not only as a historical catalogue of fruit species, but also because of its startlingly realistic and beautiful illustrations. The pictures were first painted by Alice Ellis and Edith Bull using watercolours. They sent 441 paintings to Guillaume Severeyns, a lithographer in Belgium, who produced the chromolithographic plates, allowing the pictures to appear in the printed books.
MERL LIBRARY RESERVE MID FOLIO--4790-HER
close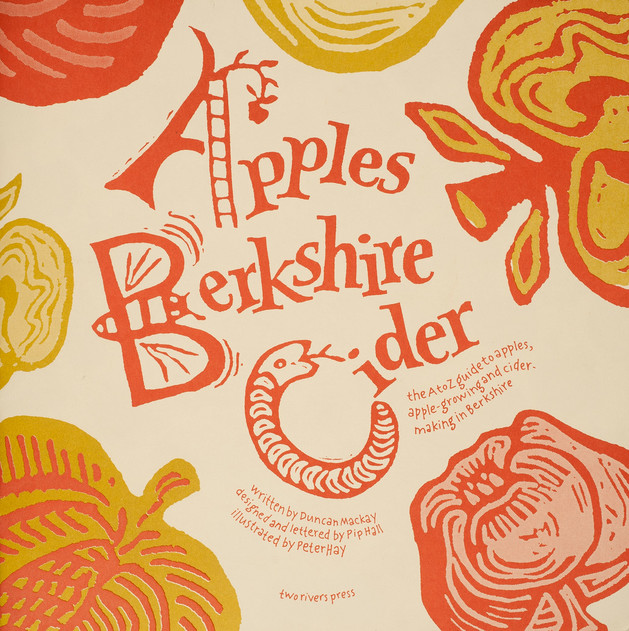 Apples, Berkshire, Cider book
This alphabet book was written by Duncan Mackay, illustrated by Peter Hay and published by Two Rivers Press in 1996. It aimed to increase awareness of apples, apple growing and cider making in Berkshire. There are over 2,000 varieties of apples in Britain today (with at least 6,000 grown here in the past), but this heritage is at risk from standardisation and modern fruit production methods. Each page describes an aspect of apple culture, with action points to encourage participation in activities to support this culture and heritage. 
TWO RIVERS PRESS COLLECTION—0033
close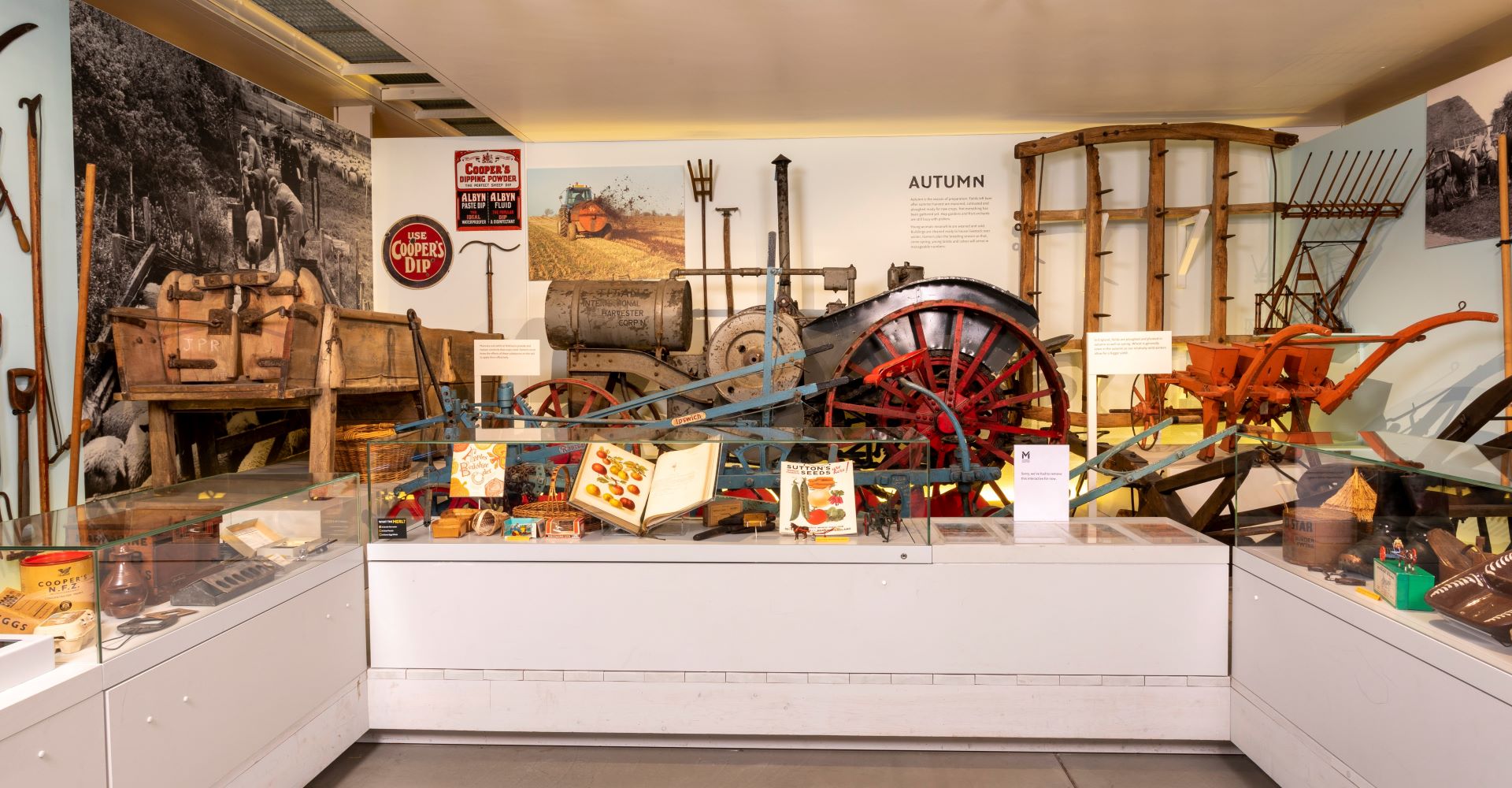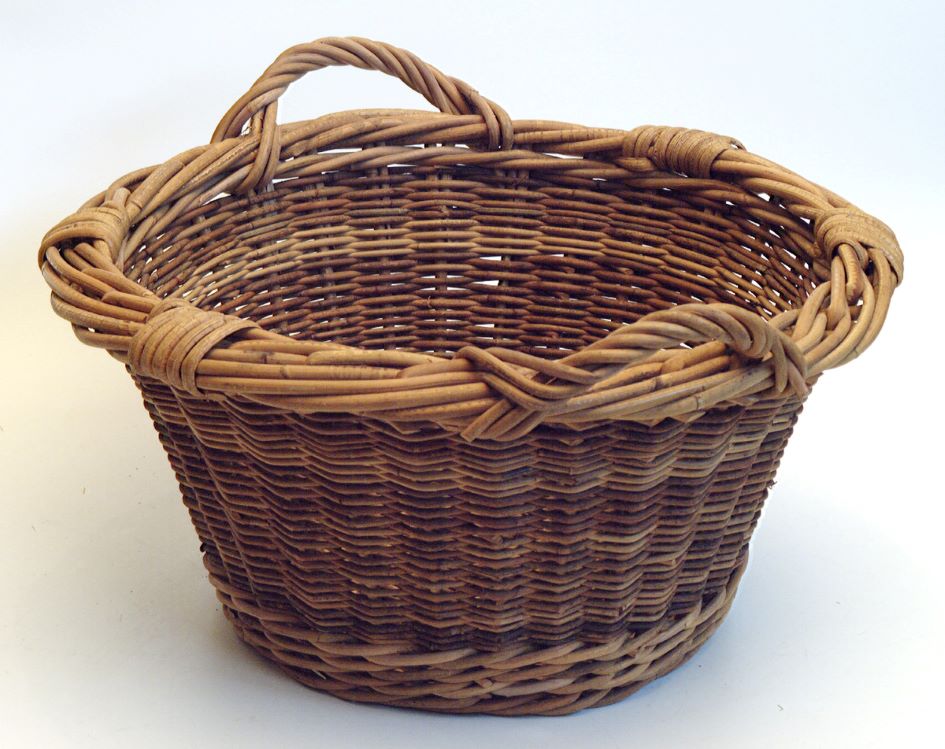 Manure basket
This manure basket was made for the Museum by Emily Mullins, a Reading basketmaker, and was therefore never used. It would have been used to carry stable manure on the farm. It is a round basket made of cane with two twisted handles bound on the rim. You can learn more about Emily Mullins in the 'Makers at Work' section of the gallery tour!
Manure has been used as fertiliser in Europe for at least 10,000 years. Nitrogen, phosphorus and potassium are all useful fertility resources found in manure. Because it breaks down slowly, the manure imparts its nutrients to crops over the course of several years.
MERL 63/19
close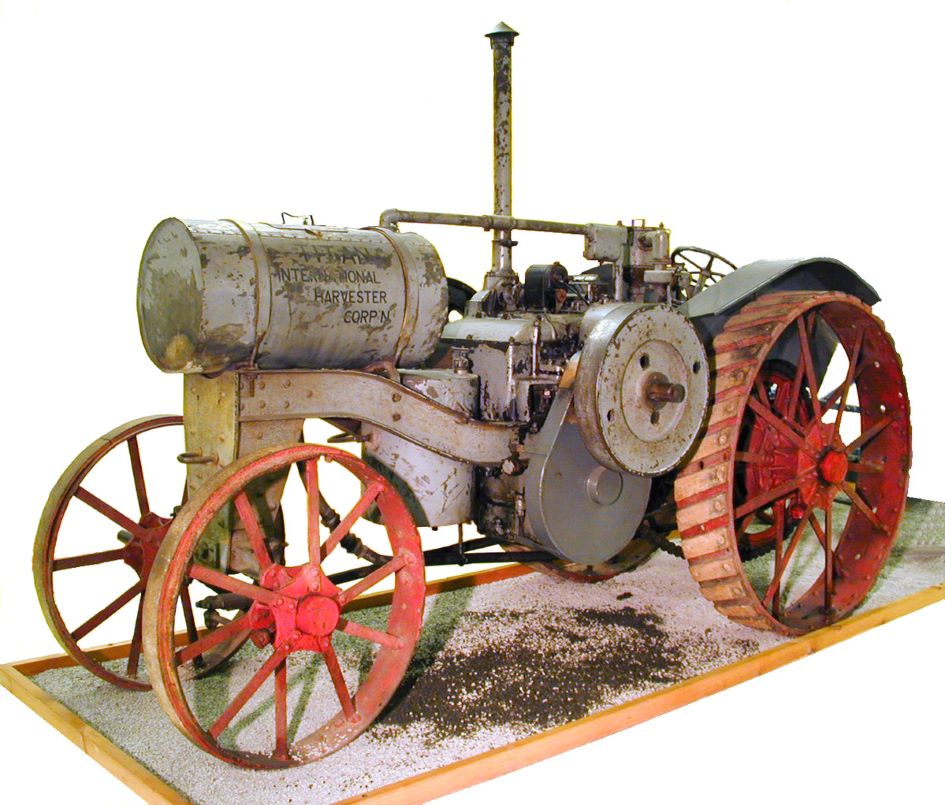 Tractor
This Titan 10/20 tractor was manufactured by the International Harvester Company, in the USA, in 1917. Titan tractors were imported to the UK during and after the First World War, to help boost food production.
This tractor was last used to drive the saw bench at a small saw mill at Greenhaguh, Northumberland in the early 1950s. The owner of the saw mill found the tractor along with two other abandoned Titans in an old quarry at Reedsmouth, and apart from requiring a new spark plug, it was in good working order. It was in constant use five days a week at the saw mill, and was eventually sold back to the International Harvester Company in 1956 when the mill wound down business.
MERL 56/280
close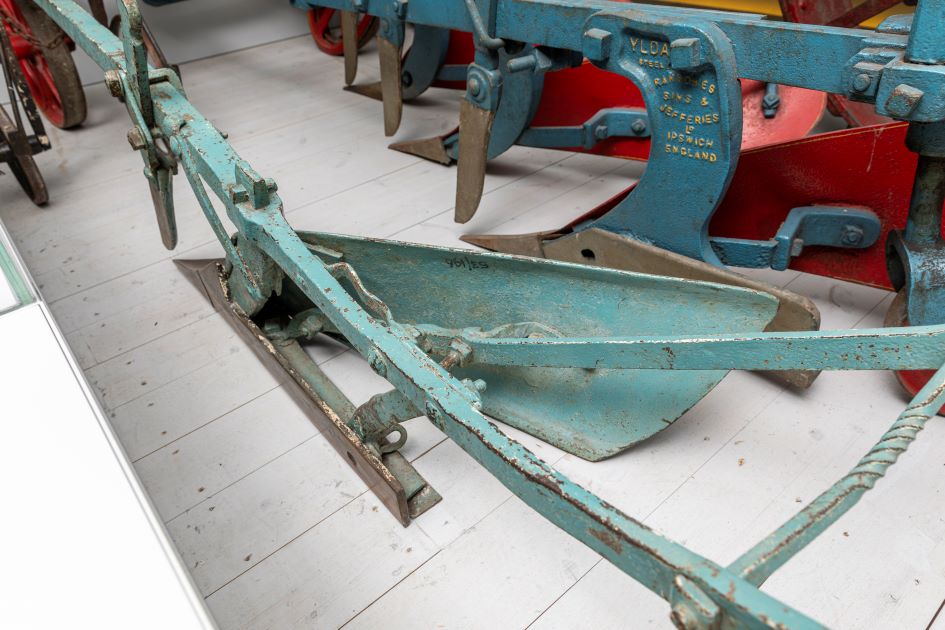 Swing plough
This plough, called the 'Troth Winter plough', was made by William Troth at Norton Lindsey, Warwickshire. The date of make is given as 1796, but the maker is known to have made other objects late in the 19th century, so this date may be incorrect. It was used for winter ploughing in heavy clay, so has a wrought iron share with a coulter welded on the side, and no wheels.
In 1845 it was known as the 'Newbold plough' and in 1876 as the 'Hitchings Tayler Scattaron plough', when it was fitted with wheels and an iron shellboard. In 1920 the chilled share was fitted to enable it to be used with two horses instead of three.
MERL 53/196
close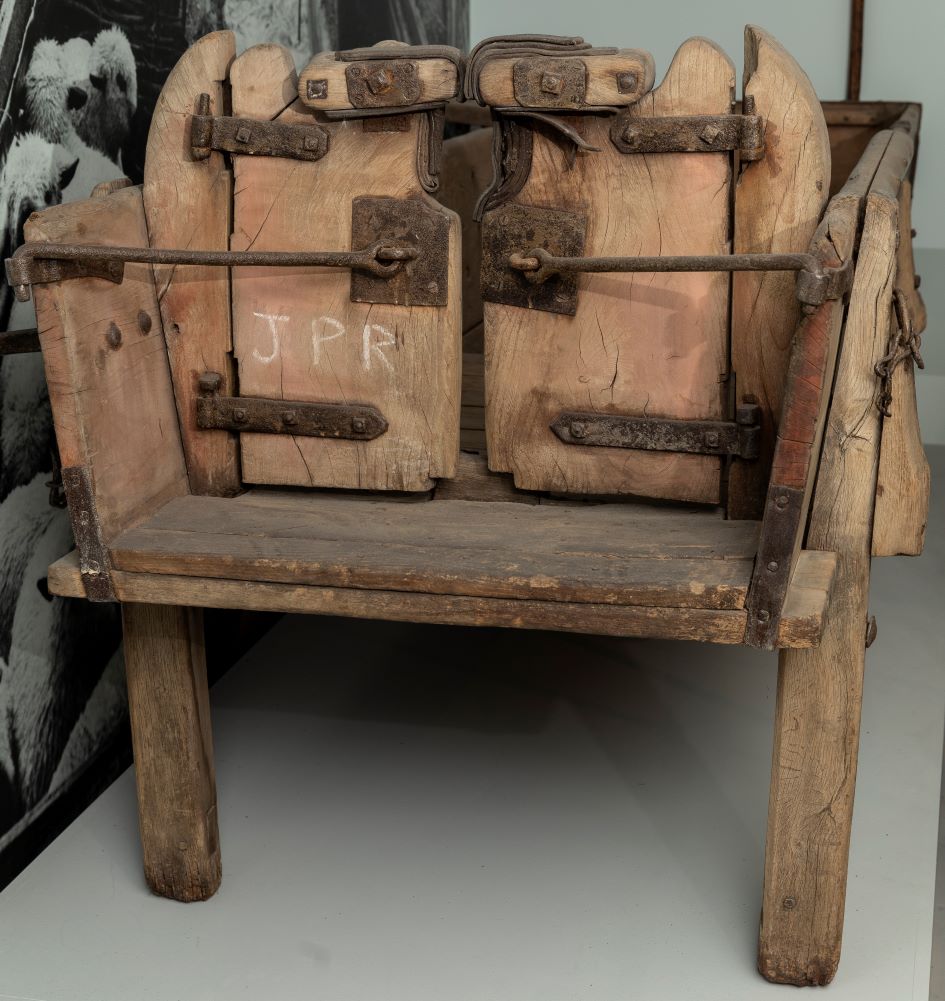 Sheep dip
This is a sheep dipping trough, made of oak with iron fittings. It has stocks at one end to hold the sheep by the neck while the animal was submerged in chemicals to kill pests. It was made by a Dorset craftsman in the early nineteenth century or earlier. Last used by the donor's grandfather around 1890, the dip was used as a mobile unit within a thirty-mile radius of Gillingham by a team of four men. The donor's family were famous for sheep dipping for many generations. It is believed to be the only one of its kind in the country.
MERL 60/134
close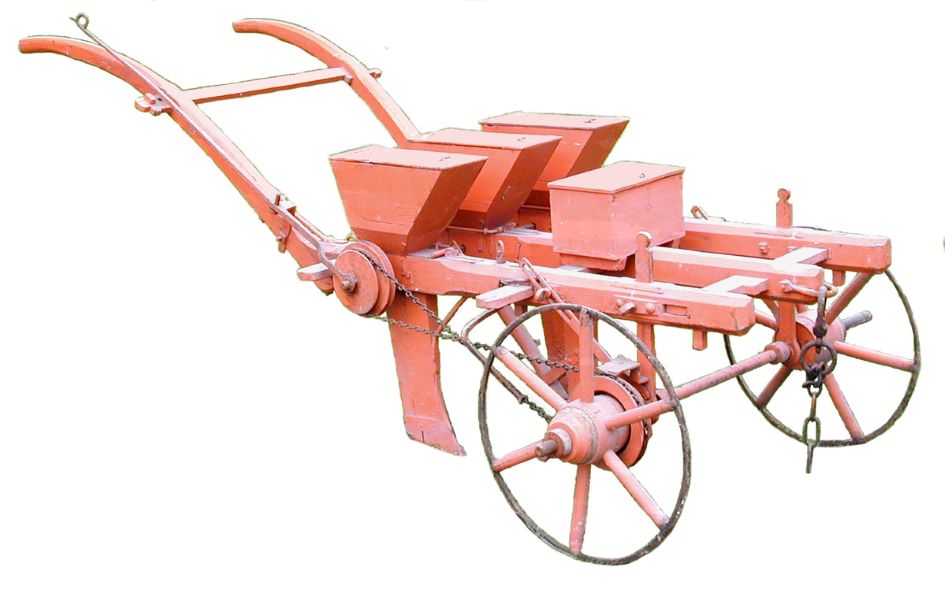 Seed drill
One of several seed drills on display in the museum, this particular model is a hand seed drill, made by Jonas Harris in Hailey c.1867. In this display it represents the sowing of autumn seed for winter crops, the most popular of which are winter wheat and barley.
Heavy autumn rainfall can jeopardise the sowing of these crops. For example, in 2019, Farmers Weekly estimated that only 35 – 40% of winter wheat had been drilled by November.
MERL 52/334
close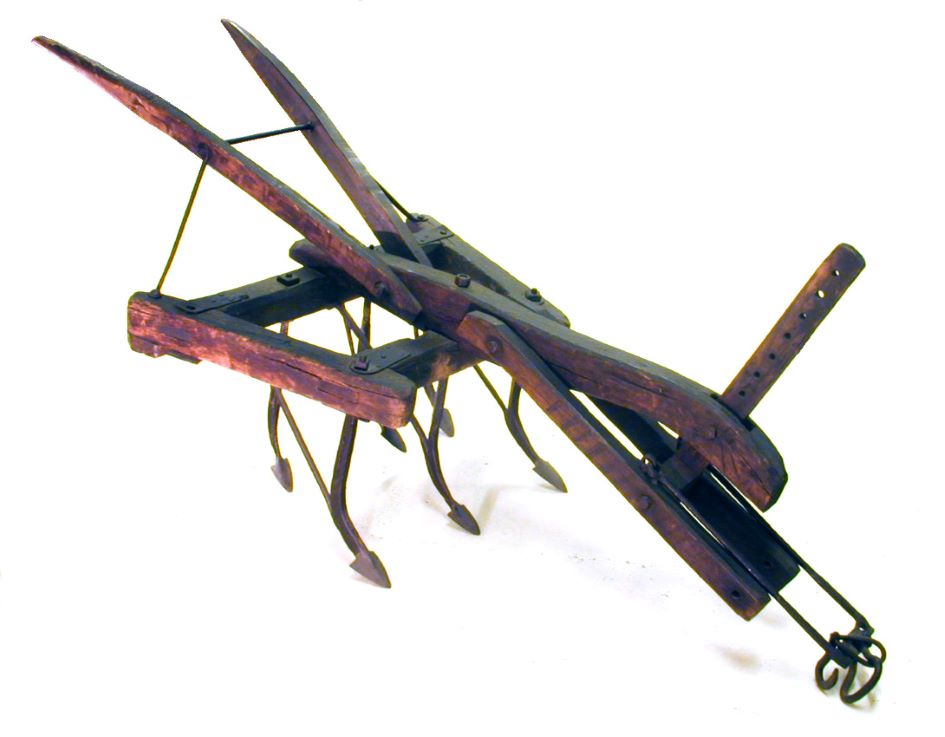 Cultivator
This is a cultivator with two wooden handles and six tines in two rows of three, each with spade-shaped blades, bifurcated and bolted to the frame. It possibly dates from the eighteenth century and was used for farm work in Hampshire. Cultivators are designed to stir the soil around a crop as it matures to promote growth and destroy weeds. Horse-drawn cultivators were introduced in the mid-19th century.
MERL 51/264
close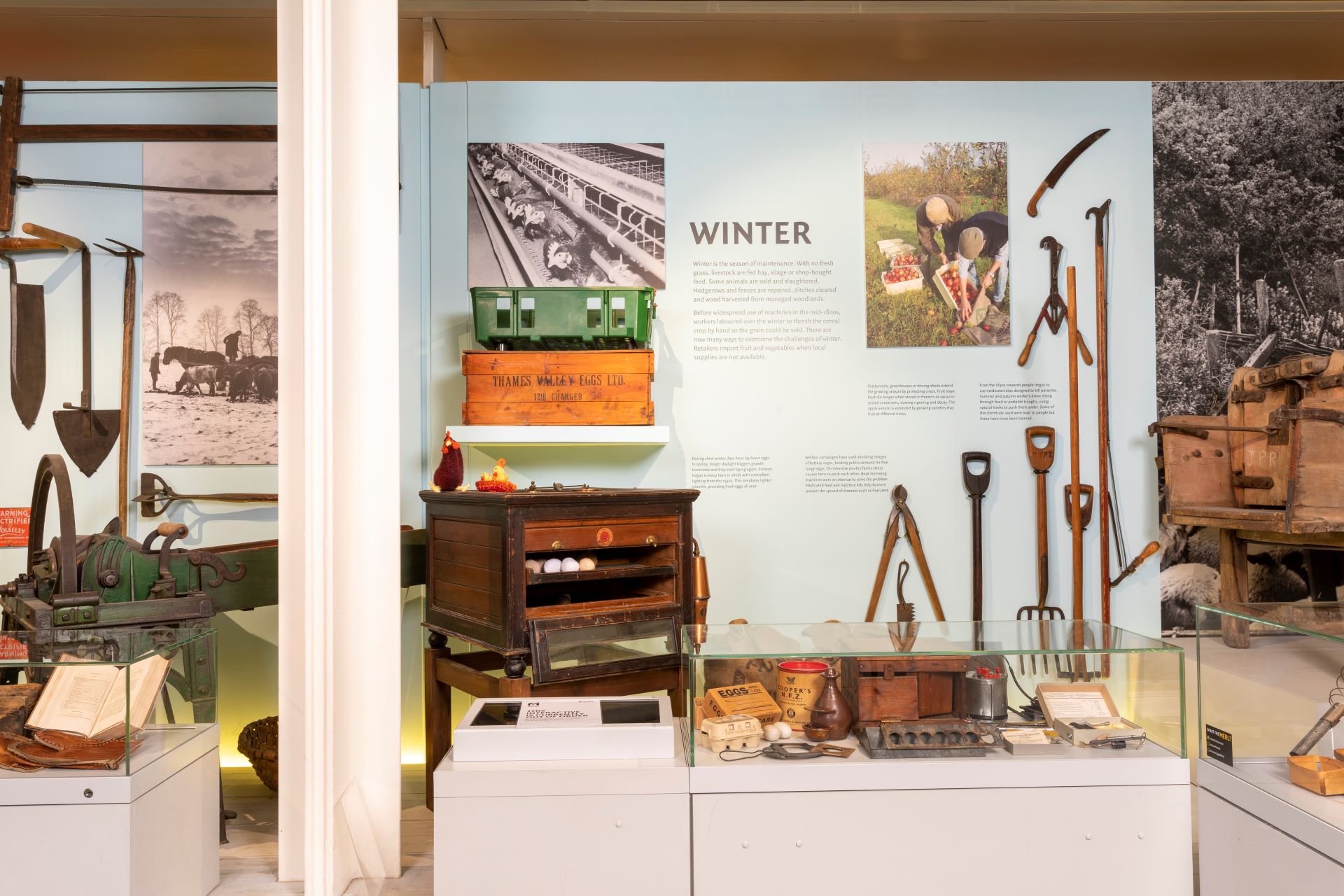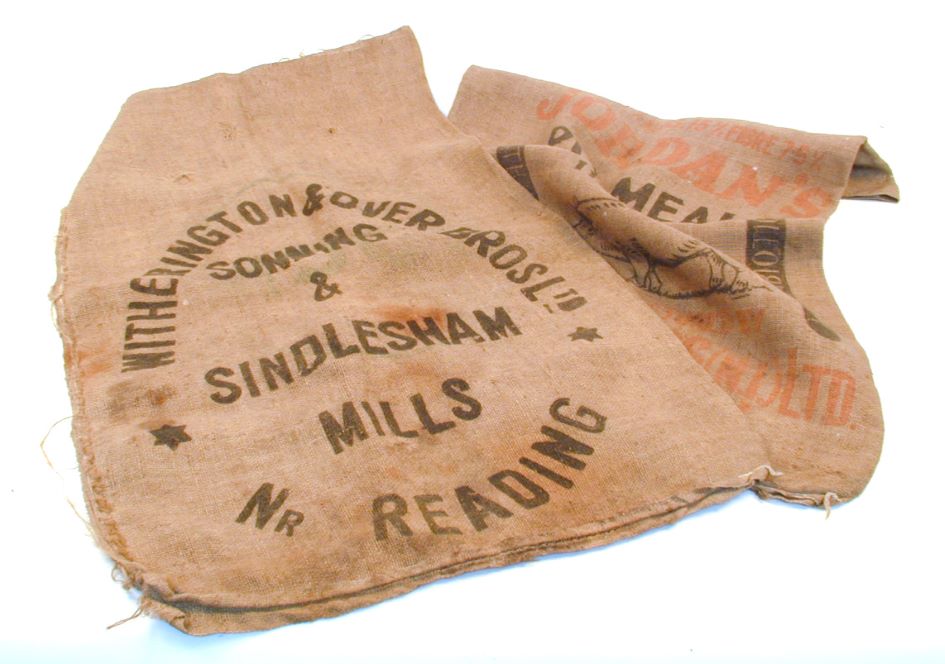 Sacks
These hessian sacks were used for holding grain to use as poultry feed. The sack is marked 'Witherington & Over Bros. Ltd. Sonning & Sindlesham Mills Nr. Reading'. The donor's father ran a poultry farm at Sindlesham in Berkshire and was a regular customer at Sindlesham Mill.
MERL 99/30/1-2
close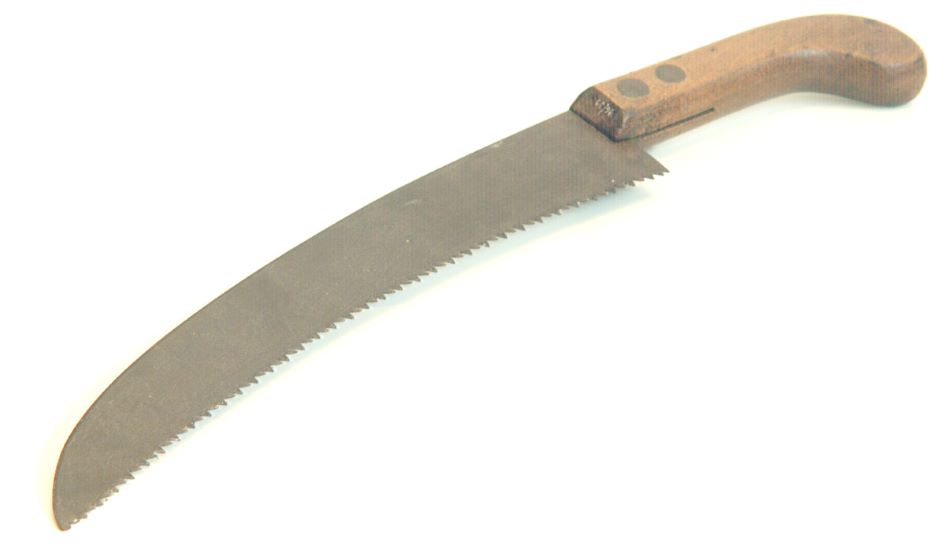 Pruning saw
This is a small pruning saw for use on trees and hedges. It has a curved blade with even teeth, and a shaped wooden handle rivetted to the blade. Mrs Beattie Taylor and her husband Ernie had lived at Birch Cottage for over 50 years. Prior to that the house was owned by her uncle, Will Hughes, from c.1900 – 1930. Hughes was a wood turner and besom maker operating from a workshop at the site of the house.
MERL 96/39
close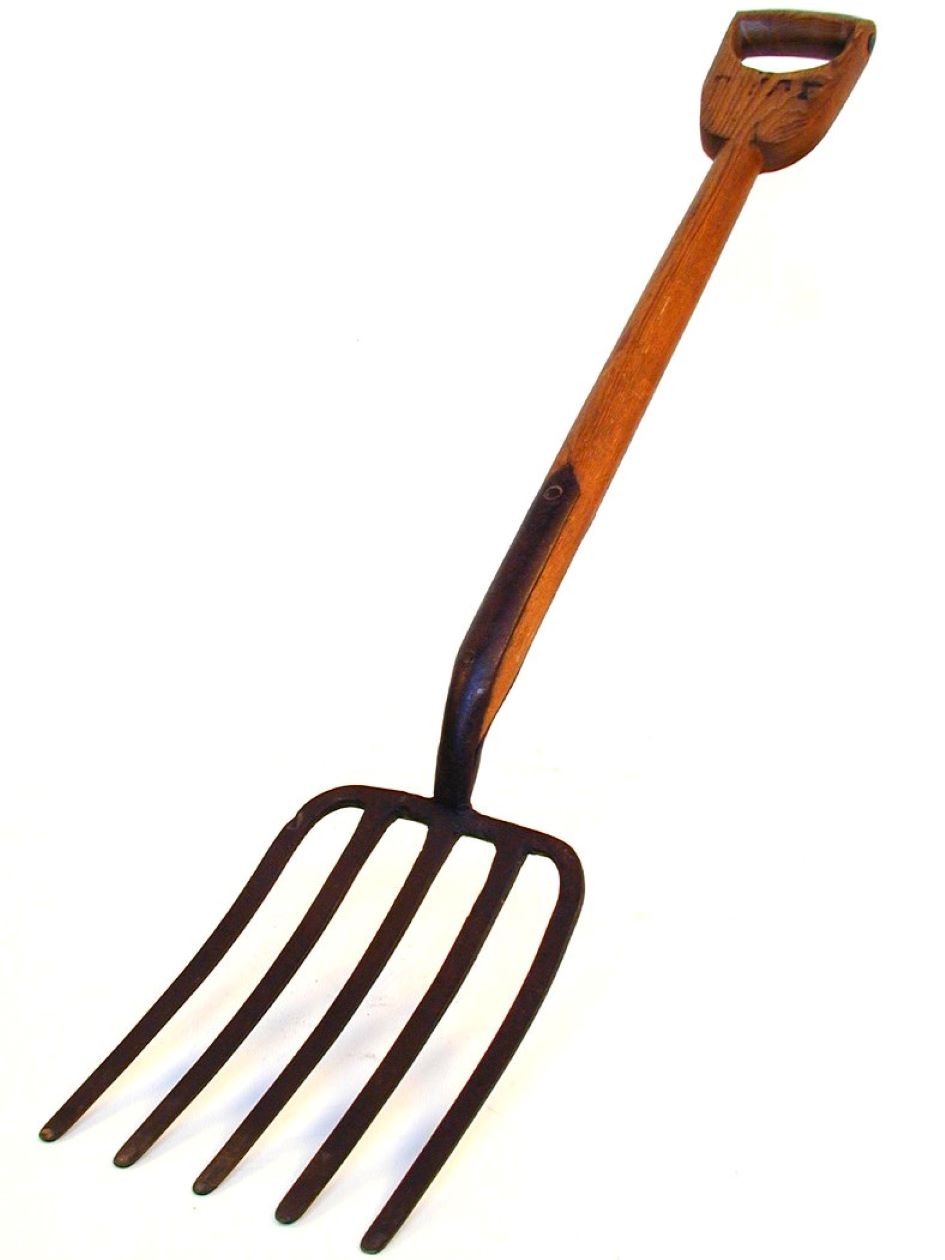 Potato fork
Used at Roger's farm in Sudbury, Suffolk, this fork would have been used for harvesting potatoes. This crop should be planted as early in the year as possible whilst still avoiding frost; typically in April or May. Potatoes should not be watered for several weeks before harvesting, and once dug up should be immediately moved out of the sun to avoid a green skin forming.
Historically, potatoes have been grown in South America for thousands of years, and became popular in England in the 19th century. Their cheapness and durability made them an ideal foodstuff for those on lower wages.
MERL 87/57
close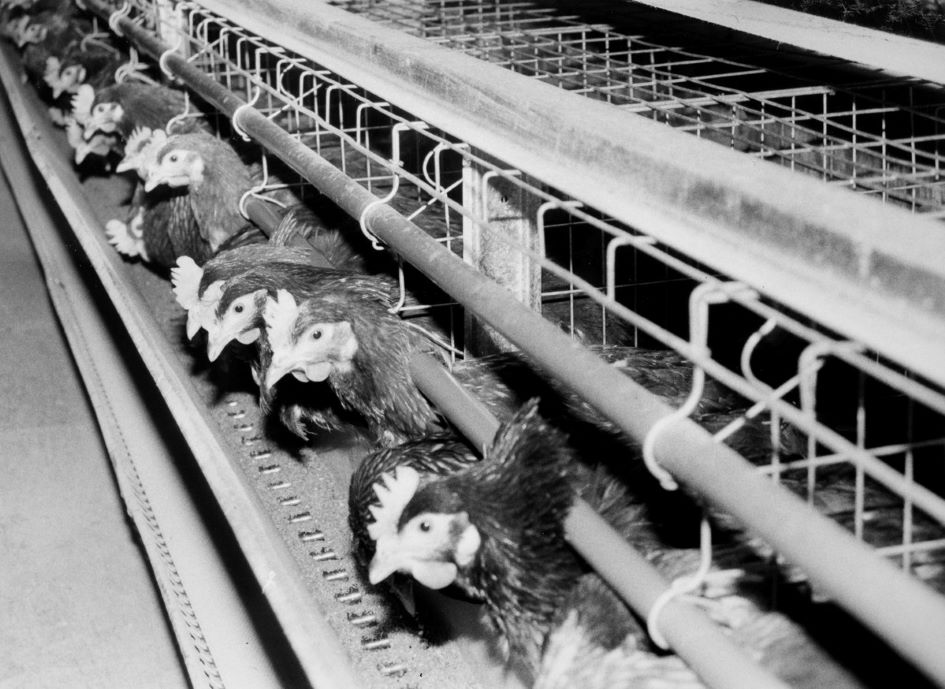 Battery hens photograph
Dating to 1989, this photograph demonstrates laying hens housed in battery cages. The practice of keeping hens confined in this manner became popular in the early 20th century, due to the demand for more intensive farming. Consequently, eggs were more widely incorporated into British diets.
In recent years many farmers have turned away from battery farming, as it can have negative effects on the health and welfare of hens. Free range hens can exhibit more natural behaviours, such as nesting, perching and grooming.
MERL P 2FW PH2/1036/3
close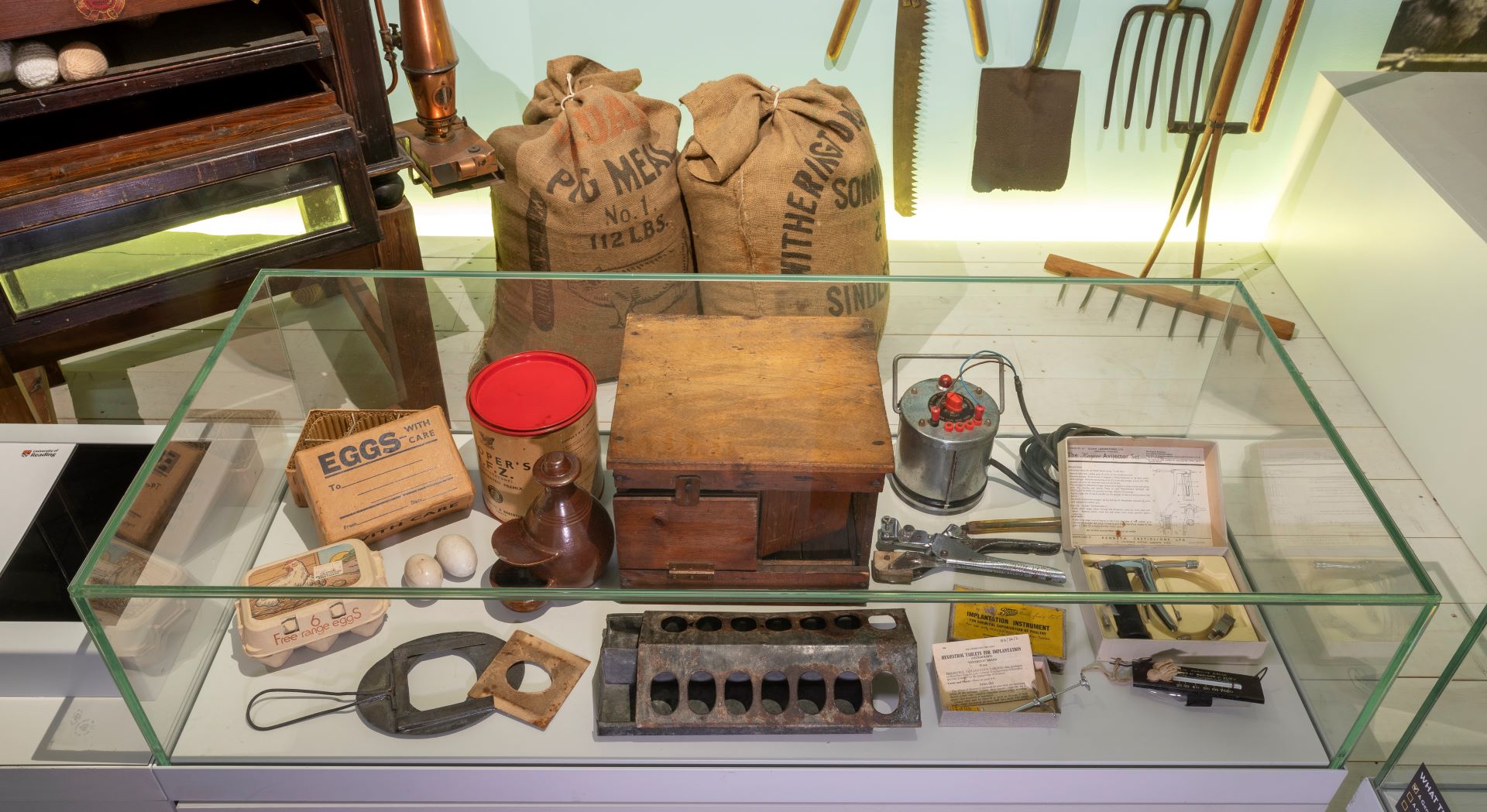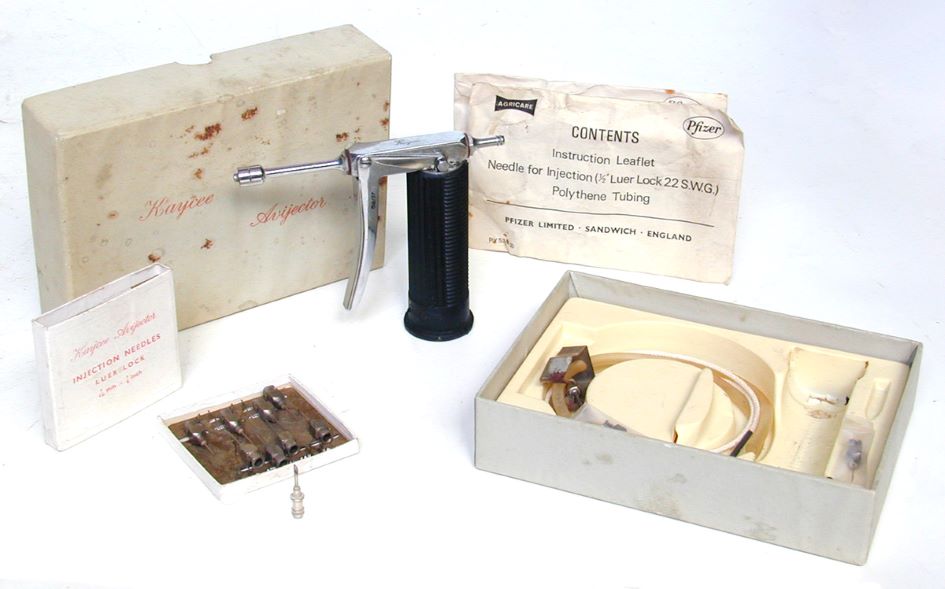 Injection kit
Named the Kaycee Avijector Set, this injection kit was used to protect poultry against pests and disease. It consists of an injection gun as well as tubes, cords and needles. It was manufactured by Kenneth Castiglione Ltd, with some elements made by Pfizer.
Vaccination has played a key role in the advancement of poultry farming. For example, Louis Pasteur developed a vaccine against chicken cholera in 1879. Marek's disease, which had previously been the largest natural threat to chicken flocks, was first vaccinated against in 1970.
MERL 88/37
close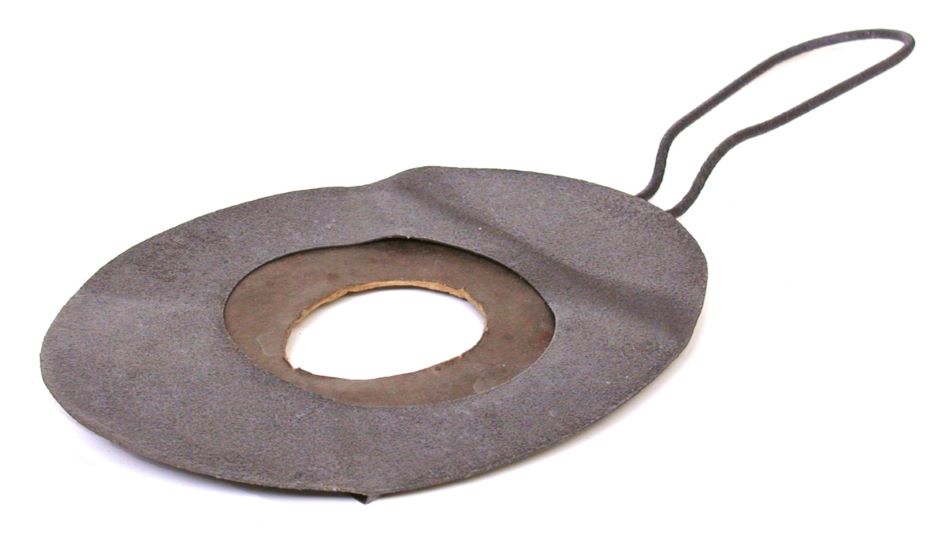 Egg tester
Egg testers are designed to check whether an egg has been fertilised with a chick or not. Having been placed in the device, the egg would be taken to a darkened room and have a light shone at it. This would enable the farmer to see inside the egg and detect whether a chick was growing. Traditionally, the candle would provide the light source. Therefore the process was known as 'egg candling'. The candling method is still the best method for determining whether an egg is fertilised without cracking it. However, modern egg farmers have strict controls in place to prevent unwanted fertilisation occurring.
MERL 88/35
close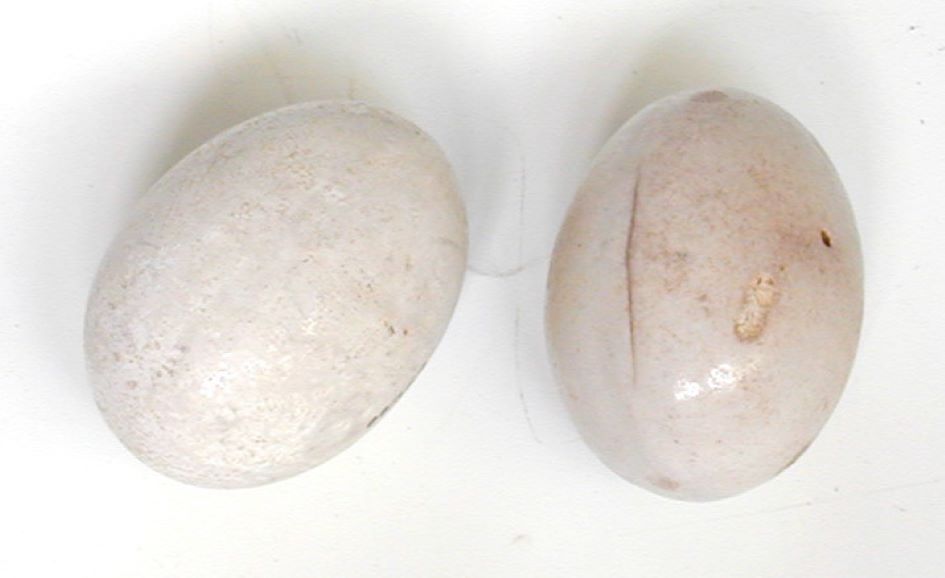 Dummy eggs
These objects were used on a smallholder farm and dairy in Reading until 1971. Dummy eggs are still used today and are placed in nest boxes to show new chickens where to lay their eggs. Some swear that golf balls do the job just as well!
Dummy eggs can also help limit the number of eggs a bird will lay. Hens will instinctively lay a set number of eggs, but they will sometimes break, forcing the hen to lay a new one. This can lead to calcium deficiency if the hen lays too many times. Replacing a broken egg with a dummy will prevent the hen from laying again.
MERL 88/34
close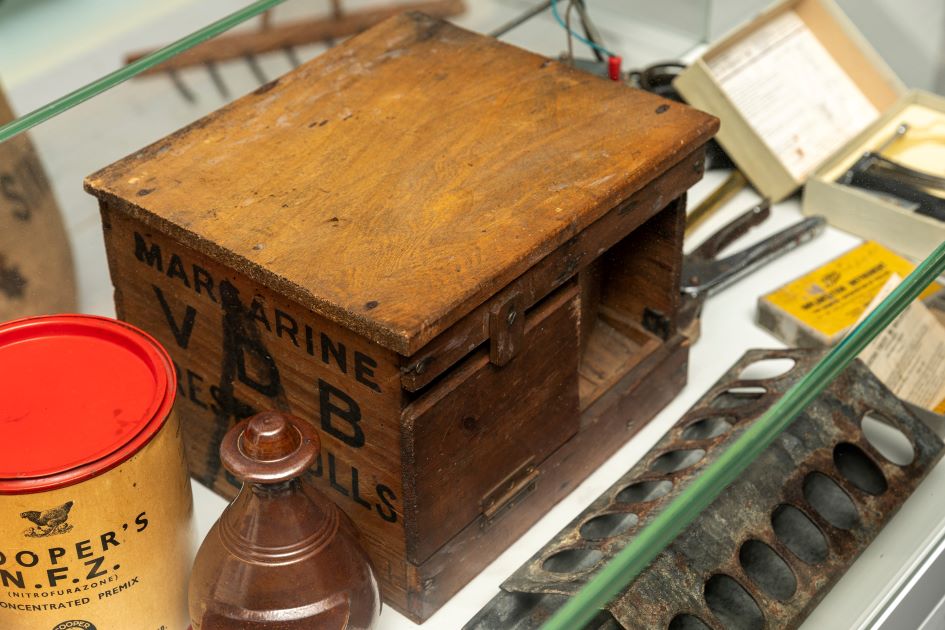 Trap nest
Trap nests, which would capture an individual chicken until the farmer released it, had various uses on the farm. They could be used to identify whether a specific hen was laying or not, or whether it laid smaller eggs. During the breeding season, a farmer might want to keep the offspring of their best hen for their own use. A trap nest would allow them to identify which eggs would produce these prized chicks.
This particular nest was made in 1905 in Thatcham, Berkshire. It was exhibited at a show in Plymouth, where it won a silver medal.
MERL 70/164
close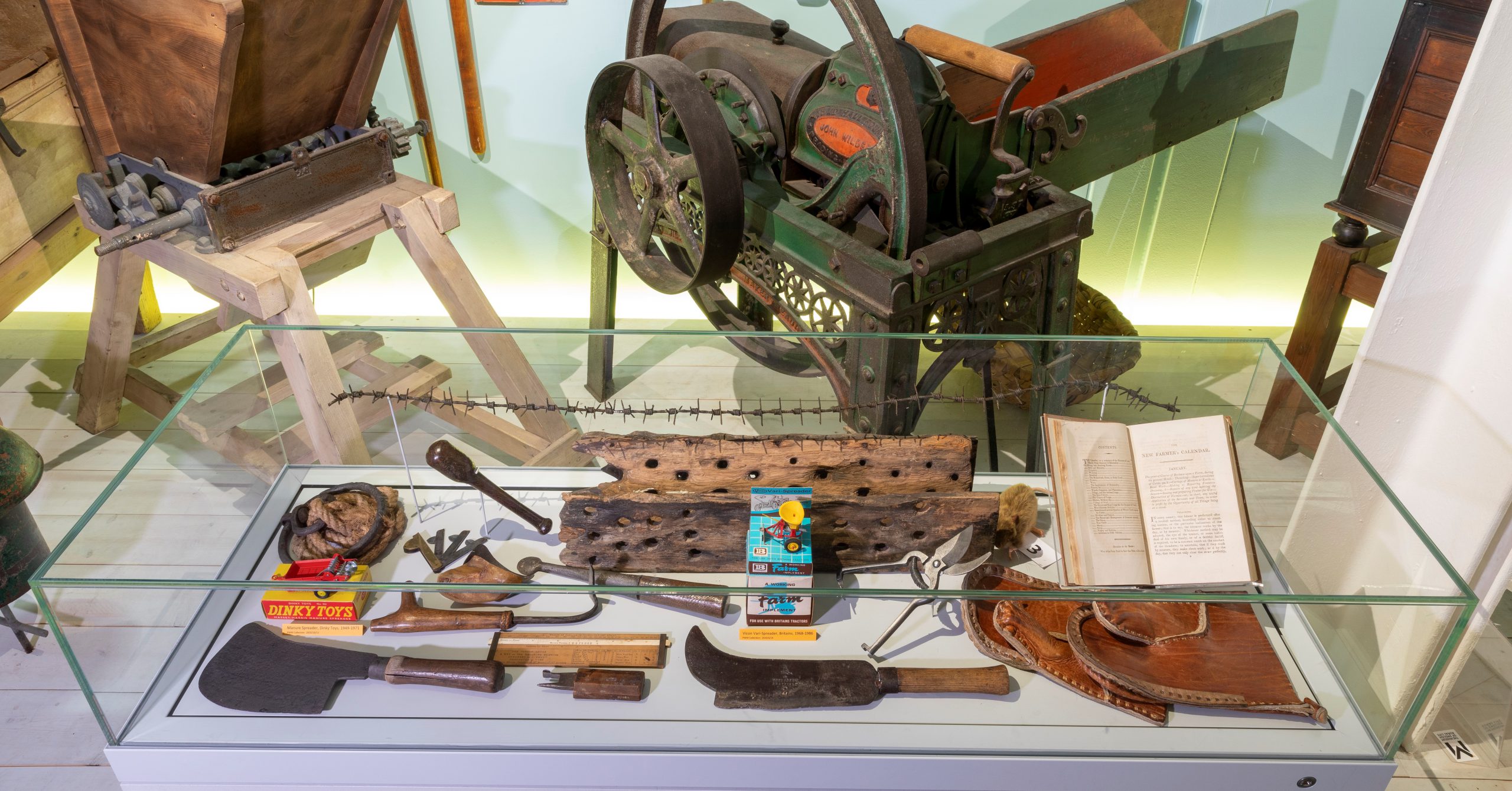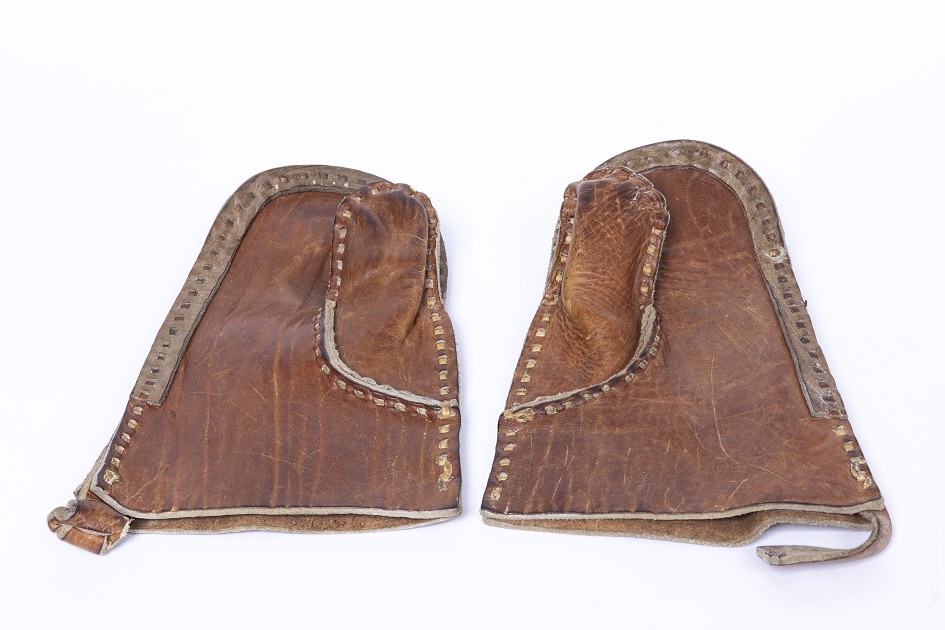 Hedging gloves
These gloves would have been used by a hedge-layer to protect their hands. Hedges have traditionally been used as a method of dividing agricultural land, especially during the enclosure of common land by wealthy landowners in the 18th and 19th centuries. More recently, the expansion of hedgerows has been proposed as a way of countering climate change, as they absorb carbon and provide a habitat for wildlife. Part of the UK's plan for carbon neutrality by 2050 is to increase hedgerow length by 40%.
MERL 60/560
close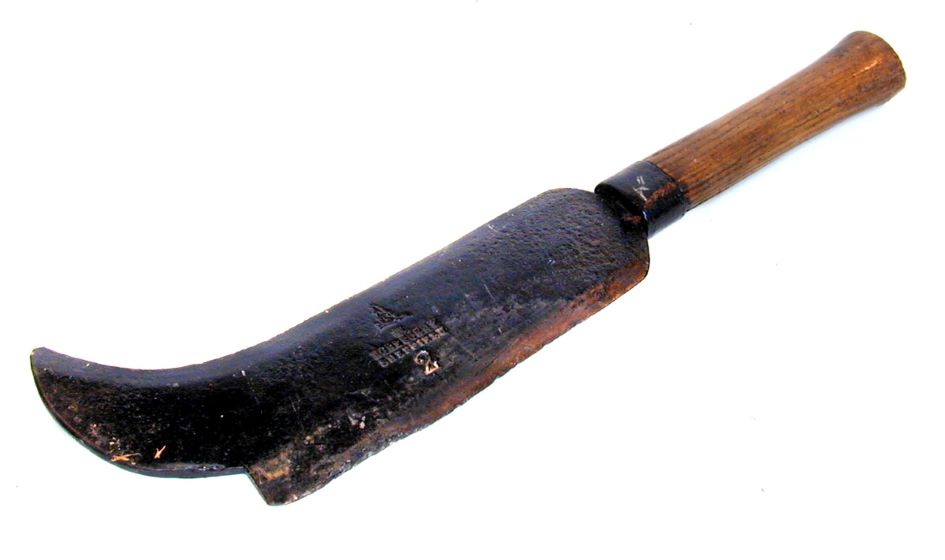 Billhook
Billhooks are traditional British implements used for hedging and copping. Their design varies greatly from region to region. This hook was made in Sheffield, and has two blades; one along the curve and another on the back.
Agricultural implements have a history of use by unfortunate farmers in times of war. In the medieval period, the billhook was very commonly used by English levies. It was such an effective weapon that purely military versions were created and used by professional soldiers in the Hundred Years' War.
MERL 96/107
close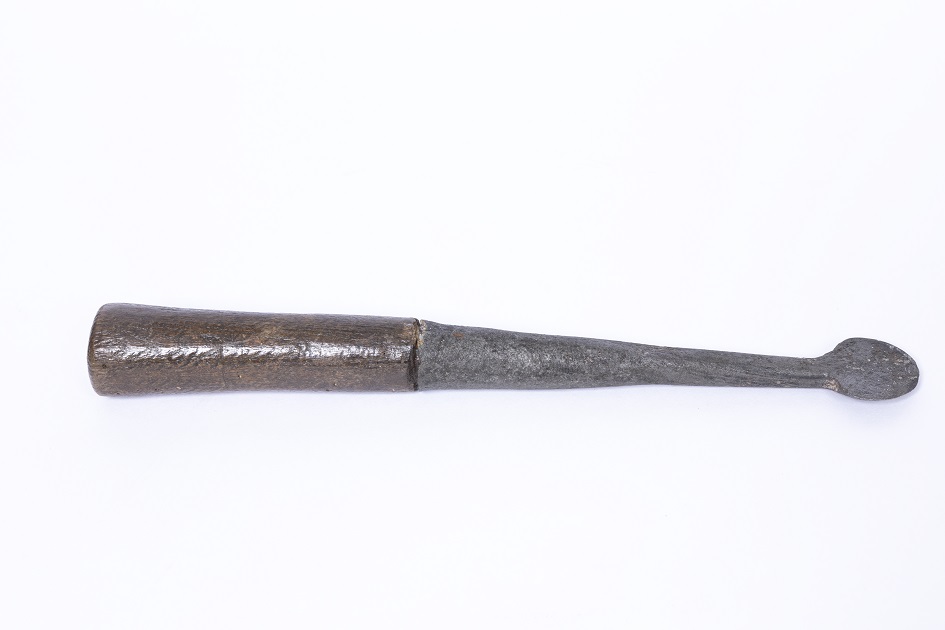 Barking iron
This barking iron was used to strip bark from timber. The 'debarking' process is important because bark can be detrimental for wood used to create furniture, houses and other structures. This is because bark retains moisture, which is useful when the tree is alive, but can cause the wood to rot when it has been cut. Bark also provides a home for pests such as insects. However, bark should always be left on living trees, as stripping the bark away will cause anything above this point to die.
MERL 66/165
close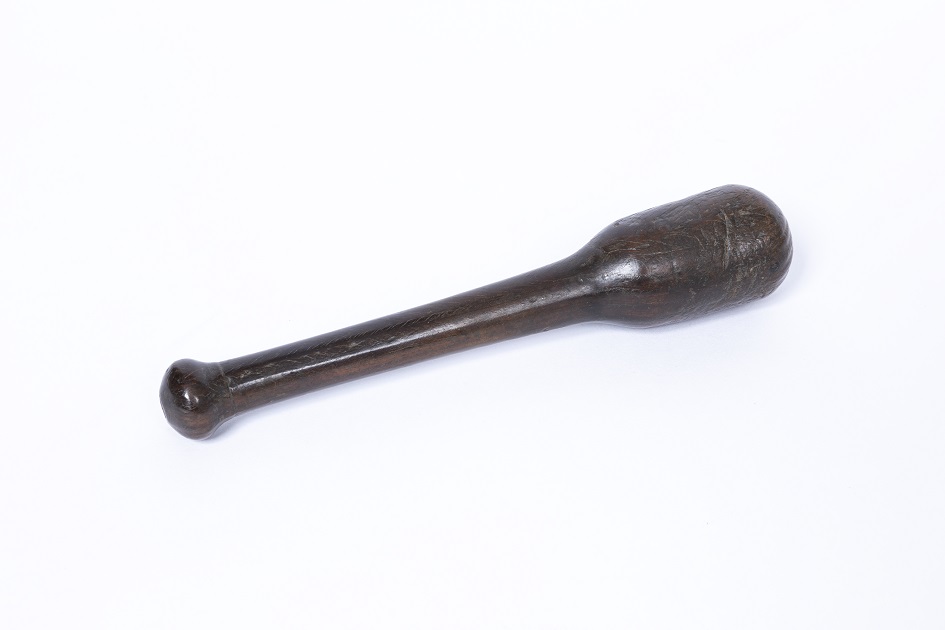 Fleam mallet
Last used in c.1809 by a butcher in Banbury, this fleam mallet was a butcher's tool for slaughtering animals by driving a fleam into the jugular vein. However, fleams were more commonly used for bloodletting as a veterinary practice.
Treating unwell people and animals with bleeding is an idea dating back to Ancient Greece, where it was suggested that having too much blood in the body led to an imbalance of 'bodily humours'. Bloodletting rarely helped the patient, and was phased out in the 19th century.
MERL 59/380
close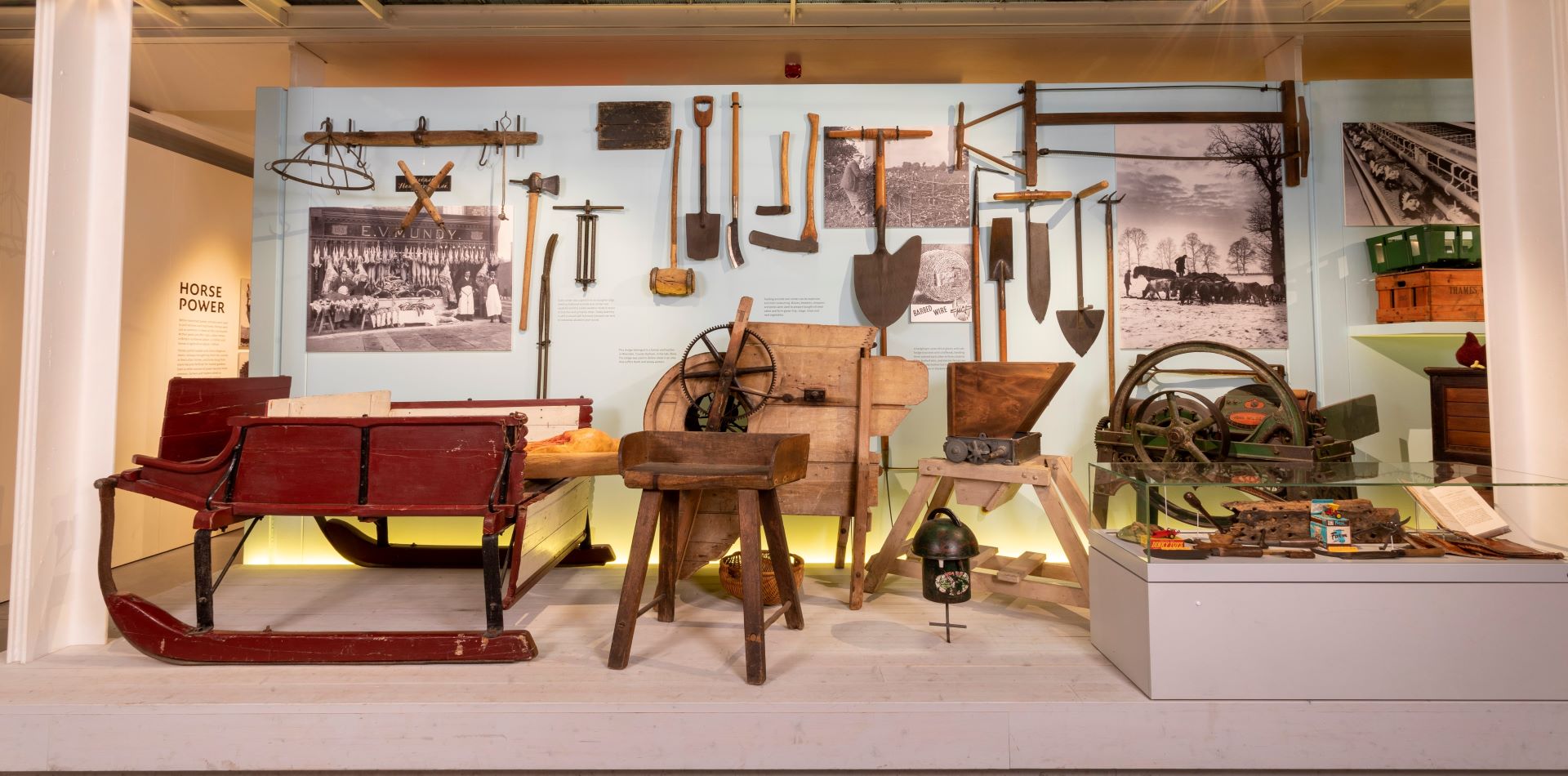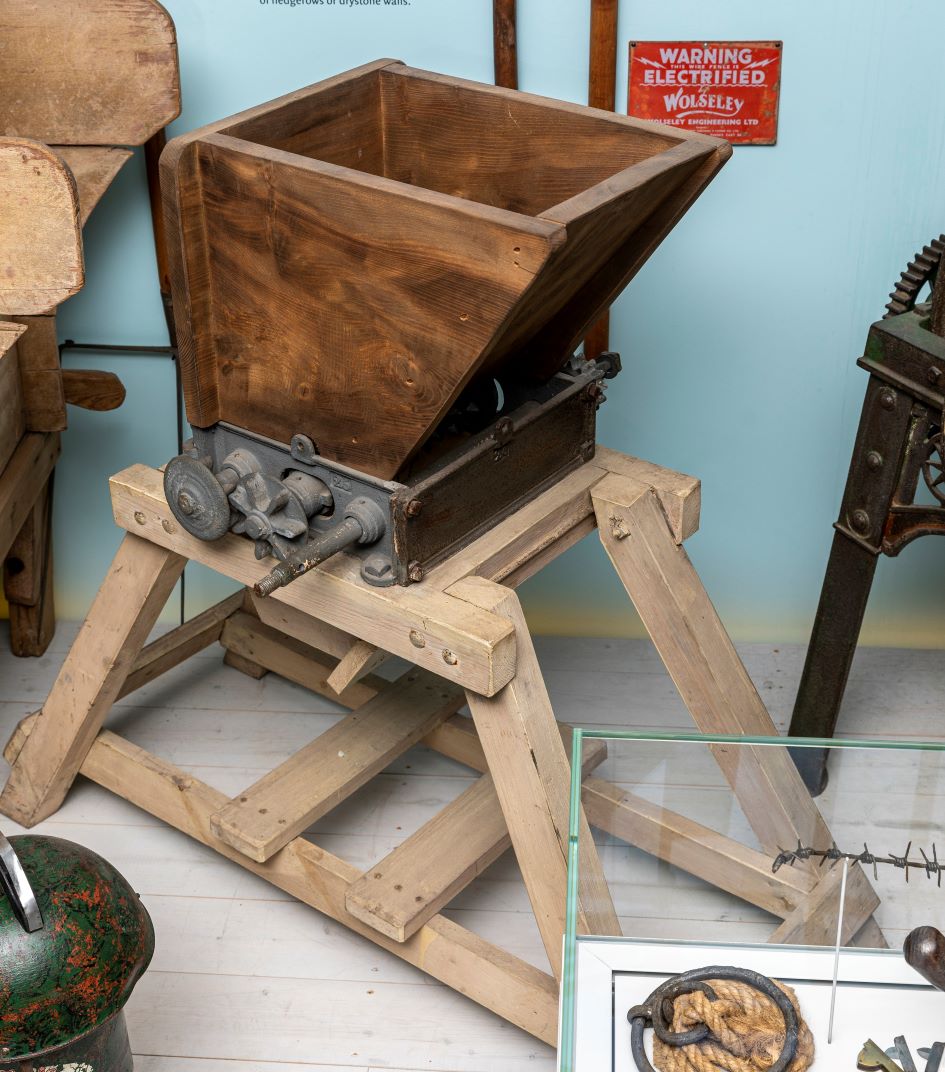 Cake breaker
This equipment is a cake breaker, a device used for breaking oil cake into smaller pieces so that animals could eat it. Oil cake is less appetising than it sounds – at least for human consumption! After liquid oil is extracted from rapeseed and linseed, the leftover solid material is made into oil cakes. These cakes provide a key source of protein.
However, it is important to know your plants before feeding the cakes to livestock, as some oil cakes – such as those produced from castor beans – are toxic and used for fertiliser instead.
MERL 53/197
close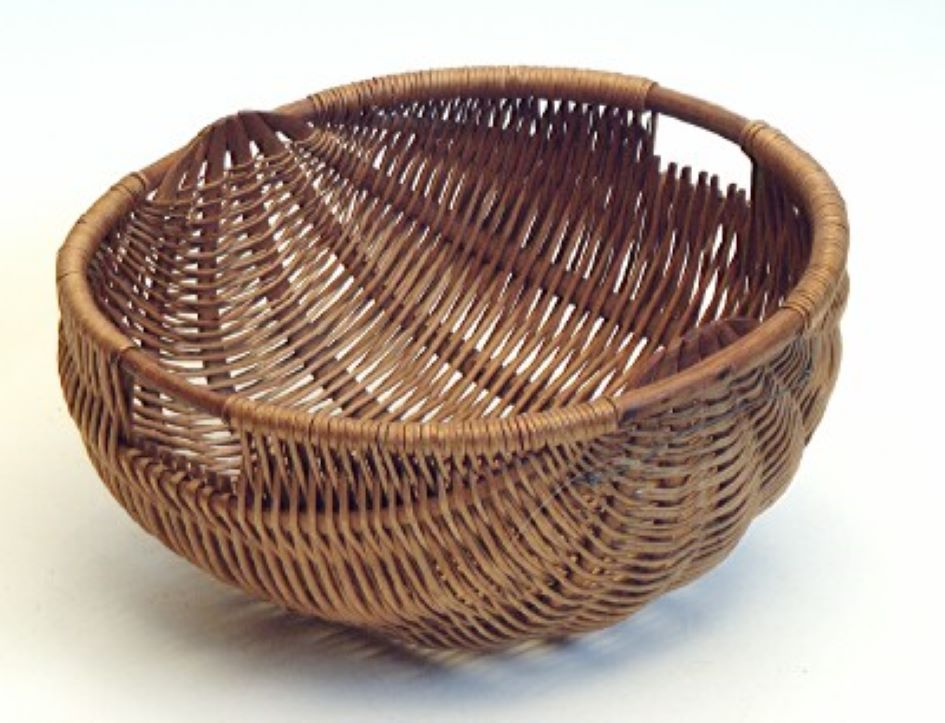 Potato skep
This is a potato skep, a basket used when planting potatoes. It is made from ash and willow, and was constructed by a basket maker in Ceredigion in around 1945.
The variety of baskets available in this region of Wales was widespread. For example, a 'cyntell' was a multi-functional basket used to carry items around the farm. Potato baskets of other regions often have different names and slightly different appearances. For instance, a 'skib' is a basket of Irish origin with a circular shape and flat base.
MERL 60/768
close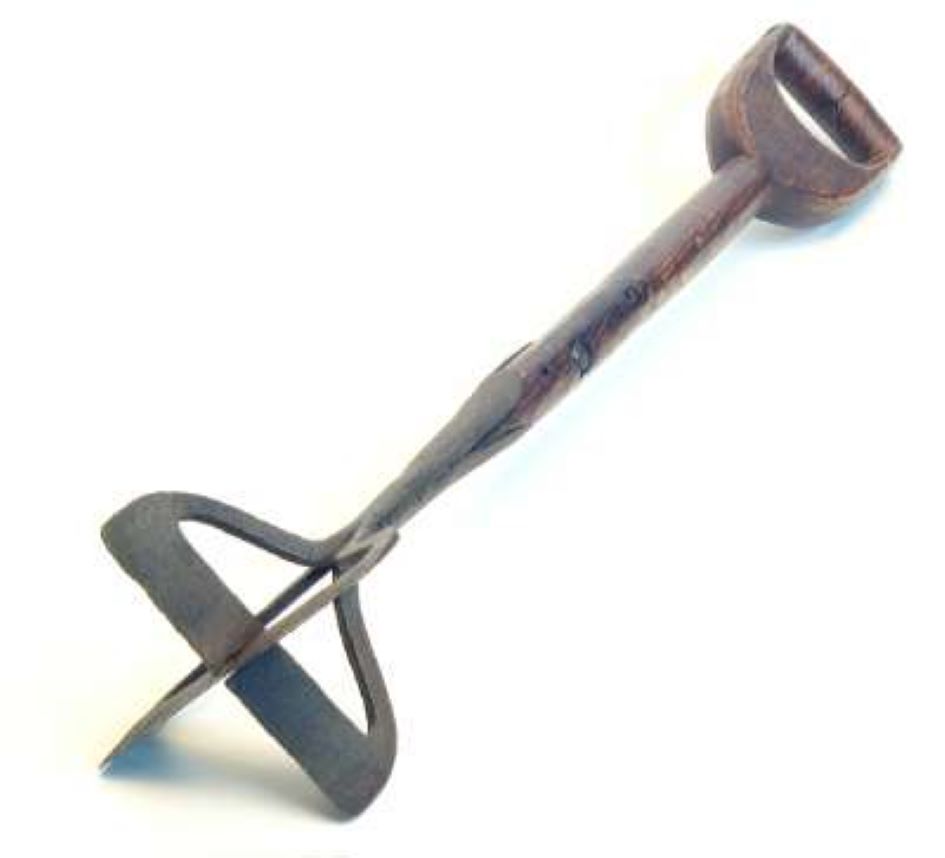 Root chopper
Root choppers are used to cut turnips and the roots of vegetables to feed to animals. The discovery that farm animals thrive off the roots of certain vegetables revolutionised livestock farming in the medieval period. Previously, animals such as pigs were not kept in significant numbers throughout the winter, as there was not enough grass to sustain them. Instead, all but the breeding animals were slaughtered. Once turnips and other root vegetables were grown to feed them, meat was more generally more available to the British population, even in the coldest months.
MERL 68/151
close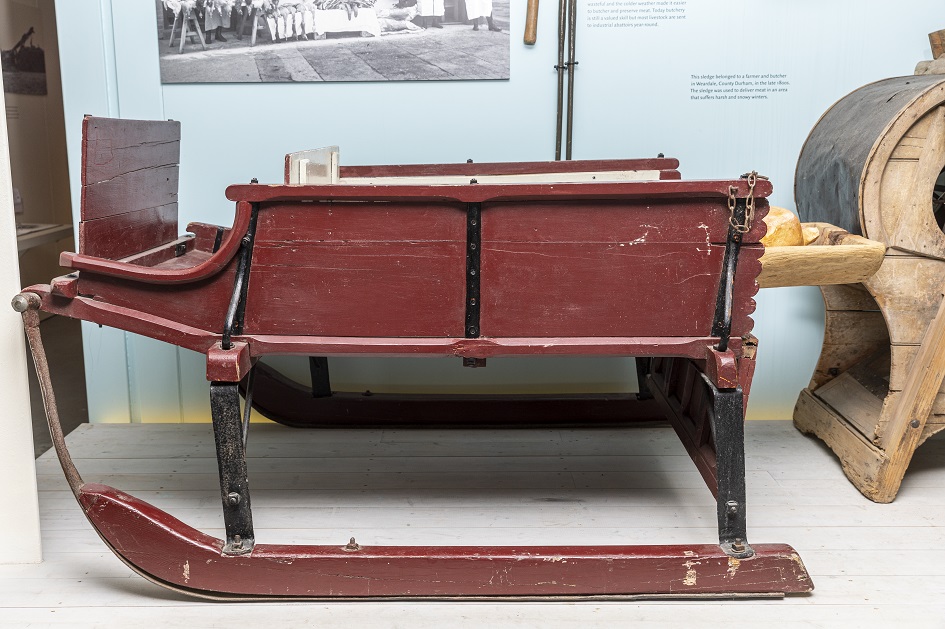 Butcher's sledge
Used in the Weardale area of County Durham, this sledge was used by a 19th century butcher to deliver meat. Meat-eating became widespread in the Victorian period, although the quality of cuts available to rich and poor differed greatly. Shopping at a butcher was typically a daily occurrence, as without refrigeration it was difficult to keep meat fresh. Heavily salting the meat was one way to combat this, although many thought salting spoiled the flavour. Delivering meat via sledges would have been more commonplace in rural areas. In cities, the close proximity to a large customer base made this unnecessary.
MERL 57/208
close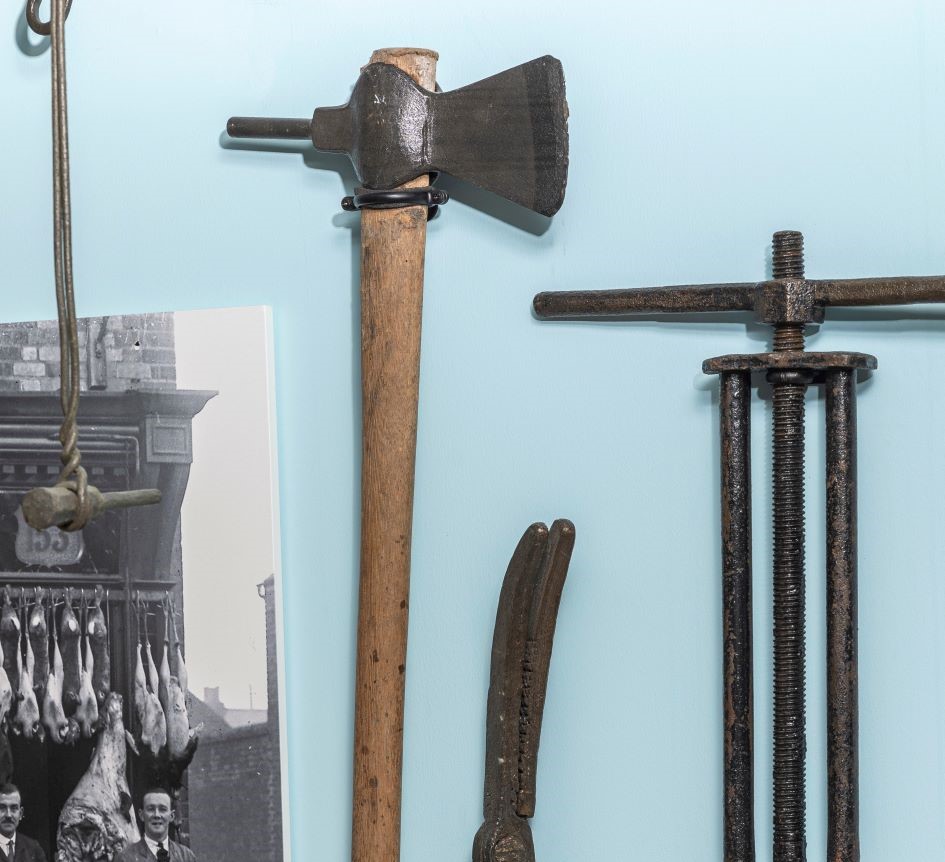 Pole axe
This pole axe was kept by a local family butcher in Halesworth, Suffolk. It was used to stun animals into unconsciousness during the slaughtering process, in order to reduce their suffering. However, as it depended on the strength of the wielder to be effective, it was not a particularly humane method. Percussive bolt guns are now used which are more reliable. Using a poleaxe for stunning was outlawed by the 1933 Slaughter of Animals Act.
Pole axes are perhaps better known for their use as a medieval weapon, as their weight and versatility made them effective against armoured knights.
MERL 65/7
close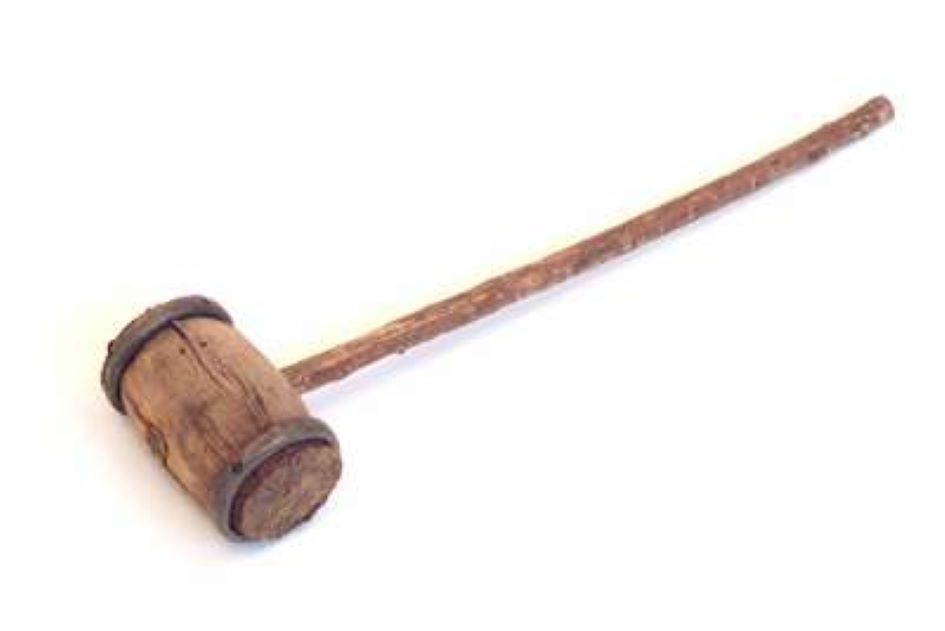 Fencing mallet
This fencing mallet, also known as a 'Beetle', was used to hammer in stakes for either hedges or fencing. Fencing on farms not only keeps animals in to prevent them from trampling on crops, but also deters thieves and predators. It is important for a farmer to recognize the ideal fence for their livestock. Barbed wire fences, which became popular during the industrial revolution, are ideal for sheep and cows but not for fast moving animals such as horses.
MERL 75/121
close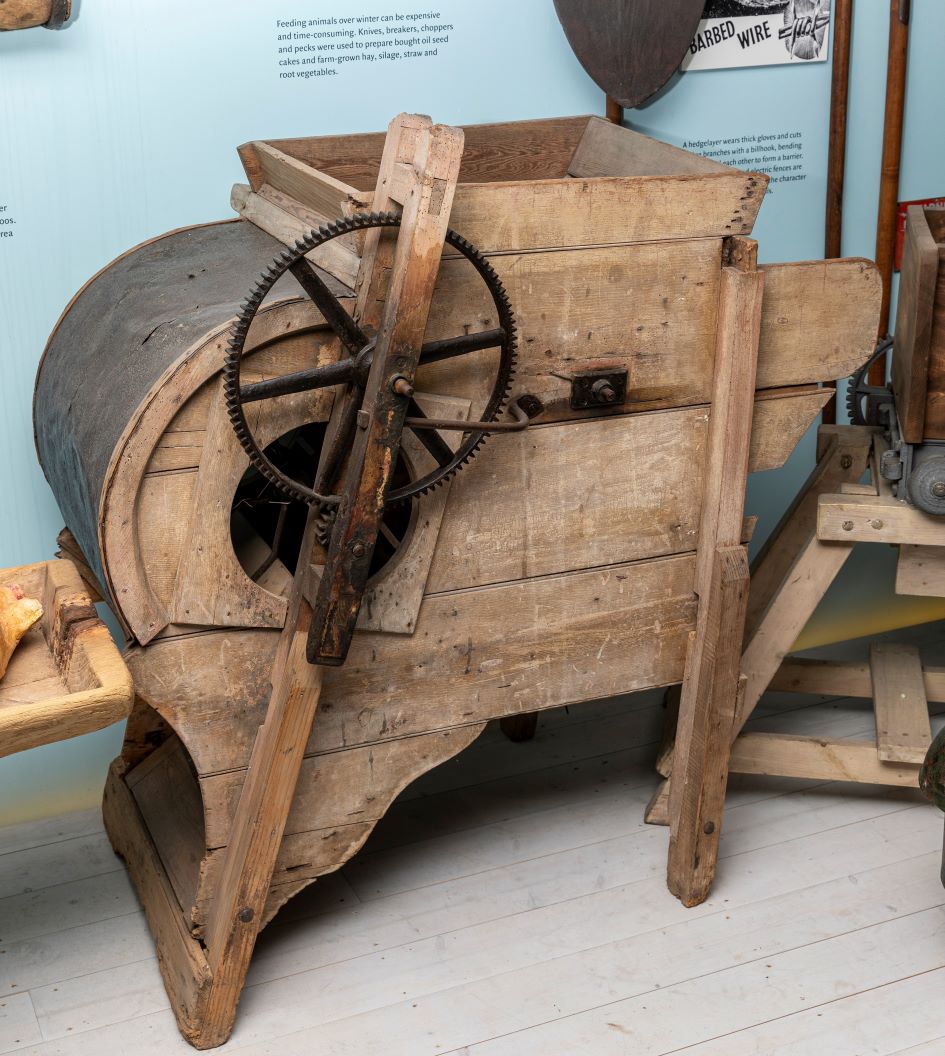 Winnowing machine
This is a winnowing machine, used to separate wheat from chaff. It was used on a farm in Stratfield Saye between the 1920s and 1950s. Winnowing is the stage of the harvesting process after reaping and threshing; when the grain has been cut and removed from the straw.
Before mechanisation, a basket known as a winnowing fan was used for the process. The grain would the thrown into the air and the chaff blown away. Early winnowing machines, which used a hand crank to produce an artificial airstream, were first invented in Ancient China but were not seen in Europe until the 18th century.
MERL 55/218
close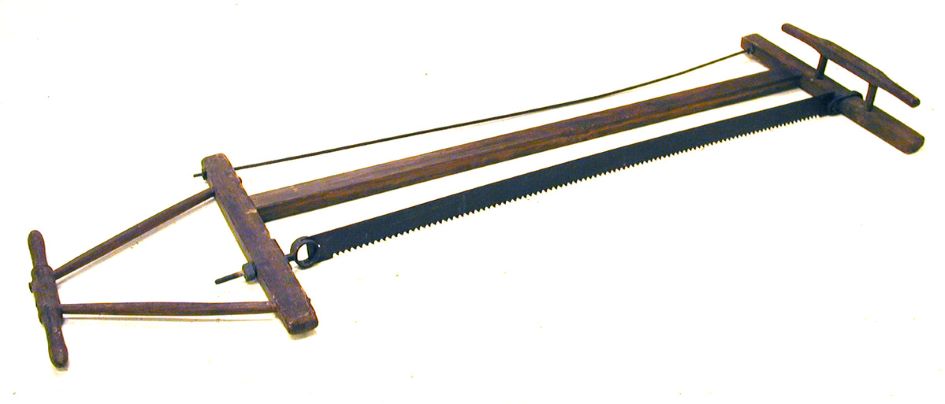 Pit saw
Pit saws are large saws set within a wooden timber frame. They are designed to be used by two people to cut a tree trunk into manageable pieces. This saw was used at a wheelwright shop in Eddington.
Different types of British timber can be utilised in different ways. For example, ash is the strongest and is used for tool handles and other items that need to survive heavy wear. Oak, meanwhile, has a variety of uses. Higher quality oak is used for furniture, whereas lower quality oak is often used on the farm for fence posts.
MERL 51/317
close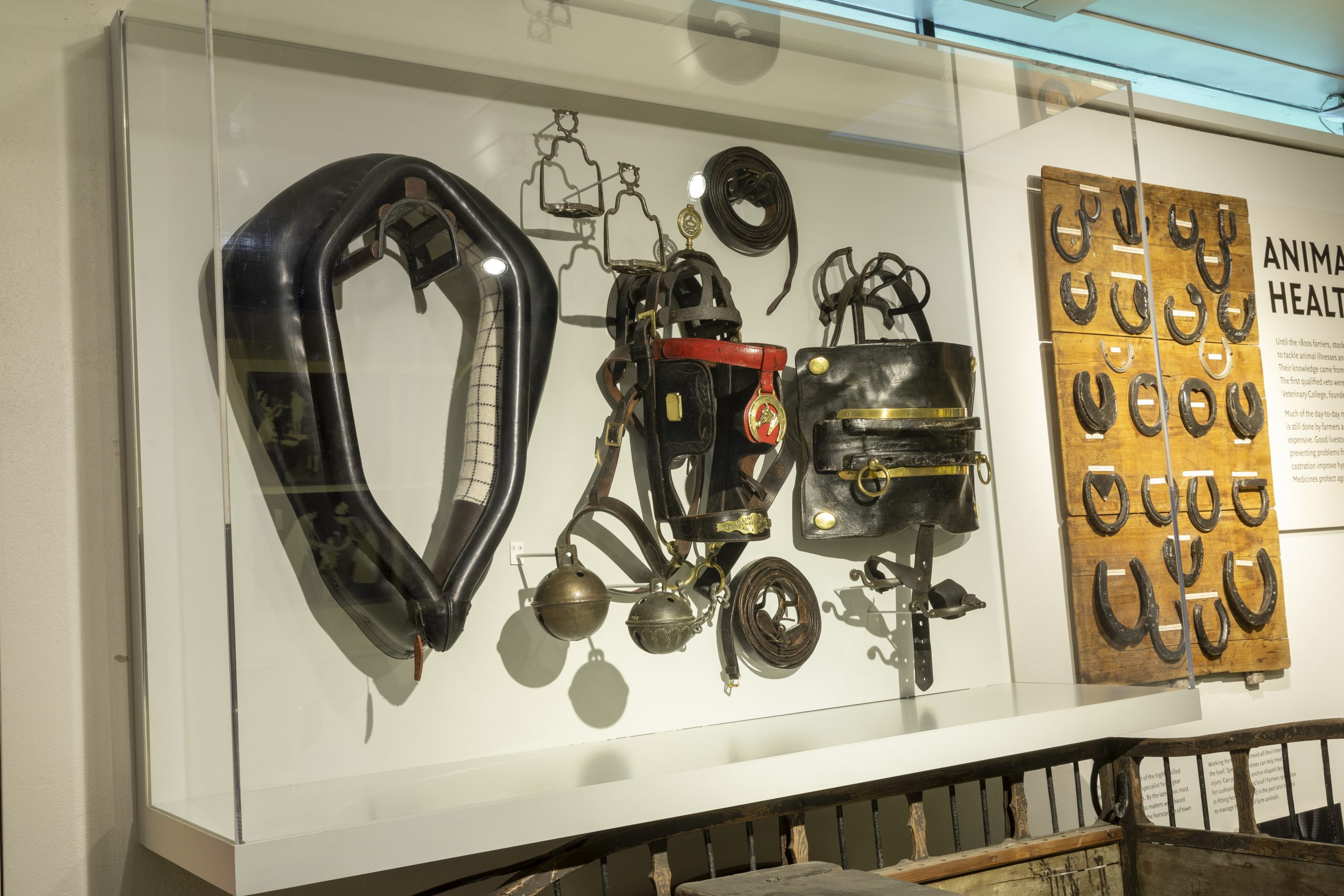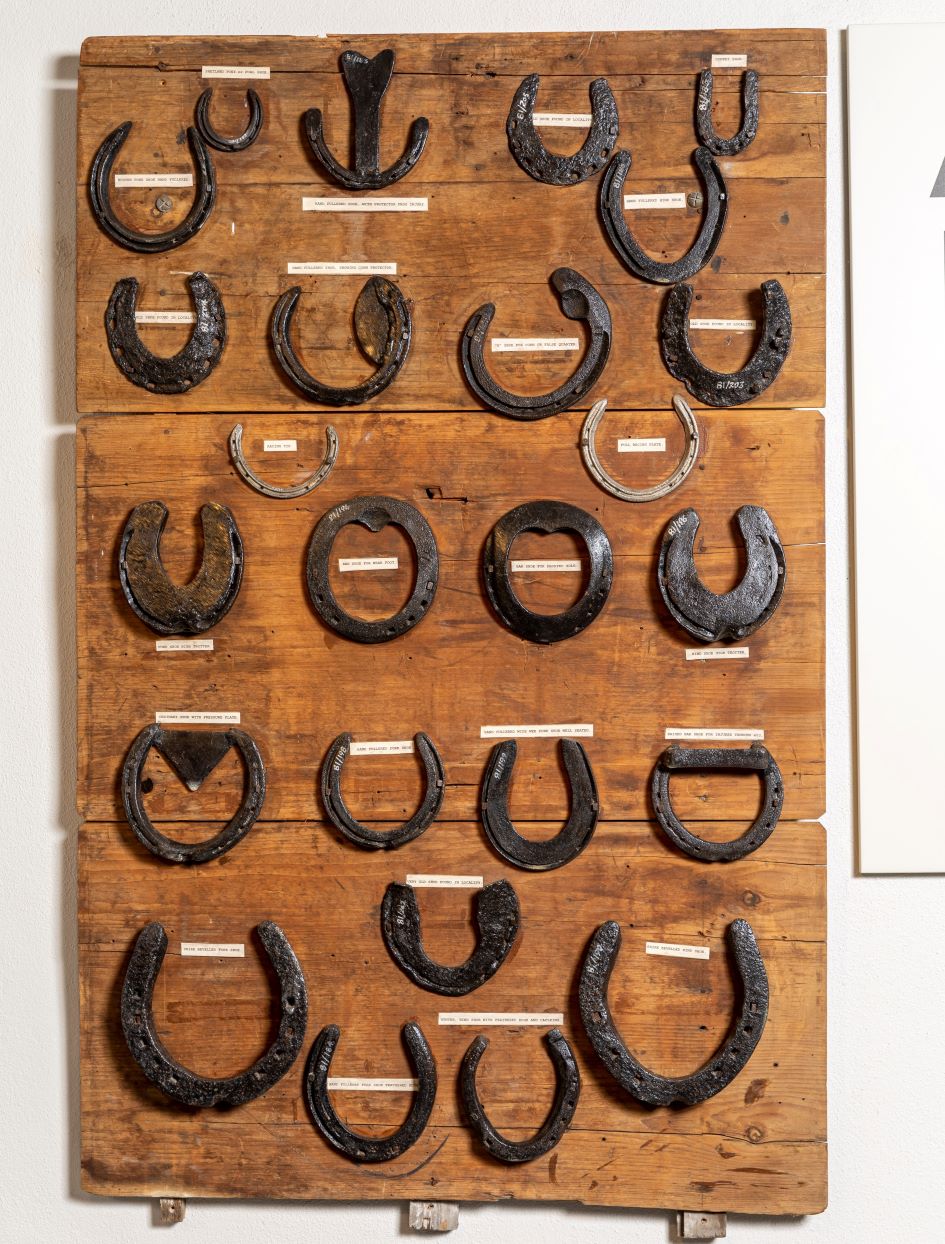 Horseshoe Display
This is a hand fullered horse's fore-shoe. It was made by J. B. Packer & Son in Uffington Forge, Uffington, Oxfordshire. The collection was hung up on a board in the garage at 'Curtis Cottage'. Each shoe had a typed label. 3 generations of the Packer family worked in the forge at Uffington. Henry E. J. Packer employed three to four men and they did a variety of work such as tractor and plough repairs involving welding, and wrought iron work as well as providing the service of farrier. In 1930 at the 'Annual Farriery Competition', organised by Berks. Co. Co., Henry E. J. Packer won first prize
81/181/205
close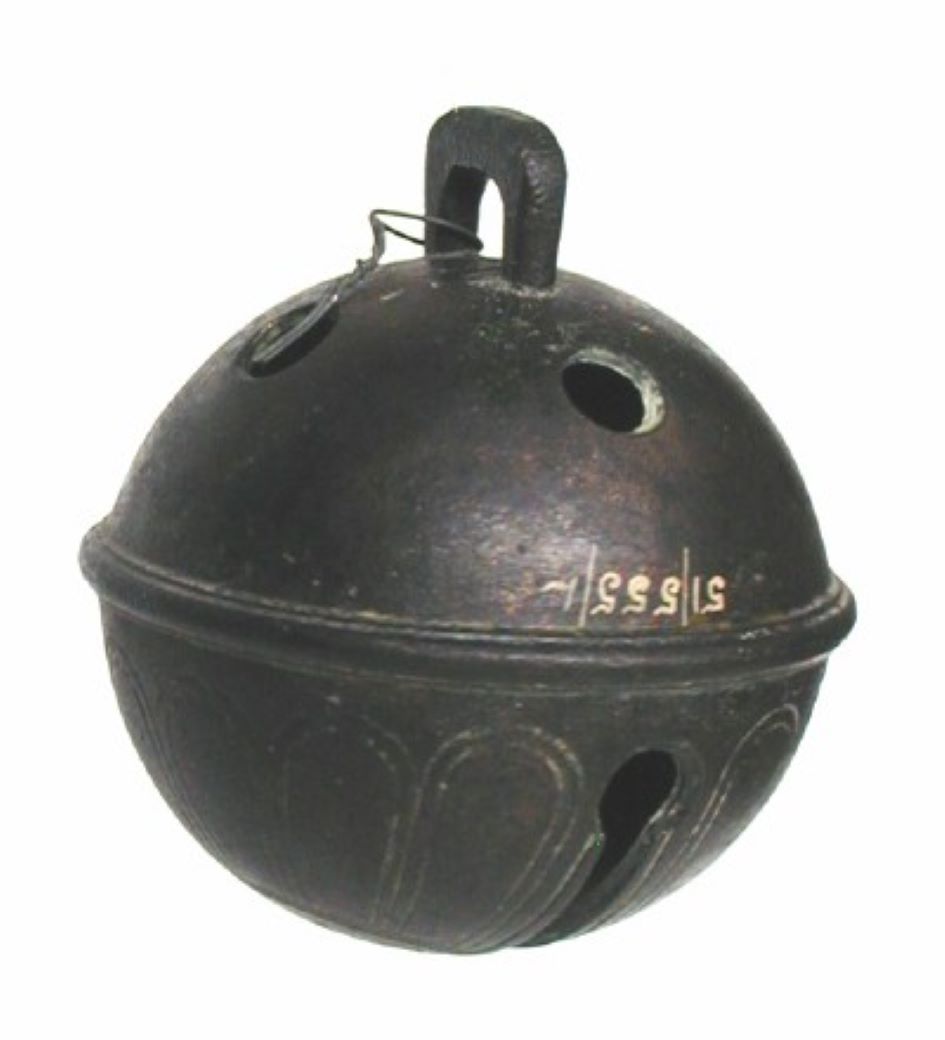 Horse Bell
This large pack horse bell, also known as a 'rumbler' or 'crotal bell', was made by Robert Wells of Aldbourne, Wiltshire, and probably dates from the eighteenth century or early nineteenth century. It is number 26 of a set. Most of the horse bells one finds are stamped RW for Robert Wells whose family were an old bell founders company in Aldbourne, Wilts. Their works were afterwards sold and became the foundation of the Whitechapel bell foundry
51/555
close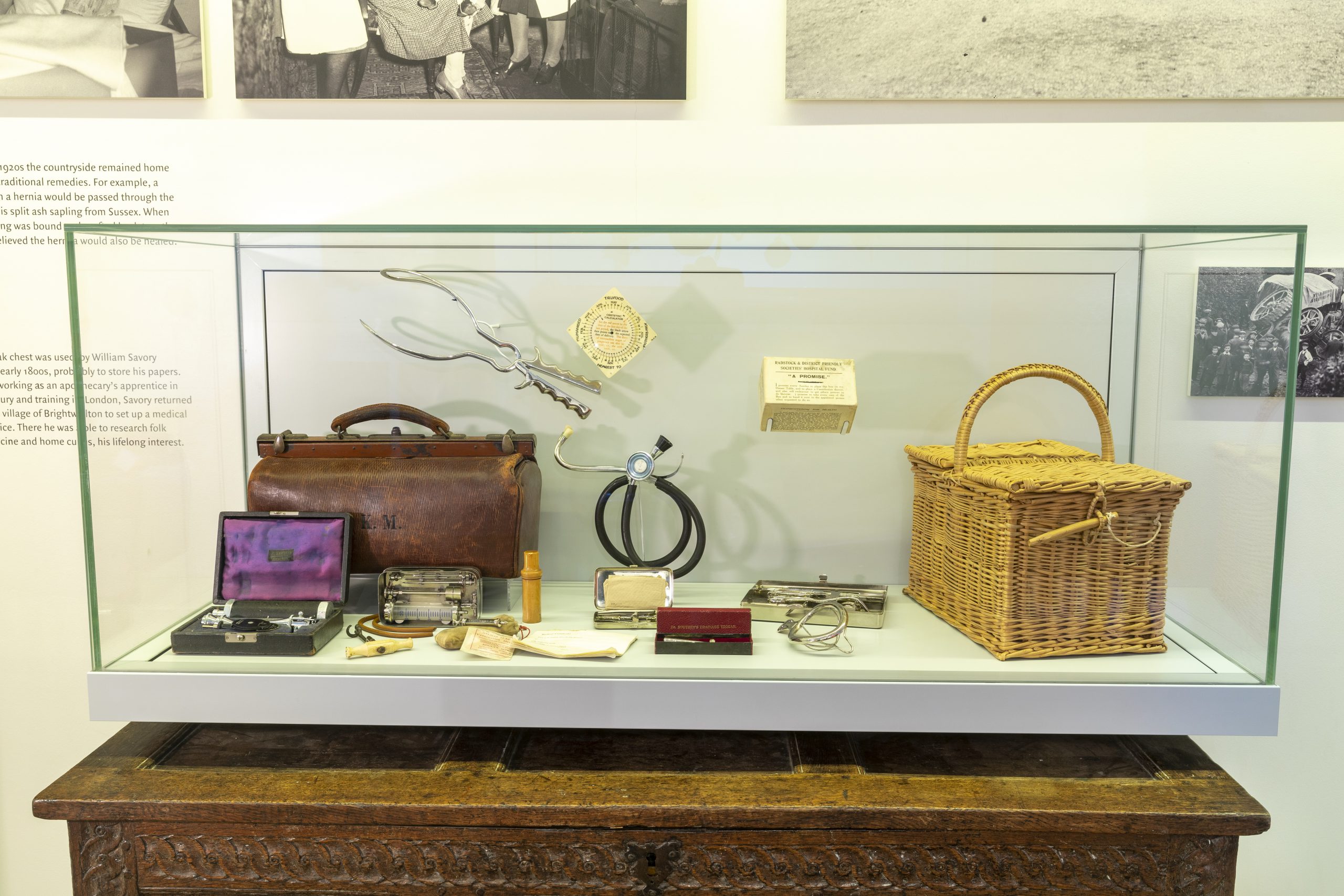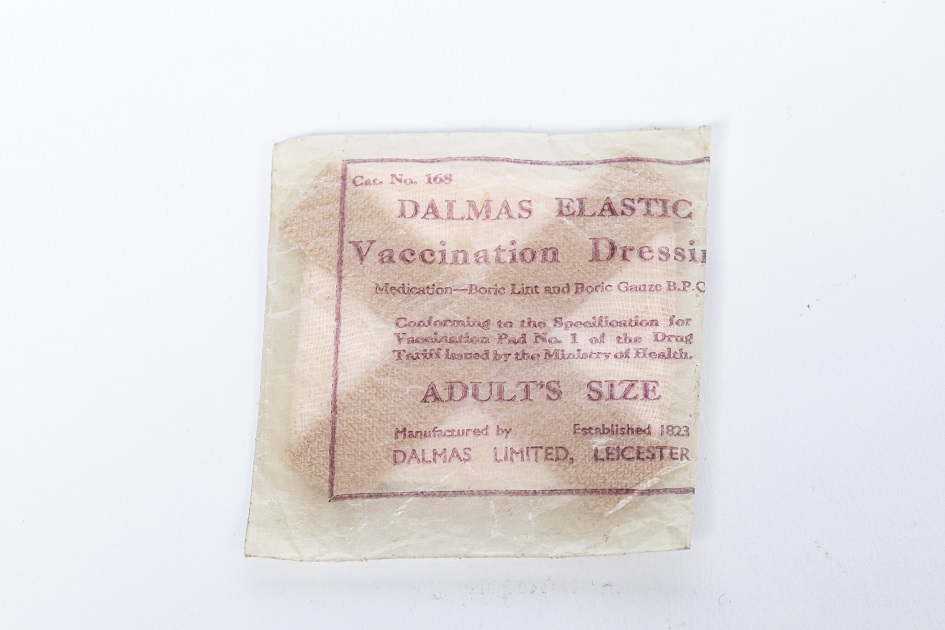 Vaccination Dressing
The dressing is to cover the area of skin where the vaccination has been given by injection. Vaccination stimulates the body's immune system to protect a person against disease. Smallpox was a highly infectious disease which began with a fever and a rash that spread all over the body. The rash then turned into pustules. Many cases were fatal.
In 1796, the physician Edward Jenner noticed that milkmaids in his area of Gloucestershire were often immune to smallpox. Their work brought them into contact with cowpox, a mild disease of cattle. Jenner injected a boy with cowpox matter and the boy was later immune to smallpox. This is thought to have been the first ever vaccination.
BMHC 2010.16.30
close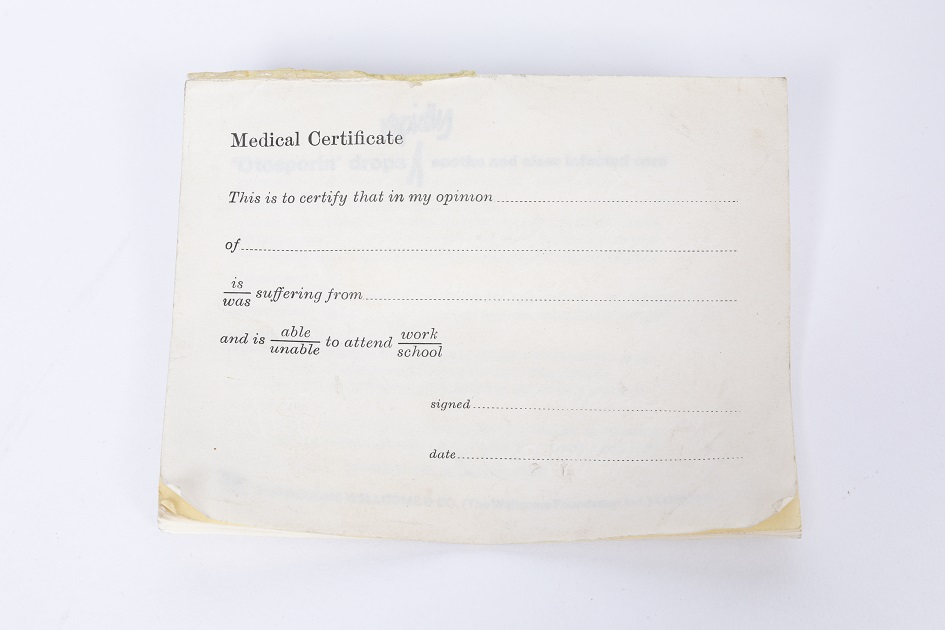 Doctor's Certificate
These certificates are those required by the National Insurance Act 1911. This act, sponsored by Lloyd George, introduced the first national sickness insurance, initially only for working men. This was the first step on the road to the formation of the NHS in 1948. National Insurance provided welfare provision for workers. The act provided for sick pay and unemployment pay in some industries. Workers would receive 10 shillings per week for the first 13 weeks of sickness and then 5 shillings a week for a further 13 weeks if absent longer. Funding National Insurance came from the worker, employer and taxation. For the health-related aspect of National Insurance the worker paid 4d per week into the insurance fund; the employer 3d  and taxation 2d.
BMHC 2010.16.29
close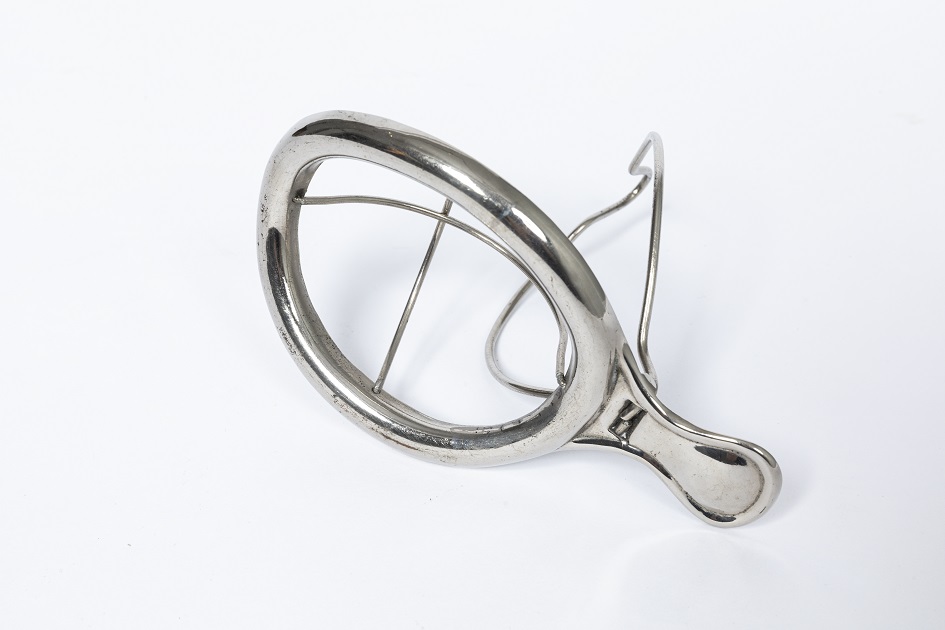 Mask
The Schimmelbusch mask, a system for delivering anaesthetic, was invented in 1889, and was used until the 1950s. The device consists of a wire frame which is covered with gauze and placed over the patient's mouth and nose. Then high-volatility anaesthetic – usually ether or chloroform – were dripped on it, allowing the patient to inhale a mix of the evaporated anaesthetic and air. "The rag and bottle technique" would have been the method of anaesthesia used by GPs, before the days of the NHS, when performing minor surgery in patients' homes. One tale has been told of a child who had his tonsils removed on the kitchen table, in the 1920s, in Ealing.
BMCH 1979.1.19
close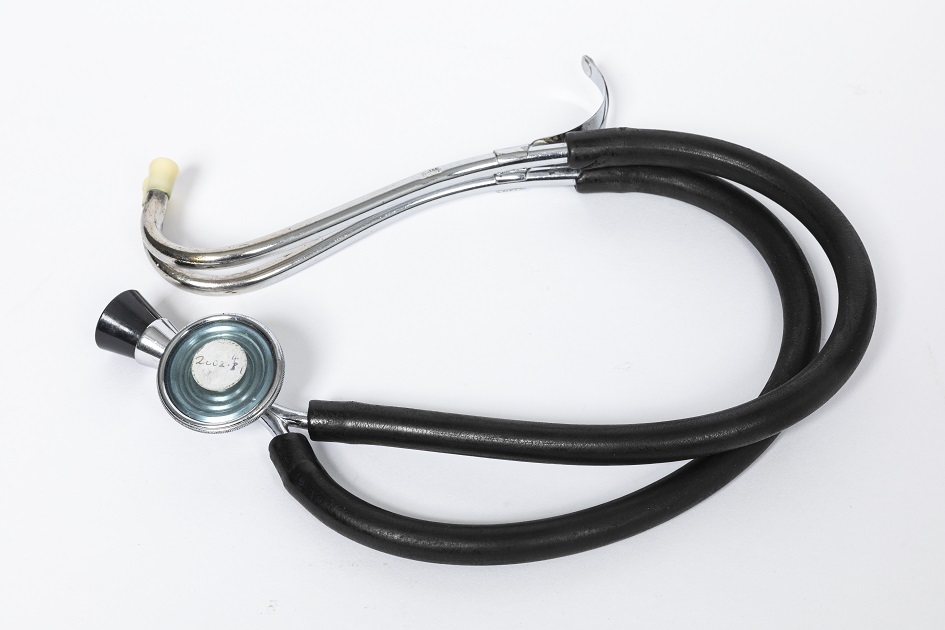 Stethoscope
A stethoscope is used for listening to the internal sounds of the body in the lungs, heart and bowels. French physician René Laennec invented the stethoscope in 1816. He considered it improper to listen to the sounds of the heart of a female patient by putting his head directly on her chest. Instead, he rolled up a piece of paper into a tube and placed one end on her chest and the other at his own ear. He subsequently developed a robust wooden tube to replace the makeshift paper one.
In the 1850s the hollow wooden tube was replaced by the binaural stethoscope. These stethoscopes featured two earpieces connected by a tube to a 'bell' that is placed on the body.
Most of the objects in this case are on loan from the Berkshire Medical Heritage Centre. Many thanks for their permission to highlight these objects on the tour.
BMHC 2002.4.1
close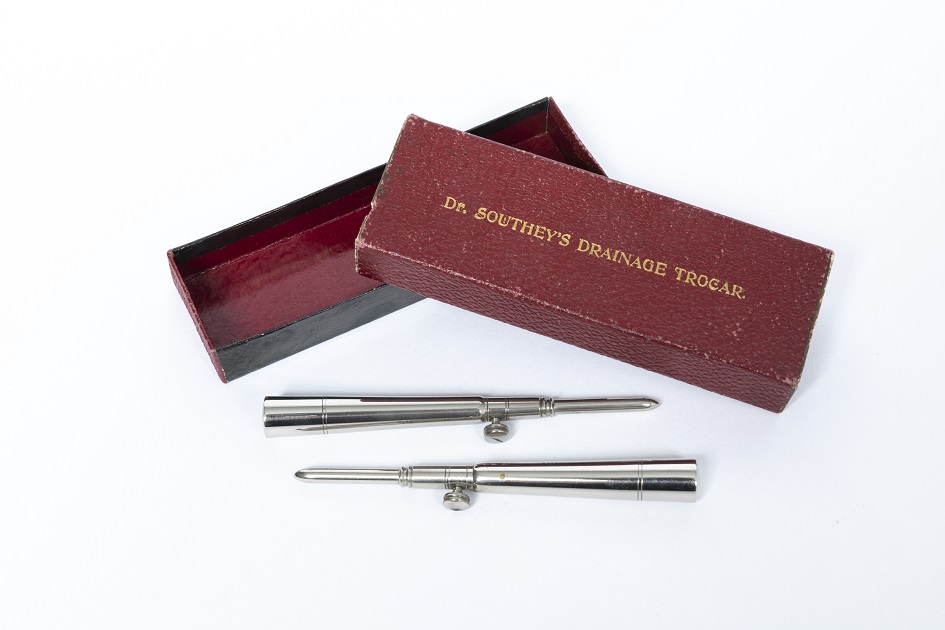 Trochar
A trocar is a surgical instrument with a sharp point which is used to create a hole in the body which can be used to introduce surgical tools. This trocar was used by a General Practitioner (GP) in the first half of the 20th century. It would probably have been used to perform a tracheotomy in a case of Diphtheria. A membrane forms over the top of the trachea, windpipe, and causes asphyxia. The trocar was used to make a hole in the trachea and a tube called a canula was then inserted to keep the hole open so the patient could breathe.
This was a lifesaving procedure. Diphtheria was rife in England until compulsory vaccinations were introduced in the early 1940s.
BMHC 2010.16.13
close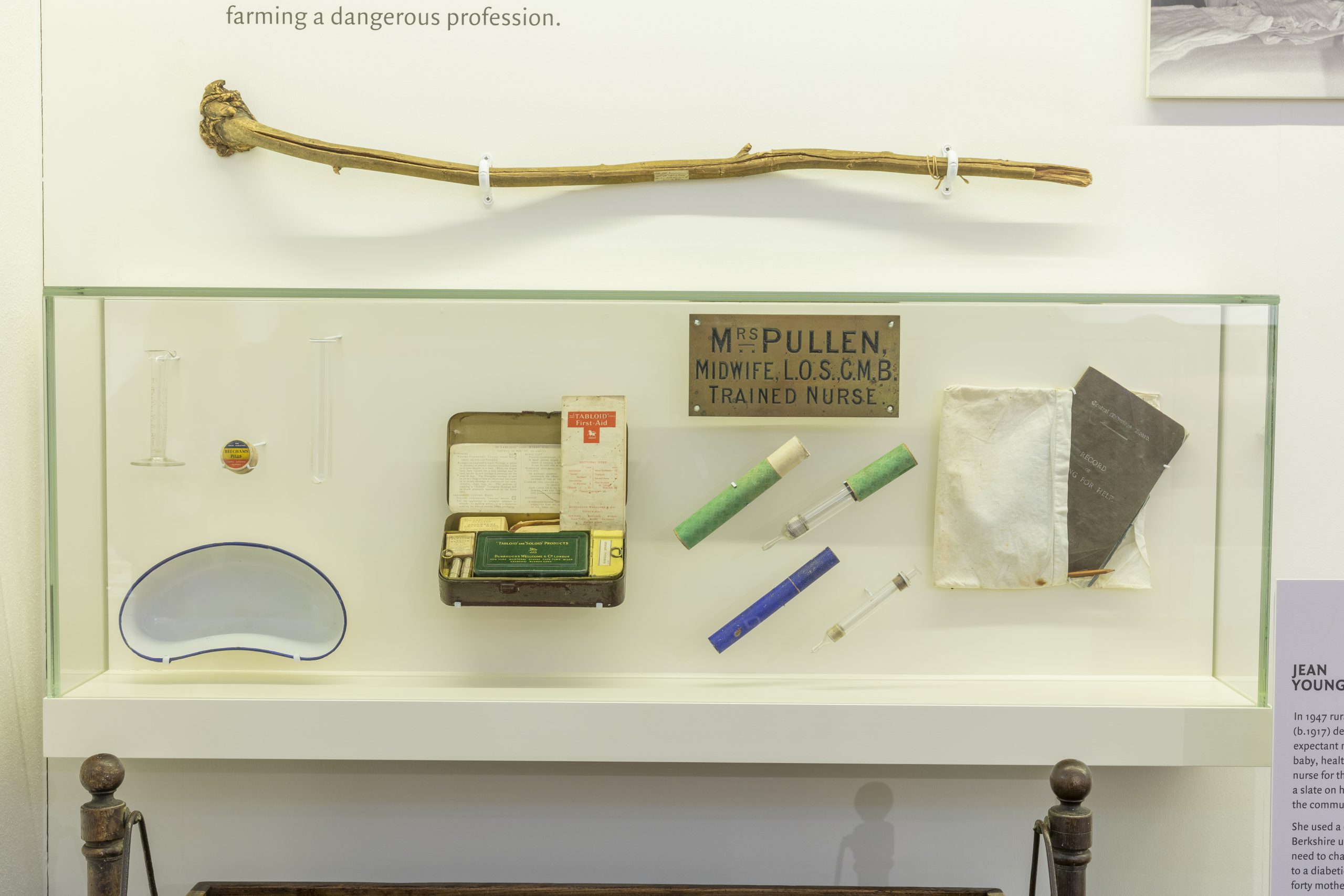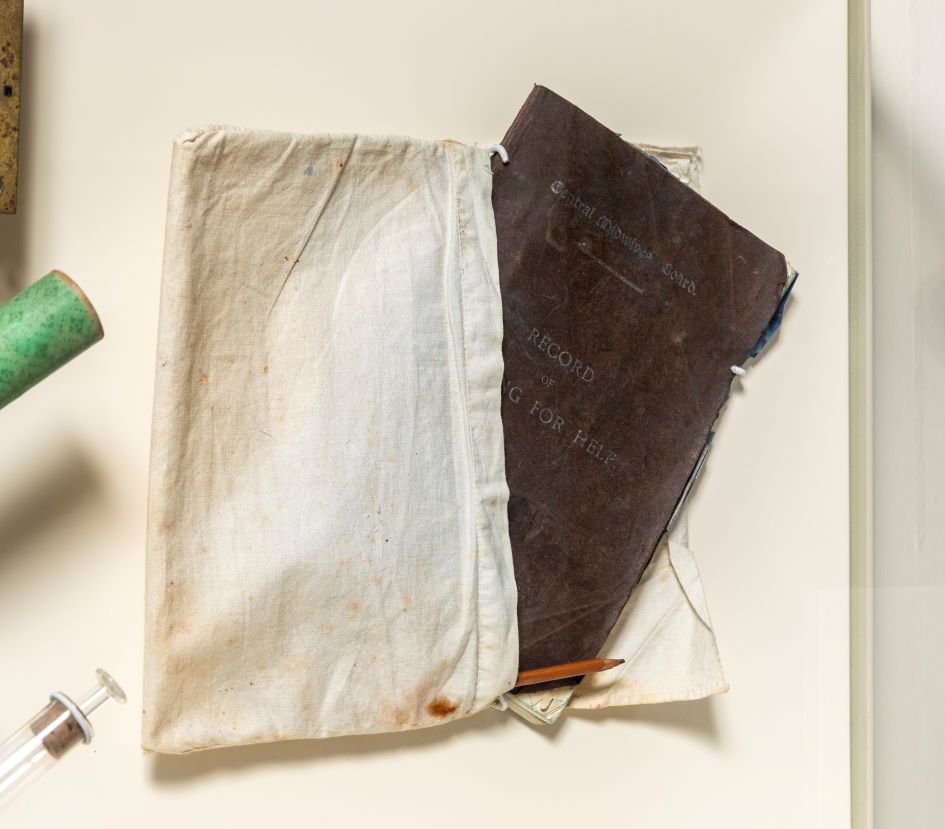 Midwife's Notebook
The Central Midwives Board was set up by the Midwives Act 1902. This prohibited unqualified and unregistered women from practising midwifery. The aims of the act were 'to secure the better training of midwives and to regulate their practice'. Each registered midwife had to keep a record in the notebook of when they sent for help from a doctor, during labour and childbirth while performing home deliveries. The notebook cover has an inscription reading "Central Midwives Board, Record of Sending for Help".
This notebook was used by Georgina Pullen. She trained and registered as a midwife in 1904. One case recorded in the notebook states that on "October 16th Dr. Farr sent for on behalf of Mrs. Bell who has a ruptured perineum."
MERL 2010/25
close

Sapling
Until the 1920s many traditional remedies were used which were a mixture of common sense combined with inherited lore about the healing properties of plants. This split ash sapling comes from Sussex. It was believed that a child could be cured of a hernia by passing it through the gap in a split ash sapling. The sapling was then bound and grafted back together and it was thought the hernia would repair as the sapling did.
Ash saplings were mainly used for this ritual cure because it was generally considered to be a magical tree. A spoonful of ash sap was once given to new-born babies in parts of England as a protection against ill health and witchcraft. The local wise man or woman carried out this magical healing although it might also be attempted by a relation. Many thanks to the Folklore Society for loaning us this item.
FLS 1905.3
close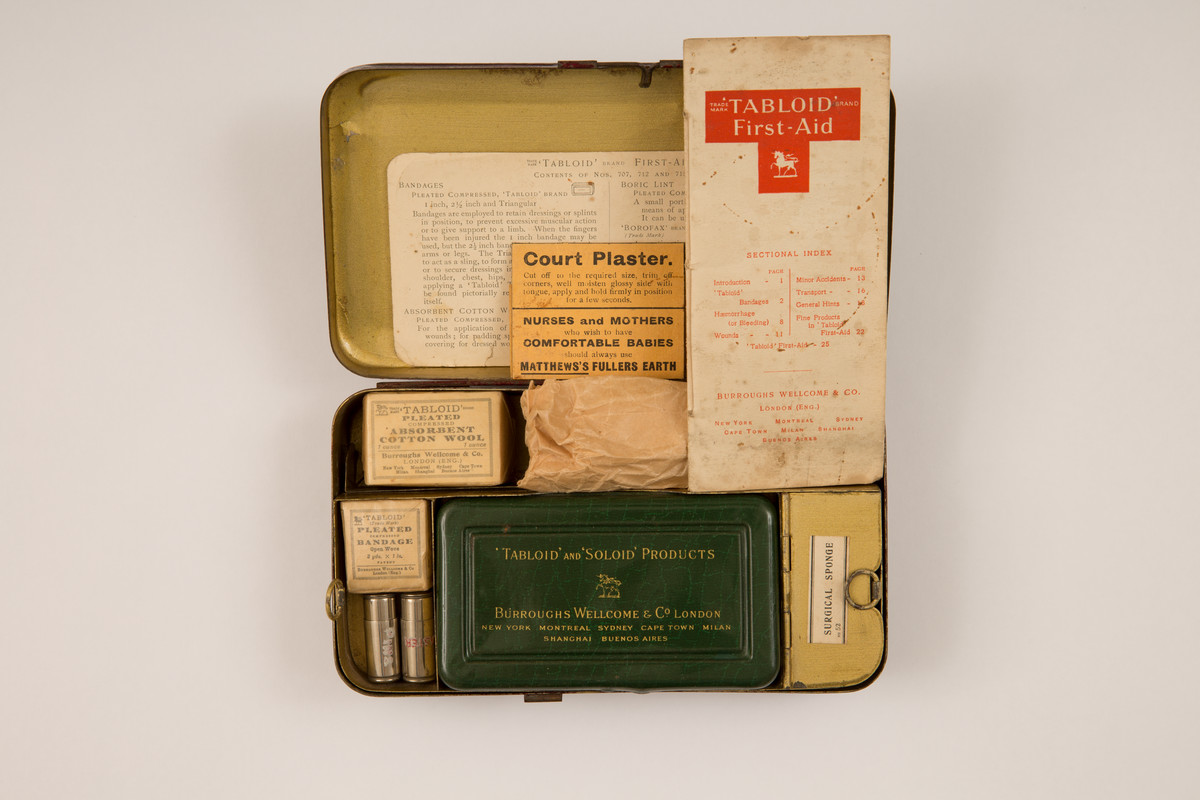 Tabloid First Aid Kit
This First Aid kit was made by the pharmaceutical company Burroughs Wellcome, which produced a wide range of specialised kits – for explorers, the army and civilians, of which this is one. The contents include; tweezers, scissors, smelling salts, adhesive plasters, cotton wool, triangular bandage, antiseptic, remedies for stomach upsets, surgical sponge.
The first aid kit was used by Georgina Pullen of Andover, Hampshire and Hambleden, Buckinghamshire, during her work as a rural nurse and midwife in 1904-17. Furthermore, this model of First Aid kit No. 715 was used by Alcock and Brown on their first transatlantic non-stop flight on 14-15 June 1919.
MERL 2004/17
close
Animal Health Case - Part 1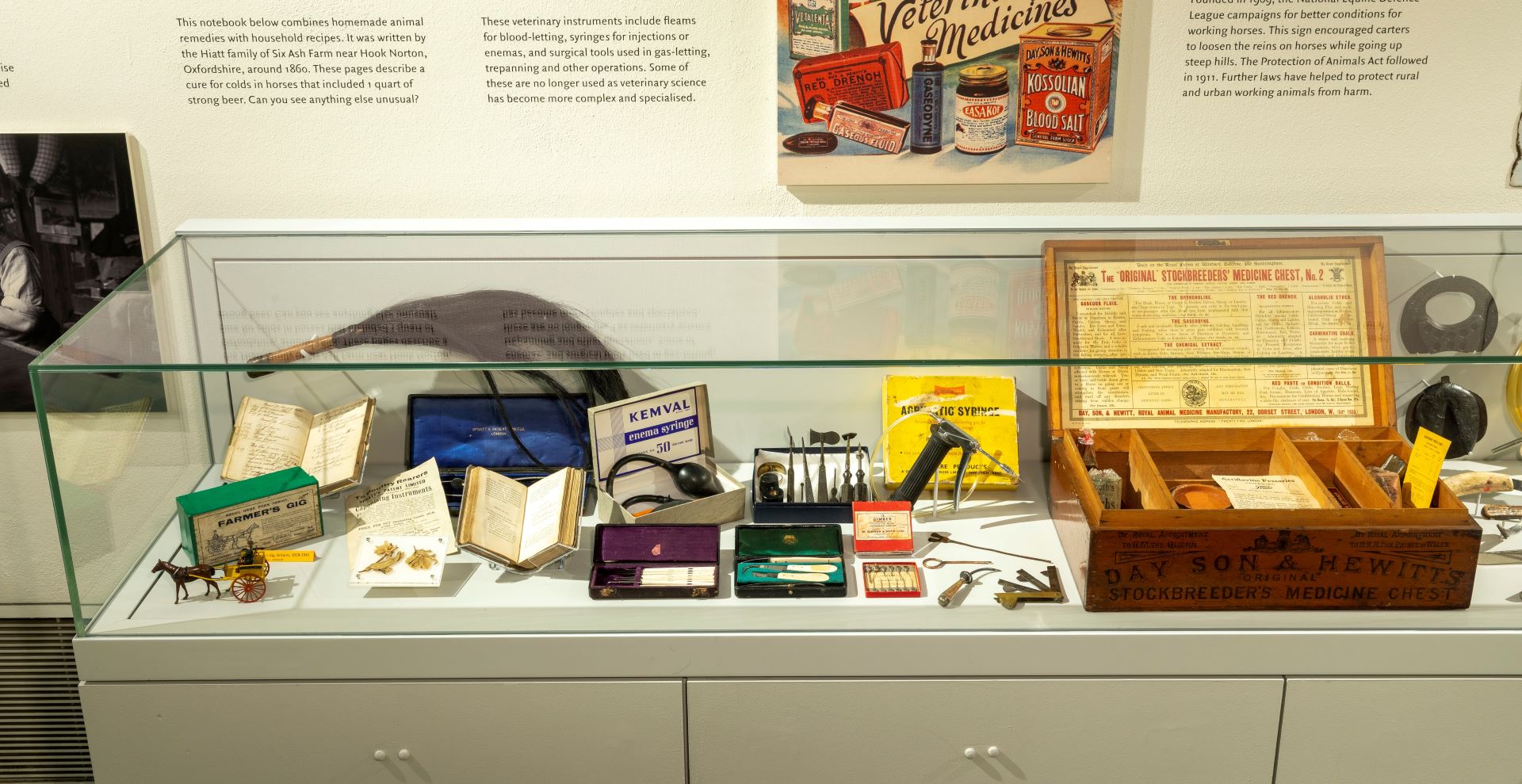 Animal Health Case - Part 1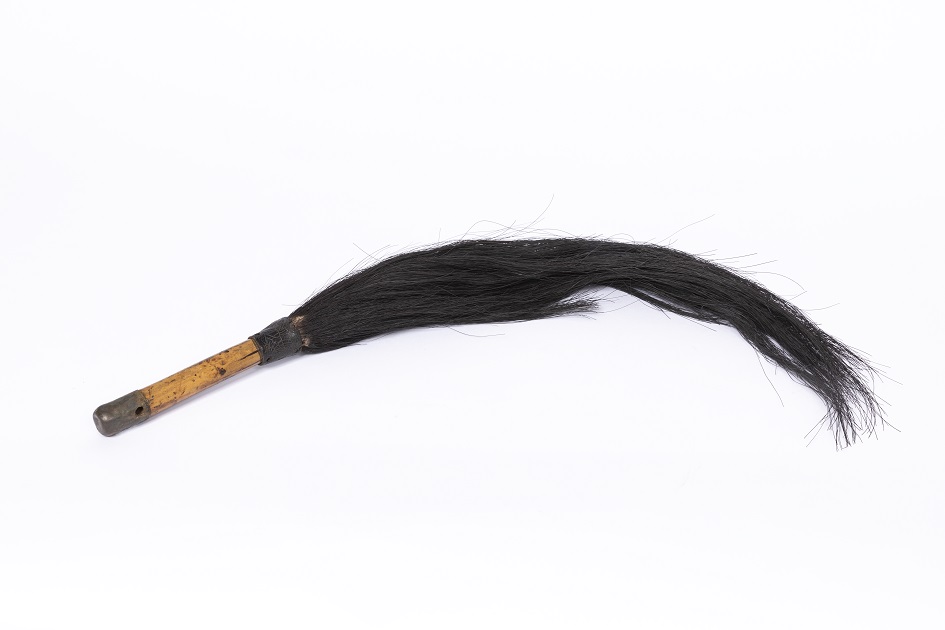 Fly switch
Produced in the early 20th Century (1900 – 1924), the main components of this fly switch / twitch are made from metal, leather, and horsehair. This item served two purposes. One is a decorative twitch that is used to sooth horses during stressful situations, such as shoeing. The other is to brush flies off horses during the shoeing process.
MERL 55/181
close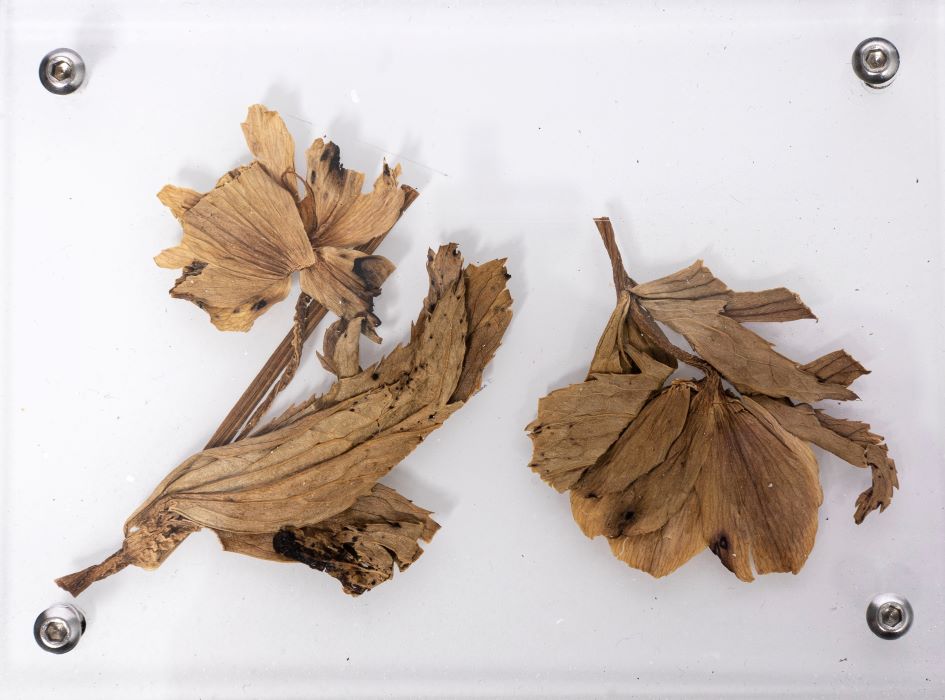 Hellebore sample
This is a sample of dried hellebore which was used in the Dales area of Durham (Weardale, Teesdale), where it was known as 'felon grass', as a last resort to treat a cow on which a vet had given up. A cut was made in the skin of the animal, and a hellebore leaf inserted under the skin. The cut was stitched up and the hellebore left for ten days before being removed. These were cut & dried in summer and were used in dry form throughout winter – most users preferred fresh material in season.
MERL 60/150
close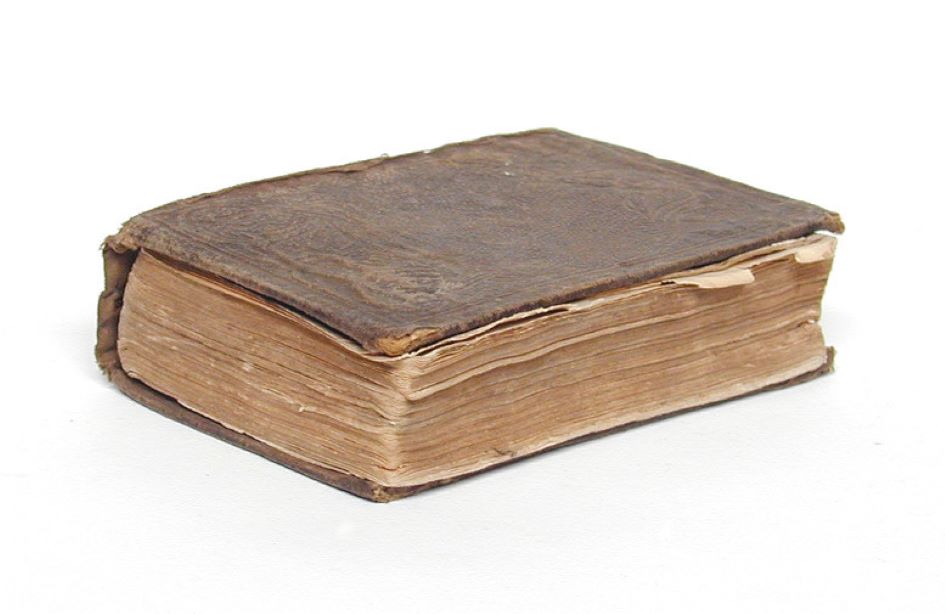 Clater's Cattle Doctor
This book was originally written by Francis Clater in 1810 and was re-printed in 1814, 1844, 1846, 1853, 1870 and possibly other years. The 1870 edition was almost entirely re-written by "Armytage" which omitted much conjecture. The book is primarily about the diseases of cattle and gives some remedies. It also contains a section about sheep, and has been selected by scholars as being of cultural importance.
MERL 87/19
close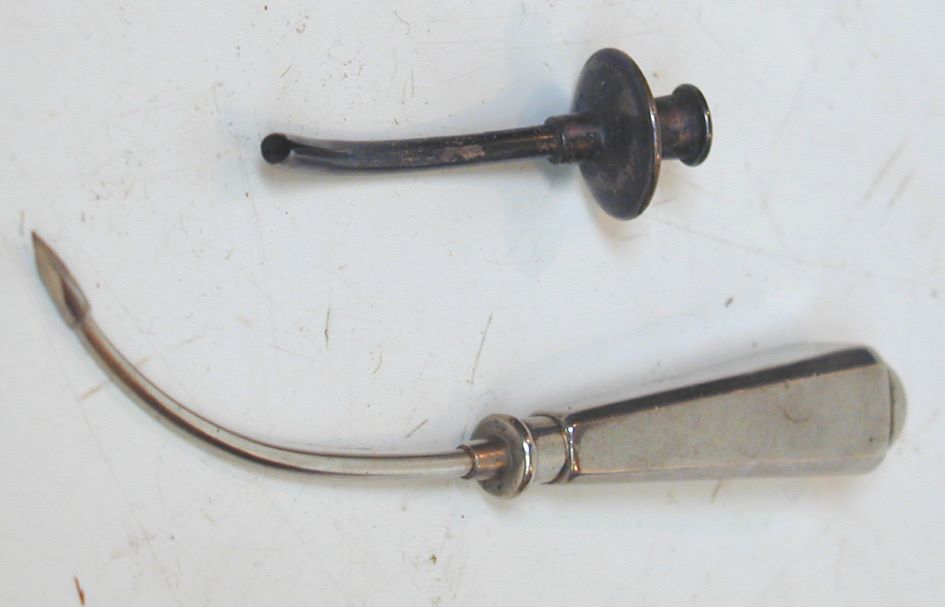 Trochar and cannula
This piece of equipment is called a trochar and cannula and was used for drawing off fluid or gas in an animal. It consists of the trochar, a steel spike, and the canula, a metal sleeve with a collar at the handle end. After insertion, the trochar is removed, leaving the cannula to act as a vent.
MERL 2002/32
close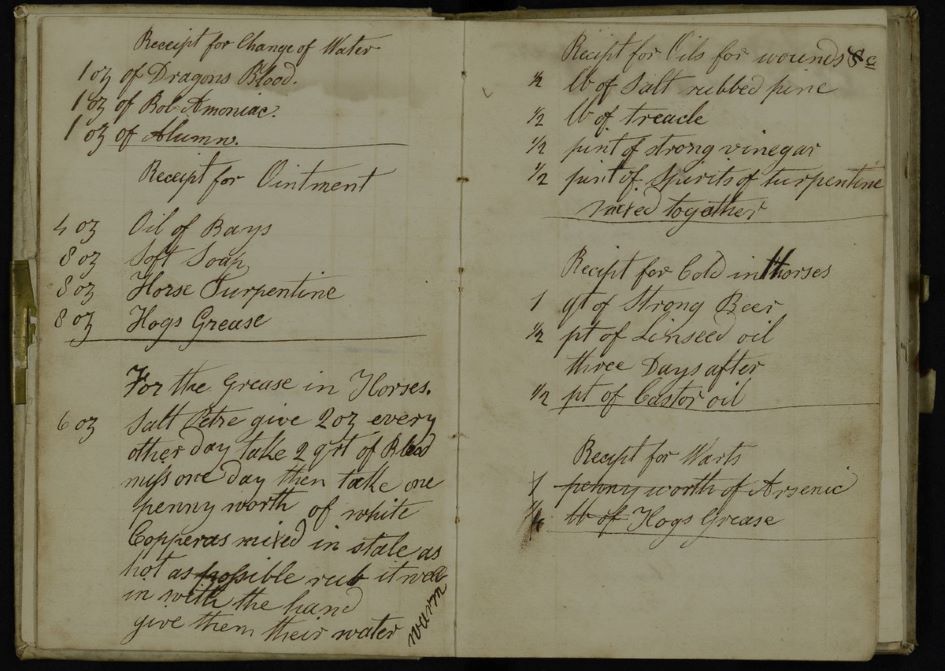 Farmer's notebook
This notebook was created by John Hiatt, a farmer, to record recipes for household and veterinary uses, such as medicines. John Hiatt was the farmer at Six Ash Farm from 1860. The Hiatt family farmed ninety acres of land here until they left in 1947. They also owned drapery businesses in nearby towns.
FR OXF 4/3/1
close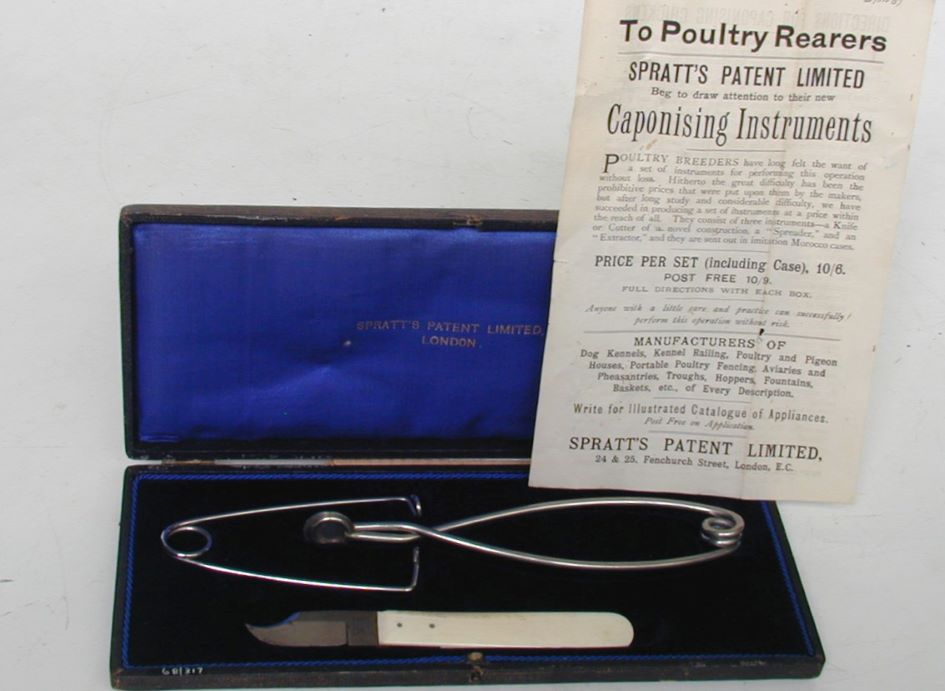 Caponiser
The box includes: a knife, spreader, extractor, box, and instructions. It is used for castrating cocks (male chickens). It was produced by Spratts Patent Ltd.
Spratts was founded by James Spratt c. 1860. Originally an electrician from Cincinnati, Ohio, Spratt was the first person to manufacture dog biscuits on an industrial scale, establishing his headquarters in Holborn, London. Spratt also pioneered the concept of animal life stages, with appropriate foods for each stage, a concept widely in use to this day. Additionally, Spratts was the first company to erect a billboard in London.
MERL 68/317
close
Animal Health Case - Part 2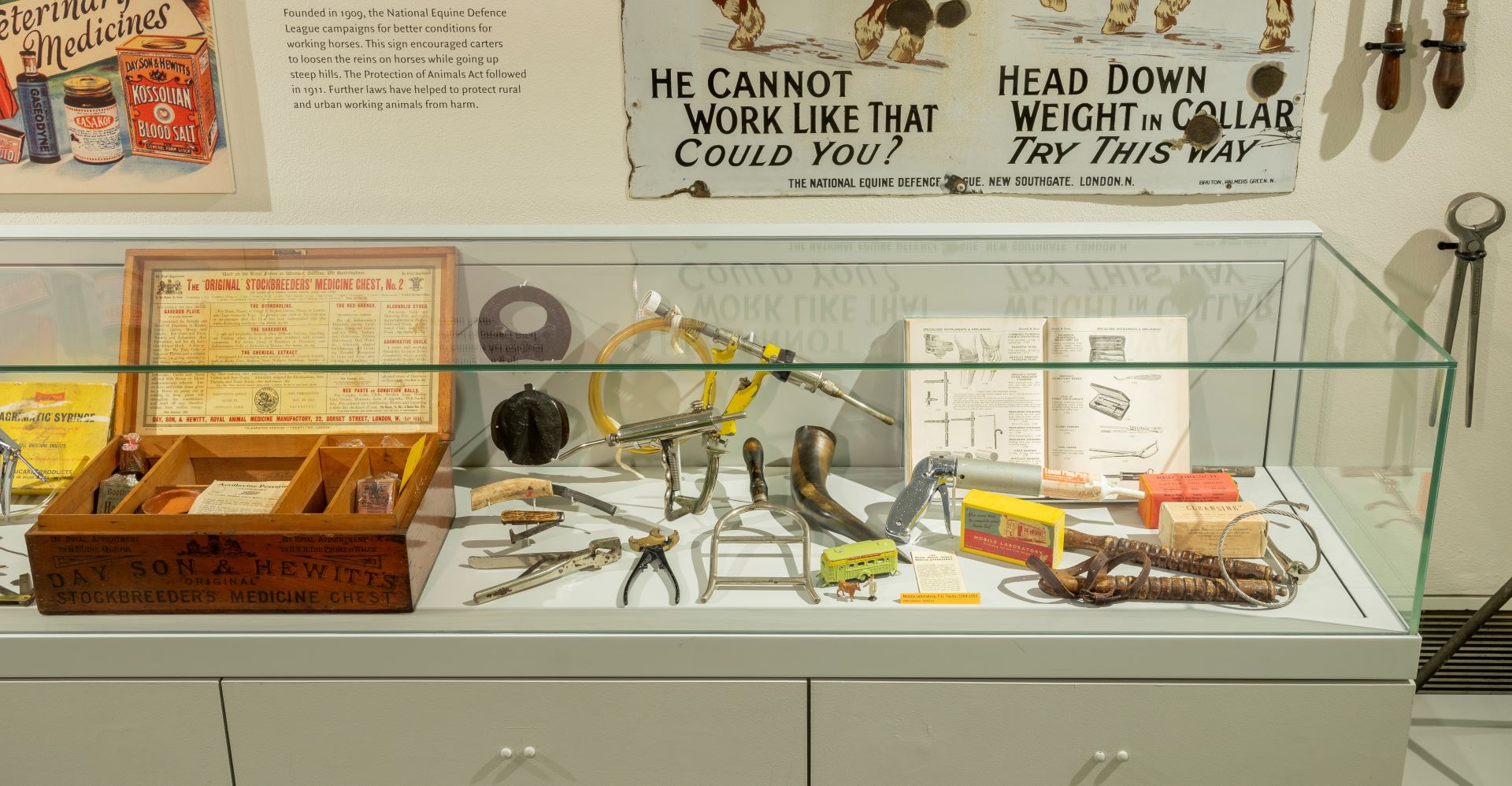 Animal Health Case - Part 2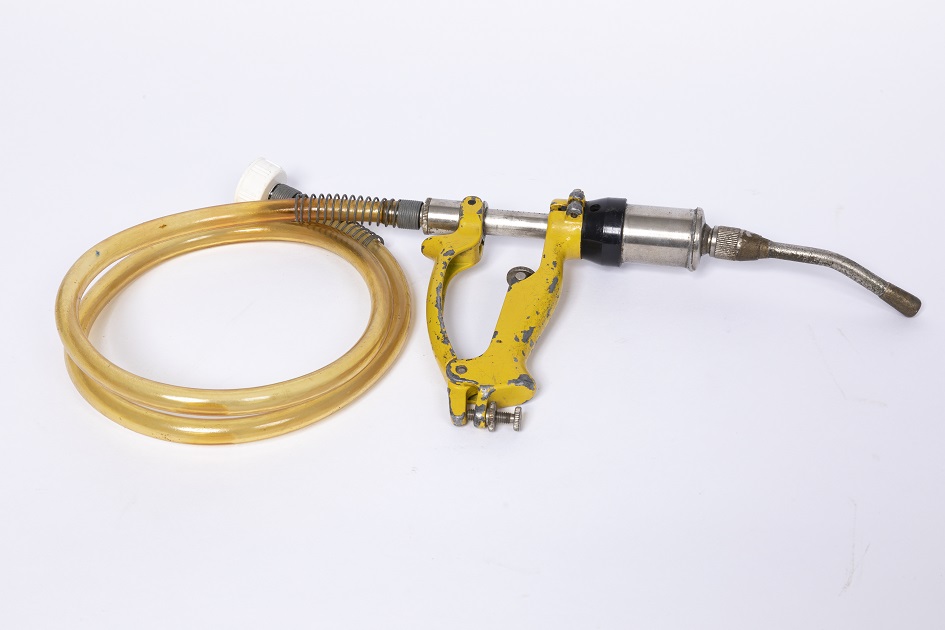 Drencher
This drencher forms part of a collection of objects donated to MERL by Mrs Jayne Traill. It was used by the donor's grandfather, Joseph Bevan, who would have used it to administer medicine to livestock. The plastic tubing would be attached to a plastic container backpack holding the drenching solution. The drencher was manufactured by Coopers in Berkhamsted, Hertfordshire who were famous for their 'Sheep Dip' medicine.
MERL 2012/438
close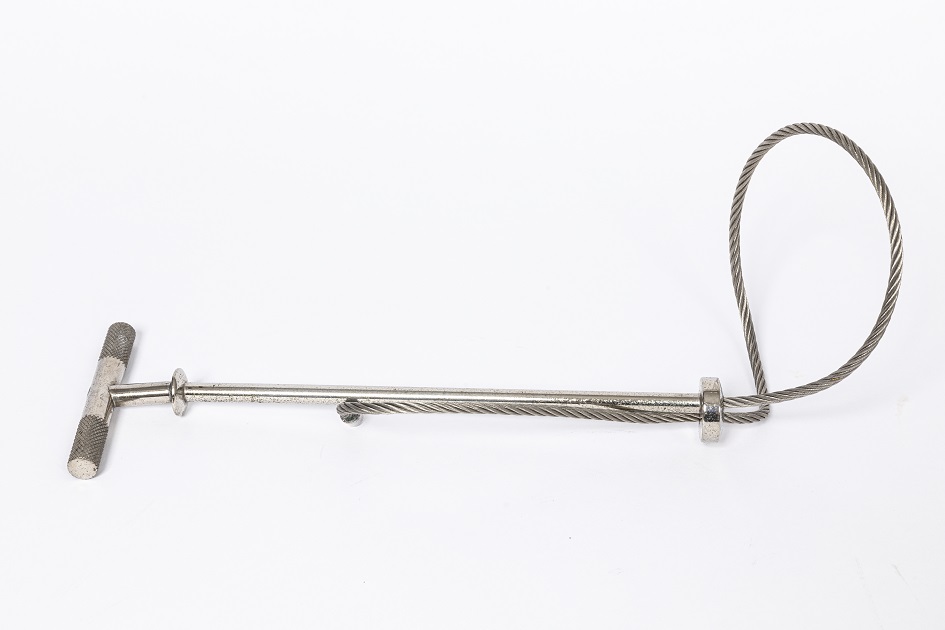 Birthing noose
This item was originally recorded as a 'birthing noose'. It may well have been used in animal birthing but was most likely originally designed to be a pig snare, used to capture large pigs by the snout. It forms part of a collection of objects donated to MERL by Mrs Jayne Traill. It was used by the donor's grandfather, Joseph Bevan, who farmed at Miltons Farm on the Ascot Place Estate from 1967 to 1986.
MERL 2012/444
close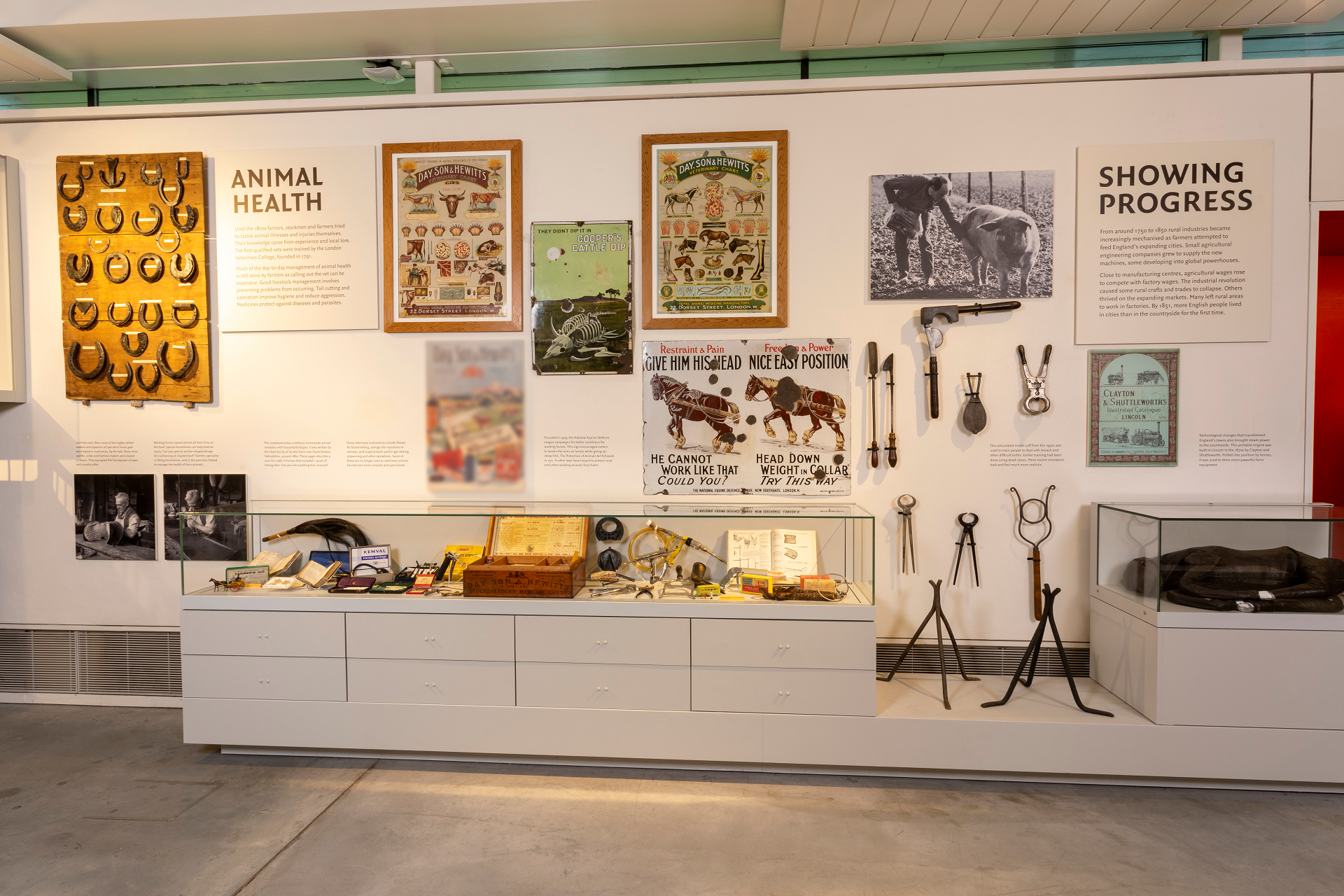 Cooper's Cattle Dip Sign
+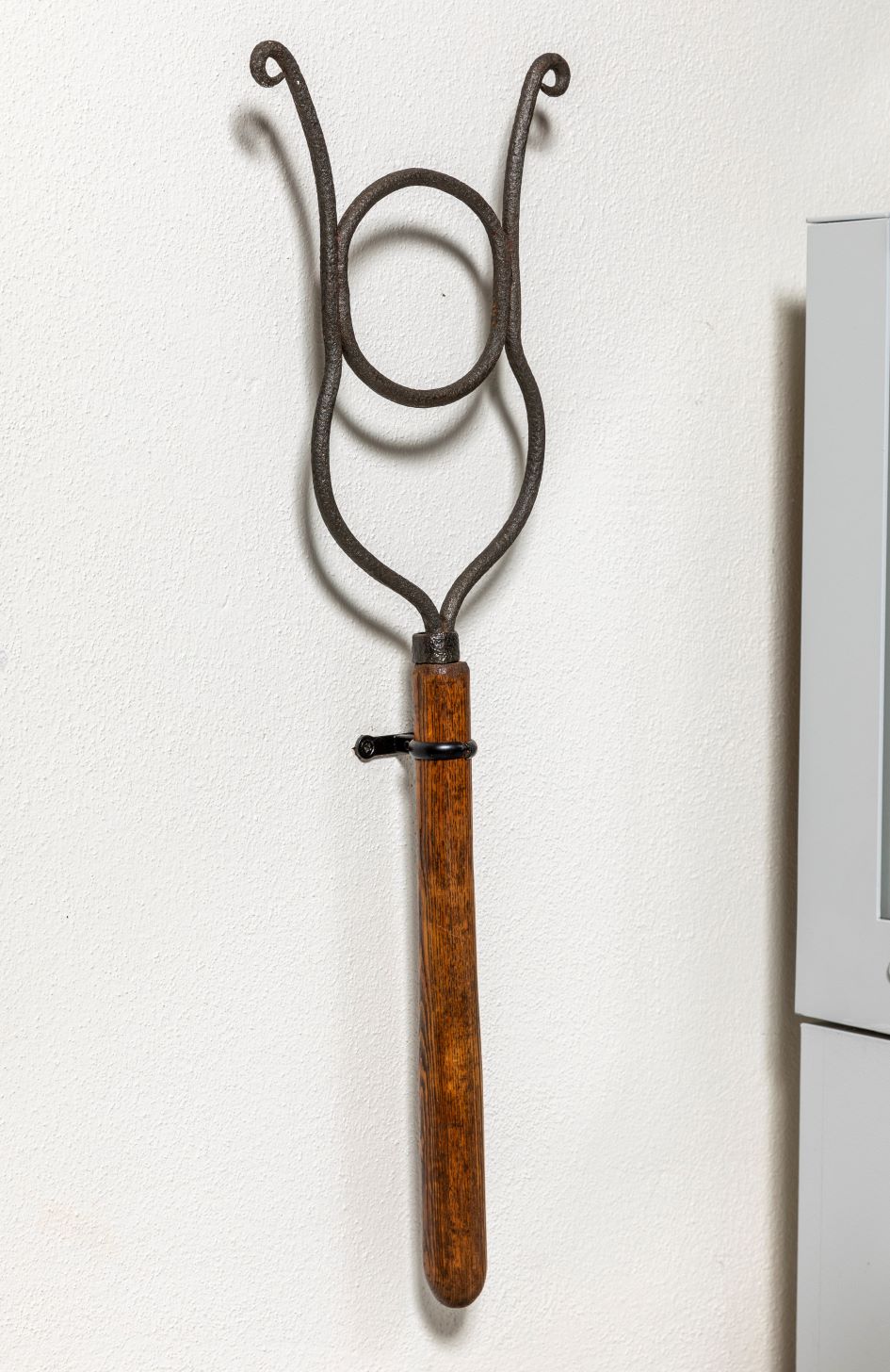 Horse Gag
This horse gag was placed in a horse's mouth to keep it open whilst dental work was undertaken. Throughout the 20th century, some uncertainty existed as to who was responsible for equine dentistry. Livery stables and blacksmiths had traditionally performed this work, but as they declined, their knowledge was lost. It was often up to farriers to do the best they could. In the modern day, equine dentistry is more widely practiced by veterinary professionals.
68/106
close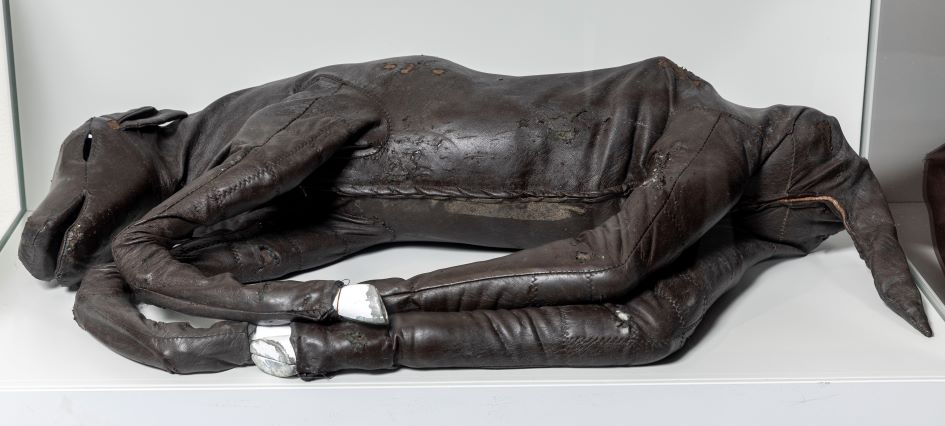 Model Calf
Probably used by the Agricultural Training Board, this leather covered metal calf was used to aid cowmen in learning to birth calves. It would be placed in a wooden or plastic uterus in various positions that mimicked birthing complications, to train subjects in manoeuvring calves to a safer birthing position. The correct position for a calf to be born is back side up, with legs stretched along the birthing canal. In 95% of births this occurs naturally, but sometimes the calf must be moved into this position and pulled out.
2014/15
close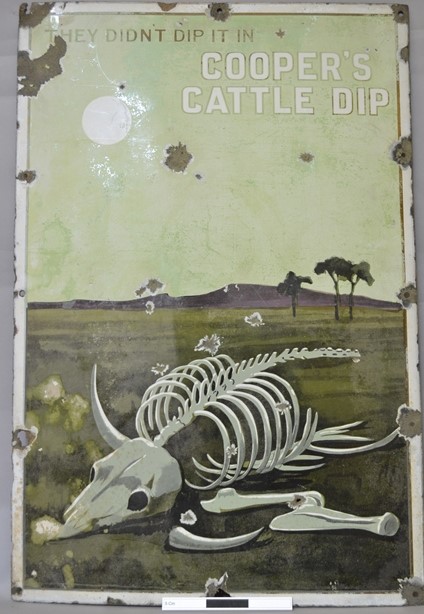 Cooper's Cattle Dip Sign
Advertising Cooper's Cattle Dip, this sign predicts a grave fate for cows not submerged in their product. Next to a cow skeleton is written "They didn't dip it in Cooper's Cattle Dip."
William Cooper started his business in 1840 in Berkhamstead, becoming a pioneer in the production of chemical sheep and cattle dips. These would submerge livestock in a concoction of chemicals, killing parasites such as ticks, flies and lice. Becoming Cooper, McDougall and Robertson in 1925, the company expanded from livestock dips. During World War 2 they produced an anti-louse powder to kill a parasite which had caused trench fever and typhus among the troops.
76/284/1
close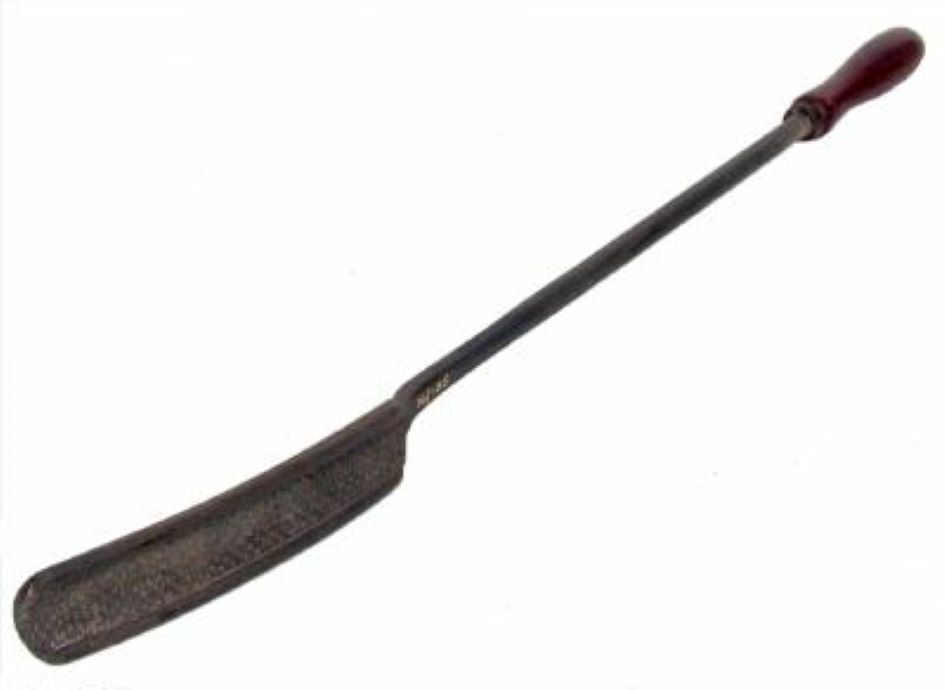 Tooth rasp
Used by a family of horse dealers in Reading, this tooth rasp was applied to wear down a horse's teeth, in order to blunt the points and balance the horse's mouth. Before rasping, the mouth must be held open by a gag and a thorough examination conducted to check for broken or missing teeth. The frequency of these examinations depends on the horse's health and age.
The teeth can actually be used to tell how old a horse is. If it is younger than 11 years, its incisors are rounded. Older horses have triangular or rectangular incisors.
MERL 54/455
close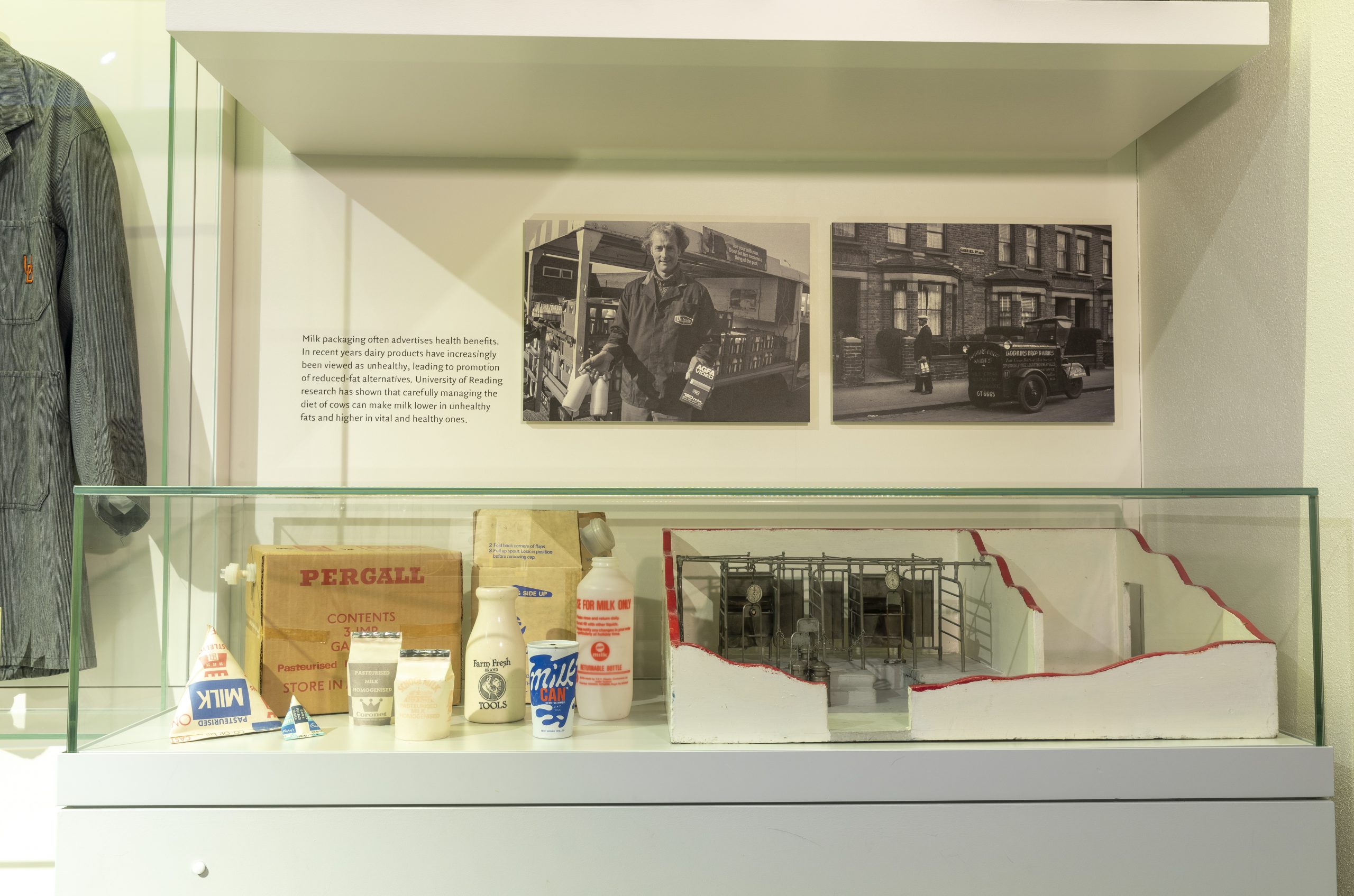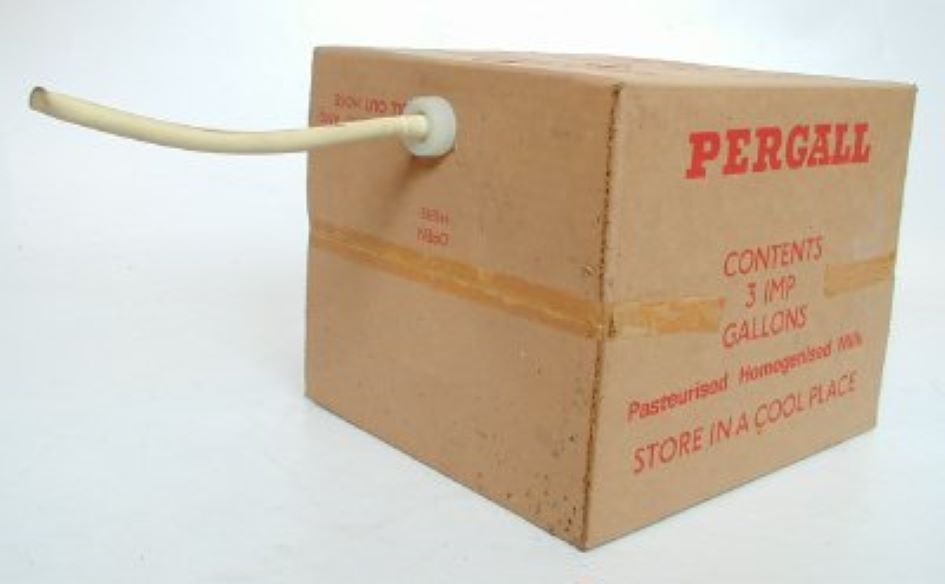 Milk Container
This box, manufactured in around 1970, was used to transport and store milk. It contains a plastic bag linking to a pipe, which is used for pouring. The box holds three imperial pints, a measurement still commonly used today for milk despite the UK's adoption of the metric system in 1985.
Milk, beer and cider were – and still are – the only drinks which may be sold by the pint. This was for the same reason road signs did not become metric; replacing all milk bottles and cartons with metric equivalents would have been prohibitively expensive for the industry.
MERL 72/74
close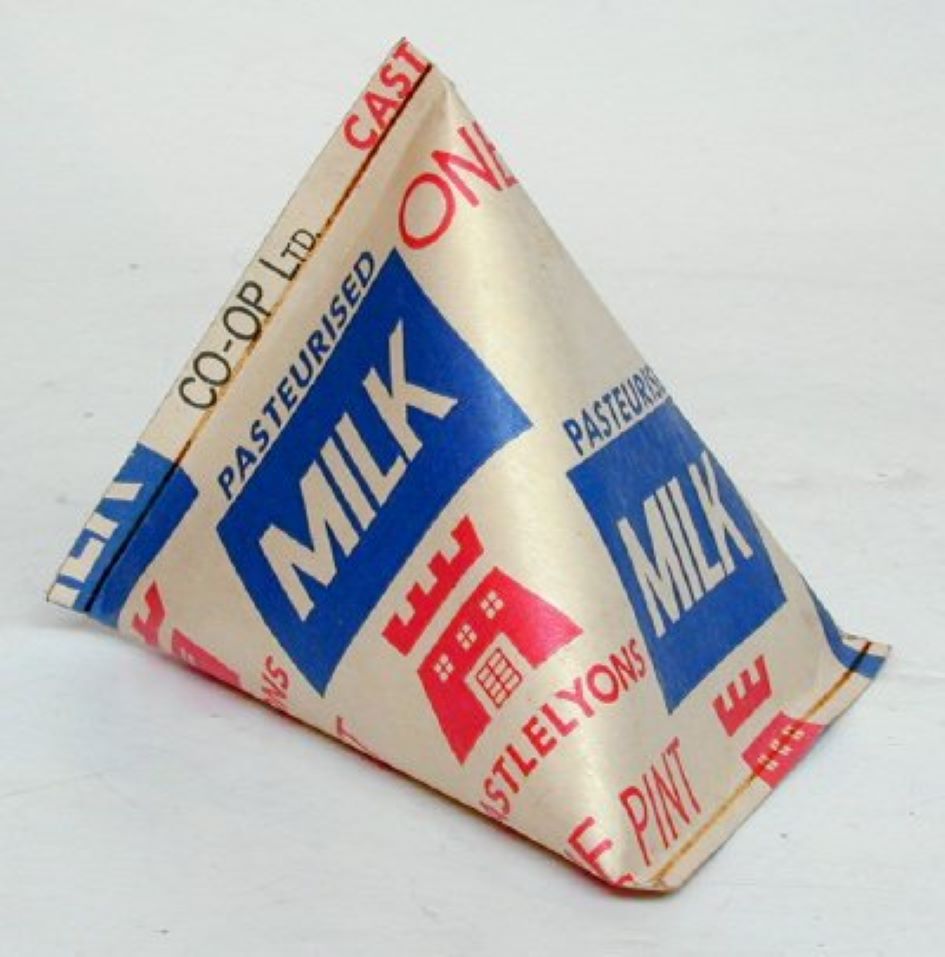 Milk Cartons
These cartons, manufactured by Tetra Pak, are part of a set of various sizes and uses. They are made from wax coated card.
Drinking milk from card-based cartons has long been a staple of school lunches in the UK. They are cheap, convenient, hygienic and ensure each child receives the same quantity of milk. Furthermore, they do not carry the same health and safety concerns of glass bottles. Between 1945 and 1968, all schoolchildren were entitled to a free third of a pint of milk per day. Milk was infamously withdrawn for over 7s in 1971, earning Margaret Thatcher the title 'milk snatcher' amongst many commentators.
MERL 72/9
close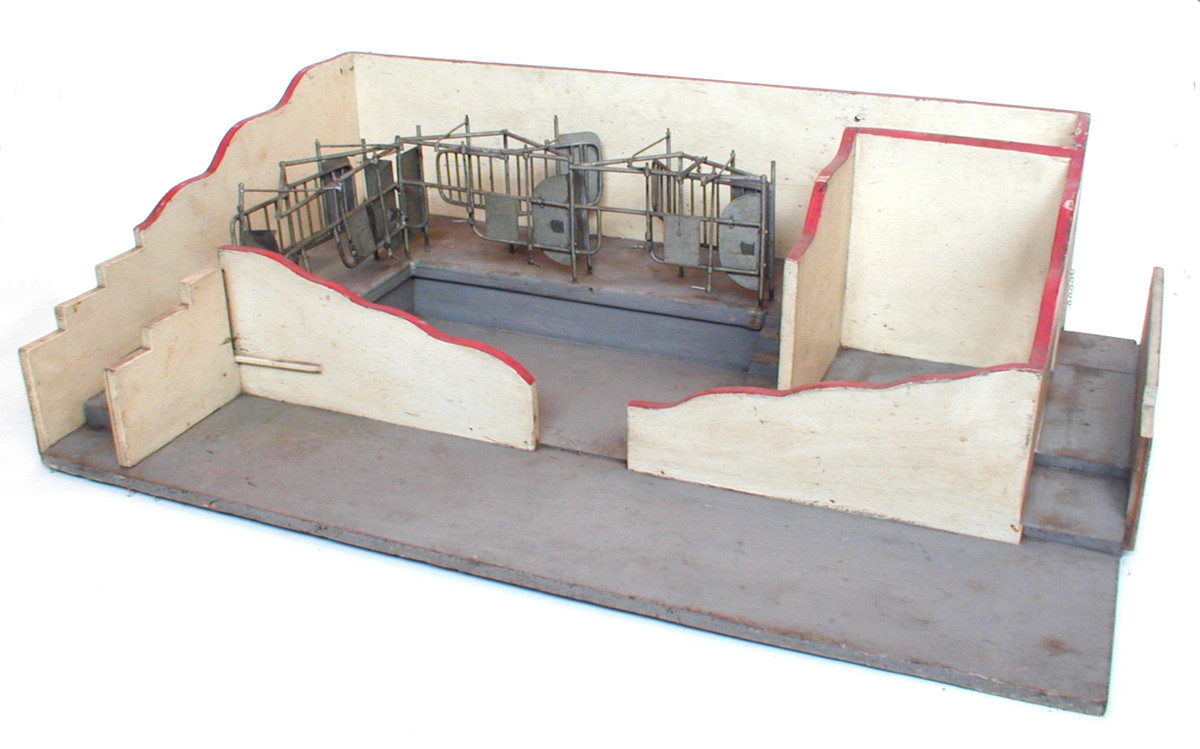 Model Milking Parlour
This model demonstrates the layout of a 1920s milking parlour. It contains weighing scales and frames, wooden churns, feed hoppers and troughs. A milking parlour is a part of a dairy farm where cows are taken for milking. Before refrigeration, parlours were attached to the rear of milk shops and sold fresh milk straight from the udder.
Until the end of the 19th century, cows were milked by hand. Early mechanical milkers used a 'vacuum' method to replicate a calf sucking. The surge milker was invented in 1922 which added a tugging motion to the tubes.
96/15
close
Dairy to Doorstep Display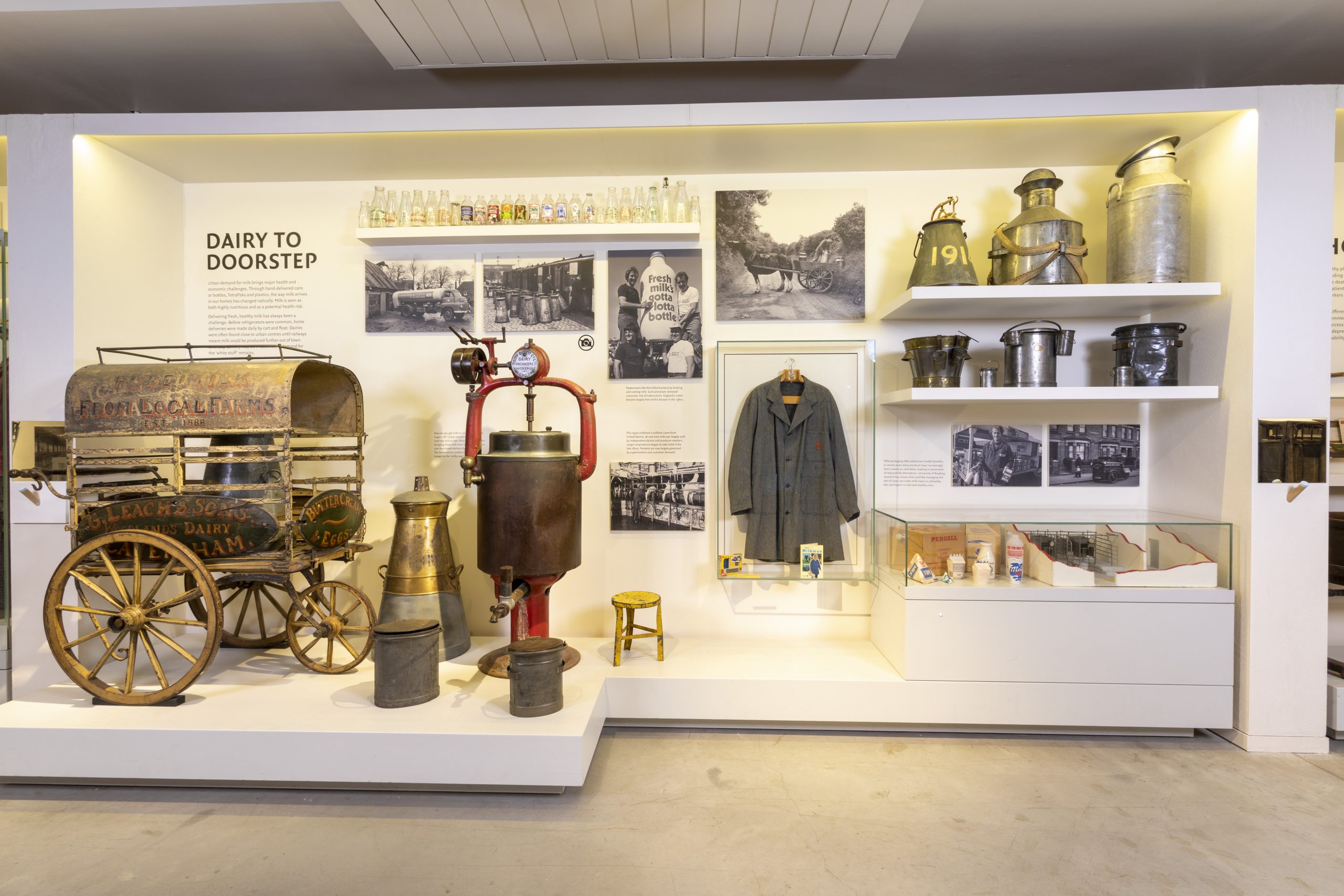 Dairy to Doorstep Display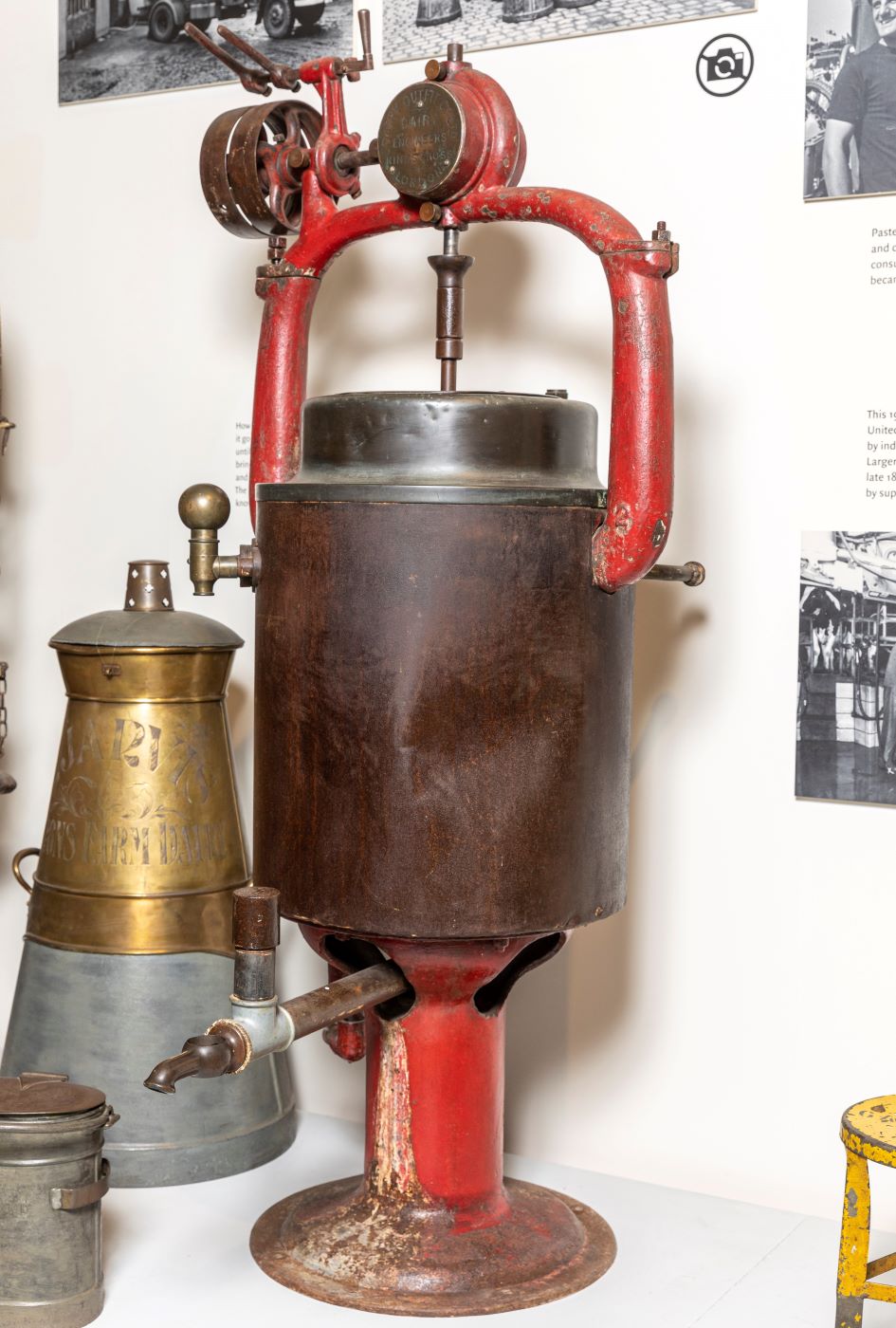 Pasturiser
This pasteuriser was used in a milk processing plant, and was then owned by the University's Department of Dairying. It contains a paddle for stirring, inlet and outlet pipes for the milk and steam, and a safety valve.
Pasteurisation involves heating milk to 71.7˚C for around 20 seconds. This kills harmful bacteria present within the milk and significantly increases its shelf life. Invented by French micro-biologist Louis Pasteur in 1864, it was slowly adopted across the UK. It was not without opposition; for example, Lady Eve Balfour claimed that a hygienic dairy farmer should be able to produce clean milk without it.
MERL 62/16
close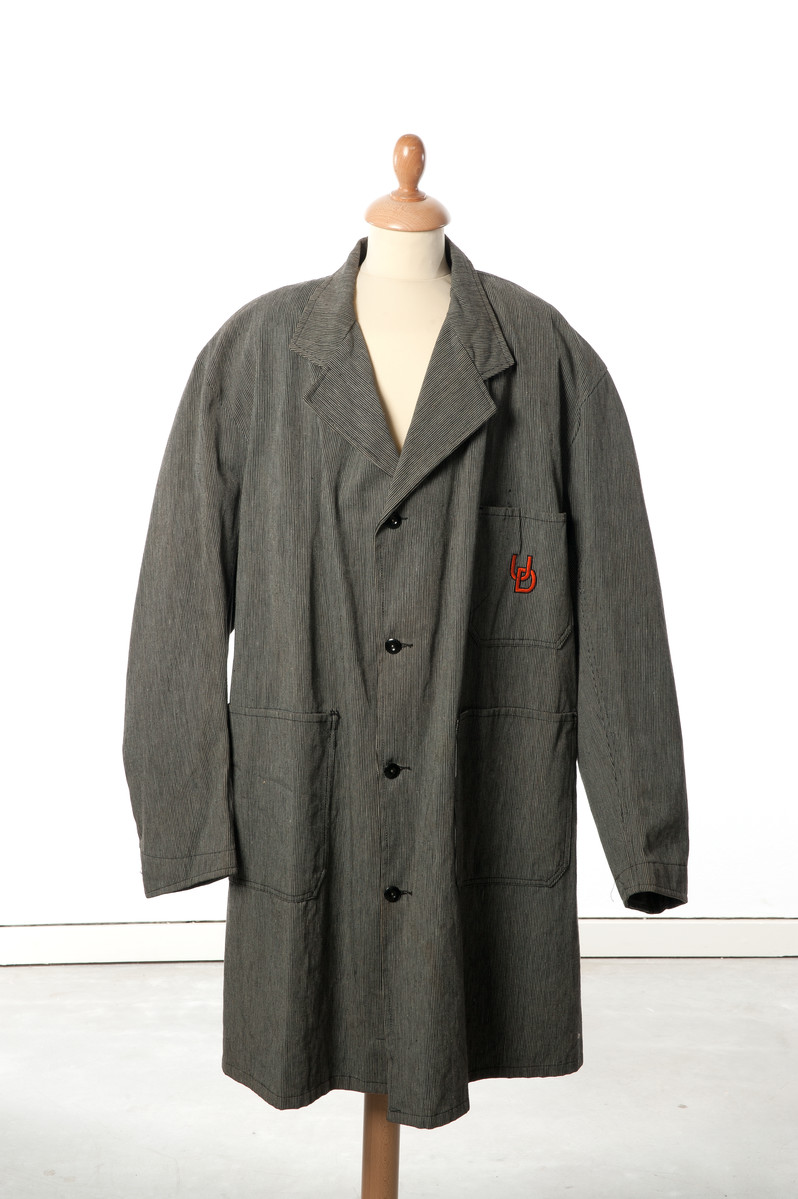 Milkman's Coat
This milkman's coat would have been worn by an employee of United Dairies, which merged with Cow and Gate's to form Unigate in 1959. United Dairies was one of the first companies in Britain to pioneer the sale and distribution of pasteurised milk in the 1920s.
Milkmen were introduced to the UK in the mid-19th century, when fresh milk was carried into cities by new railway lines. Due to its short shelf life in the time before refrigeration, it was more convenient for milk to be taken straight to the doors of customers. Cheap supermarket milk, with a longer shelf life, has led to a decline in milkmen.
MERL 2011/11
close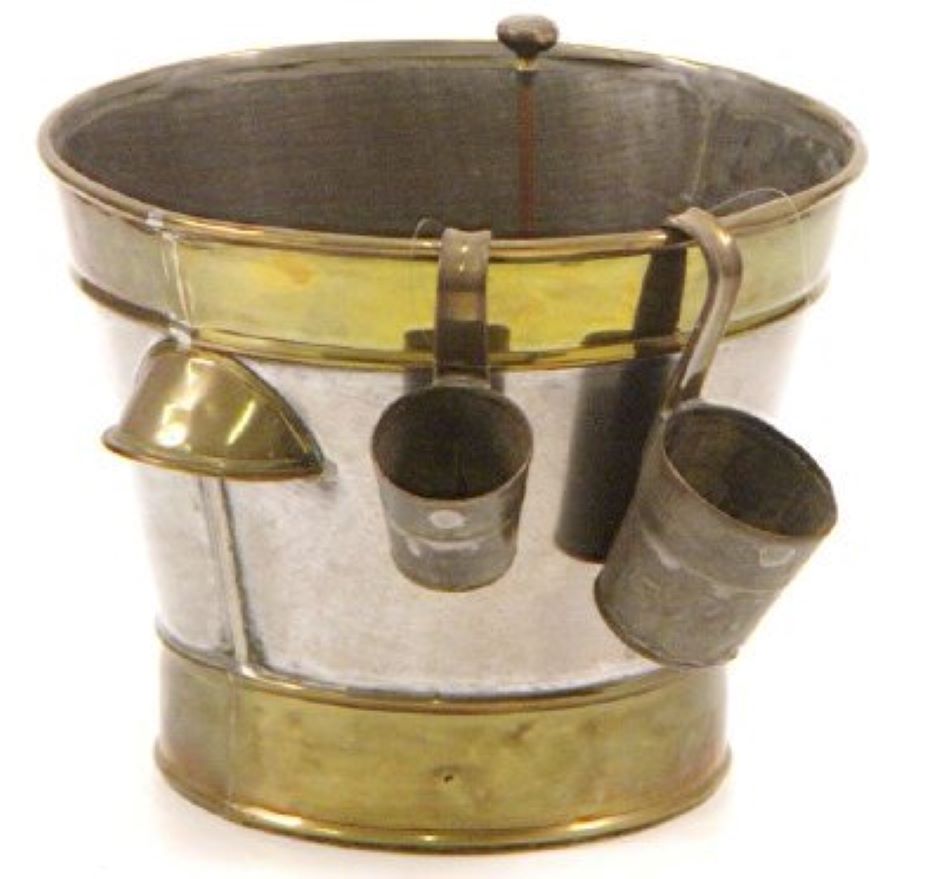 Counter Sales Pan
Dating to the late 19th century, this milk counter pan displayed milk for sale at St John's Dairy in Reading. It holds 20 pints of milk and comes with three utensils. Cream floats to the top of fresh milk, and the stirrer would be used to mix it back together. Meanwhile the measuring spoons would dispense the milk to customers.
Milk shops in this period sought to improve the reputation of the dairy industry. Cows would be visible in the back of the shop to convince customers the milk was fresh, uncontaminated, and not watered down.
MERL 54/358
close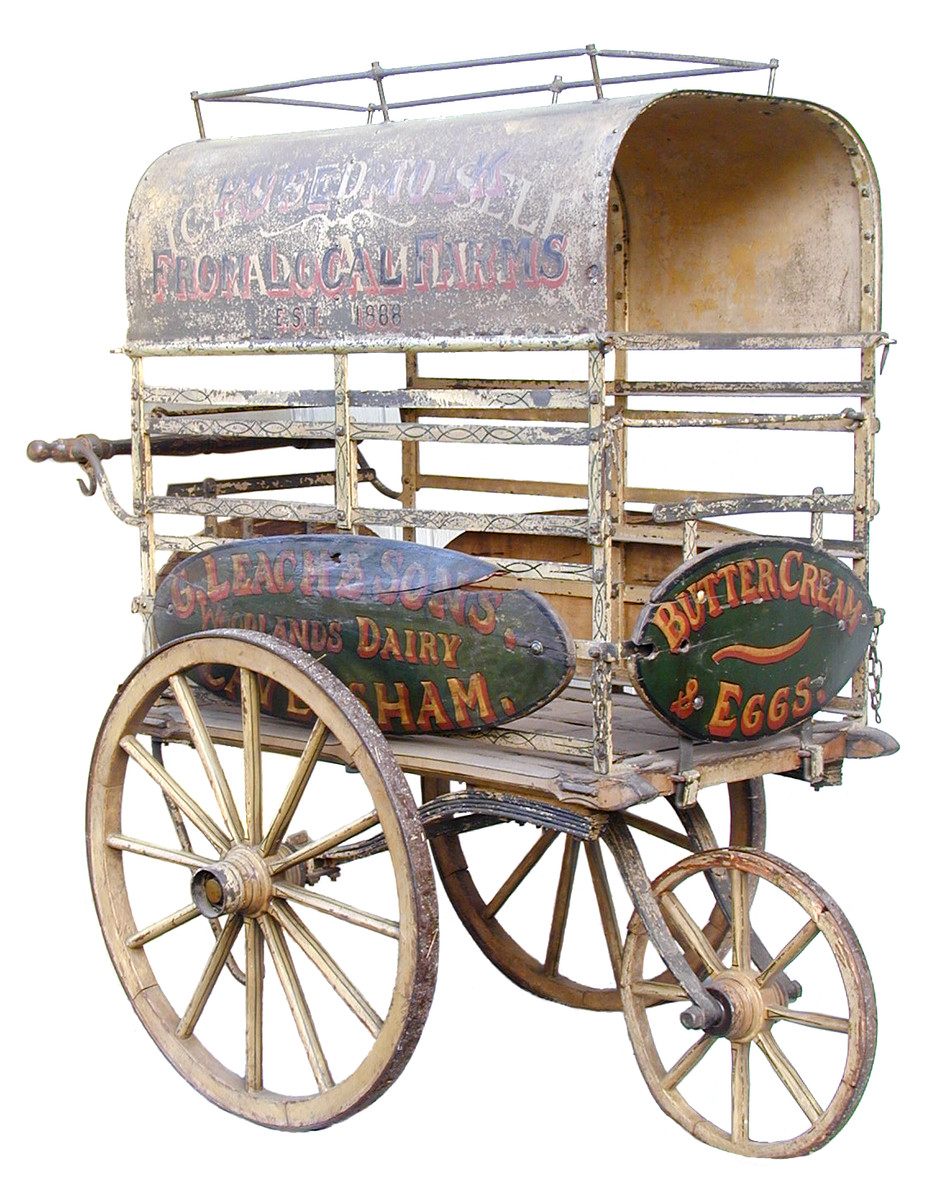 Dairy Cart
This cart – also described as a 'barrow' due to its design – was used to transport dairy products for sale. Not every dairy had its own shop, and so carts like these would be used to take produce to market. The name 'Woodlands Dairy' is proudly advertised on the side.
In 1925, when this cart was made, demand for dairy produce was sharply increasing. Yearly milk consumption rose from 9 gallons per person in 1861 to 22 gallons in 1931. This was due to new innovations such as pasteurisation and the milk bottle, and the discovery of milk's nutritional value.
MERL 59/276
close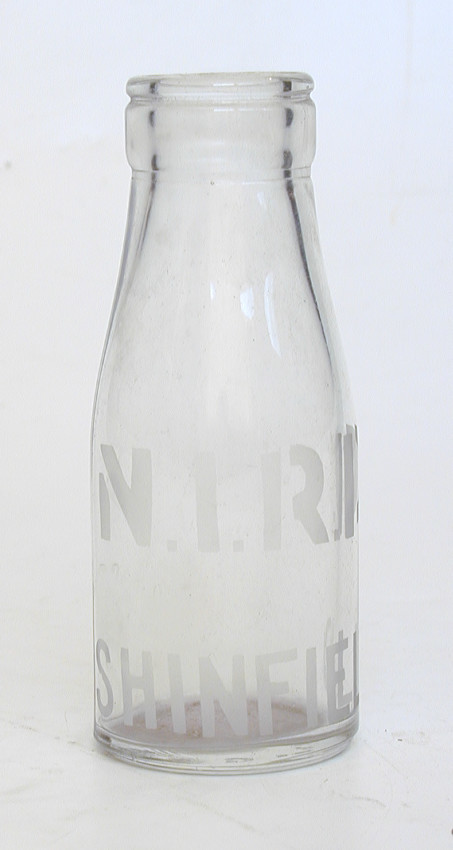 Glass Milk Bottles
Glass milk bottles were first introduced to the UK in the 1880s, and played an important role in the improvement of milk hygiene, ensuring no harmful bacteria could get into the milk after the cap had been secured. They also provided customers with a clear view of the milk, and ensured every customer received the same amount.
94% of milk was sold in glass bottles in 1975, which has reduced to less than 4% today. This can be attributed to a decline in home milk delivery. This bottle was used at the National institute for Research in Dairying in Shinfield.
MERL 96/18/19
close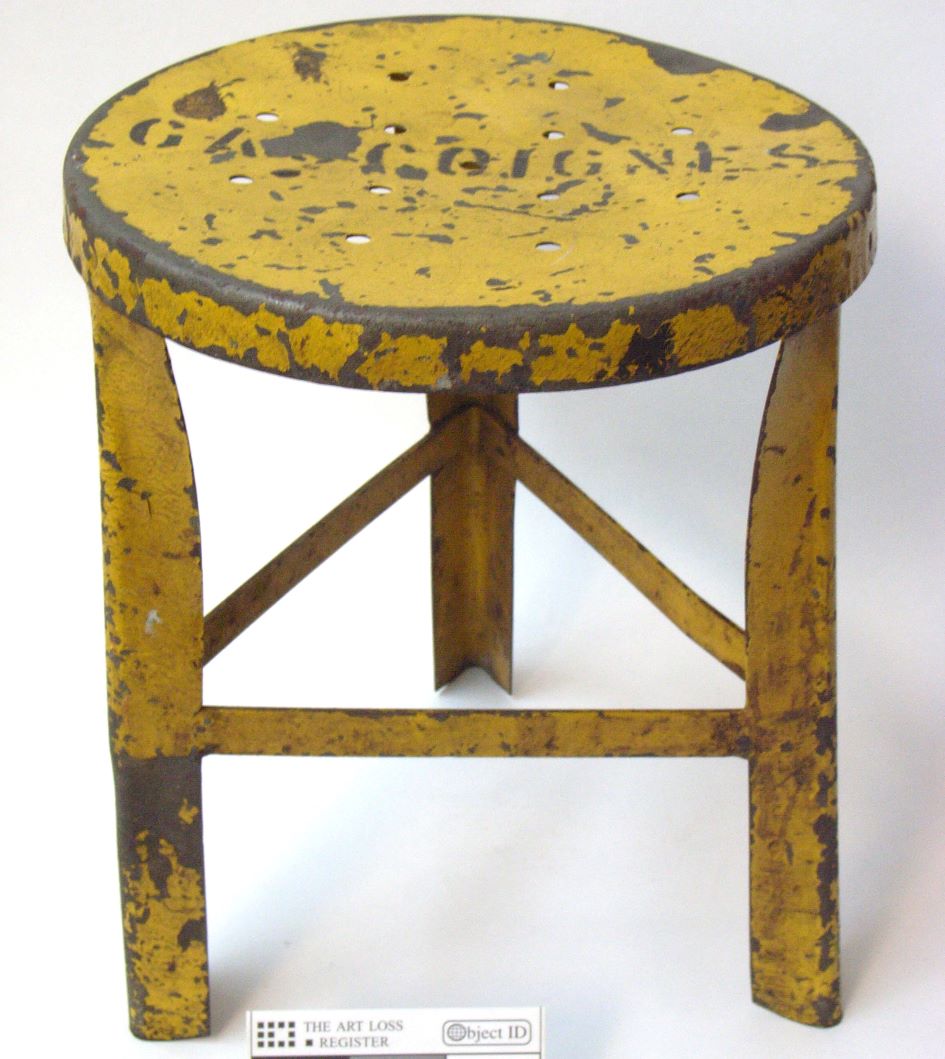 Milking Stool
Until the end of the 19th century, milking stools were an essential piece of kit for a dairy farmer, as they would spare the farmer's knees when squeezing milk from a cow's udder.
Humans began drinking cow's milk around 8000 years ago, despite the fact that all adults were lactose intolerant at the time. It was likely first tried by people who would have otherwise starved. Over the years, genetic mutations resulted in the ability to digest milk. However, the process did not have time to fully complete, as many people are still at least partially lactose intolerant today.
MERL 2006/3
close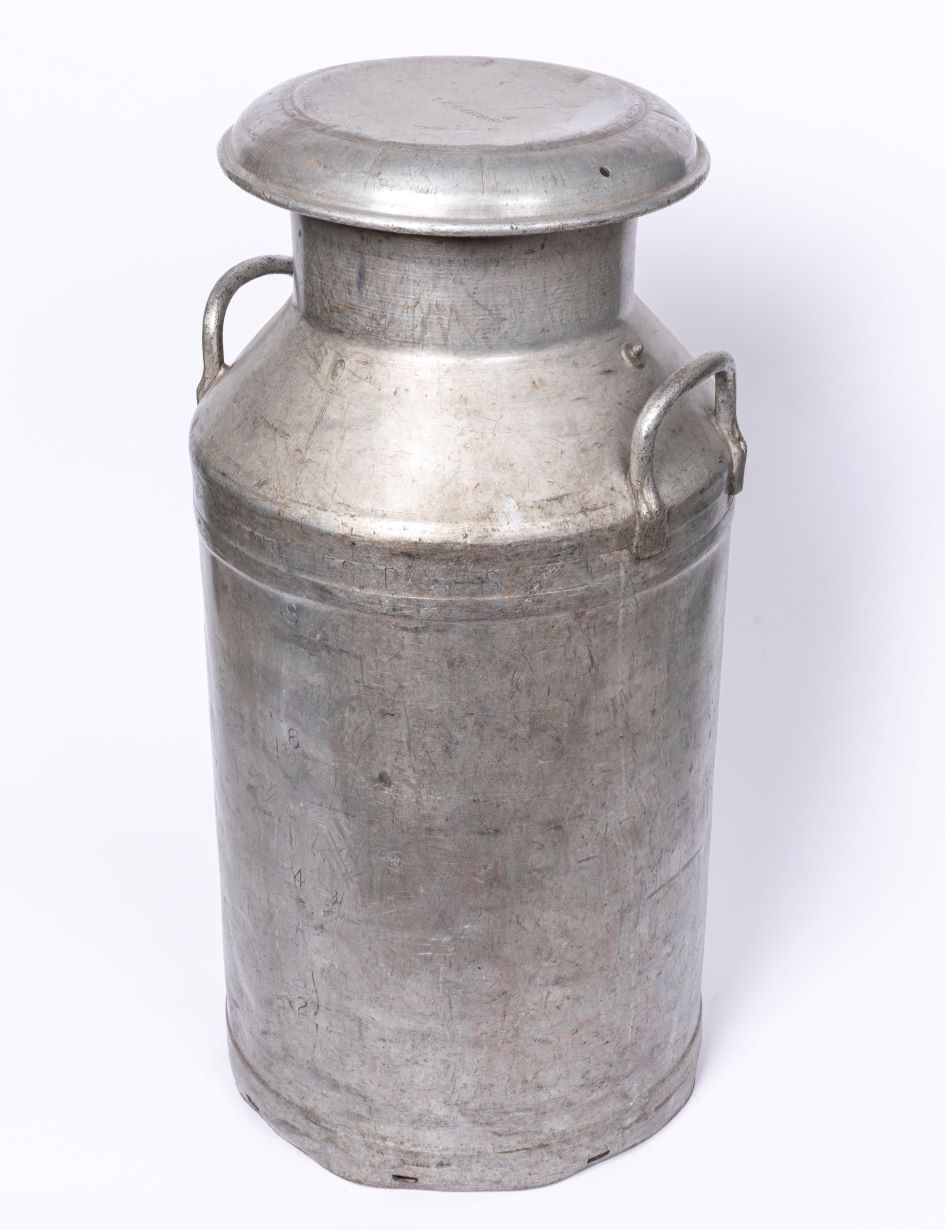 Milk Churn
Used for transporting milk, this churn was used occasionally by a stockbreeder named Joseph Bevan who kept cattle and sheep.
Methods for transporting milk evolved in the 19th century. Previously, urban populations had received milk from cramped cowsheds within the city boundaries. However, the development of railways led to the rise of 'milk trains' which could deliver churns of fresh milk from rural dairy farms before it went sour. They continued to grow in popularity into the 20th century, until the Milk Marketing Board switched to road transport in the 1960s.
MERL 2012/431
close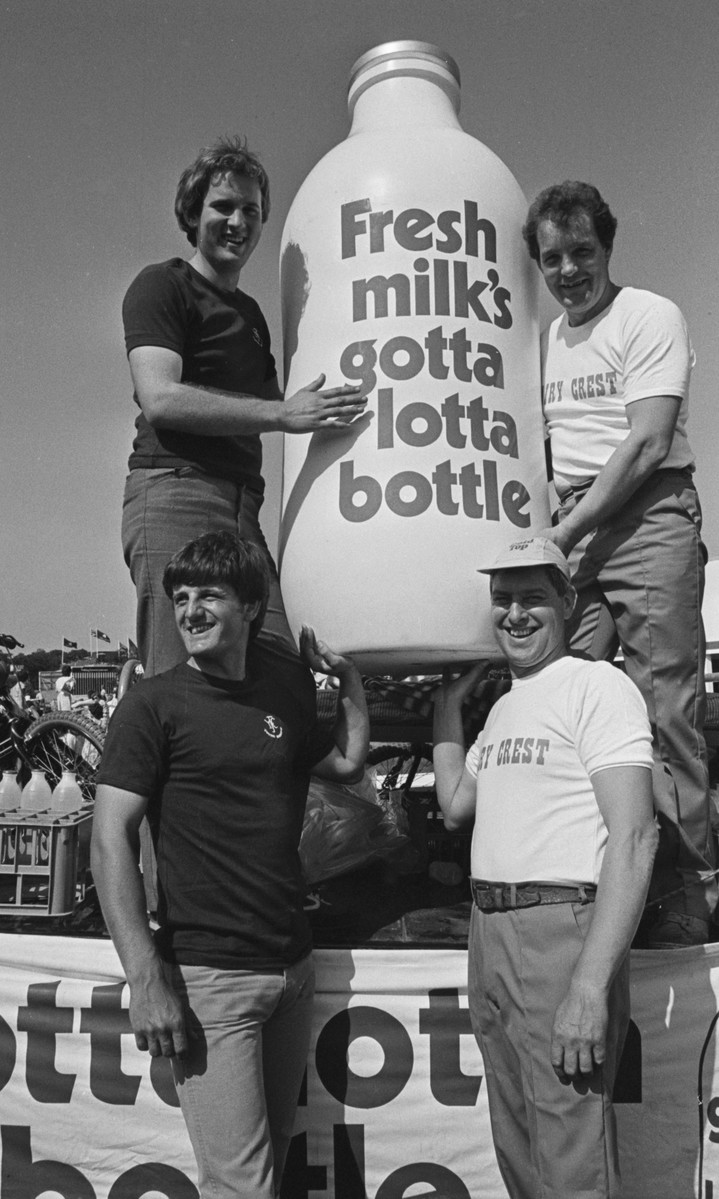 Royal Show Photograph
This photograph, taken by agricultural photographer Peter Adams, shows a display from the 1983 Royal Show. These shows were organized by the Royal Agricultural Society of England to showcase British products and inventions. They frequently attracted over 100,000 visitors, many of them international.
These three men are standing in front of a 'Food from Britain' poster. This was a government initiative, established in 1983, to promote British food exports. These exports reached record-breaking levels in 2007, just before the initiative dissolved, suggesting it had been a success.
P PAD A PH1/188/1
close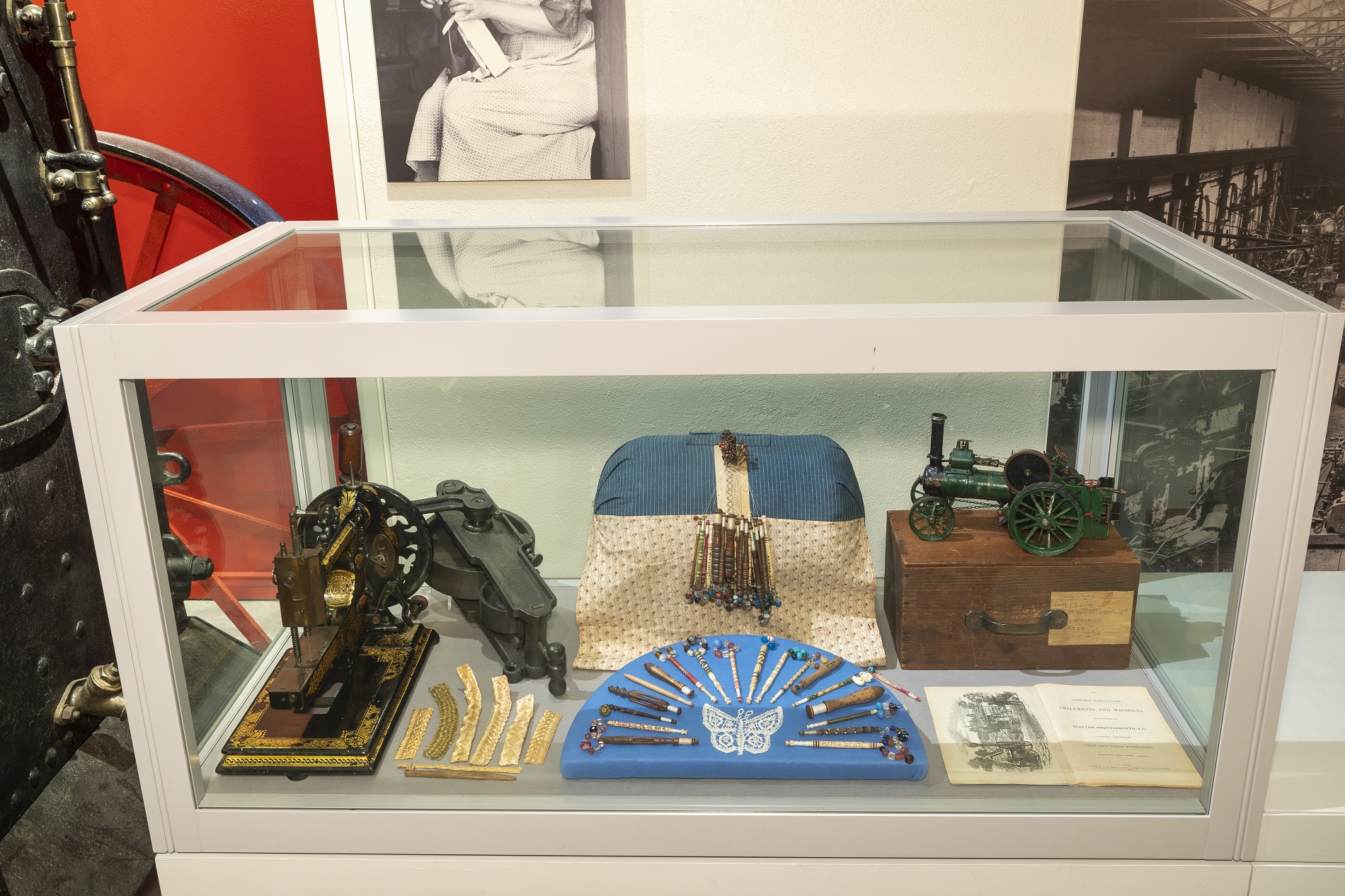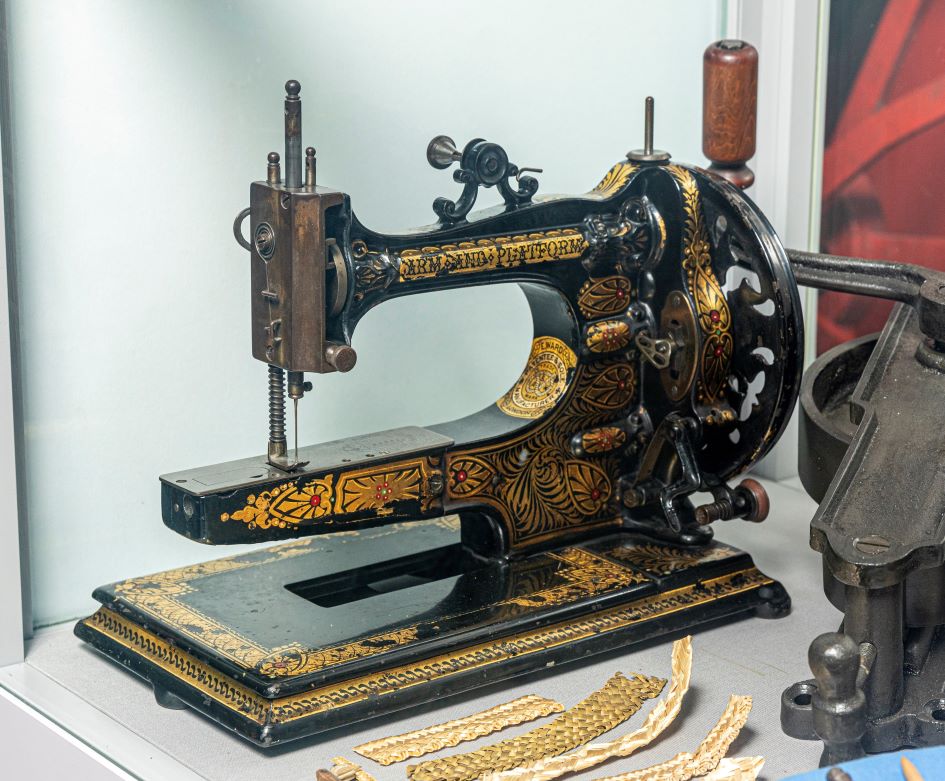 Sewing Machine
Known as Edward Ward's 'Arm and Platform' machine, this hand sewing machine was recommended for professional tailoring or domestic use. It was made between 1880 and 1892.
Although sewing has been a staple of domestic life for 20,000 years, the mechanisation of the process was not attempted until the 18th century. After many unsuccessful attempts, Frenchman Barthelemy Thimonnier invented the first working machine in 1830. Incensed by the threat of unemployment, a group of tailors burned down his factory. Thimonnier barely escaped with his life.
MERL 81/63
close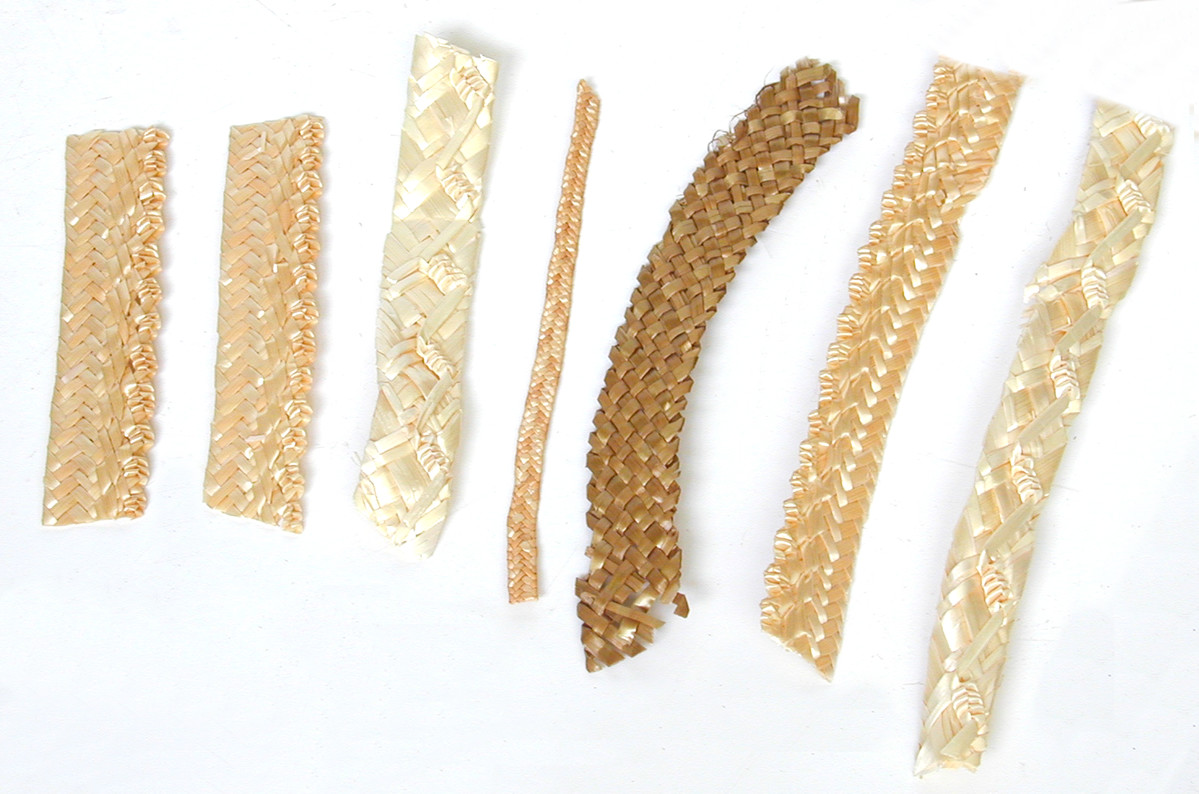 Straw Plait Samples
These seven samples of straw plaiting show various designs. Some of the straw comes from China and Taiwan.
Straw plaiting is the technique used to create corn dollies, which are pagan figures or tokens. Traditionally, these would be plaited from the last sheaf of corn harvested from a crop, and kept in a place of honour in the home to ensure the next harvest germinated. Dollies are still important cultural objects all around Europe. For example, the Swedish Yule goat is typically woven from straw.
MERL 86/201
close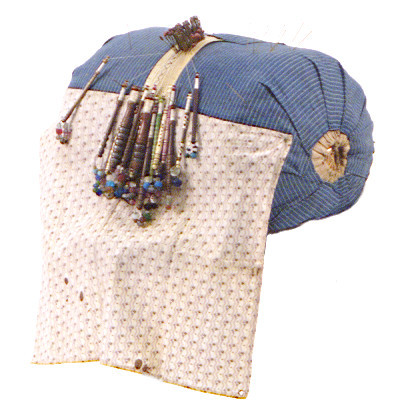 Lacemaking Pillow
Lacemaking pillows were used to pin patterns to, stick pins into, and lie bobbins on. This pillow also comes with a 'drawter', which is a cloth to keep the lace clean, and a 'worker' which protects the pillow when not in use.
Lace originated in the early 16th century, probably in Venice, and rapidly became the height of fashion in Europe. The elaborate ruffs and collars that denoted high social status demanded equally complex lacemaking techniques. By 1870, machine made lace dominated the market and could replicate almost every type of handmade lace.
MERL 51/128
close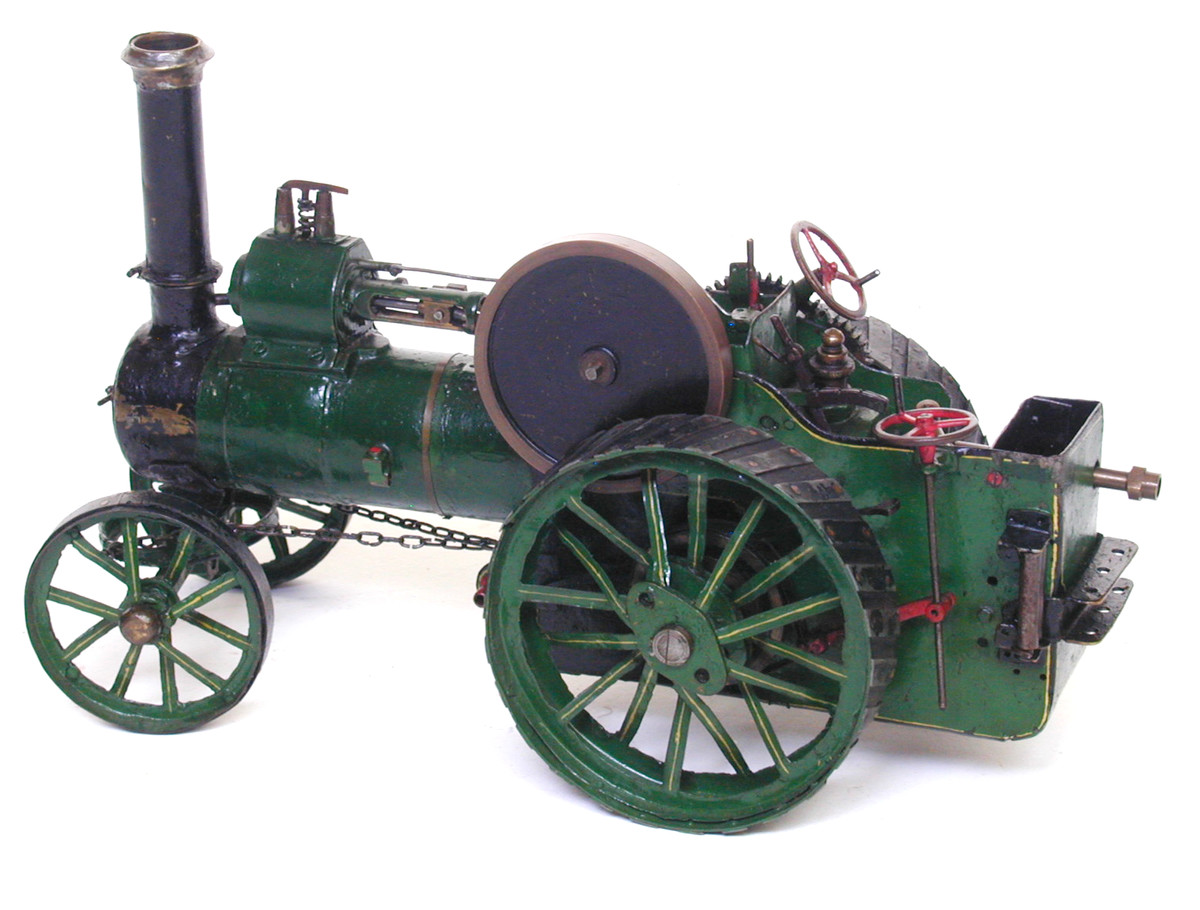 Traction Engine Model
Made by 16 year old George Froud in 1921, this traction engine model is fully working; it is fuelled by injecting the brass pole at the rear. It was presented to the MERL by the Vickers Armstrong model club in 1963.
Traction engines are mobile steam engines which became popular in the latter half of the 19th century. Though they did not fully replace horse power, they undertook a number of agricultural tasks. For example, the agricultural general purpose engine was a versatile machine used for tree pulling and threshing.
MERL 63/180
close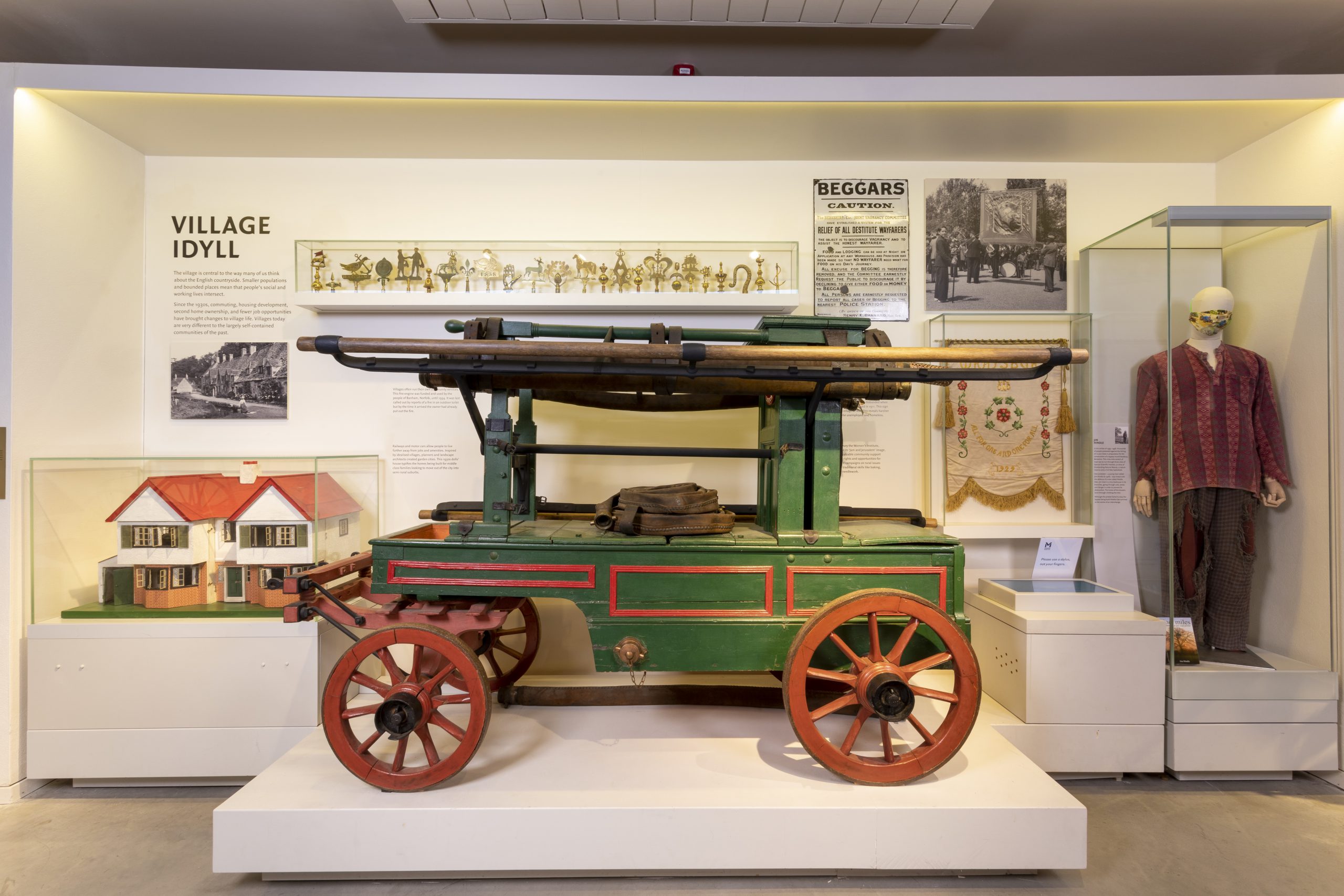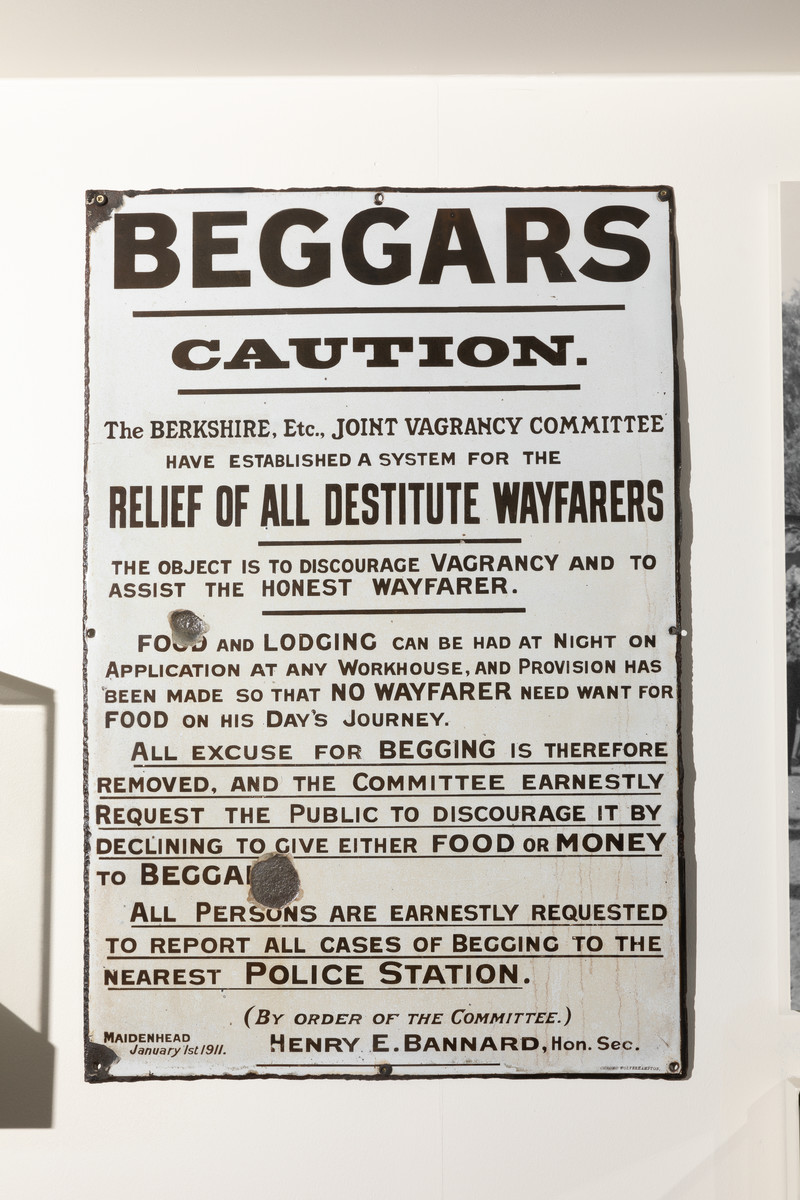 Vagrancy Sign
This sign was issued by the Berkshire Joint Vagrancy Committee in 1911 to deter beggars whilst offering food and rest to those in need. The idea was to offer a better alternative to vagrancy, much like the workhouses of the Victorian era.
Vagrancy first became an offence in 1349 follwing the Black Death, where there was a massive shortage of workers so the crime of 'idleness' became a punishable offence.
MERL 60/173
close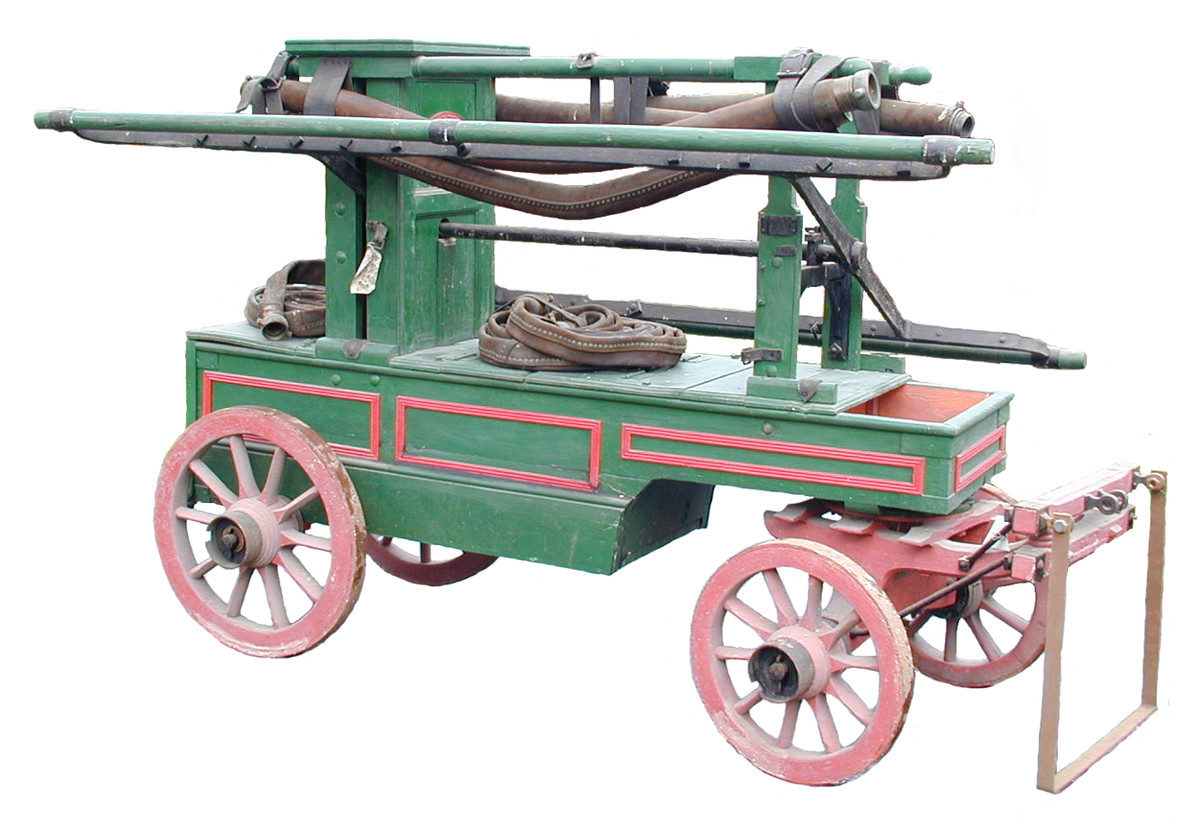 Fire Engine
This is a one horse, two piston wooden fire engine, It was called the 'Banham Subscription Fire Engine' and was funded by the parish. It was worked by 12 men and was known as a 'double sixer'. The engine was made by Tilley (later Shand Mason) of Blackfriars Road, London, in 1839. It was in use in the village of Banham until 1934. If the engine was not used during the year it was the responsibility of the chief engineer every Good Friday to get the engine out to the village pond and there to test it with the help of a total of twelve men.
The last time the engine was used in practice was in 1930 when it was hauled out to douse a fire in an "old man's lavatory". After much struggling it arrived at the scene of the conflagration only to find that the fire had been quenched by the aforesaid old man, who explained the he had put it out with a bucket of water.
MERL 51/410
close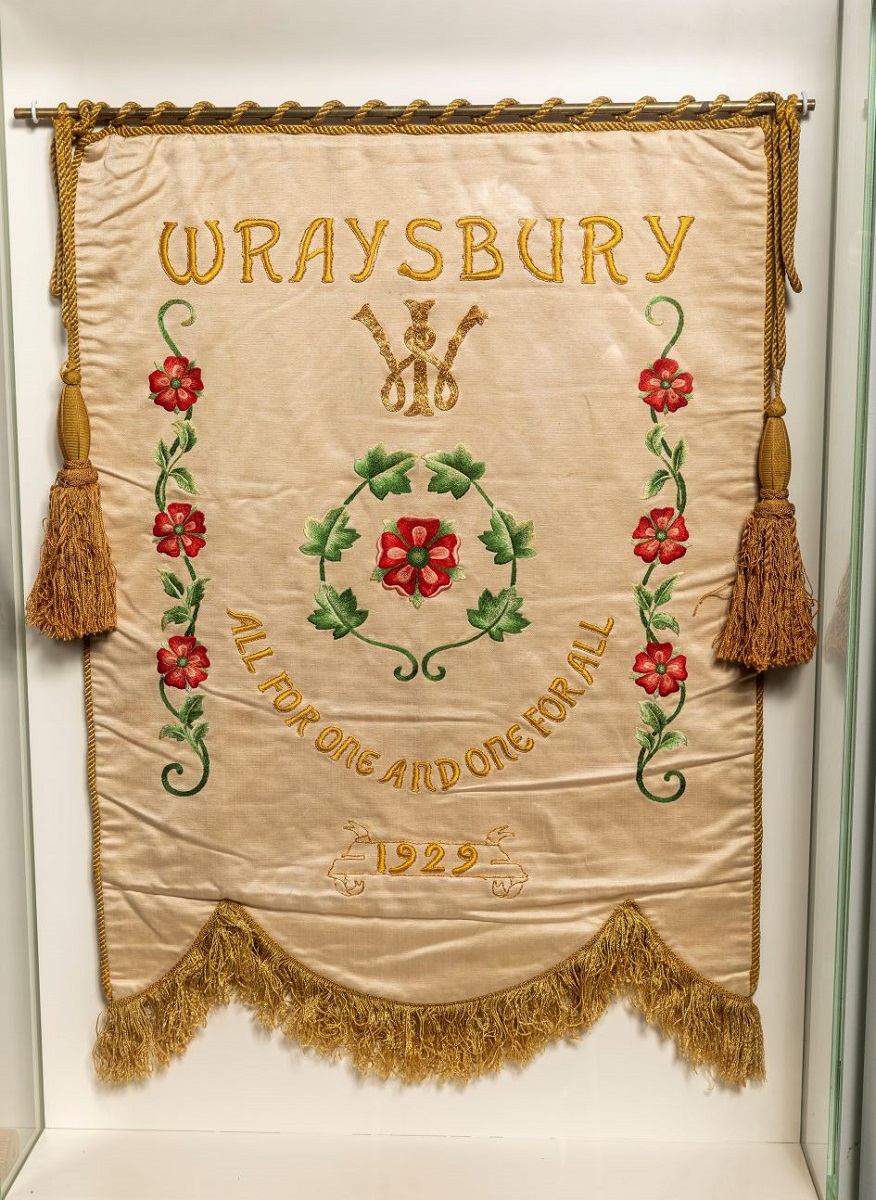 WI Banner, Wraysbury
This is one of a set of five Women's Institute (WI) banners, this example relating to Wraysbury WI. This particular banner also features a stand and bag. It includes a pattern of roses, with the date 1929 and motto, 'All for One and One for All' embroidered in gold thread. The banner was made by founder member of Wraysbury WI Miss K. Burke in the early 1930s, although every member of the group was encouraged to contribute stitches.
Every individual WI meets at least once a month and there is usually a speaker, demonstration or activity at every meeting for members to learn and develop a range of different skills. Craft has always played an important role in the WI and thousands of members are involved in a range of different crafts.
MERL 2007/47/1
close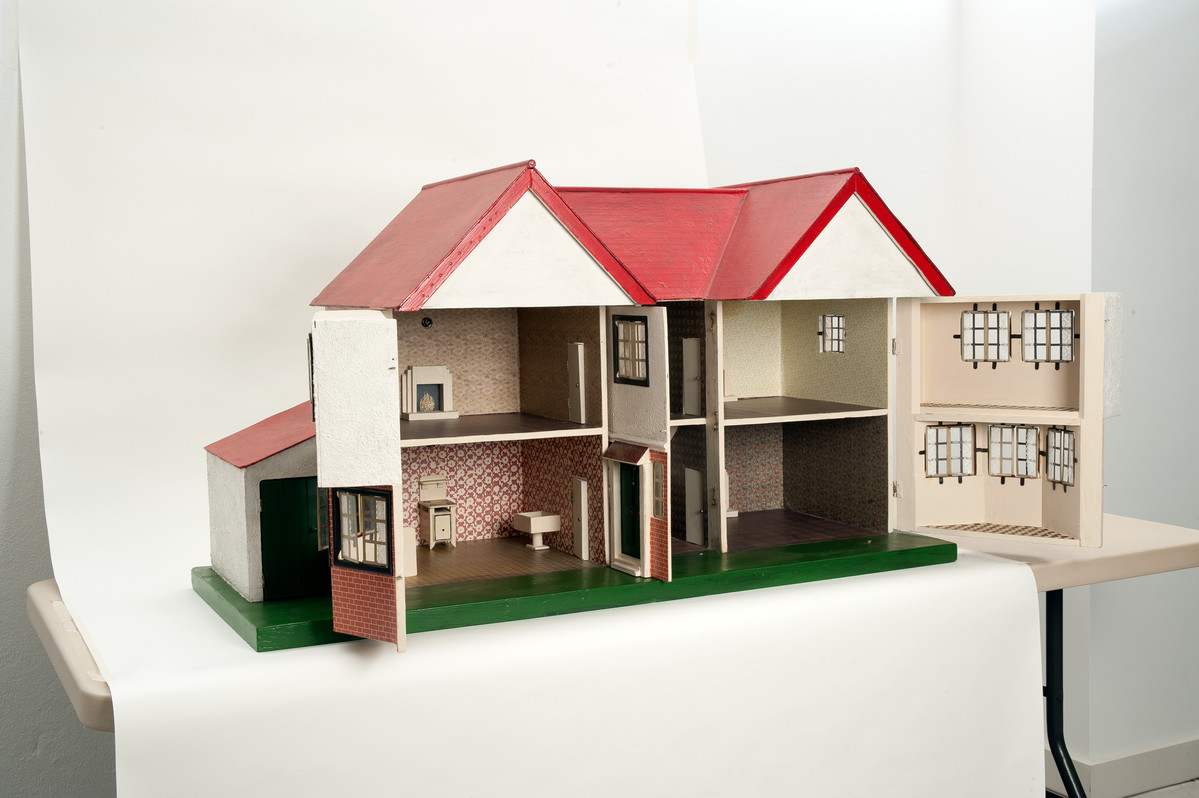 Doll's House
This Doll's House was created by Tri-ang Toys. The design imitated the popular mock Tudor design of suburban houses in the 1930s, as suburbanisation grew throughout the decade. This doll's house shows how deeply embedded these aspirations and desires were, as they became reflected in children's play. Toy houses were also made with a modernist design but the mock Tudor models were far more popular.
MERL 2008/94
close
Into the Country - Display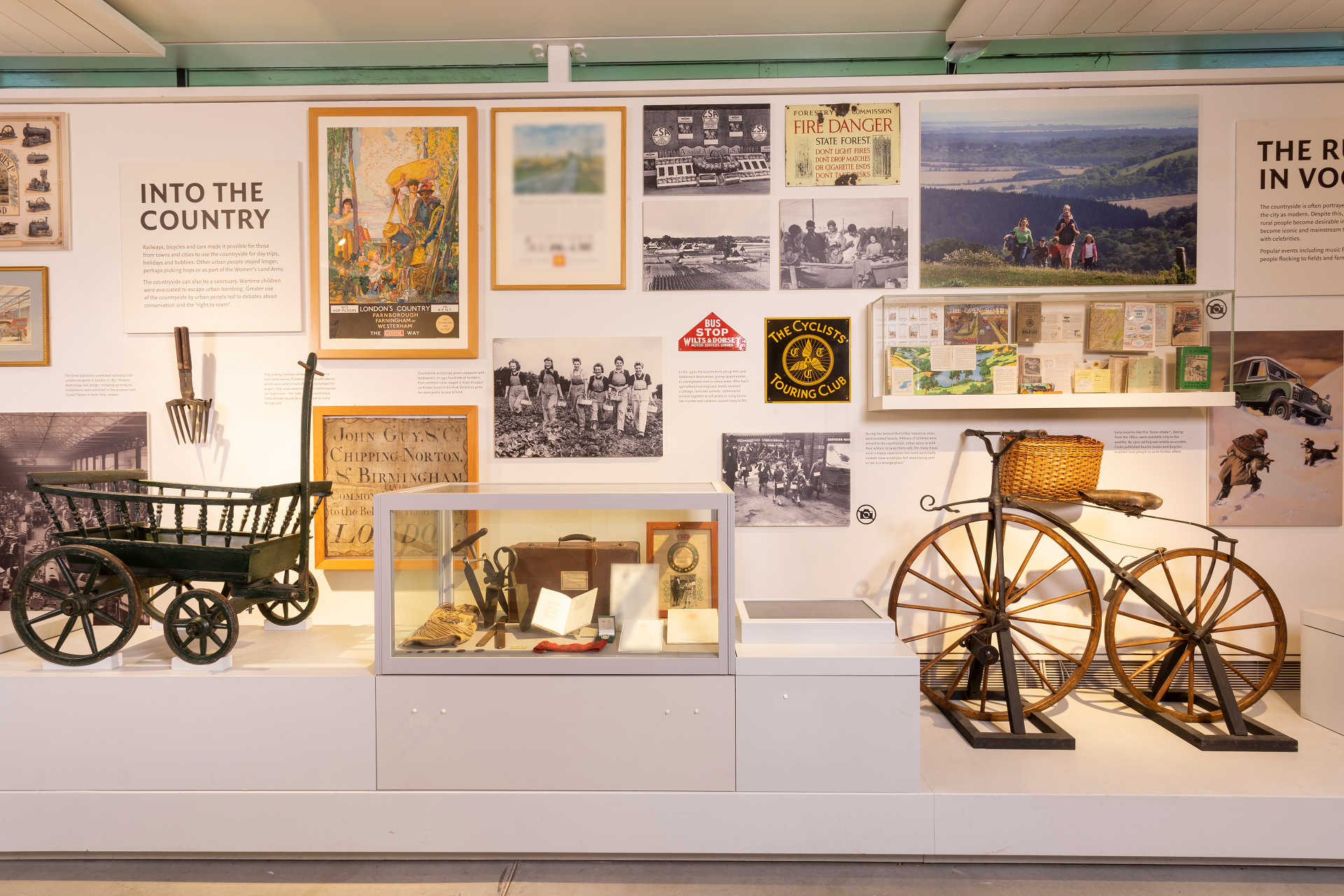 Into the Country - Display
Forestry Commission Sign
+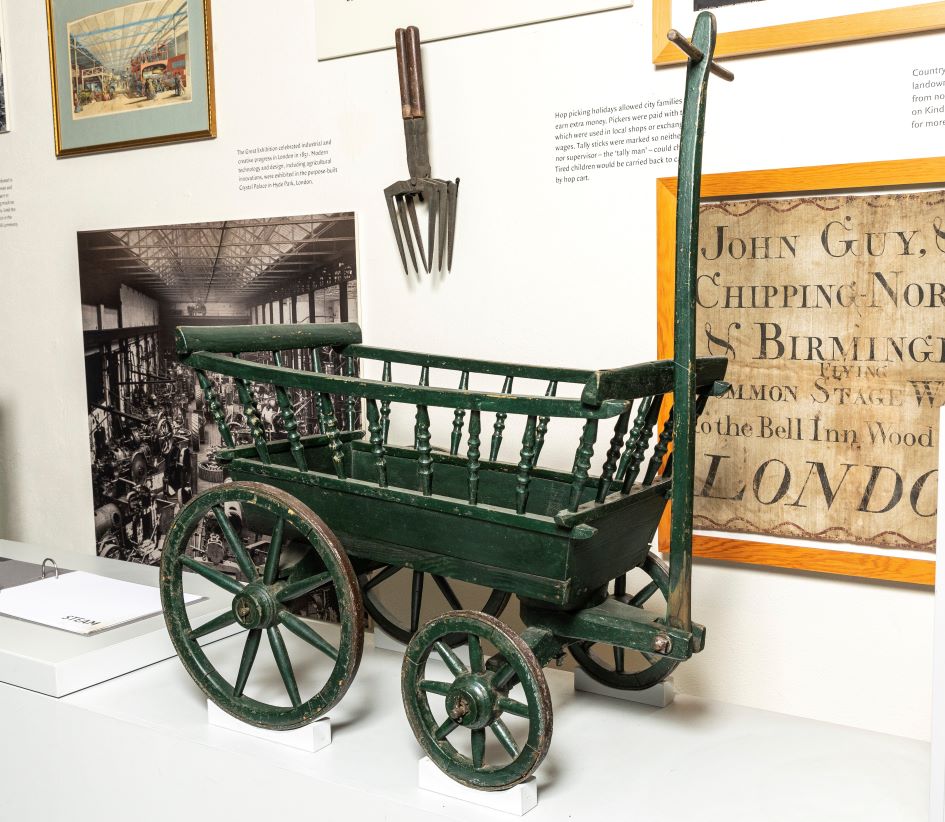 Hand Pulled Hop Wagon
This small push cart originally came from Brenchley, Kent, and was made by a wheelwright in the hop growing district of South East England in the mid nineteenth century.
Such push carts, known as 'Brindley Hop Wagons', were used by women who worked in the hop fields: they were made deep so that the carts could be filled with hops, with children sitting on top of the load. At the time of acquisition in 1956, a 70 year old wheelwright in Wadhurst commented that he remembered his father making and repairing them, but their use was already declining when he was a child.
MERL 56/308
close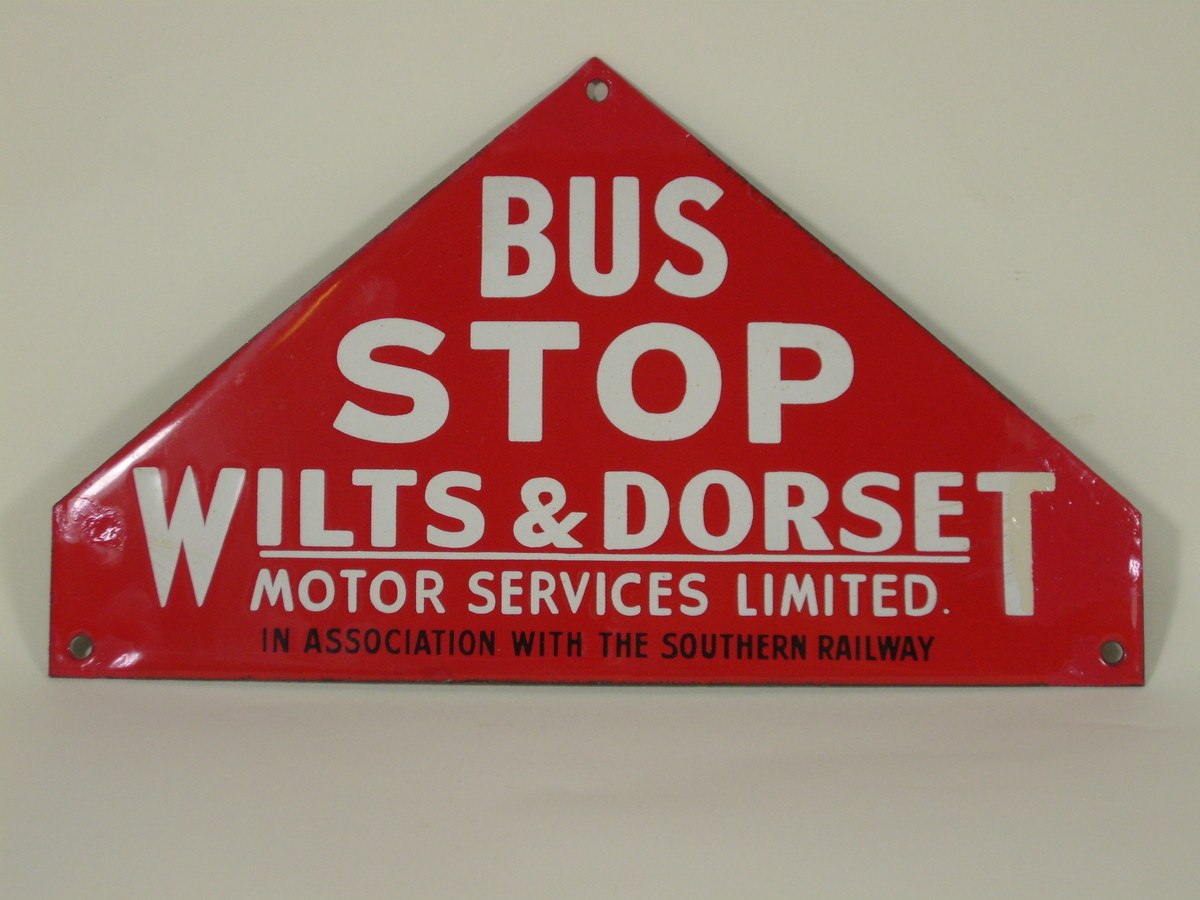 Bus Stop Sign
This enamel sign dates from the 1930s. Southern Railway bought shares in the Wilts & Dorset Bus Company  in 1931. With the nationalisation of the railways in 1948, the Wilts & Dorset became state owned. It ran buses in Wiltshire, Dorset and Hampshire, especially in the Andover, Amerbury, Pewsey and Salisbury areas.
MERL 2010/131
close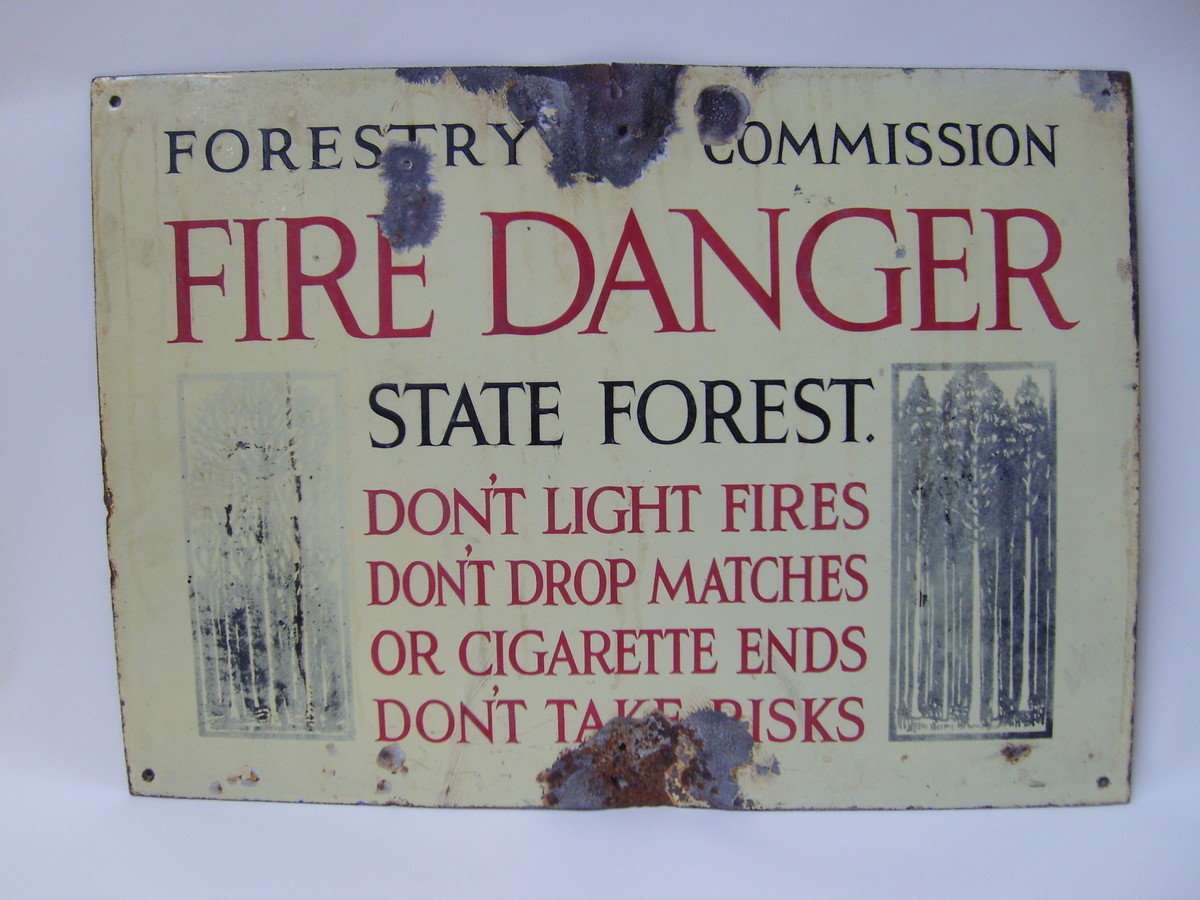 Forestry Commission Sign
This sign dates from the 1960s when the public were given the 'right to roam' in Forestry Commission forests. The Forestry Commission was created by the Forestry Act of September 1919, to rebuild and maintain a strategic timer reserve.
MERL 2010/60
close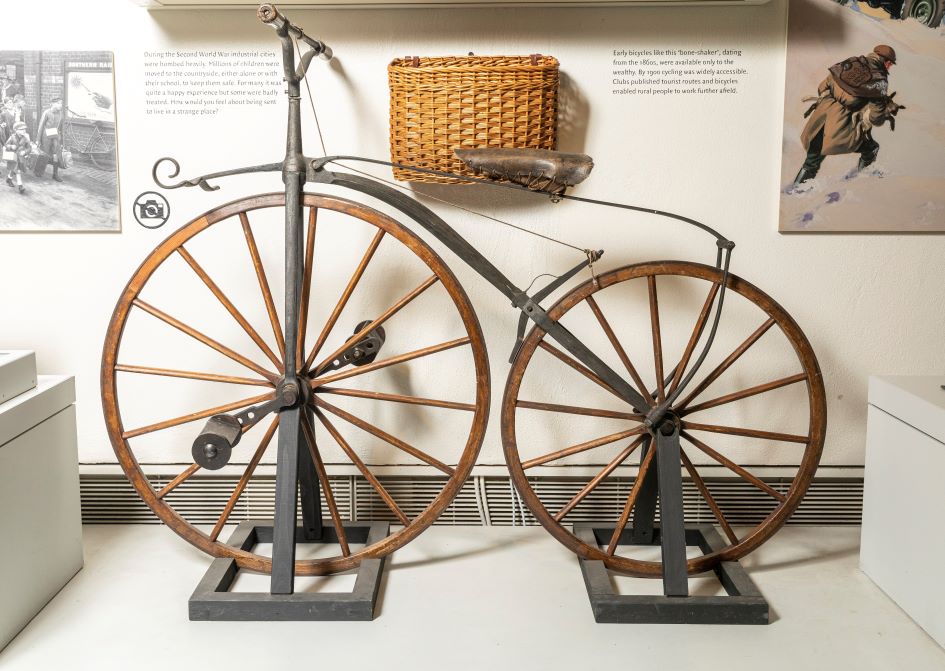 Bicycle
This is an example of a 'boneshaker' or 'velocipede', a very early bicycle designed in 1865. It consists of a wooden frame mounted on two wooden iron-tyred wheels, with a seat, handle and brake on the rear wheel. It was given to the donor by Dame F. H. L. Clayton-East of Hall Place in Hurley, Berkshire, where it was used to cycle around Hall Place Park. Bicycles such as these were not allowed on the road at that time.
MERL 55/278
close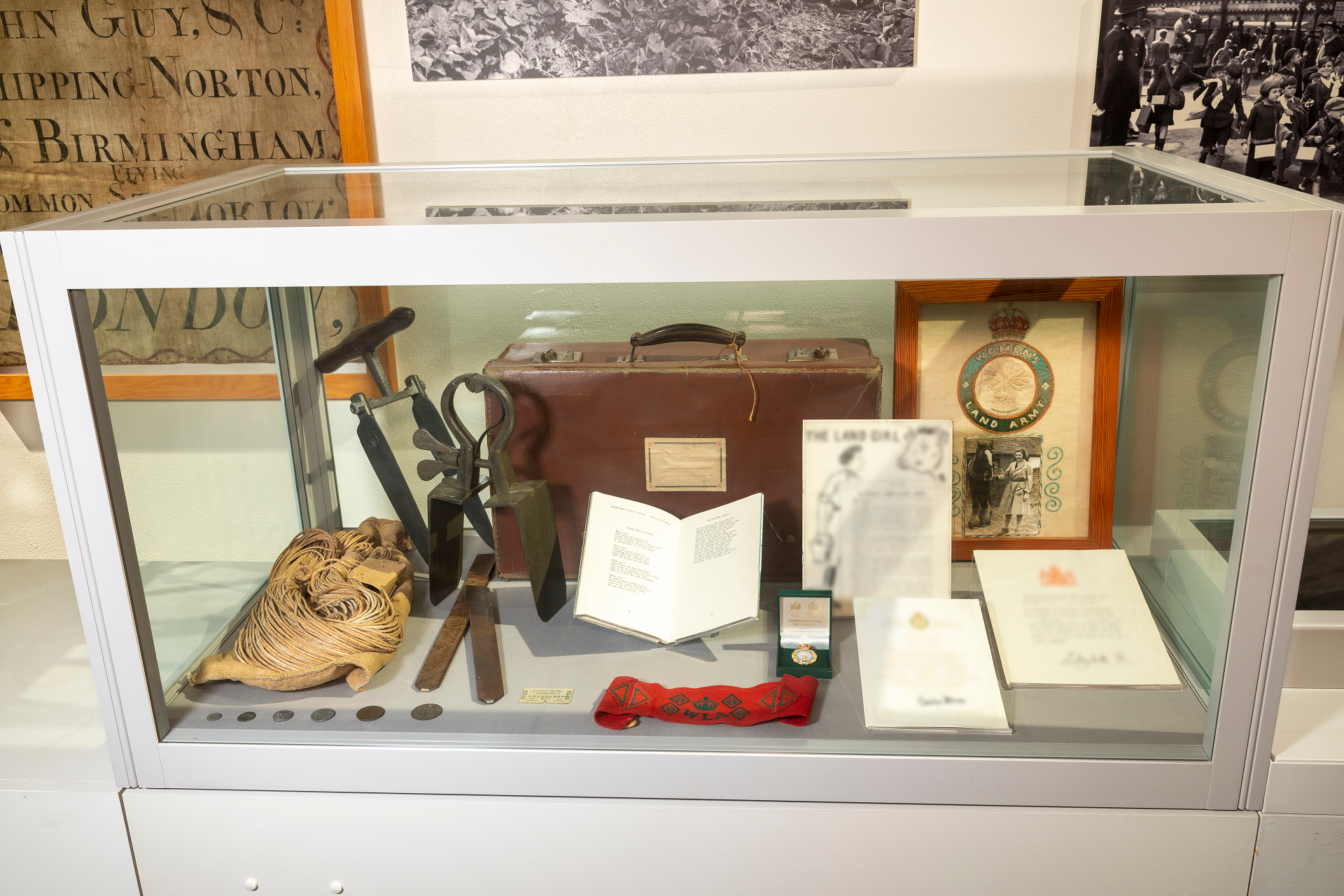 WLA Embroidery and Photograph
+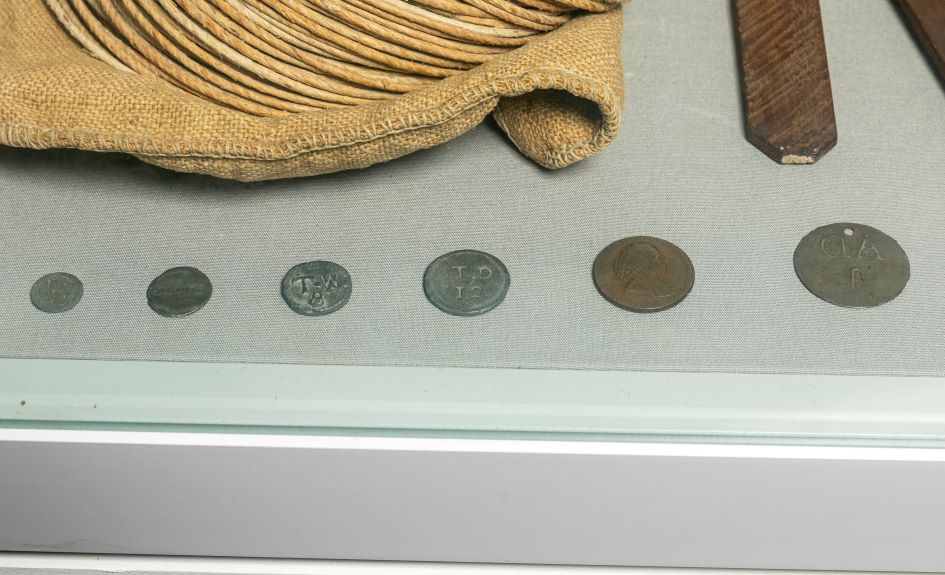 Hop Tokens
Hop tokens were given to pickers as their baskets were measured and emptied. Payment was made at the end of each week according to the number of tokens each picker possessed. One token, which is a thin piece of metal 1 inch in diameter, has the letters 'J.M.' stamped on it and came from Hereford.
MERL 54/128
close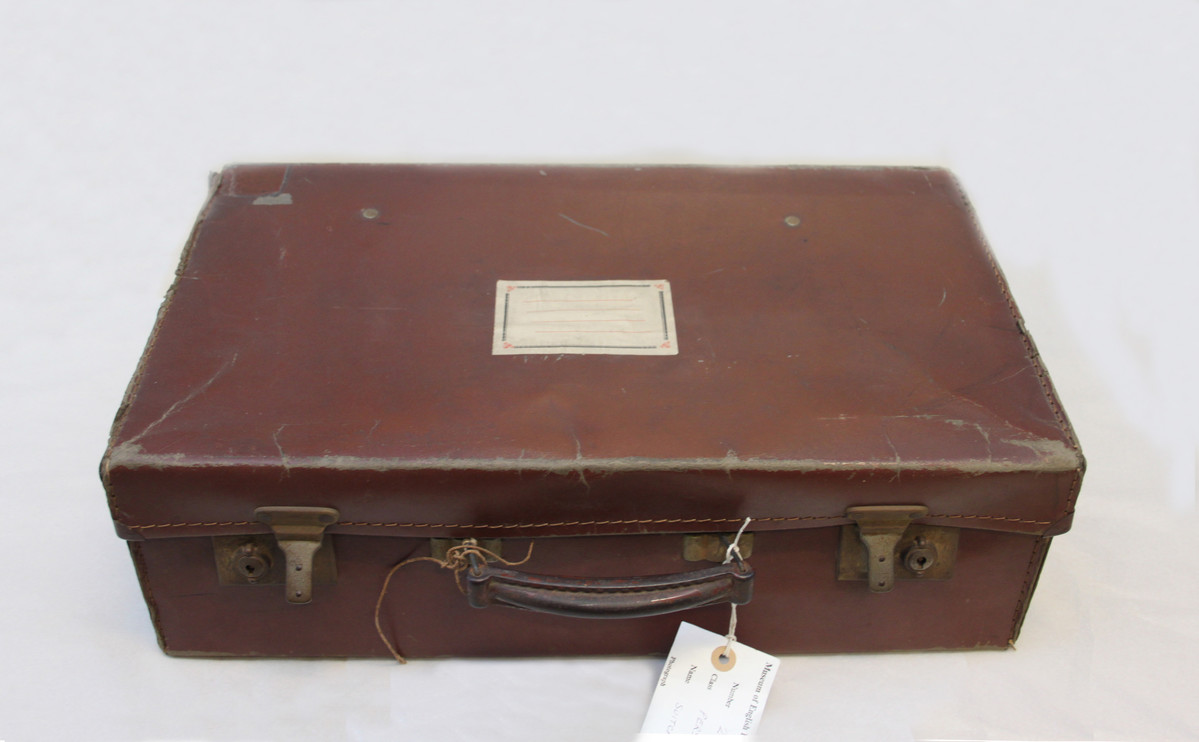 Evacuee Suitcase
This small suitcase is of the type used by evacuee children during World War II. On the 1st of September 1939 evacuated children arrived in Reading. These were children mainly from South West London, Lambeth, Battersea and Wandsworth. London was a city that suffered with pollution and many of the children may have felt a very strong difference in the City to the countryside town of Reading.
MERL 2008/88
close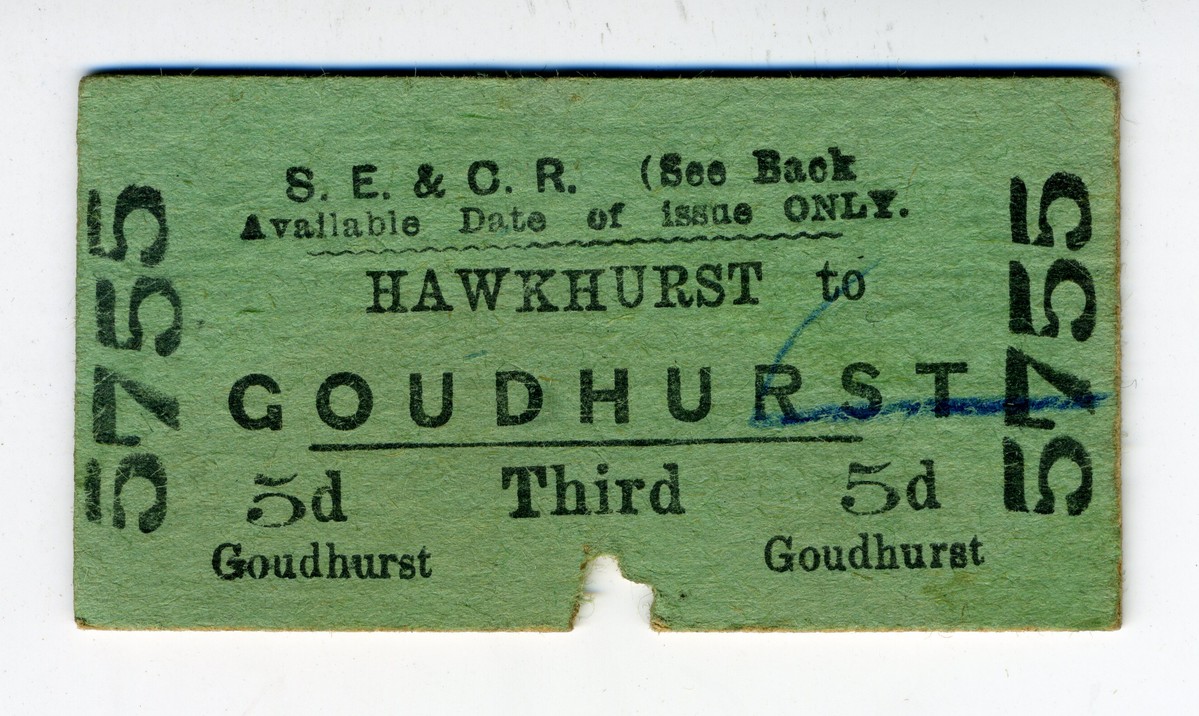 Railway Ticket
This is a railway ticket, costing five pence, for third class travel between Hawkhurst and Goudhurst stations in Kent. It is printed on green card, has been punched, and is dated 4 January 1907. It was issued by South East and Chatham Railway.
The Hawkhurst branch line, an 11 mile single track line, was opened in 1893 and closed in 1961, and linked Hawkhurst to Cranbrook, Goudhurst, Horsmonden and Paddock Wood. One reason for the light traffic on the line, apart from its very rural nature, was that the stations were inconveniently placed. Hawkhurst station, for example, was over a mile from the centre of the village and technically not in Hawkhurst at all. At hop and fruit picking time the line was busier, but by the 1950s competition from road transport was rising fast.
MERL 2010/45
close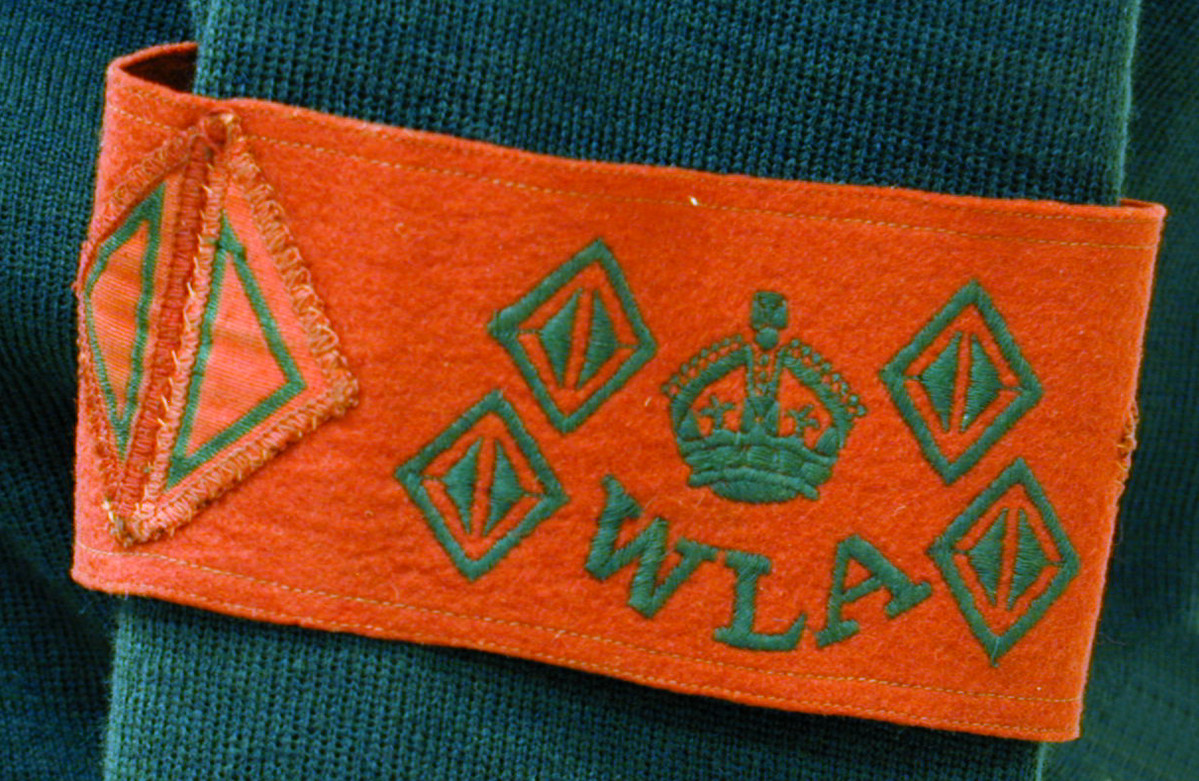 WLA Armband
This is a long service armband issued by the Women's Land Army to Doreen Thorp. It has a green crown, green letters (W.L.A) and four small green diamonds. Also stitched on it are four red half diamonds outlined in green. Each half diamond was awarded for six months satisfactory service with the Women's Land Army. The armband represents six years service.
Doreen recalls: "In September 1939 I joined the Women's Land Army and in October I started two months training at the Midland Agricultural College in poultry, milking (hand & machine), stock and general farm work."
MERL 88/62
close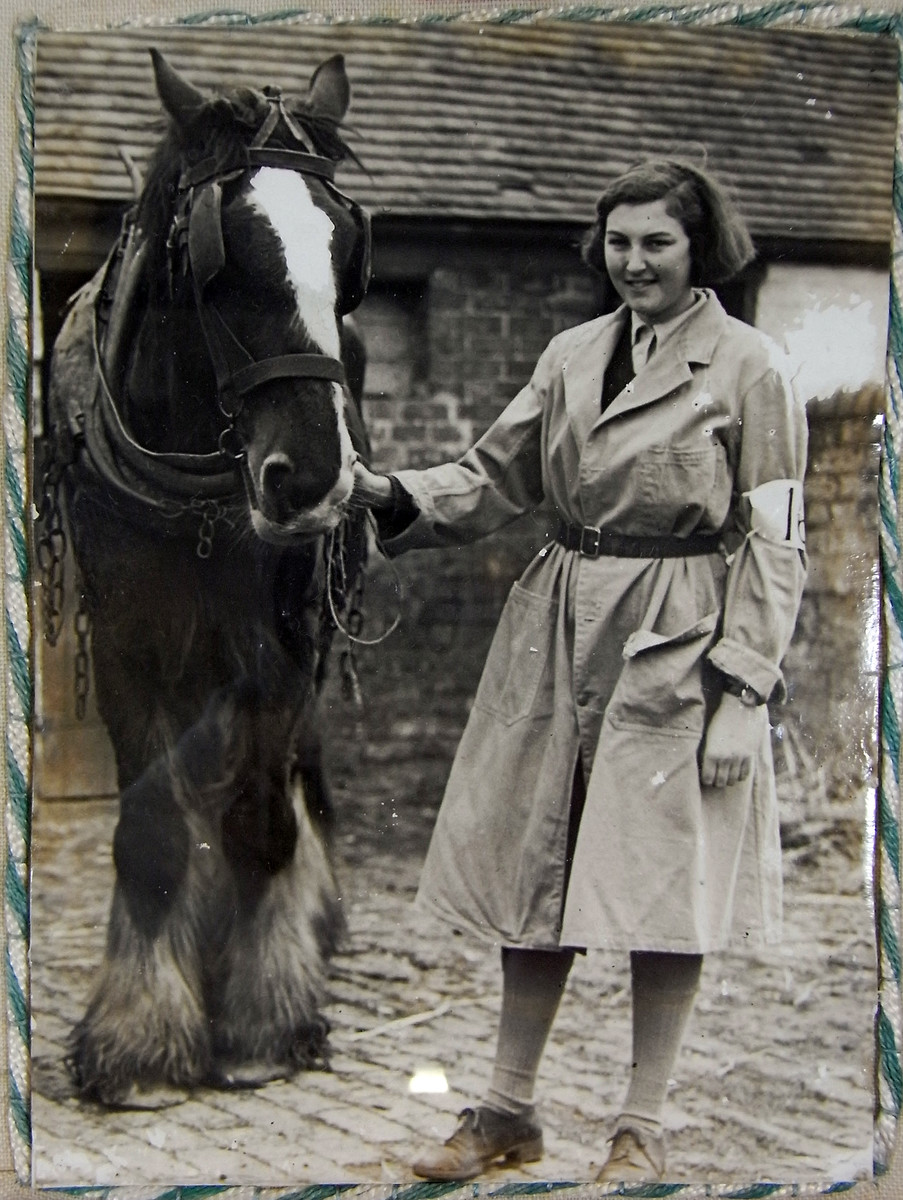 WLA Embroidery and Photograph
The photograph shows Barbara Whitaker, who joined the Women's Land Army in 1939 at the age of 16. As a farmer's daughter she knew the work involved and was therefore accepted at a young age. After leaving the Women's Land Army she carried on farming on a small scale until the 1960s. The embroidery depicts the standard logo of the Women's Land Army. She worked at Manor Farm, in Southam, Gloucestershire, and also spent her evenings as an ARP 'Fire Watcher' and collecting money for the 'Penny a Week Red Cross Fund'. She left the WLA when it disbanded and received the gold armband from the Queen in person.
MERL 2007/59
close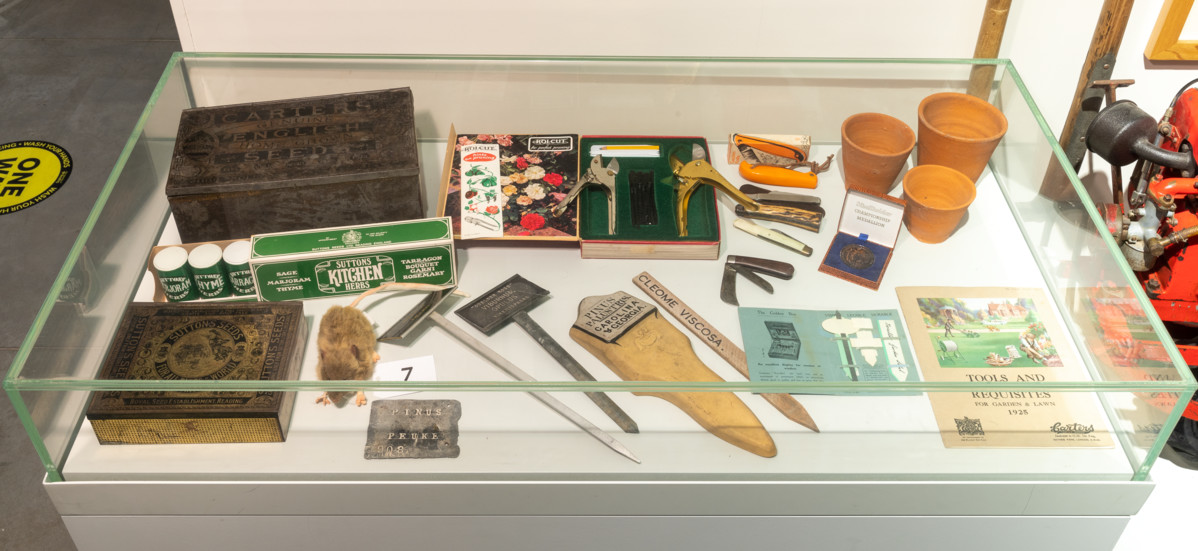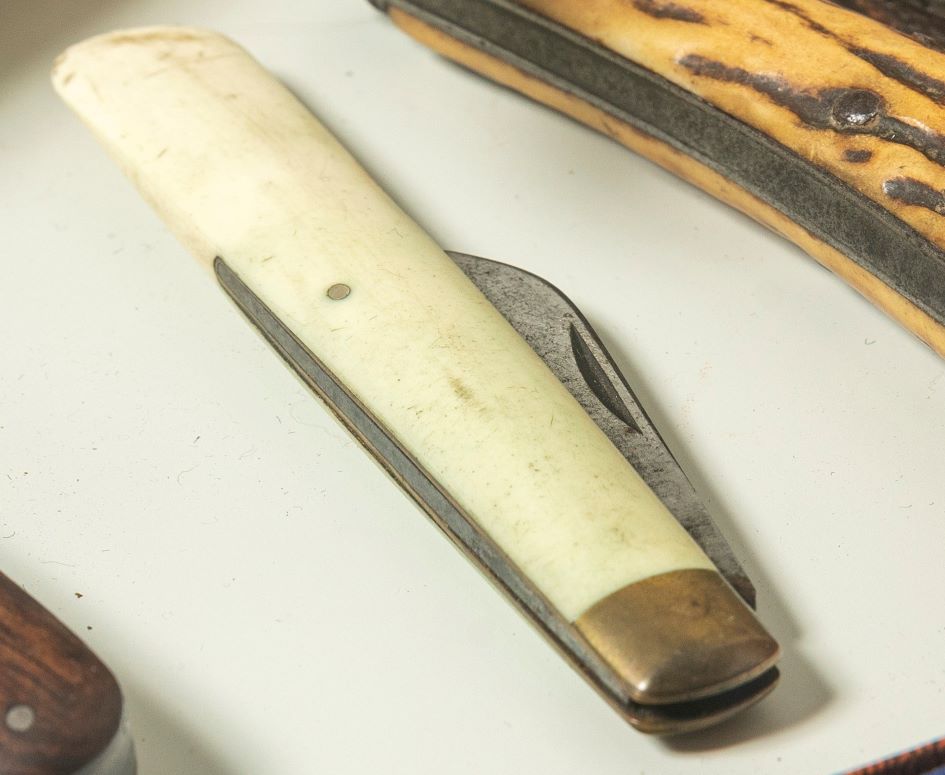 Budding Knife
This is a budding knife, which is used by horticulturalists, florists and botanists to create buds or grafts on plants. This particular knife was made by Raynor of Sheffield and compiled with other rural artefacts by John Cox, who worked for Sutton Seeds from 1931-1976. John Cox started his career as an office boy and worked his way up to Company Secretary.
MERL 2010/101
close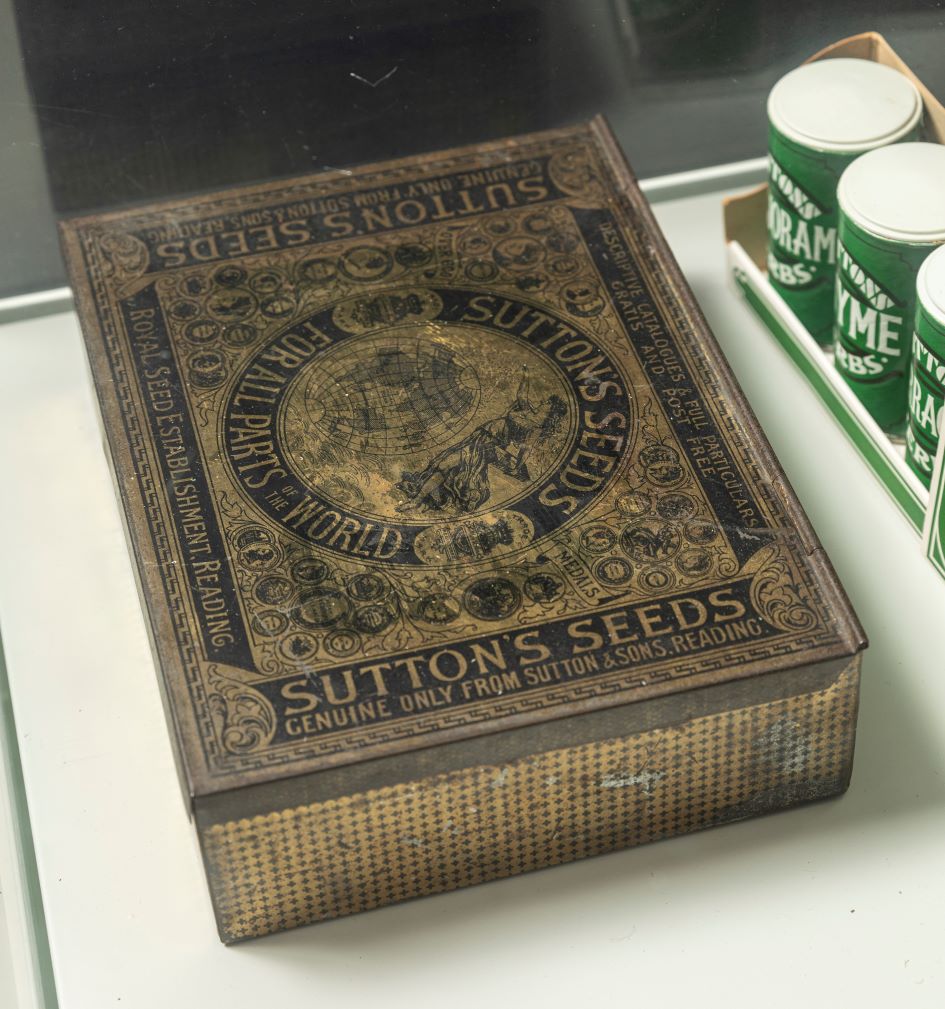 Seed Tin
Suttons Seeds Ltd. was founded in 1806 by John Sutton (1777–1863) and traded as a corn merchant.  In 1837 the company moved to Market Place, Reading, expanded into seeds and acquired nursery grounds in Queens Road, Reading. In 1840 they established a testing laboratory and in 1873 new buildings replaced those in Market Place. These included various offices, separate storerooms for different types of seeds and bulbs, recreation rooms, residences and a fire station.
In 1962 Suttons relocated to new grounds and premises on the eastern outskirts of Reading, before moving to Torquay, Devon, in 1976 and then Paignton, Devon, in 1998. The MERL holds records for the company, plus over 100 objects made by Suttons including sacks, signs and seeds.
MERL 2007/10
close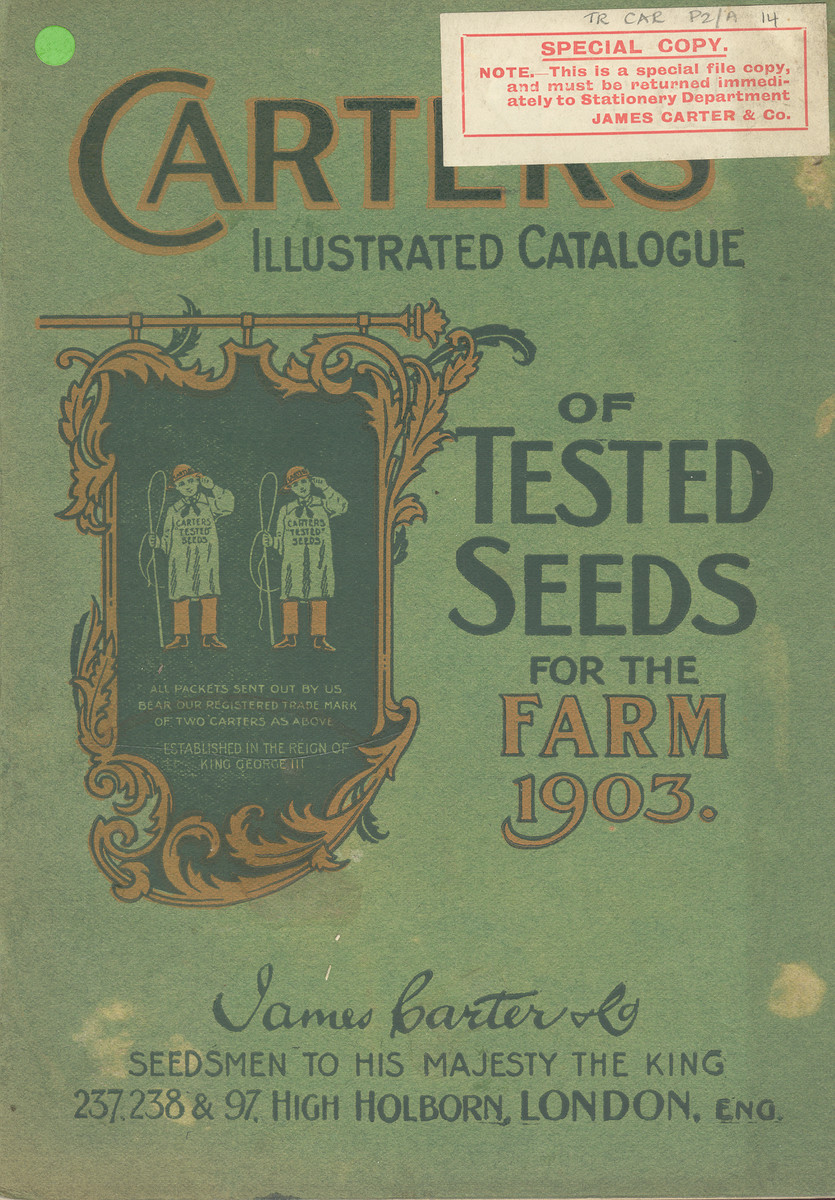 Seed Catalogue
This is a Carter's Illustrated Catalogue of Tested Seeds for the Farm. The earliest reference to Carters is in an 1804 London directory. However, the first annual catalogue seems to have appeared in 1837, issued by James Carter of 238 High Holborn. A partnership, styled James Carter & Co., was eventually formed including William Herbert Dunnett and Edward John Beale, being continued by these two partners after Carter's death. James Carter & Co., were highly fortunate in their acquisition of both home and foreign royal patrons who by 1880 included the Queen of England together with the Prince of Wales, the Sultan of Turkey, the King of Portugal and the King of Italy.
TR CAR P2/A14
close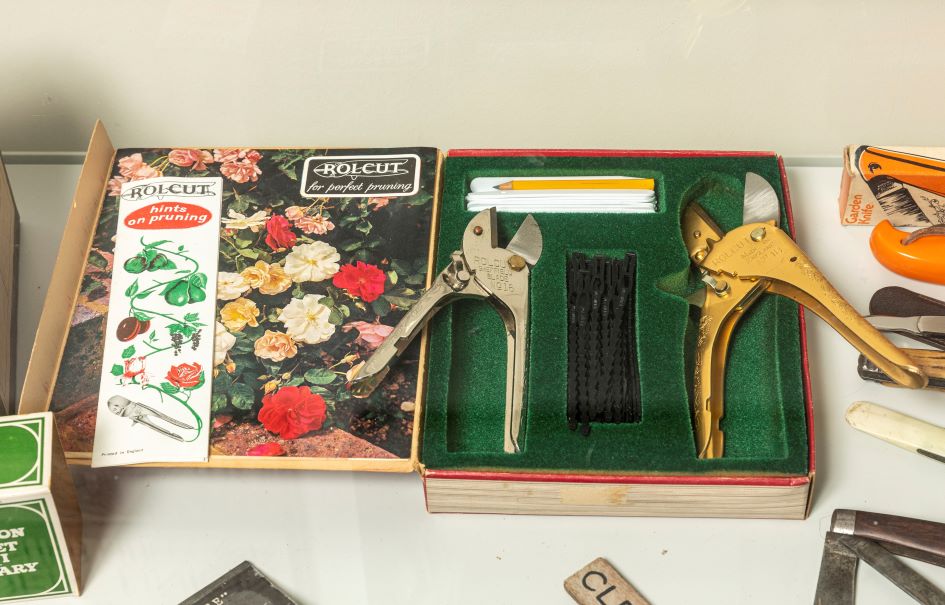 Secateurs
This set contains two pairs of Rolcut secateurs, plant ties, plant labels, pencils and leaflets. They were sold by Suttons Seeds Ltd. In Reading. Rolcut was a well known brand in the UK the tool design was from a German company called Löwe who had patented the first anvil pruner in 1923. The all metal design and anvil blade made them the toughest pruner available and they were the choice of many professionals and enthusiasts.
In 1928 came the invention of the Original LÖWE pruning shear under the "Rolcut" brand in England by Colonel B.J. Walker. In 1933 came the foundation of the company "Fritz Howaldt Ltd." in London where in 1945 Rolcut took over the manufacture.
MERL 2010/71
close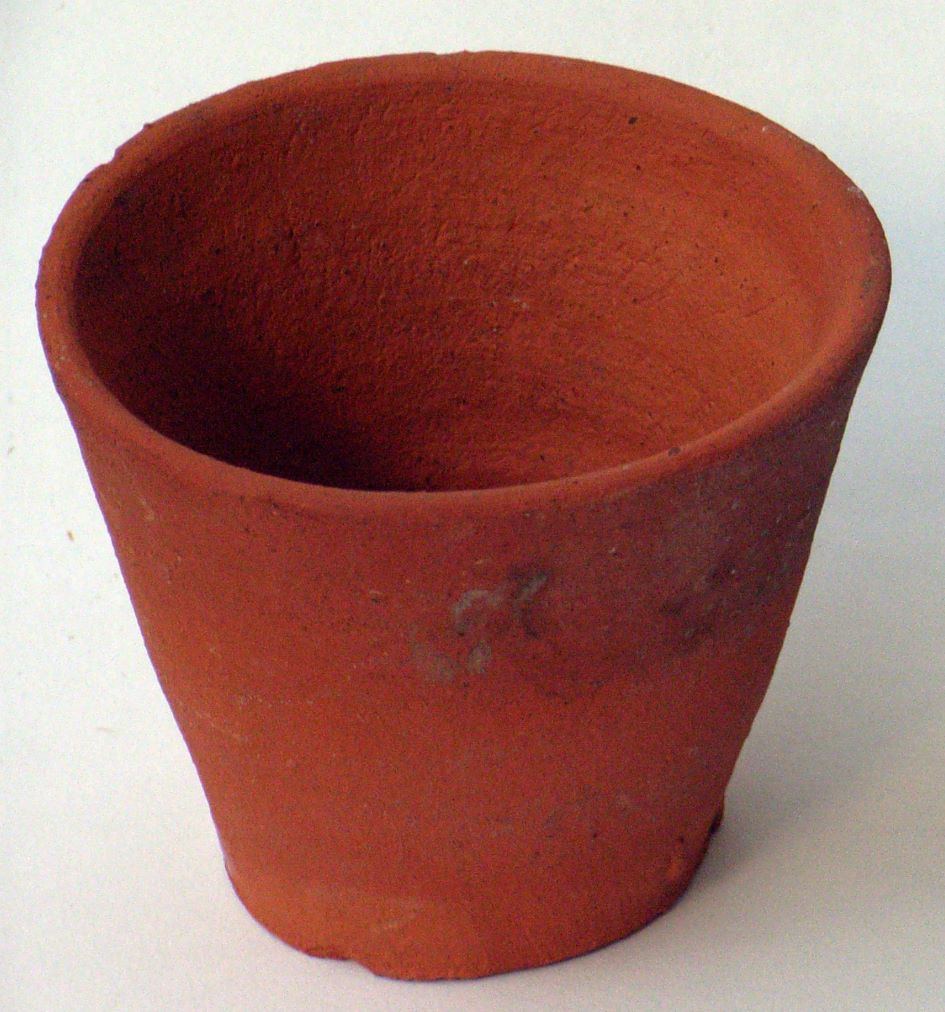 Plant Pots
These three handmade clay pots, of different sizes, were made at Tilehurst Potteries in Kentwood Hill, Reading, specialists in handmade tiles and flower pots. They are dated 1903 within a printing proof book, archive reference TR RAN P8/2. Mr Anostalgia acquired the block from his father – a blacksmith called Elliot from Londonderry. His father acquired the block during a visit to Ransomes.
Egyptians first used the flower pot to move plants from one location to another. The Romans used pots to bring plants inside during the winter. In Athens, earthenware flowerpots were thrown into the sea during the festival of the Gardens of Adonis.
MERL 2006/18/1-3
close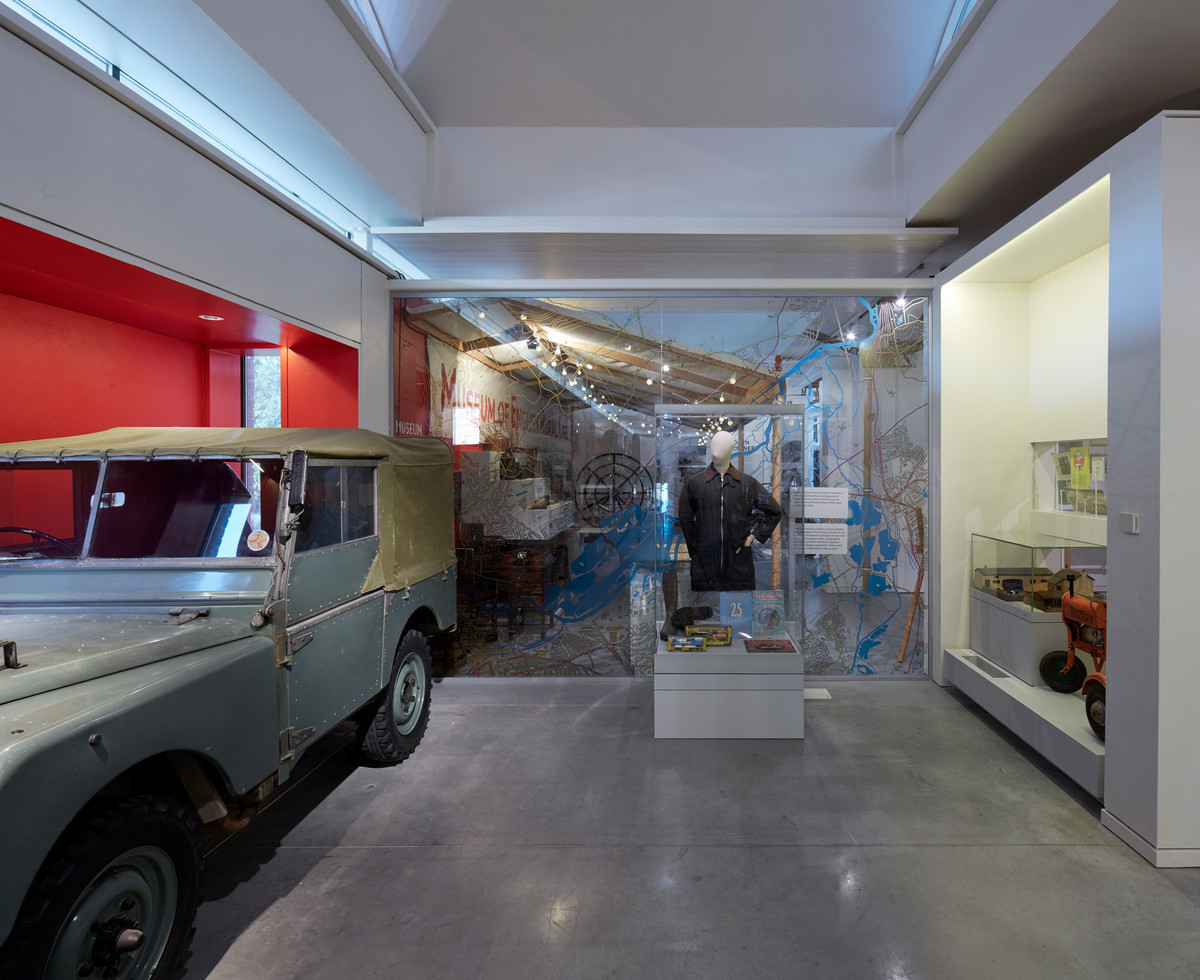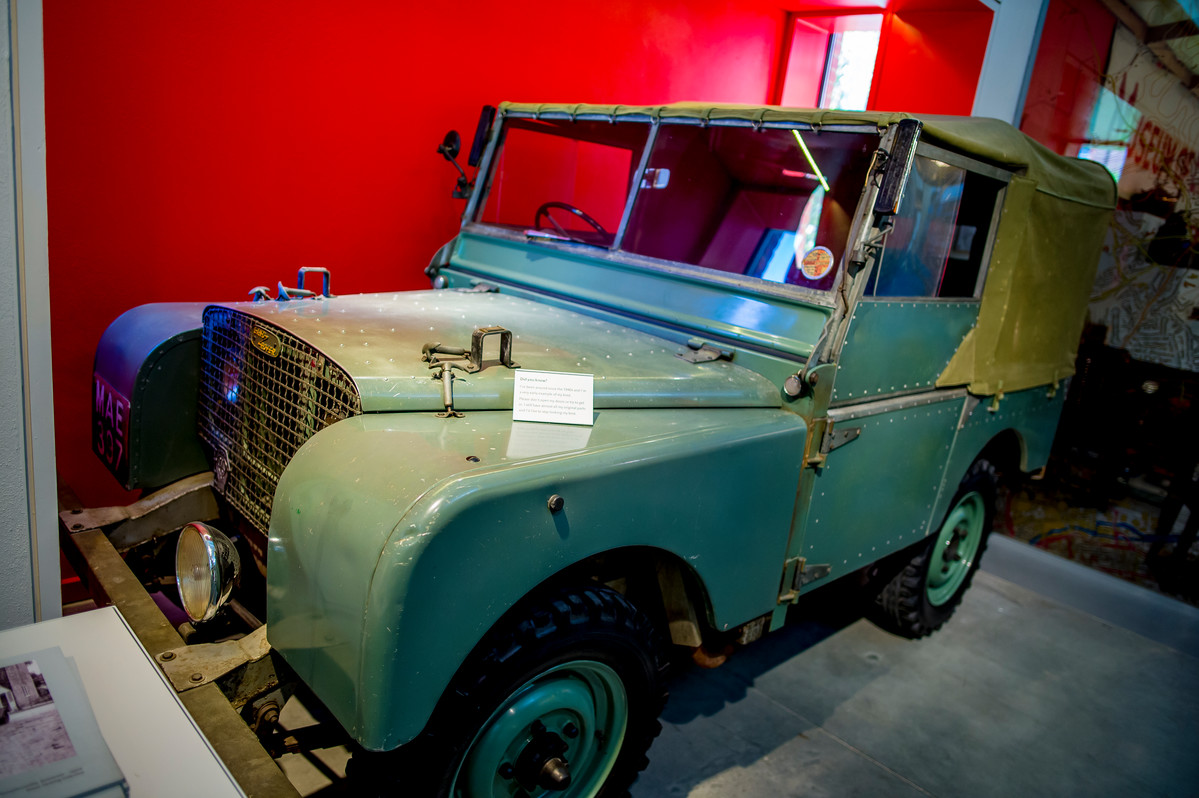 Land Rover
This is a Land Rover Series 1, produced by the Rover company in 1948, which quickly became a staple for farmers. Its 'no frills' design made it perfect for transporting tools, animals and other day-to-day tasks all while managing the rural landscape in varying weather.
It was owned since 1949 by Ivor Norris, a farmer from Avonmouth, Bristol. He used it on his farm until the late 1970s. On donation, the car came with it's original log book, purchase receipt and most of its tax discs.
MERL 2013/1
close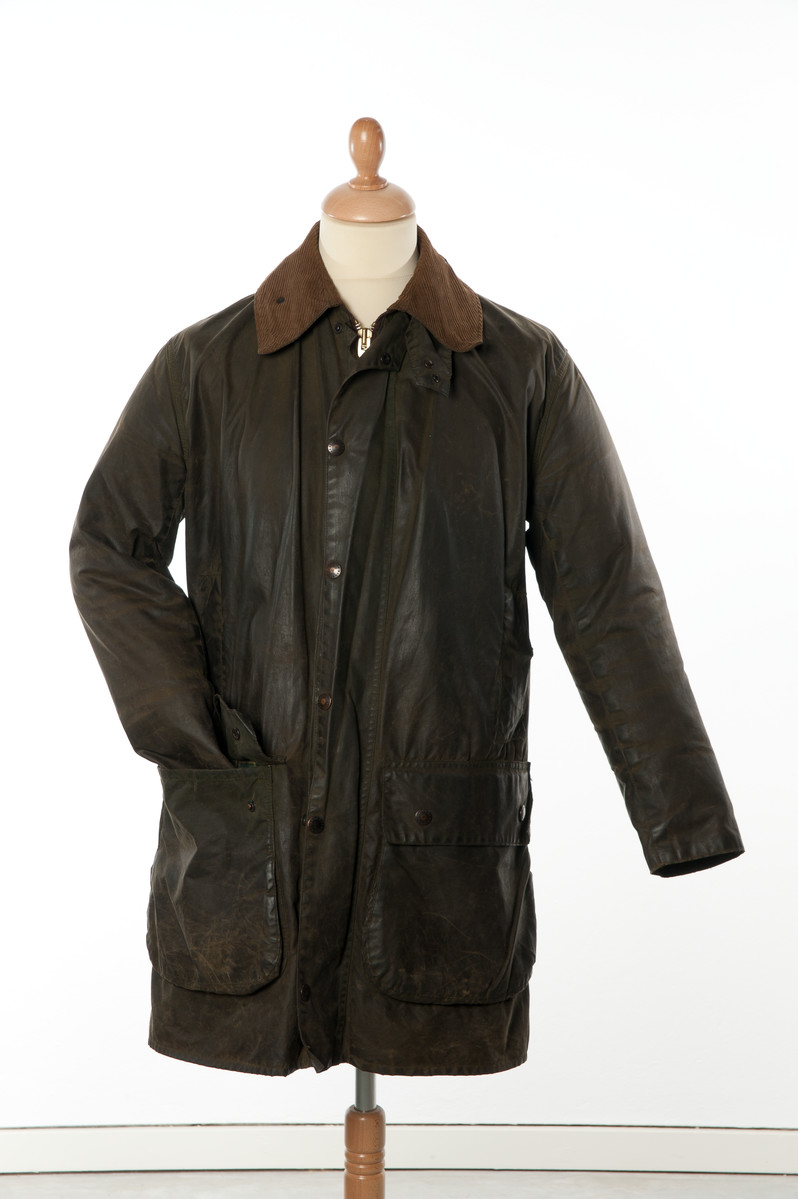 Jacket
Barbour Jackets began in 1894 in South Shields under the leadership of John Barbour, a draper with a farming background. Workwear was a speciality including oilskins for fishermen, shipbuilders and farmers of the area. This jacket dates from the 1982-87 (based on the Royal warrants), a time when rural fashion became mainstream. Today you are likely to see trendy celebrities sporting a Barbour jacket at Glastonbury.
MERL 2009/2
close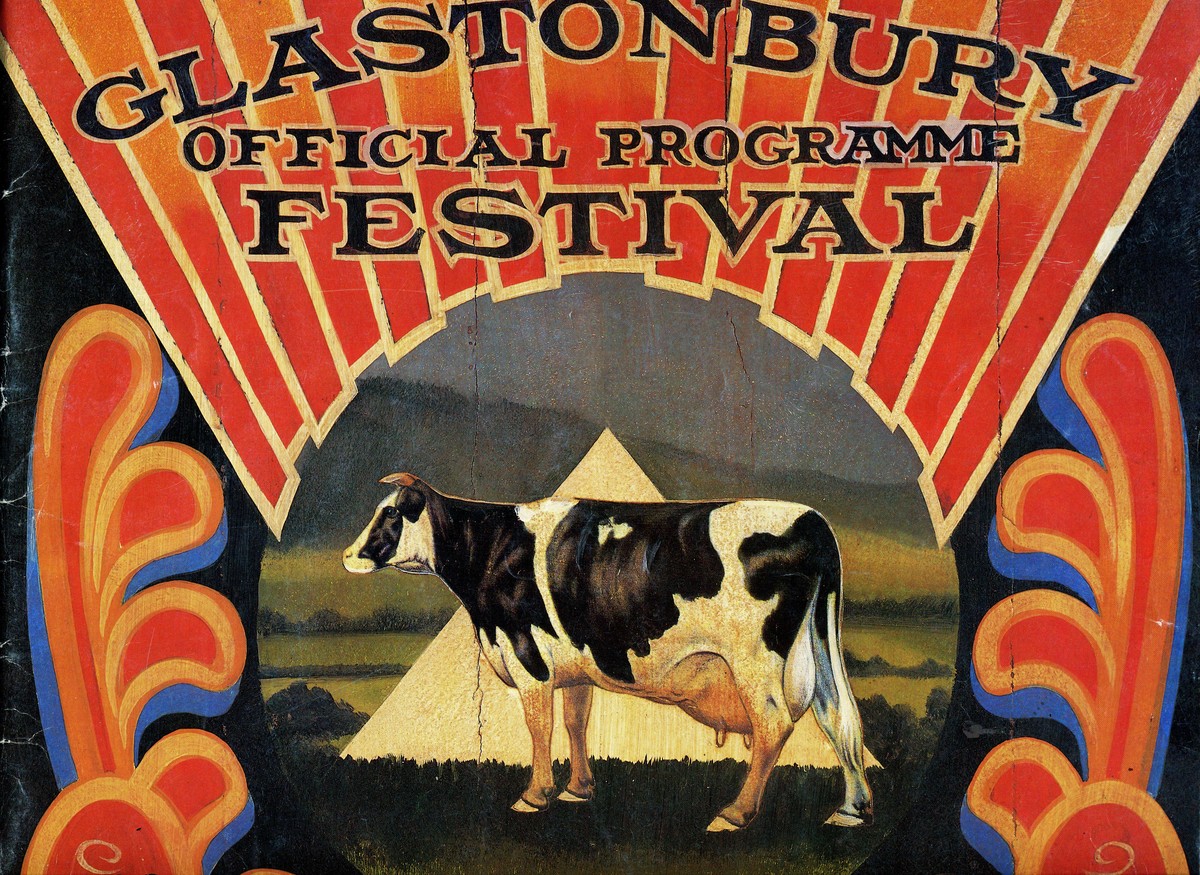 Glastonbury Programme
This is an official programme for the 1989 Glastonbury Festival of Contemporary Performing Arts. The festival ran from June 16-18 1989, in very good weather, and was attended by c.65,000 people. £100,000 was raised for CND (Campaign for Nuclear Disarmament) that year, and acts included Van Morrison and Elvis Costello.
Regarded as a major event in British culture, the festival is inspired by the ethos of the hippie, counterculture, and free festival movements. Michael Eavis hosted the first festival, then called Pilton Festival, after seeing an open-air Led Zeppelin concert at the 1970 Bath Festival of Blues and Progressive Music. The festival's record crowd is 300,000 people, set at the 1994 festival, when headliners the Levellers performed a set on The Pyramid Stage. Recent stars have included Beyonce, Dolly Parton and Adele.
MERL 2009/42
close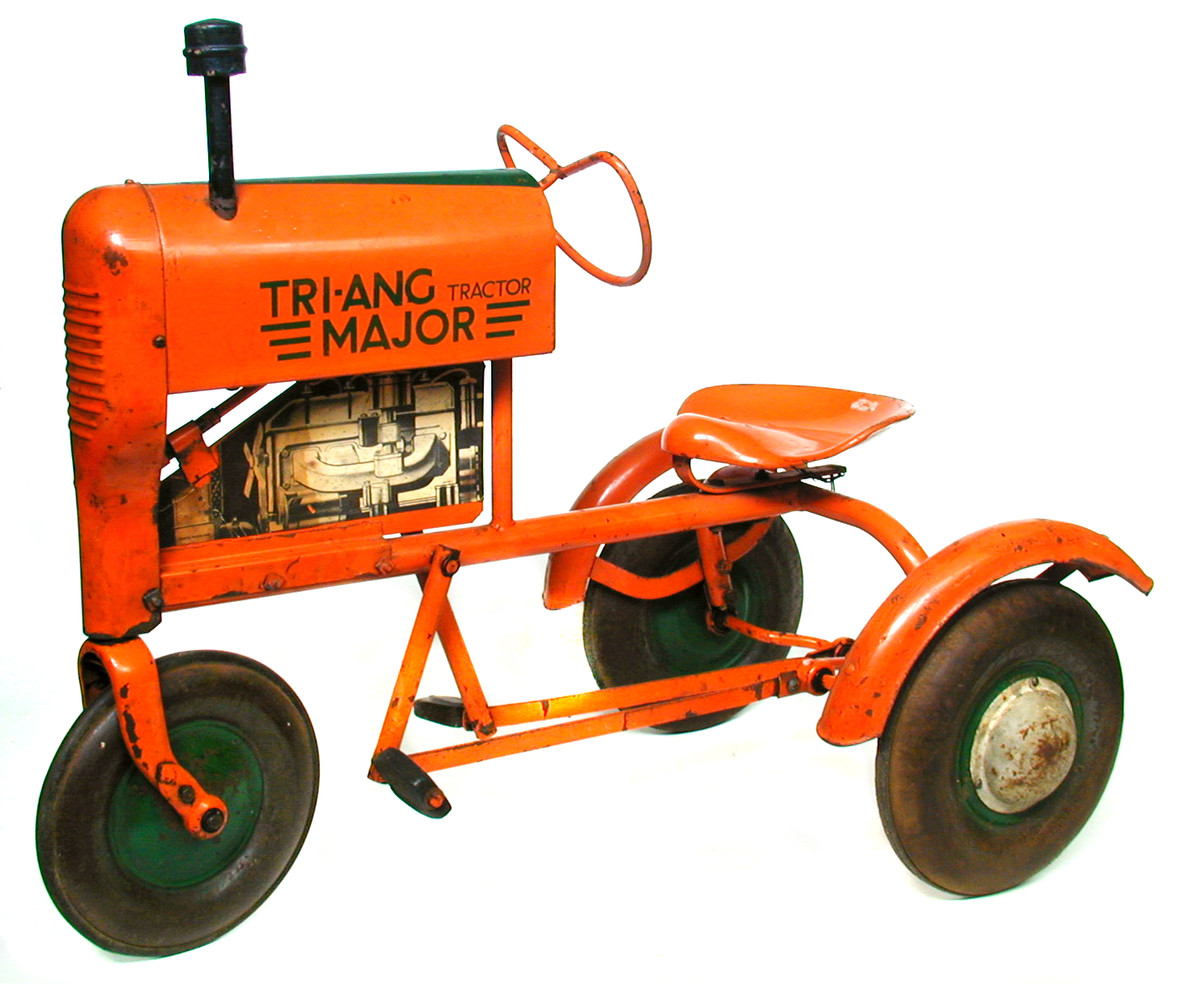 Toy Tractor
This tractor was made by the toy company Tri-ang. The title 'Major' echoed the famous Fordson of the same name. It was given as a birthday present in the 1950s to the donor for his 4th or 5th birthday.
Lines Bros Ltd, at its peak in 1947, was claimed by the company to be the largest toy maker in the world. Under the Tri-ang Toys brand name, Lines Bros Ltd also made children's bicycles, such as the Unity Dragster TT. During the Second World War, Tri-ang factories were used to make the Sten MK III submachine gun.
MERL 93/91
close
Making Rural England - Coopering and thatching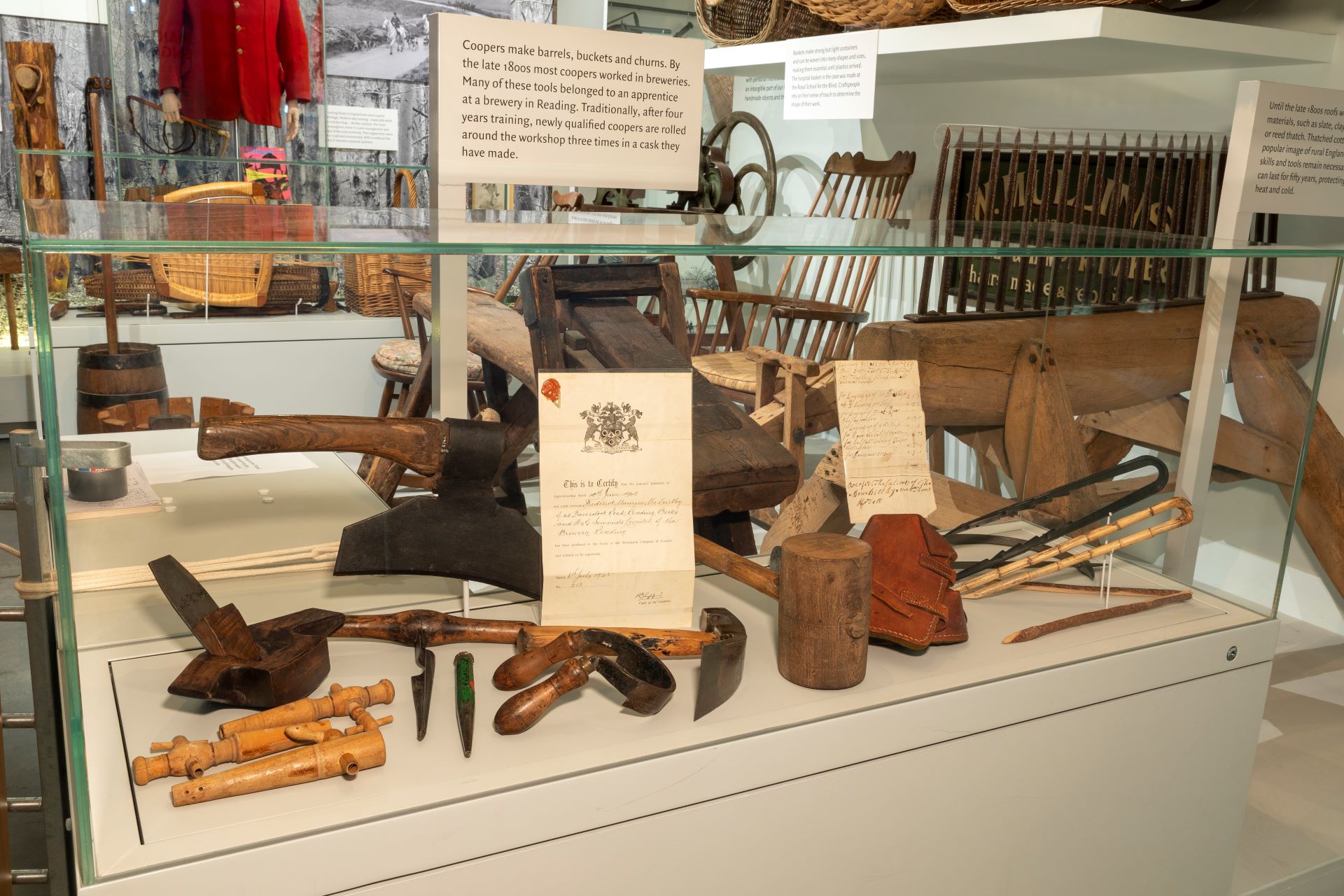 Making Rural England - Coopering and thatching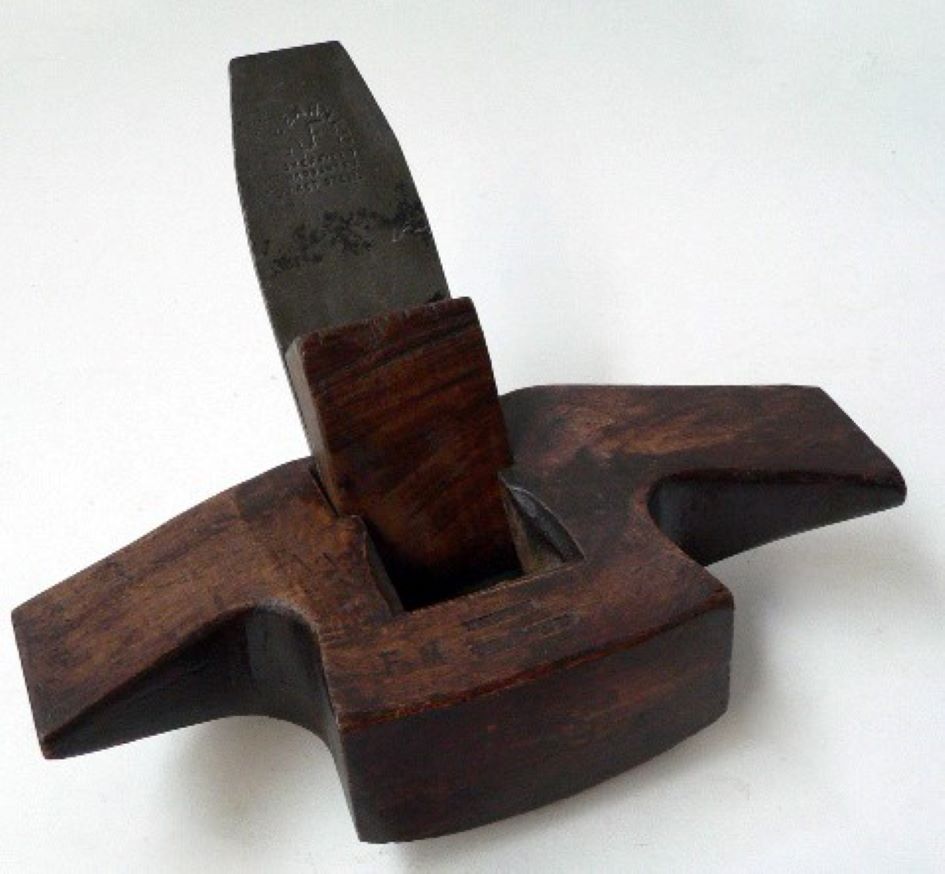 Inside shave
This inside shave is one of a set of cooper's tools used by the donor, Mr McCarthy, during his apprenticeship and career as a cooper at Reading Brewery from 1948. A cooper uses an inside shave to clean the inside of a cask. Mr McCarthy started his coopering apprenticeship at Reading Brewery on 10 June 1948, aged 17, and finished in March 1952. No members of his family were coopers but he started because his friend's father was a cooper. He worked 40 hours a week during his apprenticeship doing piecework with a trained cooper who was his master. Up to the age of 18 all earnings went to the master cooper; aged 18-20 half went to the apprentice, a quarter to the master and a quarter to the brewery; aged 20-21 two thirds to the apprentice, one sixth to the master and one sixth to the brewery.
MERL 2006/15
close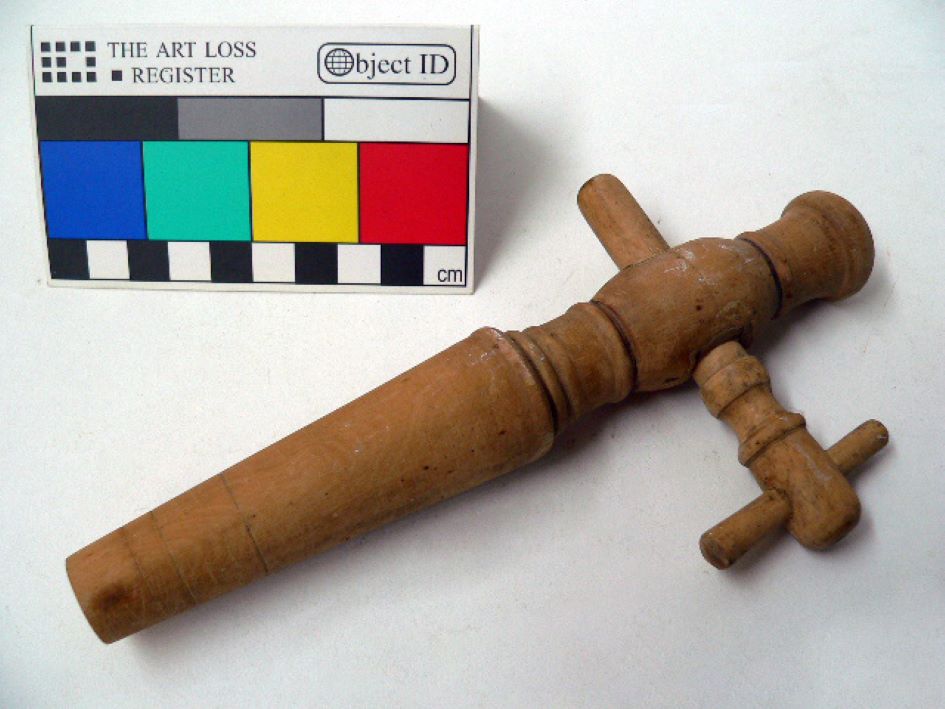 Cask taps
These three cask taps are from a set of cooper's tools used by the donor during his apprenticeship and career as a cooper at Reading Brewery from 1948.
MERL 2006/26
close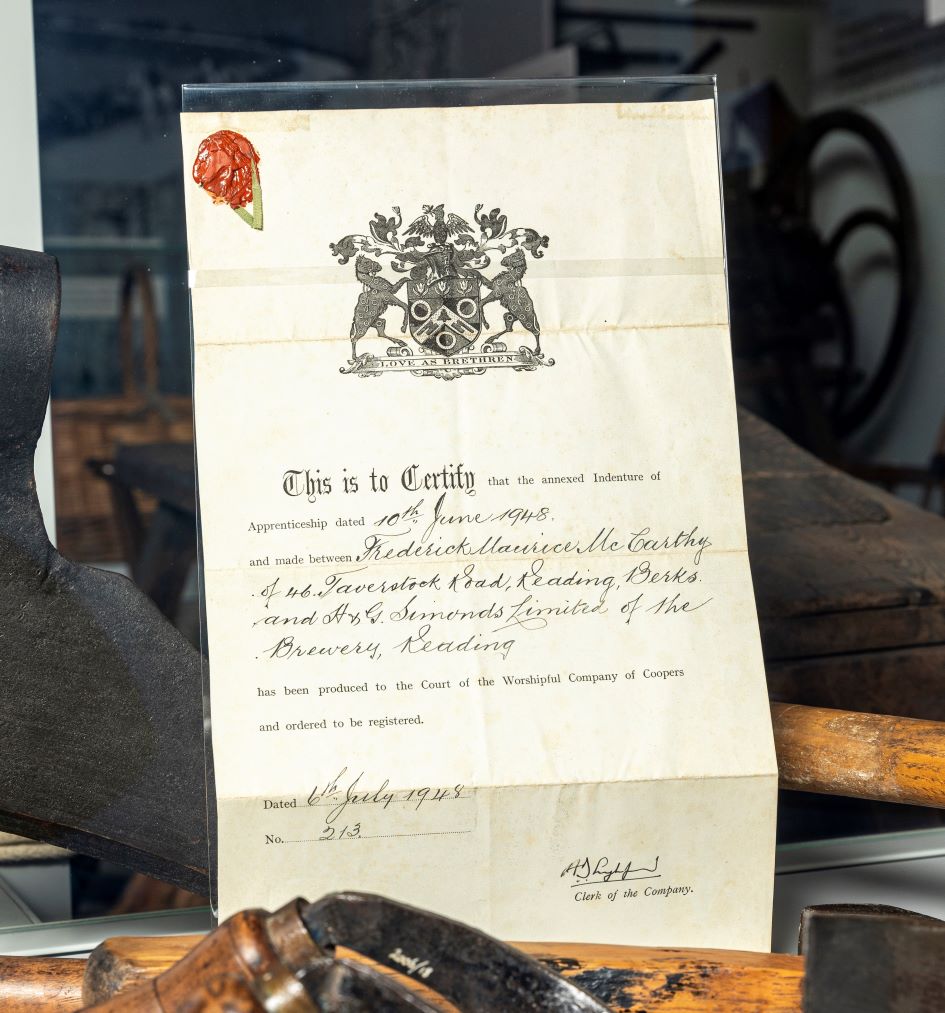 Certificate
This is an Indenture of Apprenticeship certificate, dated 6 July 1948, on cream coloured paper with a red wax seal. It belonged to the donor, who served an apprenticeship as a cooper at Reading Brewery.
MERL 2006/45/2
close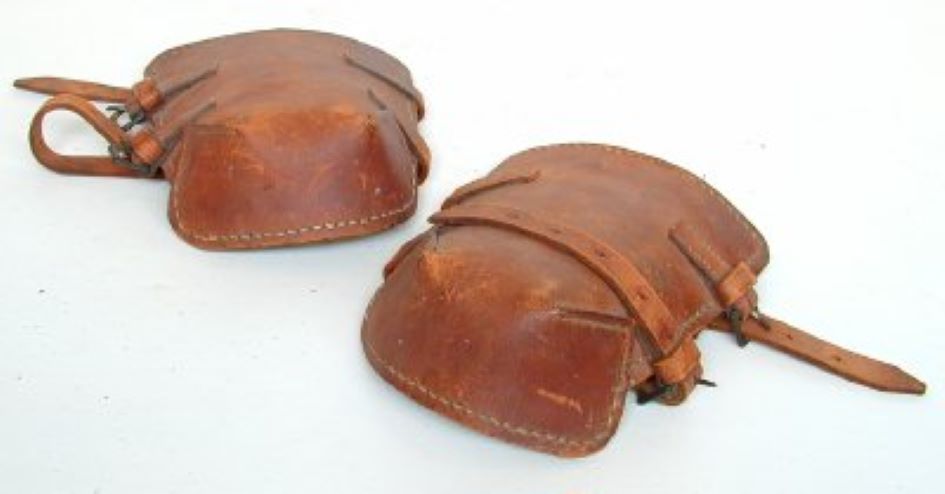 Knee pads
These thatcher's knee pads were made for the thatching exhibit at the Festival of Britain. Knee pads are used not only to protect the thatcher's trousers but also to press down the bunches (or 'yealms') of straw as they are put in place, to pack the bow with yealms, and as a rest against which the spars are cut. These pads are made of strong leather, lined with greenbaize. They are fastened to the knee by two straps and buckles.
MERL 52/88
close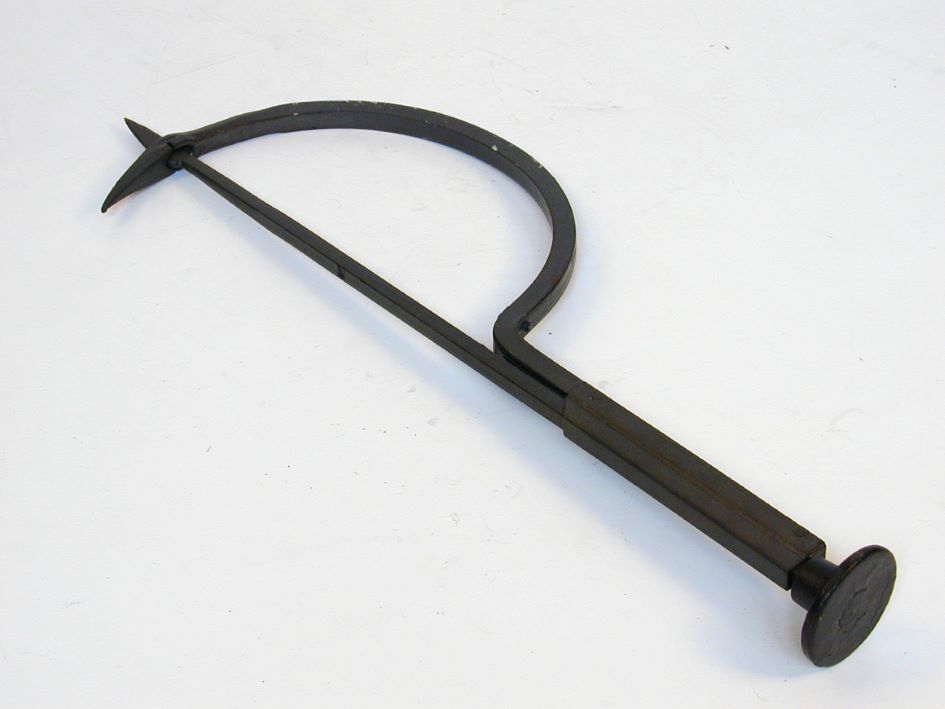 Thatching needle
A thatching needle is used to secure the bunches of straw to the roof and to each other with twine (tarred to keep the mice away).
MERL 66/220
close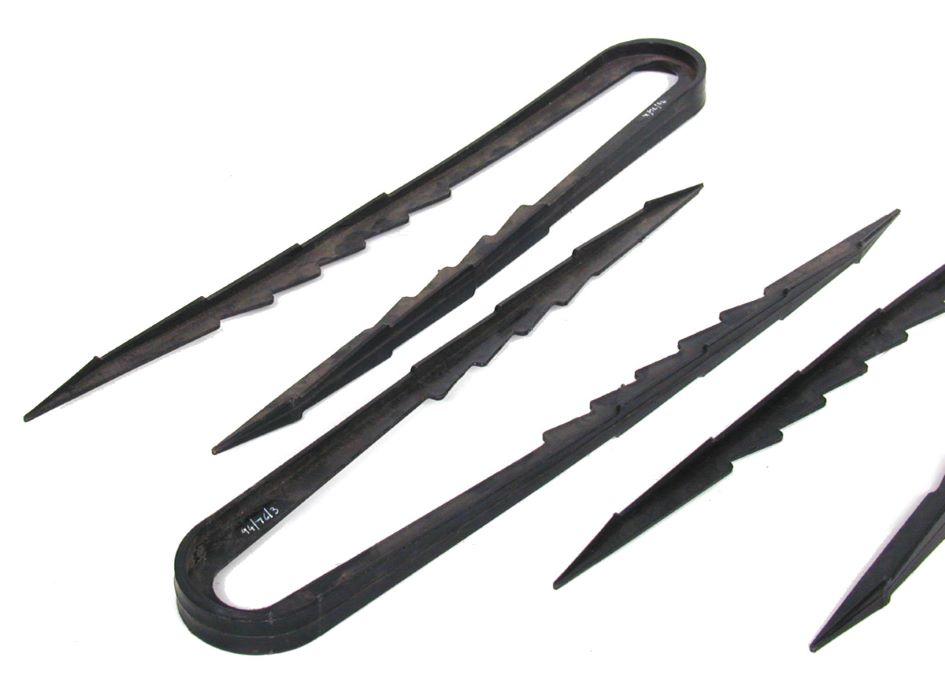 Plastic spar
Spars are used to secure liggers (lengths of split wood used to hole the upper surface of the thatch in place) on the ridges of thatched roofs. The plastic spar was developed circa 1990 by John Fletcher, a thatcher from Christchurch, Dorset; however, they are not very popular with thatchers as they do not grip as well as the traditional hazel spar. These plastic spars are part of a collection of thatching tools donated by Jeff King, a thatcher and former thatching advisor at CoSIRA.
MERL 94/67/1
close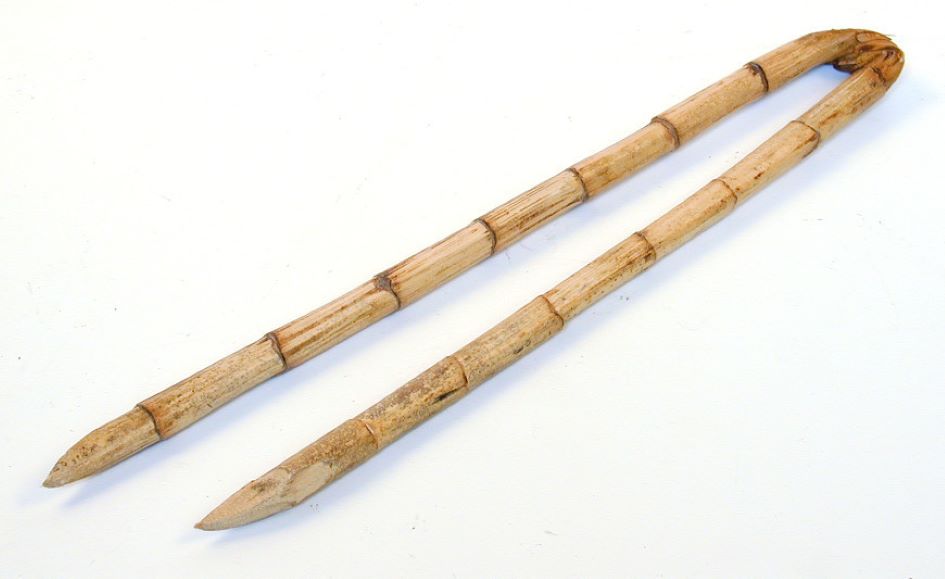 Bamboo spar
This is a thatching spar, made from imported pang from Malaysia. The spar is twisted into a staple shape, with sharpened ends. Spars are used to secure liggers (lengths of split wood used to hole the upper surface of the thatch in place) on the ridges of thatched roofs. This spar was part of an exhibition of teaching material on thatching used by Jeff King, a thatcher and former thatching advisor at CoSIRA, at the Adult Education Centre at Knuston Hall, near Wellingborough, Northamptonshire.
MERL 99/9
close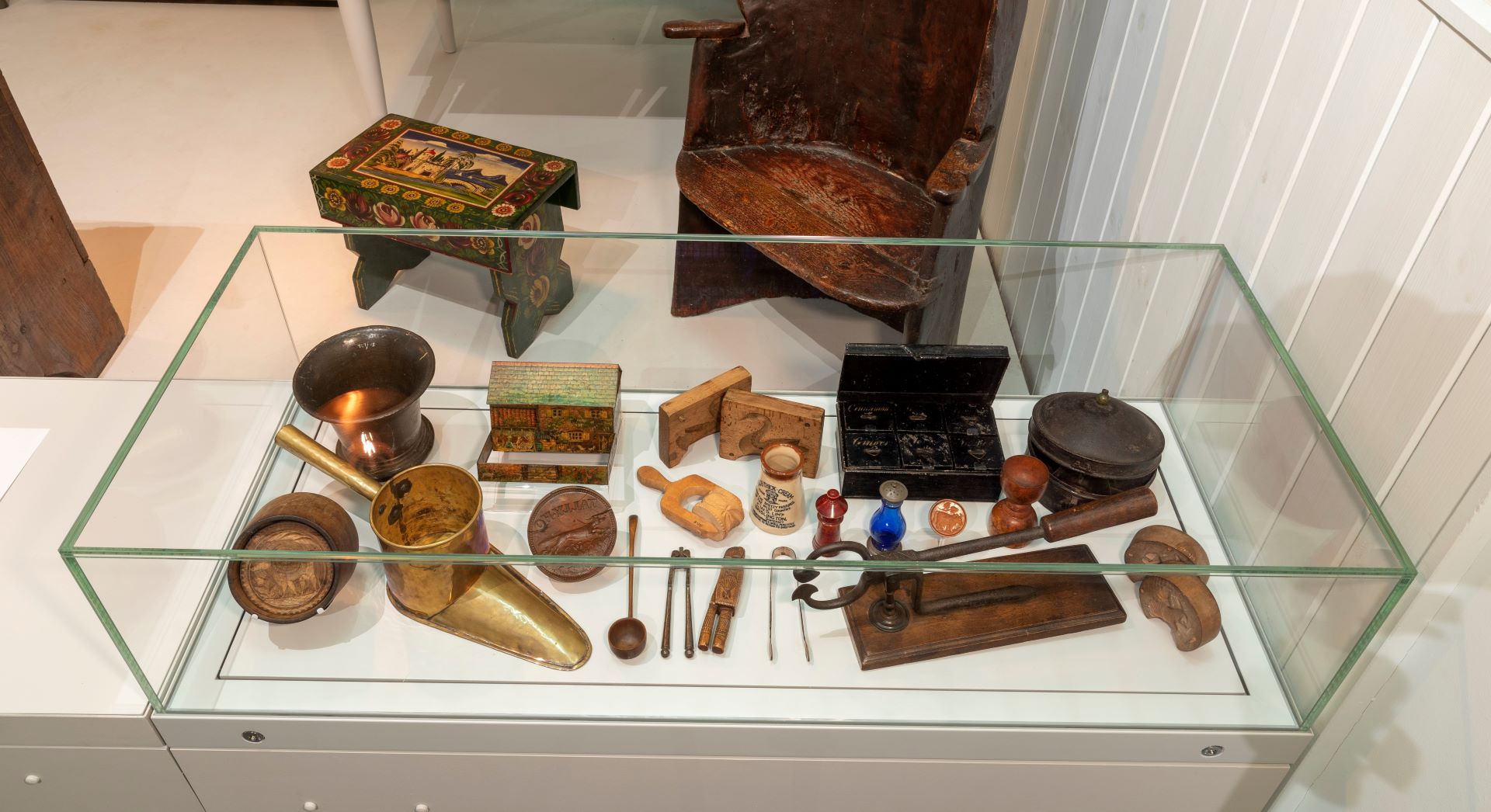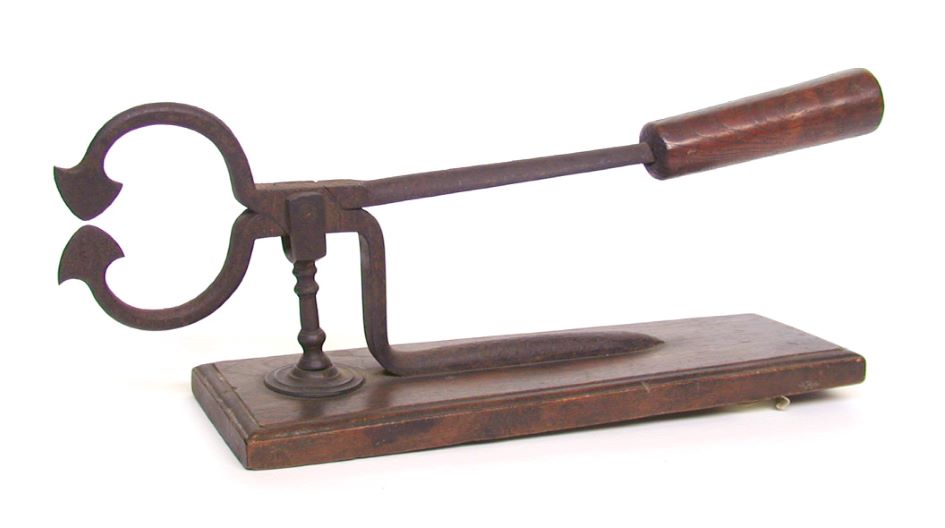 Sugar cutters
Although rarely seen in households in the modern day, a pair of sugar cutters was an important tool for families before the introduction of the sugar cube in the 19th century. Before this time, sugar was sold only in large cones known as sugarloafs. These cutters were used to cut off small, manageable pieces.
Demand for sugar was arguably the most significant driver of the transatlantic slave trade, with over 46,000 slave owners in Britain in 1833. The dreadful conditions on sugar plantations were important factors in the abolition campaign, as many appalled consumers began buying East Indian 'free-grown' sugar instead.
MERL 51/543
close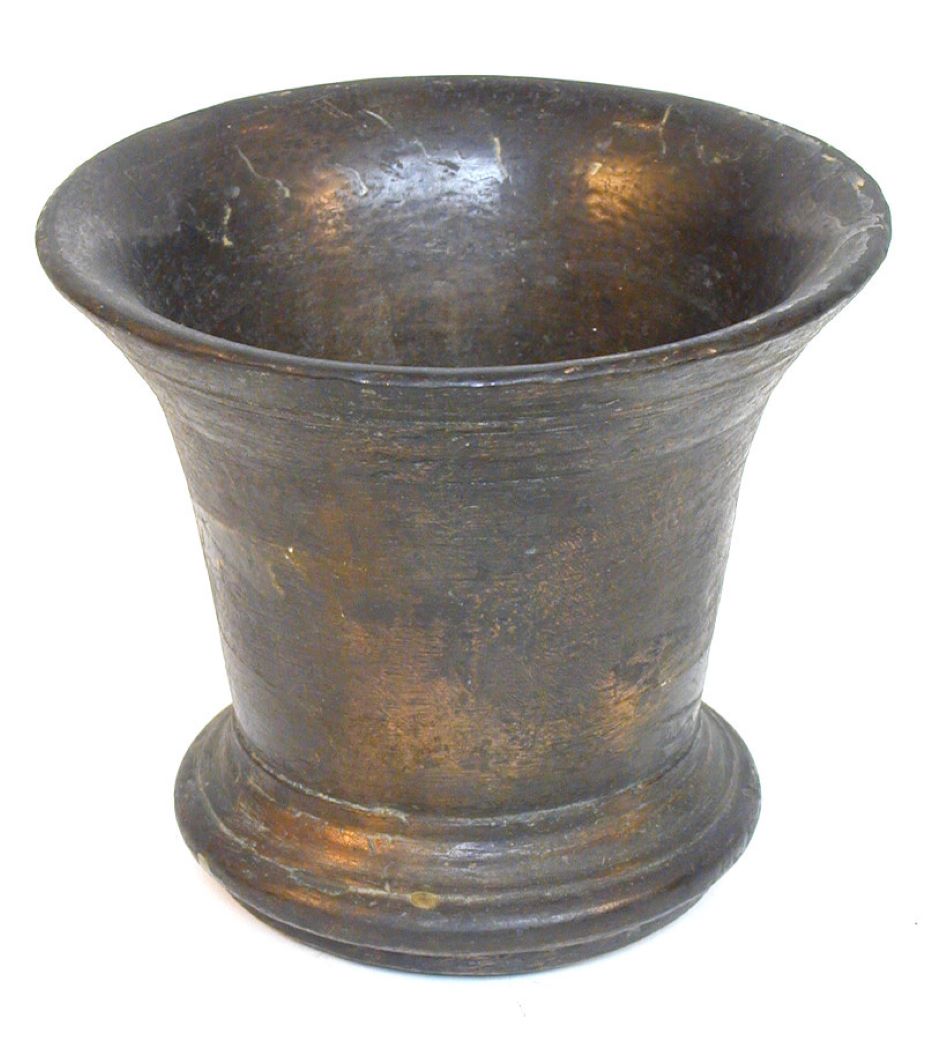 Mortar
As well as being used to grind spices and nuts along with a pestle, this bronze mortar would have been utilised as a mixing bowl. It was used in Nottinghamshire from 1860 to 1915, and then in Newbury until 1951.
The humble pestle and mortar is one of humanity's oldest and most common tools. A description of pestles and mortars features in the oldest piece of medical writing on record, included within the Ebers papyrus of Ancient Egypt and dating to 1550BC. It is likely that the tool was used for thousands of years before this for food preparation.
MERL 51/434
close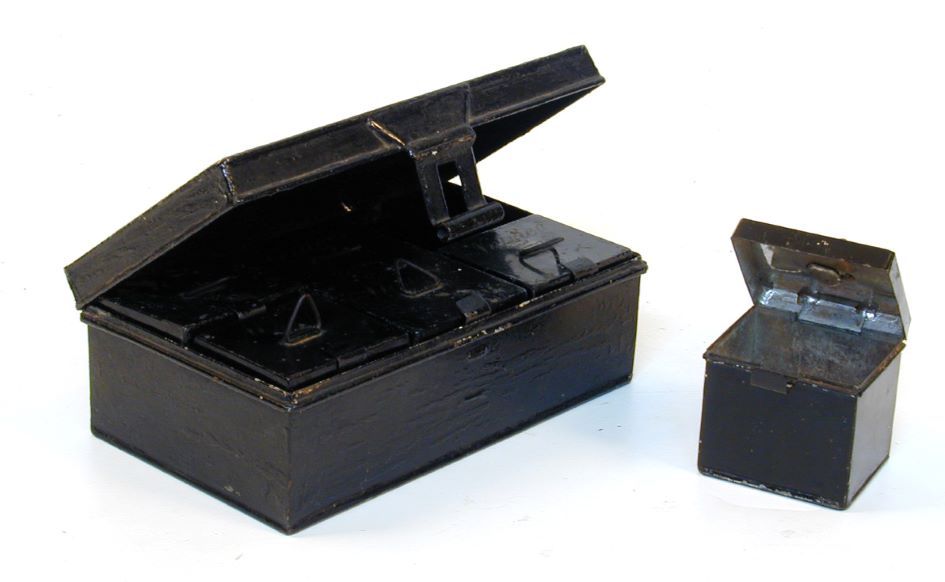 Spice box
This spice box would have held spices to keep them fresh. Labelling inside the box indicates it carried cinnamon, mace, allspice, nutmeg, ginger and cloves. In the medieval period, spices were extremely expensive and a sign of status, with a pound of ginger costing roughly the same as a sheep. However, with British colonial influence growing in the 19th century, they became more affordable for British households.
Many spice plantations made use of slave labour. Some overseers, such as Murdoch Brown of the Anjarakandy Cinnamon Estate in India, kidnapped local women and children and forced them to work. For more information, see this online exhibition on the ways in which our holdings reflect colonial India.
MERL 53/184
close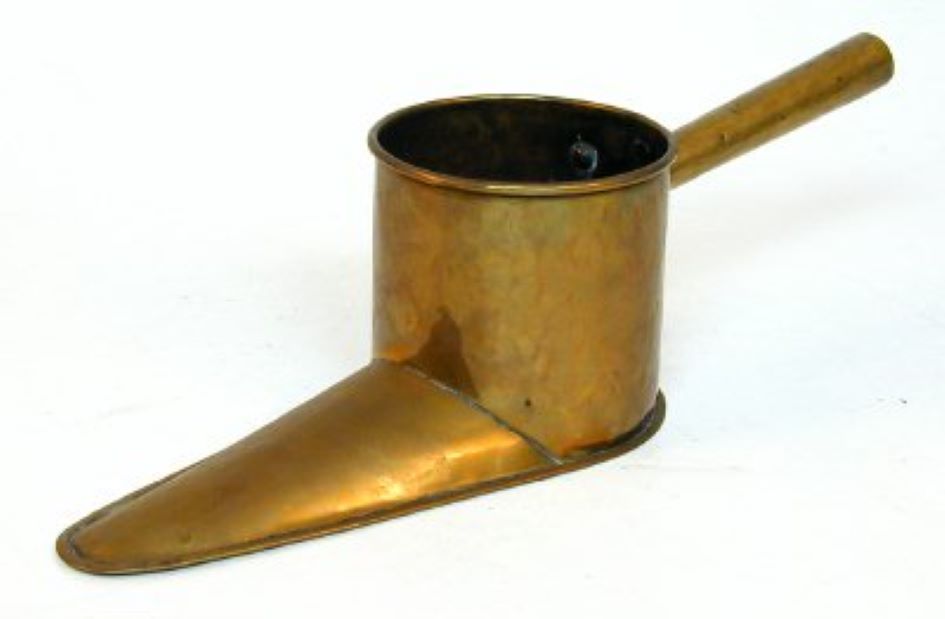 Drink muller
Dating to the late 18th or early 19th century, this brass 'muller' would have been used to warm drinks over a hearth. For obvious reasons it was known as a 'boot'. The 'toe' part would have been placed in the fire to warm the muller. It is during this process that spices may have been added to complement the flavour of the drink. Cinnamon, cloves and nutmeg were popular additions to ale, wine or cider.
The mulling process is thought to derive from the Romans, who would heat their wine as a defence against winter chills.
MERL 53/273
close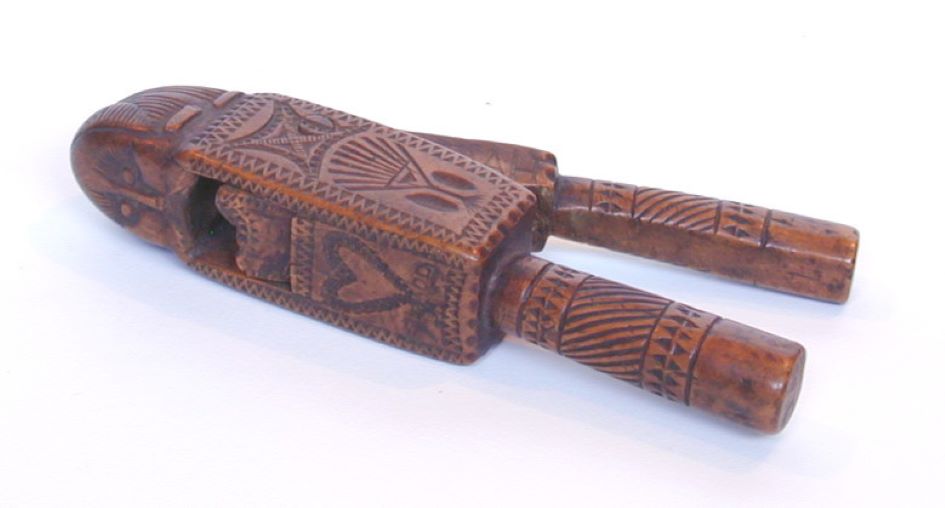 Nutcracker
This nutcracker dates from 1789 and features many carvings, including the inscription 'Sarah'. It was initially recorded as French, but this has since been disputed due to its pronounced head, which is typical of English nutcrackers.
Of the few edible nuts native to the UK, the hazelnut has played the most prominent role in our history of food and commerce. They would have been an essential food source for prehistoric peoples looking to survive the winter. In medieval times, Kent developed a hazelnut industry which is still going strong today. Other popular nuts have been imported – for example, sweet chestnuts and walnuts were likely brought over by the Romans.
close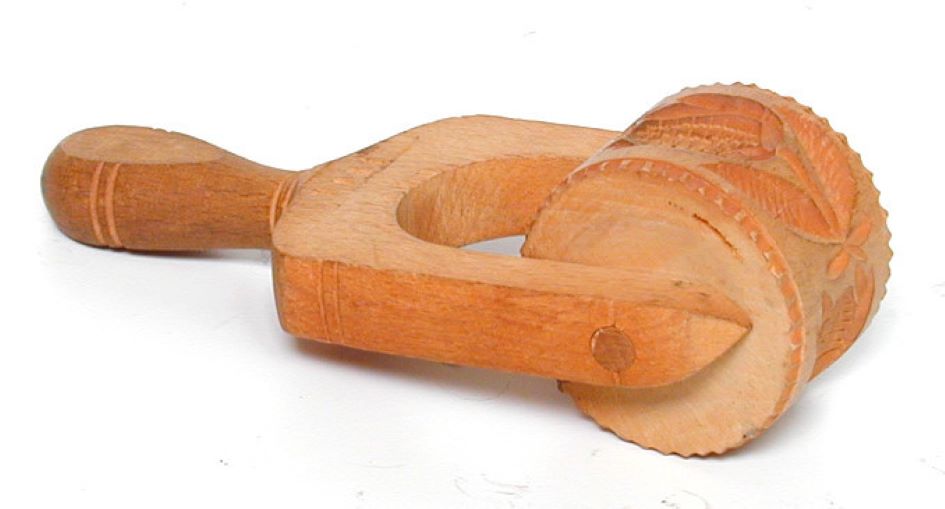 Butter roller
This is a butter roller, which is designed to leave a pattern around the edge of a block of butter. Printing this pattern is the final stage for many butter makers, after the butter is shaped with paddles or a mould. This roller leaves a tulip pattern. Some have suggested that a certain pattern can help indicate the region the roller was made in. For example, thistles are associated with Yorkshire. It is likely this particularly roller has never been used, as it was made for a Rural Industries Bureau exhibition in the late 1940s or early 1950s.
MERL 83/91
close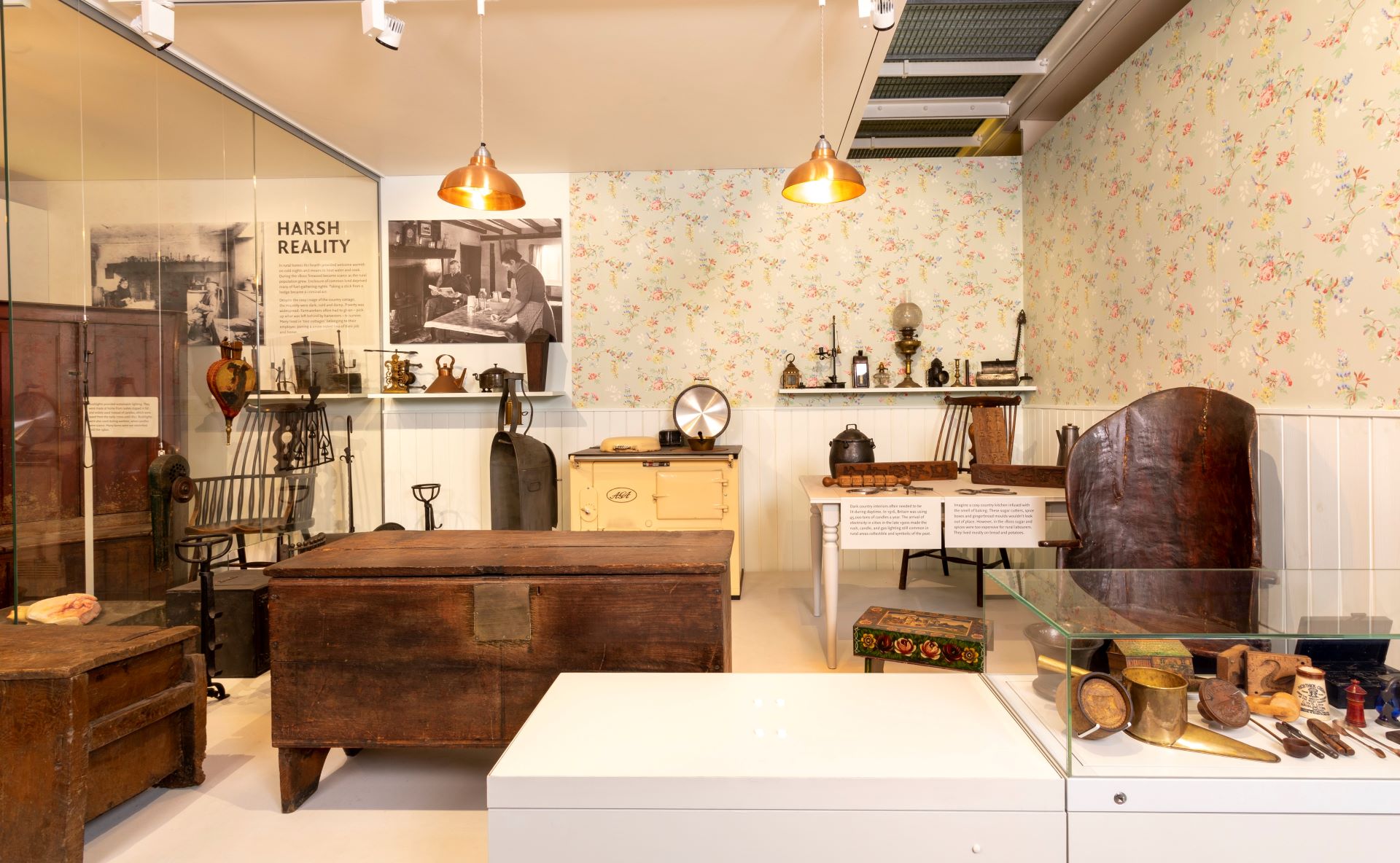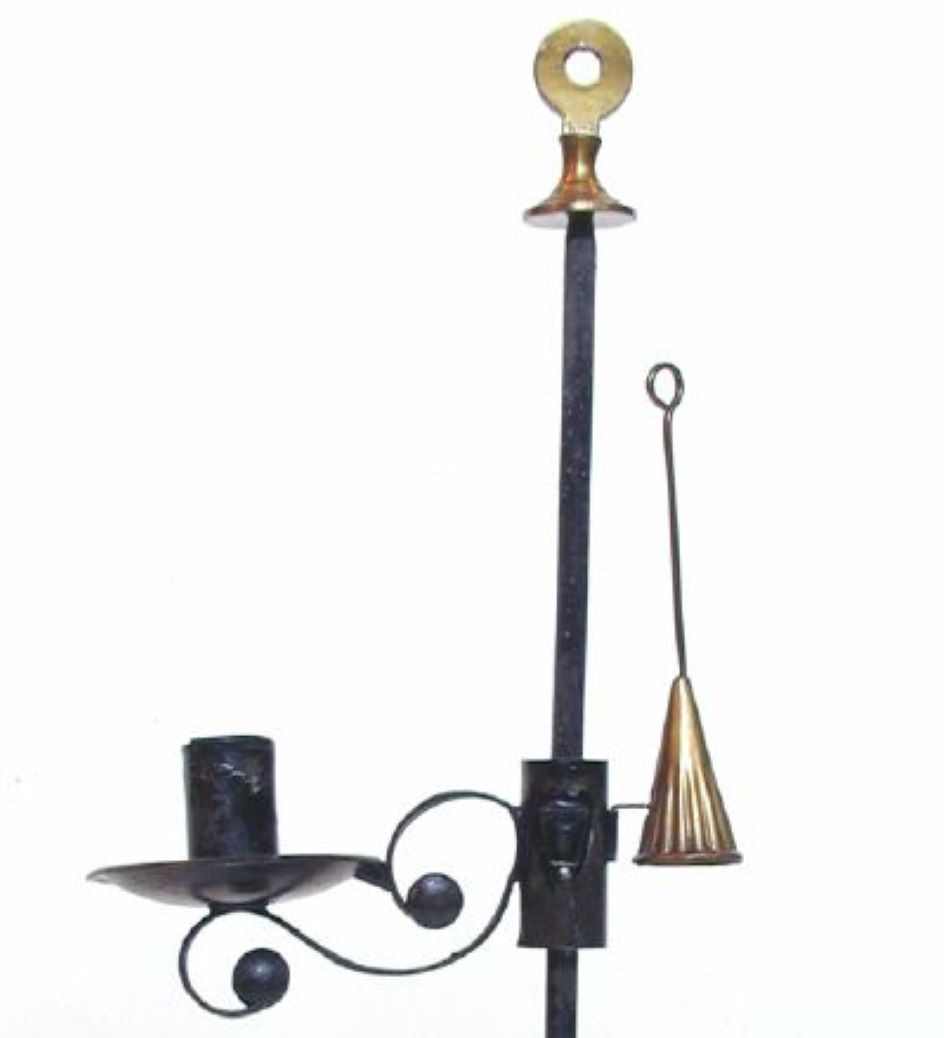 Candlestick
This candlestick is accompanied by a brass 'snuffer' which is placed atop the candle to extinguish the flame. It was bought by Lavinia Smith for sixpence in 1924.
It was not until well into the 20th century that electric lighting replaced candles and oil lamps in most homes. Though candle-making is an ancient craft, its scale was transformed by the industrial revolution. In 1834 Joseph Morgan patented a machine that could make 1500 candles in an hour.
MERL 51/478
close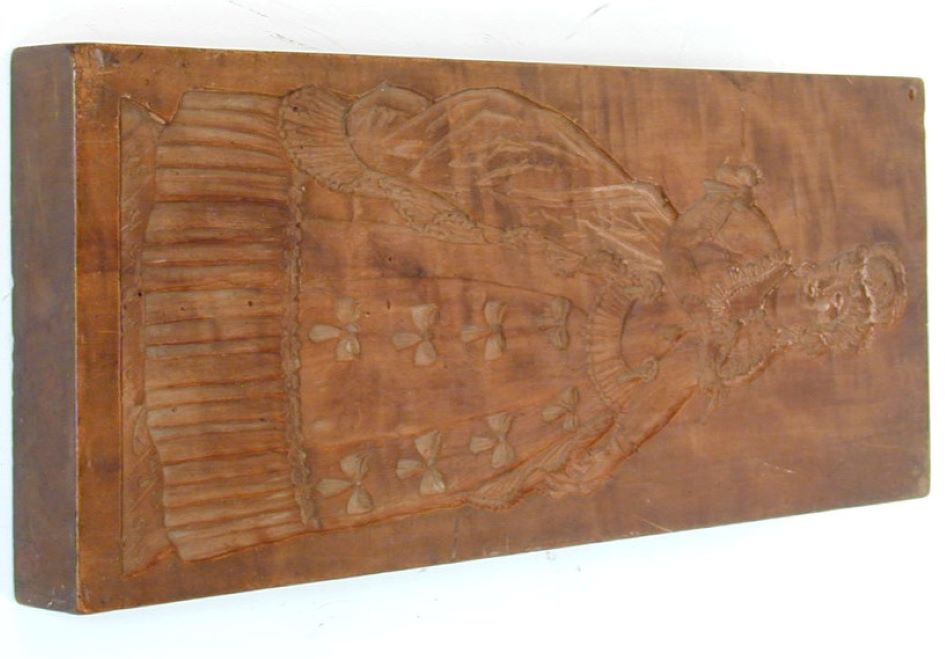 Gingerbread mould
Gingerbread moulds like this were commonplace across Western Europe in the 19th century. This French mould features a large imprint of a woman on one side, and nine figures – three military, three rural and three musical – on the other side.
Gingerbread has been enjoyed by British people for hundreds of years, ever since the introduction of ginger around the 11th century, when Crusaders returned from the Middle East with recipes for spiced bread. Biscuits known as 'fairings' were baked and sold at medieval fairs. By the 18th century gingerbread was always readily available.
MERL 51/108
close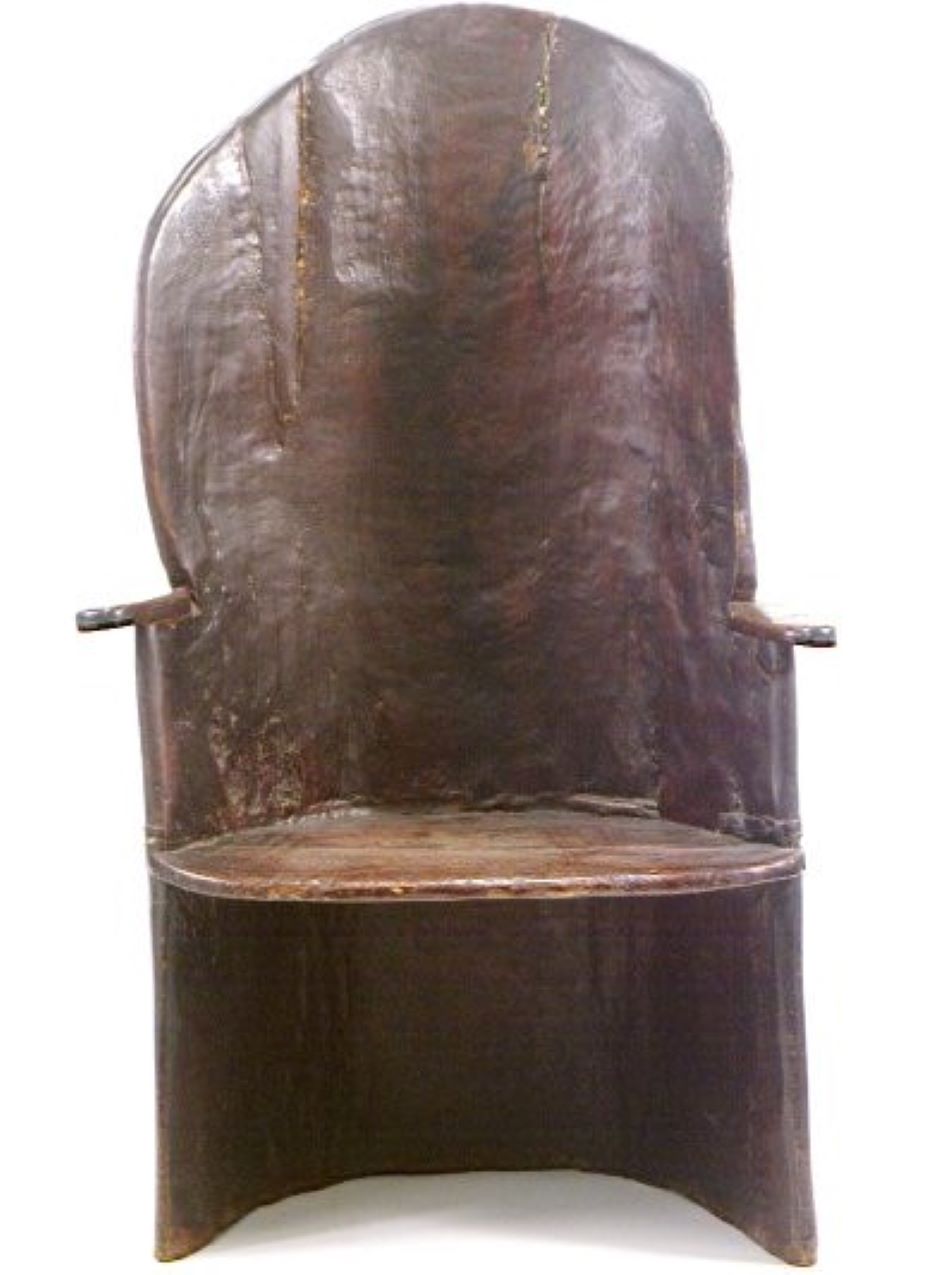 Dug out chair
Crafted in Shropshire between 1760 and 1850, this chair was shaped using the natural hollow of an elm tree trunk to produce the curved shape of the chair's back. This style of chair was fairly popular in the 18th century but few examples survive in good condition. An older or rotting tree would be ideal for this type of furniture, as the central sapwood was less firm and easier to remove.
MERL 53/53
close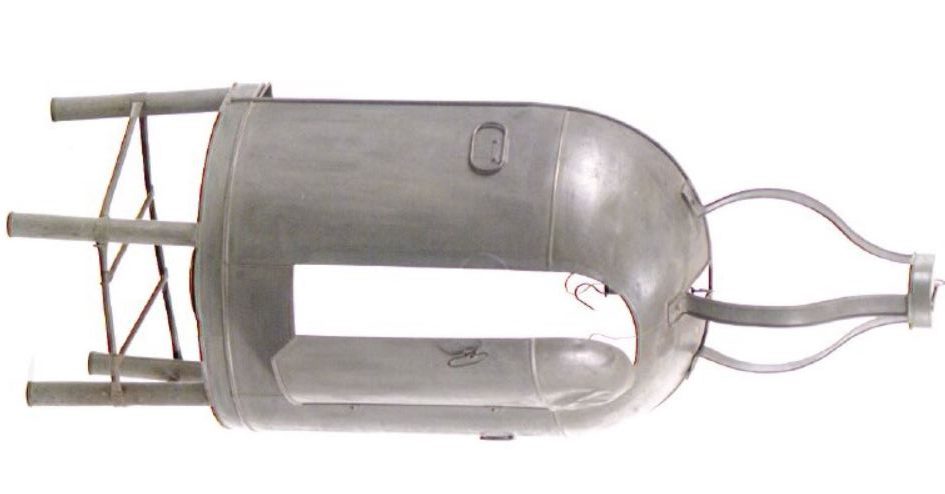 Dutch oven
This is a Dutch oven, which is designed to be stood in front of an open fire to cook food. It was used in the early 20th century and contains a bottle jack and drip pan. The bottle jack is a vertical spit which would rotate within the oven to ensure even cooking. A drip pan is used to collect the juices that drop off the meat during cooking. Catching these 'drippings' would not have been simply to keep the oven clean. They could be used to roast vegetables in the drip pan, or they could be collected later and used as a substitute for butter or oil.
MERL 55/282
close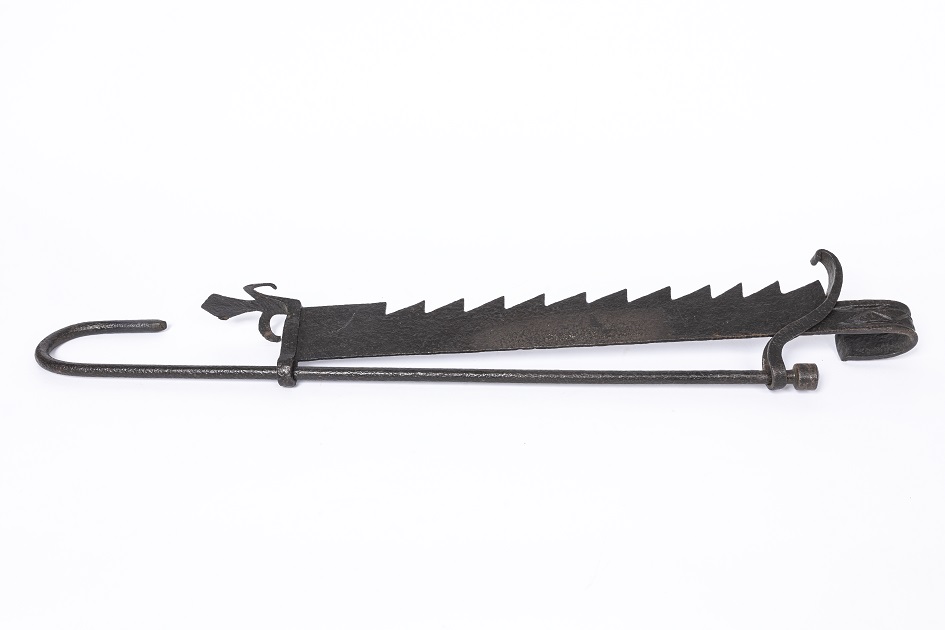 Ratchet hanger
This object, dating from the 18th century and made in Sussex, was used to suspend a cooking pot over a fireplace. The hook was attached to a chimney beam, and the pot hung from the other end. The saw-like ratchets were used to adjust the height of the pot. Essentially, they were the Georgian equivalent of a hob temperature dial on a modern oven. Using a lower ratchet would bring a liquid to the boil, and relocating to a higher ratchet would allow it to simmer.
MERL 59/252
close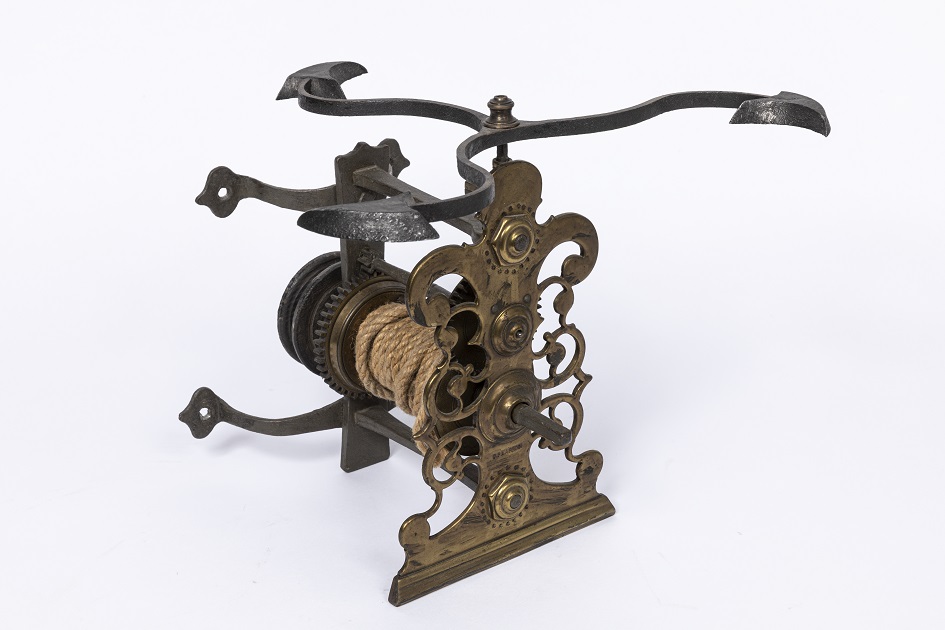 Spit jack
One of the older objects on display, this spit jack dates to the 17th century and would have been used to turn a spit. Otherwise known as a roasting jack or weight jack, this weight-driven device contains gears which would turn the top 'wheel' and therefore rotate the spit.
Various mechanisms have been used to turn spit roasts since they became widespread in the medieval period. Initially they were turned by hand, usually by a boy – this is where the name 'spit jack' derives from. Dogs on treadmills, clockwork jacks and steam powered jacks have all been popular as the design developed.
MERL 59/257
close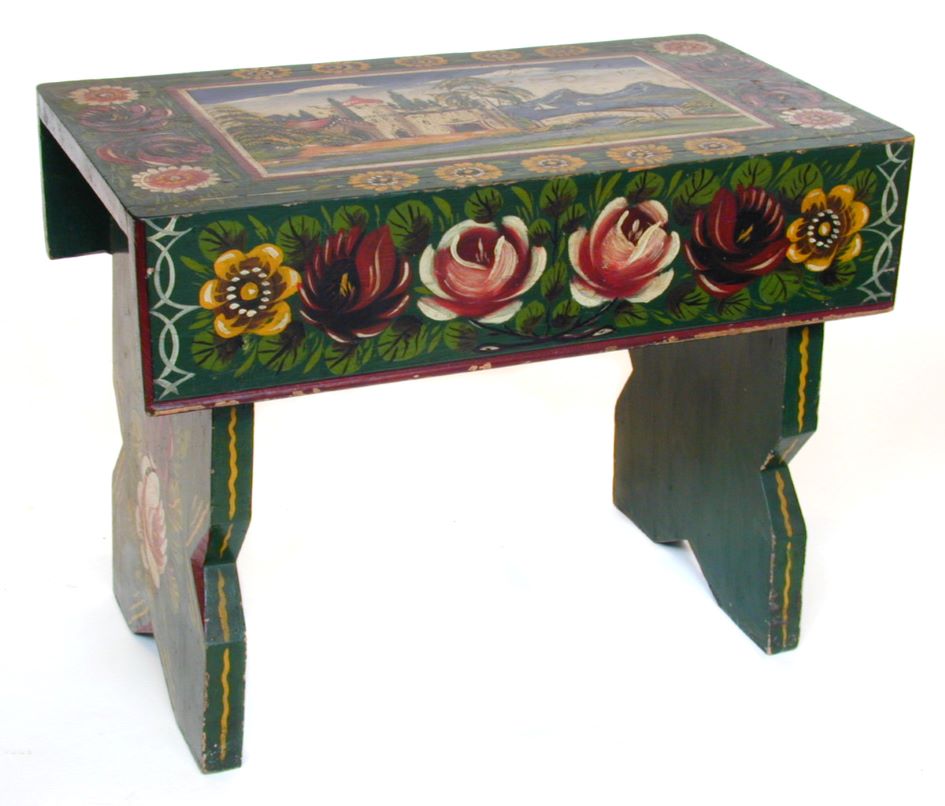 Narrowboat stool
This stool was built for use on a narrowboat, the craft that traverse canals. Throughout the 19th century, many families lived most of their lives on canals as they transported goods from one place to another.
The rose and castle designs of the stool are similar to gypsy art, which led to a popular misconception that canal folk were gypsies, but there is no real evidence to suggest this. However, like gypsies, canal folk were treated poorly by urban dwellers, often being scapegoated for crime and being viewed as uneducated. There is no longer a living population of canal folk, but their art remains a testament to their unique culture.
MERL 60/437
close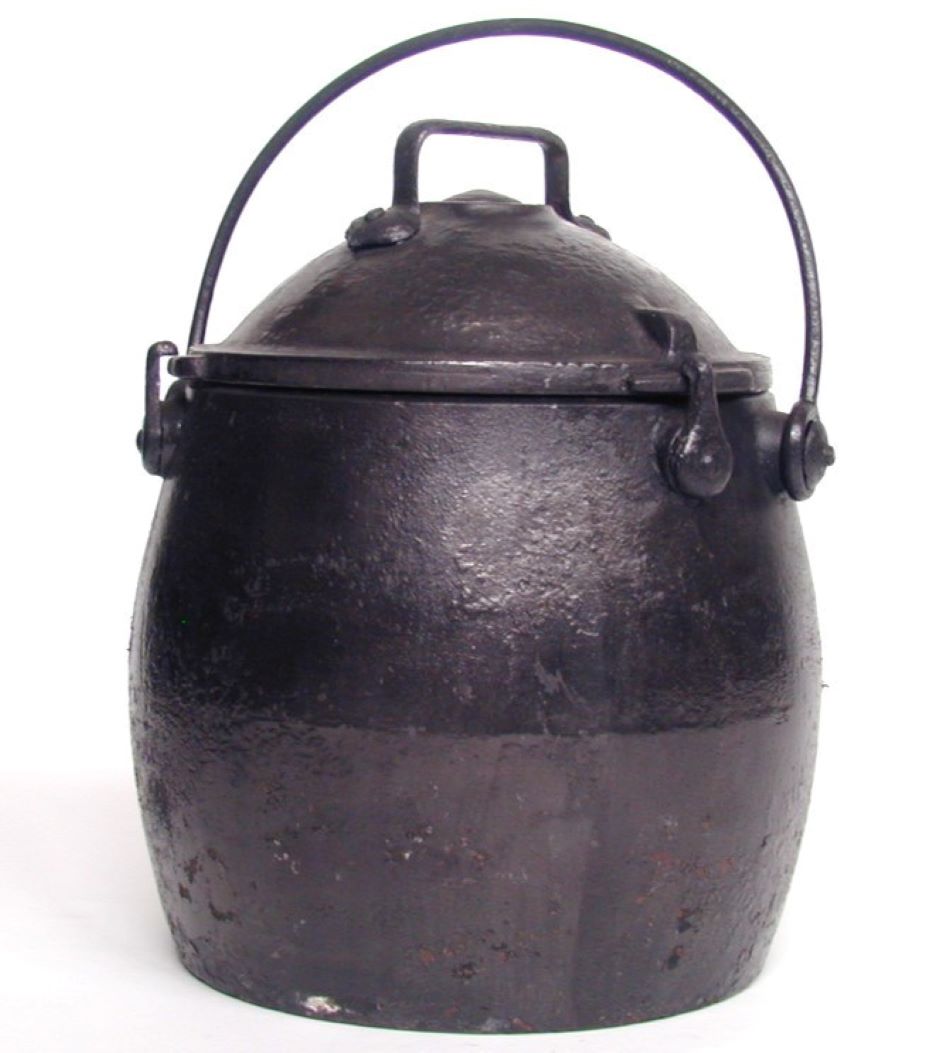 Pressure cooker
Pressure cookers are designed to cook food without any steam escaping, which raises the pressure inside the pot. This increases the boiling point of water and therefore quickly cooks the food without over-boiling it. This cooker is Victorian, but they only became widespread during World War 2. At this time it was realised using a pressure cooker could save fuel, as it cooked food much faster than a regular pot.
Old pressure cookers could be dangerous, as they would violently explode if the steam escape valve became clogged. However, modern models are far safer and must go through rigorous testing before manufacture.
MERL 61/89
close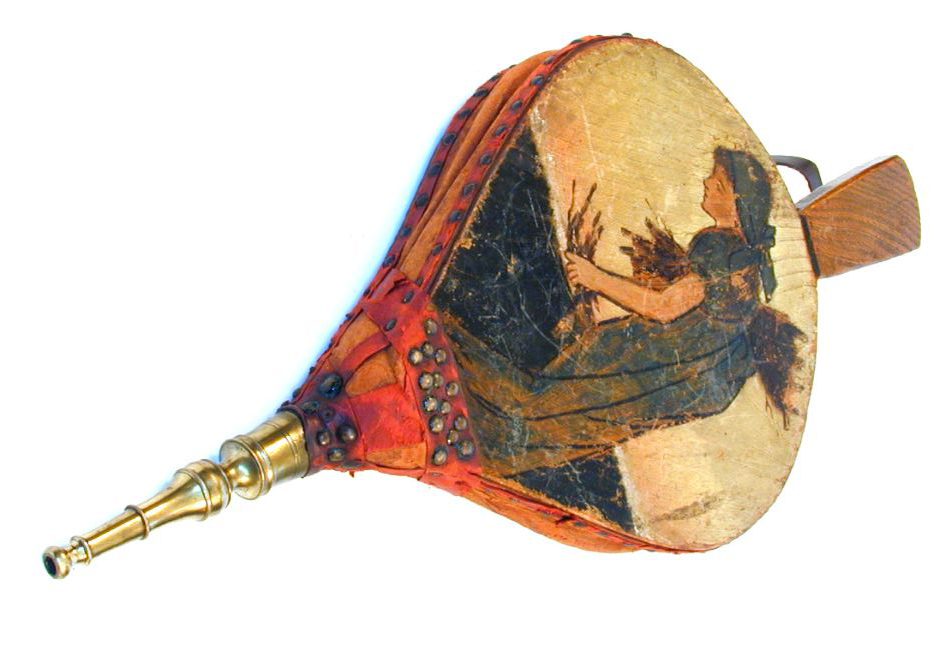 Bellows
These are hearth bellows, used to blow air onto a domestic fire and maintain its temperature. This element of temperature control made bellows useful for cooking, and an essential tool for blacksmiths who needed a particularly hot furnace. Whilst blowing air onto a fire may seem counter-productive, fire needs heat, fuel and oxygen to continue burning. Bellows provide a burst of oxygen.
Fireplace bellows were usually on display for visitors to view, and so they were often decorated to match the style of the room. For example, these bellows were painted by the donor's grandmother.
MRL 68/511
close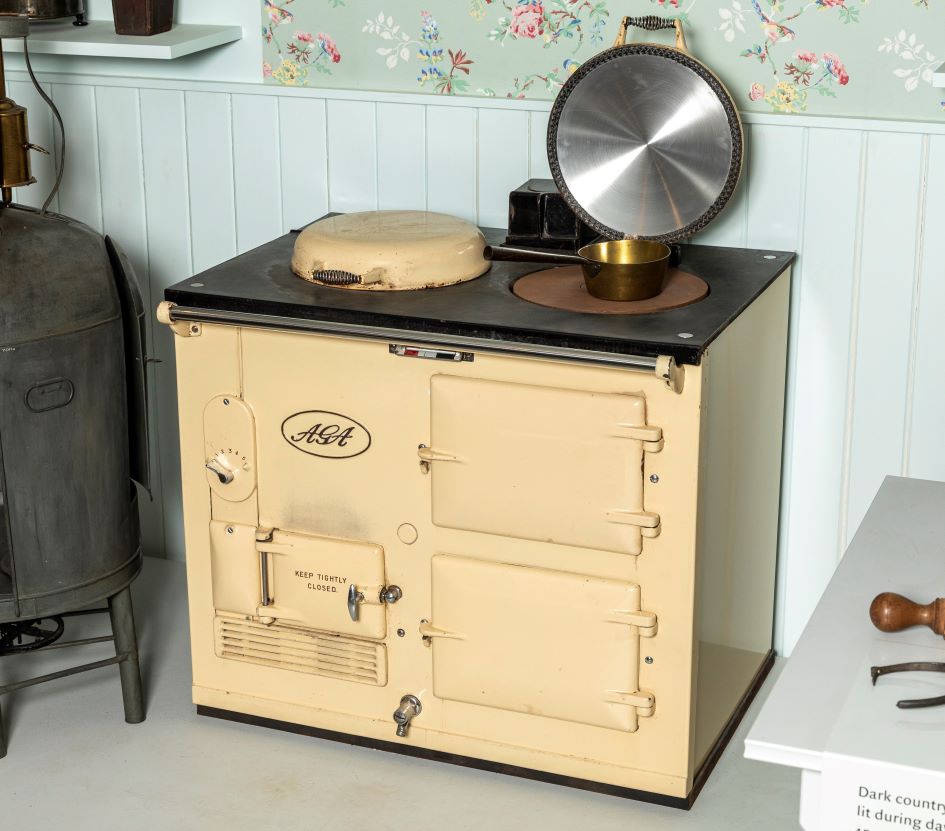 Kitchen range oven
This range oven is made from cast iron. Ovens like this were frequently seen in country farmhouse kitchens in the 20th century. Until the iron casting process was refined by Abraham Derby in 1709, food was typically cooked over open fires which wasted heat and fuel. Cast iron stoves – situated in the fireplace – were gradually developed until the mid-19th century. At this point, rail transport allowed easy delivery of heavy goods and so complete cast iron ovens became more accessible. Different ranges gained popularity with different types of people – for example, the Cornish range was often a staple of mining communities.
MERL 2016/13
close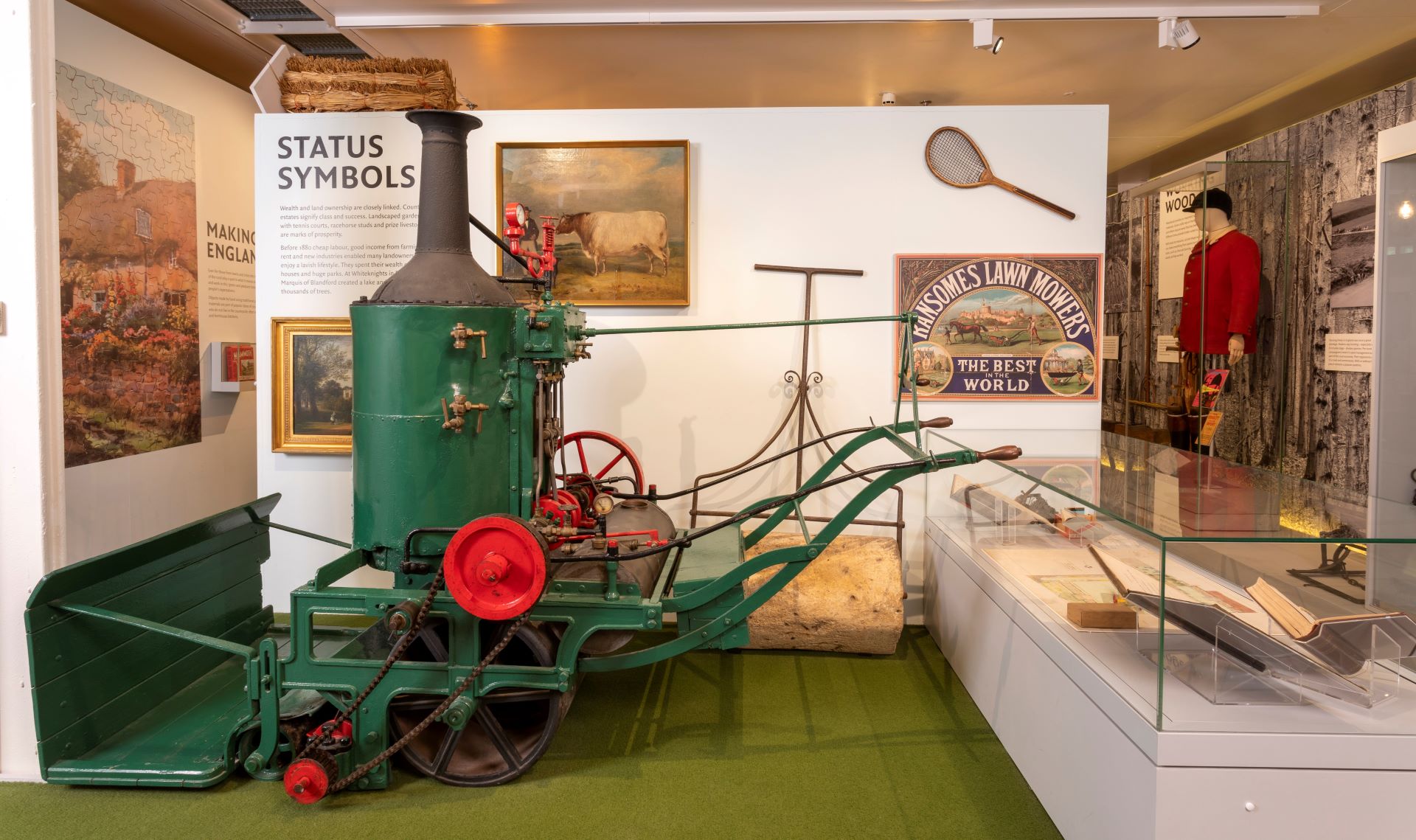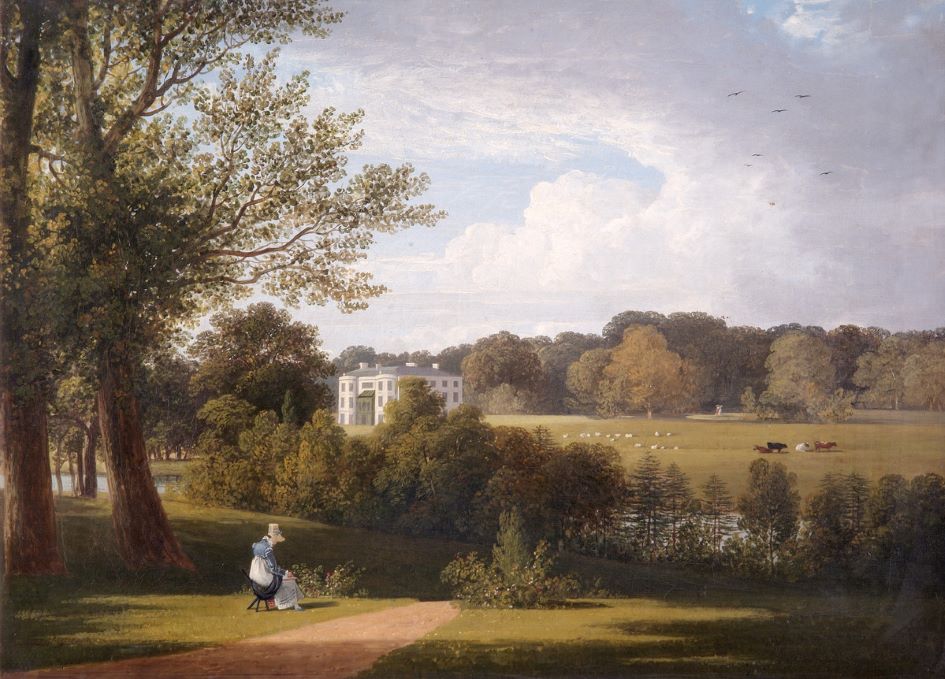 Whiteknights painting
This painting is by Thomas Christoper Hofland (1777-1843), entitled A View of Whiteknights from the Park with a lady sketching c.1816. This was created before the construction of the University of Reading. Hofland was a landscape painter, from Worksop, Nottingham. He was brought up in a wealthy family, expecting to lead a life of leisure and sporting youth, especially angling.
MERL UAC/10236
close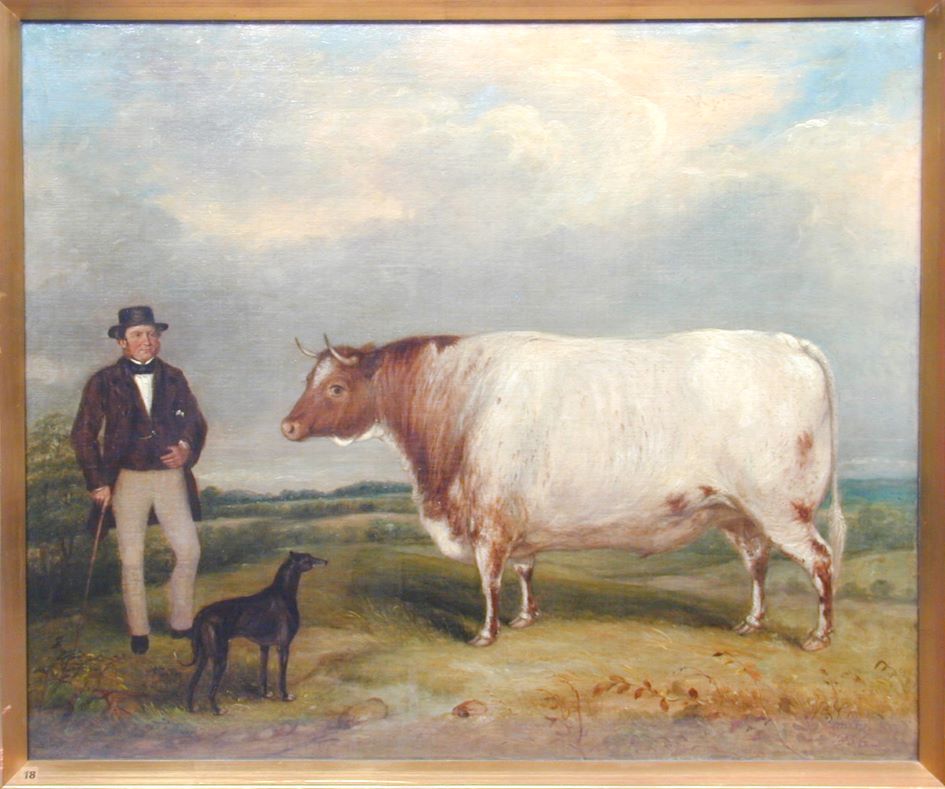 Cow painting
This oil painting from 1856 depicts a farmer, his dog and a shorthorn cow. The inscription on the back of the painting indicated the cow won 1st prize at the Chichester Cattle Show of the same year. Images like this were used as a marker of status or social standing. It was painted by William Smith of Chichester.
MERL 64/40
close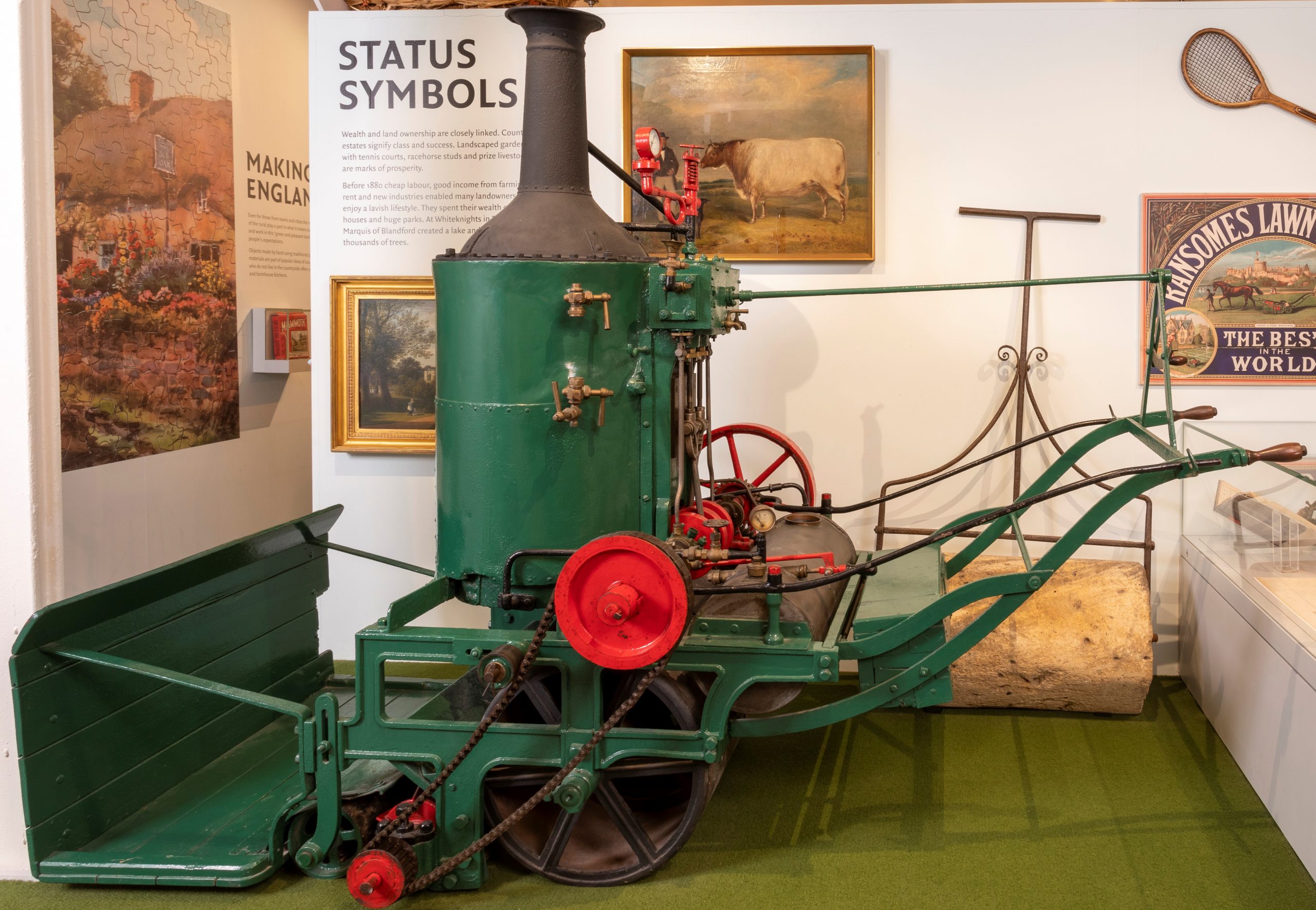 Steam lawnmower
This is a Leyland Steam Lawnmower which was designed by James Sumner (1860-1924) from Leyland Lancashire in 1893. It was manufactured by the Lancashire Steam Motor Company in offically formed in 1896. James Sumner also developed various other vehicles, including two steam wagons (1886 & 1894) and tricycle with an oil-fired boiler (1891). James was fined in 1891 for speeding in his tricycle.
This lawnmower appears to be the earliest of its kind; another similar device was produced from 1901, the 'Coldwell Steam Lawnmower'. The Coldwells were built in Newburgh, New York.
MERL 55/338
close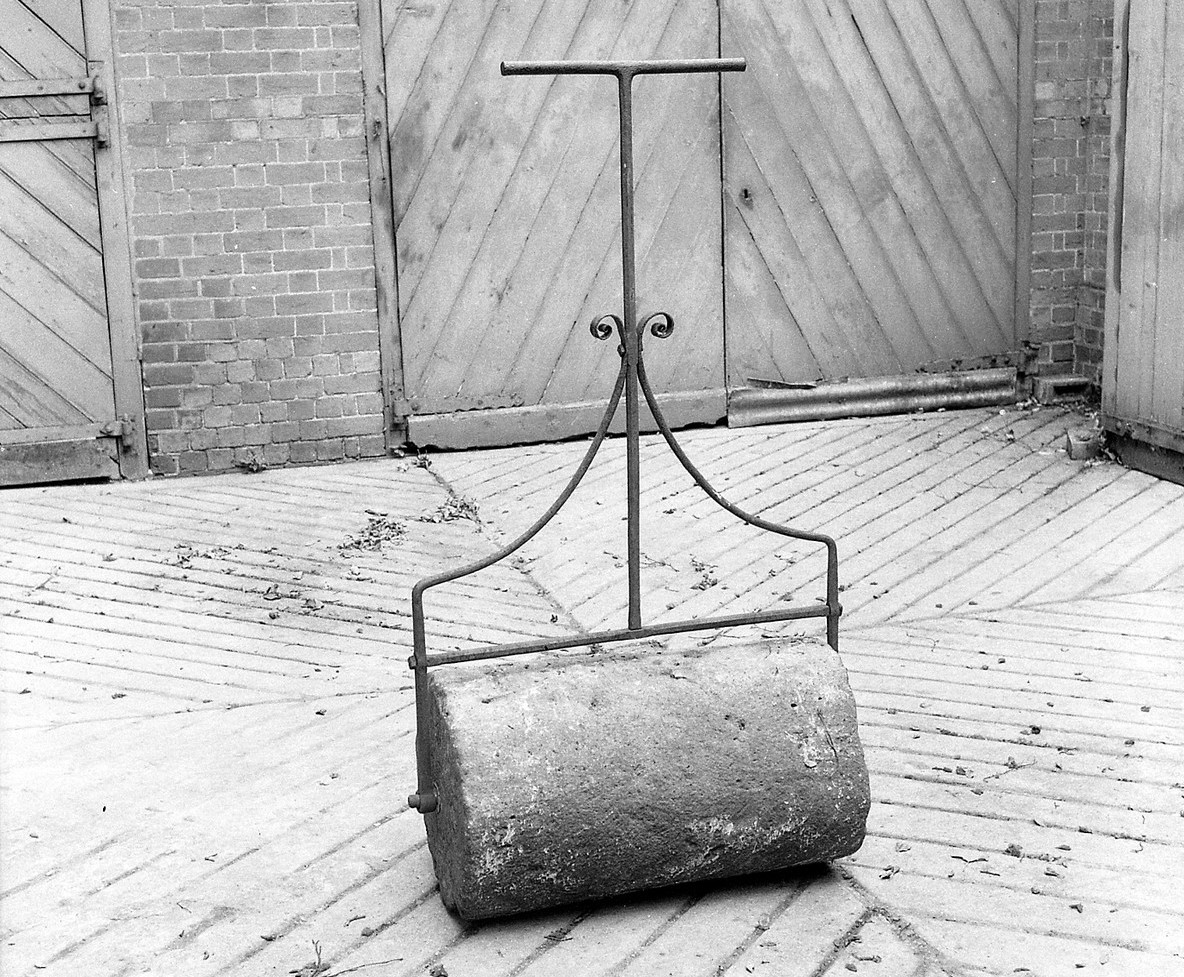 Garden roller
Garden Rollers were used c.1800 to roll lawns, to flatten topsoil or to even out bumpy lawns. It was thought to have been made by a stone worker from the edge of the Cotswolds and when the MERL acquired it in 1953 it was already around 150 years old.
MERL 53/192
close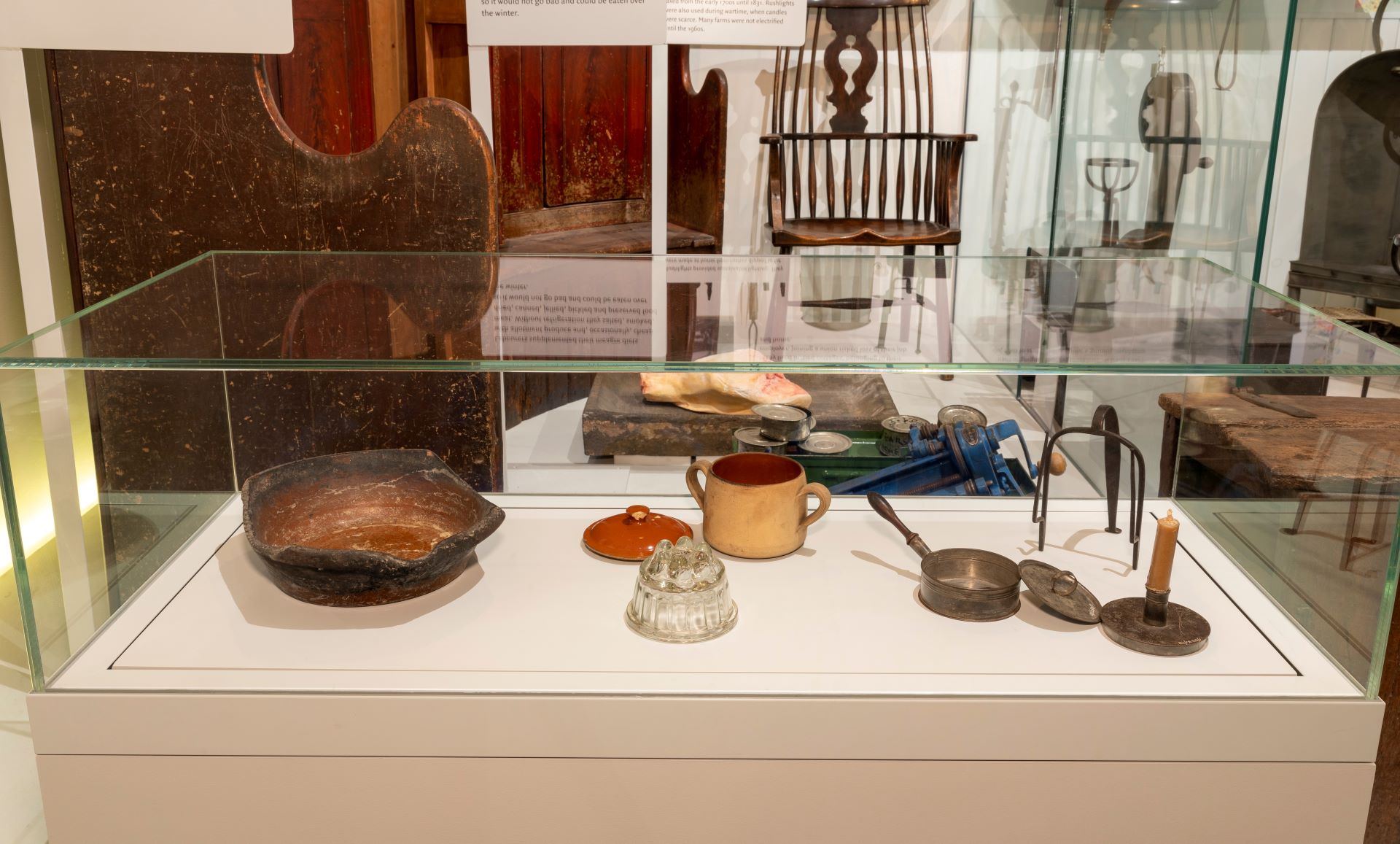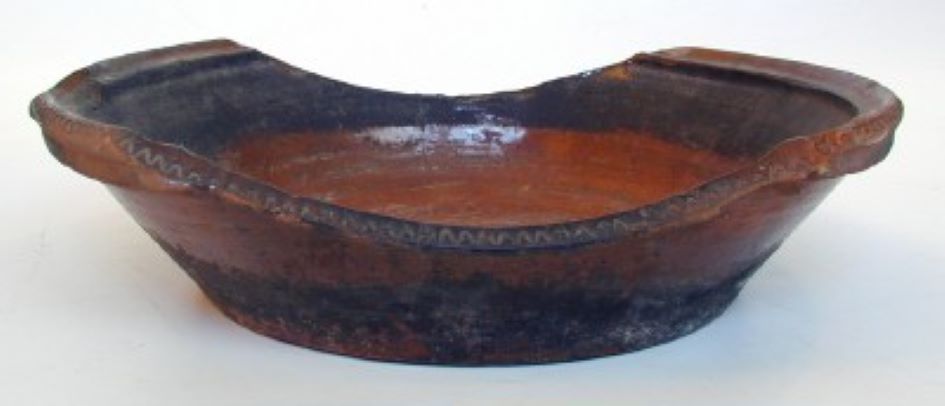 Baking dish
This large earthenware dish was used for baking food in an oven. It has a circular base, but the sides form an oval shape, with a pouring lip.
MERL 54/212
close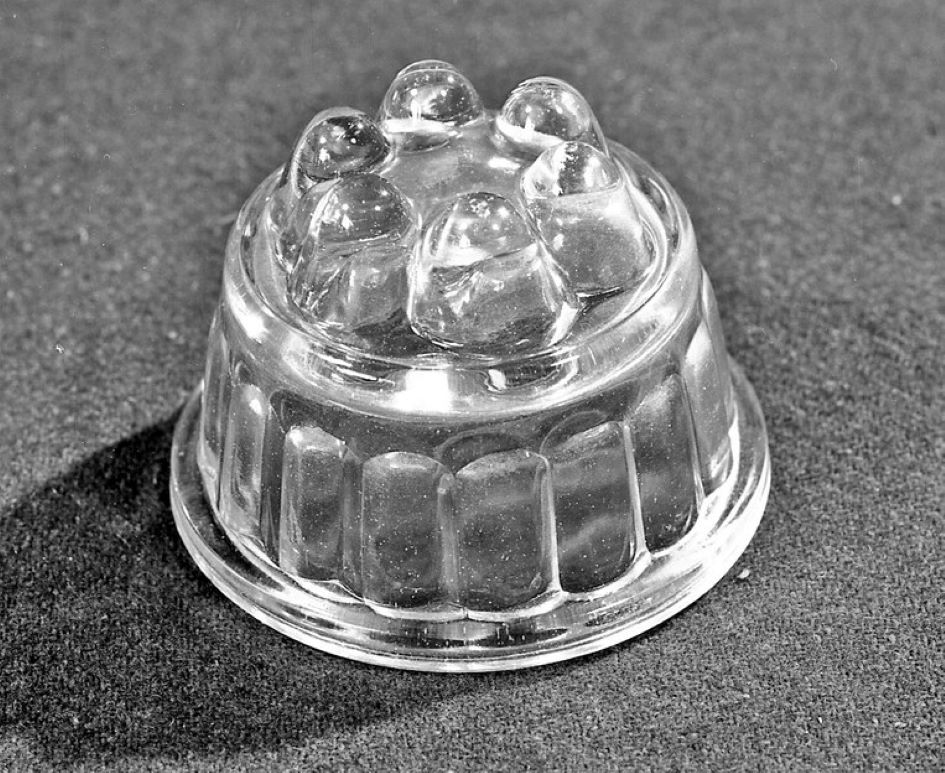 Brawn jelly mould
Brawn was a dish regularly made at home, especially where a pig was kept for fattening. It consists of chopped pieces of animals' heads in a meat jelly. The moulds could be ordinary jelly moulds, but they came to be more generally made of glass, as above, or of earthenware; a metal disc was employed for weighting down and compressing the brawn.
MERL 65/56
close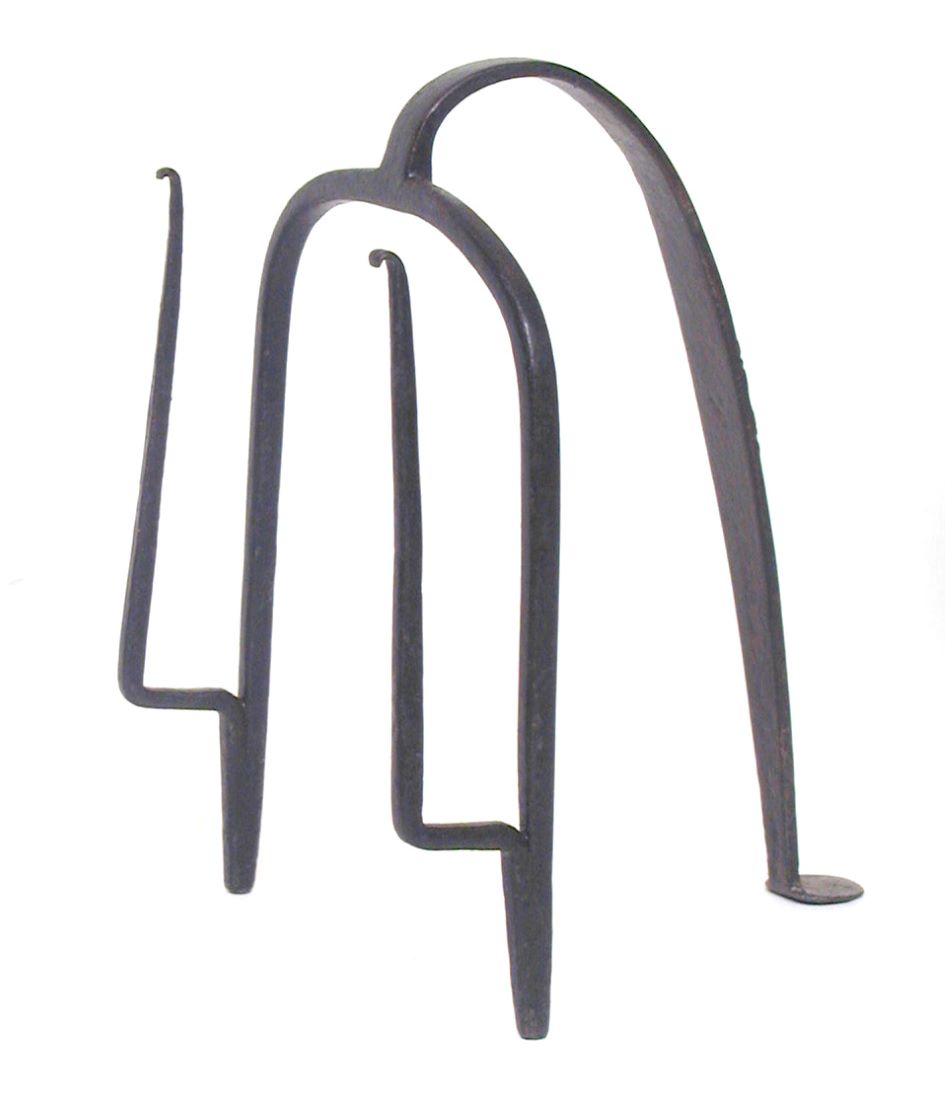 Toasting frame
Used for toasting bread in the late 18th century, this frame would have stood level with level with the hearth.
Spread throughout Europe by the Romans ('toast' derives from tostum, the Latin for scorch), toast has long been a favourite food of working people. However, this has not always been for its crispy texture, but rather because toasted bread lasts longer before becoming inedible. Pre-sliced bread was not invented until the 20th century, so it is quite possible that this frame was the best thing before sliced bread!
MERL 51/1161
close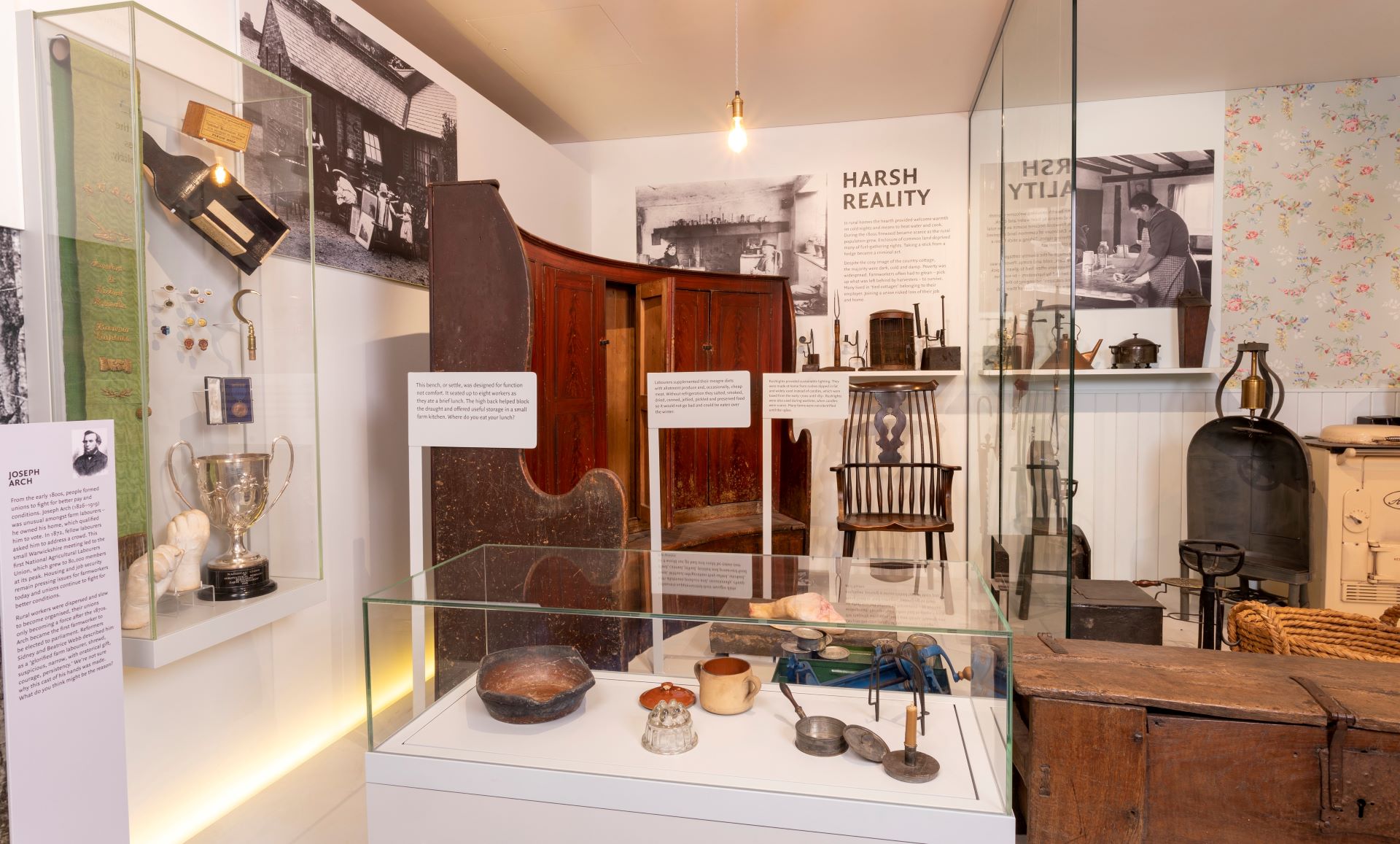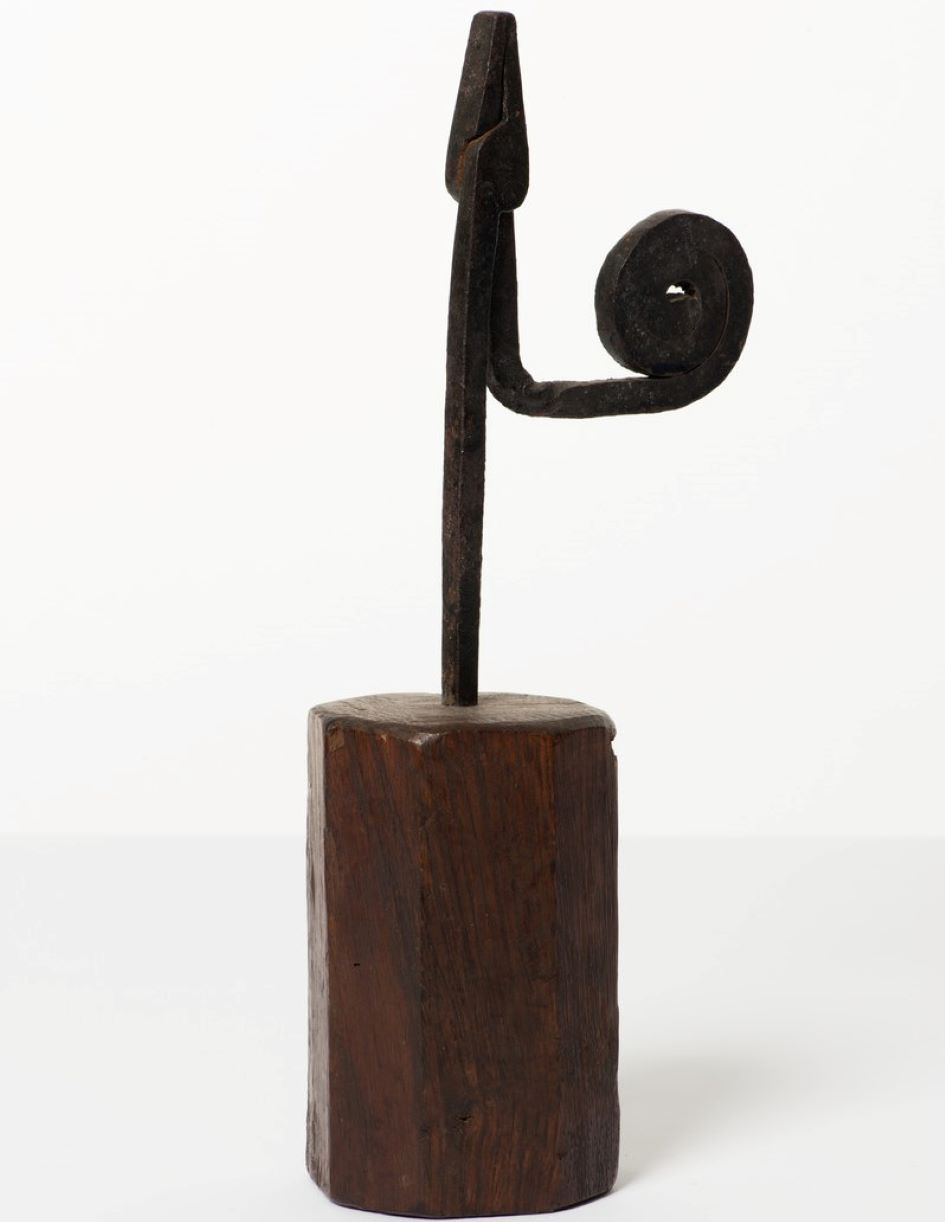 Rushlight holder
This rushlight holder is made of wrought iron with a wooden base. The jaws are counterweighted to grip the rushlight. It dates from the eighteenth century and has the initials 'J.W.' burnt onto the base.  Rushes were peeled and the pith was weathered and immersed in hot bacon fat and left to dry, before being burned. They were normally about 12 inches long and one of this length would burn for about half an hour. The use of the rushlight became extremely common after the introduction of the tax on candles in 1709. This tax remained in force until 1831. Most rushlight holders, therefore, date from the 18th and early 19th centuries.
MERL 51/1180
close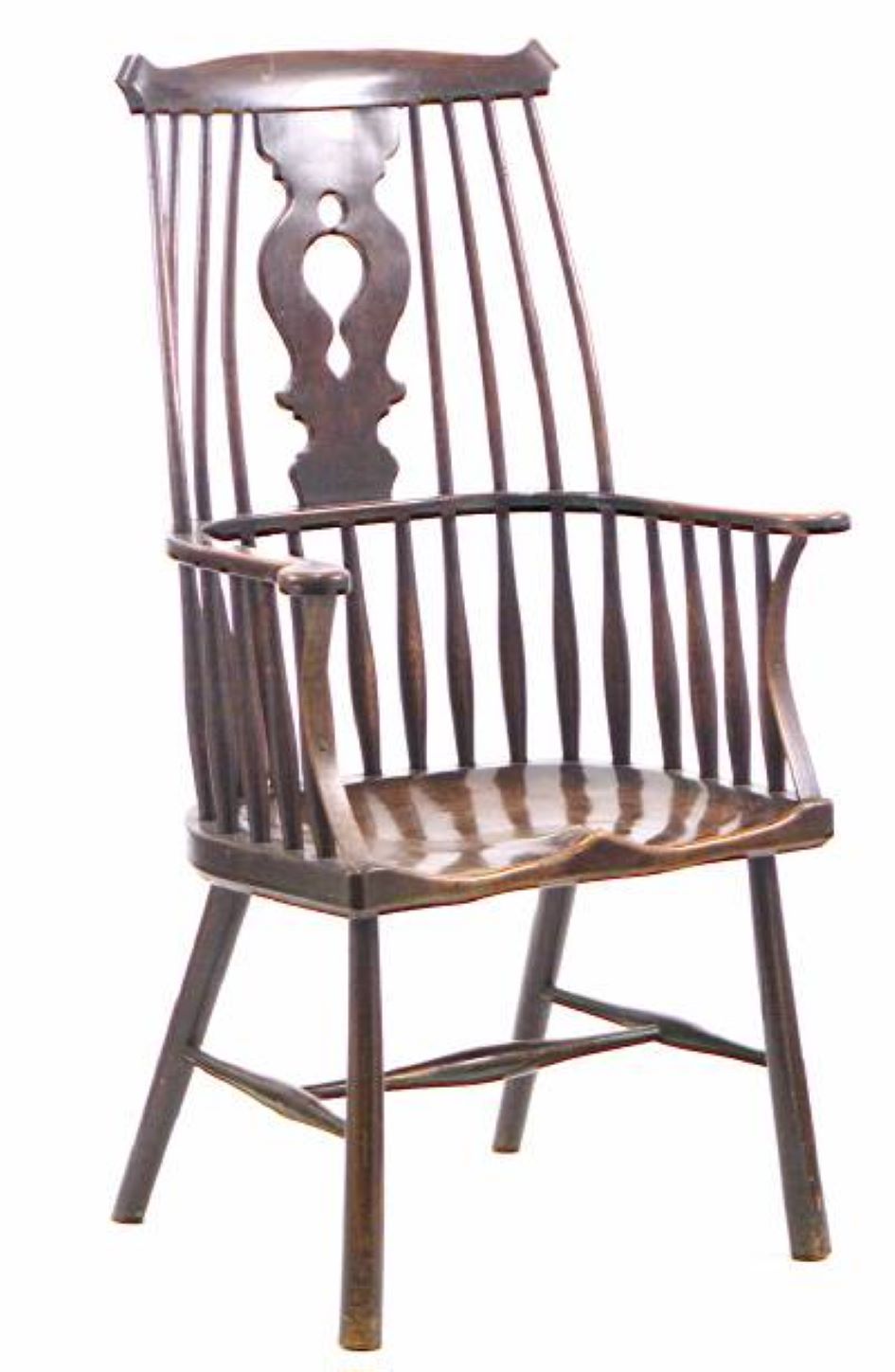 Windsor chair
This comb-back Windsor chair, and another of the same [77/234], were bequeathed by Miss Ellis on the condition that they were not to be separated. She had purchased them from a gentleman some years earlier who had stipulated the same – that they should not be separated – and Miss Ellis followed this in her will.
The comb-back is so called because the horizontal 'crest' rail at the top of the chair, into which the sticks are socketed, was said to resemble the spine of a comb with the sticks acting as its teeth!
MERL 77/233
close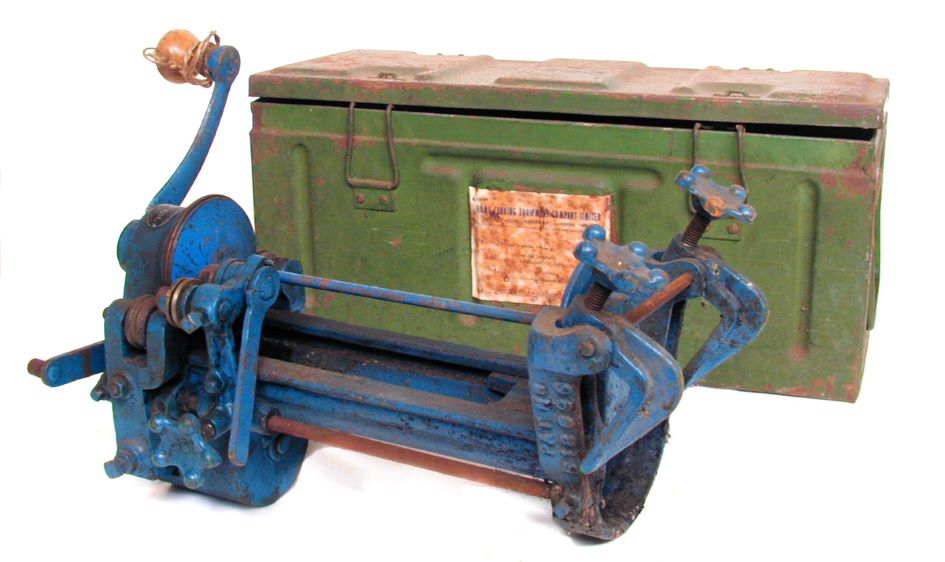 Canning machine
This is a 'Homcam' canning machine for domestic use. Previous methods of food storage included drying, fermenting and salting foods. Canning foodstuffs at home was not possible until the late 18th century. In 1810 Englishman Peter Durand introduced a method for sealing food in "unbreakable" tin cans. In recent years, the popularity of reuseable storage has risen as shoppers want to move away from one use plastic containers.
MERL 93/3
close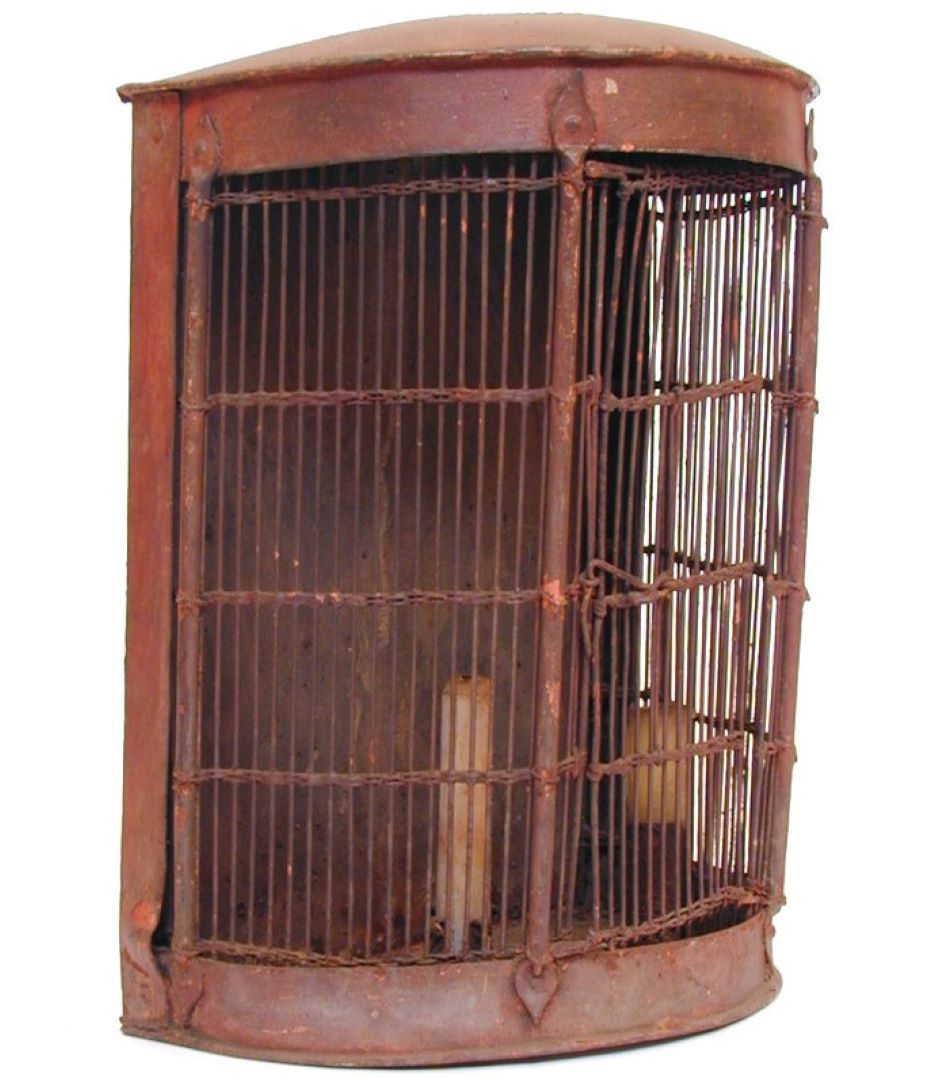 Caged candle lantern
This cage lantern came from near Hull, in the East Riding of Yorkshire. It was probably designed to be fixed onto a wall. It contains two candle holders.
MERL 54/60
close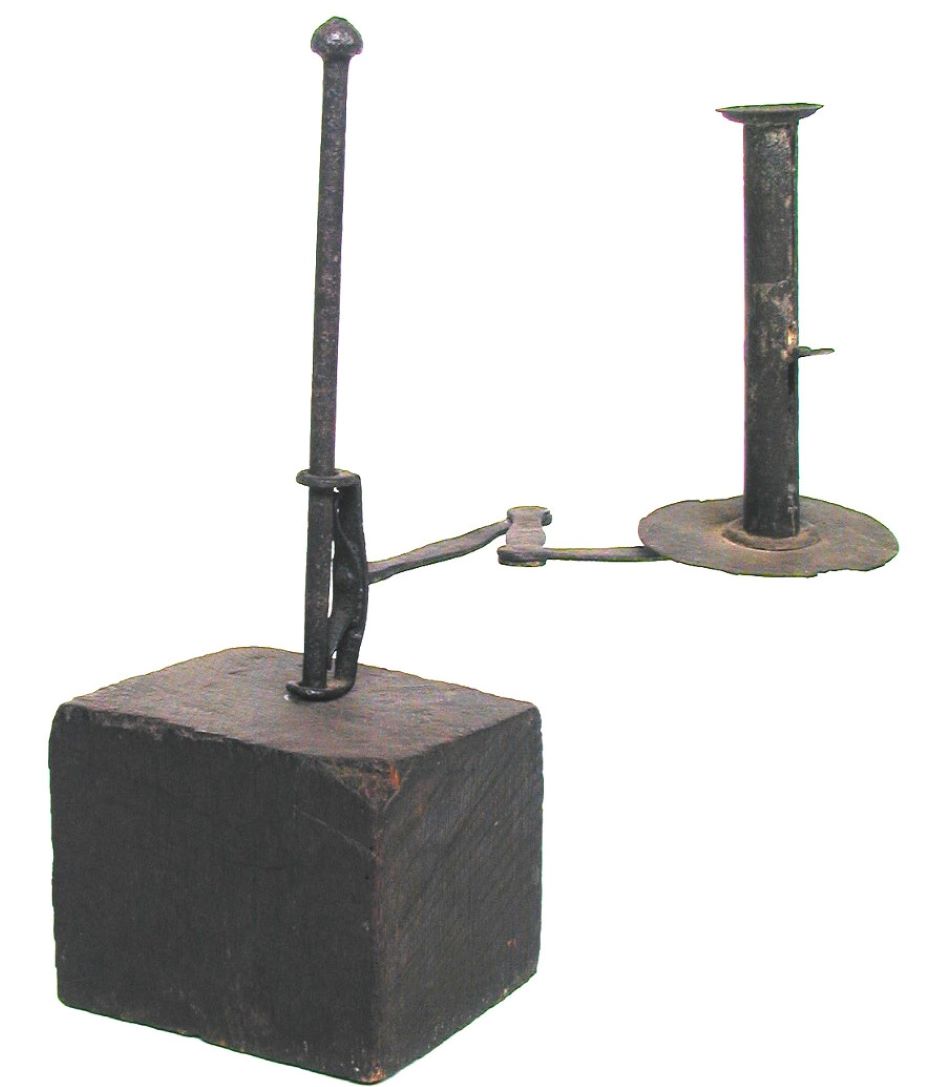 Adjustable candlestick
This candle holder is a cobbler's light or 'snob's light'. It consists of a tubular candle holder, made of sheet iron, mounted on a flat metal base and supported on a base block of elm. The arm is jointed so that the candle can be adjusted horizontally, and there is a slide so that the height of the candle can also be adjusted.
MERL 51/661
close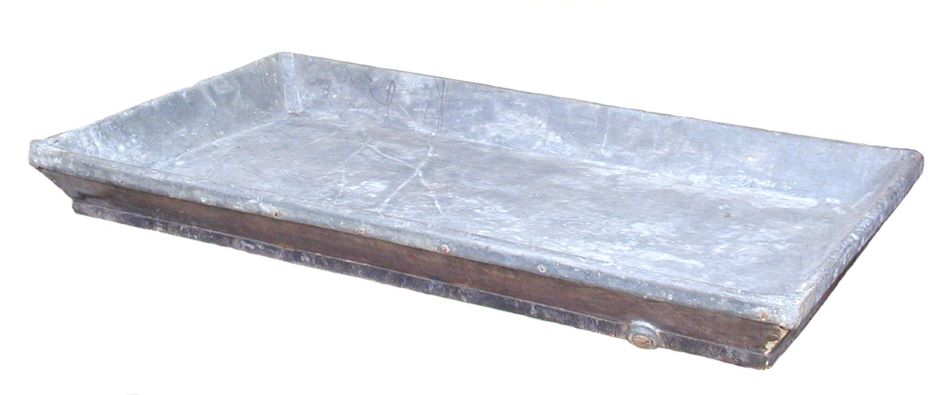 Salting tray
This is a large wooden salting tray with a lead lining and a drainage hole which is closed with a cork. It was used for preserving pork by covering it in brine. The brine used for salting was a mixture of water (2 to 3 gallons), salt (4 lbs) and half a bottle of port wine. The tray originally belonged to the donor's grandfather and was later used by the donor's father, a market gardener who also kept pigs, in the 1920s and 1930s.
MERL 91/40
close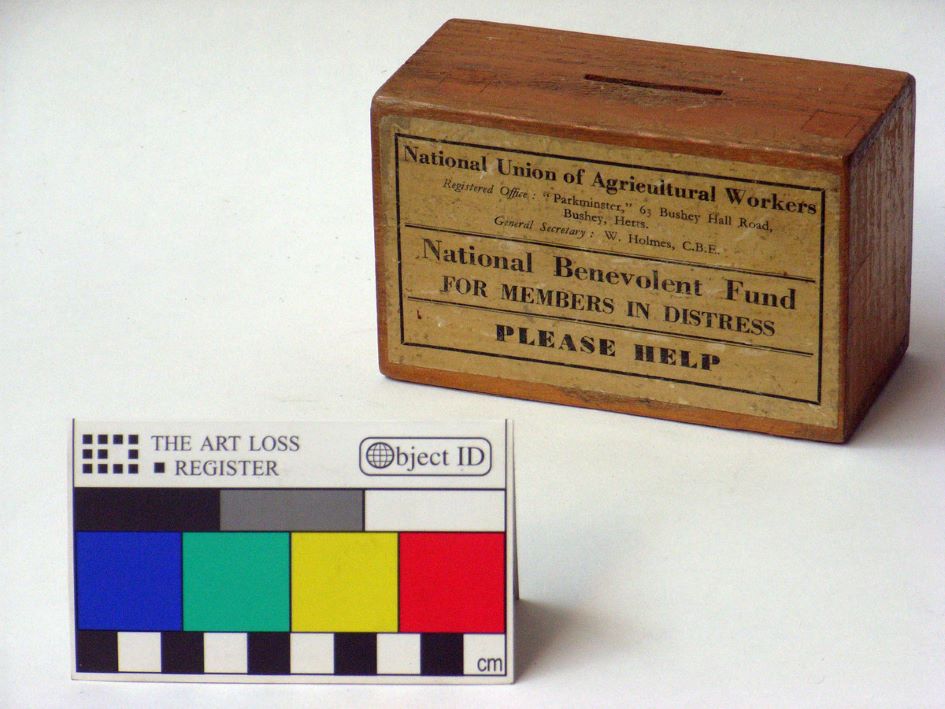 Union collecting box
This money collecting box was used by the Compton branch of the National Union of Agricultural Workers. The donor was the Secretary of the Compton branch from 1947-1985, and the box was put on the table at monthly meetings to collect money for members in need. At this time, the union was a powerful force in the political sphere; it was the thirteenth largest British trade union in 1962, with 131,000 members.
The MERL holds the archive of the union, which contains written and printed material on their political, social and financial activities.
MERL 2005/1
close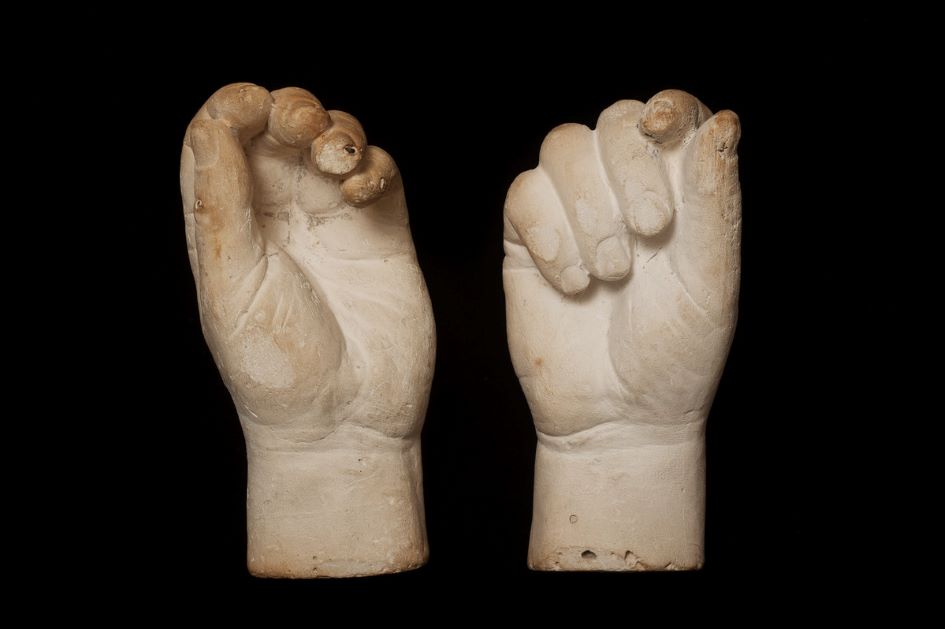 Joseph Arch hands
These are plaster casts of Joseph Arch's hands. Arch was the president of the National Agricultural Labourers Union (1872-1892), the first successful rural union to be established. Nothing is known about the casting process. You can learn more about Joseph Arch and the NALU here.
MERL 75/16/1-2
close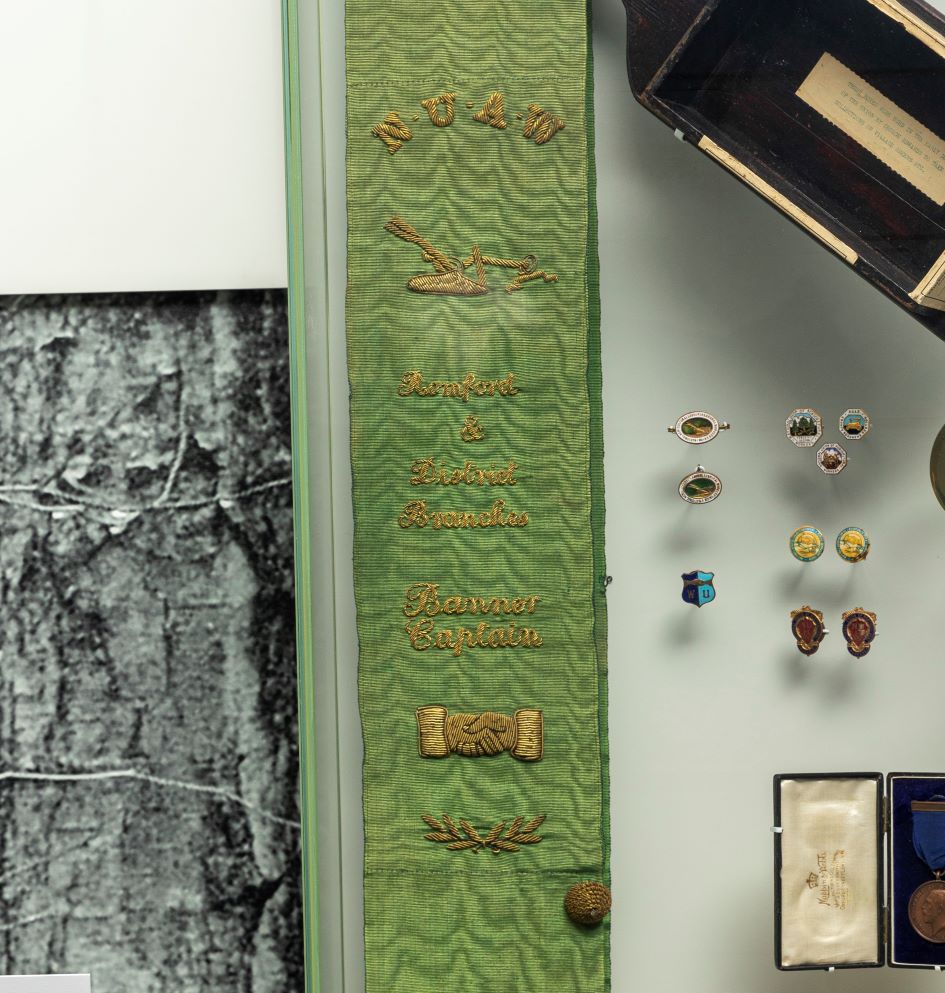 Sash
This is a sash used by the Banner Captain of the National Union of Agricultural Workers. The sash is made of green grosgrain with gold fringe. The metallic thread embroidery details a plough, clasped hands, leaves, lettering with a hook and eye fastening and a gold rosette. The sash is inscribed 'NUAW, Romford & District Branches, Banner Captain'. It was made by George Tutill in London, and was used in Romford, Essex.
MERL 70/118
close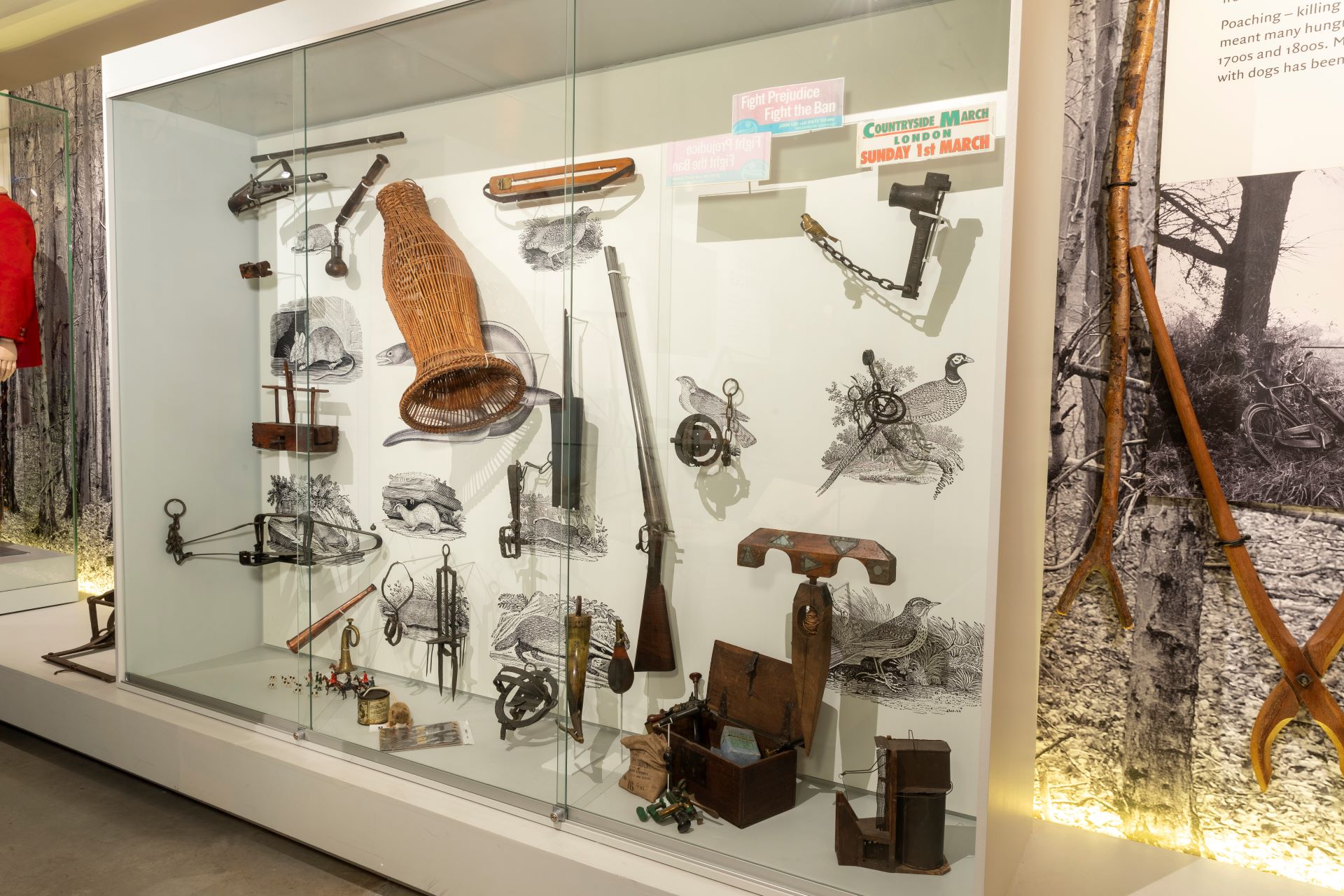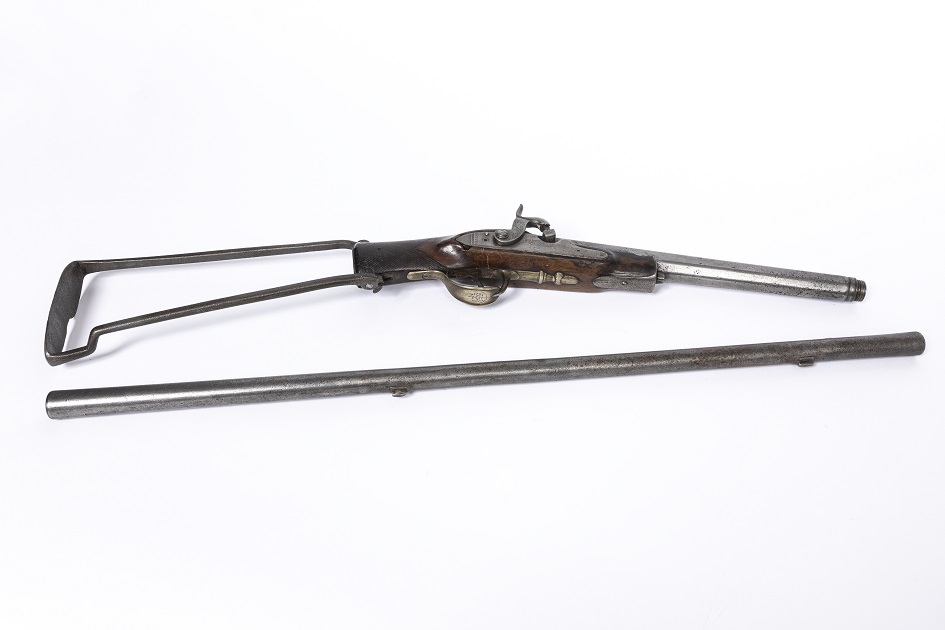 Poacher's shotgun
Manufactured by Ketland and Co. before 1812, this shotgun was likely used by a poacher to defend himself from landowners and authorities while hunting. The sophisticated metalwork of the object suggests a high value. It is possible that it could have been provided to the poacher by a buyer in order to ensure their success, as this was a fairly common practice.
MERL 73/1
close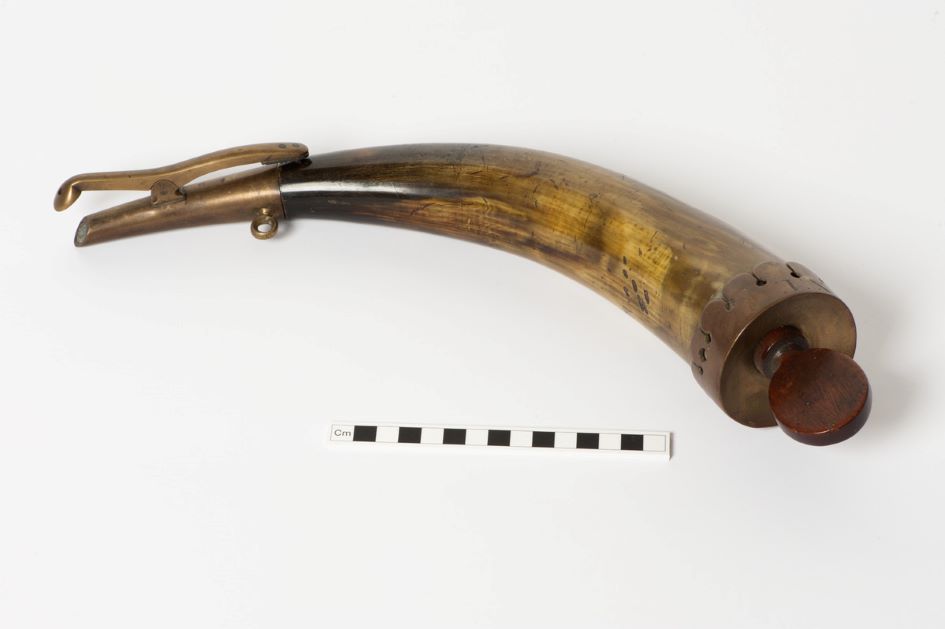 Powder flask
Powder flasks were used from the 15th century onwards to prepare muzzle-loaded guns for firing. Powder horns were gradually replaced by metal flasks, the production of which began in Britain in the early 19th century. Throughout the course of this century, breech loading rifles became more widespread for militaries, but muzzle-loading rifles remained popular within the hunting community. This powder flask is notably ornate with a lever to control the flow of powder.
MERL 53/254
close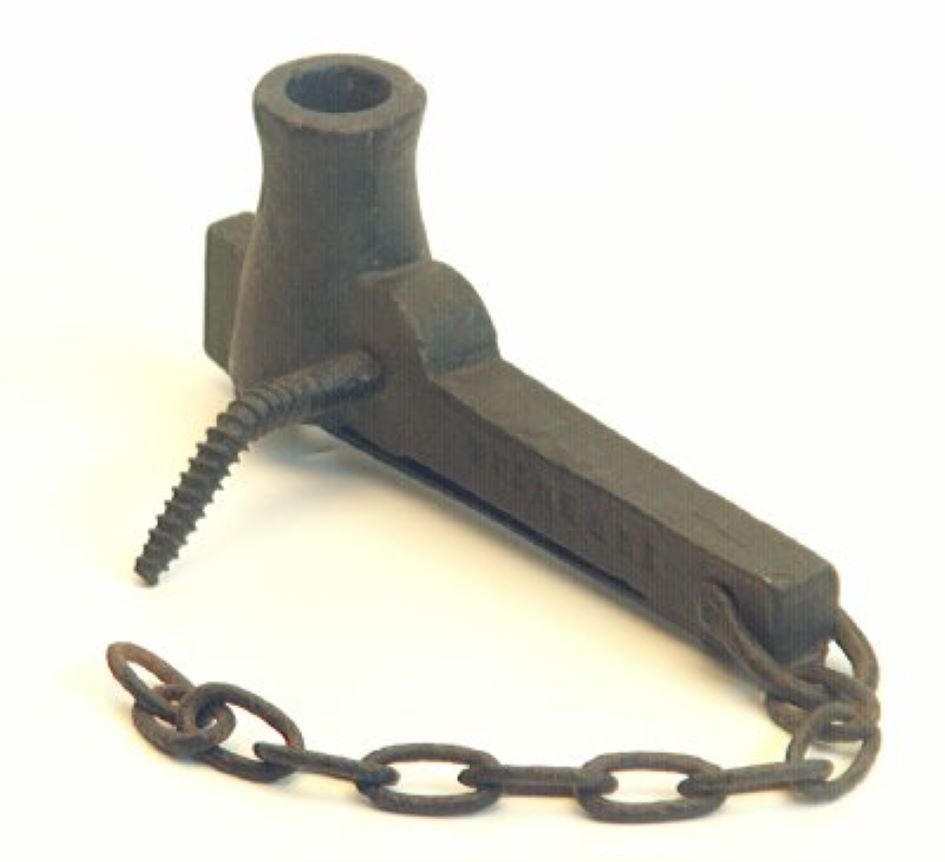 Alarm gun
An alarm gun would have been used to notify landowners of poachers entering their land, possibly deterring the poachers from going further in the process. This may reflect the trend towards non-lethal anti-poaching measures from the later 19th century onwards. Although now illegal, similar improvised devices have been used in recent years.
MERL 52/146
close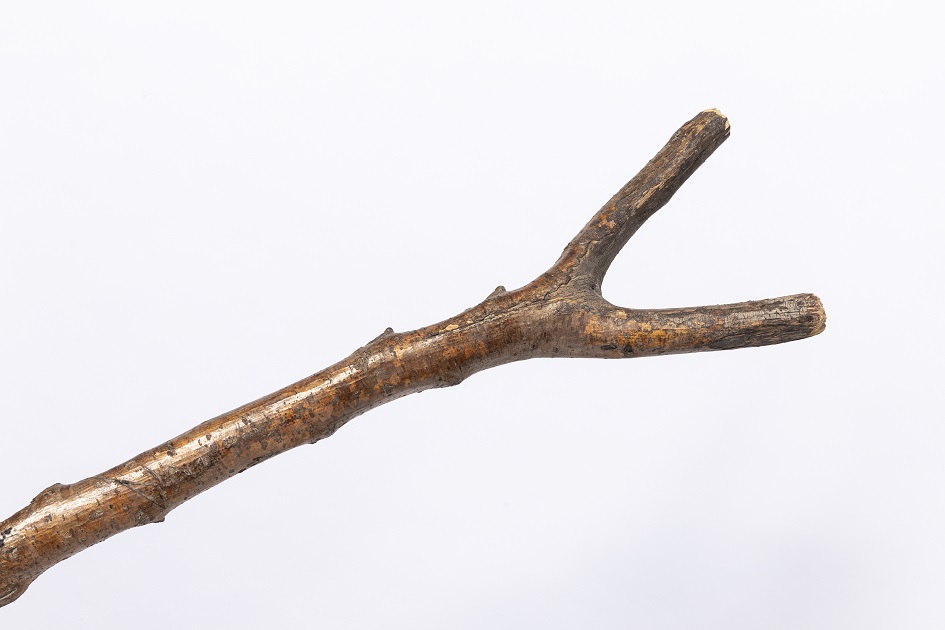 Badger fork
This is a simple, cheaply made instrument used to capture a live badger before forcing it into a sack for it to be transported and sold. It is now slightly rotten and unkempt from disuse. The fork may have been used in conjunction with the badger shovel and badger pliers to uncover and keep the animal at bay. Although badger baiting has been illegal since 1835, there have been sporadic cases ever since. Willfully taking a badger from its natural habitat was criminalised under the 1992 Protection of Badgers Act.
MERL 68/564
close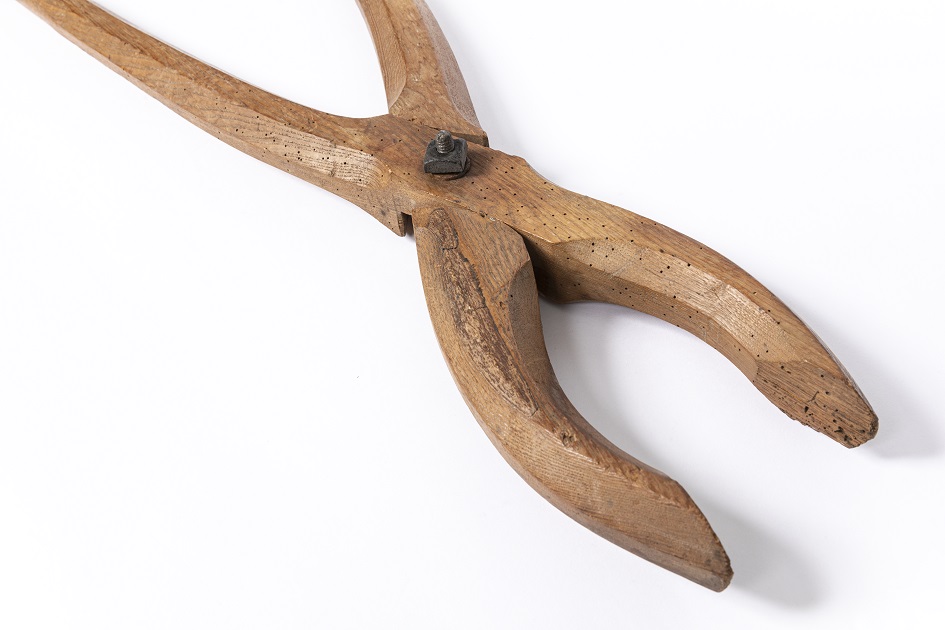 Badger pliers
This is a tool likely used by poachers to capture a badger after luring it from its lair. It may have been used in conjunction with the Badger Shovel and Badger Fork. These objects together show the means available to hunters without ready access to metalwork. Hunters could alternatively capture badgers using dogs to force them into sacks. Causing a dog to enter a badger set is now prohibited by law.
MERL 81/10
close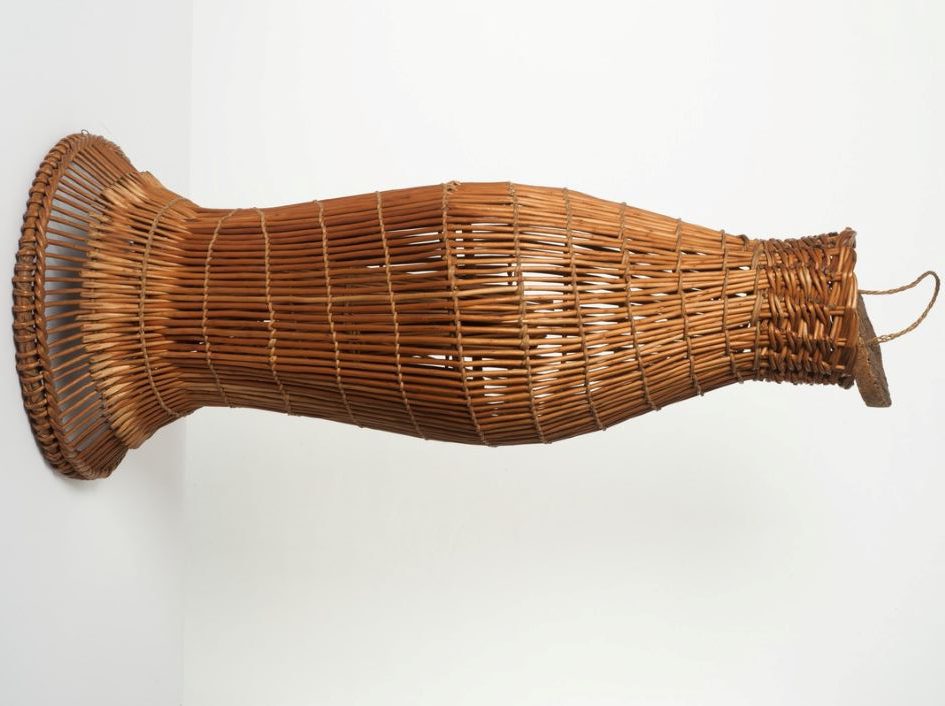 Eel trap
This hunting tool was created in 1954 in Norfolk. Eel traps were commonly used in poorer communities with less access to meat and fish. "Marsh-men" would wade through deep water to retrieve these traps, which contained eels with a non-return valve.
Eels are still hunted on a smaller scale, but fishing lines with bait are now more frequently used. Buying fish from an eel farm is typically safer than catching them, as farmed eels are regularly tested for disease and parasites.
MERL 60/467
close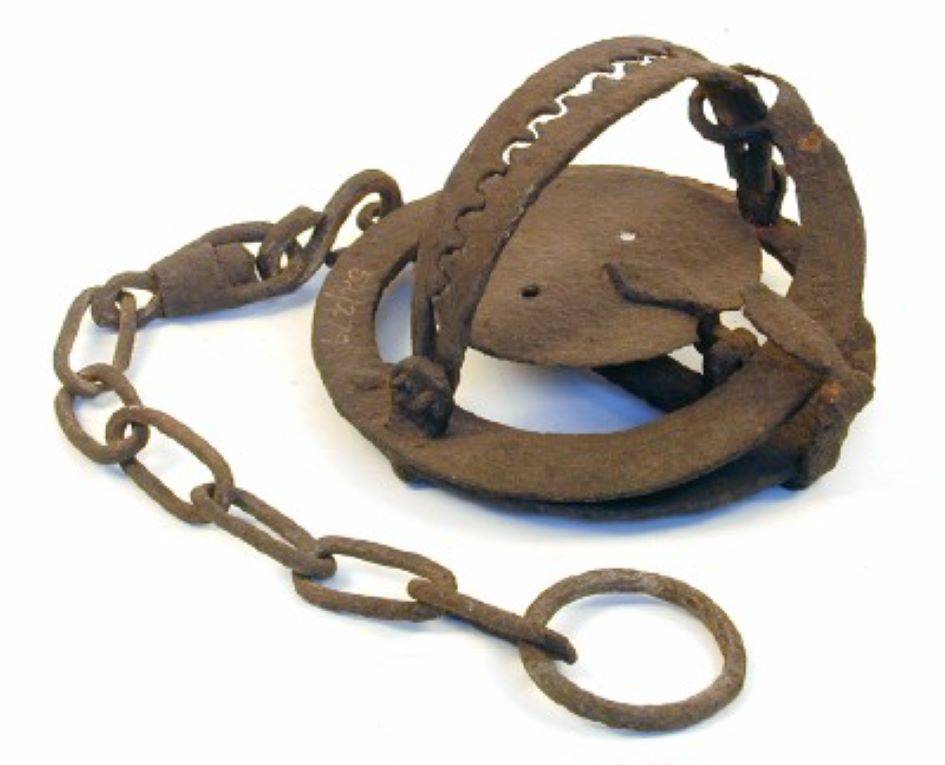 Hawk trap
This trap was used to capture hawks around the Aylesbury district of Buckinghamshire, likely before 1904 when such traps were made illegal. The inscriptions '1×1' and '51711' are stamped along the edge. Such traps were often used in areas with commercial fisheries to protect fish from predators.
Although harmful bird traps such as these are now illegal, sixteen cases of illegal trapping were reported to the RSPB in 2015. Trapping hawks for falconry is still permitted, but requires a government license which are rarely issued. Falconry birds are usually bred in captivity.
MERL 52/279
close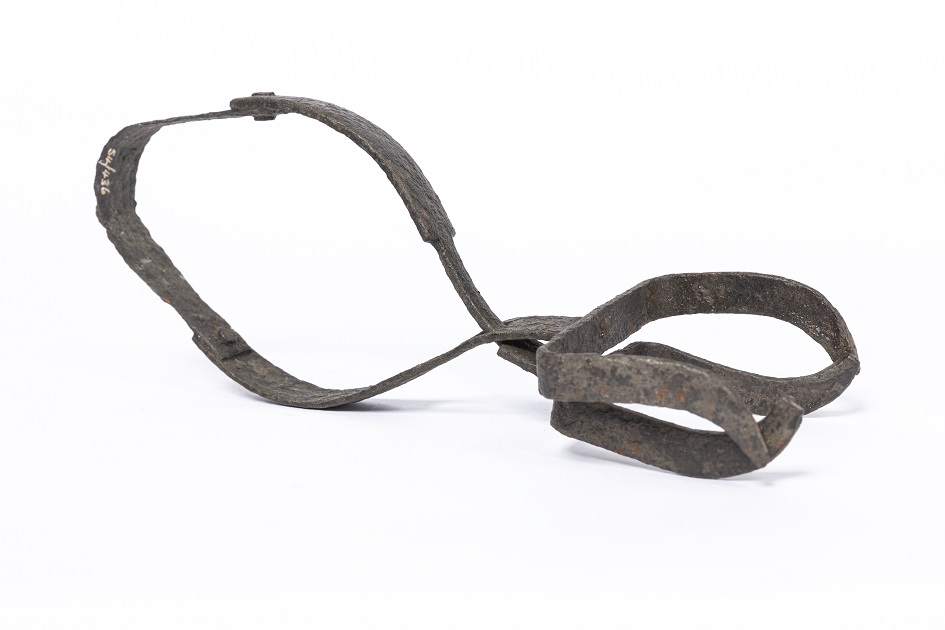 Mole trap
Made by a local blacksmith in the Holne area of Devon, this trap was used to capture moles by killing or dramatically harming them. More contemporary mole traps swiftly killed the captured animal; however, this may have been due to the rising value of mole skin in the early twentieth century rather than concerns of animal wellbeing.
Moles have been considered pests on the farm for thousands of years, with molehills destroying pasture, encouraging weed growth and damaging crops. Mole catchers would travel from farm to farm, and would traditionally hang dead moles on fences as proof of their work. The use of lethal traps was made illegal in 1996 and further controlled in 2006.
MERL 54/436
close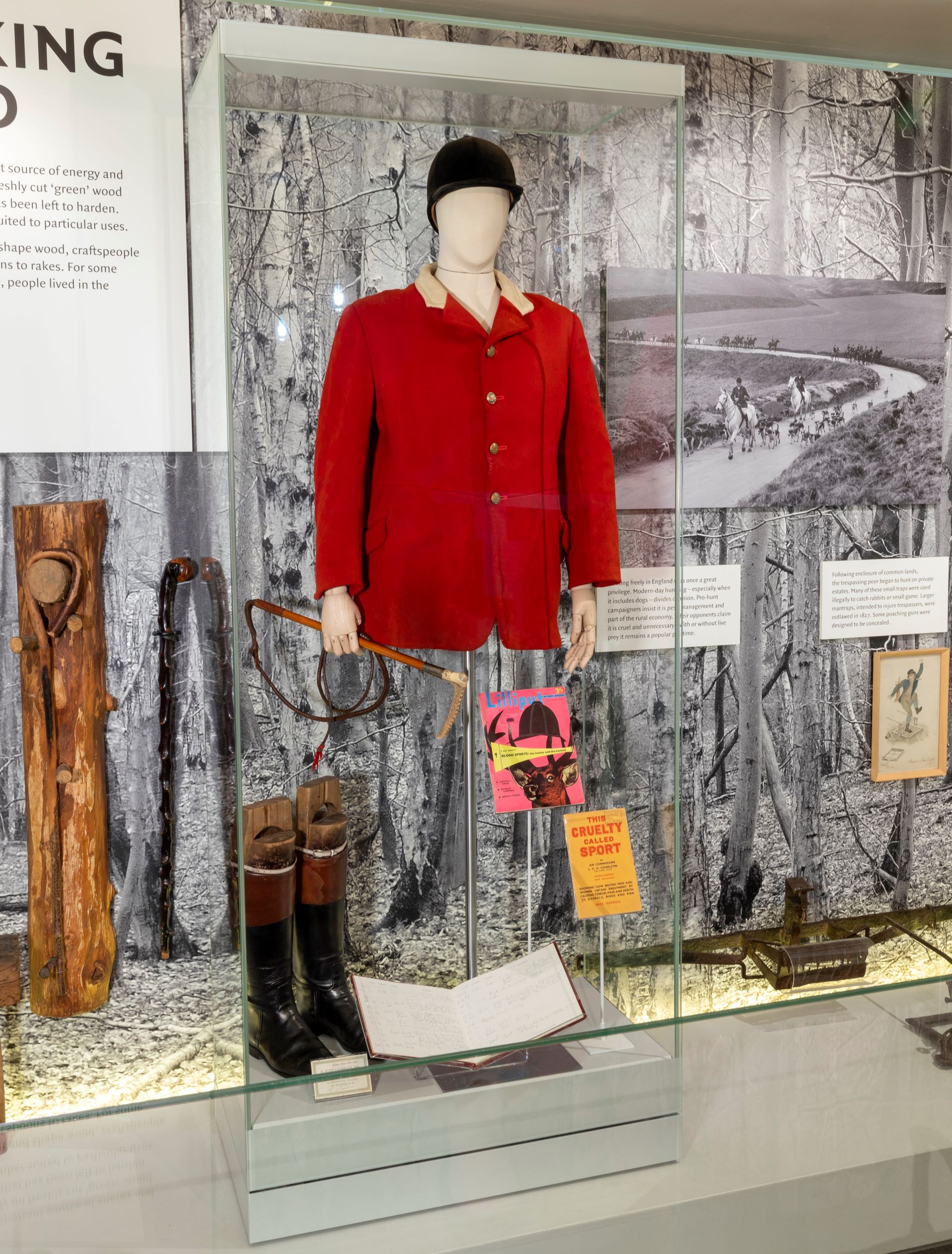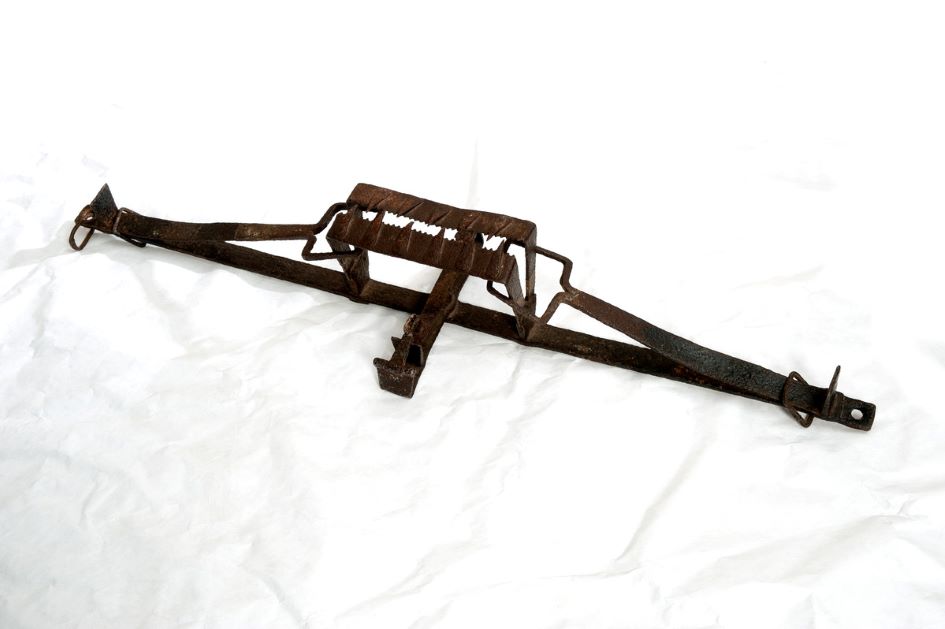 Man trap
Traps such as these were used to deter, harm and capture poachers attempting to enter a landowner's territory. 1810 – 1830 saw the introduction of severe anti-poaching laws, suggesting a rise in poaching around this time and the start of an 'arms-race' of debilitating traps and tools of self-defence between poachers and landowners. This trap was used in the area around Freefield Hall, Lichfield.
MERL 62/403
close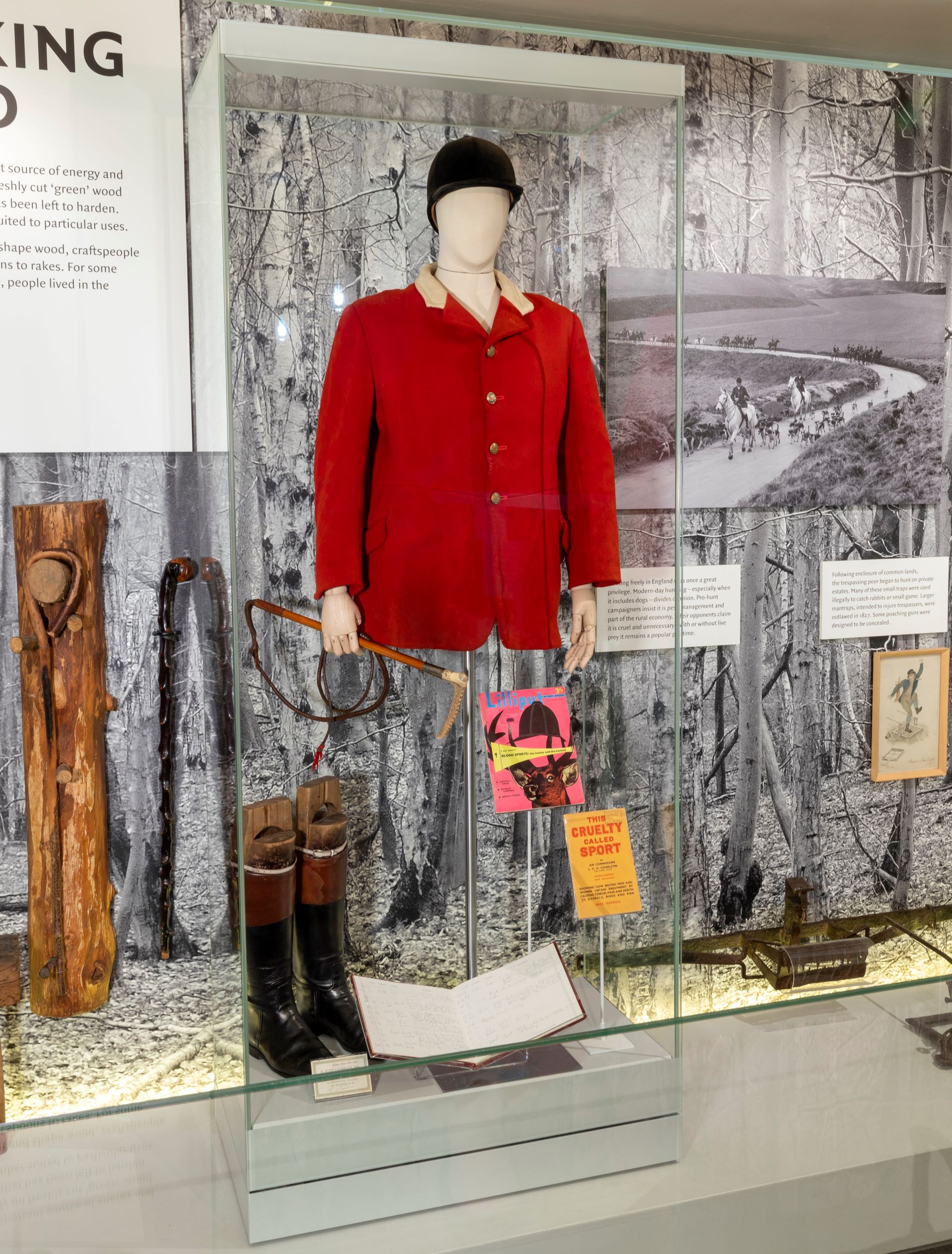 Coat
This red coat was worn by a horseman of the South Dorset hunt in the mid 20th century. It has the buttons and white collar typical of this outfit. The convention of foxhunters wearing red coats is thought to derive from the early 18th century, with the red colour designed to mask the blood stains of the hunt. Traditionally, brass buttons were awarded to members of the hunt who had been particularly helpful or dutiful.
MERL 2013/24
close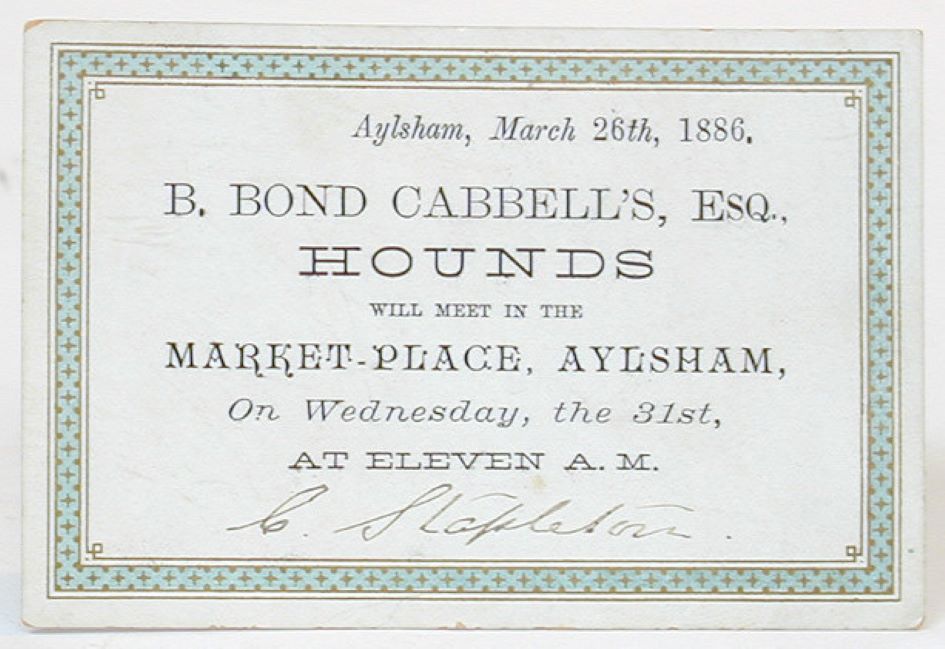 Meet card
Hunts with dogs were generally organised well in advance, and this 19th century meet card details the plan for such a meeting. This group – B. Bond Cabbell's Hounds – would have kept its own dogs, as these were kept by each regional 'Hunt', not by individuals.
The use of dogs to catch foxes was first recorded in around 2500BC in Assyria and Egypt. It became an organised activity in the 17th century in Britain, and contributed to the development of sports such as steeplechase.
When hunting with dogs was banned in the early 2000s, a number of protests occurred in London. See this online exhibition to find out more.
MERL 51/453
close
Makers at Work - Basketry & Bodging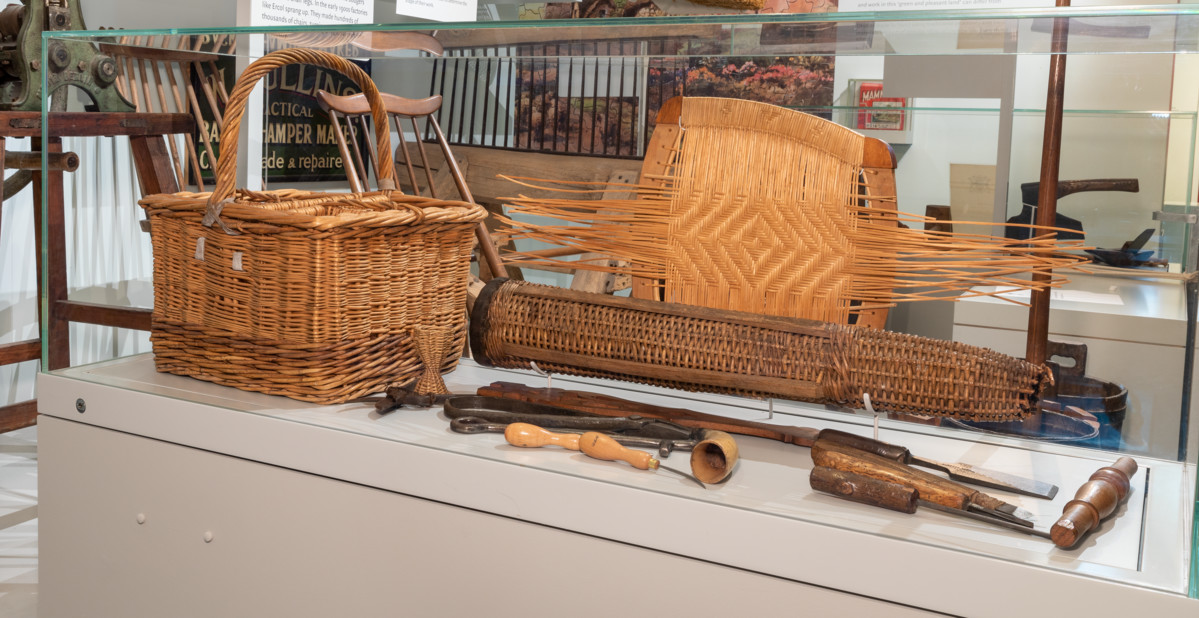 Makers at Work - Basketry & Bodging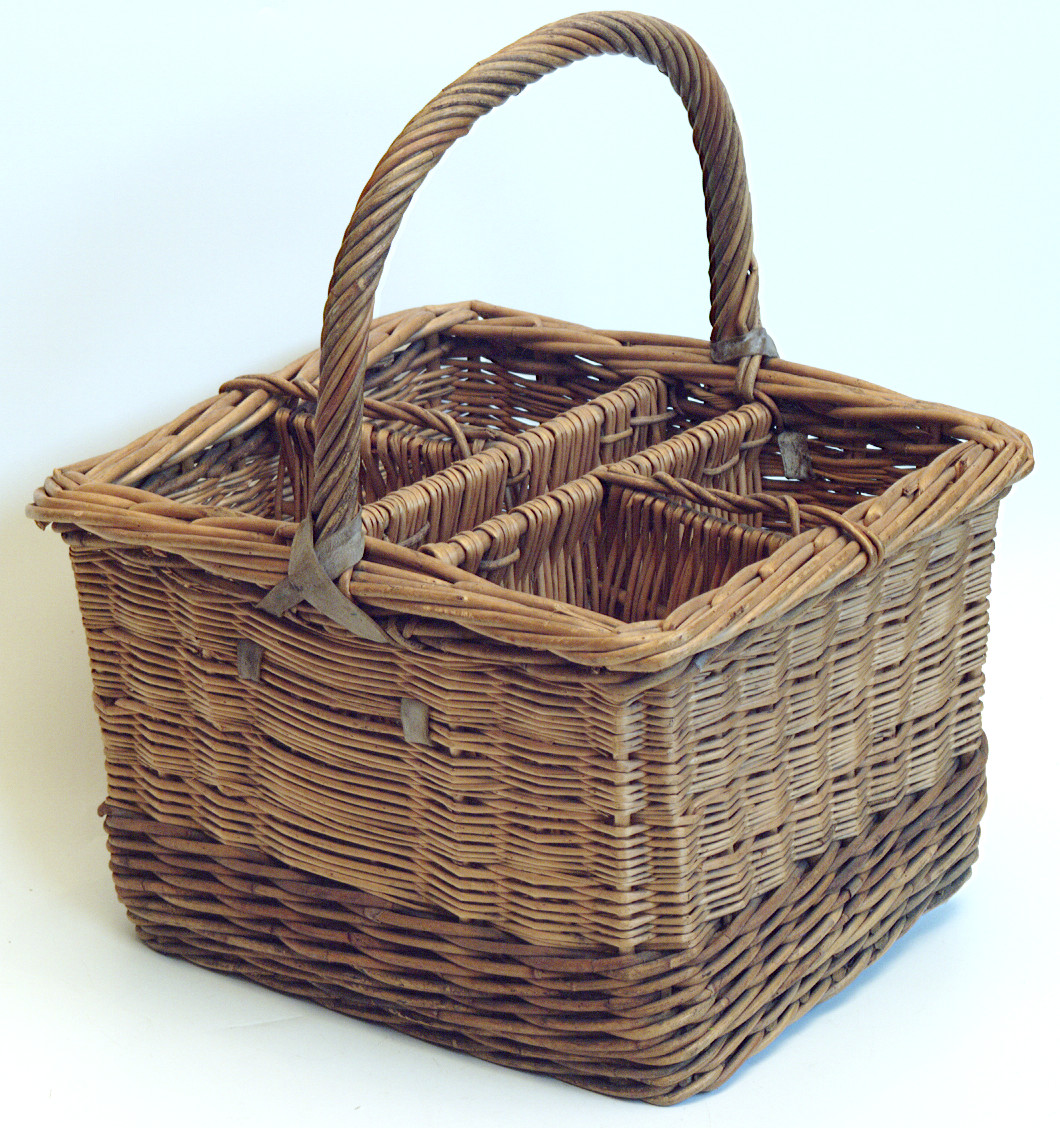 Hospital Basket
This hospital basket, also known as a 'ward basket' and a '4"-hole Winchester with a slot', was made at the Royal London School for the Blind. The basket is divided by partitions into four square sections, into which bottles would be put, and a slot, into which a chart would be put. This type of basket was in use until the 1960s. The Royal London School for the Blind produced and supplied baskets of this type by order.
MERL 64/67
close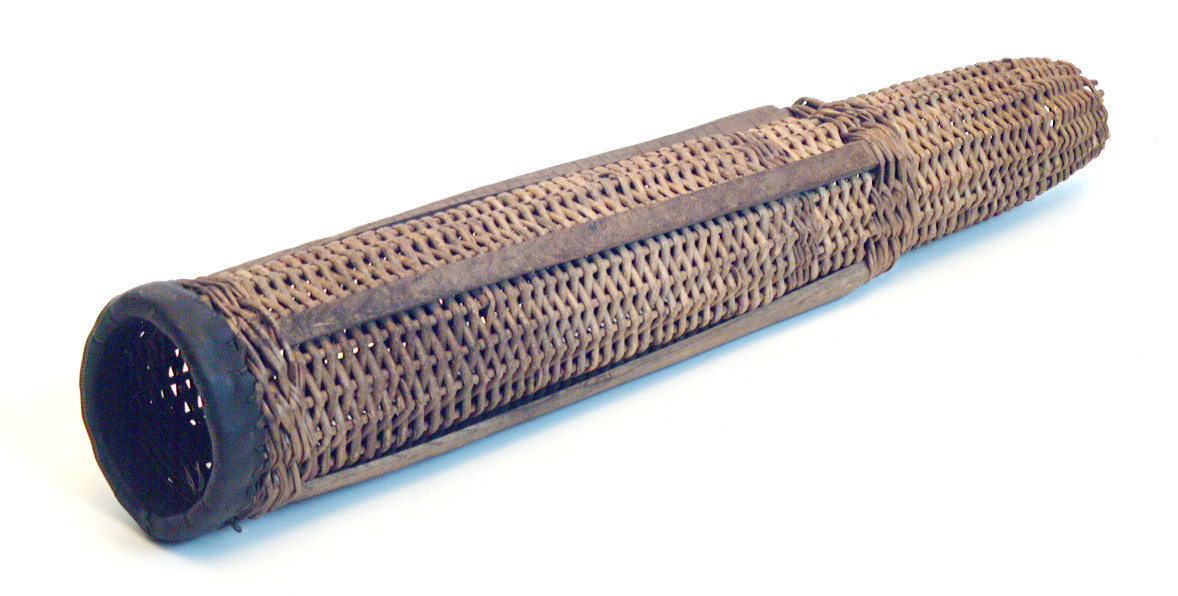 Artillery Shell Basket
This is a shell basket, used for protecting artillery shells during the First World War. It was found by the donor in a field near Wokingham, Berkshire. It was initially identified by the museum as an umbrella basket – a basket designed to be strapped to a horse-drawn trap or carriage, or to a pram, to carry umbrella!
MERL 90/43
close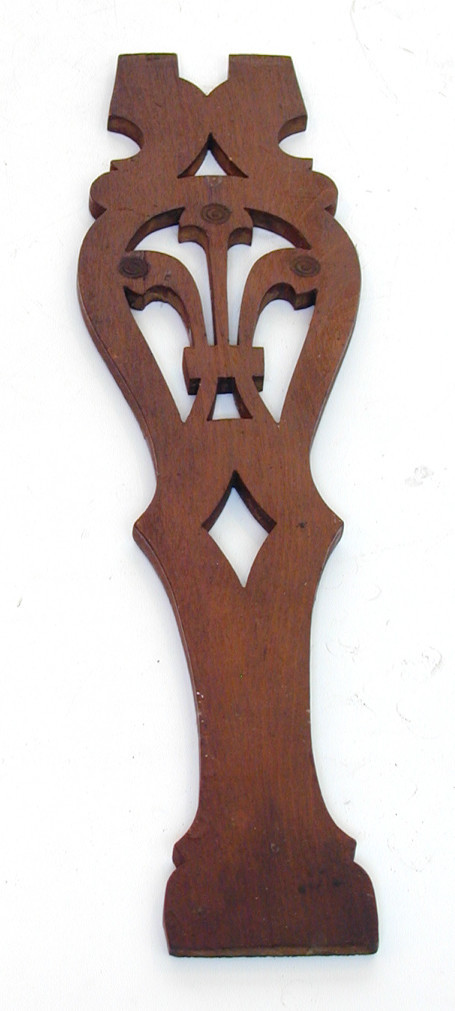 Chair Slat
This is a banister slat (the piece fitted in the centre of a chair back) for a Windsor chair and is made of beech. It is for a wheel back chair, so called from the wheel pattern in the centre, but has rare design incorporating fleur-de-lys supposedly in honour of the Prince of Wales (later George IV).
Wheel back chairs are the most common type of Windsor chair and date from the end of the eighteenth century. This example was probably made by a Chiltern bodger in the beech woods near High Wycombe
MERL 51/77
close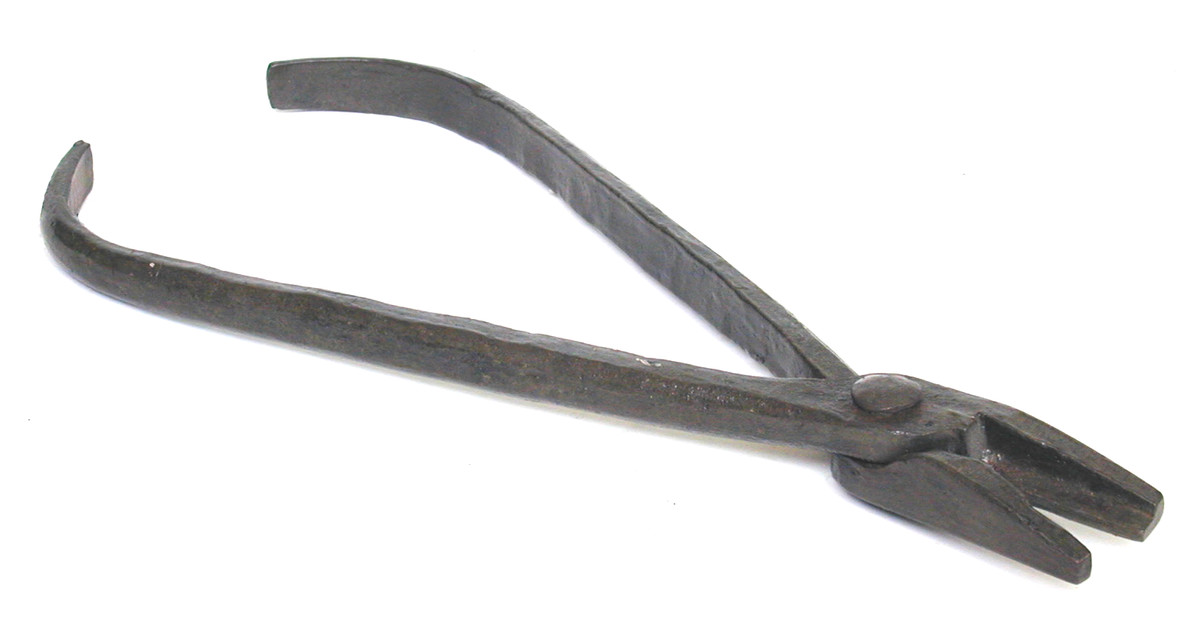 Cane Squeezers
These squeezers were used by Emily Mullins, a Reading basket maker, for squeezing thick cane so that it does not break when bent, especially in hamper-making. They are essentially a large pair of iron pliers with flat jaws.
Miss Emily E. Mullins (1906–1967) was a basket maker in Reading. Her family were basket makers for at least five generations. Her father, William Mullins, had no sons and Emily chose to become a basket maker and carry on the tradition. She ran a basket-making business in Bath c. 1926–1939 and moved to London in 1940 where she made baskets for the war effort. Later, she moved to Reading where she took over her father's job upon his death at Cook's Dairy and Farm Equipment Ltd.
MERL 63/207
close

Bodkin
A bodkin is a tool used by basket makers for a variety of jobs, from opening out the weave to insert a rod or handle, to putting stakes in at the bottom, and therefore come in a many different sizes according to the work. This is a shell bodkin made by Dryad and Co. in 1967. It was used in chair caning or skeinwork to open up the weaving on a difficult edge to insert the cane.
MERL 68/18
close

Grease Horn
This grease horn was used by Emily Mullins, a Reading basketmaker, to grease the bodkin, a pointed basketry tool for making holes. It consists of a curved cow's horn filled with a mixture of tallow and sack shreddings – this would need re-filling about once a year. the user sat on the end with the open mouth ready to their right hand.
63/208
close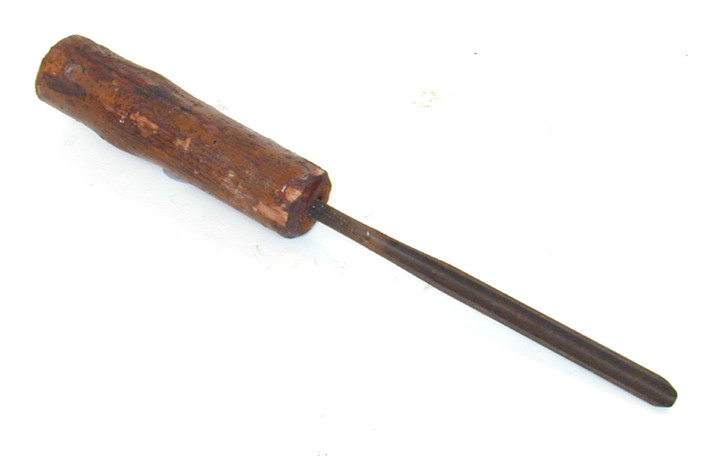 Lathe tool
A gouge has a concave blade and is used with a lathe to make grooves and holes when turning wood. This gouge was used for scooping out cups, waists and circles of chair legs, and is known as a long, strong, turning gouge. It belonged to the uncle or father of Samuel Rockall, who came from a family of Chilterns chair bodgers in Turville Heath, Buckinghamshire.
MERL 51/201
close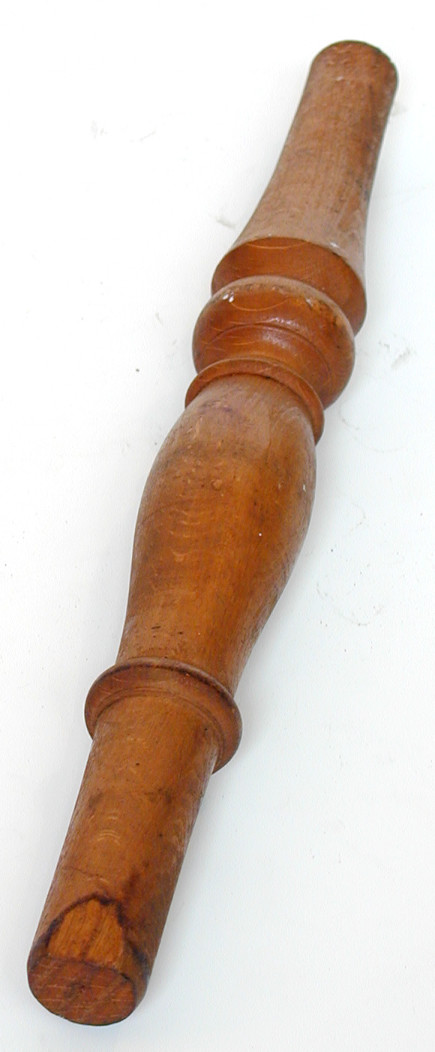 Chair Leg
This is a leg for a wheel back chair, the most common type of Windsor chair, and is made of beech. It was made by Samuel Rockall, a bodger in the Chiltern beech woods. Rather than using a pole lathe, he used a treadle lathe with a fly-wheel to turn the legs. The legs he made were usually sold to a chair maker in High Wycombe.
MERL 51/69
close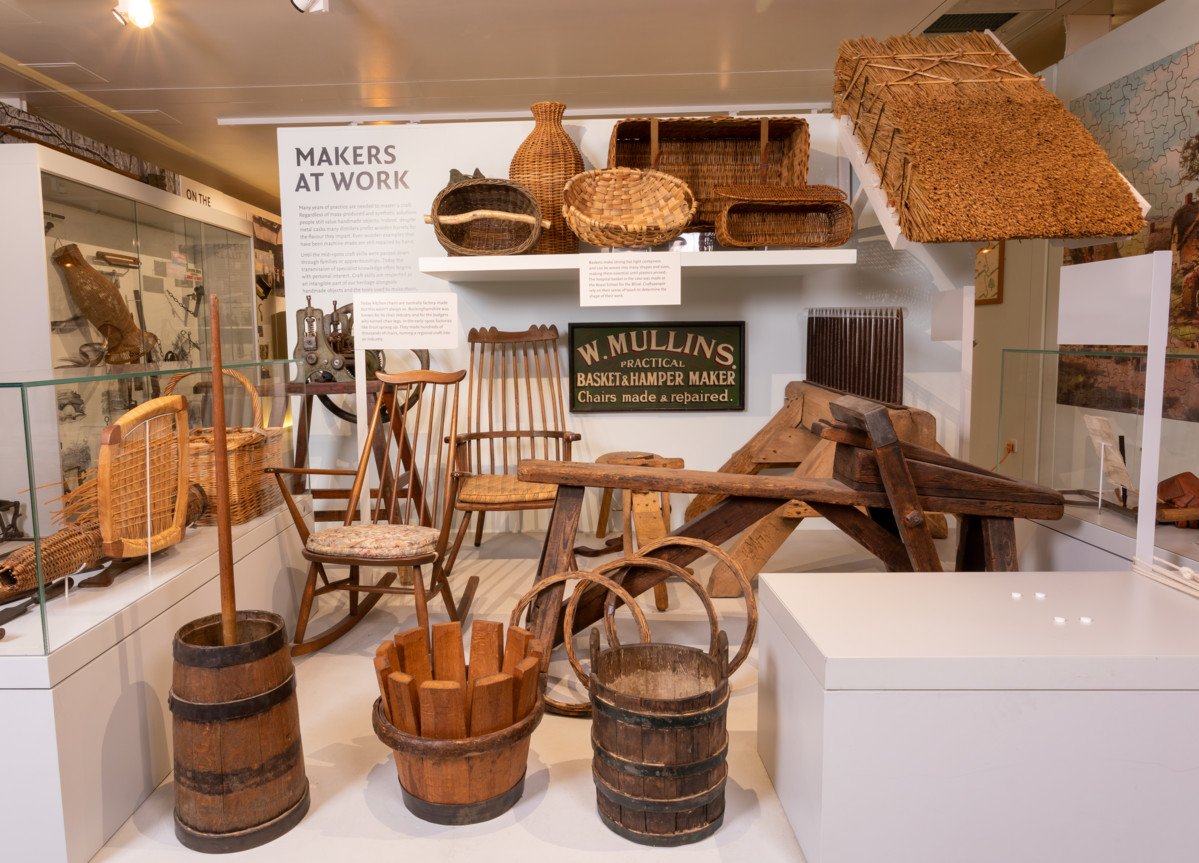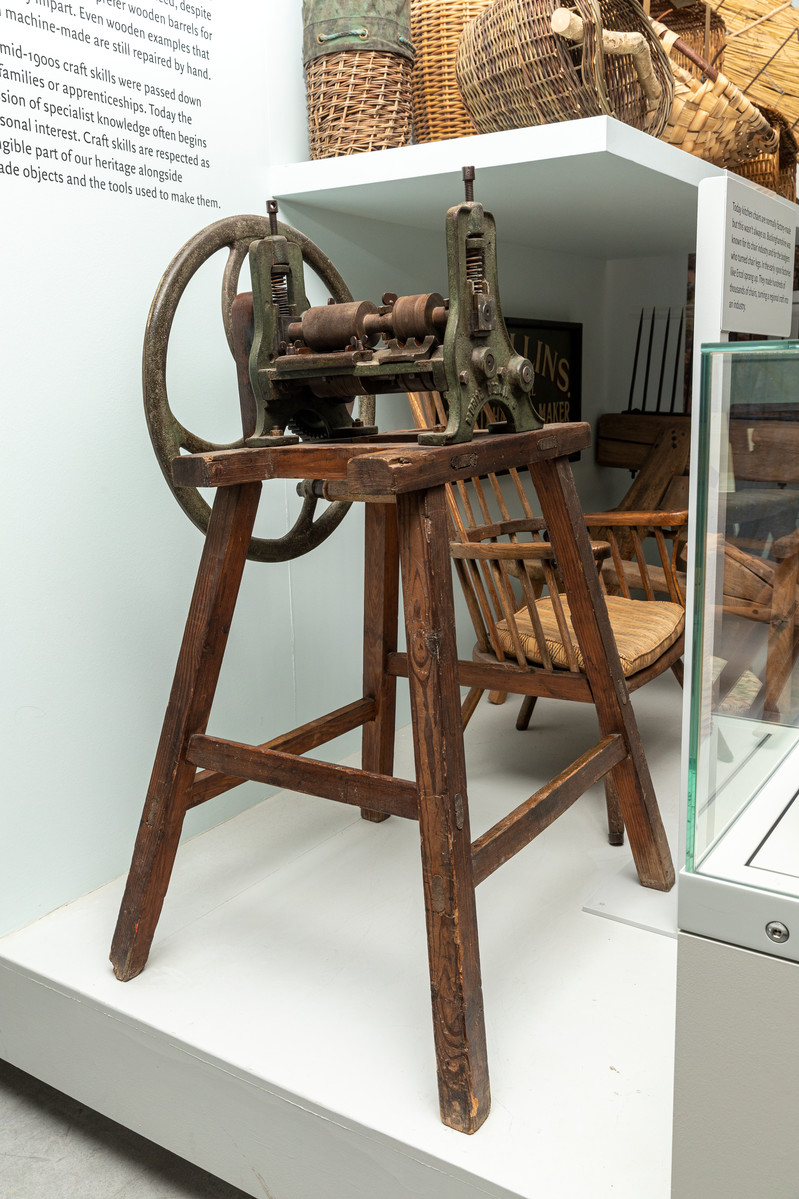 Skeining Machine
This is a skeining machine for cleaving rods of willow into three or four to make skeins, and for shaving the skeins to reduce their thickness in preparation for weaving. Skeinwork is a German speciality and the machine was made in Berlin. It is driven by a flywheel and a system of rollers.
MERL 68/580
close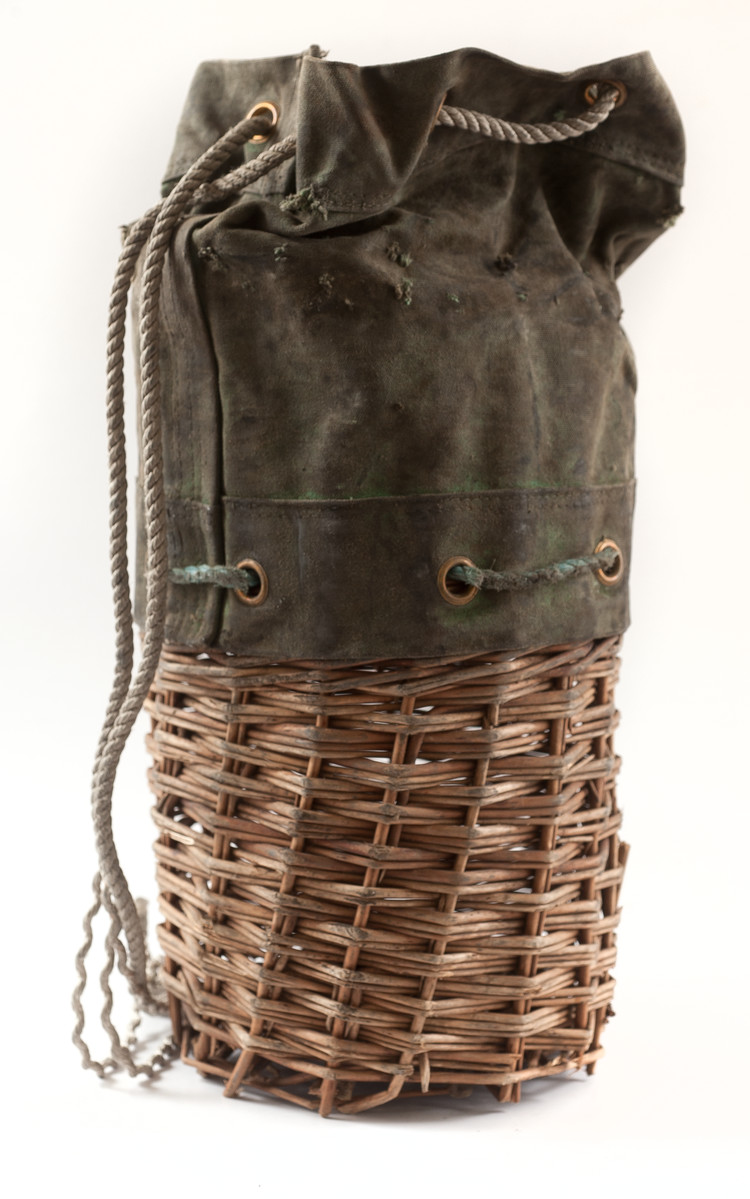 Fire Hose Strainer
This is a basketwork fire hose strainer with a canvas skirt. It was donated to the MERL from the Royal Berkshire Fire and Rescue Service and was probably used in fire stations in Reading until it was taken out of use c. 2000–2003.
Fire strainers were placed on the end of the hose of a fire engine to strain the water, which was often taken from a nearby pond and therefore contained debris. They were often moved from one pumping appliance to another. This example consists of a cylindrical basket made of buff willow.
MERL 2012/389
close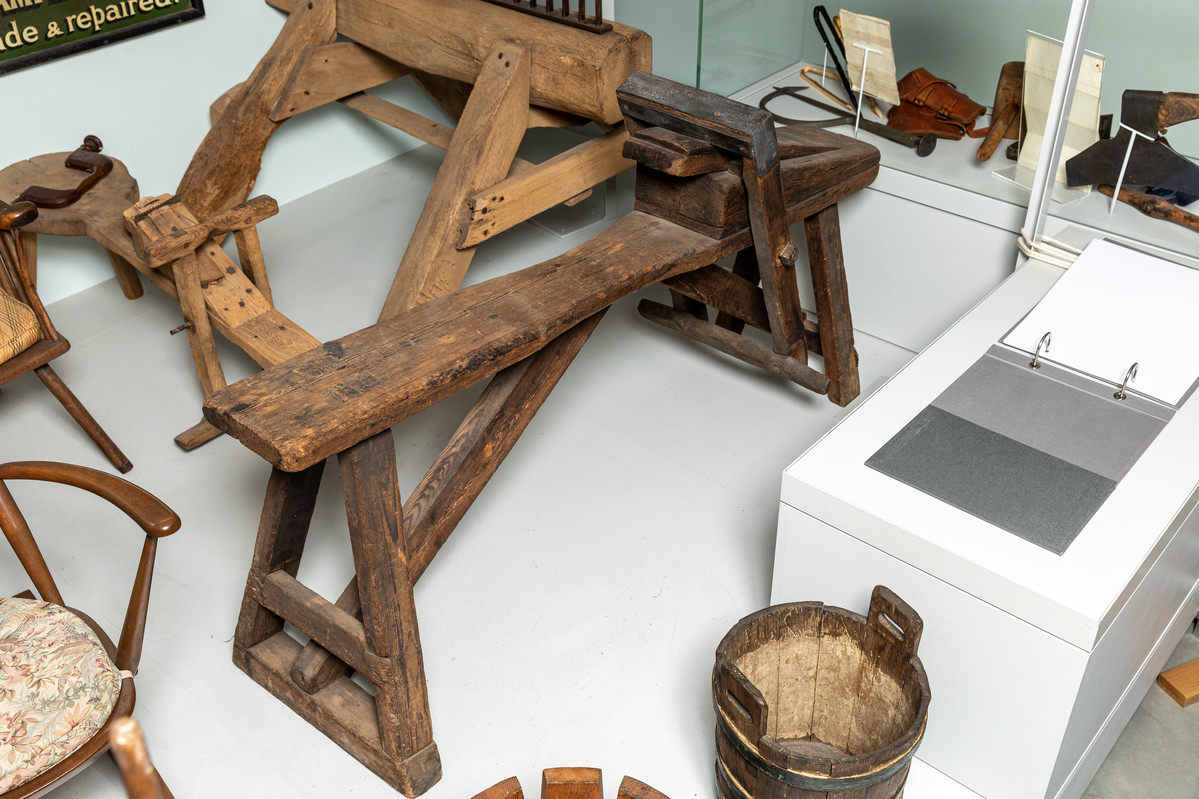 Cooper's Shaving Horse
A shaving horse is a bench on which the workman sits astride. This shaving horse was used by a cooper to hold the staves of a cask as he shaped them. It came from the cooper's shop at H. & G. Simonds Ltd., known as the Bridge Street Brewery, in Reading.
MERL 55/82
close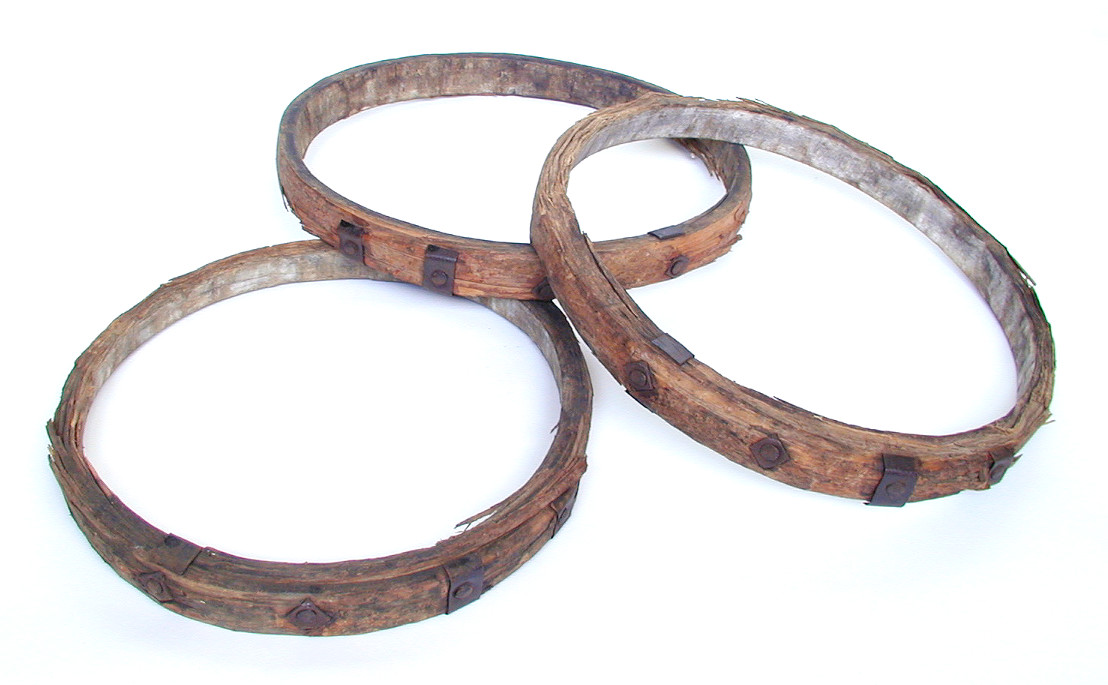 Truss Hoops
Truss hoops, made of ash, were used by wet coopers to bring the staves of a cask together. The cask is first moistened and pressed over a cresset (a brazier used by coopers) until the sap has warmed and the staves become pliable. The cooper then drives down progressively smaller truss hoops over the staves, using a heavy hammer, until they are brought together. This truss hoop was used in the cooper's shop at H. & G. Simonds Ltd., known as the Bridge Street Brewery, in Reading.
MERL 55/56/1-3
close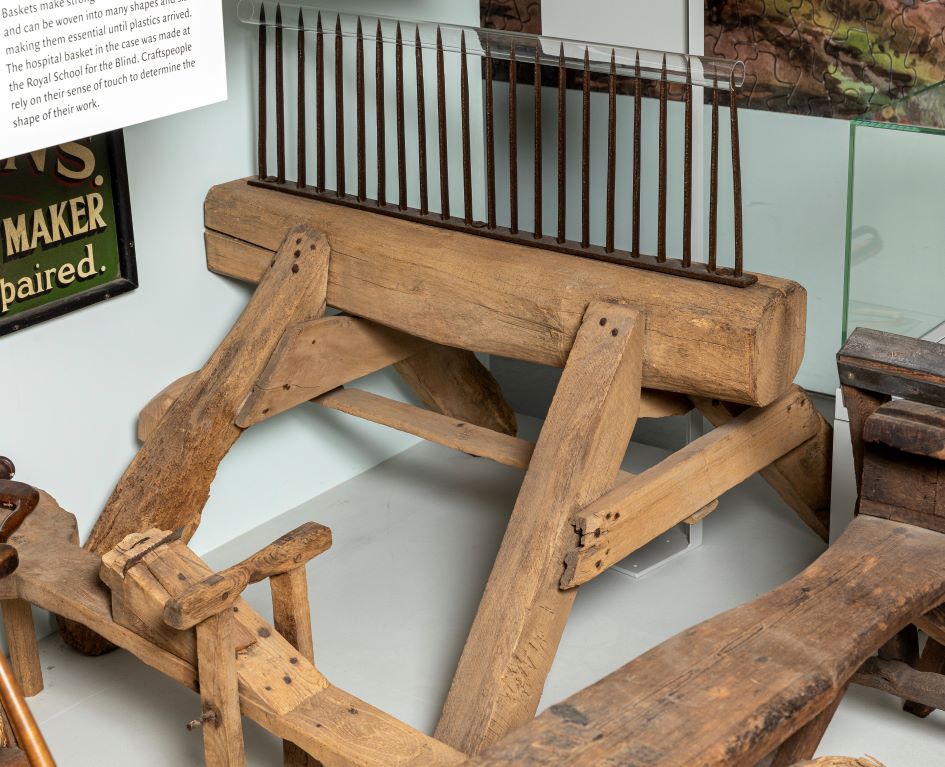 Thatcher's Reed Comb
This is a thatcher's reed comber, for combing the wheat reed which is used to create thatched roofs. It consists of a solid wooden frame with four splayed legs and cross bars, and sitting on the frame is a solid piece of timber with 22 steel spikes set into it.
MERL 79/25
close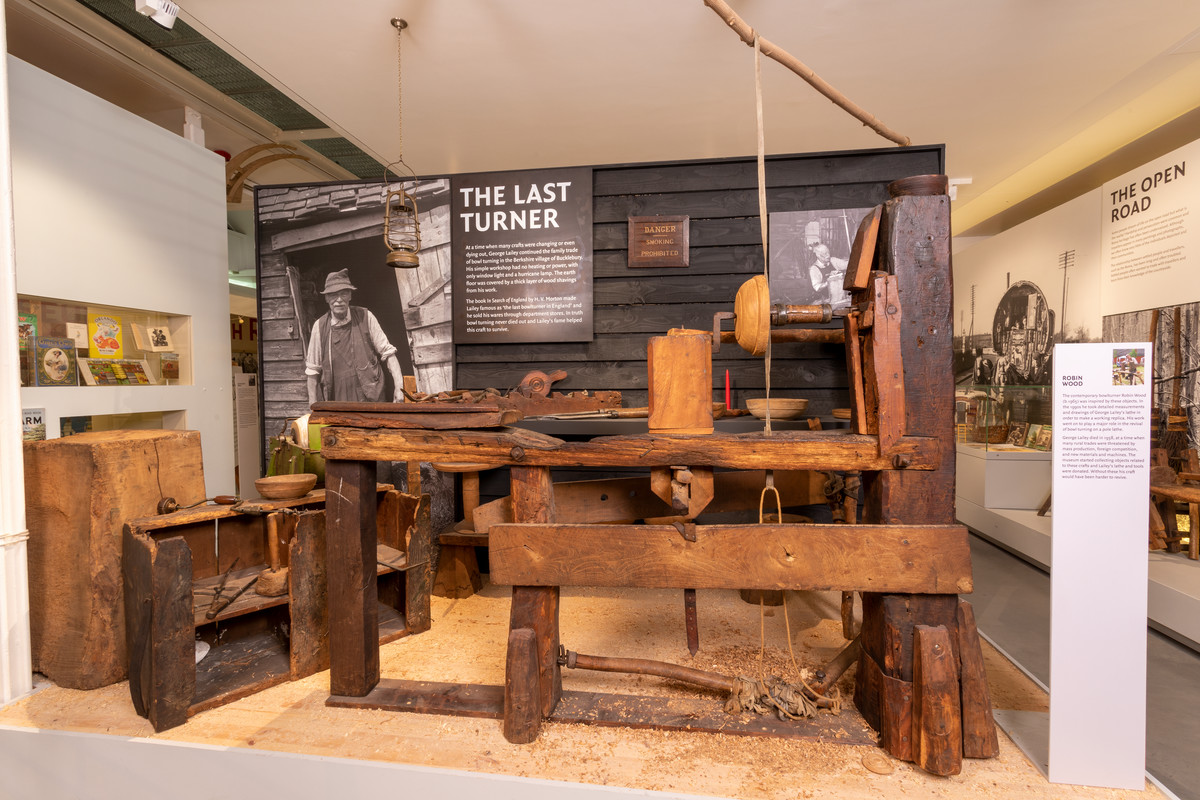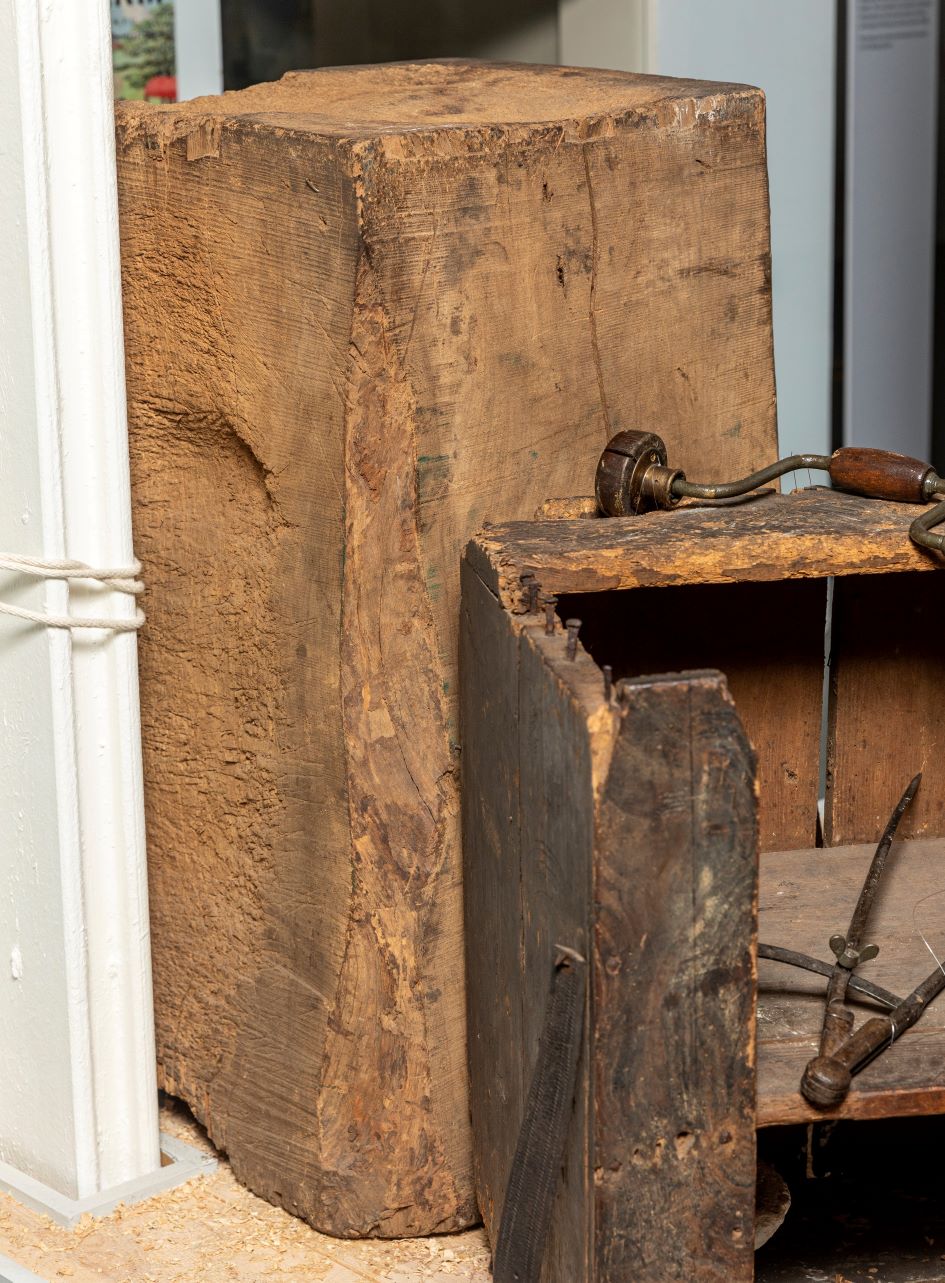 Chopping Block
This very large block of wood was used for chopping and cutting up timber. It was used by the bowl turner George Lailey, of Bucklebury. George Lailey turned wooden bowls using a pole lathe in his hut at Turner's Green, on Bucklebury Common, until 1958.
MERL 59/99
close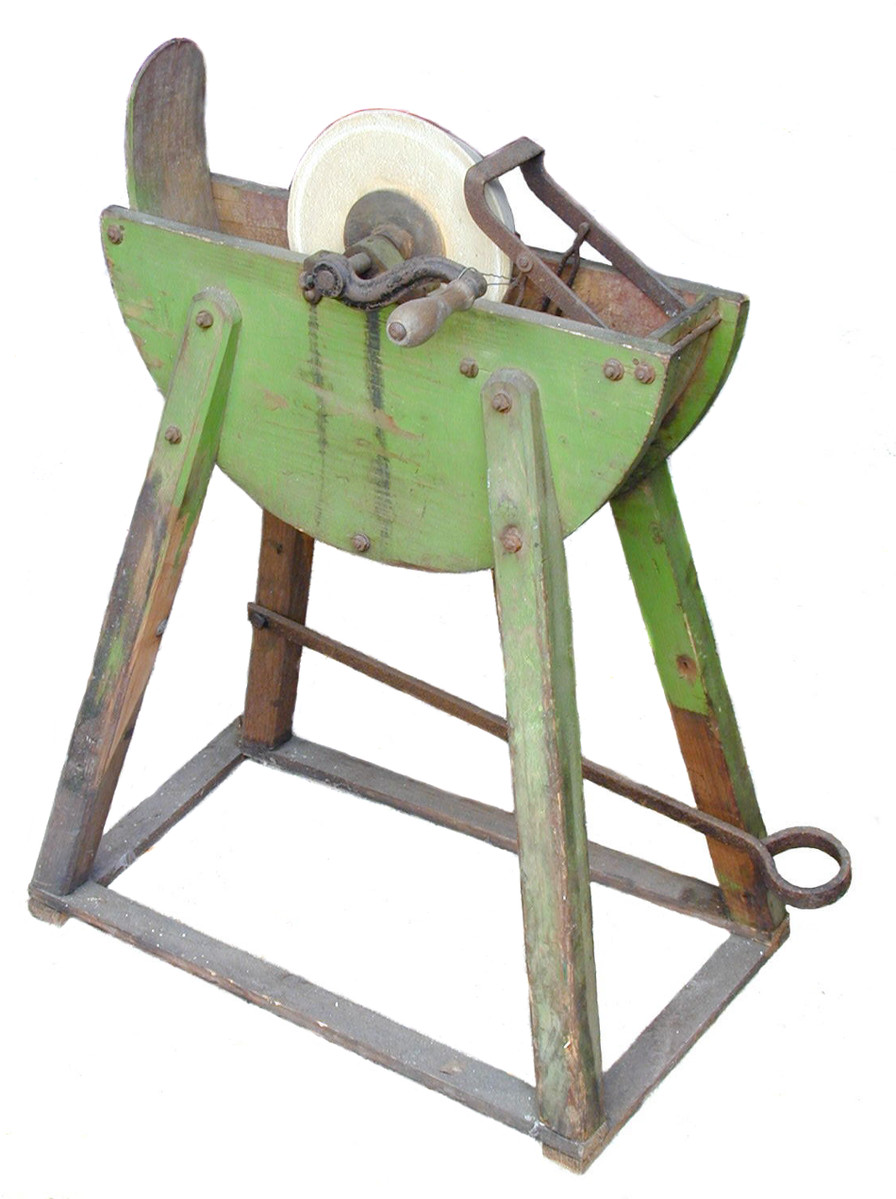 Grindstone
This is a grindstone, a device for sharpening tools. It can be turned either by a handle or by pressing a bar with the foot. It is supported in a wooden frame. It was used by George Lailey, a bowl turner from Bucklebury, presumably for sharpening lathe tools.
MERL 59/136
close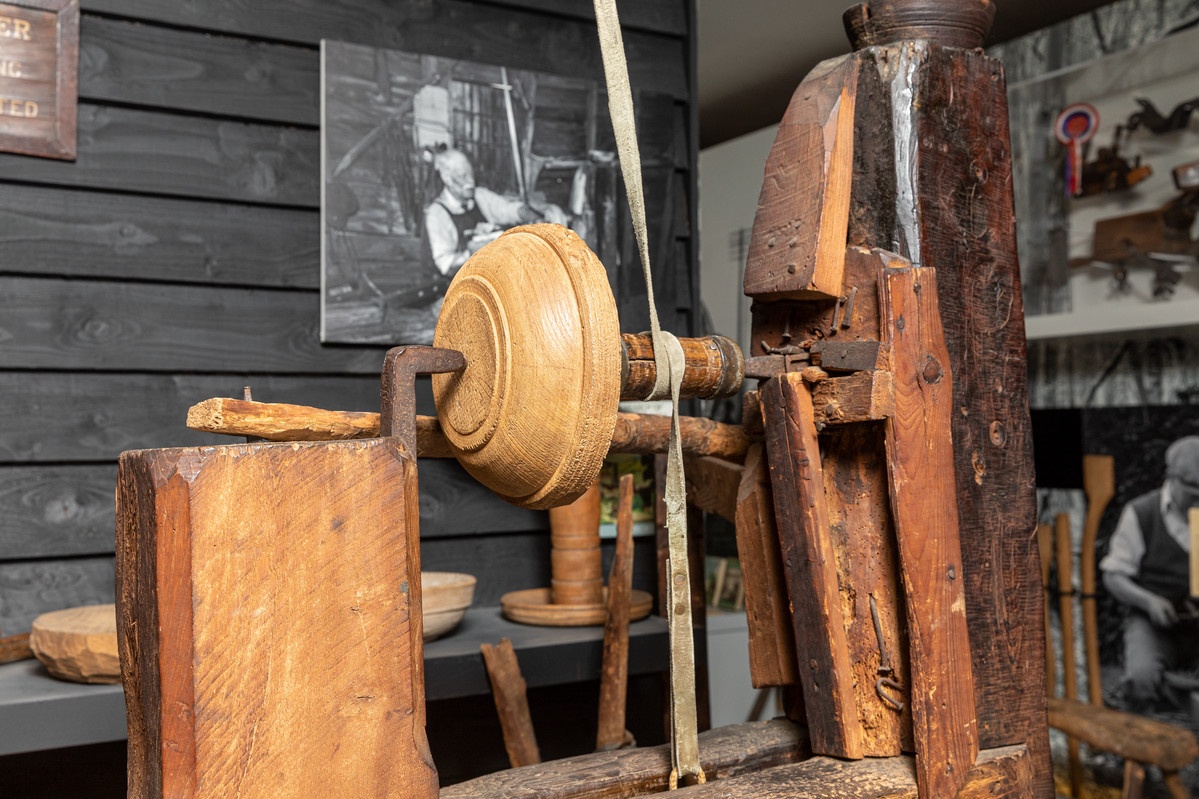 Pole Lathe
This lathe stood originally in the south west corner of George Bailey's hut.  The hut had no heating or power, with light only provided by shuttered windows and the occasional use of a hurricane lamp. The lathe was powered by a piece of springy sapling, the thick end of which was tied, nailed and weighted on the wall of the hut. A leather strap was attached to the thin end of the pole, and it passed downwards to wrap once around the chuck, on which the bowls were made. A loop on the end of the strap hung below the bed of the lathe and a rope joined the loop to the treadle.
MERL 59/57
close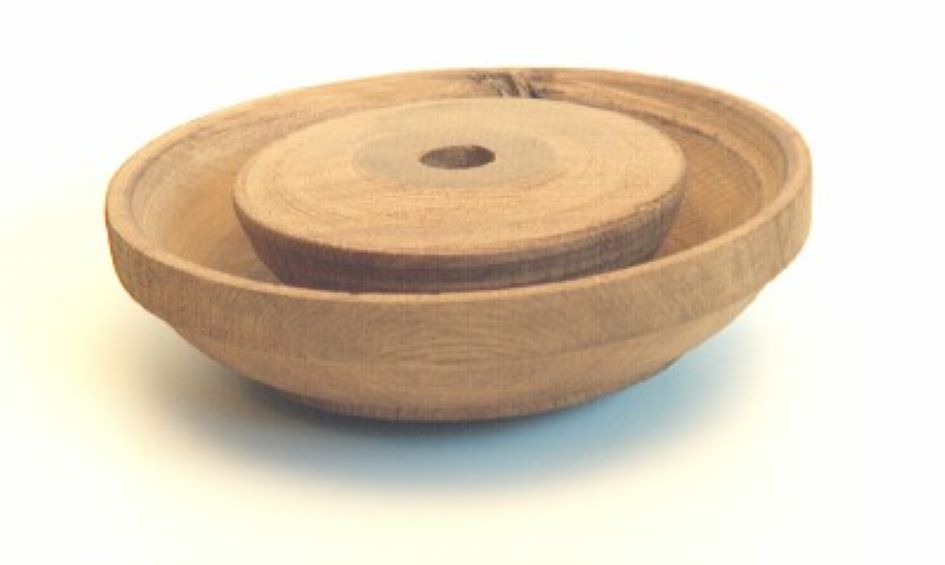 Unfinished Bowl
This is of the square elm blocks was used by John Whipps to practice on with Lailey's bowl turning tools. The block was first made into a circular shape with a bandsaw and then turned. The bowl was not completed as the central core is still in place.
In turning bowls the craftsman requires a variety of chisels or turning hooks. Some are straight shanked for shaping the outer side of bowls, while others are curved enough to reach the very bottom of a "nest" of bowls resting on the lathe. Most of these tools were made by the craftsman himself and some of the newer ones are not fitted with wooden handles. The blacksmith supplied the iron and Lailey himself fashioned the rest in the fire.
MERL 59/94
close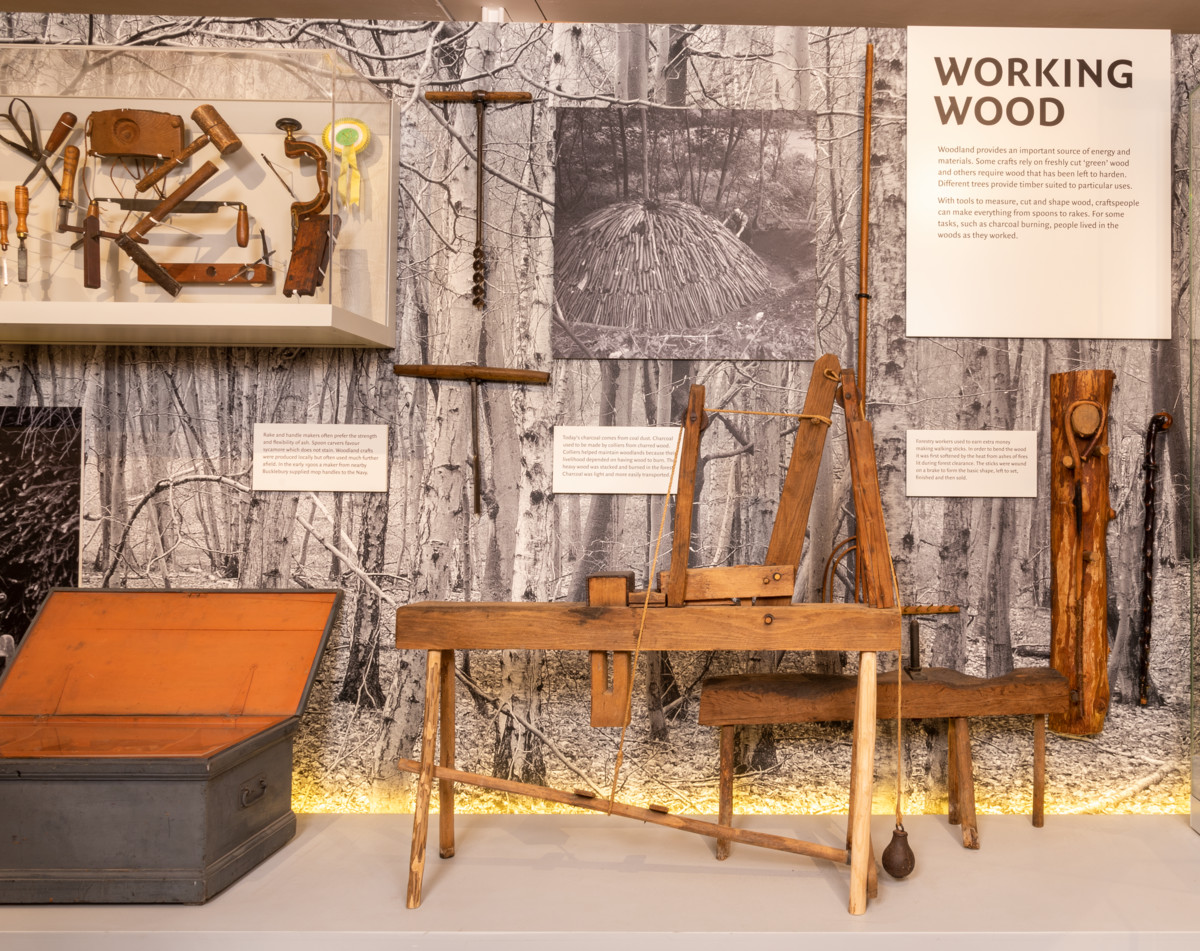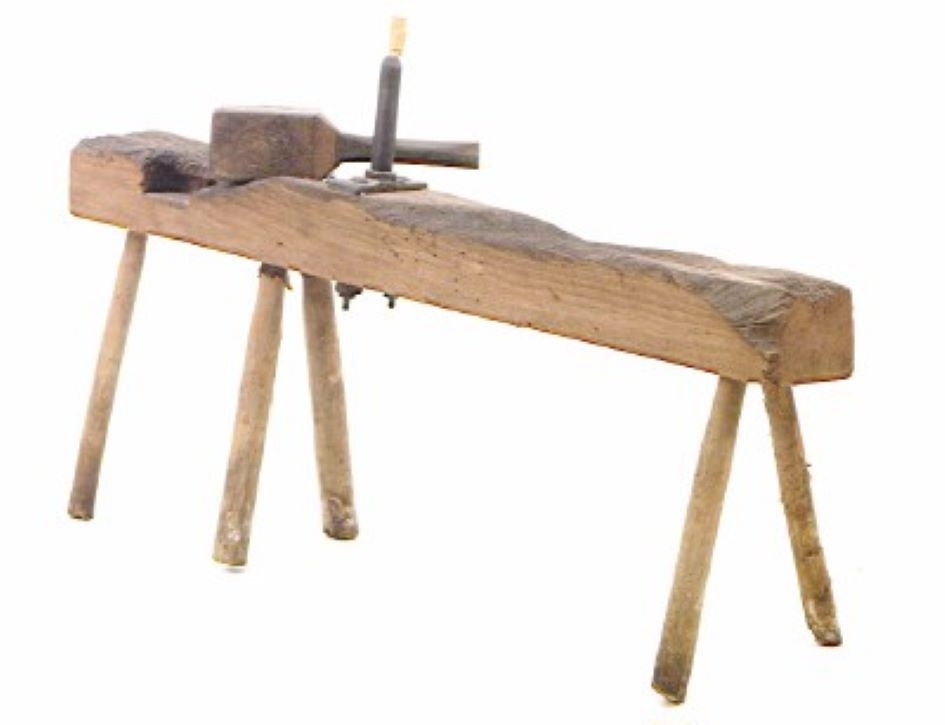 Tining Horse
This tining horse was used by a handlemaker in Heatherdene, Bucklebury Common, Berkshire until 1950. It was used for making rake heads. It consists of a bench stool, to which is attached a steel 'tine former' or 'peg cutter'. Wooden pegs are driven through these to shape them into tines.
MERL 60/281
close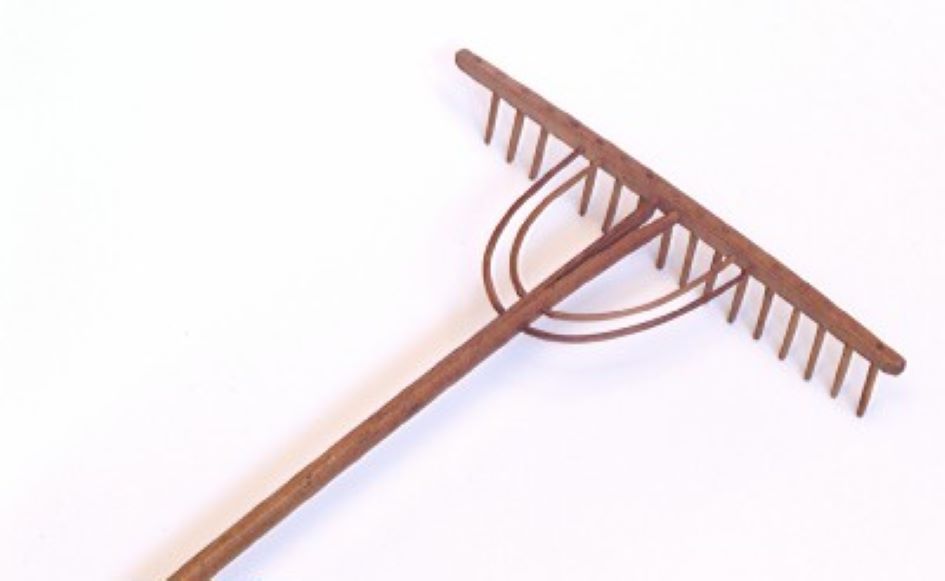 Rake
The design of this rake is typical in Wales, combining the cleft handle with bowed supports. It is made of ash, has a slightly splayed cleft handle, two sets of curved braces either side to hold the head in position, and seventeen tines. The rake is of the type used to gather harvested hay into piles ready for collection. The rake is part of a large collection of traditional craft objects acquired from the British Council in 1960. It was supplied by, and probably made by, William Thomas of Llanymawddwy in Gwynedd.
MERL 60/497
close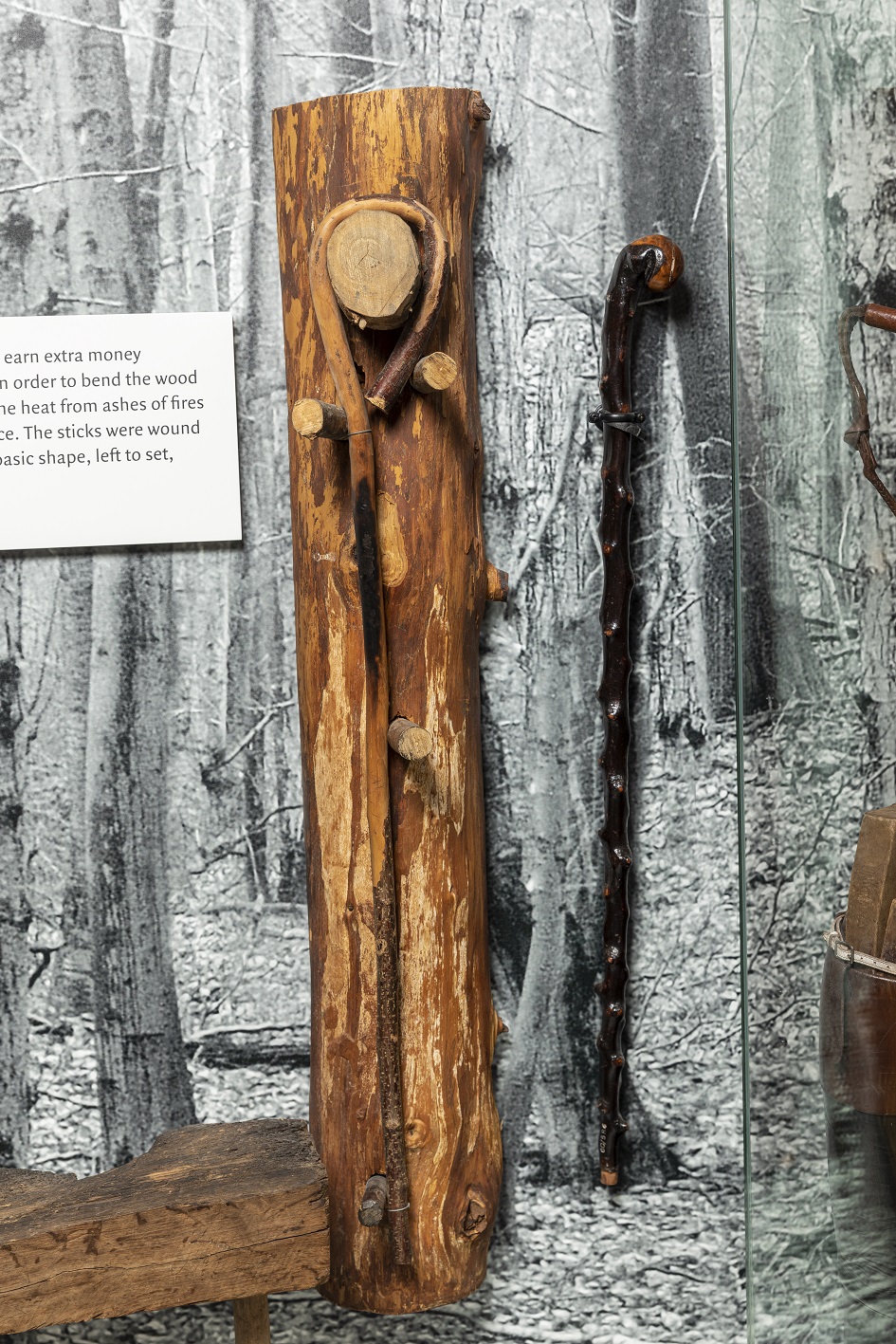 Bending Break
This is a bending brake, used to make walking sticks. It consists of a split log of cedar with five wooden pins set in it, and has two bent sticks set on it to demonstrate the craft. The brake was made by a forestry worker at the University of Reading.
The craft of making walking sticks was a perk for forestry workers, enabling them to make some extra money. The sticks would be heated in the ashes of the fires that the workers made while clearing up in the forest, and then left to set on the brakes until they could be finished and sold.
MERL 77/323
close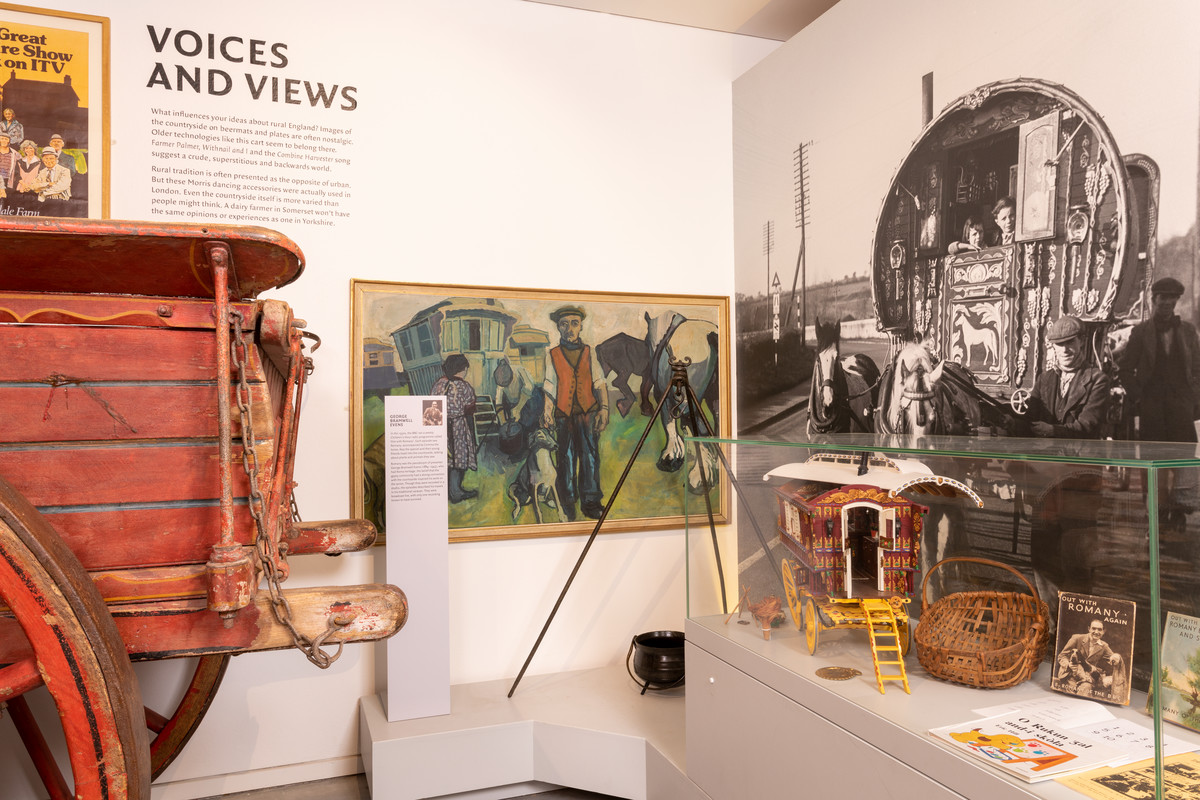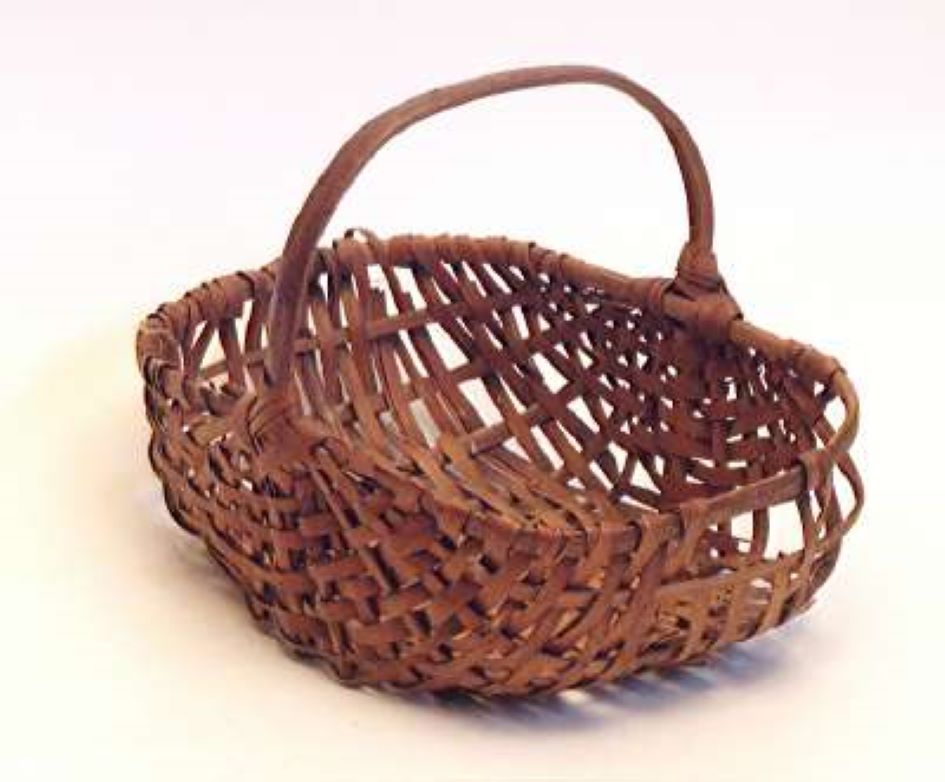 Shopping Basket
This shopping basket was made by Gypsies who lived in Hurt Wood, Surrey. There had been Gypsies on this site for generations and it was the location of the first ever school for Gypsy children. The school itself was made of portable materials so it could be moved, should the families wish to move on from the site. Studies focused on reading, arithmetic and writing as well as history, geography and gymnastics. Students also learned basketry, wood-work and other crafting skills that could lead to gainful employment later in life. This basket was sold at Grover's Fishmongers in 1942 and was made from wood sourced from the Hurt Wood.
MERL 66/231
close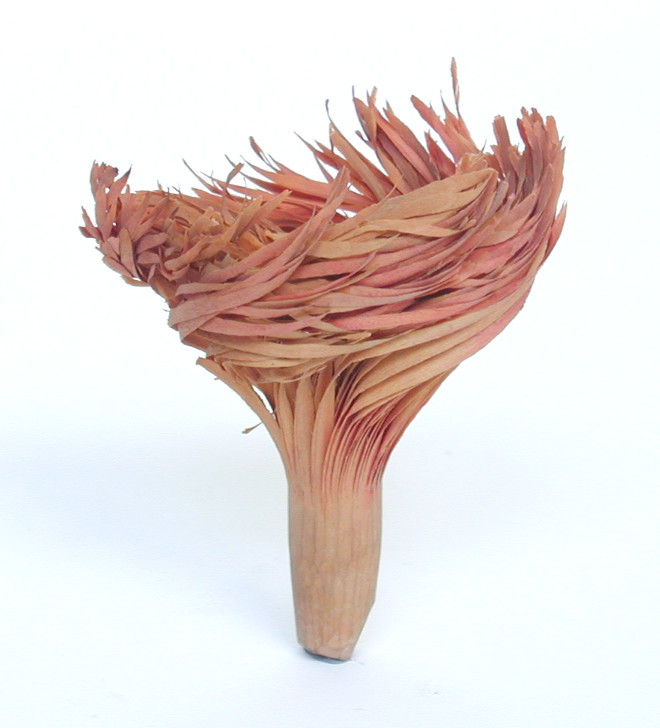 Wooden Flower
This wooden flower was made by a Gypsy man in 1952 from an elderberry stick. He made it to pass the time when he was ill and could not make pegs. Such flowers were stuck onto evergreen twigs and sold at the door for 6 pence each by his wife. It was purchased in Sturminster Newton, Dorset.
MERL 55/307
close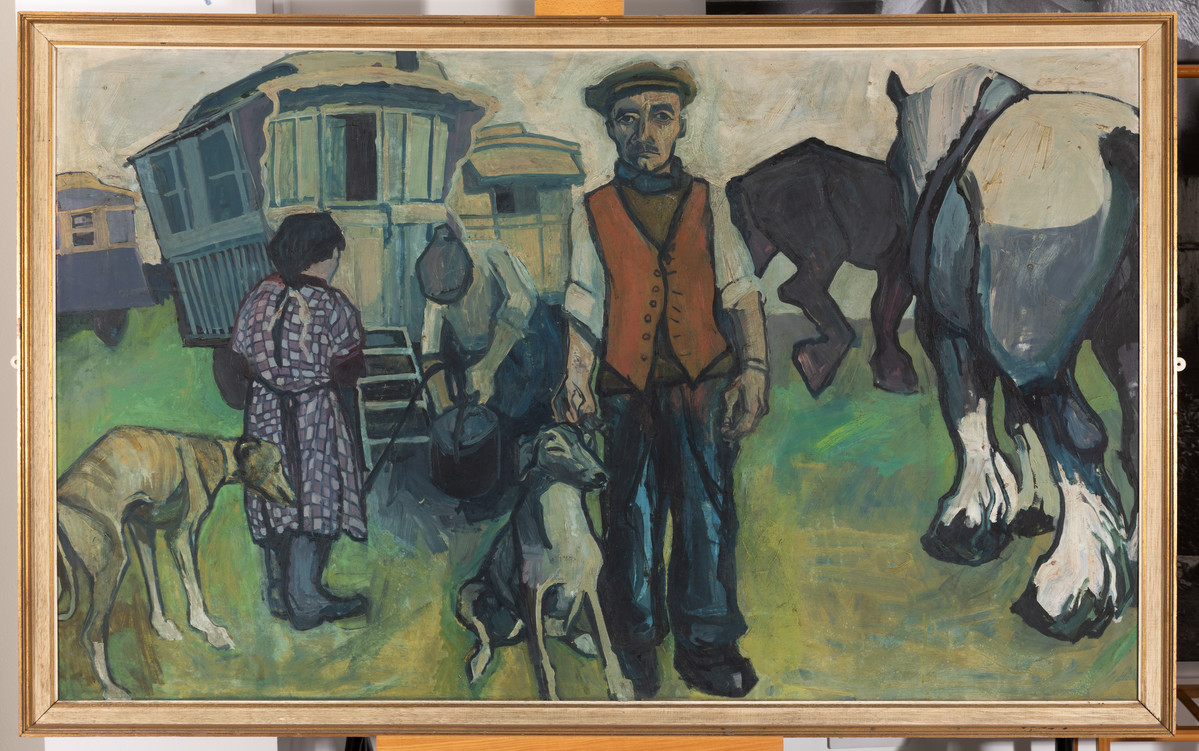 Painting
This painting (artist unknown) depicts a group of Travellers. You can learn more about the painting and the elements of Gypsy life here:
MERL 2011/6
close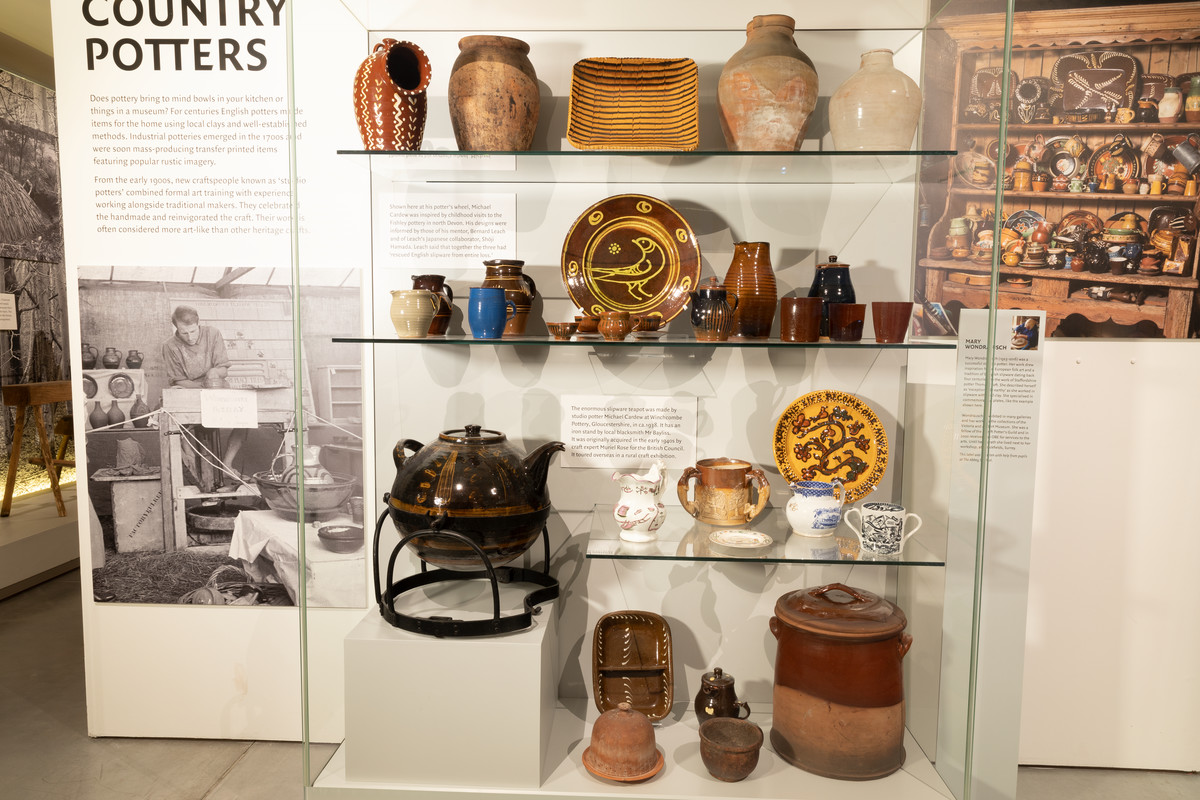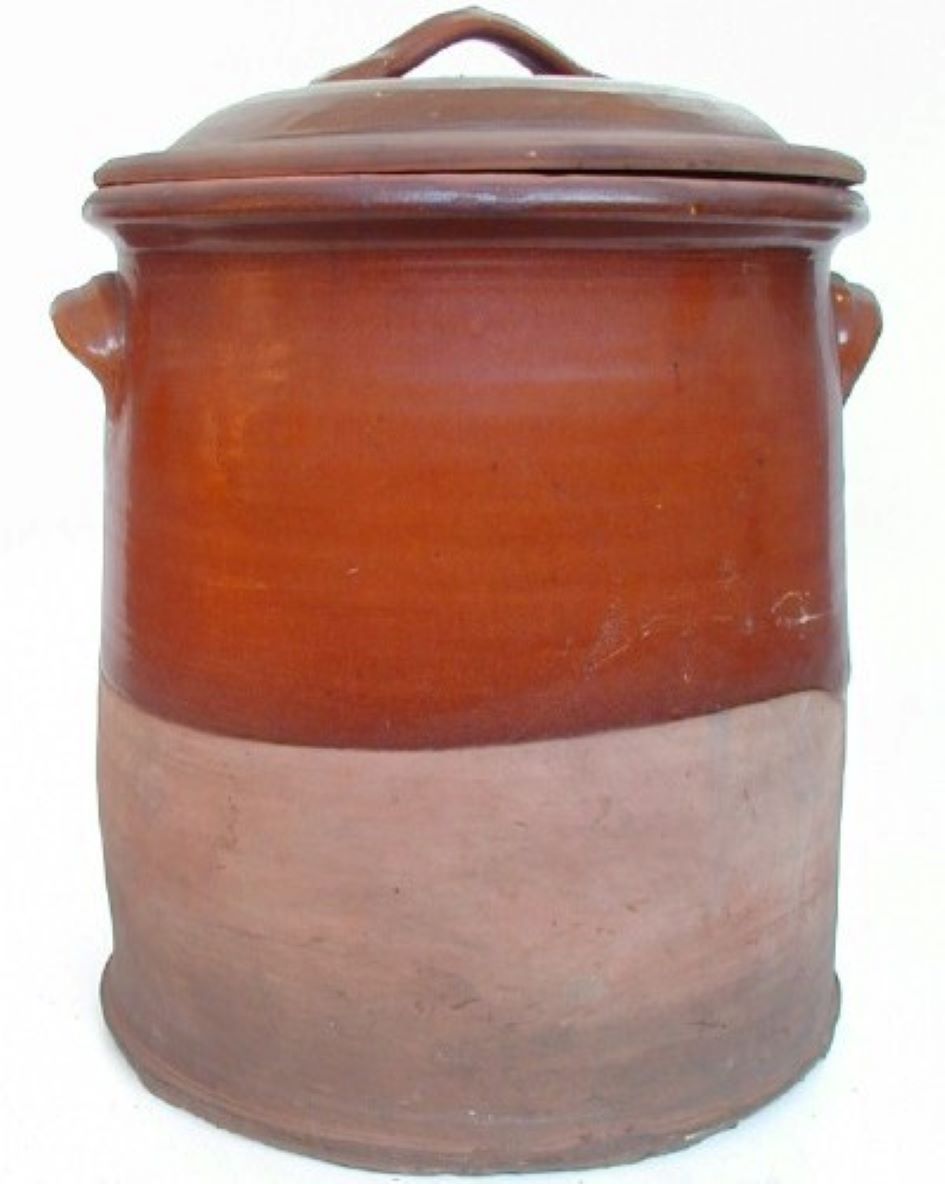 Bread Bin
This pottery bread bin with lid and two handles was made in 1947 by A. Schofield at the Wetheriggs Pottery in Clifton Dykes, Cumbria. They were needed until bread started being made with food preservatives and wrapped in plastic.
Breadboxes are designed to keep the contents are room temperature, prolonging edible storage time. They have lids loose enough to allow airflow, reducing condensation, which helps prevent the formation of mould and yet have a lid tight enough to slow the drying process as well as to protect the contents from mice and all other pests. Michael Cardew was an English studio potter who worked in West Africa for 20 years.
MERL 60/61/1-2
close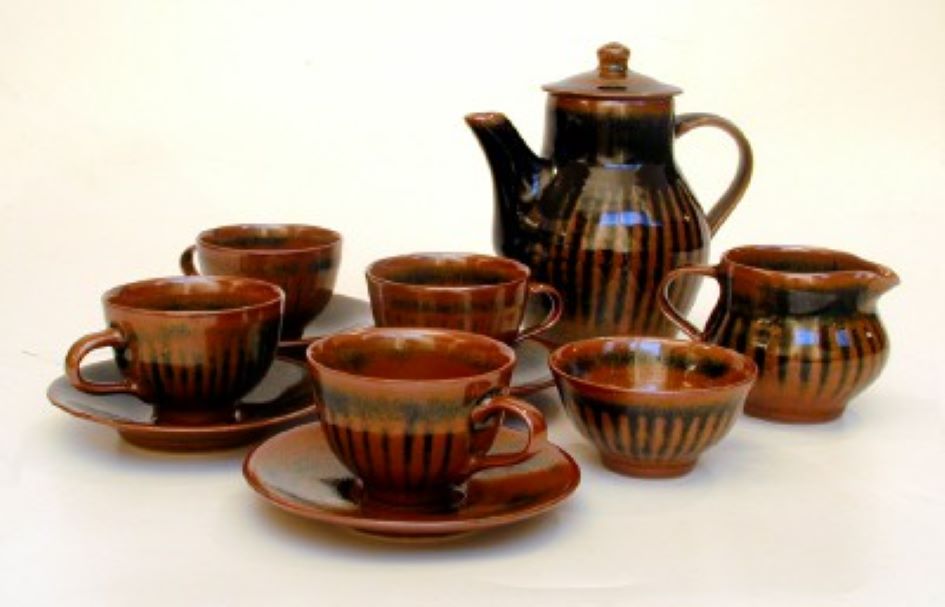 Coffee Set
This set was made c.1945-60 by Harry and May Davis at Crowan Pottery, Praze-an-Beeble, Cornwall. Each piece has a brown tenmoku glaze – a dark glaze with a surface which resembles oil-spotting – and, with the exception of the saucers, each piece is fluted, with the concave portions shaded dark green.
Harry studied art and pottery from his university education onwards. He left St. Ives in 1937 to become Head of the Art School at Achimota College on the Gold Coast (Ghana) where he examined the feasibility of manufacturing tiles, bricks and pots. He recommended Michael Cardew succeed him.
MERL 60/742
close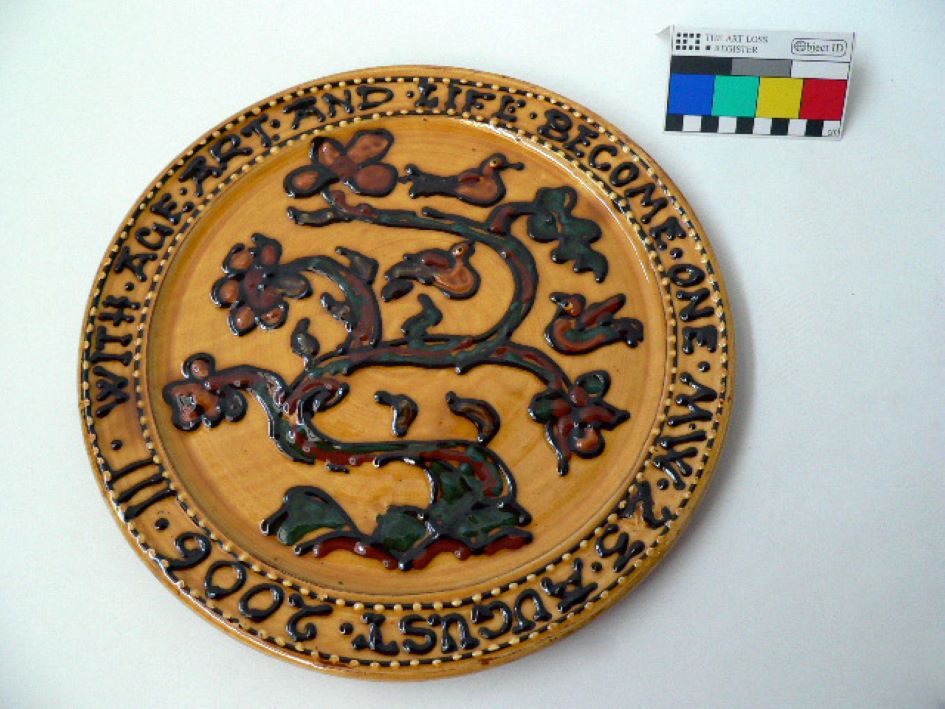 Plate
This plate was created by Mary Wondrausch for the museum in 2006. This is a slipware plate, known as a 'charger', with a honey glaze, a 'tree of life' pattern in the centre and the words 'With Age, Art and Life Become One, MW 23 August 2006'. The tree of life is a fundamental archetype in many of the world's mythologies, religious, and philosophical traditions. It is closely related to the concept of the sacred tree.
The plate was crafted as part of the 'Rural Crafts Today' project run by the MERL from 2006 – 2008.
MERL 2006/66
close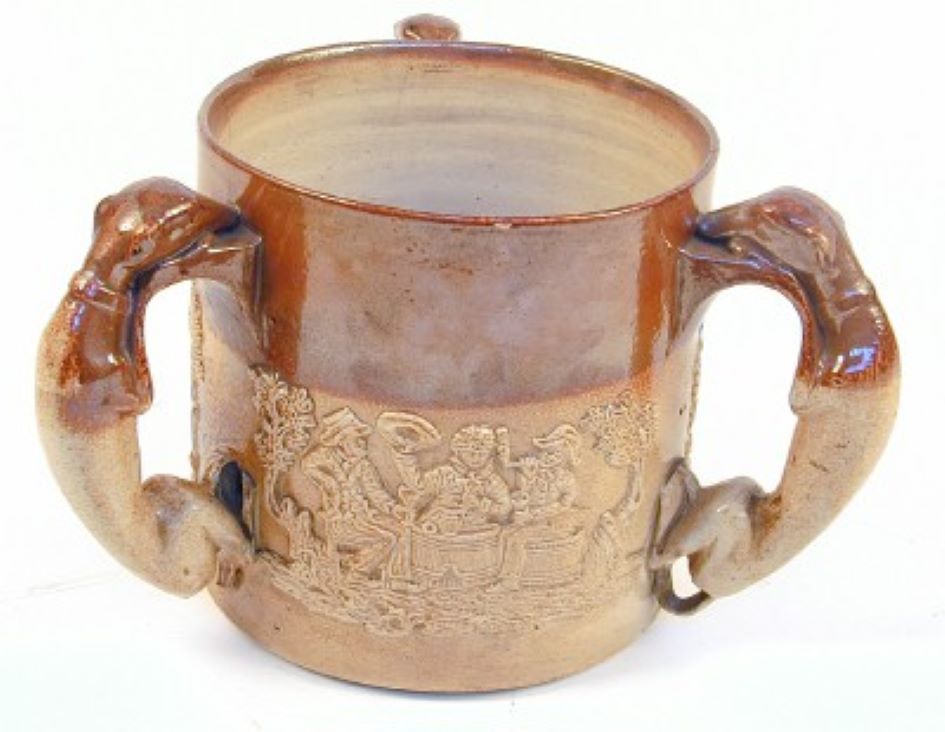 Loving Cup
Believed to have originated in Chesterfield, Derbyshire, this cup was the biggest in an original set of three. Known as a loving cup (two tone brown earthenware) the handles are shaped like dogs and the cup is decorated with scenes of 'rural merriment'. A loving cup is a shared drinking container traditionally used at weddings and banquets. It usually has two handles and made of silver. Loving cups are also given as trophies to winners of games and other competitions.
MERL 62/313
close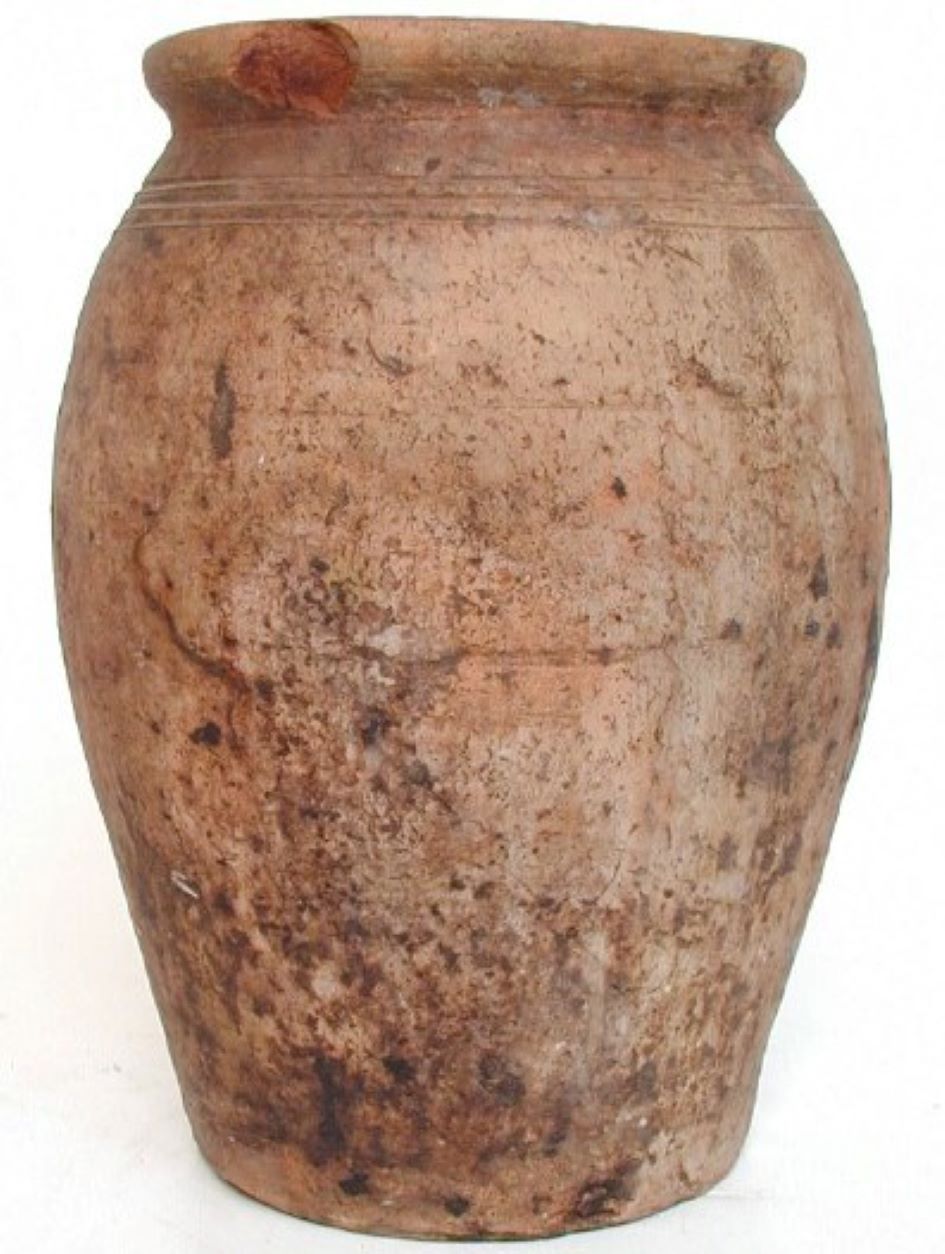 Lard Jar
This lard jar was used by the donor's family at Polventon in Cornwall for holding lard after pig killing until c.1950. It was used by the Wherry Family and made by Andrews, an employee of the Chapel Hill Pottery, Truro c1880.
Lard is a cooking fat and can be used much like butter. It is sourced by rendering the fatty tissue of a pig. It was used as a butter substitute during WW2 and was much cheaper than butter until the introduction of vegetable oils.
MERL 62/328
close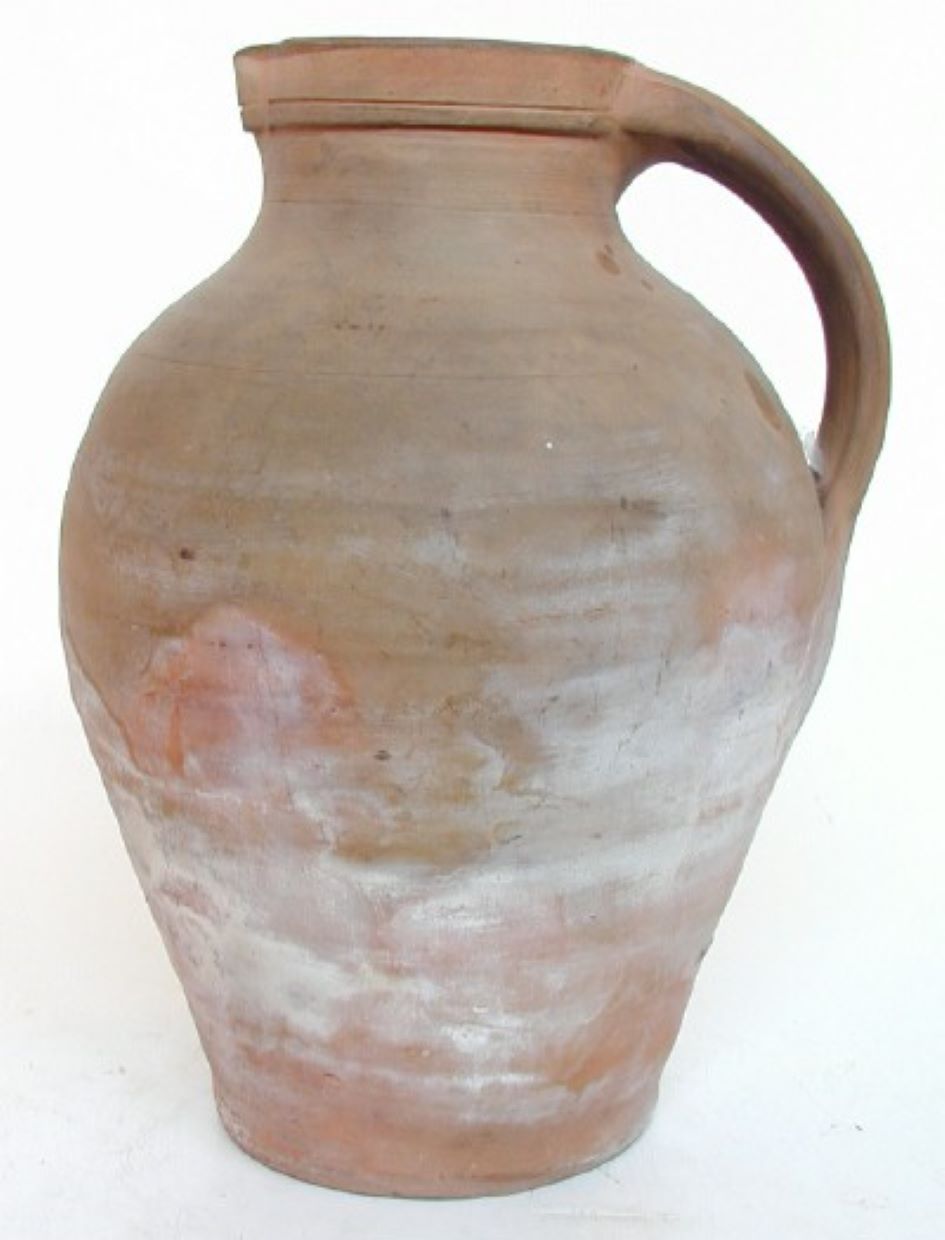 Jug
This earthenware jug with a deep orange-brown glaze on the inside was made by W. H. Lake & Son Ltd. at Chapel Hill Pottery in Truro, Cornwall, c. 1945–6. Jugs of this shape were made at Chapel Hill Pottery for over 400 years. In its 1950s heyday, Lake's Pottery was producing hundreds of items for domestic use including plant pots, pitchers, bread pans, cream pans and salters.
MERL 60/620
close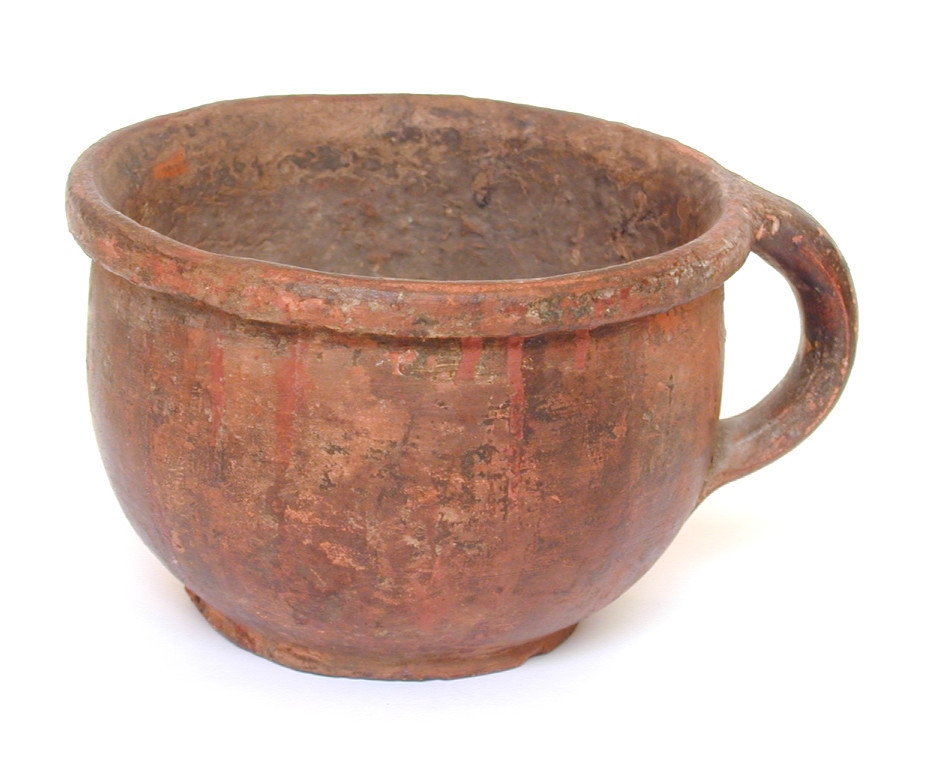 Lacemaker's Warming Pot
Warming pots were used for warmth by lacemakers instead of fires, the smoke and dust of which might soil their work. The pots were filled every morning with hot wood ashes obtained from a baker and placed at the feet of the lacemaker, or under the candle block. This warming pot is made of rough brown earthenware.
Lace became very popular in English fashion during the court of Elizabeth I. Lacemaking industries took of in Devon and part of the South Midlands. All these areas were influenced by immigrants from Belgium, French Huguenots and later the French escaping revolution. Queen Victoria married in white lace, influencing the wedding dress style until the modern day.
MERL 51/749
close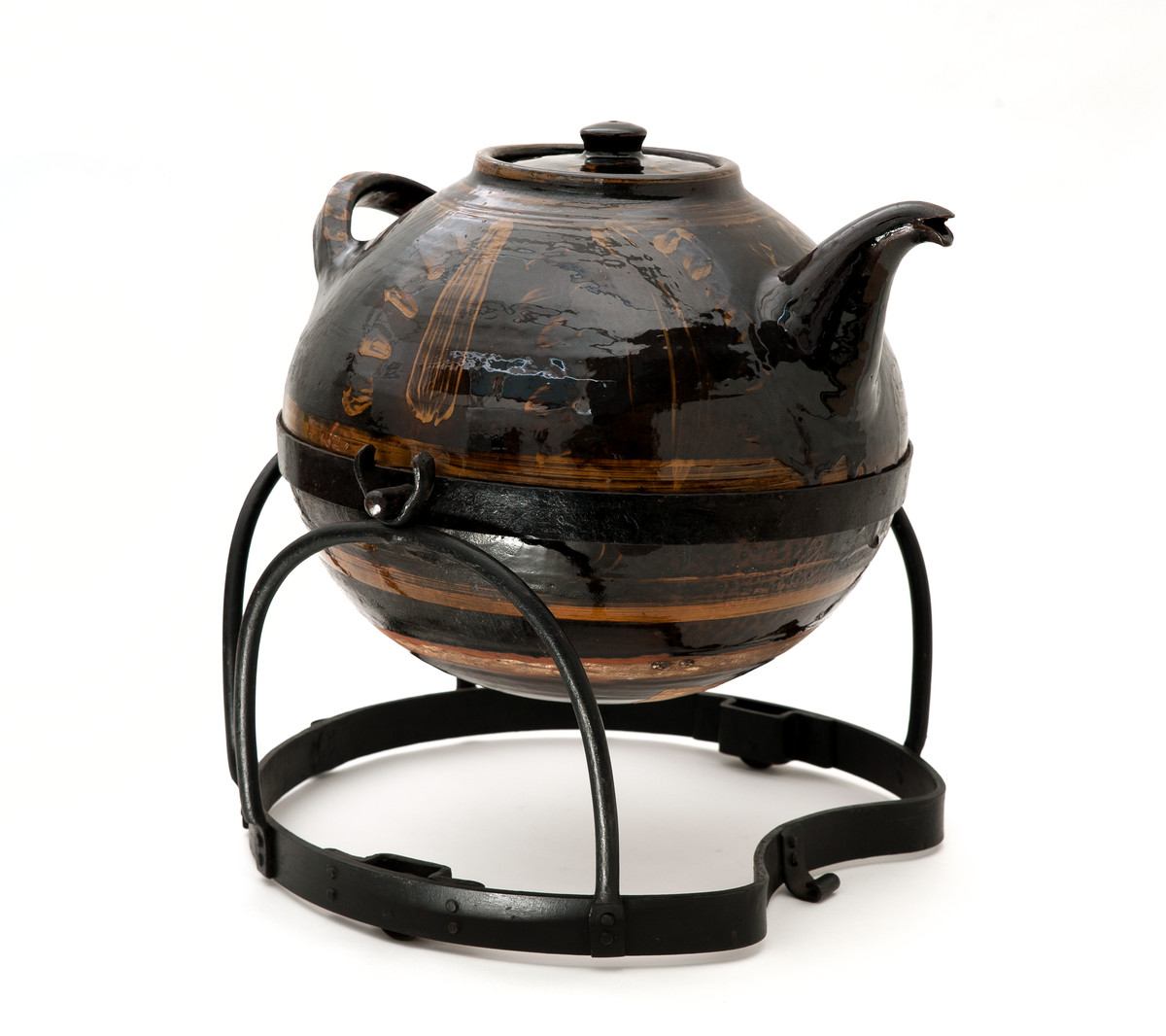 Teapot
This 6.5 gallon teapot was made c. 1945–6 by Michael Cardew at Winchcombe Pottery in Winchcombe, Gloucestershire. It is oval in shape and is supported on an iron frame on which it can be tipped. It is dark brown, with a design in yellow slip. The pot can hold 29.5 litres of tea, and is supported on an iron frame which allows it to be tipped and also maneuvered thanks to small wheels at its base. It is not an anomaly, but is actually a type of teapot reputed to have been used at various types of large meetings across the countryside.
MERL 60/638
close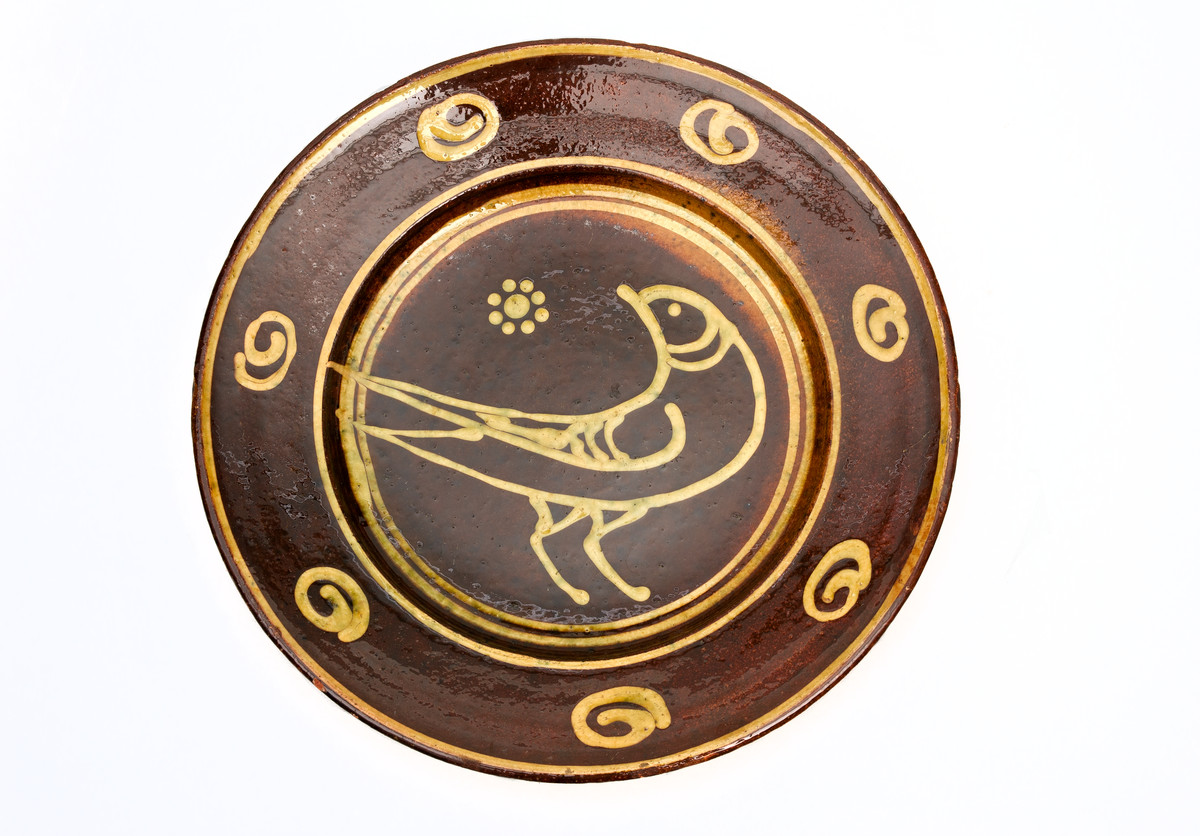 Dish
This large round dish was made c. 1926–39 by Michael Cardew at Winchcombe Pottery in Winchcombe, Gloucestershire. The bird was created using the slipware style of pottery decoration. Cardew was employed by the Colonial Service to teach ceramics at the Achimota School (an elite school for Africans in the Gold Coast (Ghana)).
It was suggested after the outbreak of World War Two that importing crafted goods was impossible due to attacks on shipping. It was therefore suggested that the Colonial Office promoted 'indigenous industries' for which Cardew was in charge of developing. It was a failure. He then set up his own pottery in Vume which was also seen as a failure, but is now regarded as some of his finest work. It was said the clay was very difficult and there were a number of kiln failures.
MERL 60/637
close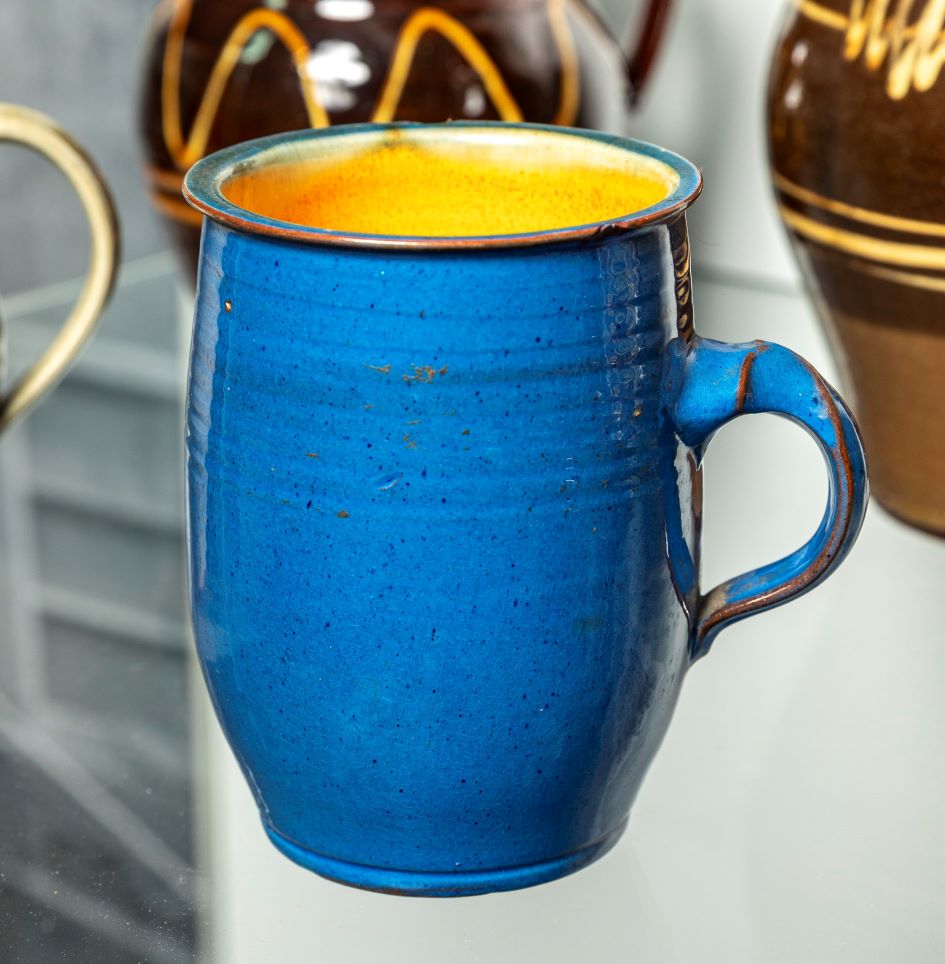 Tankard
This glazed pottery vessel features a distinctive pinched design on the handle. A combination of size and form mean that this object was probably intended to function as a mug or ceramic tankard. However, due to a lip running round the entire upper rim this item was described by its owner as a vase. It was made by Fishley Holland.
The word "tankard" originally meant any wooden vessel in the 13th century and later came to mean a drinking vessel. The earliest tankards were made of wooden staves, similar to a barrel, and did not have lids. A 2000-year-old wooden tankard of approximately four-pint capacity has been unearthed in Wales.
MERL 2016/12
close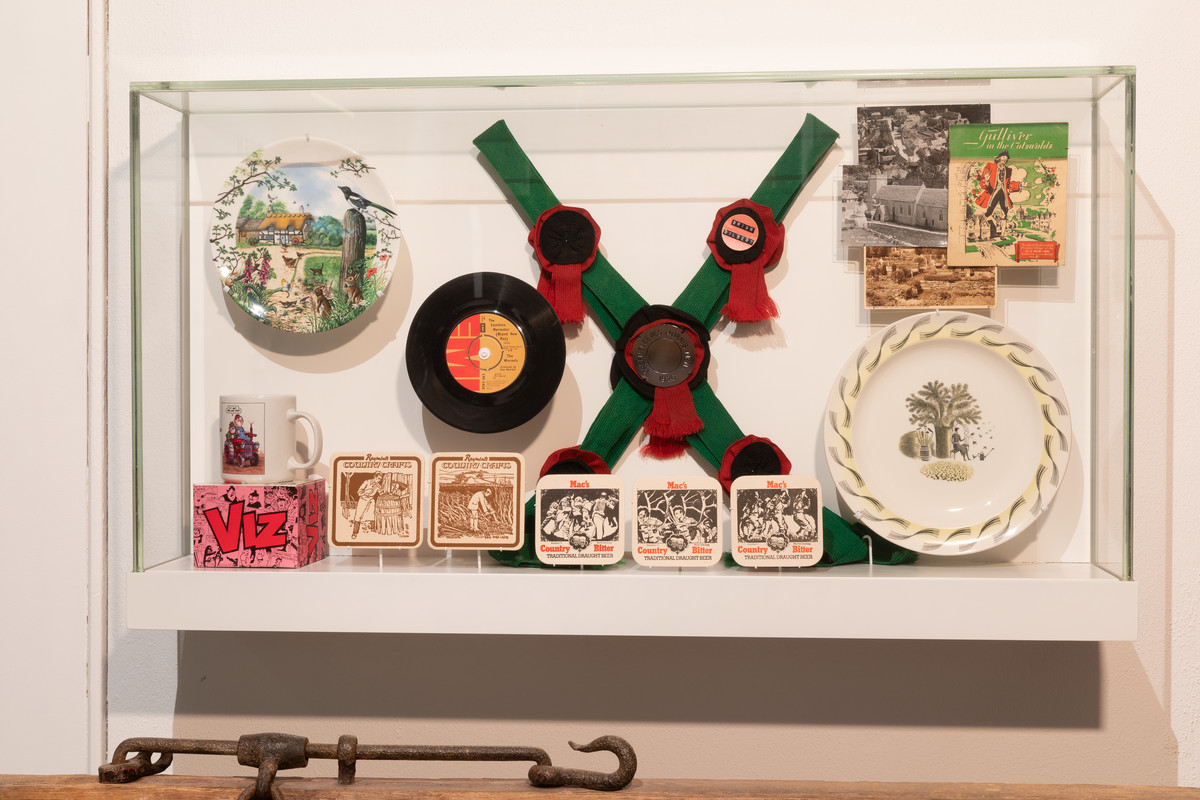 Gulliver's Travels - Cotswolds
+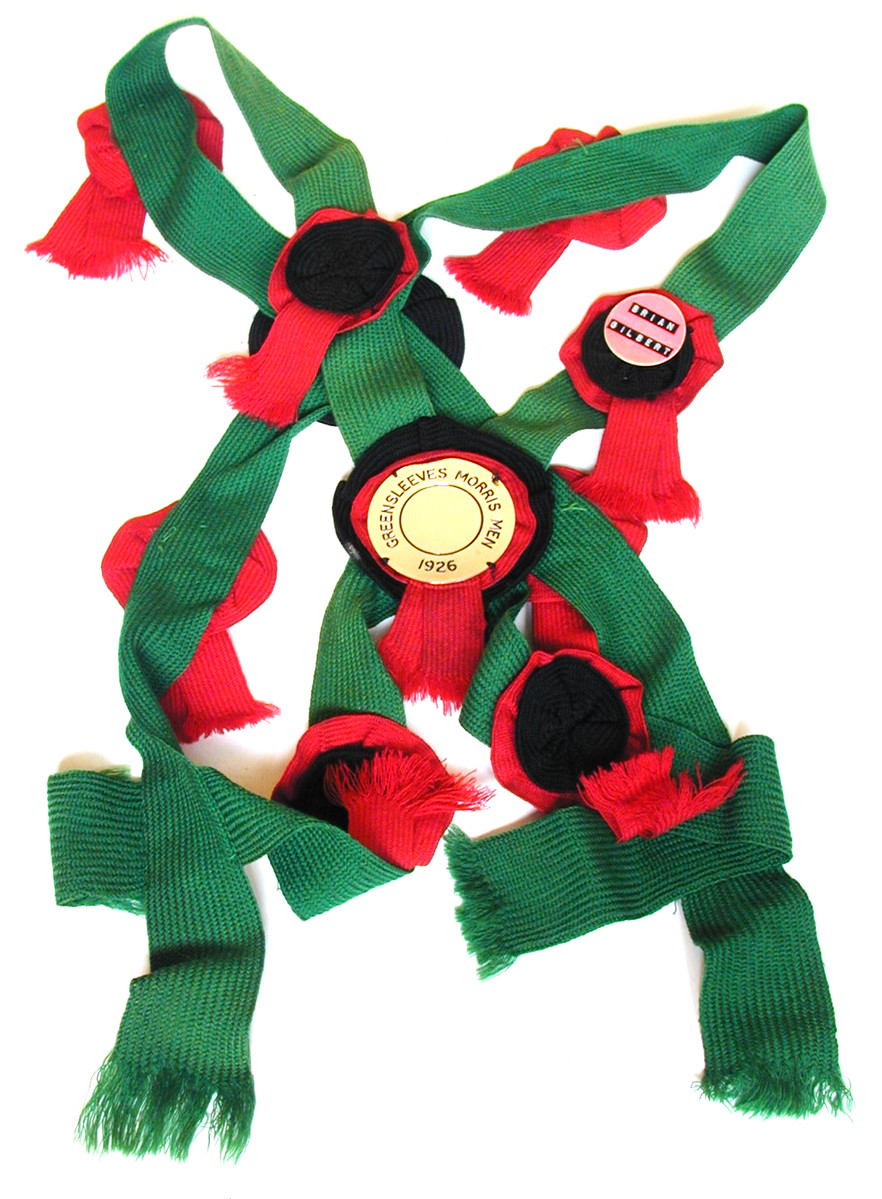 Morris Dancing Costume
These 'braids' form part of a Morris Dancers 'Greensleeves' costume. Morris Dancing has been a part of English traditions from as early as 1448. It normally takes place on May Day each year and is part of Spring celebrations. It involves rhythmic stepping with sticks, handkerchiefs and bells.
MERL 89/36/2
close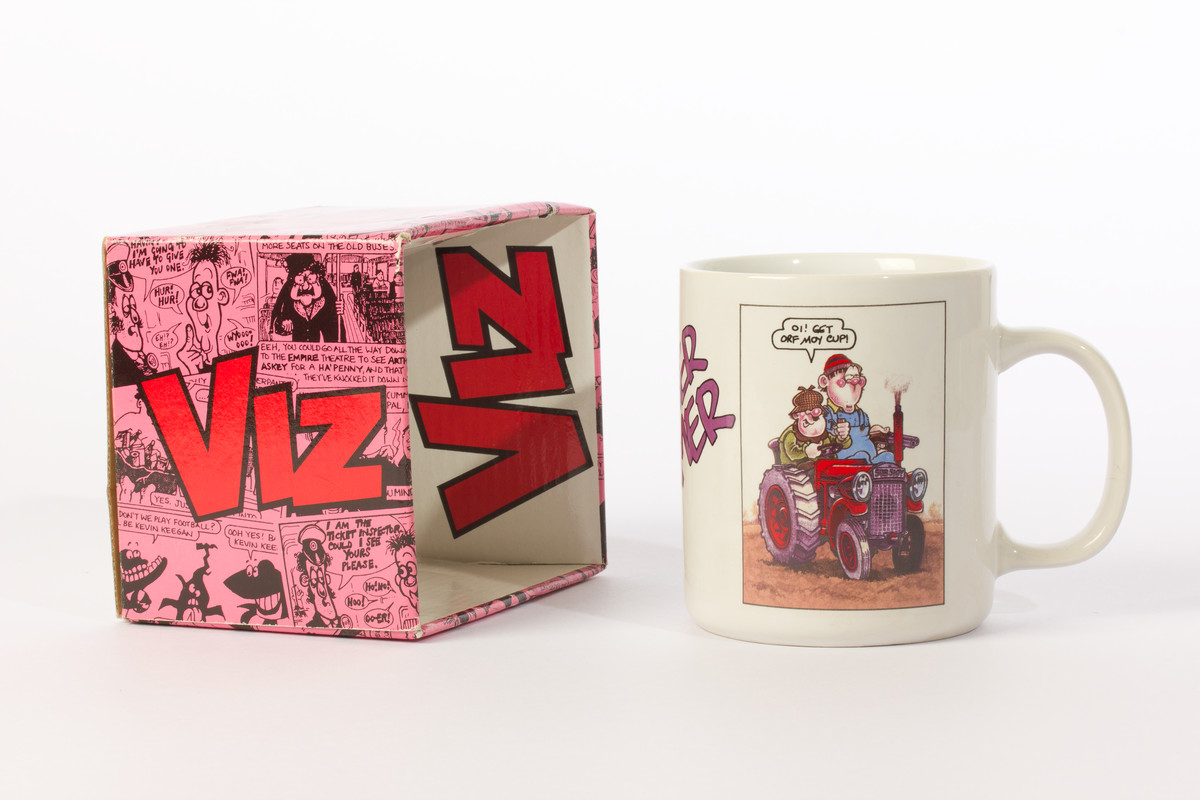 Viz Mug
Viz Magazine was first published in December 1979 and parodies a number of children's comics such as The Beano and The Dandy but with a much more adult tone. Alongside its profanity and toilet humour The Viz sends up celebrities and tabloid newspapers. In the 1990s Farmer Palmer and his son Jethro appeared in Viz magazine portraying every stereotype about farmers their creator, Simon Thorpe, could imagine.
MERL 2009/21
close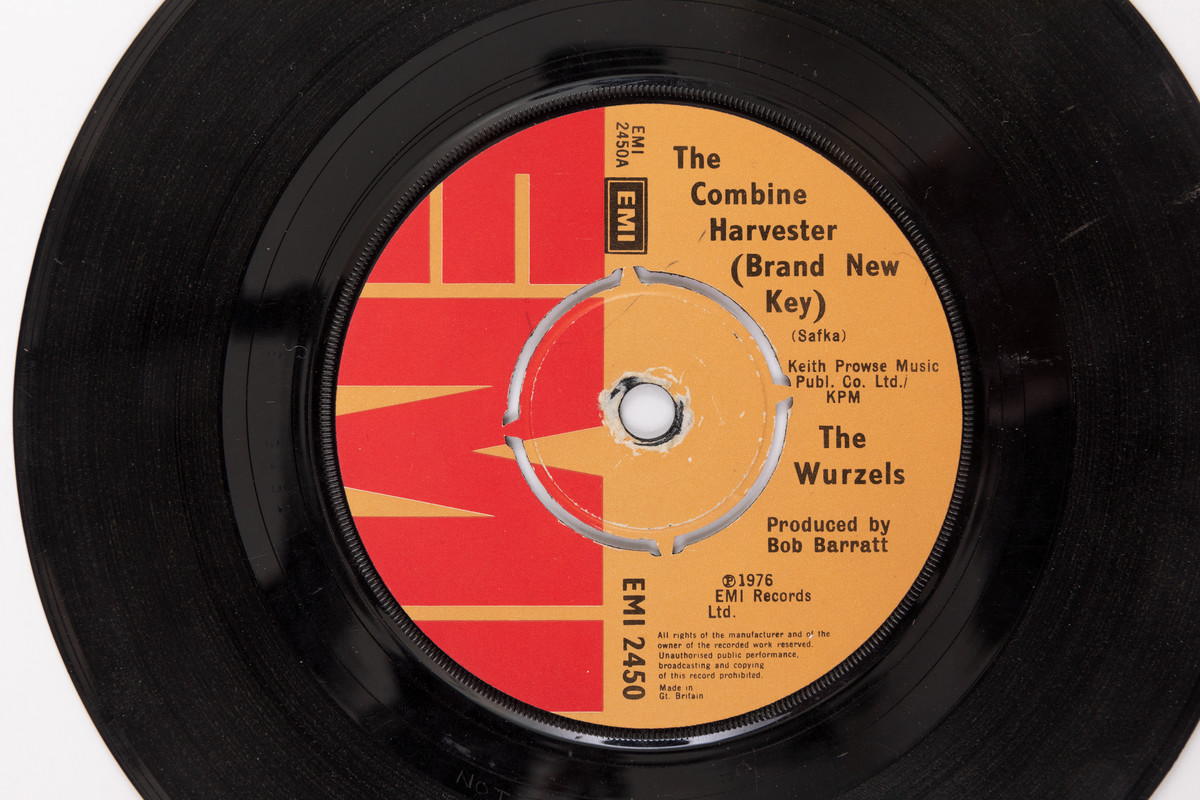 Wurzel's Record
"I've Got a Brand New Combine Harvester" was a 1976 #1 hit song for the 'Scrumpy and Western' band, The Wurzels. This record was donated by Jonathan Durning who was a huge fan of the song, and as a result attended a local fete in 1976 with a homemade combine harvester model made by his father.
MERL 2014/19
close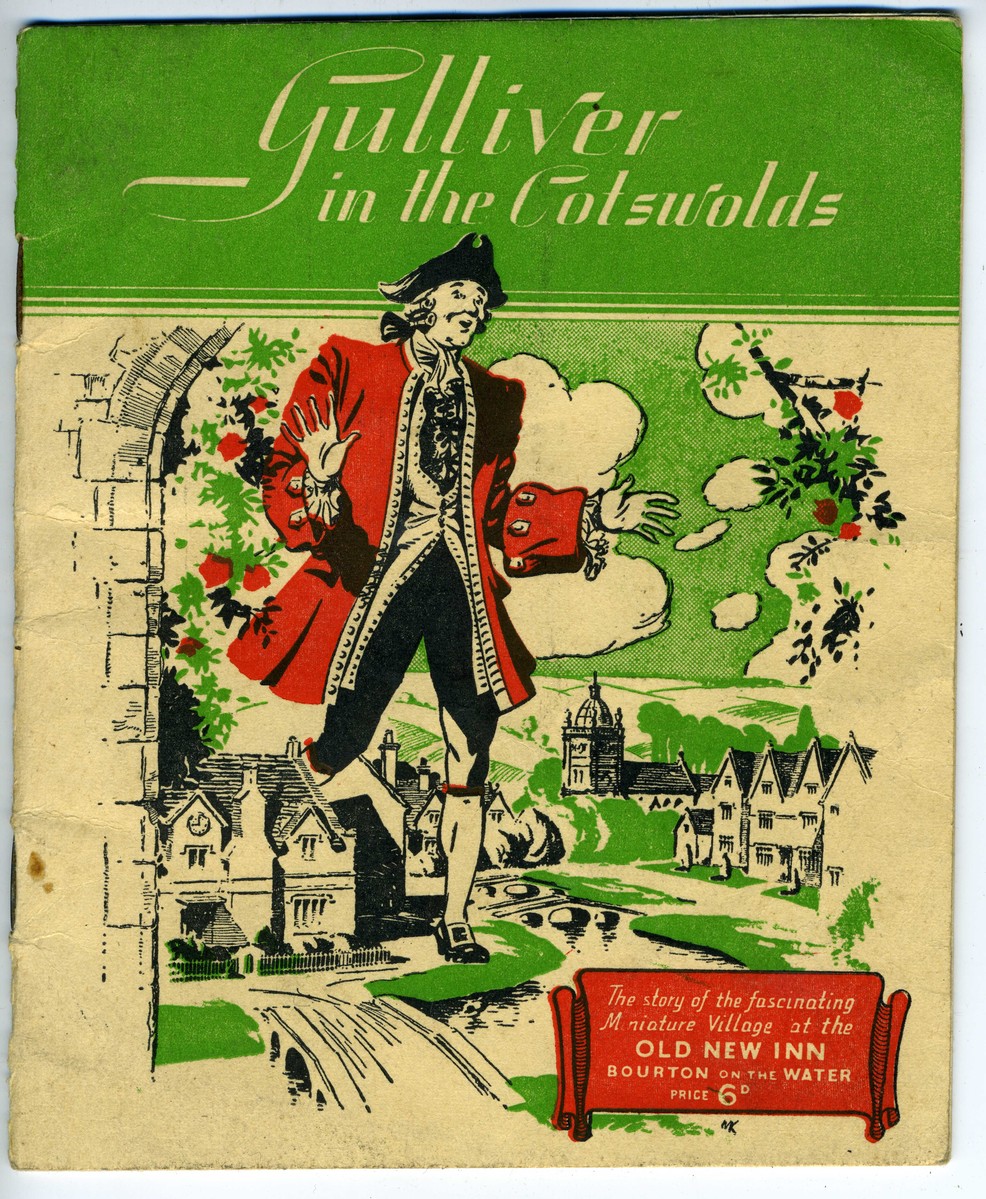 Gulliver's Travels - Cotswolds
This booklet about the model village at Bourton-on-the-Water, Gloucestershire, dates from the 1950s. The booklet is entitled 'Gulliver in the Cotswolds: The story of the fascinating Miniature Village at the Old New Inn Bourton on the Water'. The model village at Bourton-on-the-Water was built in 1936–1937 and is still open today. It even has a model of the model village. Over the years, a variety of souvenir ephemera was produced, including guidebooks, postcards and pottery mementos.
Gulliver's Travels is a four-part prose travelogue, narrated by the fictitious persona of Lemuel Gulliver, who tells the story of his extensive global voyages, the places he has been and the people (and other creatures) he met. The satire was first published in 1726 under the title Travels into Several Remote Nations of the World 'By Lemuel Gulliver'.
MERL 2010/155
close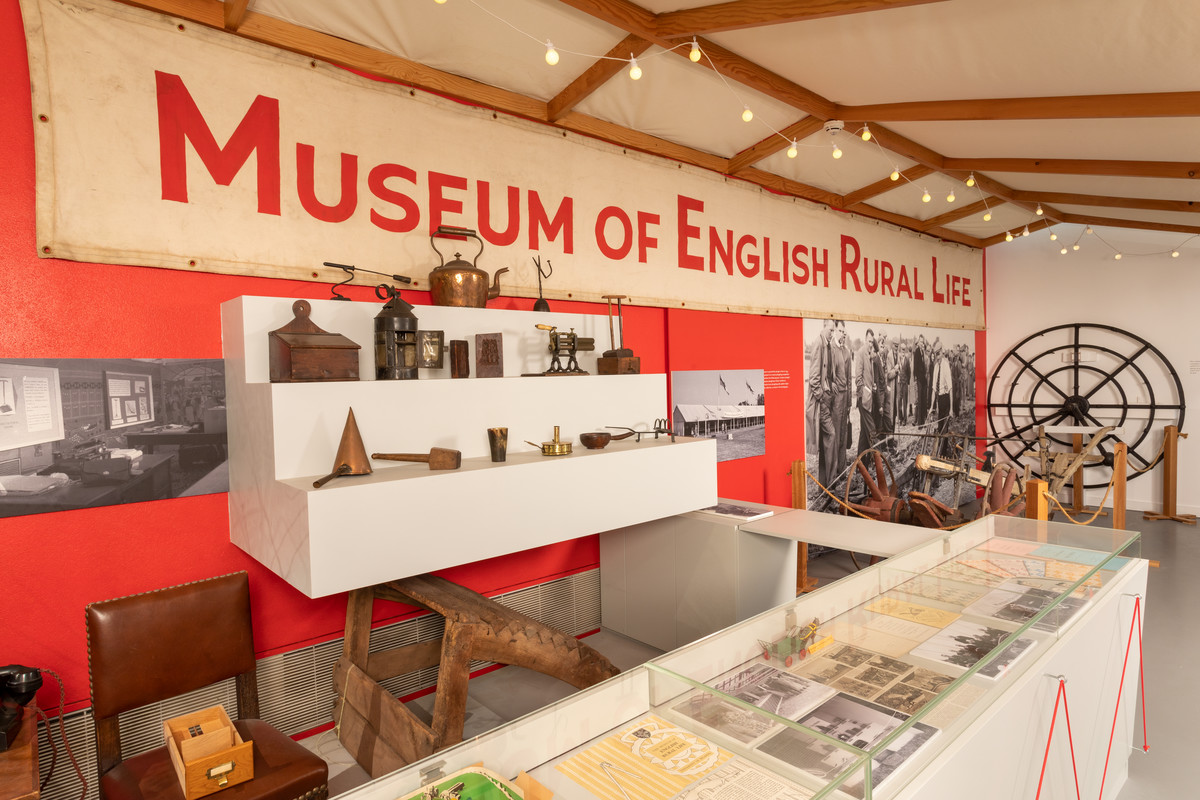 Tally Iron
This finishing or tally iron is for smoothing and crimping frills and cuffs. It consists of a barrel on a stand and two rods. Nothing is known about the origins of this iron. The iron was heated by inserting a metal poker-like rod, fresh from stove or hearth. Then frilled cuffs and collars could be curled round the cylinder, and other trimmings, like ribbons, were moved across it.
Ruffs and frilly collars and cuffs were popular fashion items from the Elizabethans to the Victorians and were a sign of wealth, as it required expensive fabrics and hard work to create an extravagant ruff or collar.
MERL 51/114/1
close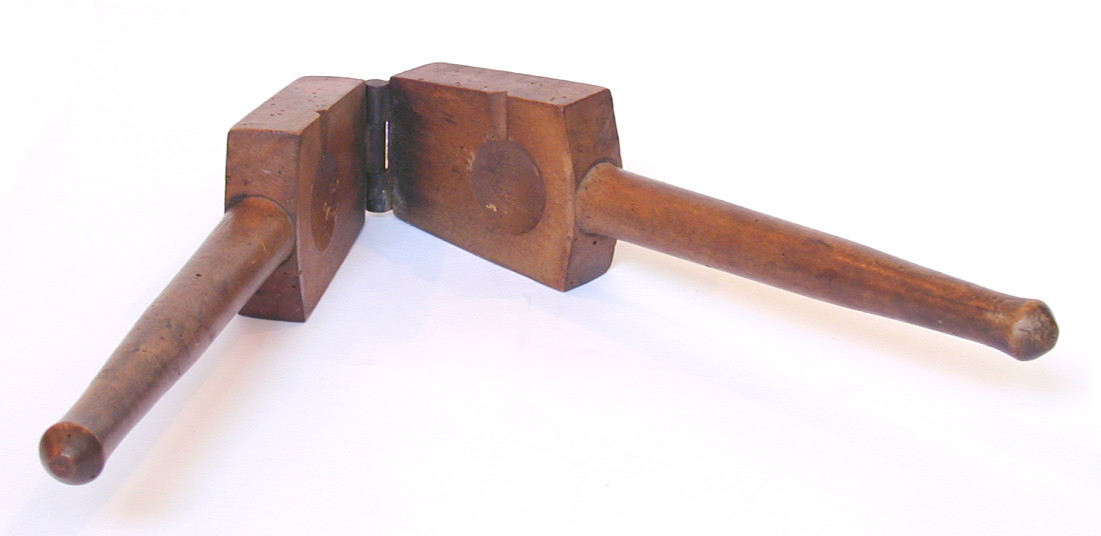 Lemon Squeezers
This pair of wooden lemon squeezers, made of birch, is of the nutcracker type, with a round hollow in each half to hold the lemon and a small channel to drain the juice away.
MERL 51/627
close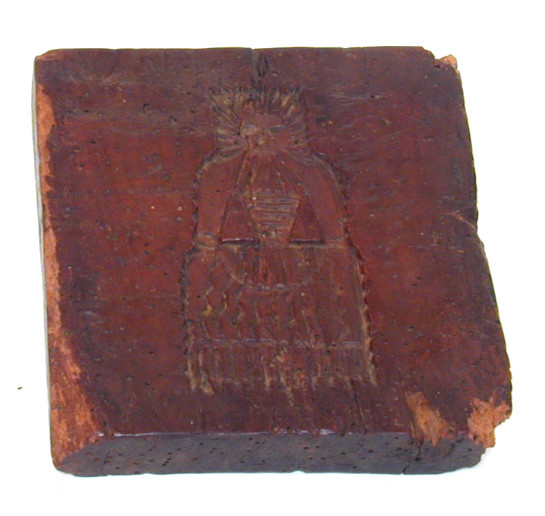 Gingerbread Mould
This wooden gingerbread mould, made of yew wood, is incised with a design incorporating a heart on one side and a figure on the other. It was given to Lavinia Smith by Mr John Denniss, whose family had been bakers in East Hendred for 200 years.
MERL 51/539
close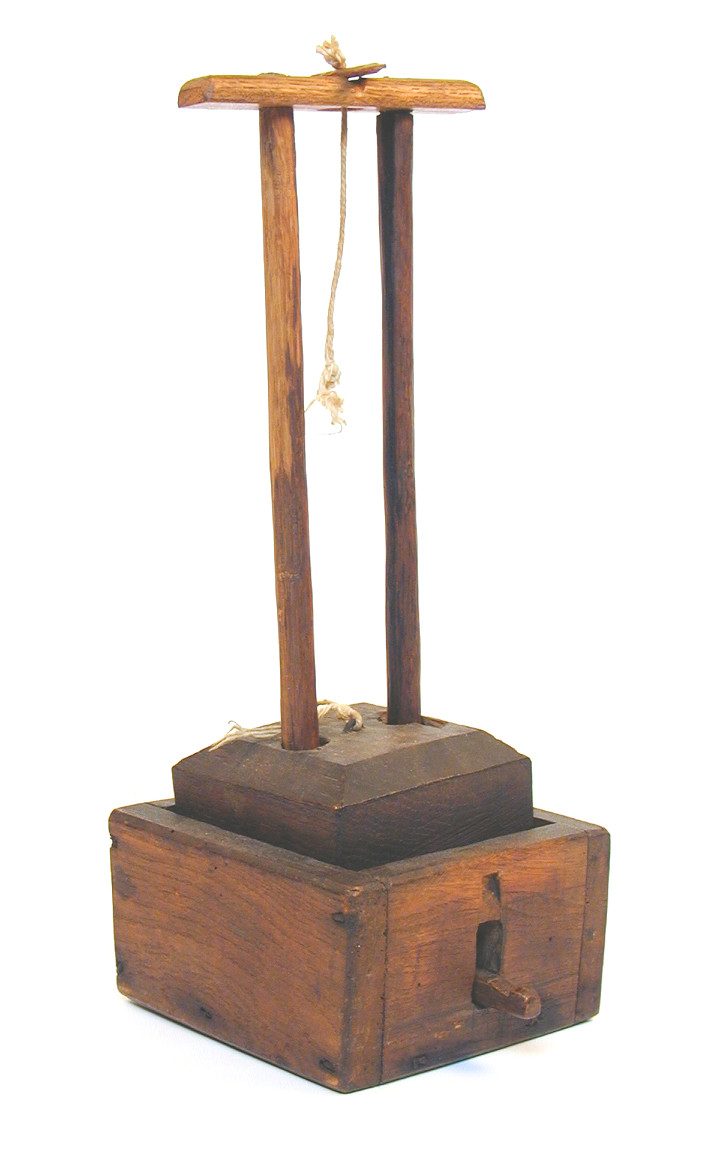 Deadfall Mouse Trap
This is a deadfall mouse trap, designed to kill mice and other vermin by crushing them with the fall of a heavy weight. It is a lever arm trap, rather than a string release type. Deadfall traps were in common use before the development of the spring jaw trap. Bait is placed inside the box and as the animal treads on it, the trip toggle is released and the block comes down with force.
MERL 51/606
close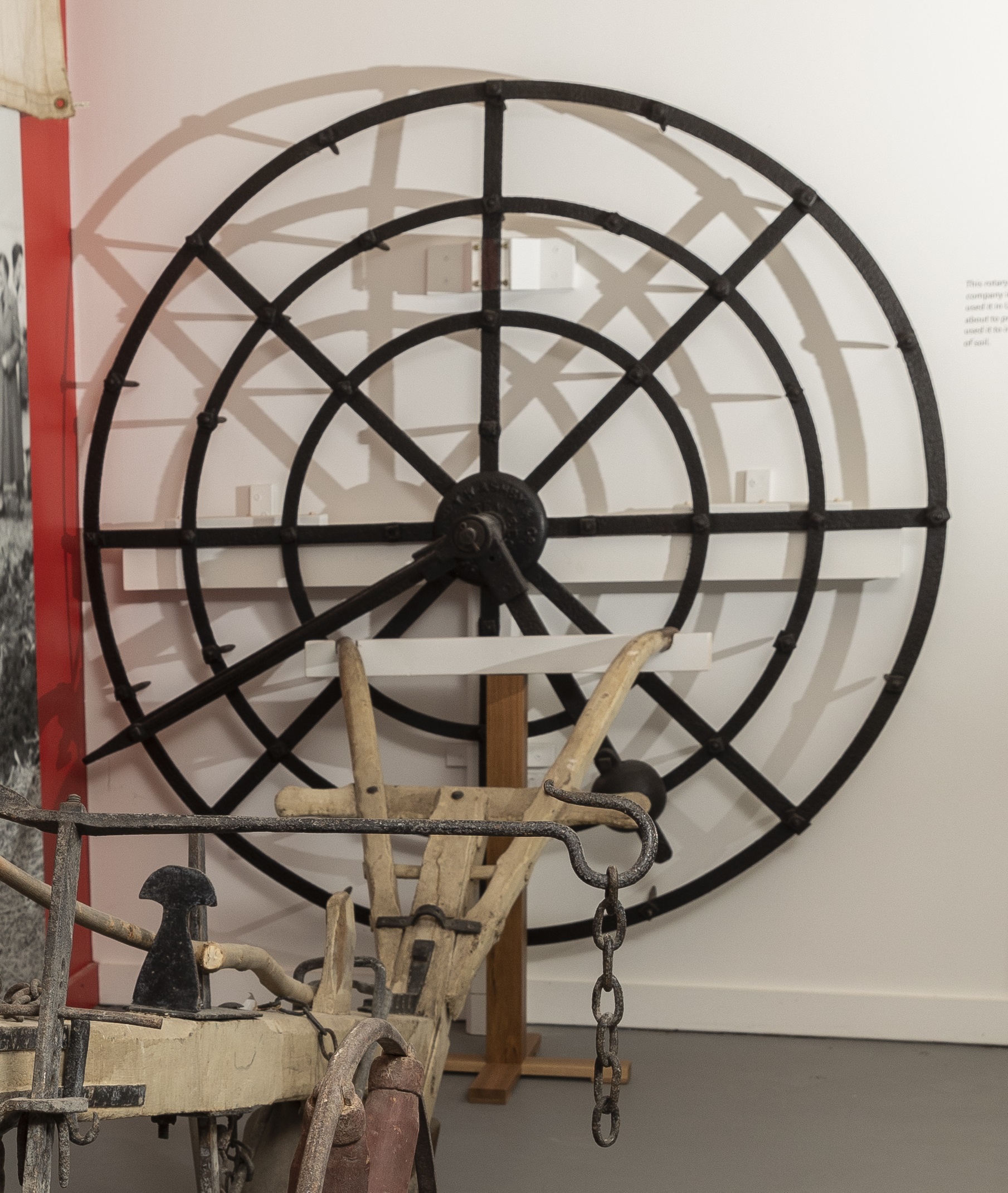 Harrow
This is a two horse rotary harrow made of steel. It is drawn from an axle in the centre at right angles to the draught, and has a bar with an adjustable weight which causes the harrow to move at different speeds anti-clockwise.
Harrows are used to break up the surface of the soil in preparation for sowing seed. It was used by the donor's grandfather, who died in 1870. The design for this harrow was patented by Smith and Ashby of Stamford in 1859, and it is inscribed 'T. W. Ashby, Stamford".
MERL 55/339
close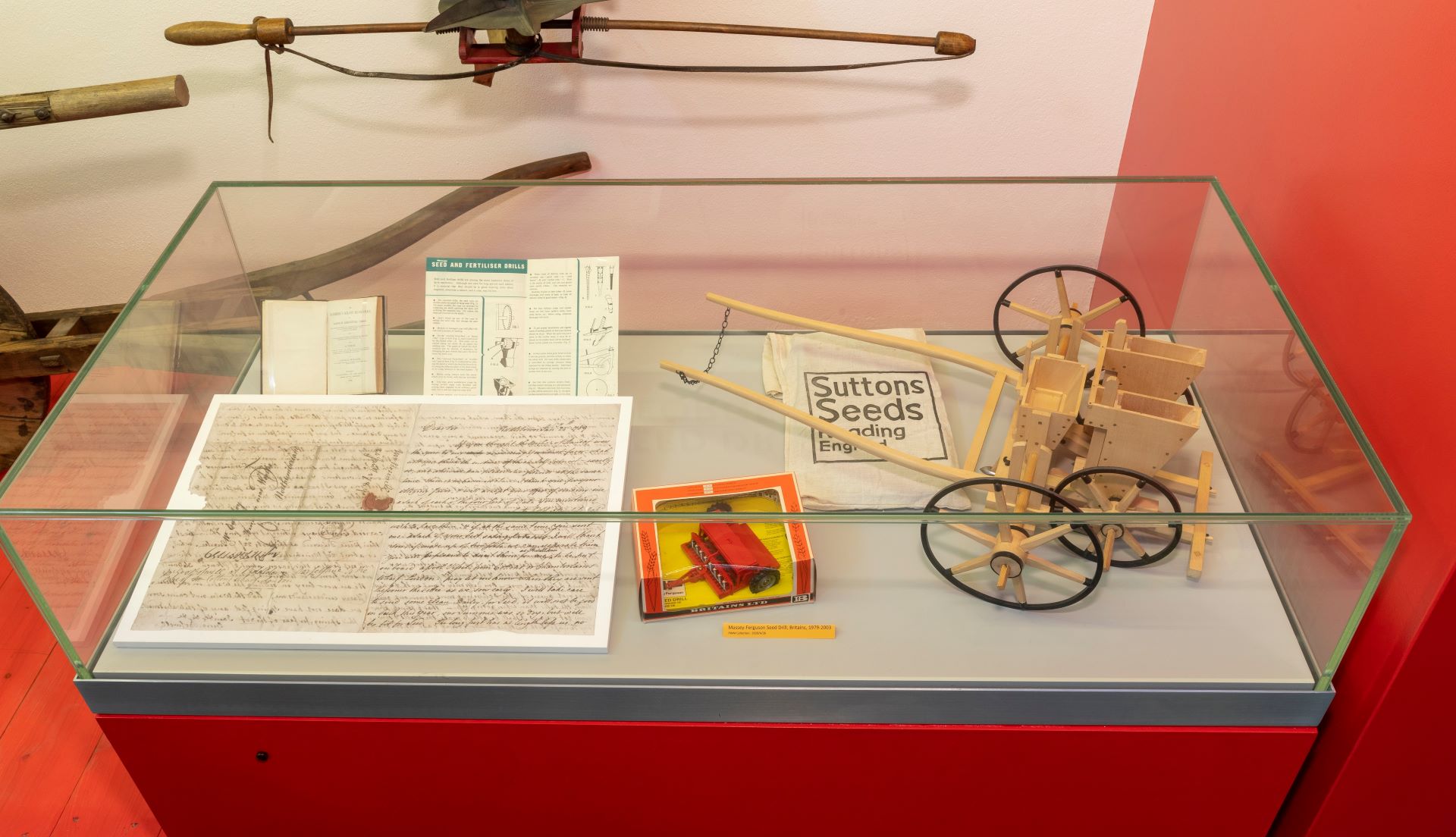 The Farmer's Ready Reckoner
+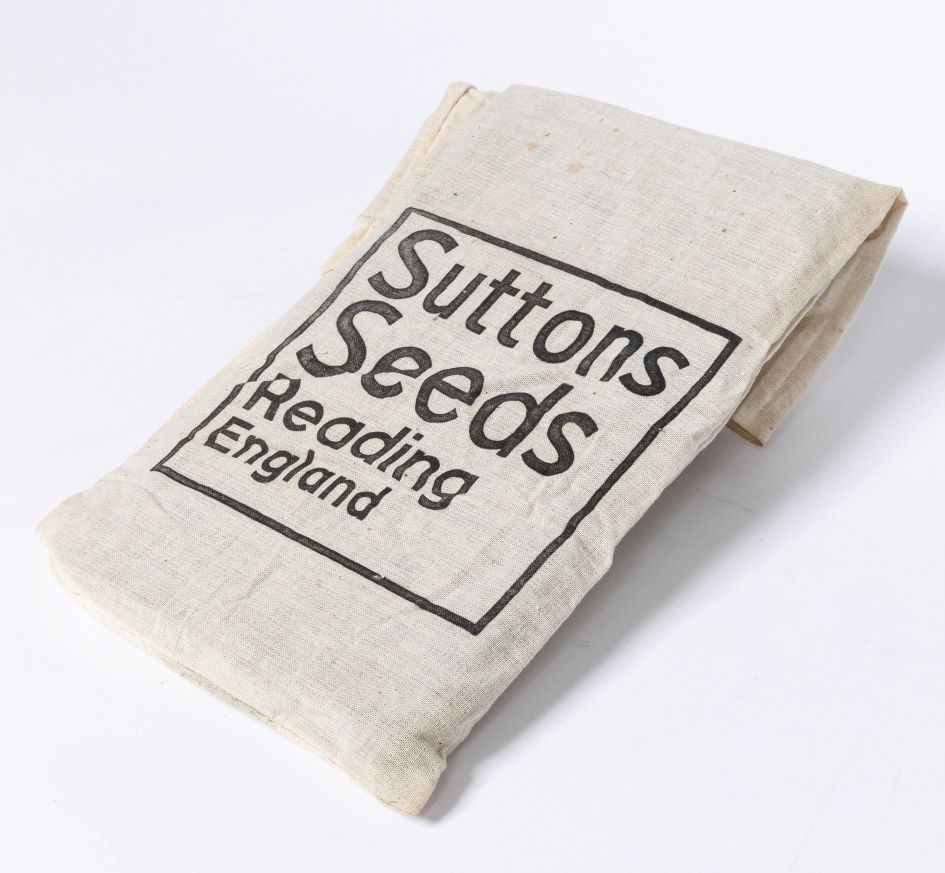 Suttons sack
This sack was one produced and sold by Suttons Seeds at some stage between 1931 and 1976. Formed in 1806 by John Sutton, Suttons Seeds was based in Reading and exploited new methods of transport to rapidly become a worldwide seed distribution company. As well as sale and distribution, it was heavily involved in researching germination and purity of seeds.
Suttons was particularly prominent in Britain's colonies and set up a branch in Calcutta to facilitate local demand. The Indian branch is now an independent company named Suttind seeds, which distributes pollenated and hybrid seeds to commercial Indian farmers.
MERL 2010/126
close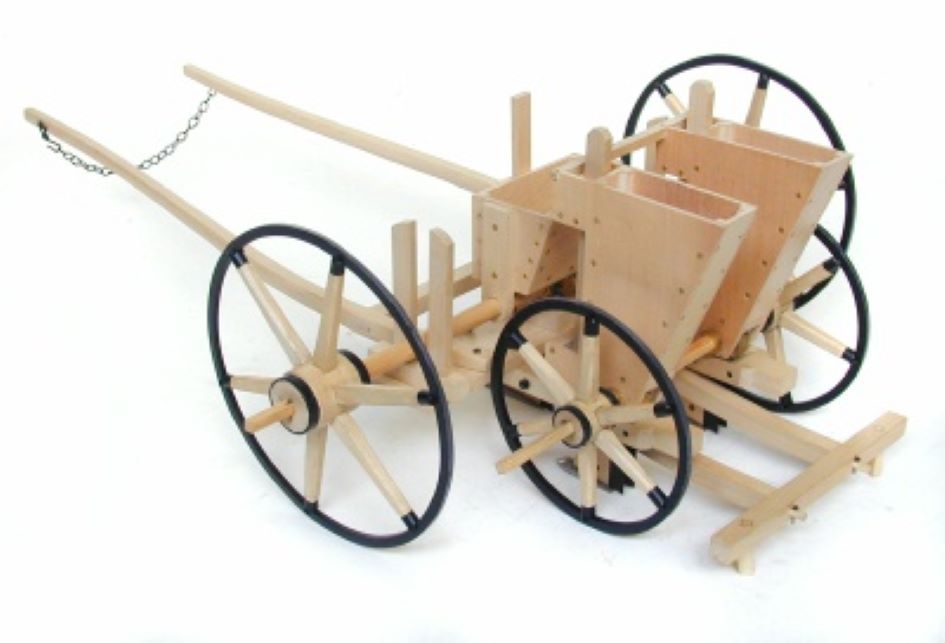 Seed drill model
Made for the MERL by Don Gill in 1999, this model seed drill follows Jethro Tull's design and is at ¼ scale. The wheels are made of iron, and the shares are steel. It is based on drawings by David Wray. The MERL also holds a number of model wagons crafted from his designs.
MERL 2000/11
close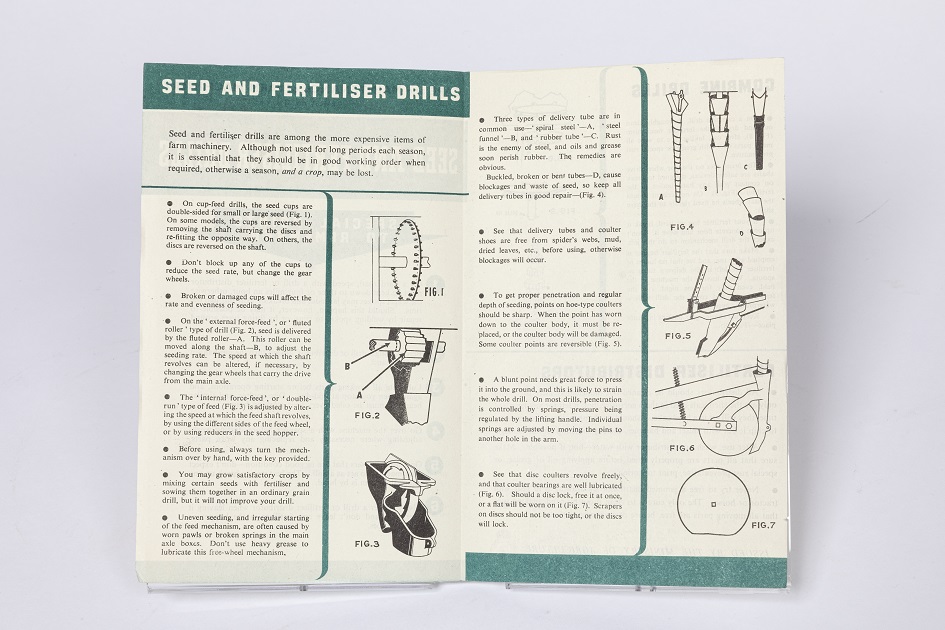 Drills pamphlet
This pamphlet advises on the proper maintenance of seed and fertiliser drills. For example, it warns against rusted delivery tubes and blunt drill points. It was distributed by the Ministry of Agriculture and Fisheries, a government department overseeing agricultural development. As well as education, it was responsible for pest control, research, and establishing subsidies to support the income of farmers. The MERL library holds a significant collection of the Ministry's published material. The Ministry merged into the Department for Environment, Food and Rural Affairs (DEFRA) in 2001.
MERL LIBRARY PAMPHLET--4080-BOX 1/12
close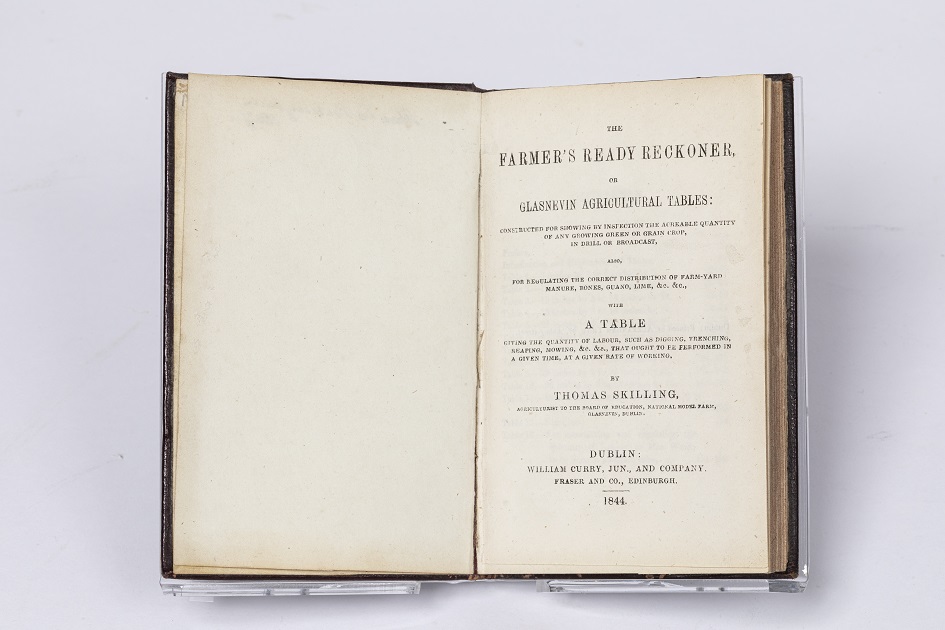 The Farmer's Ready Reckoner
Written in 1844 by Thomas Skilling, this book combines a practical farmer's guide to sowing and a research report into the effectiveness of seed drilling. It presents tables showing the quantity of green or grain crop growth when sown with drills as opposed to broadcasting by hand. It also provides guidance on distributing fertilisers such as manure, bone meal and guano, and advises on the use of lime to help soil release nutrients.
National literacy rates were around 67% for men and 50% for women in the 1840s. These were arguably lower for rural people whose children had to work on the farm. Free national education was not introduced until the 1890s.
MERL LIBRARY RESERVE--3550-SKI
close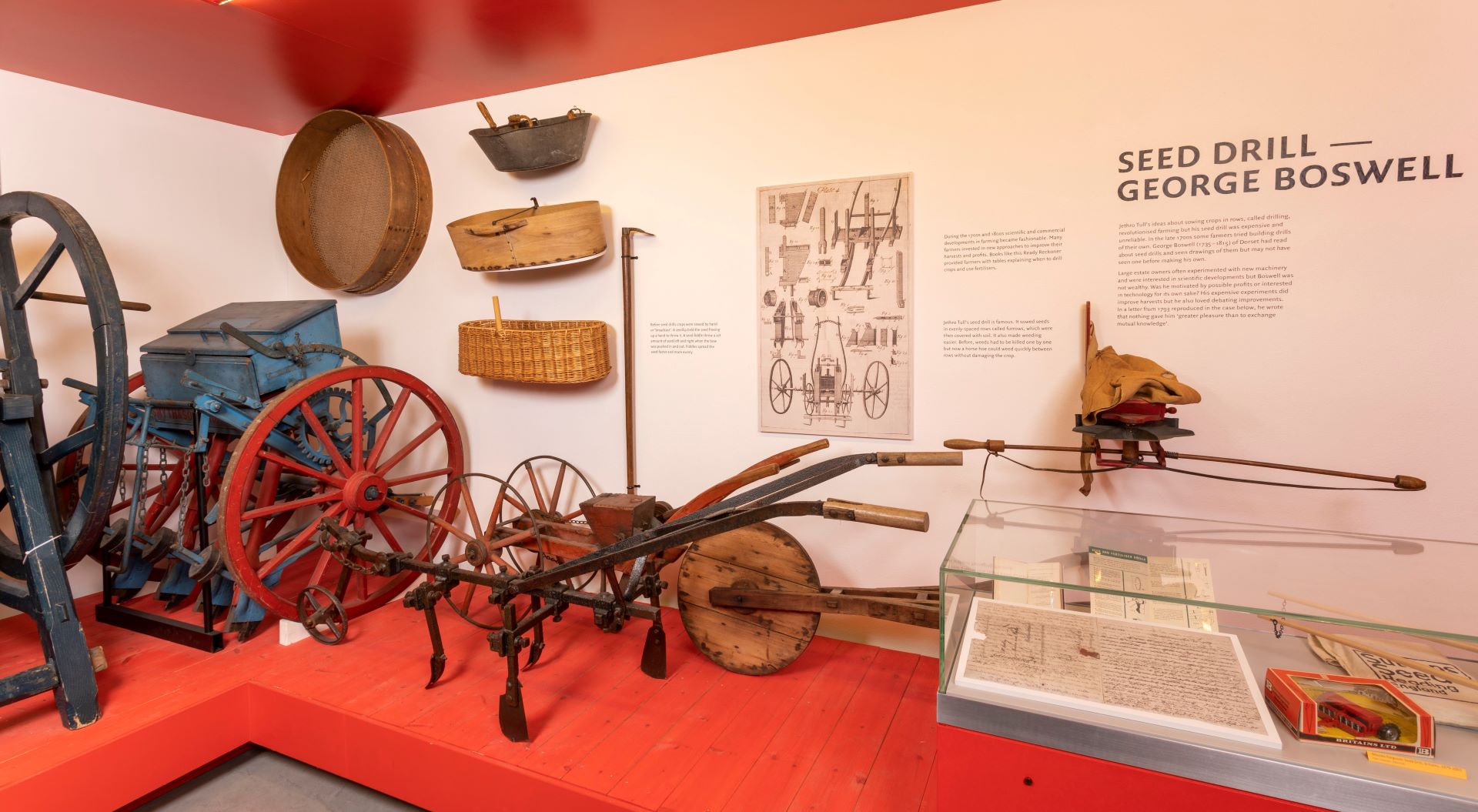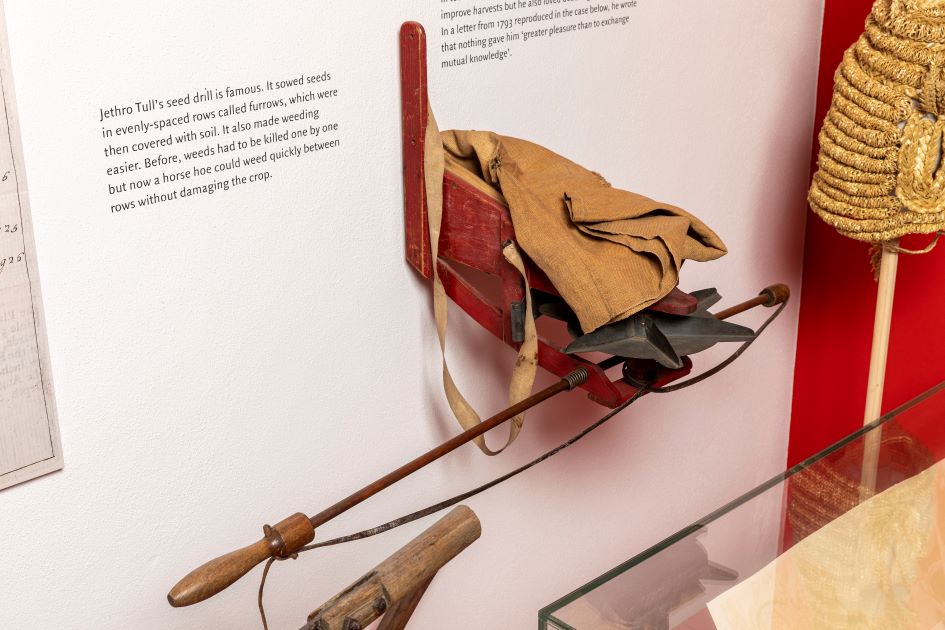 Seed fiddle
This is the 'Perfection Aero Sower', a seed fiddle used in Cornwall. Seeds would be stored in the hessian sack and dropped onto the metal plate, which would be rotated via the wooden handle, dispersing seeds in an arc in front of the sower.
Seed fiddles were an improvement on broadcasting by hand as they allowed for greater dispersal and an even spread. They were named 'fiddles' because drawing the handle back and forth was reminiscent of playing the musical instrument.
MERL 73/180
close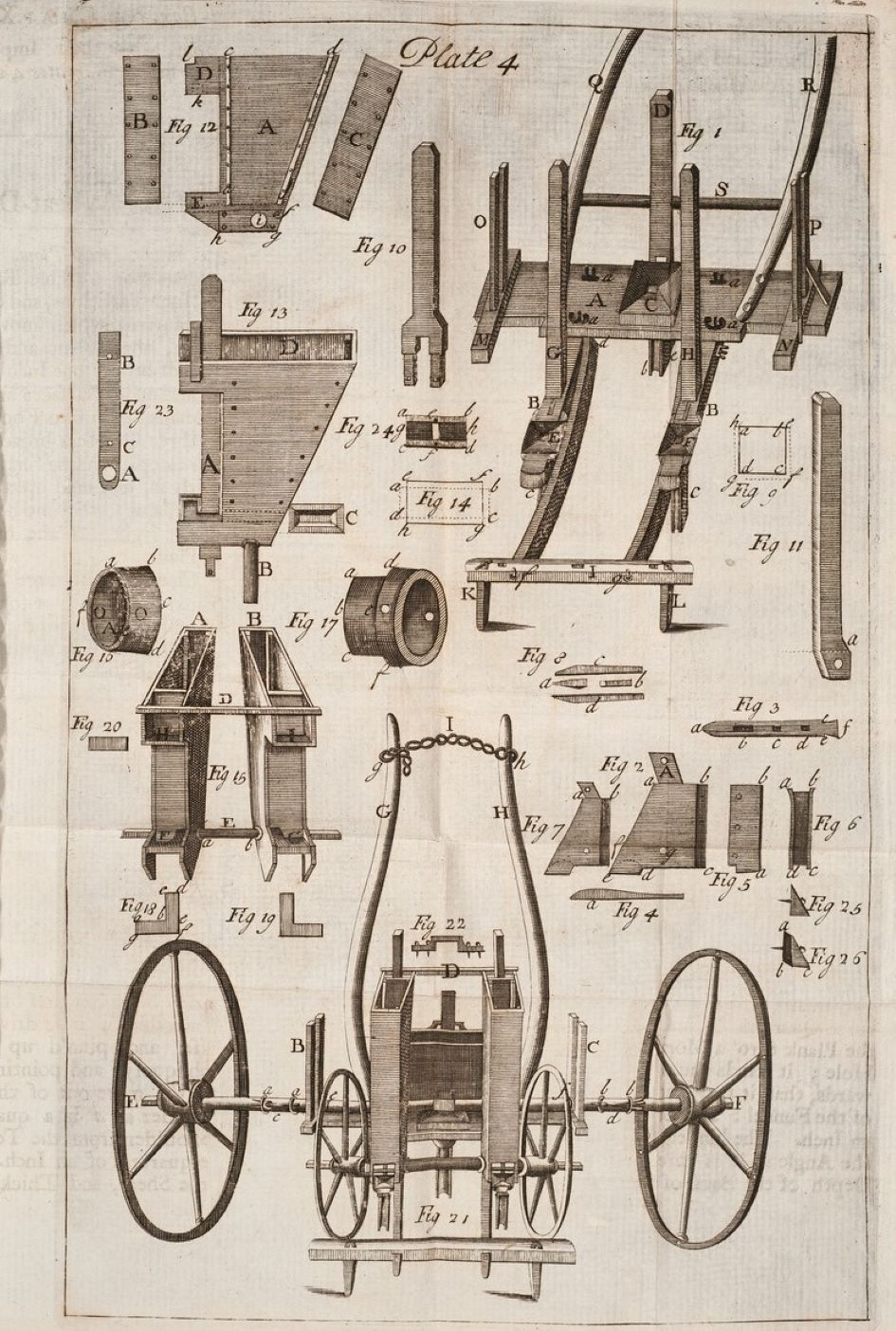 Horse-hoeing husbandry
This plate is from a book entitled The horse-hoeing husbandry, written in 1731 by Jethro Tull, the inventor of the modern seed drill. It depicts the various components for the machines mentioned in his book.
Tull's objective was to introduce "a sort of vineyard culture into the corn-fields". His pioneering horse drawn hoe allowed farmers to combine the task of weeding and ploughing into one piece of equipment, and his practice of adequately spacing crops prevented overcrowding. The publication of this book caused controversy, mostly because Tull disapproved of using manure as fertiliser. As a result, his inventions were not widely used until the 19th century.
MERL LIBRARY RESERVE 3515-TUL
close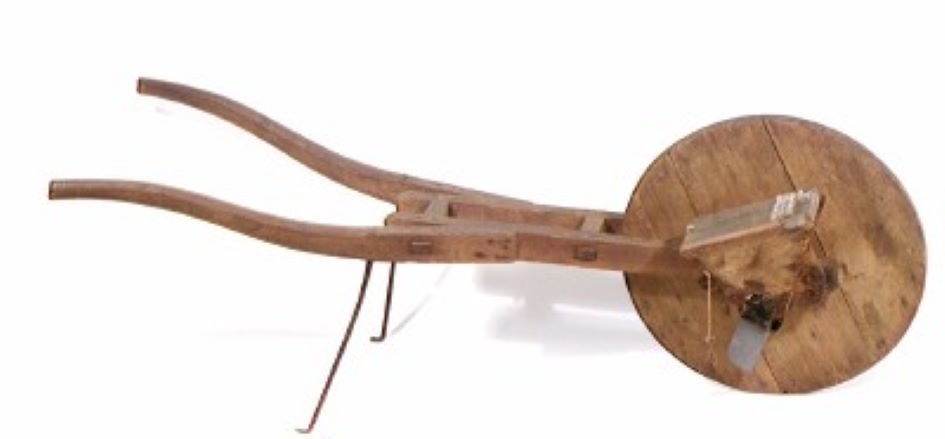 Seed drill
This hand powered seed drill was used at a number of farms around Rowhook, West Sussex, up until 1953. It manually sowed seeds at measured intervals.
Jethro Tull's invention of the seed drill in 1701 introduced a more efficient method of sowing to British farmers. Using a drill such as this one would ensure that the seeds remained within a narrow furrow. As a result, they were easier to cover with soil, and less water was required to germinate them. Additionally, less tillage of the soil was needed which protected it against erosion and reduced the pressure on farmers at a hectic time of year.
MERL 61/48
close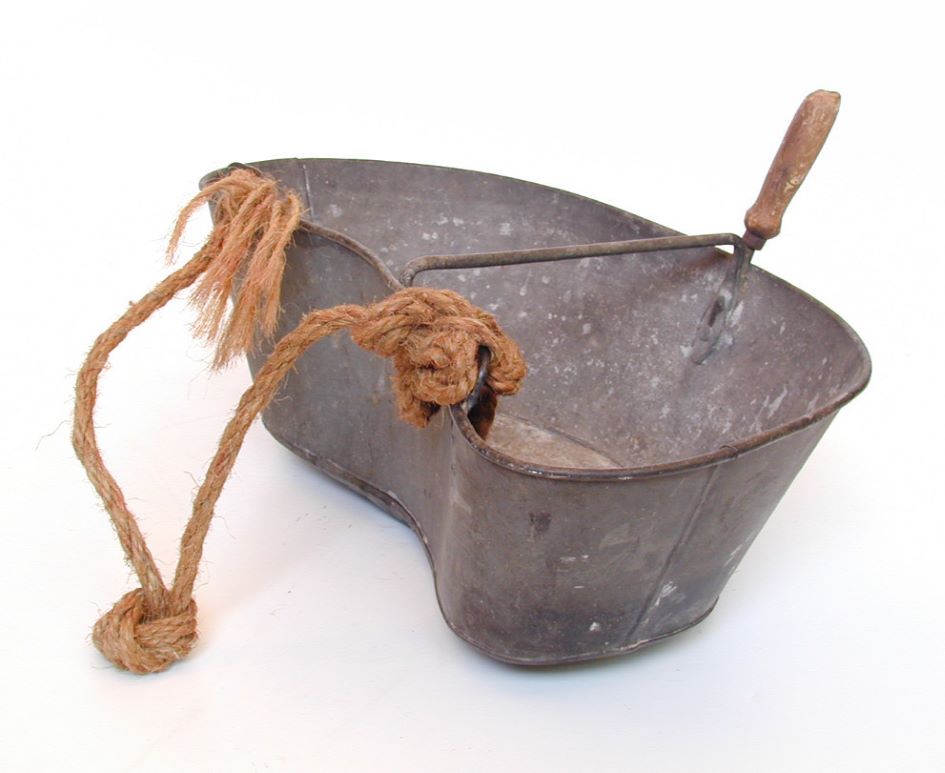 Seedlip
Used at Home Farm in Middle Assendon, Oxfordshire, this seedlip would have been hung around the wearer's neck. 'Broadcast' seeding is the oldest method of sowing and is still popular where using machinery is not practical or affordable. Effective broadcast seeding is not as simple as haphazardly throwing seed around your field or allotment. It is essential that the seeds are evenly spread, and moisture must be applied to the seeds soon after they fall. Sowing with the wind to your back also guarantees a better range on your throws!
MERL 92/81
close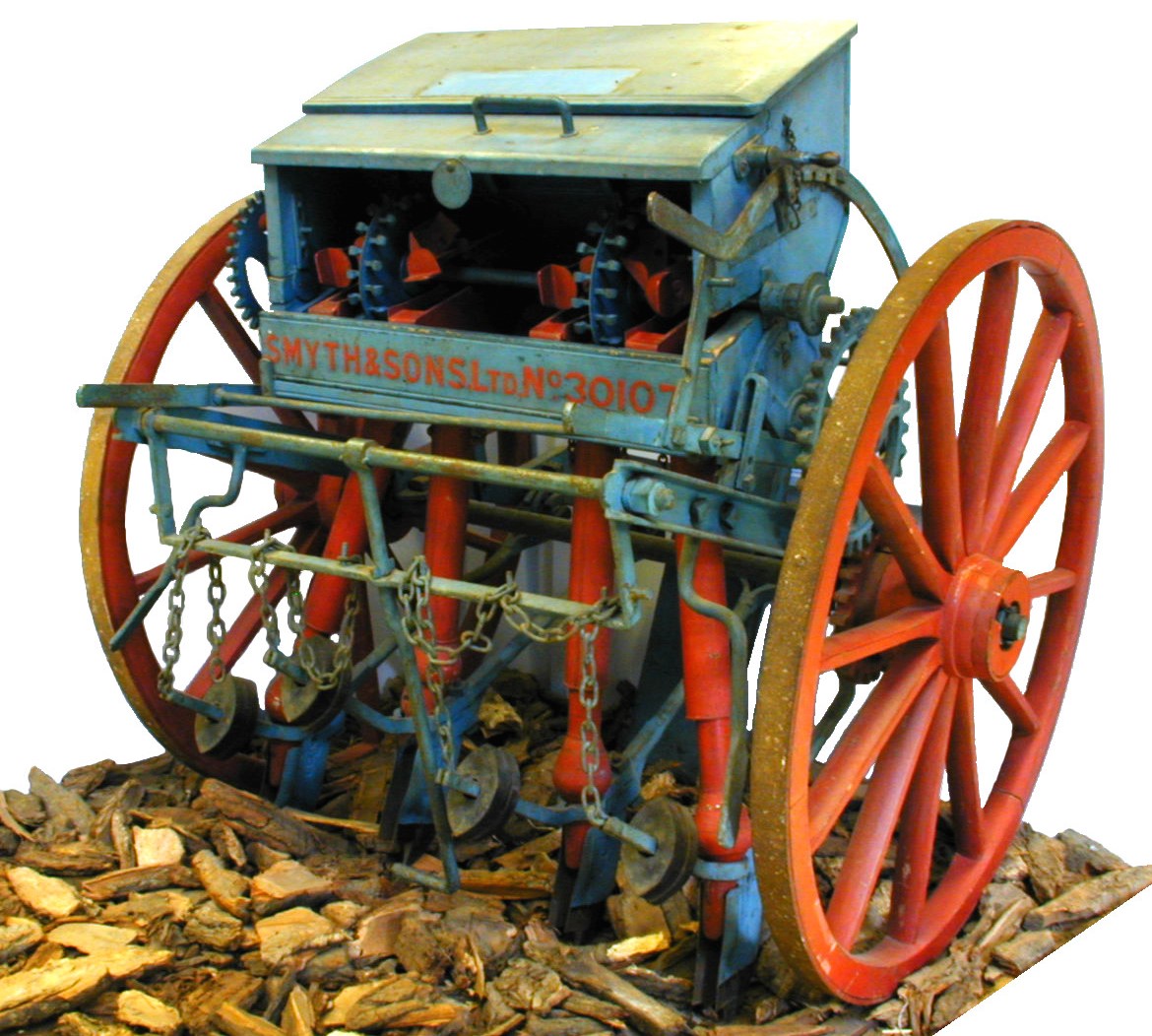 Seed drill
This seed drill was produced by James Smyth and Sons Ltd, a manufacturer of agricultural drills. It has works number 30107. Smyth was a wheelwright who was living in the village of Peasenhall, Suffolk in 1801. He noticed the potential of agricultural drills and formed a company which was fully focused on building them for dispatch around the country.
Over the course of the 19th century their workshop evolved into a factory and they exported internationally across Europe and Africa. Having established themselves as a prominent manufacturer of agricultural machinery, the company was later acquired by Ransomes, Sims & Jeffries.
MERL 65/326
close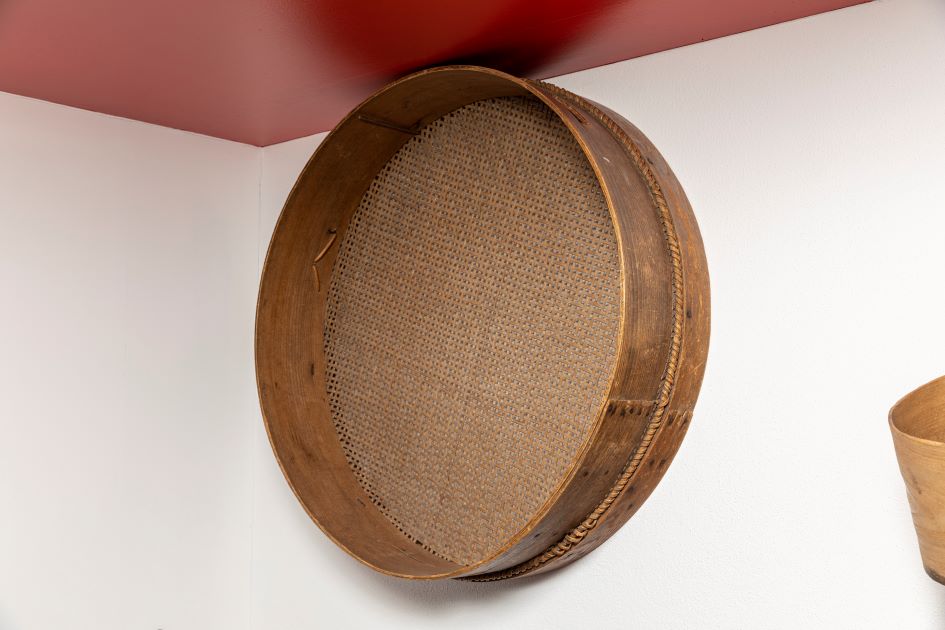 Sieve
Obtained from T. & R. G. Grace, a group of corn millers, maltsters and merchants, this sieve would have been used in the malting process. Malting consists of steeping certain grains – such as barley or rye – in water to induce germination and produce malt enzyme. This malt is then used for brewing or to make malt vinegar. Sieving is a crucial element of the cleaning process that must take place both before and germination. It removes unwanted objects from the grain, such as straw, rocks and sand.
Malting has been in demand for as long as beer has! Ancient malting would typically consist of steeping bagged barley in a stream, before leaving it to germinate and drying in a kiln.
MERL 65/219
close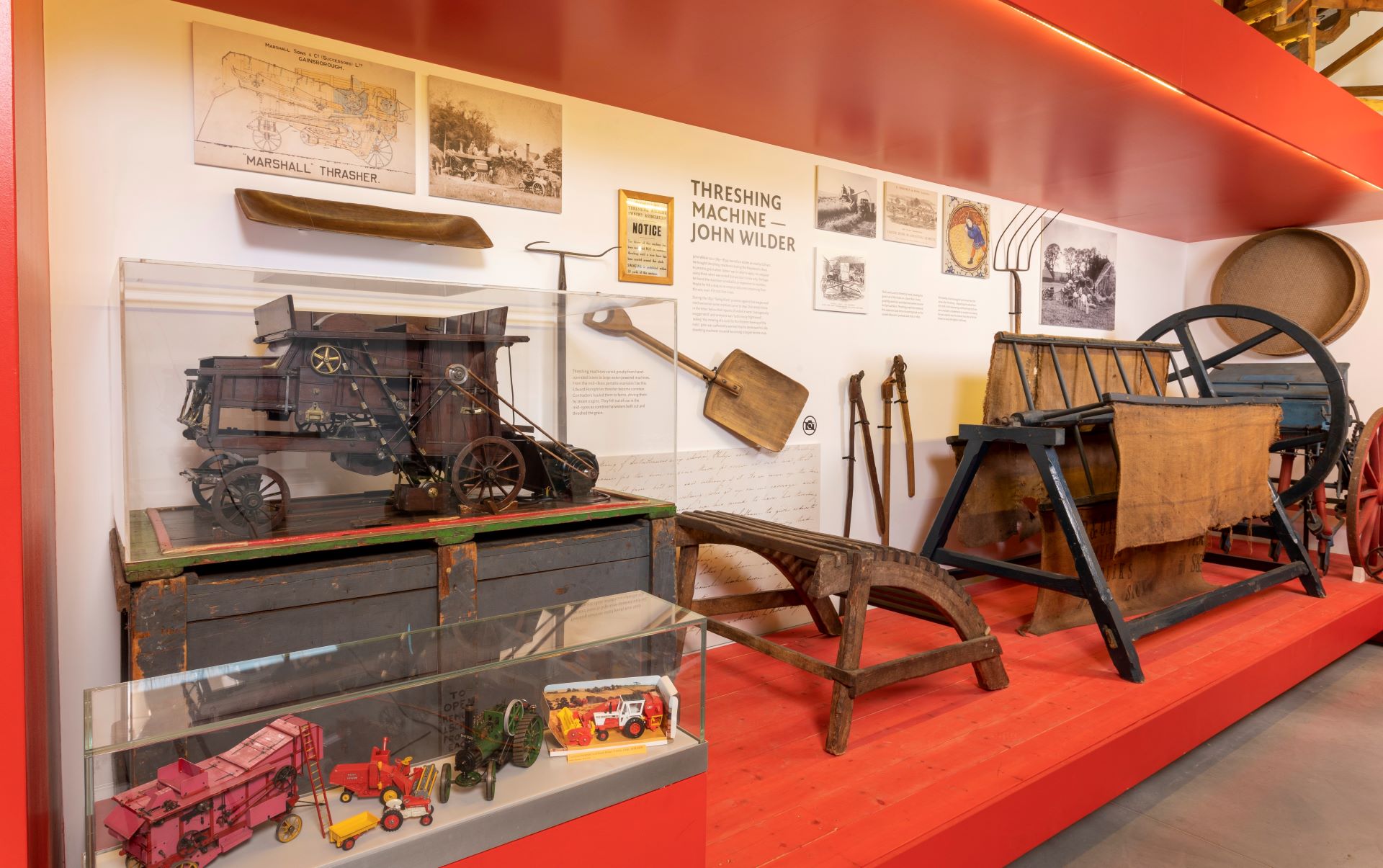 Great exhibition catalogue
+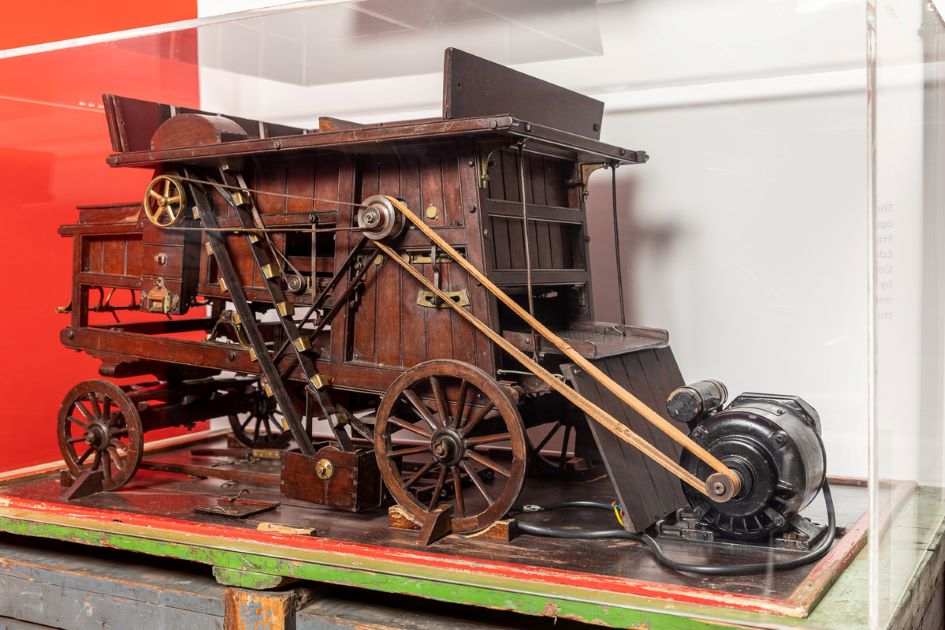 Threshing machine model
This model is made by the same company who made the full size thresher on your left. It was made in 1880 by the manufacturer to take to shows to display their new machine and show how it works. The box which the model is standing on was used to transport it. In 1880 this was new, state of the art technology. The salesman would have demonstrated how the machine worked to prospective buyers by turning a handle to show all the moving parts inside.
MERL 2007/61
close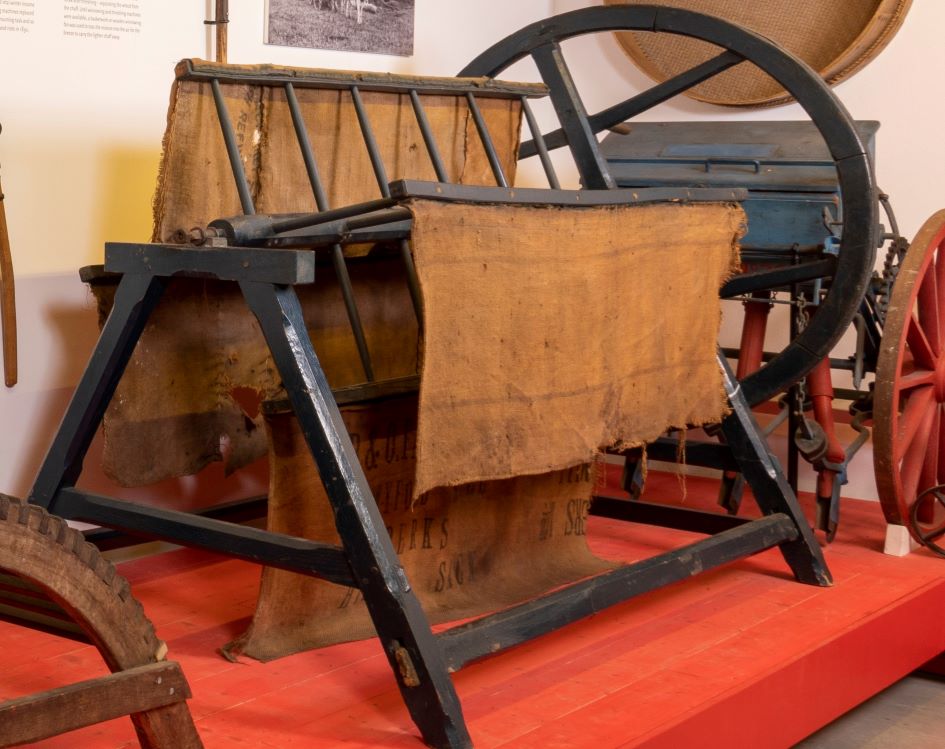 Winnowing machine
This large machine was used to separate the chaff (the outer husk of the corn) from the seed itself. Once separated, the corn would be fed to animals or kept to be sown for next year's harvest. The chaff wasn't needed so probably just blew away. The large wheel would be turned by hand; the idea was to create enough wind to blow away the chaff which is very light.
When turned, the sacking would have whirled round and the current of air it created would have blown away the chaff. This would have been hard and dusty work but faster than doing it by hand. Turning the wheel would have certainly been monotonous work.
MERL 52/201
close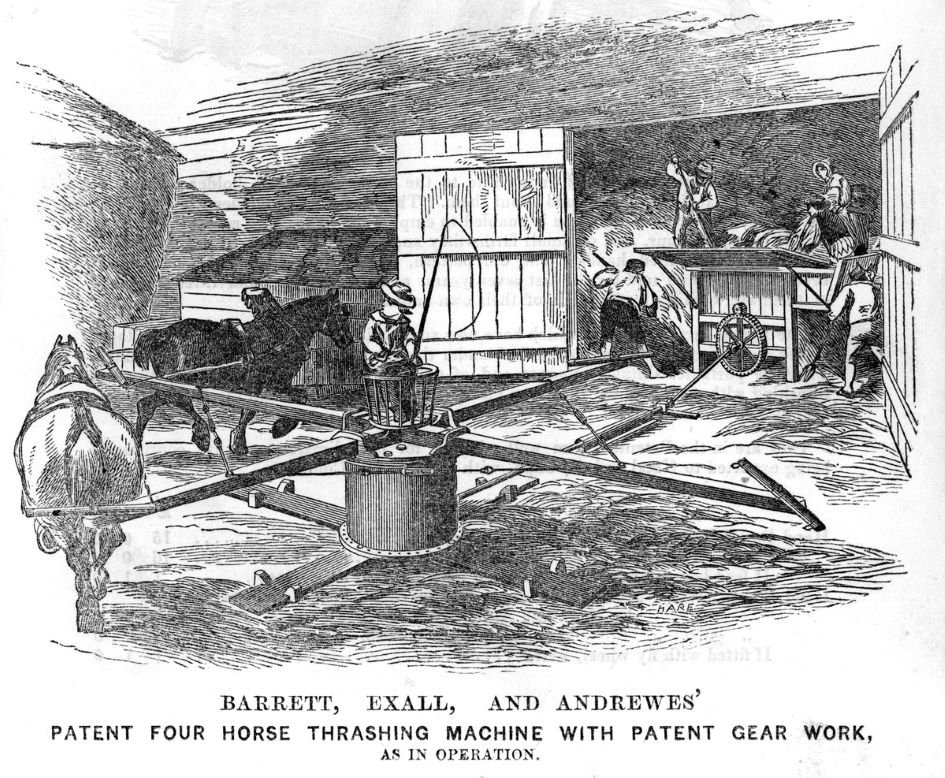 Great exhibition catalogue
This is from a catalogue of agricultural machinery produced for the Great Exhibition in 1884. The machine was made in Reading, by Barrett, Exall, and Andrewes later the Reading Iron Works Ltd. The foundry was built in Katesgrove in 1818, they produced agricultural implements and also machines for the bakery trade developed for George Palmers biscuit factory.
This machine was powered by up to four horses walking round in a circle, it was portable and could be moved. You will see that there is a child sitting in the middle of the machine holding a whip – to ensure that the horses kept walking round. One of the "safety features" of the machine was the metal frame round the child, this was to stop the child falling off and being injured by the machine.
MERL TR RAN P1/B1/11
close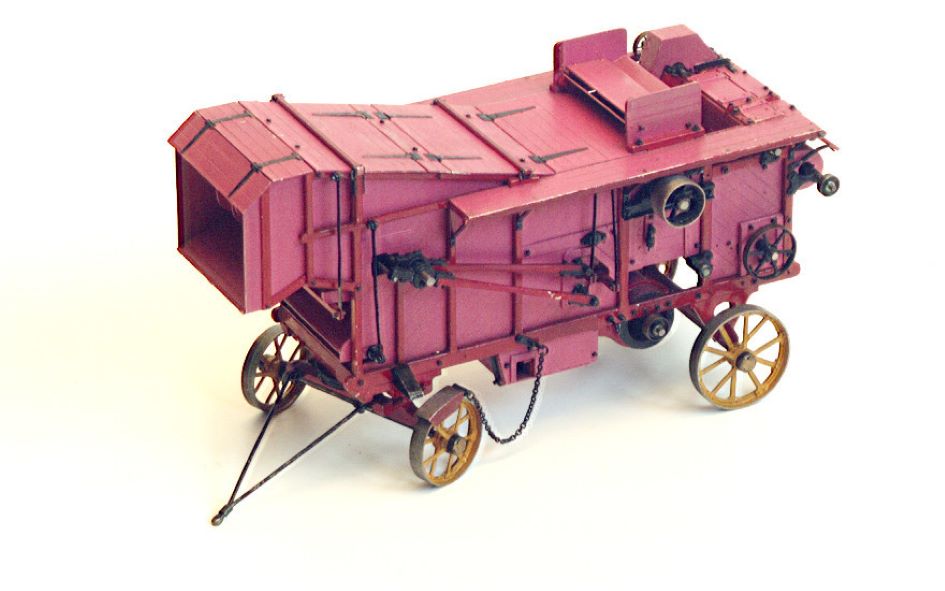 Threshing machine working model
This thresher and the traction engine near it were made by George Froud – it was his hobby. They were built as working models: the engine steam would power the thresher. Although the thresher looks as if it is wood, it is metal (duralunium) made to look like wood.
It isn't a copy of a particular make of machine. The design of the internal part of the machine was from Ransomes and Marshall thrashers and the outside was from a Wallis and Steevens machine which he saw standing in a field. The models were thought to be so good that they were described in detail in the Model Engineer magazine in 1960.
MERL 63/183
close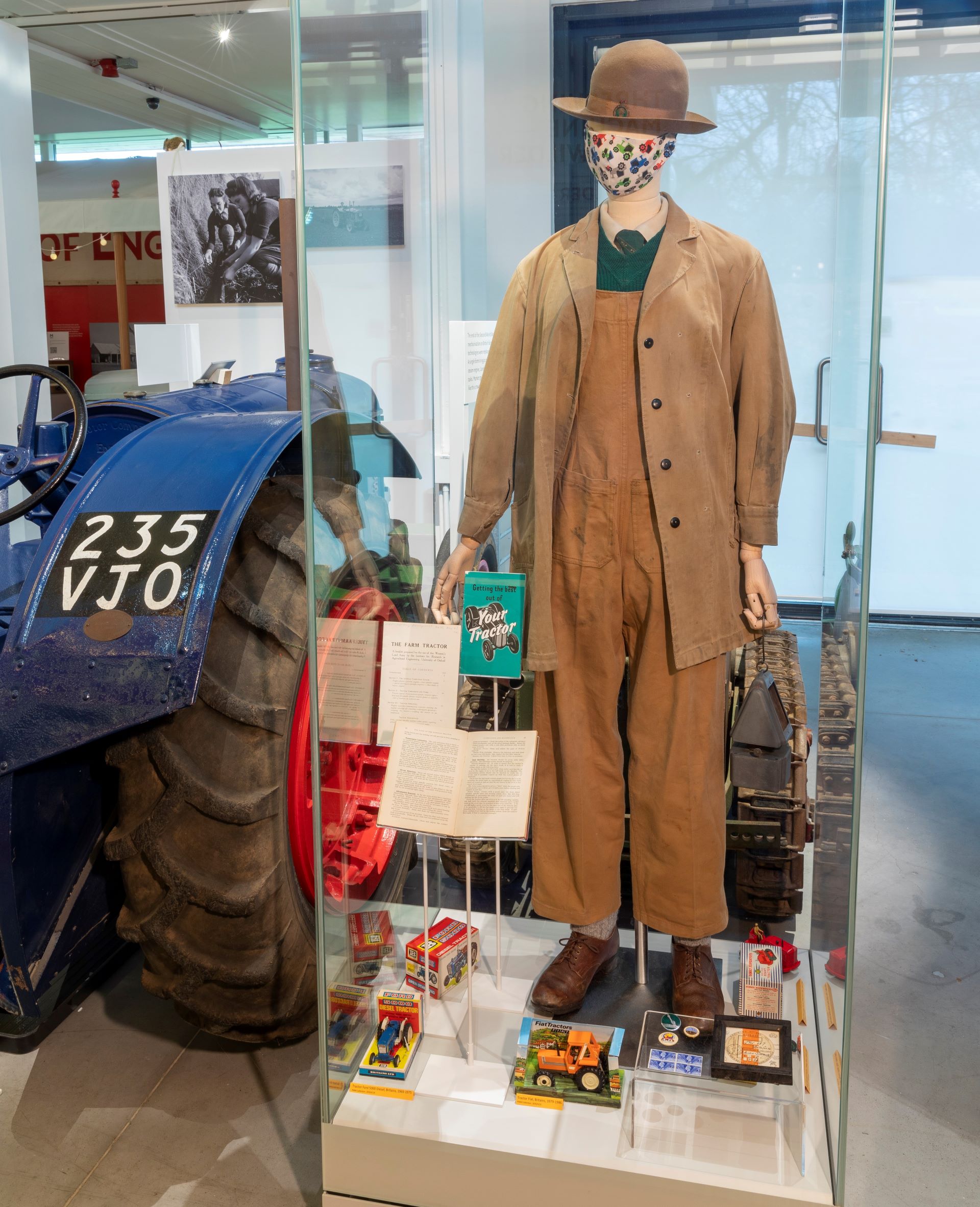 Women's Land Army uniform
+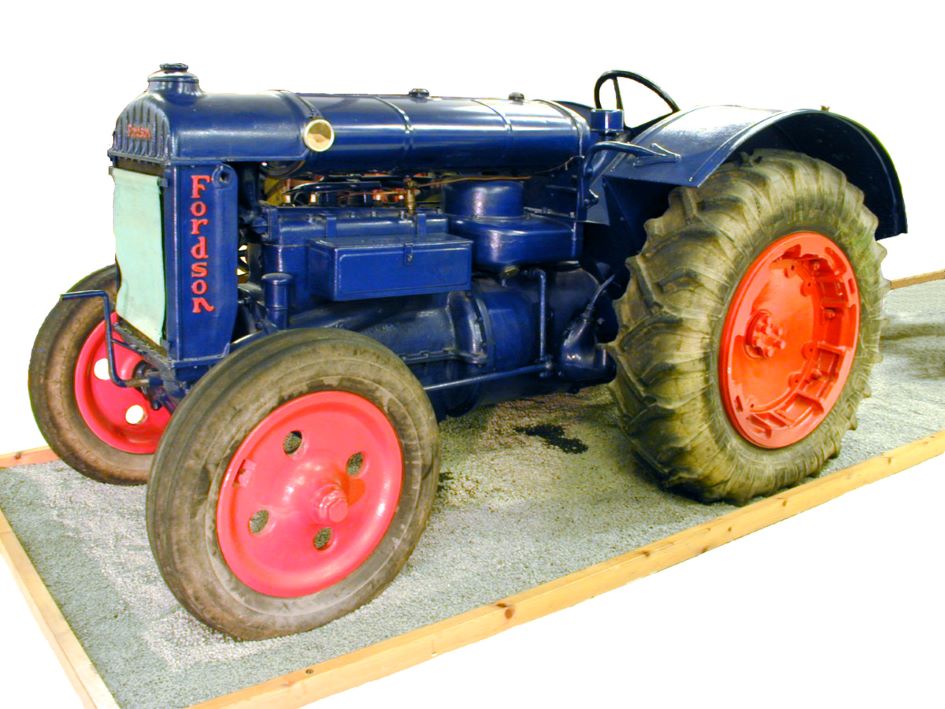 Fordson tractor
This Fordson Model "N" Tractor, vehicle registration no. 235 VJO, was made by the Ford Motor Company of America, at their works in Dagenham near London. It was first registered in 1937/38, and was used on a farm at Gallowstree Common in South Oxfordshire.
During and after the First World War, thousands of Fordson tractors were imported from America. The tractor was made in sufficient numbers to be affordable for ordinary farmers, and so became a factor in the switch to mechanisation on farms.
MERL 80/44/5
close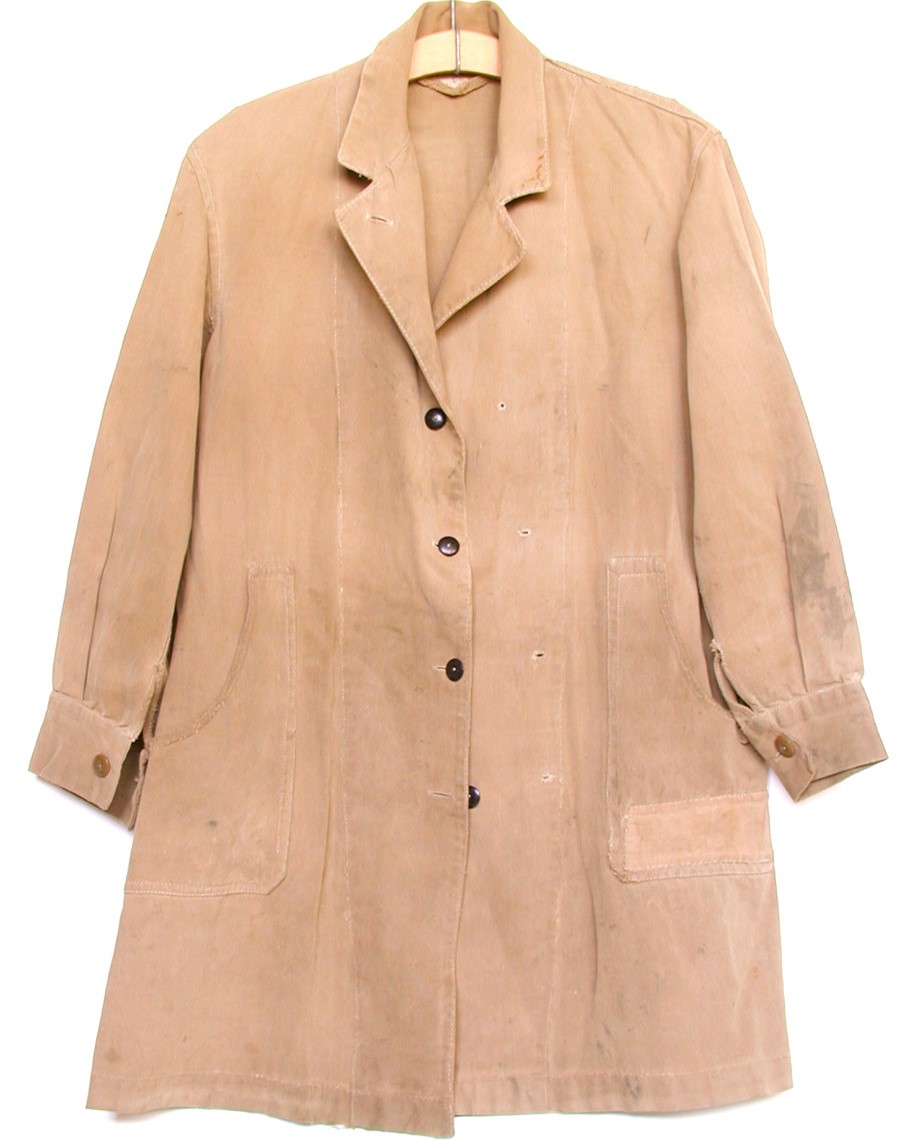 Women's Land Army uniform
The Women's Land Army came into being in the First World War, 1914-1918, but re-formed for the Second World War. This uniform was standard issue to the young women, many of whom were teenagers, who enlisted during 1939-1945. Their uniform had to be very hard-wearing. The women worked long and arduous hours, keeping farms in production to feed the nation. They did all the farm and forestry work usually done by men, for minimal pay. Many women continued to work on the land after the war, until the men returned from the forces and reclaimed their jobs.
MERL 84/37, 88/49/1, 88/48, 88/58, 97/38, 2003/13
close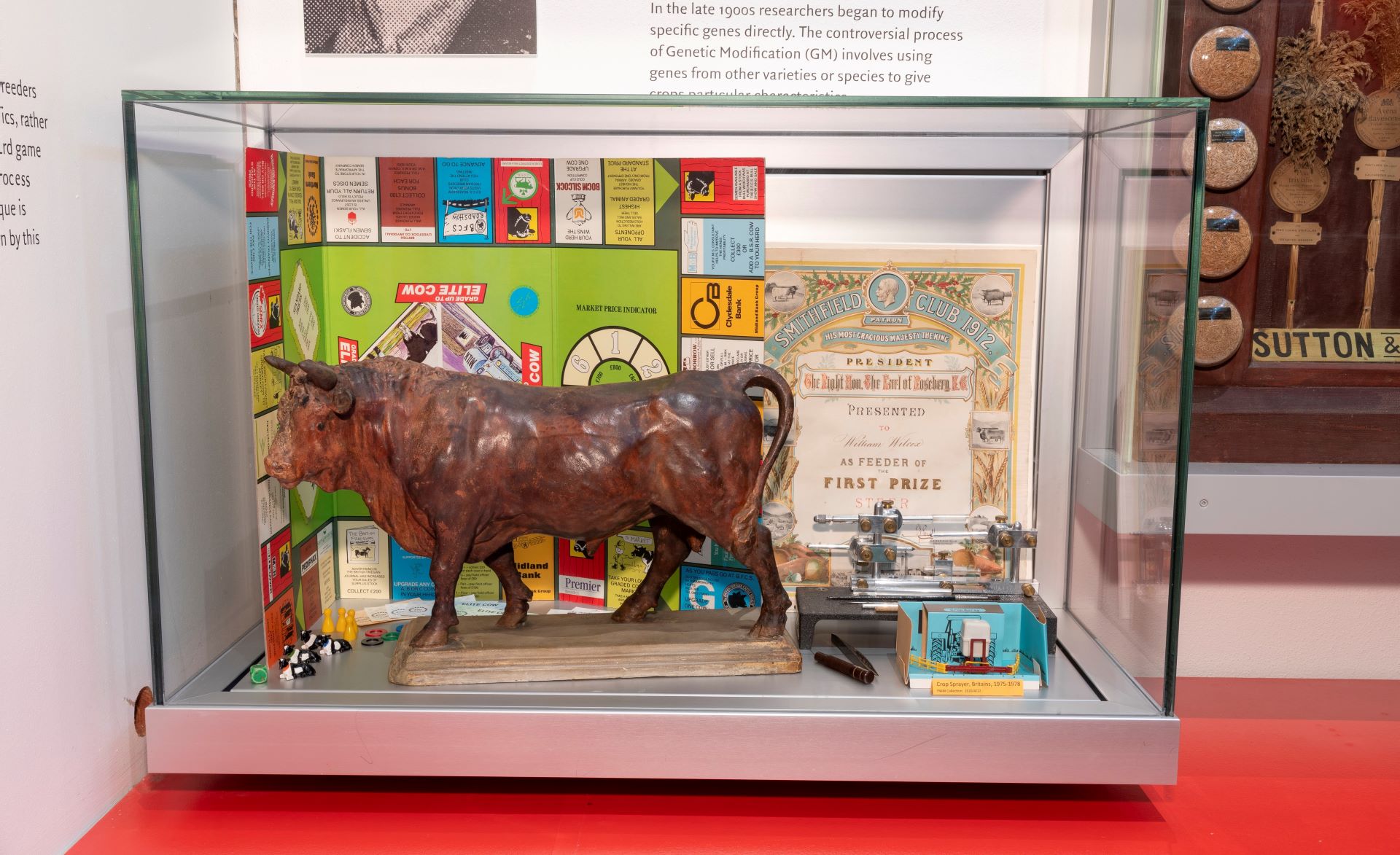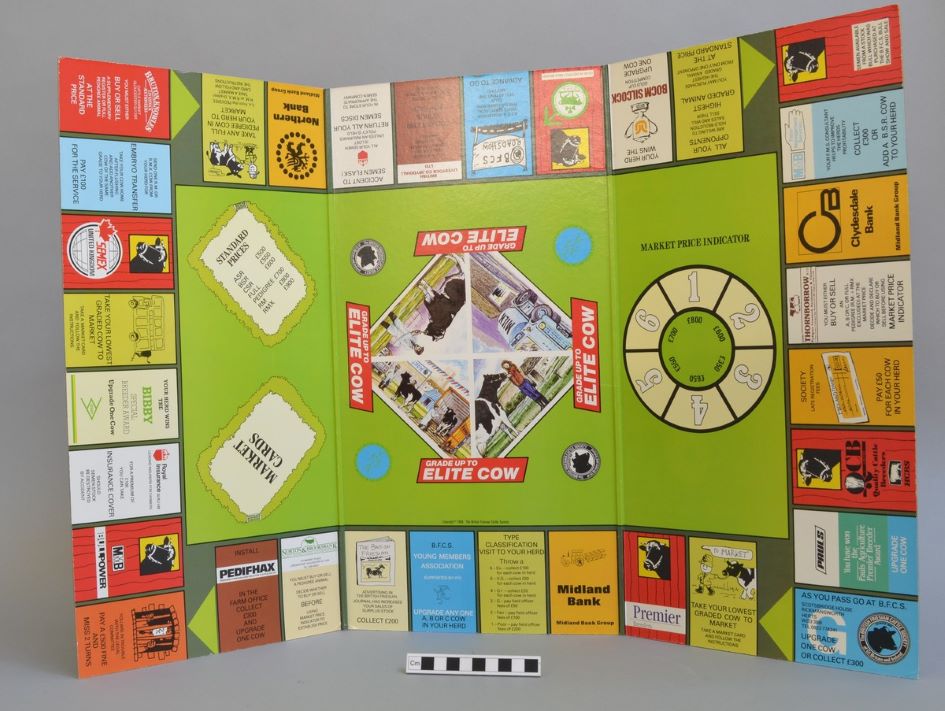 Grade up to Elite Cow Board Game
This board game, named Grade Up to Elite Cow, was manufactured by the British Friesian Cattle Society in 1986. It is played by 2-4 players. The aim of the game is for four of your cows to obtain 'Elite Cow' status, which is the highest pedigree possible.
'Grading up' is the process by which a non-pedigree herd becomes pedigree. It is achieved in cattle herds by mating sires of an improved breed with females of the lesser breed, generation after generation, until the features of the improved breed are dominant.
MERL 2010/34
close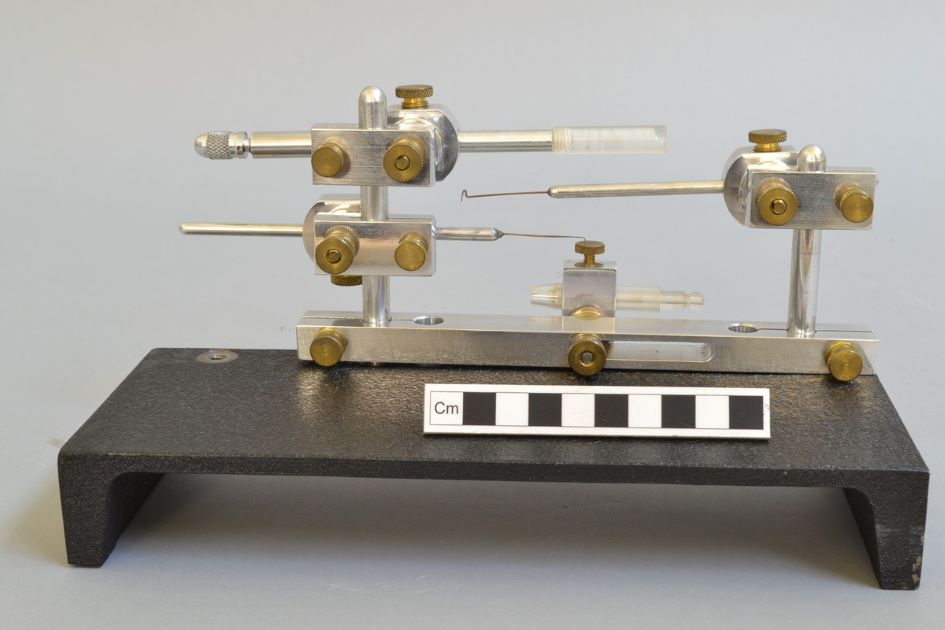 Bee inseminator
Used by a beekeeper in Clitheroe, this inseminator was used for selective breeding in bees. As bees usually mate in mid-air, the queen must be anaesthetised before insemination can take place. This is achieved by placing the bee inside the plastic tube and introducing carbon dioxide. Thin metal hooks hold the queen's abdominal plates in place while a syringe inseminates her. These types of inseminators are still used today.
Selective breeding in bees tends to be more complicated than with other livestock, due to various factors – such as the fact that male bees are born from unfertilised eggs and have no father.
MERL 2012/386
close
Selective Breeding Display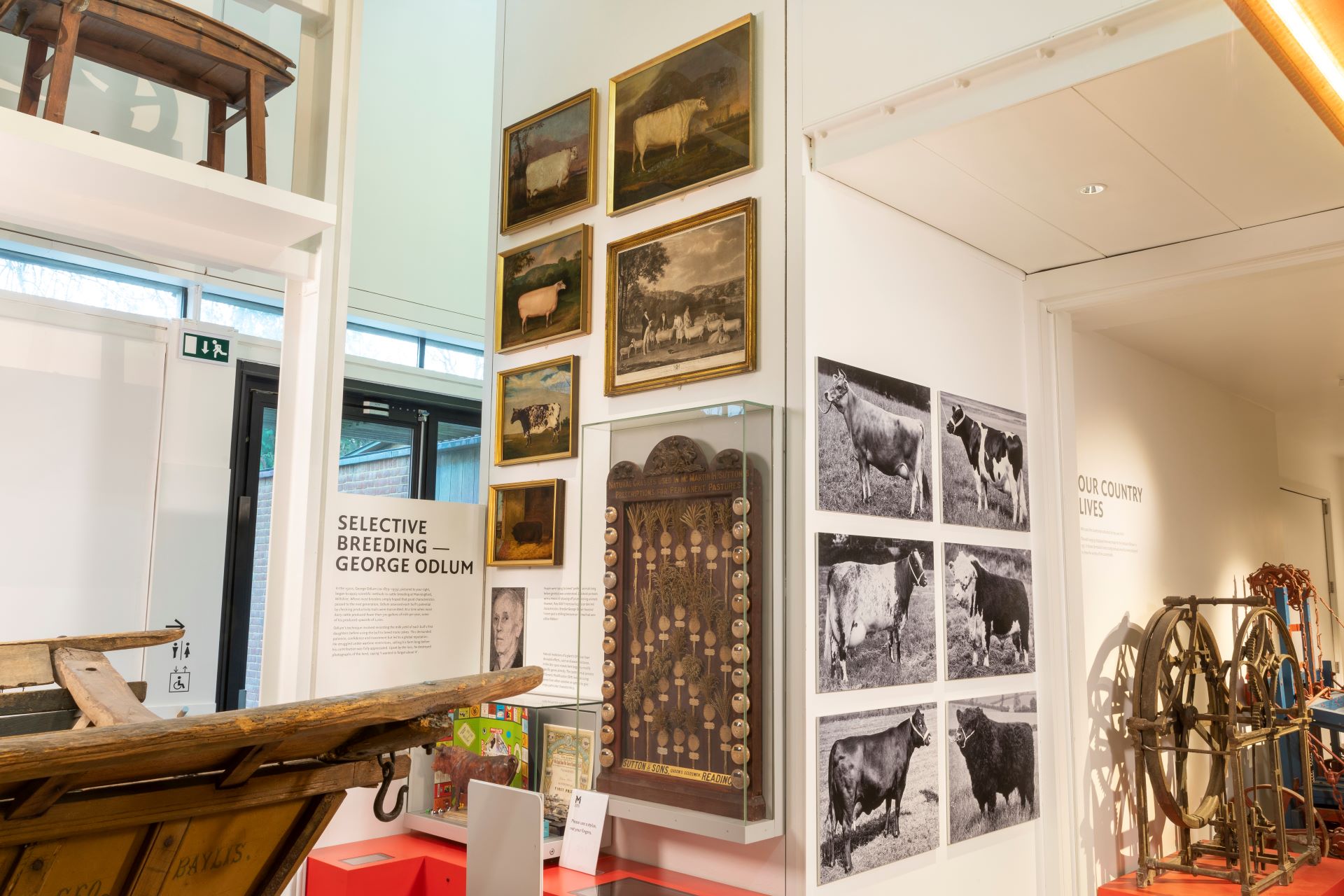 Selective Breeding Display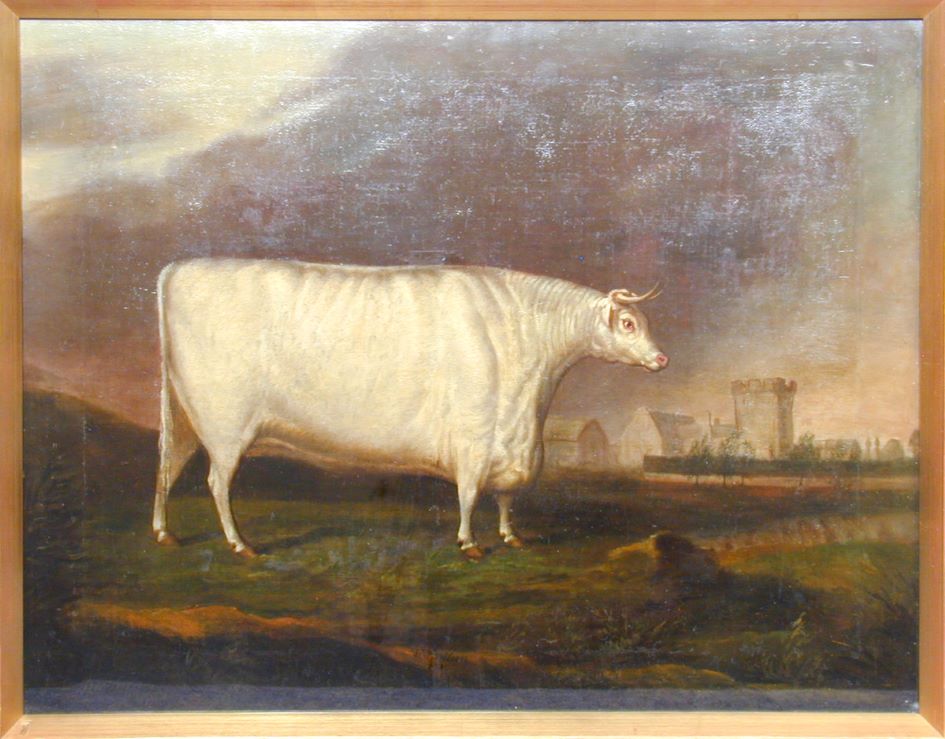 White ox painting
This painting of an ox was donated to the Museum by the Royal Smithfield Club, and therefore likely depicts an animal which competed in one of their prime stock shows. The Club sought to promote the breeding of top quality livestock through these shows. Artists were commissioned to advertise the achievements of prize-winning farmers by portraying their livestock in a positive light. It was not unheard of for artists to over-accentuate the size and shape of the animals. Not all 19th century cows and oxen were as rectangular as these paintings suggest!
MERL 64/47
close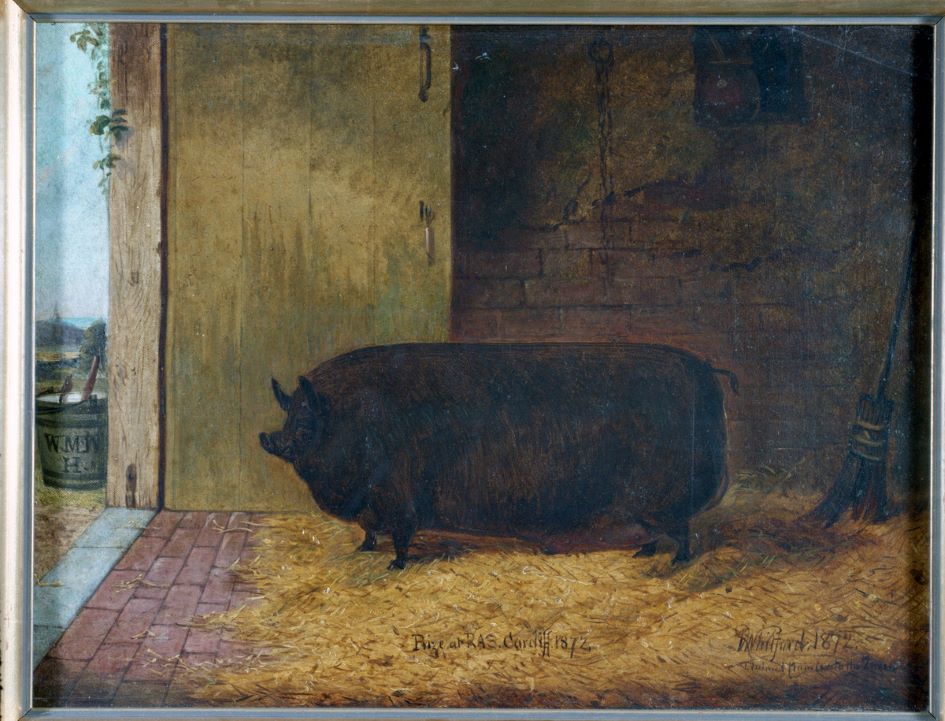 Prize pig painting
Richard Whitford created this oil painting of a black Berkshire pig in 1872. This was the same year the pig won the Royal Agricultural Society's show in Cardiff.
This breed of pig was highly sought after in the 19th century. The show's judges wrote that "as for type, quality frame, and coat, they are amongst the best-looking pigs out". Berkshire pigs have a long history within British meat-eating culture. They are the oldest pedigree pig group in Britain. However, they also have an international reputation, being well renowned in Japan
MERL 65/354
close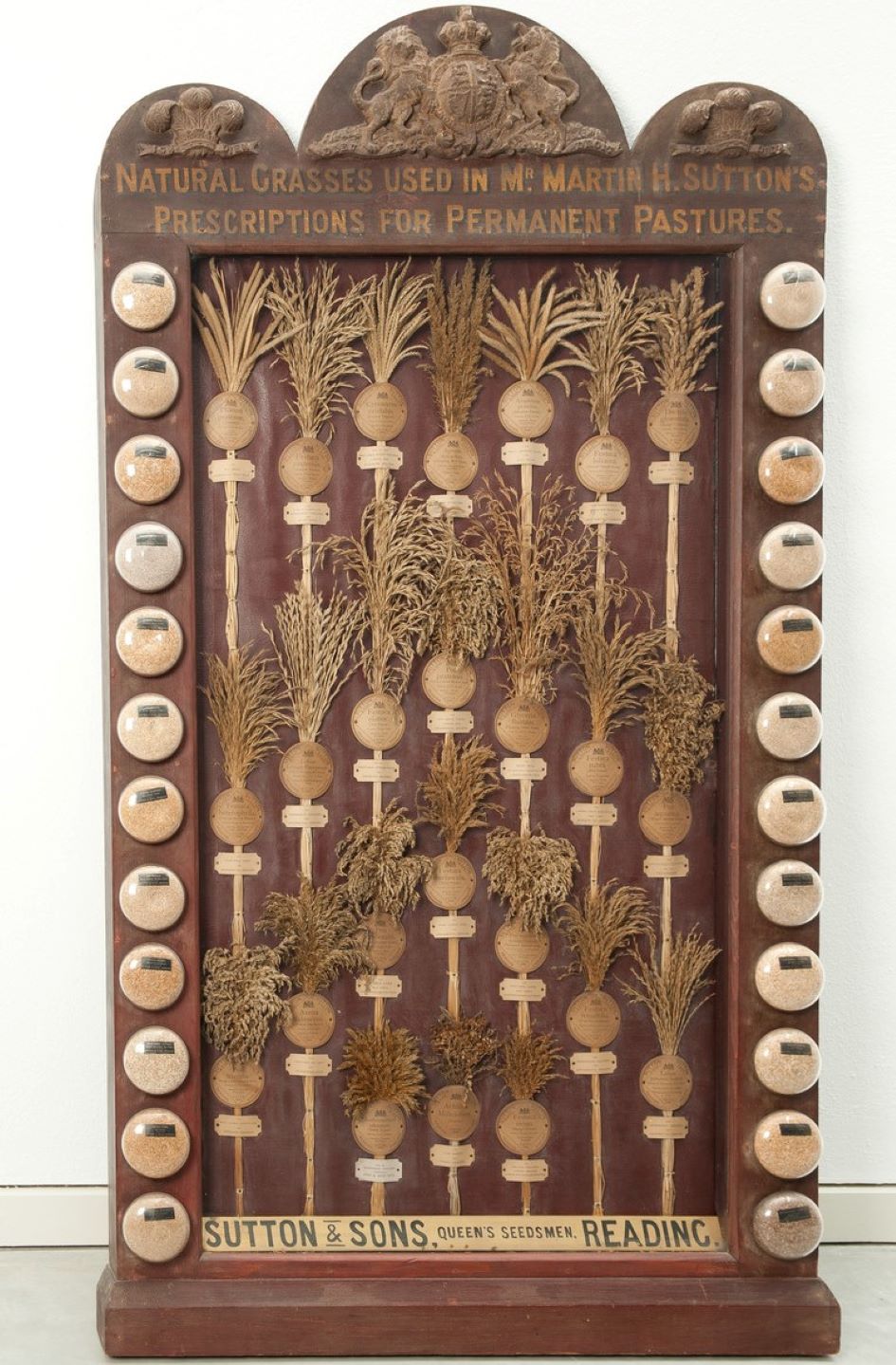 Suttons Seeds cabinet
This seed display cabinet was created by Suttons Seeds and is Victorian in origin, as evidenced by the inscription 'Queen's Seedsmen Reading". It contains 24 samples of grasses, along with attached bags carrying grass seeds. The purpose of the case is to advertise these varieties of grass seed, all of which were sold by Suttons.
Established in 1806 in Reading, Suttons Seeds prospered in the 19th century due to its successful adoption of rail and postal services for remote deliveries. It had a strong international presence, most notably with a branch in Calcutta, India.
MERL 2004/27
close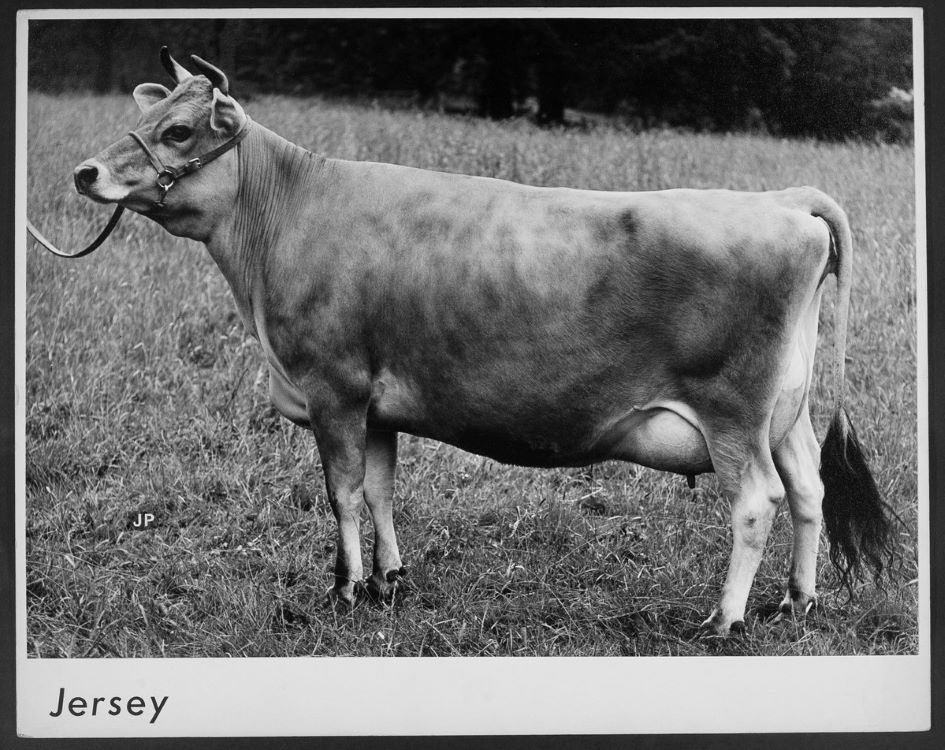 Jersey cow photograph
The origin of the Jersey cow is not fully understood, though they likely first came from France, as a narrow land bridge existed between the two until 709AD. The breed spread around the world in the later 19th century, with thousands of cows being shipped to the USA every year. They are adaptable and hardy cows, and can therefore survive in a range of climates. Their milk is highly regarded for its quality. They are also famous for their friendly nature.
This photograph was taken by livestock photographer Joan Pitt in the 1960s.
MERL P DX1903
close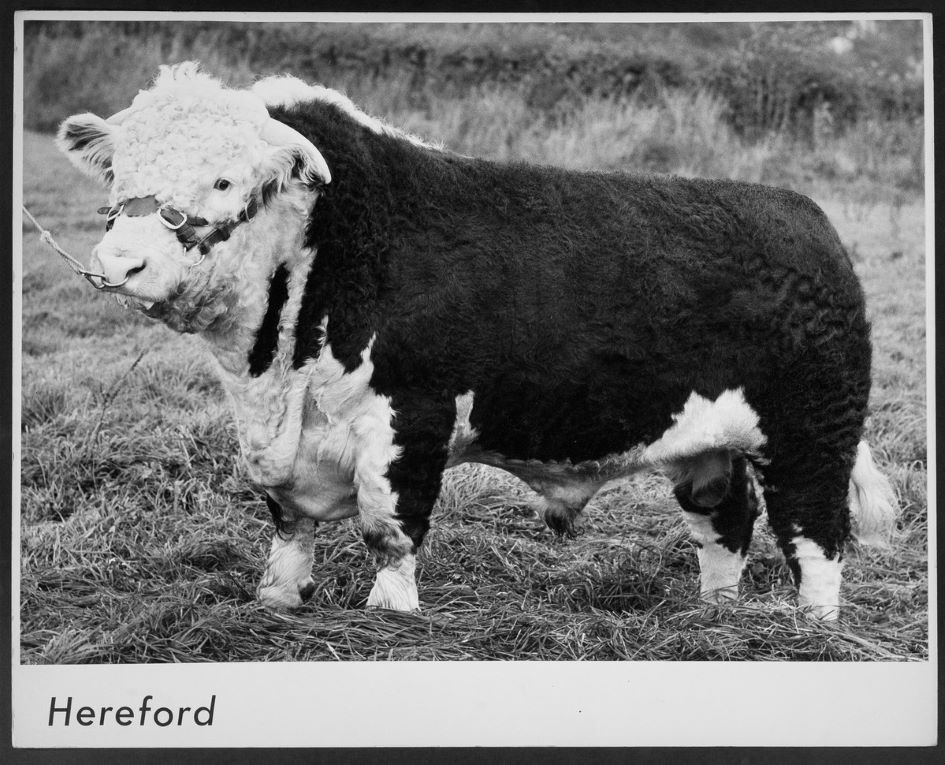 Hereford cow photograph
Hereford cattle evolved for thousands of years in Britain before being exported for the first time in 1817. They likely originated from a cross between the Roman small red cattle, and a large breed that existed on the Anglo-Welsh border. Herefords give a high beef yield and can calve at a later age than most cows, but they are best known for their hardiness, being able to thrive in arctic Scandinavian conditions as well as the blazing heat of an Australian summer.
This photograph was taken by livestock photographer Joan Pitt in the 1960s.
MERL P DX1903
close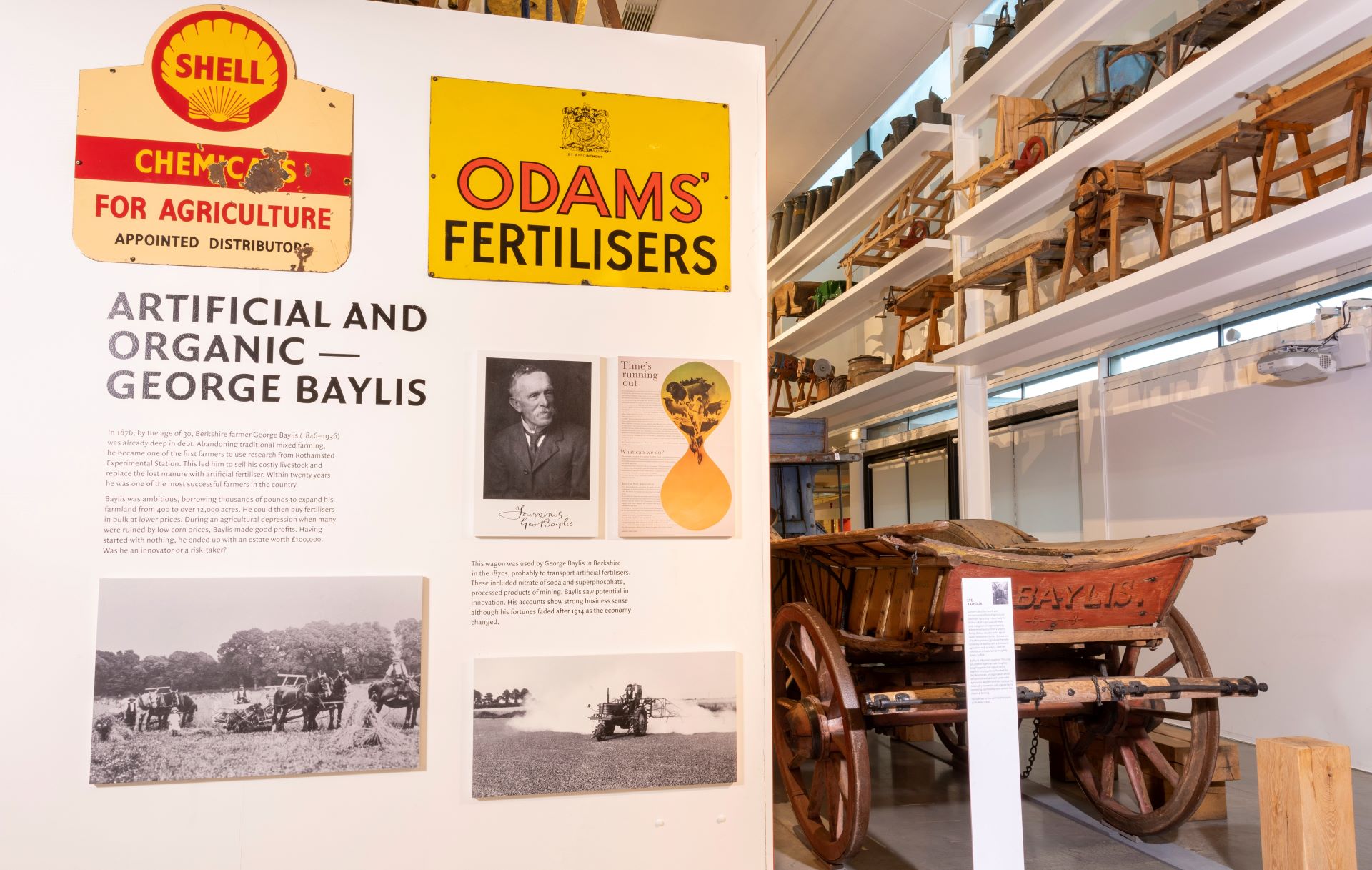 George Baylis photograph
+
Crop spraying photograph
+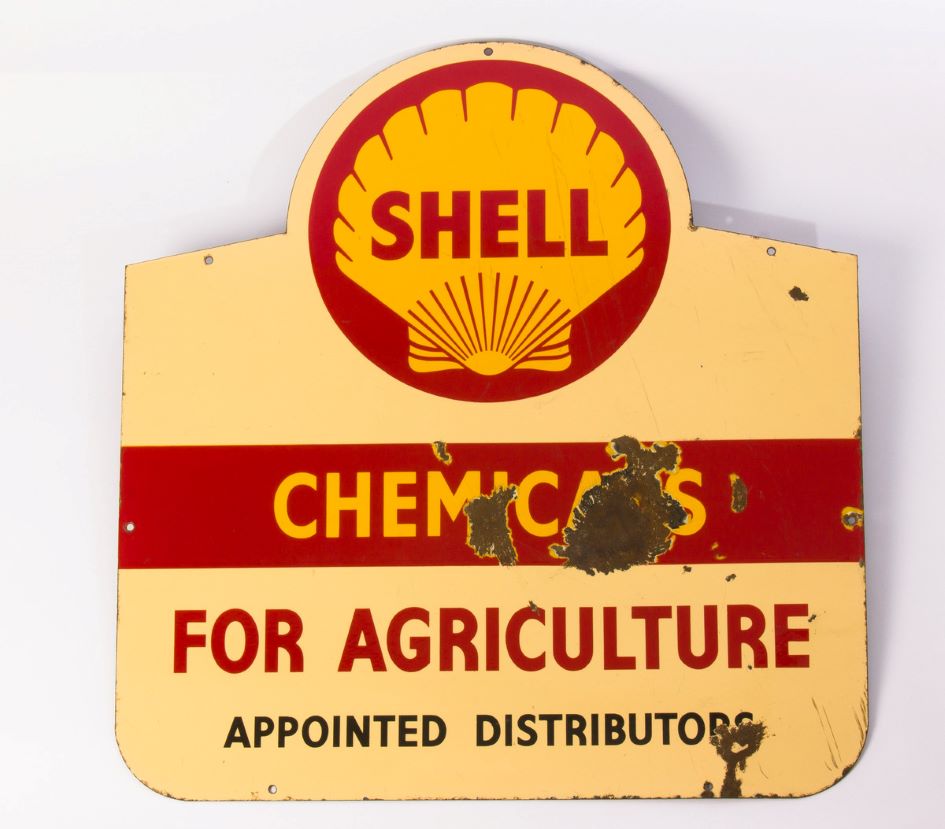 Shell sign
This is a 1960s enamel advertising sign for Shell Chemicals. Shell invested heavily in agricultural chemicals like DDT, which is now barred from agricultural use worldwide by the Stockholm Convention.
Pesticides are used in agriculture to kill pests that damage crops. Although they can significantly increase crop yields, their use can come with an environmental cost as they can seriously harm humans and other wildlife, unless they are used very carefully. Attitudes to pesticides started to change when Rachel Carson published the book Silent Spring in 1962, where she questioned the long-term impact on health and ecology of pesticides.
MERL 2009/51
close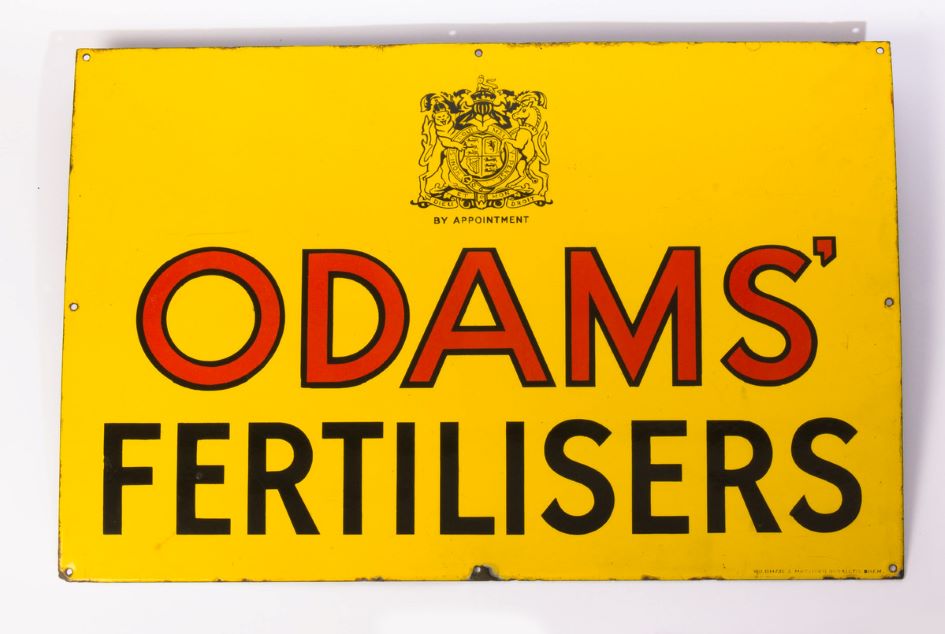 Fertiliser sign
This is a 1930s enamel advertising sign for 'Odams' Fertilisers' advertising superphosphate fertiliser, which used mixed animal bones and sulphuric acid. In the 19th century an agricultural industry developed around synthetically created fertilisers which transformed global food production, encouraging large scale industrial agriculture and much improved crop yields.
However, the use of synthetic fertilisers has significant environmental consequences including global warming, agricultural runoff and water contamination, soil degradation plus build up of toxins in ecosystems. Approaches to address these issues encourage the use of less synthetic fertilizers and more organic fertilisers, and better soil management.
MERL 2009/59
close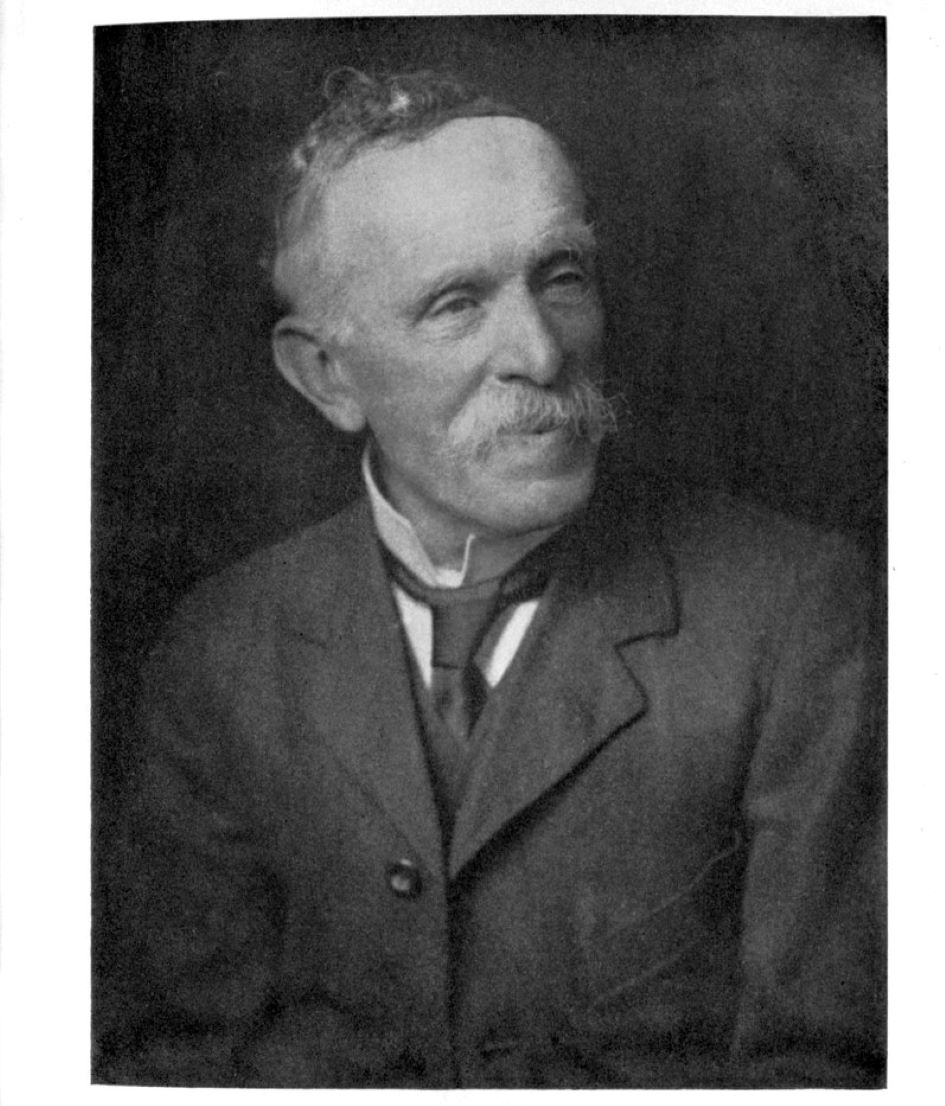 George Baylis photograph
George Baylis of Wyfield Manor, Boxford, near Newbury, was a farmer who, in the 1860s, started with a mixed farm of 350 acres and added holding after holding until he was farming 12,000 acres for the production of wheat and barley alone. He did this by abandoning traditional livestock manure dependent crop rotation and adopted all-arable rotation using artificial fertilisers based on research from Rothamsted Research Station, based at Harpenden, Hertfordshire. He acquired land cheaply in times of agricultural depression which coupled with his revolutionary farming methods allowed him to grow his farms quickly and very significantly.
close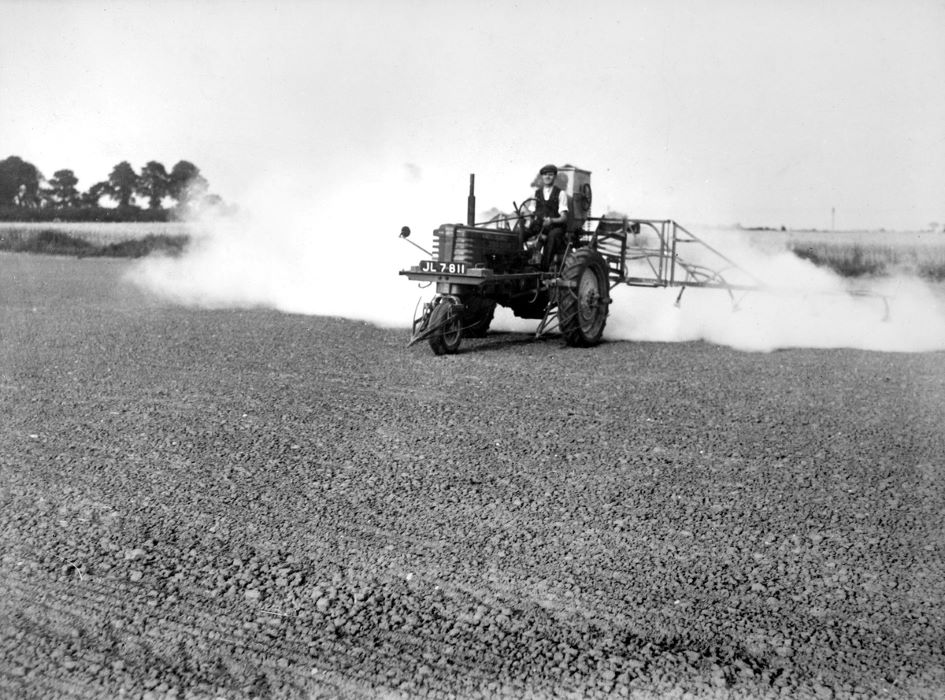 Powder dusting photograph
This is a photograph of a powder dusting machine mounted on a tractor applying Flea Beetle dust in 1945. A danger of spraying or dusting crops with pesticide is that of pesticide drift where the toxic chemicals can spread farther than just the target crops. This can cause serious medical issues for humans applying the pesticide and those living and working near to the crops. The pesticides can also cause unwanted harm to other plants and wildlife.
The Soil Association and other environmental organisations have long expressed concern that the means of delivery of many pesticides still need to be further improved.
MERL P FW PH2/S45/6
close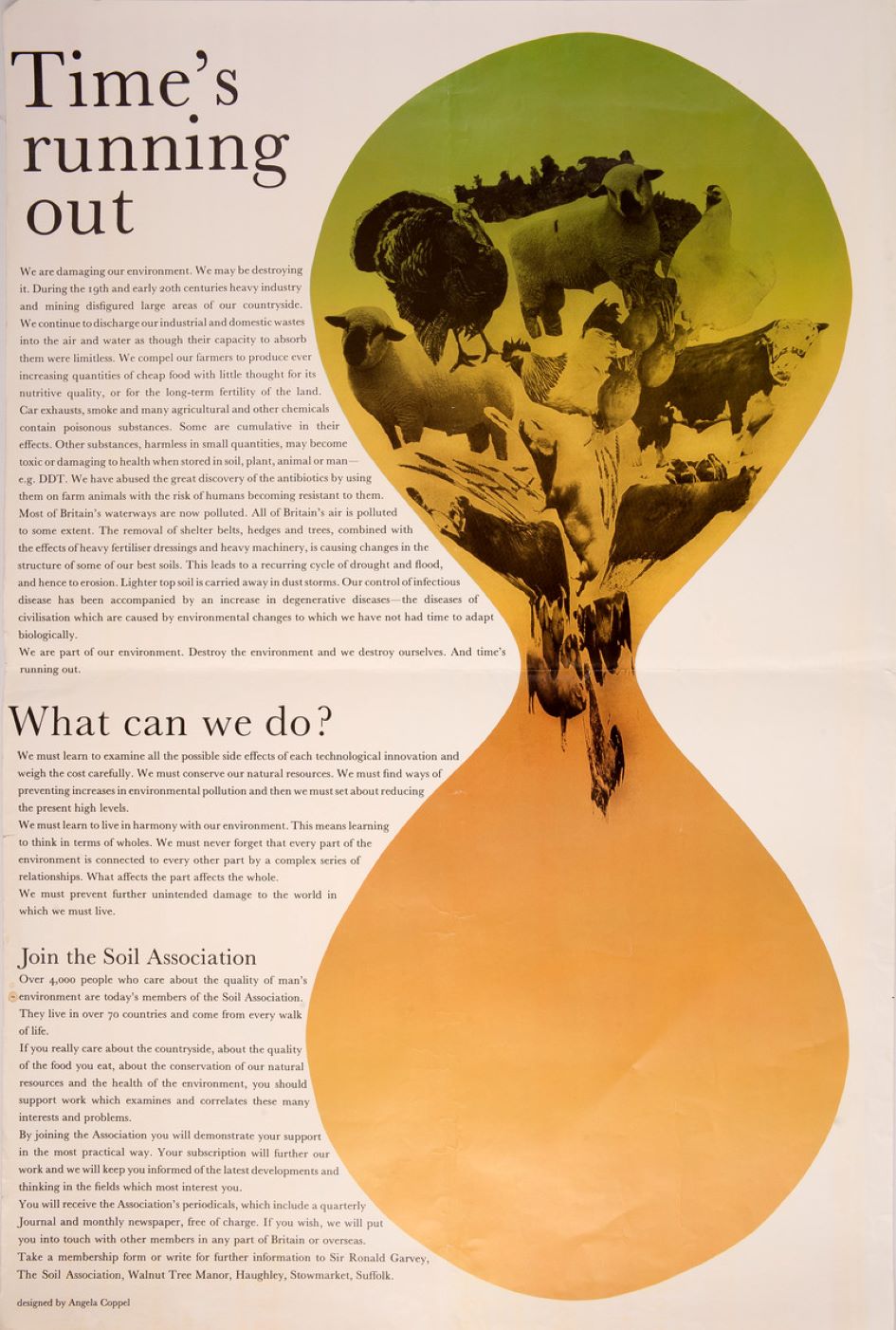 Soil Association poster
This Soil Association Poster entitled "Time's running out" was produced around 1970. It warns how we are damaging our environment, informs of what we should do to help protect the environment and encourages readers to join the Soil Association.
The Soil Association is a UK based charity which campaigns on issues including opposition to intensive farming, support for local purchasing and public education on nutrition, plus the certification of organic food. It was founded in 1946 following the publication of "The Living Soil" by Lady Eve Balfour in 1943 which outlined an alternative, sustainable approach to agriculture, now known as organic farming.
MERL SR 3CPRE F2/23
close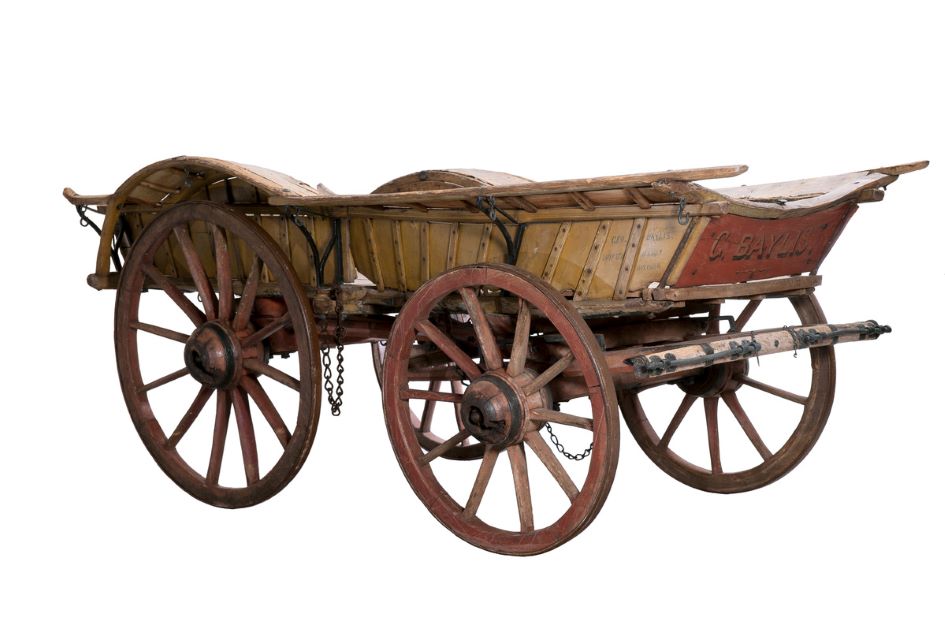 Berkshire wagon
This 1870s bow wagon was built for George Baylis of Wyfield Manor, Boxford. It was used to transport artificial fertilisers, including nitrate of soda and superphosphate. In West Berkshire and East Wiltshire the most common wagon was the narrow wheeled, straight framed Wiltshire wagon. This narrow waisted body frame West Berkshire wagon was an attempt to improve the poor turning circle of the traditional Wiltshire wagon. Although an improvement on the Wiltshire type, it never became widespread in West Berkshire. In East Berkshire, South Midlands type wagons were common and in South Berkshire, Surrey type wagons were popular.
MERL 54/365
close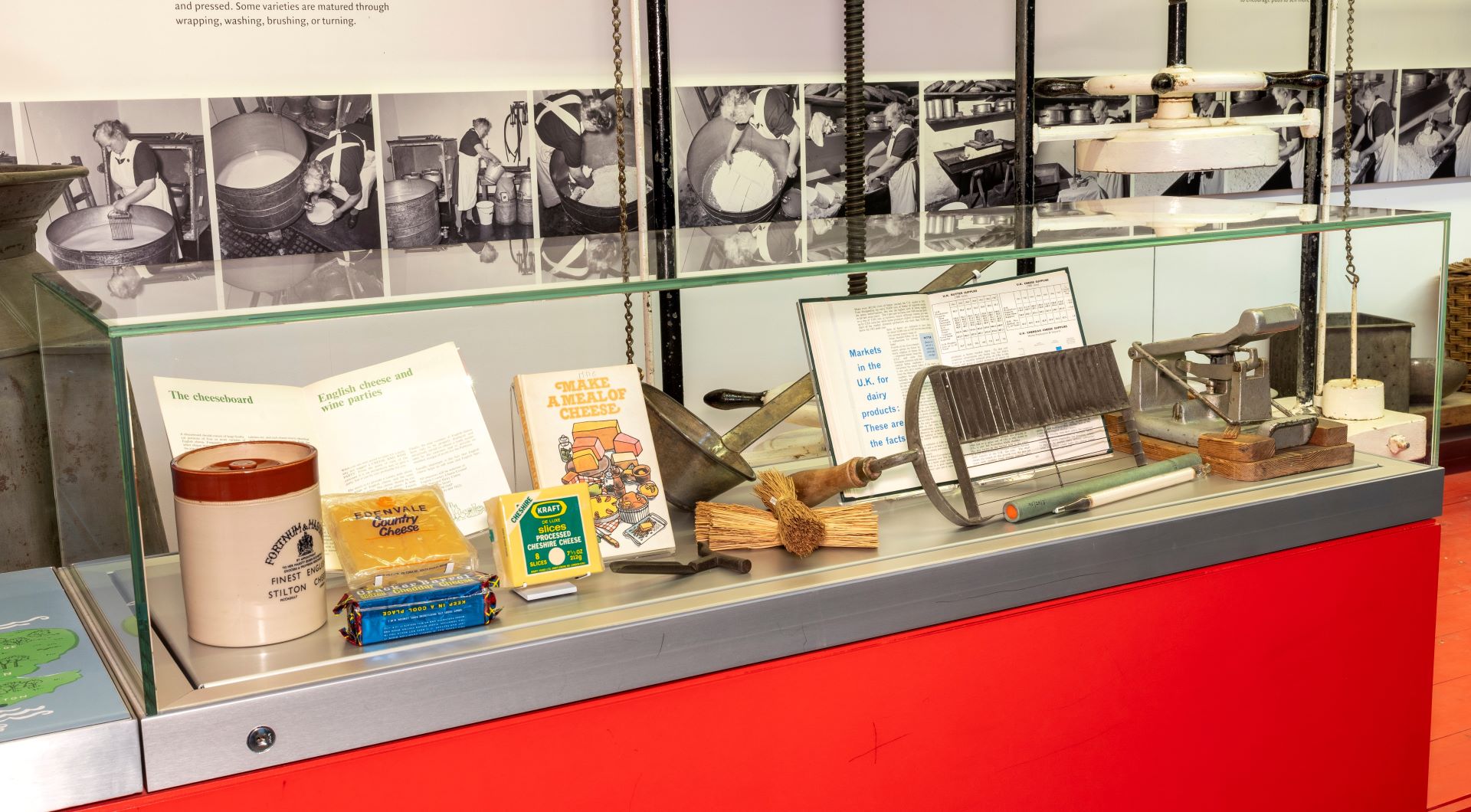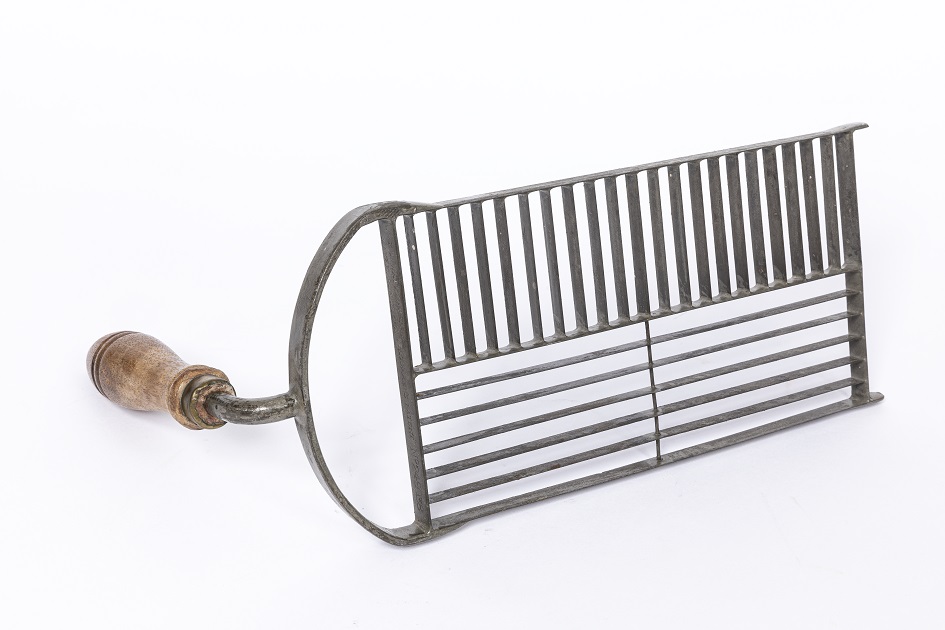 Curd cutter
This curd cutter was used for dicing curds in 12 gallon vats. Its inscription implies it was made by F. T. Whitmarsh of Blandford, Dorset.
Milk is split into curds and whey via the application of acidity and rennet. At this stage, the curd cutter is applied to cube the curds and allow more whey to drain. For particularly hard cheeses, the process is accelerated by heating the curds. They are then salted, pressed and ripened to form cheese. Some soft cheeses, such as cottage cheese, do not require a curd cutter as they do not need all the whey to be drained.
MERL 74/85
close

Thermometer
This mercury 'floating head' thermometer was used for cheesemaking in the 1920s. Heating milk to the correct temperature is the first stage of making cheese; it allows important lactic acid bacteria to multiply. Precision is essential to producing the desired firmness of cheese. 34˚C creates a very soft cheese whereas 39˚ leads to a firm cheese. As such, the margin for error is very low.
Mercury thermometers are considered vintage these days, and since 2009 have not been sold to the general public due to the risk of mercury poisoning.
MERL 95/29/2
close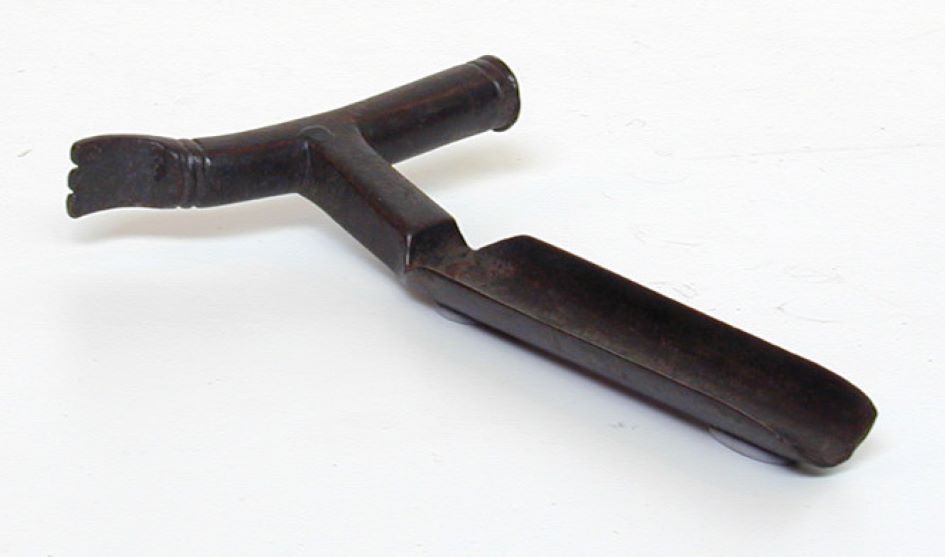 Cheese sampler
The long, trough-like blade of this cheese sampler would have been used to extract a section of a large cheese to taste it. Sampling was an essential part of the cheese ripening process, particularly before refrigeration when conditions were less controlled.
Cheddar cheese can be ripened for as little as 6 months and as long as 18 months, so frequent testing would have been crucial to ensure the desired maturity. Dating from the 18th century, this sampler was used in Kensington and Chelsea.
MERL 51/1200
close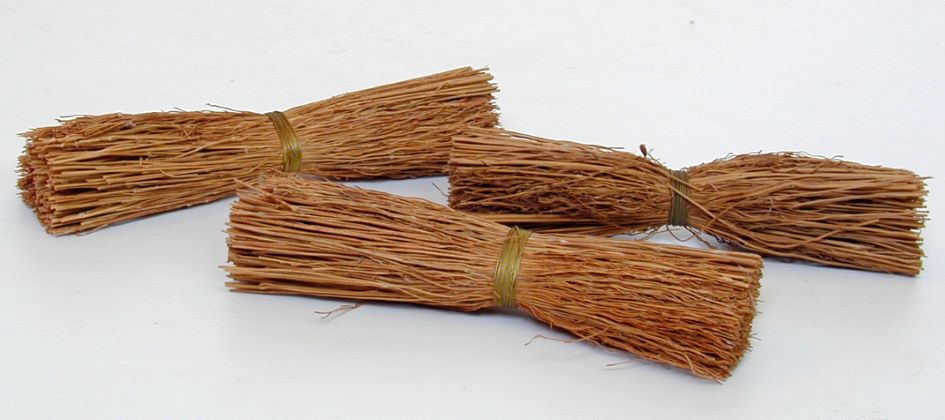 Cheese brushes
Made in France, and used in Somerset, these brushes removed mould from stored cheeses. Although some hard cheeses can be kept outside the fridge, it significantly shortens their lifespan. Before refrigeration, some households would use brushes to remove as much mould as possible from cheese. In an attempt to keep their cheese cool and prevent mould growth, many Victorians would keep it on a large piece of slate in their pantry.
The brushes are crafted from bundles of flax grouped in the middle by brass wire.
MERL 68/83
close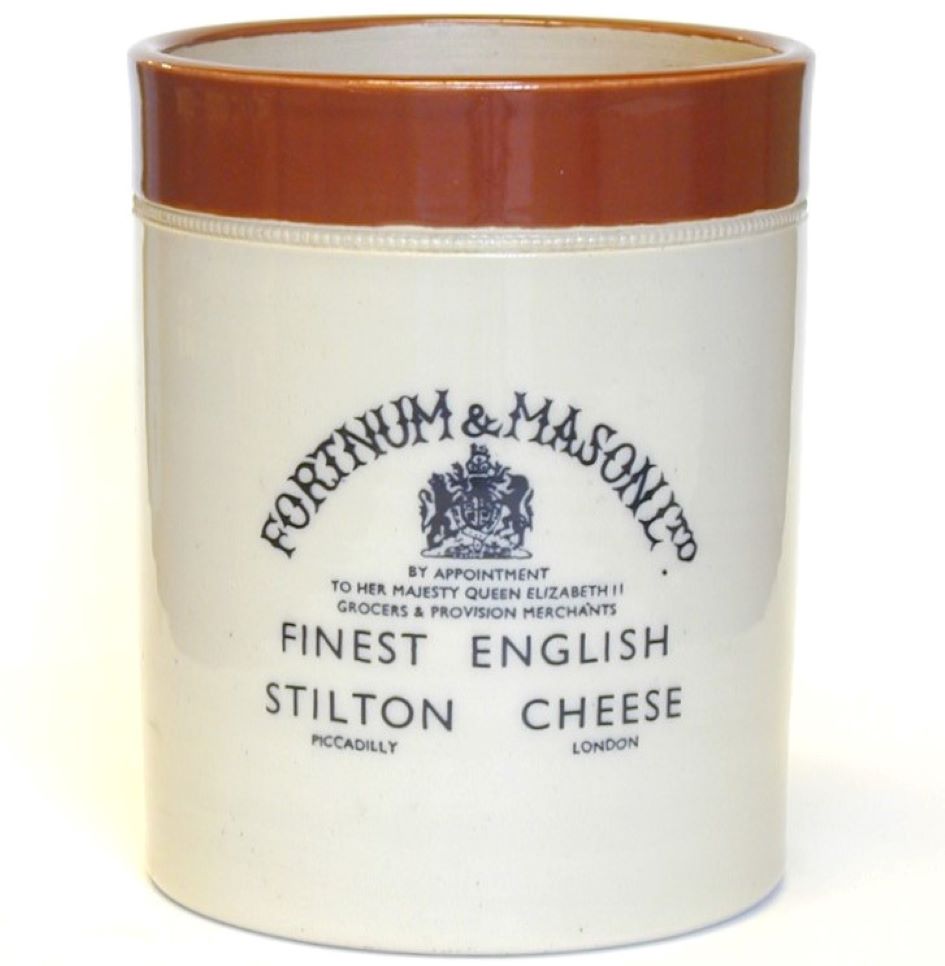 Stilton jar
This ceramic jar was used to store Stilton cheese by Fortnum and Masons, a luxury department store in Piccadilly, London. Stilton has always been a luxury product; in the 1790s half a pound of Stilton cost more than double a farm labourer's daily wage. In fact, such was its reputation for quality that in 1724 Daniel Defoe referred to it as the 'English Parmesan'. At this point, it was likely a matured cream cheese made with whole milk and additional cream.
The cheese's protected status means that it can only be made in Derbyshire, Leicestershire and Nottinghamshire. Peculiarly, this does not include the Cambridgeshire village of Stilton where the cheese likely originated.
MERL 67/13/1-2
close
Traditional Revival Display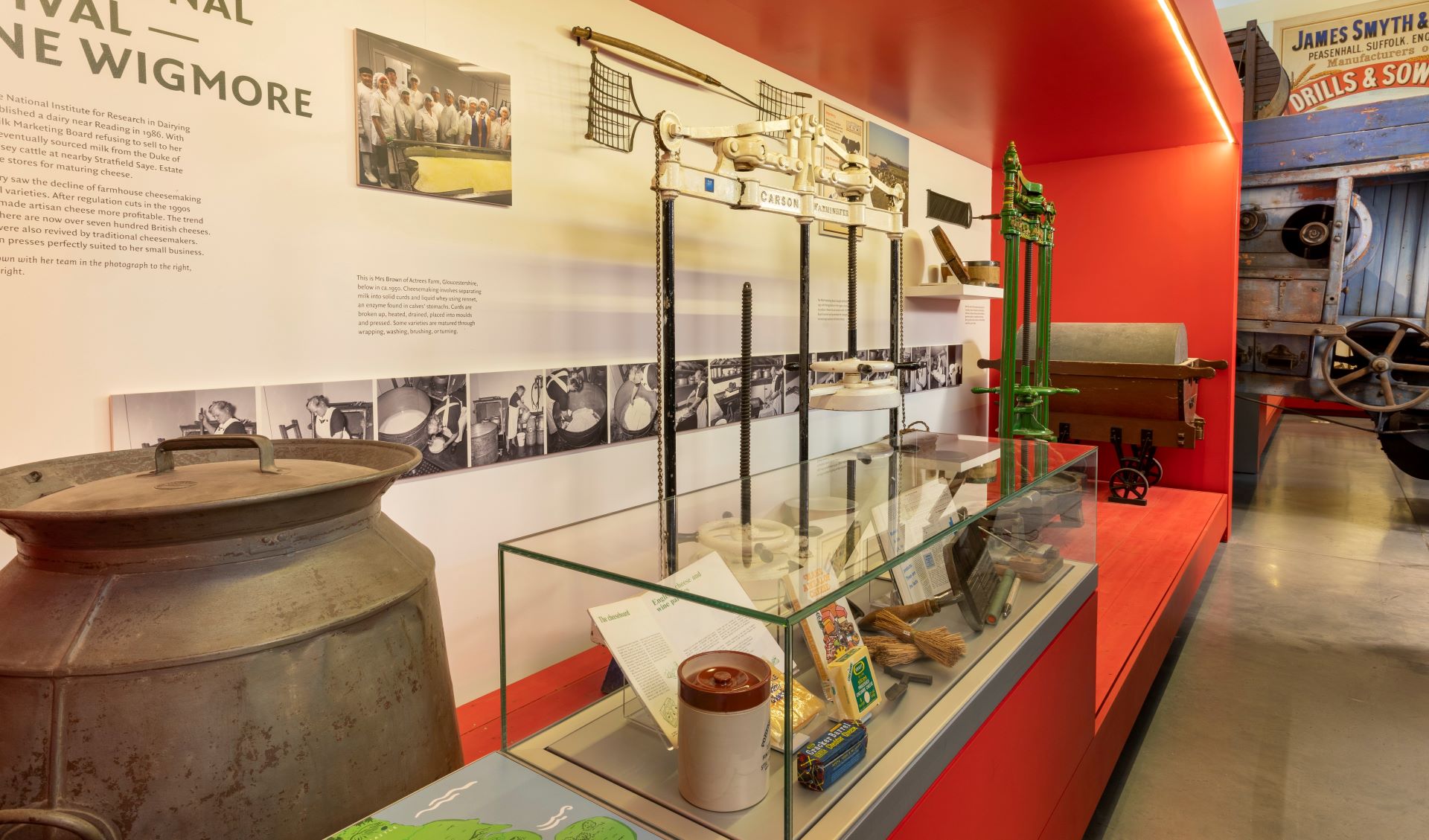 Traditional Revival Display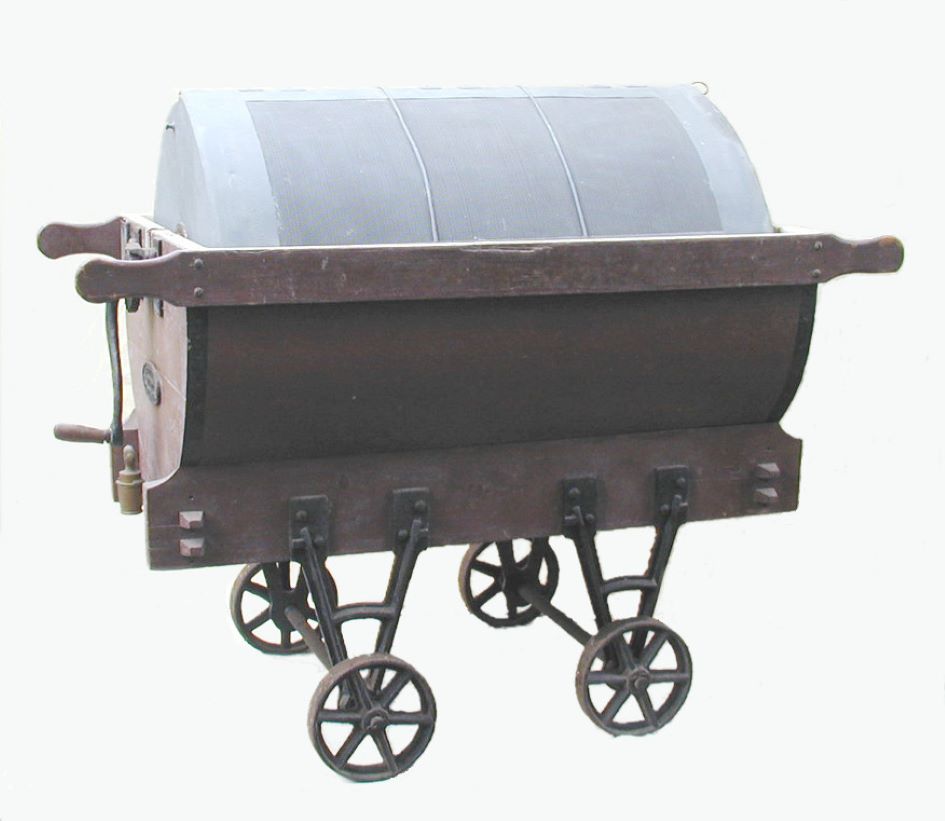 Cheese vat
This object is an example of the 'Gornall Patent cheese maker', a cheese vat which was widely used across Lancashire, particularly for making Lancashire cheese. It was patented in 1892 and likely made in Garstang, becoming so successful that it was awarded medals at various dairy shows in the 1890s.
It played an important role in the process of separating curds and whey. Once curds had been placed in the vat and allowed to settle, the cylinder would be rotated and the whey would be drained. The curds would then be dry enough to be cut. This specific vat was used at Plankton Farm in Hambledon, Lancashire.
MERL 60/32
close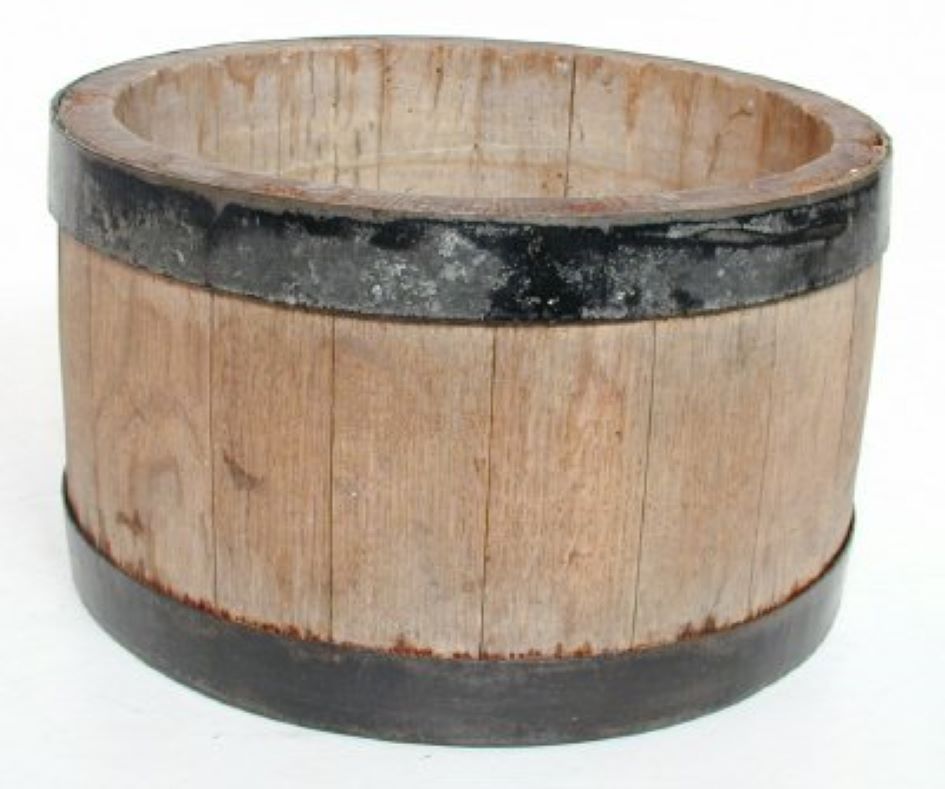 Cheese mould
This cheese mould originally came from the workshop of a Mr Spiller, a thatcher in Yarncombe, Devon. Before a cheese can be ripened, it must be moulded while the curds are still malleable. This particular mould is a basket mould, as it has only one opening. In contrast, hoop moulds are bottomless and coil around the cheese.
Moulds have been used in cheese making for thousands of years, with a number of Roman examples surviving. These often feature straining holes to drain excess whey.
MERL 66/315
close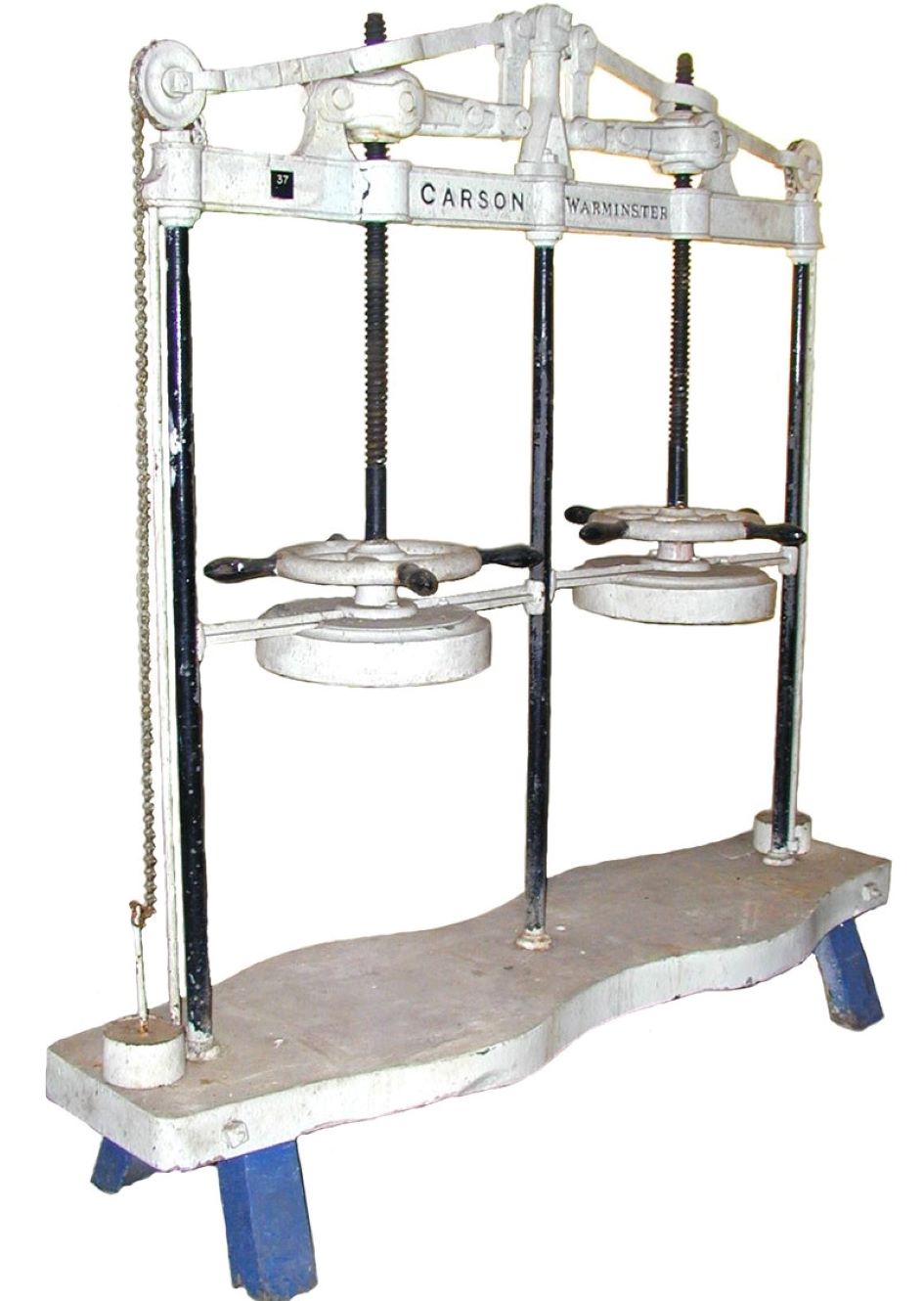 Cheese press
The University's Department of Food and Science used this press for cheese making, before it was replaced by a horizontal press made by the Department's technicians.
Although pressing cheese squeezes the last of the whey from the curds, it does not necessarily determine the cheese's hardness. This is affected more by the temperature of the curds mixture as well as the size of the curds. The pressing process ensures the curds stay 'knitted' together, and gives the cheese shape. Until the Industrial Revolution, cheese pressing was typically undertaken on a household scale.
MERL 87/31
close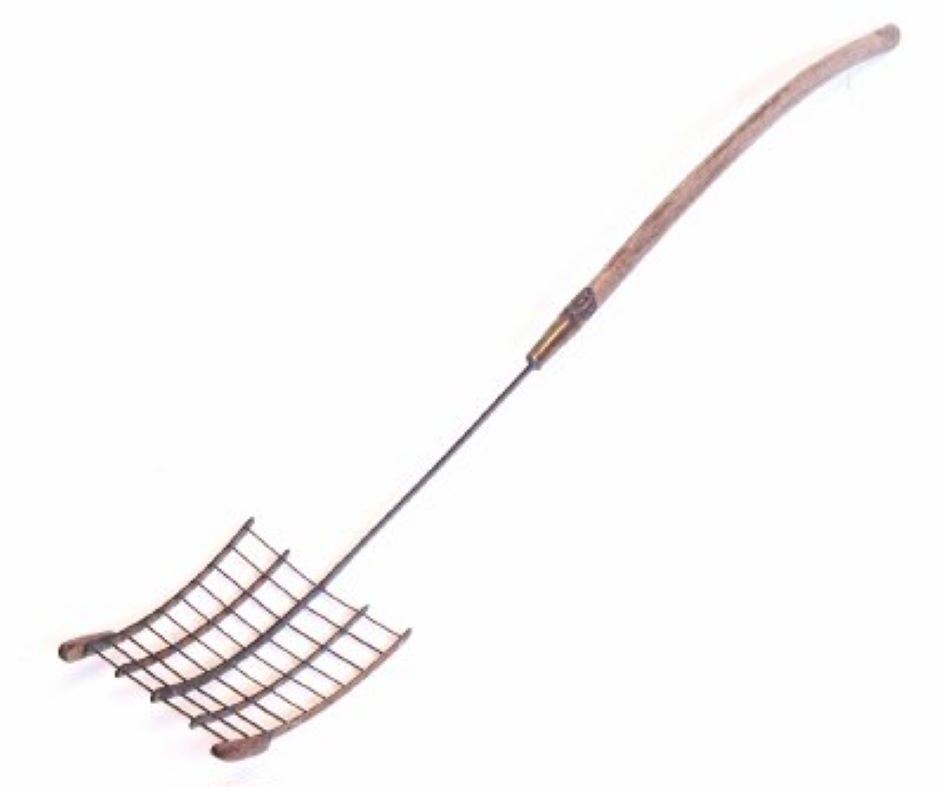 Curd breaker
Originating from Blandford, Dorset, this curd breaker has a similar purpose to the curd cutter in the case below – it was used to divide curds to hasten the escape of whey. Draining whey from curds is a crucial element in creating a hard cheese. Cutting the curds into large pieces will result in a moisture cheese, whilst smaller pieces will lead to a drier cheese. Following the cutting process, curds can also be cooked and stirred to further remove the whey.
MERL 54/381
close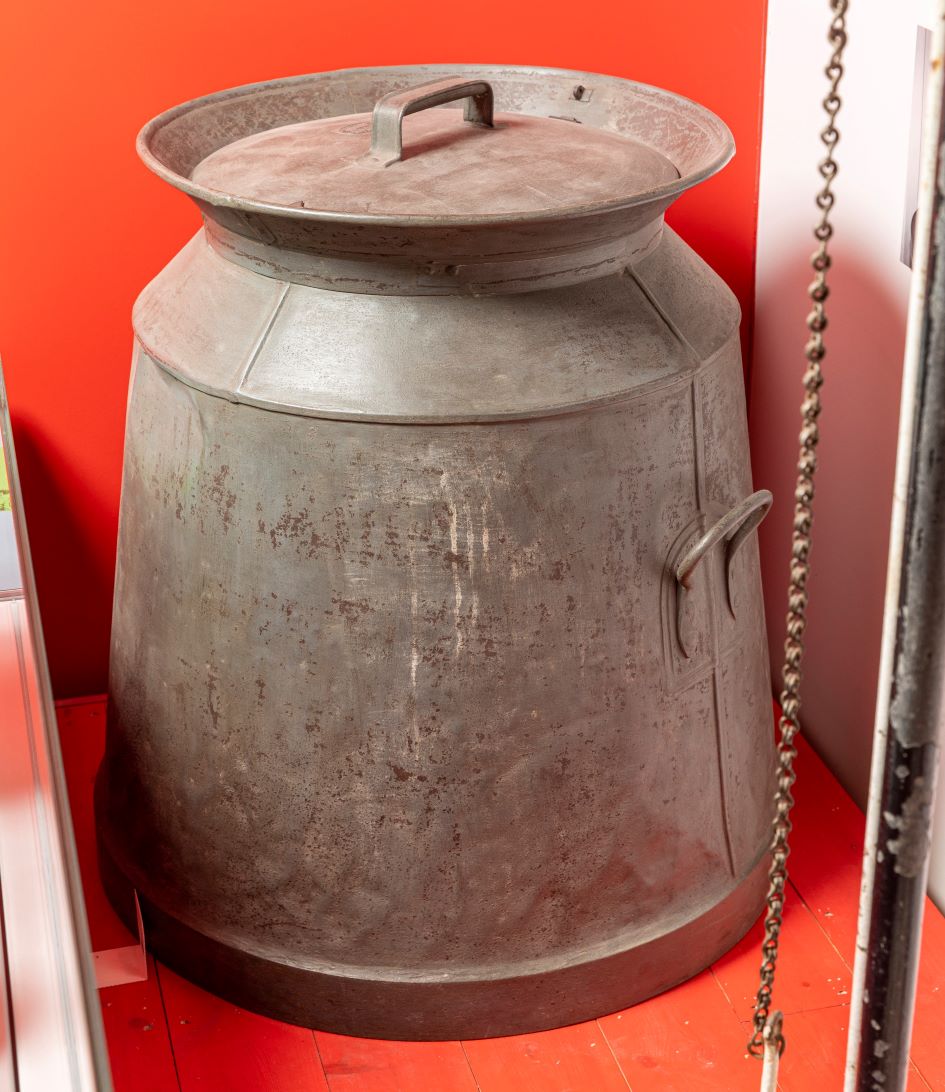 Milk churn
This churn, made between 1890 and 1910, was used on a farm in Somerset to carry around 60 gallons of milk. Once the cows had been milked, pails would be emptied into the churn, which was then transported straight to a cheese vat. Milk leaves the udder at around 38˚C, an ideal temperature for starting the cheese making process.
However, this skips the pasteurisation stage, which is typically used to destroy harmful bacteria in milk. The debate of pasteurized milk against raw milk continues to this day, with many claiming that raw milk cheese has a more distinct flavour and is safe to consume.
MERL 59/429
close
Explore the Exhibition