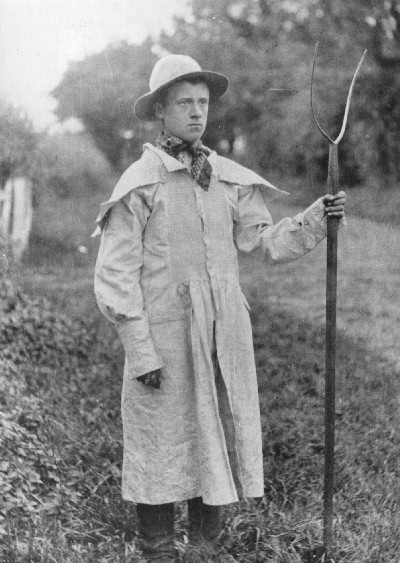 What is a Smock?
Smocks are worn over the wearer's clothes, as can be seen in this photograph of a young farm labourer in Norfolk. They are usually made from cotton, mostly twill weave, also known as 'drabbet', or linen. Most smocks are naturally coloured, ranging from creamy white to dark brown, although blue and green smocks are also found in the MERL's collections.
Smocks are largely recognisable by their smocking and embroidery. Although they vary in detail and skill, these elements provide decoration and comfort. Smocking provides stretch and ease of movement, allowing the smock to better fit the wearer.
MERL archive (ref. P DX1091/153)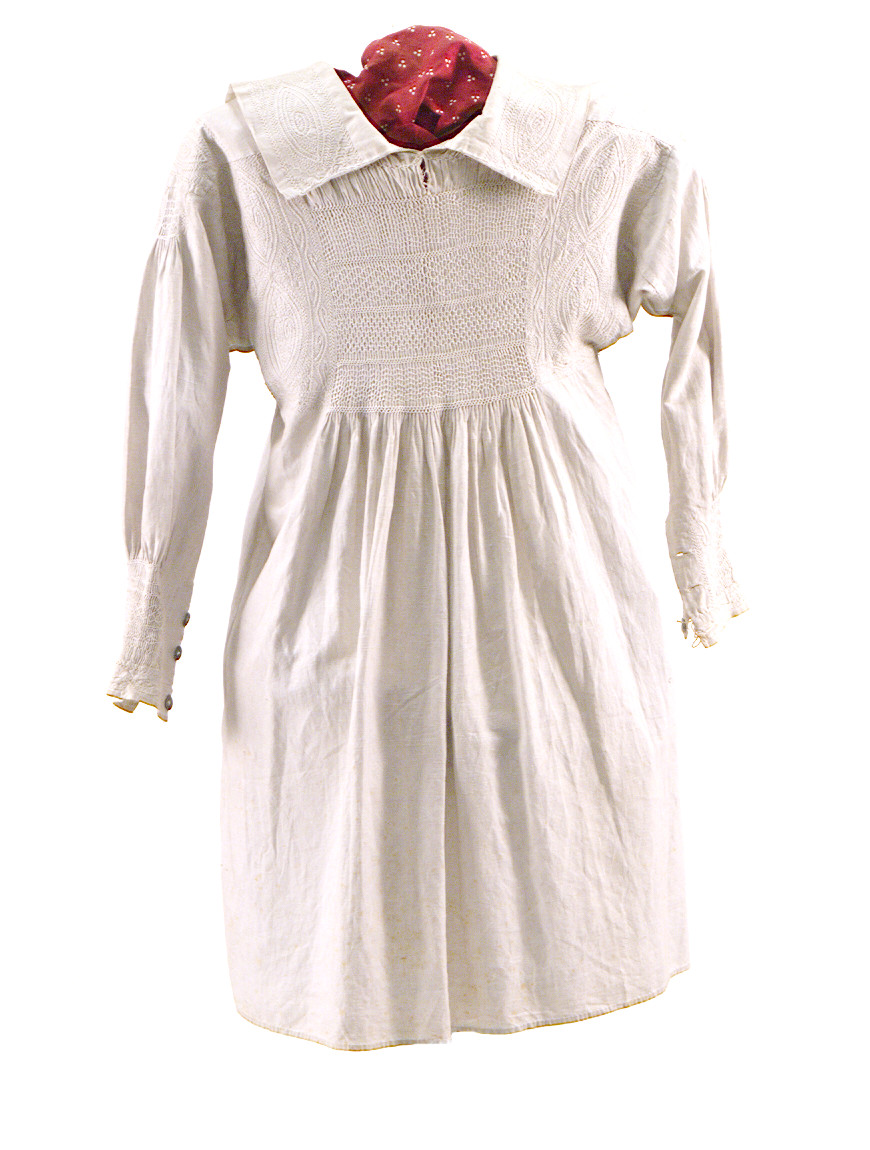 Smocks and Their Uses
For centuries smocks were worn by rural agricultural labourers, protecting clothing from dirt, and providing additional protection against the weather.
Smocks were also worn for significant occasions, including funerals, weddings, and 'Sunday best'. 'Sunday best' smocks would usually be in addition to that used for working. They were often white, and dressed up with handkerchiefs and other decoration around the neck.
By the nineteenth century folk revival, smocks took on a romanticised role, featuring in cultural traditions such as folk dancing and literary representations of the rural idyll.
MERL Collections (object number: 64/21)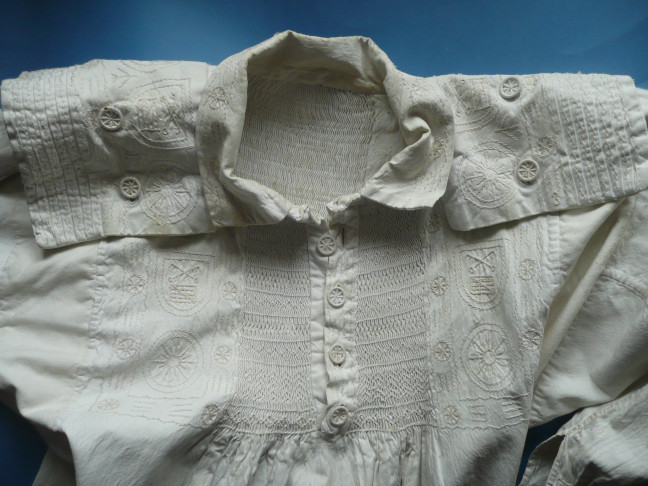 Smocks and English Folk Culture
Fuelled by a desire to restore traditional cultural customs, the nineteenth century 'Folk Revival' saw a renewed appreciation for traditional forms of song, dance, and dress. Smocks became part of the newly romanticised image of the English countryside, integrated into English folk culture, including Morris Dancing.
The Yateley Fool, of the Yateley Morris Men, can often be seen wearing a smock during performances, and in 2018, two smocks [2018/22; 2018/23] were donated to the MERL, both having been worn by the donor during folk dancing festivals and events.
Smocks also featured in literary depictions of the English countryside, as can be found in Thomas Hardy's 1872 play Under the Greenwood Tree:
 'stalwart ruddy men and boys were dressed mainly in snow-white smock-frocks, embroidered upon the shoulders and chest with ornamental forms of hearts, diamonds and zig-zags' 
The Yateley Smock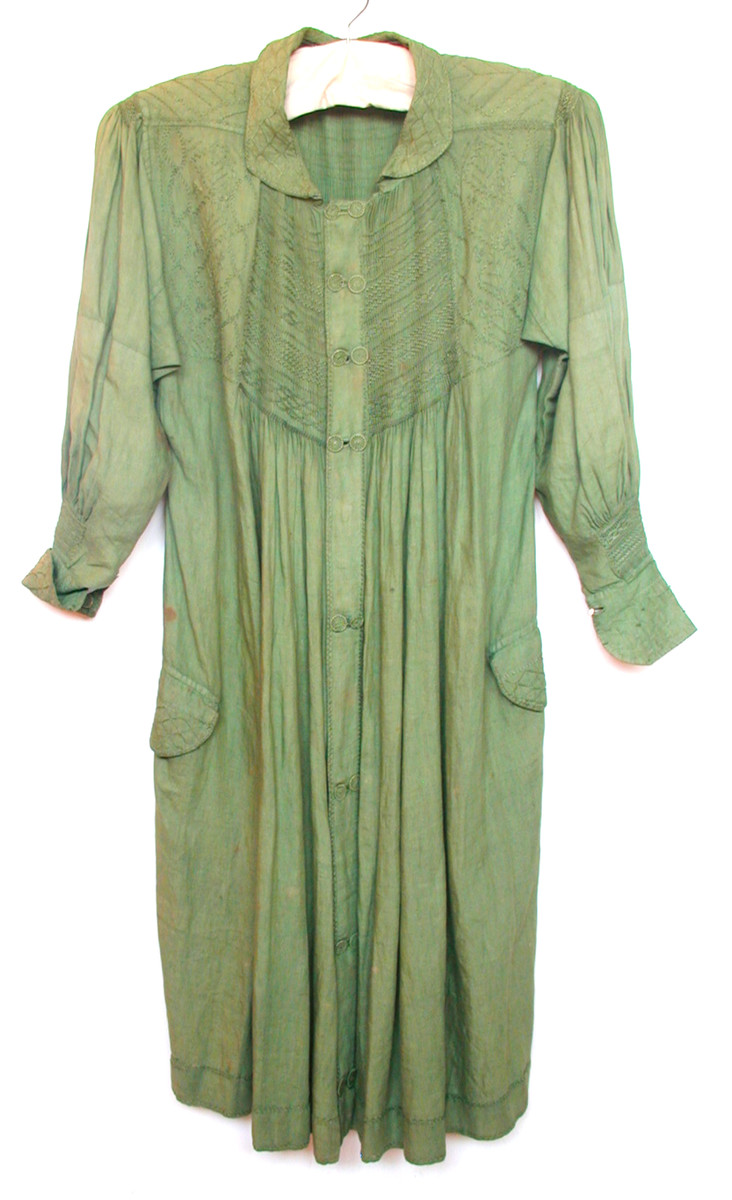 Smocks and their Styles
Whilst the length of smocks varies, the cut of traditional smocks rarely differs. The garment would feature either a yoke or shoulder straps, as well as a collar, cuffs, smocking, and pockets. Some smocks were designed with side seam splits at the hem.
There are three distinct styles of smock.
Reversible smock
These have a small opening at the centre of the front and back neckline. Both sections are smocked and decorated identically so that there is no discernible front and back.
Shirt smocks
These have a long front opening and fasten with several buttons.
Coat smocks
These open through the full length of the front and are fastened with buttons.
MERL Collections (object number: 63/286)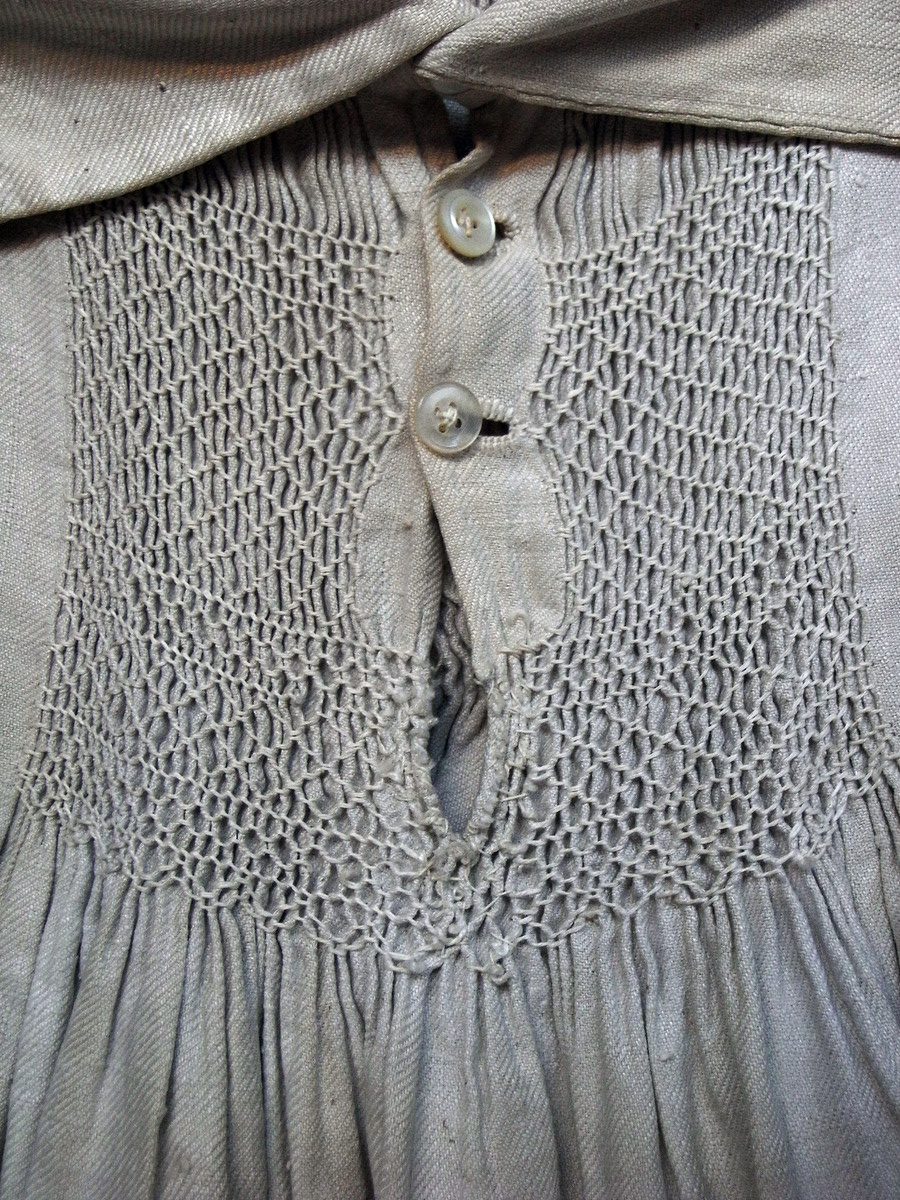 What is Smocking?
When creating smocking, the garment's fabric is gathered and stitched, creating an elasticated effect. Traditionally, smocking used natural colour thread, although again coloured thread was occasionally used when it suited the colour of the fabric.
Generally, the smocking stitches used are simple and few. Stitches most commonly used were rope and stem, both of which created a variety of designs, including cable, weave, chevron and honeycomb.
Smocking is most commonly applied to the cuffs, breast, and back of the smock, allowing the garment to stretch when worn.
MERL Collections (object number: 51/258)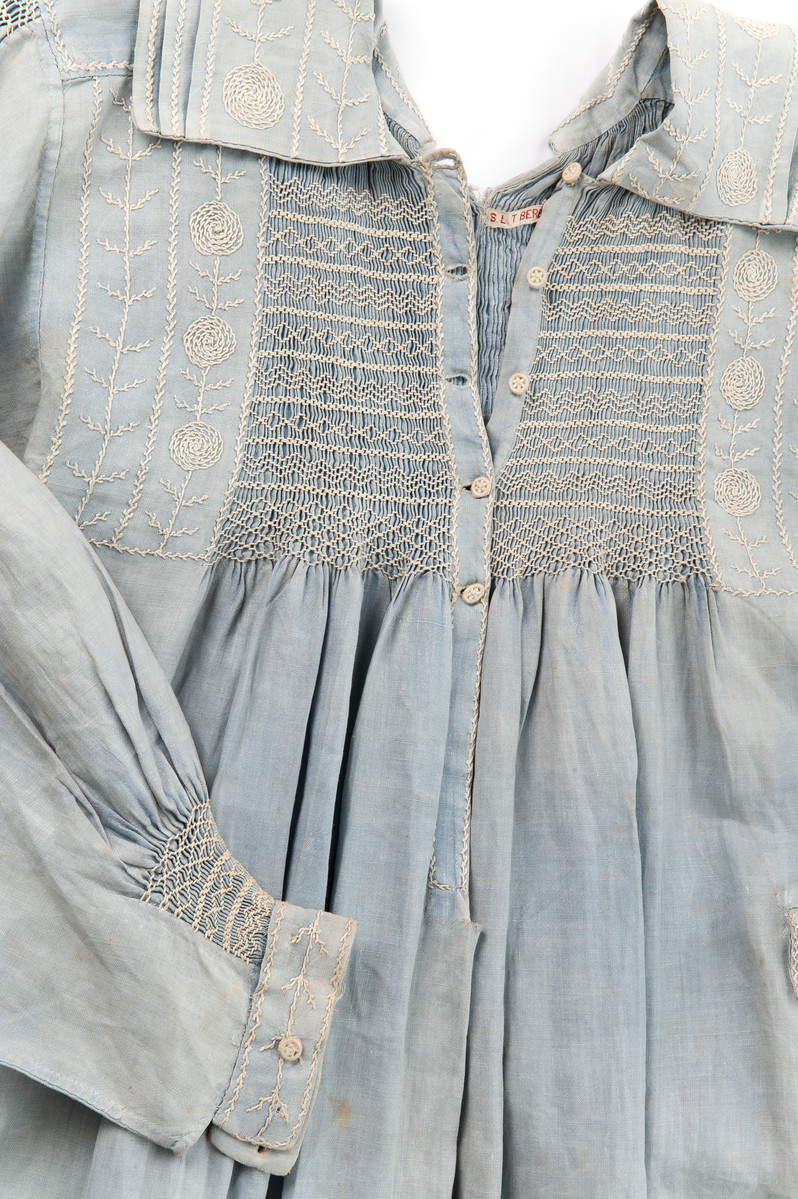 Smocks and Their Embroidery
For many years, smock embroidery was thought to symbolic, representing geographical location, the garment's purpose, or the wearer's occupation.
Smock 63/283 was donated to the MERL in 1963. The original owner believed the embroidery to be representative of the county in which the smock was worn, with some local variation. It was understood that 'a farmer wishing to engage a ploughman or a carter, a shepherd or a gardener had only to look at the smocking patterns of the men who went to the local markets looking for jobs'.
Recently, however, this interpretation has been discredited, and it is now believed that the patterns used were simply the result of the maker and wearers' personal preferences.
MERL Collections (object number: 63/283)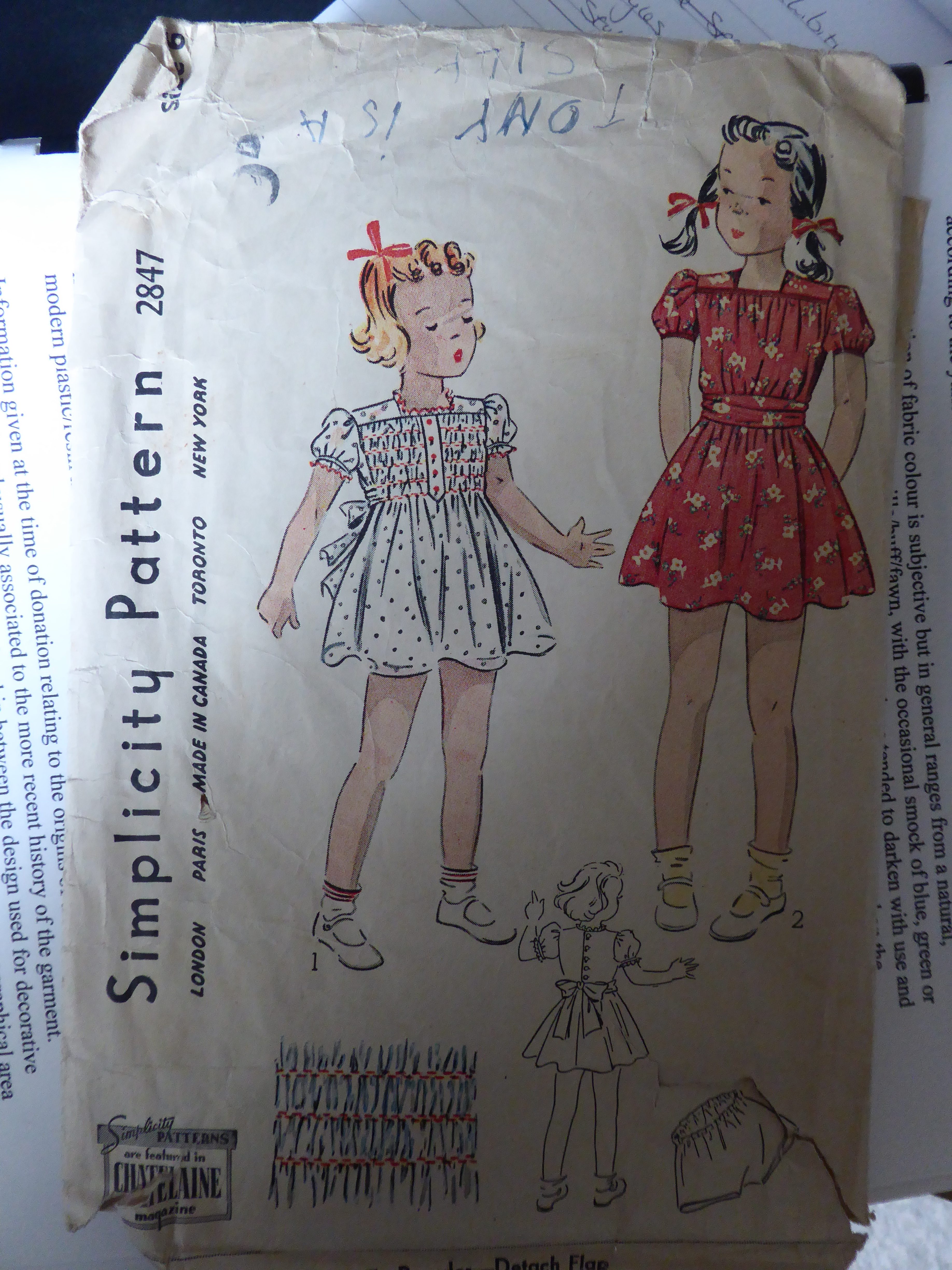 Fashionable Smocks
By the twentieth century, smocks had largely fallen out of favour for agricultural labourers, replaced by more streamlined garments. Whilst some farmers continued to wear smocks, many of the smocks' design elements had become popular with a very different audience.
Dresses and tops started to incorporate smocking into their design, as shown by these 1940s dress patterns. Used by the donor's mother in her role as an occupational therapist, these patterns show the ways in which the traditional designs and techniques of smocks were carried forward and used in new ways into the twentieth century.
Today, smocking is still a key feature of both adults and children's clothing, particularly dresses and tops.
Explore the Exhibition