NOW ONLINE: 'BEE HAPPY' FAMILY EVENT
Our online bee-themed family event!

Event Navigation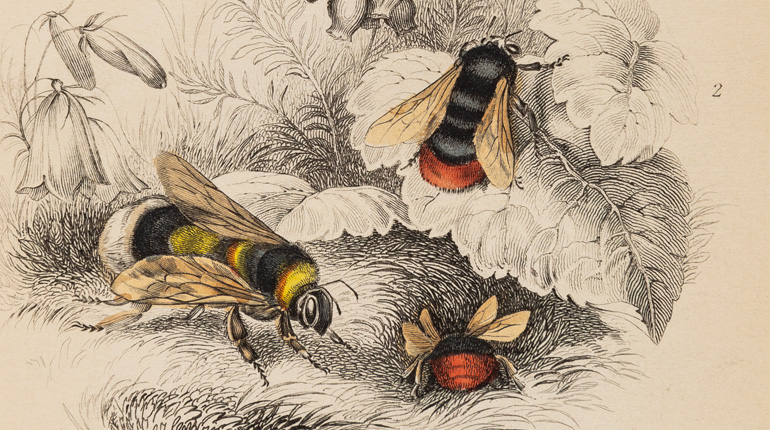 Join us online for a day of bee-themed activities  
Get ideas inspired by the MERL collections for indoor and garden activities relating to bees!
Join the Bee Happy Facebook event  share pictures of your crafts, and tell us about the bees you've seen recently!
The MERL – Bee Happy
Welcome to Bee Happy with the MERL!
We were planning on delivering these activities in the MERL galleries and garden today, but we thought you would still like to discover, take part in and get ideas from all the fantastic contributors to the event. Everything is designed to celebrate, learn about and protect these precious and most social of insects.
Bee Live Cam
To get you started, and hopefully fascinated, visit this Bee Live Cam in Buchloe, Germany and see nature in real time and very busy action.
Honey Bee Landing Zone
Honey Bee Inside the Hive
The MERL Collection: Object-handling at home – the bee skep

In this post our curator, Ollie Douglas, introduces us to bee skeps and helps us to explore their history, construction, and design. He describes some simple, hands-on ways for us to think and learn about how bee-keepers used to house their bees (all without having to leave our own homes).
Other Voices – creativity and community – a year of innovation at the MERL
This one-minute film offers a different take on bee skeps – with a reading of our 2018 poet in residence Jack Thacker's piece SKEP. Read the poem and find out about Jack's work inspired by the MERL collections in his blog post.
The film also highlights the diversity and range of activity and objects to be found at the MERL.
Make with the MERL: Bee craft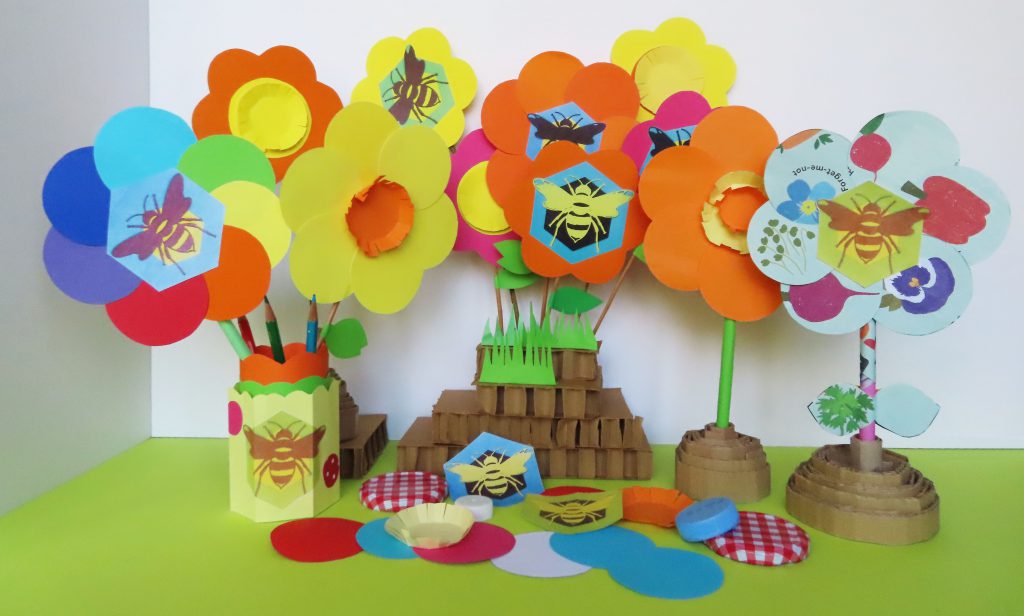 All you need are some off cuts of card or paper, lids and our MERL bee template to make a bee-utiful bouquet!
Here are the instructions on a pdf to download:
The Ultimate Guide to Bees
Find out about bee types, what bees eat, the difference between bees and wasps, what the Waggle Dance is and much more in this Ultimate Guide to Bees.
Download the pdf:
The Wildlife Trusts Seed Bombs
We are delighted to share the first of our guest contributors' resources. The Wildlife Trusts are a grassroots movement that believes we need nature and it needs us. More than 850,000 members and 35,000 volunteers work together with their Wildlife Trust to make their local area wilder and make nature part of life, for everyone.
There are loads of nature inspired activities and articles for kids and families here but a favourite for our bee theme is 'How to make Seed Bombs' to distribute pollinator plants in your garden or on your permitted walk.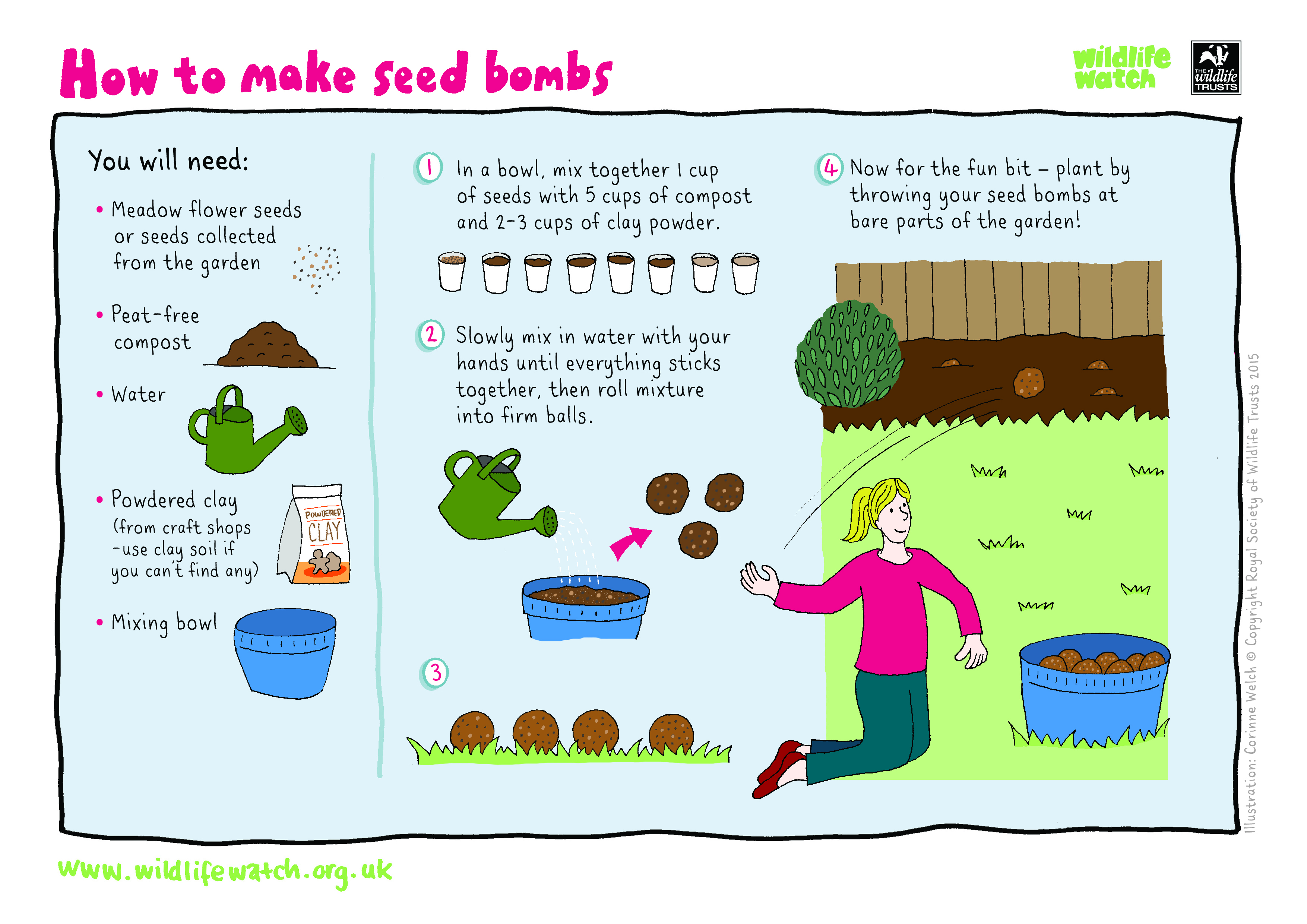 Oxford University of Natural History – the world's largest bee & an observation hive
Oxford University Museum of Natural History holds an internationally-significant collection of natural history specimens and archives in a stunning example of neo-Gothic architecture.
The Museum has one of the most important bee collections in the world, containing specimens collected over 200 years ago and from many different countries. The collection is a unique record of bee biodiversity and is used regularly by scientific researchers, artists and educators.
One of the most famous specimens held in this Museum is the world's largest bee that Alfred Russel Wallace collected in the 1850s. It is a single female bee, Chalicodoma (Megachile) pluto, discovered in Indonesia and believed to be extinct until it was rediscovered in the 1980s. She has a 6cm wingspan and enormous mouthparts, with jaws longer than her actual head.
The Museum also has an observation hive hand built especially for the Museum, revealing honey bees at work. Look closely and you can see eggs, larvae and even the queen bee.
BugLife & Bumblebee Trust bee resources
Here are some of the best online bee resources, as suggested by entomologists (insect experts) at the Oxford University Museum of Natural History and the team at the Reading Bee Keepers Association
Buglife – The Invertebrate Conservation Trust
Top tips on wildlife gardening – whether you have a whole allotment or a hanging basket – make your garden buzz with bees and bugs.
The good news is that gardening for insects is one of those activities in which less really is more. The best environments for British insects are those that are closest to our native natural habitats. In many cases, that means that the best thing you can do is not very much.
Bumblebee Conservation Trust
The Bumblebee Conservation Trust's vision is to create a world where bumblebees are thriving and valued. Their mission is to increase the number and distribution of bumblebees.
These free educational activities are designed for children and young persons from age 4 to 11+ to develop their knowledge and understanding of bumblebees, the challenges and threats they face, and how children can become a guardian of bumblebees to secure their future.
Bee identification with Wildlife Trusts
Here is another resource from The Wildlife Trusts that will help you identify the bees you see in your garden or when you're out for your daily walk.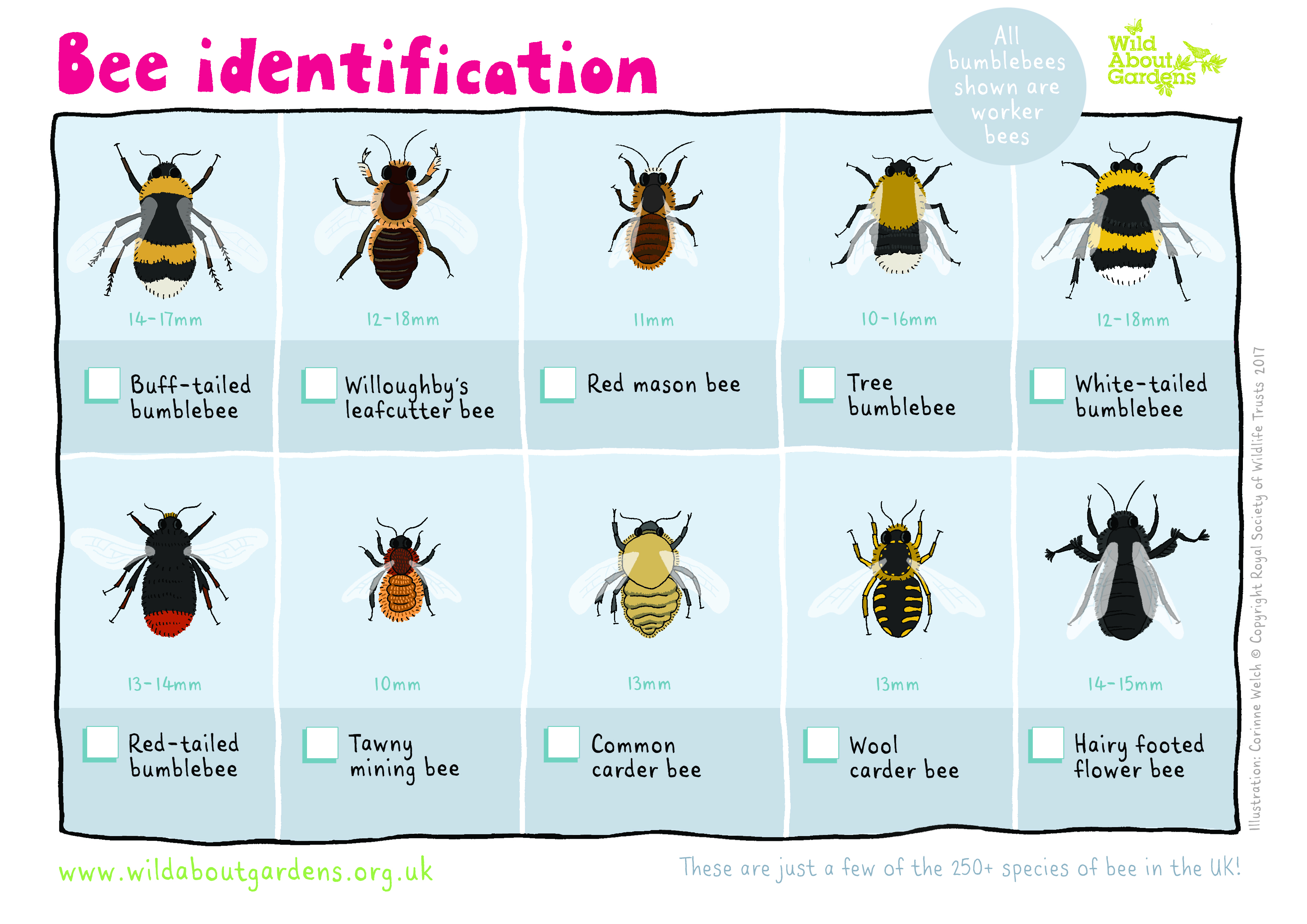 The MERL Bee Happy Flower Trail
We have also produced a Bee Friendly Flower Trail for you to see how many bees can you spot flying past your window, when you are outside in your garden or when you are out for a walk.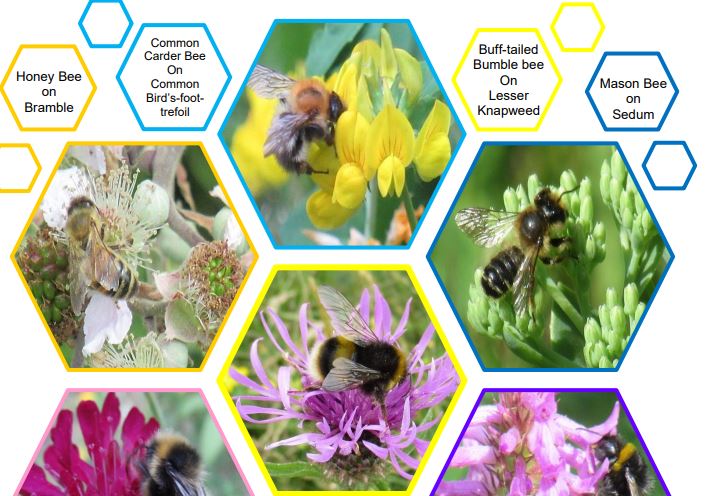 More from the Oxford University Museum of Natural History  – in depth bee blogs & finger puppets!
Here you can find their in-depth blogs
on the restoration of a beautiful 19th-century papier-mâché model of a honeybee hive and the exploration of the medieval craftsmanship of sealing wax – plus an easy to make bee finger puppet that you just add a folded and cut paper cake case to give wings!
The Cowan Bee Collection
Last year, The MERL acquired the Cowan Bee Collection, a library of 1,800 volumes of books, pamphlets and journals relating to bees and beekeeping, which has been described as the most comprehensive collection of its kind in the world. The items date from the sixteenth to the twentieth century, and were owned by Thomas William Cowan (1840–1926), a co-founder and president of the British Beekeepers Association. You can read about the collection here.
The collection includes some stunning illustrations of bees, like this one (and the one at the top of this page). Can you draw a beautiful bee?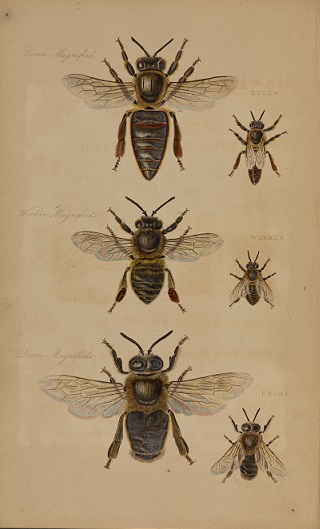 Time for (bee) tea
Thank you for bee-ing part of our Bee Happy day – we hope you have found out lots of interesting things about bees and how to care for them and their environments.
We will round off the afternoon in way we love best – with a slice of cake from our Retail and Visitor Services Supervisor, Angela.
In normal times, The MERL shop and Café is full of delicious local treats including honey products from Meadow Honey Farm. We also usually stock original and hand-made gift cards – Hannah Marchant makes ones with seeds, perfect for planting and attracting bees.
Until we reopen for tea & buns, here is Angela's recommendation for an easy, yummy Devonshire Honey Cake*: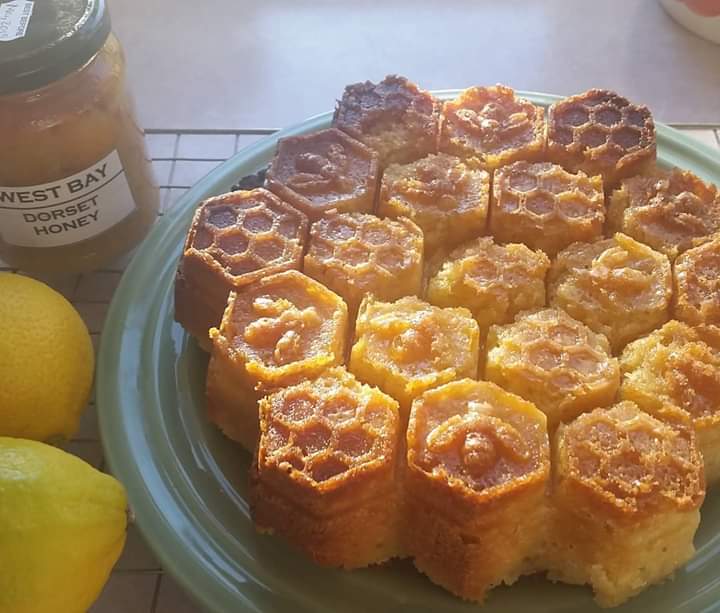 *This is Angela's own adaptation of a recipe by 'A Spoonful of Sugar'
Preparation time: less than 30 mins
Cooking time: 30 mins to 1 hour
Serves 8
Ingredients
170g/6oz clear honey
140g/5oz butter
85g/3oz light muscovado sugar
2 eggs, beaten
200g/7oz self raising flour, sieved
water
For the icing
55g/2oz icing sugar
1 tbsp clear honey
hot water
Method
Preheat oven to 180C/350F/Gas 3 and butter and line the bottom of a 7in/18cm cake tin.
Measure the honey, butter and sugar into a large pan. Add a tablespoon of water and heat gently until melted.
Remove from the heat and mix in the eggs and flour.
Spoon into the cake tin and bake for 40-45 minutes until the cake is springy to the touch and shrinking slightly from the sides of the tin.
Cool slightly in the tin before turning out onto a wire rack.
While the cake is still warm, make the icing by mixing the sugar and honey together with 2-3 teaspoons of hot water. You might even trickle 'MERL' or a bee design over the cake!
Enjoy and BEE HAPPY!