MAKE IT! A MERL LATE FOR MUSEUMS AT NIGHT
a lively evening of drinks, live music, activities and talks

Event Navigation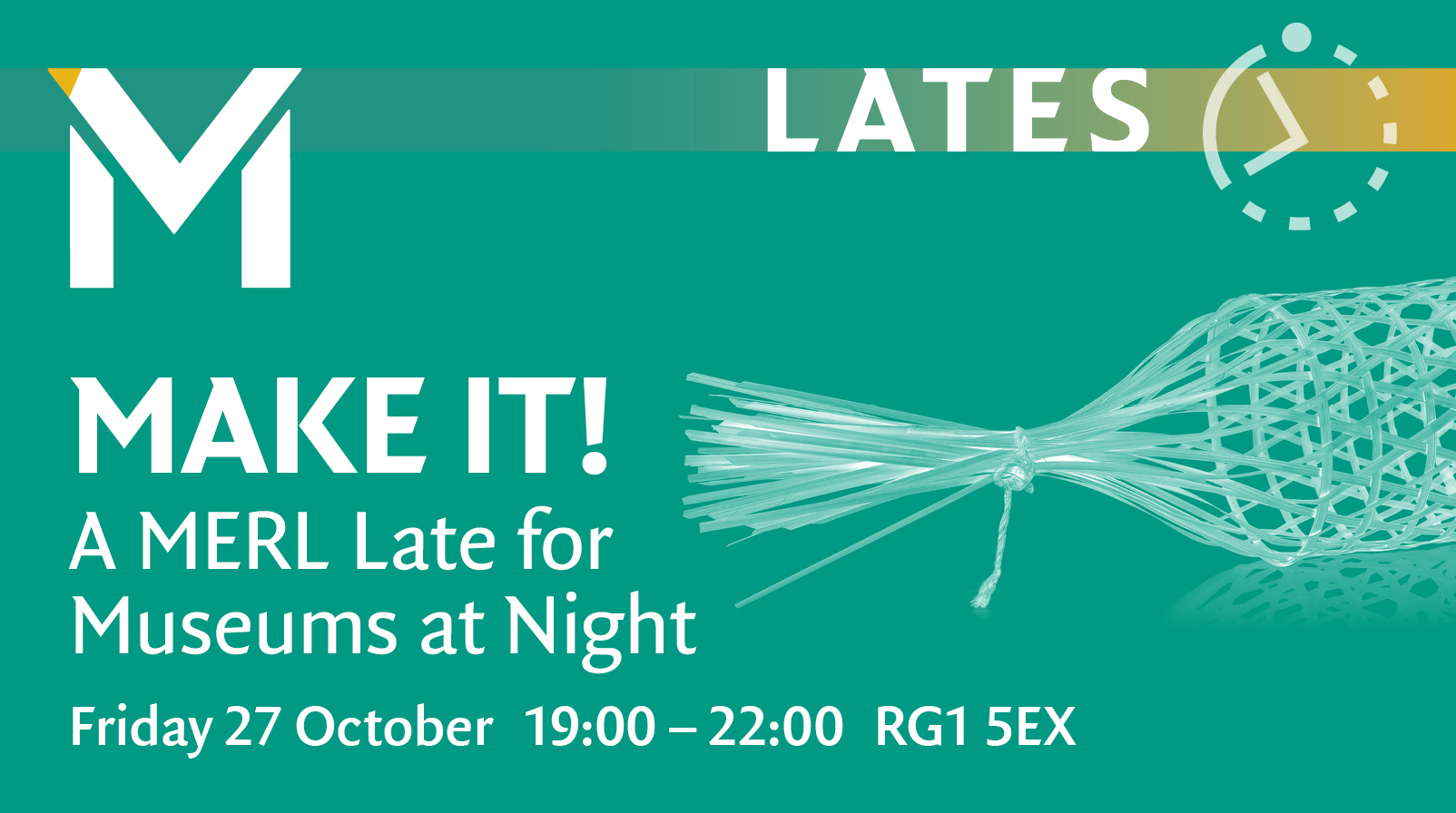 Join us for a lively evening of drinks, live music, activities and talks on the theme of craft and making!
Part of Showing, Doing, Telling a season of events exploring craft and making at The MERL
Book in advance via Eventbrite or buy on the door (subject to availability)
£4 in advance (£3 students and concessions) / £5 (£3.75) on the door
Please note this event is suitable for aged 18+ only
Live music from The Newtowners – Cocktails by Milk Reading – Silent Disco
Talks by craftspeople & experts in the field
Biscuit decorating
Find out about Reading's biscuit-making history and be inspired by the Huntley & Palmer archive (or just get sticky and pile up the icing and sweets!)
Pop-up displays & demos
Meet the Calleva Stick Dressers and spoon carver Martin Damen
Corn dolly making
Make a corn dolly with Forest School leader, Charlotte Allchin, inspired by our amazing collection
Lino printing
Join jelly artist, Squirrel Ink, who will be printing a new Autumn Mandala, using lino. Find out more and have a go.
Badge making
Print yourself a unique badge using designs by Emily Gillmor, inspired by the Michael O'Connell wall-hanging
3D scanning & printing with the #digiRDG team
Watch yourself being digitally transformed into a virtual model and see a real museum artefact replicated as a 3D model
Work by Wellcome Trust Artists in Residence
See installations created by Wellcome Trust funded Artists in Residence Christine Mackey and Deirdre O'Mahony on the theme of Livestock
Endangered crafts display
See a pop-up display of items from the MERL collections that feature crafts on The Radcliffe Red List of Endangered Crafts
Craft-themed gallery trail
Discover craft in the MERL collections with a new gallery trail
Soundscape installation
Creating immersive sensory museum experiences: an Art installation by 2nd year students and Professor Kate Allen. Along the lines of Judy Chicago's famous work, 'The Dinner Party', the students will each create a place setting for the table with soundscapes in headphones one for each chair, in response to the MERL collection, thinking about the making of our food, where it comes from referencing rural crafts, political, environmental stories they can discover in MERL
Supported by the University Endowment fund.