A knitting and listening workshop with Felicity Ford AKA KNITSONIK

Event Navigation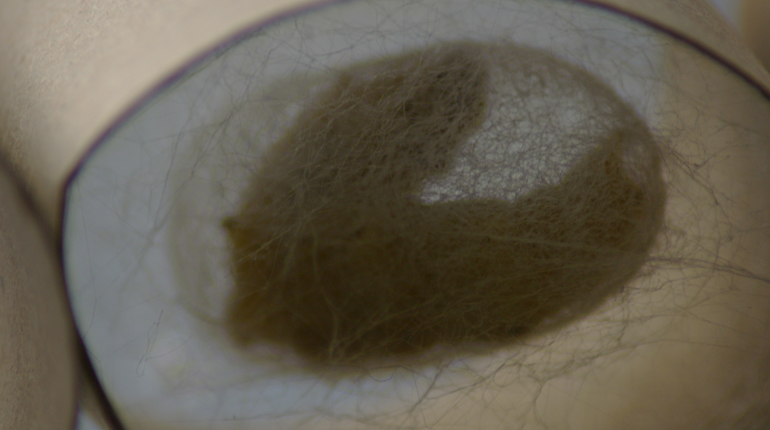 What to expect: This workshop speaks to a book held in the collection of the MERL, documenting the process of silk-farming at Lullingstone, Kent. Participants will knit an extremely fine i-cord bracelet using reeled silk grown on Lullingstone silk farm and pairs of extremely fine needles. Thoughts on working with this material will be recorded. A half-hour long recording will play sections of the text from the book about Lullingstone Silk Farm mixed with recordings of the small silkworm colony raised by Felicity Ford during 2014 for a commission.
Skill level: participants will need to be comfortable working at an extremely fine gauge with exceedingly tiny needles and yarn. The i-cord technique will be taught during the session.
Materials: 100% reeled silk yarn will be supplied along with extremely fine knitting needles.
Number of places: 8
About the Knit a Song of… workshops
This workshop and the other Knit a Song of… workshops have been devised by local knitwear designer and sound artist Felicity Ford. Come to all four, or just to one; in each session, you are warmly invited to explore the dual creative processes of knitting and listening that underpin Felicity's KNITSONIK (knitting + sounds) practice. In each workshop, a specially selected yarn and a related set of sound recordings are used together. Small knitting projects materially engage with textiles produced by working agricultural landscapes, while sounds foreground the textures, animals, people and places that lie behind those textiles. Through interconnected practices of knitting and listening, objects from the MERL collection will be contemplated: sheep bells, shepherd smocks, Shetland knitting and UK silk production. Short recordings made at the end of each session will document thoughts and experiences so that the sounds of the knitters who participate in these workshops can be woven into a final sound piece, Knit A Song of Stitches.
The workshops and their accompanying audio are part of a larger endeavour by Felicity Ford entitled 'Exploring Yarns and Sheep-Related Artefacts through Knitting and Sound'. This has been commissioned by the MERL for the project Making, Using and Enjoying: The Museum of the Intangible. The project is funded by the Arts Council England (ACE) Designation Development Fund.