Garment upcycling using fabric paints
A workshop with fashion and textiles artist, Anurita Chandola

Event Navigation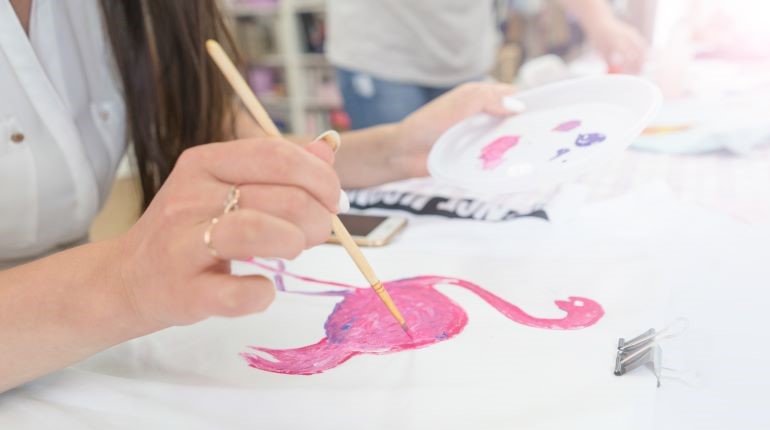 Join us at these half term workshops to find how how you can repurpose your own clothing
Fast fashion is leading to tonnes of clothing being discarded daily which has a huge impact on the environment.
At this workshop with fashion and textiles artist, Anurita Chandola, you will learn, re-sparkle, personalise and transform your pre-loved clothing with fabric paints.
Dress for mess!
Just bring in one or more pieces of pre-loved clothing (ideally a pair of jeans or a t-shirt). You can bring scrap fabric pieces but its optional. All other materials provided.
Additional information:
This workshop is suitable for all, aged 5+ (older children are welcome too)
All children must be supervised
£5 per participating person
No previous experience needed
Bookable timeslots of 10am, 11am and 12pm. Please pick one session on the booking form.
About the artist
Anurita Chandola is a Spacewear & textiles artist and an educator based in Reading. She has worked internationally with renowned fashion brands, international art projects and commissioned art for exhibitions. Anurita's expertise lies in sustainable fashion, product and material innovation, and in designing solutions based on reducing waste in the fashion industry. She is a graduate from the Royal College of Art, where she focused on developing proficiency in the independent learning methods and practices of contemporary art and design. Anurita is currently researching on textiles and garments that would work in microgravity for the future space travellers.
PARKING ARRANGEMENTS FOR ATTENDEES
If the MERL car park is full, you can use a special parking permit to park in the University car parks on Acacia Road adjacent to the museum, or White Gates car park off Crown Place. This permit is only valid during May half term.
Please collect a permit from reception at the Museum. You can also download and print the permit here.
If you do not display a permit, you may be issued with a penalty. We apologise for any inconvenience, but this solution means we can continue to offer free parking in the nearby University car parks. If you have any questions, please call 0118 378 8660 or email merlevents@reading.ac.uk
Parking is limited at the museum and although we do our best to help those who need to come by car find a space, we would always encourage you to use alternative means of transport where possible. See our Getting Here page for details.