Archives, History and Memory in Memoir Writing
A talk by Marina Warner, with a display of material from the WHSmith archives

Event Navigation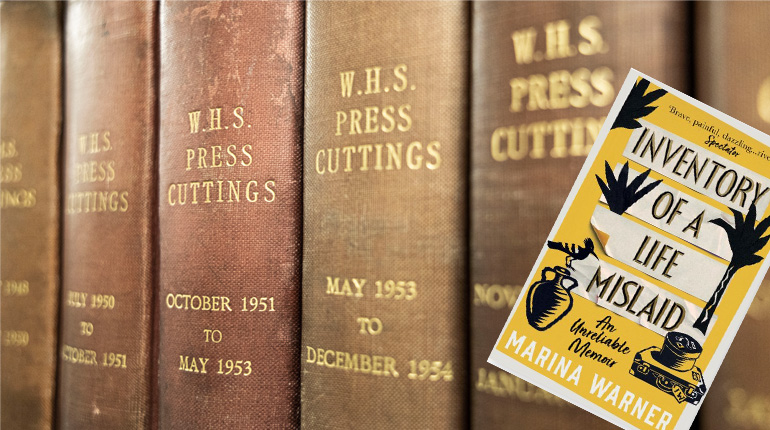 Cover design by Sophie Herxheimer
Join writer and academic Marina Warner as she discusses drawing on archives and the interweaving of history and memory in memoir-writing.
Dame Professor Marina Warner CH, DBE, FRSL, FBA is a writer and academic. Her works include novels, short stories and studies of art, myths, symbols and fairy tales. She is a Professor of English and Creative Writing at Birkbeck, University of London. Her memoir, Inventory of a Life Mislaid, focuses on her early years, using memory and imagination as well as writing and objects, to recreate the extraordinary world of her childhood and her mother's marriage into upper class English life. She has recently presented some of her family papers to the University book and publishing collections, relating to her father's work in establishing a branch of WH Smith's in Cairo after the Second World War.
A selection of artifacts from the WH Smith archives held in the University of Reading's Special Collections will be on display and attendees will have the chance to view this from 5.30pm. Refreshments will be available from 5.30pm and the talk will start at 6.00pm. This event is run in partnership with the Centre for Book Cultures and Publishing (CBCP) at The University of Reading.
Please be aware that the talk will be an in person/online hybrid event with live streaming via Zoom to remote individuals who have pre-registered to attend. The video files of the talk will be published online after the event.
BOOK HERE for tickets for those who wish to attend the event in person at The MERL.
BOOK HERE  if you wish to book a ticket for the online event which covers the talk only (6pm – 7pm).