Earth Day: Invest in Our Planet
A Museums Partnership Reading event at The MERL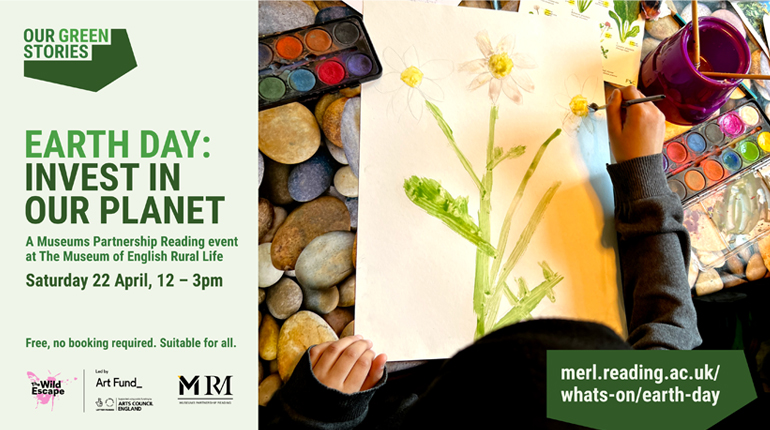 Get Inspired. Take Action. Be a part of the green revolution! 
Join teams from Reading Museum, The MERL, Nature Nurture, BBOWT and others, for creative activities and displays on the theme of 'Invest in Our Planet'.
This event is part of Museums Partnership Reading's Our Green Stories campaign.  
*Please note that the garden will be closed on the morning of the event to allow for stalls to be set and event preparation take place safely.
ACTIVITIES AND DISPLAYS FOR THE DAY:
Create a Buzz
View our Create a Buzz exhibition celebrating bees and habitats they need, rich in biodiversity. Curated by Nature Nurture and featuring the art work of Alfred Sutton Primary School and St John's CE Primary School. View in our Community Case.
Part of national Art Fund programme, The Wild Escape
Nature Nurture
Join Nature Nurture for The Earth Action Challenge!
Discover what's so important about bees and have a go at pollination, play our Food Miles game and find out which tasty treat travels 14,000 miles to reach our tummies.
Get stuck into Wildflower art and craft.
READING MUSEUM
Learn more about the museum's natural history collections and have a go at hands-on activities.
Be a 'Bee Quest Detective'
Join Environmental Educationalist, Charlotte, and explore bees and their habitats in the MERL garden and the importance of, and changes to, our local green corridors.
Berkshire, Buckinghamshire & Oxfordshire Wildlife Trust (BBOWT)
Meet members of the team from the Berkshire, Buckinghamshire & Oxfordshire Wildlife Trust who can tell you about the work that they do, give advice on wildlife gardening, volunteering and membership with the Trust. They will also have information on their Childrens Wildlife Watch Club and nature themed activities including mask-making for children to enjoy on the day.
Crafts and Crawlies
With University of Reading PhD student, Gaia Mortier and MSC Entomology student, Tamara Spivey
Craft your own insect – build a bug! Insects are very important to the planet, even the tiniest ones. We will be making our own set of unique insects in all shapes and sizes to illustrate the diversity of species within this animal group. There will be plenty of inspiration in the form of bug stickers, toys, and pictures; as well as child-safe crafting supplies.
Life Below Water joint collage with artist, Rebecca Howard
Rebecca will be inviting families to join in with this beautiful artwork, highlighting the biodiversity of our waterways. Children will be able to contribute to the collage, colour their own take-home river animals and make a pledge to help in a small way to keep our rivers clean.
You'll even be able to scan your picture and add it to the huge collective artwork being created as part of The Wild Escape
Part of Museums Partnership Reading's Our Green Stories campaign, exploring the importance of protecting life in our rivers and canals. 'Life Below Water' is one of UN's Sustainable Development Goals.
Make a container compost heap
Join Cathy, The MERL's Assistant Volunteer Co-ordinator for Garden Projects, to build up your own mini compost container to use at home.
Meadow Honey Farm
Meet Meadow Honey Farm (R&J Nickless) for a chance to buy their honey and beeswax products (as seen in the MERL shop) and have a go at their bee-themed children's craft.
Share your views
Find out about the UN Sustainable Development Goals that Museums Partnership Reading is exploring in 'Our Green Stories' and talk to our volunteers about your views on which ones are important to you and what actions you can take. We'd love to hear your feedback on our campaign so far too!
This event is free, no booking required, and is suitable for all.
PARKING
Free parking is available in the MERL car park and you can also park along Acacia Road, next to the museum building, at weekends without needing a permit.  If you aren't sure about where you've parked, please check with our Visitors Services Team when you arrive and they can advise you further.
For information about getting here, please visit https://merl.reading.ac.uk/visit-us/getting-here/.
We also have further information on accessibility here: https://merl.reading.ac.uk/visit-us/access/