CORDAGE WORKSHOP WITH ARTIST, CATHERINE MORLAND
Part of 'The Commons: Re-Enchanting the World' project

Event Navigation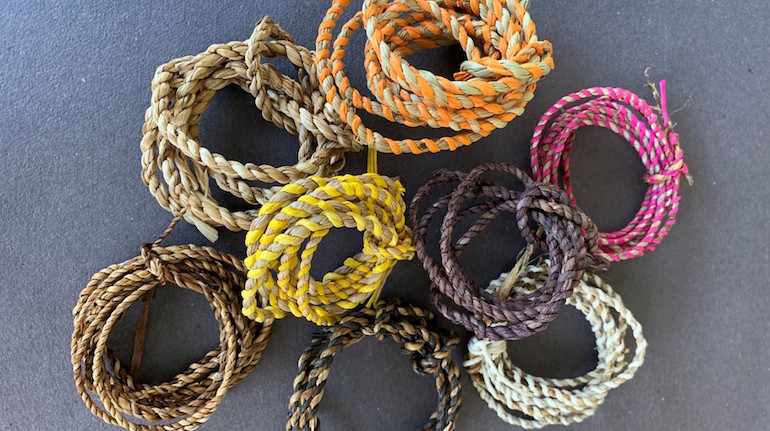 Join us for a free artist-led hands-on workshop exploring the story of string.
As part of The Commons: Re-Enchanting the World project at The MERL, artist Catherine Morland will lead this afternoon workshop exploring cordage.
Cordage making was a technological turning point in our prehistoric development, as important as hand axes, fire and the wheel. Most string making was done by women and its invention was the first chapter in the story of women's long association with fibre crafts.
During this hands-on workshop Catherine will explore the story of string and demonstrate how to make cordage with the materials used in her installations in the MERL galleries including natural plant fibres, recycled plastic bags and fabric scraps.
Participants can learn how to make a cordage bracelet to take home with them.
She will also demonstrate sennits and braids used in basketry, looping used in fishing, and rope making from straw using a rope twister.
All materials provided, No advance knowledge necessary.
Learning how to make cordage will get you outside hunting for materials and identifying plants. Perfect for using fine motor skills and for craftspeople, jewellery and textile makers who want to use eco-friendly materials.
Suitable for adults and children aged 12+
(Children aged 12+ can attend without an adult. A consent form will be sent by email and must be completed and returned by an adult prior to 18 March. )
The Commons: Re-Enchanting the World is supported by Arts Council England and University for the Creative Arts.
More 'Commons' events…