BISCUIT TOWN 200: BISCUIT CRUMB TRAIL
A self-led walk to explore Reading's biscuit heritage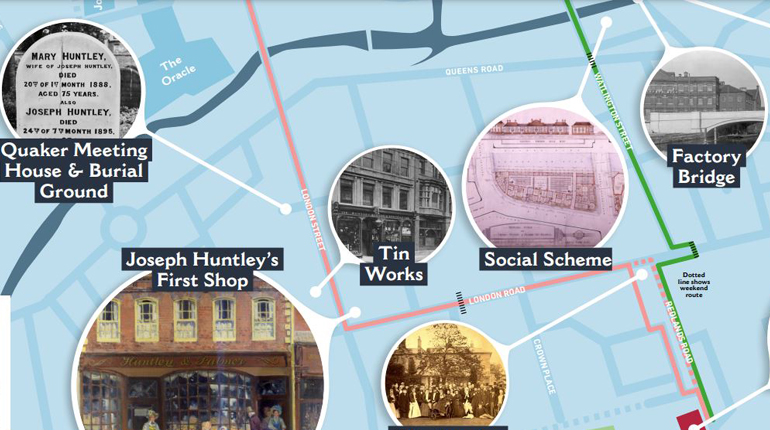 Explore Huntley & Palmers heritage on a self-led walk between The MERL & Reading Museum
Pick up a free leaflet at The MERL or Reading Museum and discover significant places from Huntley & Palmers' history in the area between The MERL and Reading Museum. See the location of Joseph Huntley's first baker's shop and the only surviving factory building.
Follow the whole route (approx 3km) starting and finishing at one of the museums, where you'll be able to explore the Huntley & Palmers collections on display, or choose a route via London Street or Watlington Street if walking between the two.
2023 Update
You can still follow the Biscuit Crumb Trail, though the exhibition at The MERL has now ended. (You can explore an online version here)
Add to your walking tour by listening to this Huntley & Palmers Audio Trail created artists Aundre Goddard and Richard Bentley for Reading Borough Council.
Biscuit Town 200
2022 marks 200 years since Joseph Huntley opened his first baker's shop in London Street. This year, Reading is rediscovering its biscuit heritage with a series of events and visitor opportunities over the summer. Discover details of the town-wide programme at visit-reading.com/biscuittown
The MERL and Reading Museum are drawing on our Huntley & Palmers collections to offer a joint programme celebrating 200 years of biscuit heritage, as part of Museums Partnership Reading, funded by Arts Council England.