BISCUIT TOWN: 200 YEARS OF HUNTLEY & PALMERS IN READING
A new display examining the impact of Huntley & Palmers on the town and its people

Event Navigation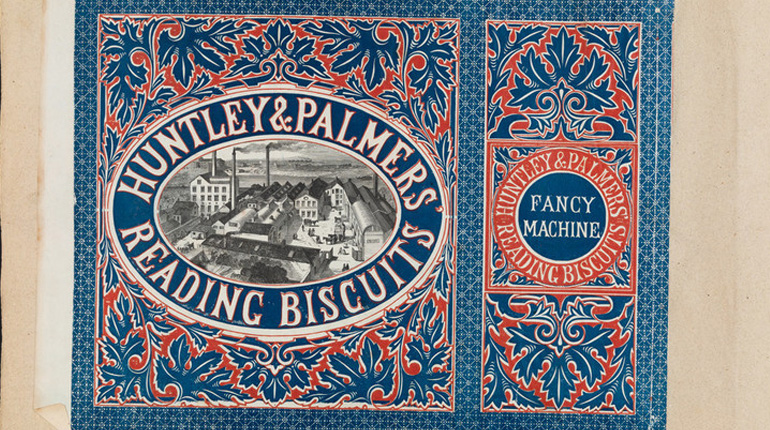 Reading is celebrating 200 years of biscuit heritage in 2022
In 1822, one of the most famous names in baking, Huntley & Palmers biscuits, began life as a small baker's shop in London Street, Reading. Within 40 years, the company that created Nice biscuits, the Gingernut and Bath Olivers, was exporting its goods across the globe and Reading became known as Biscuit Town, home to the largest biscuit manufacturer in the world with cakes and biscuits still known today. While the company is no longer located in Reading, biscuits have left their mark on the town.
The MERL is located within what was Alfred Palmer's (of Huntley & Palmers) family home which also houses the company archives 1837-1995, as part of the University of Reading's Special Collections.
This new display, in the beautiful Victorian staircase hall, will explore Huntley & Palmers' impact on the growth of Reading, both physically and culturally, as well as examine the company's overseas reach. Additionally, we'll be taking a more personal look at some of the people impacted by the company's development, including those working within the innovative King's Road factory. These stories will be illustrated by a selection of gems from the Huntley & Palmers archive, such as photographs, packaging, catalogues and more.
You now now explore an online version of the exhibition on the Special Collections website
Biscuit Town 200 in 2022
This display was part of a joint programme of events and activities celebrating 200 years biscuit heritage at The MERL and Reading Museum, as part of Museums Partnership Reading, and funded by Arts Council England.
The town of Reading is re-discovering its biscuit heritage with a series of events and visitor opportunities focusing around summer 2022.
Watch Reading's Biscuit Town film
, featuring
the Huntley & Palmers archive at The MERL
and the beautiful tins in the
Huntley & Palmers gallery at Reading Museum
.