WHOSE LANDSCAPES? OPEN SPACES SOCIETY SYMPOSIUM
Exploring themes and sources from the Open Spaces Society collection at the MERL

Event Navigation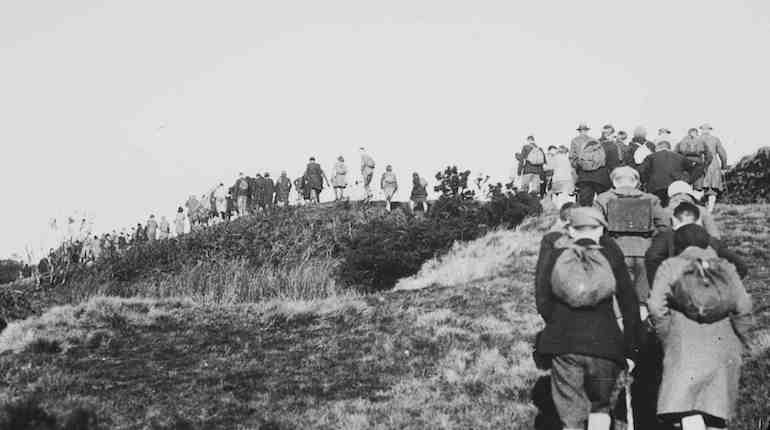 This half-day online symposium will explore themes and sources from the Open Spaces Society collection at The MERL.
The Open Spaces Society (OSS) is Britain's oldest national conservation body, founded in 1865 as the Commons Preservation Society. Join us online for short talks, discussion, poetry, and artistic responses. There will be a 'find the location' challenge where you can explore the extensive early 20th century lantern slides collection and help us locate the landscapes.
Themes include:
• Access, trespass and rights of way
• Woods and sylviculture
• Amenity and natural beauty in landscape preservation
The OSS collection at The MERL includes over 1000 lantern slides from the period 1900 to 1940. Find out more about the Open Spaces Society and their collection, Dr Katrina Navickas's project as Open Spaces Society Fellow at The MERL and enjoy her recent blog about the lantern slides.
Open to all. Booking essential.
Further information:
Programme schedule:
Session 1: 2pm-2.50pm
Introductions and welcome from The MERL and OSS – Caroline Gould and Sarah Hacking
Katrina Navickas (The MERL OSS Fellow), 'The Open Spaces Society lantern slides collection at The MERL'
Ruth Quinn (University of Hull), 'Cows not campus: open space preservation in the 'bufferzone' at Saltaire World Heritage Site'
2.50pm-3.05pm: comfort break
Session 2: 3.05pm-3.55pm
Adam Bennett, artist
Mark Gorman (Newham Heritage), 'Saving the People's Forest: the commons preservation campaign and Epping Forest'
5 mins break
David Toft (Hayfield Kinder Trespass) and Chris Chilton (Winter Hill 125), 'Commemorating the Winter Hill Mass Trespass'
Keith Sands, 'The 1991 Range West Mass Trespass'
5 mins break
Session 3: 4pm-4.30pm
Find the location challenge
4.25pm-4.30pm – round up and close