Summer Screen: MERLvellous Movies
Outdoor cinema in The MERL garden

Event Navigation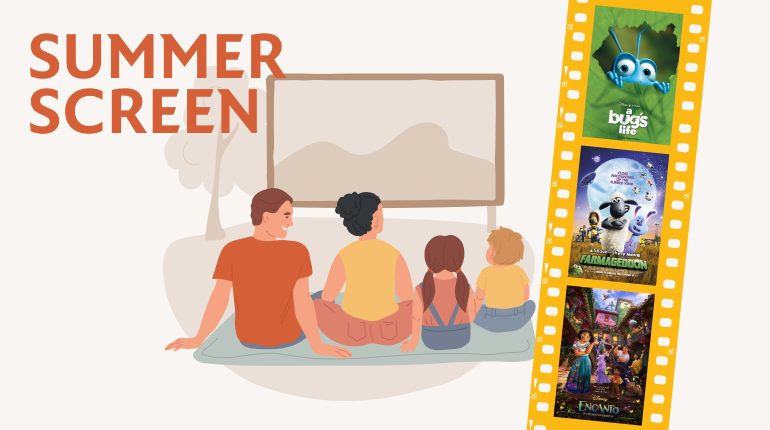 For the first time, we are bringing outdoor cinema to The MERL's beautiful garden this Summer! Enjoy family films including Peter Rabbit, Shaun the Sheep and more.
All you need to do is buy a ticket, pack your picnic (or enjoy the MERL's café offerings), and blanket, and join us outside!
Weds 2nd Aug, 11am: A Bug's Life
Thurs 3rd Aug, 11am: Fantastic Mr Fox
Fri 4th Aug, 11am: Peter Rabbit
Weds 9th Aug, 11am: Wall-E
Thurs 10th Aug, 11am: A Shaun the Sheep Movie: Farmageddon
Fri 11th Aug, 11am: Encanto
Booking Information
£6 per person (adult or child)
Seating is first come first sat, and ticket price is per audio headset (please see details for further information)
Seating and audio
There will be a selection of beanbags available on a first-come basis, but we suggest bringing your own picnic blankets to sit on. You're welcome to bring folding chairs but please be aware of blocking the view of others.
Ticket-holders will be provided with headphones to enable you to hear the sound and control your own volume. It is not possible to hear the film without these.
Please see terms and conditions before booking.
Visiting the museum
The museum is open from 9am to 5pm and entry to the galleries is free of charge so you are welcome to make a day of it and explore the galleries and garden as part of your visit. There's a café, toilet and baby-changing facilities and lots to see and do, for all ages.
On the days the films are showing, there will also be hands-on activities from the Berks Bucks Oxon Wildlife Trust (BBWOT) and the Arbib Education Trust relating to their current Play Through Time display at the museum.
Weather
The screenings will be outdoors, with some limited shade provided, so we advise being prepared for all weather (raincoats, sunscreen and hats).
In the event of very wet weather, would look to make any final decisions two days prior, and may postpone any affected event.