A series of displays showcasing responses to The MERL's collections

Event Navigation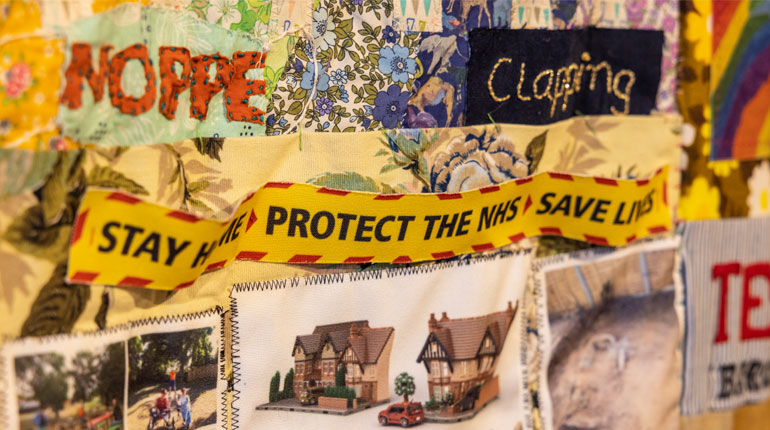 This year at The MERL we are focussing on a theme of 'CARE.' Through our projects and programming, we will address ideas of 'care' in relation to a range of current issues, including the climate crisis, guarding green space, the future of farming and food security, caring for our collections and caring for people including our staff, volunteers and community.
The MERL partners with many local community organisations using its collections to inspire creative projects which bring people together to promote well-being. These displays showcase the wonderful creative and thought-provoking responses to themes and stories within The MERL collections by participants in this year's amazing projects. 
Curating for Change: Extra.Ordinary
Community Case from October 2022 
This exhibition, curated by Curating for Change Trainee, Verity Shillabeer, explores and celebrates the identity and culture of disability. During her Traineeship, Verity has investigated objects that amplify disabled voices present in The MERL's collections. This exhibition seeks to showcase those collections and reveal the powerful and personal stories of disability which connect. View the exhibition in person or online.
Extra.Ordinary has been developed as part of The MERL's involvement in Screen South's Curating for Change project: a mentored training programme for deaf, disabled and neurodivergent people. This initiative aims to transform and make museums more inclusive, addressing the lack of representation of disabled employees in the sector. The MERL is thrilled to be one of twenty organisations taking part.  

Creative Communities during Covid-19
The Nook (to January 2023)
Creative reflections on the pandemic experiences of Reading's local communities with Rising Sun Arts Centre. We are delighted  to showcase two amazing pandemic arts projects as part of this display: the Pandemic Quilt and Emerging Voices. These projects are shown alongside objects in the collections, chosen by participants in light of Covid 19, providing new insights on or reflections of pandemics past and present.
Additional information
Admission free.
No booking required