THE MERL SEMINAR SERIES: FARM ANIMALS
Part of AniMERL, a programme of events on the theme of animals this Autumn

Event Navigation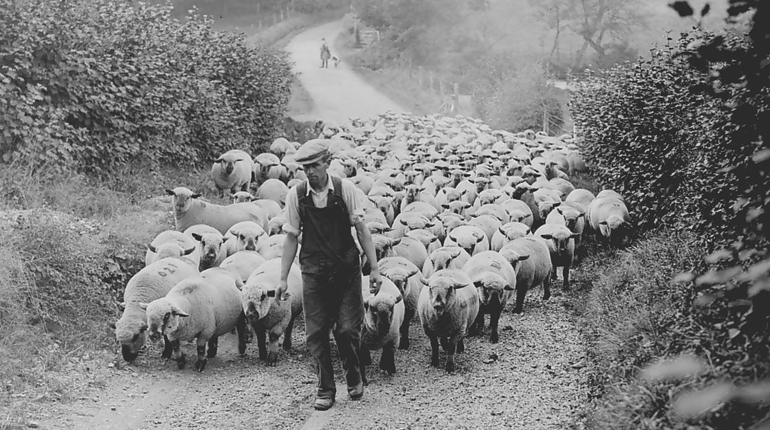 The MERL Seminars, Autumn 2019: Farm Animals
For the majority of us, our image of farming would be incomplete without working animals or livestock. The role of farm animals as part of our future food systems, environmental lives, or global health often plays a part in the headlines. However, our ideas about those animals are informed as much by nostalgic stereotypes as by practical or historical knowledge. So, join us for an eye-opening series of seminars offering new insight into farm animals.
All seminars take place at The MERL from 12 to 1pm
Booking is advisable
24 Sept
A Club in Crisis: The Smithfield Club in 1800
Hilary Mathews, University of Reading
This paper focuses on the Smithfield Club's second fat-stock show of sheep and cattle in 1800 when its members clashed with their chairman, the Duke of Bedford, over the importance of carcase evaluation: this dispute threatening the club's existence. This talk sheds light on this little-known episode in the club's history which culminated in the Duke's unilateral decision to disband the club and reform it under a different constitution.
1 October
Use and Users of Artificial Insemination in Swedish Dairy Farming, 1935–1955
Dr Karl Bruno, KTH Royal Institute of Technology, Stockholm
When introduced in the mid-twentieth century, artificial insemination transformed cattle breeding. It simultaneously transformed the sexual lives of bovines in profound and problematic ways. Using material from Sweden, I explore this dimension of animals as users of a new reproductive technology. How did cows and bull react to artificial insemination technologies? How did their usage shape a.i.'s development and organization?
Tom Turner writes that: Sir Geoffrey Jellicoe used to say that he was educated as a classicist and then struck by the dynamic power of Modern Art. My view, with which he did not disagree, is that his approach was intrinsically Postmodern from the day he enrolled at the AA. His first serpent supports this interpretation. His second serpent takes us beyond Postmodernism and in a most welcome direction. It may, subconsciously, have inspired Tom's own proposal for two Buddhist serpents on the Indo-Tibetan border.
Tom Turner is a garden historian and landscape architect (with a new interest in brochs). In his spare time he edits the Gardenvisit.com and LAA websites.
22 October
Dipping, Dosing, Drenching: Managing Unhealthy Beasts on British Farms
Dr Alex Bowmer, Museum of English Rural Life / Kings College London
Methods of producing livestock and keeping them healthy have evolved considerably throughout the twentieth century. While existing historical analyses have focussed on the roles played by scientists, vets, and the State, many changes were introduced by farmers, often without the assistance of, or in dialogue with, scientific ideas and practices. Little is known about their actions and the systems of 'empirical knowledge' that informed them. That is, until now…
5 Nov
Bigger, Better, Faster, Cheaper? Towards a new history of intensive livestock farming
Professor Abigail Woods, Kings College London
When and why did intensive farming develop, and how did it impact on farmers' relationships with their animals? Vet and historian, Abigail Woods, brings new evidence to bear on these questions, which challenges what we think we know about intensification in 20th century Britain.
12 Nov
From what sources did farmers acquire knowledge and understanding of farm animal diseases?
Dr James P. Bowen, Leeds Trinity University
Our speaker combines work as part of a major ongoing project exploring endemic disease in British livestock farming and his MERL Fellowship focussed on poultry history to explore how farmers acquired information about farm animal diseases. From the role of agricultural education, radio and television, to commercial companies involved in the agriculture industry, and the importance of advisory services and publications produced by the Ministry of Agriculture, this subject brings a variety of different historical sources to light.
19 Nov
Equine Machines: Horses and tractors on twentieth-century British farms.
Felicity McWilliams, Museum of English Rural Life / Kings College London
By 1970, the tractor had almost entirely replaced the horse as the main source of draught power on Britain's farms. But what happened to the two technologies during the half-century that they existed and worked alongside each other? This talk will explore how farmers chose, modified, used, re-used, cared for and thought about animal and machine power, and why it matters.
26th November
What is a Farm Animal?
Professor Karen Sayer, Leeds Trinity University
Agriculture is shaped by humans but also by the livestock treading concrete, wearing the stalls, or hefted to the hills. Farm decisions often focus on livestock health, welfare, and productivity, but, if a farm animal is simply an animal on the farm, then we might agree with Eleanor Ormerod's 1894 observation that a 'common farm animal is … a weasel or a vole, a wood-pigeon or a pheasant, a blind-worm or a common-frog.' What is a farm animal and do they make the farm with us?