Japanese Stitching Workshop
Learn traditional Moyozashi Sashiko and Boro Mending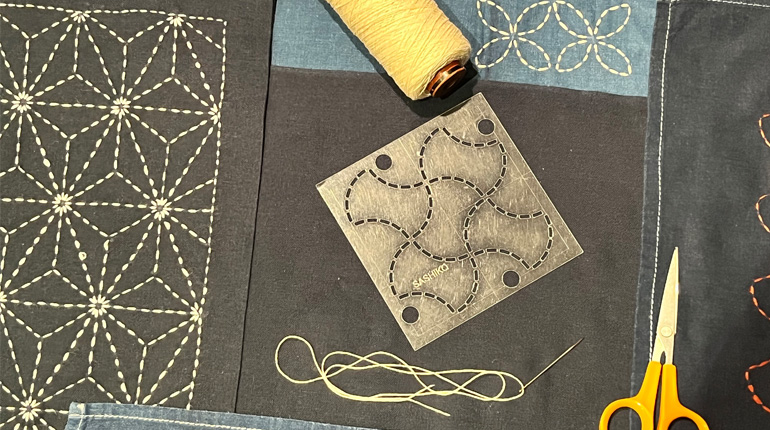 Learn formal pattern sashiko and boro-inspired mending in this day-long Japanese craft workshop.
Morning session: Moyozashi Sashiko (2.5 hours)
Sashiko, meaning 'little stab' is the Japanese art of stitching beautiful patterns using running stitch. This class covers formal pattern sashiko.
Often used to add strength, texture and warmth to old garments, Sashiko has become synonymous with complex repeating patterns and precise stitching.
This class focuses on Moyozashi Sashiko (pattern sashiko) where the patterns are characterised by a series of dashed lines running stitches of even size where the stitches never touch each other.
In this class you will learn:
• The history and origins of sashiko embroidery in Japan
• How to mark up your chosen pattern
• The traditional starting and finishing knots to secure your work
• How to accurately stitch your pattern according to the rules of sashiko embroidery
• This is a project-based class where you will pick one of a selection of designs and mark up and stitch the design onto a white tote bag to take away with you.
The workshop fee includes project kit with a white cotton tote bag, 20m skein of sashiko thread, sashiko needle, air or water-soluble marker pen and patterns.
Afternoon session: boro-inspired mending (2.5 hours)
This class takes inspiration from vintage Japanese boro textiles and covers various mending styles and free-hand embroidery.
Boro (more accurately 'boro boro'), meaning 'rags or tatters' is the art of repairing fabric using scraps and stitching. A source of shame in Japan for many years, the fabrics are now highly prized and can fetch significant sums. Boro work is similar to the British wartime tradition of 'make do and mend' but was used out of necessity in Japan to prolong the life of clothes and bedding due to extreme poverty and the scarcity of textiles.
In this class you will learn:
• The history and origins of Boro. The tutor will present a selection of the vintage textiles and Boro pieces he has collected in his travels to Japan and tell a few tales of his travels.
• How to repair a garment using scraps, both modern and vintage
• How to use sashiko stitching to enhance your work
• Practice using visible repair to enhance and strengthen textiles
• Applique and reverse applique techniques will be shown
The workshop fee includes a pack of 5 vintage Japanese patches, 20m skein of sashiko thread and a sashiko needle.
Please note:
You will need to bring an item of clothing to mend, ideally denim or cotton or linen fabric. Please do not bring silk or wool items as the techniques taught do not lend themselves well to these types of fabrics. You will also need scissors and a quilting ruler.
The Workshop Leader
London-based Romor Designs was formed in 2015 by Rob Jones, a shibori textiles designer and natural dyer.
Having discovered shibori, the ancient Japanese art of resist dyeing, at West Dean college, Rob went on to study in Japan under indigo guru, Bryan Whitehead.
In 2018, Rob returned to Japan to expand his Japanese textiles skills, visiting Ise, the home of Katagami stencilling and buying supplies to set up his own teaching practice back in the UK.
He also visited the Sashiko museum in Hinohara and brought back sashiko thread and vintage textiles and is now teaching sashiko and boro classes as well.
Rob's passion is in finding the new in the old, building on the tradition and centuries of skill that shibori has behind it. He believes in taking work in new directions by combining techniques and inventing his own forms.