INGRID POLLARD: THERE-AND-THEN
A gallery intervention by Ingrid Pollard, Turner Prize nominee

Event Navigation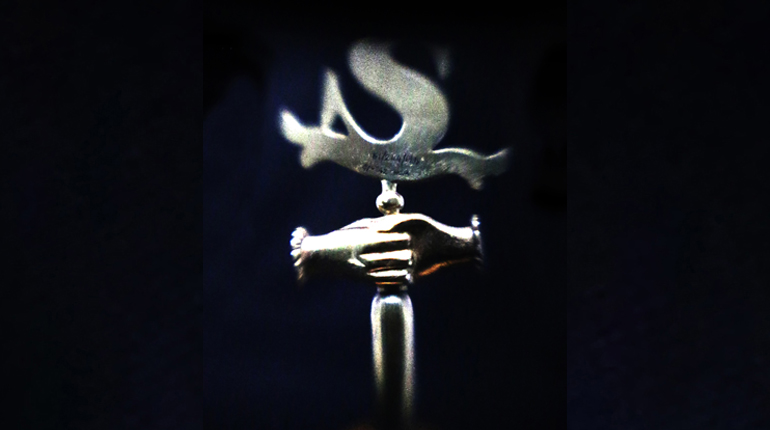 Image © Ingrid Pollard
Explore work by Ingrid Pollard, inspired by poleheads from the MERL collections
In this work Ingrid Pollard, Turner Prize nominee, extends the idea that notions of place emerge at meeting points. They result from co-operations, gatherings, and intersections. They are constantly being made and remade afresh, to provide new landscapes in which to live and connect. The geographer Doreen Massey saw space in this way, as a kind of throwntogetherness in the here-and-now.
When invited to find her own meeting points within The MERL, Pollard was drawn to the friendly society poleheads. These striking symbols were markers for meetings. Based on pub names or on metaphors for solidarity, they were paraded in villages to promote the collective action of small, rural welfare unions. At a time of tension between land owners and occupiers their simple gatherings offered hope of renewal, survival, and friendship.
Pollard interweaves Massey's sense of space with ideas drawn from other writers and thinkers. Their words are throwntogether with pole head imagery in the here-and-now, reanimating meeting points from the past. To relocate hope and friendship we must reimagine landscapes as shared meeting points. And to do this we must look to the There-and-Then.
Read more about this intervention in this piece on our blog by Rosemary Shirley, Associate Professor of Museum Studies at the University of Leicester.
Find out more about Ingrid Pollard and her work on her website.
Learn about The MERL's focus for 2022
CARE: highlighting how we take care of rural heritage, the countryside's future, and each other