CANCELLED: INDIGO SEED PLANTING WITH SIGRID HOLMWOOD
Part of a new Arts Council funded project with artists exploring common land

Event Navigation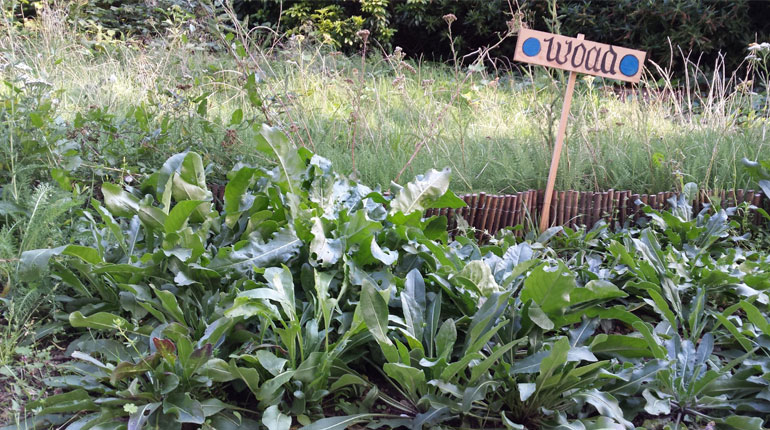 EVENT CANCELLED
Due unforeseen circumstances Sigrid Holmwood is no longer able to be with us on Saturday. As a result, the seed planting event has been cancelled. The Museum will be open so please come and enjoy the garden and the galleries. Our indigo bed will need to be planted another day and we hope to find a way to share the experience with you. In the meantime, we still need your help with Sigrid's project. So, if you were planning to come along or you live locally and are keen to have a go at growing indigo please drop us a line to let us know at merlevents@reading.ac.uk 
To receive regular updates join our mailing list
______________
Join Sigrid Holmwood at the start of a new project to grow, harvest and extract indigo from woad
Would you like to help us to grow indigo? Artist Sigrid Holmwood is working with The MERL to explore the idea of the 'commons' through the global history of dye plants. We will be growing woad (Isatis tinctoria), a European plant containing indigo, and Chinese/Japanese indigo (Polygonum tinctoria) in The MERL garden.
Join us at this event to plant the seeds. In the summer* there will be a further event to harvest the indigo and extract dye.
Sigrid will also provide seed for anyone keen to try growing tropical indigo (Indigofera tinctorial / Indigofera suffruticosa) at home indoors.
No prior gardening experience is necessary. Check the forecast and dress appropriately. We'll be outside in the garden and March weather can vary!
Please note this event is open to all, but is not suitable for under 5s.
About the artist
Sigrid Holmwood is an artist who works with plant dyes and pigments using her persona 'The Peasant Painter.' For more information visit sigridholmwood.co.uk
*The Indigo from Woad Workshop will take place on July 18th, so put the date in your diaries and come along to reap your colourful rewards! (Details coming soon)