An online event for the Being Human Festival

Event Navigation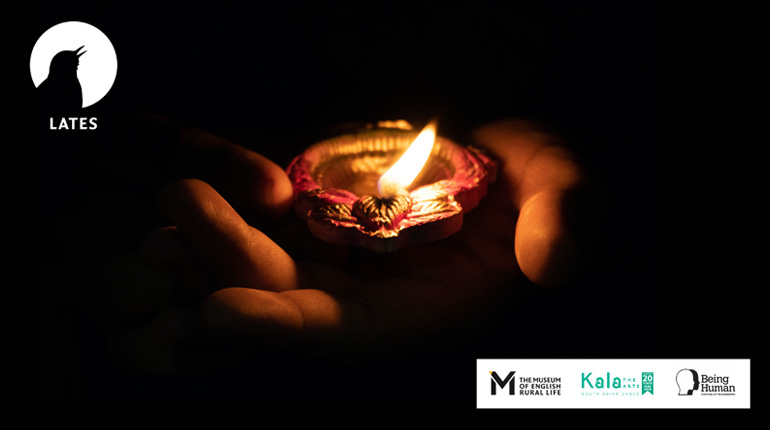 GLOW with The MERL – Exploring the Light & the Dark
If you missed GLOW on the night, or just want to relive it, you can watch the entire event any time on our YouTube channel. Light a candle, get comfy, sit back and enjoy!
"So impressed with @TheMERL's virtual museum Late this evening. Covering everything from witch bottles to rangolis, harvest lanterns and the Mexican Day of the Dead, this felt like a special experience for @BeingHumanFest. What an achievement! What a treat! #BeingHuman2020"
Michael Eades, Being Human Festival, on twitter.
About the event:
As part of the Being Human Festival, this November we are taking our ever-popular MERL Lates online and bringing a glow to lockdown life.
GLOW will be an evening of exploration of linked themes of light and darkness, harvest and festivals, community and celebration. The programme offers a fantastic opportunity for all to enjoy Diwali cultural heritage brought to you by Reading's Kala the Arts, combined with virtual experiences and talks from the University of Reading and beyond.
Join our hosts, Dr Ollie Douglas (Curator of MERL Collections) and Anna Jones (MERL Public Programmes Manager), live on YouTube for an evening of conversation by the virtual fireside, with actual cocktails from Milk Bar Reading!
We can't have a silent disco this year, but you can enjoy our Light and Dark playlist, created specially for the event!
If you've enjoyed a Milk cocktail at our Lates before, don't let lockdown stop you doing the same at home! You can now book advance delivery of special MERL Mix cocktails from Milk. They now deliver within a five mile radius of RG1. Minimum order of £30, but trust us they are WORTH it. Find out more and place your order on the Milk website.
Provisional programme*
7pm – 8pm 
Discover Diwali with Dr Shalini Sinha (Lecturer in Non-Western Philosophy, Department of Philosophy, University of Reading); see artist Bhajan Hunjan create a MERL harvest jug inspired Rangoli; and hear about the impact of electrification on farming and farmers from Dr Jeremy Burchardt (Associate Professor, Department of History, University of Reading).
8pm – 9pm 
Find out how to make a Diya lamp and about their importance in Diwali celebrations; be illuminated by Solar divinities in Ancient Egypt and oil lamps in Cyprus and Rome with Dr Jayne Holly (Curator, The Ure Museum); and reflect on the relationship between light and dark with Dr Neil Cocks (Associate Professor, Department of English Literature, University of Reading).
9pm – 10pm 
Uncover the Day of the Dead with Dr Alanna Cant (Lecturer in Social Anthropology, Department of Archaeology, University of Reading); delve into the dark side of the landscape with Dr Paddy Bullard (Associate Professor, Department of English Literature, University of Reading); and for the grand finale, watch the sunset on Reading Abbey Ruins with tabla drums, santoor and vocals, and performances inspired by beautiful Odissi dance with Kala the Arts.
* Please note that, like everything these days, our programme is subject to change.

+++
Please note that due to the evolving COVID-19 situation, we are ensuring that our programme meets with government and University guidance and legislation.