Youth Workshop: Garment Upcycling
Youth workshop with fashion and textiles artist, Anurita Chandola

Event Navigation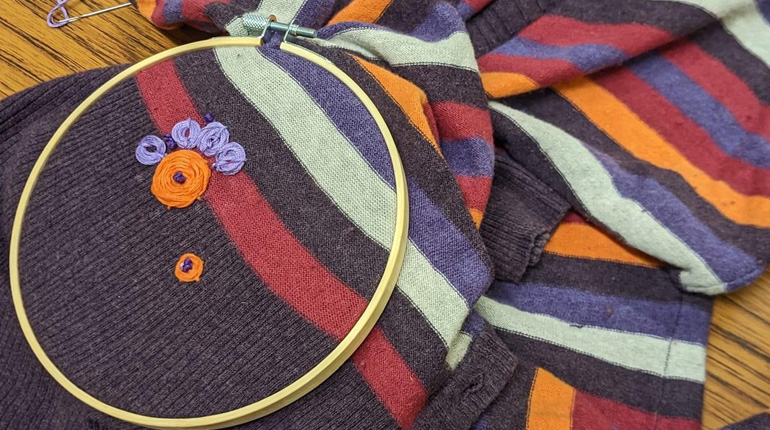 Fast fashion is leading to tonnes of clothing being discarded daily which has a huge impact on the environment. At this workshop with fashion and textiles artist, Anurita Chandola, you will learn how to mend, re-sparkle, personalise and transform your pre-loved clothing by learning different embroidery techniques. You will also learn to apply different techniques by using design principles to make a unique piece of sustainable upcycled clothing/ accessory.
Just bring a few pre-loved garments to use during this short course. (Ideally a pair of jeans or a t-shirt). You can bring scrap fabric pieces but its optional.
You'll have the opportunity to:
Deconstruct and reconstruct a garment using key parts of the garment.
Learn different techniques such as Embroidery, Patchwork, Applique to give your pre-loved clothing a new life.
Create a new garment/ accessory using your old clothing.
Additional Information:
This workshop is suitable for young people, aged 14 – 18
Cost: Free, funded by MPR (donations are welcome to help cover the cost of materials)
Beginner level, no previous experience needed.
Anurita Chandola is a Senior fashion and textiles artist based in Bristol who has worked internationally with renowned brands. Anurita's expertise lies in sustainable fashion, product and material innovation, and in designing solutions based on reducing waste in the fashion industry. She is a graduate from the Royal College of Art, where she focused on developing proficiency in the independent learning methods and practices of contemporary art and design. Anurita is currently researching on clothes that work in microgravity and is working as a Spacewear and textiles artist with Building a Martian House Project, Bristol.
Related events
From 24th January – Sew What? exhibition
16th February – Sunflower Amulets
25th February – Japanese Stitching Workshop