FRIDAY FLEDGLINGS: A SPECIAL EVENT FOR TAKEOVER DAY
OUR WEEKLY OUTDOOR SESSION FOR UNDER-5S

Event Navigation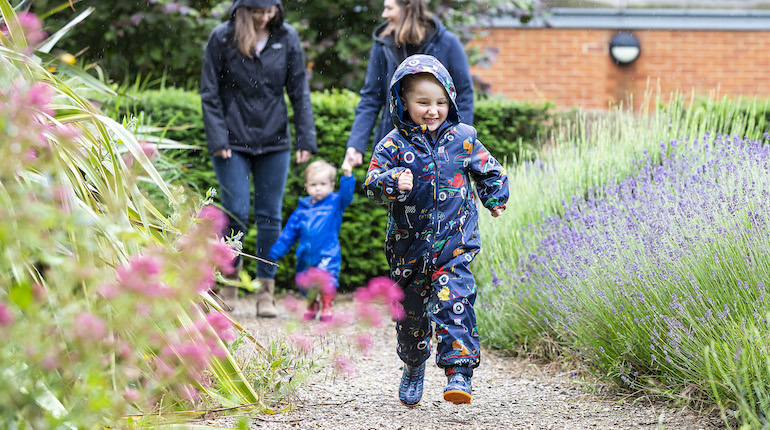 Join us for a weekly Outdoor learning session for pre-schoolers in the fantastic urban garden at the MERL
Discover the benefits of outdoor learning! Come and join in outdoor activities inspired by the themes and collections of the museum. Enjoy outdoor play and explore the natural environment. Each session involves story-telling, craft activities and singing.
Friday Fledglings is run by Charlotte, a local teacher and Level 3 Forest Leader.
*Bookings will open from 12pm on Friday 5 November
Friday 12 November is Museum Takeover Day
Kids in Museums established Takeover Day to help museums empower young people and give them meaningful roles. Over 5,000 people, from toddlers to 25 year olds, now take part each year.
This year we are asking our Friday Fledglings to be a voice as part of our current project, 51 Voices, which marks The MERL's 70th year. Throughout the year we have been exploring objects connected to 1951 and working with people from many different communities and backgrounds to link these items to the priorities of the past, present, and future. More information about the project is here: https://merl.reading.ac.uk/explore/online-exhibitions/51-voices/
The Kids in Museums Takeover Day 2021 is the first themed event, timed to coincide with the UN Climate Conference COP26 in Glasgow.
At the session on 12 November, we are asking our Fledglings to look at a book by Vita Sackville-West in the MERL collections, 'In Your Garden (1951)' (MERL LIBRARY–4756-SAC) and think about the role that gardens and gardening have in creating and maintaining natural habitat. They will have the opportunity to create some imprints from plants in the garden to take home and enjoy some bulb planting and signage making as part of their ongoing participation in the MERL garden.
Please note: this will be an addition to the usual Fledglings programme. All of the regular activities which will still be available.
IMPORTANT INFORMATION:
COVID-19:
At the moment, while we monitor the way the sessions are running, we are taking a cautious approach to our COVID-19 safety procedures, for the benefit of our visitors, staff and volunteers. You may find that there are more protocols in place than you are used to at other groups and we ask that you comply with these as much as possible.
Please do not attend if anyone in your group is displaying any symptoms of COVID-19.
Please check the latest safety guidance on our Visit Us page.
WHAT TO BRING:
Suitable clothing for you and your children. The session will remain outdoors, no matter what the weather does!
Wellies and wet weather clothes suitable for water play and mud kitchen
A picnic blanket
Your own drinking water for story time.
We will serve bananas and biscuits as as snack. You are welcome to bring your own snack if you prefer.
PARKING ARRANGEMENTS FOR FRIDAY FLEDGLINGS ATTENDEES
If the MERL car park is full, you can use a special parking permit to park in the University car parks on Acacia Road adjacent to the museum, or White Gates car park off Crown Place. This permit is valid for all sessions in a half term.
Current permit
Please collect a permit from reception at the Museum. You can also download the current permit here.
If you do not display a permit, you may be issued with a penalty. We apologise for any inconvenience, but this solution means we can continue to offer free parking in the nearby University car parks. If you have any questions, please call 0118 378 8660 or email merlevents@reading.ac.uk
Parking is limited at the museum and although we do our best to help those who need to come by car find a space, we would always encourage you to use alternative means of transport where possible. See our Getting Here page for details.