BISCUIT TOWN: MEET MR PALMER
Discover the story of Reading's biscuit heritage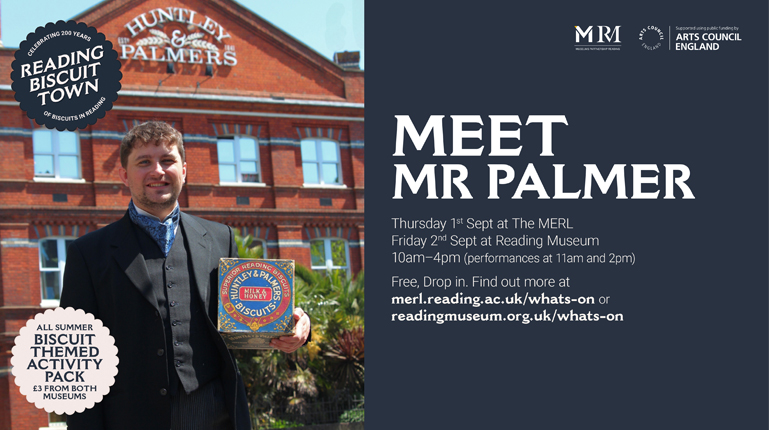 As we continue to celebrate 200 years of Huntley & Palmers in Reading during the summer holidays, join us at The MERL to meet Mr George Palmer, proprietor of the famous biscuit manufacturers. He'll be around to meet and chat to you throughout the day and there'll also be a chance to enjoy a short performance at 11am and again at 2pm. Mr Palmer will be taking a break from 1 – 1.45pm.
Please note: this is a theatrical performance by a costumed interpreter, Martin Jakeman from Historical Huzzahs.
Mr Palmer will also be at Reading Museum on Friday 2 September.
PARKING ARRANGEMENTS FOR ATTENDEES
If The MERL car park is full, you can use a special parking permit to park in the University car parks on Acacia Road adjacent to the museum, or White Gates car park off Crown Place. This permit is only valid for the Meet Mr Palmer event.
CURRENT PERMIT
Please collect a permit from reception at the museum. You can also download the current permit here.
If you do not display a permit, you may be issued with a penalty. We apologise for any inconvenience, but this solution means we can continue to offer free parking in the nearby University car parks. If you have any questions, please call 0118 378 8660 or email merlevents@reading.ac.uk
Parking is limited at the museum and although we do our best to help those who need to come by car find a space, we would always encourage you to use alternative means of transport where possible. See our Getting Here page for details.
READING BISCUIT TOWN 200
2022 marks 200 years since Joseph Huntley opened his first baker's shop at 72 London Street, Reading. This moment marked the beginning of a business that would become world-famous, revolutionising biscuit-making across the globe like never before, and transforming Reading's business and biscuit heritage forever: Huntley & Palmers.
To mark 200 years since Joseph Huntley opened his first baker's shop in the town, this year, Reading is re-discovering its biscuit heritage with a series of events and activities across the town. Discover details of the town-wide programme on the Visit Reading website.
The MERL and Reading Museum are drawing on our Huntley & Palmers collections to offer a joint programme of events, as part of Museums Partnership Reading, and funded by Arts Council England.