ANTHOTYPE WORKSHOP WITH AMANDA COUCH
Part of 'The Commons: Re-Enchanting the World' project

Event Navigation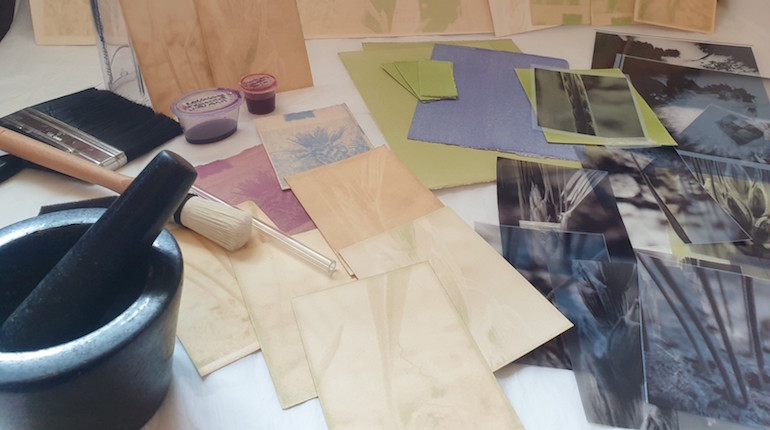 Join us for a free artist-led workshop exploring the photographic process of anthotype
As part of The Commons: Re-Enchanting the World, Amanda Couch will lead a free one day hands-on workshop which explores the Victorian non-toxic photographic process of the anthotype. Using your own images and plants, leaves, flowers, vegetables, you will discover how to process and harness their natural colours to make your own photographic images. You will learn about the history of the process and how and why Amanda has been using it as part of her Becoming with Wheat… project currently on show in the museum.
Activities will include:
Preparing emulsions, grinding and filtering
Painting emulsion on paper and drying
Making stencils and assembling frame with positive and paper ready for exposure
Artist talk and history of the process
Conceptual and aesthetic discussions around participants choice of images in relation to plant history / meaning / colour / relationships
Checking on progress of Amanda's new anthotype
This workshop is suitable for adults and children aged 8+. All children should be accompanied by a participating adult. As capacity in our Learning Studio is restricted, we'd ideally like all attendees to participate in the workshop if possible.
Don't forget to send black and white image/s as jpeg/s no bigger than A4 that Amanda can print as positive transparencies, if you would like one (not essential!), no later than end of Tuesday 12th October. Send to amandajcouch@gmail.com
The Commons: Re-Enchanting the World is supported by Arts Council England and University for the Creative Arts.