Annual FOLAR Symposium: Landscape of Communities
A SYMPOSIUM BY FRIENDS OF THE LANDSCAPE LIBRARY AND ARCHIVE AT READING (FOLAR)

Event Navigation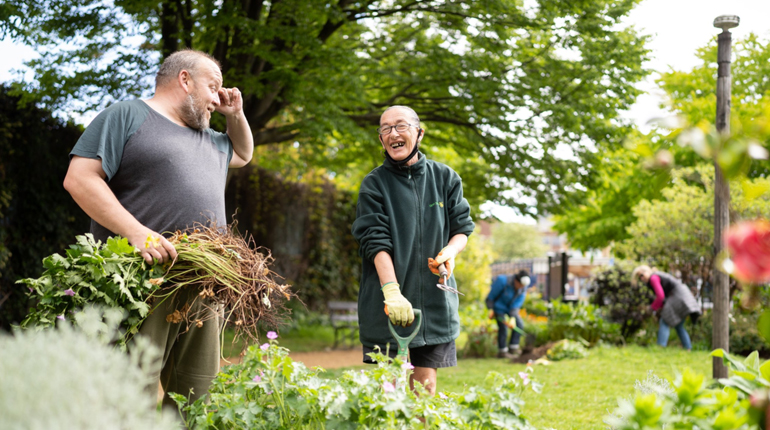 Photo. Bankside Open Spaces Trust 
This year's FOLAR Symposium will be on the subject of the Landscape of Communities. These are seen as amenity landscapes which respond first to the wishes and ways of the local community, whether local residents or workers.
Talks include:
London Wildlife Trust: community involvement
Leah McNally, Director of Learning Youth and Communities at London Wildlife Trust.
Leah McNally oversaw the first three years of Walthamstow Wetland, Europe's largest, urban wetlands and currently is working on the Great North Wood in between Forest Hill and Dulwich and the Keeping it Wild project aiming to give wildlife training opportunity for minority, disabled and lower socio-economic communities.


'Leaves of Green' on their work for parish councils on nature based green space
Guy Redmond, landscape architect, arborist, gardener & permaculture designer based in Pershore, Wiltshire
Guy Redmond specializes in school grounds, natural adventure play, outdoor learning environments, land use diversification and connecting people, place and nature. His recent work includes forest schools and other aspects of outdoor natural play. He will introduce us to his work.


Sutton STEAMS project "Working collaboratively to get more Londoners closer to nature"
Speaker to be confirmed
S.T.E.A.M. stands for Science, Technology, Engineering, Arts and Maths and work on this project has involved Sutton's 40+ nature reserves and working with young people to restore degraded landscapes.


Robert Marnock's Ladbroke Grove in context
Jan Woudstra, Reader in Landscape History and Culture at the University of Sheffield
Landscape gardener Robert Marnock (1800-1889) was also a curator,  nurseryman, head gardener, garden writer, editor and philanthropist. In this talk  Jan, will discuss Marnock's concept for the housing and communal garden and park development for Ladbroke Grove between: in effect an early garden suburb.


The Many Lives of Crossbones Graveyard & Garden of Remembrance: an intergenerational legacy
Helen John. Helen became a Chartered Member of the Landscape Institute in 2015. She was employed by Bankside Open Spaces Trust (BOST) 2010-2016, before becoming a consultant & broadening the scope of her work. With community building and grass roots design at its core, BOST remains her favourite client.
Engaging with the community of Friends of Crossbones, who speak up for the Outcast Dead, Bankside Open Spaces Trust (BOST) opened the garden to the public in 2015. This talk explores the challenges in achieving access to a complex space, how BOST engaged and continue to engage with other community groups connecting the past to the present.  Crossbones is intimately tied up with the site immediately to the north known as the Liberty of Southwark, which is a major redevelopment and archaeologists have recently made some extraordinary discoveries, with items uncovered from the second century. Crossbones' protection is multi-layered: its profile, its place in the consciousness of the people who value it, its links with the past, present and future communities, its planning designation &  property law, all help to secure its future.


The Groundwork Trust in London
Sarah Cooke, Landscape Architect, Groundwork London
Groundwork takes practical action to create a fair and green future in which people, places, and nature thrive. How this is achieved in London is the subject of Sarah's talk; such as building a pond in Paddington Recreation Ground Nature Reserve to introducing rain gardens, green walls, trees and wildflower areas to Flora Gardens, council housing in Hammersmith, to using planting to trap air pollution particulates in Horn Lane, Ealing or Chumleigh Gardens transformed in the middle of Burgess Park, Southwark and much else.
One theme for the FOLAR symposia is how the past can inform the present and the future. This is a symposium with full opportunity for discussion with question time after each talk and a general discussion with the speakers at the end of the day.
So that everyone can have the opportunity to speak, numbers are limited to fifty.
Everyone is welcome from 10.30am. Talks begin at 11am.
Bookings details
Booking required. Please book via the FOLAR website.
Cost (including lunch and refreshments)  
FOLAR member tickets £45 
Non member tickets £55 
Students £15 
Last year's event
Explore the themes of last year's event on 'The Landscape of Housing' in our online exhibition