Mrs Beeton's vegetarian feasts: vegetarian recipes from 19th century England
Written by Hollie Piff, UMASCS Graduate Trainee Library Assistant.
Here in The MERL Library, we have several copies of Mrs Beeton's Book of Household Management, with 19th century copies held in the University of Reading's Special Collections. I was having a little dig around through the collection when I stumbled upon Mrs Beeton's 'Vegetarian Menu'. What were the dishes it featured? Dear reader, read on.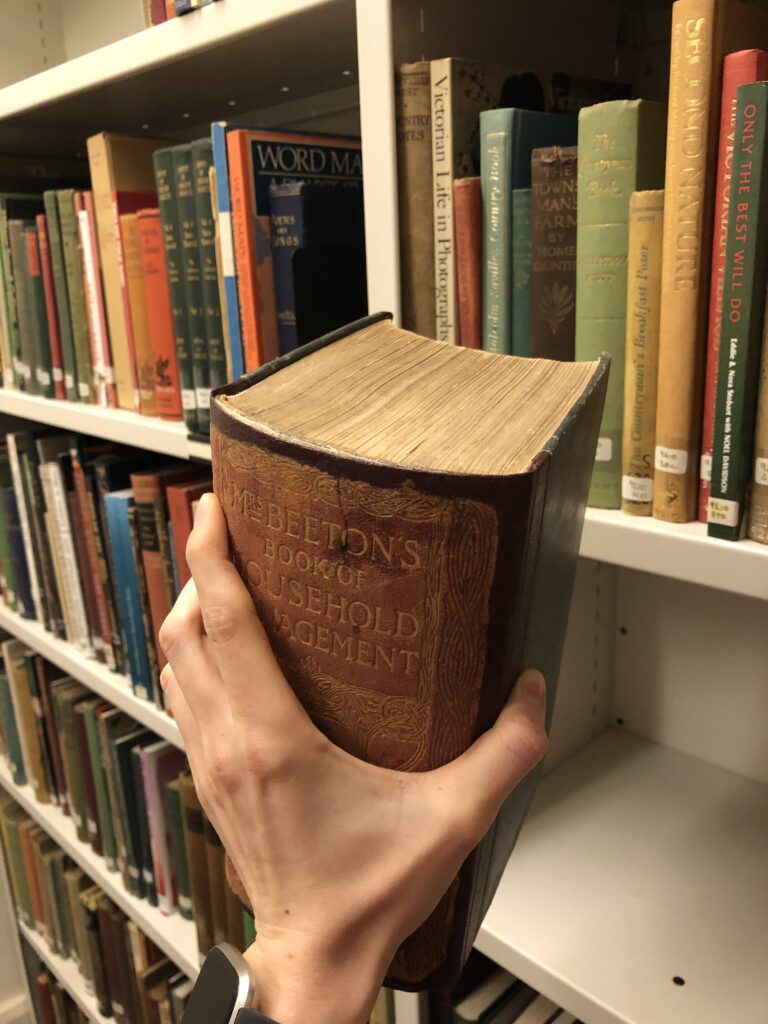 Who was Mrs Beeton?
When you think of Mrs Beeton, you might imagine a rather matronly Victorian figure. In reality, Isabella Mary Beeton published her Book of Household Management on the 1st October 1861 at the ripe old age of just 25. Sadly, she only lived for three years beyond its publication.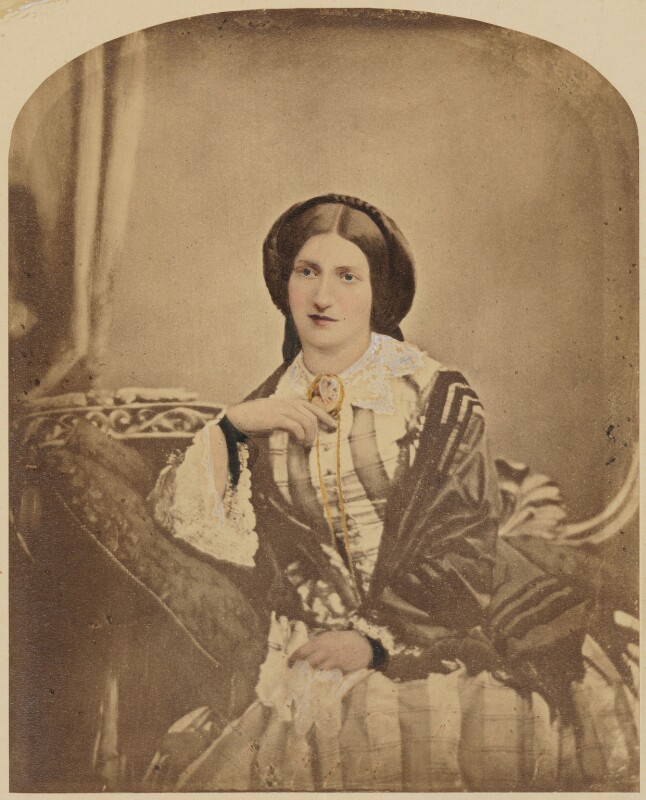 The book itself is hefty, as pictured above, and contains over 2,000 pages of recipes, domestic tips and tricks, and notes on budgeting.
The cookbook form flourished in the Victorian age, and Mrs Beeton's format of 'breaking each recipe into ingredients, mode, time, average cost, seasonableness [sic], and number of portions' (Prasch 942) not only made recipes easier to follow for fellow Victorians, but also for 21st century graduate trainee library assistants.
You may expect Mrs Beeton to treat vegetarians with disdain, especially considering the ungodly amount of dripping, gelatine, and beef that manages to make its way into the simplest of recipes. However, Beeton references the 'large number of persons' who 'abstain from animal food altogether' and suggests that 'there is no reason why we should not bestow upon [vegetables] some of the care in selection and cultivation that now is bestowed upon meat (705). I suppose you could say she's the 19th century's answer to Yotam Ottolenghi.
Inspired by former MERL blogs (such as our 1970s cheese curry extravaganza and the history of British Christmas food), I decided to take to the kitchen and see which of Beeton's dishes I could recreate.
I would like to preface this meal with a disclaimer. Unfortunately, I am not equipped with an authentic Victorian kitchen setup. As such, my fire will be replaced by an electric hob, and my good, 'well-heated' oven will be a fan-assisted oven at around 180 degrees. I also made some vegan-friendly substitutions. Additionally, please note that complete transcriptions of Mrs Beeton's original recipes can be found and enjoyed (at your culinary discretion) at the end of the article.
Starter: vegetable soup
We're starting with a simple vegetable soup made of cabbage, leeks, lettuce, cauliflower, carrots, and peas. There are many, many vegetables that I would happily put into a soup, and lettuce is not one of them. Please place your bets on the colour of this concoction. I'm going with swampy green.
Now, Mrs Beeton's recipe says that it serves eight, so I'm going to haphazardly quarter the recipe so that I'm not eating cabbage soup for the foreseeable future.
Firstly, I washed and shredded the cabbage, lettuce, carrot, and half a leek. I unfortunately forgot to include the celery, but I can't imagine it would have imparted much flavour. I fried the shredded vegetables in a large saucepan with some vegan butter until they were soft.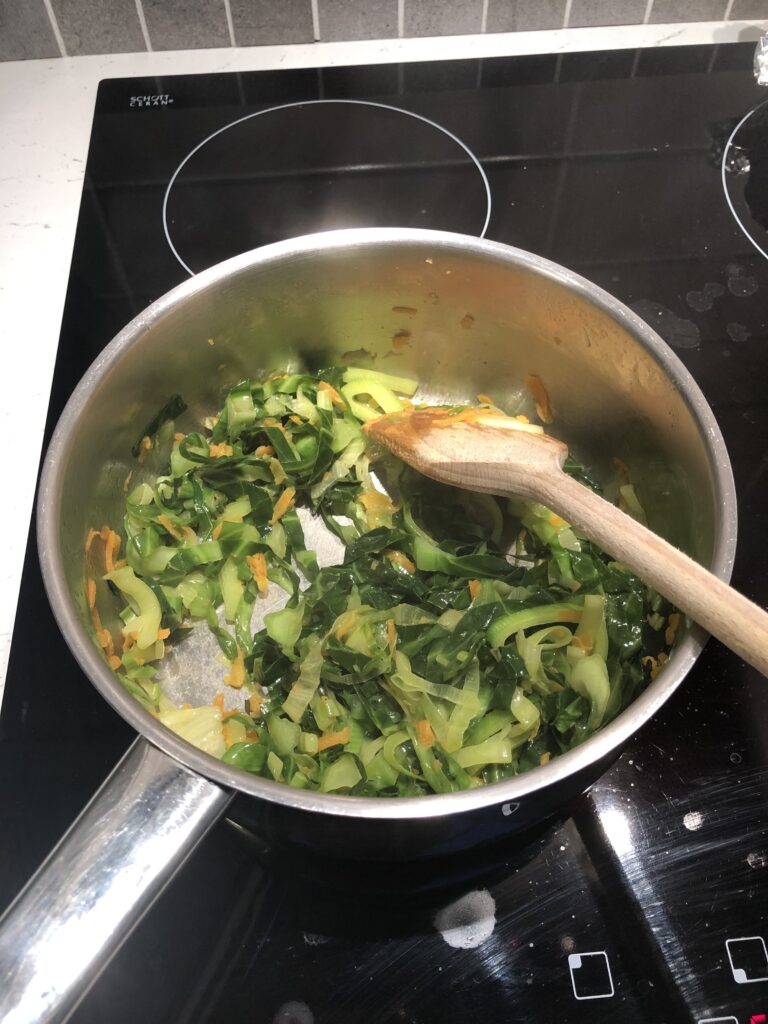 I added half a litre of vegetable stock to the pan and let it simmer for a while. Mrs Beeton suggested simmering for one hour, but it was getting far too late and I was famished. I added the peas and cauliflower, pouring a little more stock into the pan when I felt things were getting too crowded.
After half an hour of simmering I took the pot off the hob and decanted it into bowls. Mrs Beeton doesn't mention salt, pepper, or herbs of any kind, so I served it as it was.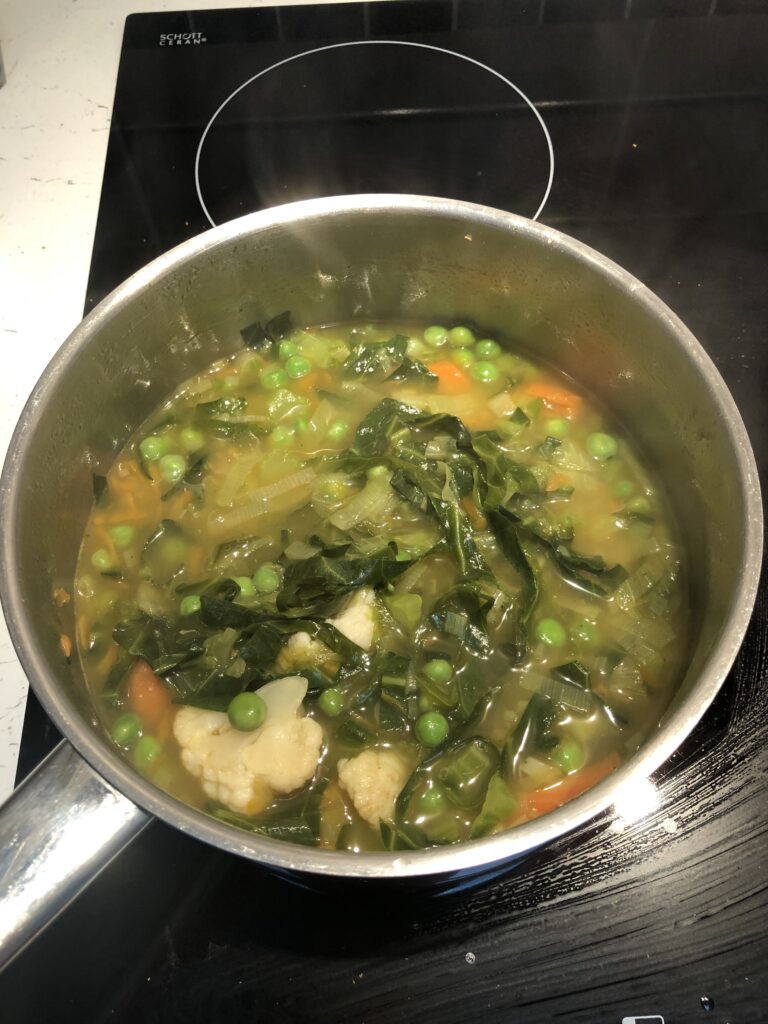 Realistically, when a dish is composed only of vegetables and stock there are upper and lower limits on its potential. My soup landed itself perfectly in the middle of those limits, tending towards the mediocre.
The salad course
I have been looking forward to this one! We have a simple cucumber salad. Time to dust off the mandoline.
Firstly, I peeled and sliced the cucumber. Mrs Beeton told me to slice it 'as thinly as possible,' but gave no mention of the direction of cuts, so I decided to go for long ribbons rather than thin little circles. I then added the salt, pepper and the oil.
Now, we come to our first translation difficulty. French vinegar? A quick google did not answer my questions. My instincts told me to go with a light vinegar rather than balsamic. I'm far too fancy for my own good, so we only had rice wine vinegar in the cupboard. That'll do!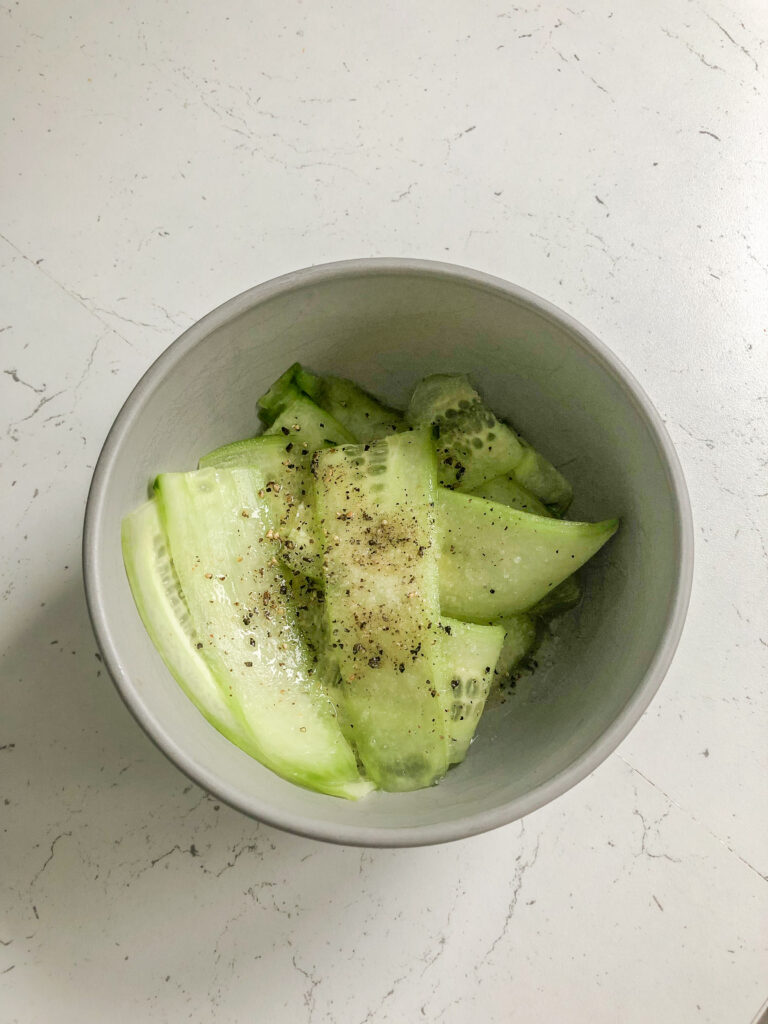 Truthfully, it tasted a lot like salty, vinegar-y cucumber. And I didn't hate it! It was light and refreshing and would be lovely on a warm sunny day with a barbecue, or even in a sandwich.
Dessert (pt. one): rhubarb tart
What could be better on a sunny summer's day than a seasonal rhubarb tart for dessert? Mrs Beeton's rhubarb tart contains only three ingredients: 'puff paste', moist sugar, and rhubarb. I imagine this would be rather more complicated if one made one's own puff pastry, but shop-bought is conveniently vegan and I am a very busy graduate trainee library assistant with an enthusiasm for baking.
Firstly, I halved the recipe, since Mrs. Beeton seems to always be feeding the 5,000, and it made quite enough for the entire family!
I started by chopping the rhubarb. Mrs Beeton suggests cutting it into one-inch length pieces, however I seem to have bought the largest rhubarb known to man, so I've adjusted my measurements to suit.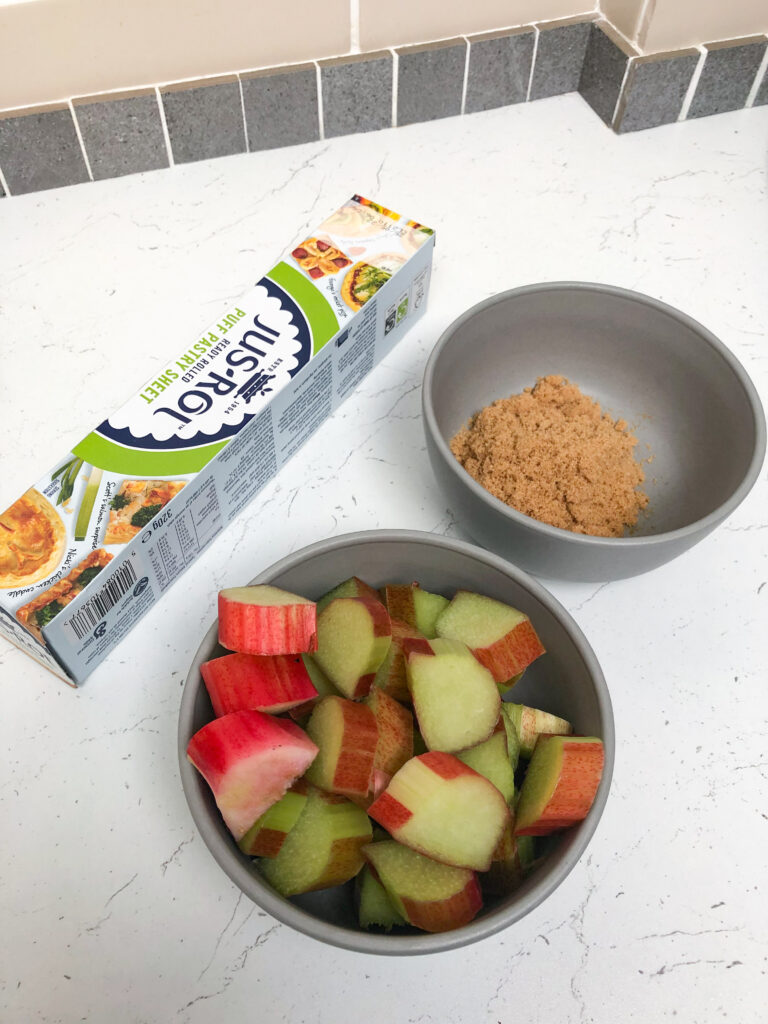 While I'm sure that Mrs Beeton was a much finer baker than I, I have watched an awful lot of the Great British Bake Off, and the fear of a soggy bottom prevented me from 'piling the fruit high' on unbaked puff pastry. My rather more experienced sous chef, Google, suggested that I bake the pastry in the oven for fifteen minutes prior to adding the rhubarb. I cut the pastry to fit into the tin, pricked it all over with a fork and popped it into the oven. While the puff pastry inflated, I combined the 'moist' sugar with the rhubarb. I went with soft brown sugar for this part. Hopefully that's what Mrs Beeton meant.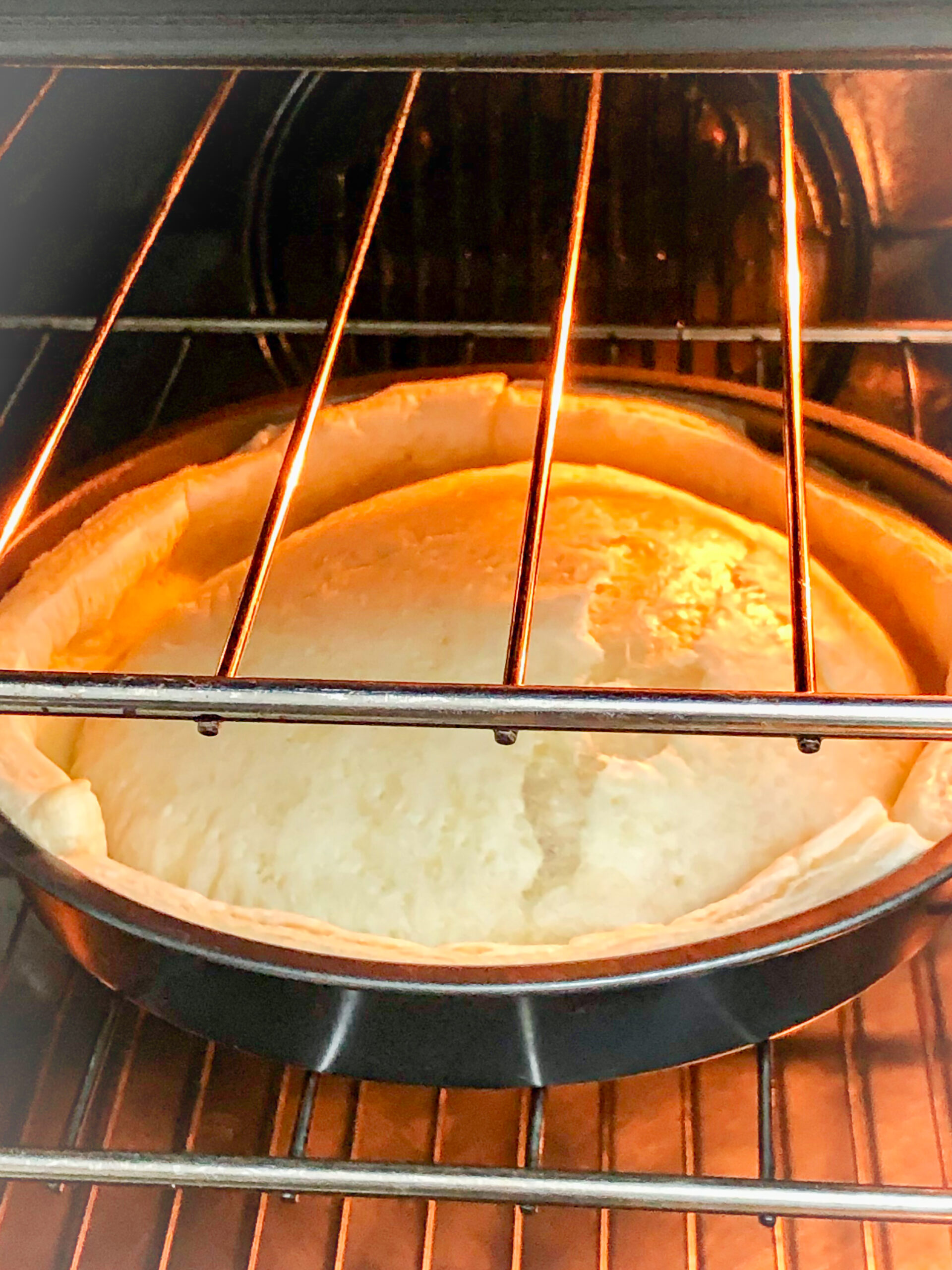 After 15 minutes, I pulled out the crust and piled the rhubarb high! I cut out a little pastry heart for decoration, popped it on top, and returned the tart to the oven for a further 25 minutes.
To be frank, Paul Hollywood would have scowled at the bottom of the pastry as I cut into the steaming rhubarb. Actually, he wouldn't have had anything to scowl about, since the 'base' of the tart had almost entirely dissolved into the sugary, rhubarb-y filling.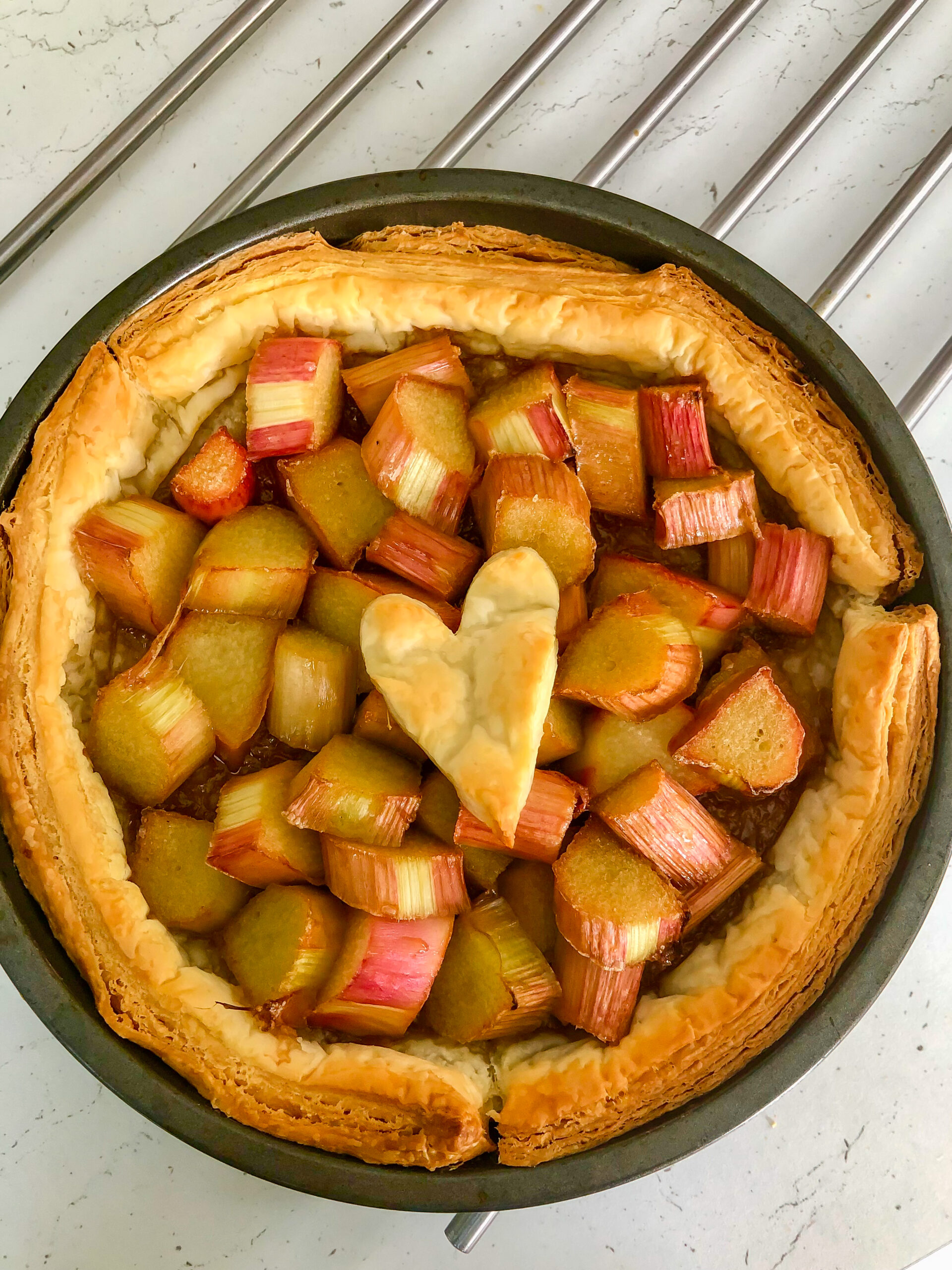 The tart was very tart, as rhubarb is prone to be. But, with a generous spoonful of vanilla ice cream, it went down a treat!
Dessert (pt. two): vermicelli pudding
Dessert number two is the pinnacle of Victorian absurdity: vermicelli pudding. Yes, you read that right. Vermicelli. Pudding.
After some research, I found that some cultures still make vermicelli pudding, in a way similar to rice pudding, but to me it was certainly a surprise. Mrs Beeton's recipe calls for an egg custard, and I had to get creative to veganise the recipe. So, I combined Mrs Beeton's vermicelli premise with a vegan custard tart recipe from One Green Planet.
I had learned my lesson after the puff pastry parachute incident with the rhubarb tart. So, I lined the tin with puff pastry and covered it with baking paper. I then poured a bag of rice onto the paper to weigh down the pastry and prevent it from rising in the oven.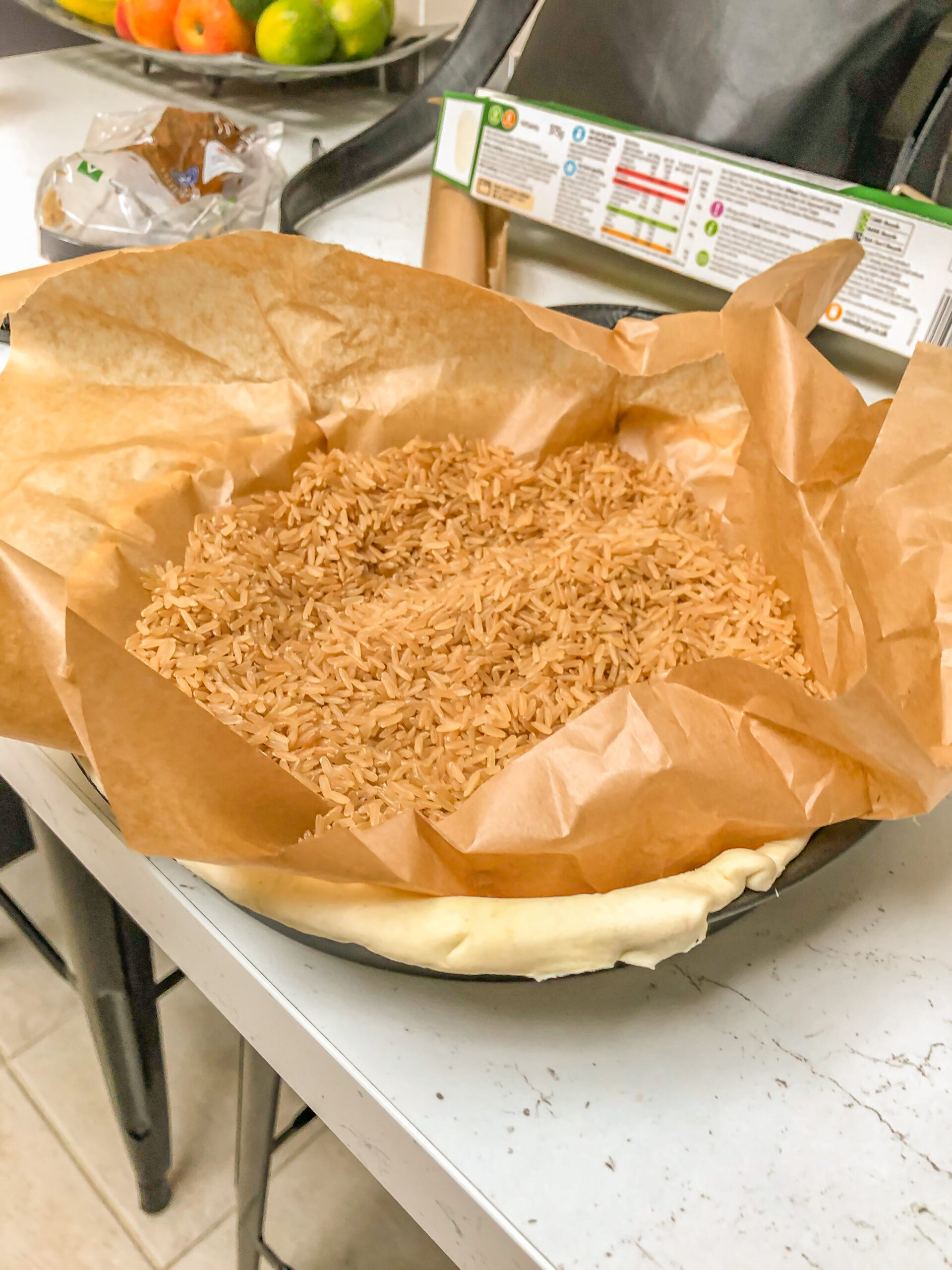 I baked the pastry base for 20 minutes at 200 degrees, removing the rice about halfway-through to allow the bottom to crisp up. While the pastry cooked, I added corn flour to a saucepan, covered it with a splash of my oat-milk-cream concoction, and whisked until smooth. I then added the remaining ingredients: the rest of the oat milk and vegan cream, two tablespoons of golden syrup, and a splash of vanilla extract. I brought everything to a boil, stirring vigorously for 3 minutes to prevent any lumps from forming.
Mrs Beeton's recipe required me to 'boil the vermicelli in the milk' until it was tender, adding the remaining ingredients (butter, sugar, and four eggs) soon afterwards. Because I was combining recipes, I boiled the vermicelli in oat milk, but in a separate pan.
I continued whisking the custard mixture over a low heat for 10 minutes until it resembled a thick custard-like consistency. Then, I added the vermicelli. Well, I started adding the vermicelli and realised, quite suddenly, that it would be in my best interest to cut the noodles into smaller pieces. I did this to the remaining noodles, but had to leave some long, worm-like pieces hiding ominously in the custard.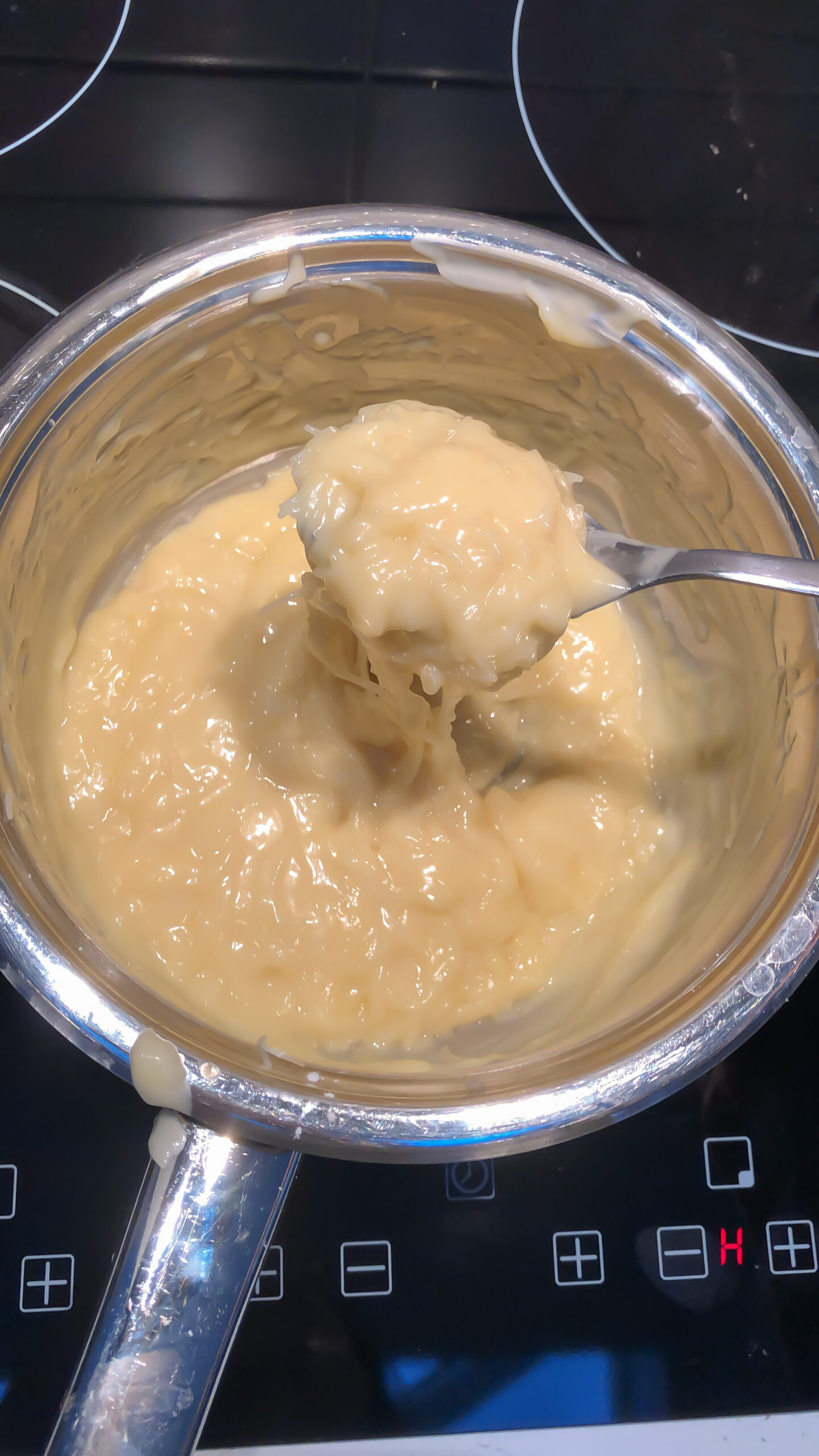 I took the mixture off the heat and left it to cool for half an hour before pouring it into the tart case. Then, I placed the entire tart in the fridge overnight to set (unlike in Mrs Beeton's recipe, which calls for baking).
In order to celebrate the end of an eventful week, I brought the vermicelli tart to The MERL as a kind, considerate treat for my co-workers. When I showed my achievements to one colleague, she astutely pointed out that it looked 'like a cross between cheesecake and carbonara'. Appetising.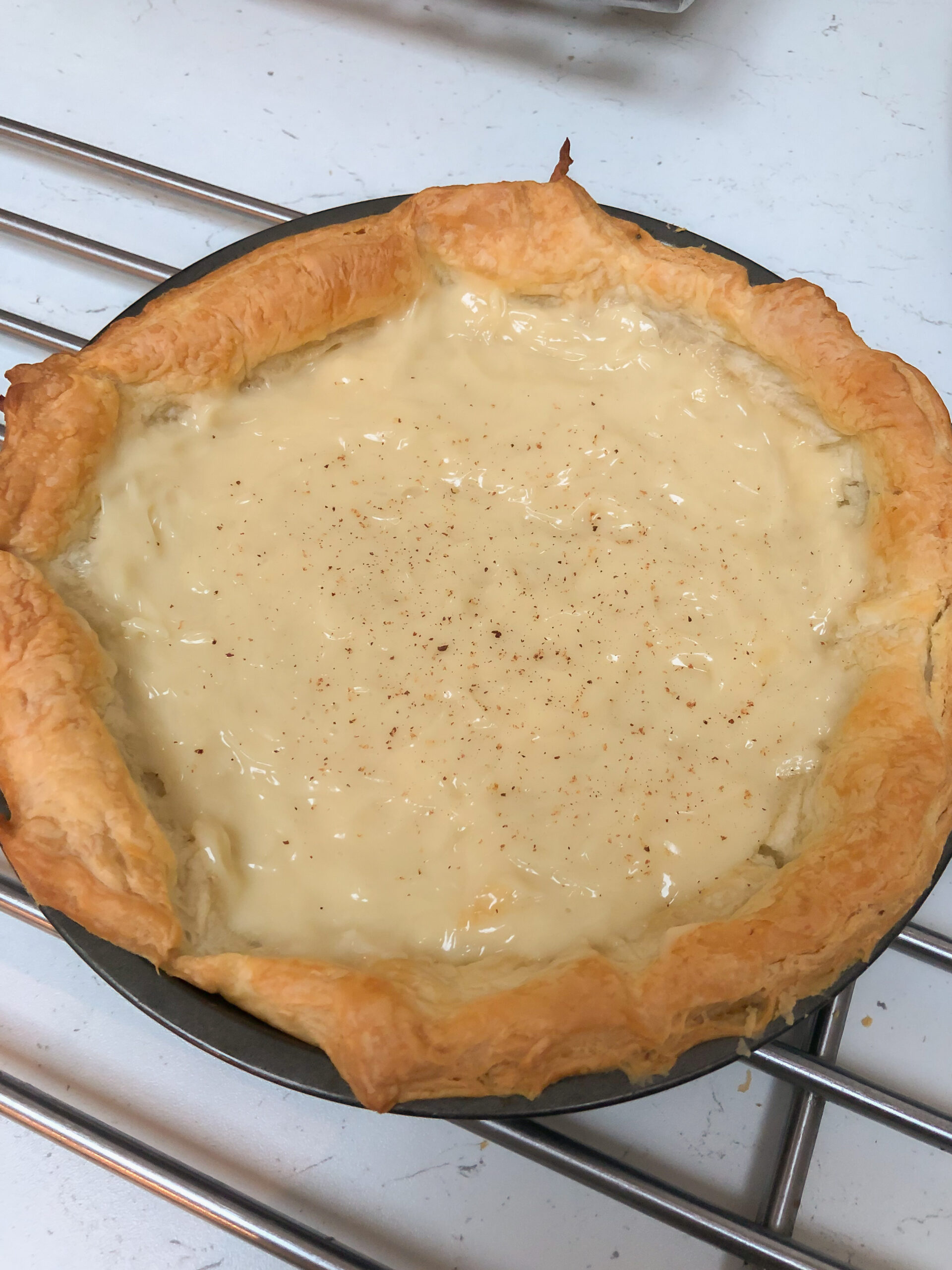 Surprisingly, it wasn't all that bad! The noodles gave it a rather strange texture, but the custard tart was lovely! We were expecting a soggy bottom, but the pastry was flaky and golden, if a little messy.
Although I would recommend that vermicelli pudding is lost to the annals of time, I hope that this little experiment has shown that vegetarian food can be easy, fun, and even historical! Even if you're not picking up Mrs Beeton's Book of Household Management to furnish your dinner table with veggie delights, experimenting with meat-free meals can, at best, broaden your repertoire and, at worst, leave you with some particularly funny anecdotes.
Find out more about the range of books, archives and papers within The MERL library.
Mrs Beeton's recipes
Interested in reading Mrs Beeton's original recipes, or following her instructions for yourself? Take a look at the four dishes below.
340 – Vegetable Soup (Another Mode)
Ingredients: 1 cabbage, 1 carrot, 2 leeks, celery, ½ a lettuce, ½ pint of green peas, 1 small cauliflower, 2 oz. of butter, 2 quarts of stock or water, teaspoonful of sugar, teaspoonful of salt.
Mode: Wash and shred the cabbage, carrot, leeks, celery, and lettuce. Melt the butter in a saucepan and put in the shredded vegetables, fry them very steadily about ten minutes; then add the boiling water or stock. Then add the peas and cauliflowers broken into small pieces and simmer one hour, serve in a tureen with slices of bread and butter which have been dried and browned in the oven.
1625 – Cucumber Salad
Ingredients: 1 large or 2 small cucumbers, ½ teaspoonful of pepper and salt mixed, 1 tablespoonful of best French vinegar, 3 tablespoonfuls of pure salad oil.
Mode: Peel and slice the cucumber as thinly as possible, sprinkle the pepper and salt over it; add vinegar and salt in the above proportions a moment before using.
1851 – Rhubarb Tart
Ingredients: ½ lb. of puff-paste, about 5 sticks of large rhubarb, ¼ lb. of moist sugar/
Mode: Make a puff-crust by recipe No. 1675; line the edges of a deep pie-dish with it, and wash, wipe, and cut the rhubarb into pieces about 1 inch long. Should it be old and tough, string it–that is to say, pare the outside skin. Pile the fruit high in the dish, as it shrinks very much in the cooking; put in the sugar, cover with crust, ornament the edges, and bake the tart in a well-heated oven from half to three-quarters an hour. If wanted very nice, brush it over with the white of an egg beaten to a stiff froth, then sprinkle on it sifted sugar, and put it in the oven just to set the glaze: this should be done when the tart is properly baked. A small quantity of lemon-juice, and a little of the peel minced, are by many persons considered an improvement to the flavour of rhubarb tart.
1891 – Vermicelli Pudding
Ingredients: 4 oz. of vermicelli, 1 ½ pint of milk, ½ pint of cream, 3 oz. of butter, 3 oz. of sugar, 4 eggs
Mode: Boil the vermicelli in the milk until it is tender; then stir the remaining ingredients, omitting the cream if not obtainable. Flavour the mixture with grated lemon-rind, essence of bitter almonds, or vanilla, butter a pie-dish; line the edges with puff-paste, put in the pudding and bake in a moderate oven for about three-quarters of an hour.
Share This Post :