"Gambling with floods?" An immersive Sci-Art exhibition

In this guest blog, Dr Louise Arnal joins us to discuss her immersive SciArt installation "Gambling with Floods?", which was exhibited at the Museum from the 1st to the 15th November 2019. Through a fusion of scientific and artistic practice, "Gambling with Floods?" invites its viewer to experience first-hand the complexities of forecasting flooding. How effectively can even the most cutting-edge technology today make sense of nature's 'noisy chaos'?

With the very tangible threat of climate change, extreme events – such as floods – are becoming a more common feature of English weather and landscapes. Scientists and decision-makers work daily with computer-generated forecasts, based on which they warn an ever-growing population at risk against potential future floods. The last decades have seen unprecedented progress and we can now predict floods days, weeks and sometimes months in advance. But these forecasts are still not perfect, partly due to nature's chaotic behaviour. How can we work with supercomputers to predict floods in nature's noisy chaos? This is the question explored by the immersive SciArt installation "Gambling with floods?", exhibited from 1 to 15 November 2019 at The MERL.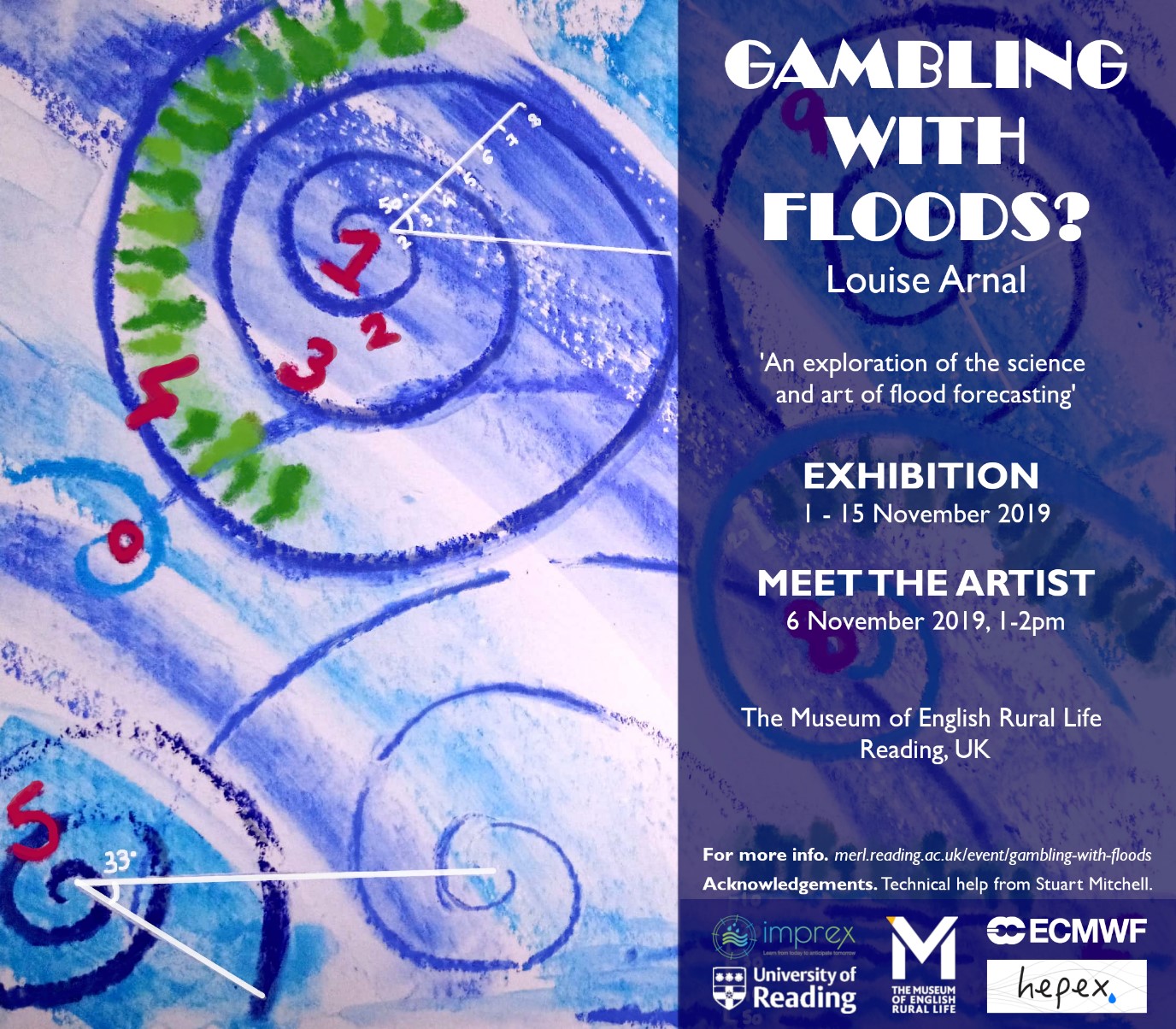 "Will there be a flood in Reading this winter? Enter the forecasting machine to make your own forecast."  
Enticed by these words at the entrance of the installation, you push open a curtain to discover a surprising set up made of a central piece – a jackpot or fruit machine – and side panels full of screens. You pull the fruit machine lever, activating spinning reels where the usual fruits have been replaced with water drops. While the machine is running, the surrounding screens light up and sounds start filling up the room. The screens show landscapes from around Reading, displaying various weather scenes, overlaid with numbers falling like rain. The sounds you hear are weather proverbs spoken in different languages. After a while, the machine slows down and stops spinning, showing a final combination of water drops. The side screens and sounds have also come to a stop, and a small piece of paper is printed out for you to take home. On it, the flood forecast you have just produced in the form of a haiku. Can you trust it?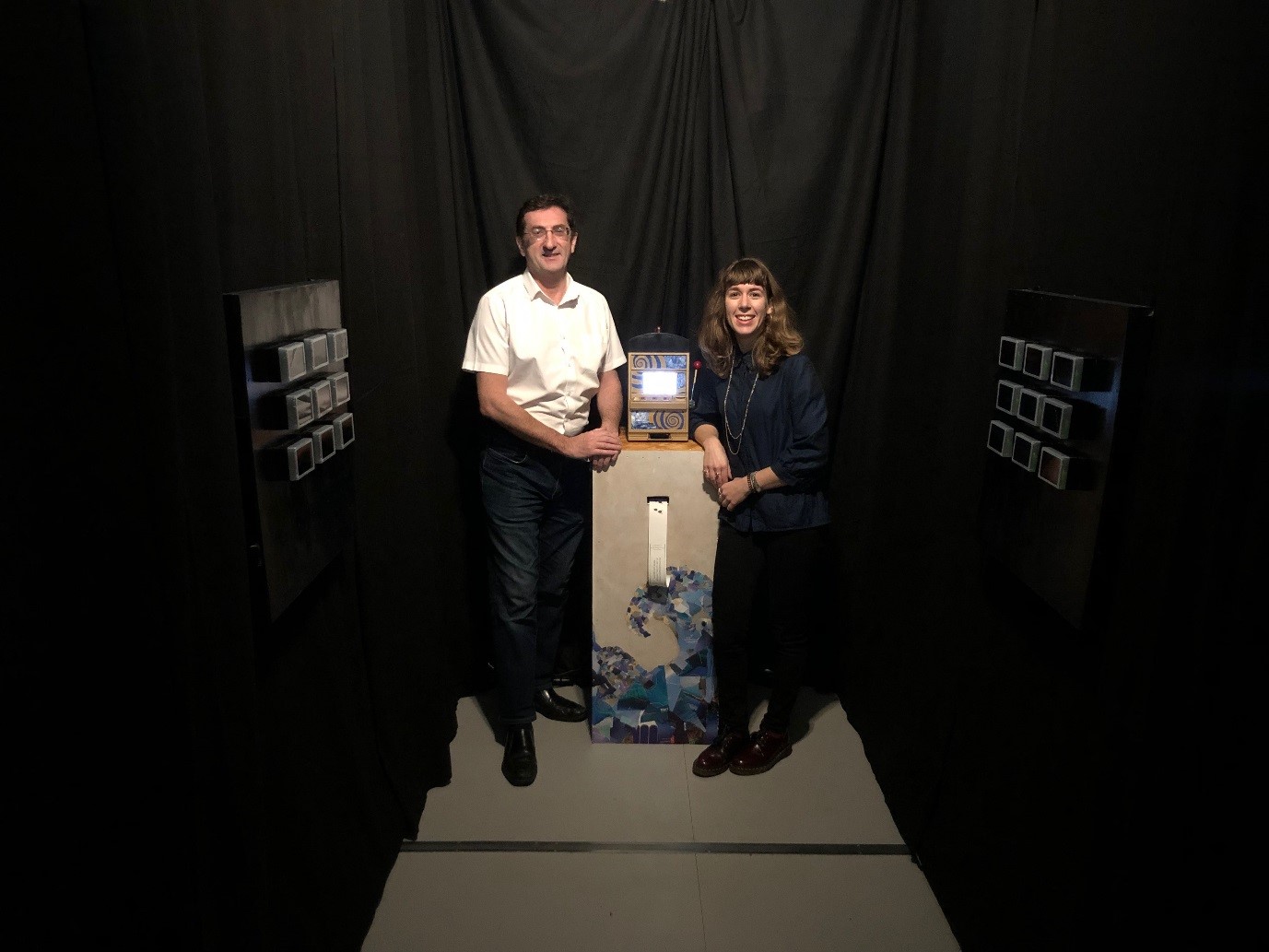 A metaphorical forecasting machine: linking science & art
To design this installation, I had to distance myself from a science I had become so familiar with throughout the 4 years of my PhD. I wanted to create an installation which submerges the visitor with lots of elements (sounds, images and spinning reels) to recreate an atmosphere metaphorical of the forecasting process for them to experience. To create this metaphor, the installation makes several unconventional, and perhaps provoking, parallels between the science of flood forecasting and concepts the audience would be more familiar with.  
This installation was based on an actual river flow forecast from EFAS and GloFAS (the European and Global Flood Awareness Systems) run on supercomputers, which very often make us think about order and precision. In this installation, the forecast is run on a fruit machine, which symbolises chaos and randomness (in fact central to the science of forecasting).  
This installation also makes parallels between modern science and weather proverbs. True weather proverbs are traditional and ancient yet sophisticated in that they reveal a great deal of natural understanding. Much like land drainage tiles – underground system of pipes used by farmers to prevent field waterlogging and flood damage (discussed in previous posts on our blog:  What lies beneath? and A land down under).  
Overall, the installation reveals a science which is not so certain after all and tries to explain why that is. The image below shows some of the SciArtistic concepts of this installation: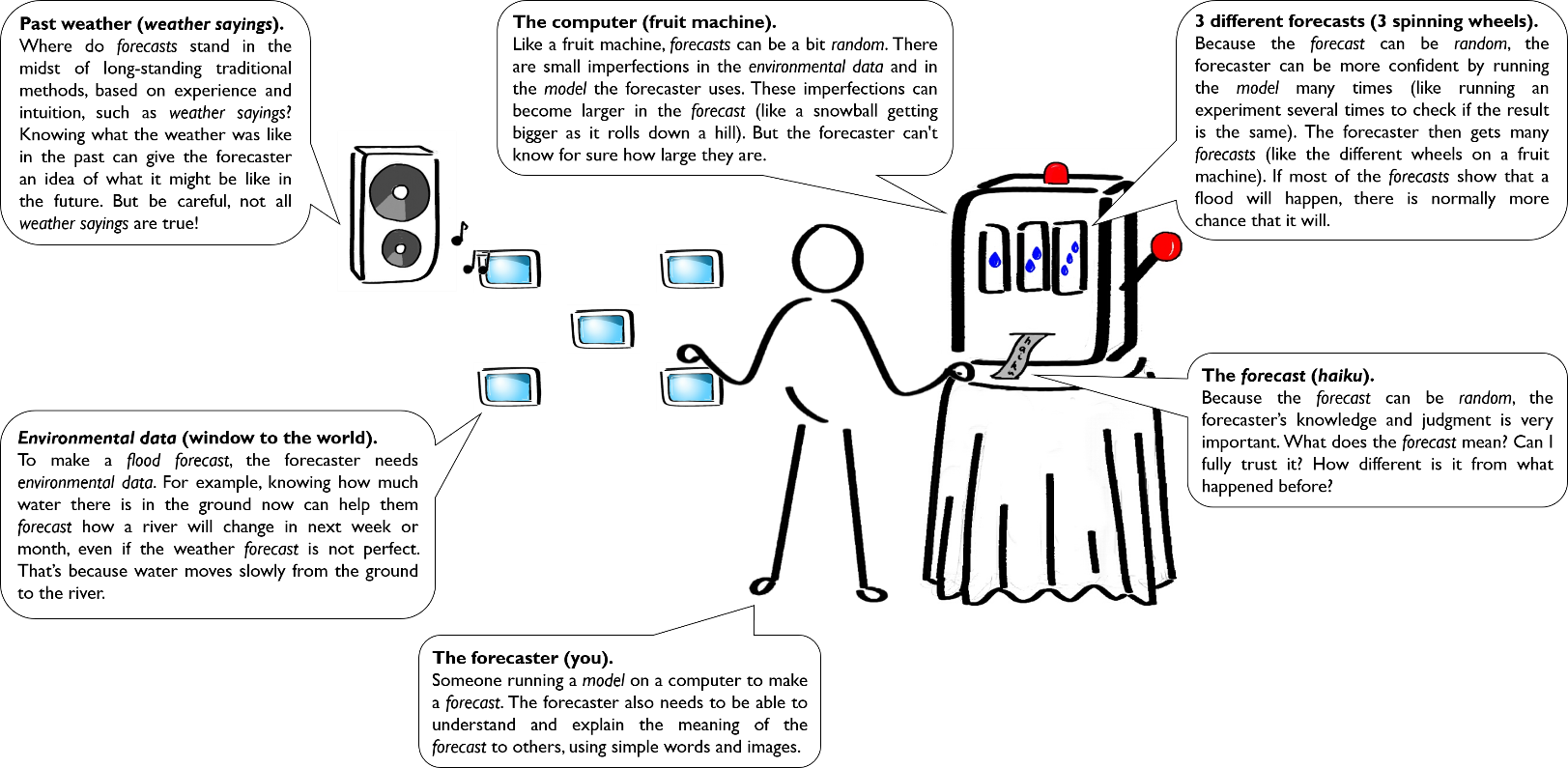 Glossary of terms:
Environmental data: information about what the world around us looks like now – e.g. is the ground very wet? Is there a lot of water in the river?
Flood:  a lot of water on ground that is normally not wet.
Forecast:  a guess (based on knowledge and experience) about something that will happen in the future – e.g. will it rain tomorrow? Will there be a flood next week?
Haiku:  a form of poem, with 3 lines, invented in Japan.
Model: a mathematical code that represents reality – e.g. how rain falls and how snow melts.
Random: describes something that can give a surprising result, that we hadn't thought about before.
Weather sayings: e.g. "Red sky at night, sailor's delight. Red sky in morning, sailor's warning."
More than a tool to communicate science to society 

I am a scientist with a lifelong love of art and started merging science and art to communicate my PhD topic to a wider audience (see my blog for some examples). In my last PhD year, I created this art installation which became a chapter of my PhD thesis (on "The Art of Streamflow Forecasting over Europe"). This installation aims to communicate complex scientific topics (as discussed above), whilst leaving many elements abstract and providing additional information for the more curious visitors (via the exhibition brochure and the "meet the artist" event at The MERL). But I wanted this installation to be more than a communication tool. By provoking the visitors, through the exhibition's name "Gambling with floods?" and contrasts, I wanted to deconstruct pre-acquired ideas, creating a moment of confusion hopefully followed by a self-gained new perspective (and perhaps also the curiosity to find out more about this topic). By being linked to a physical space and time, this exhibition also created a space for scientists and a wider public – the MERL visitors – to get one step closer to one another, bridging part of the existing gap between these two worlds. I believe that flood forecasting (and climate change) cannot (and should not) be tackled by scientists and decision-makers alone, opening ongoing (socio-scientific) discussions to a larger audience is crucial. After all, aren't we all "experts" in matters which affect us directly, like floods? 
Although this exhibition was built around a flood forecast for Reading for the winter 2019/2020 (where flooding is a topic of historical relevance), it can be adapted for any other location in the world. I hope to be able to move this installation around the world in the future, to engage with audiences from different countries, where this topic is equally relevant!  
I would like to acknowledge the valuable help of Stuart Mitchell with the technical installation. I would also like to thank the guidance and support I received from my family, friends, colleagues, artists and scientists during this journey. This exhibition received funding from the EU Horizon 2020 IMPREX project (641811) and the University of Reading Vice-Chancellor endowment funding for events, and support from The MERL, ECMWF and the HEPEX community.
Share This Post :