We have plenty for families to do at the MERL, with exciting galleries, fun hands-on learning experiences and a packed programme of events and activities.
Family Events and Activities
Our family events and activities, including trails and workshops, are inspired by the museum collections and garden.
As we are not able to deliver our current scheduled programme of events and activities at the museum, we have moved many of them online.  You can find details of our digital programme on our What's On page, but here are a few ideas from our past online events.
BECOME A VIRTUAL SHEPHERD
We can't travel to the countryside during lockdown, but this is one way of escaping to Dartmoor! Watch the 360 video of a modern-day shepherd riding a quad bike over Dartmoor, and find out how the film was made. The films are both in on our Virtual Reality Youtube playlist
FRIDAY FLEDGLINGS
We're missing our regular toddler session Friday Fledglings during lockdown, but session leaders are delivering activities and ideas for outdoor learning for under-5s every Friday morning via the MERL Facebook page. You can also find activities from all of our previous online Fledglings sessions here..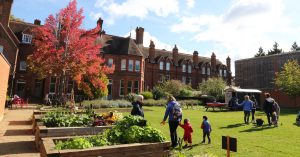 Friday Fledglings is usually an outdoor session for pre-schoolers which takes advantage of the fantastic urban garden at The MERL and promotes the benefits of outdoor learning. Sessions take their inspiration from the themes and collections of the Museum and focus on outdoor play and exploration of the natural environment. They involve story-telling, craft activities and singing.
Friday Fledglings is run by Charlotte, a local teacher and Level 3 Forest Leader and sessions run Fridays (during Reading Borough Council term time), 10.00 to 11.30am. It is £4 per child (includes drink and snack) and suitable for families with children under 5. No need to book.
LOSE YOURSELF IN THE SEASONS
If you have visited The MERL, you will be familiar with the beautiful animation of a forest scene through the seasons, whether you've watched it on loop with an enthralled child, or just be surprised by the sound of thunder while you enjoyed your tea in the cafe! You can now watch an immersive 360 version of the animation via the new MERL app. Find the download links on the 'Shaping the Land' gallery page.
Home Learning Resources
Whilst you may not be able to visit us in person, we still have lots of fun activities that you can do at home!
Visit the MERL galleries online and use our new worksheets to explore the collections further:
Galleries & Garden
During the lockdown due to COVID-19, the MERL's galleries, cafe, shop and garden are closed, but if you're missing your visits to the Museum or are looking for a new place to explore from home, perhaps you could try a virtual visit?
When we open again come visit our amazing galleries and explore life in the countryside past and present.
Discover the fascinating activities which take place in rural areas throughout the year and how they impact upon the food we eat. Enjoy the fun hands-on activities and interactives throughout the galleries including puzzles, dressing up, games and trails. It's fun for all the family!
The garden is a safe, enclosed environment for your children to play in and explore. There is a shepherd's hut decorated by our volunteer knitting group, a new wooden play-on tractor & wagon and an outdoor woodland brass rubbing trail.
You will also see some Community Growing Spaces being cultivated by various local groups, including our very own Friday Fledglings.
Family Forum
Whether you visit us lots or have never been before, we would like to hear from you if you are interested in helping shape how MERL works with families now and in the future.
If you're interested in getting involved or would like to find out more, contact merlevents@reading.ac.uk  or call 0118 378 8660.