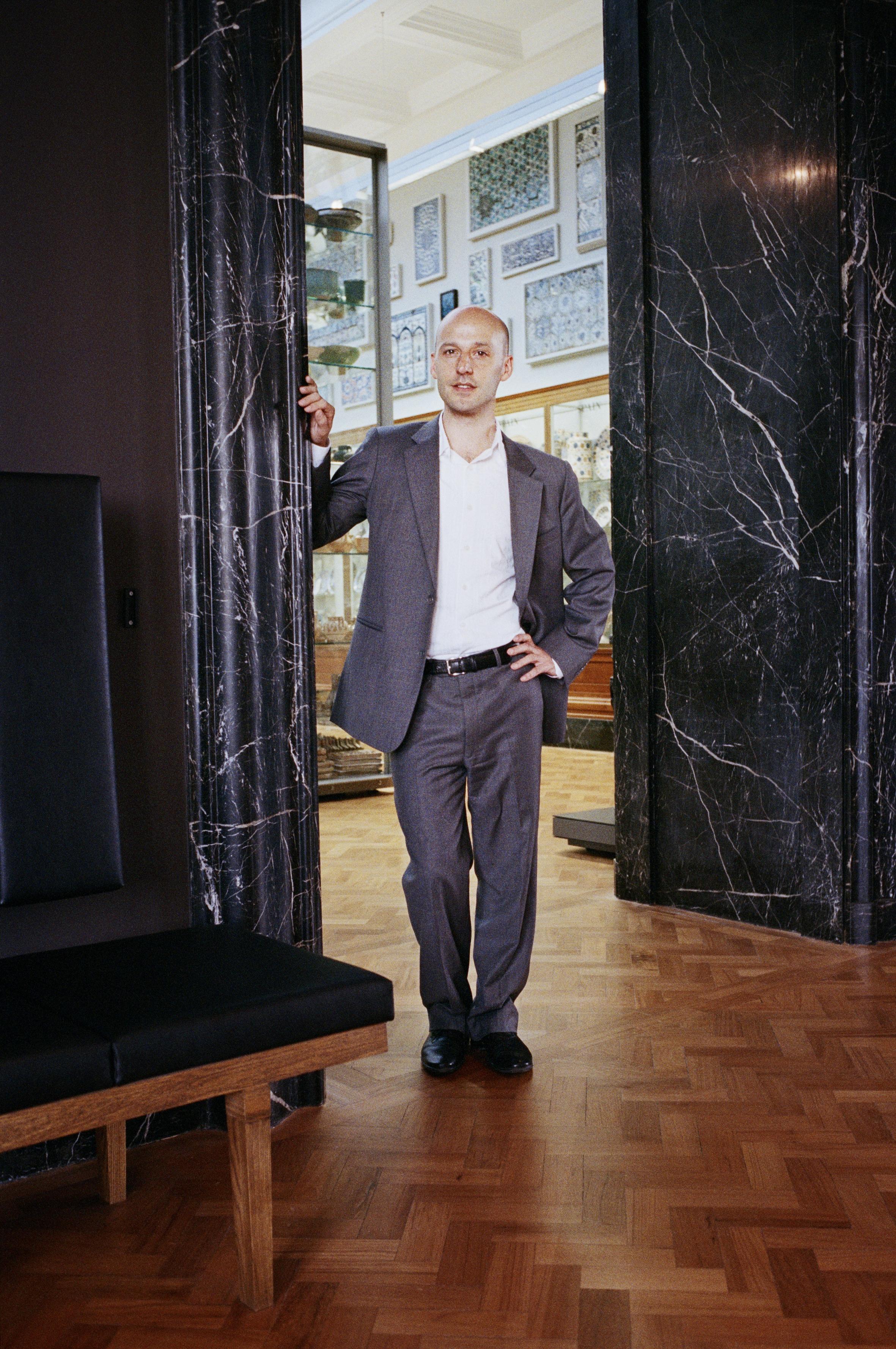 Dr Glenn Adamson, curator of Shoulder to the Wheel
Dr Glenn Adamson is curator of Shoulder to the Wheel and a writer at the intersection of craft, design history and contemporary art. He is Senior Scholar at the Yale Center for British Art. To create the exhibition, a late Victorian antique wheel in The MERL object collection was chosen. Three contemporary makers were then invited to create a work in its image.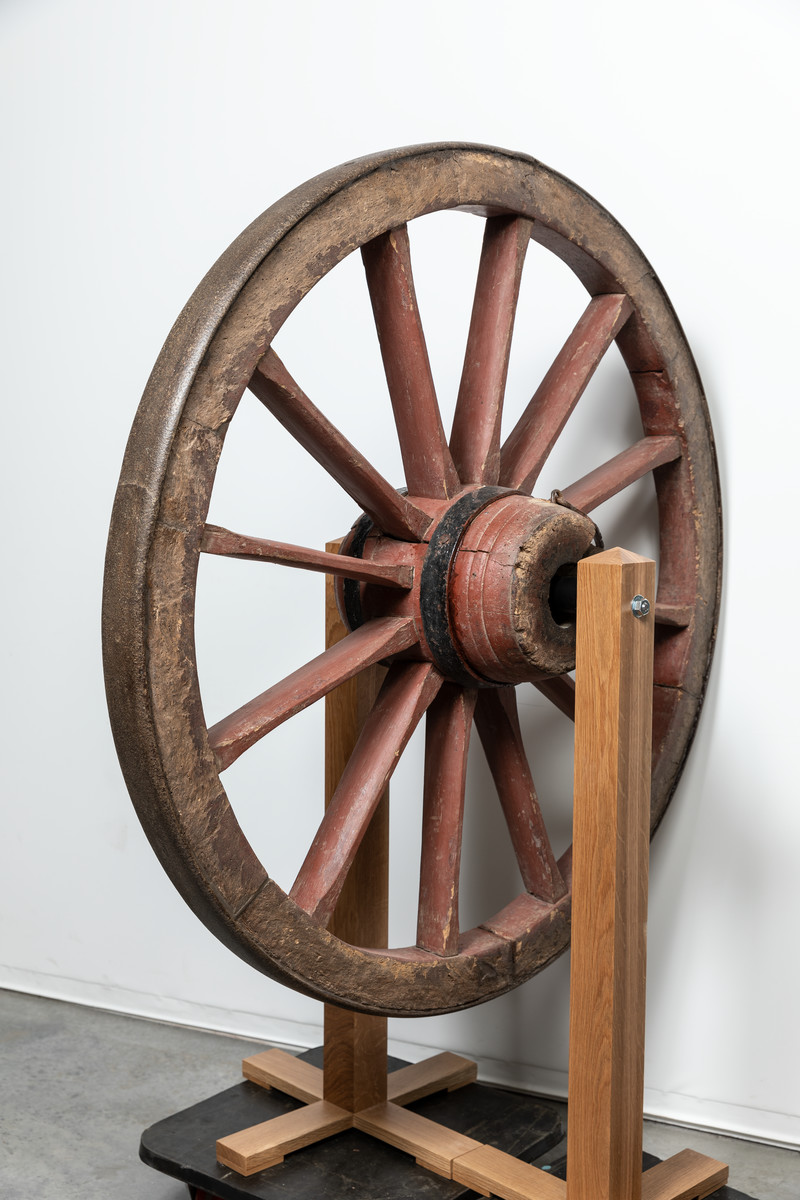 Wheel from The MERL Object Collection
This wheel was acquired by The MERL in 1962. It was made c. 1894 by C Bailey, a wagon builder of Combe St Nicholas, Somerset, for George Hicks of the Lords Leaze Farm, Chard.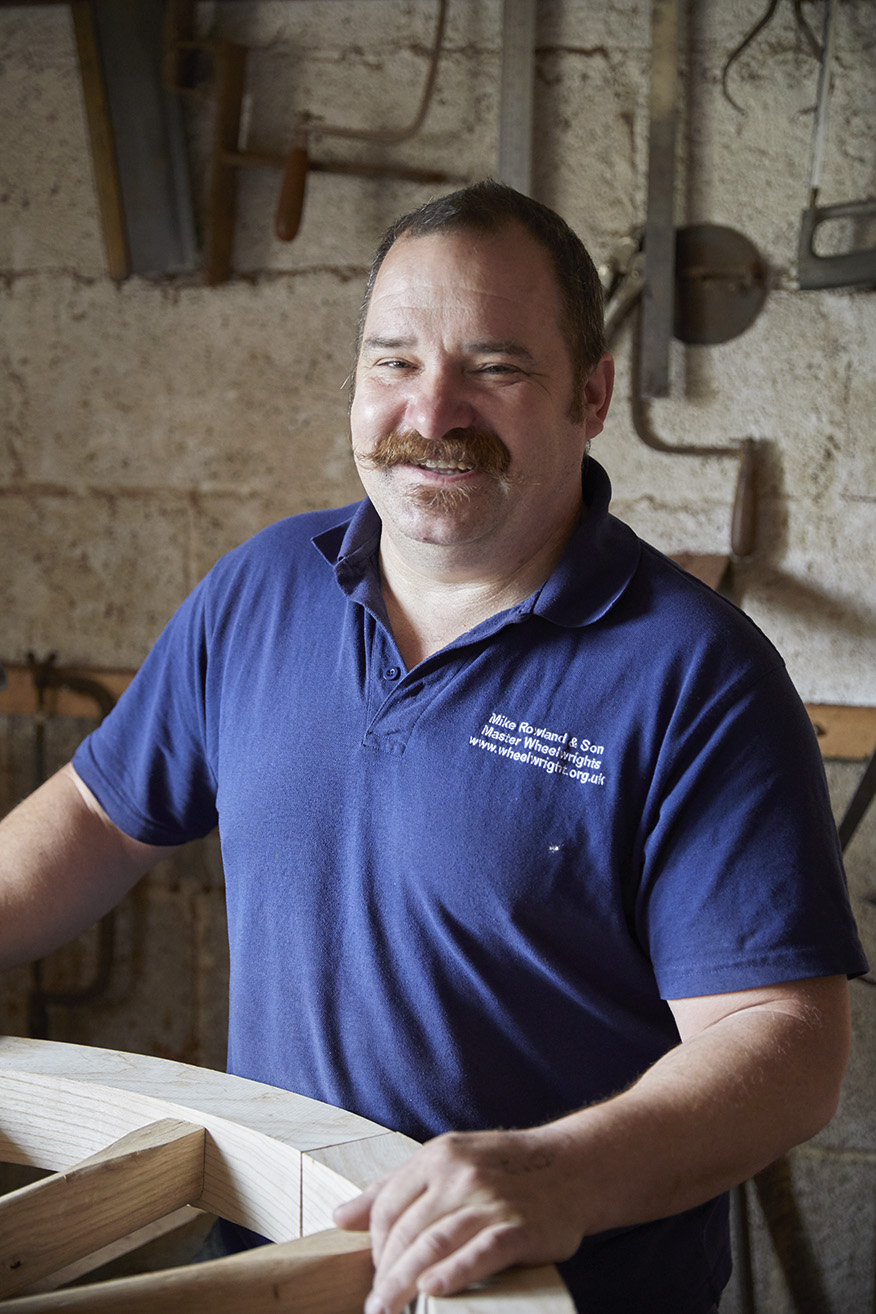 Greg Rowland, Master Wheelwright
Greg Rowland is a master wheelwright and the latest in a long lineage of Devon wheelwrights, dating back to the fourteenth century.
(c) Jon Stokes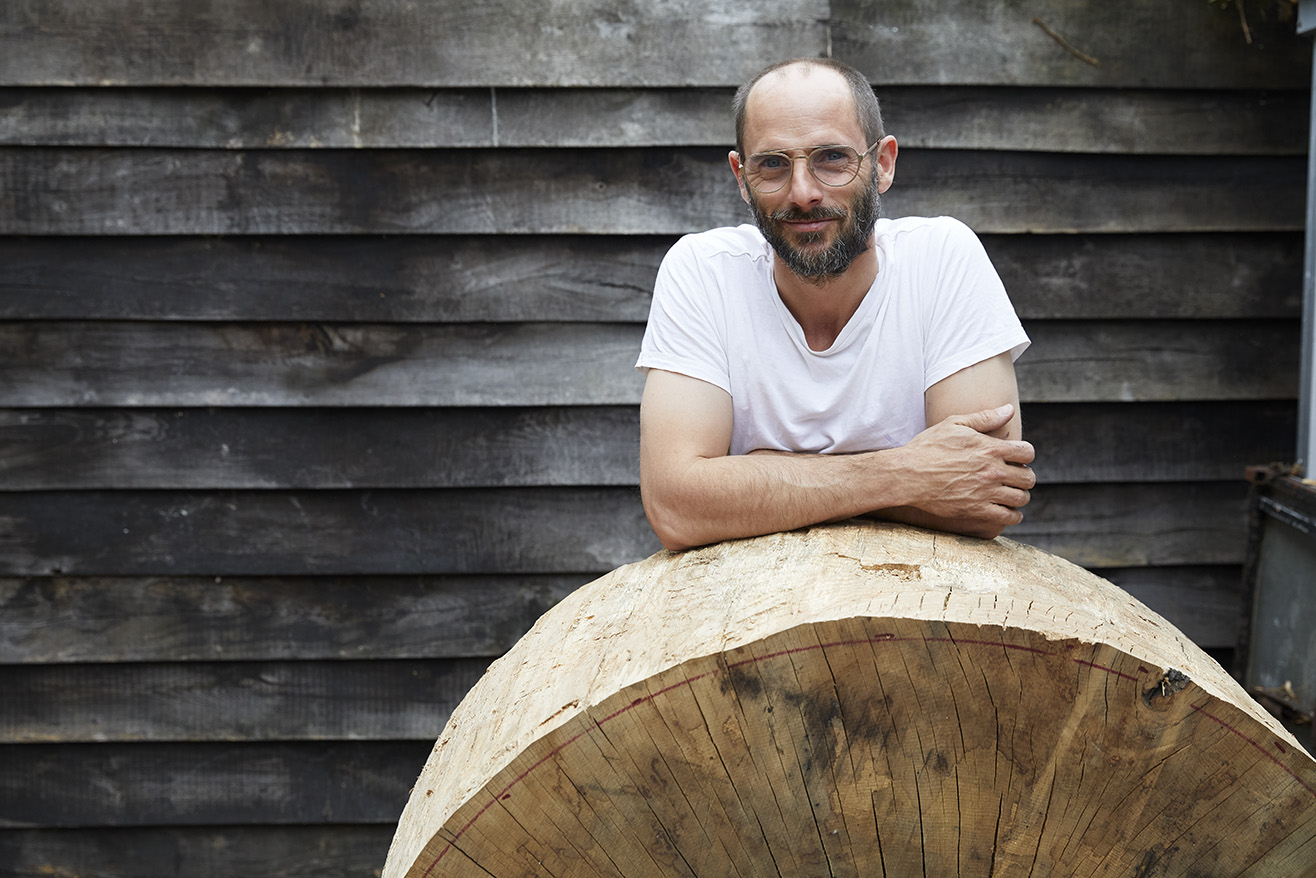 Gareth Neal, Designer and Maker
Gareth Neal is a designer and maker who often refers to old furniture making in his work.
(c) Jon Stokes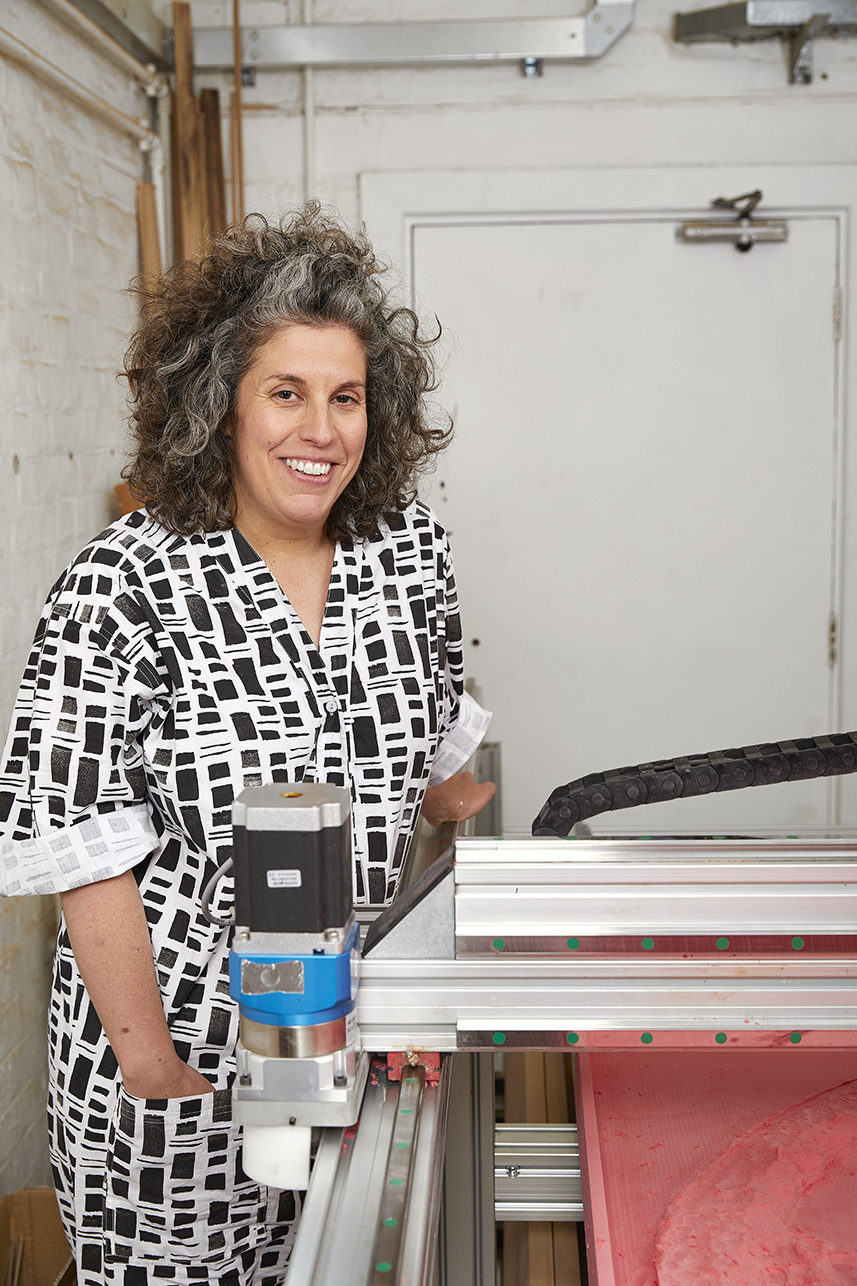 Zoe Laughlin, Co-director of The Institute of Making, University College London
Zoe Laughlin is co-director of The Institute of Making, University College London, a materials library and laboratory.
(c) Jon Stokes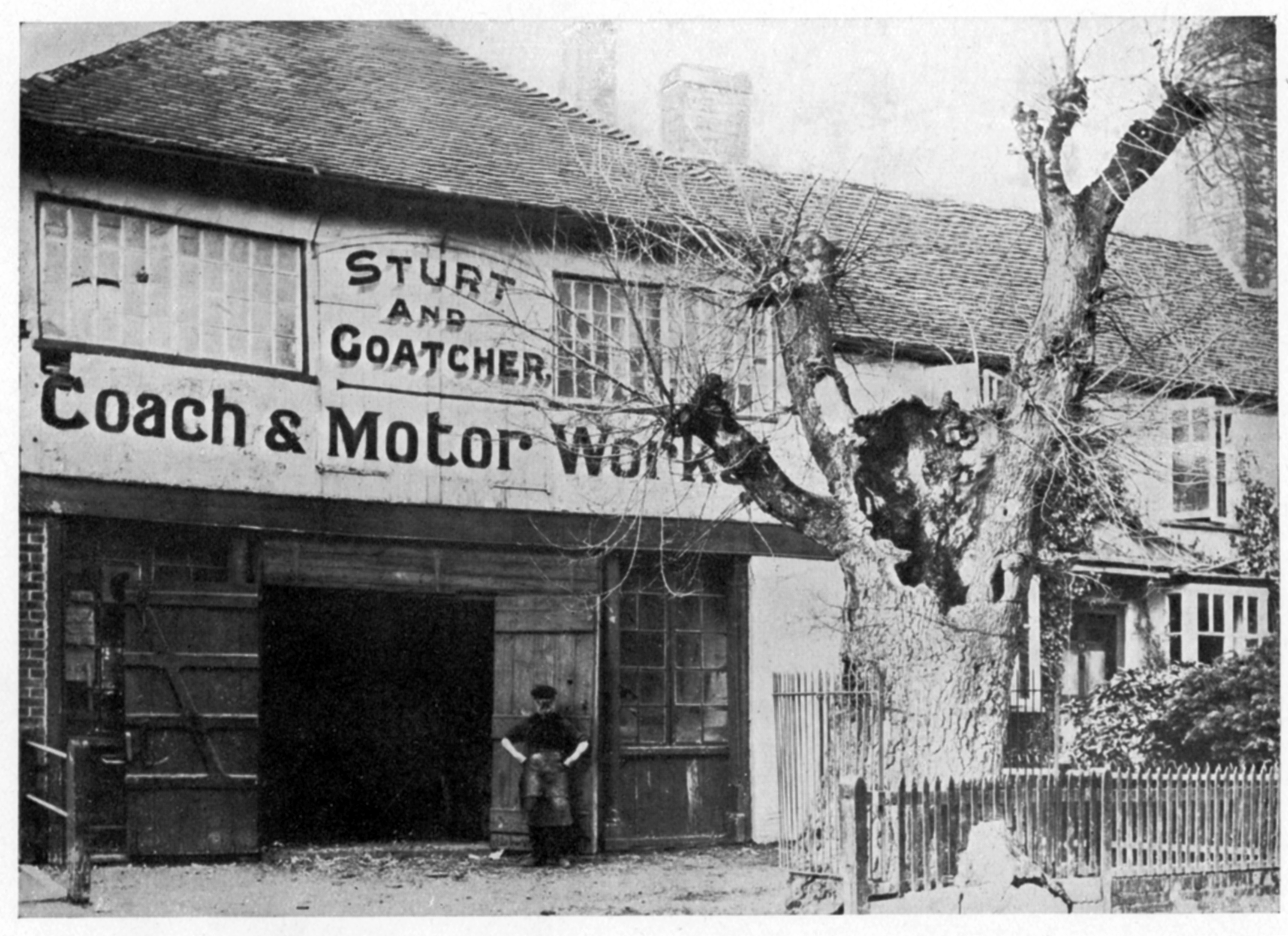 George Sturt's work, "The Wheelwright's Shop"
This exhibition was inspired by George Sturt's work, 'The Wheelwright's Shop', first published in 1923. His shop was located in Farnham, Surrey which is the home of the Crafts Study Centre.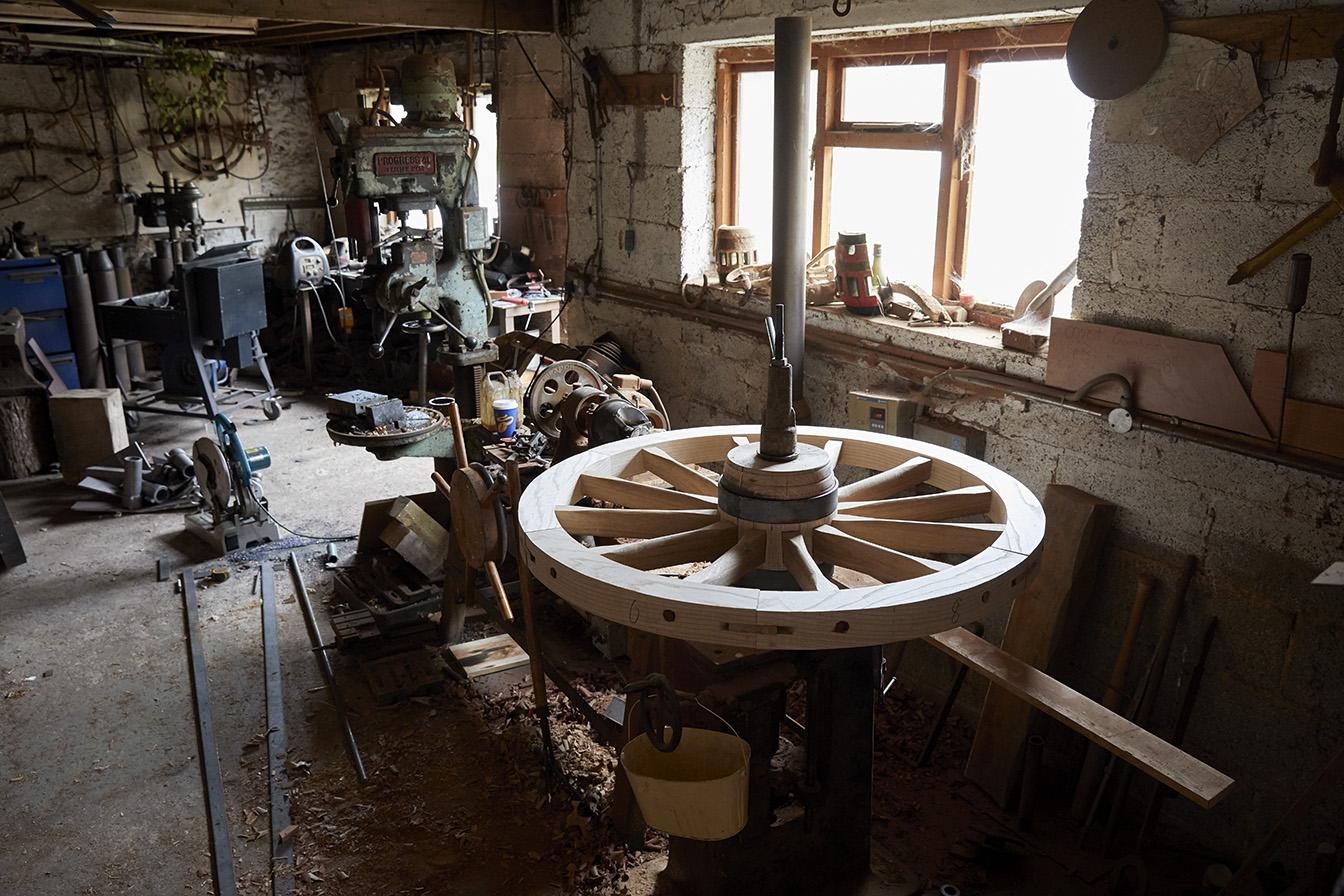 Greg Rowland's workshop
Greg Rowland:
"Wheels are what I do and what I have done for 30 years.
My aim was to use as many processes that might have been used in Sturt's shop but also to use some modern methods not available."
(c)Jon Stokes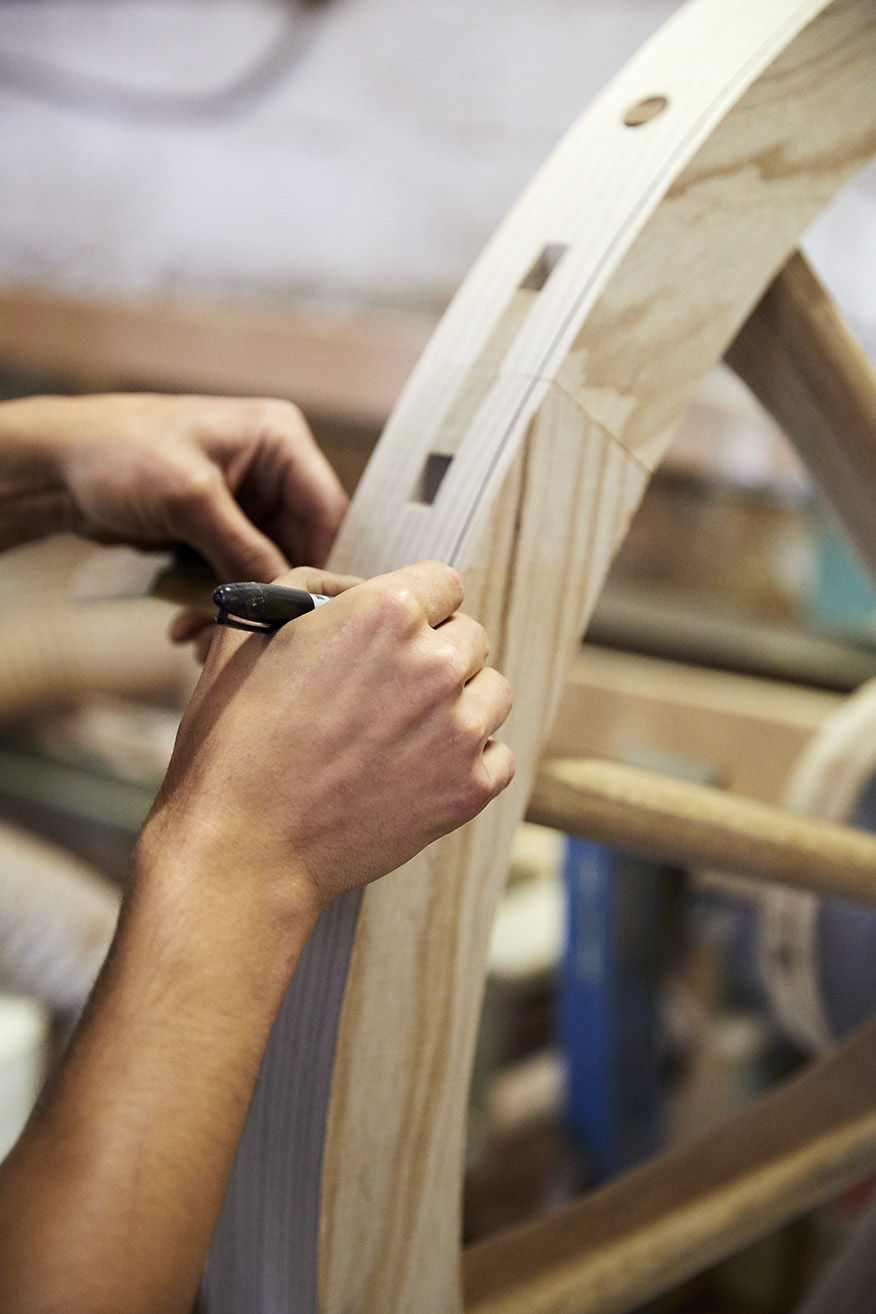 Choosing the timber for Greg Rowland's wheel
Greg Rowland:
"A contact near Farnham had some elm for the hub. I had to make wedges and use putty to fill splits in the wood. My father, Mike produced the spokes from oak. Traditionally spokes were cleft out of the wood but we used a more modern sawing technique using air-dried stock. The felloes – the curved pieces that make up the wheel rim – are made from ash. This gave us the traditional wheel timbers of oak, ash and elm."
(c)Jon Stokes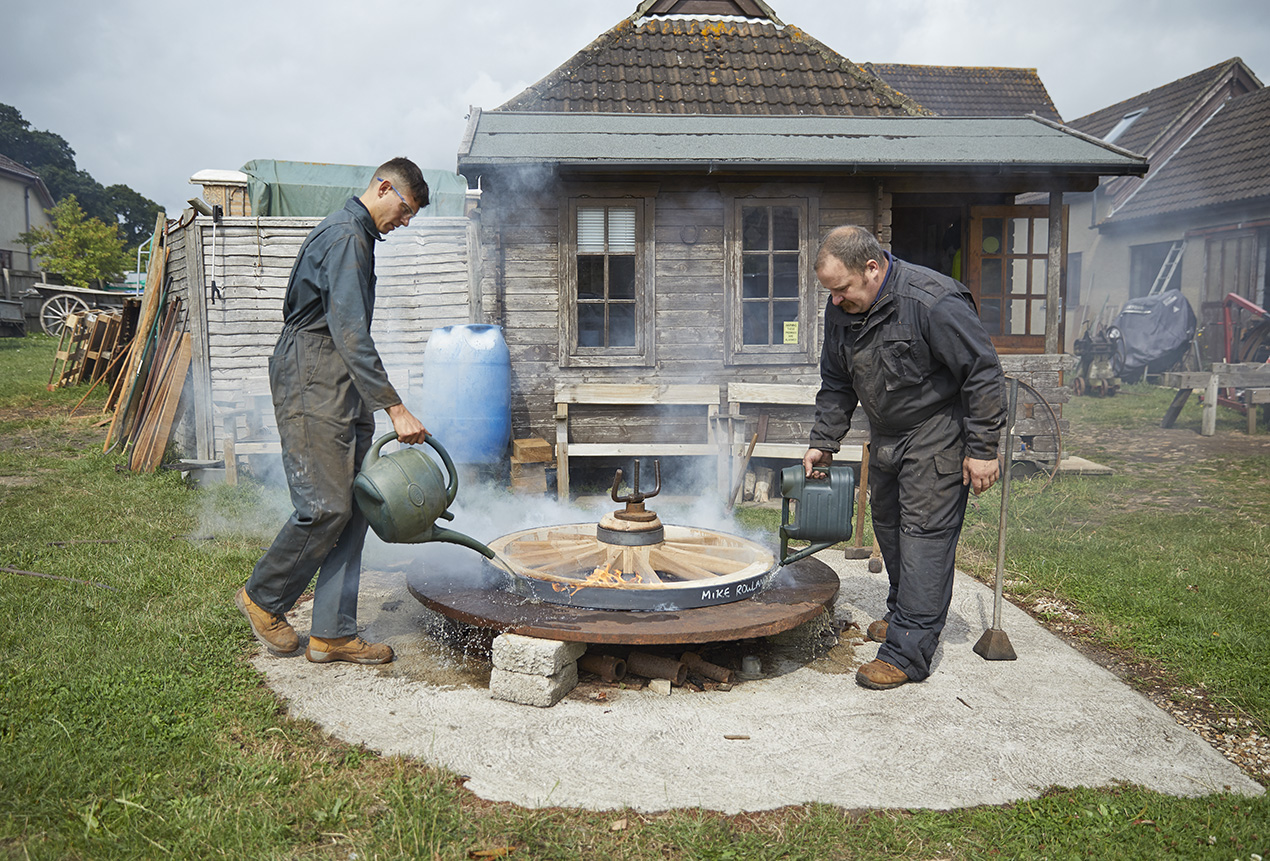 Adding the metal wheel rim
"The iron hub rings were shrunk on. We used traditional whalebone to get the front angle of the spokes, which would form the wheel's dish [or saucer shape]."
(c)Jon Stokes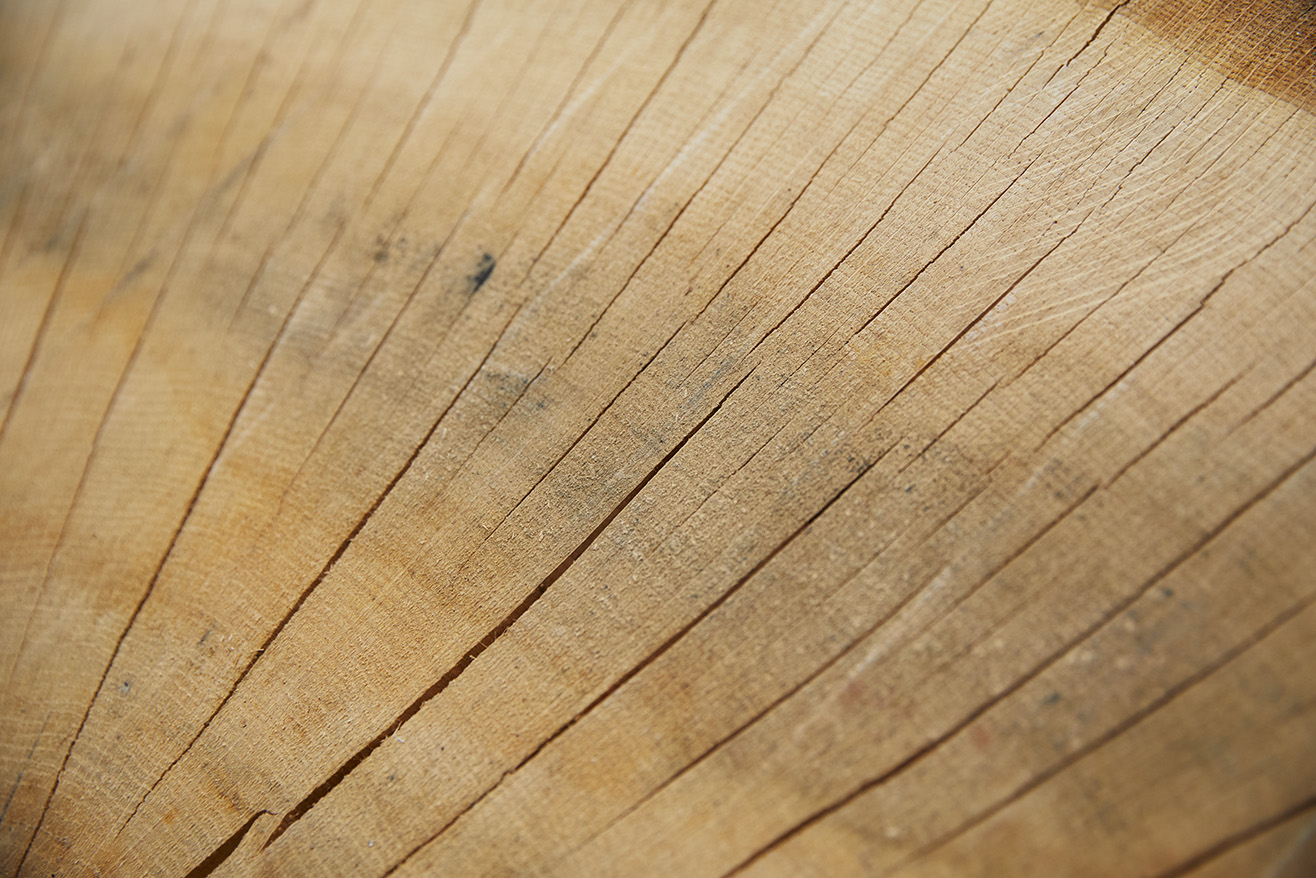 The grain of timber used by Gareth Neal
Gareth Neal:
"How could you possibly improve the wooden wheel? It is the result of an accumulation of knowledge and experience over centuries by wheelwrights who spent their whole lives mastering the craft."
(c)Jon Stokes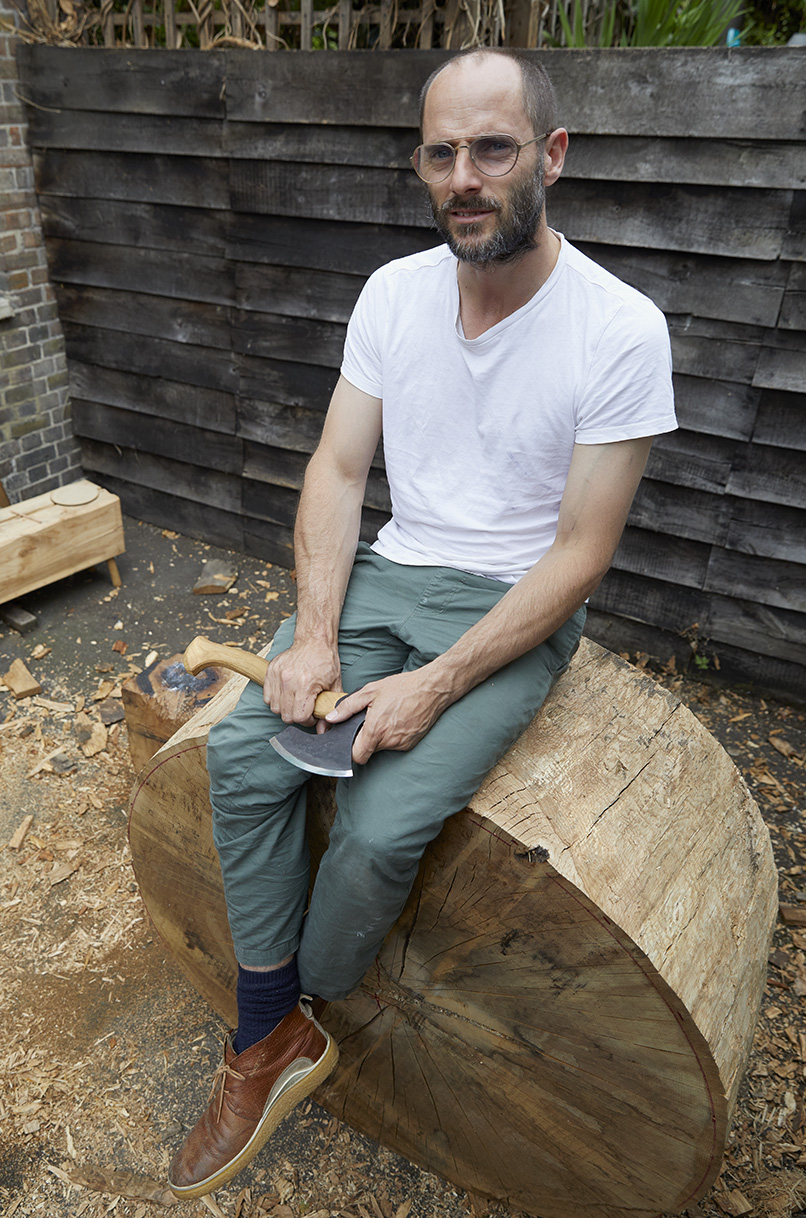 Gareth's wheel awaiting further refinement
Gareth Neal:
"Let us start at the beginning then. We can picture hundreds of men dragging huge stones across a plain. Wherever they are, they are wondering how they can make this transportation more efficient."
(c)Jon Stokes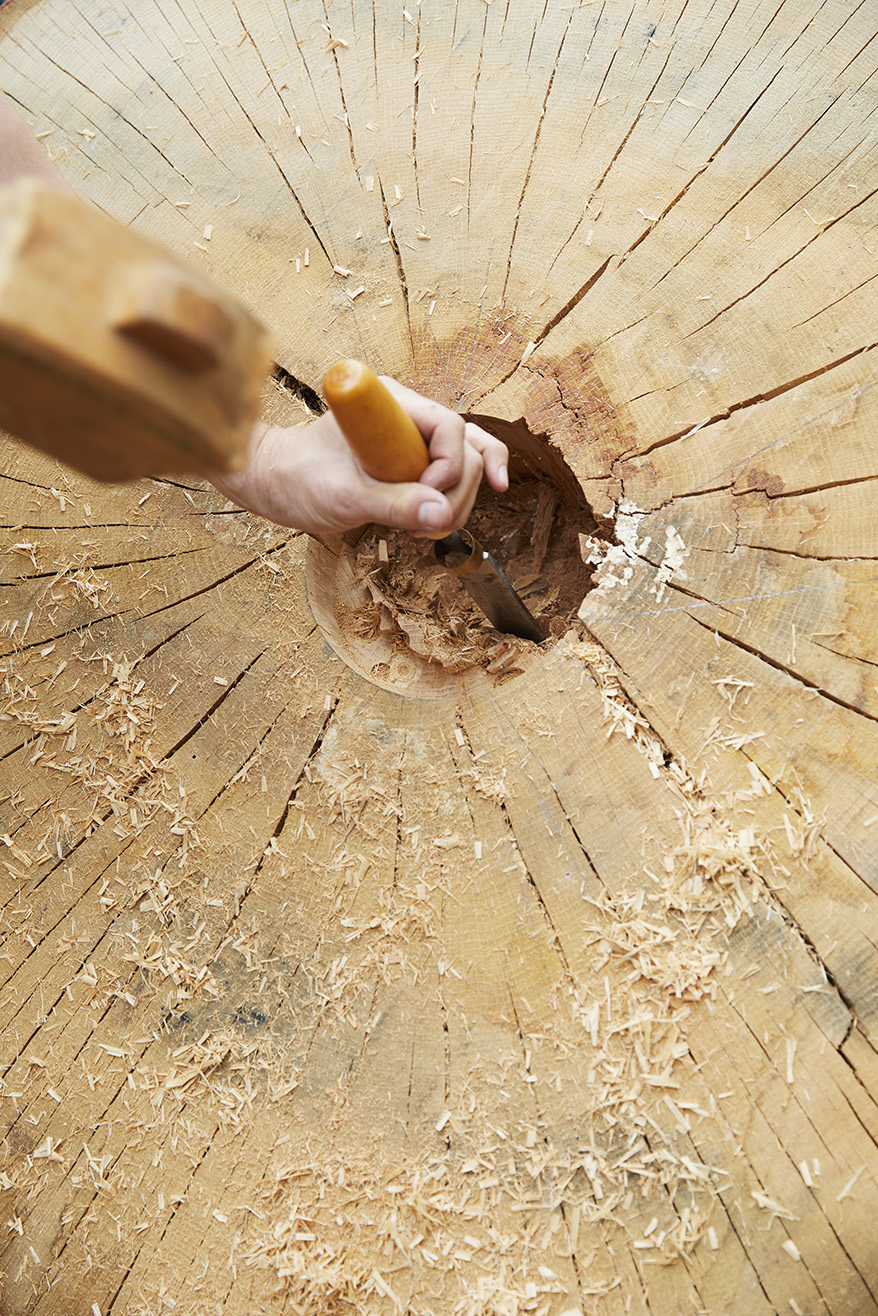 Working the wood and making a spindle
Gareth Neal:
"My wheel and its accompanying drawings are an encyclopaedia of this evaluation, from the problems of drying and splitting timber, through the first attempt to make a spindle, to a celebration of the cross directional strength of the elm hub. Each thought is a step along the road that led to the wheel we know now."
(c)Jon Stokes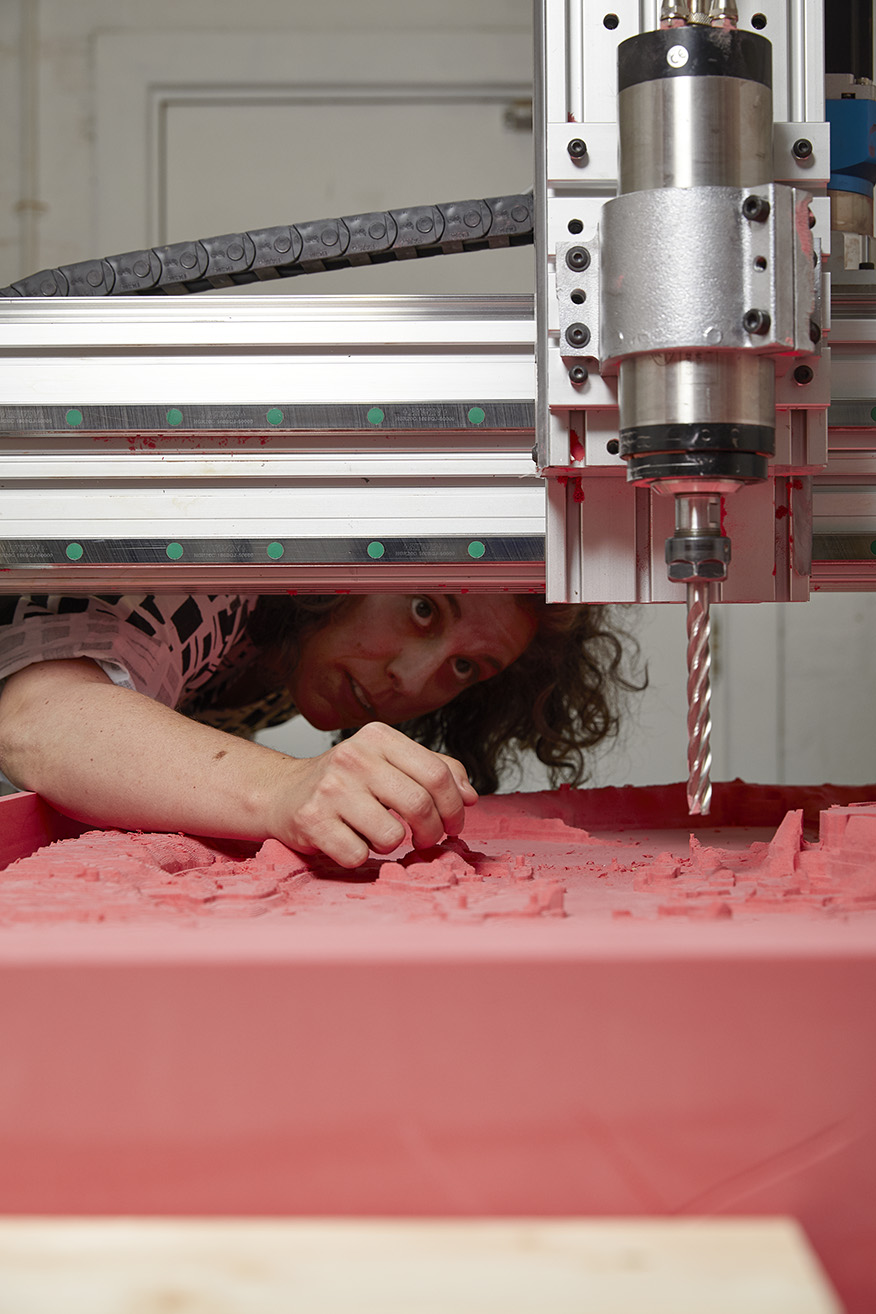 Digital scanning and printing of The MERL's wheel
Zoe Laughlin:
"There is often a misconception that using digital tools allows the maker, intent on copying a form with exactitude, an easy route to high-fidelity results."
(c)Jon Stokes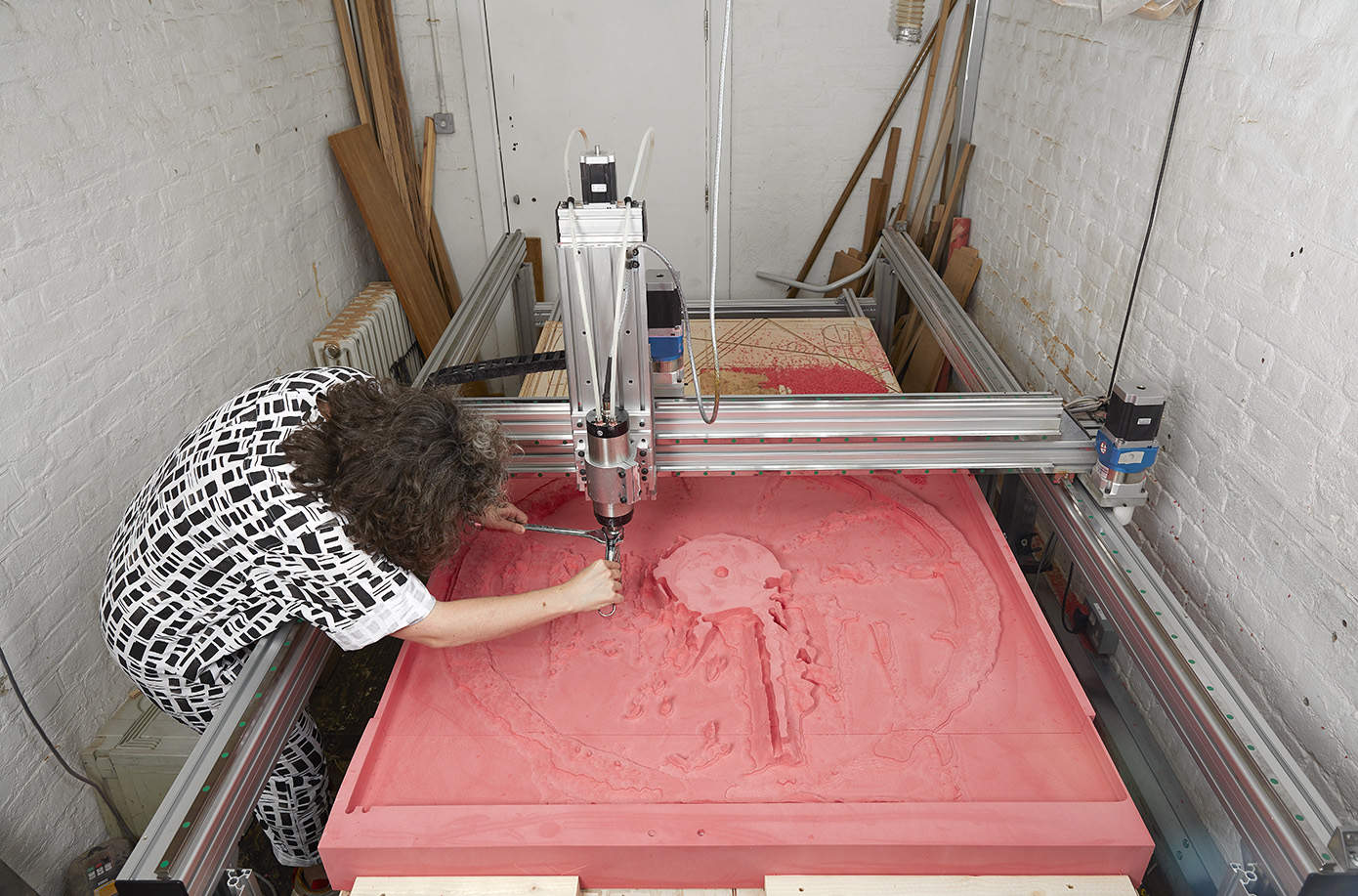 Preparing for 3D printing
Zoe Laughlin:
"My first step was to scan the original wheel with a handheld infrared camera attached to a laptop.  No matter how slowly I swept the sensor over and around the subject, areas inexplicably failed to register."
(c)Jon Stokes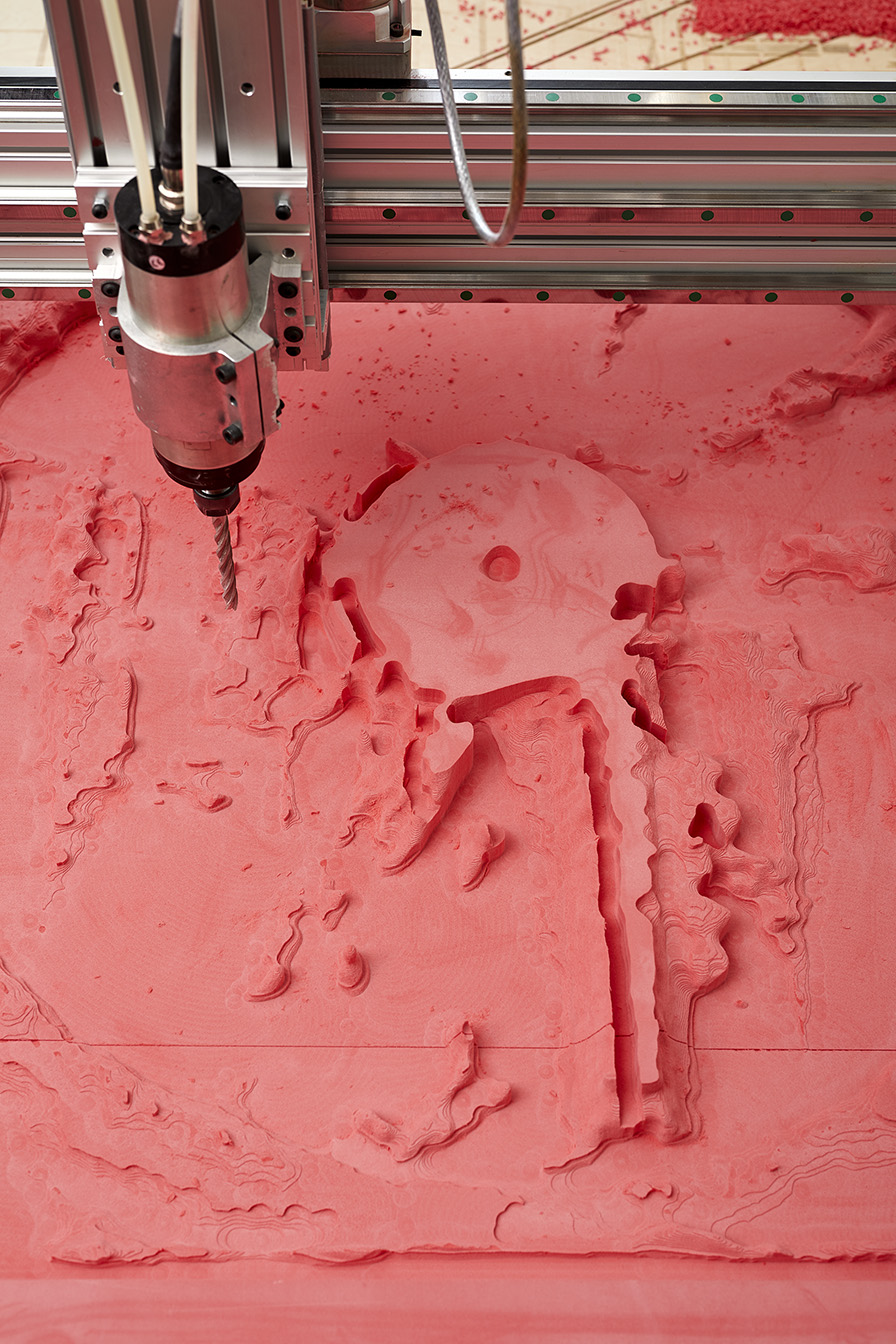 Converting the scan to print
Zoe Laughlin:
"The proprietary software performs a number of adjustments in order to render the scan fit to print. In this case an array of support structures were added to the wheel's typology in order to compensate for areas with undercuts and gaps."
(c)Jon Stokes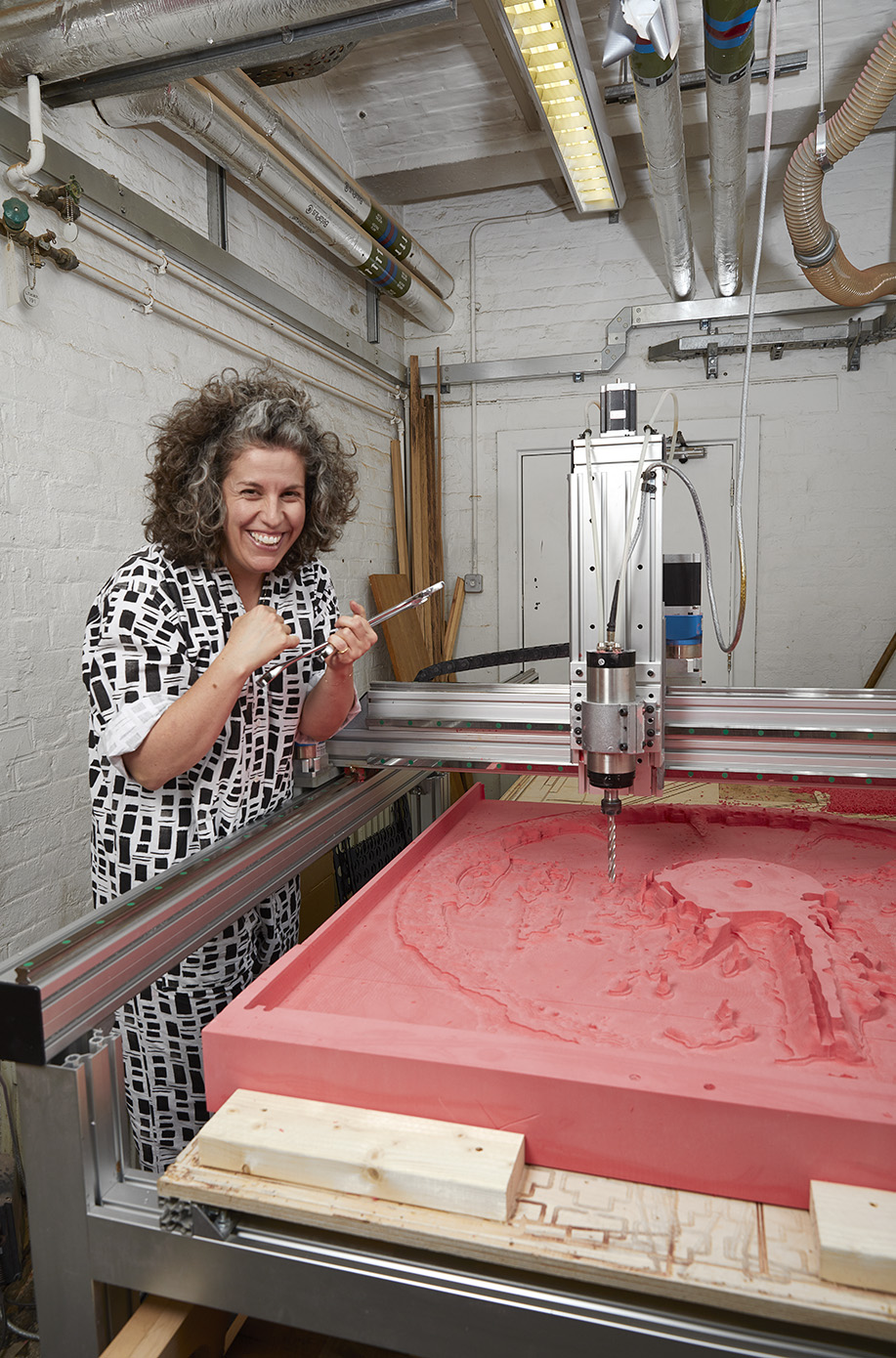 3D printing
Zoe Laughlin:
"The wheel needed to stand unaided in order to be captured in one continuous scan. I constructed a relatively unobtrusive jig of floor chocks and a thin wooden shaft leading up to the central hub of the wheel…I decided to [first] print the wheel with a diameter of 10cm in order to play to the strengths of the tool and ensure the best print possible. The 3D printer extruded polylactide (PLA) thermostat filament."
(c)Jon Stokes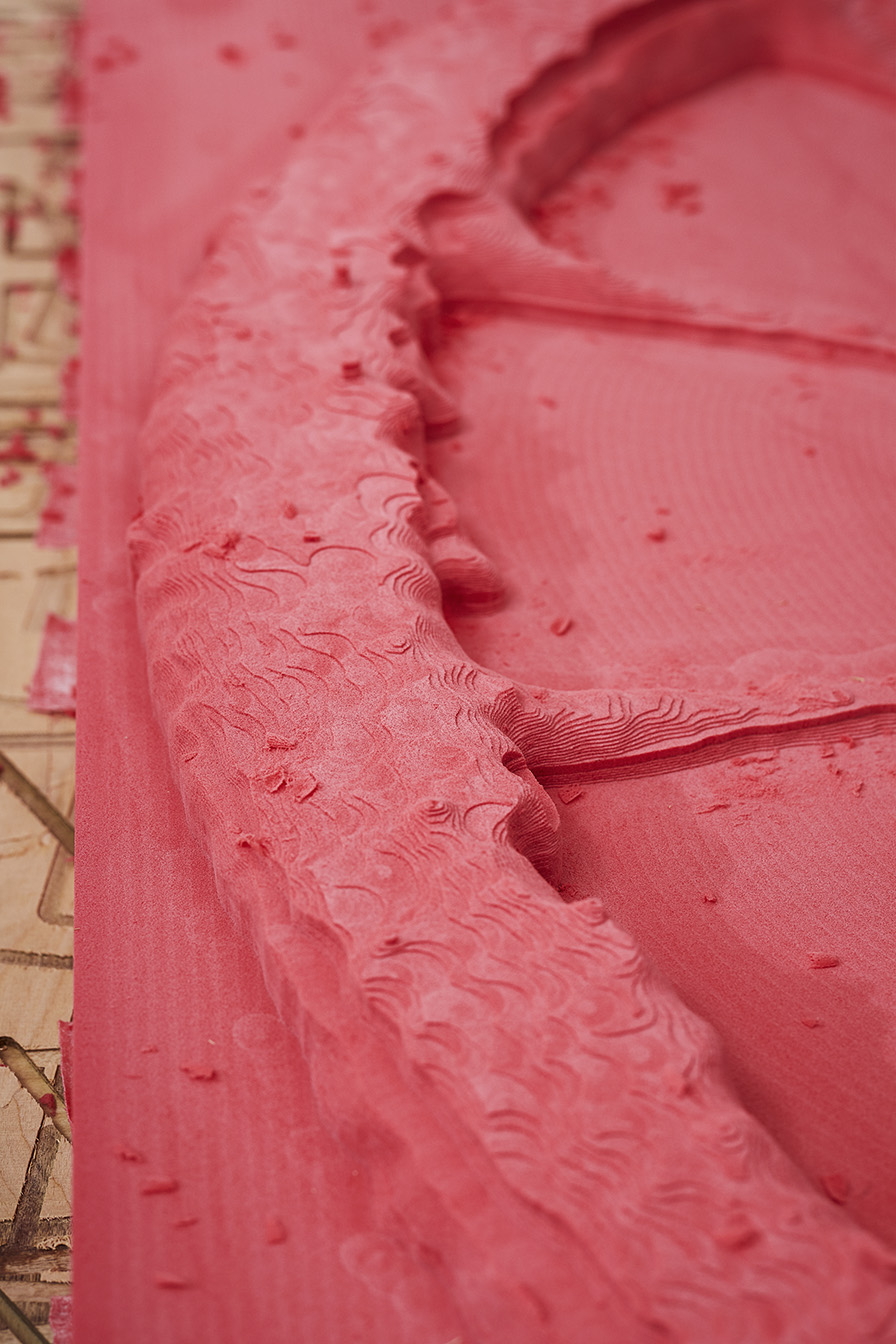 A wheel made of printed polyurethane
Zoe Laughlin:
"I chose to use pink low density polyurethane foam as my material stock from which to mill the digital ruin of a wheel. It is a material beloved by model makers in industries such as architecture, aerospace, film and Formula 1. It is lurid, smelly, relatively fragile, totally inappropriate for wheel making and perfect for machinery with a computer numerically controlled (CNC) mill."
(c)Jon Stokes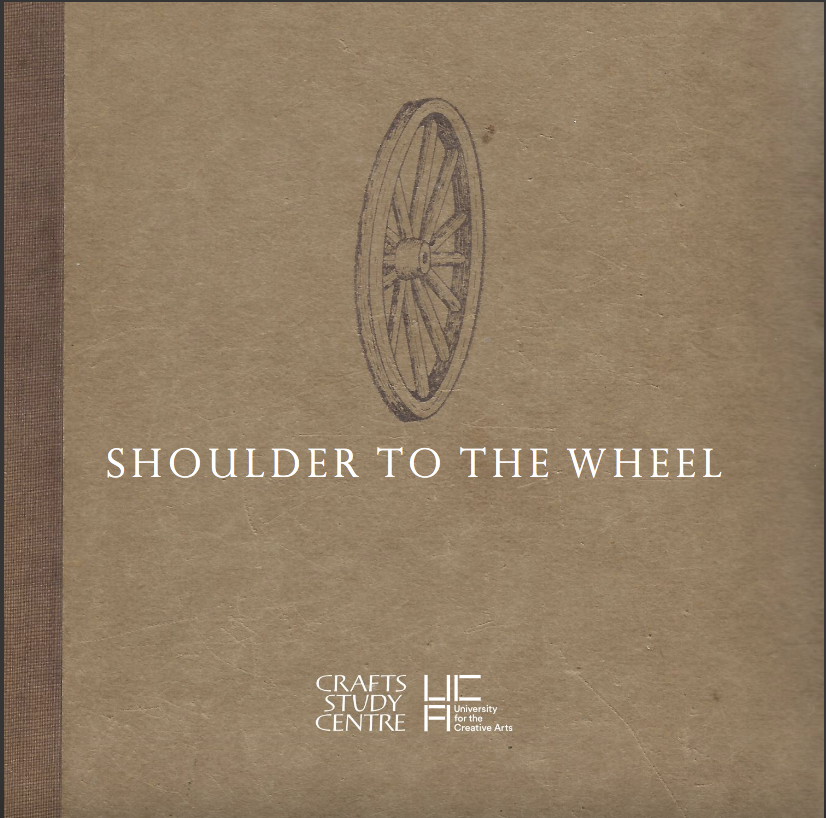 Shoulder to the Wheel catalogue
If you want to know more about the exhibition at The MERL, and all the makers, we have produced a catalogue which sells for £10 in our shop.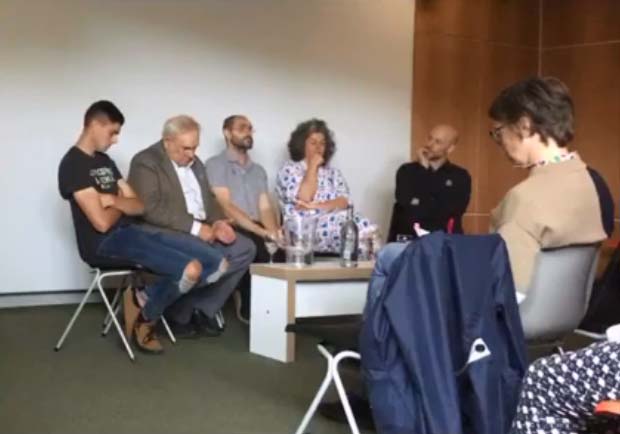 Shoulder to the Wheel Symposium, September 2019
Should you need more persuading, take a look at some footage from a recent symposium at the Crafts Study Centre when the makers met to reflect on the project. Greg Rowland was represented by his father, Mike, and apprentice, George.
Dr Paddy Bullard of the University of Reading's Department of English Literature also gave a talk on George Sturt and his seminal work, "The Wheelwright's Shop."
Explore the Exhibition