Making Rural England - Coopering and thatching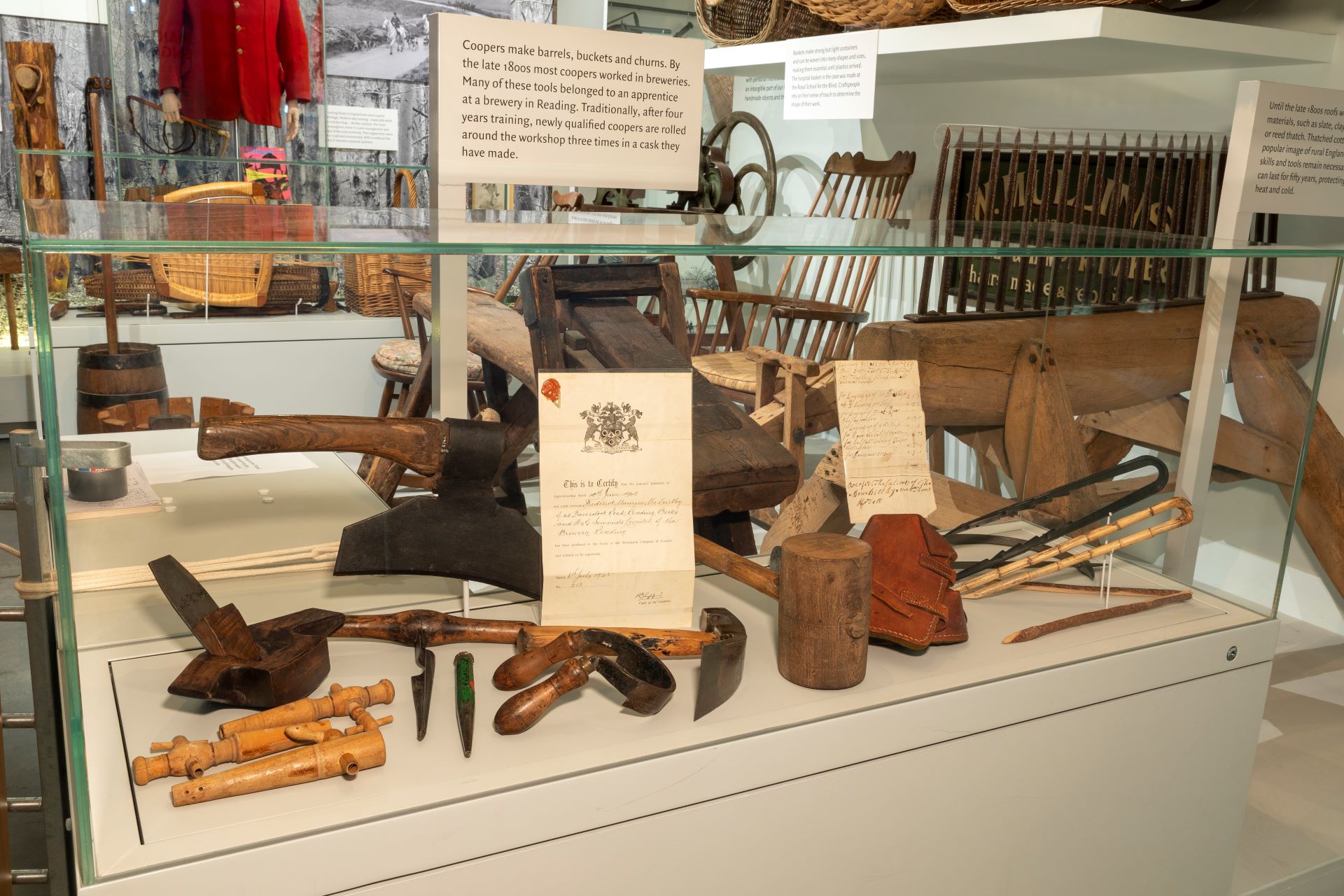 Making Rural England - Coopering and thatching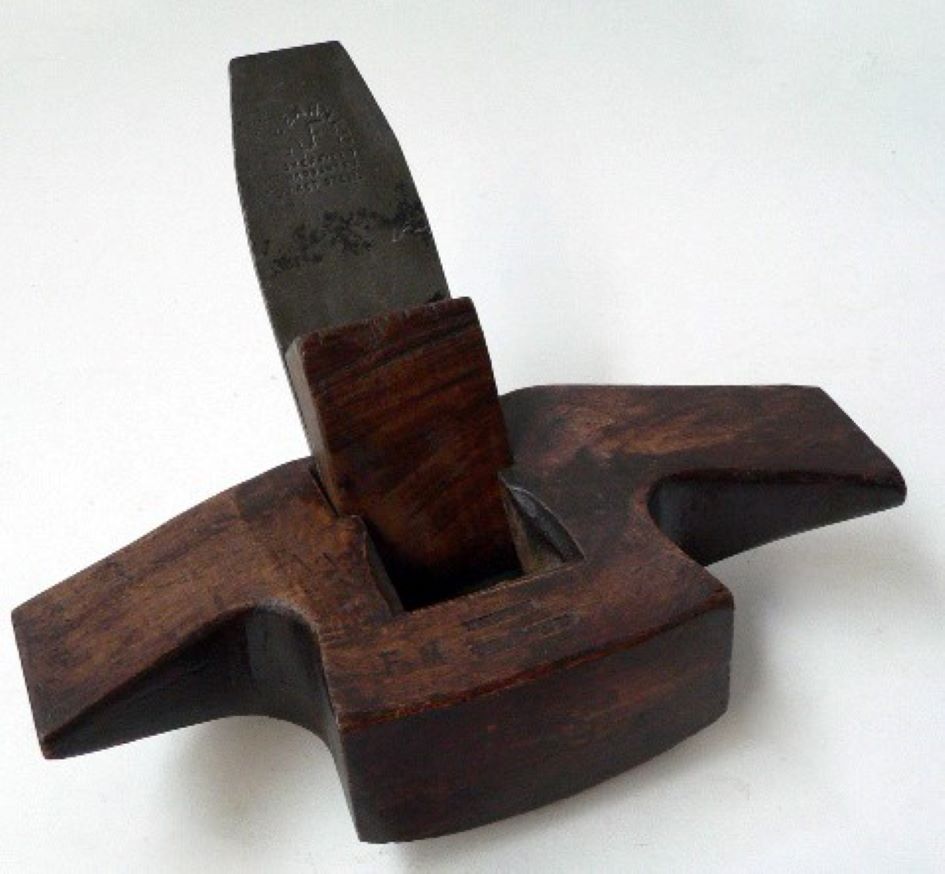 Inside shave
This inside shave is one of a set of cooper's tools used by the donor, Mr McCarthy, during his apprenticeship and career as a cooper at Reading Brewery from 1948. A cooper uses an inside shave to clean the inside of a cask. Mr McCarthy started his coopering apprenticeship at Reading Brewery on 10 June 1948, aged 17, and finished in March 1952. No members of his family were coopers but he started because his friend's father was a cooper. He worked 40 hours a week during his apprenticeship doing piecework with a trained cooper who was his master. Up to the age of 18 all earnings went to the master cooper; aged 18-20 half went to the apprentice, a quarter to the master and a quarter to the brewery; aged 20-21 two thirds to the apprentice, one sixth to the master and one sixth to the brewery.
MERL 2006/15
close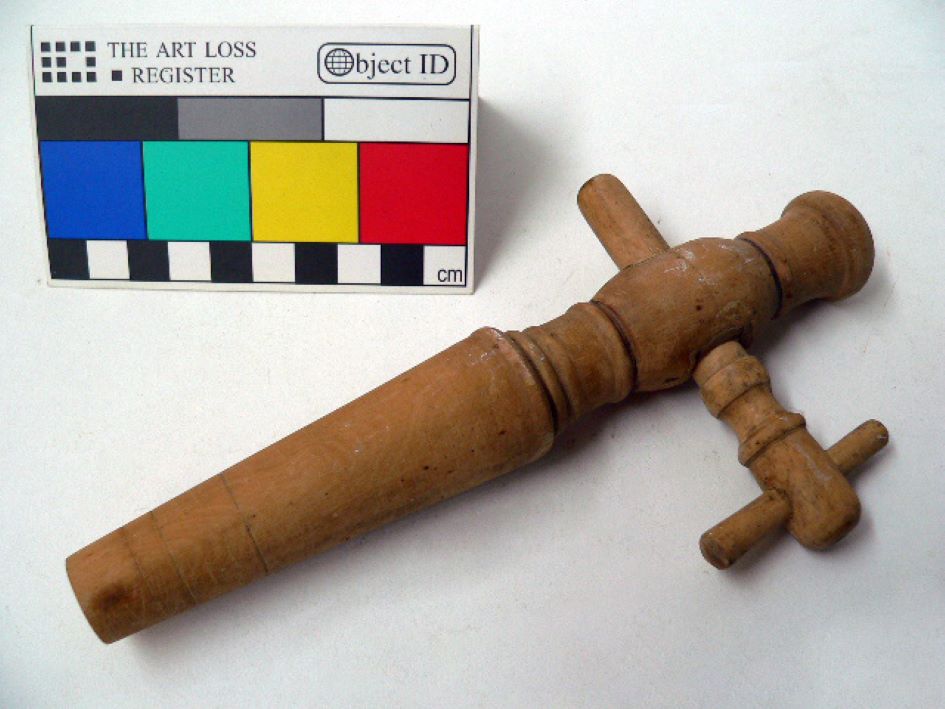 Cask taps
These three cask taps are from a set of cooper's tools used by the donor during his apprenticeship and career as a cooper at Reading Brewery from 1948.
MERL 2006/26
close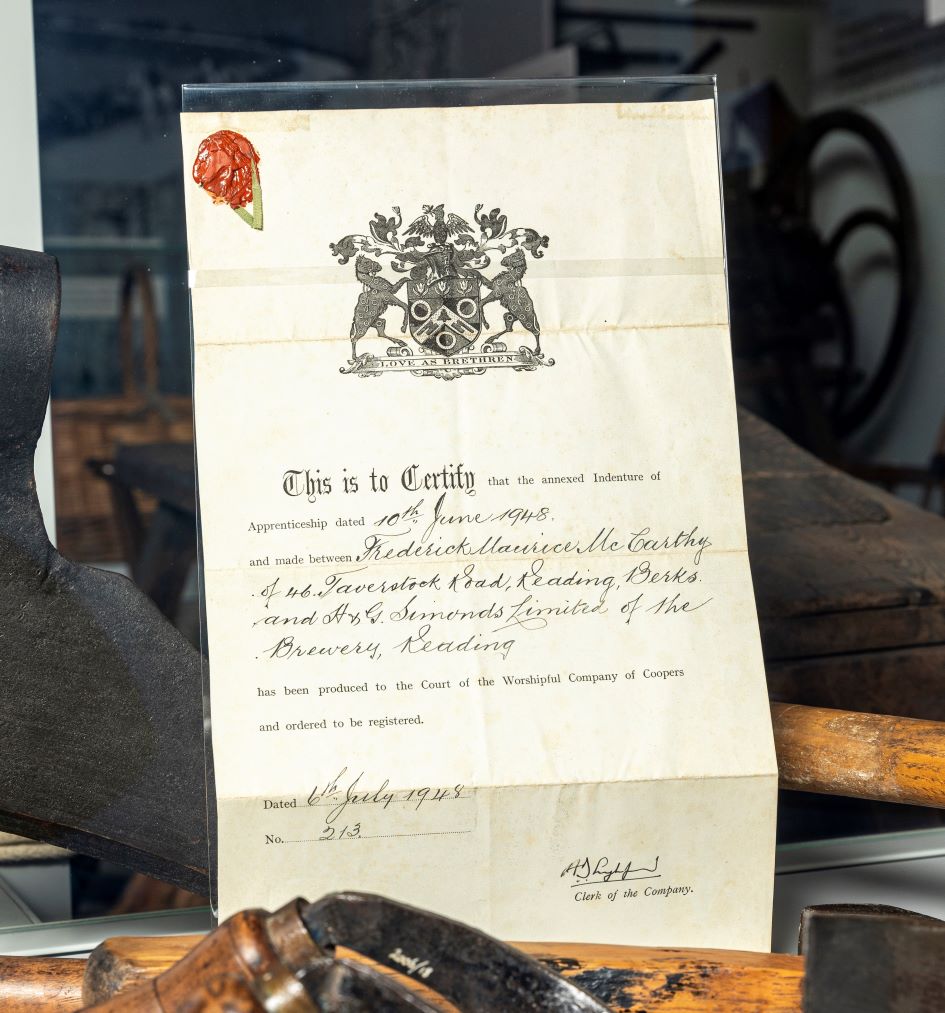 Certificate
This is an Indenture of Apprenticeship certificate, dated 6 July 1948, on cream coloured paper with a red wax seal. It belonged to the donor, who served an apprenticeship as a cooper at Reading Brewery.
MERL 2006/45/2
close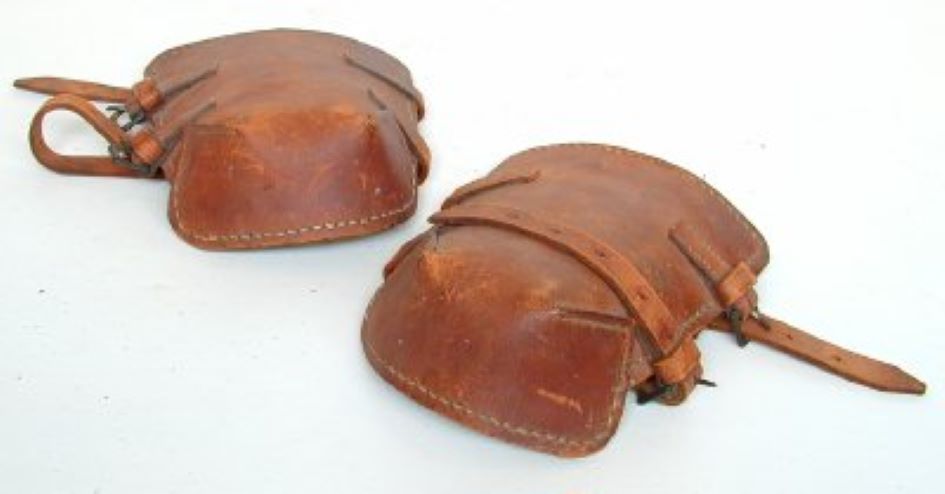 Knee pads
These thatcher's knee pads were made for the thatching exhibit at the Festival of Britain. Knee pads are used not only to protect the thatcher's trousers but also to press down the bunches (or 'yealms') of straw as they are put in place, to pack the bow with yealms, and as a rest against which the spars are cut. These pads are made of strong leather, lined with greenbaize. They are fastened to the knee by two straps and buckles.
MERL 52/88
close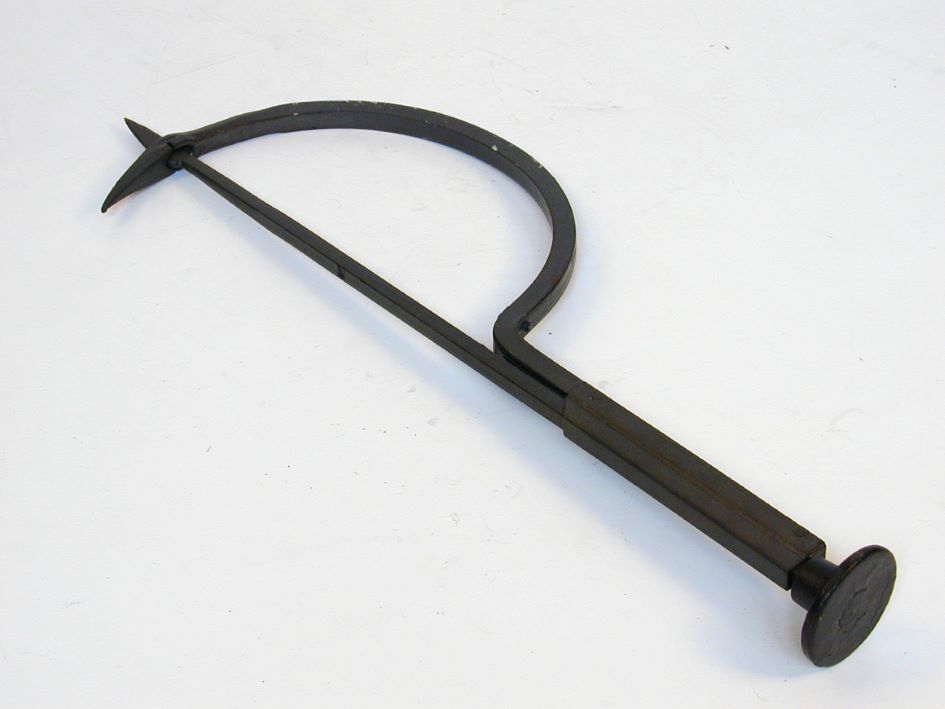 Thatching needle
A thatching needle is used to secure the bunches of straw to the roof and to each other with twine (tarred to keep the mice away).
MERL 66/220
close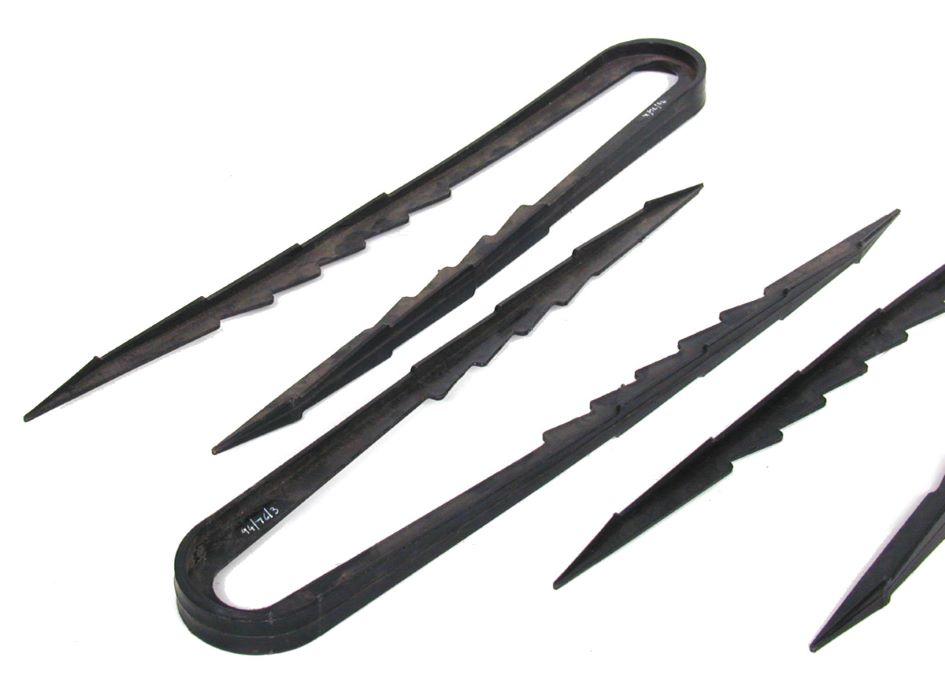 Plastic spar
Spars are used to secure liggers (lengths of split wood used to hole the upper surface of the thatch in place) on the ridges of thatched roofs. The plastic spar was developed circa 1990 by John Fletcher, a thatcher from Christchurch, Dorset; however, they are not very popular with thatchers as they do not grip as well as the traditional hazel spar. These plastic spars are part of a collection of thatching tools donated by Jeff King, a thatcher and former thatching advisor at CoSIRA.
MERL 94/67/1
close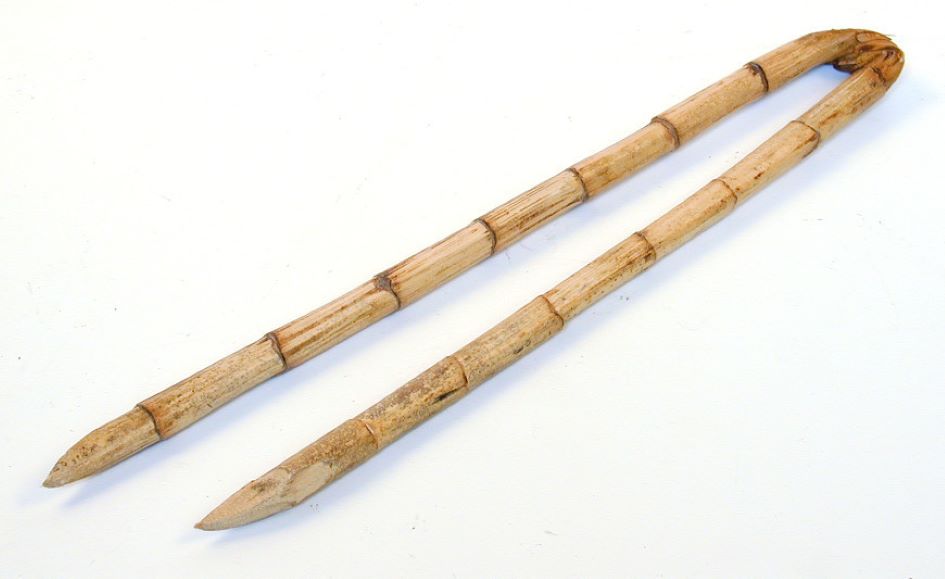 Bamboo spar
This is a thatching spar, made from imported pang from Malaysia. The spar is twisted into a staple shape, with sharpened ends. Spars are used to secure liggers (lengths of split wood used to hole the upper surface of the thatch in place) on the ridges of thatched roofs. This spar was part of an exhibition of teaching material on thatching used by Jeff King, a thatcher and former thatching advisor at CoSIRA, at the Adult Education Centre at Knuston Hall, near Wellingborough, Northamptonshire.
MERL 99/9
close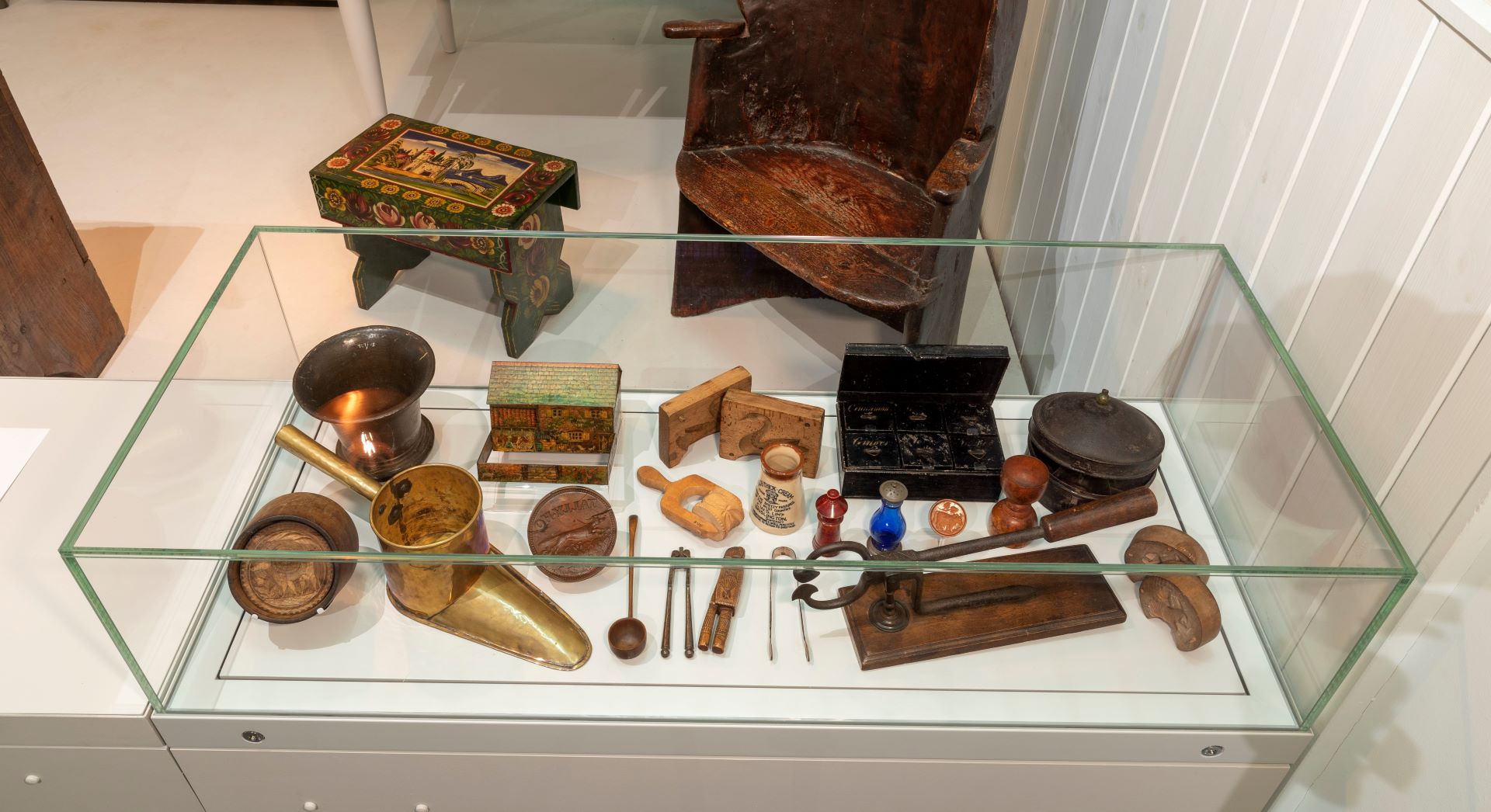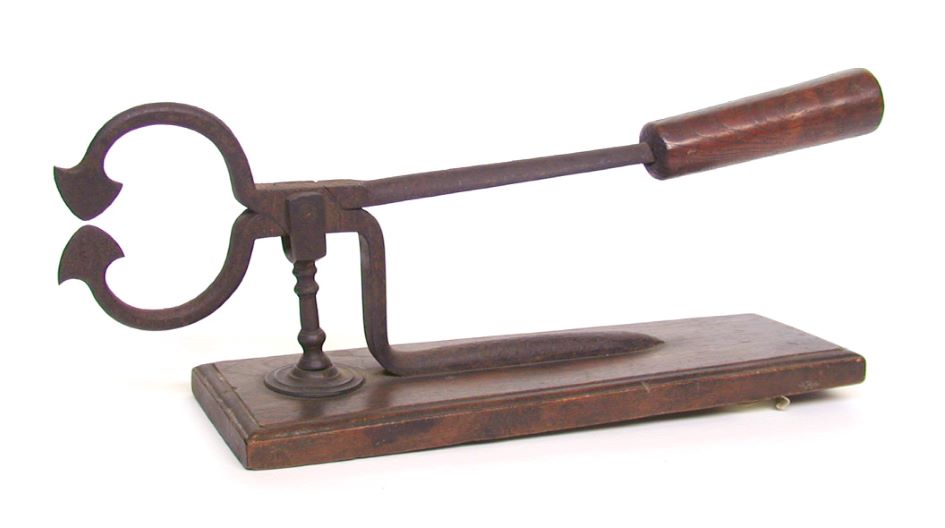 Sugar cutters
Although rarely seen in households in the modern day, a pair of sugar cutters was an important tool for families before the introduction of the sugar cube in the 19th century. Before this time, sugar was sold only in large cones known as sugarloafs. These cutters were used to cut off small, manageable pieces.
Demand for sugar was arguably the most significant driver of the transatlantic slave trade, with over 46,000 slave owners in Britain in 1833. The dreadful conditions on sugar plantations were important factors in the abolition campaign, as many appalled consumers began buying East Indian 'free-grown' sugar instead.
MERL 51/543
close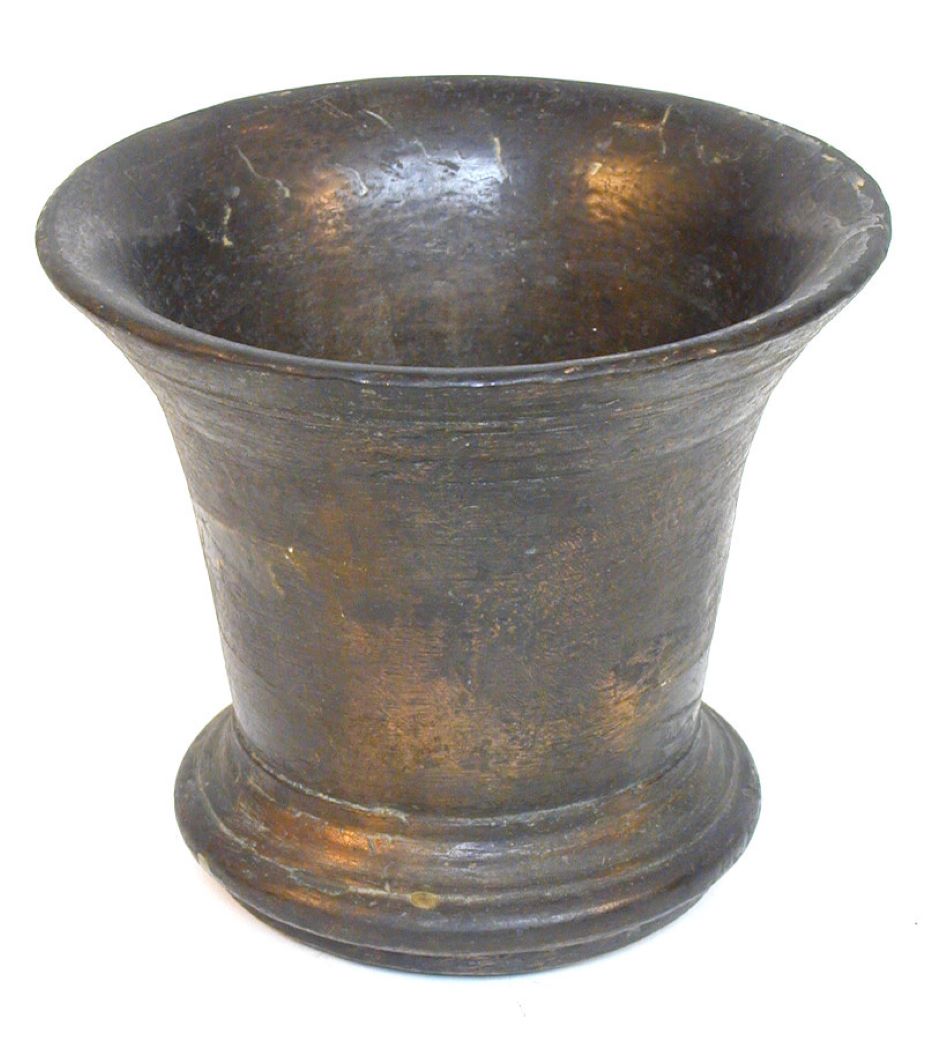 Mortar
As well as being used to grind spices and nuts along with a pestle, this bronze mortar would have been utilised as a mixing bowl. It was used in Nottinghamshire from 1860 to 1915, and then in Newbury until 1951.
The humble pestle and mortar is one of humanity's oldest and most common tools. A description of pestles and mortars features in the oldest piece of medical writing on record, included within the Ebers papyrus of Ancient Egypt and dating to 1550BC. It is likely that the tool was used for thousands of years before this for food preparation.
MERL 51/434
close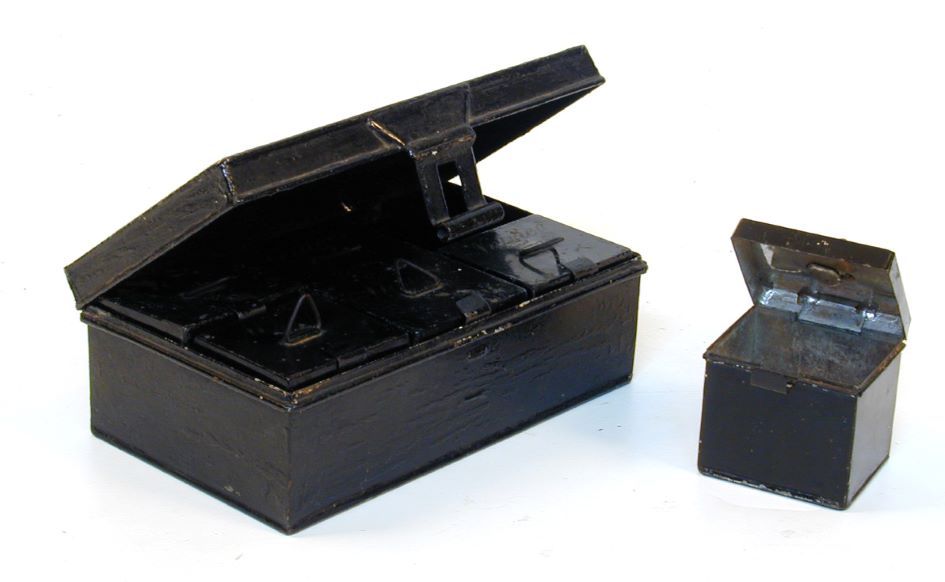 Spice box
This spice box would have held spices to keep them fresh. Labelling inside the box indicates it carried cinnamon, mace, allspice, nutmeg, ginger and cloves. In the medieval period, spices were extremely expensive and a sign of status, with a pound of ginger costing roughly the same as a sheep. However, with British colonial influence growing in the 19th century, they became more affordable for British households.
Many spice plantations made use of slave labour. Some overseers, such as Murdoch Brown of the Anjarakandy Cinnamon Estate in India, kidnapped local women and children and forced them to work. For more information, see this online exhibition on the ways in which our holdings reflect colonial India.
MERL 53/184
close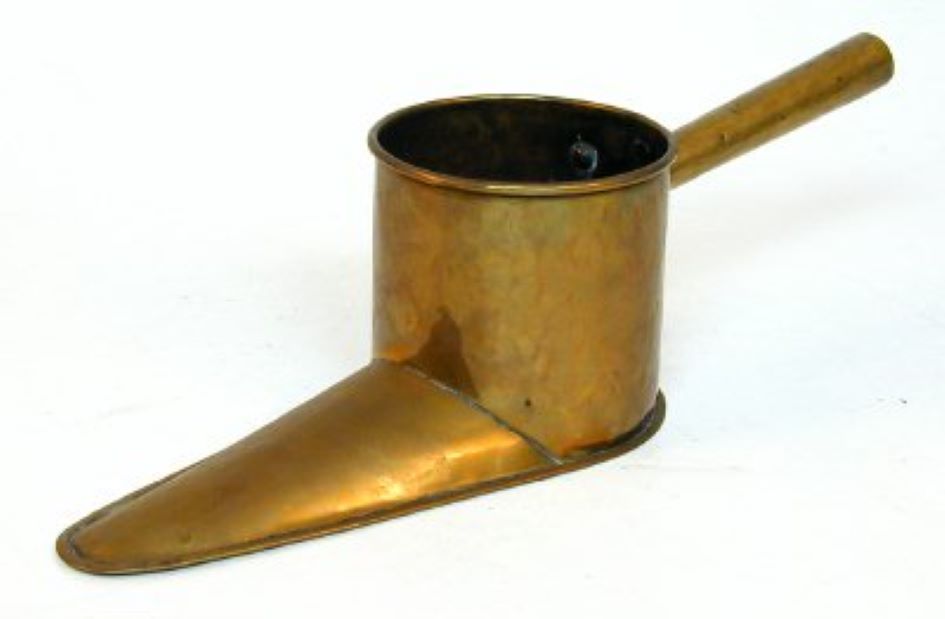 Drink muller
Dating to the late 18th or early 19th century, this brass 'muller' would have been used to warm drinks over a hearth. For obvious reasons it was known as a 'boot'. The 'toe' part would have been placed in the fire to warm the muller. It is during this process that spices may have been added to complement the flavour of the drink. Cinnamon, cloves and nutmeg were popular additions to ale, wine or cider.
The mulling process is thought to derive from the Romans, who would heat their wine as a defence against winter chills.
MERL 53/273
close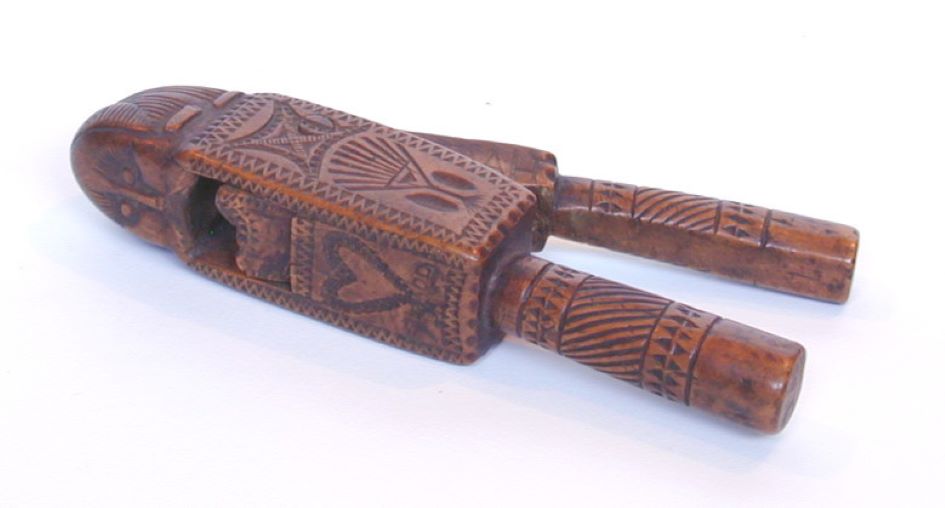 Nutcracker
This nutcracker dates from 1789 and features many carvings, including the inscription 'Sarah'. It was initially recorded as French, but this has since been disputed due to its pronounced head, which is typical of English nutcrackers.
Of the few edible nuts native to the UK, the hazelnut has played the most prominent role in our history of food and commerce. They would have been an essential food source for prehistoric peoples looking to survive the winter. In medieval times, Kent developed a hazelnut industry which is still going strong today. Other popular nuts have been imported – for example, sweet chestnuts and walnuts were likely brought over by the Romans.
close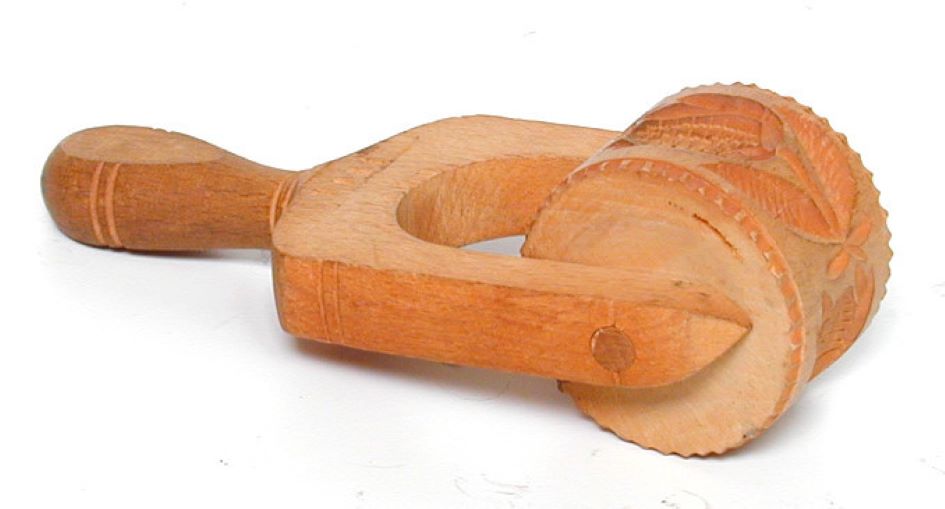 Butter roller
This is a butter roller, which is designed to leave a pattern around the edge of a block of butter. Printing this pattern is the final stage for many butter makers, after the butter is shaped with paddles or a mould. This roller leaves a tulip pattern. Some have suggested that a certain pattern can help indicate the region the roller was made in. For example, thistles are associated with Yorkshire. It is likely this particularly roller has never been used, as it was made for a Rural Industries Bureau exhibition in the late 1940s or early 1950s.
MERL 83/91
close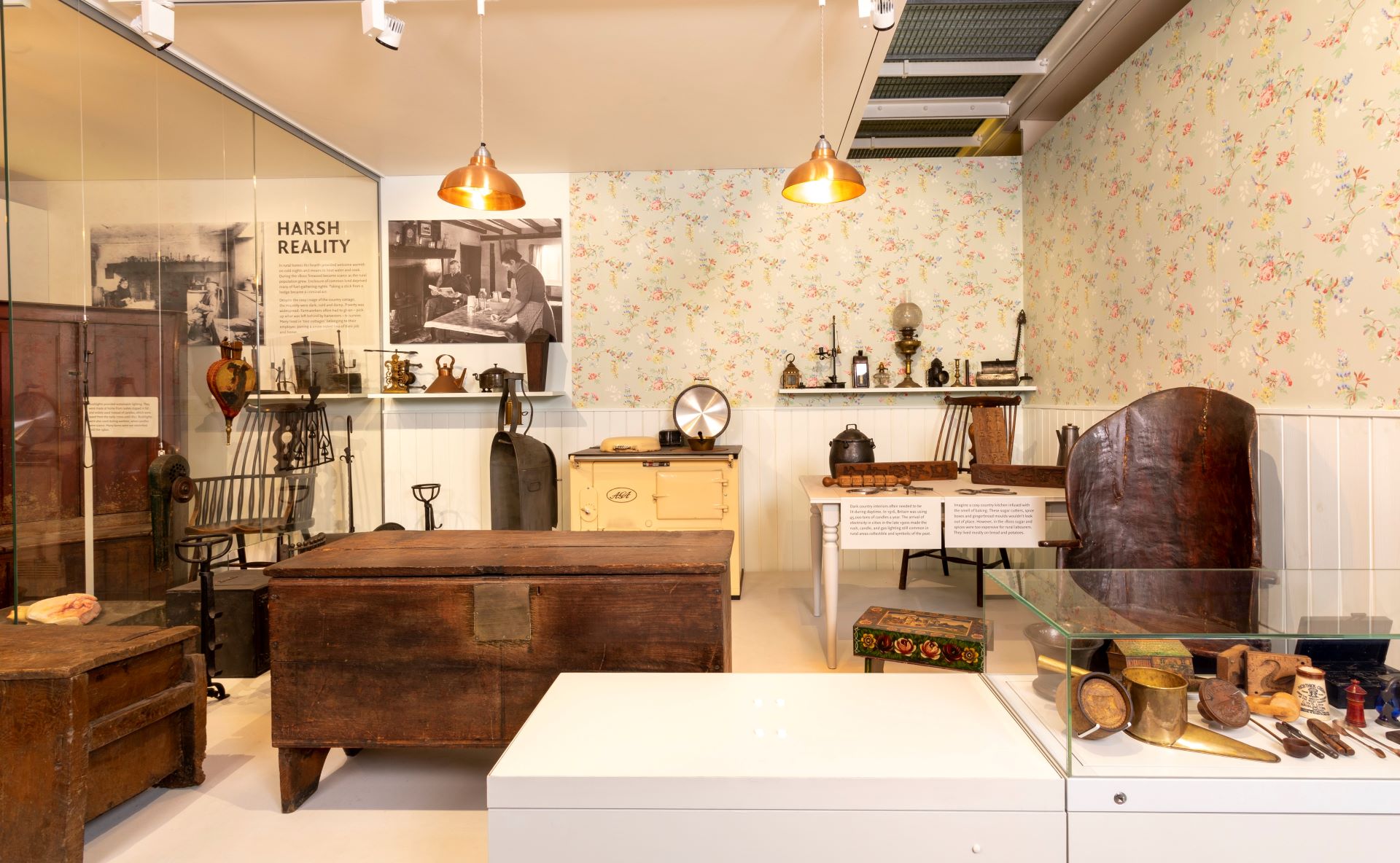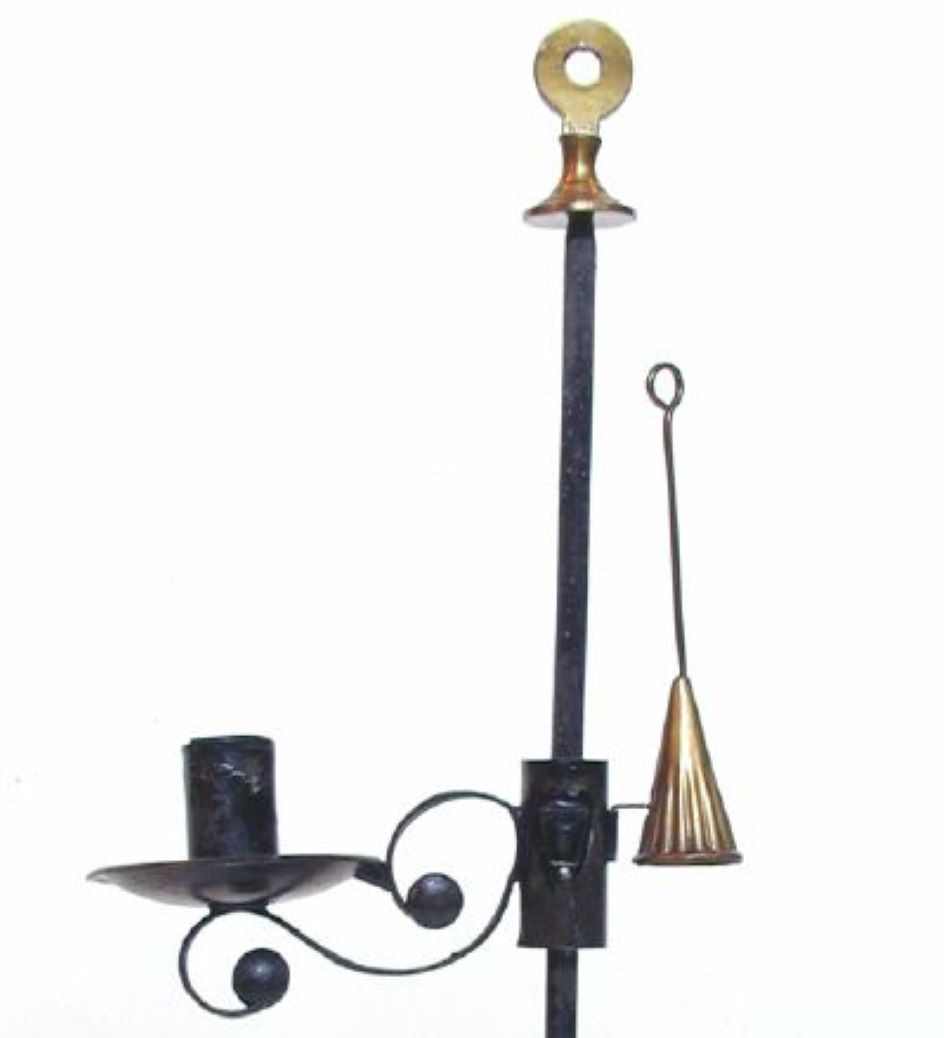 Candlestick
This candlestick is accompanied by a brass 'snuffer' which is placed atop the candle to extinguish the flame. It was bought by Lavinia Smith for sixpence in 1924.
It was not until well into the 20th century that electric lighting replaced candles and oil lamps in most homes. Though candle-making is an ancient craft, its scale was transformed by the industrial revolution. In 1834 Joseph Morgan patented a machine that could make 1500 candles in an hour.
MERL 51/478
close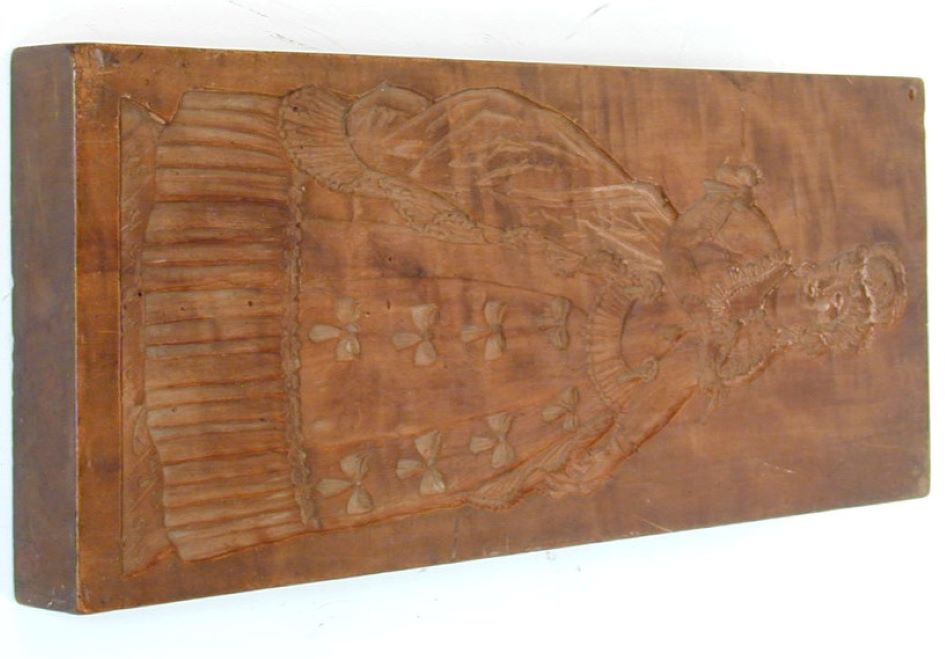 Gingerbread mould
Gingerbread moulds like this were commonplace across Western Europe in the 19th century. This French mould features a large imprint of a woman on one side, and nine figures – three military, three rural and three musical – on the other side.
Gingerbread has been enjoyed by British people for hundreds of years, ever since the introduction of ginger around the 11th century, when Crusaders returned from the Middle East with recipes for spiced bread. Biscuits known as 'fairings' were baked and sold at medieval fairs. By the 18th century gingerbread was always readily available.
MERL 51/108
close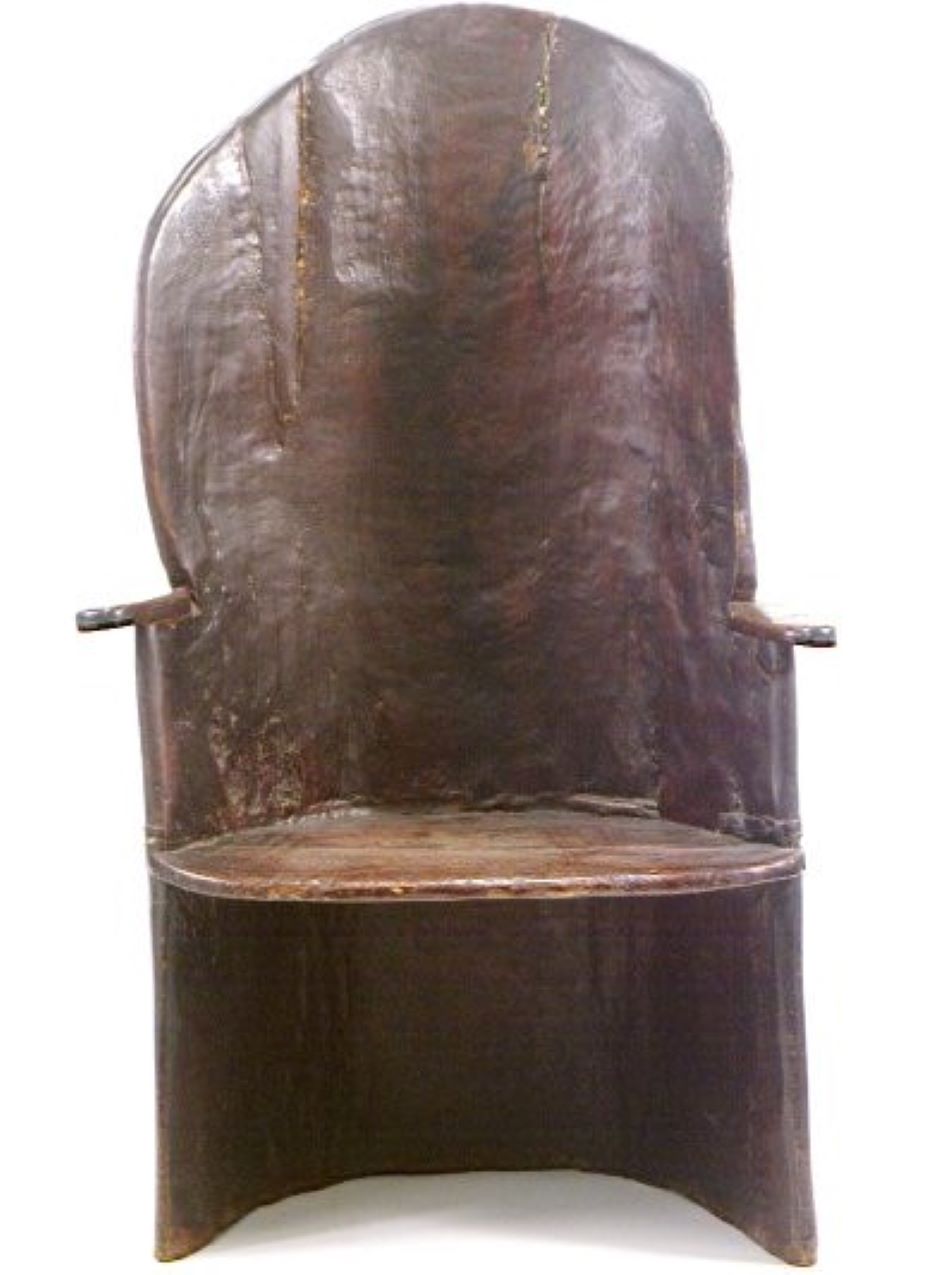 Dug out chair
Crafted in Shropshire between 1760 and 1850, this chair was shaped using the natural hollow of an elm tree trunk to produce the curved shape of the chair's back. This style of chair was fairly popular in the 18th century but few examples survive in good condition. An older or rotting tree would be ideal for this type of furniture, as the central sapwood was less firm and easier to remove.
MERL 53/53
close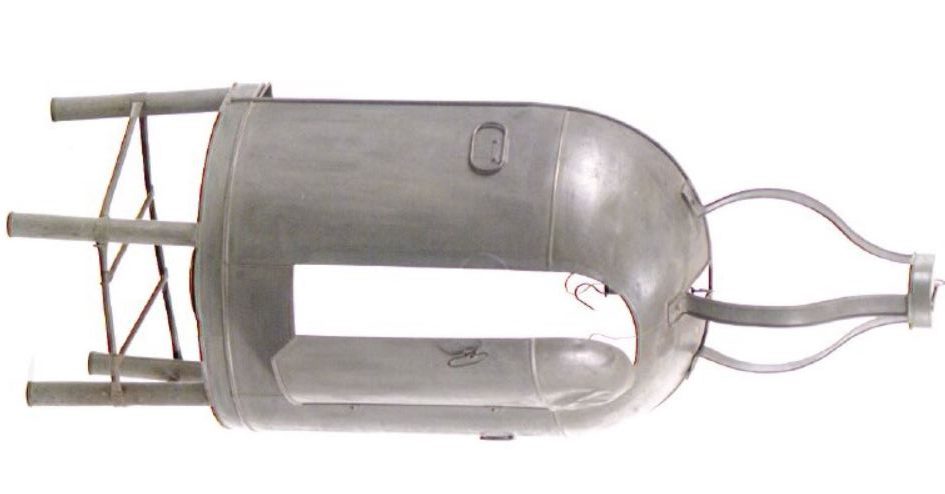 Dutch oven
This is a Dutch oven, which is designed to be stood in front of an open fire to cook food. It was used in the early 20th century and contains a bottle jack and drip pan. The bottle jack is a vertical spit which would rotate within the oven to ensure even cooking. A drip pan is used to collect the juices that drop off the meat during cooking. Catching these 'drippings' would not have been simply to keep the oven clean. They could be used to roast vegetables in the drip pan, or they could be collected later and used as a substitute for butter or oil.
MERL 55/282
close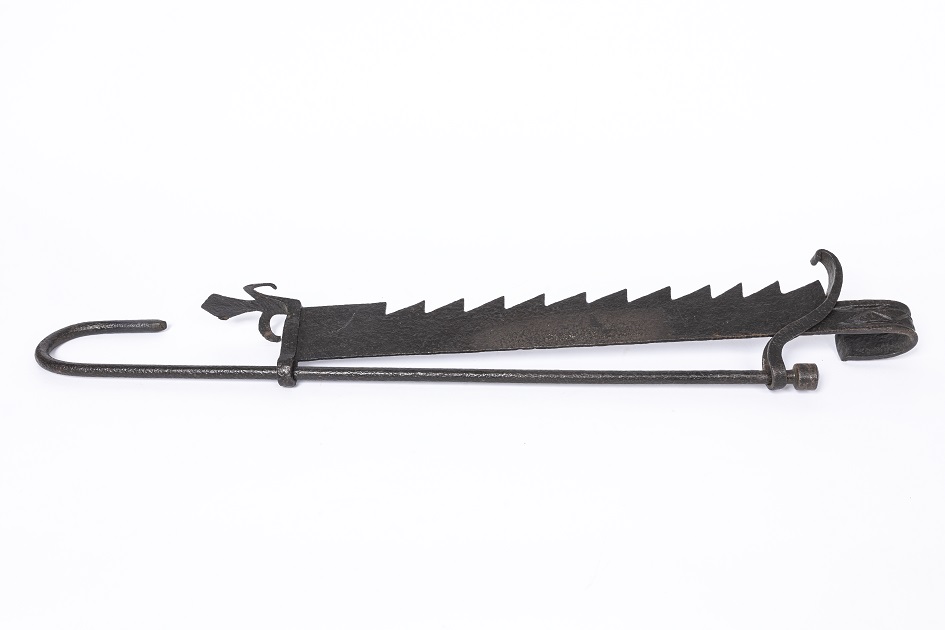 Ratchet hanger
This object, dating from the 18th century and made in Sussex, was used to suspend a cooking pot over a fireplace. The hook was attached to a chimney beam, and the pot hung from the other end. The saw-like ratchets were used to adjust the height of the pot. Essentially, they were the Georgian equivalent of a hob temperature dial on a modern oven. Using a lower ratchet would bring a liquid to the boil, and relocating to a higher ratchet would allow it to simmer.
MERL 59/252
close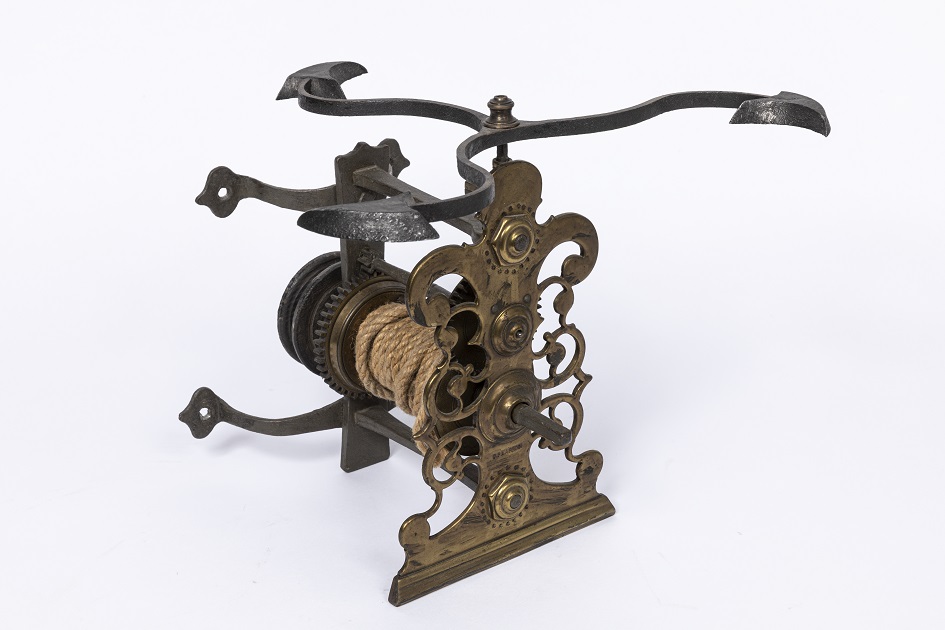 Spit jack
One of the older objects on display, this spit jack dates to the 17th century and would have been used to turn a spit. Otherwise known as a roasting jack or weight jack, this weight-driven device contains gears which would turn the top 'wheel' and therefore rotate the spit.
Various mechanisms have been used to turn spit roasts since they became widespread in the medieval period. Initially they were turned by hand, usually by a boy – this is where the name 'spit jack' derives from. Dogs on treadmills, clockwork jacks and steam powered jacks have all been popular as the design developed.
MERL 59/257
close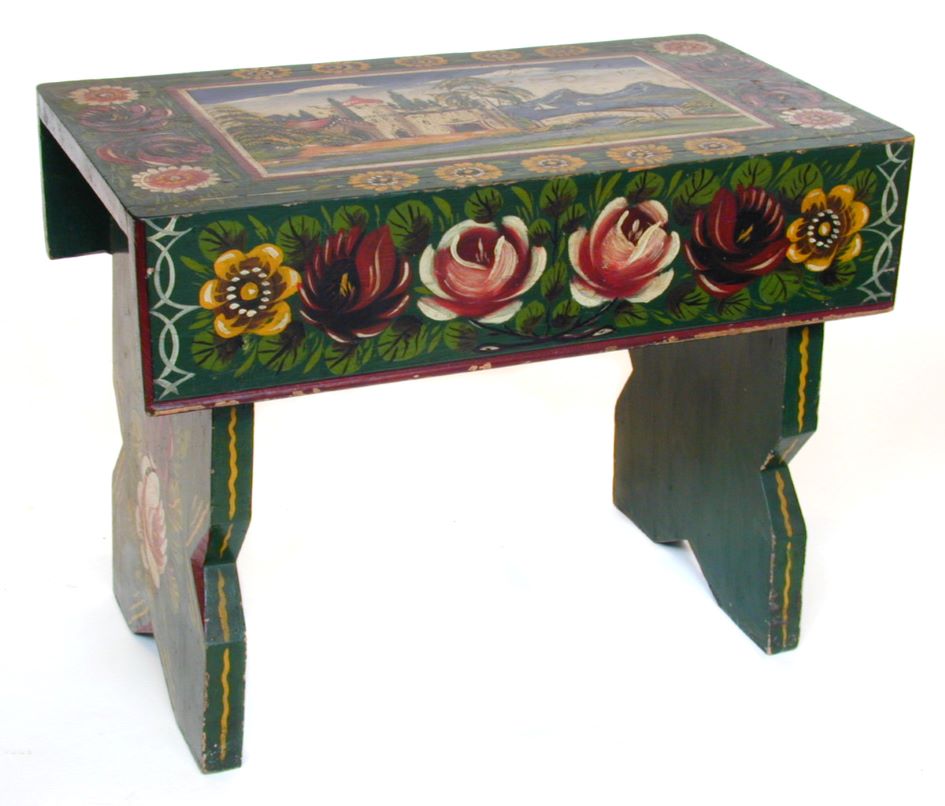 Narrowboat stool
This stool was built for use on a narrowboat, the craft that traverse canals. Throughout the 19th century, many families lived most of their lives on canals as they transported goods from one place to another.
The rose and castle designs of the stool are similar to gypsy art, which led to a popular misconception that canal folk were gypsies, but there is no real evidence to suggest this. However, like gypsies, canal folk were treated poorly by urban dwellers, often being scapegoated for crime and being viewed as uneducated. There is no longer a living population of canal folk, but their art remains a testament to their unique culture.
MERL 60/437
close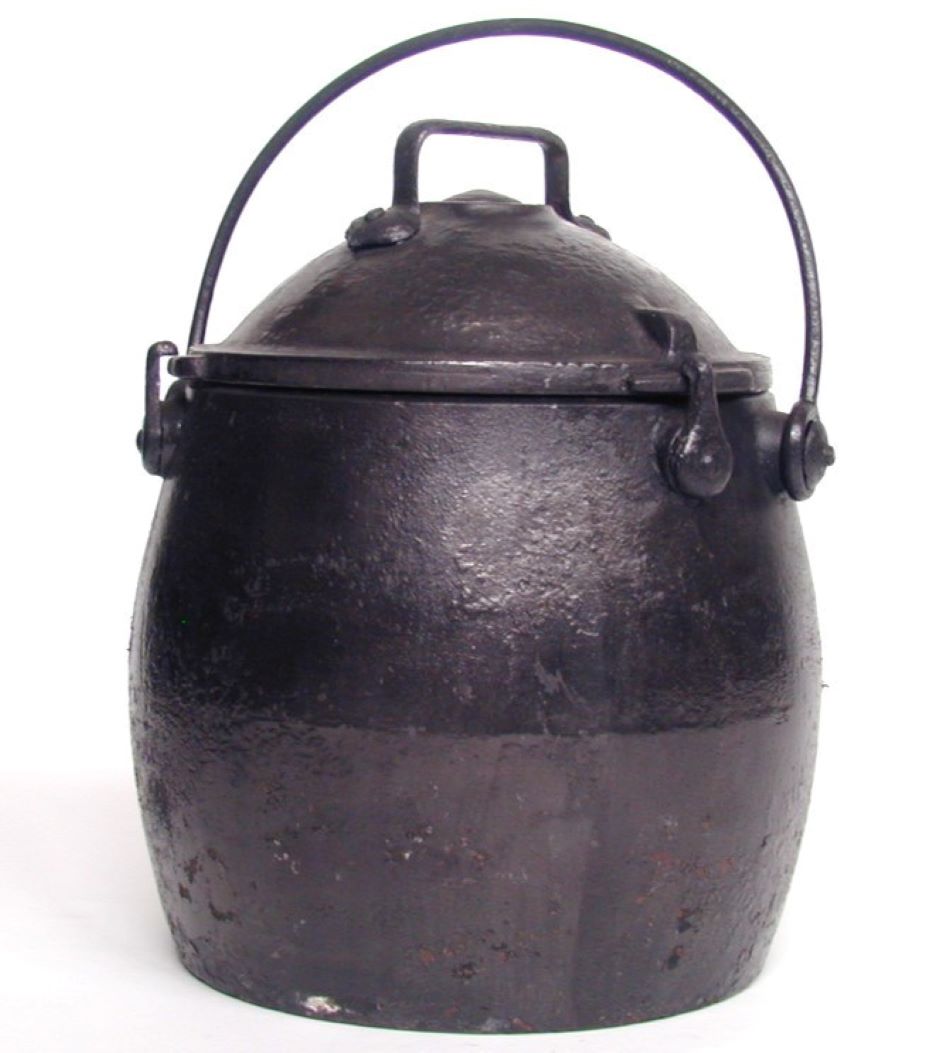 Pressure cooker
Pressure cookers are designed to cook food without any steam escaping, which raises the pressure inside the pot. This increases the boiling point of water and therefore quickly cooks the food without over-boiling it. This cooker is Victorian, but they only became widespread during World War 2. At this time it was realised using a pressure cooker could save fuel, as it cooked food much faster than a regular pot.
Old pressure cookers could be dangerous, as they would violently explode if the steam escape valve became clogged. However, modern models are far safer and must go through rigorous testing before manufacture.
MERL 61/89
close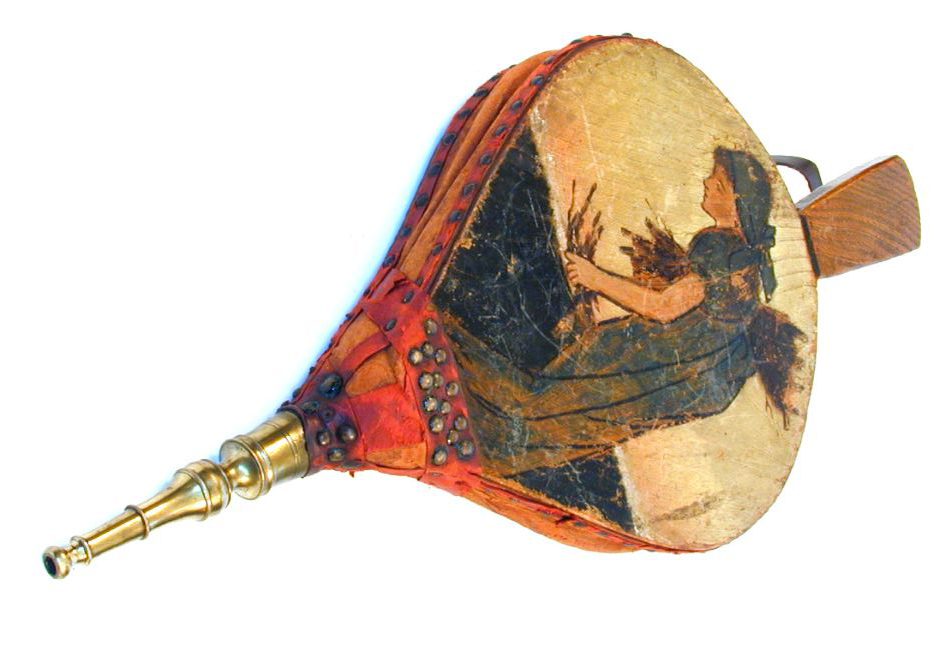 Bellows
These are hearth bellows, used to blow air onto a domestic fire and maintain its temperature. This element of temperature control made bellows useful for cooking, and an essential tool for blacksmiths who needed a particularly hot furnace. Whilst blowing air onto a fire may seem counter-productive, fire needs heat, fuel and oxygen to continue burning. Bellows provide a burst of oxygen.
Fireplace bellows were usually on display for visitors to view, and so they were often decorated to match the style of the room. For example, these bellows were painted by the donor's grandmother.
MRL 68/511
close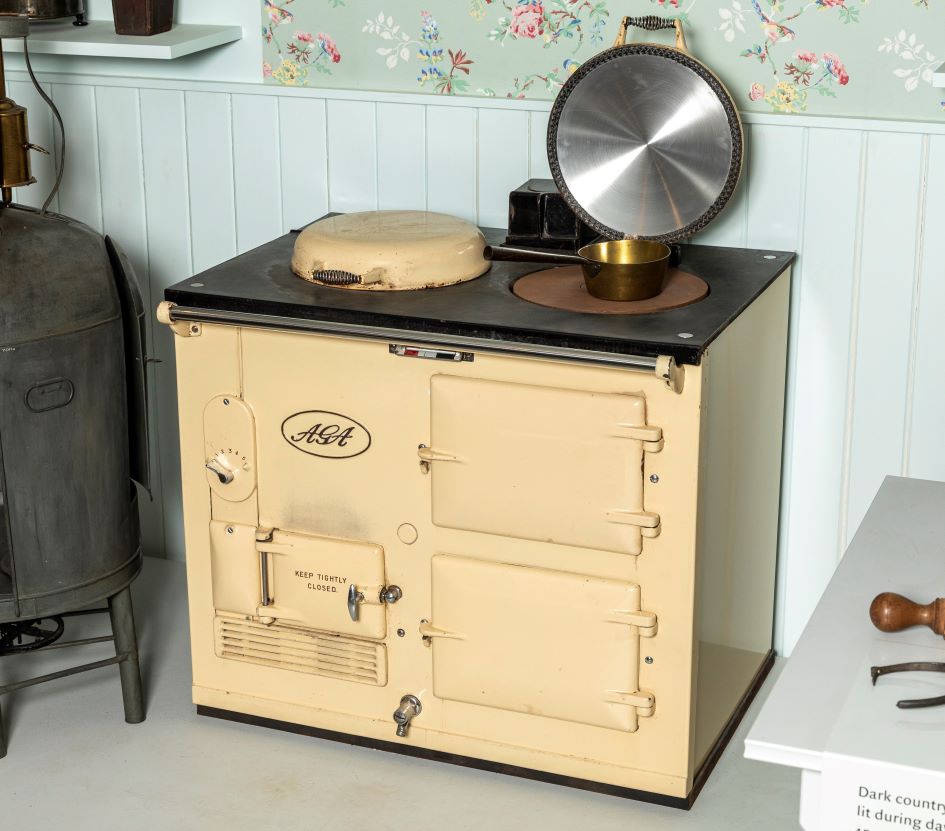 Kitchen range oven
This range oven is made from cast iron. Ovens like this were frequently seen in country farmhouse kitchens in the 20th century. Until the iron casting process was refined by Abraham Derby in 1709, food was typically cooked over open fires which wasted heat and fuel. Cast iron stoves – situated in the fireplace – were gradually developed until the mid-19th century. At this point, rail transport allowed easy delivery of heavy goods and so complete cast iron ovens became more accessible. Different ranges gained popularity with different types of people – for example, the Cornish range was often a staple of mining communities.
MERL 2016/13
close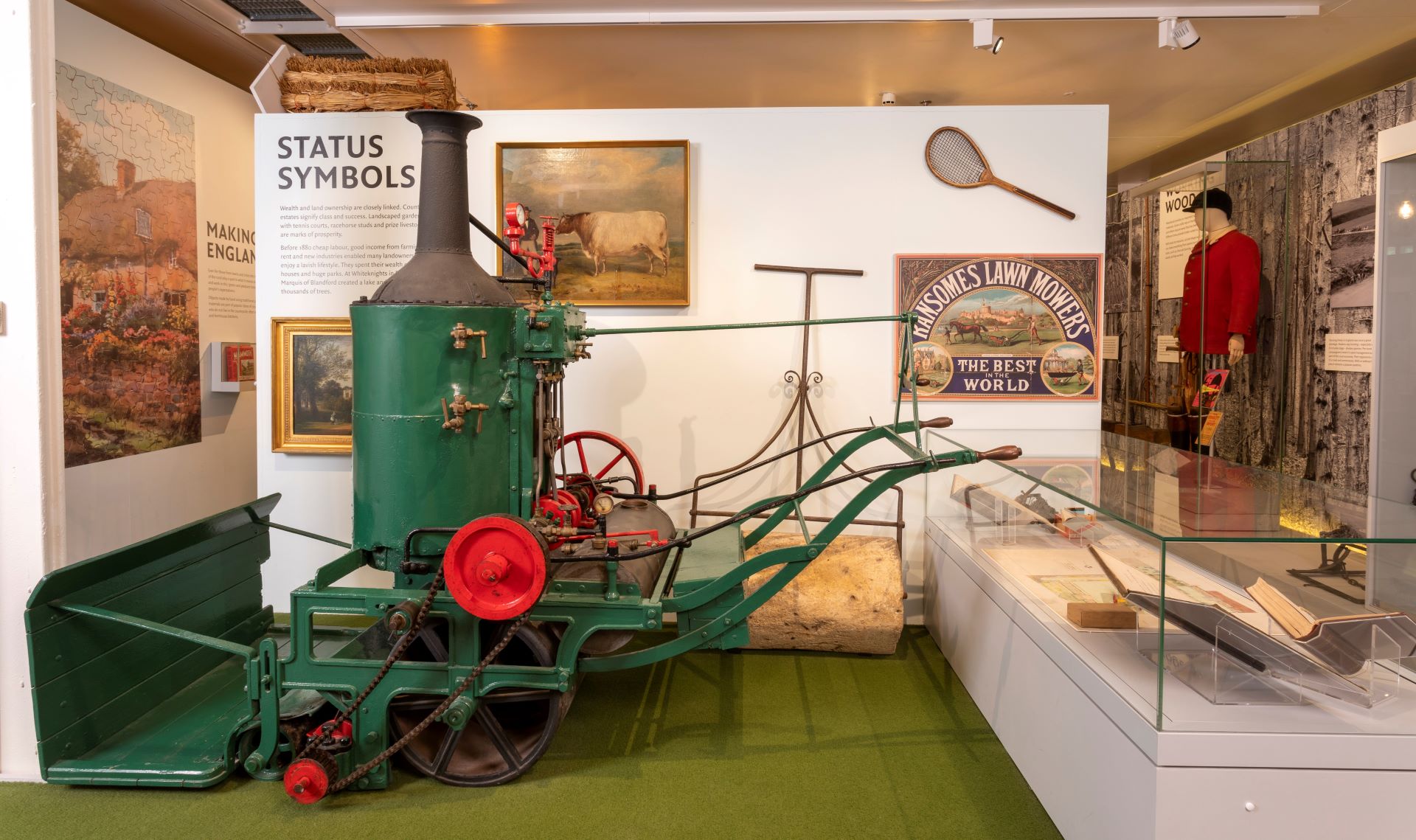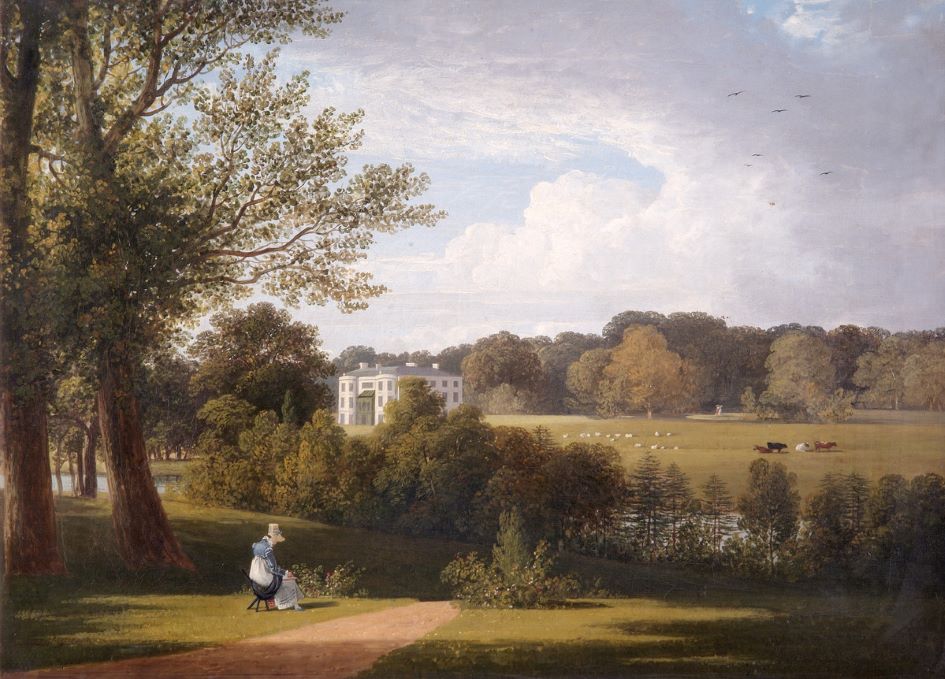 Whiteknights painting
This painting is by Thomas Christoper Hofland (1777-1843), entitled A View of Whiteknights from the Park with a lady sketching c.1816. This was created before the construction of the University of Reading. Hofland was a landscape painter, from Worksop, Nottingham. He was brought up in a wealthy family, expecting to lead a life of leisure and sporting youth, especially angling.
MERL UAC/10236
close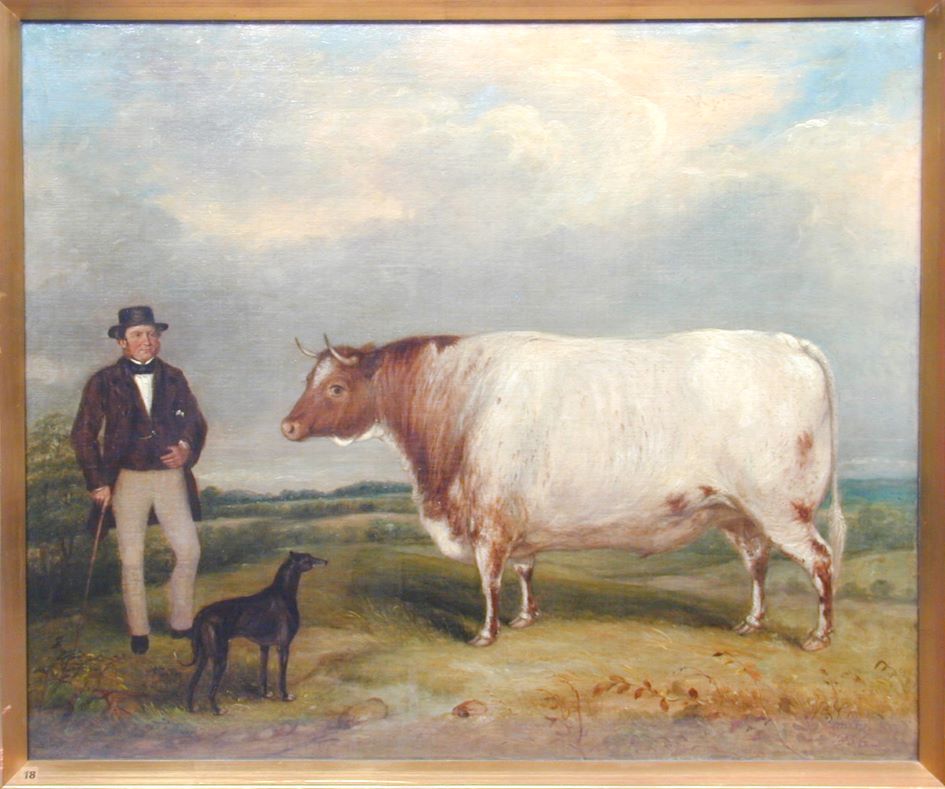 Cow painting
This oil painting from 1856 depicts a farmer, his dog and a shorthorn cow. The inscription on the back of the painting indicated the cow won 1st prize at the Chichester Cattle Show of the same year. Images like this were used as a marker of status or social standing. It was painted by William Smith of Chichester.
MERL 64/40
close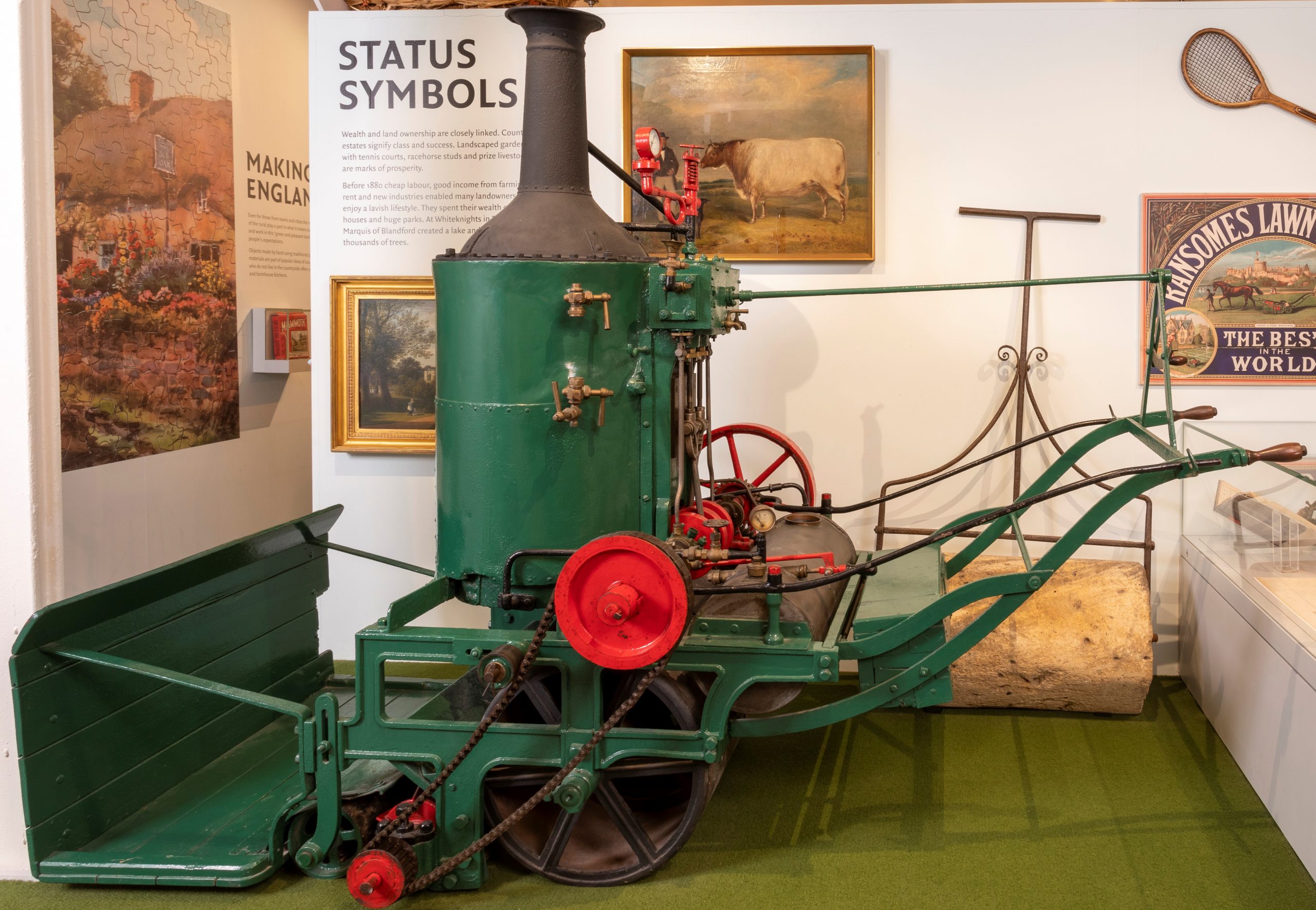 Steam lawnmower
This is a Leyland Steam Lawnmower which was designed by James Sumner (1860-1924) from Leyland Lancashire in 1893. It was manufactured by the Lancashire Steam Motor Company in offically formed in 1896. James Sumner also developed various other vehicles, including two steam wagons (1886 & 1894) and tricycle with an oil-fired boiler (1891). James was fined in 1891 for speeding in his tricycle.
This lawnmower appears to be the earliest of its kind; another similar device was produced from 1901, the 'Coldwell Steam Lawnmower'. The Coldwells were built in Newburgh, New York.
MERL 55/338
close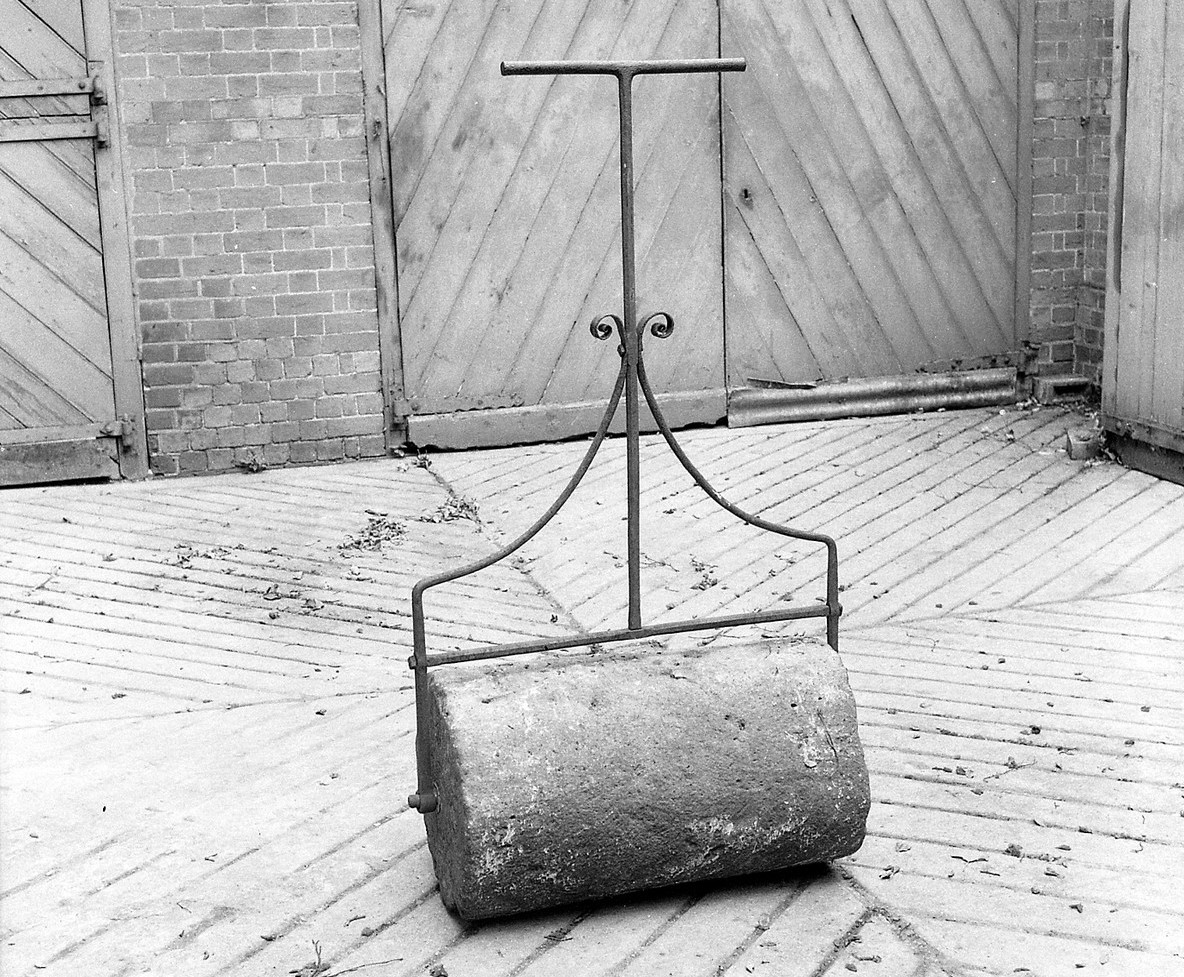 Garden roller
Garden Rollers were used c.1800 to roll lawns, to flatten topsoil or to even out bumpy lawns. It was thought to have been made by a stone worker from the edge of the Cotswolds and when the MERL acquired it in 1953 it was already around 150 years old.
MERL 53/192
close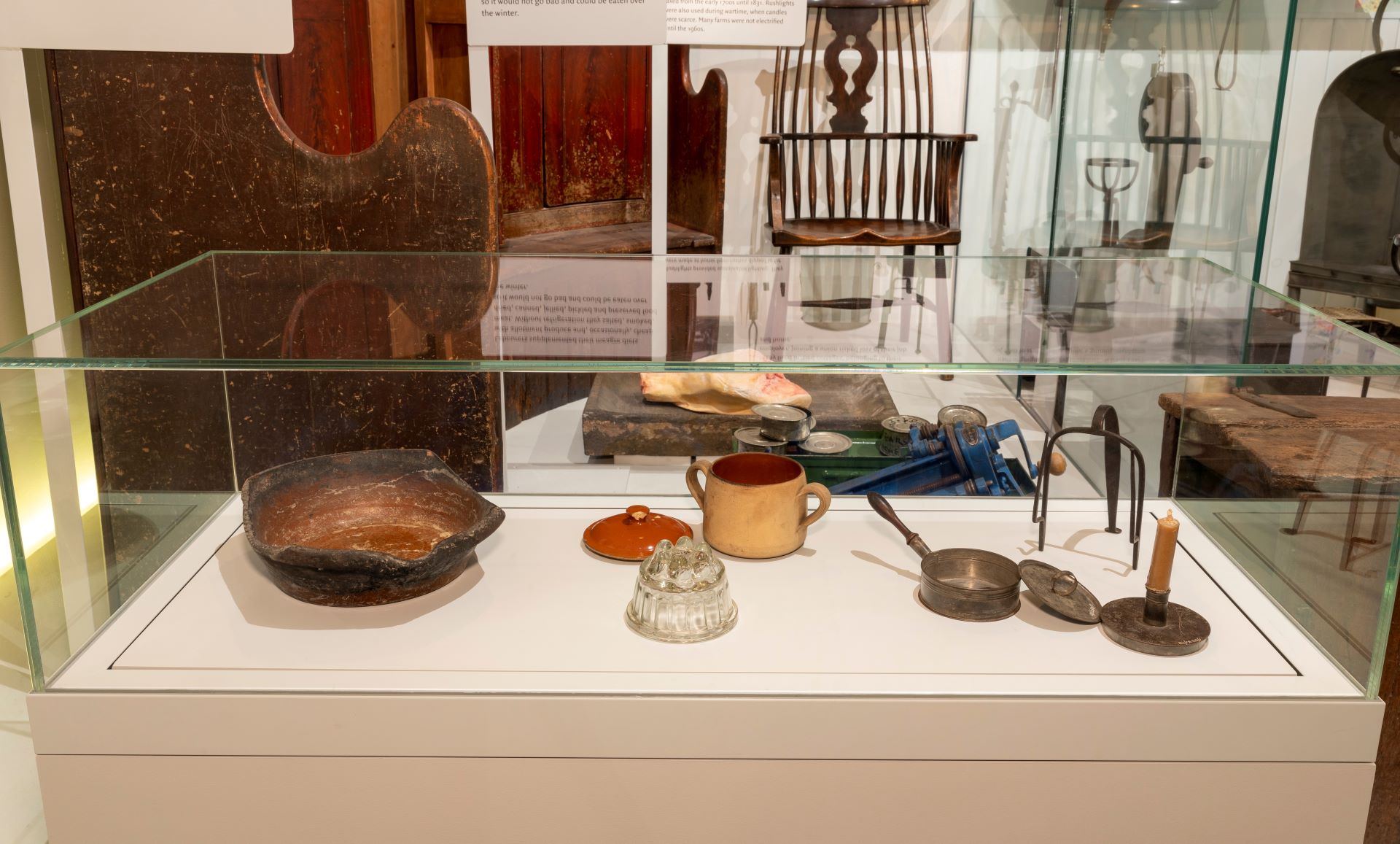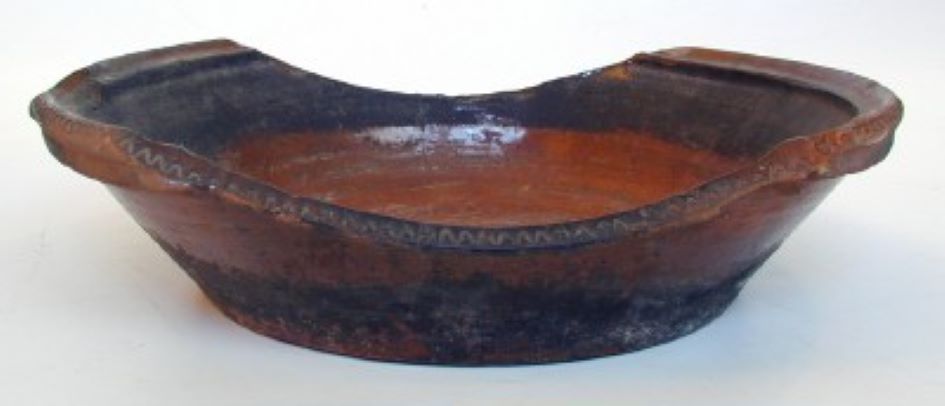 Baking dish
This large earthenware dish was used for baking food in an oven. It has a circular base, but the sides form an oval shape, with a pouring lip.
MERL 54/212
close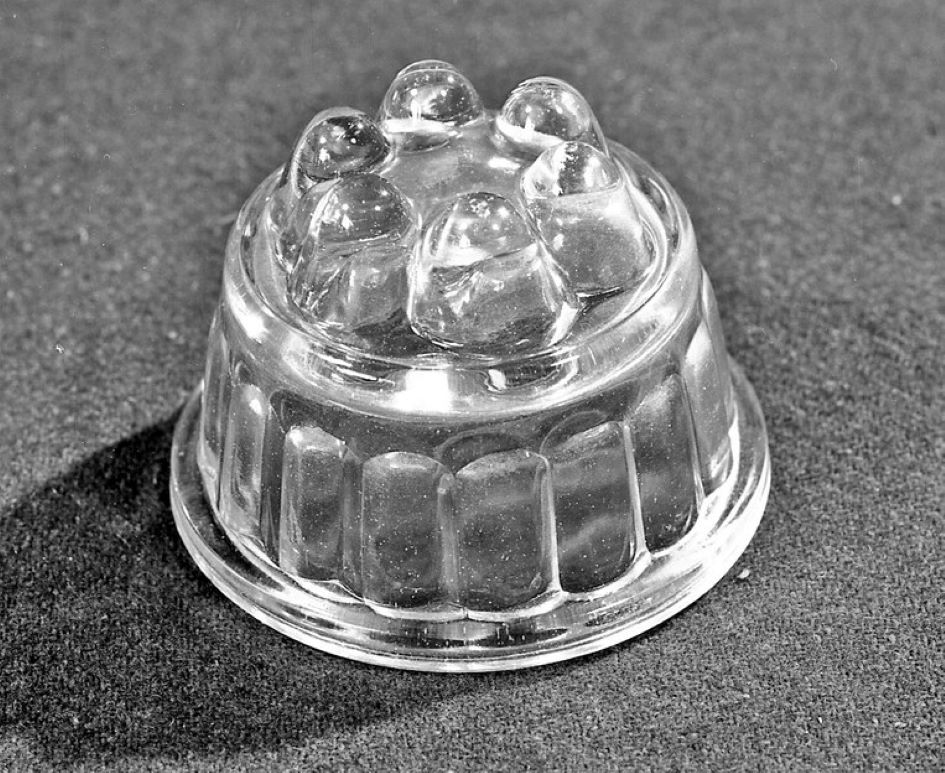 Brawn jelly mould
Brawn was a dish regularly made at home, especially where a pig was kept for fattening. It consists of chopped pieces of animals' heads in a meat jelly. The moulds could be ordinary jelly moulds, but they came to be more generally made of glass, as above, or of earthenware; a metal disc was employed for weighting down and compressing the brawn.
MERL 65/56
close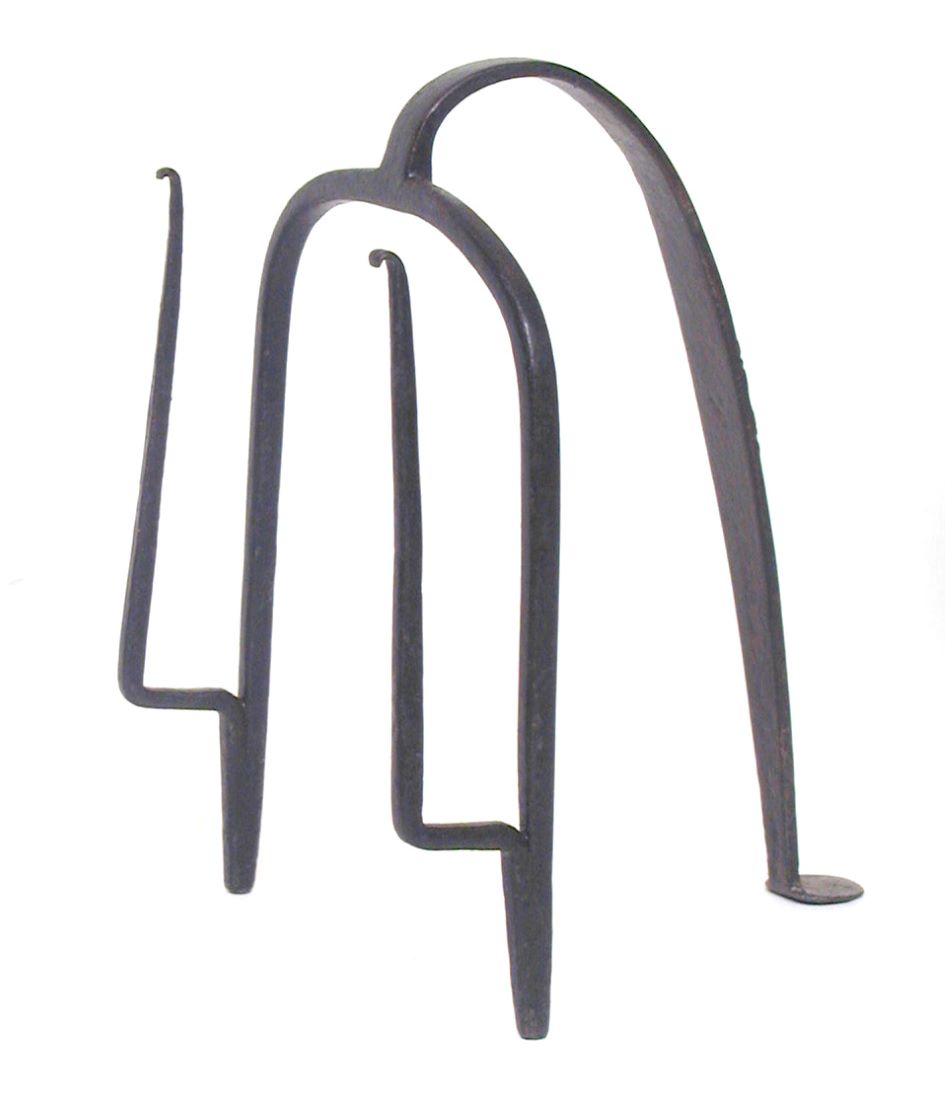 Toasting frame
Used for toasting bread in the late 18th century, this frame would have stood level with level with the hearth.
Spread throughout Europe by the Romans ('toast' derives from tostum, the Latin for scorch), toast has long been a favourite food of working people. However, this has not always been for its crispy texture, but rather because toasted bread lasts longer before becoming inedible. Pre-sliced bread was not invented until the 20th century, so it is quite possible that this frame was the best thing before sliced bread!
MERL 51/1161
close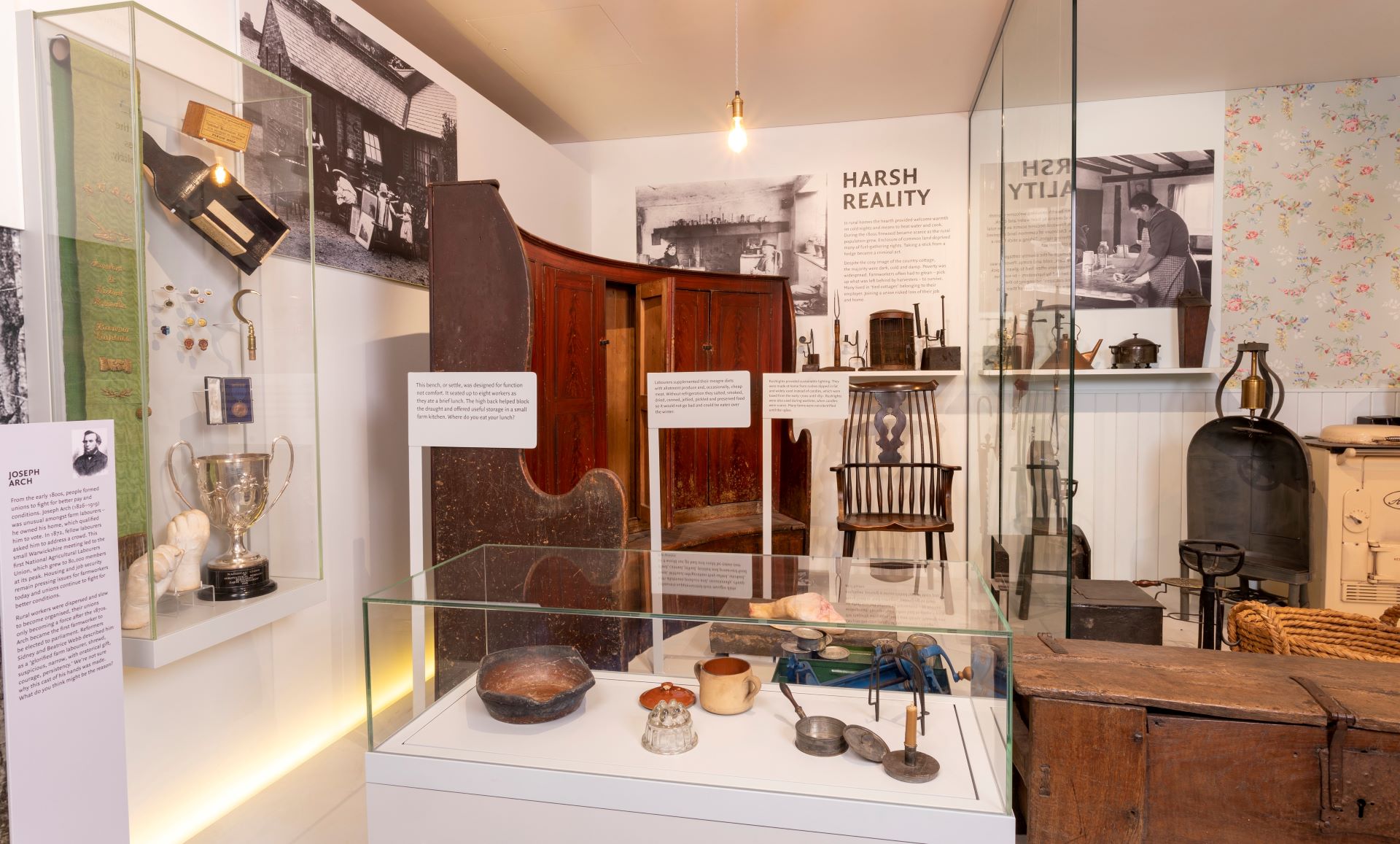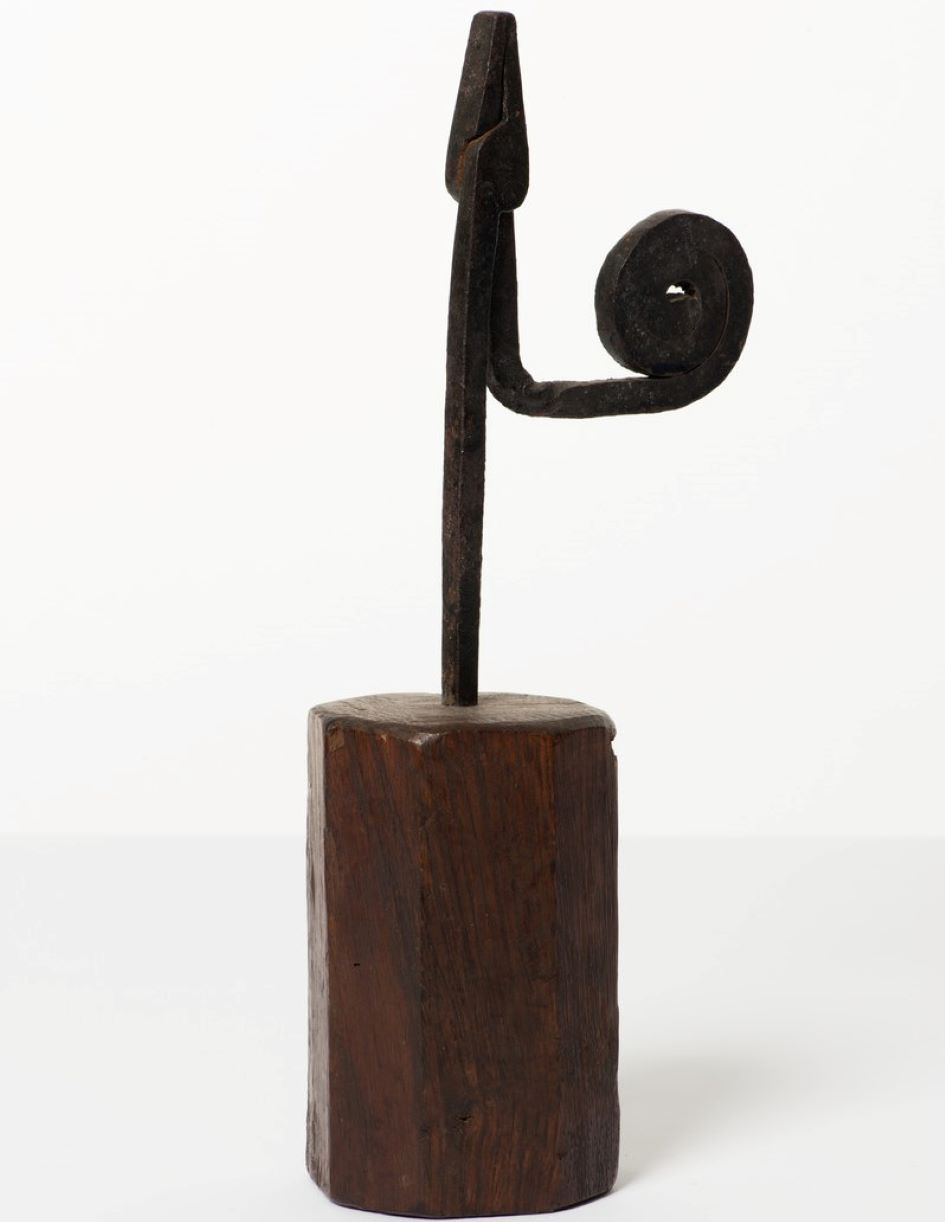 Rushlight holder
This rushlight holder is made of wrought iron with a wooden base. The jaws are counterweighted to grip the rushlight. It dates from the eighteenth century and has the initials 'J.W.' burnt onto the base.  Rushes were peeled and the pith was weathered and immersed in hot bacon fat and left to dry, before being burned. They were normally about 12 inches long and one of this length would burn for about half an hour. The use of the rushlight became extremely common after the introduction of the tax on candles in 1709. This tax remained in force until 1831. Most rushlight holders, therefore, date from the 18th and early 19th centuries.
MERL 51/1180
close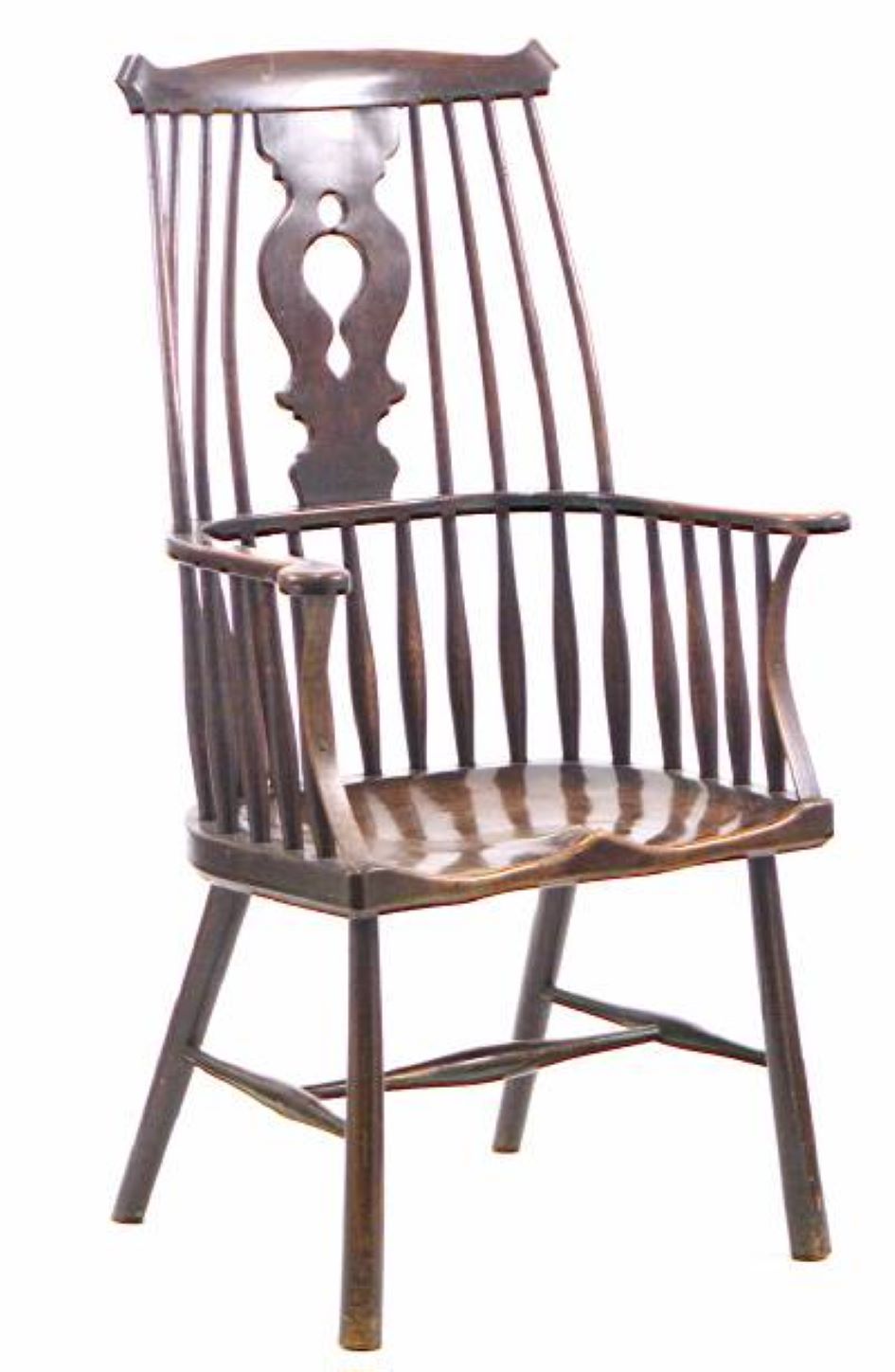 Windsor chair
This comb-back Windsor chair, and another of the same [77/234], were bequeathed by Miss Ellis on the condition that they were not to be separated. She had purchased them from a gentleman some years earlier who had stipulated the same – that they should not be separated – and Miss Ellis followed this in her will.
The comb-back is so called because the horizontal 'crest' rail at the top of the chair, into which the sticks are socketed, was said to resemble the spine of a comb with the sticks acting as its teeth!
MERL 77/233
close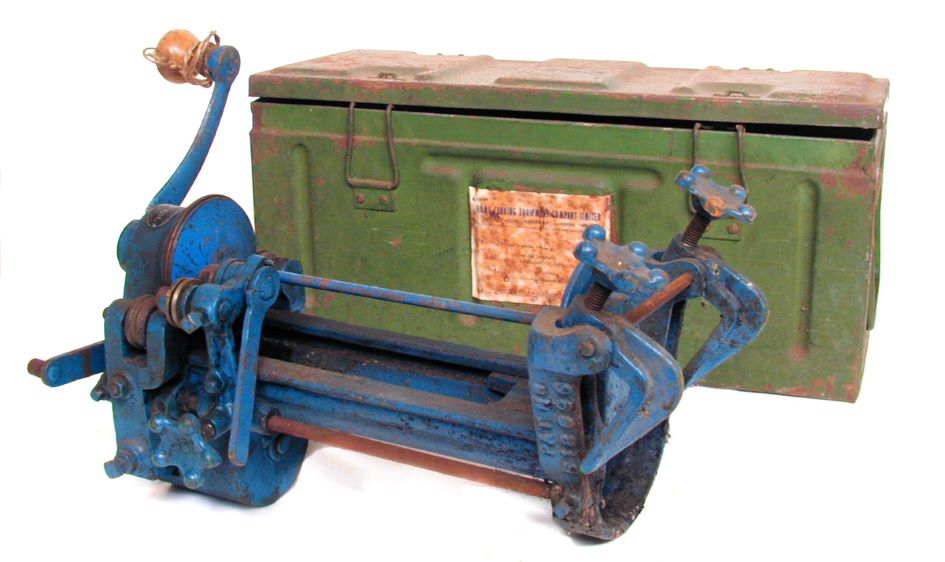 Canning machine
This is a 'Homcam' canning machine for domestic use. Previous methods of food storage included drying, fermenting and salting foods. Canning foodstuffs at home was not possible until the late 18th century. In 1810 Englishman Peter Durand introduced a method for sealing food in "unbreakable" tin cans. In recent years, the popularity of reuseable storage has risen as shoppers want to move away from one use plastic containers.
MERL 93/3
close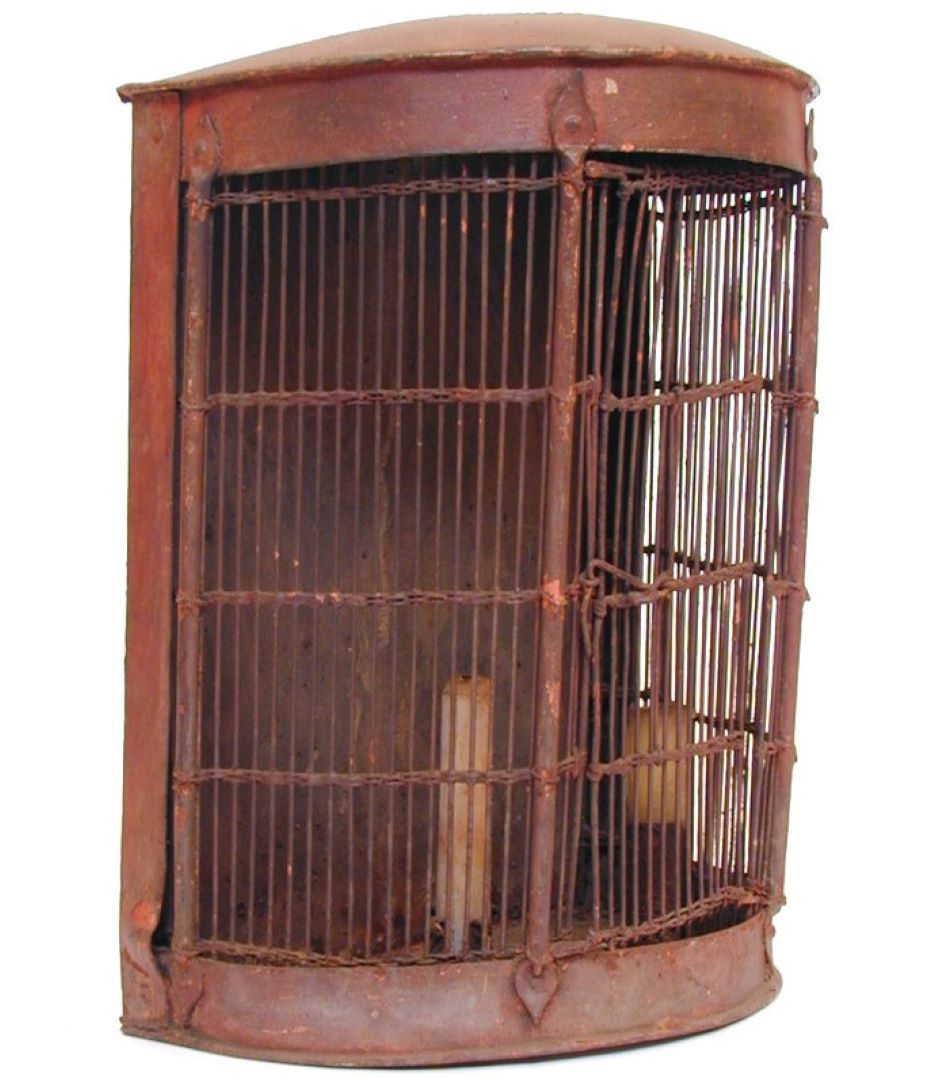 Caged candle lantern
This cage lantern came from near Hull, in the East Riding of Yorkshire. It was probably designed to be fixed onto a wall. It contains two candle holders.
MERL 54/60
close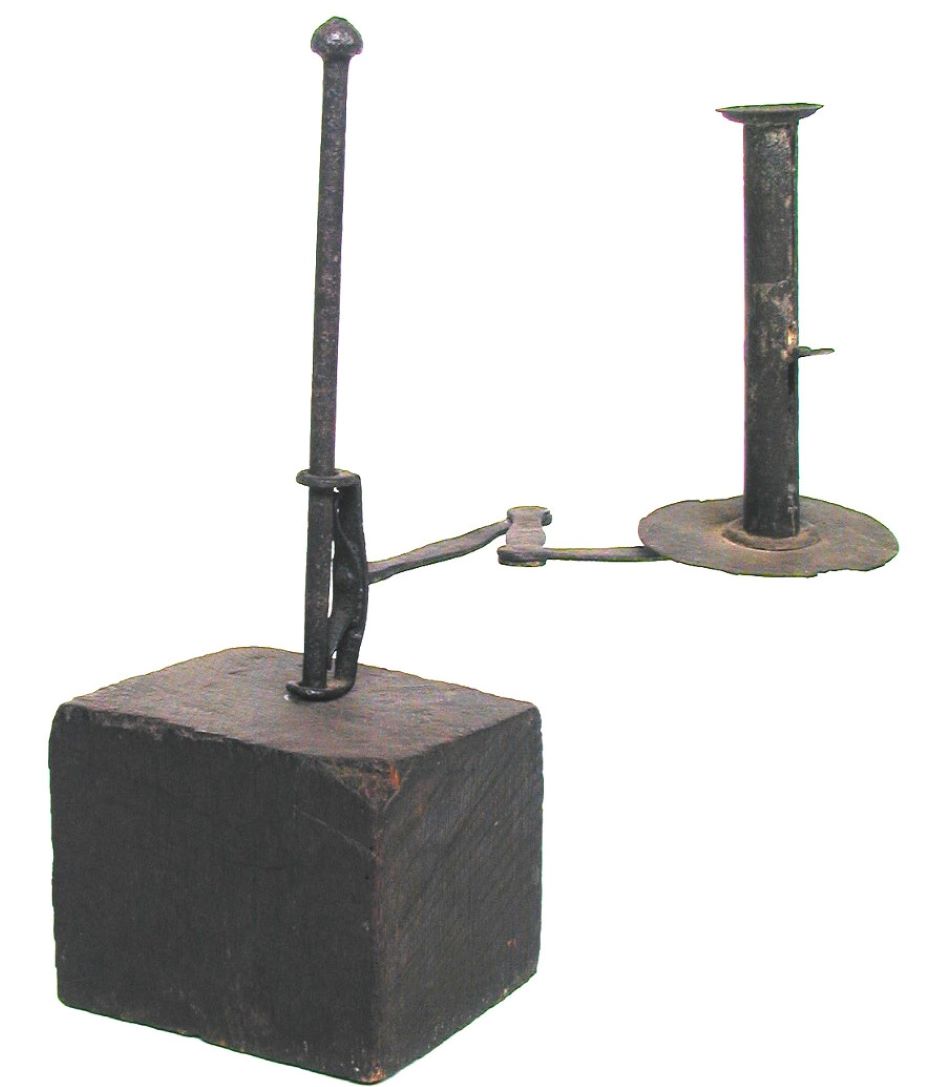 Adjustable candlestick
This candle holder is a cobbler's light or 'snob's light'. It consists of a tubular candle holder, made of sheet iron, mounted on a flat metal base and supported on a base block of elm. The arm is jointed so that the candle can be adjusted horizontally, and there is a slide so that the height of the candle can also be adjusted.
MERL 51/661
close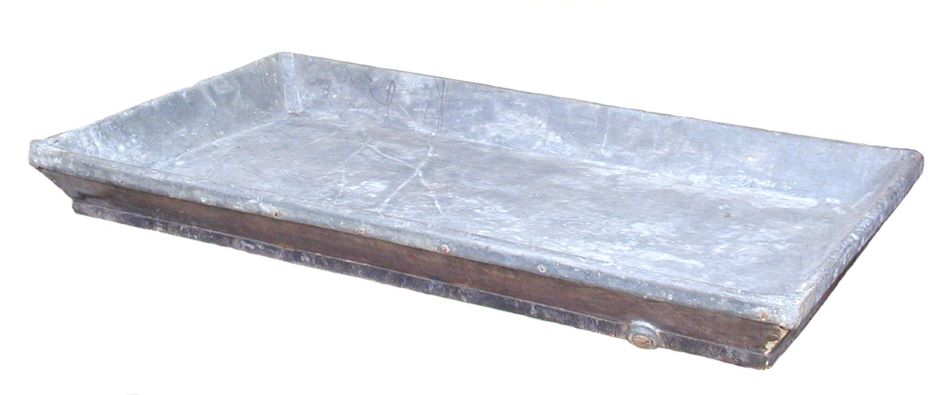 Salting tray
This is a large wooden salting tray with a lead lining and a drainage hole which is closed with a cork. It was used for preserving pork by covering it in brine. The brine used for salting was a mixture of water (2 to 3 gallons), salt (4 lbs) and half a bottle of port wine. The tray originally belonged to the donor's grandfather and was later used by the donor's father, a market gardener who also kept pigs, in the 1920s and 1930s.
MERL 91/40
close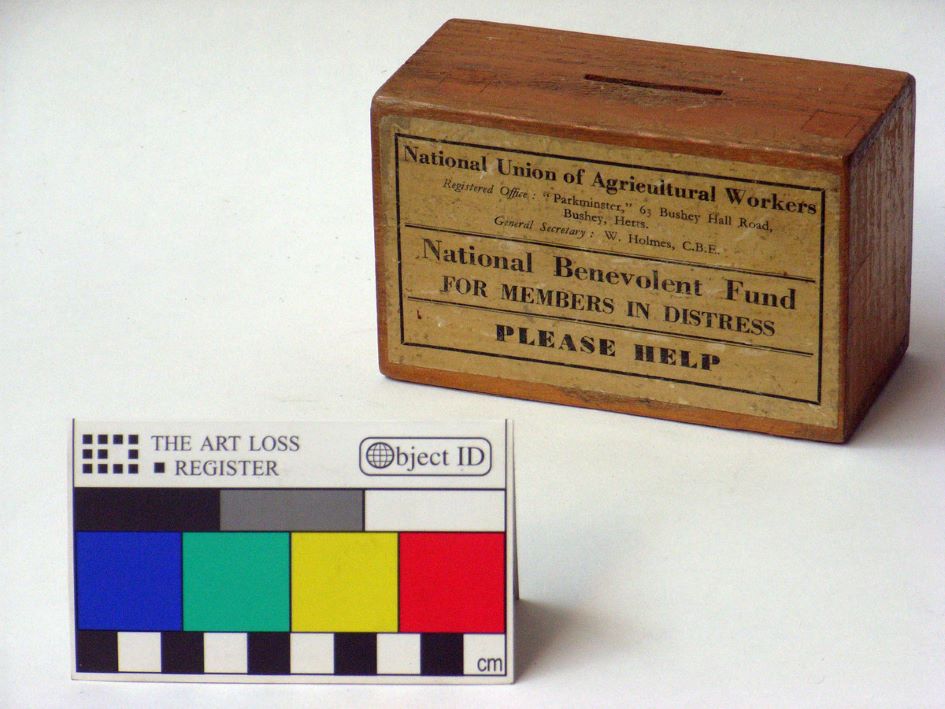 Union collecting box
This money collecting box was used by the Compton branch of the National Union of Agricultural Workers. The donor was the Secretary of the Compton branch from 1947-1985, and the box was put on the table at monthly meetings to collect money for members in need. At this time, the union was a powerful force in the political sphere; it was the thirteenth largest British trade union in 1962, with 131,000 members.
The MERL holds the archive of the union, which contains written and printed material on their political, social and financial activities.
MERL 2005/1
close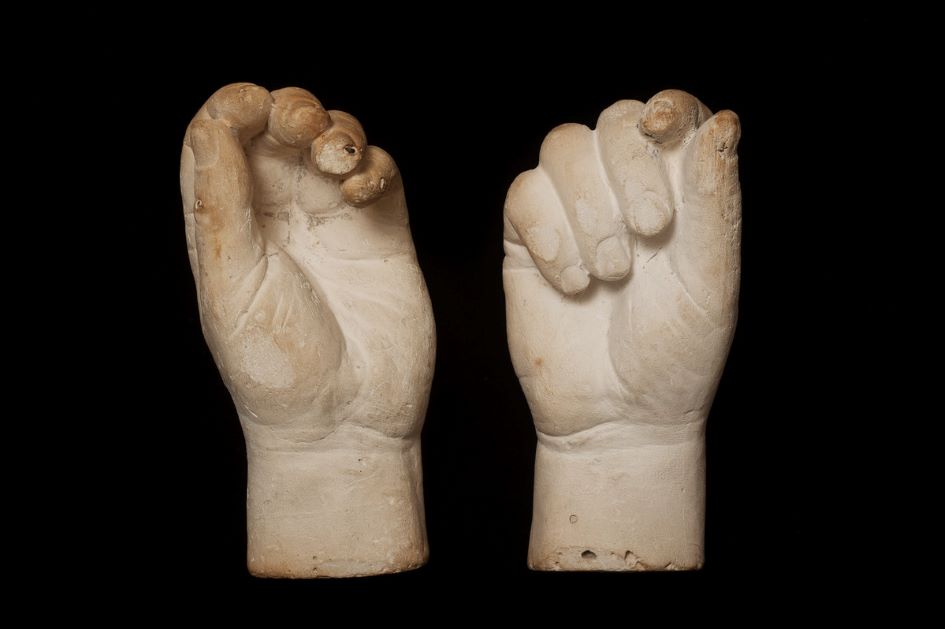 Joseph Arch hands
These are plaster casts of Joseph Arch's hands. Arch was the president of the National Agricultural Labourers Union (1872-1892), the first successful rural union to be established. Nothing is known about the casting process. You can learn more about Joseph Arch and the NALU here.
MERL 75/16/1-2
close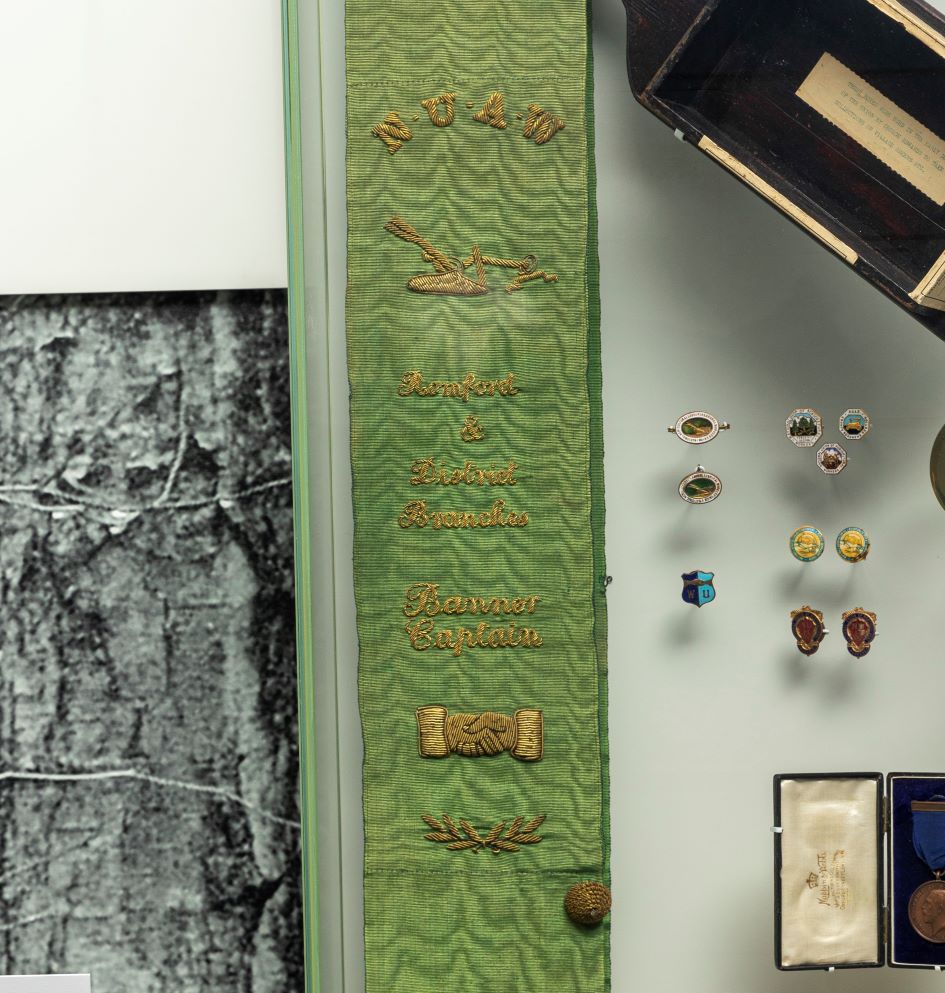 Sash
This is a sash used by the Banner Captain of the National Union of Agricultural Workers. The sash is made of green grosgrain with gold fringe. The metallic thread embroidery details a plough, clasped hands, leaves, lettering with a hook and eye fastening and a gold rosette. The sash is inscribed 'NUAW, Romford & District Branches, Banner Captain'. It was made by George Tutill in London, and was used in Romford, Essex.
MERL 70/118
close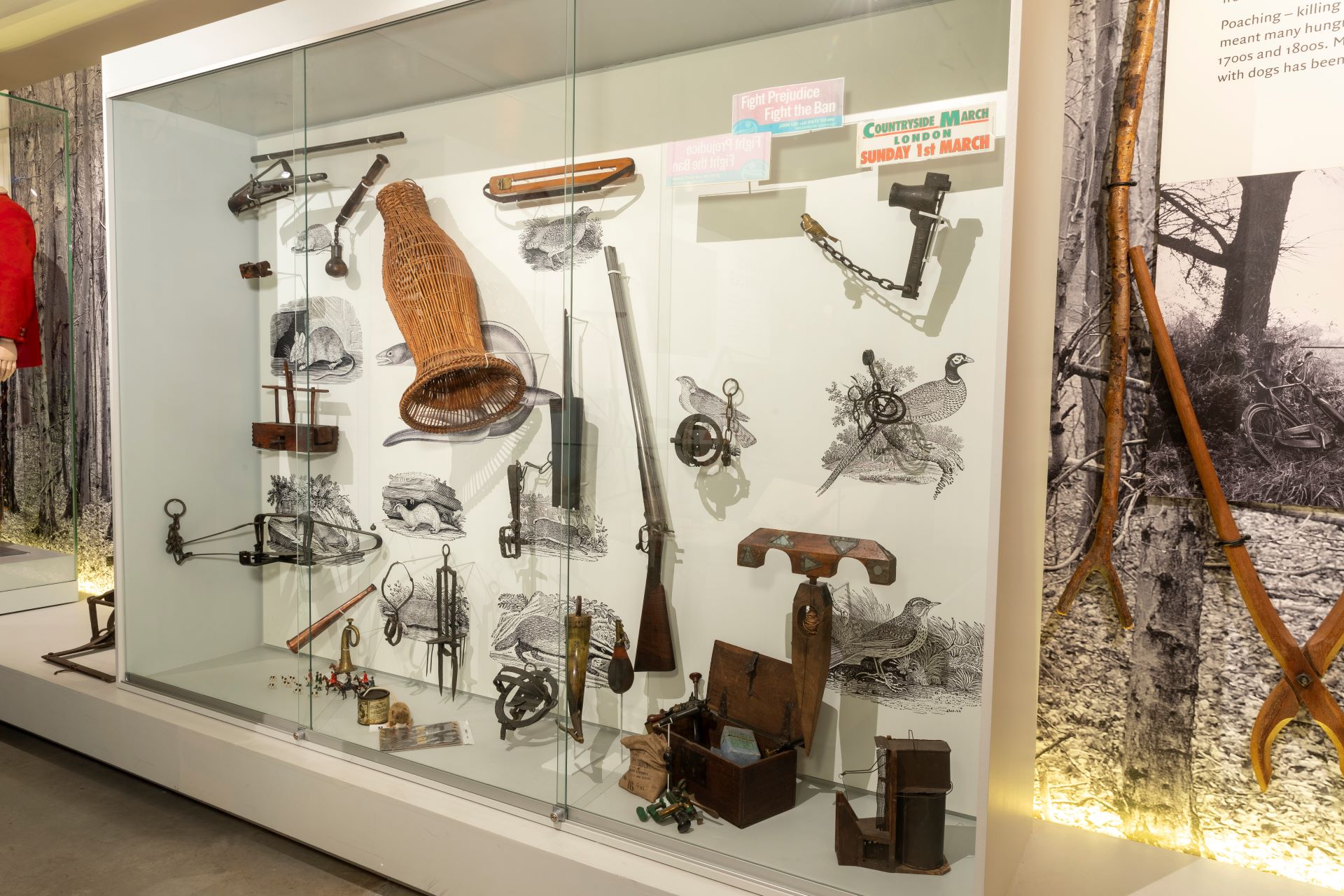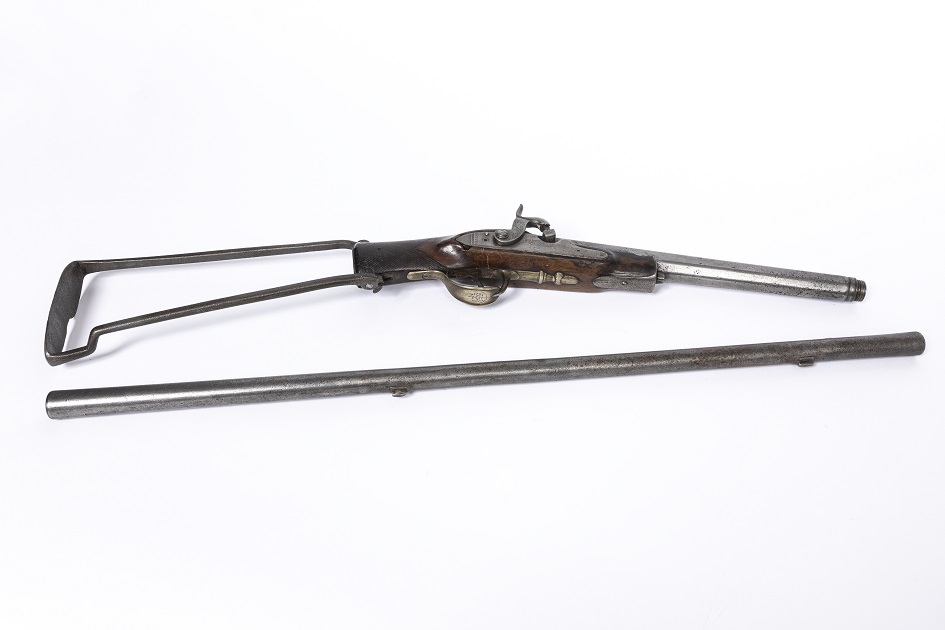 Poacher's shotgun
Manufactured by Ketland and Co. before 1812, this shotgun was likely used by a poacher to defend himself from landowners and authorities while hunting. The sophisticated metalwork of the object suggests a high value. It is possible that it could have been provided to the poacher by a buyer in order to ensure their success, as this was a fairly common practice.
MERL 73/1
close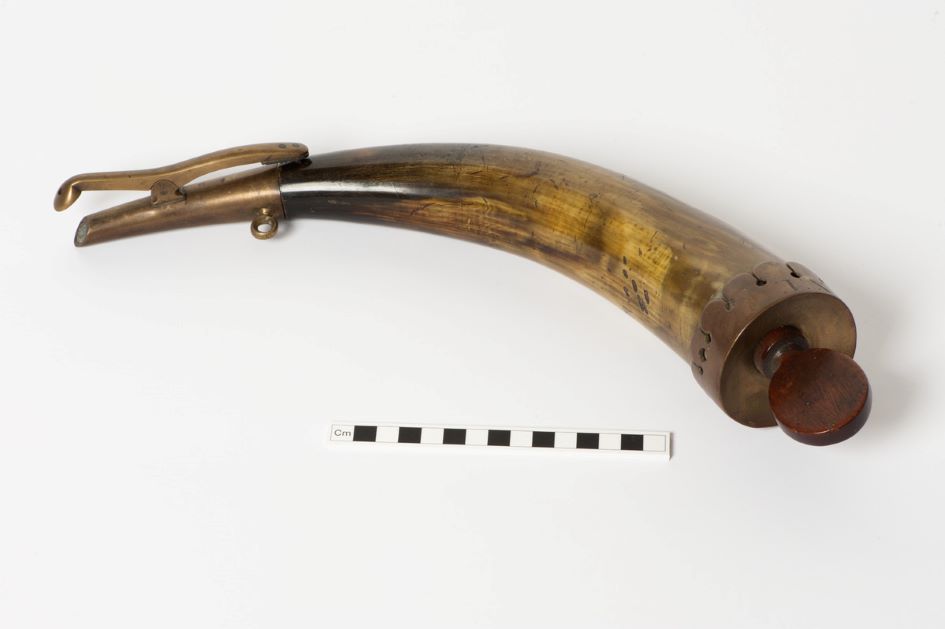 Powder flask
Powder flasks were used from the 15th century onwards to prepare muzzle-loaded guns for firing. Powder horns were gradually replaced by metal flasks, the production of which began in Britain in the early 19th century. Throughout the course of this century, breech loading rifles became more widespread for militaries, but muzzle-loading rifles remained popular within the hunting community. This powder flask is notably ornate with a lever to control the flow of powder.
MERL 53/254
close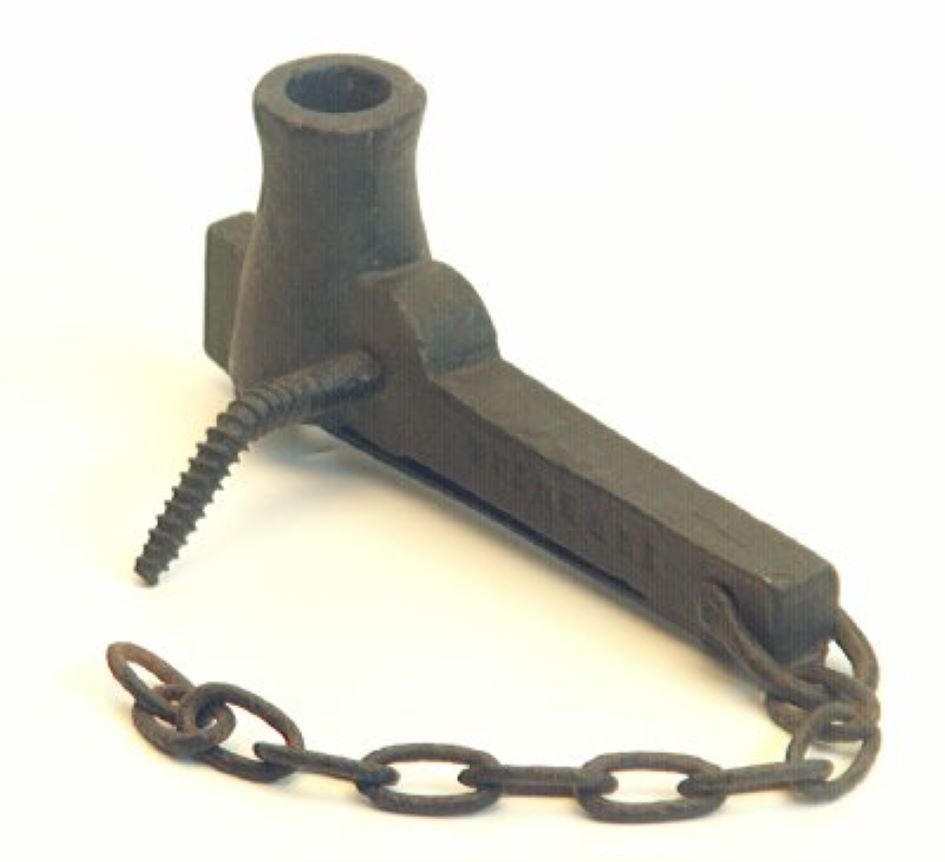 Alarm gun
An alarm gun would have been used to notify landowners of poachers entering their land, possibly deterring the poachers from going further in the process. This may reflect the trend towards non-lethal anti-poaching measures from the later 19th century onwards. Although now illegal, similar improvised devices have been used in recent years.
MERL 52/146
close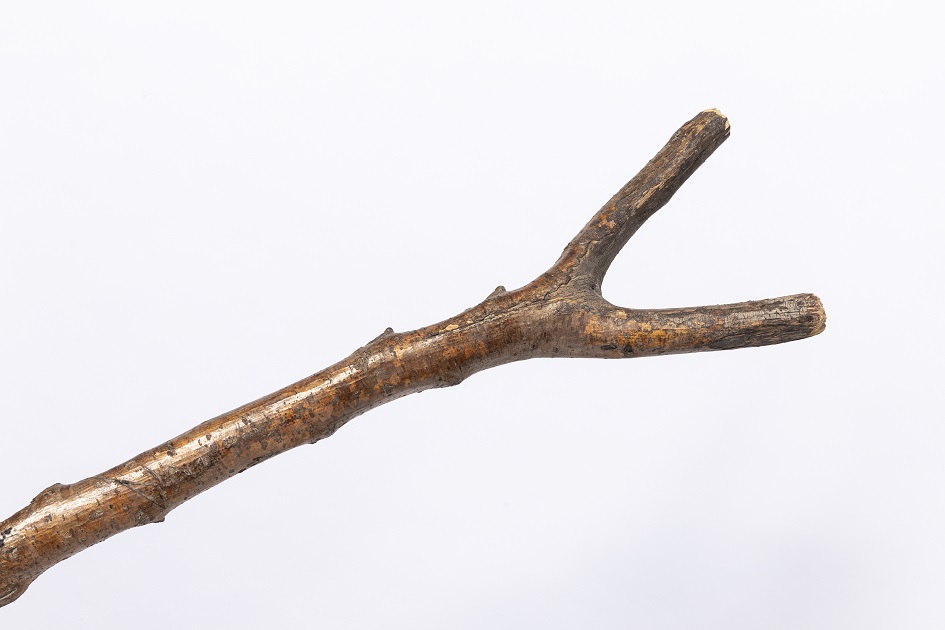 Badger fork
This is a simple, cheaply made instrument used to capture a live badger before forcing it into a sack for it to be transported and sold. It is now slightly rotten and unkempt from disuse. The fork may have been used in conjunction with the badger shovel and badger pliers to uncover and keep the animal at bay. Although badger baiting has been illegal since 1835, there have been sporadic cases ever since. Willfully taking a badger from its natural habitat was criminalised under the 1992 Protection of Badgers Act.
MERL 68/564
close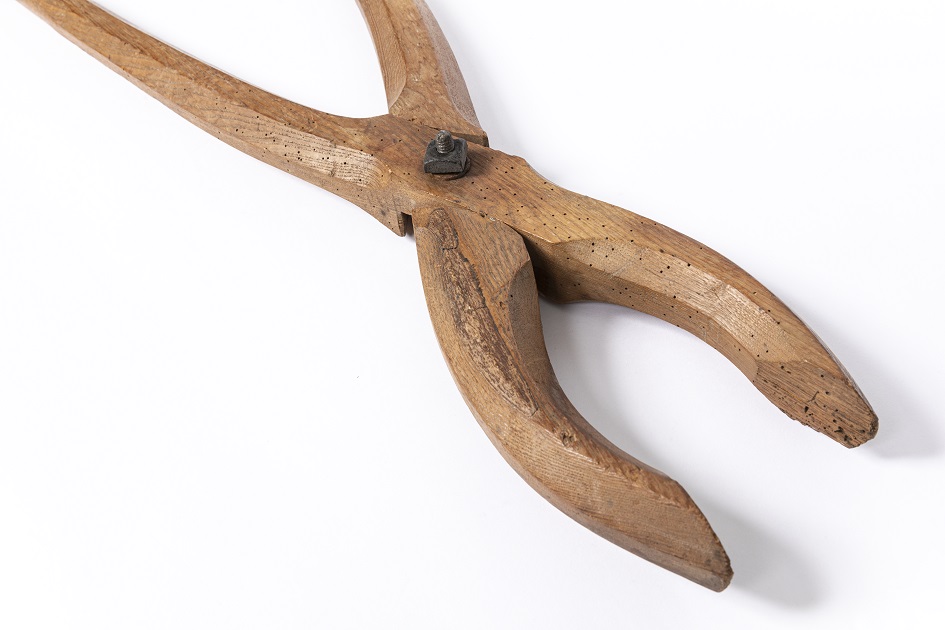 Badger pliers
This is a tool likely used by poachers to capture a badger after luring it from its lair. It may have been used in conjunction with the Badger Shovel and Badger Fork. These objects together show the means available to hunters without ready access to metalwork. Hunters could alternatively capture badgers using dogs to force them into sacks. Causing a dog to enter a badger set is now prohibited by law.
MERL 81/10
close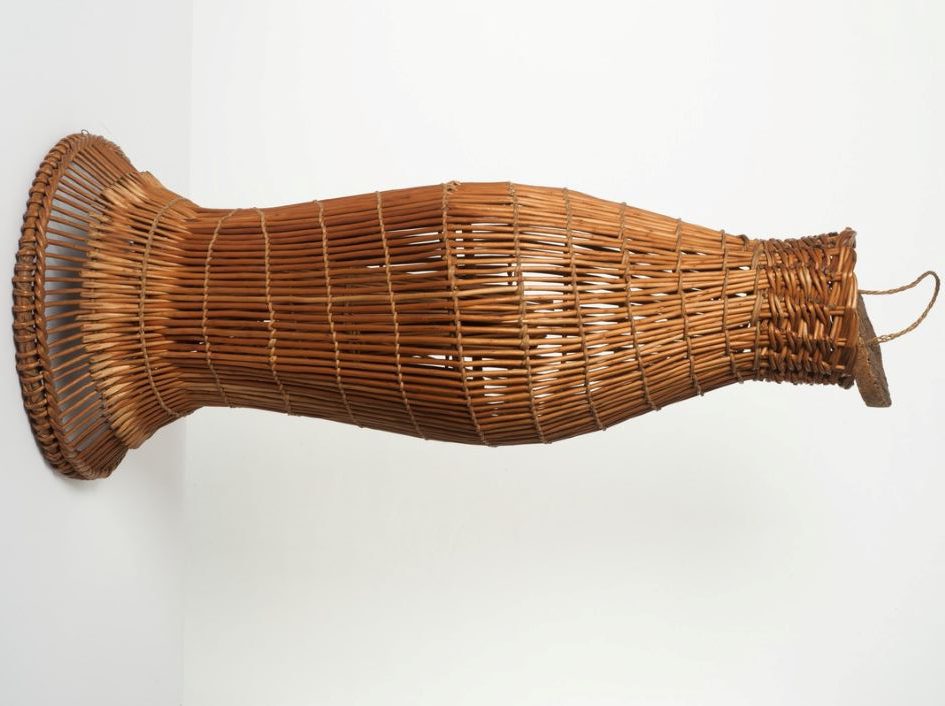 Eel trap
This hunting tool was created in 1954 in Norfolk. Eel traps were commonly used in poorer communities with less access to meat and fish. "Marsh-men" would wade through deep water to retrieve these traps, which contained eels with a non-return valve.
Eels are still hunted on a smaller scale, but fishing lines with bait are now more frequently used. Buying fish from an eel farm is typically safer than catching them, as farmed eels are regularly tested for disease and parasites.
MERL 60/467
close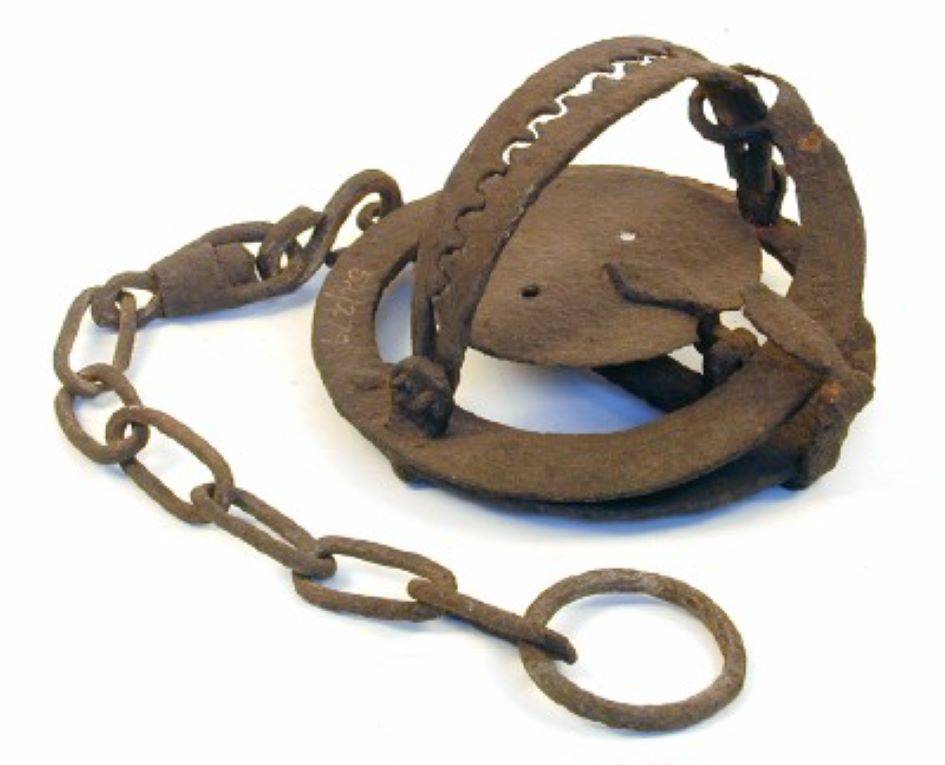 Hawk trap
This trap was used to capture hawks around the Aylesbury district of Buckinghamshire, likely before 1904 when such traps were made illegal. The inscriptions '1×1' and '51711' are stamped along the edge. Such traps were often used in areas with commercial fisheries to protect fish from predators.
Although harmful bird traps such as these are now illegal, sixteen cases of illegal trapping were reported to the RSPB in 2015. Trapping hawks for falconry is still permitted, but requires a government license which are rarely issued. Falconry birds are usually bred in captivity.
MERL 52/279
close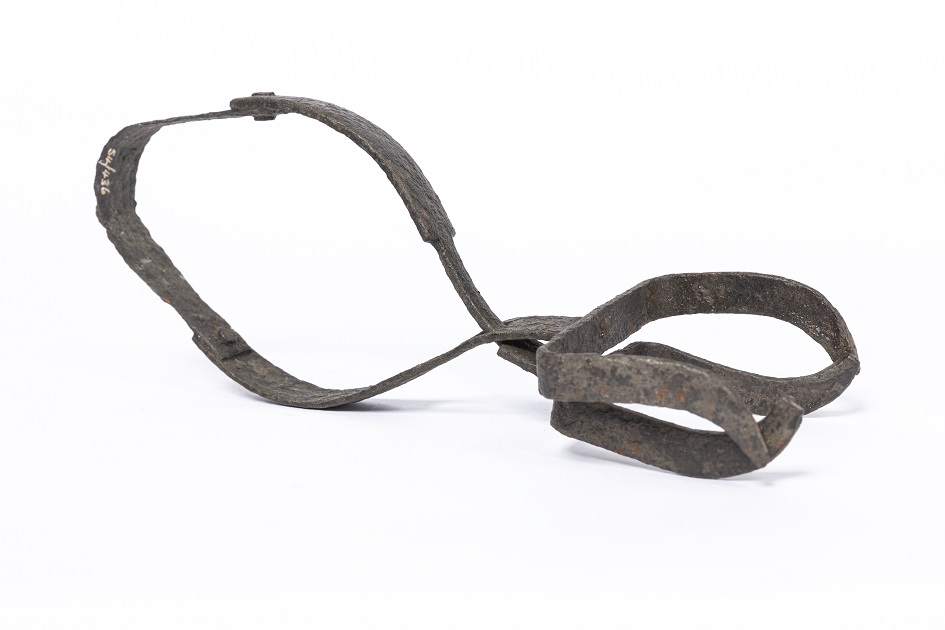 Mole trap
Made by a local blacksmith in the Holne area of Devon, this trap was used to capture moles by killing or dramatically harming them. More contemporary mole traps swiftly killed the captured animal; however, this may have been due to the rising value of mole skin in the early twentieth century rather than concerns of animal wellbeing.
Moles have been considered pests on the farm for thousands of years, with molehills destroying pasture, encouraging weed growth and damaging crops. Mole catchers would travel from farm to farm, and would traditionally hang dead moles on fences as proof of their work. The use of lethal traps was made illegal in 1996 and further controlled in 2006.
MERL 54/436
close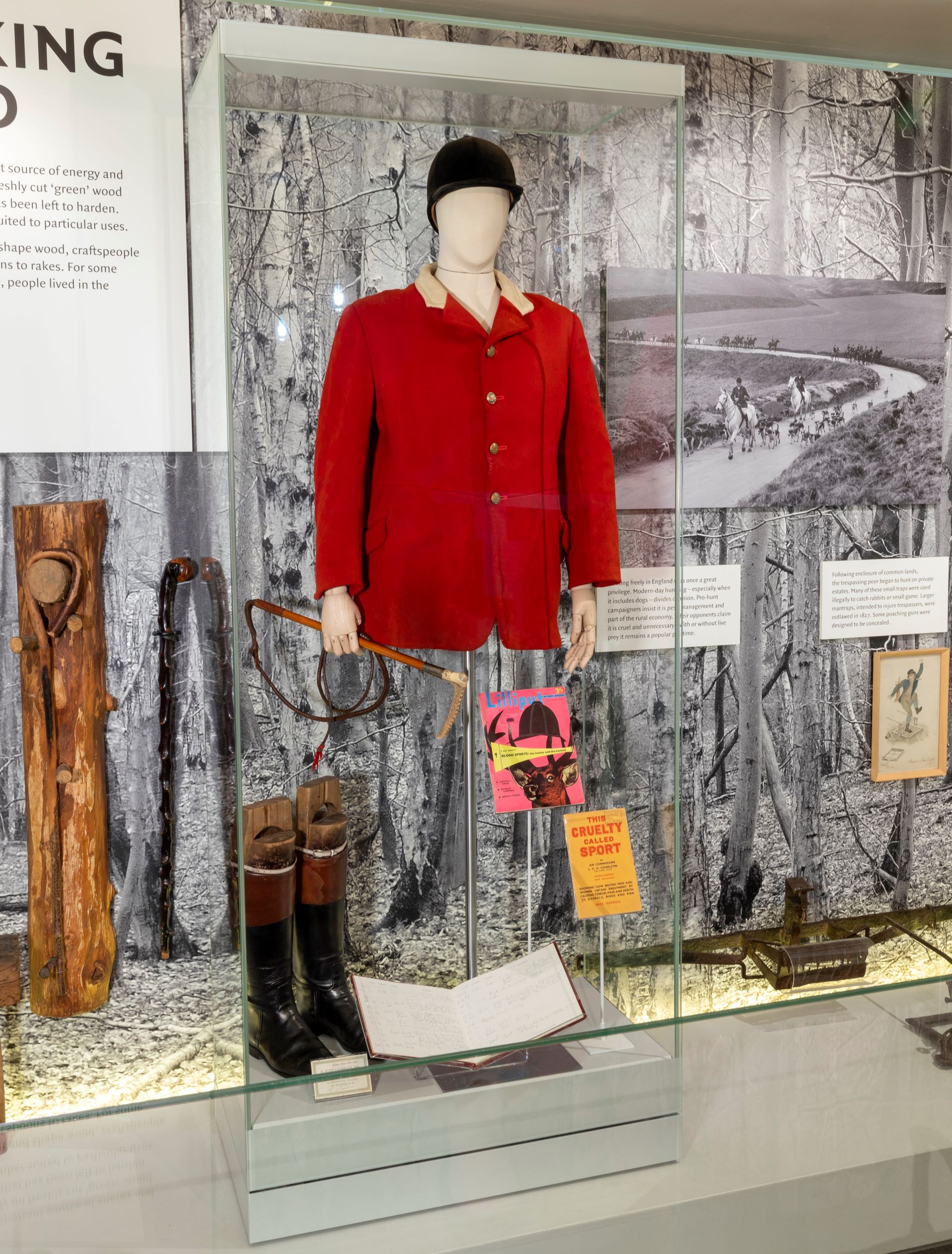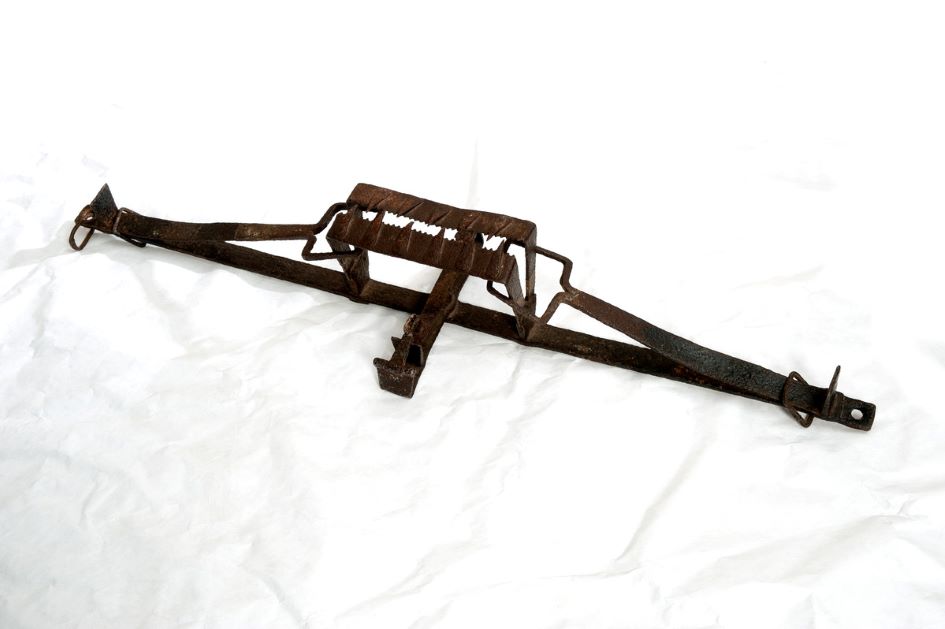 Man trap
Traps such as these were used to deter, harm and capture poachers attempting to enter a landowner's territory. 1810 – 1830 saw the introduction of severe anti-poaching laws, suggesting a rise in poaching around this time and the start of an 'arms-race' of debilitating traps and tools of self-defence between poachers and landowners. This trap was used in the area around Freefield Hall, Lichfield.
MERL 62/403
close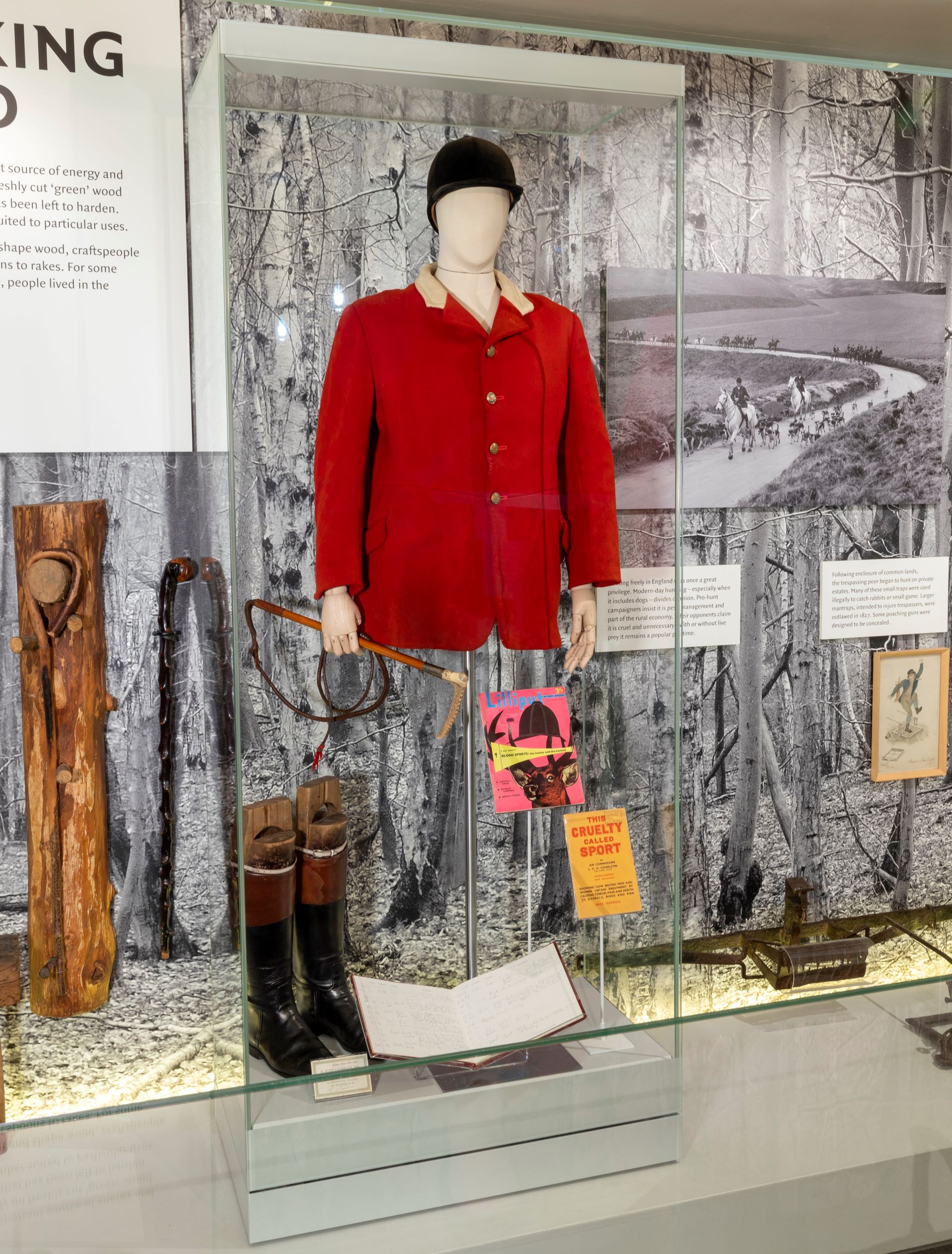 Coat
This red coat was worn by a horseman of the South Dorset hunt in the mid 20th century. It has the buttons and white collar typical of this outfit. The convention of foxhunters wearing red coats is thought to derive from the early 18th century, with the red colour designed to mask the blood stains of the hunt. Traditionally, brass buttons were awarded to members of the hunt who had been particularly helpful or dutiful.
MERL 2013/24
close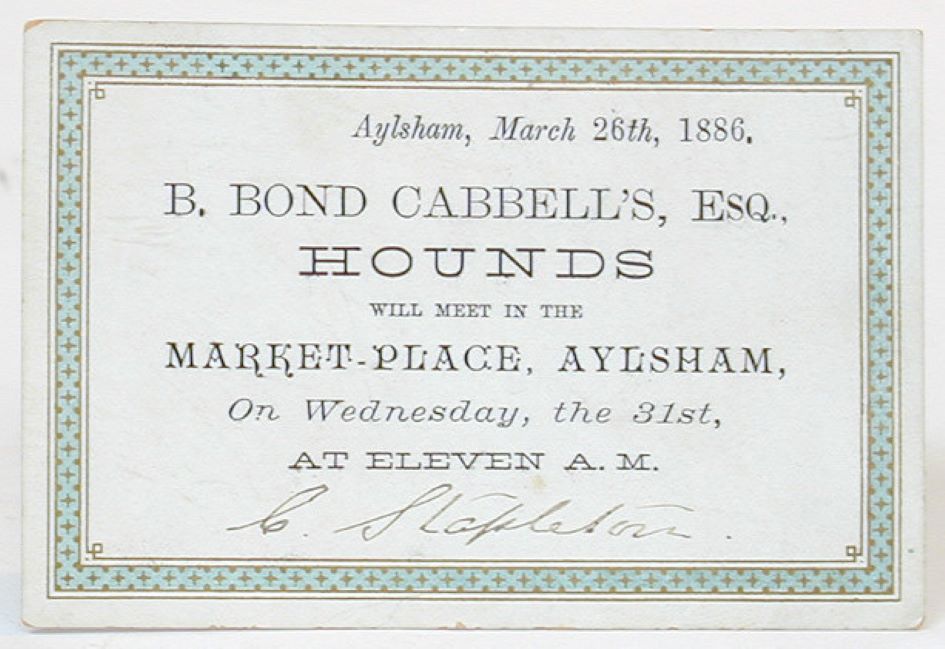 Meet card
Hunts with dogs were generally organised well in advance, and this 19th century meet card details the plan for such a meeting. This group – B. Bond Cabbell's Hounds – would have kept its own dogs, as these were kept by each regional 'Hunt', not by individuals.
The use of dogs to catch foxes was first recorded in around 2500BC in Assyria and Egypt. It became an organised activity in the 17th century in Britain, and contributed to the development of sports such as steeplechase.
When hunting with dogs was banned in the early 2000s, a number of protests occurred in London. See this online exhibition to find out more.
MERL 51/453
close
Makers at Work - Basketry & Bodging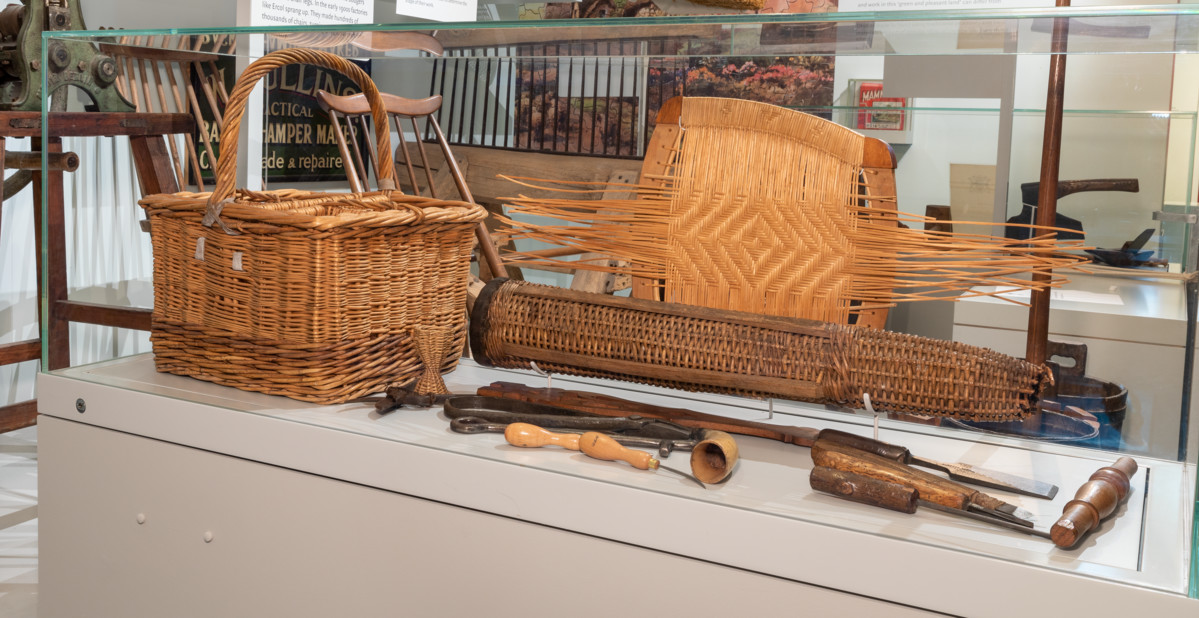 Makers at Work - Basketry & Bodging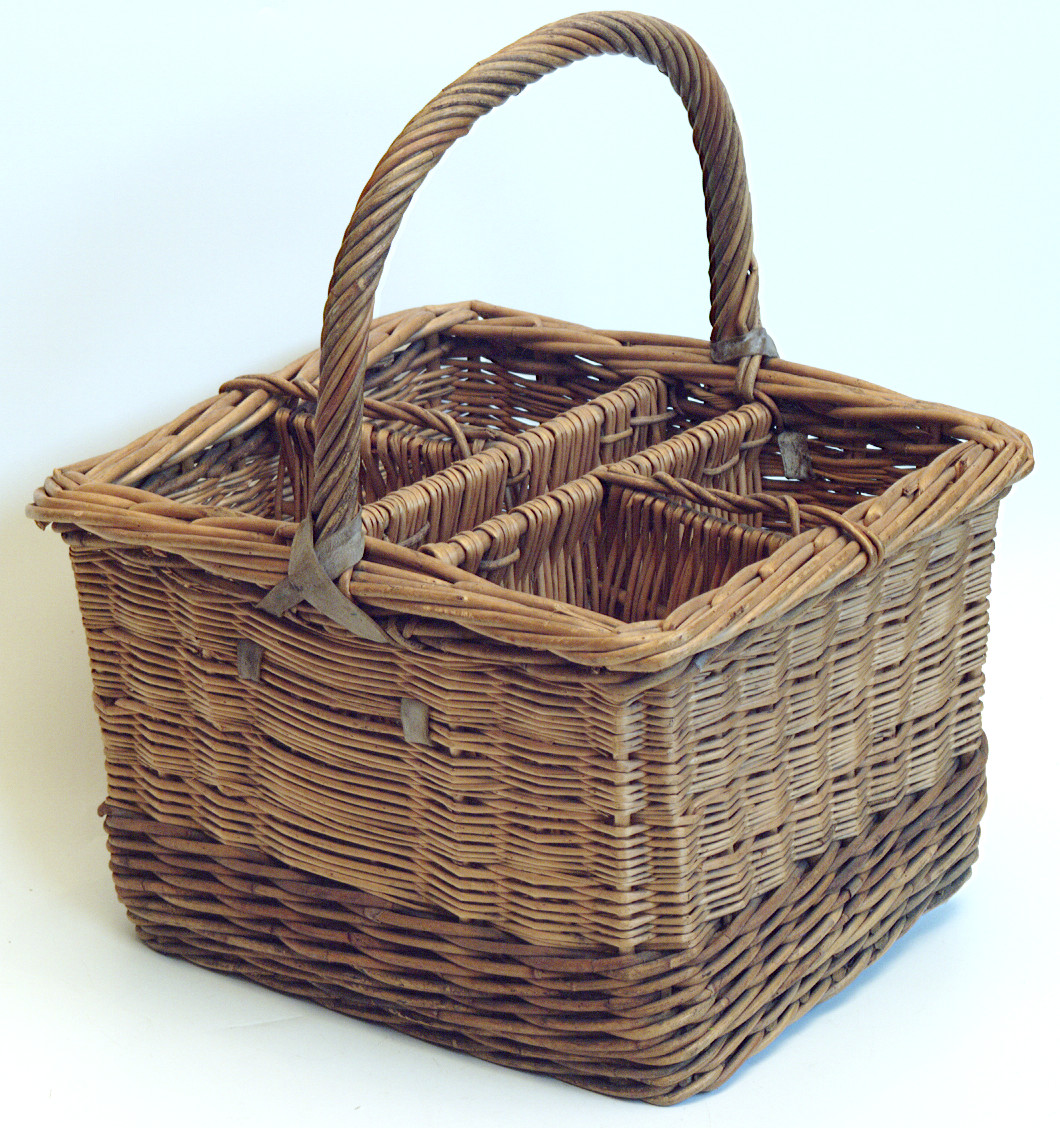 Hospital Basket
This hospital basket, also known as a 'ward basket' and a '4"-hole Winchester with a slot', was made at the Royal London School for the Blind. The basket is divided by partitions into four square sections, into which bottles would be put, and a slot, into which a chart would be put. This type of basket was in use until the 1960s. The Royal London School for the Blind produced and supplied baskets of this type by order.
MERL 64/67
close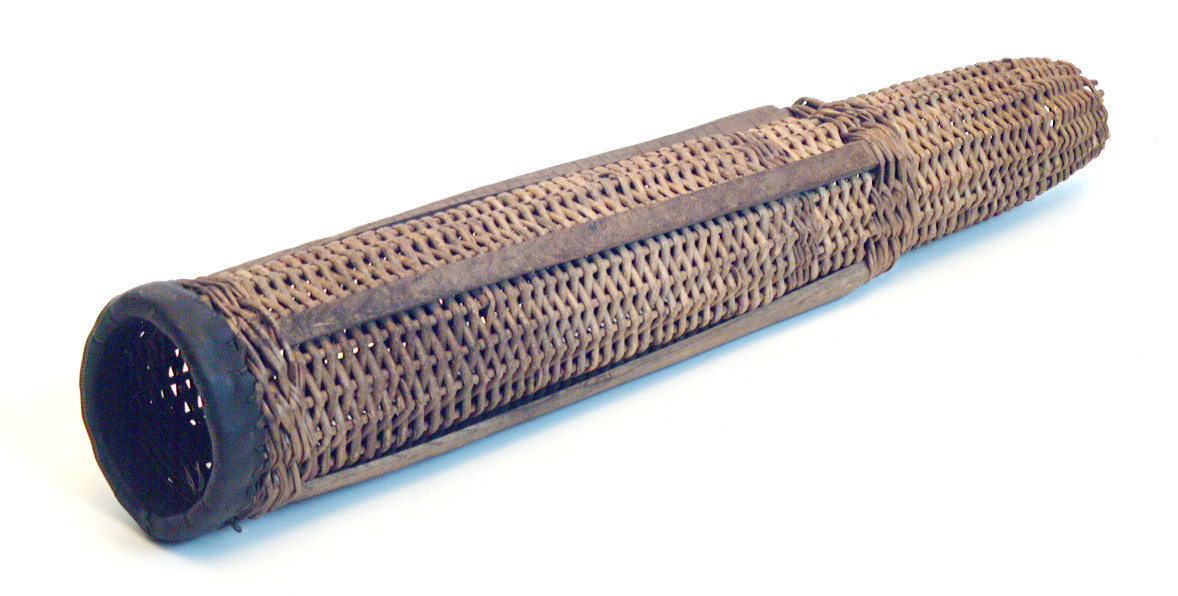 Artillery Shell Basket
This is a shell basket, used for protecting artillery shells during the First World War. It was found by the donor in a field near Wokingham, Berkshire. It was initially identified by the museum as an umbrella basket – a basket designed to be strapped to a horse-drawn trap or carriage, or to a pram, to carry umbrella!
MERL 90/43
close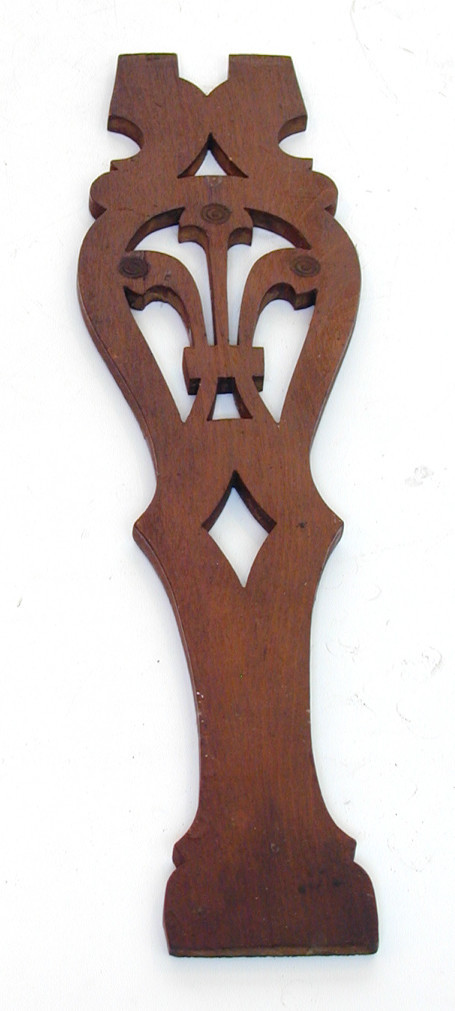 Chair Slat
This is a banister slat (the piece fitted in the centre of a chair back) for a Windsor chair and is made of beech. It is for a wheel back chair, so called from the wheel pattern in the centre, but has rare design incorporating fleur-de-lys supposedly in honour of the Prince of Wales (later George IV).
Wheel back chairs are the most common type of Windsor chair and date from the end of the eighteenth century. This example was probably made by a Chiltern bodger in the beech woods near High Wycombe
MERL 51/77
close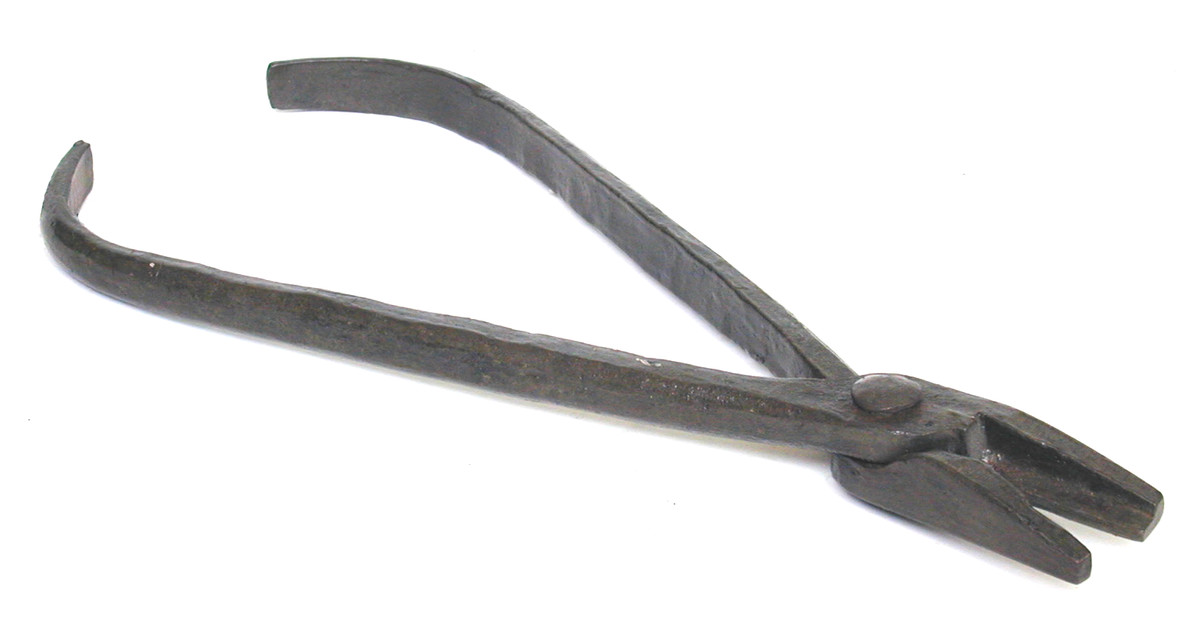 Cane Squeezers
These squeezers were used by Emily Mullins, a Reading basket maker, for squeezing thick cane so that it does not break when bent, especially in hamper-making. They are essentially a large pair of iron pliers with flat jaws.
Miss Emily E. Mullins (1906–1967) was a basket maker in Reading. Her family were basket makers for at least five generations. Her father, William Mullins, had no sons and Emily chose to become a basket maker and carry on the tradition. She ran a basket-making business in Bath c. 1926–1939 and moved to London in 1940 where she made baskets for the war effort. Later, she moved to Reading where she took over her father's job upon his death at Cook's Dairy and Farm Equipment Ltd.
MERL 63/207
close

Bodkin
A bodkin is a tool used by basket makers for a variety of jobs, from opening out the weave to insert a rod or handle, to putting stakes in at the bottom, and therefore come in a many different sizes according to the work. This is a shell bodkin made by Dryad and Co. in 1967. It was used in chair caning or skeinwork to open up the weaving on a difficult edge to insert the cane.
MERL 68/18
close

Grease Horn
This grease horn was used by Emily Mullins, a Reading basketmaker, to grease the bodkin, a pointed basketry tool for making holes. It consists of a curved cow's horn filled with a mixture of tallow and sack shreddings – this would need re-filling about once a year. the user sat on the end with the open mouth ready to their right hand.
63/208
close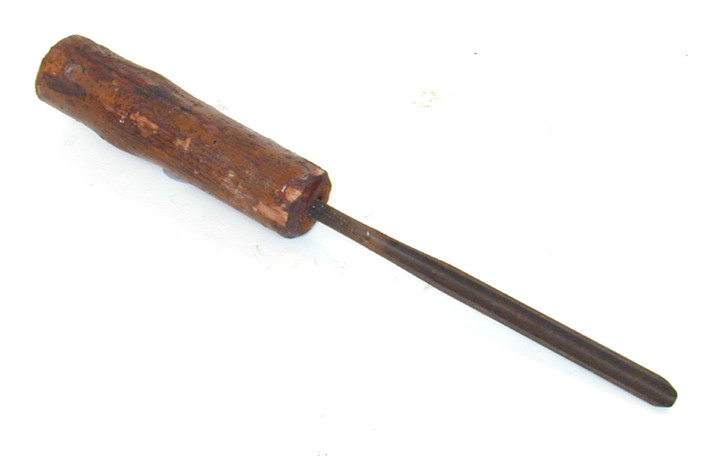 Lathe tool
A gouge has a concave blade and is used with a lathe to make grooves and holes when turning wood. This gouge was used for scooping out cups, waists and circles of chair legs, and is known as a long, strong, turning gouge. It belonged to the uncle or father of Samuel Rockall, who came from a family of Chilterns chair bodgers in Turville Heath, Buckinghamshire.
MERL 51/201
close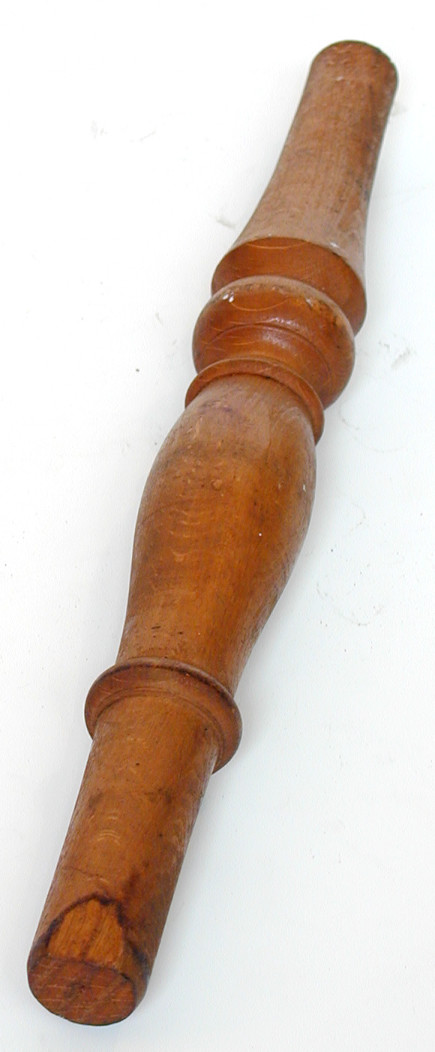 Chair Leg
This is a leg for a wheel back chair, the most common type of Windsor chair, and is made of beech. It was made by Samuel Rockall, a bodger in the Chiltern beech woods. Rather than using a pole lathe, he used a treadle lathe with a fly-wheel to turn the legs. The legs he made were usually sold to a chair maker in High Wycombe.
MERL 51/69
close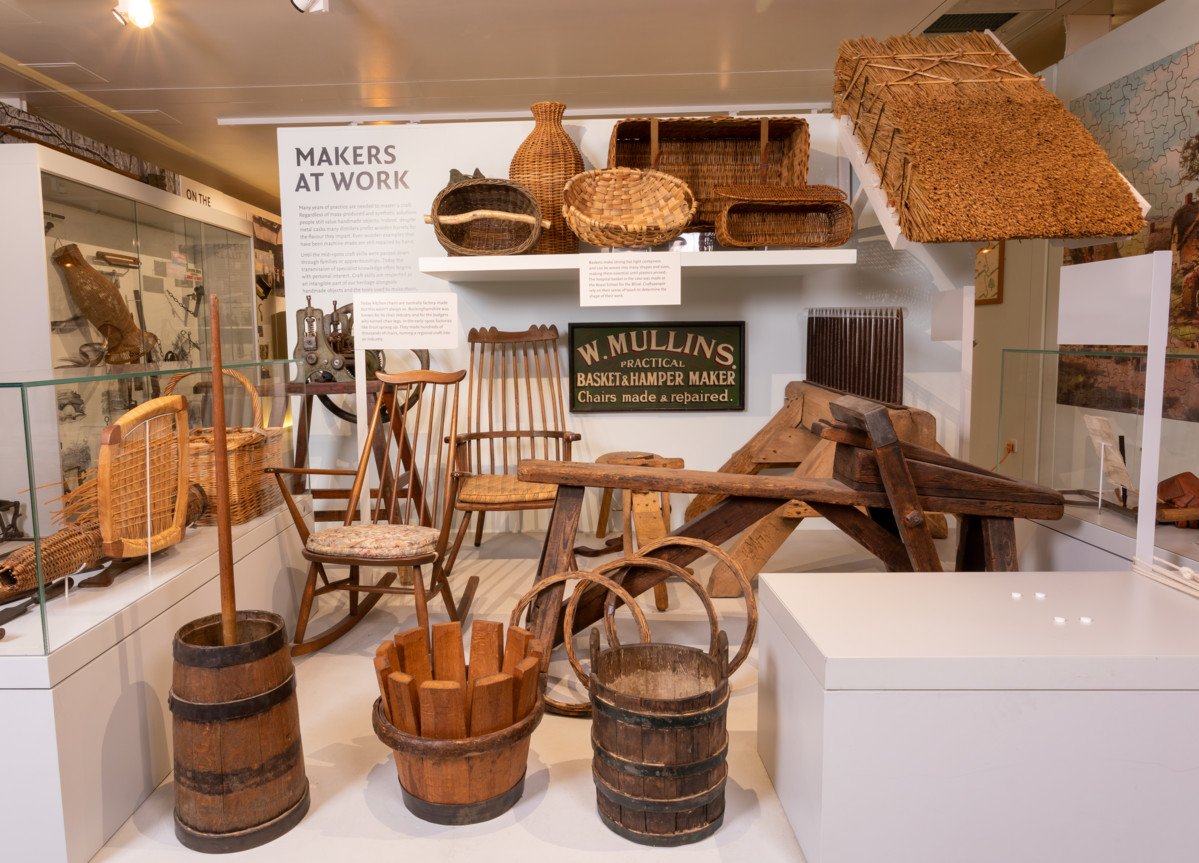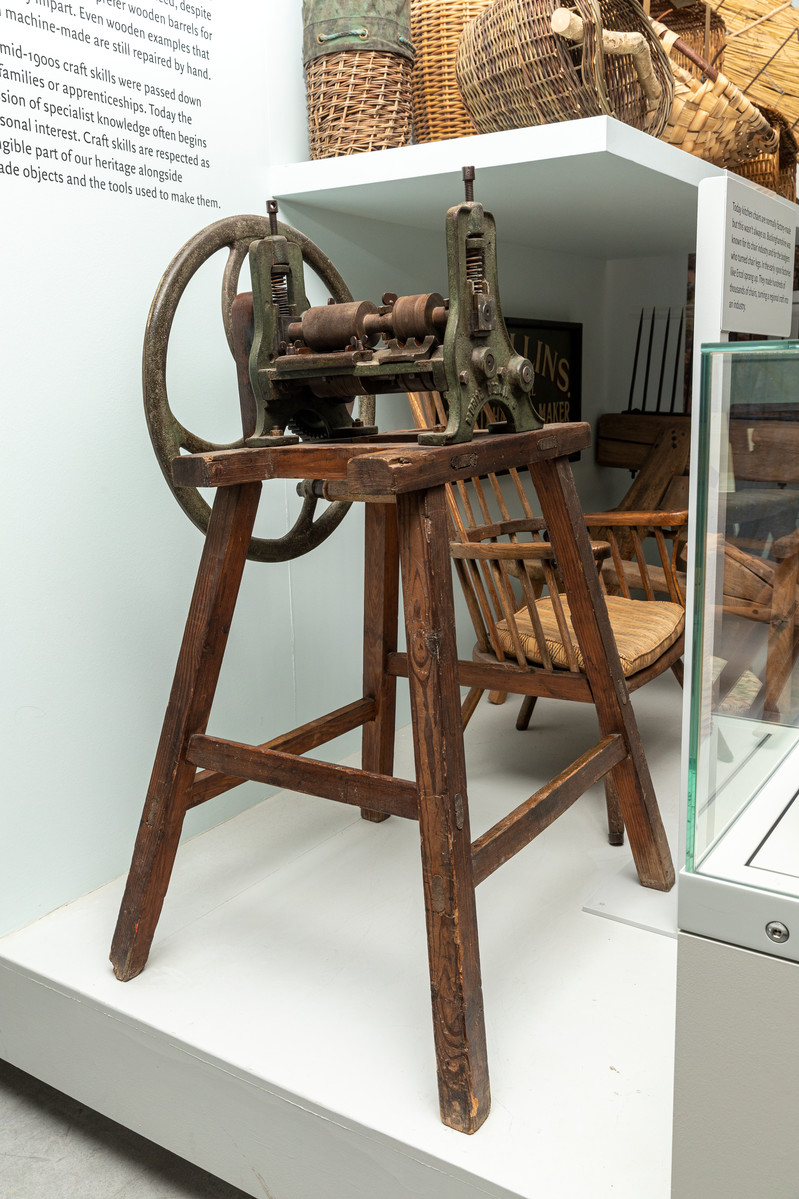 Skeining Machine
This is a skeining machine for cleaving rods of willow into three or four to make skeins, and for shaving the skeins to reduce their thickness in preparation for weaving. Skeinwork is a German speciality and the machine was made in Berlin. It is driven by a flywheel and a system of rollers.
MERL 68/580
close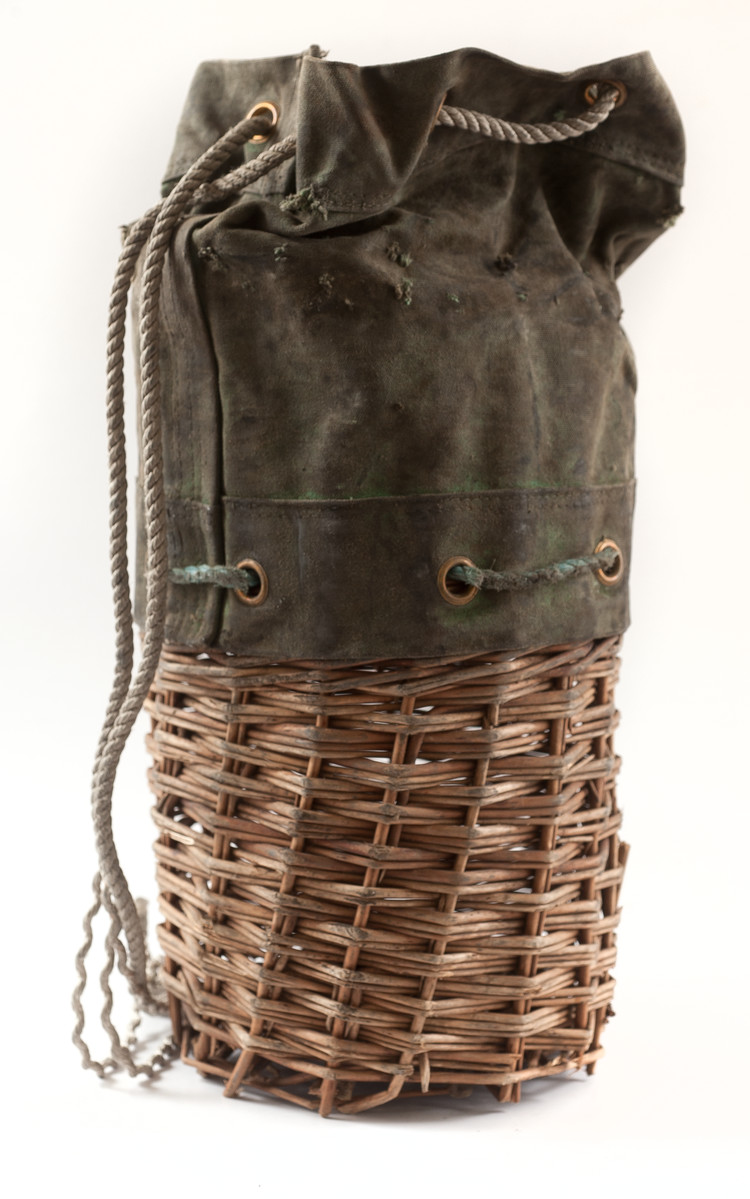 Fire Hose Strainer
This is a basketwork fire hose strainer with a canvas skirt. It was donated to the MERL from the Royal Berkshire Fire and Rescue Service and was probably used in fire stations in Reading until it was taken out of use c. 2000–2003.
Fire strainers were placed on the end of the hose of a fire engine to strain the water, which was often taken from a nearby pond and therefore contained debris. They were often moved from one pumping appliance to another. This example consists of a cylindrical basket made of buff willow.
MERL 2012/389
close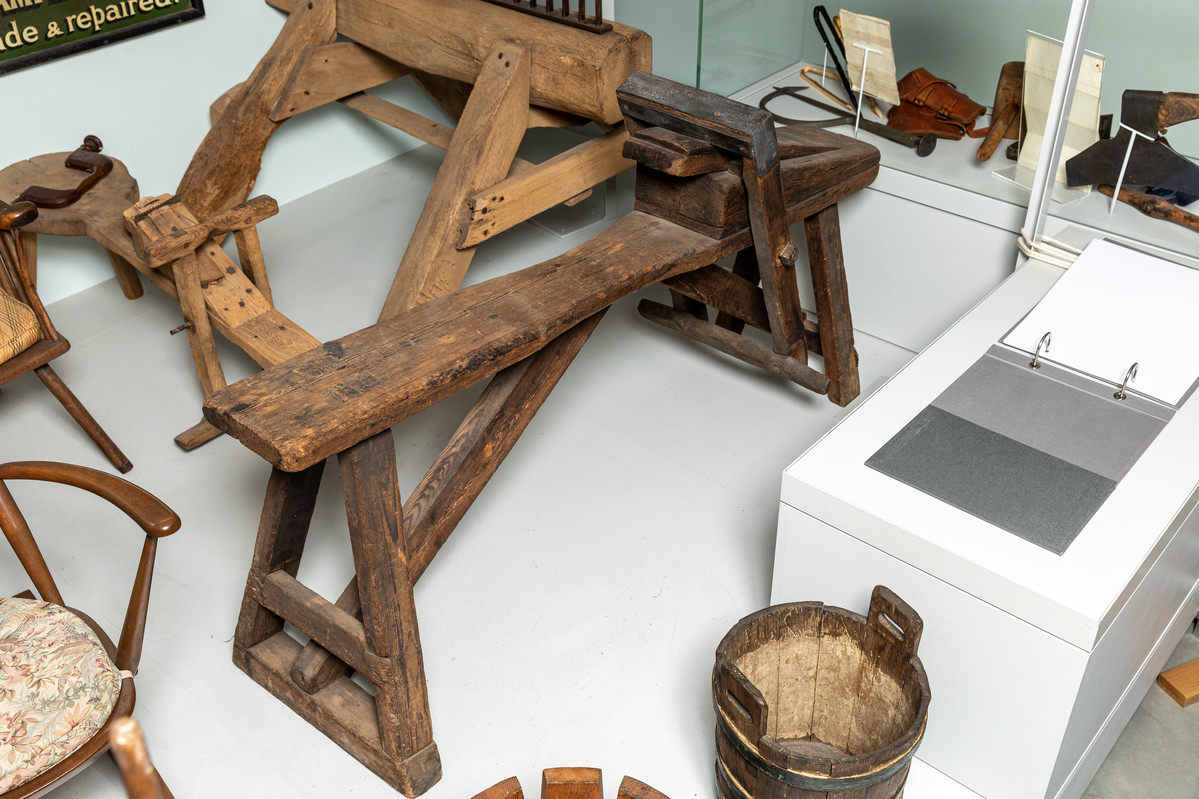 Cooper's Shaving Horse
A shaving horse is a bench on which the workman sits astride. This shaving horse was used by a cooper to hold the staves of a cask as he shaped them. It came from the cooper's shop at H. & G. Simonds Ltd., known as the Bridge Street Brewery, in Reading.
MERL 55/82
close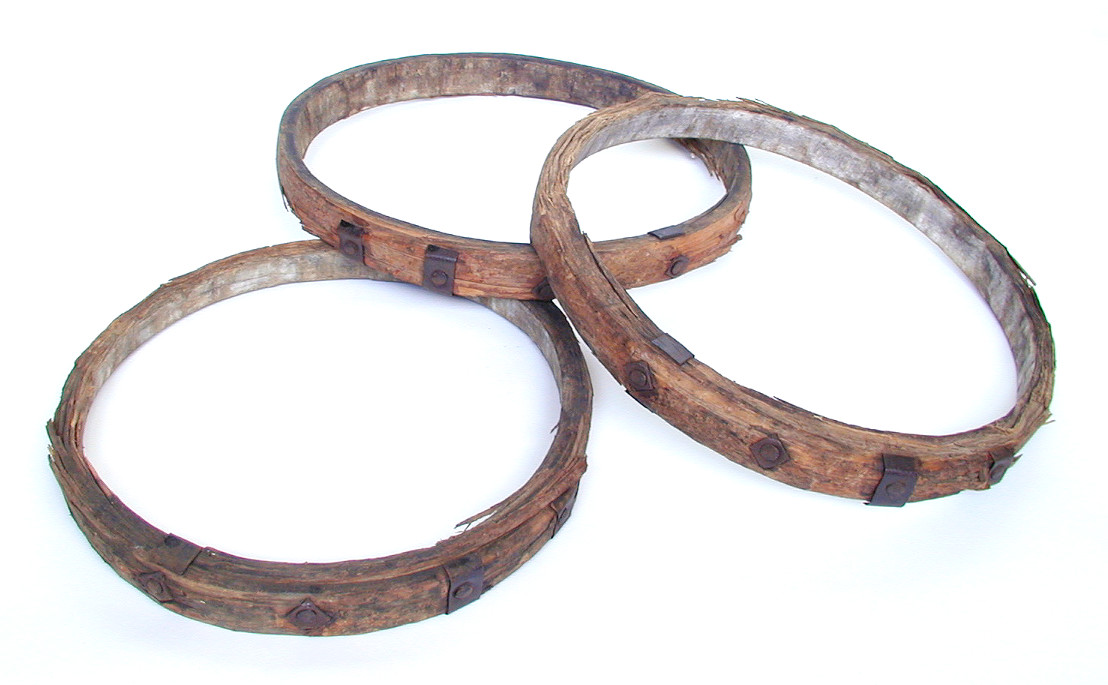 Truss Hoops
Truss hoops, made of ash, were used by wet coopers to bring the staves of a cask together. The cask is first moistened and pressed over a cresset (a brazier used by coopers) until the sap has warmed and the staves become pliable. The cooper then drives down progressively smaller truss hoops over the staves, using a heavy hammer, until they are brought together. This truss hoop was used in the cooper's shop at H. & G. Simonds Ltd., known as the Bridge Street Brewery, in Reading.
MERL 55/56/1-3
close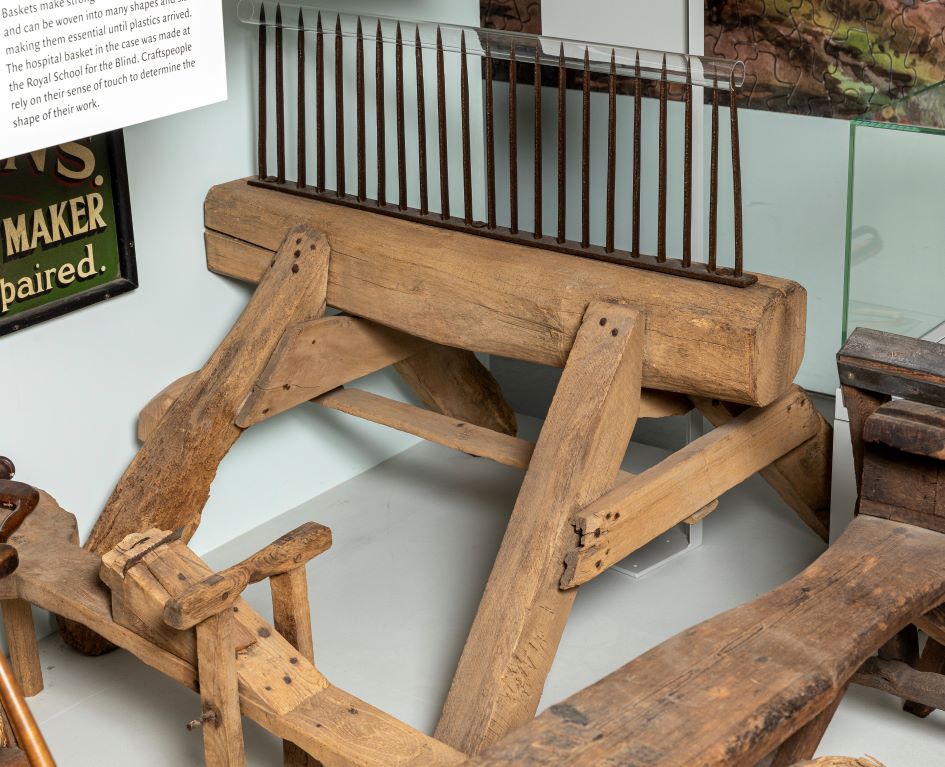 Thatcher's Reed Comb
This is a thatcher's reed comber, for combing the wheat reed which is used to create thatched roofs. It consists of a solid wooden frame with four splayed legs and cross bars, and sitting on the frame is a solid piece of timber with 22 steel spikes set into it.
MERL 79/25
close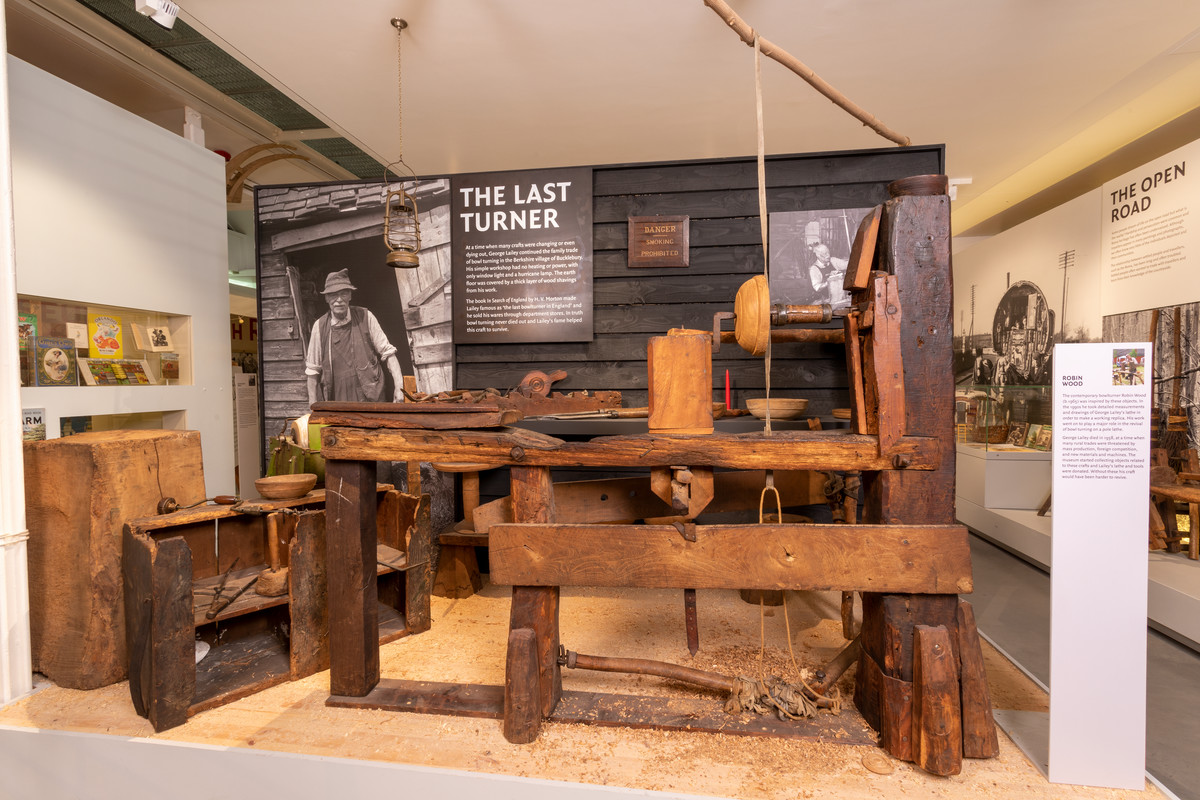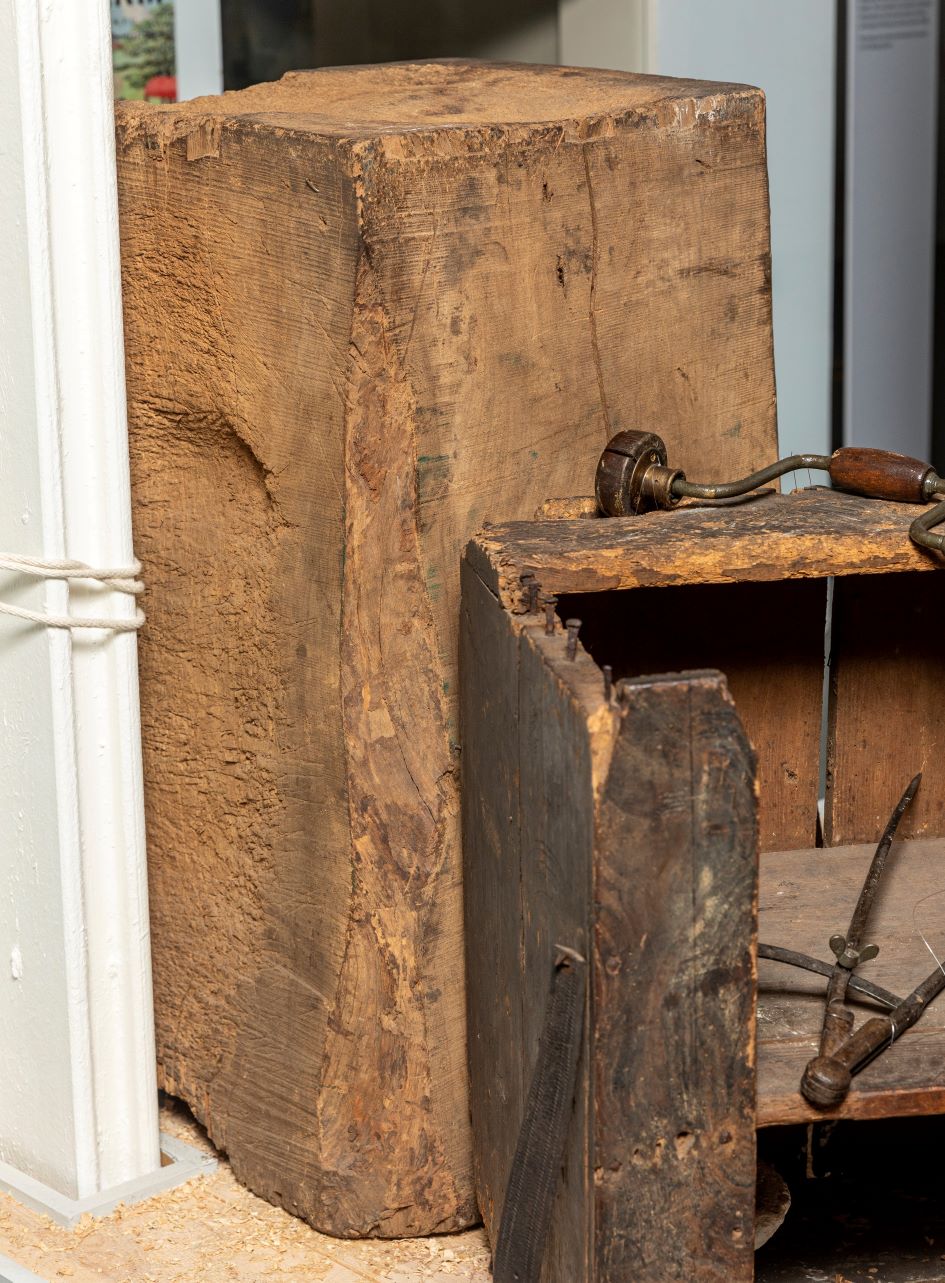 Chopping Block
This very large block of wood was used for chopping and cutting up timber. It was used by the bowl turner George Lailey, of Bucklebury. George Lailey turned wooden bowls using a pole lathe in his hut at Turner's Green, on Bucklebury Common, until 1958.
MERL 59/99
close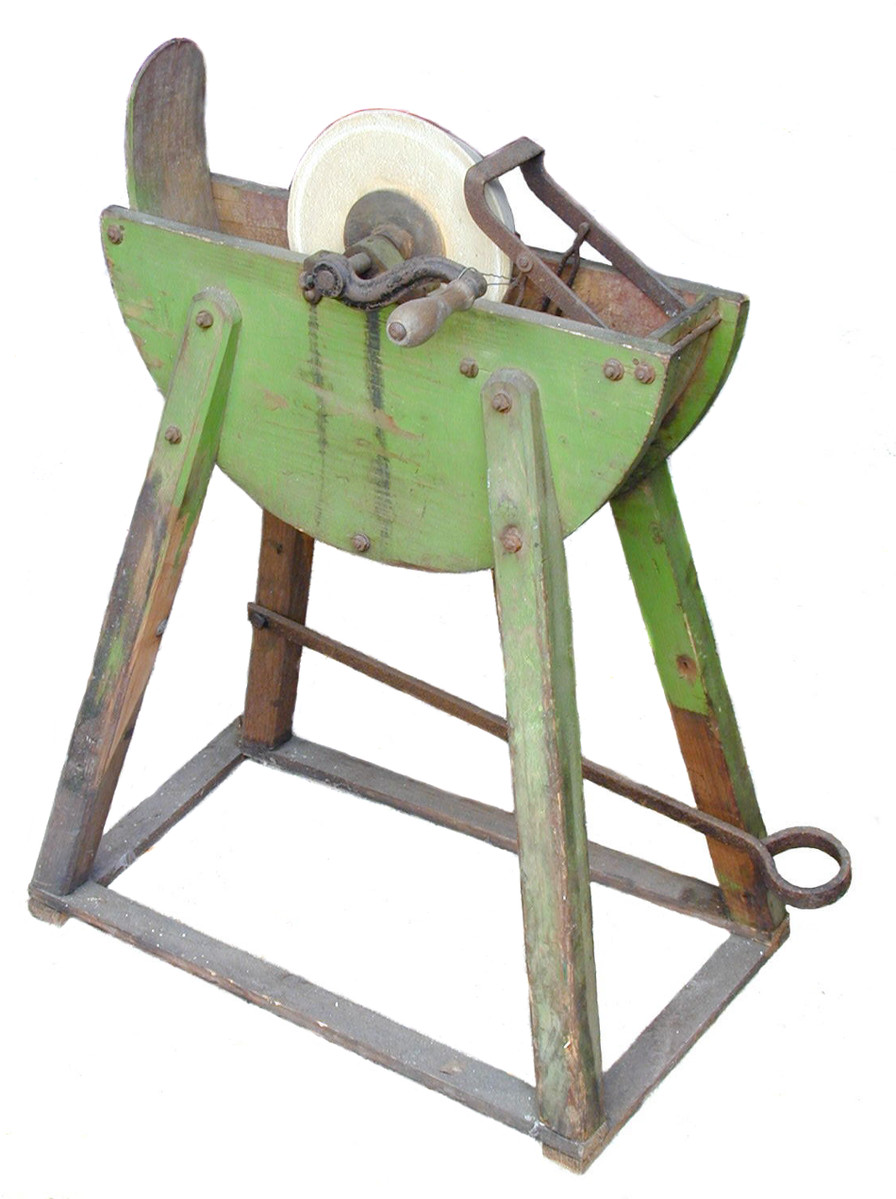 Grindstone
This is a grindstone, a device for sharpening tools. It can be turned either by a handle or by pressing a bar with the foot. It is supported in a wooden frame. It was used by George Lailey, a bowl turner from Bucklebury, presumably for sharpening lathe tools.
MERL 59/136
close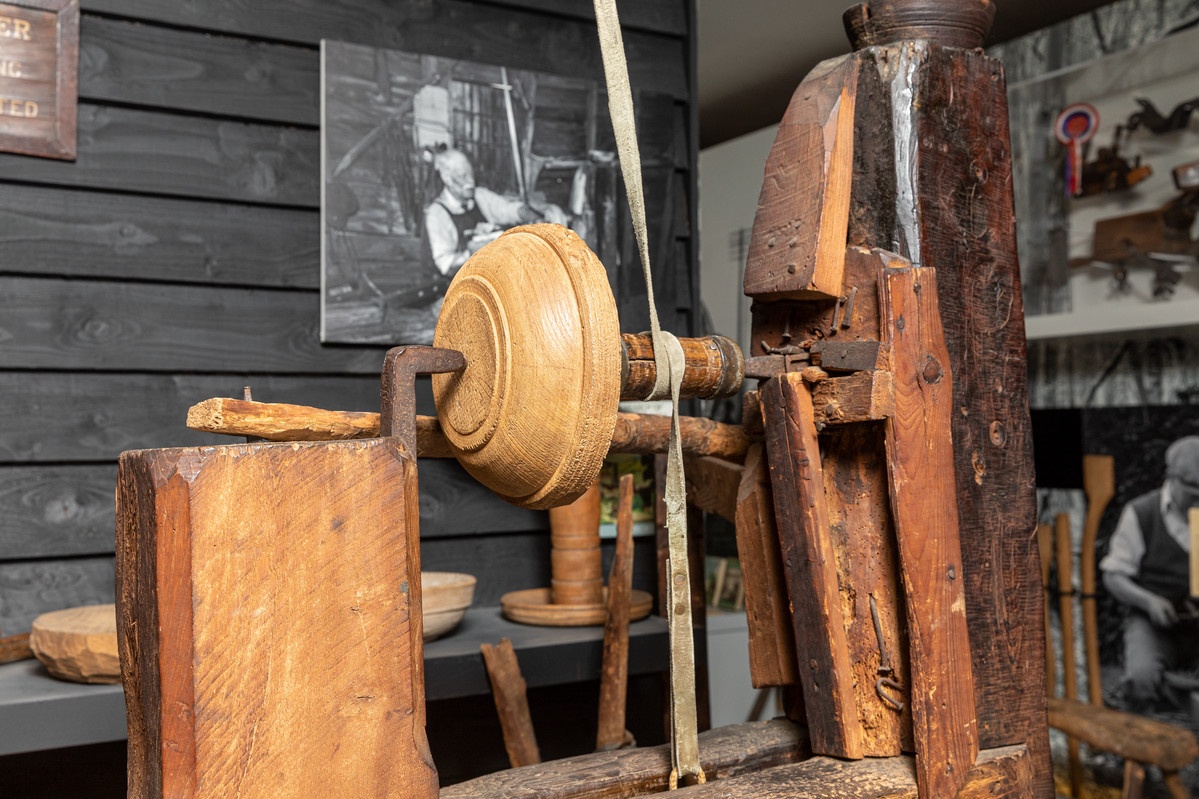 Pole Lathe
This lathe stood originally in the south west corner of George Bailey's hut.  The hut had no heating or power, with light only provided by shuttered windows and the occasional use of a hurricane lamp. The lathe was powered by a piece of springy sapling, the thick end of which was tied, nailed and weighted on the wall of the hut. A leather strap was attached to the thin end of the pole, and it passed downwards to wrap once around the chuck, on which the bowls were made. A loop on the end of the strap hung below the bed of the lathe and a rope joined the loop to the treadle.
MERL 59/57
close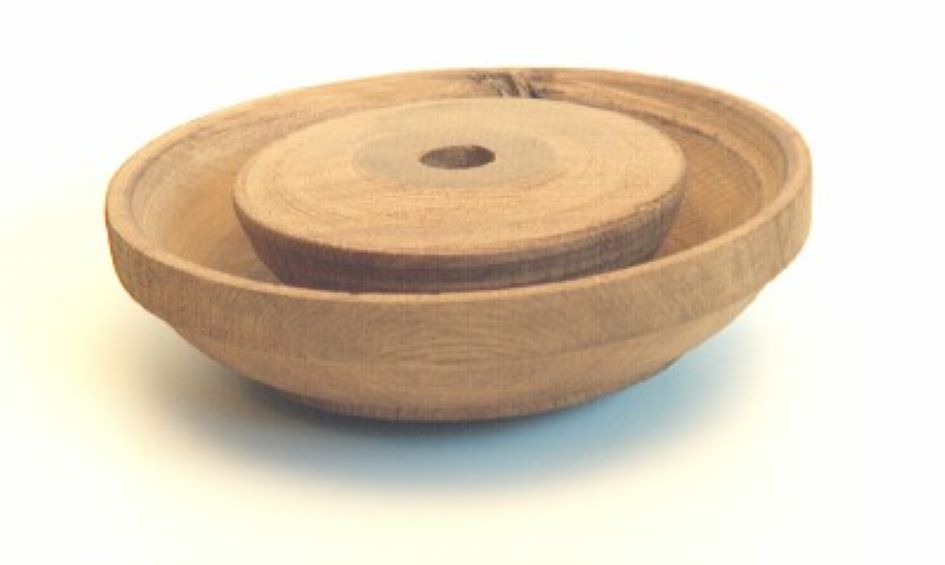 Unfinished Bowl
This is of the square elm blocks was used by John Whipps to practice on with Lailey's bowl turning tools. The block was first made into a circular shape with a bandsaw and then turned. The bowl was not completed as the central core is still in place.
In turning bowls the craftsman requires a variety of chisels or turning hooks. Some are straight shanked for shaping the outer side of bowls, while others are curved enough to reach the very bottom of a "nest" of bowls resting on the lathe. Most of these tools were made by the craftsman himself and some of the newer ones are not fitted with wooden handles. The blacksmith supplied the iron and Lailey himself fashioned the rest in the fire.
MERL 59/94
close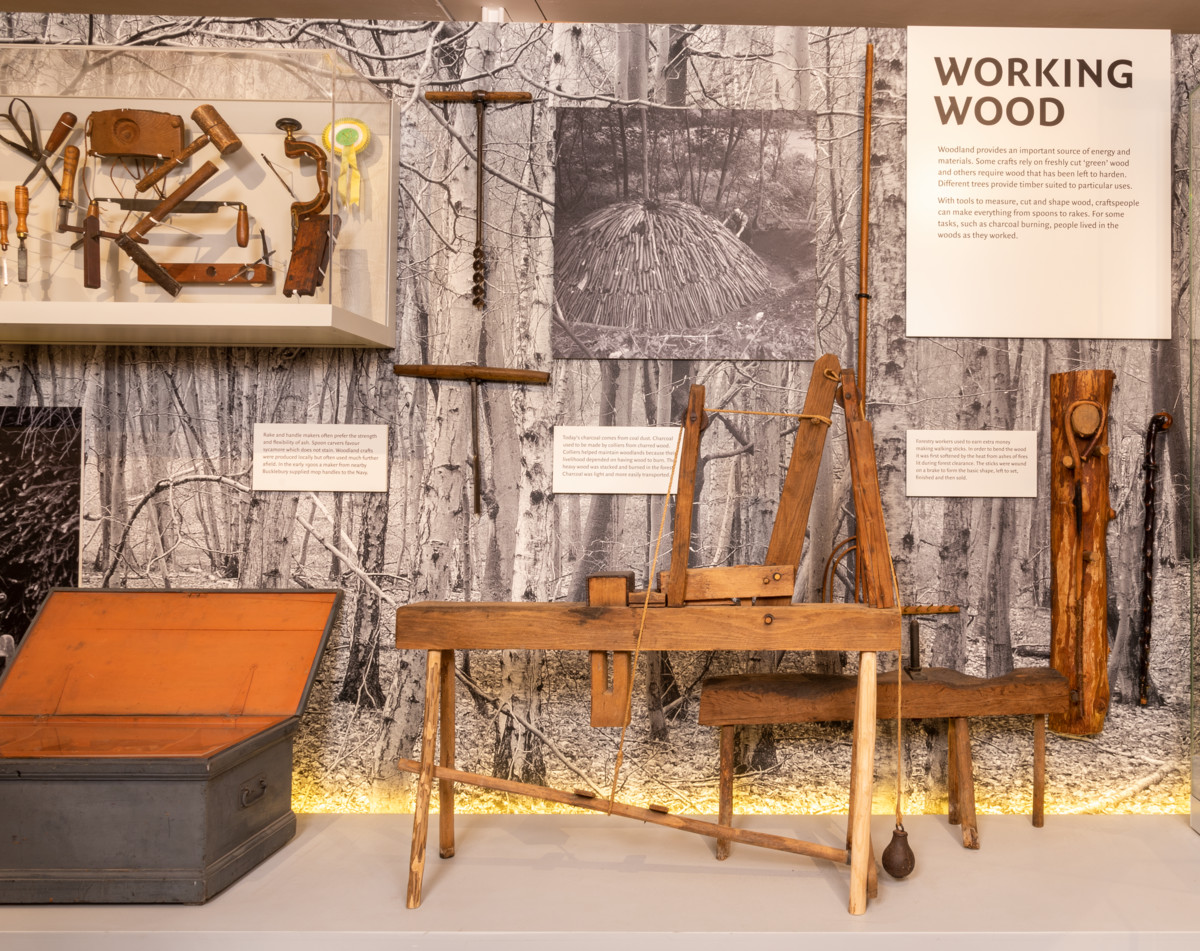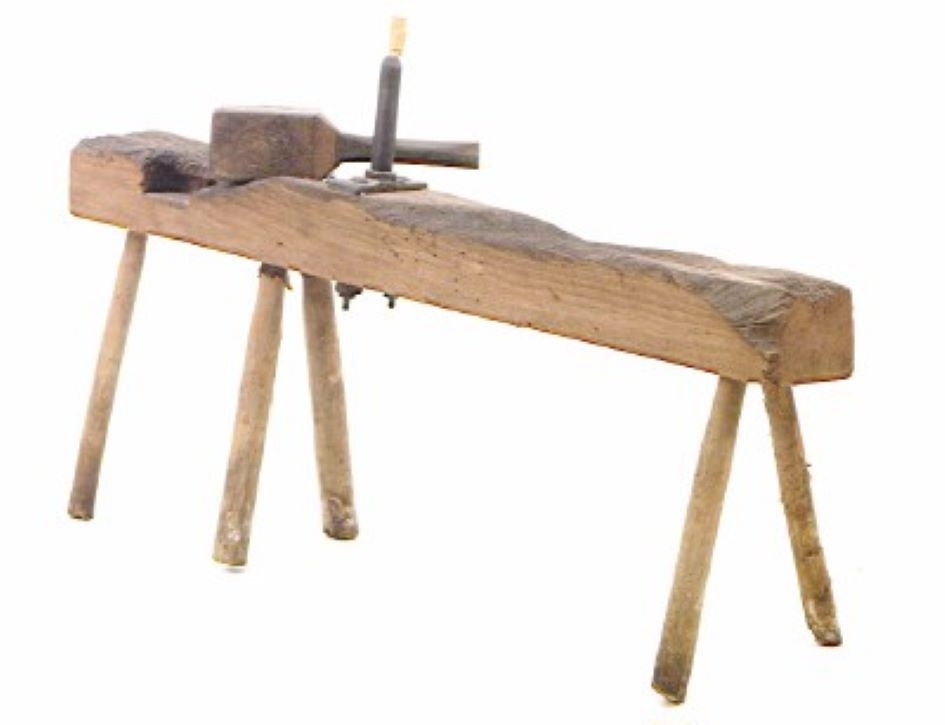 Tining Horse
This tining horse was used by a handlemaker in Heatherdene, Bucklebury Common, Berkshire until 1950. It was used for making rake heads. It consists of a bench stool, to which is attached a steel 'tine former' or 'peg cutter'. Wooden pegs are driven through these to shape them into tines.
MERL 60/281
close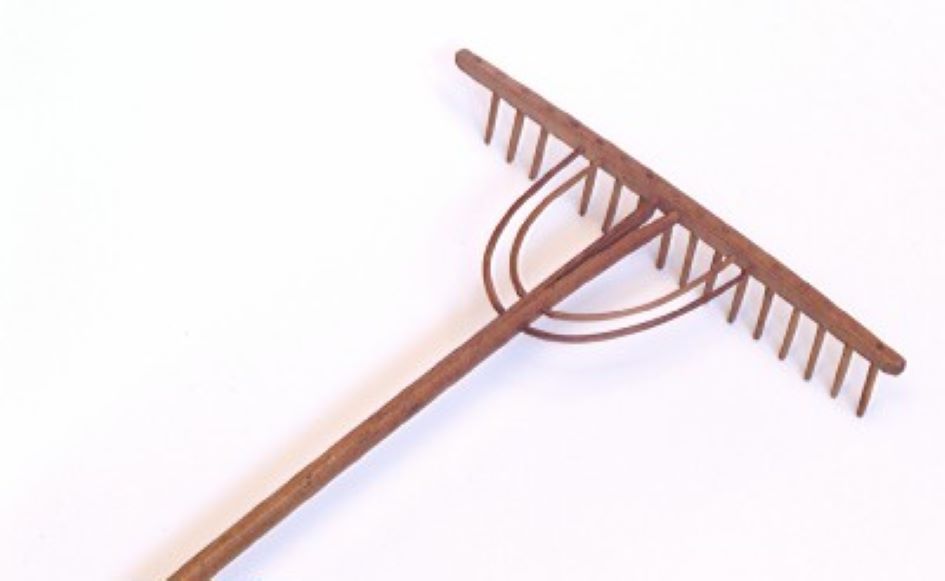 Rake
The design of this rake is typical in Wales, combining the cleft handle with bowed supports. It is made of ash, has a slightly splayed cleft handle, two sets of curved braces either side to hold the head in position, and seventeen tines. The rake is of the type used to gather harvested hay into piles ready for collection. The rake is part of a large collection of traditional craft objects acquired from the British Council in 1960. It was supplied by, and probably made by, William Thomas of Llanymawddwy in Gwynedd.
MERL 60/497
close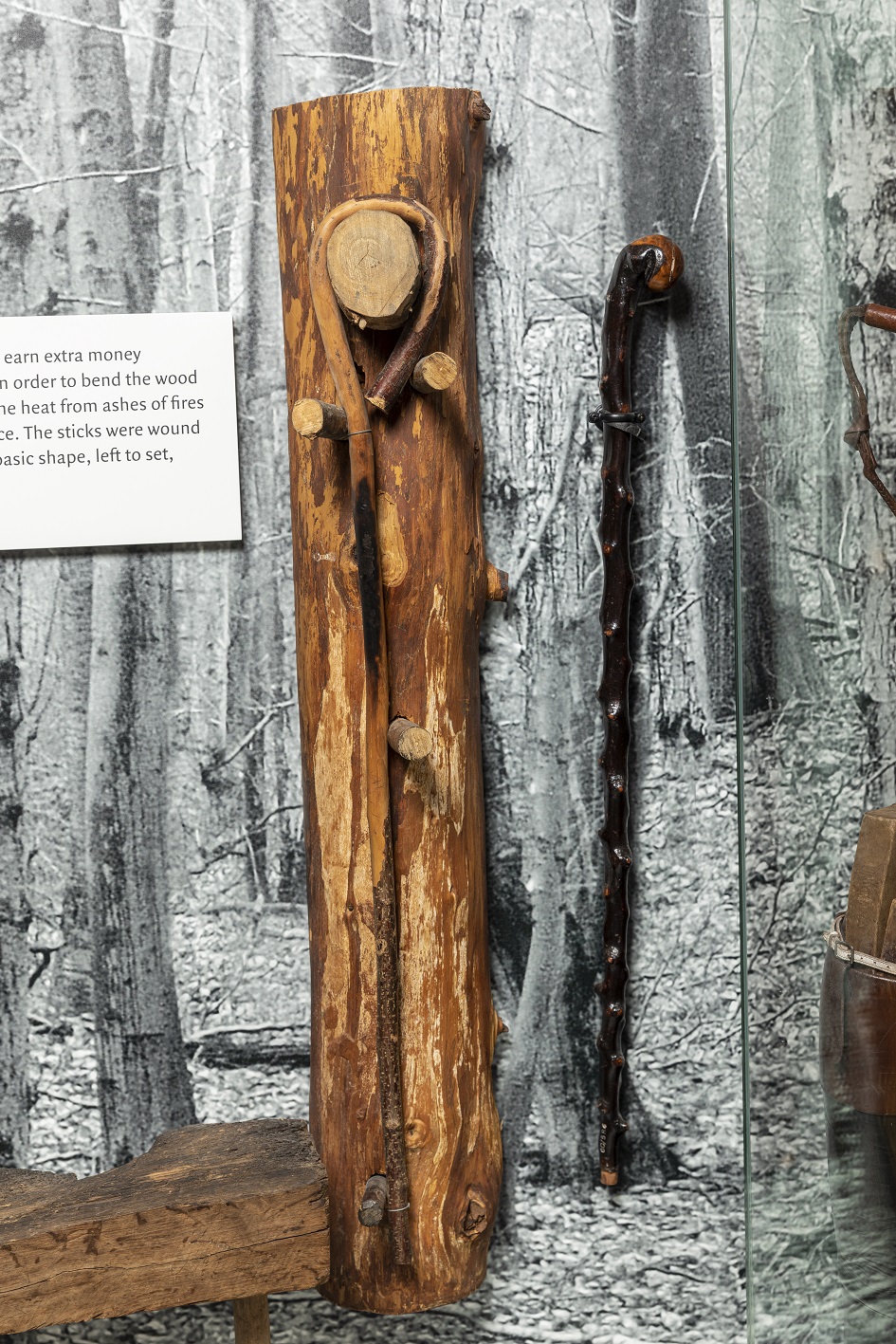 Bending Break
This is a bending brake, used to make walking sticks. It consists of a split log of cedar with five wooden pins set in it, and has two bent sticks set on it to demonstrate the craft. The brake was made by a forestry worker at the University of Reading.
The craft of making walking sticks was a perk for forestry workers, enabling them to make some extra money. The sticks would be heated in the ashes of the fires that the workers made while clearing up in the forest, and then left to set on the brakes until they could be finished and sold.
MERL 77/323
close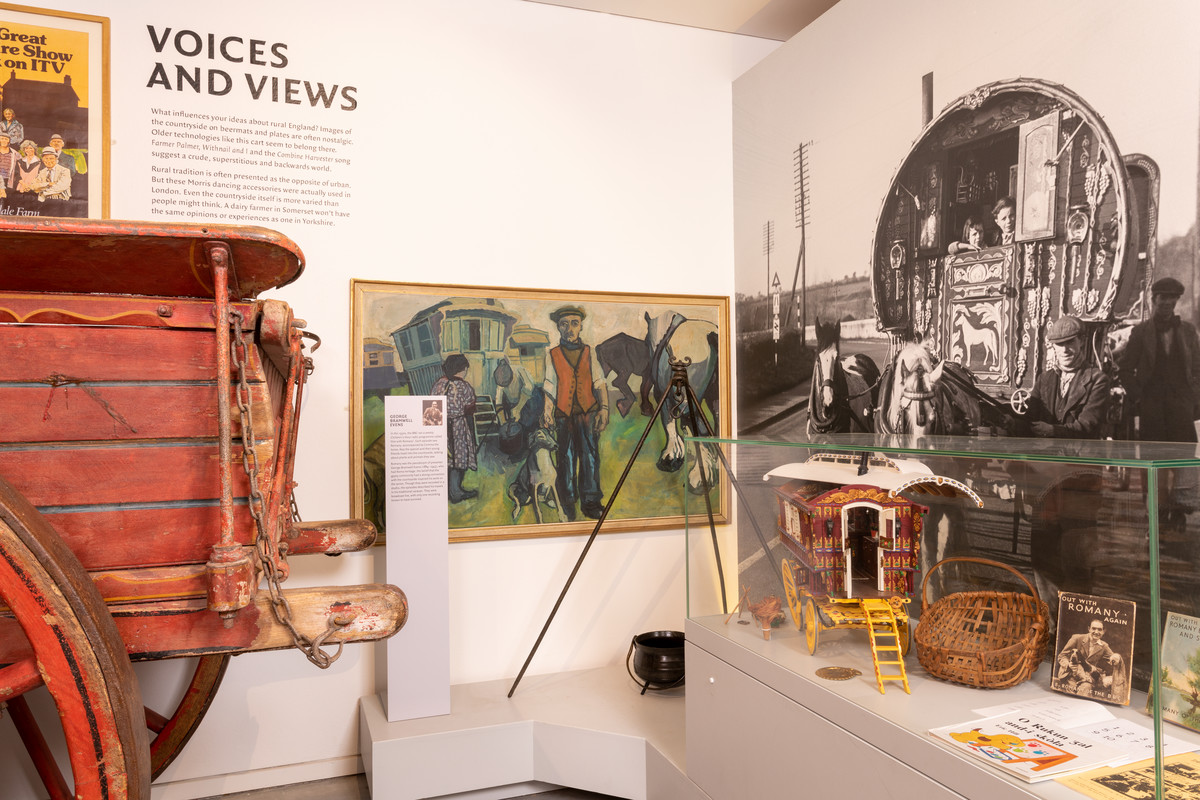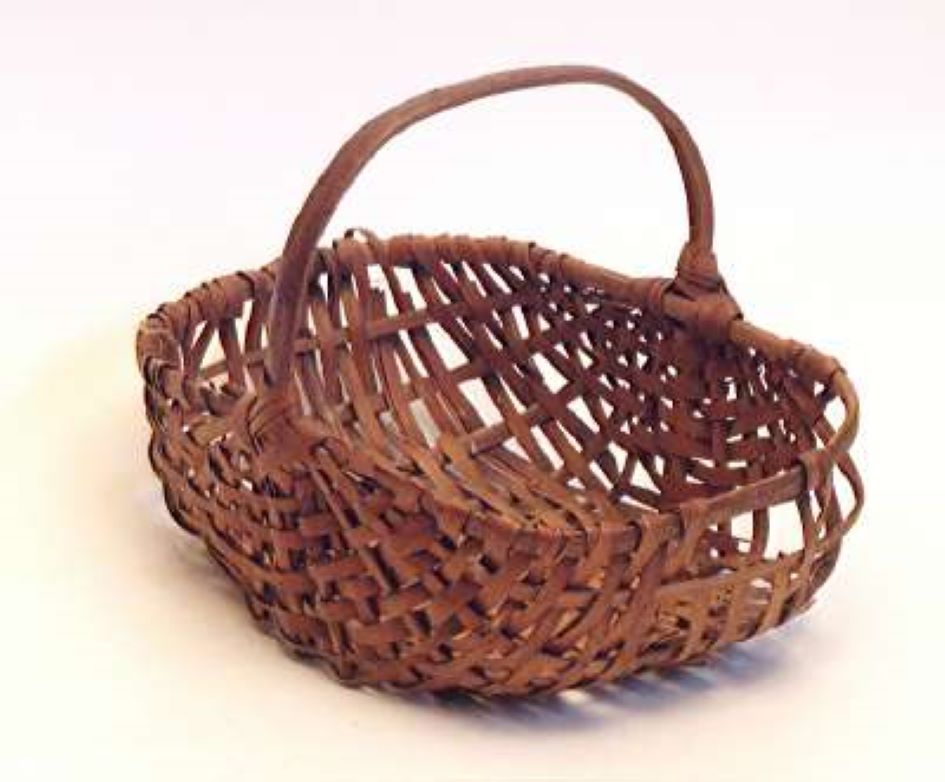 Shopping Basket
This shopping basket was made by Gypsies who lived in Hurt Wood, Surrey. There had been Gypsies on this site for generations and it was the location of the first ever school for Gypsy children. The school itself was made of portable materials so it could be moved, should the families wish to move on from the site. Studies focused on reading, arithmetic and writing as well as history, geography and gymnastics. Students also learned basketry, wood-work and other crafting skills that could lead to gainful employment later in life. This basket was sold at Grover's Fishmongers in 1942 and was made from wood sourced from the Hurt Wood.
MERL 66/231
close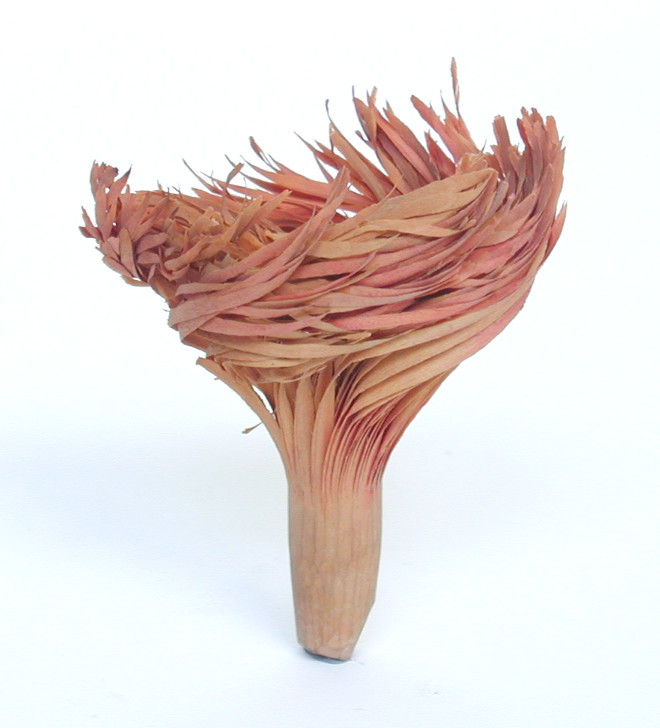 Wooden Flower
This wooden flower was made by a Gypsy man in 1952 from an elderberry stick. He made it to pass the time when he was ill and could not make pegs. Such flowers were stuck onto evergreen twigs and sold at the door for 6 pence each by his wife. It was purchased in Sturminster Newton, Dorset.
MERL 55/307
close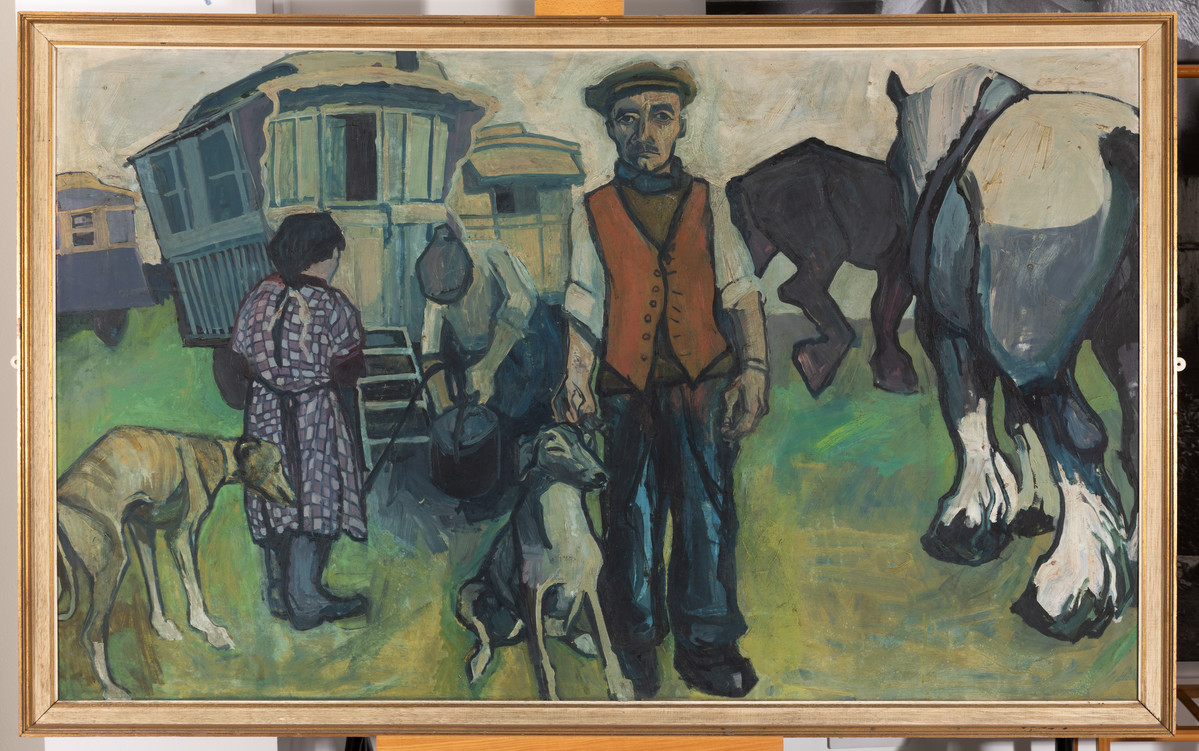 Painting
This painting (artist unknown) depicts a group of Travellers. You can learn more about the painting and the elements of Gypsy life here:
MERL 2011/6
close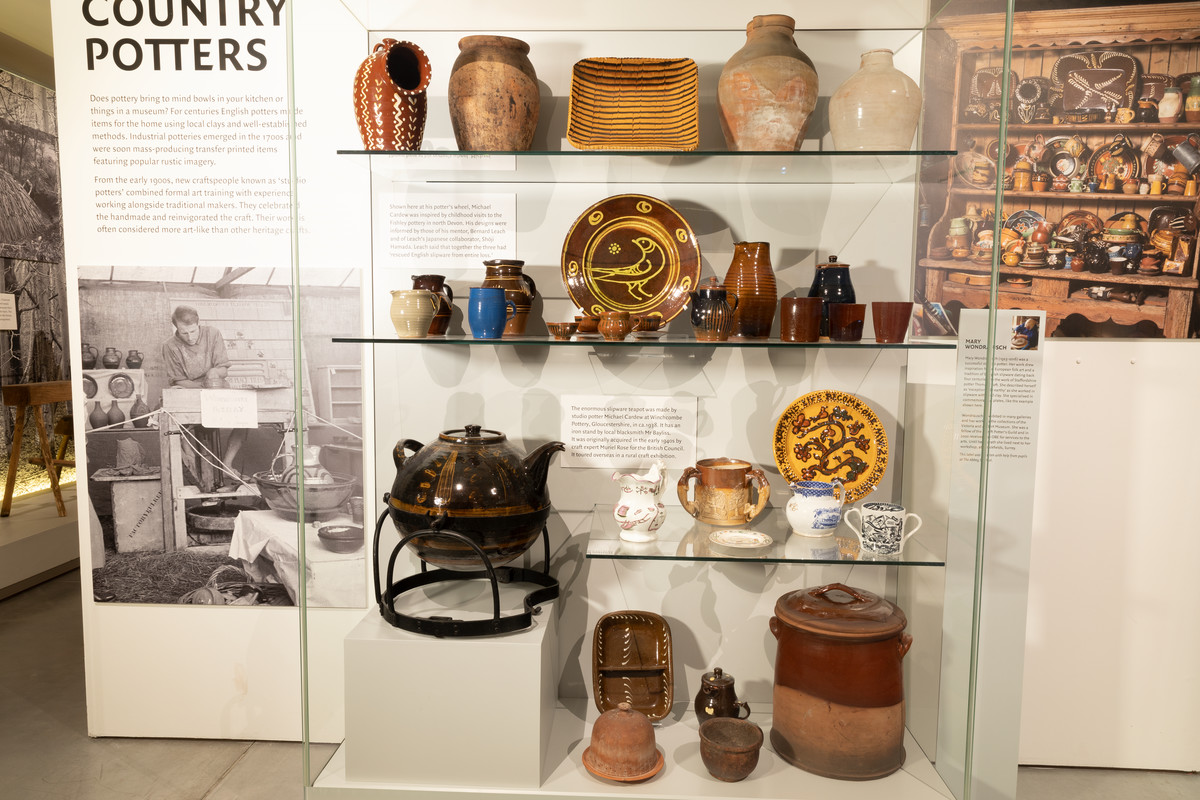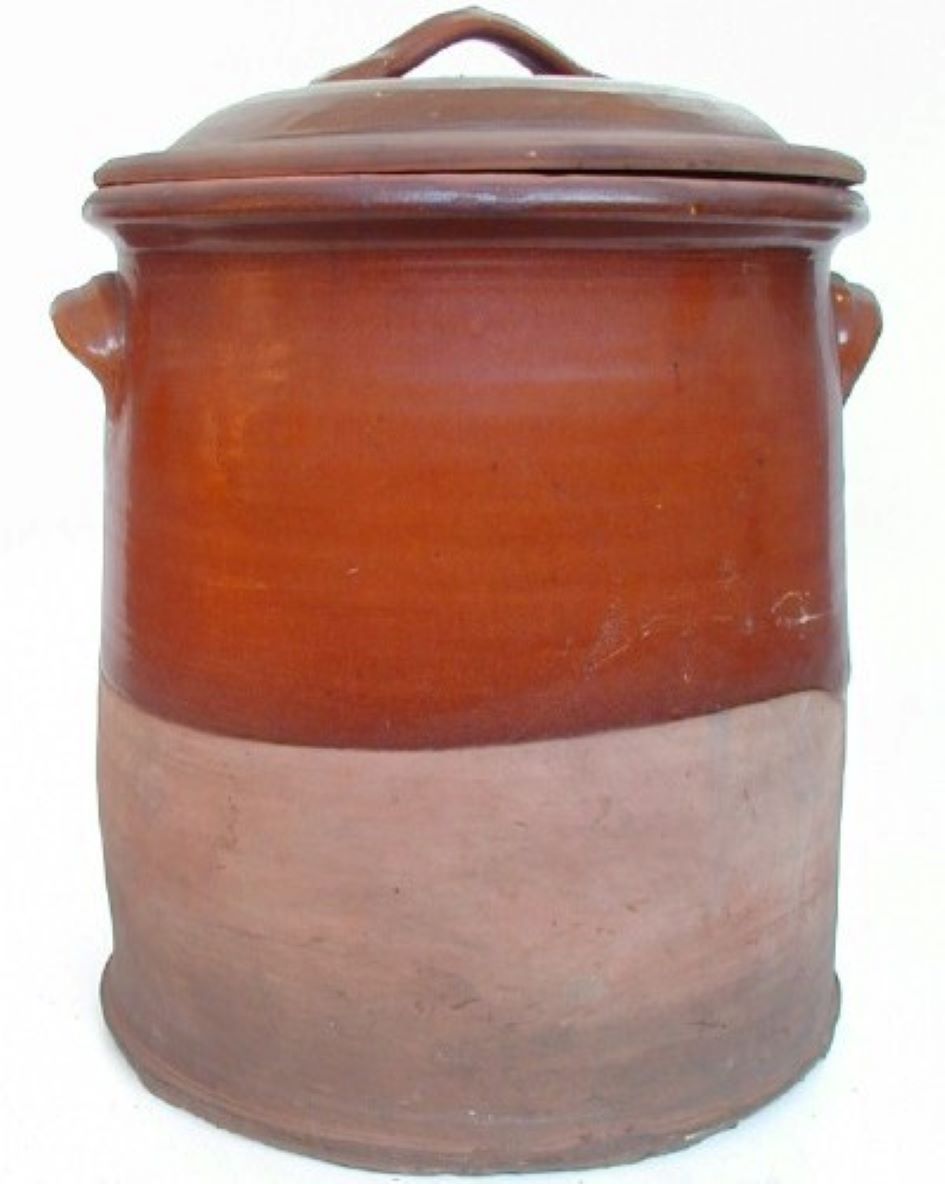 Bread Bin
This pottery bread bin with lid and two handles was made in 1947 by A. Schofield at the Wetheriggs Pottery in Clifton Dykes, Cumbria. They were needed until bread started being made with food preservatives and wrapped in plastic.
Breadboxes are designed to keep the contents are room temperature, prolonging edible storage time. They have lids loose enough to allow airflow, reducing condensation, which helps prevent the formation of mould and yet have a lid tight enough to slow the drying process as well as to protect the contents from mice and all other pests. Michael Cardew was an English studio potter who worked in West Africa for 20 years.
MERL 60/61/1-2
close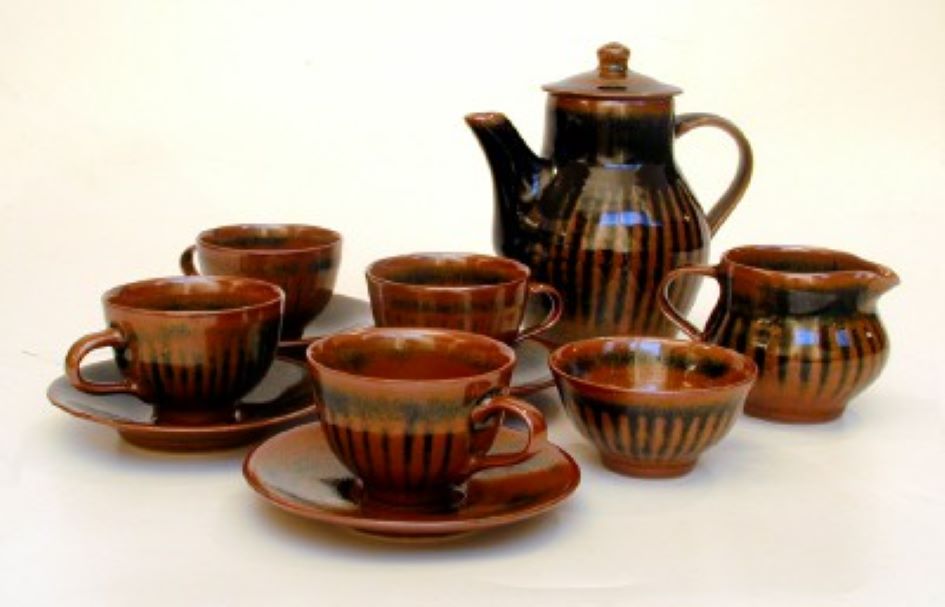 Coffee Set
This set was made c.1945-60 by Harry and May Davis at Crowan Pottery, Praze-an-Beeble, Cornwall. Each piece has a brown tenmoku glaze – a dark glaze with a surface which resembles oil-spotting – and, with the exception of the saucers, each piece is fluted, with the concave portions shaded dark green.
Harry studied art and pottery from his university education onwards. He left St. Ives in 1937 to become Head of the Art School at Achimota College on the Gold Coast (Ghana) where he examined the feasibility of manufacturing tiles, bricks and pots. He recommended Michael Cardew succeed him.
MERL 60/742
close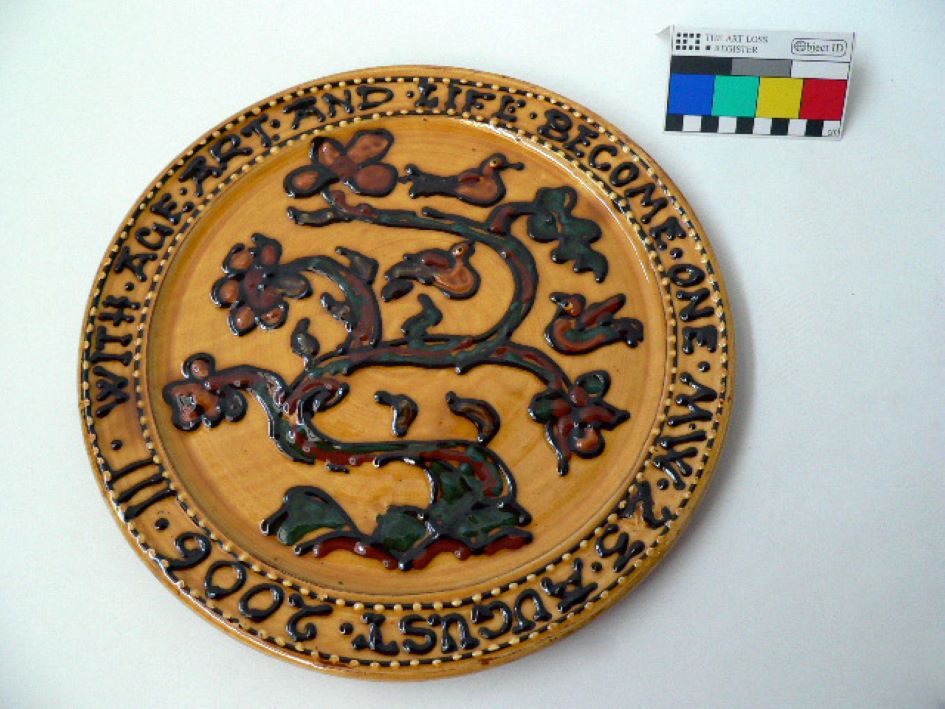 Plate
This plate was created by Mary Wondrausch for the museum in 2006. This is a slipware plate, known as a 'charger', with a honey glaze, a 'tree of life' pattern in the centre and the words 'With Age, Art and Life Become One, MW 23 August 2006'. The tree of life is a fundamental archetype in many of the world's mythologies, religious, and philosophical traditions. It is closely related to the concept of the sacred tree.
The plate was crafted as part of the 'Rural Crafts Today' project run by the MERL from 2006 – 2008.
MERL 2006/66
close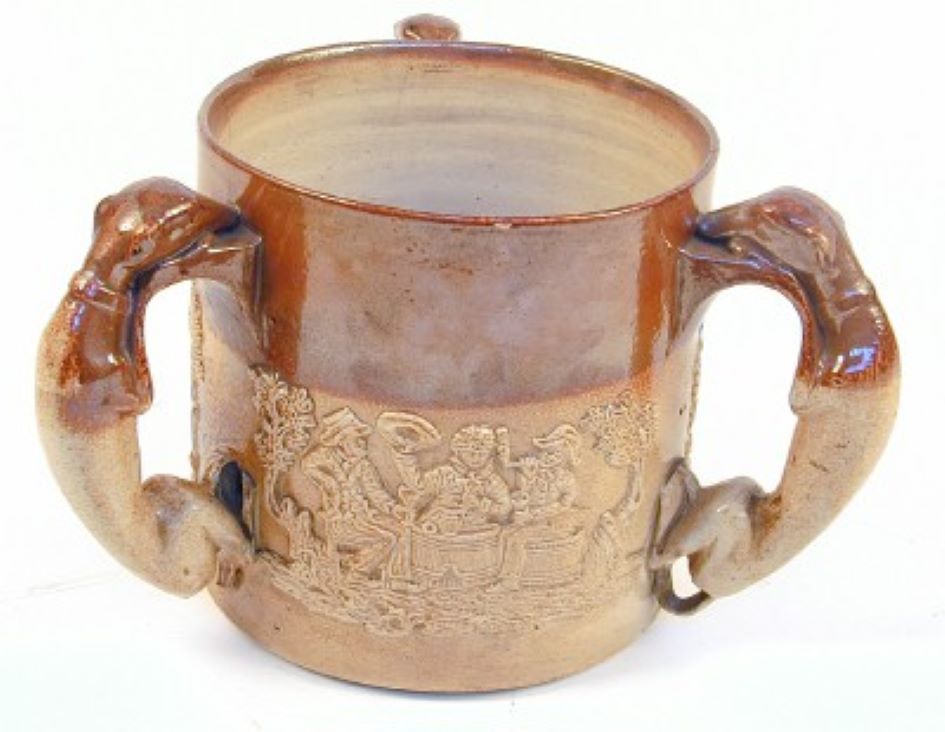 Loving Cup
Believed to have originated in Chesterfield, Derbyshire, this cup was the biggest in an original set of three. Known as a loving cup (two tone brown earthenware) the handles are shaped like dogs and the cup is decorated with scenes of 'rural merriment'. A loving cup is a shared drinking container traditionally used at weddings and banquets. It usually has two handles and made of silver. Loving cups are also given as trophies to winners of games and other competitions.
MERL 62/313
close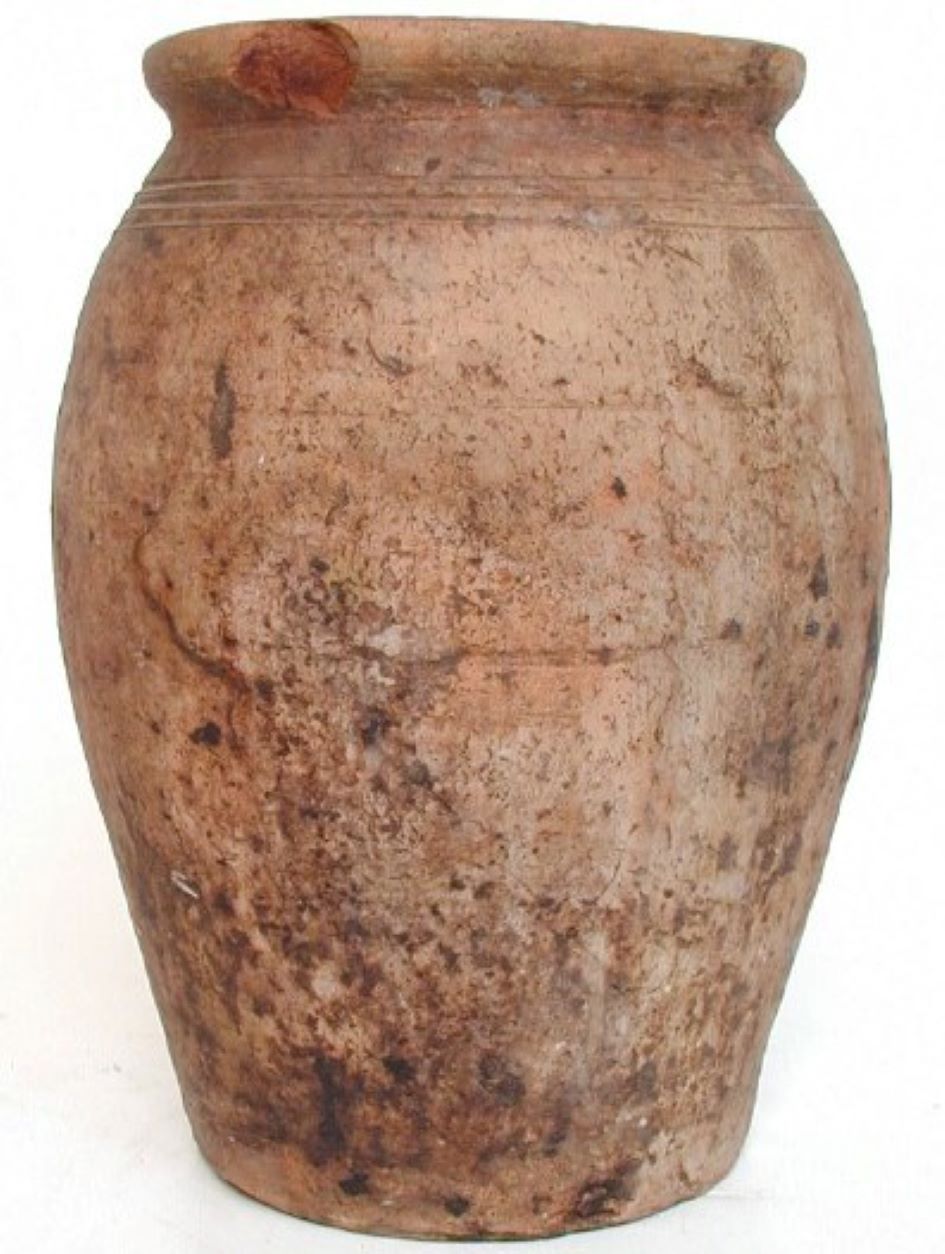 Lard Jar
This lard jar was used by the donor's family at Polventon in Cornwall for holding lard after pig killing until c.1950. It was used by the Wherry Family and made by Andrews, an employee of the Chapel Hill Pottery, Truro c1880.
Lard is a cooking fat and can be used much like butter. It is sourced by rendering the fatty tissue of a pig. It was used as a butter substitute during WW2 and was much cheaper than butter until the introduction of vegetable oils.
MERL 62/328
close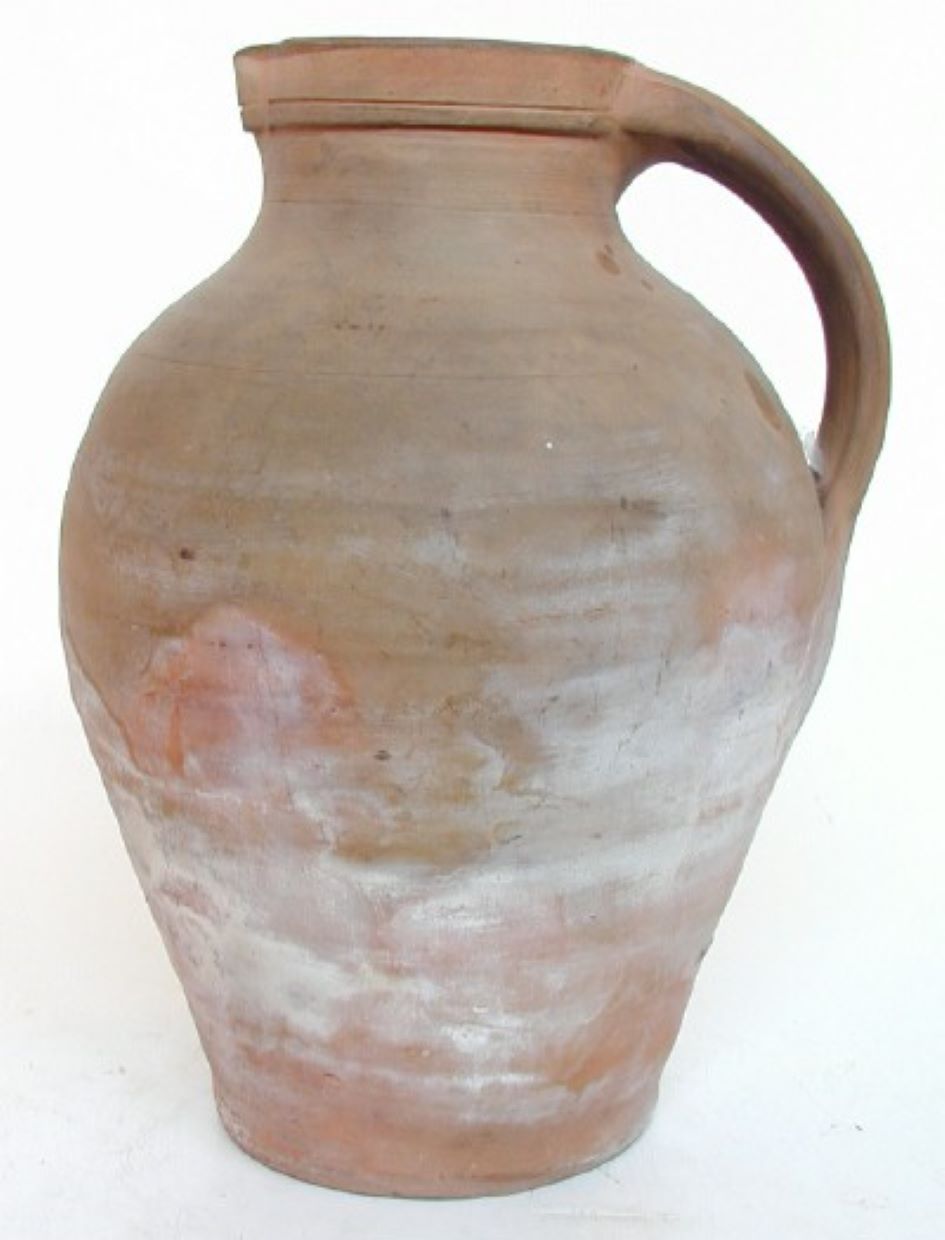 Jug
This earthenware jug with a deep orange-brown glaze on the inside was made by W. H. Lake & Son Ltd. at Chapel Hill Pottery in Truro, Cornwall, c. 1945–6. Jugs of this shape were made at Chapel Hill Pottery for over 400 years. In its 1950s heyday, Lake's Pottery was producing hundreds of items for domestic use including plant pots, pitchers, bread pans, cream pans and salters.
MERL 60/620
close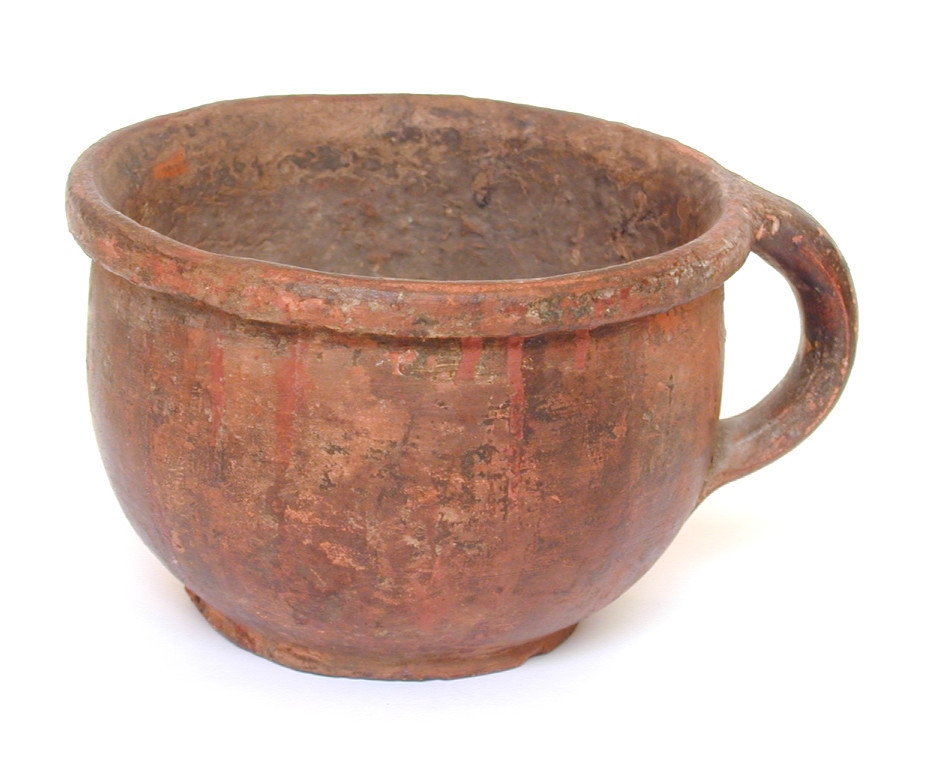 Lacemaker's Warming Pot
Warming pots were used for warmth by lacemakers instead of fires, the smoke and dust of which might soil their work. The pots were filled every morning with hot wood ashes obtained from a baker and placed at the feet of the lacemaker, or under the candle block. This warming pot is made of rough brown earthenware.
Lace became very popular in English fashion during the court of Elizabeth I. Lacemaking industries took of in Devon and part of the South Midlands. All these areas were influenced by immigrants from Belgium, French Huguenots and later the French escaping revolution. Queen Victoria married in white lace, influencing the wedding dress style until the modern day.
MERL 51/749
close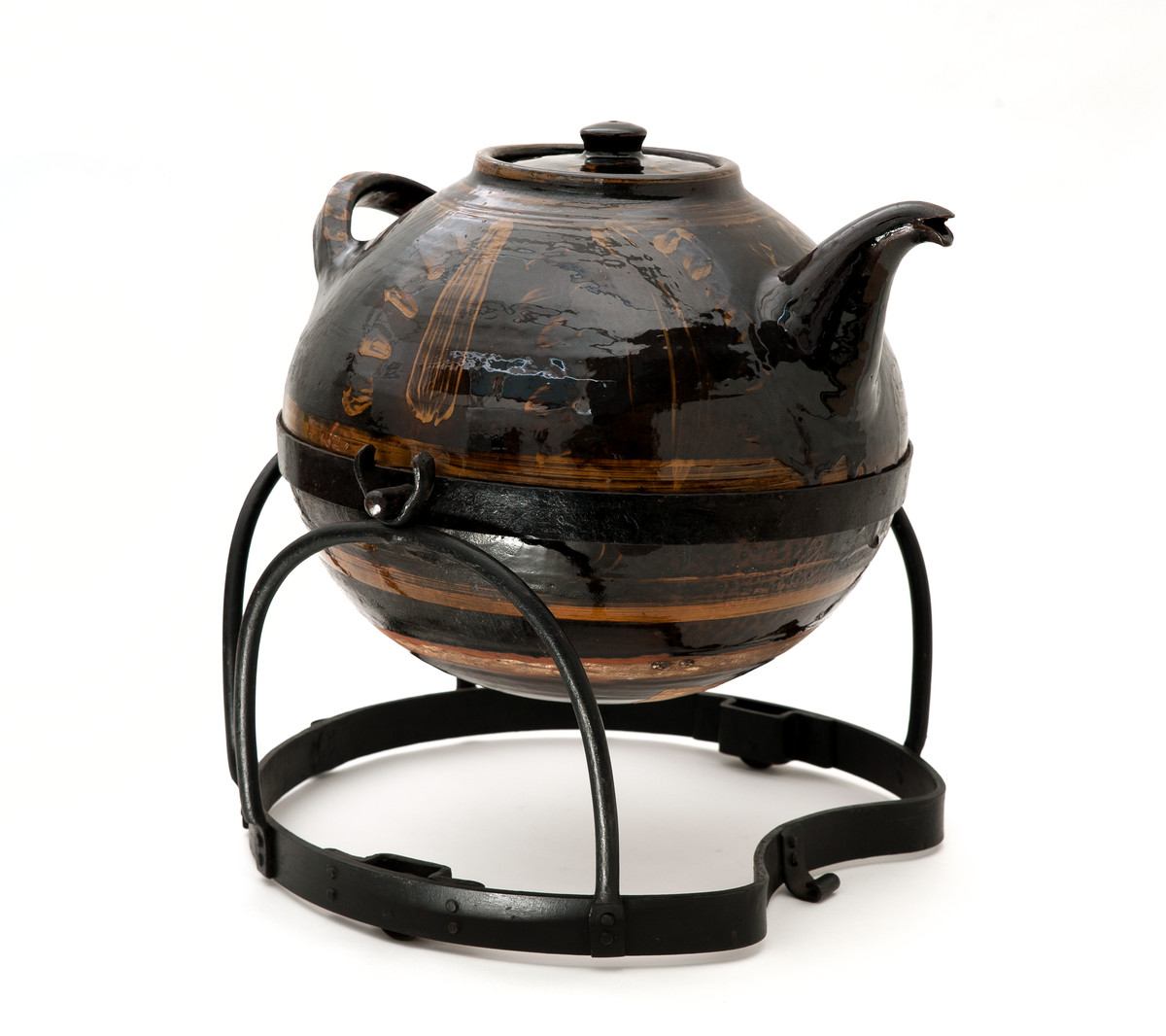 Teapot
This 6.5 gallon teapot was made c. 1945–6 by Michael Cardew at Winchcombe Pottery in Winchcombe, Gloucestershire. It is oval in shape and is supported on an iron frame on which it can be tipped. It is dark brown, with a design in yellow slip. The pot can hold 29.5 litres of tea, and is supported on an iron frame which allows it to be tipped and also maneuvered thanks to small wheels at its base. It is not an anomaly, but is actually a type of teapot reputed to have been used at various types of large meetings across the countryside.
MERL 60/638
close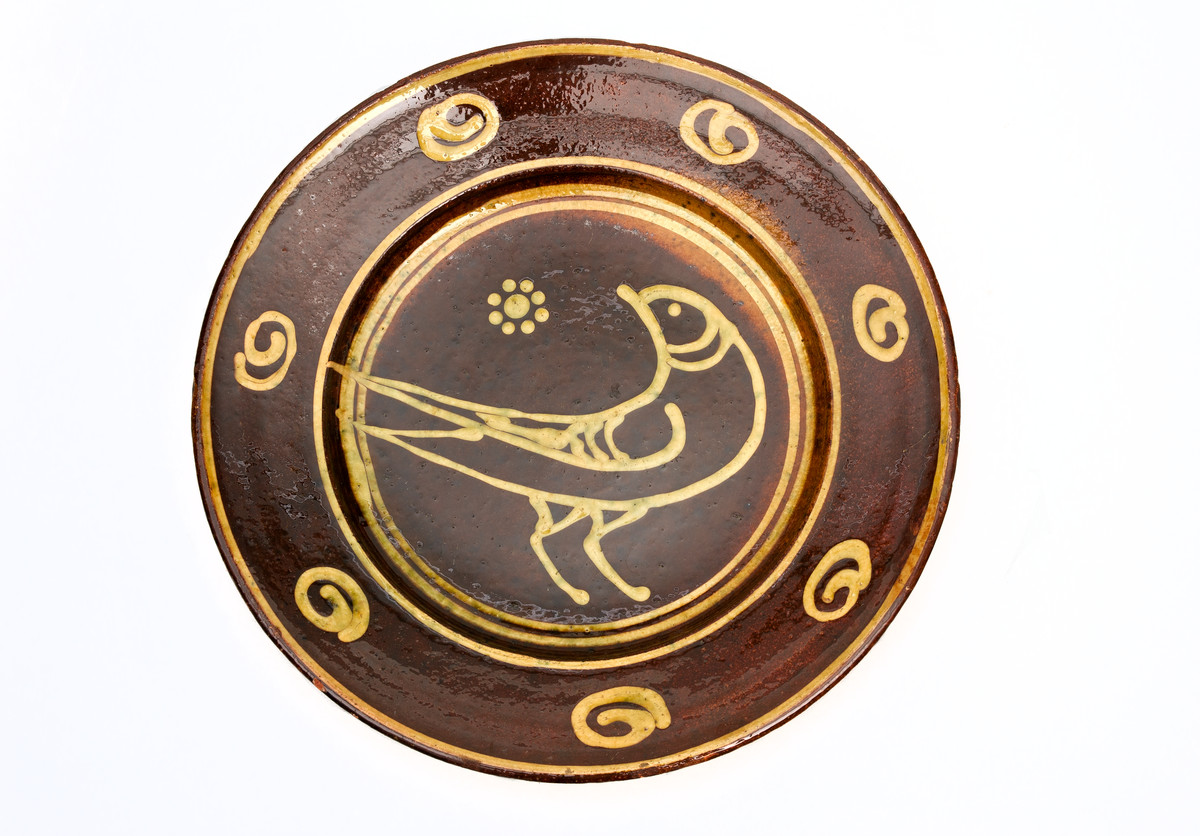 Dish
This large round dish was made c. 1926–39 by Michael Cardew at Winchcombe Pottery in Winchcombe, Gloucestershire. The bird was created using the slipware style of pottery decoration. Cardew was employed by the Colonial Service to teach ceramics at the Achimota School (an elite school for Africans in the Gold Coast (Ghana)).
It was suggested after the outbreak of World War Two that importing crafted goods was impossible due to attacks on shipping. It was therefore suggested that the Colonial Office promoted 'indigenous industries' for which Cardew was in charge of developing. It was a failure. He then set up his own pottery in Vume which was also seen as a failure, but is now regarded as some of his finest work. It was said the clay was very difficult and there were a number of kiln failures.
MERL 60/637
close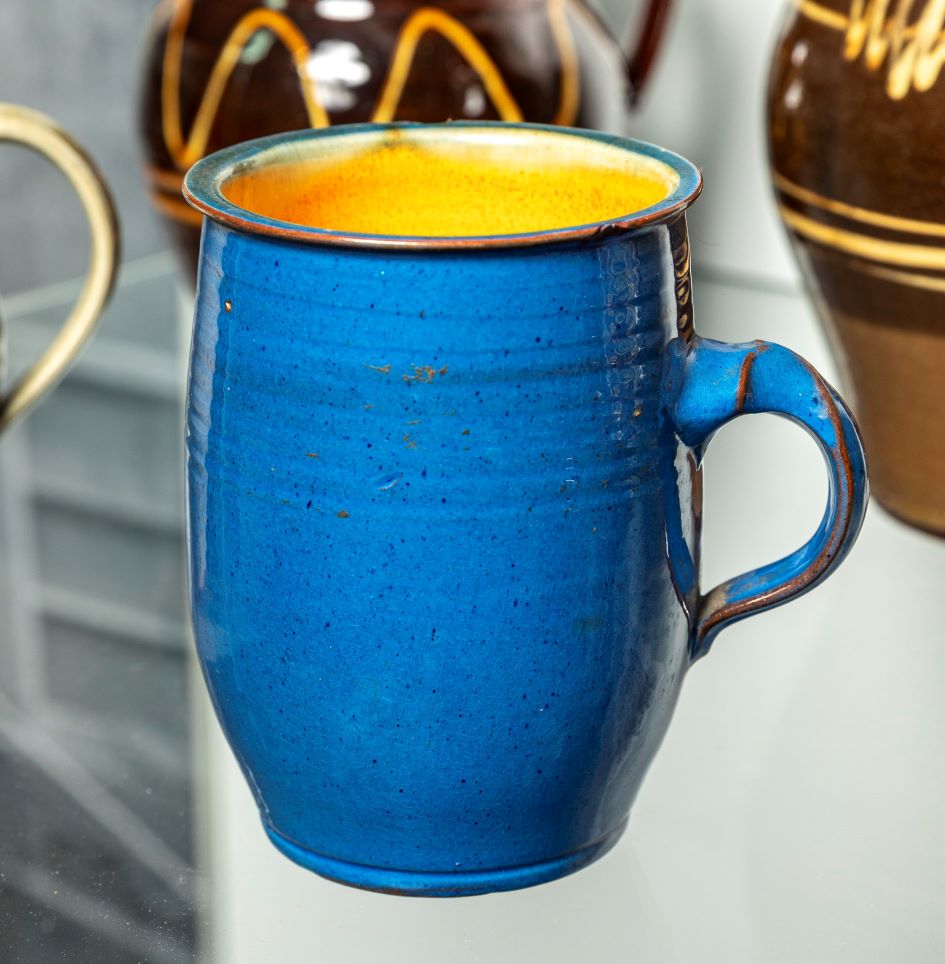 Tankard
This glazed pottery vessel features a distinctive pinched design on the handle. A combination of size and form mean that this object was probably intended to function as a mug or ceramic tankard. However, due to a lip running round the entire upper rim this item was described by its owner as a vase. It was made by Fishley Holland.
The word "tankard" originally meant any wooden vessel in the 13th century and later came to mean a drinking vessel. The earliest tankards were made of wooden staves, similar to a barrel, and did not have lids. A 2000-year-old wooden tankard of approximately four-pint capacity has been unearthed in Wales.
MERL 2016/12
close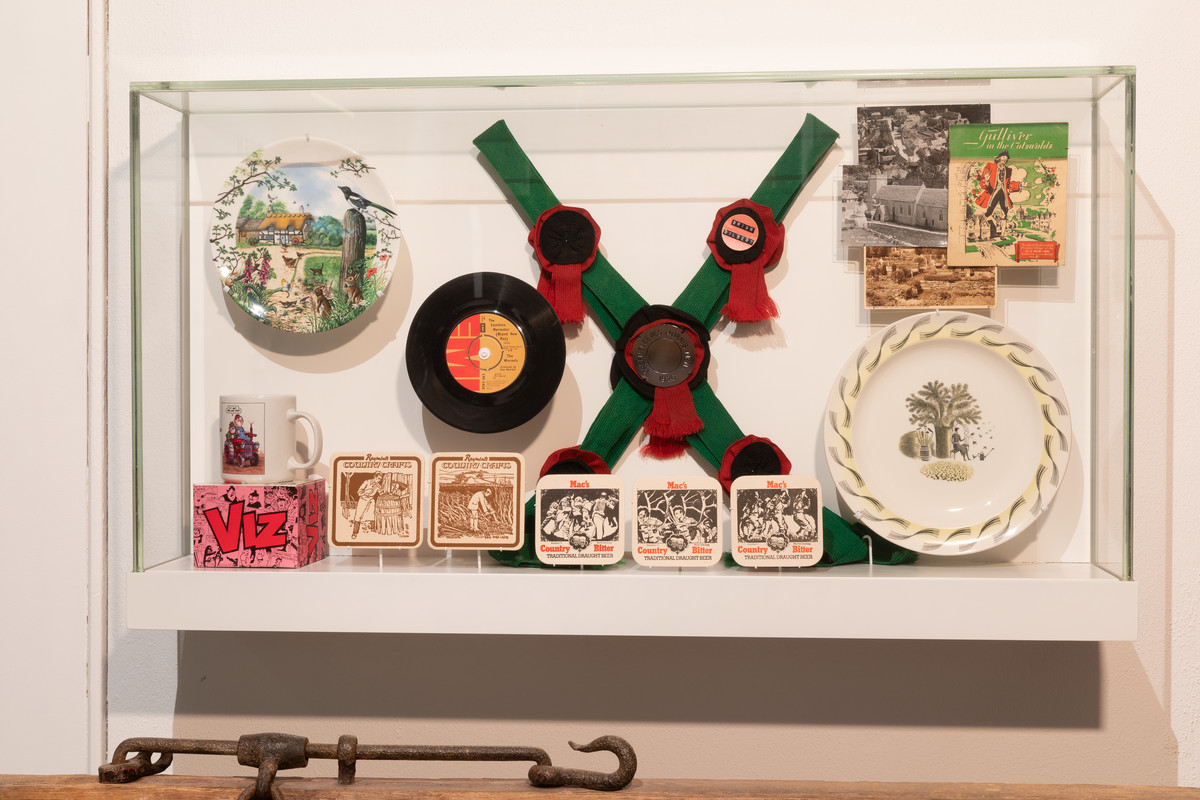 Gulliver's Travels - Cotswolds
+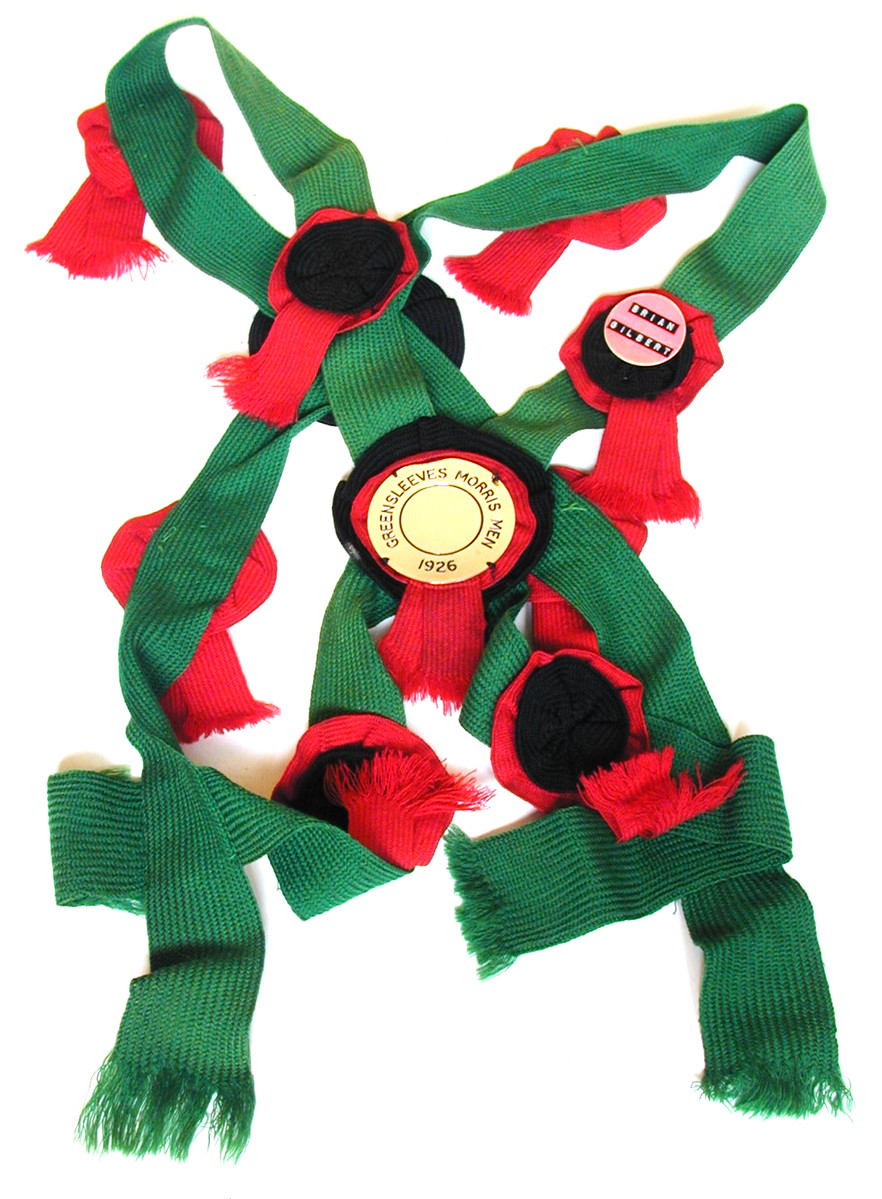 Morris Dancing Costume
These 'braids' form part of a Morris Dancers 'Greensleeves' costume. Morris Dancing has been a part of English traditions from as early as 1448. It normally takes place on May Day each year and is part of Spring celebrations. It involves rhythmic stepping with sticks, handkerchiefs and bells.
MERL 89/36/2
close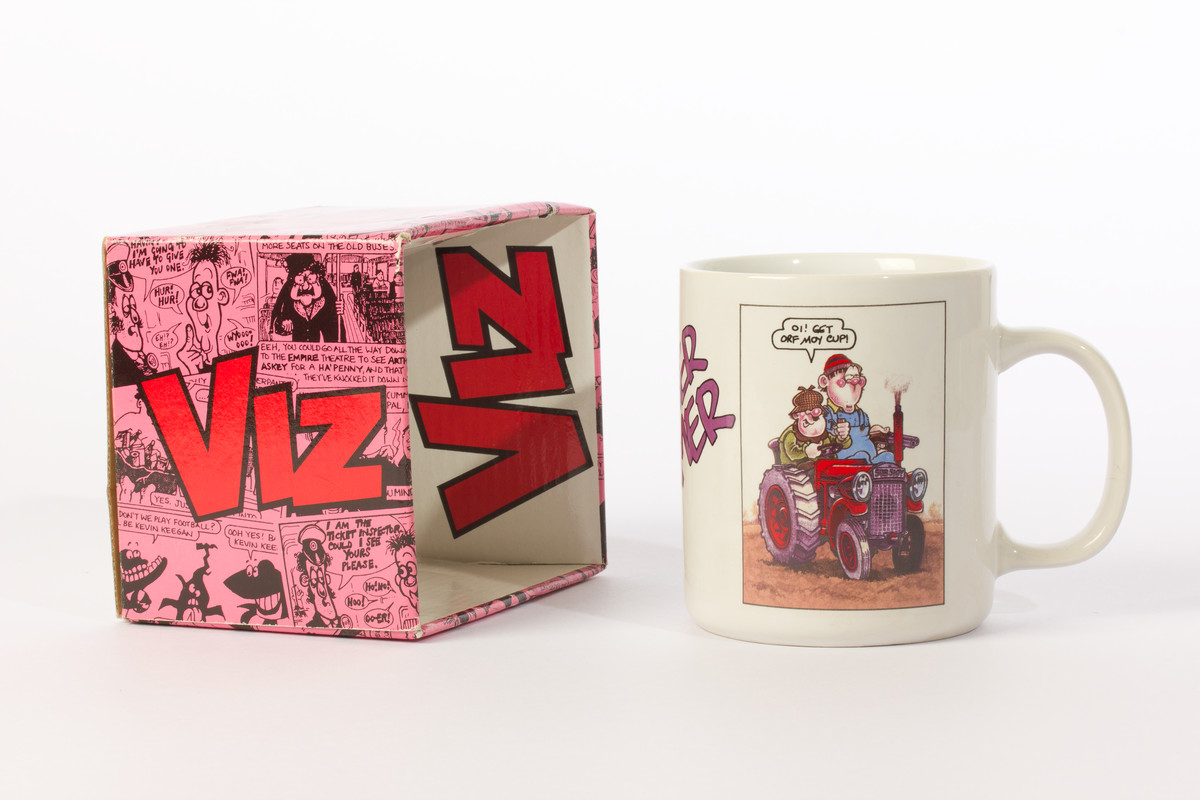 Viz Mug
Viz Magazine was first published in December 1979 and parodies a number of children's comics such as The Beano and The Dandy but with a much more adult tone. Alongside its profanity and toilet humour The Viz sends up celebrities and tabloid newspapers. In the 1990s Farmer Palmer and his son Jethro appeared in Viz magazine portraying every stereotype about farmers their creator, Simon Thorpe, could imagine.
MERL 2009/21
close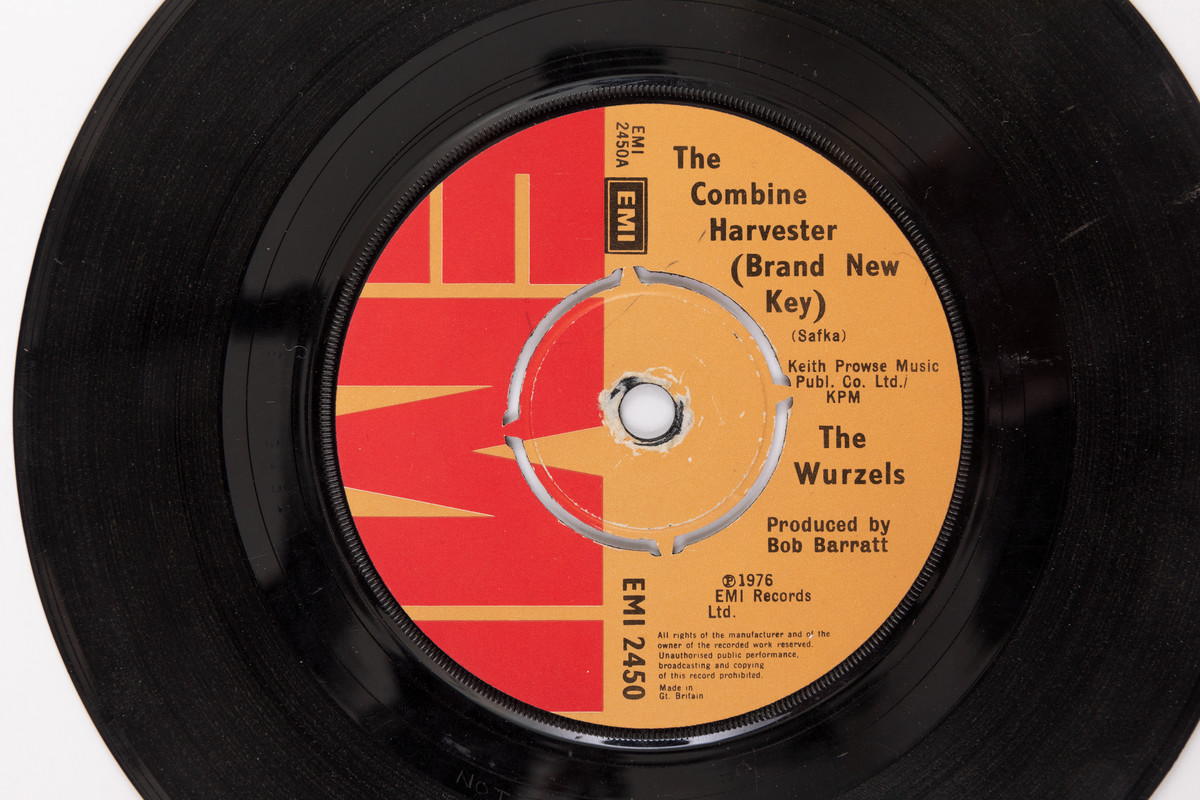 Wurzel's Record
"I've Got a Brand New Combine Harvester" was a 1976 #1 hit song for the 'Scrumpy and Western' band, The Wurzels. This record was donated by Jonathan Durning who was a huge fan of the song, and as a result attended a local fete in 1976 with a homemade combine harvester model made by his father.
MERL 2014/19
close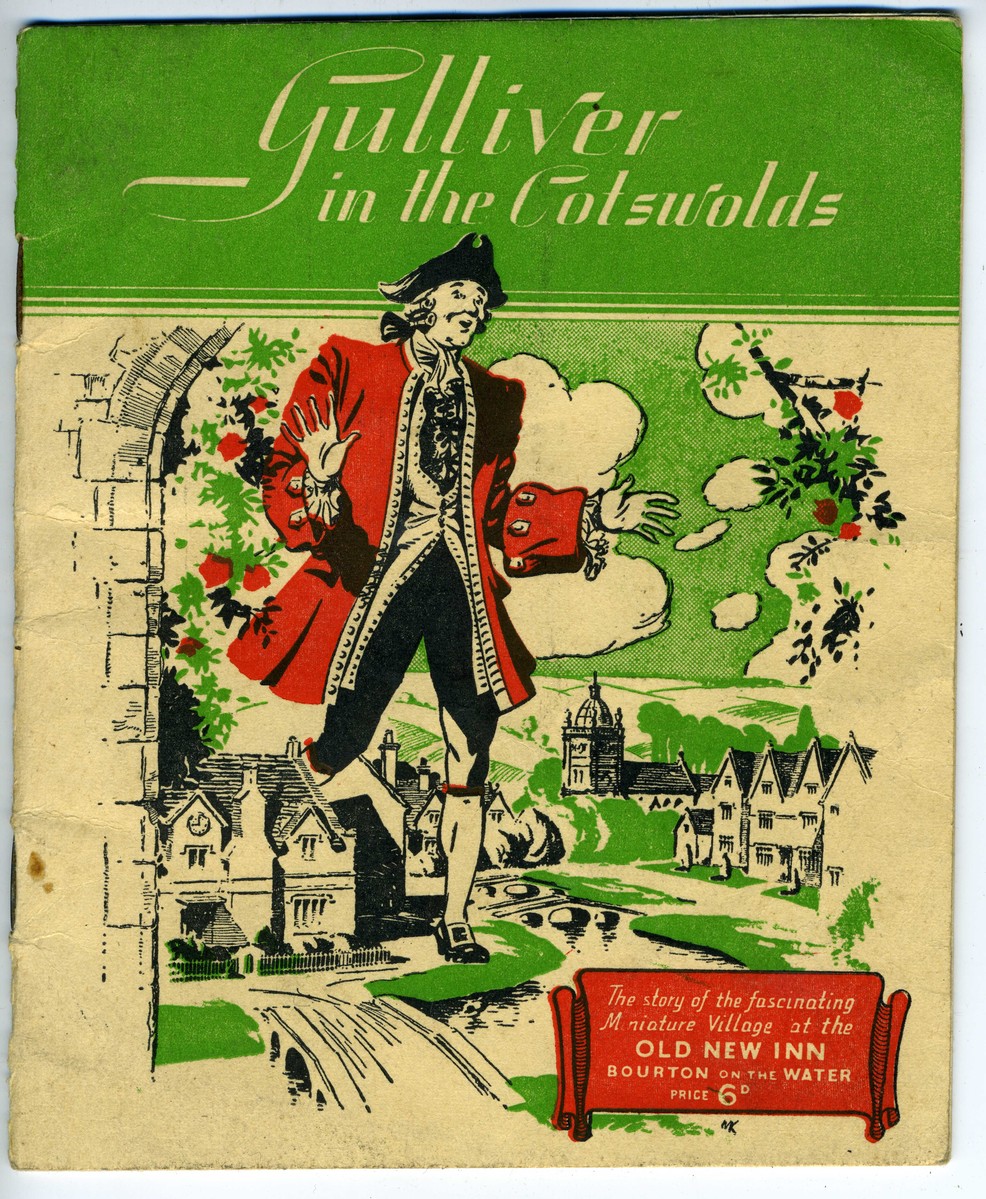 Gulliver's Travels - Cotswolds
This booklet about the model village at Bourton-on-the-Water, Gloucestershire, dates from the 1950s. The booklet is entitled 'Gulliver in the Cotswolds: The story of the fascinating Miniature Village at the Old New Inn Bourton on the Water'. The model village at Bourton-on-the-Water was built in 1936–1937 and is still open today. It even has a model of the model village. Over the years, a variety of souvenir ephemera was produced, including guidebooks, postcards and pottery mementos.
Gulliver's Travels is a four-part prose travelogue, narrated by the fictitious persona of Lemuel Gulliver, who tells the story of his extensive global voyages, the places he has been and the people (and other creatures) he met. The satire was first published in 1726 under the title Travels into Several Remote Nations of the World 'By Lemuel Gulliver'.
MERL 2010/155
close
Explore the Exhibition