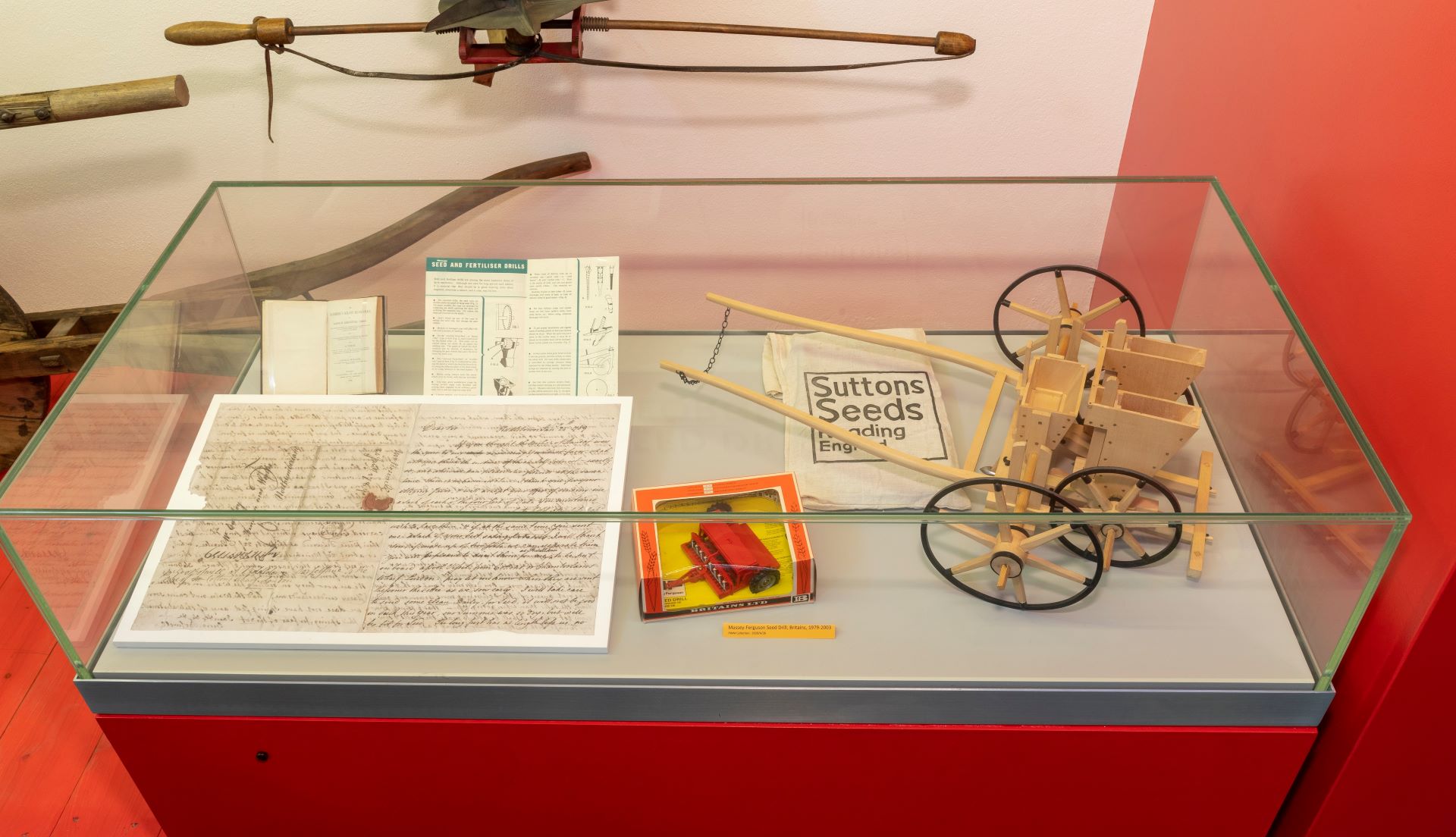 The Farmer's Ready Reckoner
+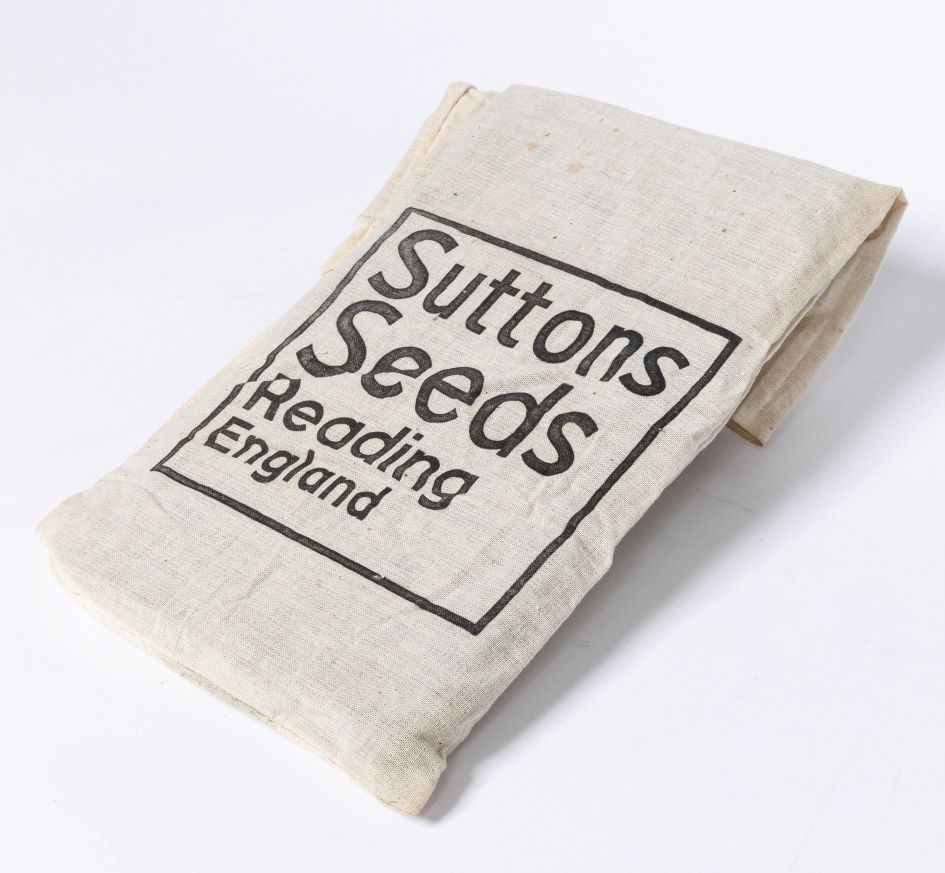 Suttons sack
This sack was one produced and sold by Suttons Seeds at some stage between 1931 and 1976. Formed in 1806 by John Sutton, Suttons Seeds was based in Reading and exploited new methods of transport to rapidly become a worldwide seed distribution company. As well as sale and distribution, it was heavily involved in researching germination and purity of seeds.
Suttons was particularly prominent in Britain's colonies and set up a branch in Calcutta to facilitate local demand. The Indian branch is now an independent company named Suttind seeds, which distributes pollenated and hybrid seeds to commercial Indian farmers.
MERL 2010/126
close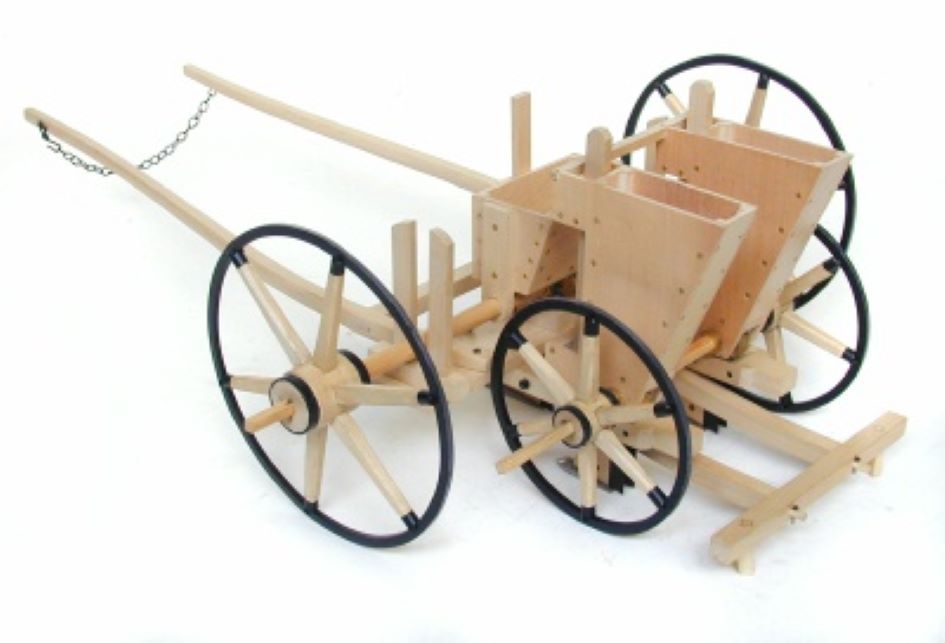 Seed drill model
Made for the MERL by Don Gill in 1999, this model seed drill follows Jethro Tull's design and is at ¼ scale. The wheels are made of iron, and the shares are steel. It is based on drawings by David Wray. The MERL also holds a number of model wagons crafted from his designs.
MERL 2000/11
close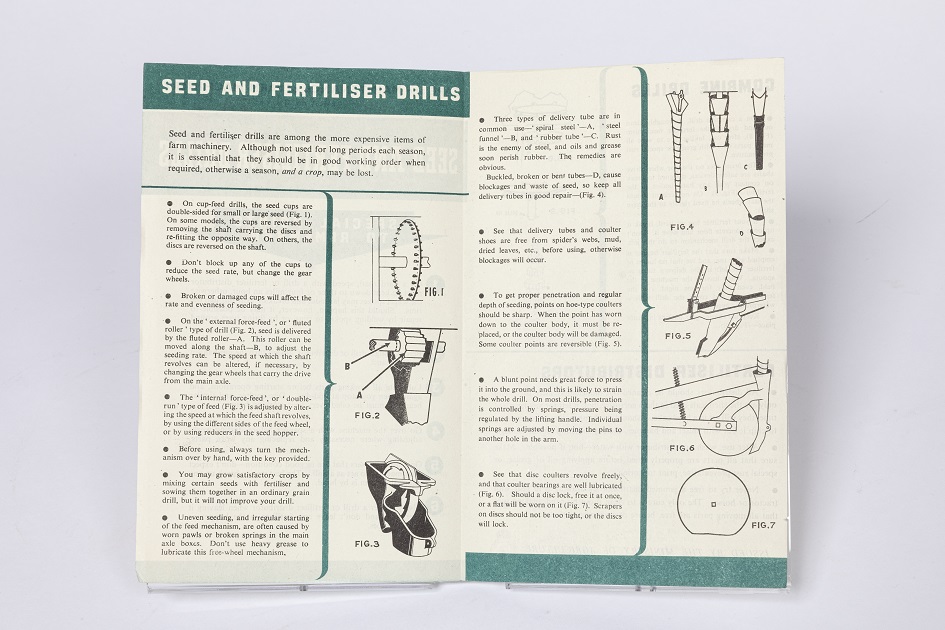 Drills pamphlet
This pamphlet advises on the proper maintenance of seed and fertiliser drills. For example, it warns against rusted delivery tubes and blunt drill points. It was distributed by the Ministry of Agriculture and Fisheries, a government department overseeing agricultural development. As well as education, it was responsible for pest control, research, and establishing subsidies to support the income of farmers. The MERL library holds a significant collection of the Ministry's published material. The Ministry merged into the Department for Environment, Food and Rural Affairs (DEFRA) in 2001.
MERL LIBRARY PAMPHLET--4080-BOX 1/12
close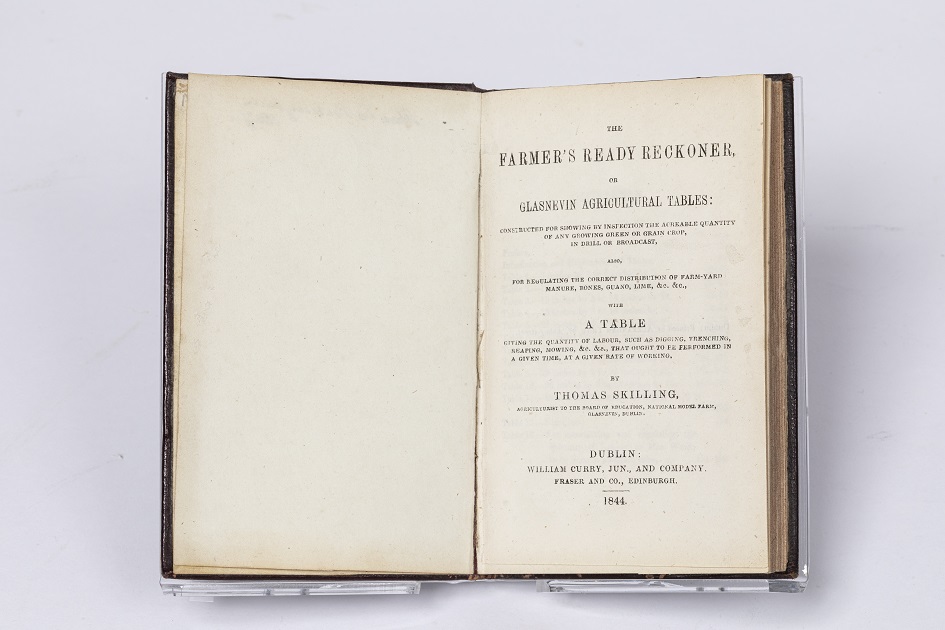 The Farmer's Ready Reckoner
Written in 1844 by Thomas Skilling, this book combines a practical farmer's guide to sowing and a research report into the effectiveness of seed drilling. It presents tables showing the quantity of green or grain crop growth when sown with drills as opposed to broadcasting by hand. It also provides guidance on distributing fertilisers such as manure, bone meal and guano, and advises on the use of lime to help soil release nutrients.
National literacy rates were around 67% for men and 50% for women in the 1840s. These were arguably lower for rural people whose children had to work on the farm. Free national education was not introduced until the 1890s.
MERL LIBRARY RESERVE--3550-SKI
close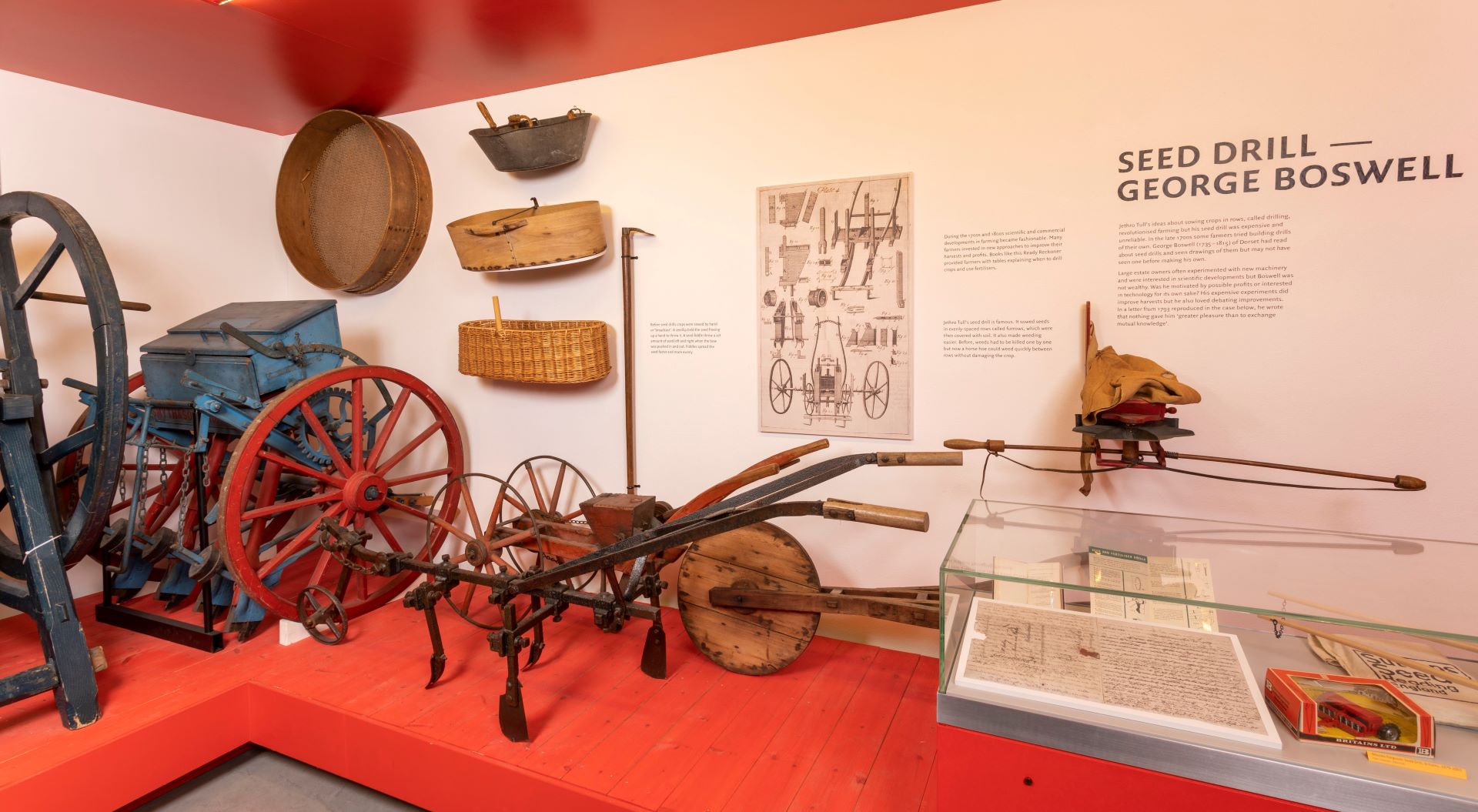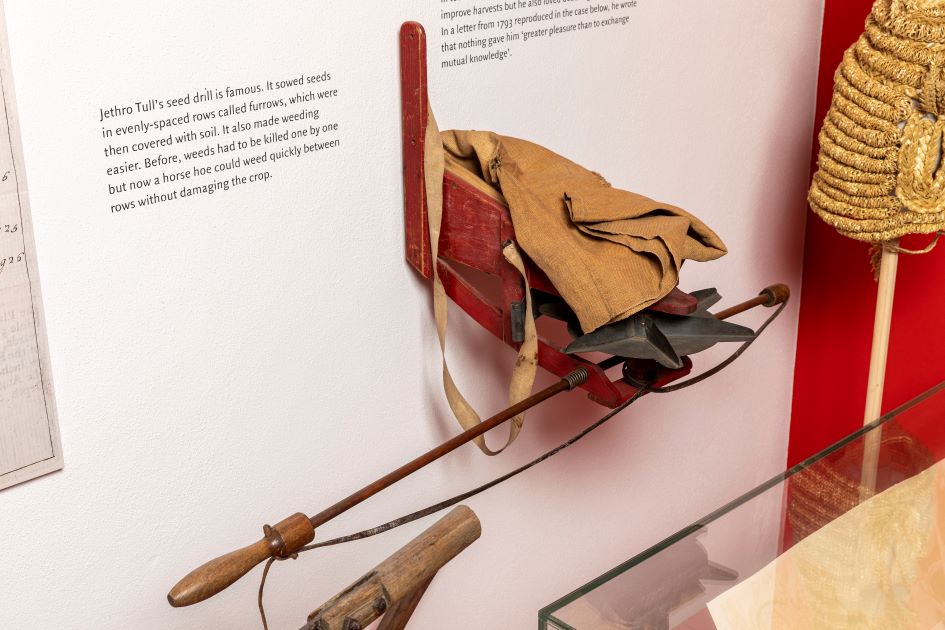 Seed fiddle
This is the 'Perfection Aero Sower', a seed fiddle used in Cornwall. Seeds would be stored in the hessian sack and dropped onto the metal plate, which would be rotated via the wooden handle, dispersing seeds in an arc in front of the sower.
Seed fiddles were an improvement on broadcasting by hand as they allowed for greater dispersal and an even spread. They were named 'fiddles' because drawing the handle back and forth was reminiscent of playing the musical instrument.
MERL 73/180
close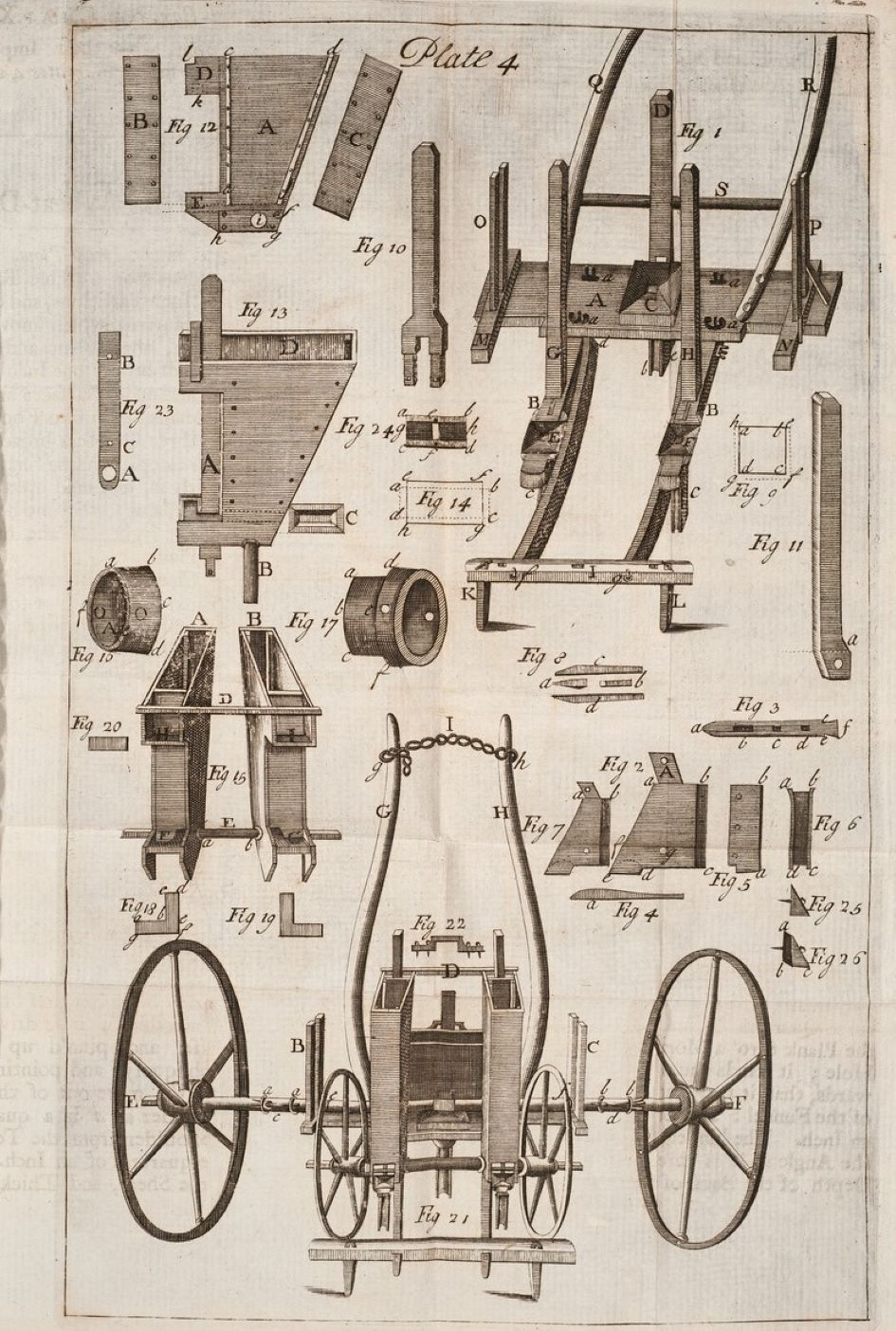 Horse-hoeing husbandry
This plate is from a book entitled The horse-hoeing husbandry, written in 1731 by Jethro Tull, the inventor of the modern seed drill. It depicts the various components for the machines mentioned in his book.
Tull's objective was to introduce "a sort of vineyard culture into the corn-fields". His pioneering horse drawn hoe allowed farmers to combine the task of weeding and ploughing into one piece of equipment, and his practice of adequately spacing crops prevented overcrowding. The publication of this book caused controversy, mostly because Tull disapproved of using manure as fertiliser. As a result, his inventions were not widely used until the 19th century.
MERL LIBRARY RESERVE 3515-TUL
close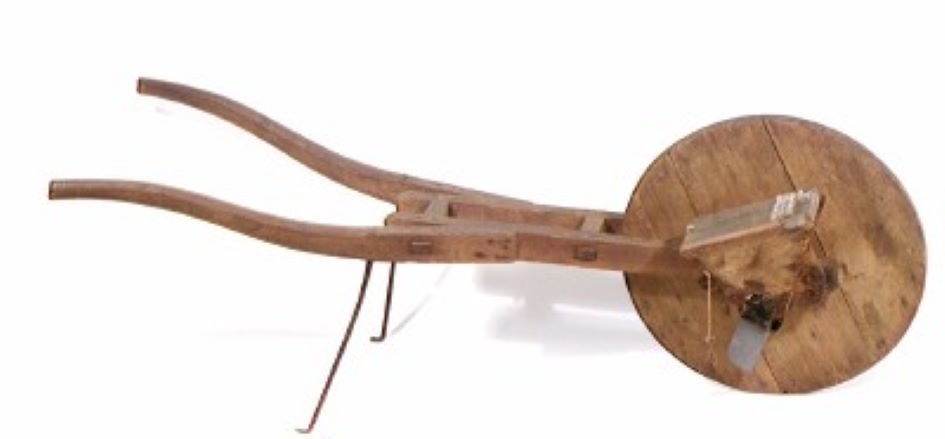 Seed drill
This hand powered seed drill was used at a number of farms around Rowhook, West Sussex, up until 1953. It manually sowed seeds at measured intervals.
Jethro Tull's invention of the seed drill in 1701 introduced a more efficient method of sowing to British farmers. Using a drill such as this one would ensure that the seeds remained within a narrow furrow. As a result, they were easier to cover with soil, and less water was required to germinate them. Additionally, less tillage of the soil was needed which protected it against erosion and reduced the pressure on farmers at a hectic time of year.
MERL 61/48
close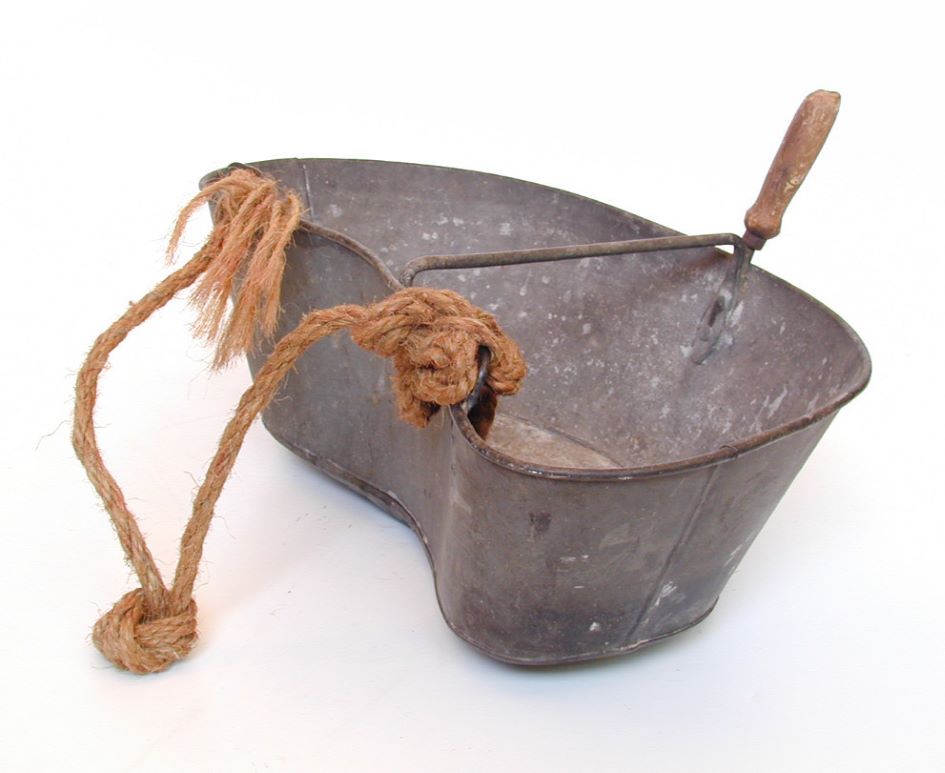 Seedlip
Used at Home Farm in Middle Assendon, Oxfordshire, this seedlip would have been hung around the wearer's neck. 'Broadcast' seeding is the oldest method of sowing and is still popular where using machinery is not practical or affordable. Effective broadcast seeding is not as simple as haphazardly throwing seed around your field or allotment. It is essential that the seeds are evenly spread, and moisture must be applied to the seeds soon after they fall. Sowing with the wind to your back also guarantees a better range on your throws!
MERL 92/81
close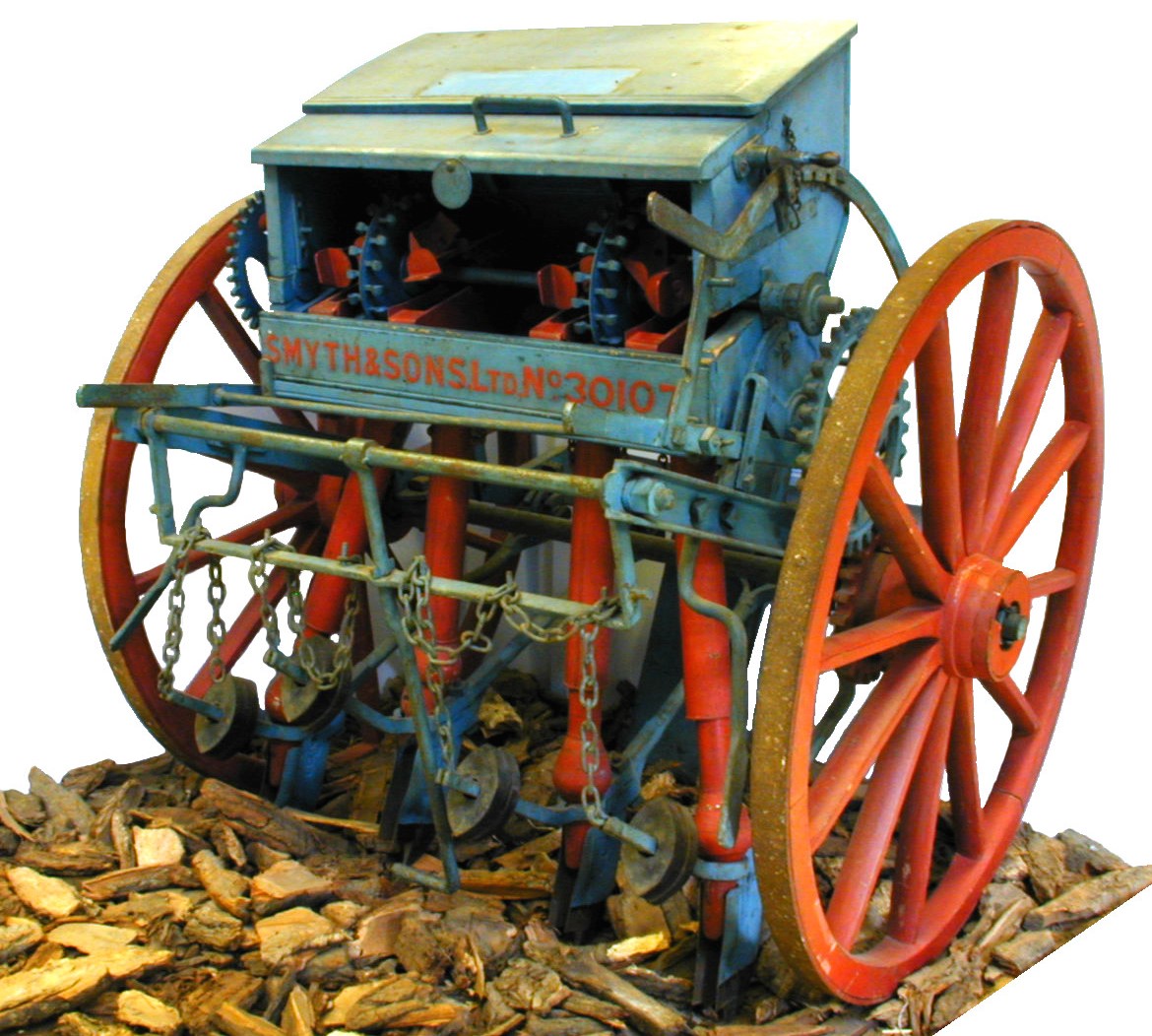 Seed drill
This seed drill was produced by James Smyth and Sons Ltd, a manufacturer of agricultural drills. It has works number 30107. Smyth was a wheelwright who was living in the village of Peasenhall, Suffolk in 1801. He noticed the potential of agricultural drills and formed a company which was fully focused on building them for dispatch around the country.
Over the course of the 19th century their workshop evolved into a factory and they exported internationally across Europe and Africa. Having established themselves as a prominent manufacturer of agricultural machinery, the company was later acquired by Ransomes, Sims & Jeffries.
MERL 65/326
close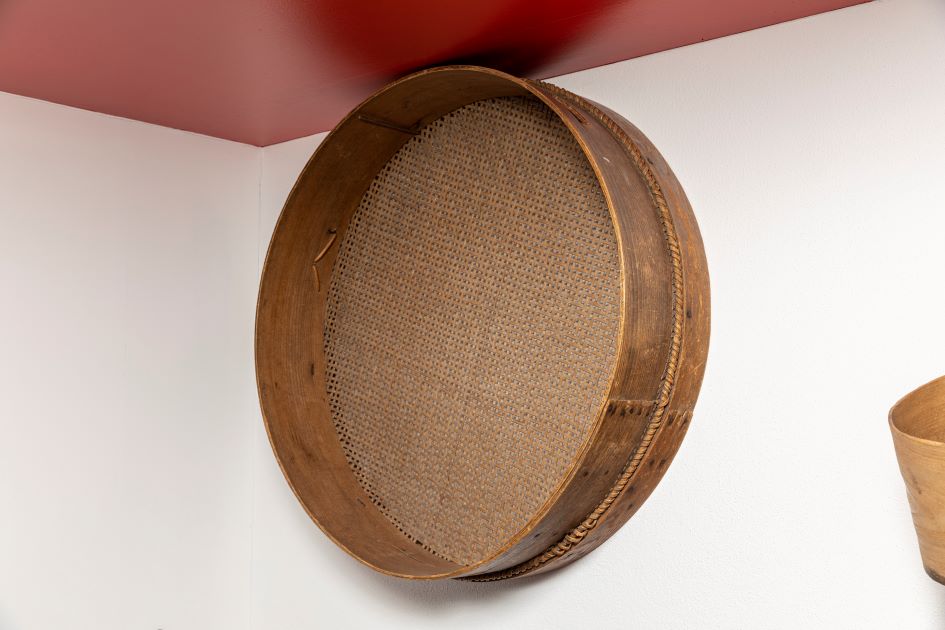 Sieve
Obtained from T. & R. G. Grace, a group of corn millers, maltsters and merchants, this sieve would have been used in the malting process. Malting consists of steeping certain grains – such as barley or rye – in water to induce germination and produce malt enzyme. This malt is then used for brewing or to make malt vinegar. Sieving is a crucial element of the cleaning process that must take place both before and germination. It removes unwanted objects from the grain, such as straw, rocks and sand.
Malting has been in demand for as long as beer has! Ancient malting would typically consist of steeping bagged barley in a stream, before leaving it to germinate and drying in a kiln.
MERL 65/219
close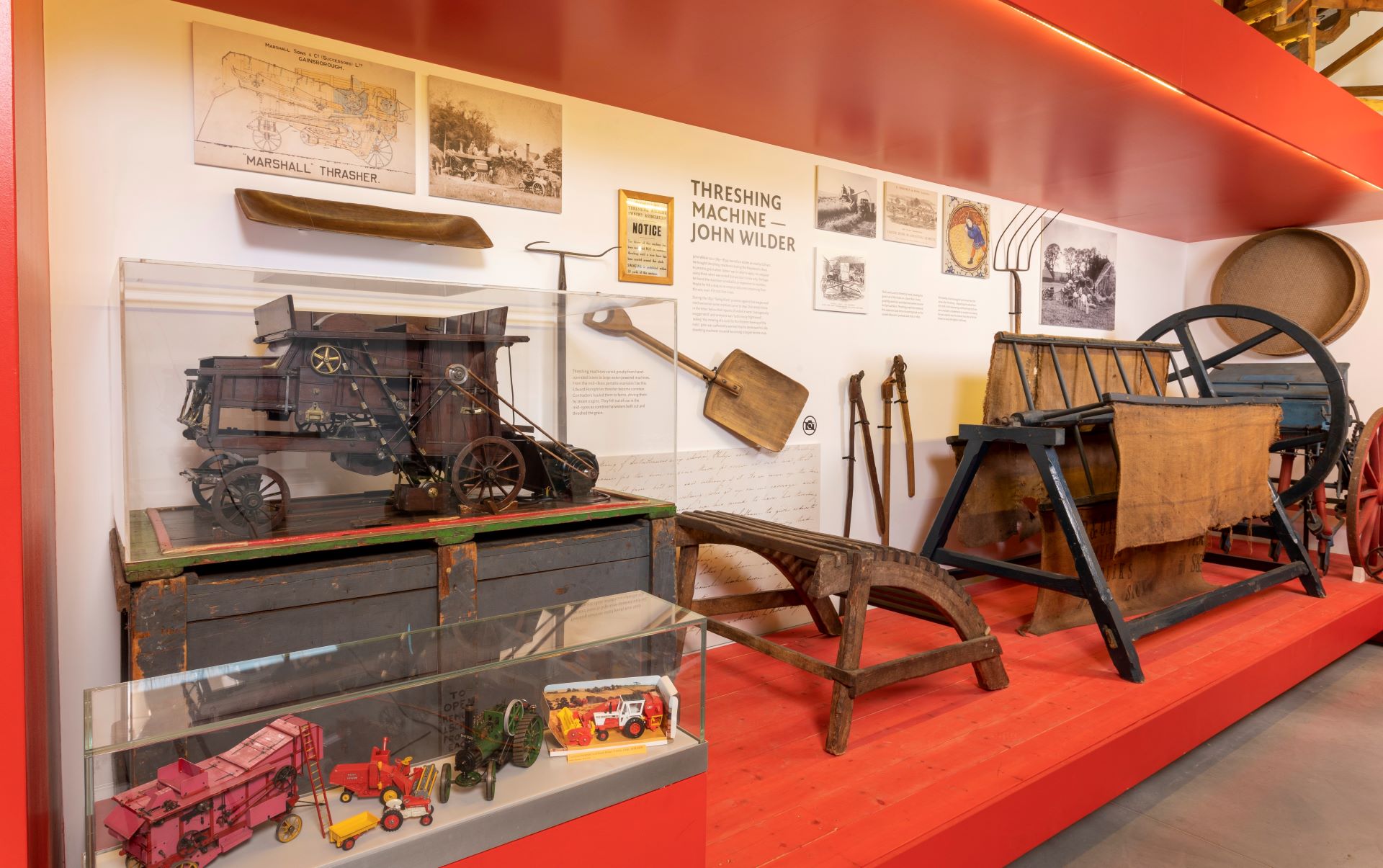 Great exhibition catalogue
+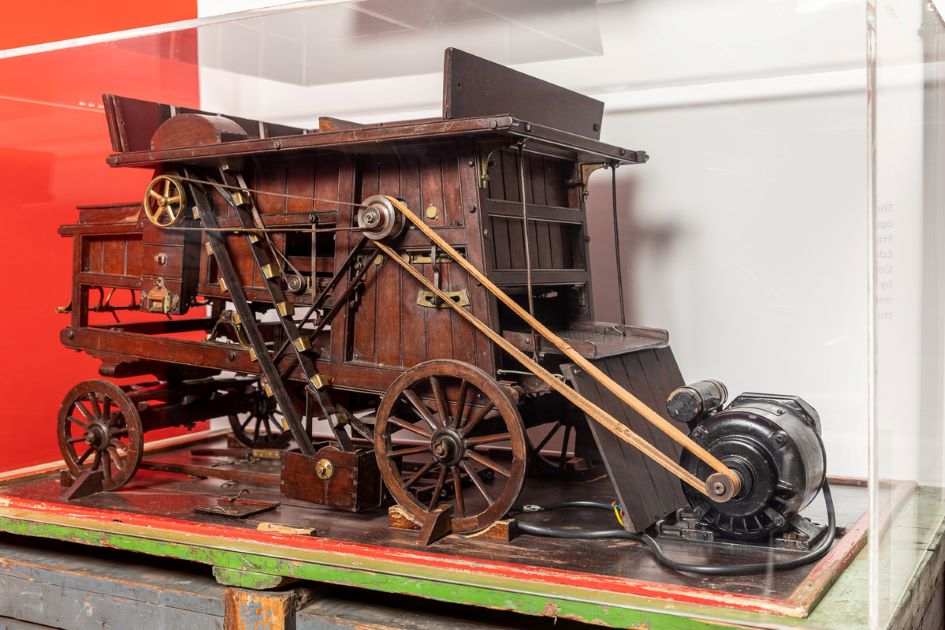 Threshing machine model
This model is made by the same company who made the full size thresher on your left. It was made in 1880 by the manufacturer to take to shows to display their new machine and show how it works. The box which the model is standing on was used to transport it. In 1880 this was new, state of the art technology. The salesman would have demonstrated how the machine worked to prospective buyers by turning a handle to show all the moving parts inside.
MERL 2007/61
close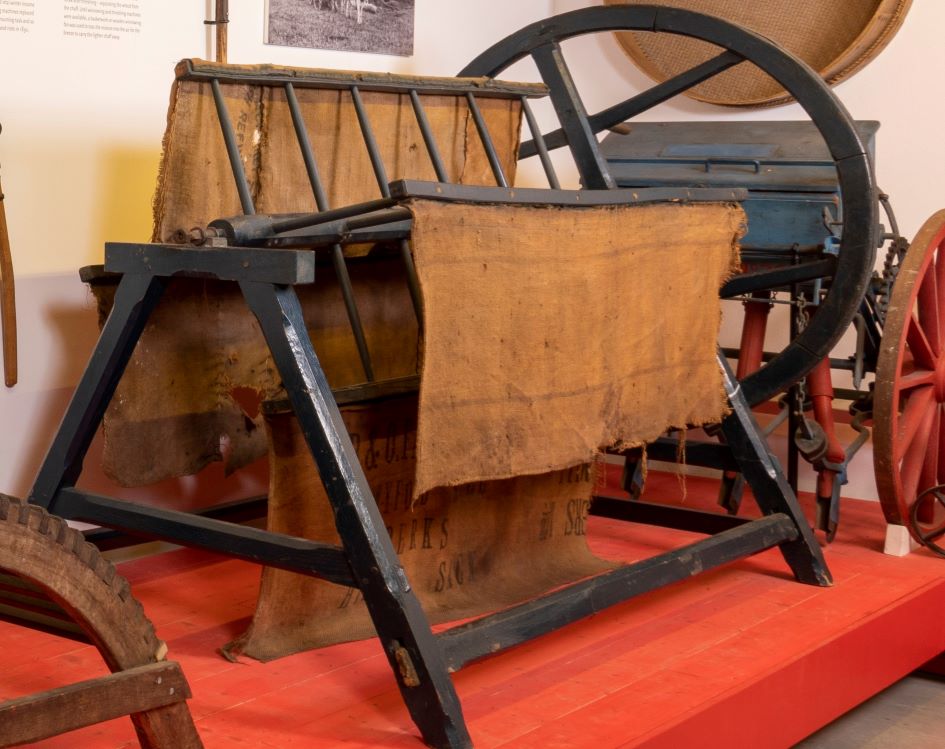 Winnowing machine
This large machine was used to separate the chaff (the outer husk of the corn) from the seed itself. Once separated, the corn would be fed to animals or kept to be sown for next year's harvest. The chaff wasn't needed so probably just blew away. The large wheel would be turned by hand; the idea was to create enough wind to blow away the chaff which is very light.
When turned, the sacking would have whirled round and the current of air it created would have blown away the chaff. This would have been hard and dusty work but faster than doing it by hand. Turning the wheel would have certainly been monotonous work.
MERL 52/201
close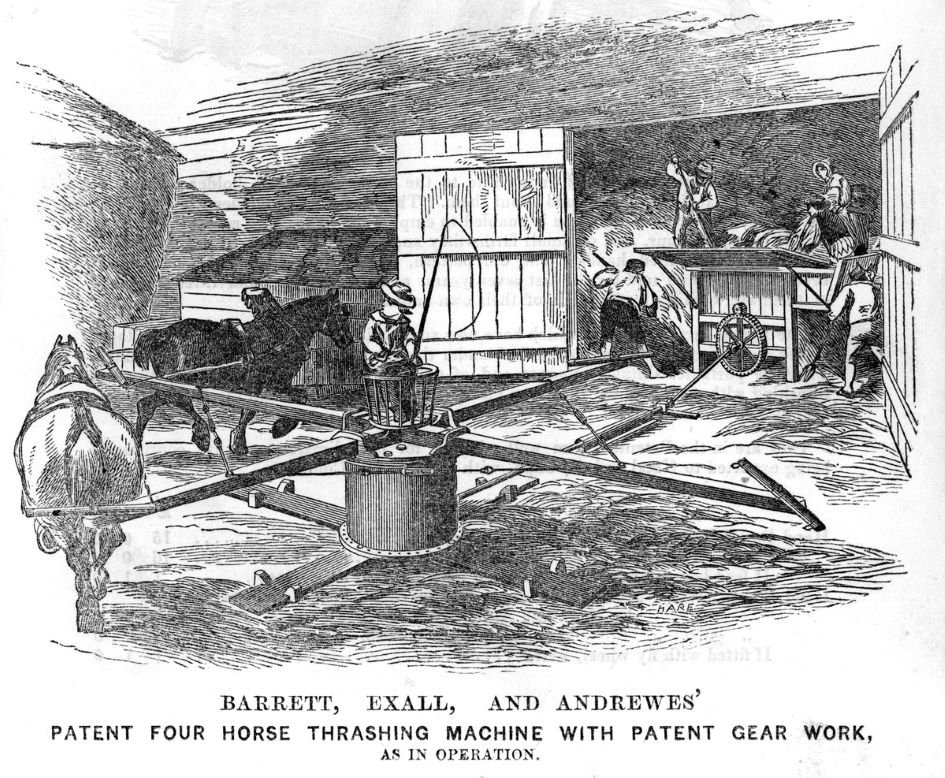 Great exhibition catalogue
This is from a catalogue of agricultural machinery produced for the Great Exhibition in 1884. The machine was made in Reading, by Barrett, Exall, and Andrewes later the Reading Iron Works Ltd. The foundry was built in Katesgrove in 1818, they produced agricultural implements and also machines for the bakery trade developed for George Palmers biscuit factory.
This machine was powered by up to four horses walking round in a circle, it was portable and could be moved. You will see that there is a child sitting in the middle of the machine holding a whip – to ensure that the horses kept walking round. One of the "safety features" of the machine was the metal frame round the child, this was to stop the child falling off and being injured by the machine.
MERL TR RAN P1/B1/11
close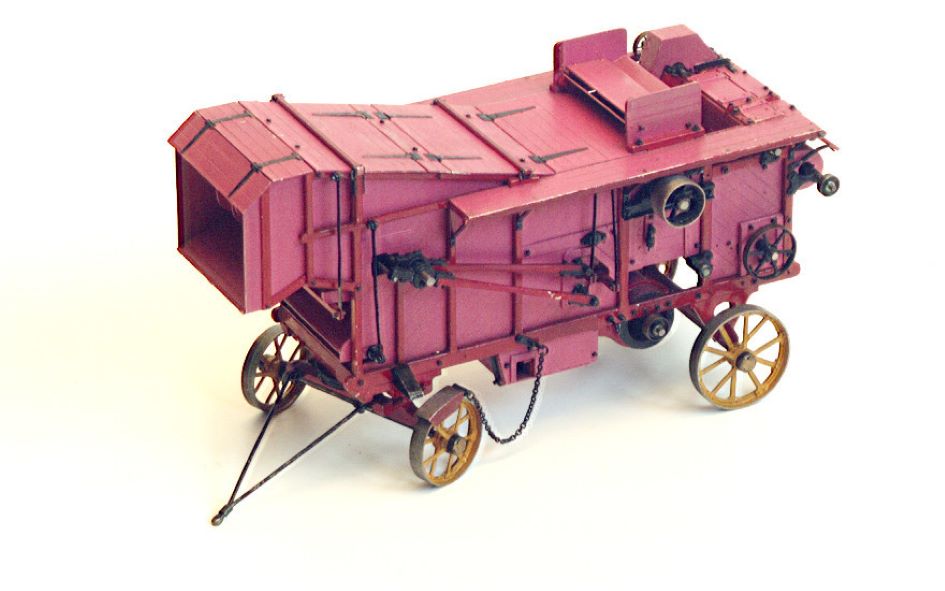 Threshing machine working model
This thresher and the traction engine near it were made by George Froud – it was his hobby. They were built as working models: the engine steam would power the thresher. Although the thresher looks as if it is wood, it is metal (duralunium) made to look like wood.
It isn't a copy of a particular make of machine. The design of the internal part of the machine was from Ransomes and Marshall thrashers and the outside was from a Wallis and Steevens machine which he saw standing in a field. The models were thought to be so good that they were described in detail in the Model Engineer magazine in 1960.
MERL 63/183
close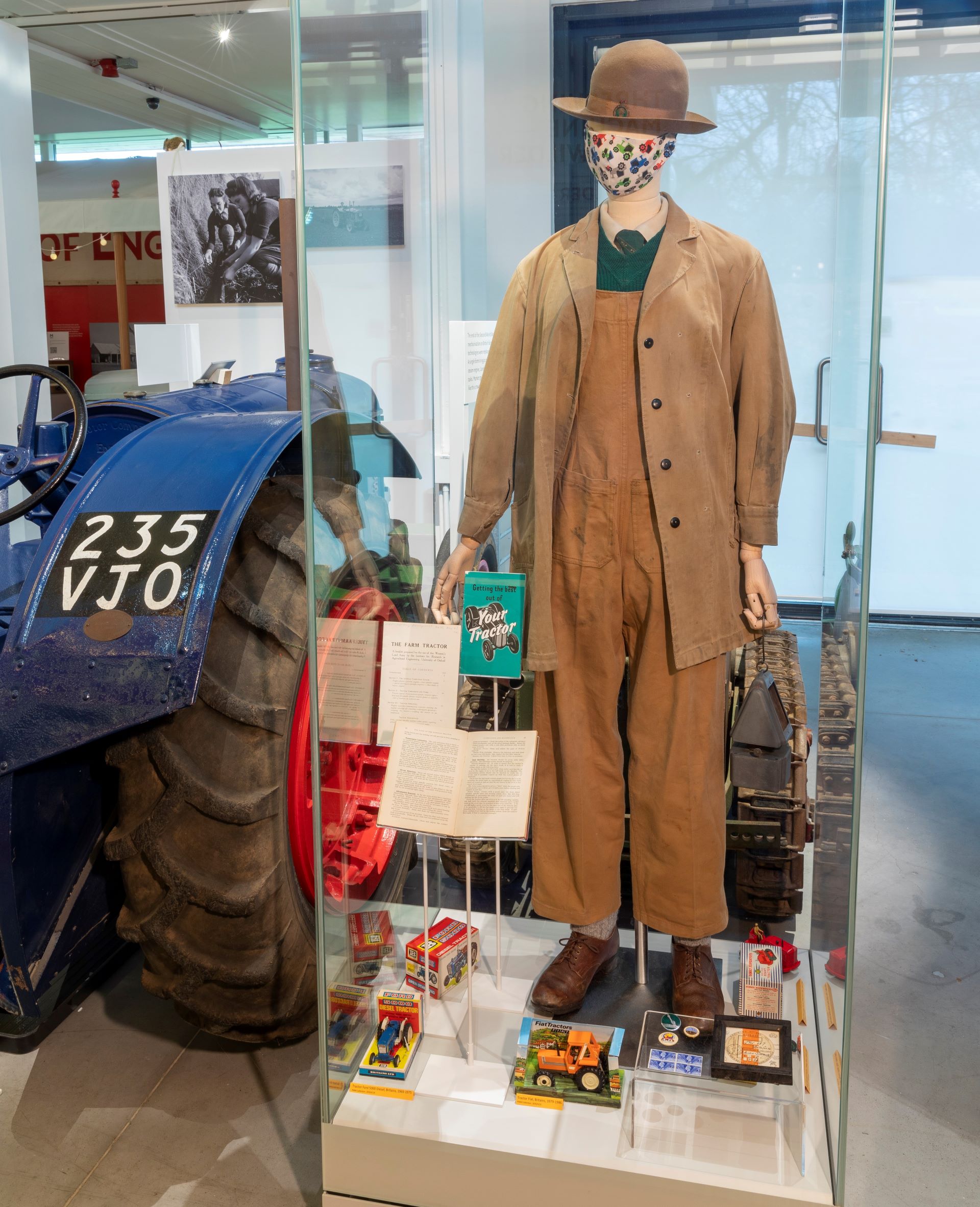 Women's Land Army uniform
+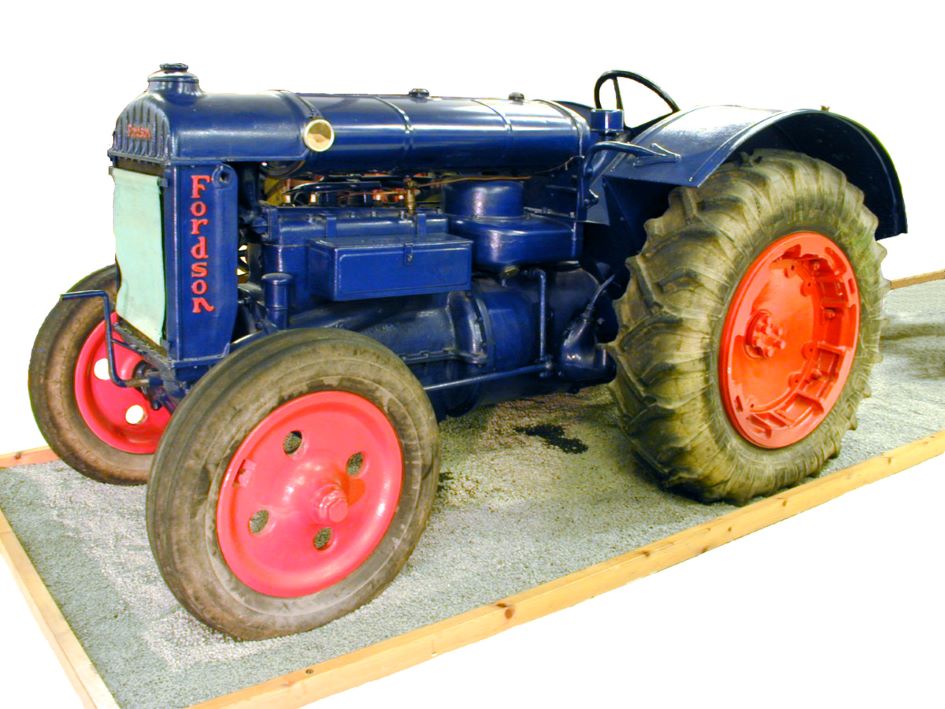 Fordson tractor
This Fordson Model "N" Tractor, vehicle registration no. 235 VJO, was made by the Ford Motor Company of America, at their works in Dagenham near London. It was first registered in 1937/38, and was used on a farm at Gallowstree Common in South Oxfordshire.
During and after the First World War, thousands of Fordson tractors were imported from America. The tractor was made in sufficient numbers to be affordable for ordinary farmers, and so became a factor in the switch to mechanisation on farms.
MERL 80/44/5
close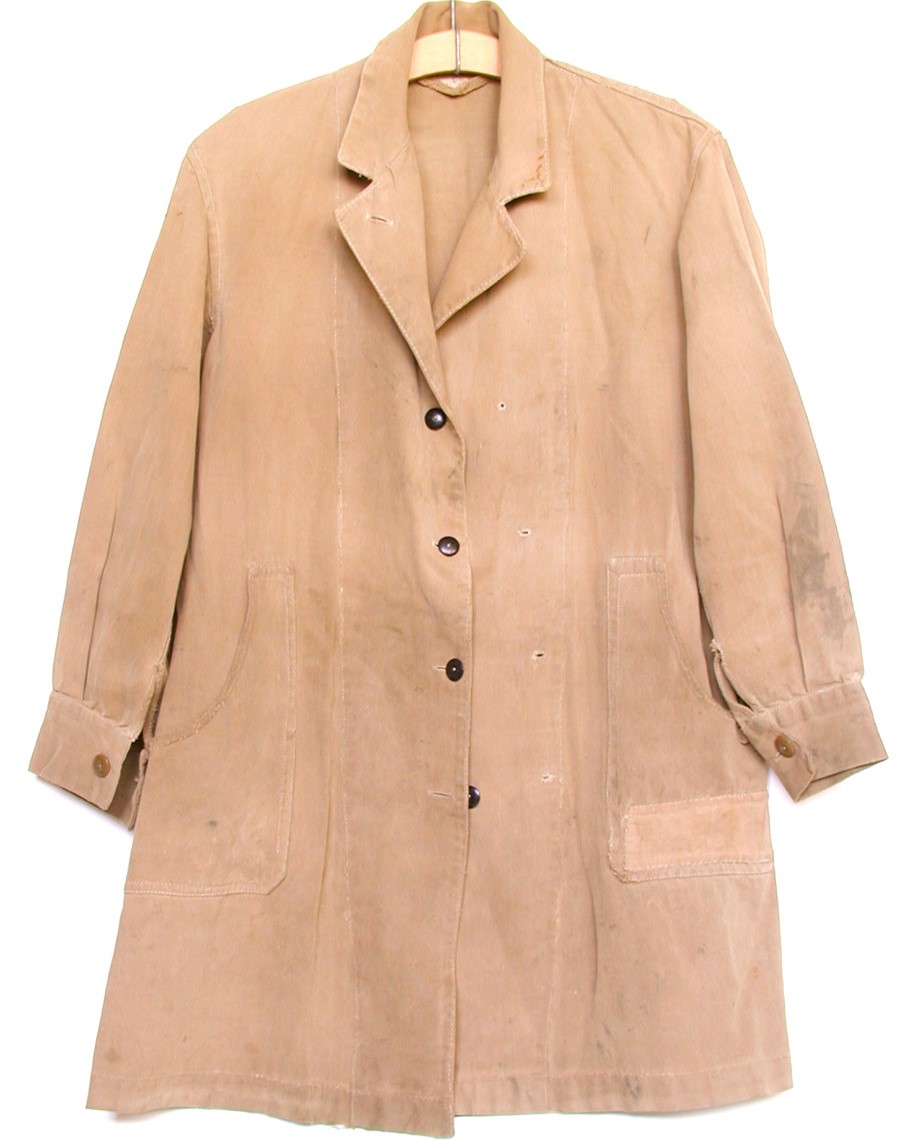 Women's Land Army uniform
The Women's Land Army came into being in the First World War, 1914-1918, but re-formed for the Second World War. This uniform was standard issue to the young women, many of whom were teenagers, who enlisted during 1939-1945. Their uniform had to be very hard-wearing. The women worked long and arduous hours, keeping farms in production to feed the nation. They did all the farm and forestry work usually done by men, for minimal pay. Many women continued to work on the land after the war, until the men returned from the forces and reclaimed their jobs.
MERL 84/37, 88/49/1, 88/48, 88/58, 97/38, 2003/13
close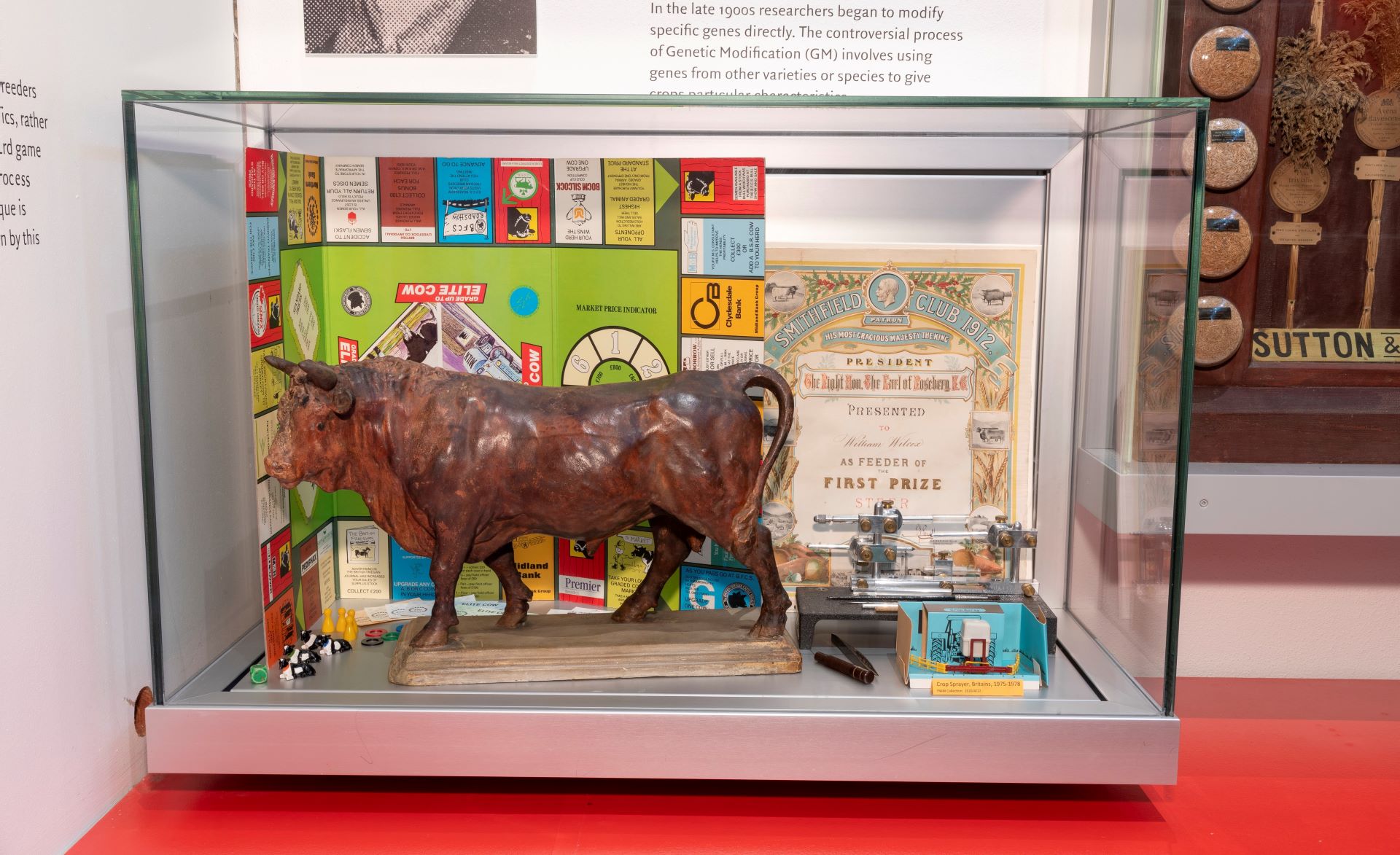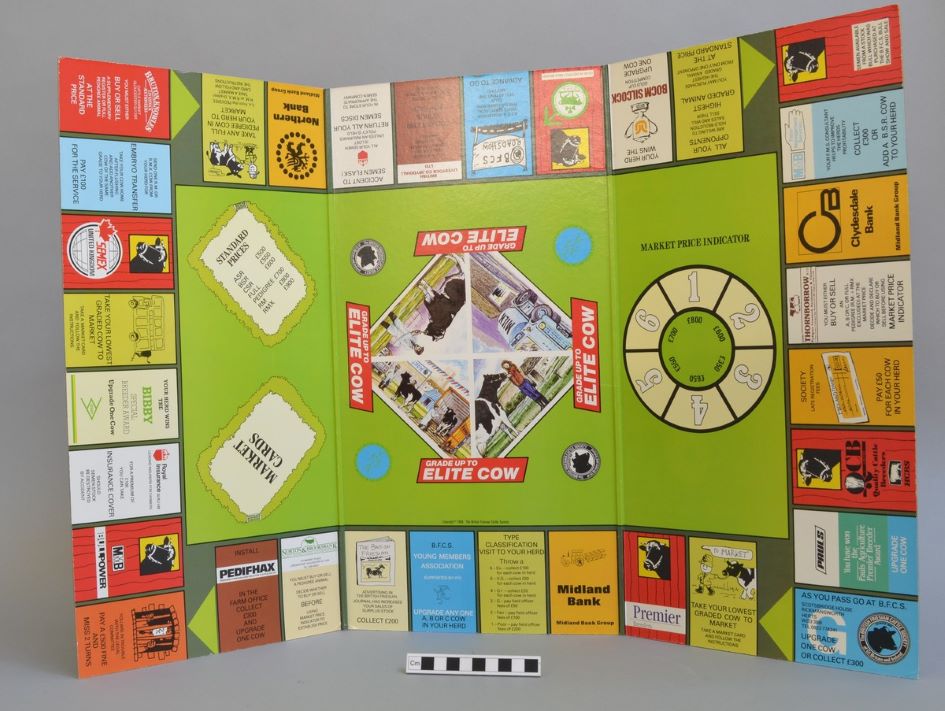 Grade up to Elite Cow Board Game
This board game, named Grade Up to Elite Cow, was manufactured by the British Friesian Cattle Society in 1986. It is played by 2-4 players. The aim of the game is for four of your cows to obtain 'Elite Cow' status, which is the highest pedigree possible.
'Grading up' is the process by which a non-pedigree herd becomes pedigree. It is achieved in cattle herds by mating sires of an improved breed with females of the lesser breed, generation after generation, until the features of the improved breed are dominant.
MERL 2010/34
close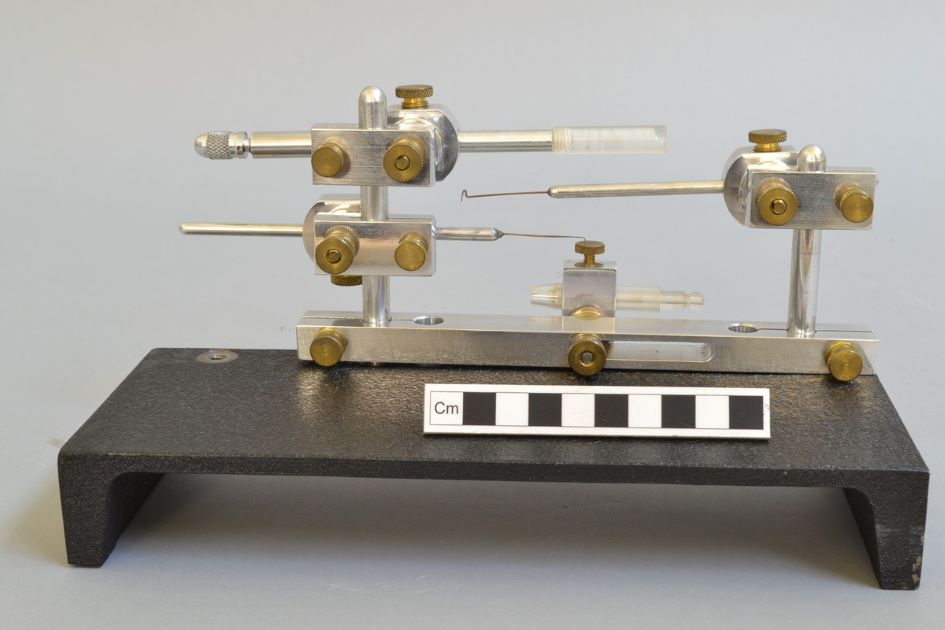 Bee inseminator
Used by a beekeeper in Clitheroe, this inseminator was used for selective breeding in bees. As bees usually mate in mid-air, the queen must be anaesthetised before insemination can take place. This is achieved by placing the bee inside the plastic tube and introducing carbon dioxide. Thin metal hooks hold the queen's abdominal plates in place while a syringe inseminates her. These types of inseminators are still used today.
Selective breeding in bees tends to be more complicated than with other livestock, due to various factors – such as the fact that male bees are born from unfertilised eggs and have no father.
MERL 2012/386
close
Selective Breeding Display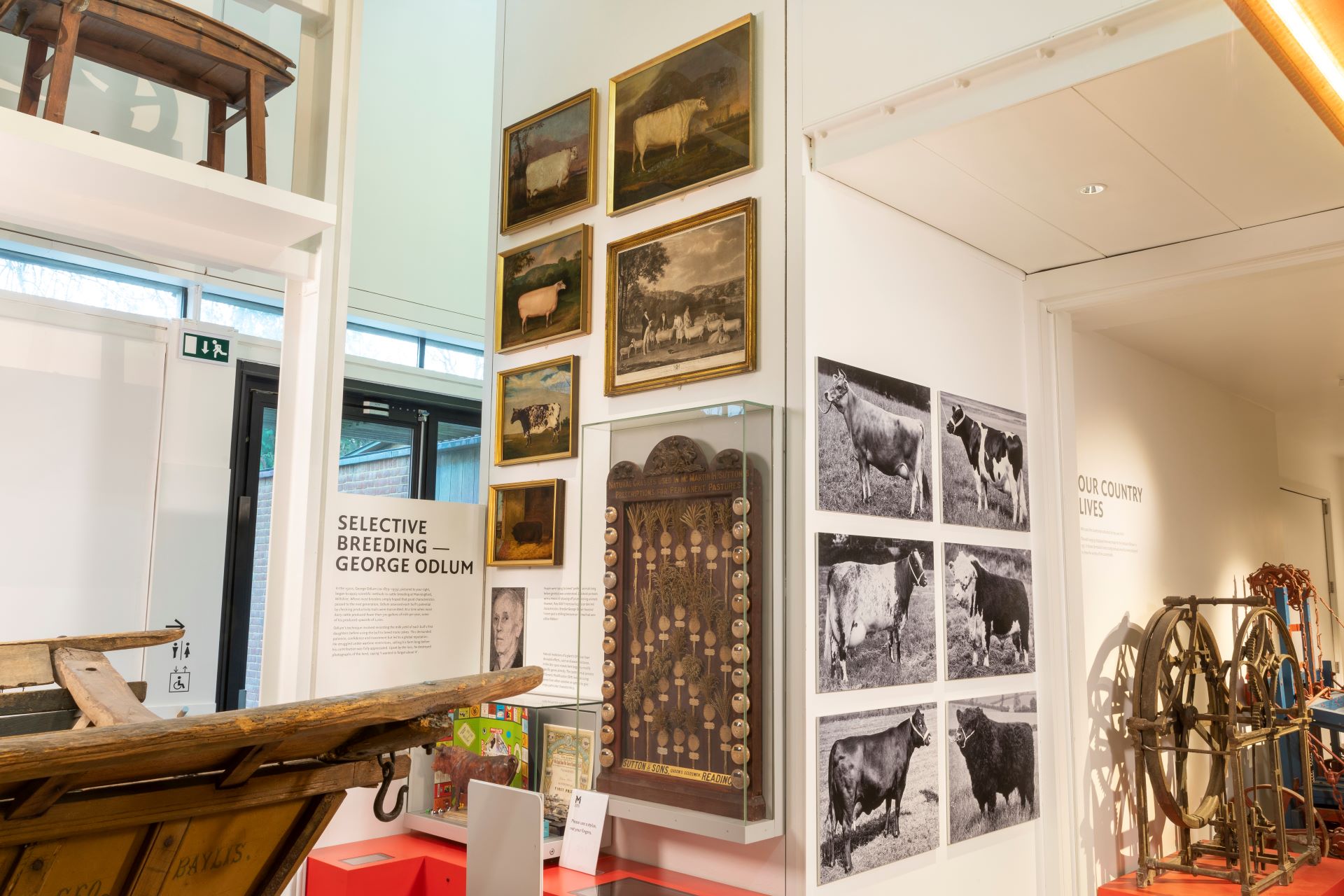 Selective Breeding Display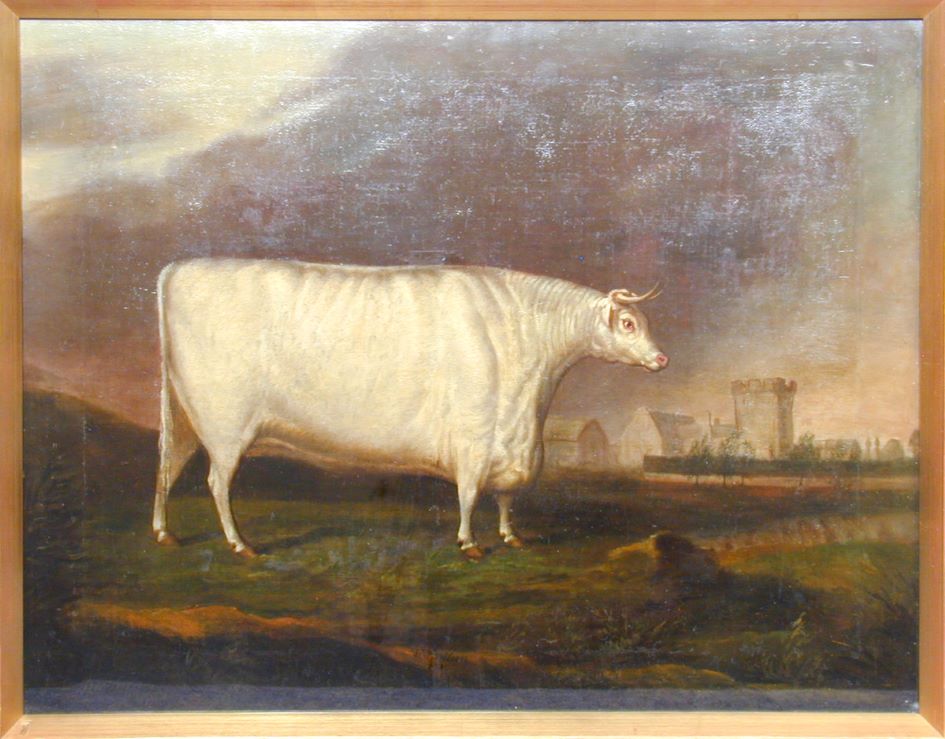 White ox painting
This painting of an ox was donated to the Museum by the Royal Smithfield Club, and therefore likely depicts an animal which competed in one of their prime stock shows. The Club sought to promote the breeding of top quality livestock through these shows. Artists were commissioned to advertise the achievements of prize-winning farmers by portraying their livestock in a positive light. It was not unheard of for artists to over-accentuate the size and shape of the animals. Not all 19th century cows and oxen were as rectangular as these paintings suggest!
MERL 64/47
close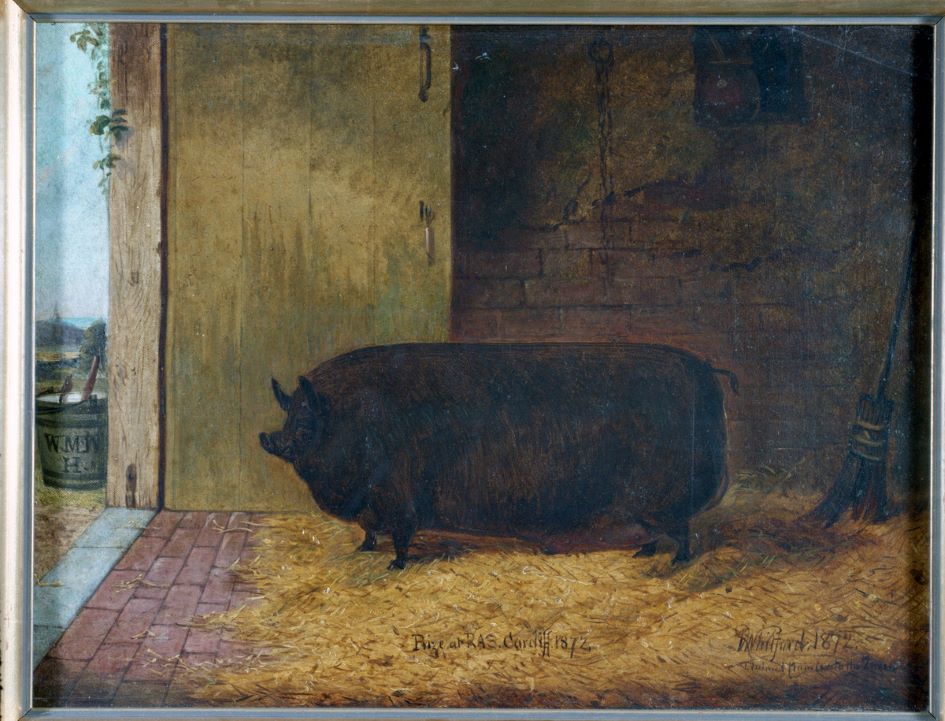 Prize pig painting
Richard Whitford created this oil painting of a black Berkshire pig in 1872. This was the same year the pig won the Royal Agricultural Society's show in Cardiff.
This breed of pig was highly sought after in the 19th century. The show's judges wrote that "as for type, quality frame, and coat, they are amongst the best-looking pigs out". Berkshire pigs have a long history within British meat-eating culture. They are the oldest pedigree pig group in Britain. However, they also have an international reputation, being well renowned in Japan
MERL 65/354
close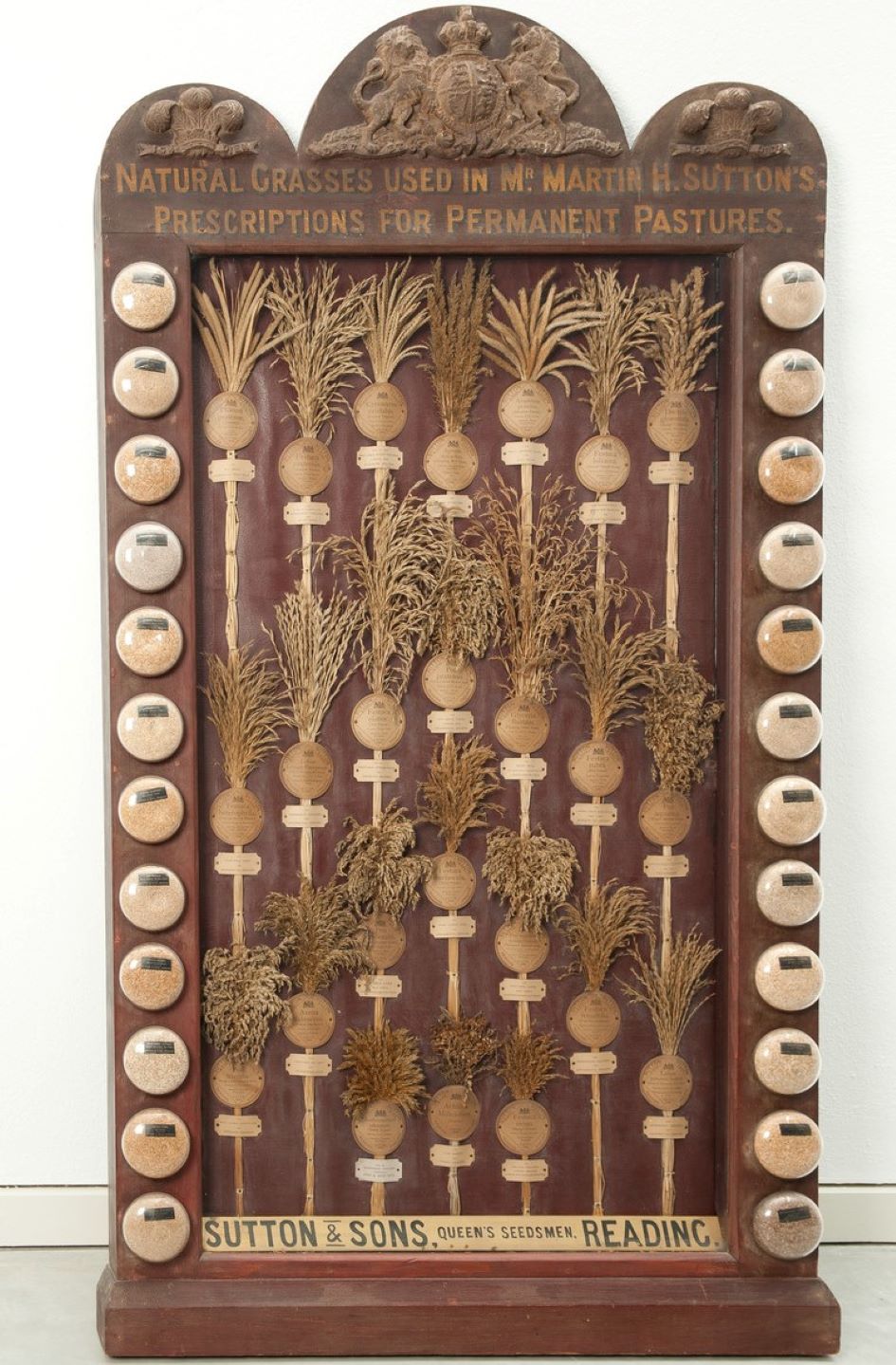 Suttons Seeds cabinet
This seed display cabinet was created by Suttons Seeds and is Victorian in origin, as evidenced by the inscription 'Queen's Seedsmen Reading". It contains 24 samples of grasses, along with attached bags carrying grass seeds. The purpose of the case is to advertise these varieties of grass seed, all of which were sold by Suttons.
Established in 1806 in Reading, Suttons Seeds prospered in the 19th century due to its successful adoption of rail and postal services for remote deliveries. It had a strong international presence, most notably with a branch in Calcutta, India.
MERL 2004/27
close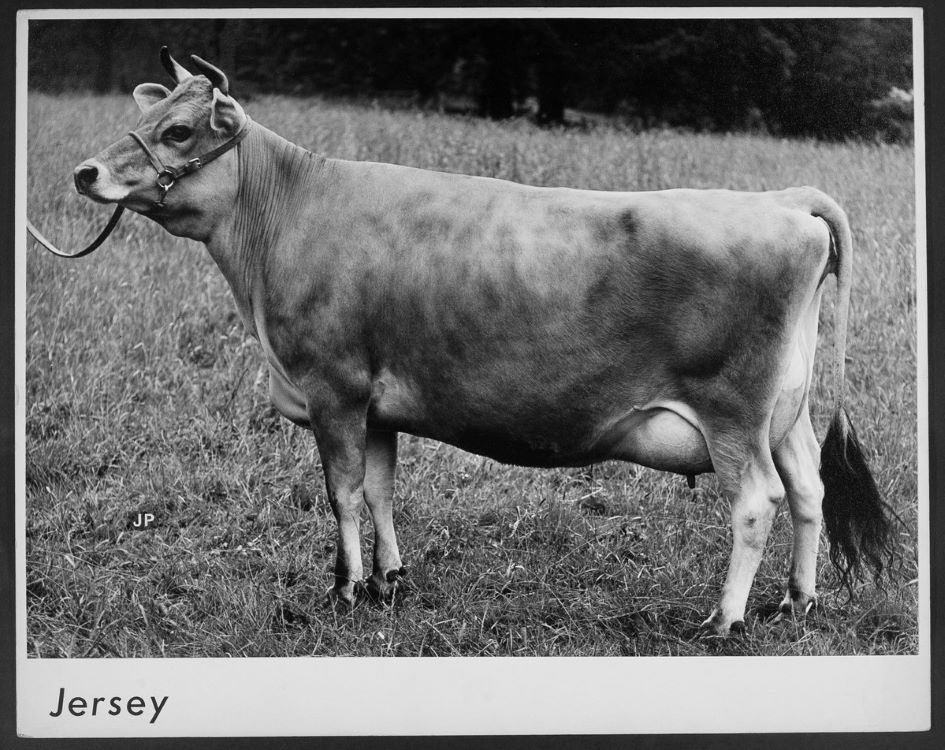 Jersey cow photograph
The origin of the Jersey cow is not fully understood, though they likely first came from France, as a narrow land bridge existed between the two until 709AD. The breed spread around the world in the later 19th century, with thousands of cows being shipped to the USA every year. They are adaptable and hardy cows, and can therefore survive in a range of climates. Their milk is highly regarded for its quality. They are also famous for their friendly nature.
This photograph was taken by livestock photographer Joan Pitt in the 1960s.
MERL P DX1903
close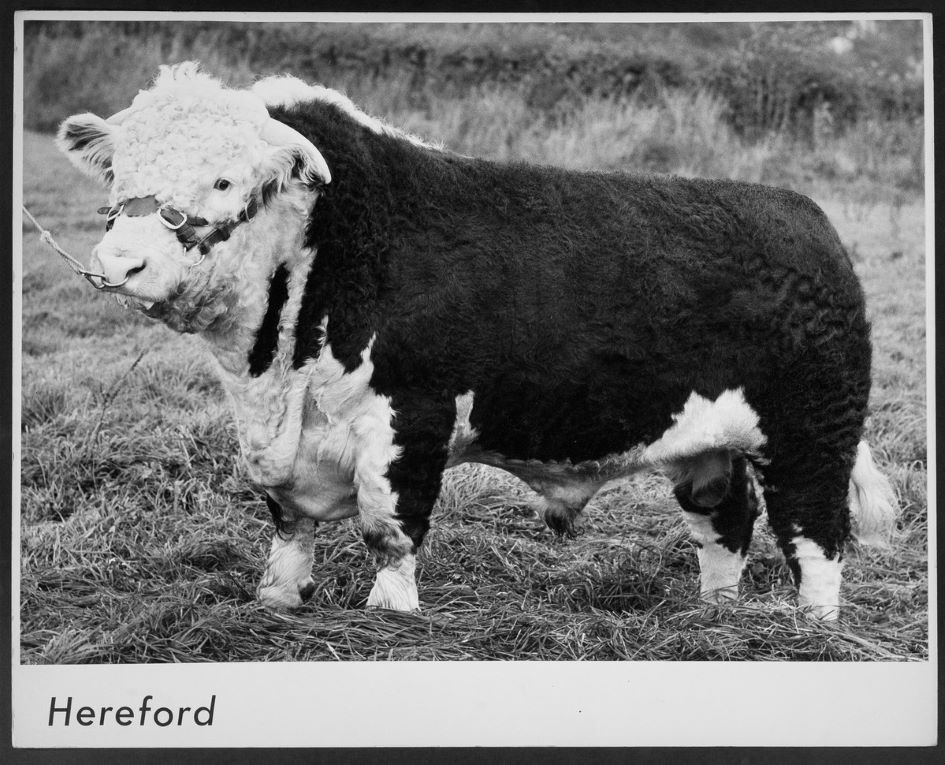 Hereford cow photograph
Hereford cattle evolved for thousands of years in Britain before being exported for the first time in 1817. They likely originated from a cross between the Roman small red cattle, and a large breed that existed on the Anglo-Welsh border. Herefords give a high beef yield and can calve at a later age than most cows, but they are best known for their hardiness, being able to thrive in arctic Scandinavian conditions as well as the blazing heat of an Australian summer.
This photograph was taken by livestock photographer Joan Pitt in the 1960s.
MERL P DX1903
close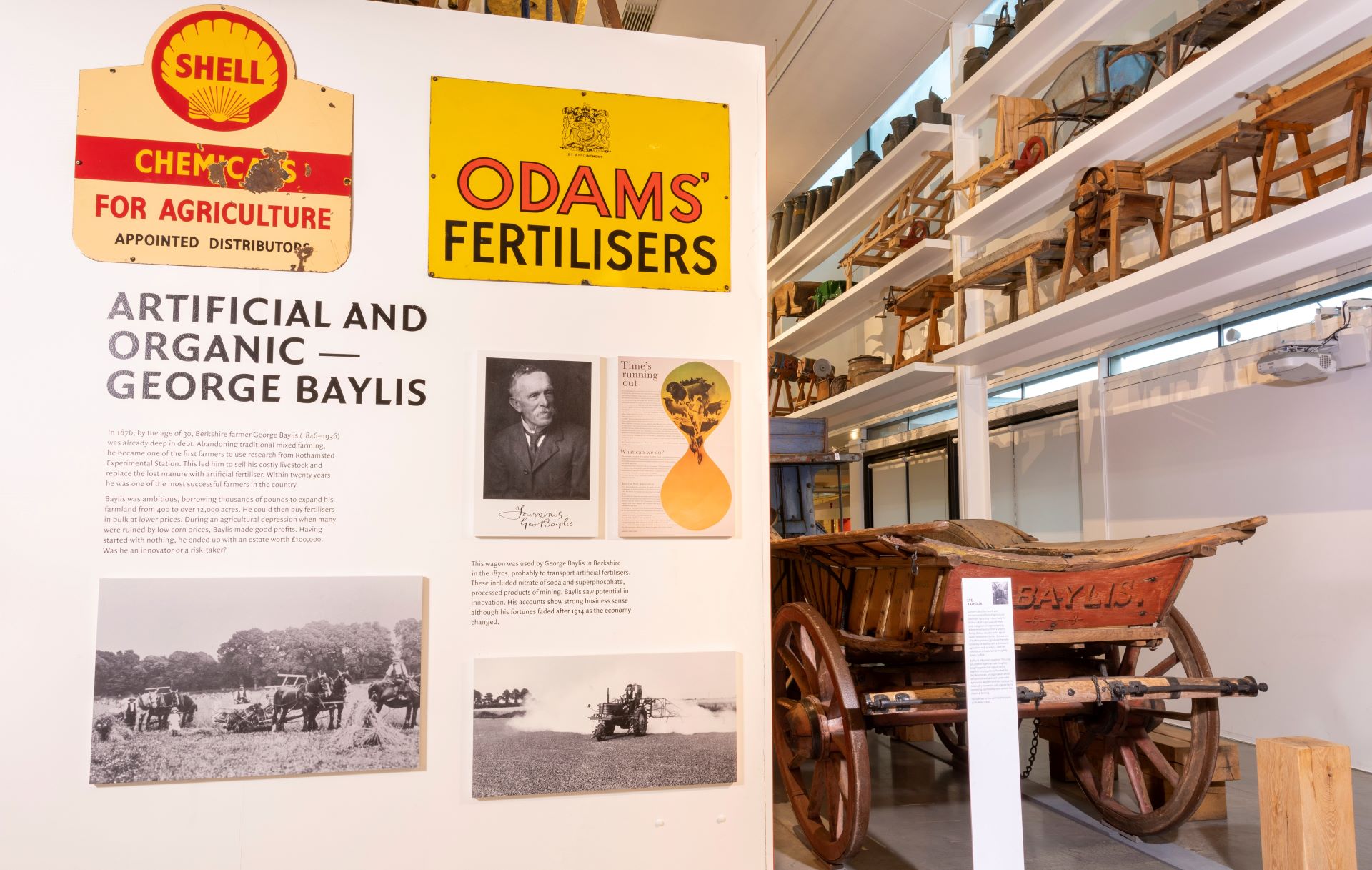 George Baylis photograph
+
Crop spraying photograph
+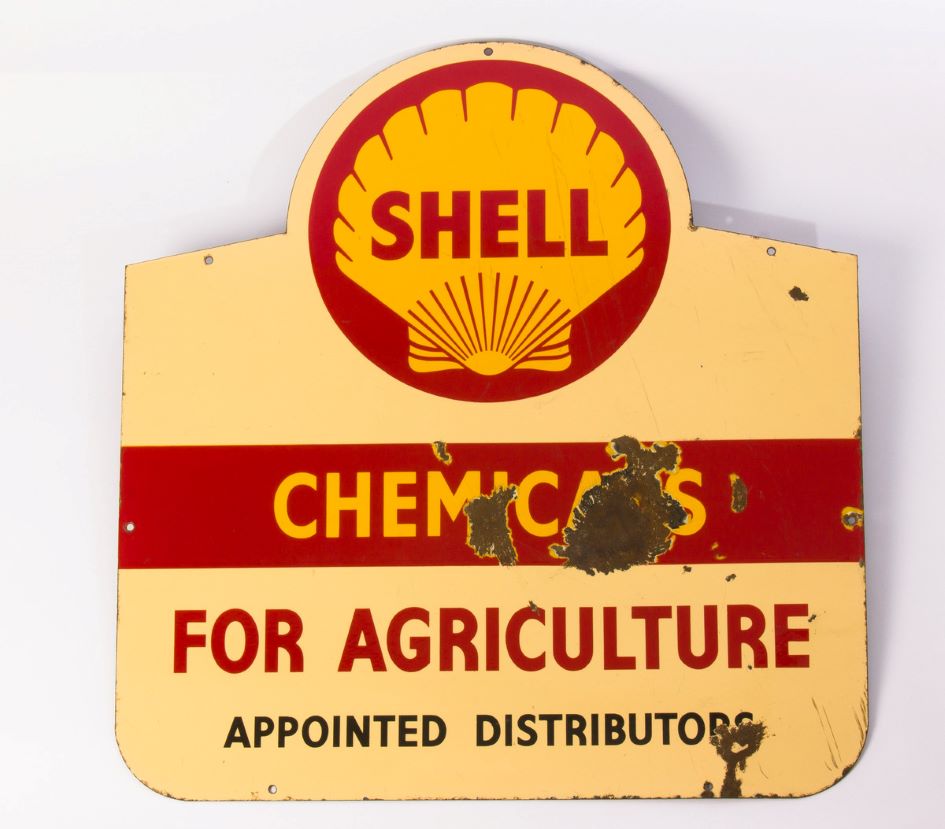 Shell sign
This is a 1960s enamel advertising sign for Shell Chemicals. Shell invested heavily in agricultural chemicals like DDT, which is now barred from agricultural use worldwide by the Stockholm Convention.
Pesticides are used in agriculture to kill pests that damage crops. Although they can significantly increase crop yields, their use can come with an environmental cost as they can seriously harm humans and other wildlife, unless they are used very carefully. Attitudes to pesticides started to change when Rachel Carson published the book Silent Spring in 1962, where she questioned the long-term impact on health and ecology of pesticides.
MERL 2009/51
close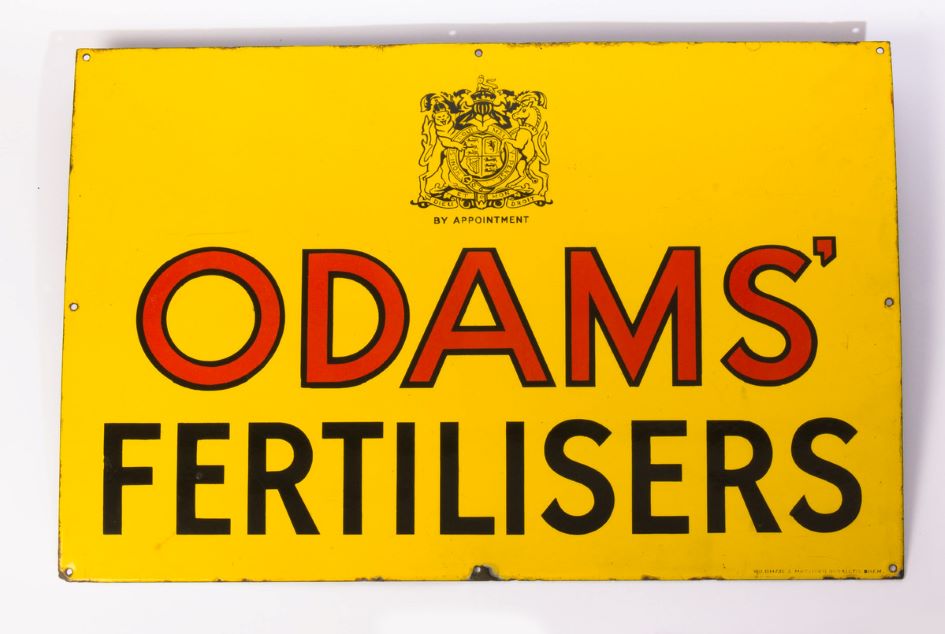 Fertiliser sign
This is a 1930s enamel advertising sign for 'Odams' Fertilisers' advertising superphosphate fertiliser, which used mixed animal bones and sulphuric acid. In the 19th century an agricultural industry developed around synthetically created fertilisers which transformed global food production, encouraging large scale industrial agriculture and much improved crop yields.
However, the use of synthetic fertilisers has significant environmental consequences including global warming, agricultural runoff and water contamination, soil degradation plus build up of toxins in ecosystems. Approaches to address these issues encourage the use of less synthetic fertilizers and more organic fertilisers, and better soil management.
MERL 2009/59
close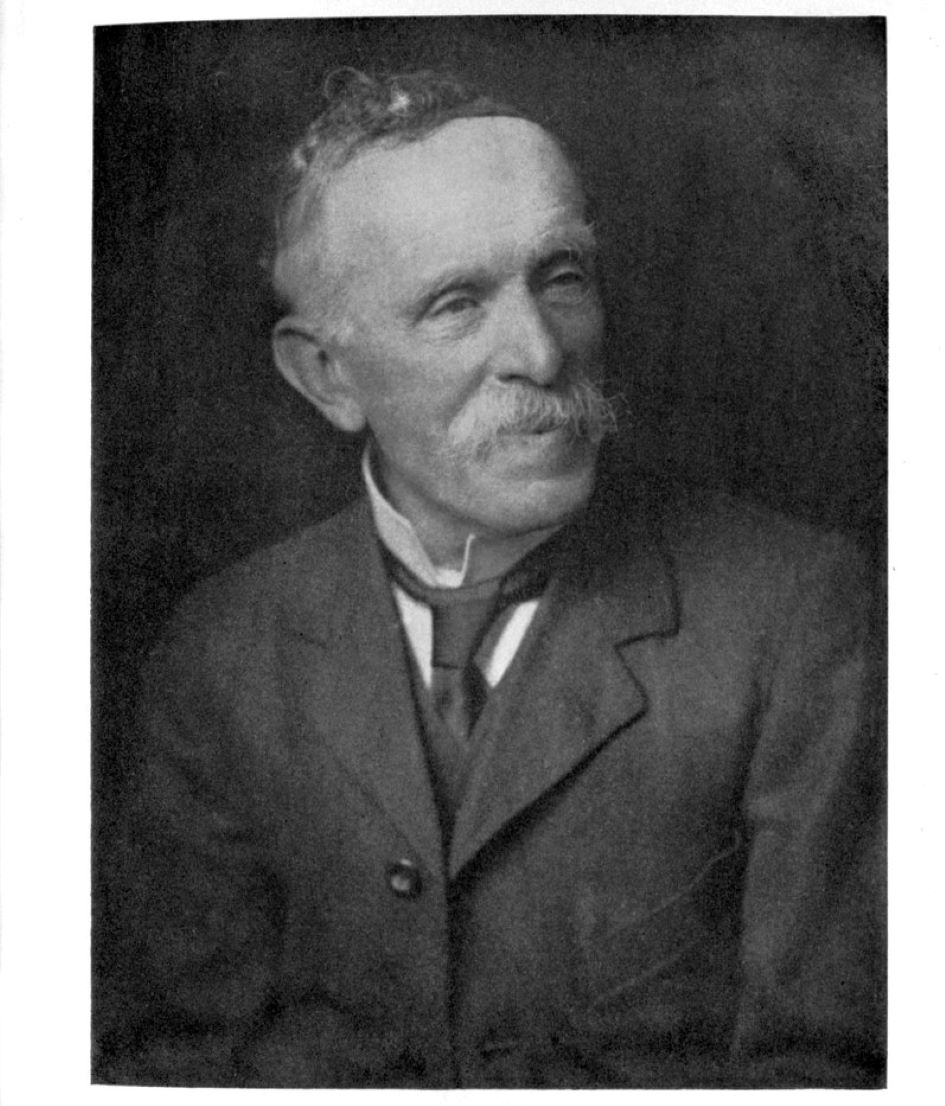 George Baylis photograph
George Baylis of Wyfield Manor, Boxford, near Newbury, was a farmer who, in the 1860s, started with a mixed farm of 350 acres and added holding after holding until he was farming 12,000 acres for the production of wheat and barley alone. He did this by abandoning traditional livestock manure dependent crop rotation and adopted all-arable rotation using artificial fertilisers based on research from Rothamsted Research Station, based at Harpenden, Hertfordshire. He acquired land cheaply in times of agricultural depression which coupled with his revolutionary farming methods allowed him to grow his farms quickly and very significantly.
close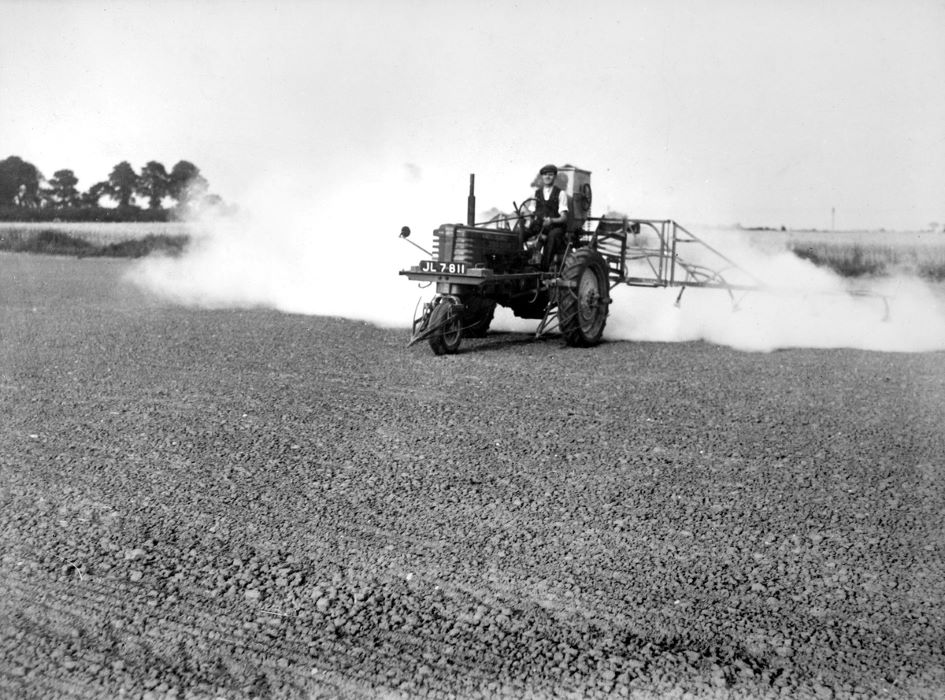 Powder dusting photograph
This is a photograph of a powder dusting machine mounted on a tractor applying Flea Beetle dust in 1945. A danger of spraying or dusting crops with pesticide is that of pesticide drift where the toxic chemicals can spread farther than just the target crops. This can cause serious medical issues for humans applying the pesticide and those living and working near to the crops. The pesticides can also cause unwanted harm to other plants and wildlife.
The Soil Association and other environmental organisations have long expressed concern that the means of delivery of many pesticides still need to be further improved.
MERL P FW PH2/S45/6
close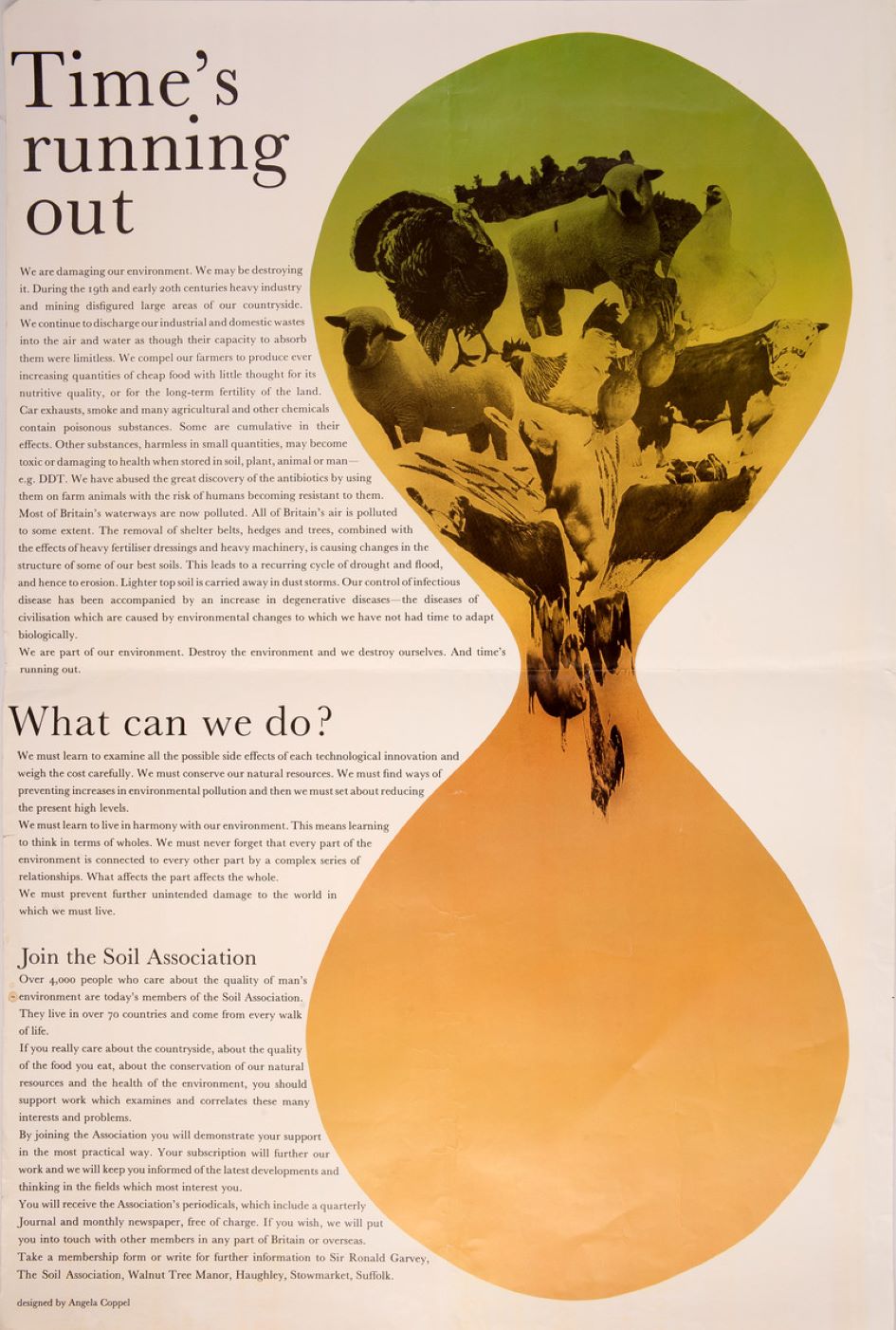 Soil Association poster
This Soil Association Poster entitled "Time's running out" was produced around 1970. It warns how we are damaging our environment, informs of what we should do to help protect the environment and encourages readers to join the Soil Association.
The Soil Association is a UK based charity which campaigns on issues including opposition to intensive farming, support for local purchasing and public education on nutrition, plus the certification of organic food. It was founded in 1946 following the publication of "The Living Soil" by Lady Eve Balfour in 1943 which outlined an alternative, sustainable approach to agriculture, now known as organic farming.
MERL SR 3CPRE F2/23
close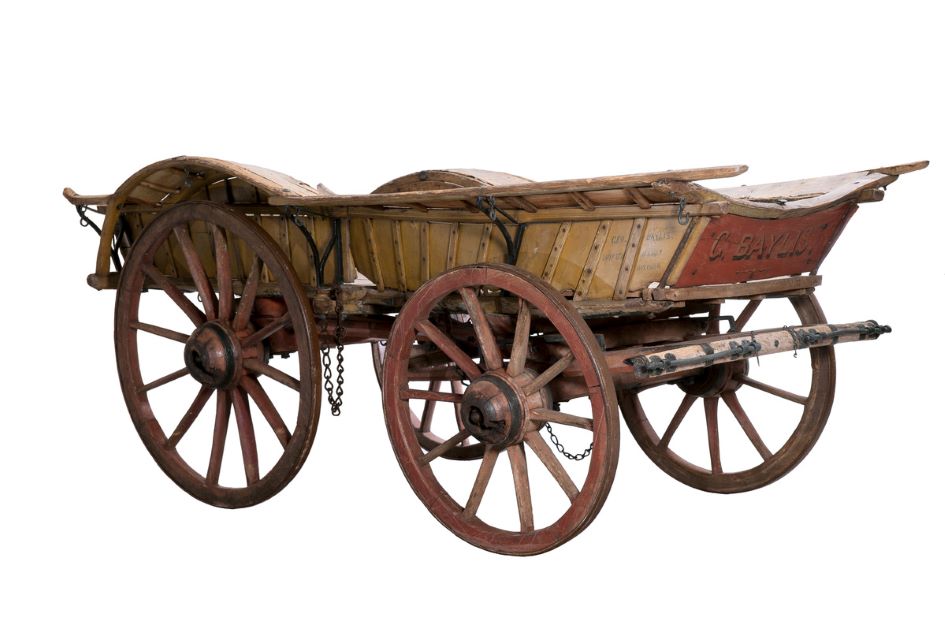 Berkshire wagon
This 1870s bow wagon was built for George Baylis of Wyfield Manor, Boxford. It was used to transport artificial fertilisers, including nitrate of soda and superphosphate. In West Berkshire and East Wiltshire the most common wagon was the narrow wheeled, straight framed Wiltshire wagon. This narrow waisted body frame West Berkshire wagon was an attempt to improve the poor turning circle of the traditional Wiltshire wagon. Although an improvement on the Wiltshire type, it never became widespread in West Berkshire. In East Berkshire, South Midlands type wagons were common and in South Berkshire, Surrey type wagons were popular.
MERL 54/365
close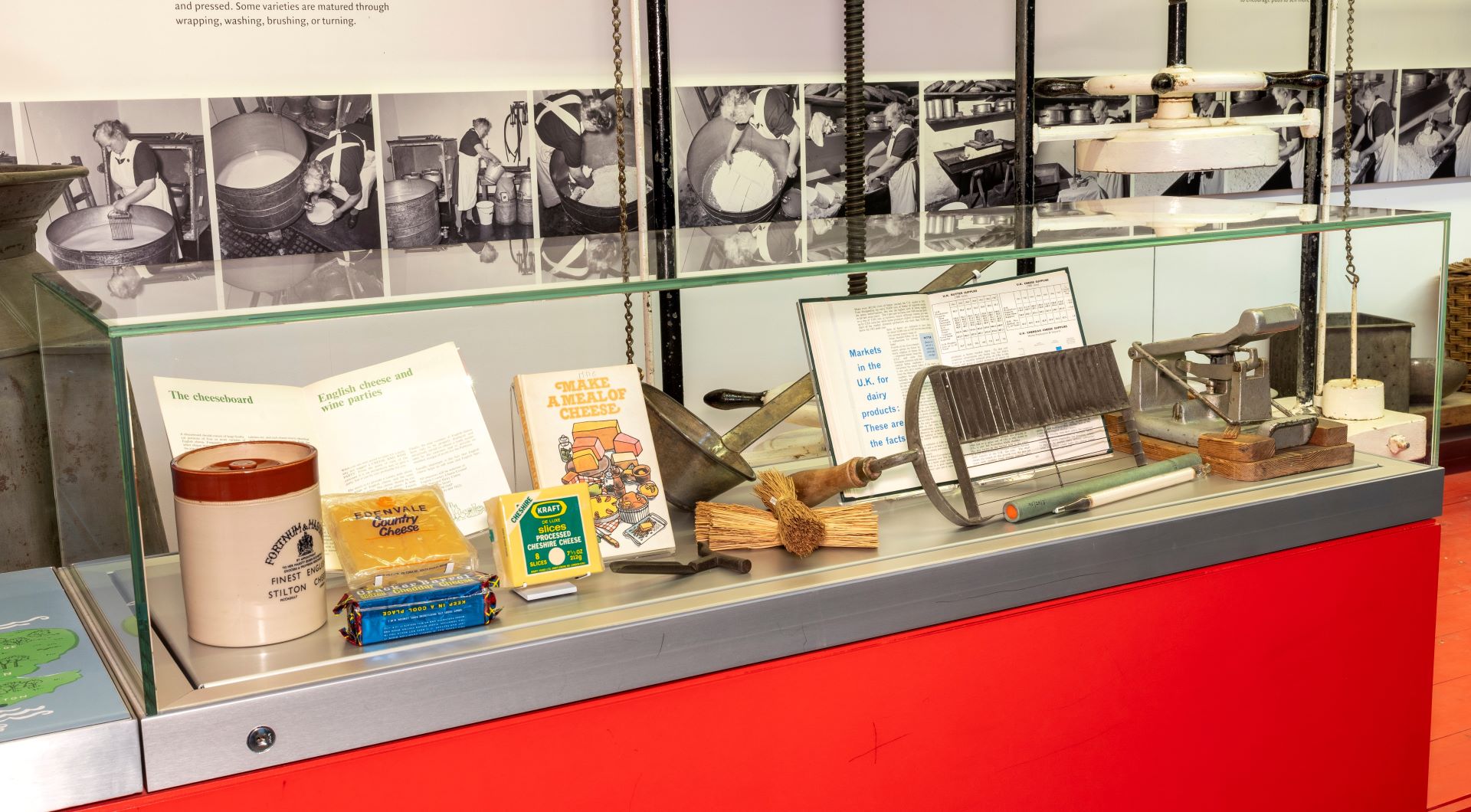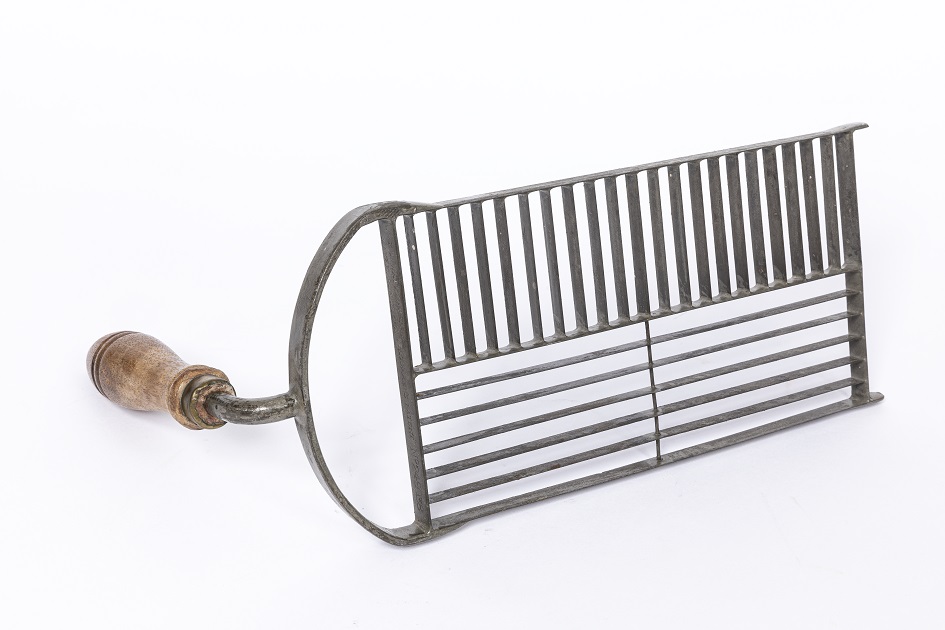 Curd cutter
This curd cutter was used for dicing curds in 12 gallon vats. Its inscription implies it was made by F. T. Whitmarsh of Blandford, Dorset.
Milk is split into curds and whey via the application of acidity and rennet. At this stage, the curd cutter is applied to cube the curds and allow more whey to drain. For particularly hard cheeses, the process is accelerated by heating the curds. They are then salted, pressed and ripened to form cheese. Some soft cheeses, such as cottage cheese, do not require a curd cutter as they do not need all the whey to be drained.
MERL 74/85
close

Thermometer
This mercury 'floating head' thermometer was used for cheesemaking in the 1920s. Heating milk to the correct temperature is the first stage of making cheese; it allows important lactic acid bacteria to multiply. Precision is essential to producing the desired firmness of cheese. 34˚C creates a very soft cheese whereas 39˚ leads to a firm cheese. As such, the margin for error is very low.
Mercury thermometers are considered vintage these days, and since 2009 have not been sold to the general public due to the risk of mercury poisoning.
MERL 95/29/2
close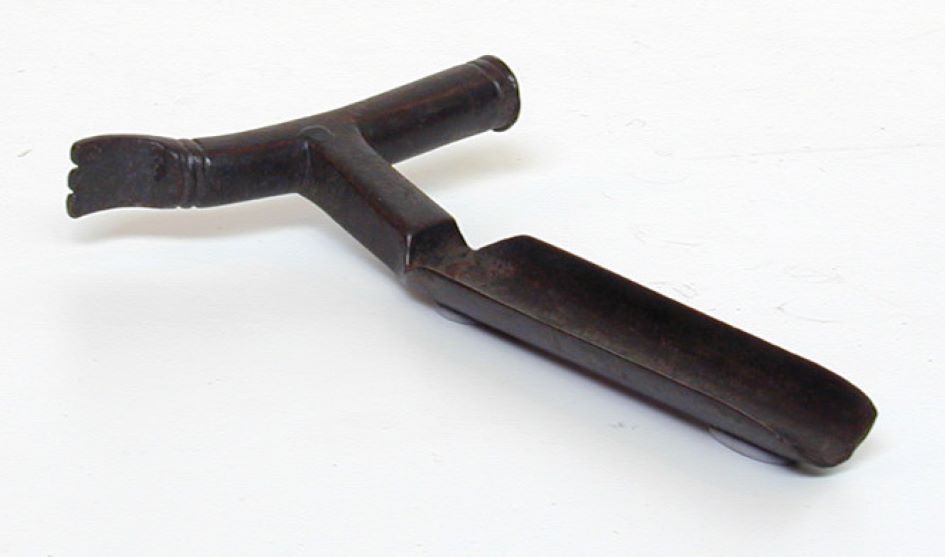 Cheese sampler
The long, trough-like blade of this cheese sampler would have been used to extract a section of a large cheese to taste it. Sampling was an essential part of the cheese ripening process, particularly before refrigeration when conditions were less controlled.
Cheddar cheese can be ripened for as little as 6 months and as long as 18 months, so frequent testing would have been crucial to ensure the desired maturity. Dating from the 18th century, this sampler was used in Kensington and Chelsea.
MERL 51/1200
close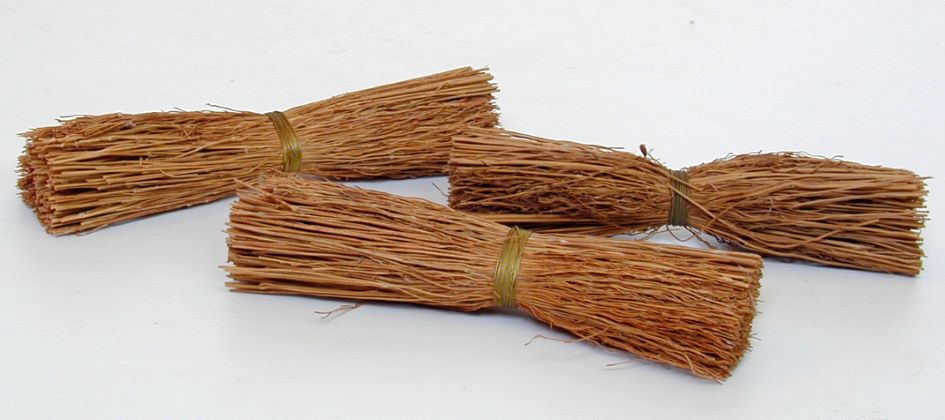 Cheese brushes
Made in France, and used in Somerset, these brushes removed mould from stored cheeses. Although some hard cheeses can be kept outside the fridge, it significantly shortens their lifespan. Before refrigeration, some households would use brushes to remove as much mould as possible from cheese. In an attempt to keep their cheese cool and prevent mould growth, many Victorians would keep it on a large piece of slate in their pantry.
The brushes are crafted from bundles of flax grouped in the middle by brass wire.
MERL 68/83
close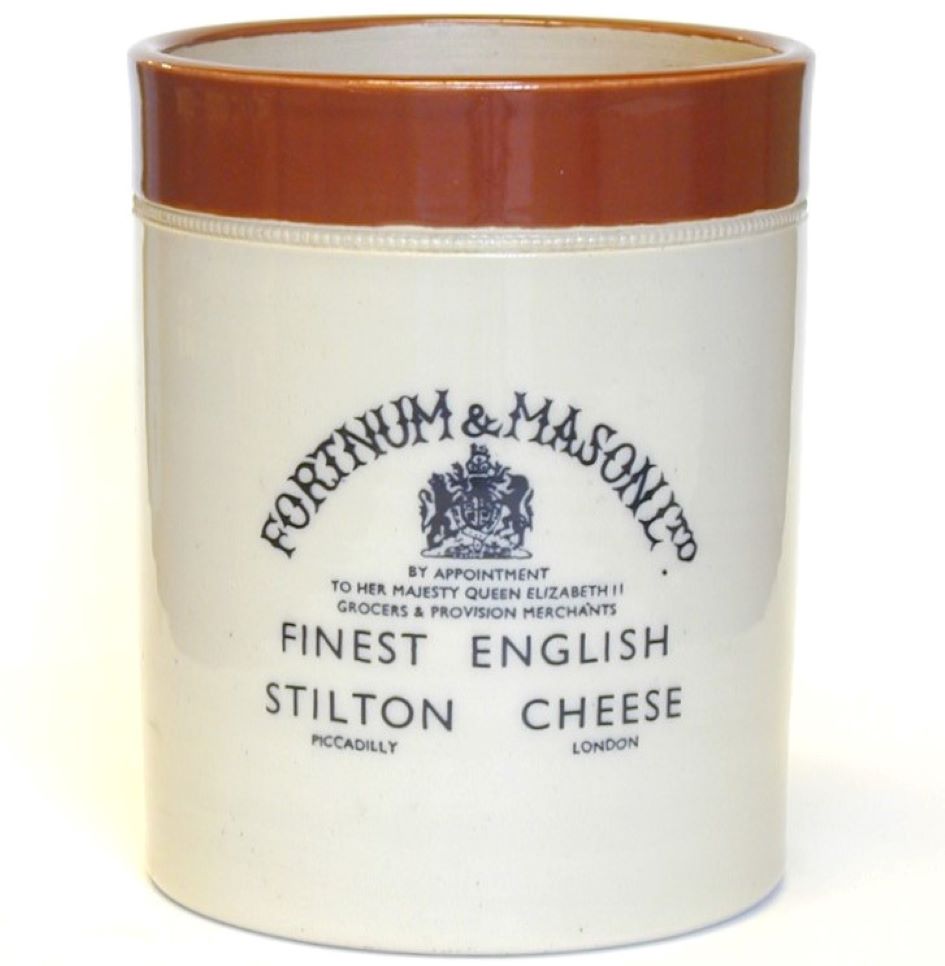 Stilton jar
This ceramic jar was used to store Stilton cheese by Fortnum and Masons, a luxury department store in Piccadilly, London. Stilton has always been a luxury product; in the 1790s half a pound of Stilton cost more than double a farm labourer's daily wage. In fact, such was its reputation for quality that in 1724 Daniel Defoe referred to it as the 'English Parmesan'. At this point, it was likely a matured cream cheese made with whole milk and additional cream.
The cheese's protected status means that it can only be made in Derbyshire, Leicestershire and Nottinghamshire. Peculiarly, this does not include the Cambridgeshire village of Stilton where the cheese likely originated.
MERL 67/13/1-2
close
Traditional Revival Display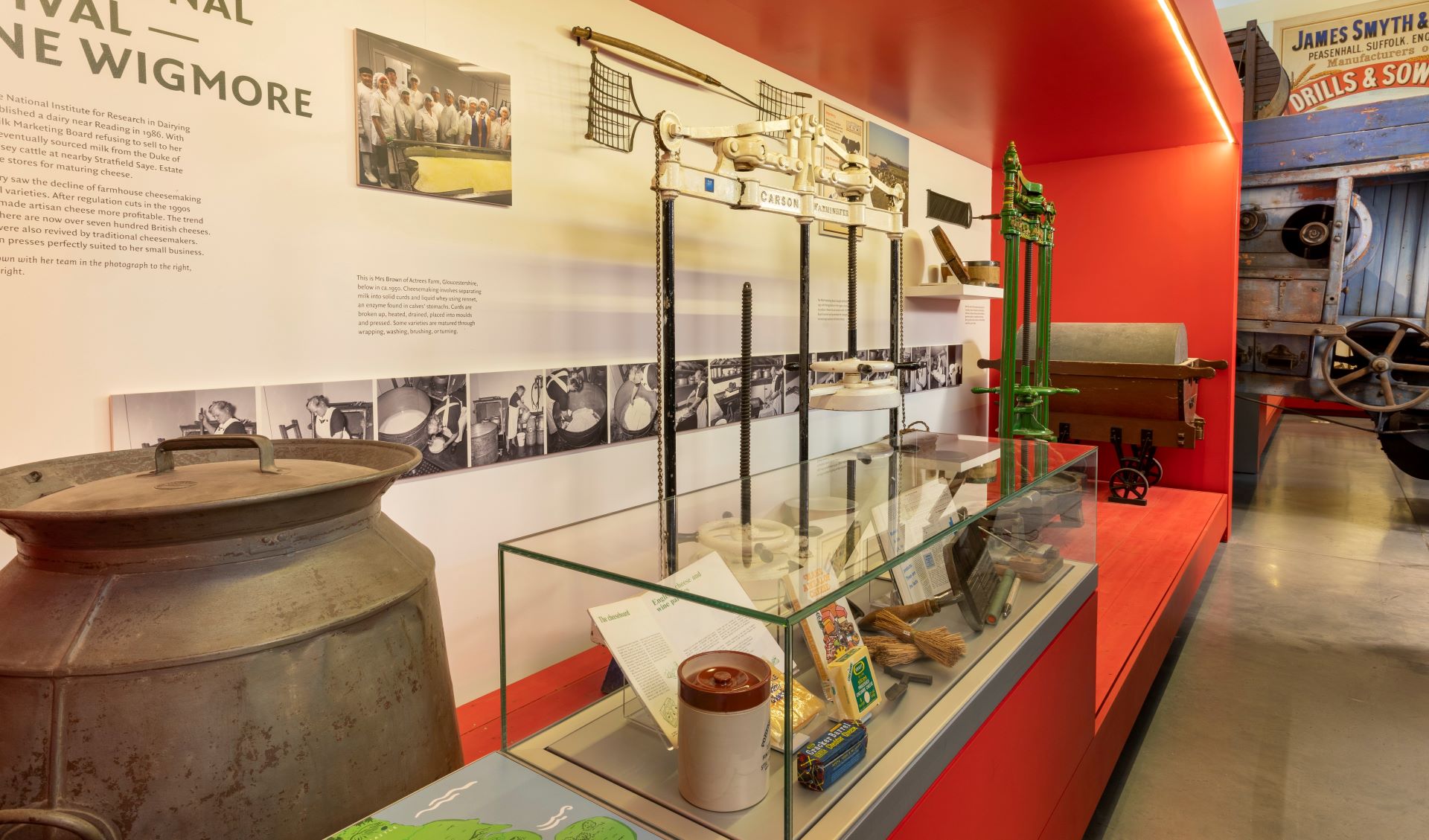 Traditional Revival Display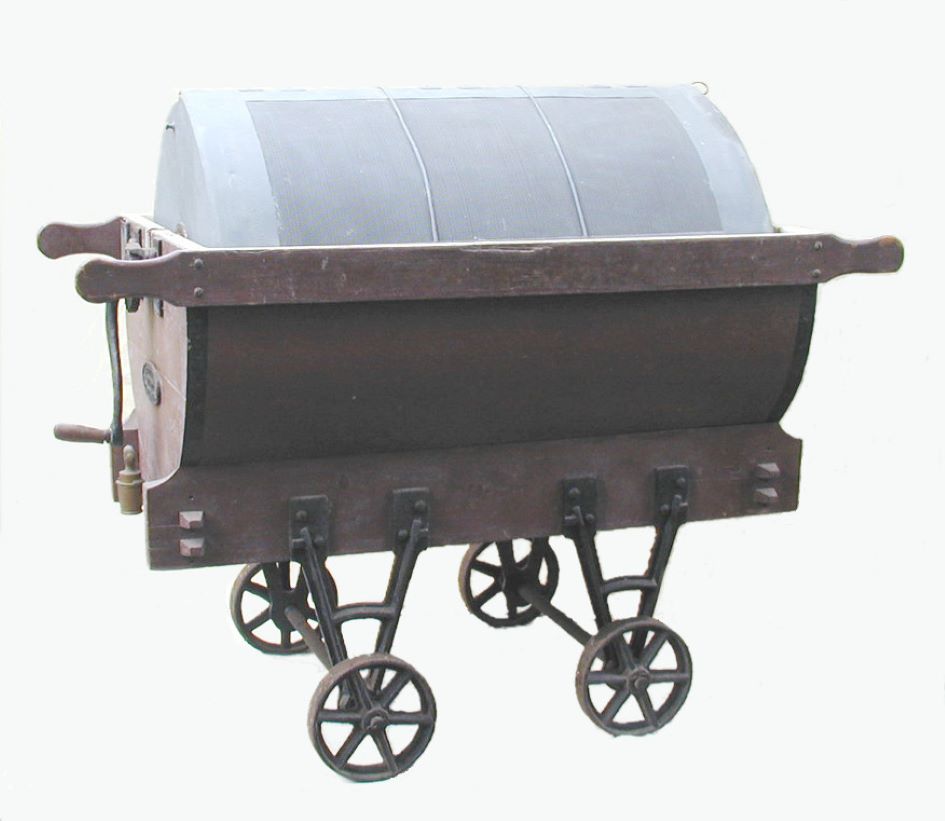 Cheese vat
This object is an example of the 'Gornall Patent cheese maker', a cheese vat which was widely used across Lancashire, particularly for making Lancashire cheese. It was patented in 1892 and likely made in Garstang, becoming so successful that it was awarded medals at various dairy shows in the 1890s.
It played an important role in the process of separating curds and whey. Once curds had been placed in the vat and allowed to settle, the cylinder would be rotated and the whey would be drained. The curds would then be dry enough to be cut. This specific vat was used at Plankton Farm in Hambledon, Lancashire.
MERL 60/32
close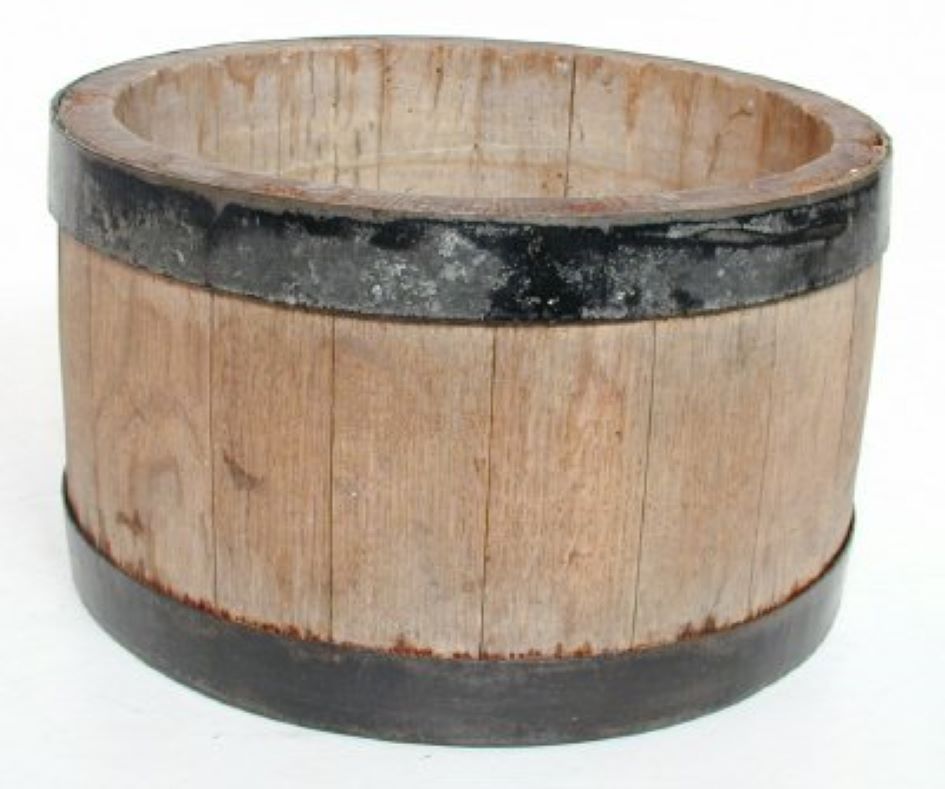 Cheese mould
This cheese mould originally came from the workshop of a Mr Spiller, a thatcher in Yarncombe, Devon. Before a cheese can be ripened, it must be moulded while the curds are still malleable. This particular mould is a basket mould, as it has only one opening. In contrast, hoop moulds are bottomless and coil around the cheese.
Moulds have been used in cheese making for thousands of years, with a number of Roman examples surviving. These often feature straining holes to drain excess whey.
MERL 66/315
close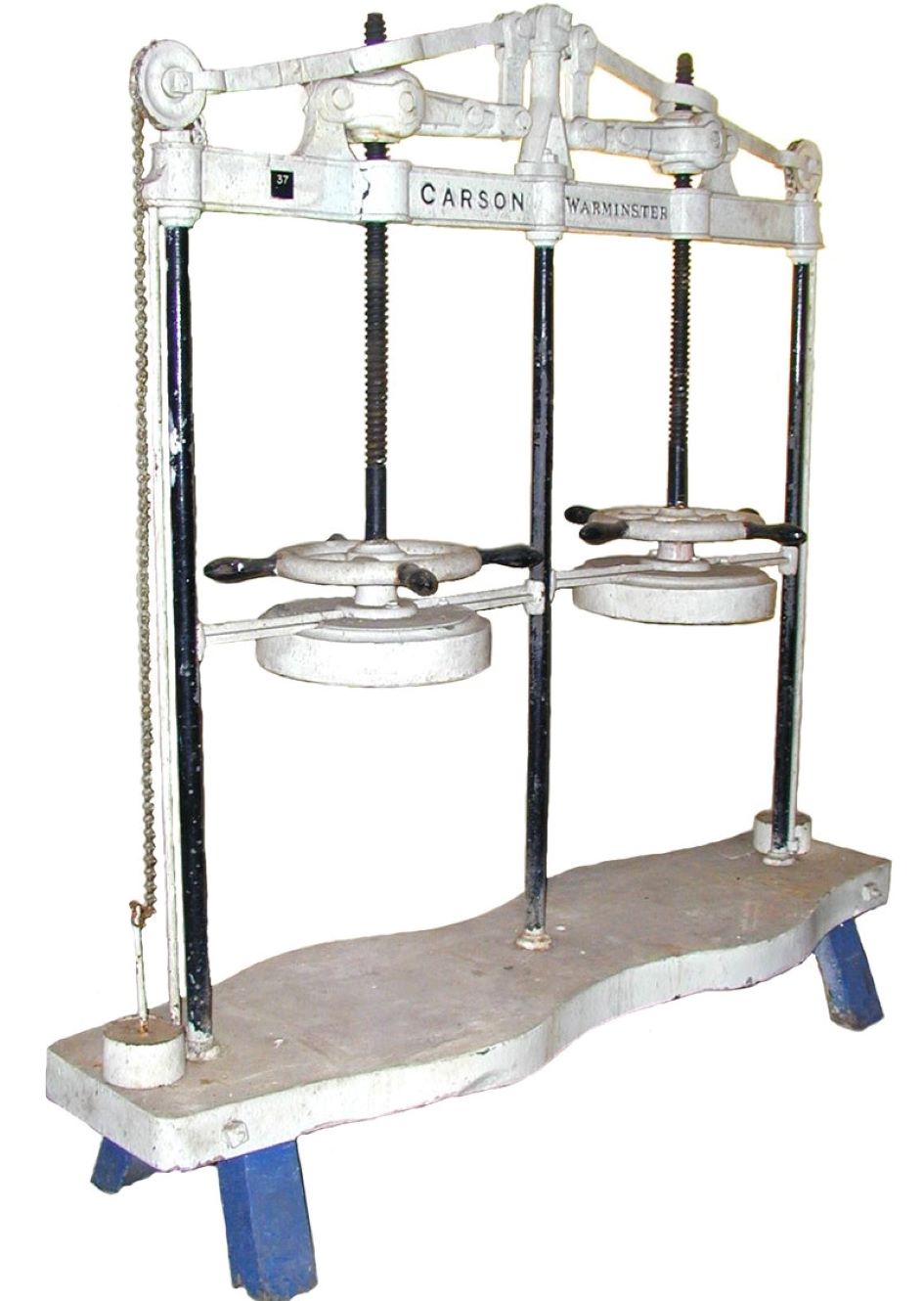 Cheese press
The University's Department of Food and Science used this press for cheese making, before it was replaced by a horizontal press made by the Department's technicians.
Although pressing cheese squeezes the last of the whey from the curds, it does not necessarily determine the cheese's hardness. This is affected more by the temperature of the curds mixture as well as the size of the curds. The pressing process ensures the curds stay 'knitted' together, and gives the cheese shape. Until the Industrial Revolution, cheese pressing was typically undertaken on a household scale.
MERL 87/31
close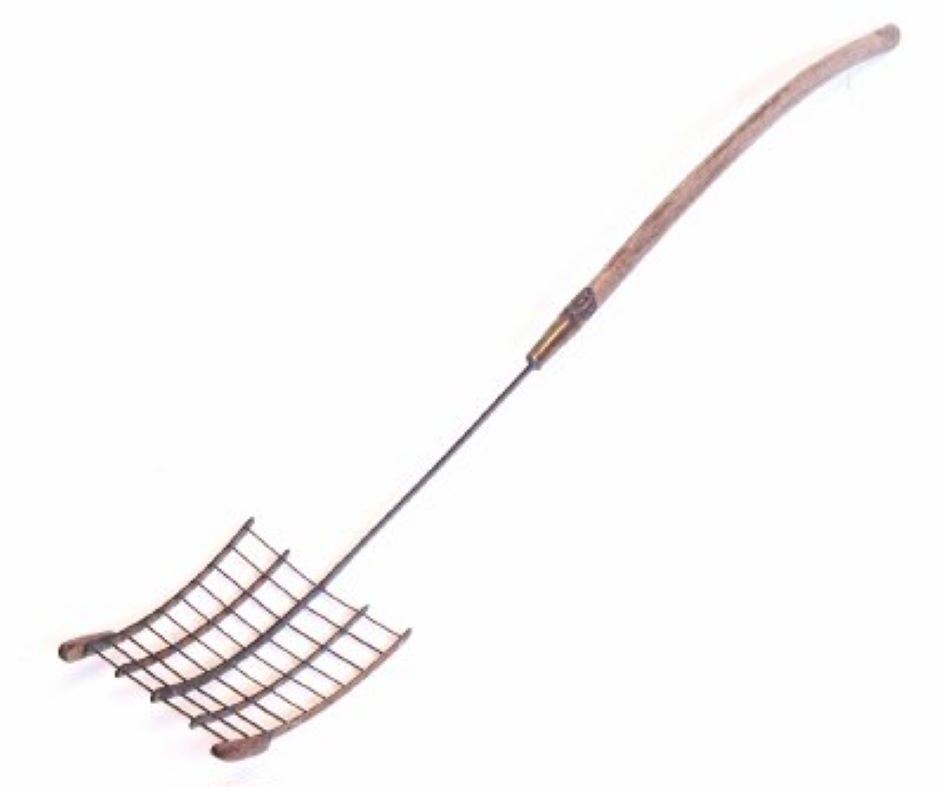 Curd breaker
Originating from Blandford, Dorset, this curd breaker has a similar purpose to the curd cutter in the case below – it was used to divide curds to hasten the escape of whey. Draining whey from curds is a crucial element in creating a hard cheese. Cutting the curds into large pieces will result in a moisture cheese, whilst smaller pieces will lead to a drier cheese. Following the cutting process, curds can also be cooked and stirred to further remove the whey.
MERL 54/381
close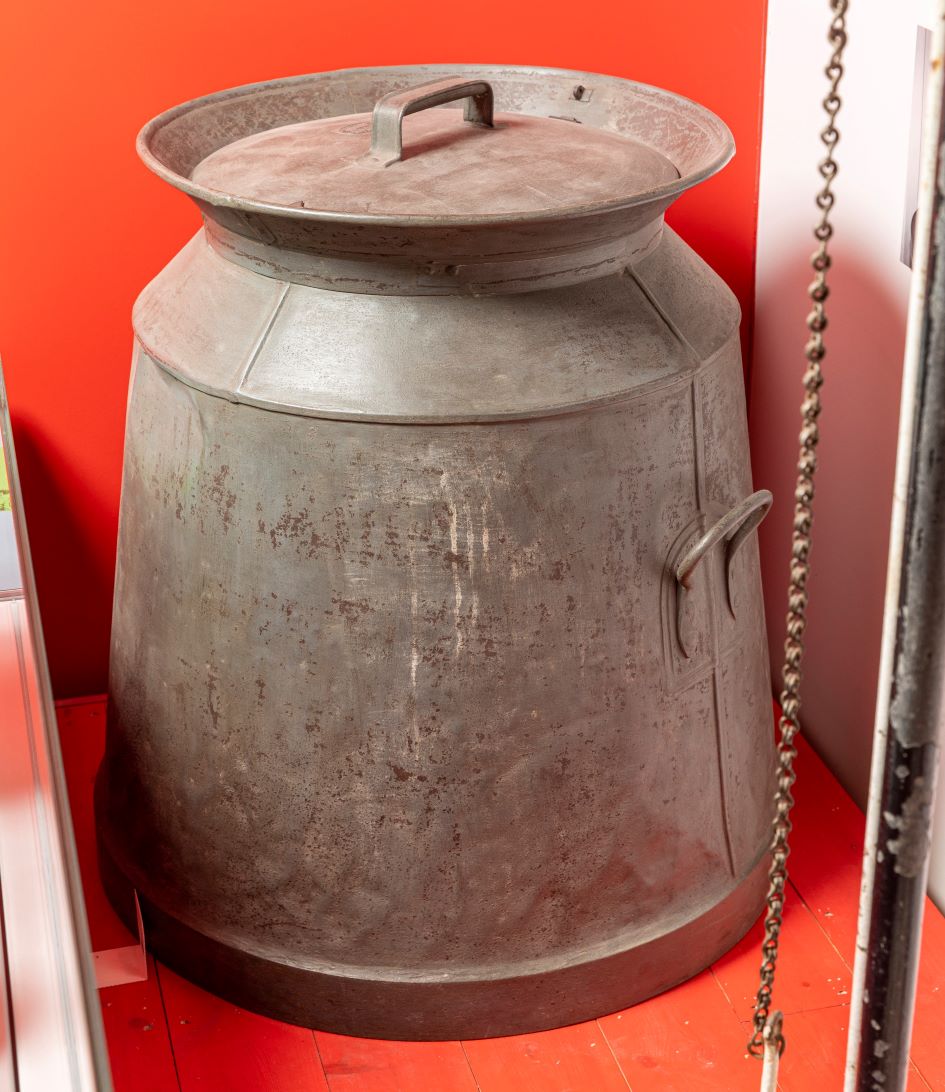 Milk churn
This churn, made between 1890 and 1910, was used on a farm in Somerset to carry around 60 gallons of milk. Once the cows had been milked, pails would be emptied into the churn, which was then transported straight to a cheese vat. Milk leaves the udder at around 38˚C, an ideal temperature for starting the cheese making process.
However, this skips the pasteurisation stage, which is typically used to destroy harmful bacteria in milk. The debate of pasteurized milk against raw milk continues to this day, with many claiming that raw milk cheese has a more distinct flavour and is safe to consume.
MERL 59/429
close