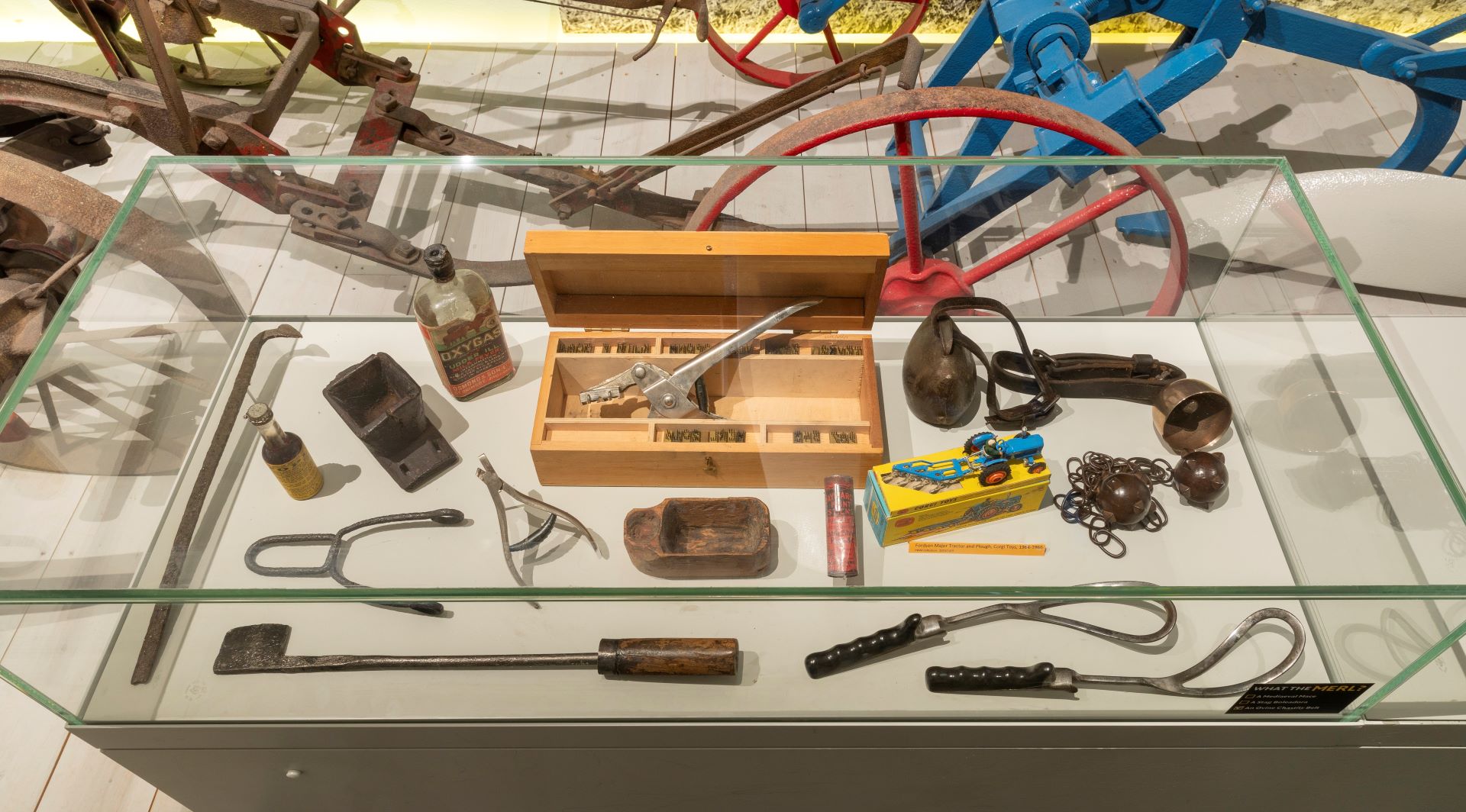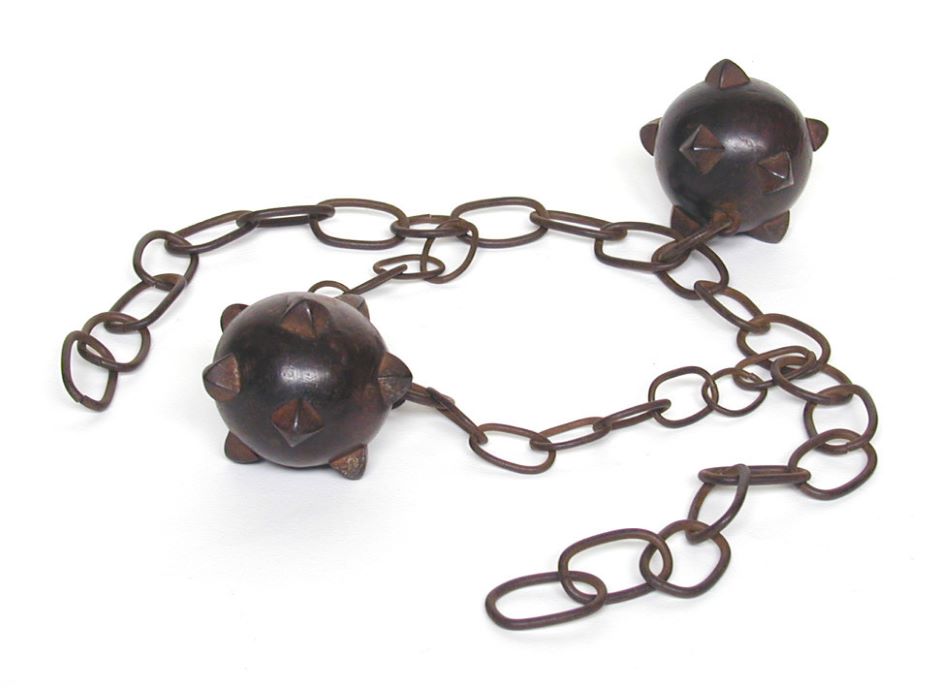 Sheep Contraceptive
Though very little is known about this object, it has been identified as a rare kind of sheep contraceptive, which was draped over the back of a ewe to prevent rams from mating. It is also known as a 'ram scarer'.
There are various reasons why a farmer wouldn't want certain ewes to breed with certain rams; for example, to avoid inbreeding. In the 1960s it was also speculated that this object could be a curtain chain. It was featured in a 2018 Twitter thread.
MERL 55/173
close

Dog bit
This dog bit would have been placed in the mouth of a sheepdog to prevent it from biting – or 'gripping' – sheep while working. It is thought to have been crafted by a blacksmith in Piddletrenthide, Dorset, and used by a local shepherd. It was probably made in the late 19th century.
Dog bits are not used on sheepdogs any more, and instead gripping is discouraged through the use of calm, clear verbal commands. Gripping usually takes place when a dog is overly stressed or excited.
MERL 56/18
close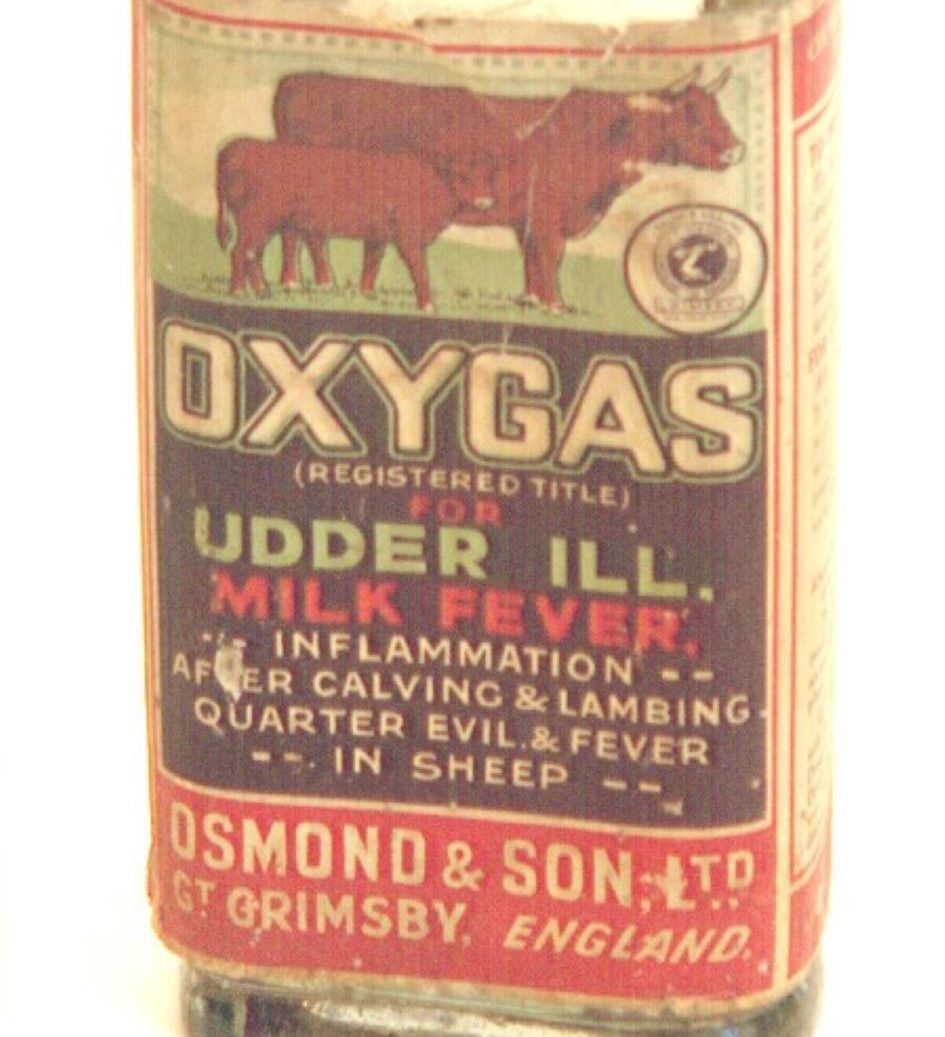 Medicine bottle
This bottle contains 'Oxygas', a veterinary medicine to treat milk fever in sheep and cattle. It was produced by Osman & Son of Grimbsy and was used at Ballard's Farm in Edington.
Milk fever, which if left untreated can lead to an inability to stand and loss of consciousness, is caused by low calcium levels in the blood. The modern treatment is a calcium injection. Various other treatments have been tried throughout history –  in 1845 some textbooks suggested drenching the animal in boiling ale or beer! This medicine also claims to cure other 'ills of the udder'.
MERL 91/27
close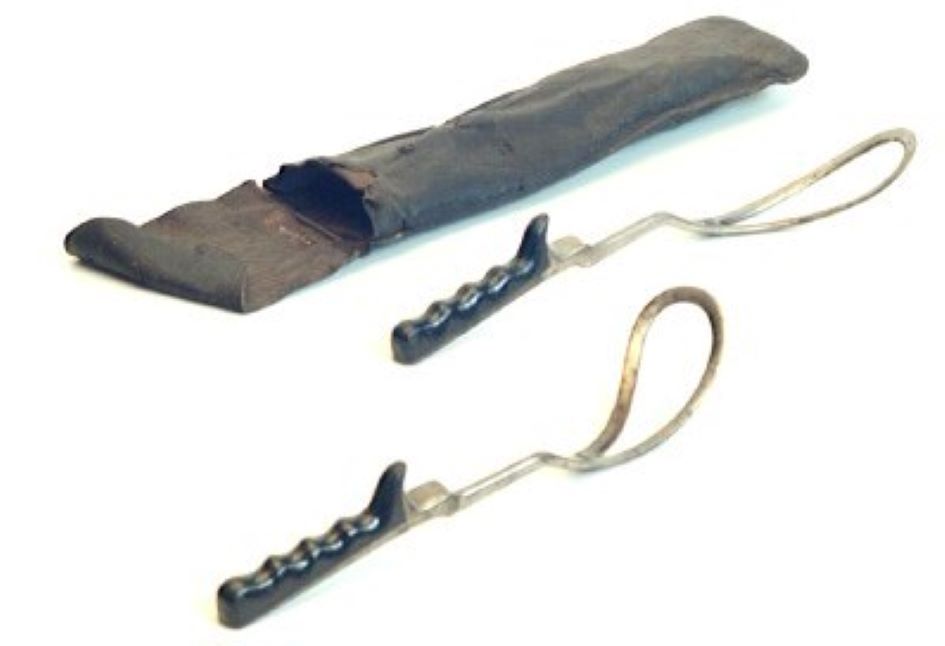 Birthing forceps
These birthing forceps were likely made for human births, sometime before 1895. They were awarded to a "Jno. H. Goodlife" as a first prize award at a University of Aberdeen midwifery class. Following this, they were used as lambing forceps by at least one farmer, before ending up on a refuge dump in 1961.
Whilst the healthy birth of a lamb should not require forceps, ewes may require assistance if the lamb has not been born an hour after water bags are passed.
MERL 61/228
close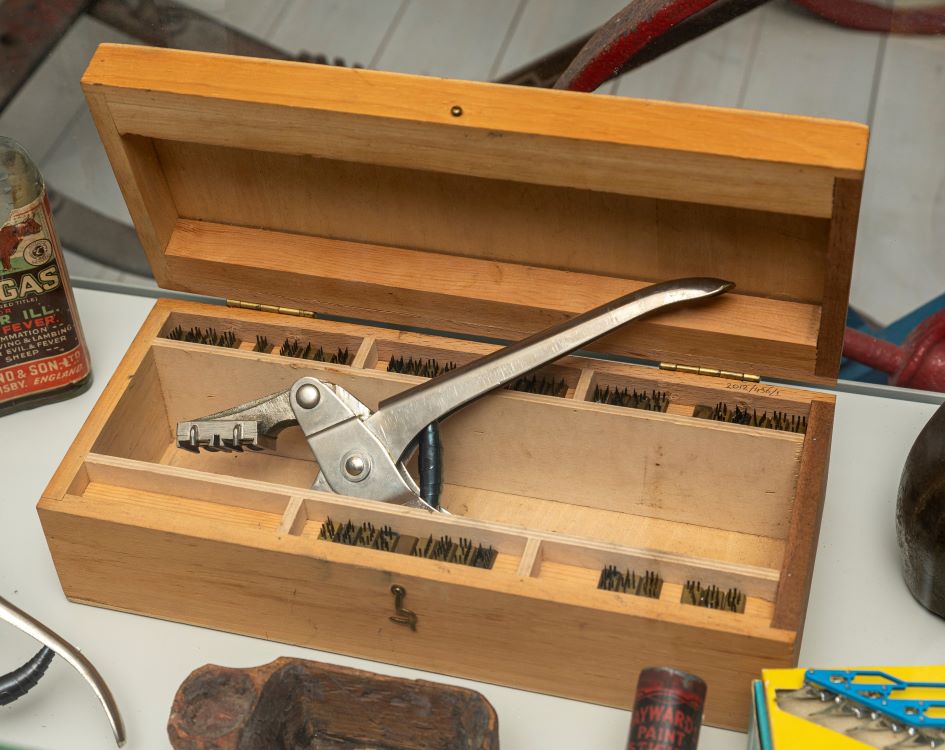 Tattoo box
This tattoo box contains 40 pins with letters ranging from A-Z. It was utilised by Joseph Bevan in around 1950 to mark sheep. From around 1960 onwards, he used an ear notcher and paint.
Tattooing is still a popular method of placing a unique identifier on an animal. The tattoos usually consist of closely spaced dark dots depicting letters or numbers. Using permanent tattoo ink is important, as otherwise it fades into the bloodstream. Other popular methods of marking animals include ear notching and attaching tags.
MERL 2012/436
close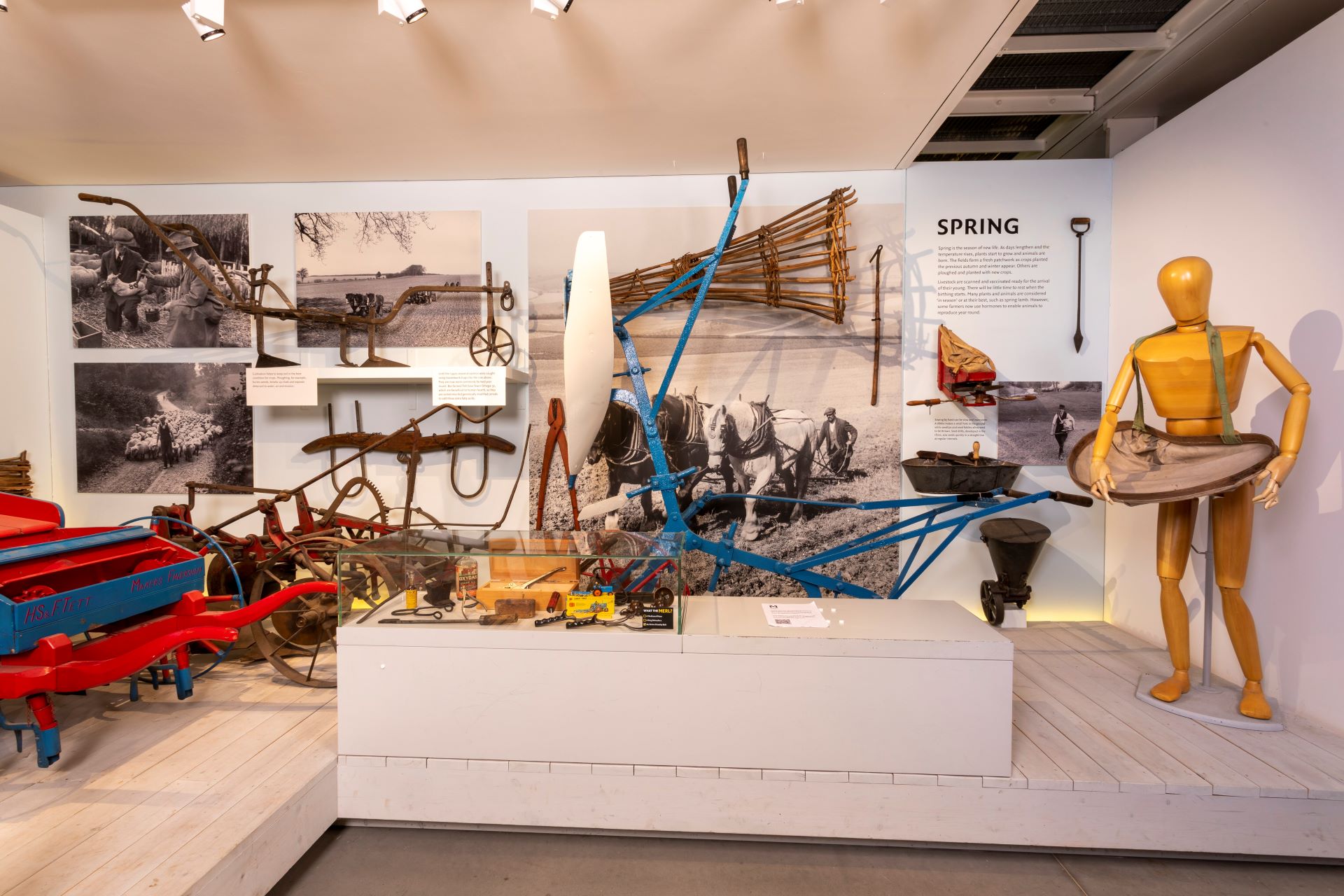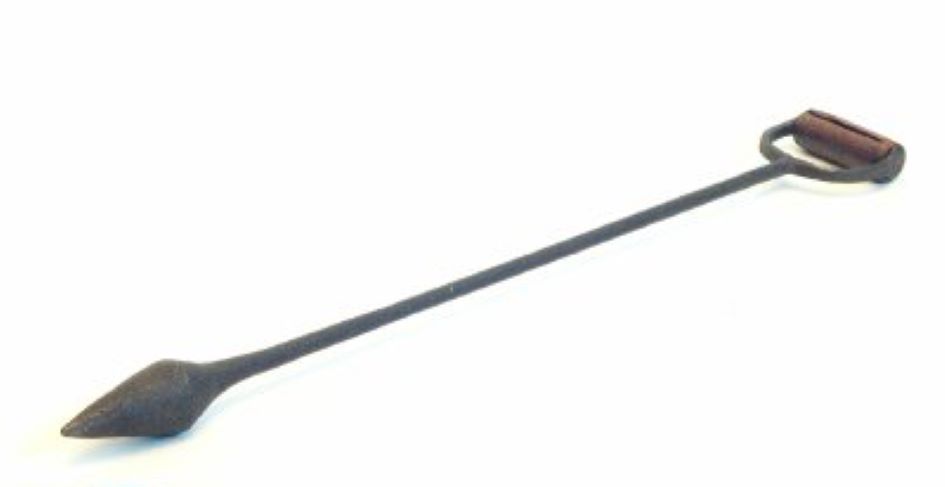 Dibble
This dibble was probably made in the Gravenhurst area and used there for around 150 years, before being deposited at the museum in 1954.
Dibbles were utilised by farmers hand sowing their seeds to ensure the seeds were properly covered by soil. The usual practice was for the farmer to walk through a ploughed field with a dibble in each hand, making holes to the left and right. A child would follow, placing seeds in the holes and covering them with soil. Dibbling was popular in the 19th century as it provided employment for children from large families. These children were otherwise in danger of ending up in workhouses.
MERL 54/361
close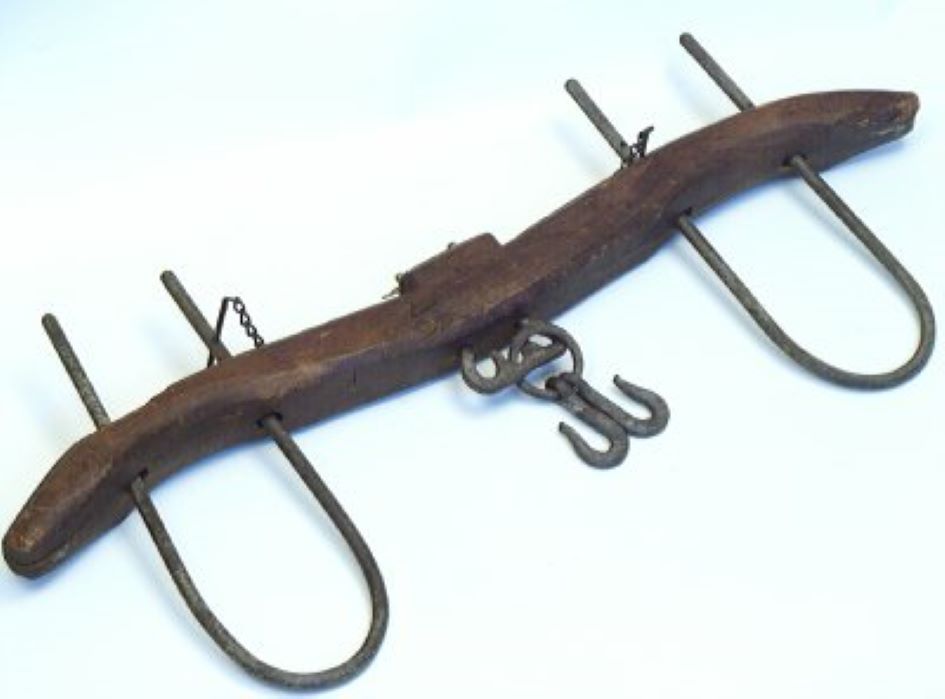 Ox yoke
Ox yokes are wooden beams which are tied round the necks of two oxen and are then fastened to a cart or plough so the oxen can pull it. This yoke was used on a farm in Wilcote, Oxon until 1912. At this time, oxen were used to draw the water cart.
Oxen were traditionally favoured for farm work because they were low maintenance and highly robust, being able to survive on low quality straw. However, they were gradually replaced by horses in the 19th century. Once the traction engine was invented, oxen were phased out – apart from when they had to haul the machines out of a ditch!
MERL 53/94
close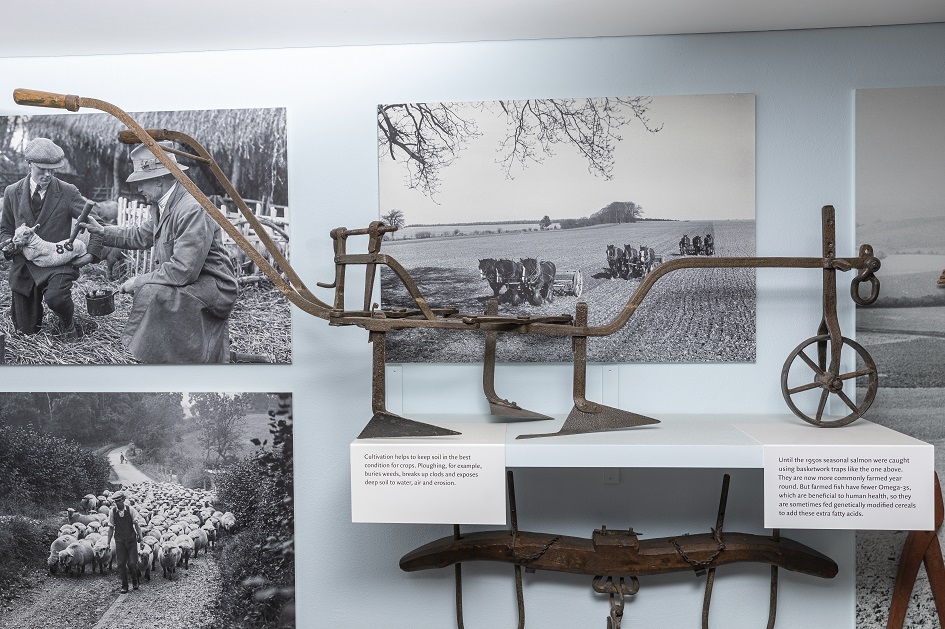 Horse hoe (scuffle)
A 'scuffle' is a horse drawn hoe used for weeding. British agriculturalist Jethro Tull is credited with inventing horse drawn hoes, which often doubled as ploughing equipment. As well as killing weeds, they would break up the soil to enable better crop growth. 'Scuffle' hoes can be identified by their triangular heads with blades on two sides. This example was used at Hopgoods Farm in Stoke.
The hoe is one of the oldest agricultural tools in the world, predating even the plough, with evidence suggesting they were used over 4,000 years ago.
MERL 55/298
close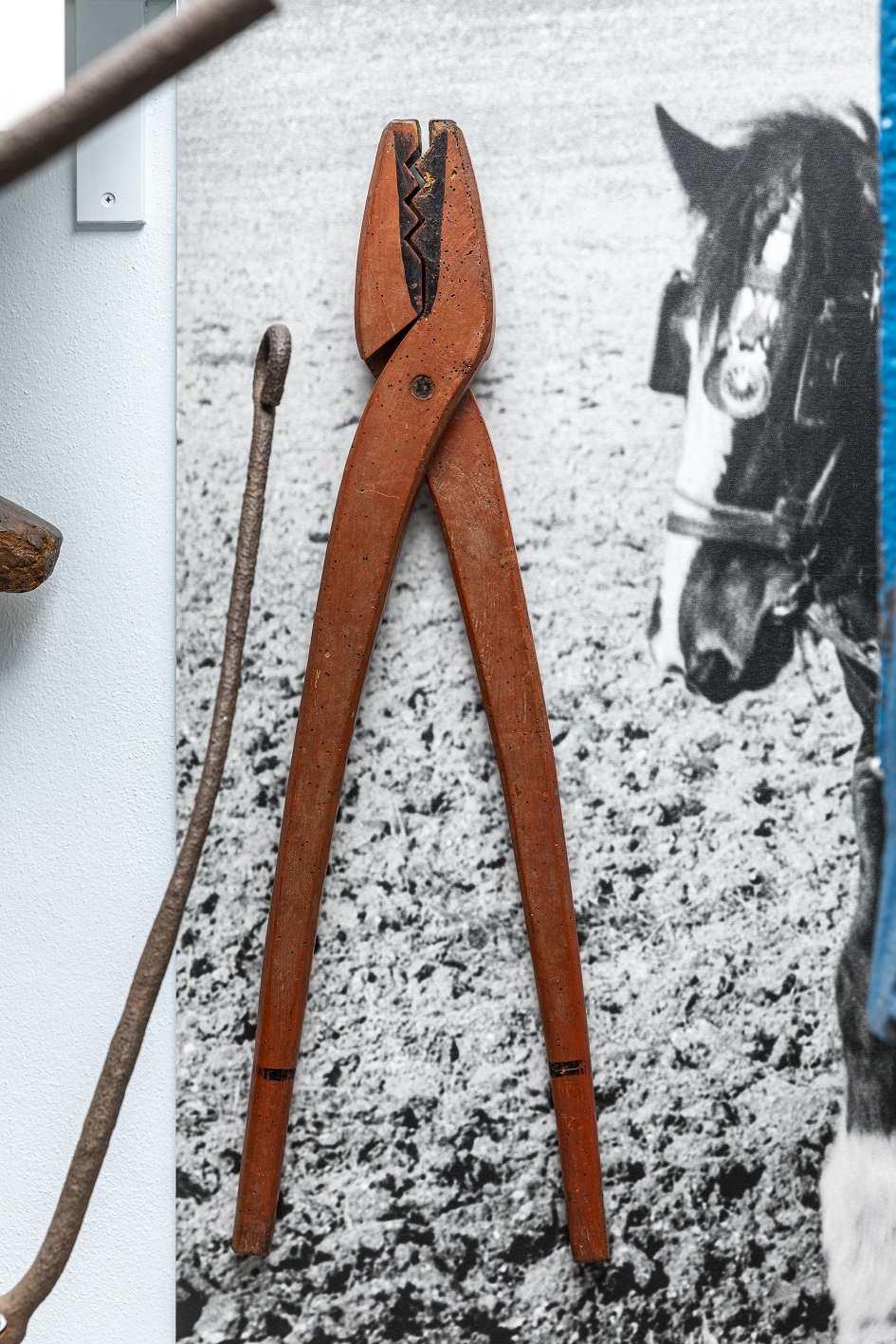 Weeding tongs
Found in a farmhouse attic on Pool Farm, Hinton, these weeding tongs were likely used on the farm to pull up thistles.
For thousands of years, basic cutting tools and pulling by hand were the best way to combat weed growth. New methods have emerged to combat weeds, each with their own challenges. Grazing animals can be introduced which only eat weeds, but these are expensive to maintain. Herbicides must be used with caution to avoid damage to crops. Weeding through tillage is now the most popular method, via precise weeding knives attached to the tillage implement.
MERL 55/350
close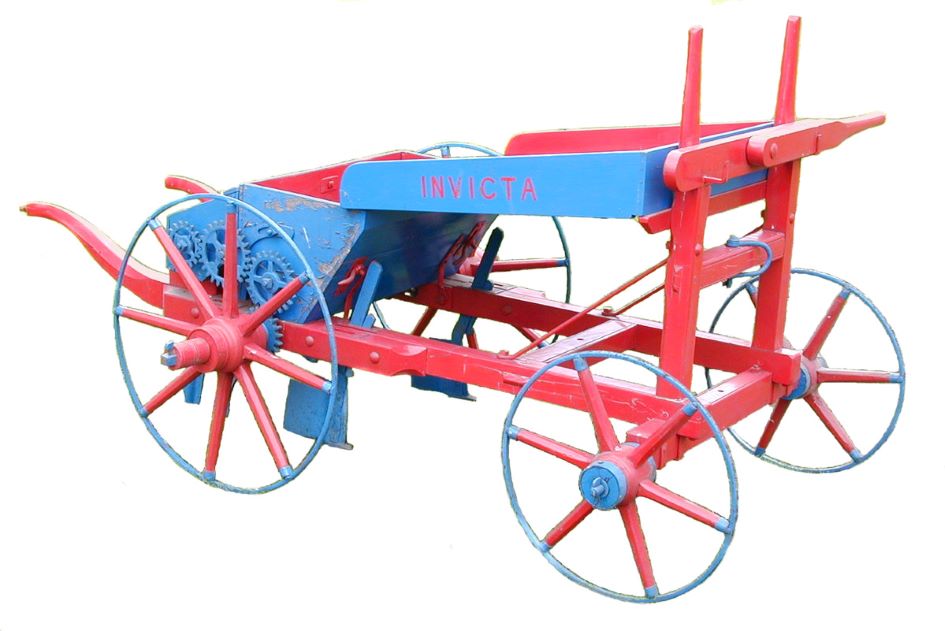 Seed drill
Named 'Invicta', this seed drill was manufactured by Henry S. Tett & Co. Ltd. of Faversham, Kent. Seed drills are mechanical implements that distribute seeds with the correct depth and spacing, then cover them again. This drill would have been pulled by a single horse, though modern versions are much larger and hauled by tractors.
Seed drills were invented in China in the second century BCE. They were a marked improvement over the previous method of hand sowing seeds, as they ensured that crops would grow within furrows. Jethro Tull improved on the design and invented the first mechanised seed drill in 1701.
MERL 77/263
close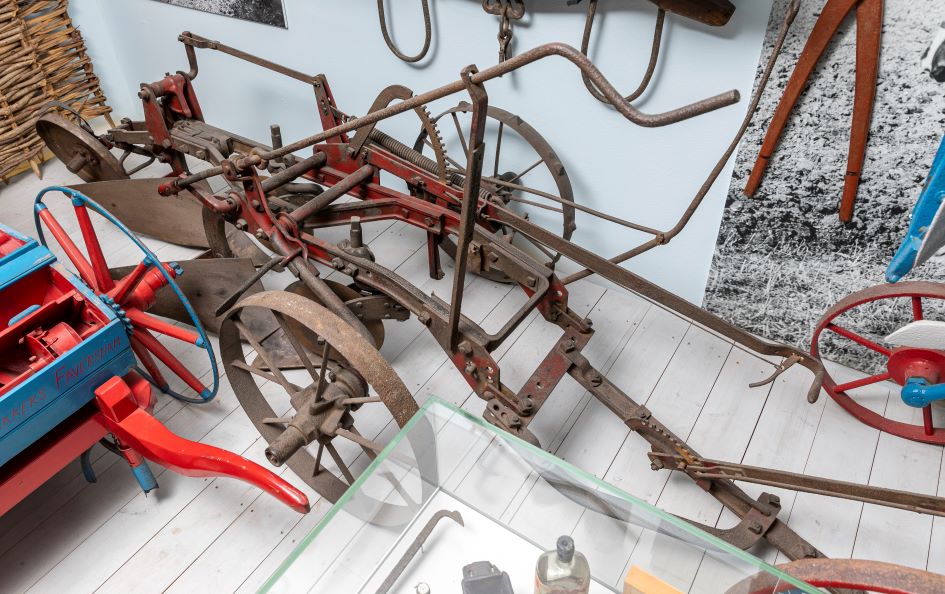 Tractor plough
Manufactured in Ontario and imported to the UK in around 1940, this tractor plough was then used at Low Farm, Hemingfield for the next 40 years.
By this time, internal combustion engines had become the dominant force in British ploughing. The mass-produced Fordson tractor was more compact and efficient than steam ploughing equipment, and faster than horse ploughing. It was also cheaper than either of these options. It worked on the same principle that the Ford Model T had used to dominate the motor car industry; that an everyday person should be able to afford one.
MERL 79/68
close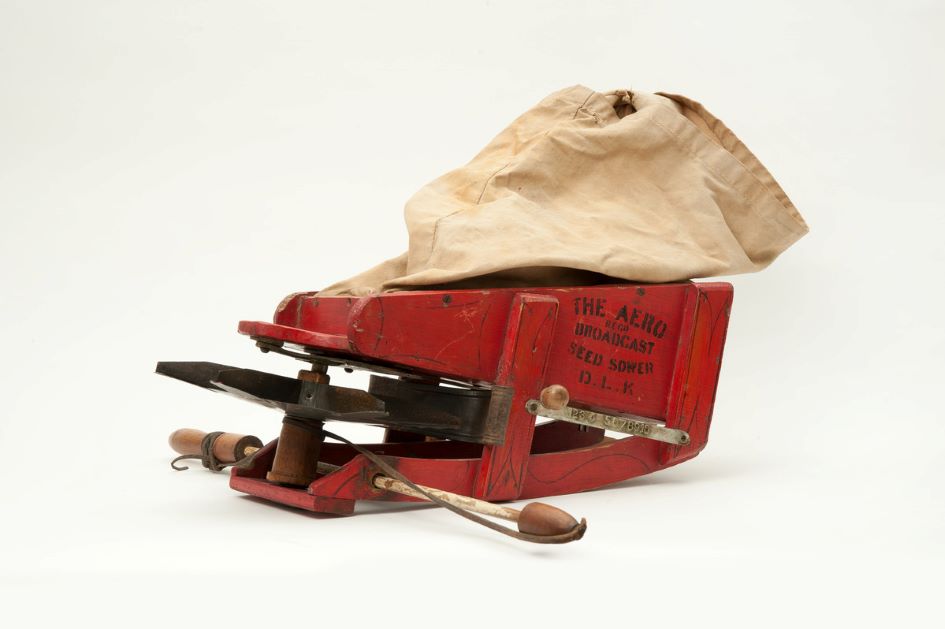 Seed fiddle
This seed fiddle was made by DLK of Kilmarnock, possibly in the 1950s. This particular model is named 'The Aero' and was used by a smallholder in Haddiscoe, Norfolk.
Seed fiddles were invented around 1850 in the USA. Moving the device's bow backwards and forwards would drop seeds onto a spinning disc which were scattered in a wide arc. It was hand powered and therefore a direct improvement on hand sowing. Making its way into the UK in the 20th century, the seed fiddle was popular on small farms where seed drills and tractors were not cost efficient. They were typically used to broadcast grass and clover seed.
MERL 98/12
close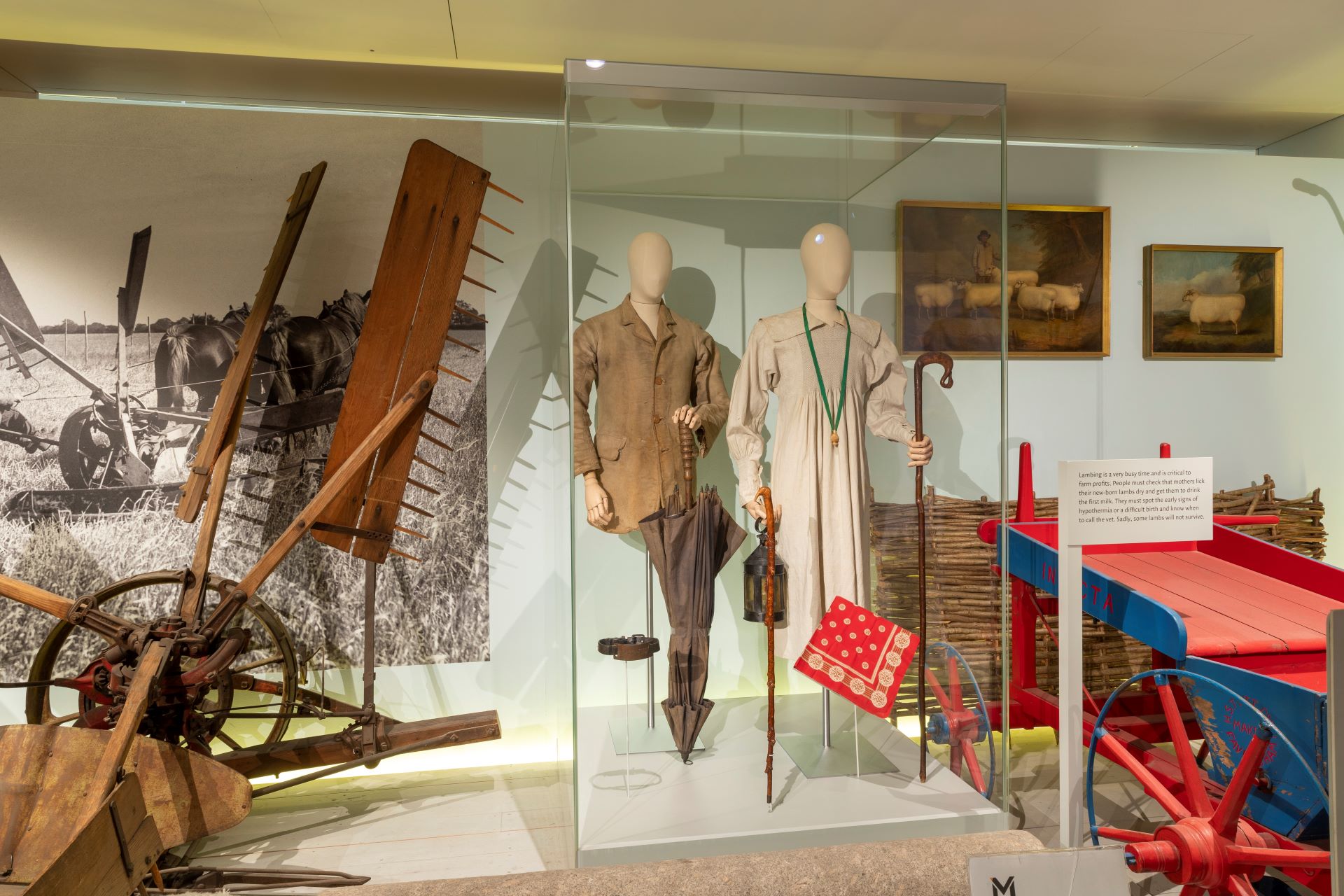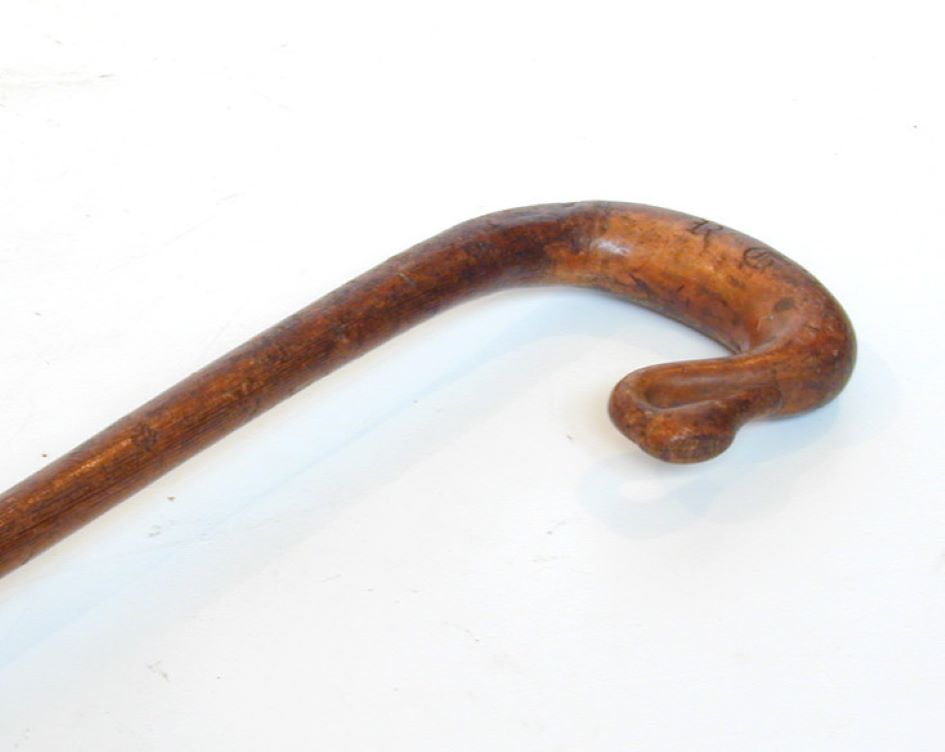 Crook
Little is known about this crook's history, but it was likely made in Kent is probably fashioned from chestnut. Crooks were used by shepherds to catch sheep by the leg, and were employed as makeshift walking sticks to aid with crossing difficult terrain. Most shepherds crafted their own crooks.
Crooks have also been symbolic of religious power for thousands of years. The Hebrew prophet Moses is usually depicted holding one, and the Egyptian god Osiris is rarely seen without his flail and crook. It is even theorised that candy canes are based on crooks; in 1670, a German choirmaster was inspired by the shepherds' role in the Nativity and bent sugar candies to resemble crooks.
MERL 63/106
close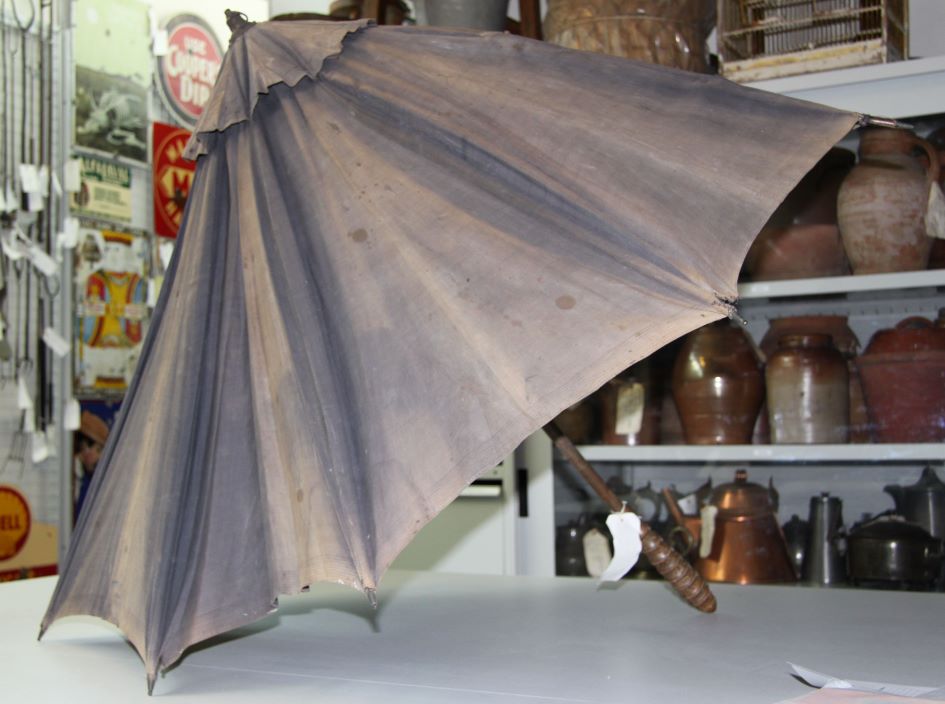 Umbrella
This umbrella was acquired by Lavinia Smith, likely from a shepherd in the East Hendred area in Oxfordshire. It then formed a part of the Lavinia Smith Collection and was displayed to visitors at her home in Downside. The umbrella is made from blue cotton with a wooden frame and handle.
Shepherds were fully exposed to the elements throughout their daily work. It is possible that this umbrella was used during the drastically wet summer of 1879, which saw nearly double the average rainfall. This weather contributed to the ongoing Great Agricultural Depression of 1873-1896.
MERL 57/571
close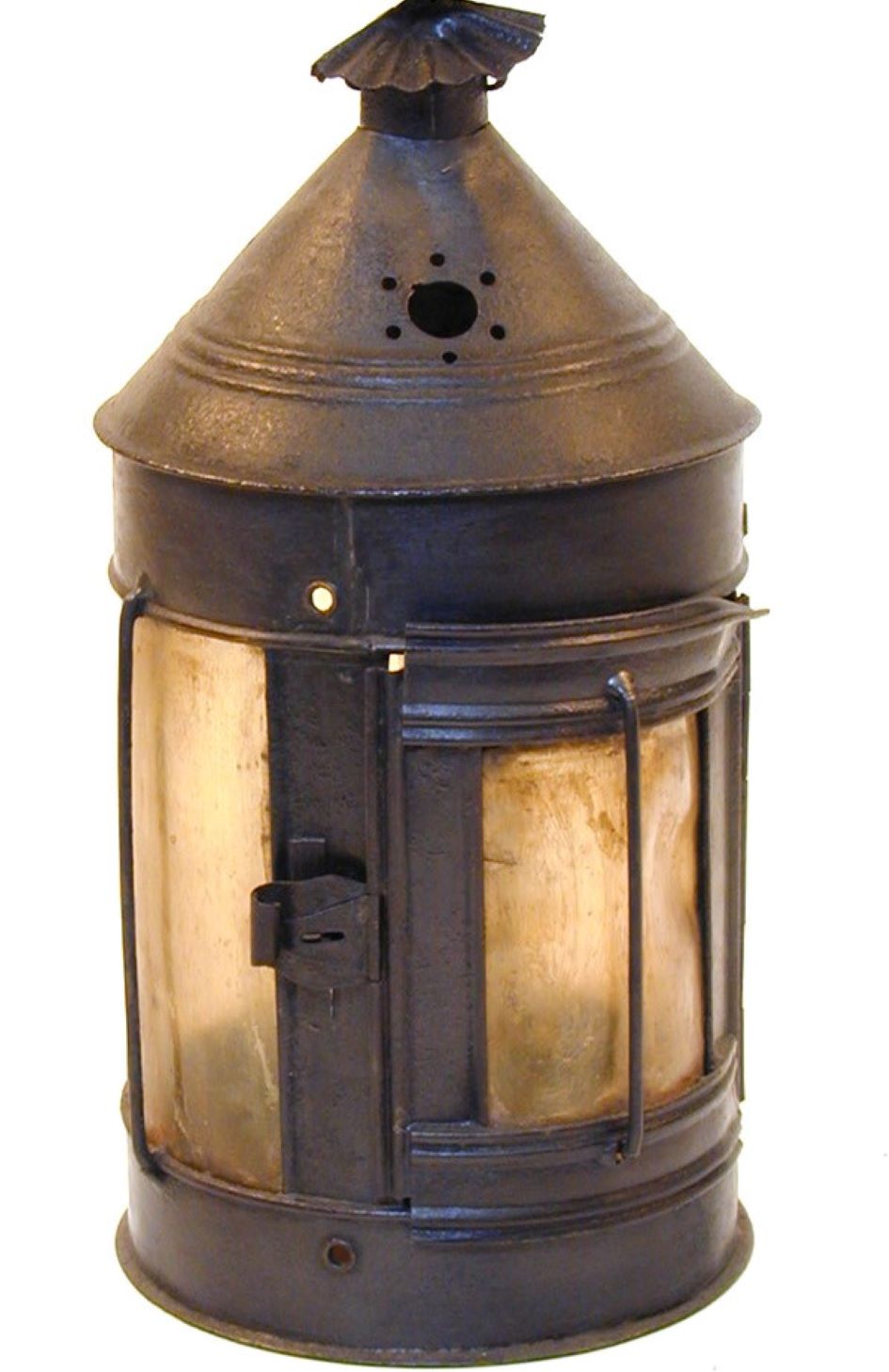 Horn lantern
Originating from near East Hendred in Oxfordshire, this lantern was acquired by Lavinia Smith and formed part of her collection of rural objects. It matches the characteristics of a farmhouse lantern, but Smith described it as a shepherd's lantern. It was made around 1849. The lantern is constructed from sheet iron and horn panels.
Lanterns were essential for helping agricultural workers to navigate poorly lit farm buildings. This particular item would have been ideal for a shepherd as it has no glass components and is therefore much sturdier than a regular lantern.
MERL 51/584
close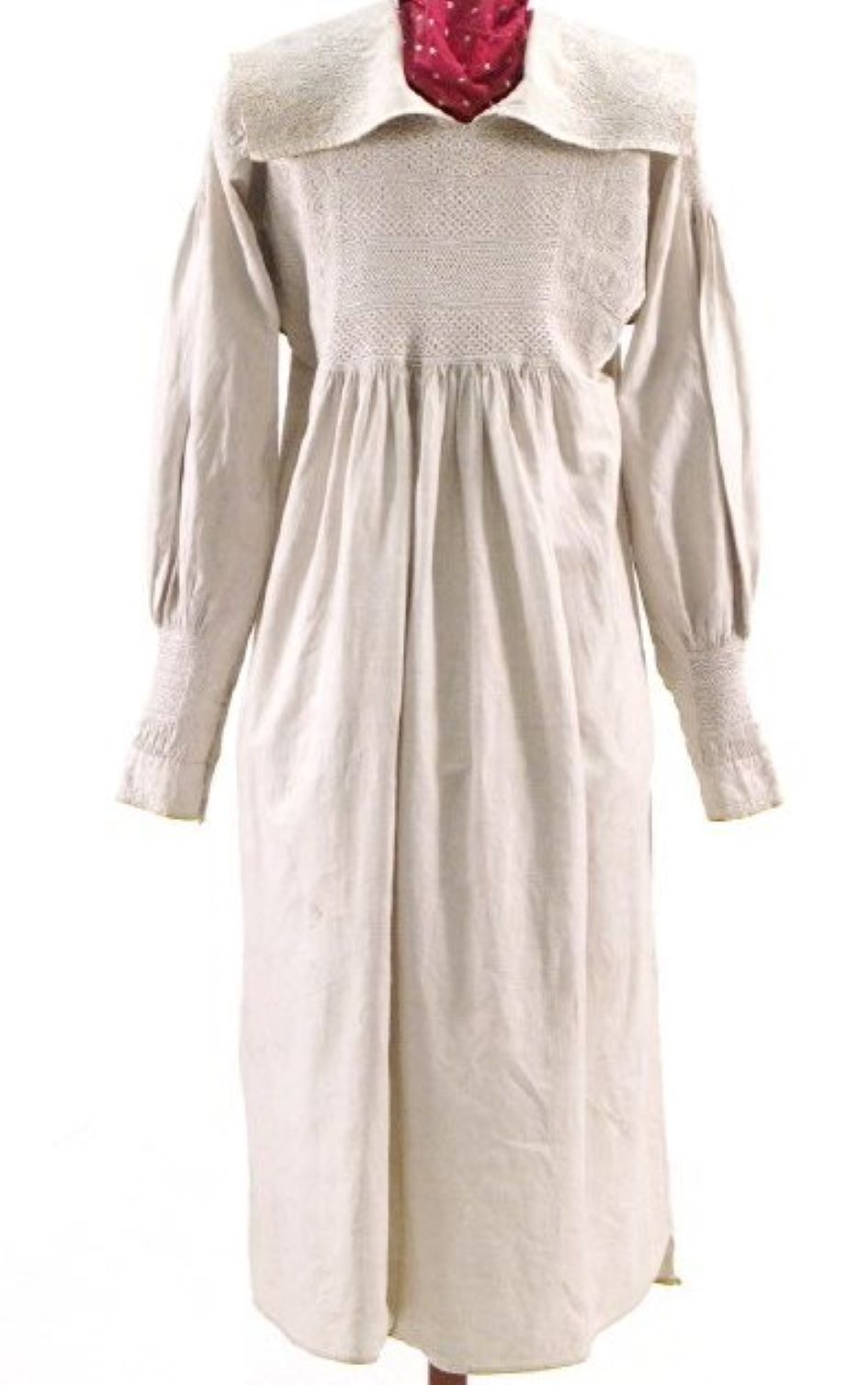 Smock
This item of clothing is a smock, a garment traditionally worn by agricultural workers over the clothes. This particular smock was hand woven from linen in the early 19th century, and contains the elaborate embroidery typical of such pieces. Having been created in Ashendon, Kent, it was then worn by a cowman, and handed down to his son, a shepherd. However, when it was passed down again, it was then used as 'Sunday best' and likely would have been worn to church. This demonstrates the versatility of smocks; they were ideal for both physical labour and formal occasions.
If you would like to know more about smocks, click here to see our online exhibition.
MERL 55/780
close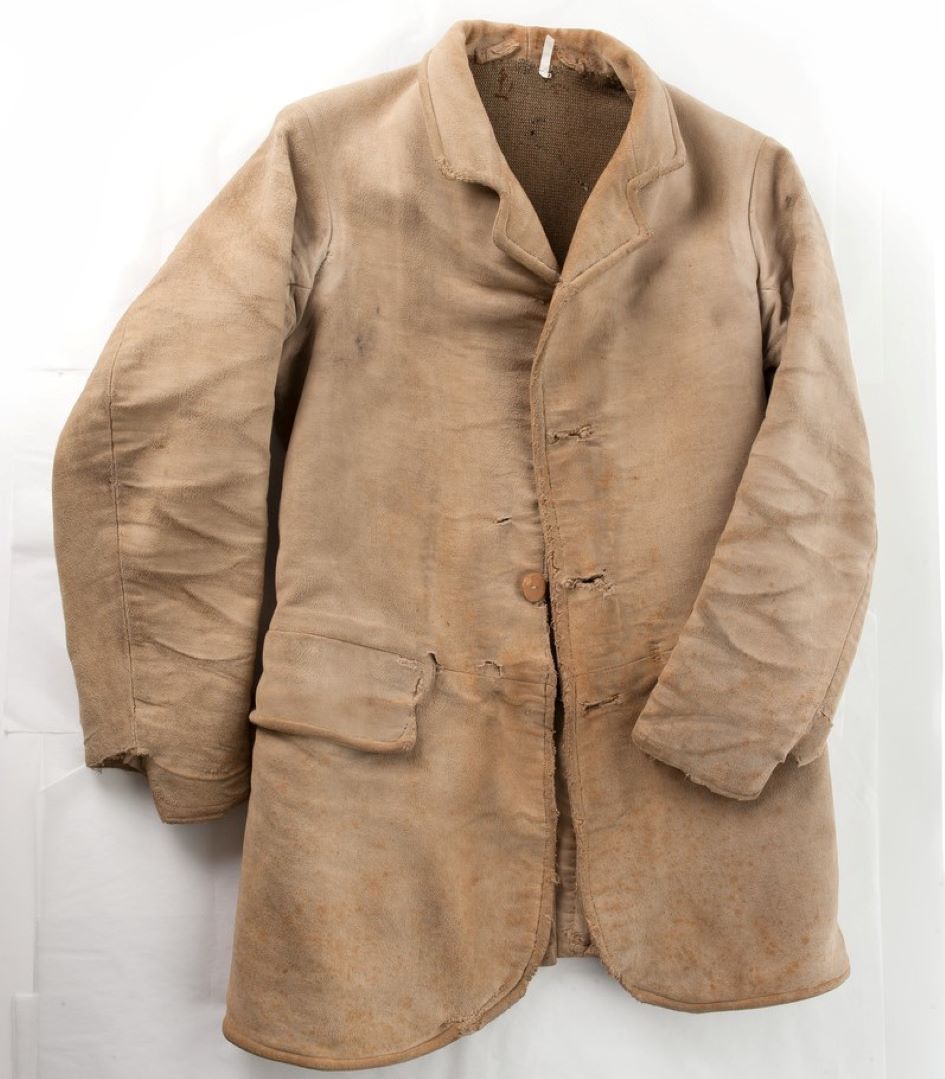 Fustian jacket
Initially worn by a shepherd near Fovant, Wiltshire, this fustian jacket was sold to a local actor named William Simmonds in 1914. Simmonds then wore the jacket during village plays over the next 25 years. It is made from a double layer of fustian, interfaced throughout with coarse woven "hessian" material.
Shepherds needed their jackets to be durable as they could not afford to buy replacements regularly, due to low wages. For example, in 1850, an average shepherd's wage in Dorset was £26 per year, whereas a cook earned £40.
MERL 74/4
close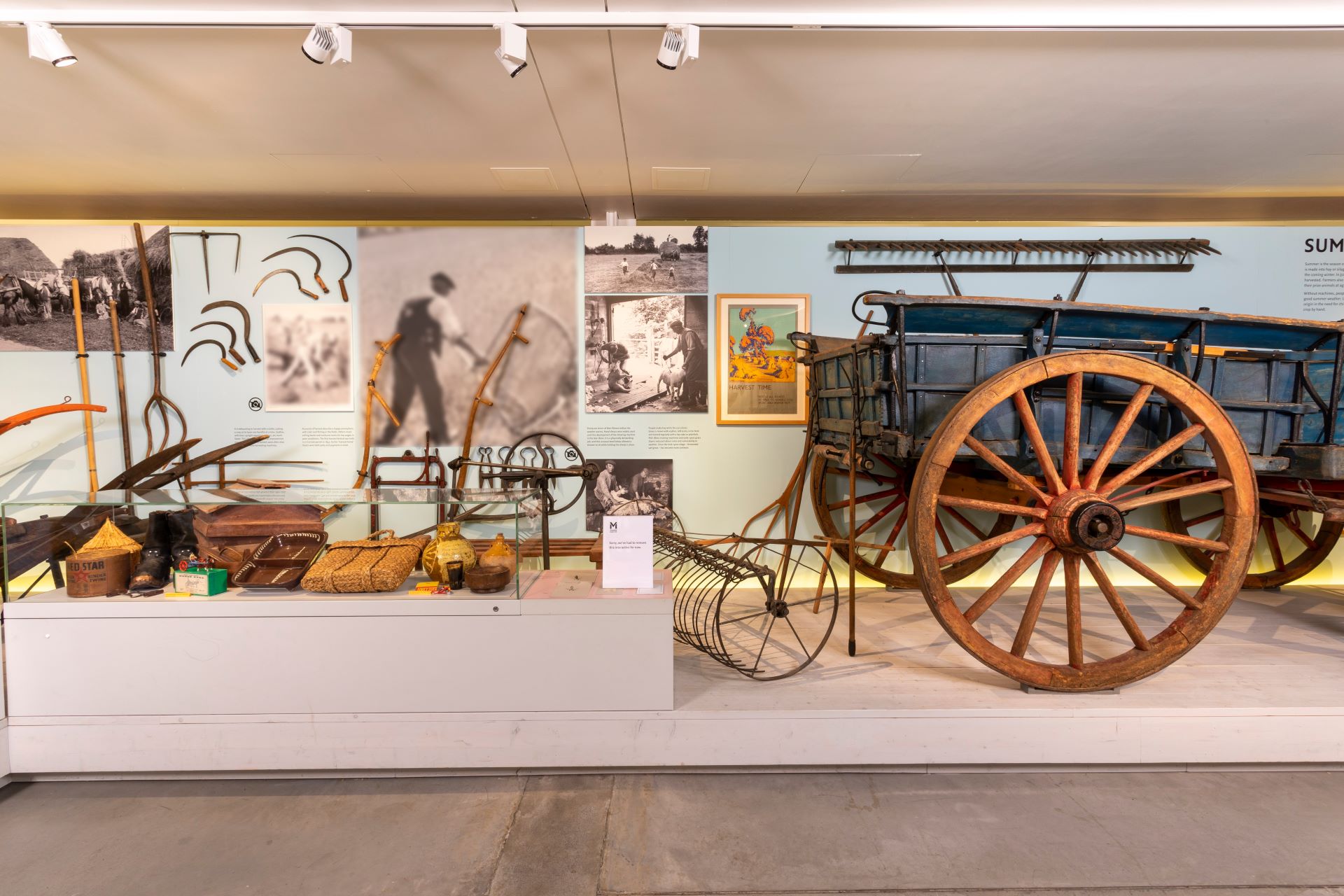 Furze hitcher (behind case)
+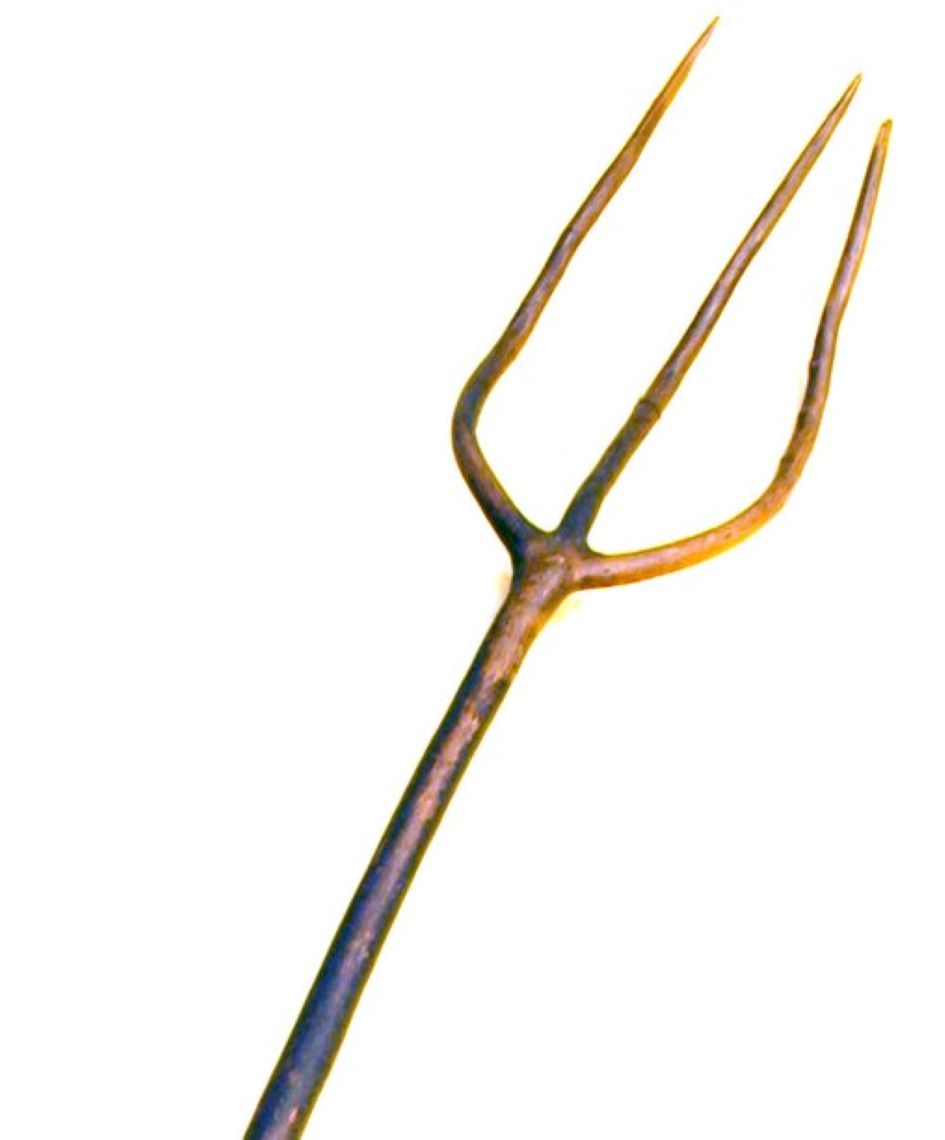 Barley fork
This is a three-pronged ash barley fork. It was used for 'pooking' – turning over mown barley lying in 'windrows' (rows) and stacking it into sheaves. Although some barley forks had two prongs, the use of a third, central prong at an angle to the other two prongs allowed the barley to be collected up in the "pocket" between the prongs. This fork is probably close to 200 years old – made before iron was used widely in farm tools. It was 'cultured' in the hedgerow, with a young ash sapling being trained into the trident shape over around ten years.
MERL 51/391
close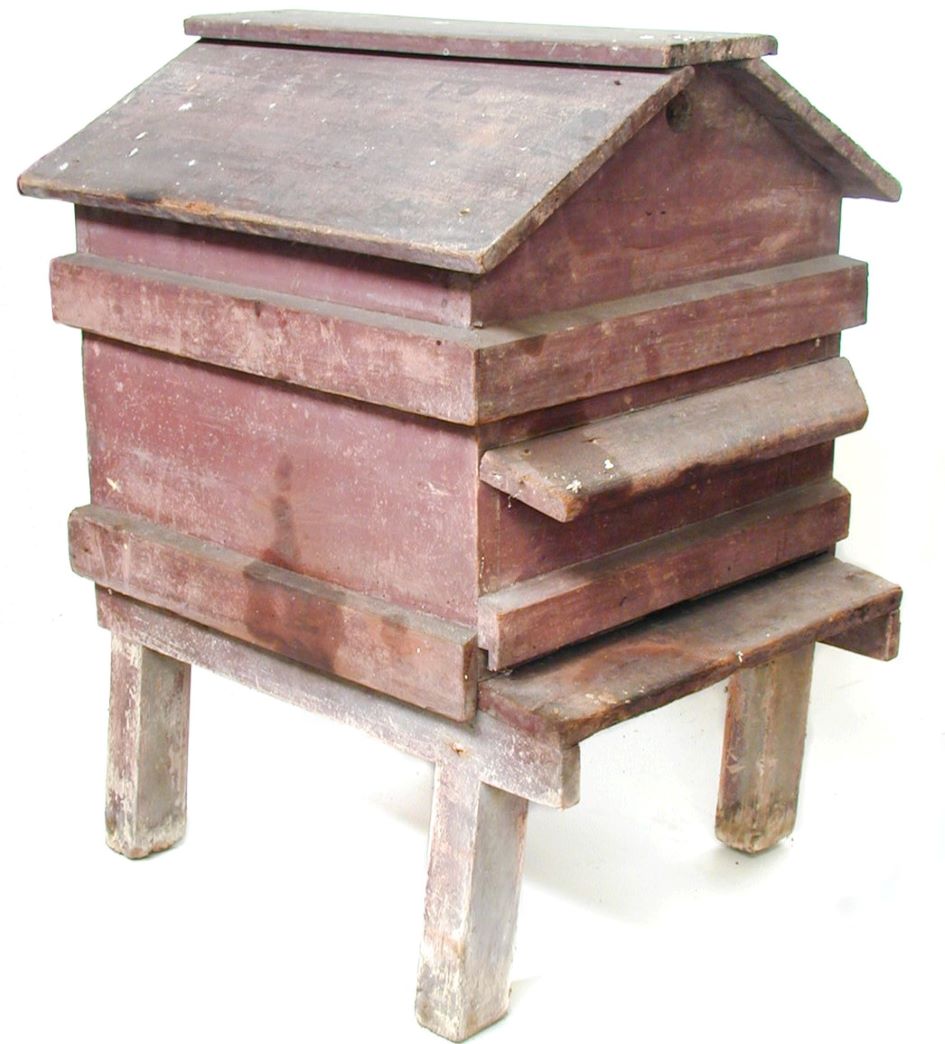 Beehive
This beehive was made by Henry Stewart, a carpenter who lived in Billericay, Essex. Honeybees are important because they are extremely effective and efficient pollinators of many crops and fruit important to humans. The early 20th century – when Mr Stewart was beekeeping – was a critical time for the activity in Britain. In 1914 a parasite, Acarapis woodi, originating on the Isle of Wight, extended over the UK and had devastated many native British bee colonies. Two men separately rescued the situation for British beekeeping – Brother Adam, a monk at Buckfast Abbey, and R.O.B. Manley.
MERL 82/27
close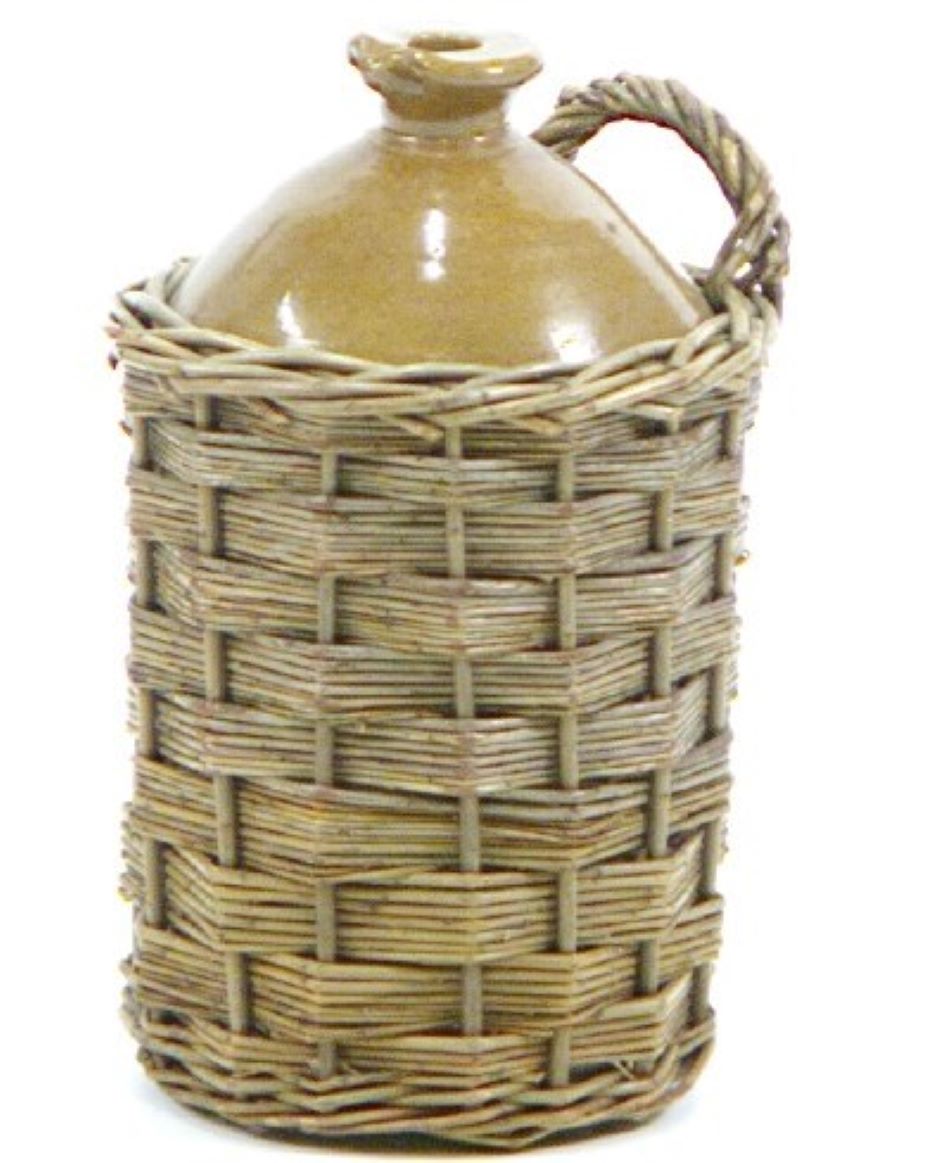 Cider jar
This is a stoneware jar, made in the mid-1940s by the Stockbridge Pottery Co. Ltd. at Burton in Lonsdale, North Yorkshire, with a basketwork cover. It was used for carrying cider to the fields for the harvesters to drink. Harvesting was hard manual work before extensive mechanisation – many farms provided food and drink for all the workers who toiled in the fields for long days. Cider (and beer) was used as a means of supplementing workers' wages at harvest time (and often at other times) from the 13th century through to the time of the First World War.
MERL 60/619
close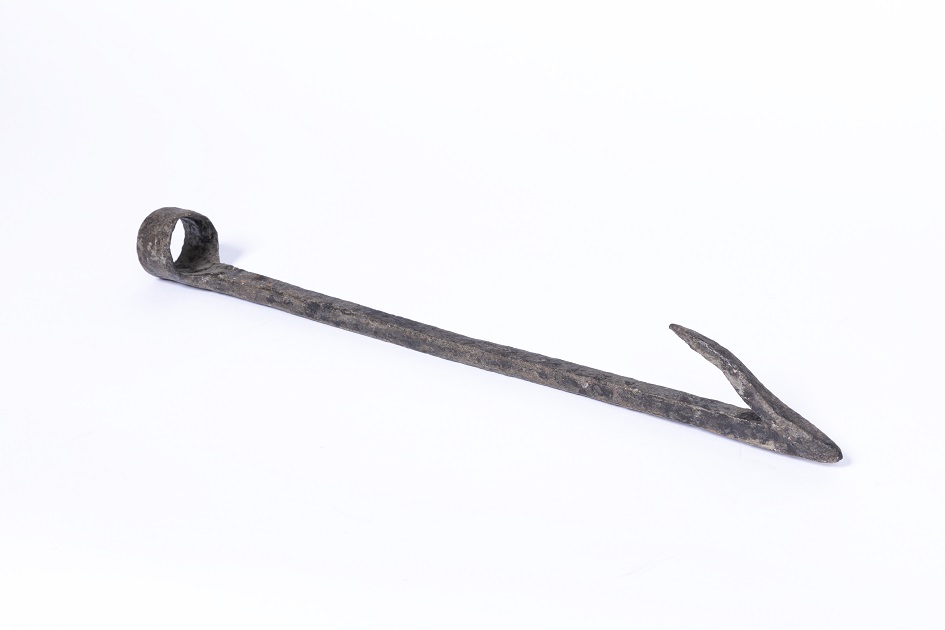 Furze hitcher
This furze hitcher was attached to the end of a long stick and used to extract brushwood from a stack or rick. A large source of fuel available in West Cornwall was brushwood (furze) from stunted trees, and timber washed up by the sea. Brushwood was generally collected in mid-summer and was stored in ricks. The name furze was much more widespread than in the West Country.
Relatively local to the MERL, the village of Furze Platt near Maidenhead is named after a small triangle of land – the Platt – which was covered by oak trees and furze.
MERL 53/595
close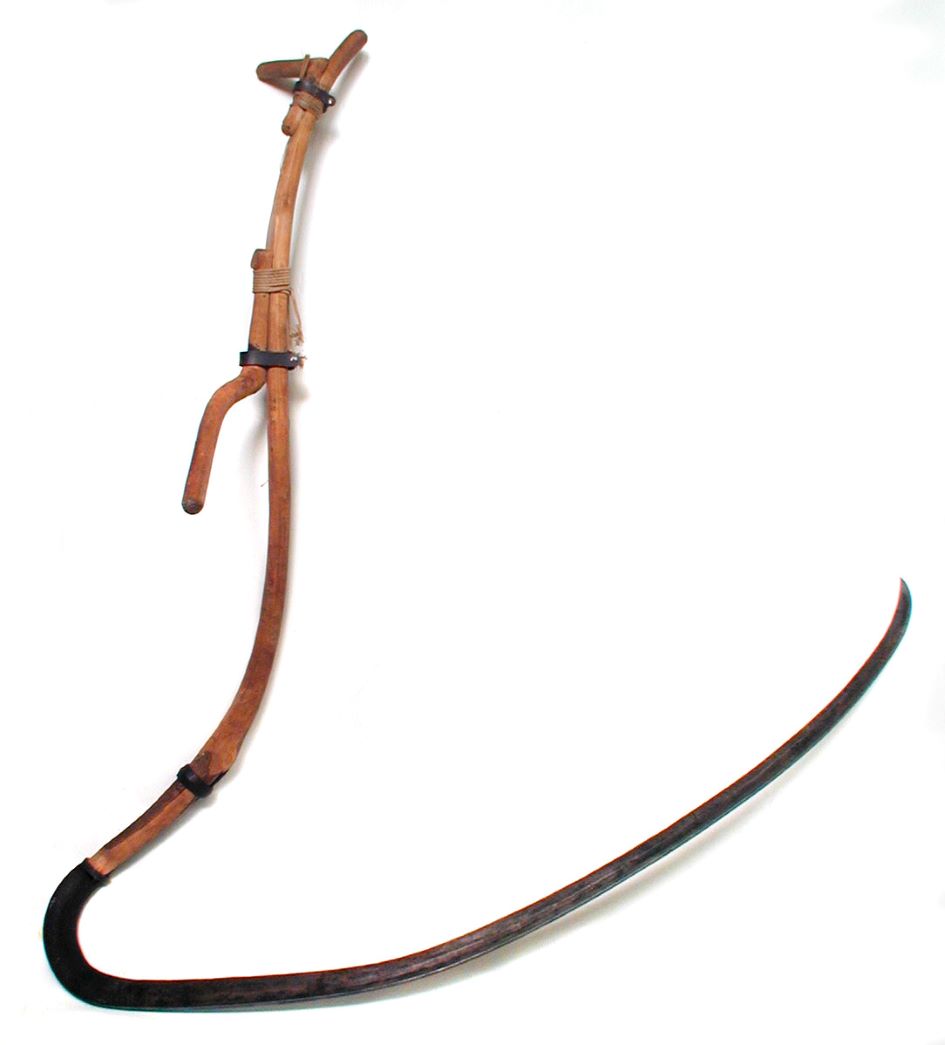 Replica Roman scythe
A scythe is an agricultural hand tool for mowing grass or reaping crops. The origins of the scythe are lost in pre-history, but the scythe was definitely in use in Britain in Roman times. Archaeological remains have been found in Britain of Roman scythes. These had longer blades and handles than more recent scythes.
A hoard of Roman ironwork was found in Great Chesterford, Essex in 1855 which included 12 scythes. In the 1960s John Anstee of the MERL had replicas made of the Roman Great Chesterford type scythe and this scythe is one of these replicas.
MERL 68/441
close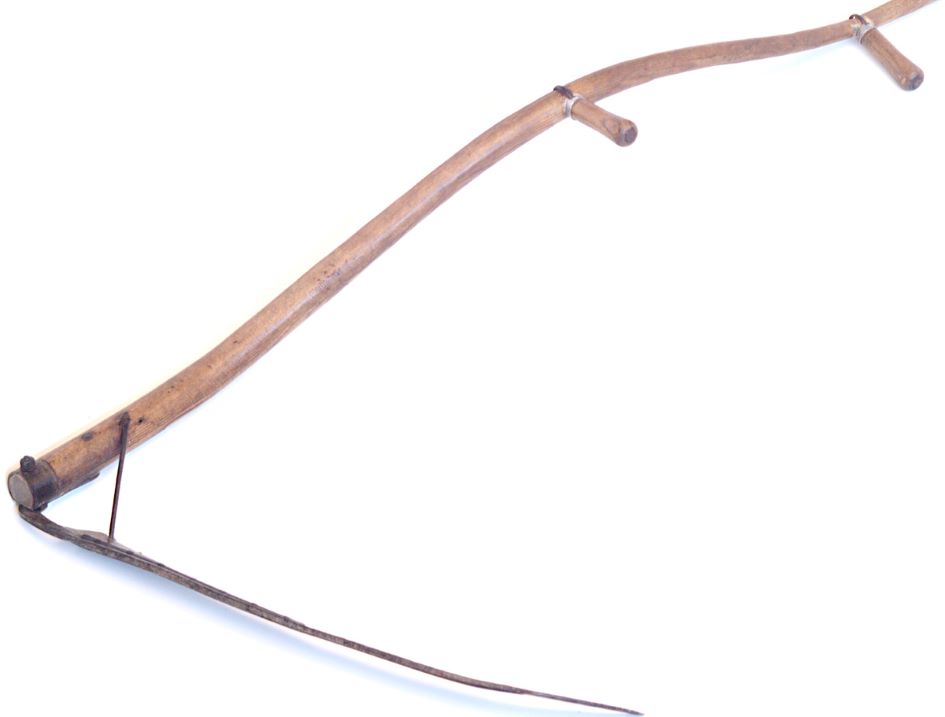 Scythe
The scythe was used to manually cut crops or grass at harvest time. It has largely been replaced – initially by horse-drawn, and more recently tractor machinery, and combine harvesters, but is still used in some areas of Europe and Asia.
Scythes remained in common use for many years after the introduction of machines because early machinery, whether horse or tractor drawn, could not mow in front of itself and scythes were still needed to open up a field by clearing the first swathe to give the mechanical mower room to start.
MERL 96/88
close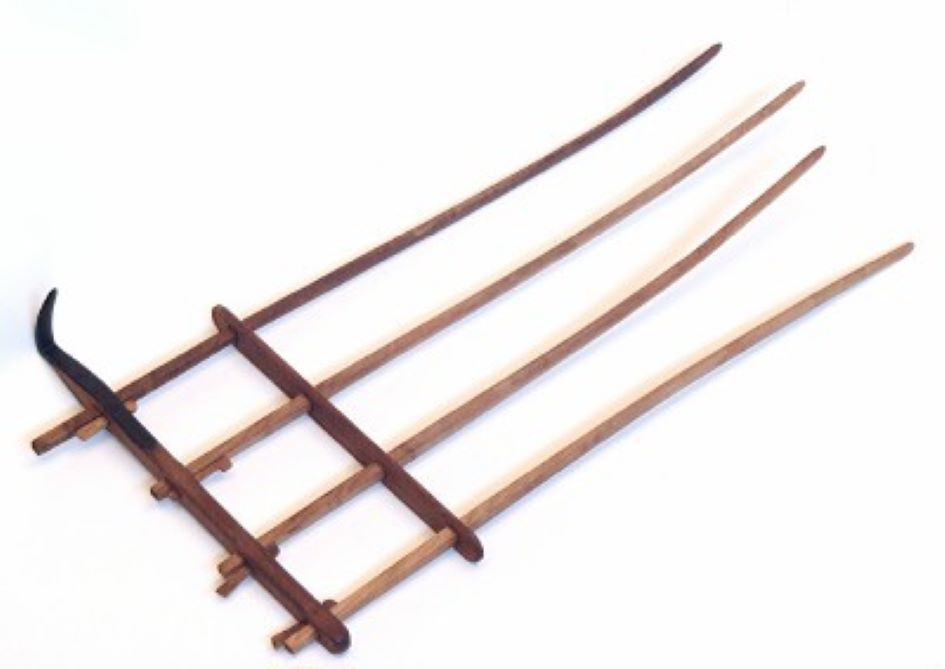 Scythe cradle
The scythe improved on the sickle by giving the mower a more ergonomic stance and permitting a larger blade. However, keeping the grain stems aligned in the windrow required great skill. Where these skills were less available, the addition of a cradle helped to manage the grain heads, reducing workload and improving efficiency at threshing.
A scythe cradle attachment looks like a large claw. As the mower mows, the grain stacks up in the cradle. At the end of the stroke the mower can neatly lay the grain down with all of the seed heads facing the same direction.
MERL 57/356
close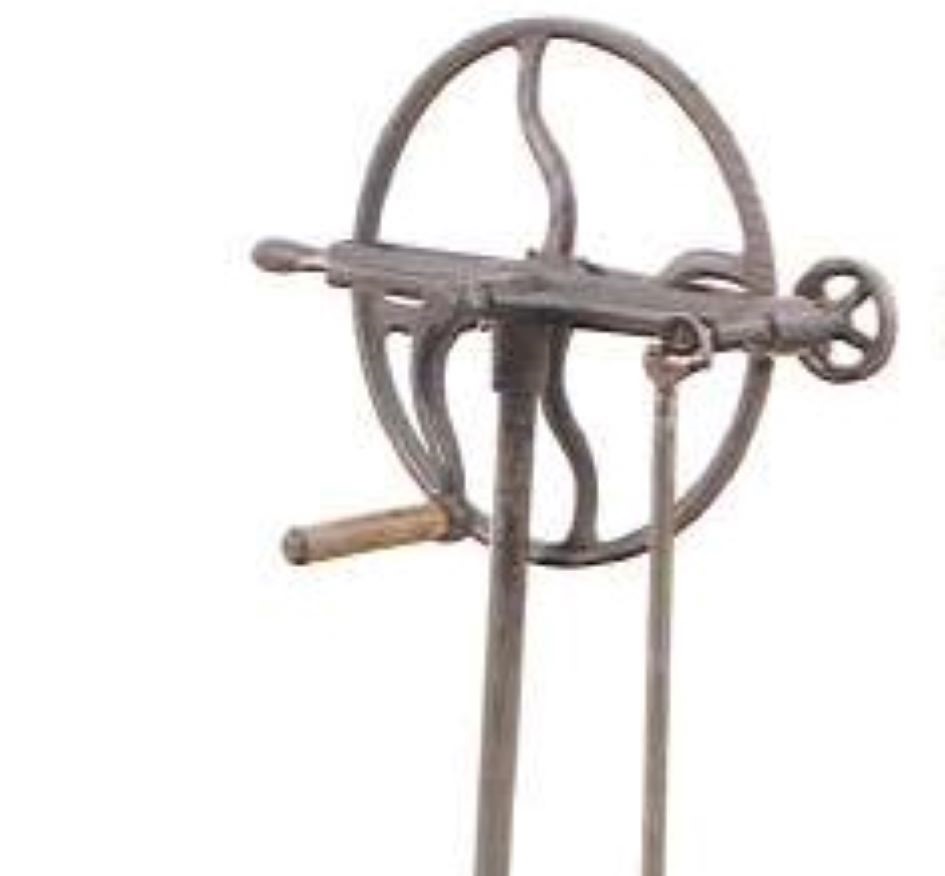 Shearing machine
This is an early twentieth century manual sheep shearing machine consisting of a large wheel turned by handle, a smaller wheel, and a long arm on which the shearing combs and blades are attached.
Shearing is an ancient occupation, as people needed fibre to make garments. Originally sheep and other animals were shorn using sharp glass or metal, before blades made the task far easier. Machine shearing was invented in the late 19th century and slowly became the main form of shearing, and by the mid 20th century electric and battery powered shearing was commonplace.
close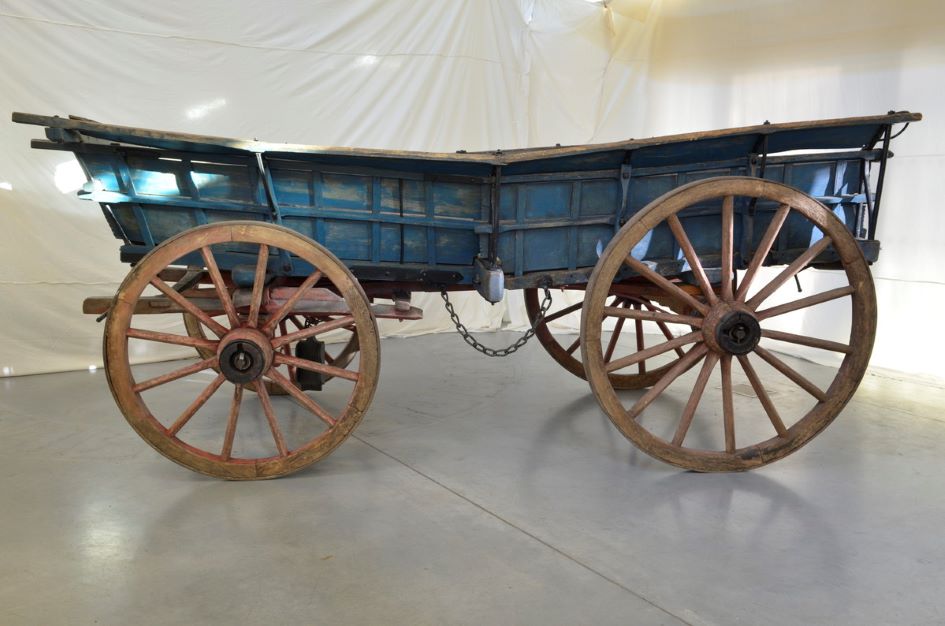 Sussex wagon
This wagon is an example of the narrow-wheeled variety of Sussex wagons. It is thought to have been made in the late nineteenth century. Broad wheel Sussex wagons were mainly used on the heavy clay soil of the Weald whereas narrow wheel wagons were employed on the lighter soils of the Downs. Sussex wagons had box body shapes which were deep and rectangular. The blue body and red wheels of this Sussex wagon is typical of the colours used in Sussex.
MERL 54/677
close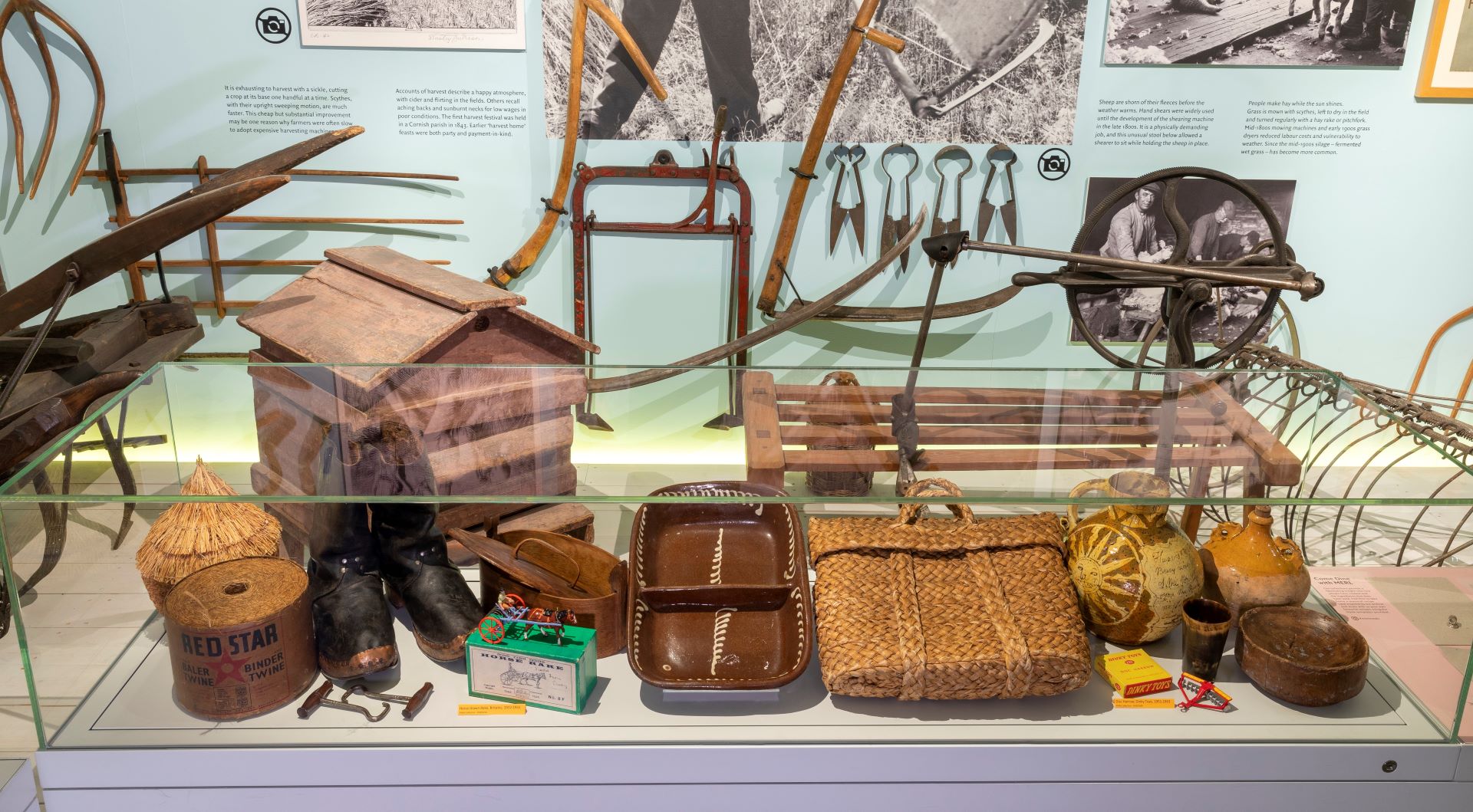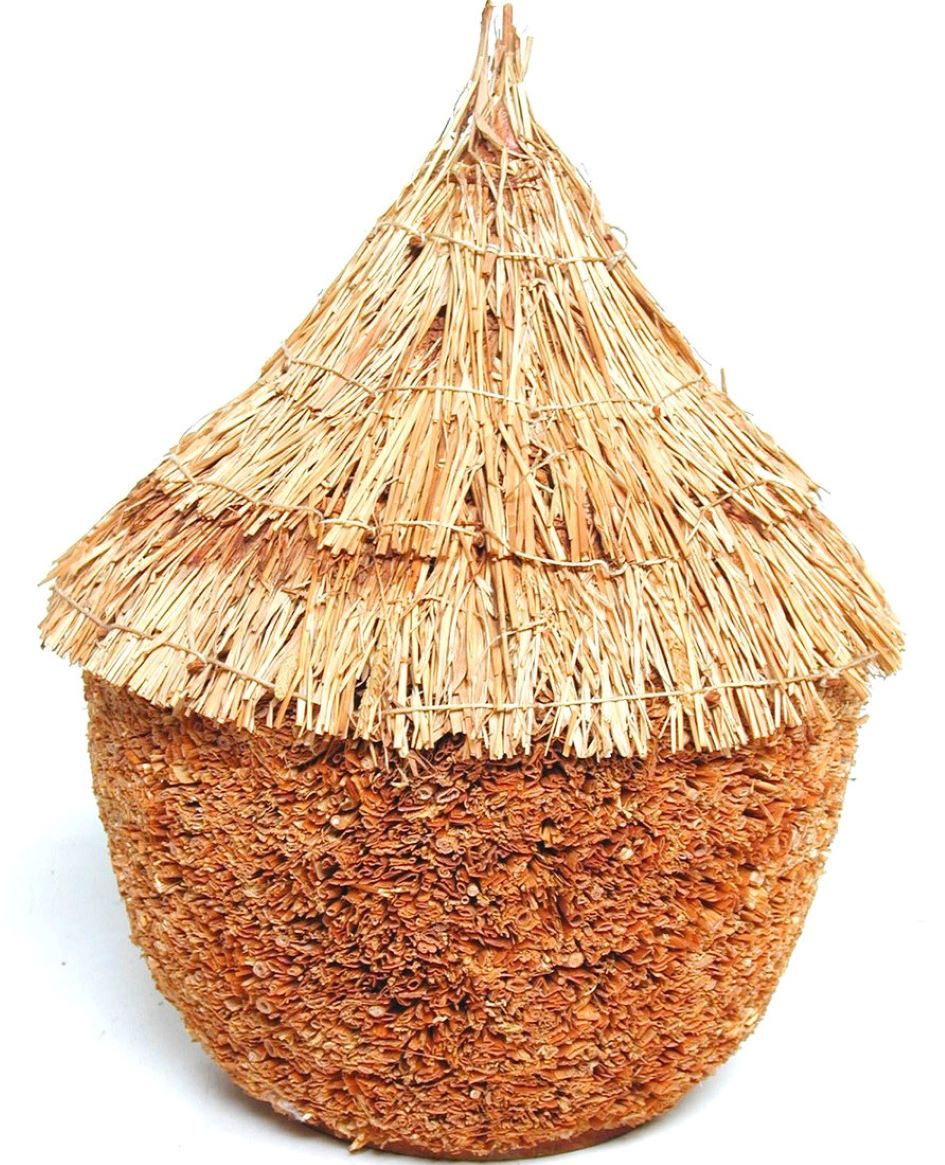 Model hay rick
This corn dolly is in the form of a hayrick. 'Corn dolly' is a term which includes figures and tokens made from 'corn' straw, using tying, plaiting, and weaving. In many parts of the world, it was believed that the 'Corn Goddess' lived in the crop and died when it was harvested. Images of the Goddess were woven from the last sheaf to be reaped and carefully preserved to ensure an abundant crop the following year.
The term hayrick is often interchanged with haystack. They both mean a storage pile of hay –usually carefully shaped and even thatched for protection.
MERL 86/142
close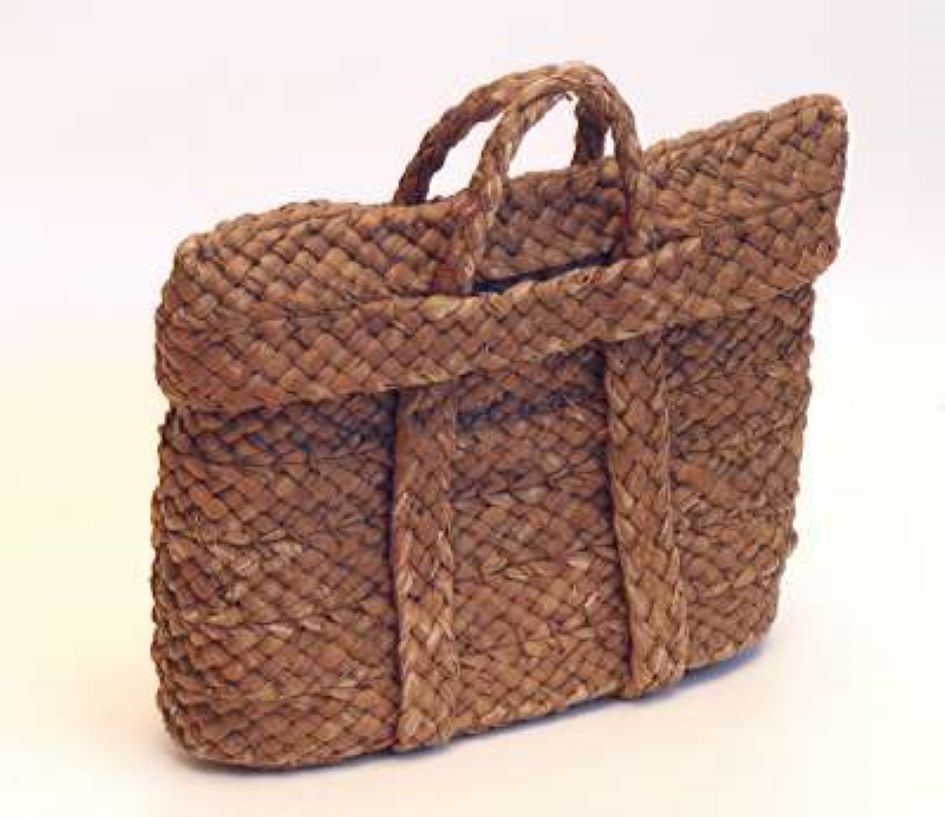 Lunch basket
This is a 1920s flail or 'frail' basket, made of plaited rush sewn round and round to form a flexible flat basket with a cover and two carrying handles. In the 17th and 18th centuries farm labourers had very long hard days but were allowed meal breaks. These baskets were used to carry their meals – breakfast, elevenses, fourses and 'beaver'– and also their tools. There would also be room for a beer bottle and, if they were lucky, a rabbit they managed to catch. They were usually carried over the shoulder with a short, curved stick through the handles.
MERL 66/346
close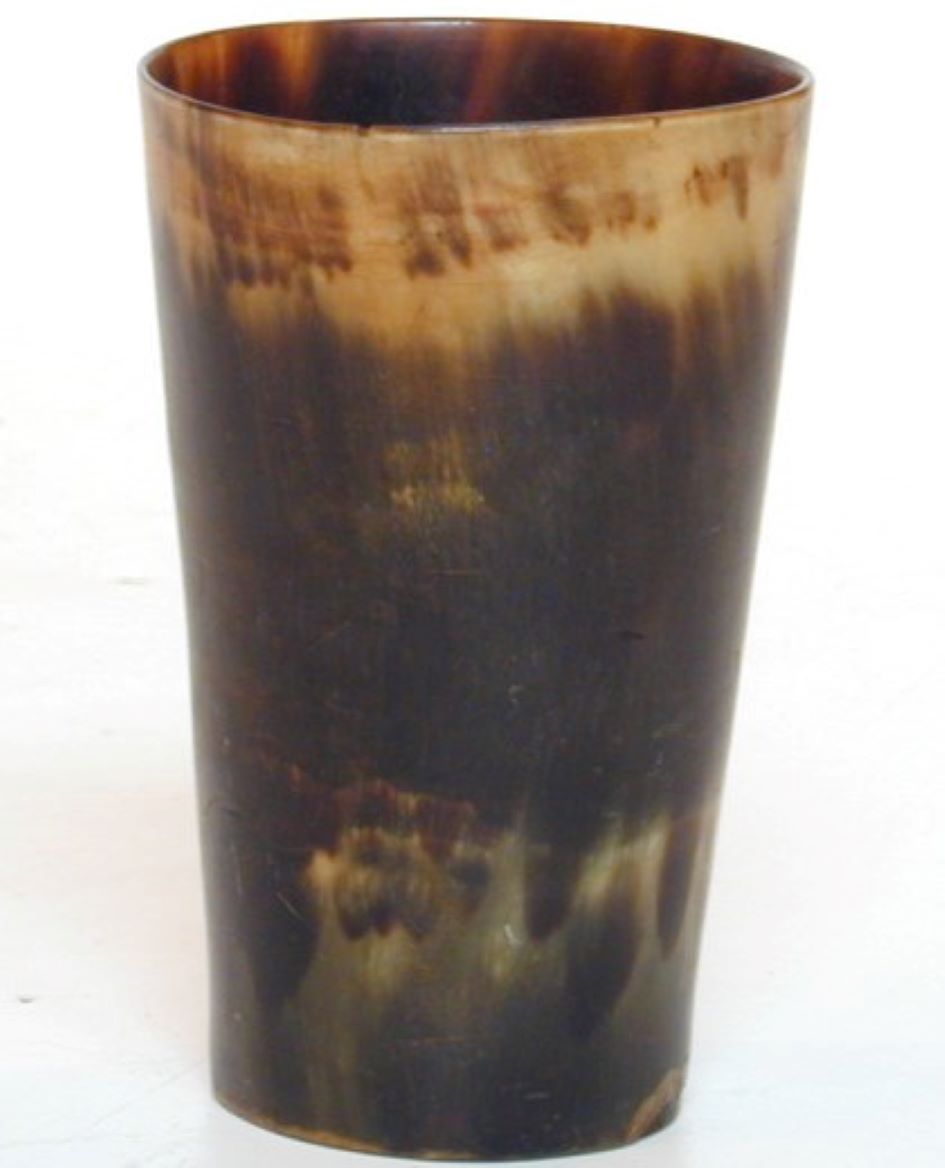 Horn beaker
This is a horn beaker for serving drink. Horn was popular because it was a cheap, robust and easily available material. When horn is subjected to heat and pressure it becomes translucent or transparent – enabling objects to be made that are tactile, attractive and versatile.
In its simplest form, as with this beaker, horn would be used in the poorest households, but it could also be used to make elaborate and expensive luxury items incorporating silver or gold. The use of horn products has been in decline for 100 years, but some items are still made in the UK.
MERL 58/76
close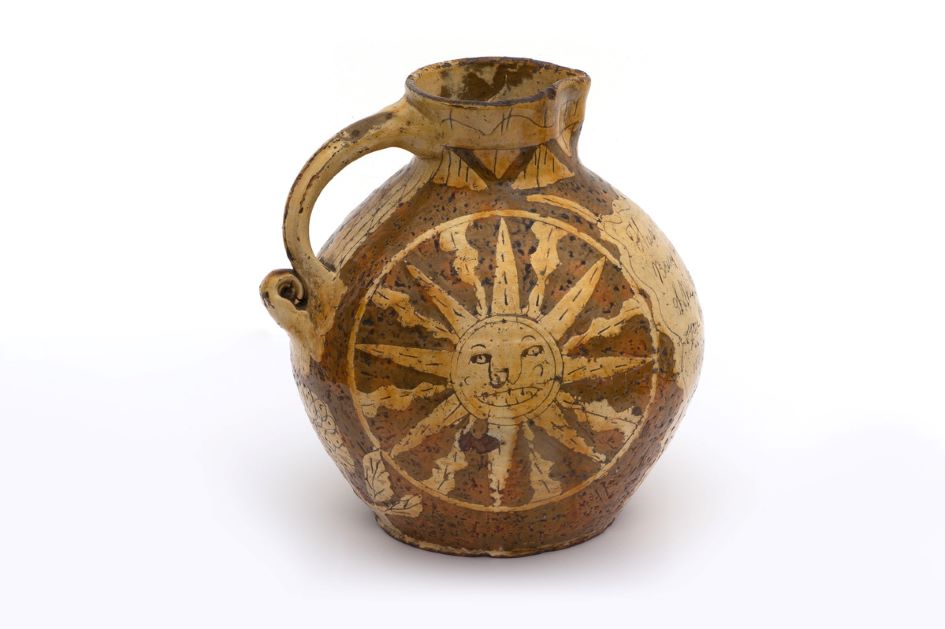 Barley mow harvest jug
This earthenware jug was made for the celebration at the end of a successful harvest and is typical of Barnstaple ware. On one side is the baking sun inside a mariner's compass, a design often used in the seafaring county of Devon, and on the other side a cockerel sits amongst flowers. The designs are scratched into the glaze – a technique known as "sgraffiato". On the rear is the verse:
Harvest is come all / busy now in the making
Of the Barley mow if / you the Barley mow
Neglect of Good ale you / can not then expect
August 1838 / John Prouse / Hartland
MERL 60/146
close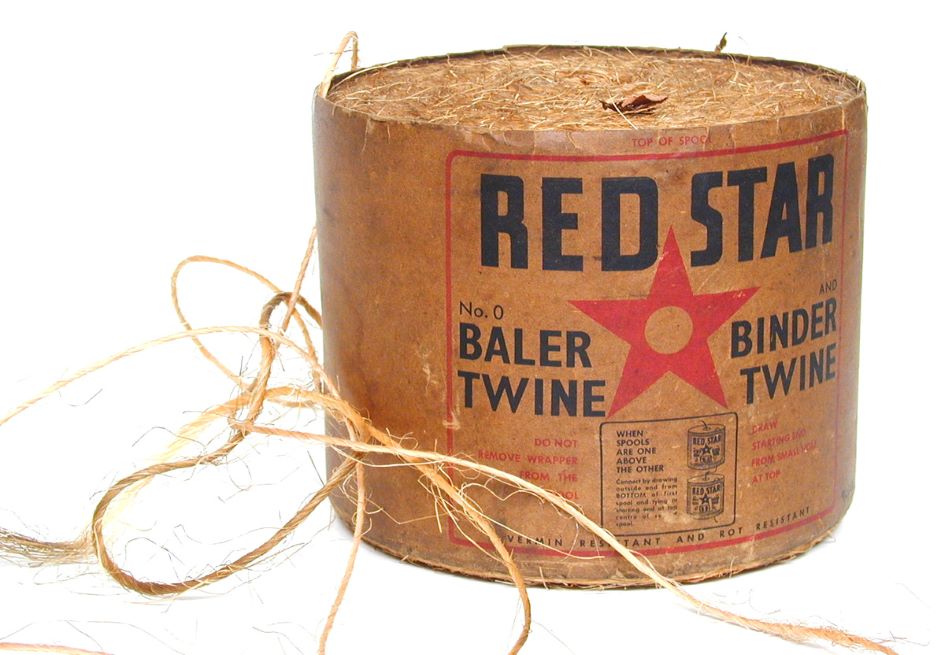 Binder twine
This is a ball of sisal baler twine. Originally hay was stored loose in farmers' barns which took up valuable space. Hay balers were developed in the late 1800s, to compress cut crops into compact bales that were easy to handle, transport, and store. Bales have been bound with twine, strapping, netting, or wire.
An automatic knotting mechanism for twine was developed during the 1860s. When coupled with cheap sisal twine from Mexico in the 1880s, twine tying binders quickly took over from the wire tying variety. Sisal twine itself was largely replaced by polypropylene twine in the 1960s.
MERL 90/22
close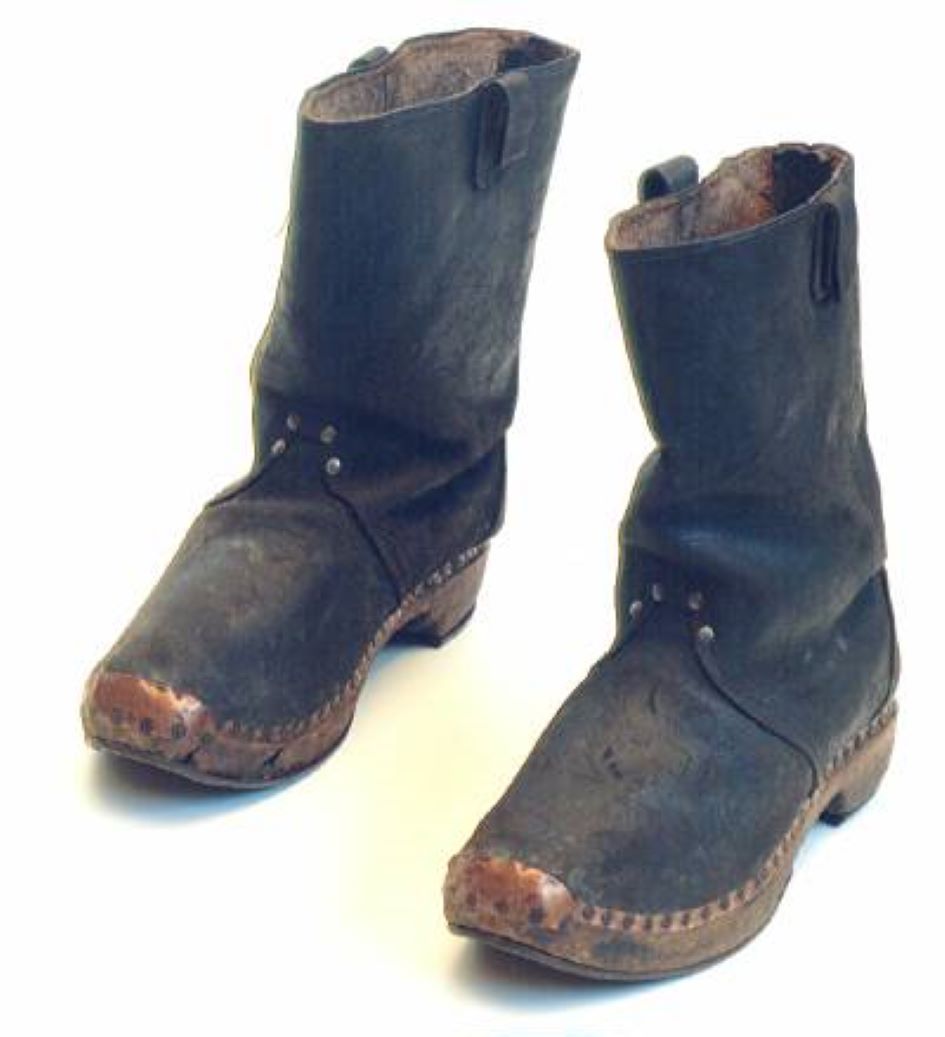 Farm worker's clogs
This is a pair of Wellington type clogs, worn by agricultural workers. They have wooden soles, leather uppers, and copper toe caps. Clogs are a type of footwear made in part or completely from wood and have long been associated with the shoes of the rural working class. This association as the footwear of the poor is a key factor in their much-reduced popularity today.
Clog wearing in Britain became popular during the industrial revolution when there was a need for very strong, safe but cheap footwear, and was at its peak between the mid 18th century until the 1920s.
MERL 79/106
close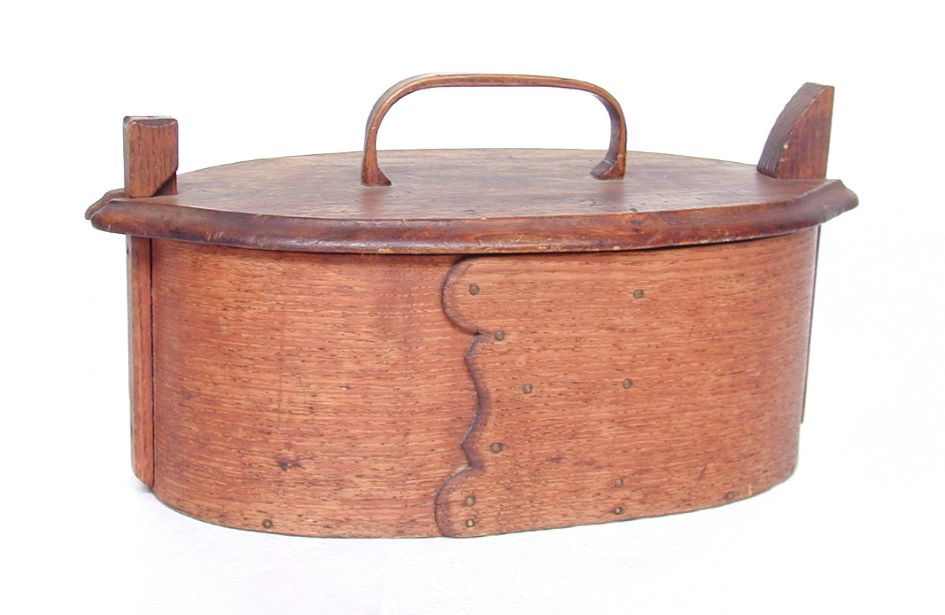 Food box
This box, made of ash with a birch lid, came from Gloucestershire. It was used to carry food into the fields for the workers. In northern Scandinavia similar molded containers have been used as storage or provisions boxes, known as Tine boxes. Scandinavian boxes are distinguished by their great variety of shapes and colourful decoration; they are also known as snap boxes from the way the lid clips to the body of the box.
This object is part of the MERL Bernard Miles Collection. Bernard Miles (1907-1991) was a British actor and director, famous for founding the Mermaid Theatre in London in 1959.
MERL 54/94
close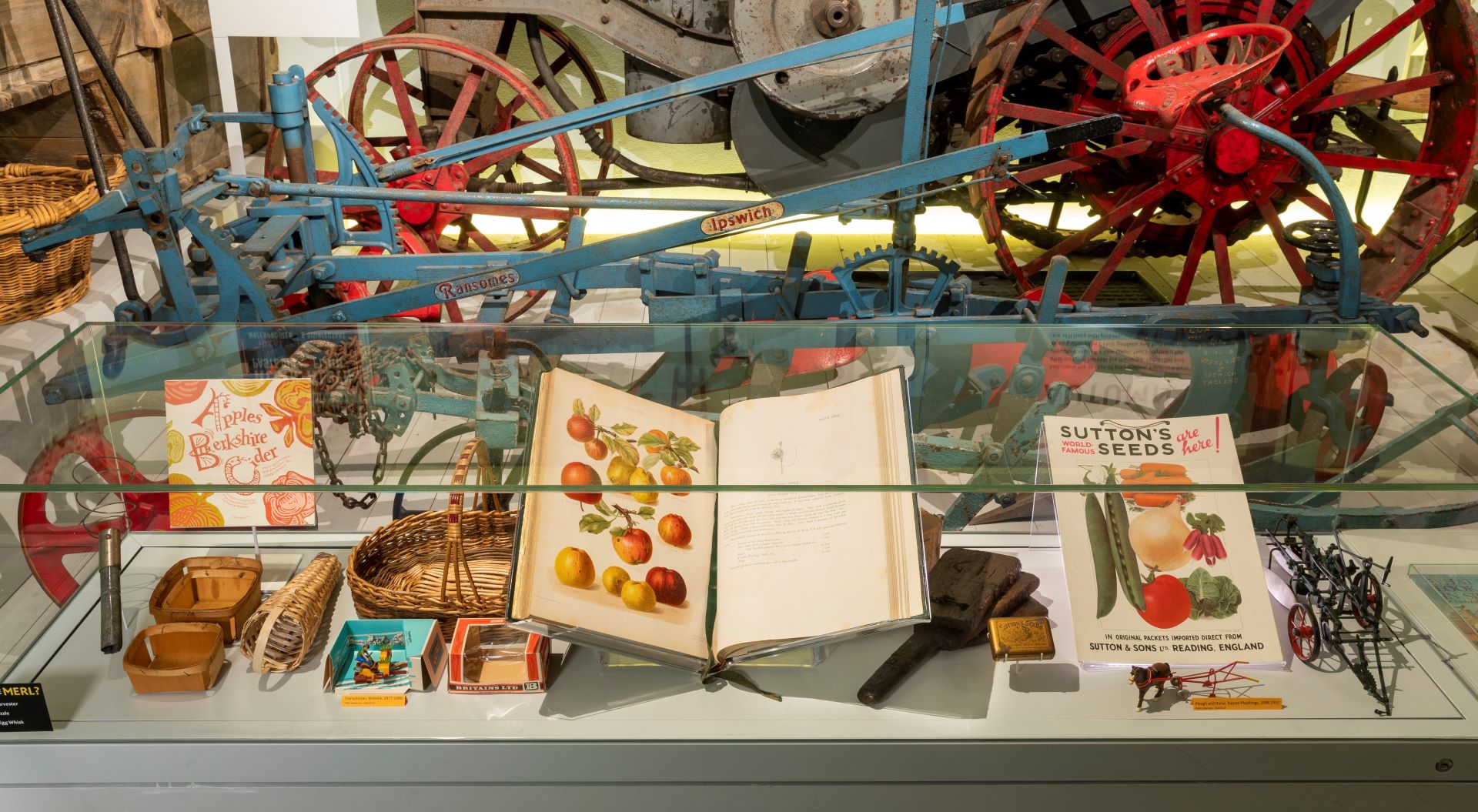 Apples, Berkshire, Cider book
+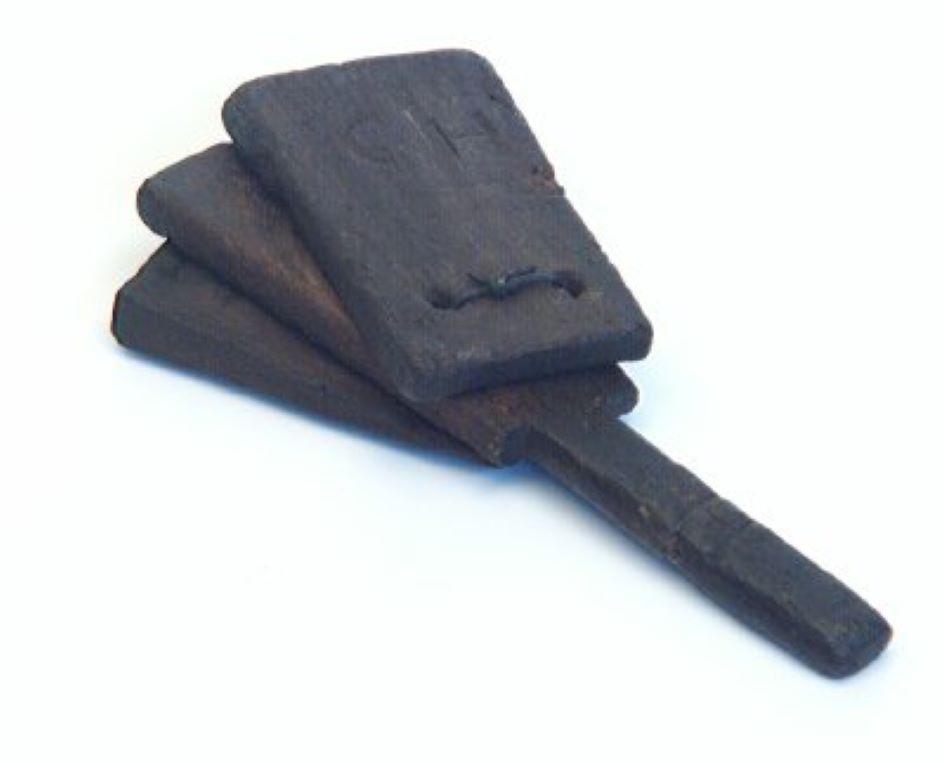 Bird scarer
This device would have been used to scare birds by making a loud noise designed to cause the birds to fly away and leave the growing crops uneaten. A person – usually a child – would be a "human scarecrow" standing in the fields to make this noise. They would be expected to work from sunrise to sunset, and would be fortunate to earn six pence per day. They would work alone, often throughout the winter. In 1847, after a fifteen year struggle, Parliament passed an Act limiting children to ten hours of work per day.
The scarer was created somewhere between 1800-99 and was used until 1918.
MERL 54/226
close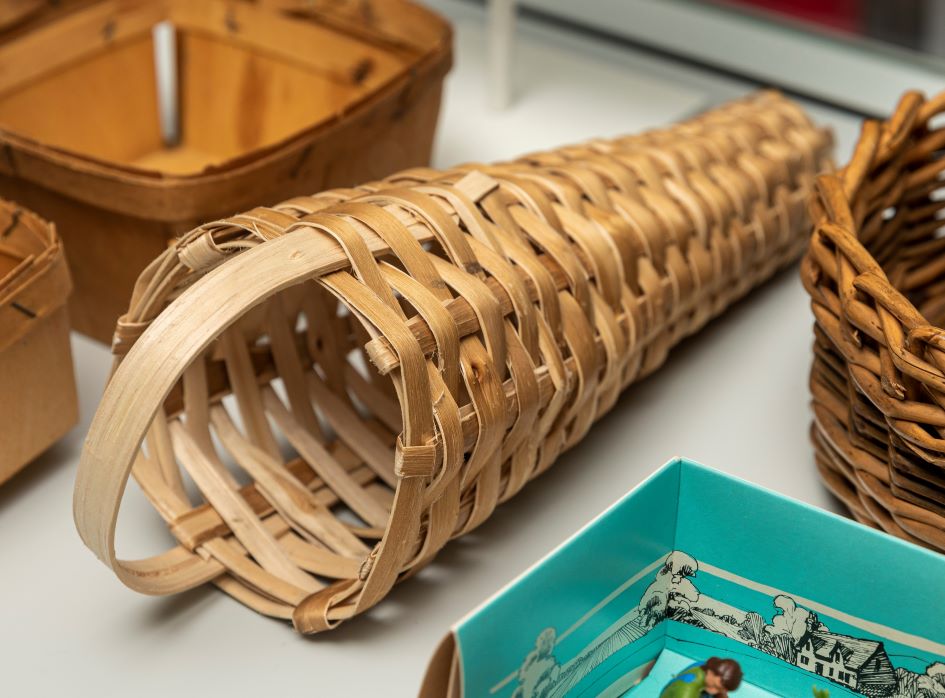 Pottle
Pottles, also known as punnets, are used to collect and carry soft fruits. This is a replica made from unseasoned split hazel; the original would have been made of willow. It is one of three pottles made by Annemarie O'Sullivan as part of the Radcliffe Trust-funded 'Stakeholders' basketry project, 2013-2014. Each pottle is made from unseasoned hazel grown in Shortbridge, East Sussex. They were inspired by the pottles in the MERL collections (51/9 and 51/10).
MERL 2014/2
close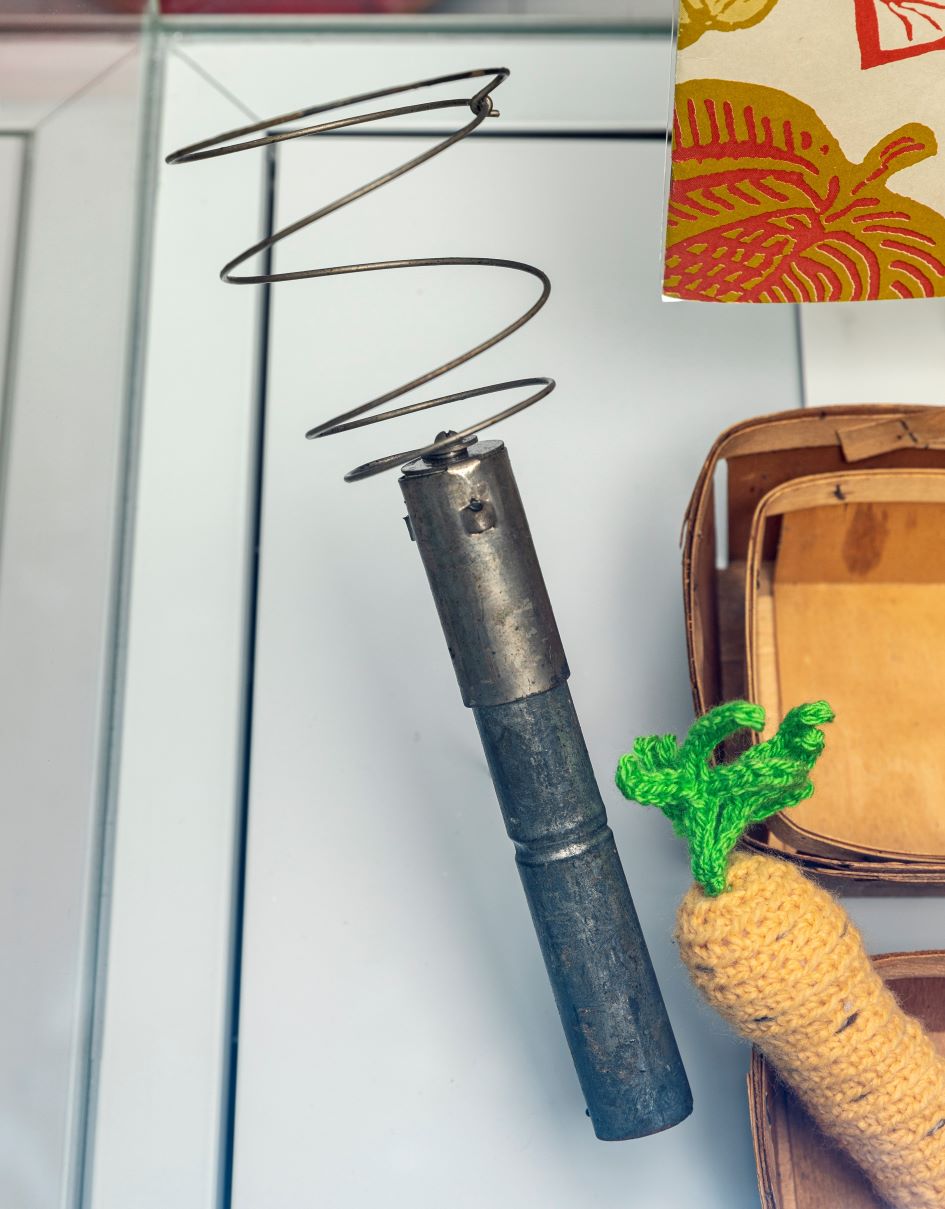 Apple picker
This is a fruit picker, used to pick apples, pears and plums from tall trees without damaging the fruit. It was made by William Penn Ltd. of High Road, Finchley. It was used by the donor in Oxfordshire during World War II for picking apples and pears. It will attach to any 1" pole (ideally a broom handle) and was said to remove the need for ladders, prevent accidents, and allow the picker to collect the best fruit which is usually out of reach.
MERL 60/143
close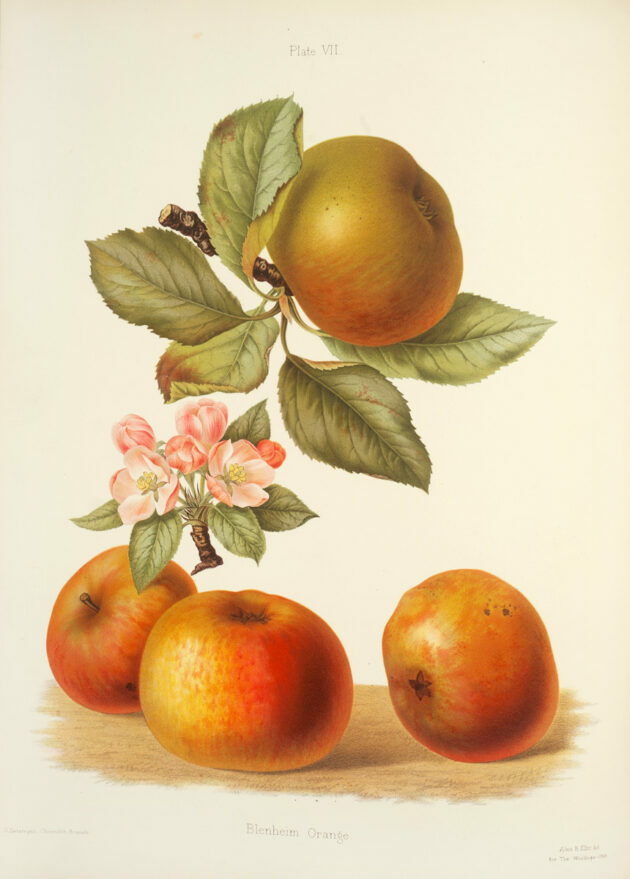 Herefordshire Pomona
When it was first published, this book was separated into seven parts, released over ten years between 1876 and 1885. It was a big project and an early attempt to record all the different varieties of apples and pears growing in Herefordshire at the time, many of which have now disappeared. 
Today, the book fascinates its readers not only as a historical catalogue of fruit species, but also because of its startlingly realistic and beautiful illustrations. The pictures were first painted by Alice Ellis and Edith Bull using watercolours. They sent 441 paintings to Guillaume Severeyns, a lithographer in Belgium, who produced the chromolithographic plates, allowing the pictures to appear in the printed books.
MERL LIBRARY RESERVE MID FOLIO--4790-HER
close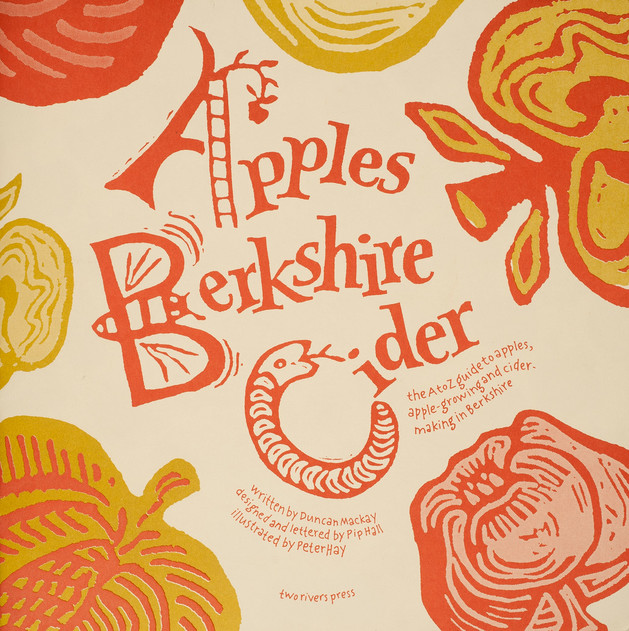 Apples, Berkshire, Cider book
This alphabet book was written by Duncan Mackay, illustrated by Peter Hay and published by Two Rivers Press in 1996. It aimed to increase awareness of apples, apple growing and cider making in Berkshire. There are over 2,000 varieties of apples in Britain today (with at least 6,000 grown here in the past), but this heritage is at risk from standardisation and modern fruit production methods. Each page describes an aspect of apple culture, with action points to encourage participation in activities to support this culture and heritage. 
TWO RIVERS PRESS COLLECTION—0033
close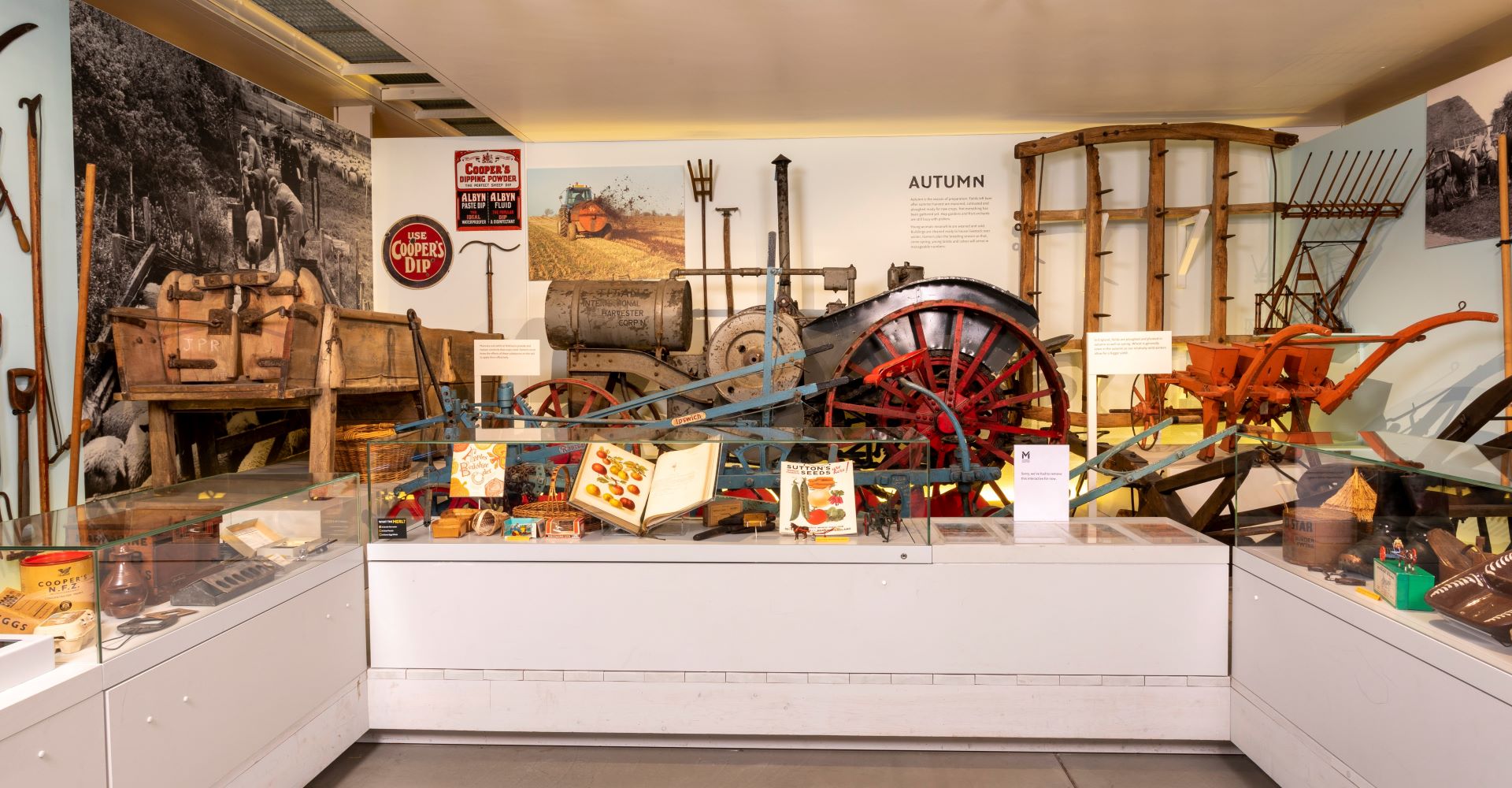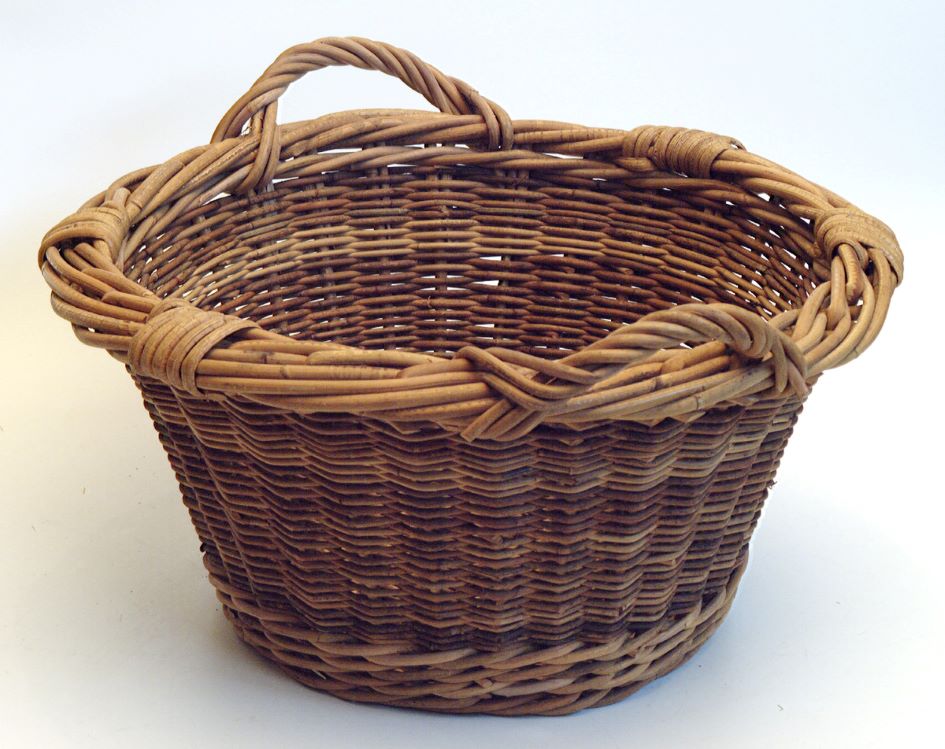 Manure basket
This manure basket was made for the Museum by Emily Mullins, a Reading basketmaker, and was therefore never used. It would have been used to carry stable manure on the farm. It is a round basket made of cane with two twisted handles bound on the rim. You can learn more about Emily Mullins in the 'Makers at Work' section of the gallery tour!
Manure has been used as fertiliser in Europe for at least 10,000 years. Nitrogen, phosphorus and potassium are all useful fertility resources found in manure. Because it breaks down slowly, the manure imparts its nutrients to crops over the course of several years.
MERL 63/19
close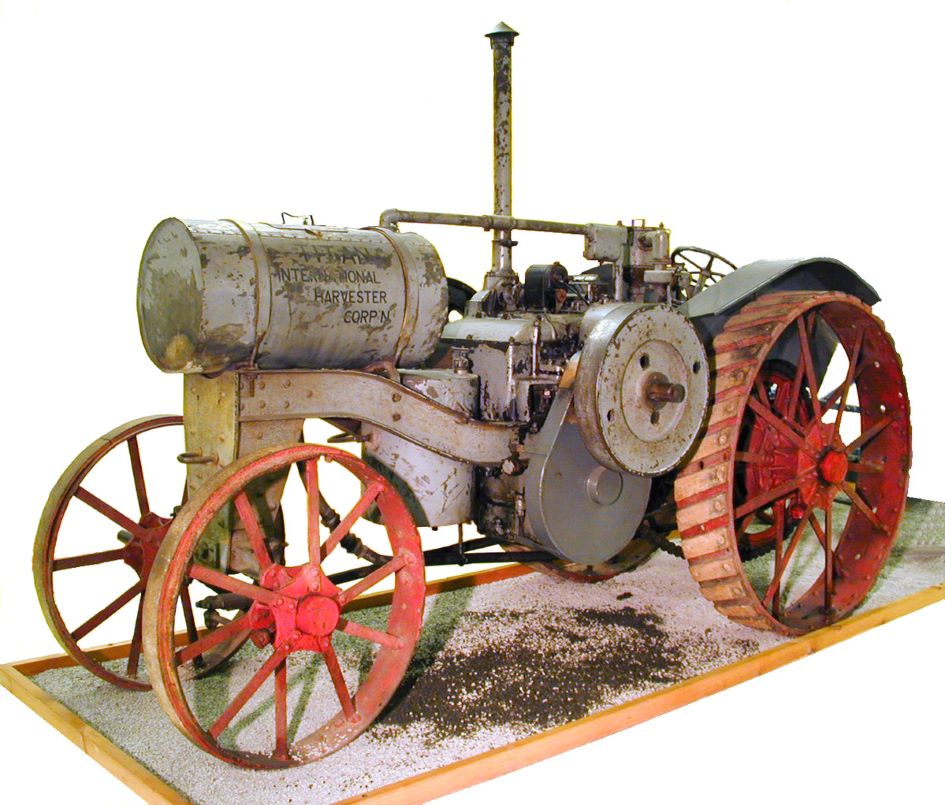 Tractor
This Titan 10/20 tractor was manufactured by the International Harvester Company, in the USA, in 1917. Titan tractors were imported to the UK during and after the First World War, to help boost food production.
This tractor was last used to drive the saw bench at a small saw mill at Greenhaguh, Northumberland in the early 1950s. The owner of the saw mill found the tractor along with two other abandoned Titans in an old quarry at Reedsmouth, and apart from requiring a new spark plug, it was in good working order. It was in constant use five days a week at the saw mill, and was eventually sold back to the International Harvester Company in 1956 when the mill wound down business.
MERL 56/280
close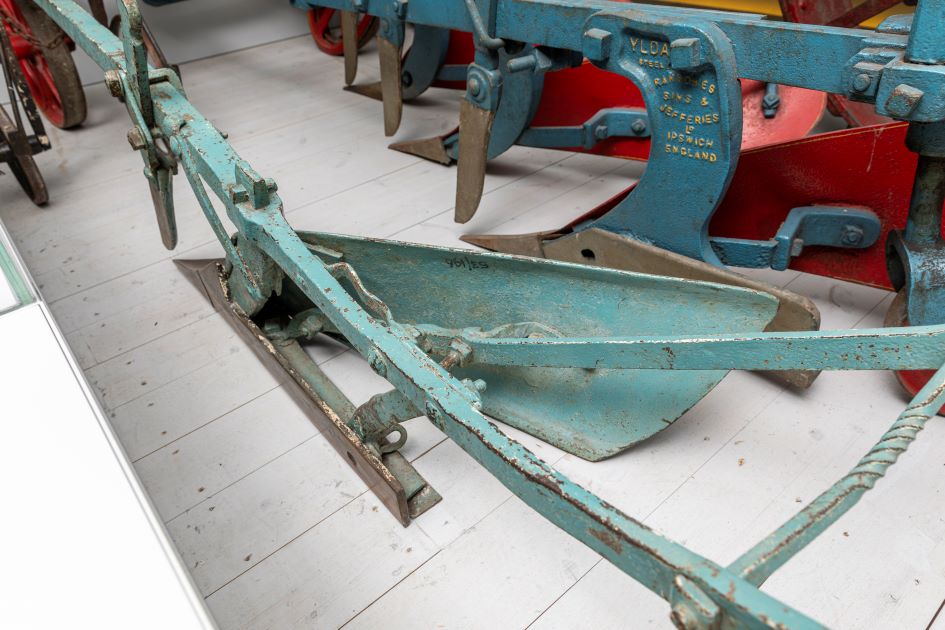 Swing plough
This plough, called the 'Troth Winter plough', was made by William Troth at Norton Lindsey, Warwickshire. The date of make is given as 1796, but the maker is known to have made other objects late in the 19th century, so this date may be incorrect. It was used for winter ploughing in heavy clay, so has a wrought iron share with a coulter welded on the side, and no wheels.
In 1845 it was known as the 'Newbold plough' and in 1876 as the 'Hitchings Tayler Scattaron plough', when it was fitted with wheels and an iron shellboard. In 1920 the chilled share was fitted to enable it to be used with two horses instead of three.
MERL 53/196
close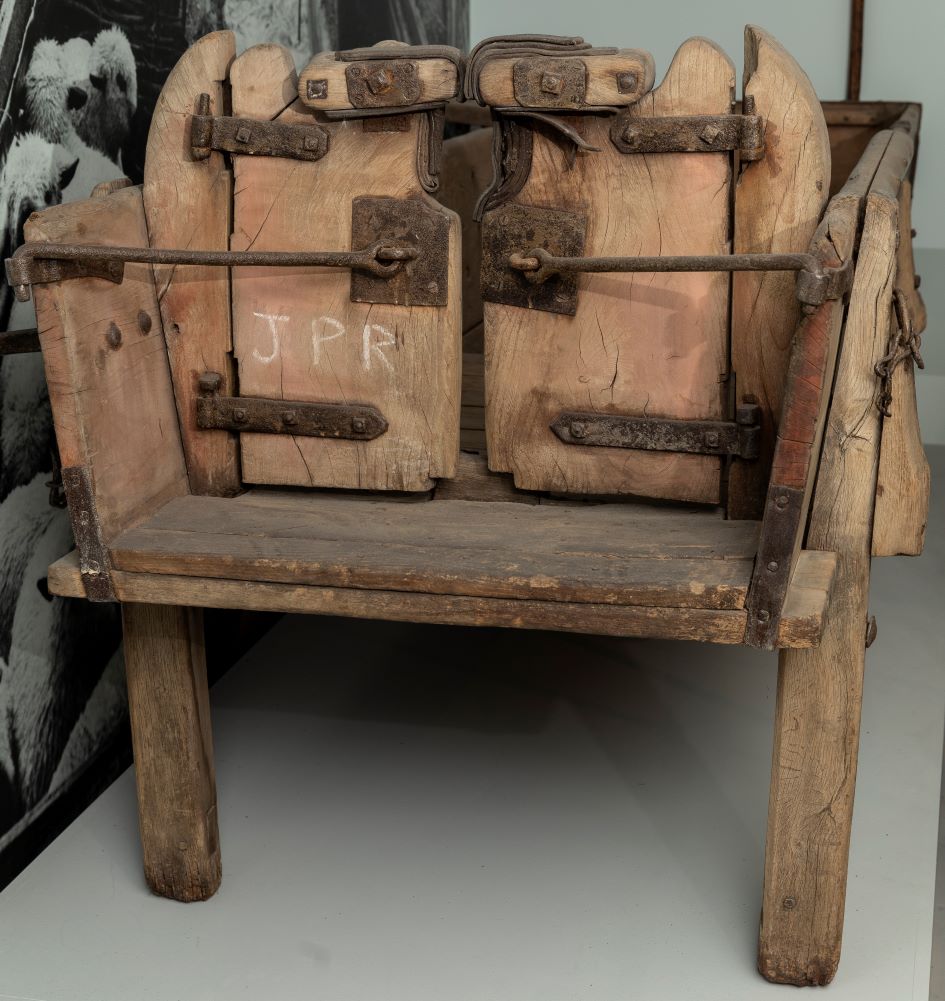 Sheep dip
This is a sheep dipping trough, made of oak with iron fittings. It has stocks at one end to hold the sheep by the neck while the animal was submerged in chemicals to kill pests. It was made by a Dorset craftsman in the early nineteenth century or earlier. Last used by the donor's grandfather around 1890, the dip was used as a mobile unit within a thirty-mile radius of Gillingham by a team of four men. The donor's family were famous for sheep dipping for many generations. It is believed to be the only one of its kind in the country.
MERL 60/134
close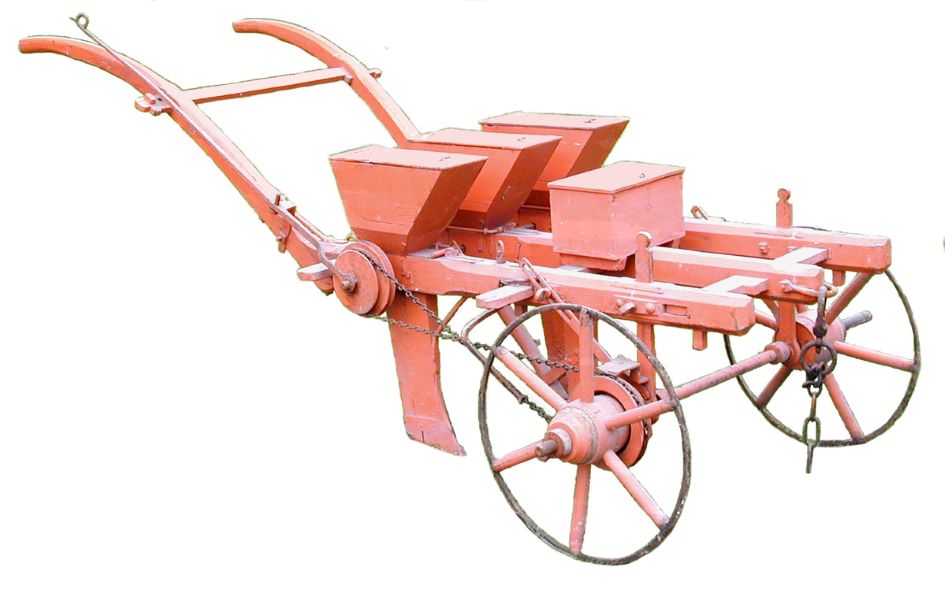 Seed drill
One of several seed drills on display in the museum, this particular model is a hand seed drill, made by Jonas Harris in Hailey c.1867. In this display it represents the sowing of autumn seed for winter crops, the most popular of which are winter wheat and barley.
Heavy autumn rainfall can jeopardise the sowing of these crops. For example, in 2019, Farmers Weekly estimated that only 35 – 40% of winter wheat had been drilled by November.
MERL 52/334
close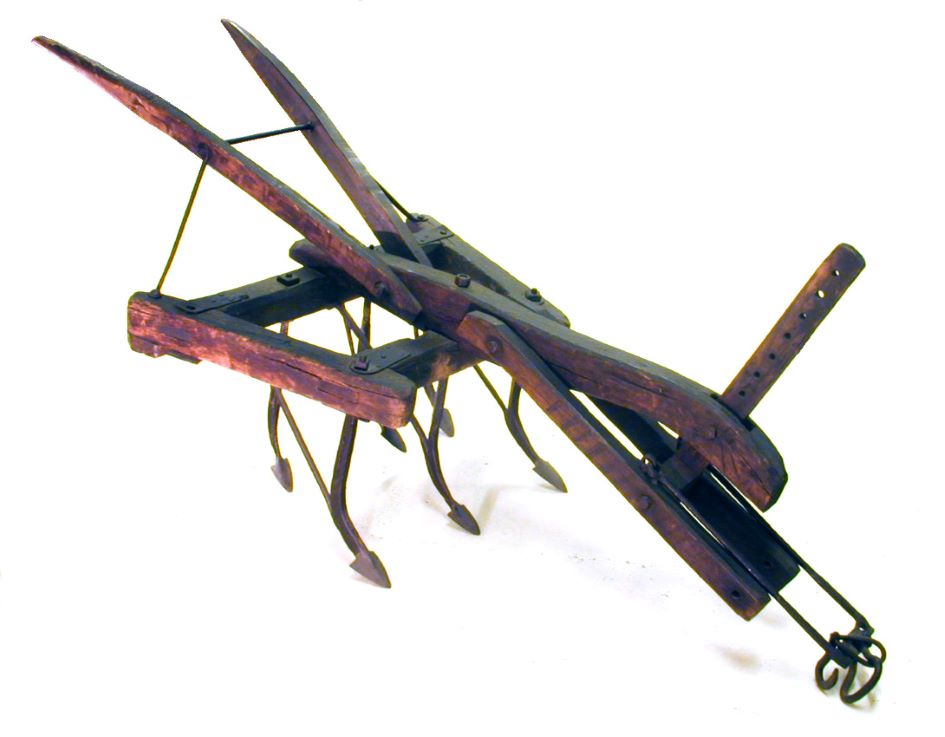 Cultivator
This is a cultivator with two wooden handles and six tines in two rows of three, each with spade-shaped blades, bifurcated and bolted to the frame. It possibly dates from the eighteenth century and was used for farm work in Hampshire. Cultivators are designed to stir the soil around a crop as it matures to promote growth and destroy weeds. Horse-drawn cultivators were introduced in the mid-19th century.
MERL 51/264
close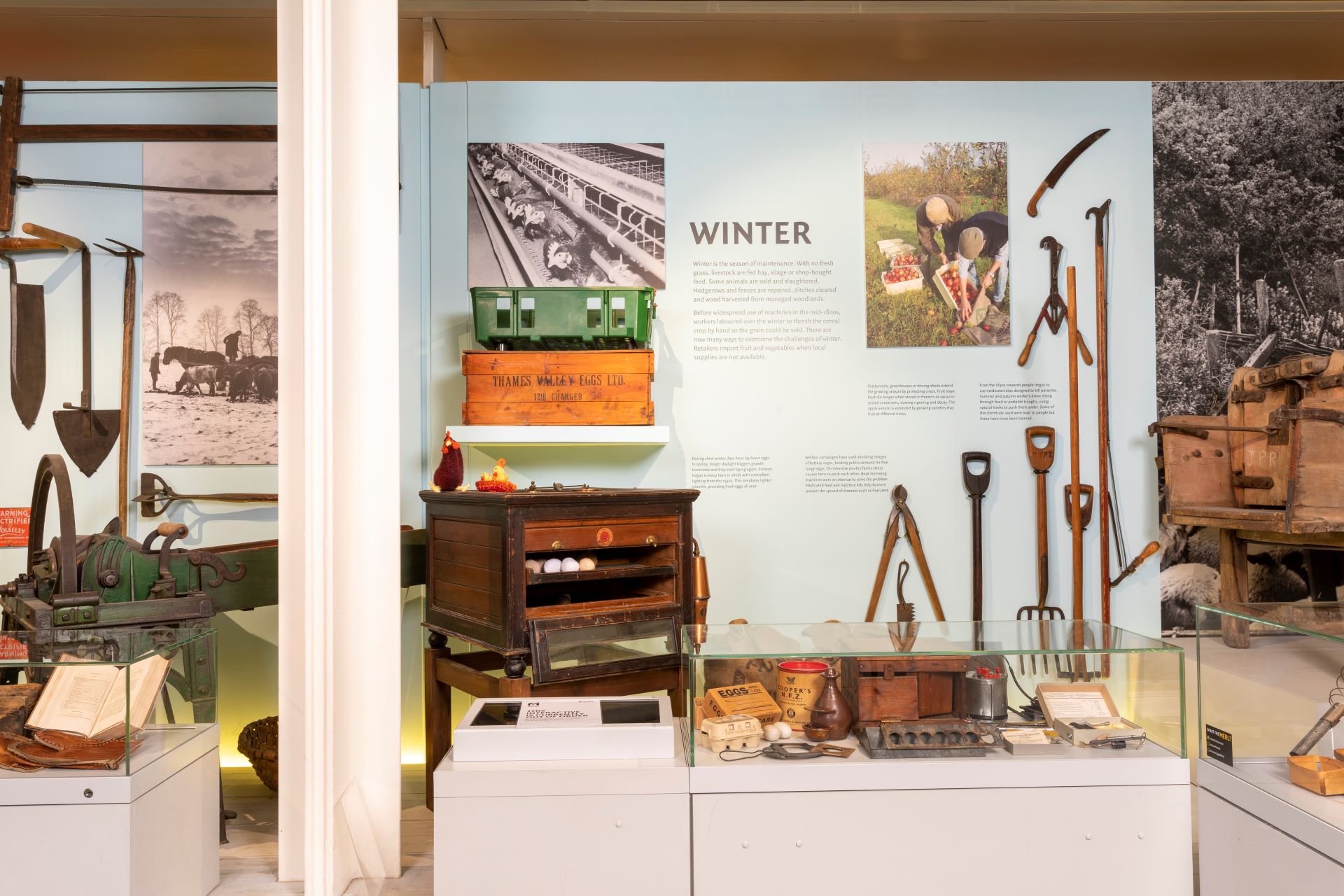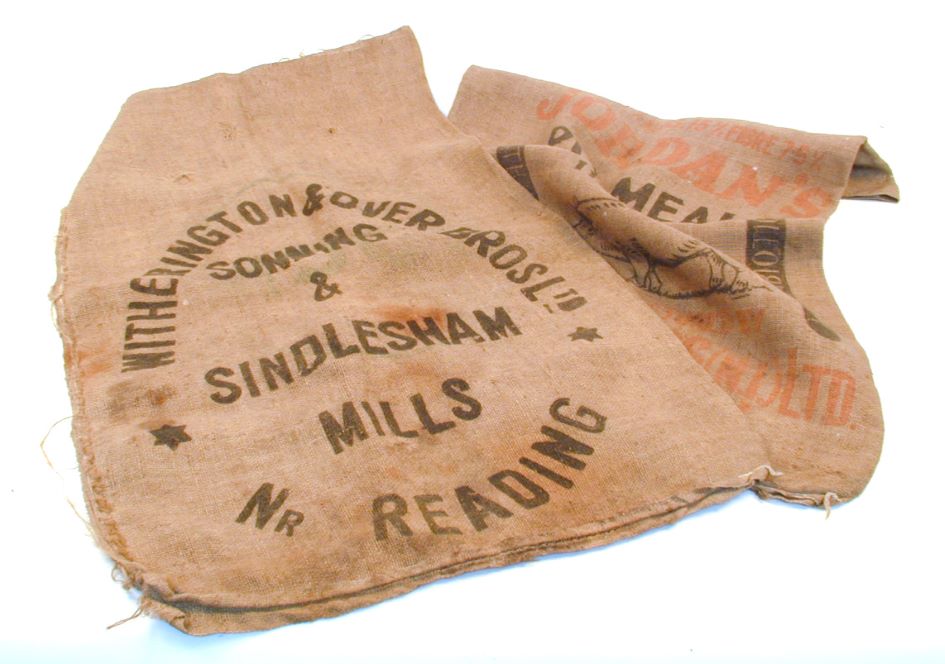 Sacks
These hessian sacks were used for holding grain to use as poultry feed. The sack is marked 'Witherington & Over Bros. Ltd. Sonning & Sindlesham Mills Nr. Reading'. The donor's father ran a poultry farm at Sindlesham in Berkshire and was a regular customer at Sindlesham Mill.
MERL 99/30/1-2
close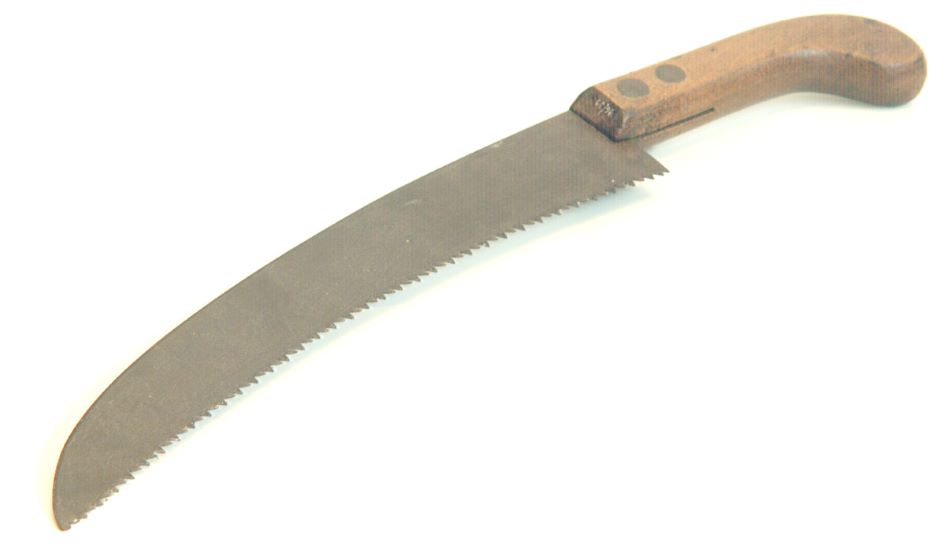 Pruning saw
This is a small pruning saw for use on trees and hedges. It has a curved blade with even teeth, and a shaped wooden handle rivetted to the blade. Mrs Beattie Taylor and her husband Ernie had lived at Birch Cottage for over 50 years. Prior to that the house was owned by her uncle, Will Hughes, from c.1900 – 1930. Hughes was a wood turner and besom maker operating from a workshop at the site of the house.
MERL 96/39
close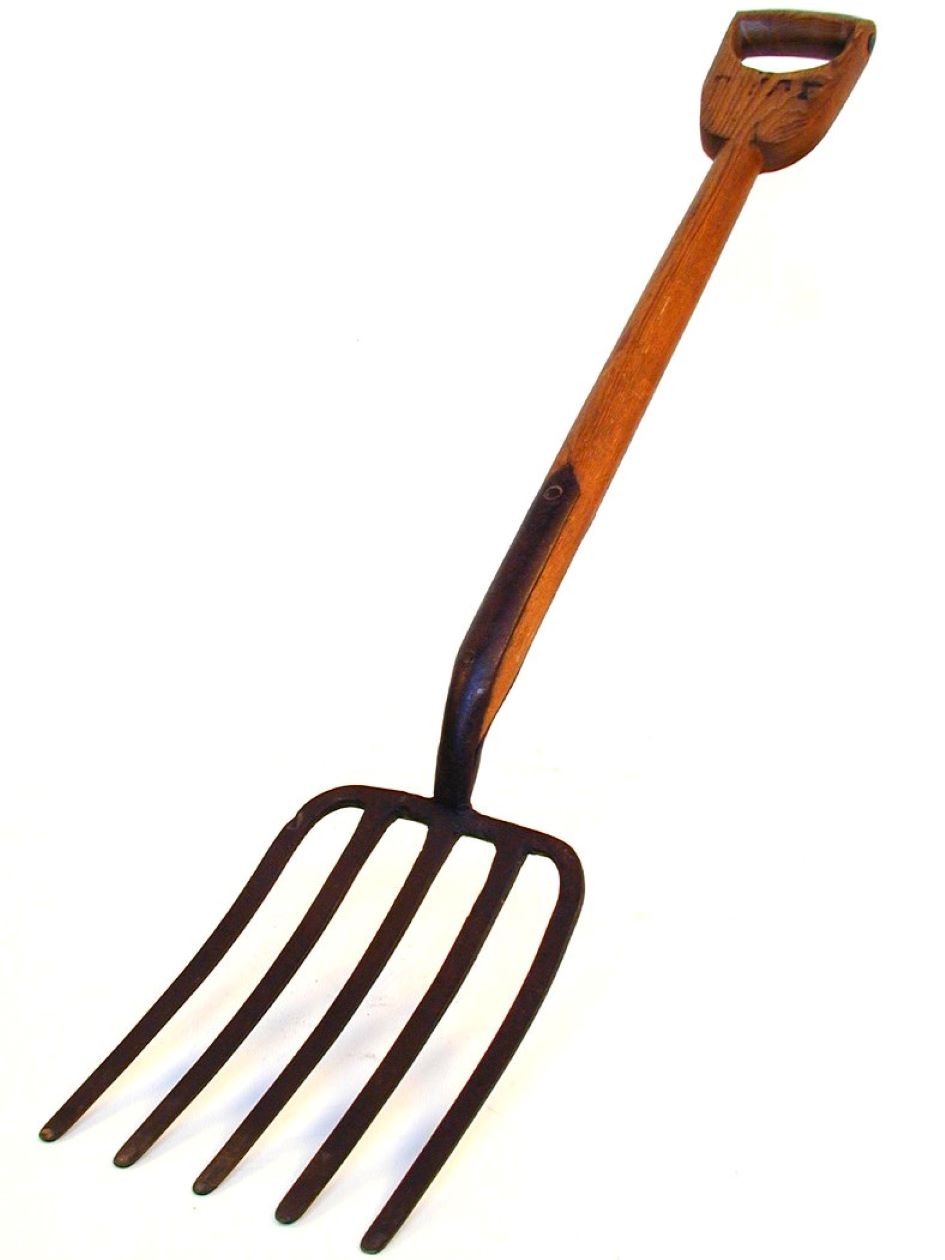 Potato fork
Used at Roger's farm in Sudbury, Suffolk, this fork would have been used for harvesting potatoes. This crop should be planted as early in the year as possible whilst still avoiding frost; typically in April or May. Potatoes should not be watered for several weeks before harvesting, and once dug up should be immediately moved out of the sun to avoid a green skin forming.
Historically, potatoes have been grown in South America for thousands of years, and became popular in England in the 19th century. Their cheapness and durability made them an ideal foodstuff for those on lower wages.
MERL 87/57
close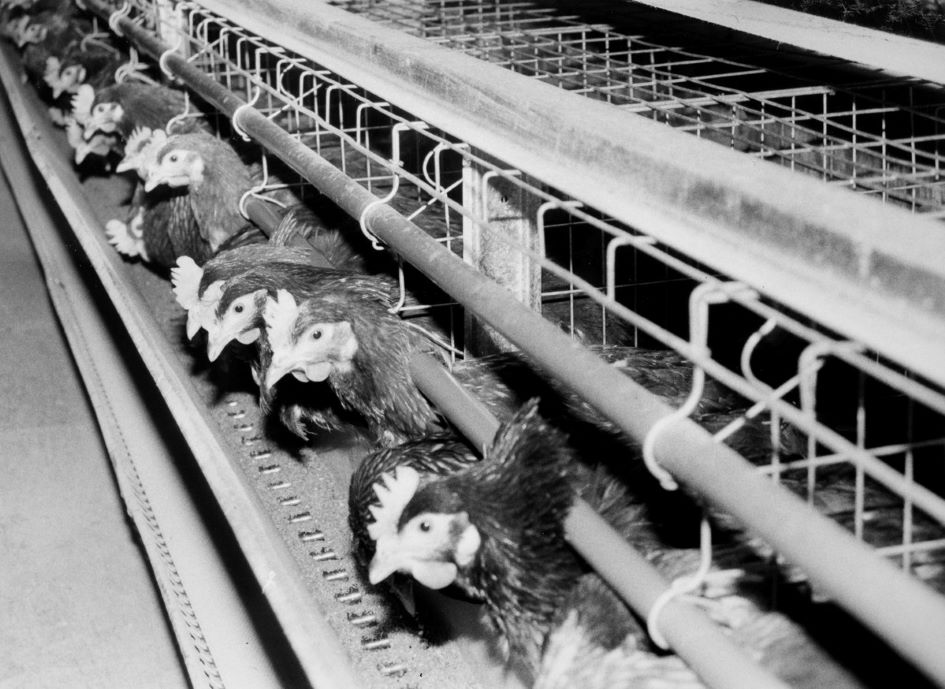 Battery hens photograph
Dating to 1989, this photograph demonstrates laying hens housed in battery cages. The practice of keeping hens confined in this manner became popular in the early 20th century, due to the demand for more intensive farming. Consequently, eggs were more widely incorporated into British diets.
In recent years many farmers have turned away from battery farming, as it can have negative effects on the health and welfare of hens. Free range hens can exhibit more natural behaviours, such as nesting, perching and grooming.
MERL P 2FW PH2/1036/3
close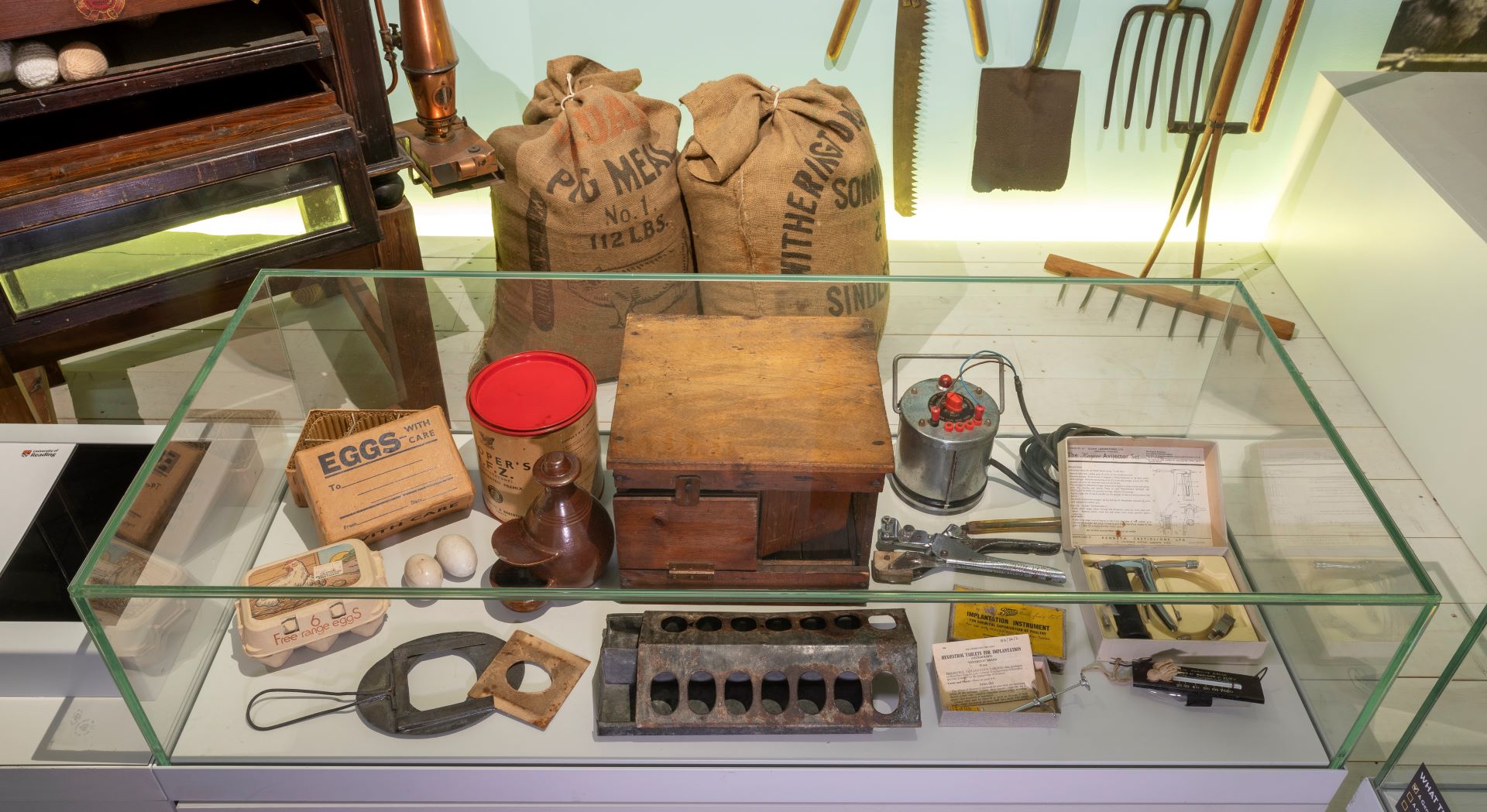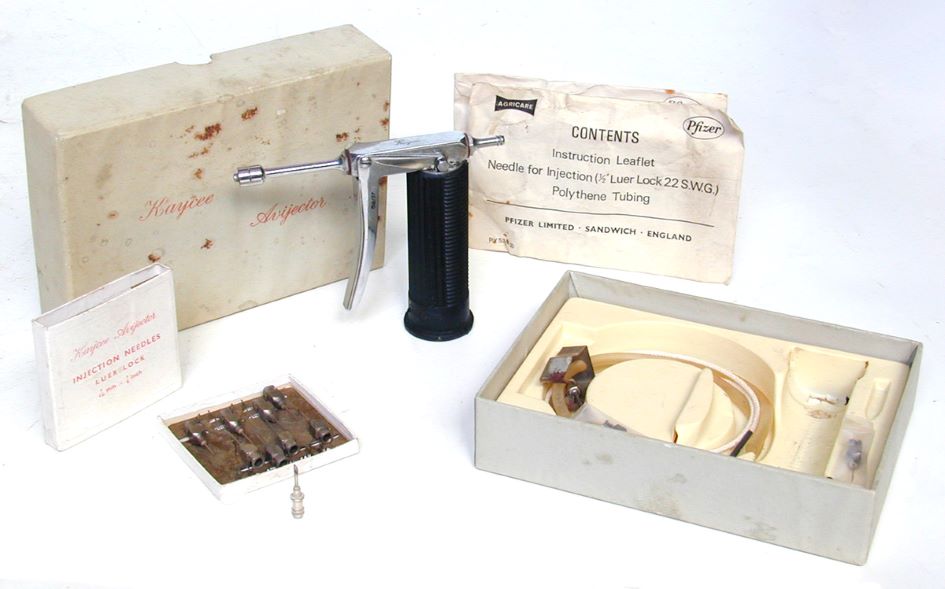 Injection kit
Named the Kaycee Avijector Set, this injection kit was used to protect poultry against pests and disease. It consists of an injection gun as well as tubes, cords and needles. It was manufactured by Kenneth Castiglione Ltd, with some elements made by Pfizer.
Vaccination has played a key role in the advancement of poultry farming. For example, Louis Pasteur developed a vaccine against chicken cholera in 1879. Marek's disease, which had previously been the largest natural threat to chicken flocks, was first vaccinated against in 1970.
MERL 88/37
close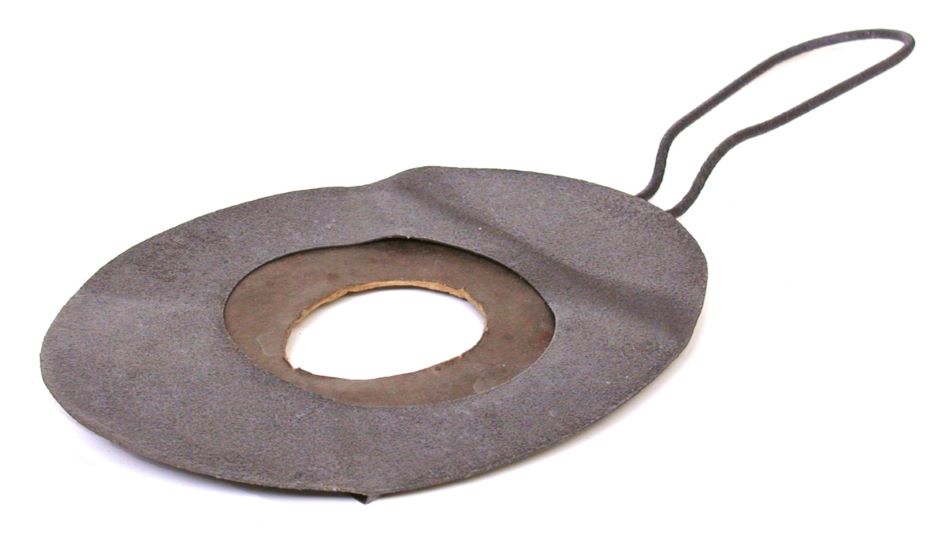 Egg tester
Egg testers are designed to check whether an egg has been fertilised with a chick or not. Having been placed in the device, the egg would be taken to a darkened room and have a light shone at it. This would enable the farmer to see inside the egg and detect whether a chick was growing. Traditionally, the candle would provide the light source. Therefore the process was known as 'egg candling'. The candling method is still the best method for determining whether an egg is fertilised without cracking it. However, modern egg farmers have strict controls in place to prevent unwanted fertilisation occurring.
MERL 88/35
close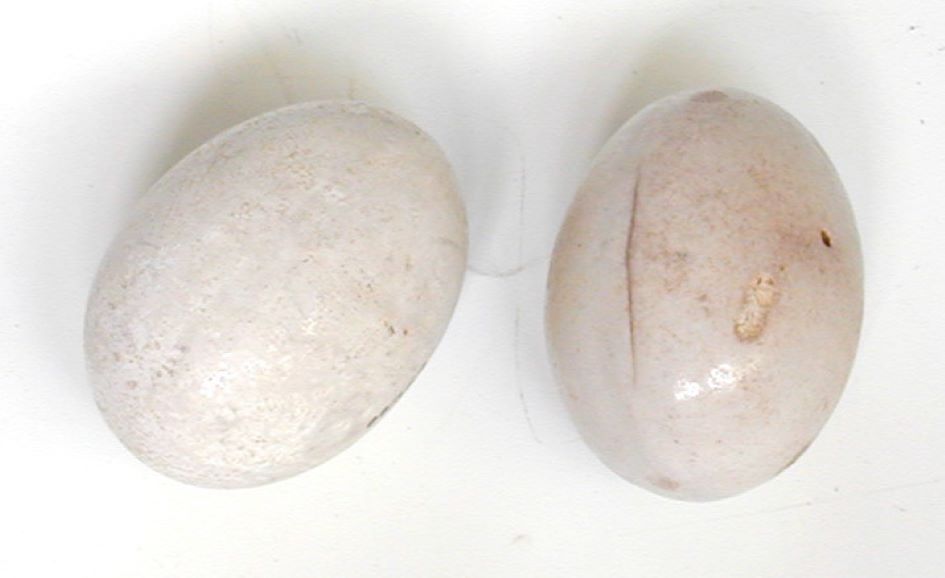 Dummy eggs
These objects were used on a smallholder farm and dairy in Reading until 1971. Dummy eggs are still used today and are placed in nest boxes to show new chickens where to lay their eggs. Some swear that golf balls do the job just as well!
Dummy eggs can also help limit the number of eggs a bird will lay. Hens will instinctively lay a set number of eggs, but they will sometimes break, forcing the hen to lay a new one. This can lead to calcium deficiency if the hen lays too many times. Replacing a broken egg with a dummy will prevent the hen from laying again.
MERL 88/34
close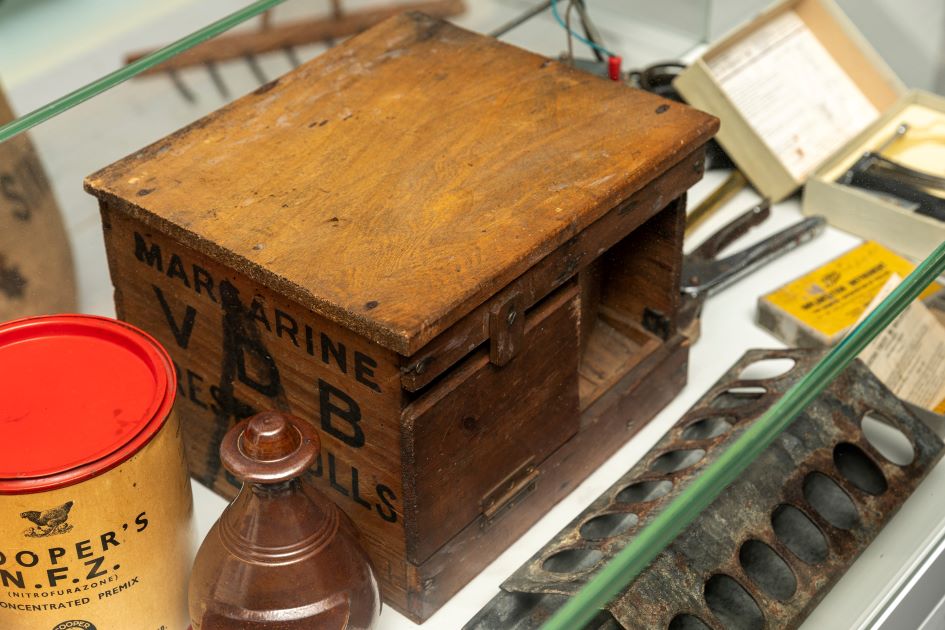 Trap nest
Trap nests, which would capture an individual chicken until the farmer released it, had various uses on the farm. They could be used to identify whether a specific hen was laying or not, or whether it laid smaller eggs. During the breeding season, a farmer might want to keep the offspring of their best hen for their own use. A trap nest would allow them to identify which eggs would produce these prized chicks.
This particular nest was made in 1905 in Thatcham, Berkshire. It was exhibited at a show in Plymouth, where it won a silver medal.
MERL 70/164
close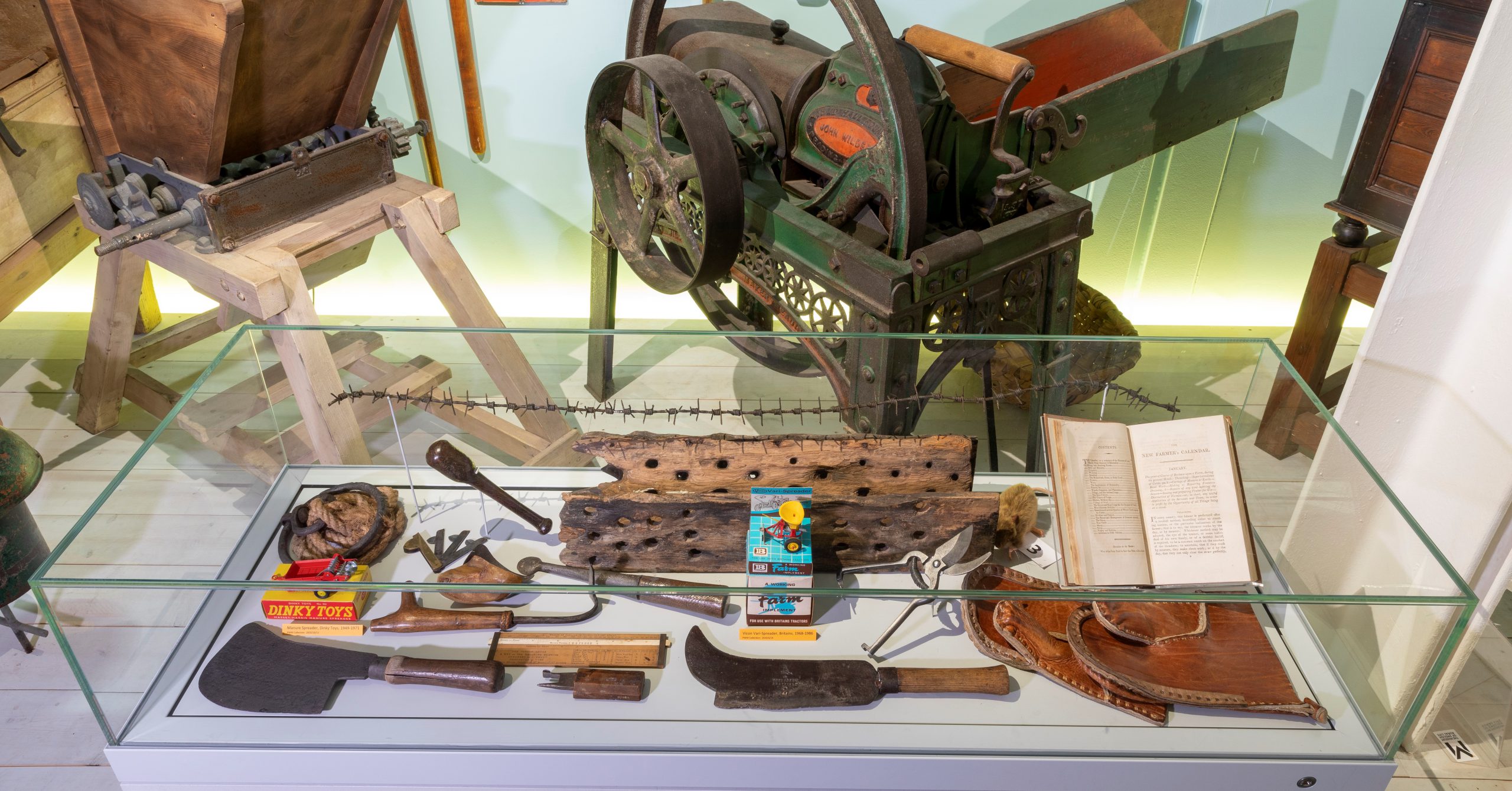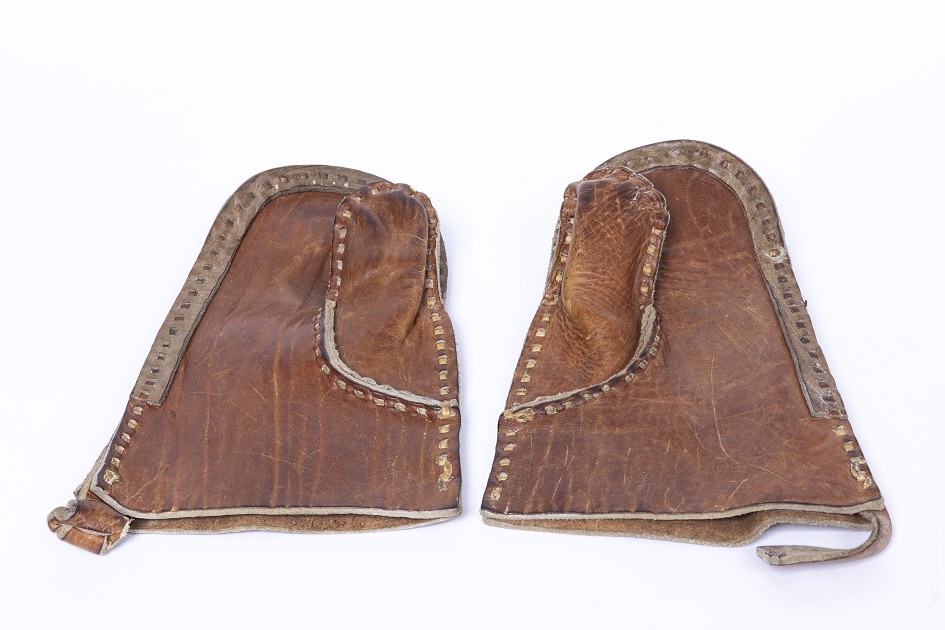 Hedging gloves
These gloves would have been used by a hedge-layer to protect their hands. Hedges have traditionally been used as a method of dividing agricultural land, especially during the enclosure of common land by wealthy landowners in the 18th and 19th centuries. More recently, the expansion of hedgerows has been proposed as a way of countering climate change, as they absorb carbon and provide a habitat for wildlife. Part of the UK's plan for carbon neutrality by 2050 is to increase hedgerow length by 40%.
MERL 60/560
close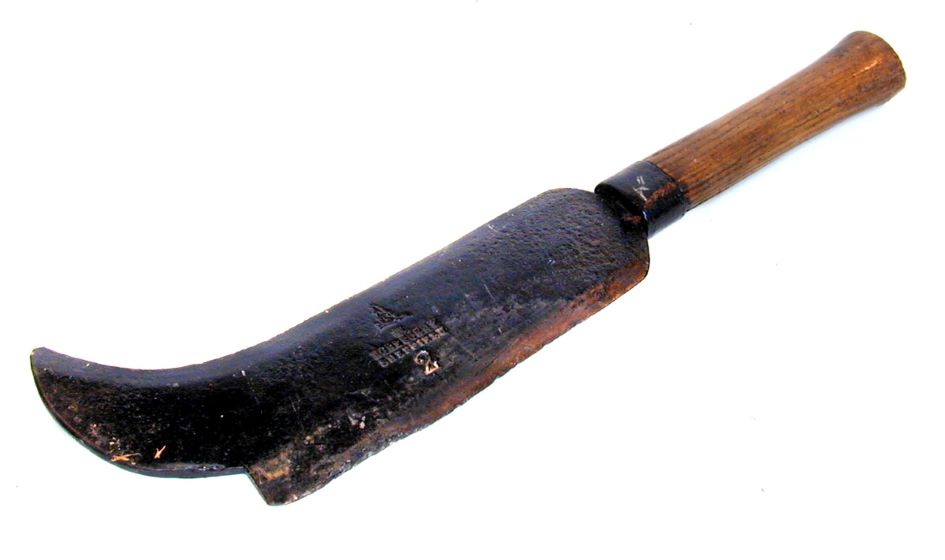 Billhook
Billhooks are traditional British implements used for hedging and copping. Their design varies greatly from region to region. This hook was made in Sheffield, and has two blades; one along the curve and another on the back.
Agricultural implements have a history of use by unfortunate farmers in times of war. In the medieval period, the billhook was very commonly used by English levies. It was such an effective weapon that purely military versions were created and used by professional soldiers in the Hundred Years' War.
MERL 96/107
close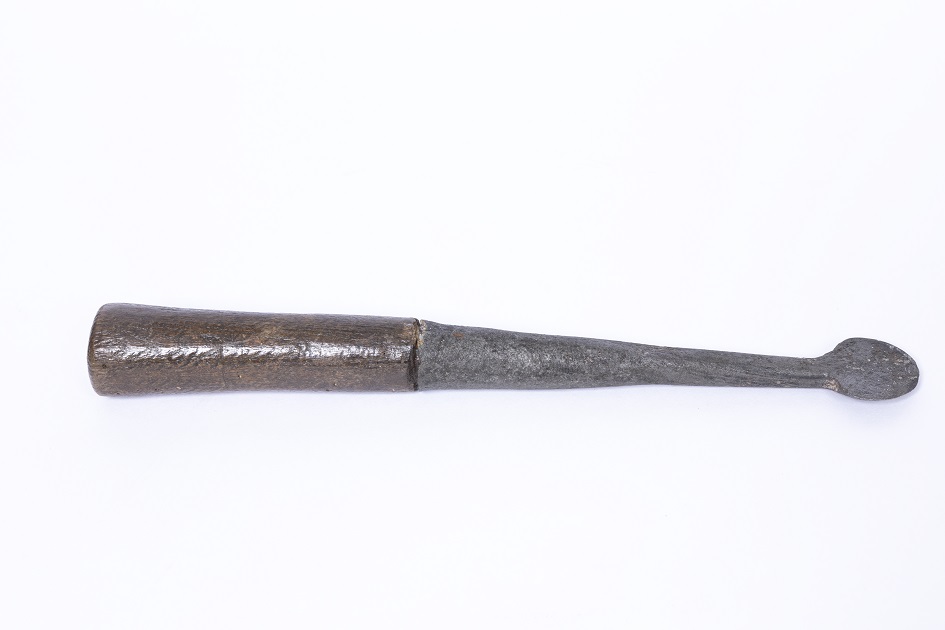 Barking iron
This barking iron was used to strip bark from timber. The 'debarking' process is important because bark can be detrimental for wood used to create furniture, houses and other structures. This is because bark retains moisture, which is useful when the tree is alive, but can cause the wood to rot when it has been cut. Bark also provides a home for pests such as insects. However, bark should always be left on living trees, as stripping the bark away will cause anything above this point to die.
MERL 66/165
close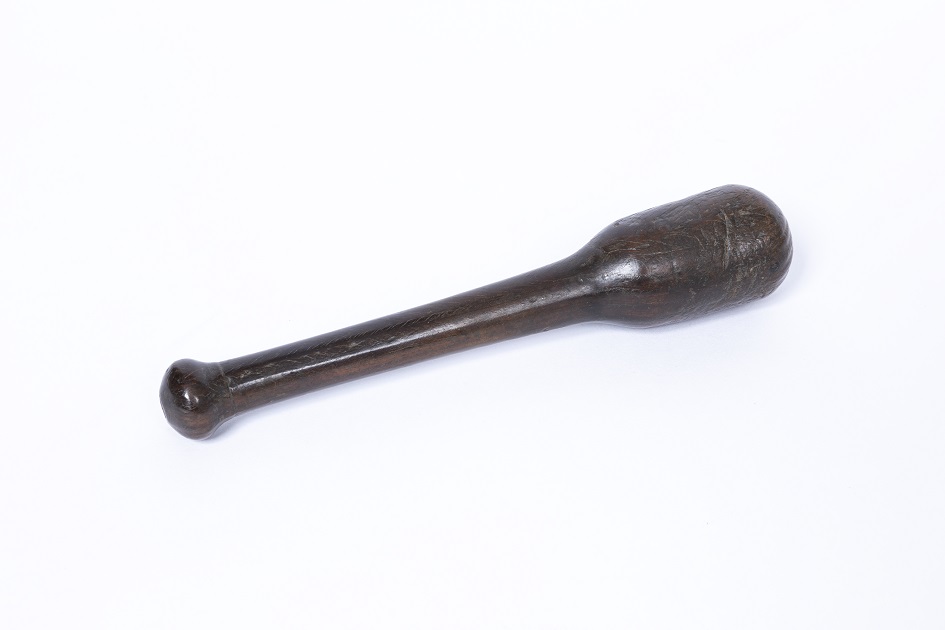 Fleam mallet
Last used in c.1809 by a butcher in Banbury, this fleam mallet was a butcher's tool for slaughtering animals by driving a fleam into the jugular vein. However, fleams were more commonly used for bloodletting as a veterinary practice.
Treating unwell people and animals with bleeding is an idea dating back to Ancient Greece, where it was suggested that having too much blood in the body led to an imbalance of 'bodily humours'. Bloodletting rarely helped the patient, and was phased out in the 19th century.
MERL 59/380
close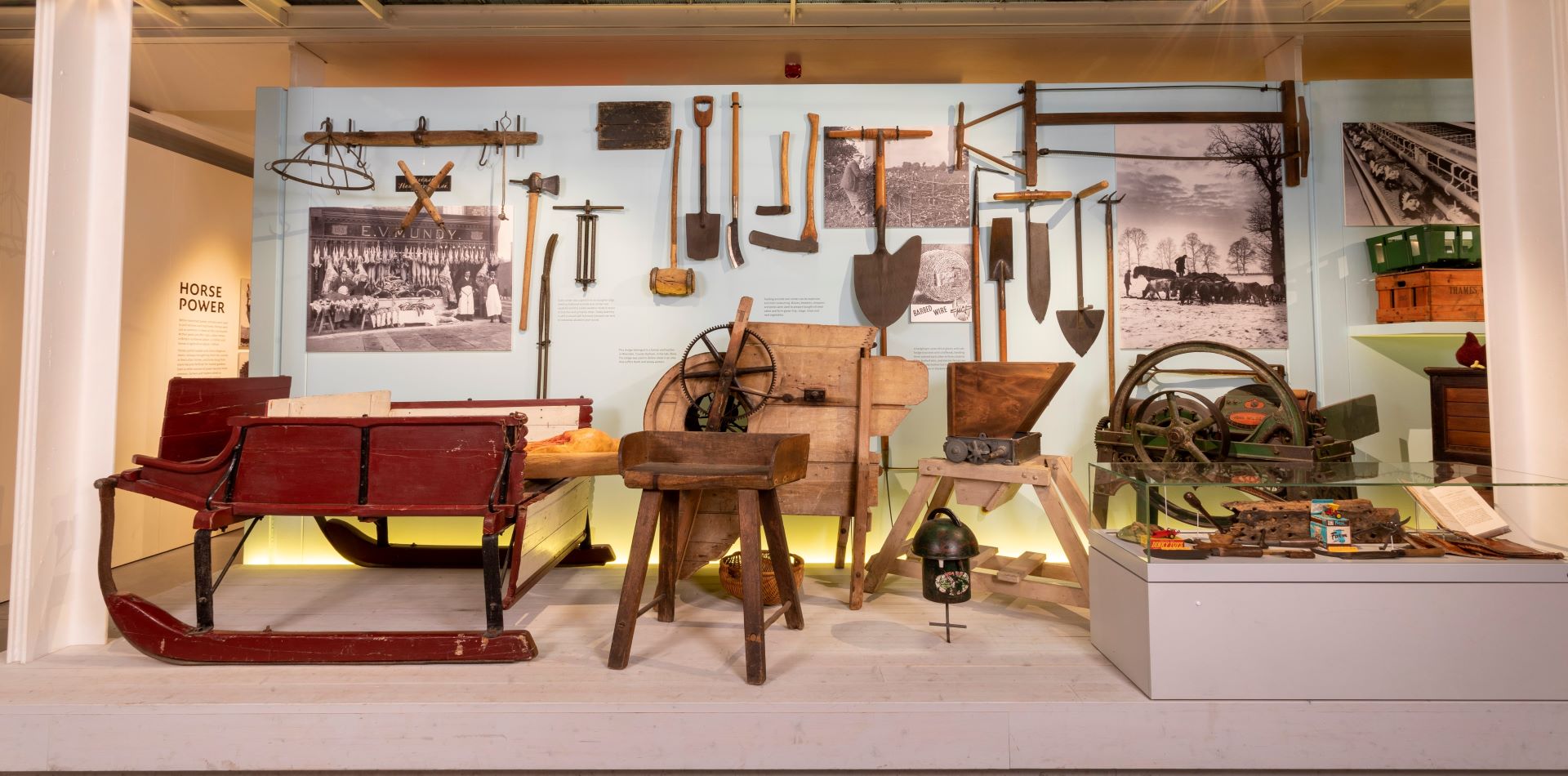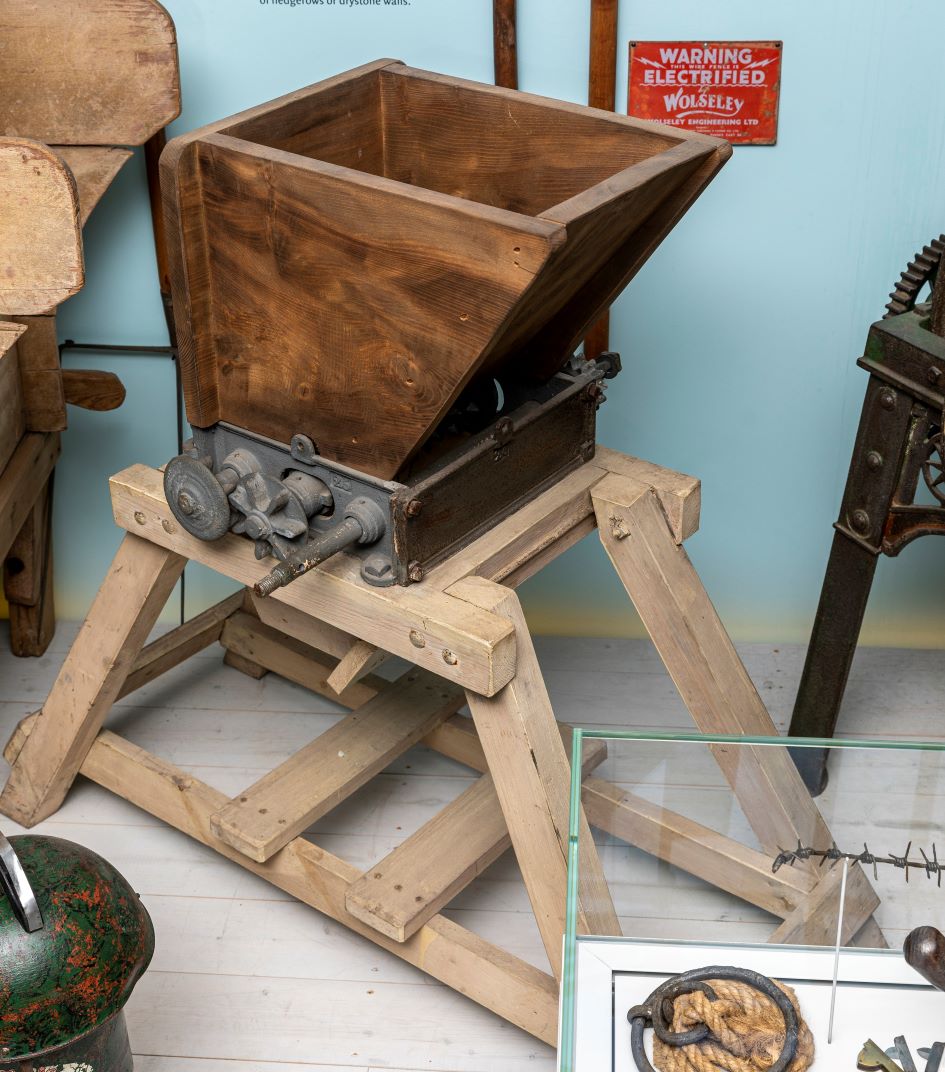 Cake breaker
This equipment is a cake breaker, a device used for breaking oil cake into smaller pieces so that animals could eat it. Oil cake is less appetising than it sounds – at least for human consumption! After liquid oil is extracted from rapeseed and linseed, the leftover solid material is made into oil cakes. These cakes provide a key source of protein.
However, it is important to know your plants before feeding the cakes to livestock, as some oil cakes – such as those produced from castor beans – are toxic and used for fertiliser instead.
MERL 53/197
close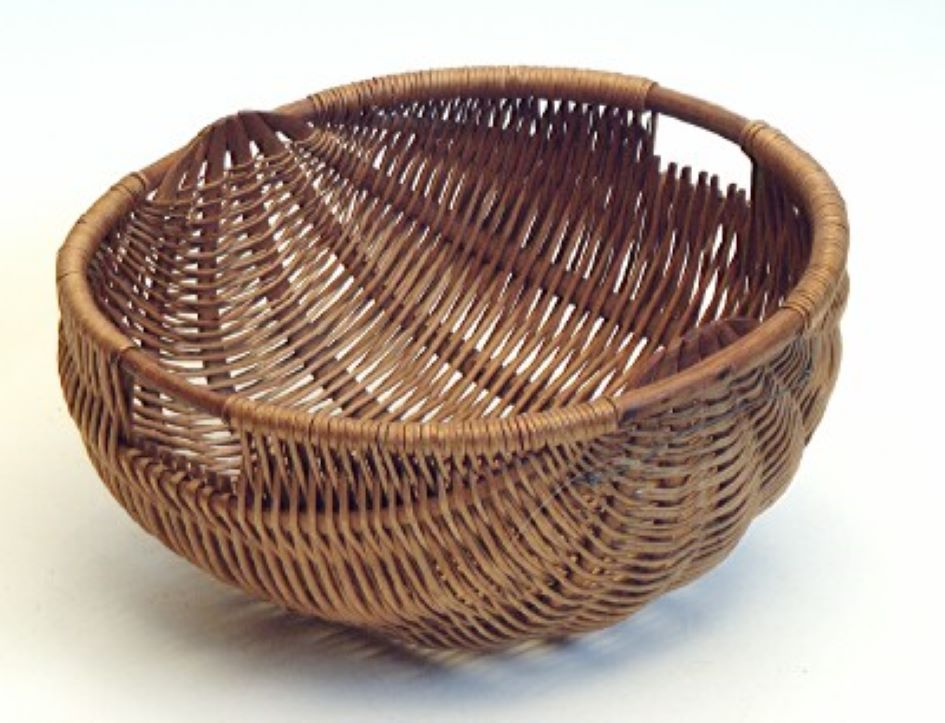 Potato skep
This is a potato skep, a basket used when planting potatoes. It is made from ash and willow, and was constructed by a basket maker in Ceredigion in around 1945.
The variety of baskets available in this region of Wales was widespread. For example, a 'cyntell' was a multi-functional basket used to carry items around the farm. Potato baskets of other regions often have different names and slightly different appearances. For instance, a 'skib' is a basket of Irish origin with a circular shape and flat base.
MERL 60/768
close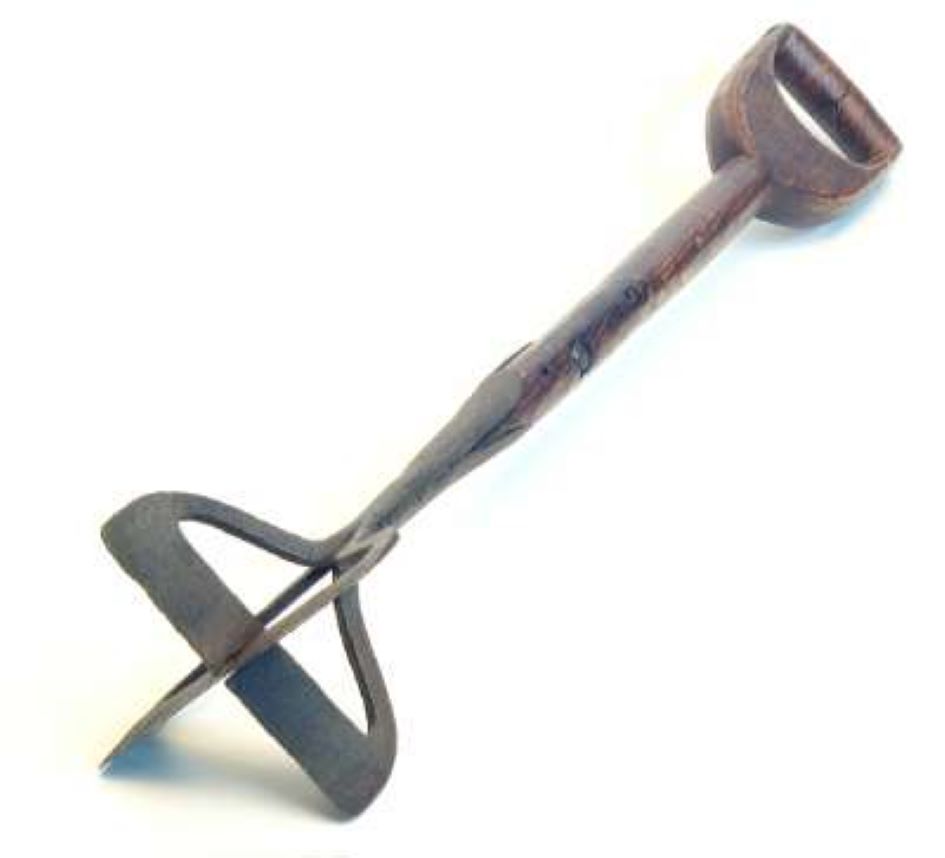 Root chopper
Root choppers are used to cut turnips and the roots of vegetables to feed to animals. The discovery that farm animals thrive off the roots of certain vegetables revolutionised livestock farming in the medieval period. Previously, animals such as pigs were not kept in significant numbers throughout the winter, as there was not enough grass to sustain them. Instead, all but the breeding animals were slaughtered. Once turnips and other root vegetables were grown to feed them, meat was more generally more available to the British population, even in the coldest months.
MERL 68/151
close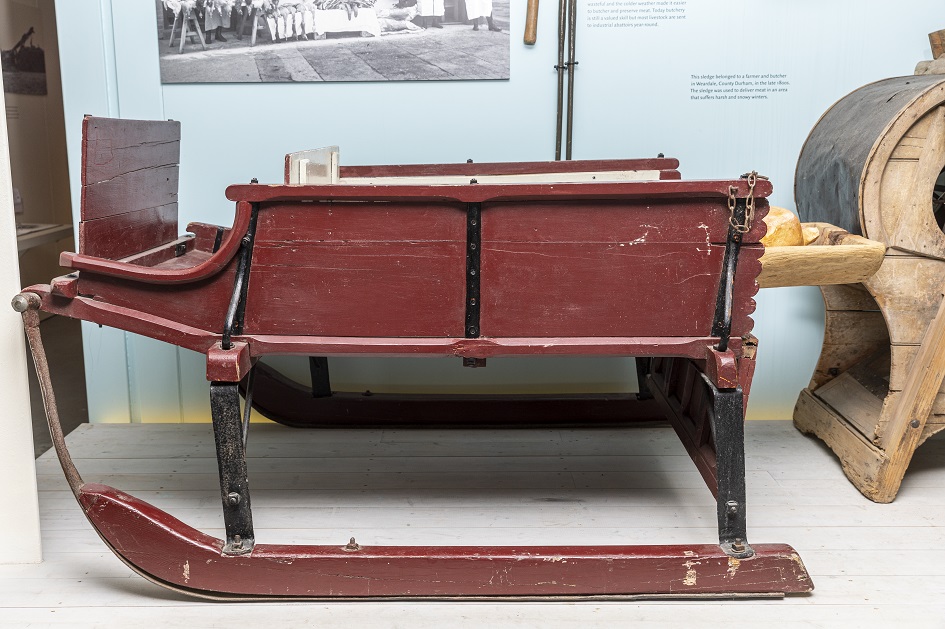 Butcher's sledge
Used in the Weardale area of County Durham, this sledge was used by a 19th century butcher to deliver meat. Meat-eating became widespread in the Victorian period, although the quality of cuts available to rich and poor differed greatly. Shopping at a butcher was typically a daily occurrence, as without refrigeration it was difficult to keep meat fresh. Heavily salting the meat was one way to combat this, although many thought salting spoiled the flavour. Delivering meat via sledges would have been more commonplace in rural areas. In cities, the close proximity to a large customer base made this unnecessary.
MERL 57/208
close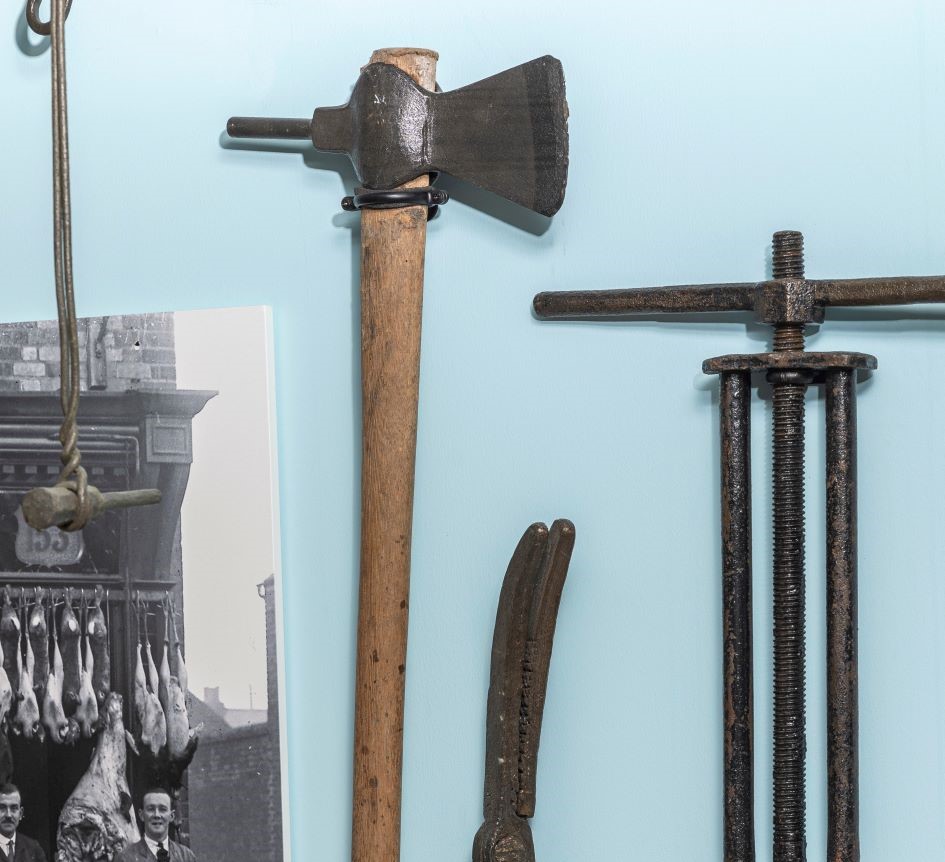 Pole axe
This pole axe was kept by a local family butcher in Halesworth, Suffolk. It was used to stun animals into unconsciousness during the slaughtering process, in order to reduce their suffering. However, as it depended on the strength of the wielder to be effective, it was not a particularly humane method. Percussive bolt guns are now used which are more reliable. Using a poleaxe for stunning was outlawed by the 1933 Slaughter of Animals Act.
Pole axes are perhaps better known for their use as a medieval weapon, as their weight and versatility made them effective against armoured knights.
MERL 65/7
close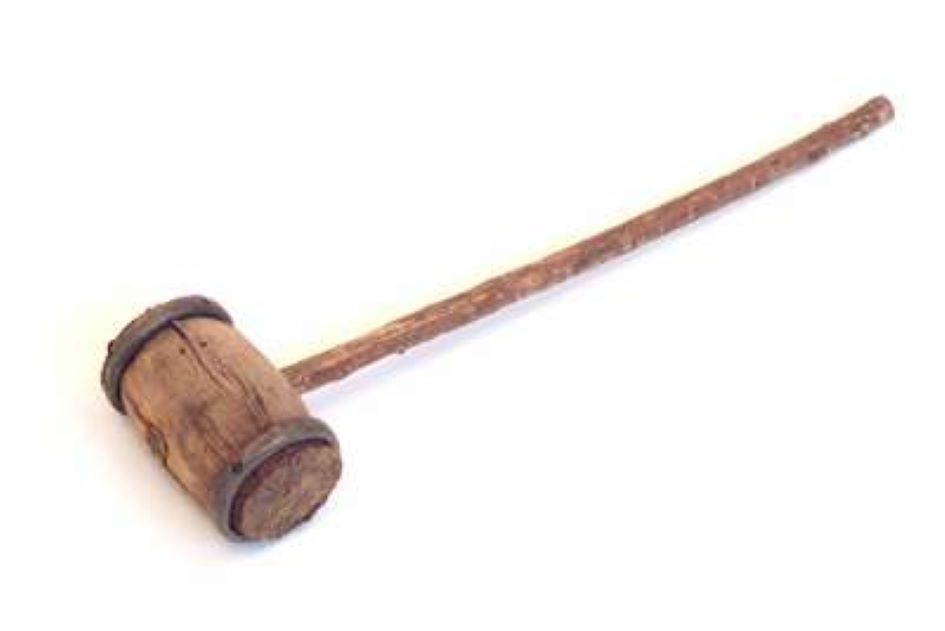 Fencing mallet
This fencing mallet, also known as a 'Beetle', was used to hammer in stakes for either hedges or fencing. Fencing on farms not only keeps animals in to prevent them from trampling on crops, but also deters thieves and predators. It is important for a farmer to recognize the ideal fence for their livestock. Barbed wire fences, which became popular during the industrial revolution, are ideal for sheep and cows but not for fast moving animals such as horses.
MERL 75/121
close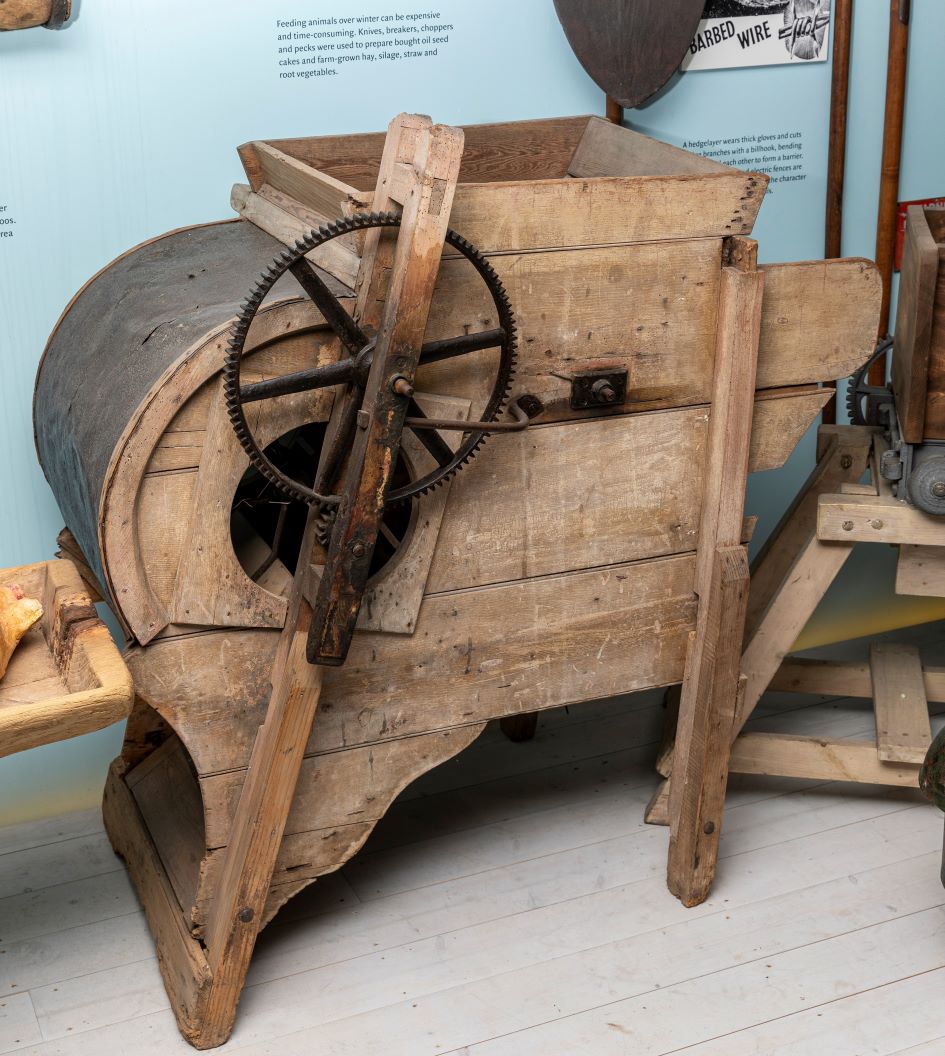 Winnowing machine
This is a winnowing machine, used to separate wheat from chaff. It was used on a farm in Stratfield Saye between the 1920s and 1950s. Winnowing is the stage of the harvesting process after reaping and threshing; when the grain has been cut and removed from the straw.
Before mechanisation, a basket known as a winnowing fan was used for the process. The grain would the thrown into the air and the chaff blown away. Early winnowing machines, which used a hand crank to produce an artificial airstream, were first invented in Ancient China but were not seen in Europe until the 18th century.
MERL 55/218
close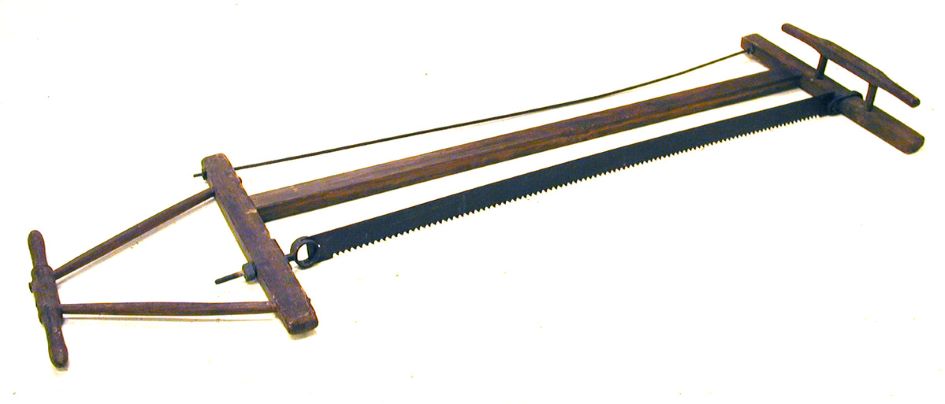 Pit saw
Pit saws are large saws set within a wooden timber frame. They are designed to be used by two people to cut a tree trunk into manageable pieces. This saw was used at a wheelwright shop in Eddington.
Different types of British timber can be utilised in different ways. For example, ash is the strongest and is used for tool handles and other items that need to survive heavy wear. Oak, meanwhile, has a variety of uses. Higher quality oak is used for furniture, whereas lower quality oak is often used on the farm for fence posts.
MERL 51/317
close