POULTRY MANIA PAST AND PRESENT
One-day events exploring change in poultry husbandry

Event Navigation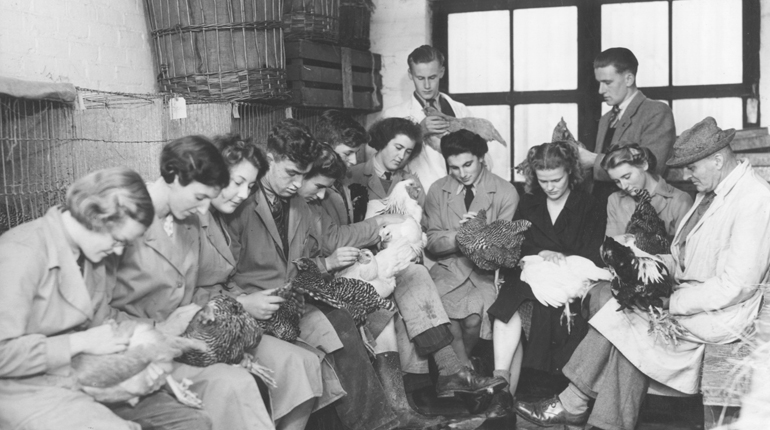 Thursday 28 November, 10am-5pm. BOOK NOW
The Museum of English Rural Life
£25 (includes refreshments and lunch). Booking essential (via Eventbrite links above). Deadline for booking is 20 November.
The events will explore the revolutionary changes in poultry husbandry from the poultry mania of the mid nineteenth century to the present day, including:
– development and artistic representation of poultry breeds,
– commercialisation of turkey and goose rearing,
– impact of rats on egg production
– importance of agricultural education in poultry husbandry.
Talks will feature past and present Museum of English Rural Life Fellows:
Dr James P. Bowen, Leeds Trinity University
Professor Karen Sayer, Leeds Trinity University
Professor John Martin, University of Leicester and
Carrie de Silva, Harper Adams University.
Opportunity will be provided to view displays of poultry related objects and books, tour the Museum of English Rural Life galleries and the Harper Adams campus.
Programme
10.00 Registration.
10.20 Carrie de Silva, Poultry pioneers
11.20 Refreshments
11.40 James P. Bowen, Poultry breeds in transition
12.40 Pop-up displays
13.00 Lunch.
13.50 Karen Sayer, Poultry undermined: rats, eggs and tunnels?
14.50 Refreshments
15.10 John Martin, The transformation of turkey and goose production in Britain.
16.10 Tour of The MERL / update on current poultry industry and short campus tour of Harper Adams University campus.
17.00 Conference closes.
Note: The event at Harper Adams University is scheduled to coincide with the National Poultry Show, International Centre Telford, 30 November-1 December 2019.